This amazing idea was done by Bryanna Lemieux's daughter and she was so sweet to let me share with you guys!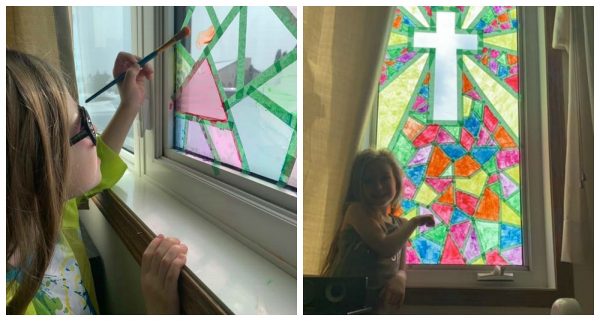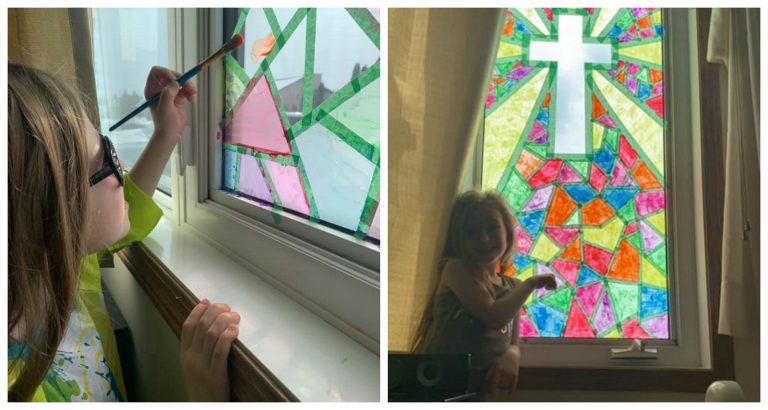 DIY Stained Glass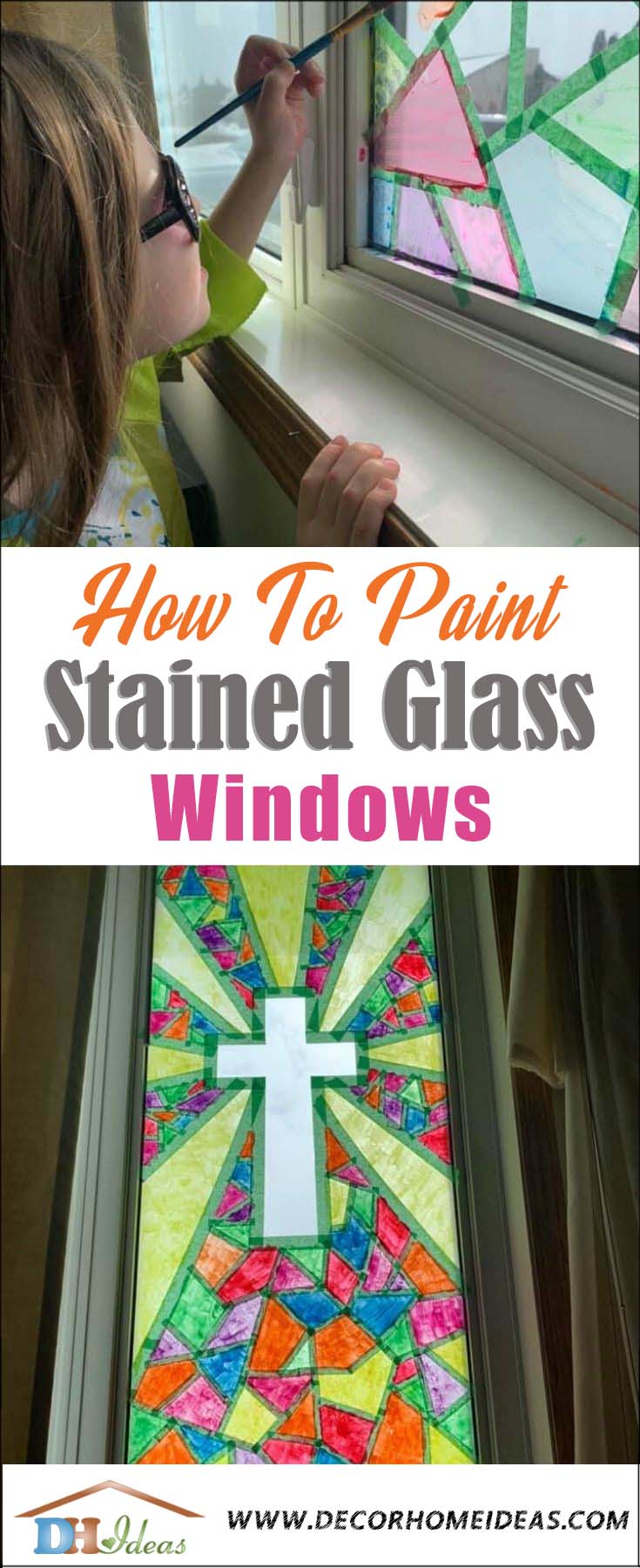 Painting on glass is one of those projects that leave a permanent and individual art trace.
In the next paragraphs we are going to present to you instructions from practical experience to DIY stained glass.
As a particular example, we are going to show you a painting of a cross on a window as we were impressed by the creativeness and talent of that small girl.
The steps are anyway the same for all glass surfaces so just follow them strictly and you would achieve a great result.
Cool right?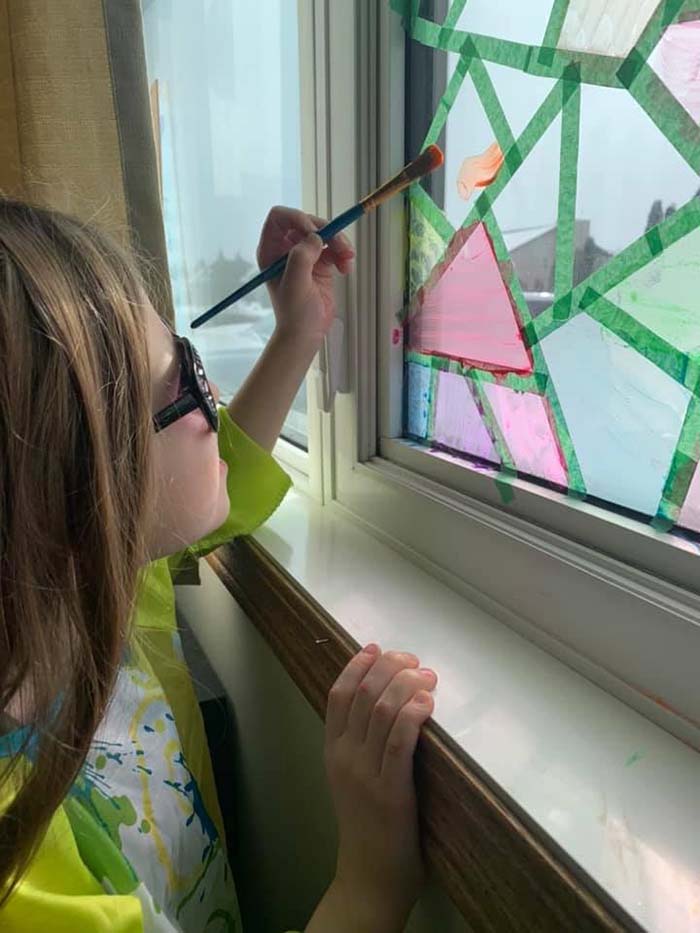 The needed supplies for glass painting are as follows:
Clean glass
Rubbing alcohol or white vinegar
Mild soap and water
Pattern and/or painter's tape
Glass paints
Foam plate or palette
Brush basin
Soft bristle and pointed round brushes, foam daubers and any other painting tools
Paper towels
How beautiful is this?! You or your kids can paint your own stained glass windows. Just use painter's tape to design your window!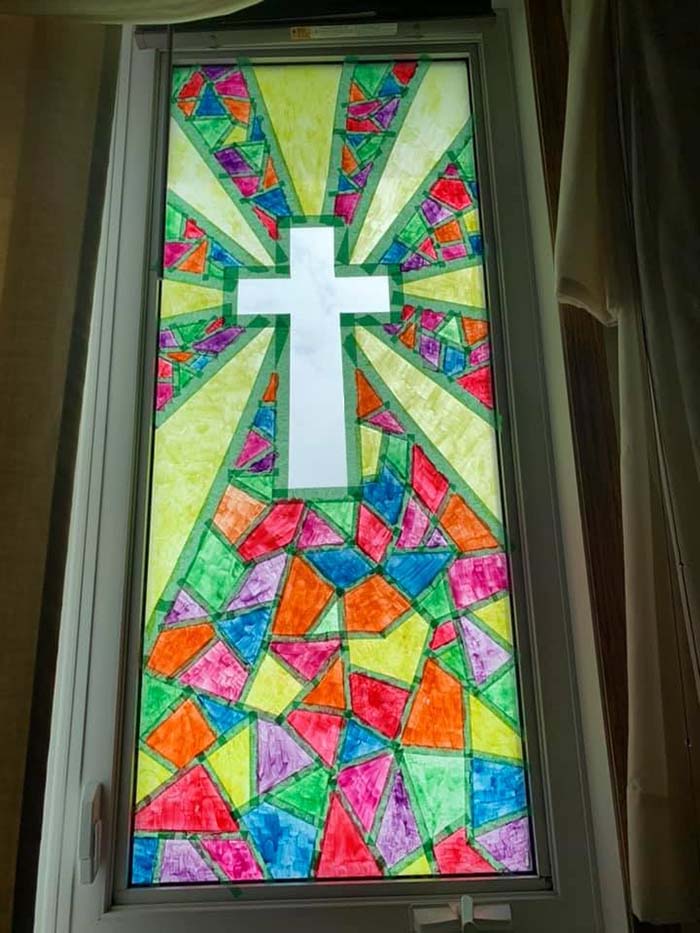 Step 1
Similar to all painting projects, you first need to prepare the surface. Wash the glass thoroughly using enough quantity of soap and warm water. You have to make sure that there isn't any dirt, dust or grease left. Rinse well and let it dry.
Step 2
Start rubbing the glass with a paper towel soaked with alcohol or white vinegar. They are very good both cleaners and solvents so they will be your final "agent" against any dirt. Let it air dry for 15 minutes. Step 1 and 2 ensure optimal cleanness of the glass surface which is of core importance.
Step 3
Your glass is ready to be painted.
If you are using a pattern, you should place it beneath the glass and tape it securely. Thus you would be able to see the image through and outline the lines strictly. If you would like to define geometric shapes as in our example, use painter's tape. That tape is specifically made for painting purposes and doesn't leave any residue when taken off.
Step 4
Depending on the defined paint areas, you may need to use particular brushes. For bigger areas and wide stripes, employ a flat brush. If you would like to create finer lines and small objects or dots, use pointed round shape or even a toothpick. Painting on glass with special paints is not that much different from painting with regular water-based paints. Depending on the area and effect you would like to create, choose the most suitable brush. For large areas of same color, you can save time and hand movements by using a piece from a regular sponge.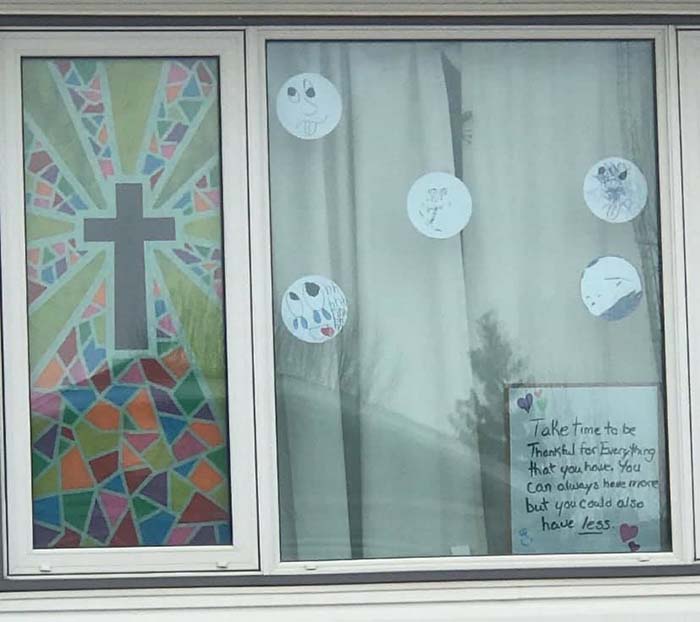 Step 5
After finishing the painting part you would most probably want to remove the painter's tape. We suggest that you wait for a little while before removing it but not until the paint has fully dried. Thus you may peel off part of the painted area.  
Step 6
Let your craft-work dry for at least 24 hours so that the paints cure completely. If you are painting a glass object that will be cleaned in a dishwasher, you can dry it in the oven following the paint manufacturer's instructions.
Step 7
When the painting is dry, wash it manually with dish soap. You should avoid soaking the glass painted items as the painting may be easily ruined.
We should warn you that glass paint is not suitable for usage on objects that will eventually come in direct contact with food or beverages. That means that you can use them on the external surfaces of glasses and dishes you would eventually use in your daily life. However, you shouldn't paint the inside of their glass surface.
More Stained Glass Window Ideas
The following photos are from a project made by Ashley Rosenow which is the owner of Illustrious Interiors and it was a little self-isolation project.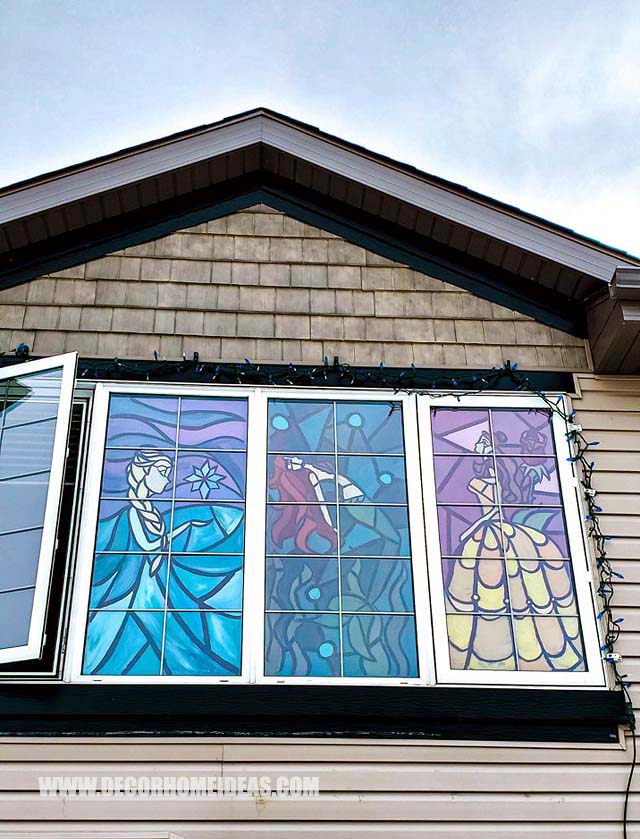 The glass paint art is very attractive and impresses with the faux stained glass effect it successfully creates.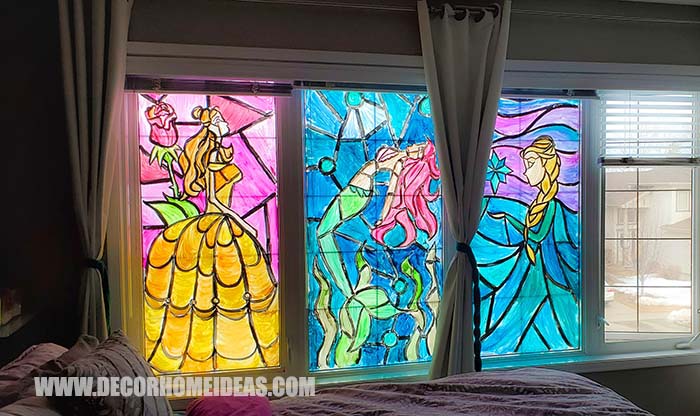 Hanging such glass painting on a wall or leaving it hanging from a ceiling beam are both very good ways to expose your finished project.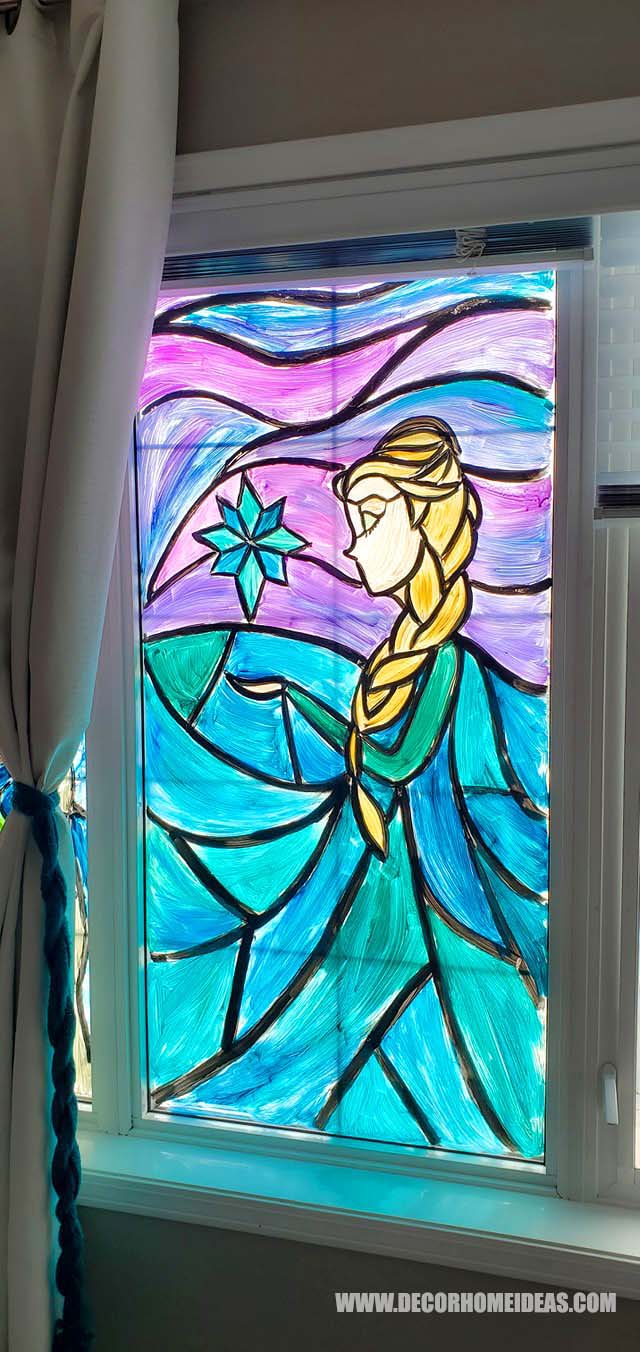 Painting a window though deserves a special place and as many observers as possible!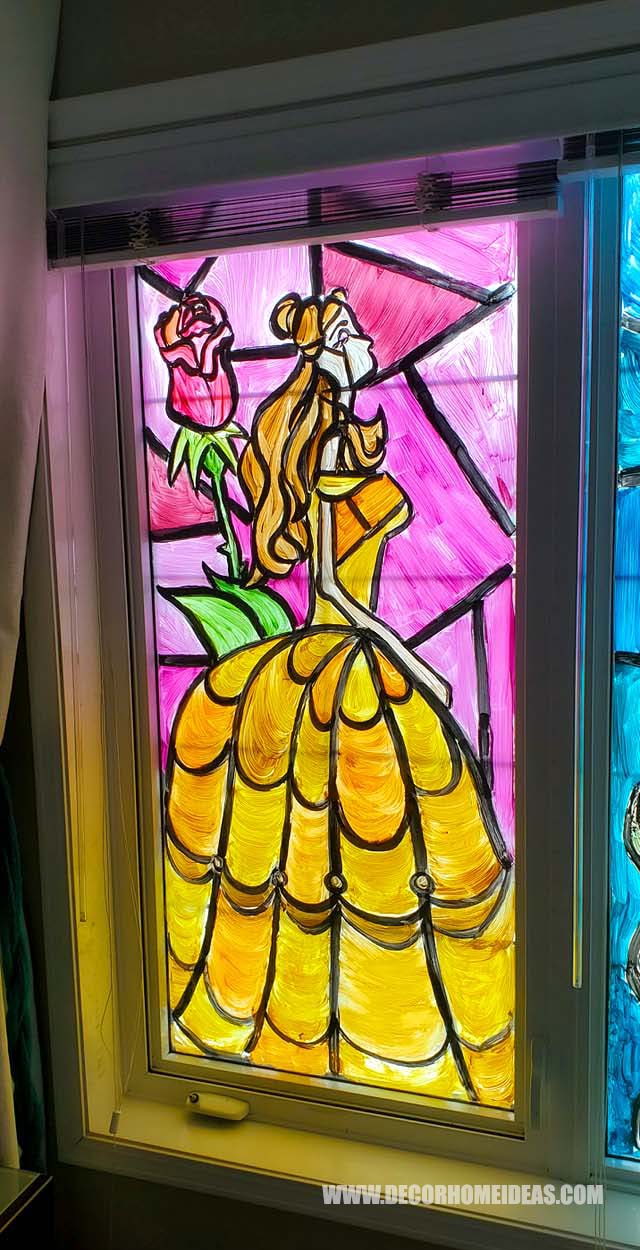 So if you choose to make it, pick up a window that is easily seen from the street.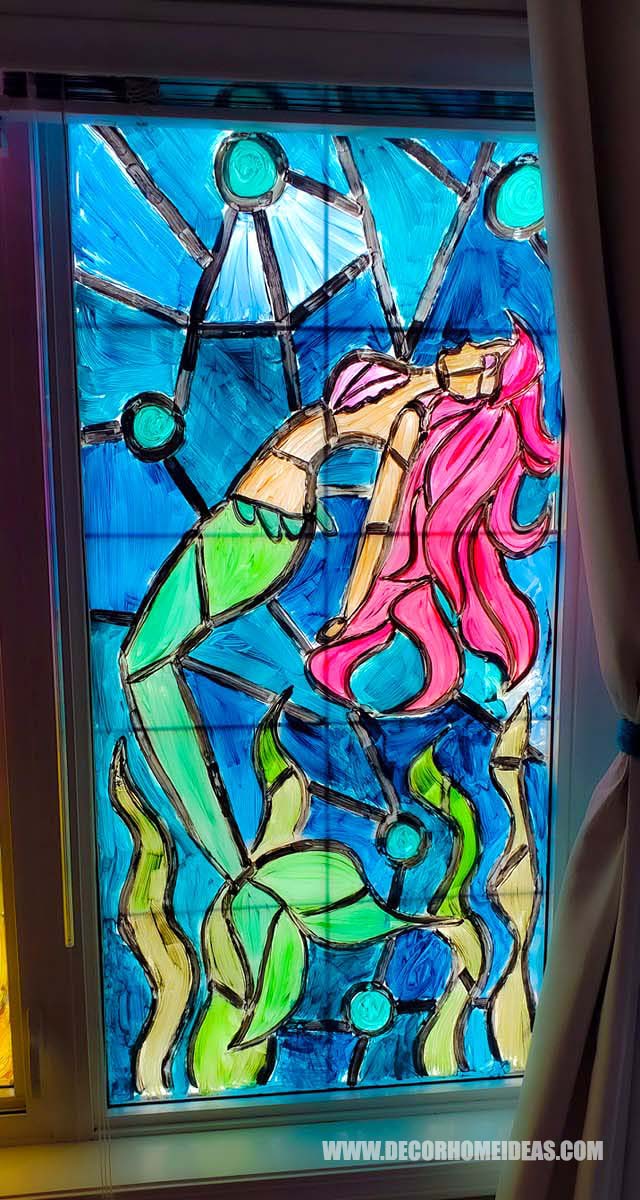 Make sure to involve more thought when deciding the pattern or image you would paint because sometimes such small things contribute to the bright mood of the passers-by.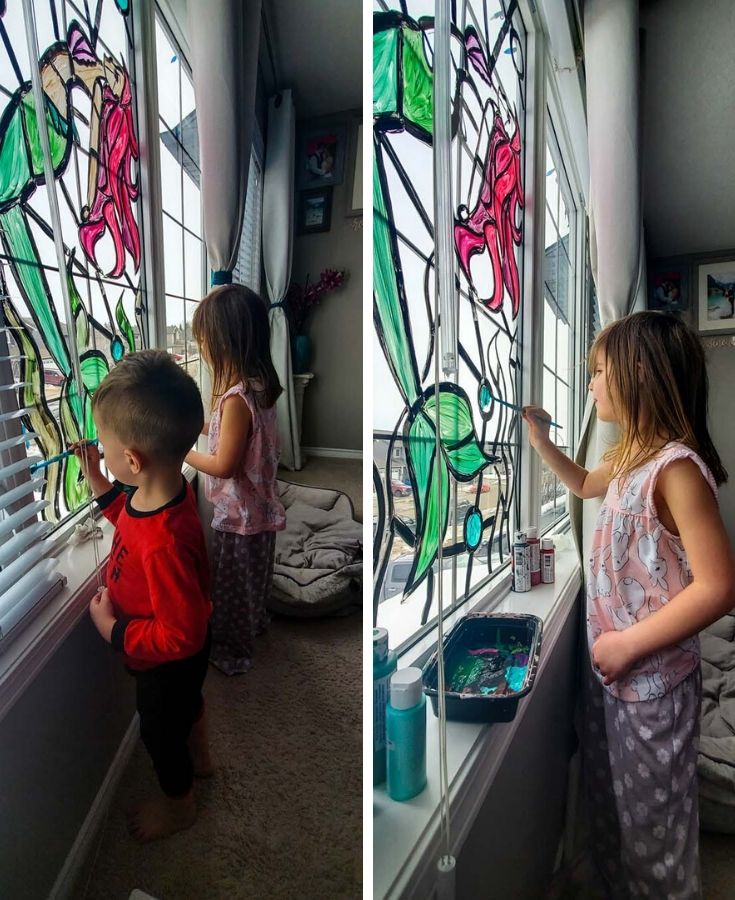 Bryanna said "We had to do a few coats to get it dark enough. We mixed kids crayola washable paint with a bit of water and a drop of dawn soap. We did test a corner it wiped of easily with a wet cloth."
You could also use acrylic paint diluted with a drop of soap and water.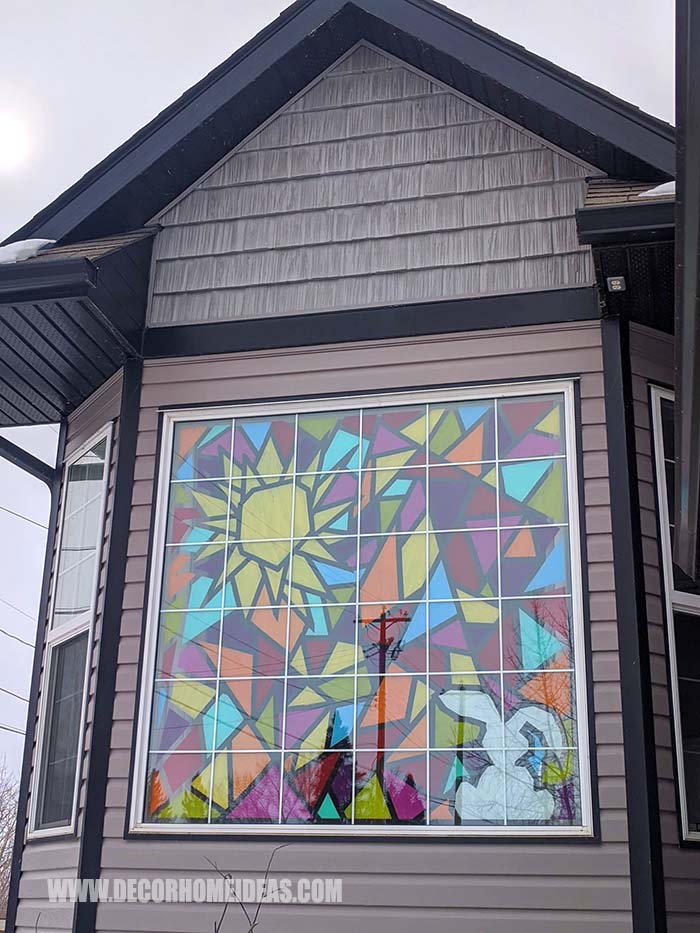 You can paint even some flowers like roses!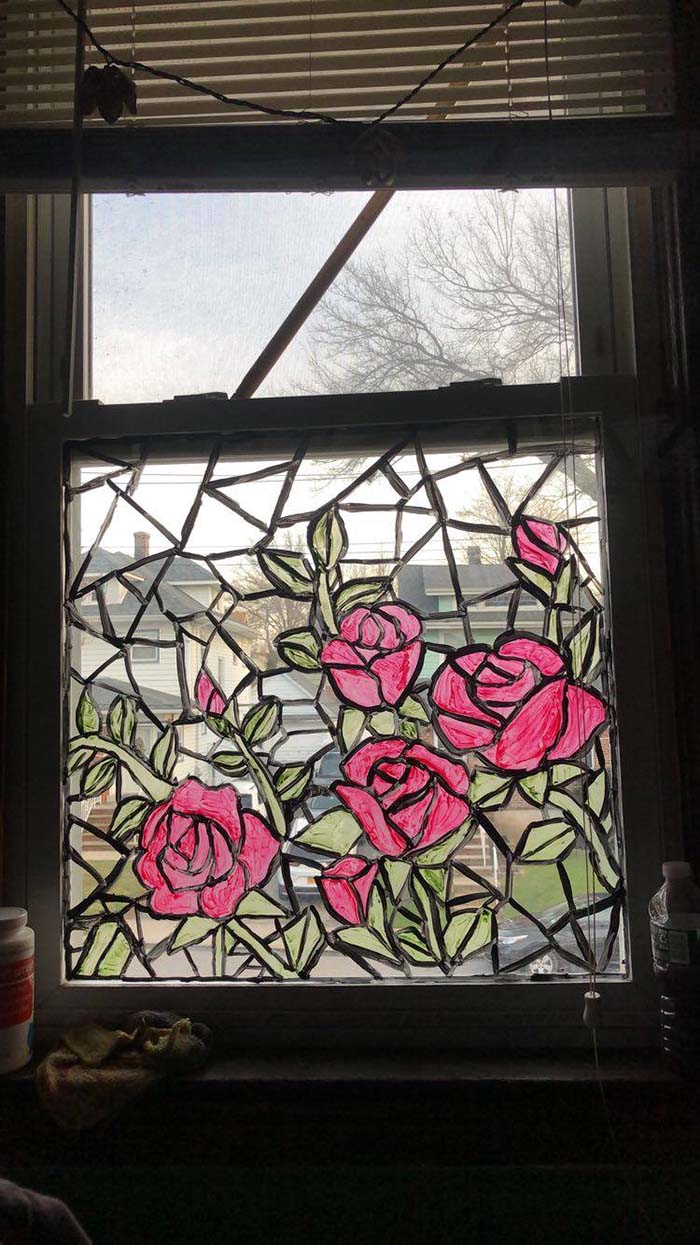 Don't forget to PIN this image for quick access later!