Easy and affordable decor pieces for the backyard? Are you sure?
Yes, we are because we have collected DIY garden crafts that are unique in the final appearance, totally fun for making and ridiculously easy.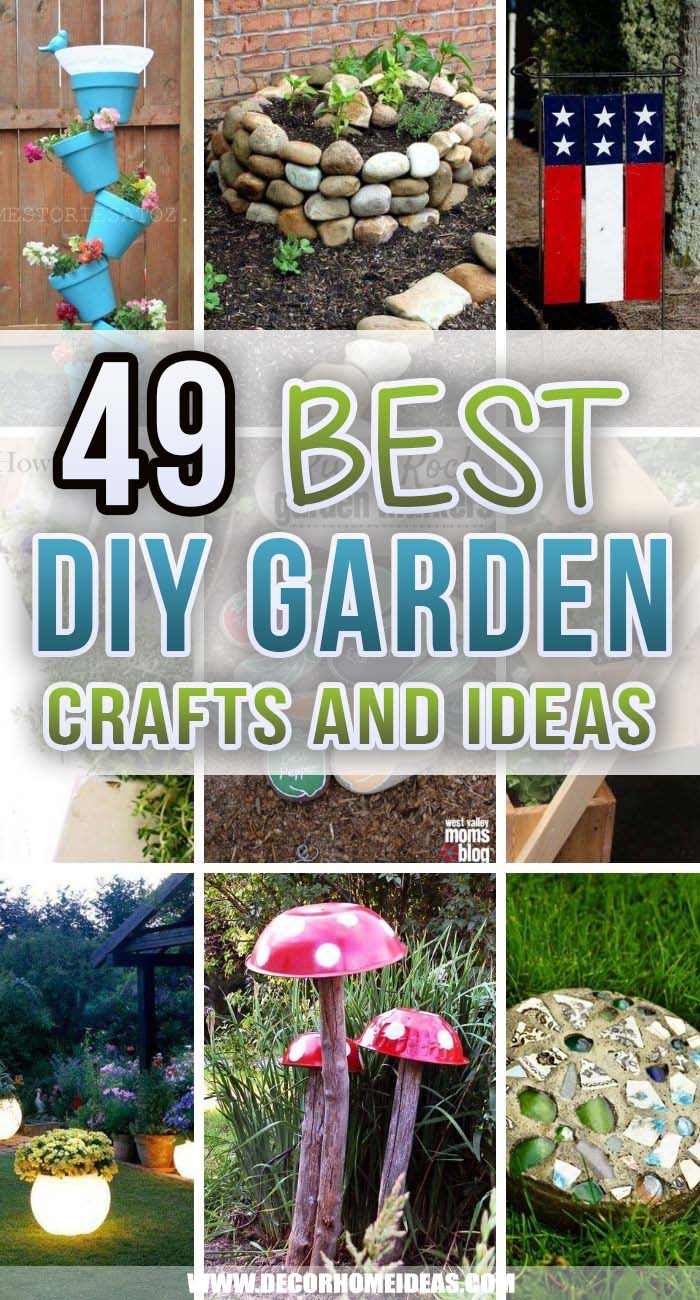 The backyard is one of the overlooked parts of the home and instead of being envious of the well-mowed lawn of the neighbors, start crafting your bright, cheerful and whimsy decorations that will improve the curb appeal and will make your time spent outdoors lovelier.
1. Make Cute Garden Creatures From Flower Pots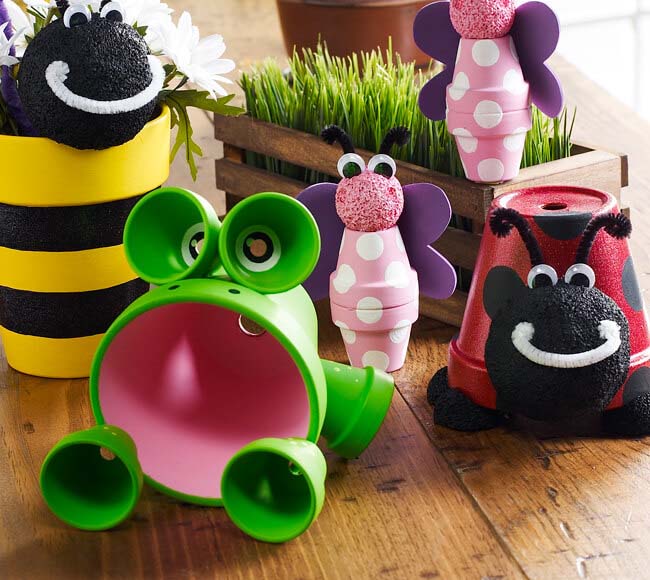 These cheerful flower pots are the best means to make your garden summer-friendly and welcoming!
The DIY craft idea is easy and safe to be made by kids as well. You need terra cotta pots in different sizes, a hot glue gun, paints in bright colors and imagination!
via Plaid Online
2. Unique Wind Chimes From Beads & Skeleton Keys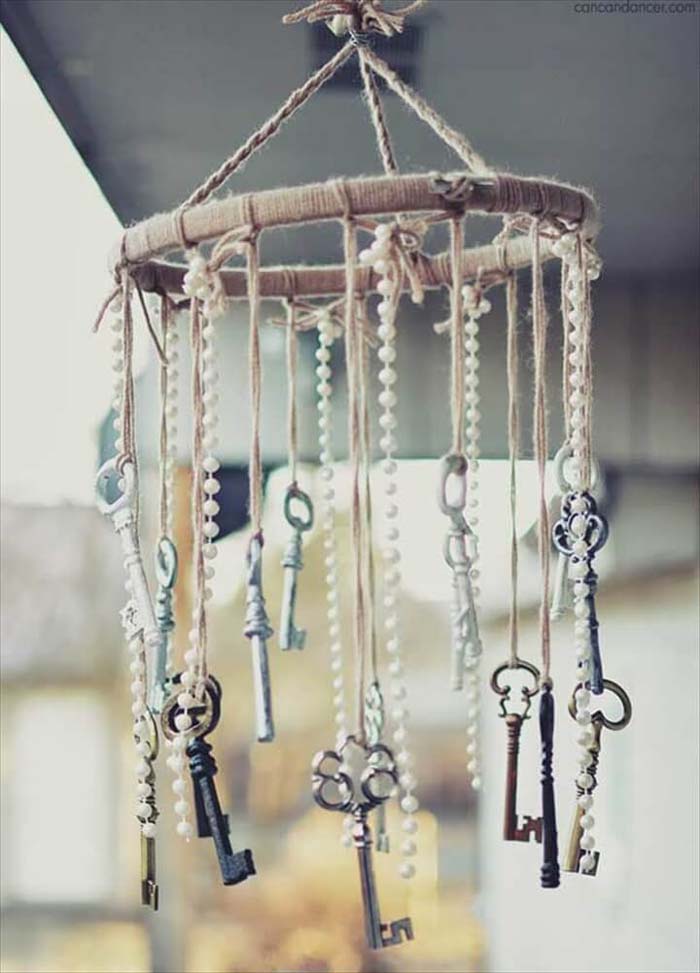 Add a relaxing decor feature to your porch! This wind chime idea incorporates old vintage keys with glamorous pearls to create together an elegant shabby chic wind chime.
via Can Can Dancer
3. Galvanized Stock Tank Becomes a Pond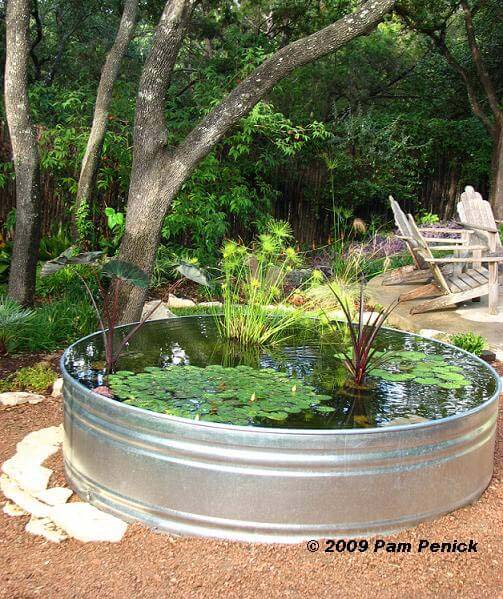 Stock tanks are a great supply not only for pools but for decorative water features as well. What makes them better than a small ceramic pot turned into a pond, is that their size is quite bigger and you can plant more water plant kinds inside.
Fish will also feel good in this environment because the water level is sufficient. You can surround the pond with pea gravel, ornamental grass, flower pots to blend it with the natural seasonal beauty of the garden.
via Penick
4. Create Fire Pit Cover From Wood Planks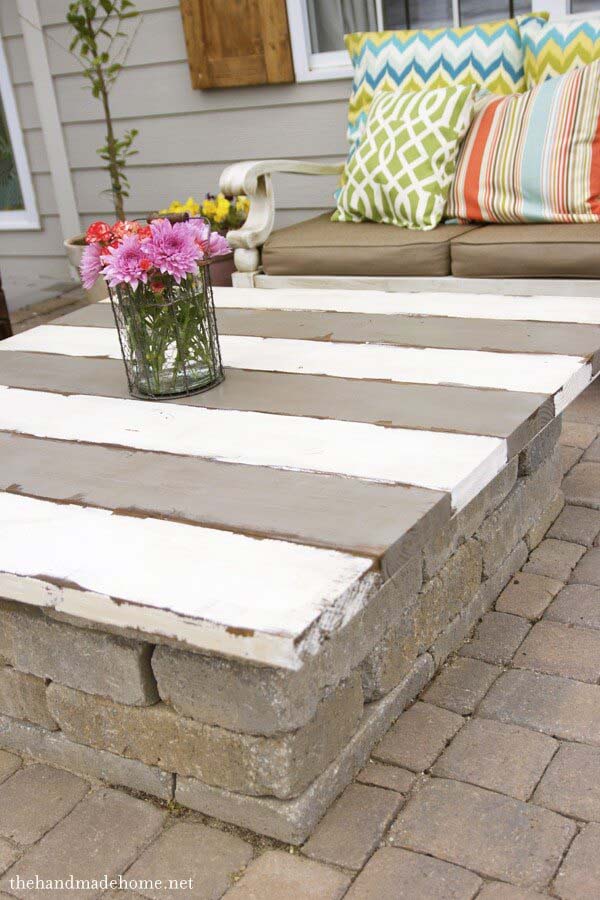 Whether you are lacking outdoor space or prefer multifunctional solutions, this DIY project is amazing!
It serves as a farmhouse coffee table that hides a fire pit for prolonged nights outside in the fresh air. Reclaimed wood can be used for making the cover. Sand it for a smooth surface and then paint in the desired color.
5. Turn Old Golf Balls Into Cute Ladybugs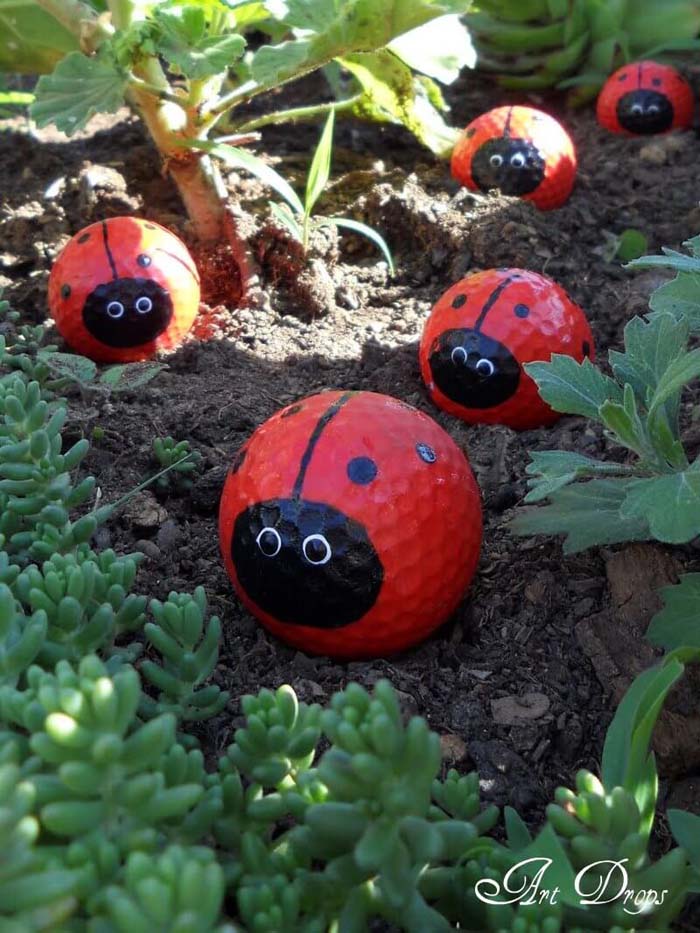 Ladybug outdoor decorations have a magical ability to make the outdoors lively and cheerful. You can make it from old tiers, river rocks and from old golf balls.
49 Easy DIY Garden Crafts That You Can Do In One Day video:
This cute upcycling idea totally transforms the balls only with the use of paints. Place the ladybugs on the ground, next to the vegetables in the garden or surround a flower pot with them.
via Art Drops
6. Scrollwork Enhances Recycled Furniture Dragonflies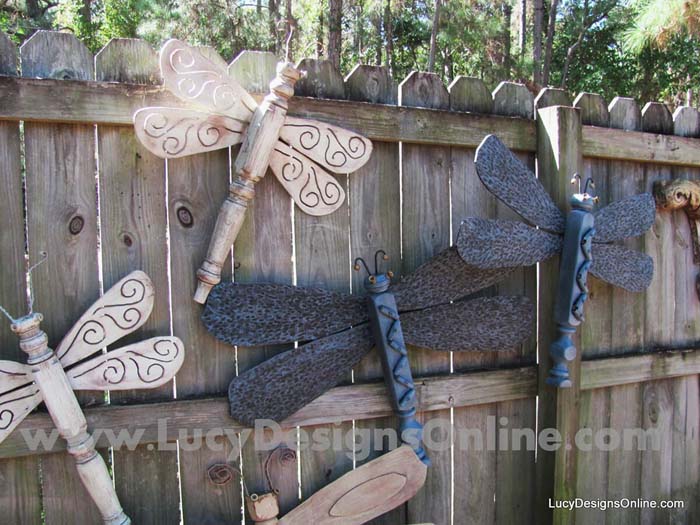 These decorative dragonflies are an amazing way to update the fence and make the general look of the outdoors more appealing.
The parts of the insects are created from old furniture pieces. Paints and carving are applied additionally to give each dragonfly a different farmhouse-inspired look.
7. Repurpose Broken Flower Pot as a Fairy Garden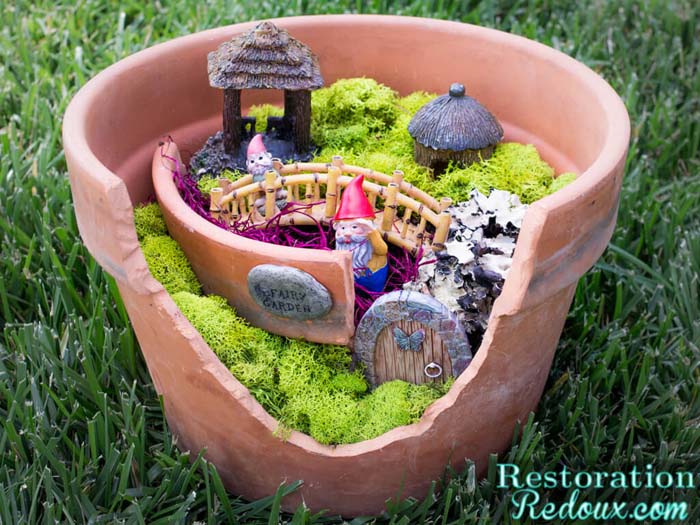 Fairy gardens could be called fine garden art because of the small size of the elements and the fine skills required to assemble and arrange the pieces together so that they create a scene of a miniature scale.
This DIY outdoor craft idea is a good way to encourage your kids to get involved in the upgrade of the backyard.
Let them release their imagination and make a fairy house and surroundings that will fill the yard with magic and beauty.
8. Make Your Own Cement Garden Orb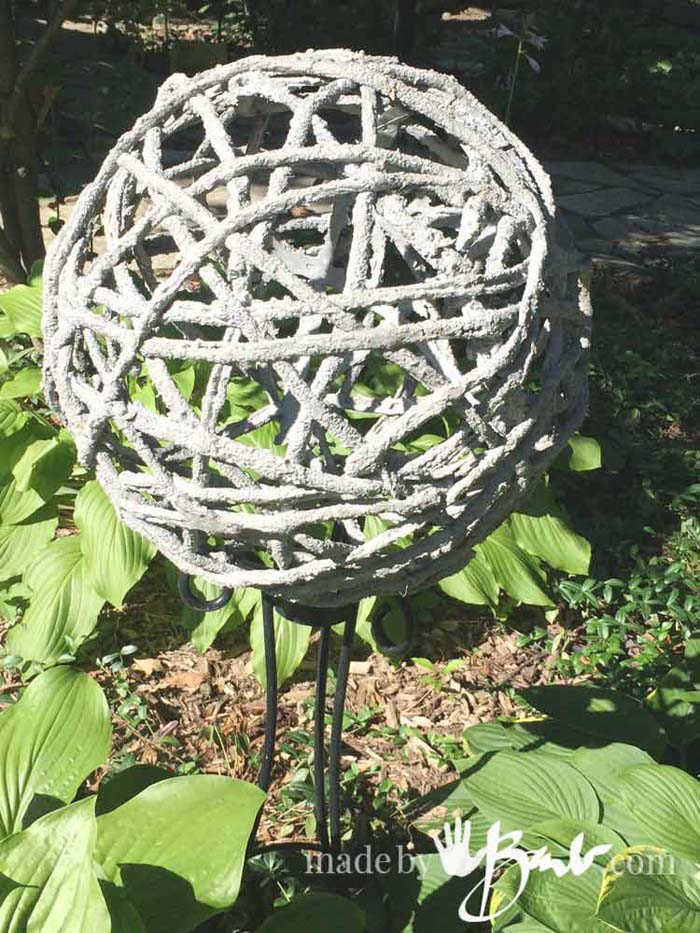 The grapevine globes become long-lasting garden decoration when made from concrete. Yes, this is totally possible and you are not limited in their size as long as you find a good size of a balloon or inflatable ball.
The strips forming the net are fabric pieces that have firstly been dipped into the concrete mix and then woven around the inflatable item.
via Made By Barb
9. Light up Walkways With Landscaping Lights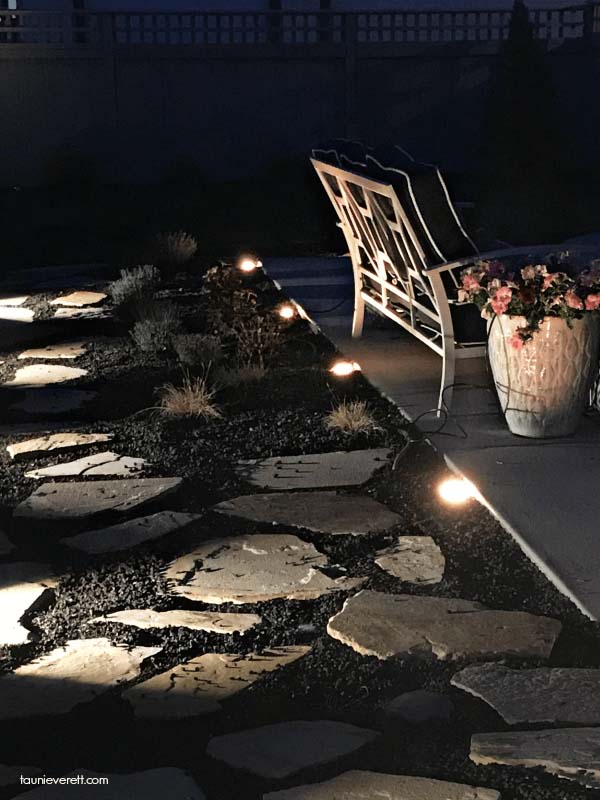 Make the outdoor living area more inviting and romantic with lights. They can trace its foundation or be added aside from the walkways crossing the backyard.
You can choose long-lasting electric lights or solar-powered which is an easier solution.
via Tauni Everett
10. Make Little Pinwheels From Bottle Caps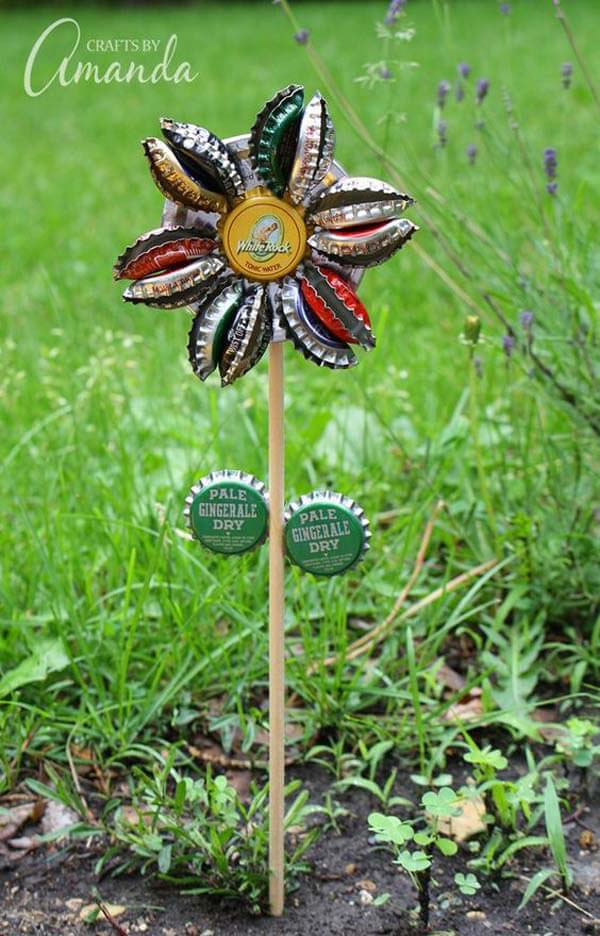 Upcycle the metal bottle caps with this creative DIY outdoor decor idea. Use different color caps to make the petals of the flower and green ones for the leaves.
Glue them on a craft stick and insert them in the ground next to real flowers or vegetable plants. Once the wind starts blowing, you will enjoy the windmill effect of the bloom part of the decoration.
via Crafts By Amanda
11. Turn Buckets Into Rock Covered Planters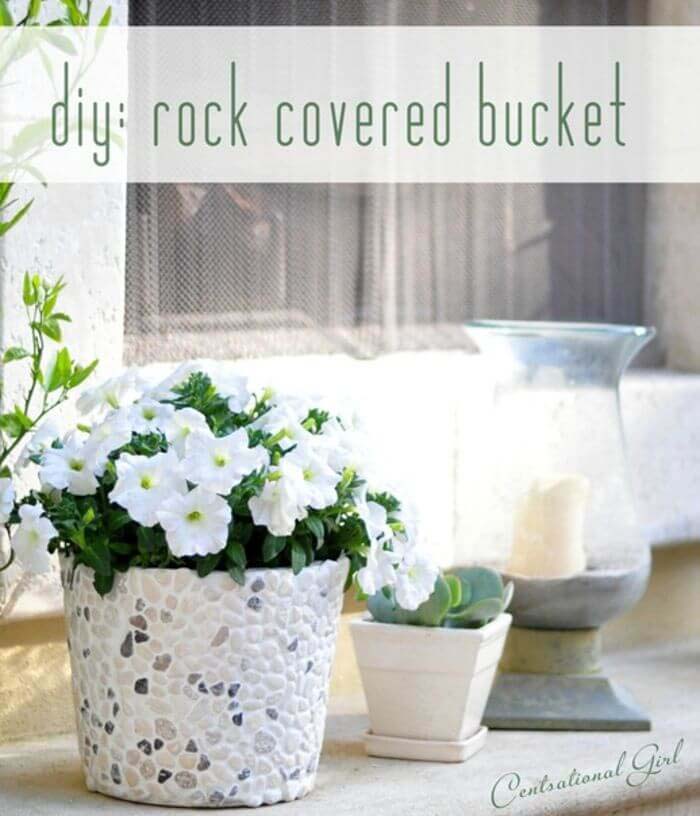 Summer is closely related to the sunny beach and the calming sounds of the waves. Give your yard a touch of coastal with this inspiring nautical decor idea.
Use pea gravel and grout to give a new look to a plain plastic pot or metal bucket. Combine white ceramic pots and vintage decorations for enhanced natural beauty.
12. A Swing Set Gets a Playhouse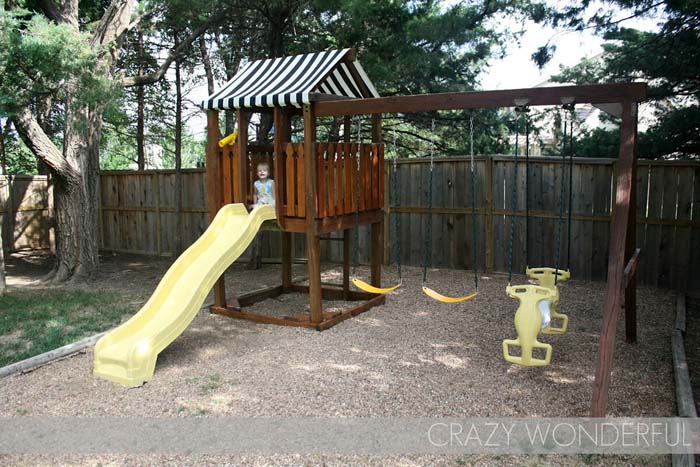 If you have kids, you can create their own outdoor entertainment nook. Kids love swinging regardless of their age.
Added small house will make the nook more cheerful and attractive for them.
via Crazy Wonderful
13. Water Feature From Wine Bottles and Rack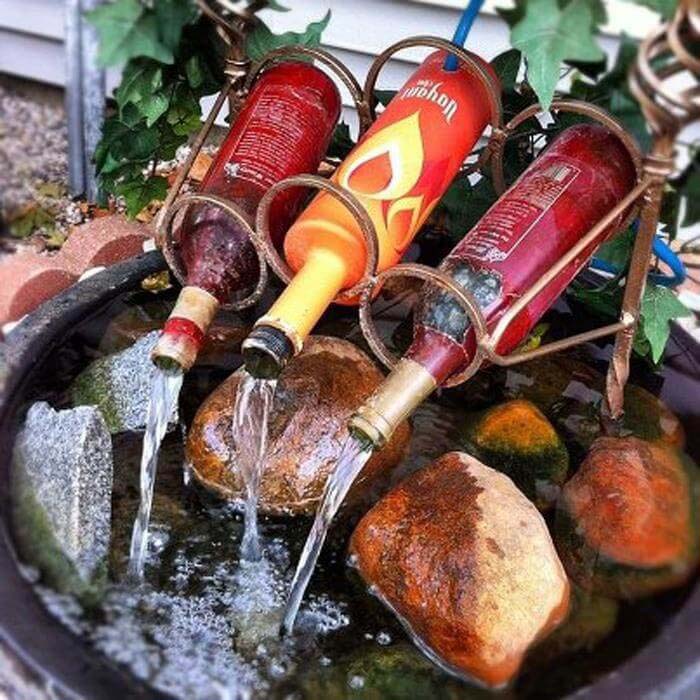 Make your own water feature with supplies already in hand. For that idea, you should keep three or more wine bottles as they will be repurposed into spouts of the fountain.
Add stones to the container to create cascades of the flowing water and improve the sound of the water coming down.
via Kelly DIY
14. Simple Garden Gazing Ball Project

Make your own gazing globes for the garden with old globes, faux glass stones and paint.
Use glue to attach the stones to the globes and let it cure. Once you place the ornaments somewhere in the outdoor space, you will enjoy colorful sparkles created by the sunlight reflected by them.
15. Mushroom Garden Décor From Kitchen Cookware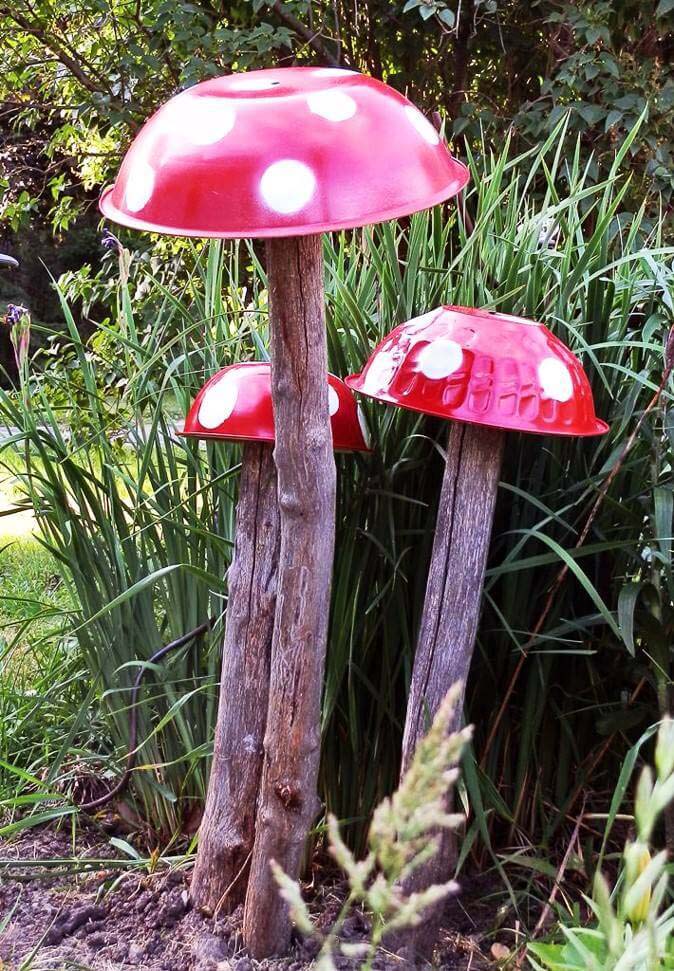 Use worn kitchen pans and bowls for this garden craft idea. It is easy and practically doable by a beginner in DIY.
Spray paints, branches and screws and there you have cute mushrooms peeking out the leash greenery. Gardening will be far more pleasant when you see the red tops of the mushrooms.
via Bobbies Girl
16. Simple Idea for Organizing Tool Shed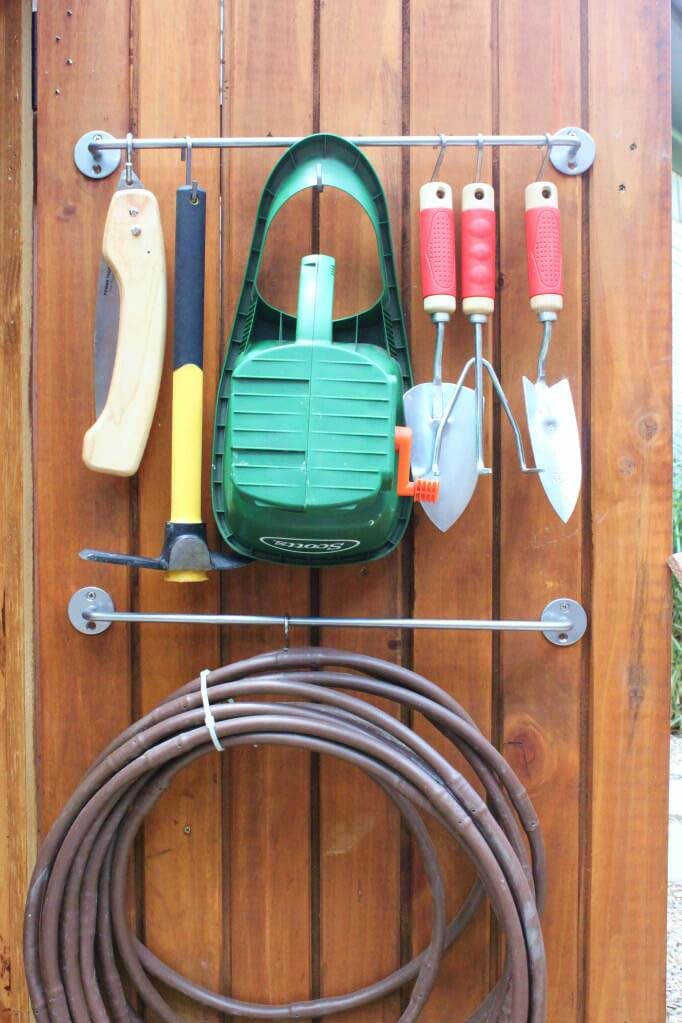 When warmer days come, it is logical that the backyard becomes the more-used space. To give it an inviting look and make your stay comfortable, there are certain things to do first. Let's start with the cleaning and organization.
The neater the backyard is, the bigger the curb appeal will be. Make a dedicated place for your tools to find them easily and to make the backyard more organized.
One of the easiest ideas is to screw towel bars to a flat surface such as the garage or shed door and arrange them with S-hooks.
17. Make Large DIY Illuminated Garden Planters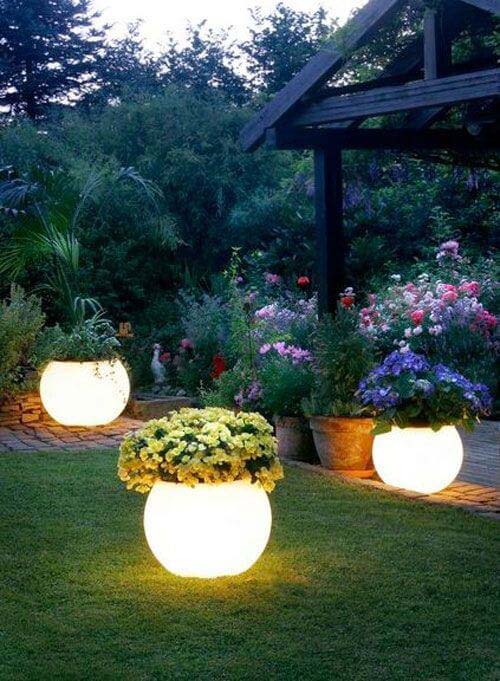 Make your garden interesting and appealing after the sun goes down with these glow-in-the-dark planters.
They are significant in size which makes them attractive during the day. Once it becomes dark, the applied coat of glowing paint turns them into outdoor lights.
18. Affordable Bird Bath and Flower Planter Project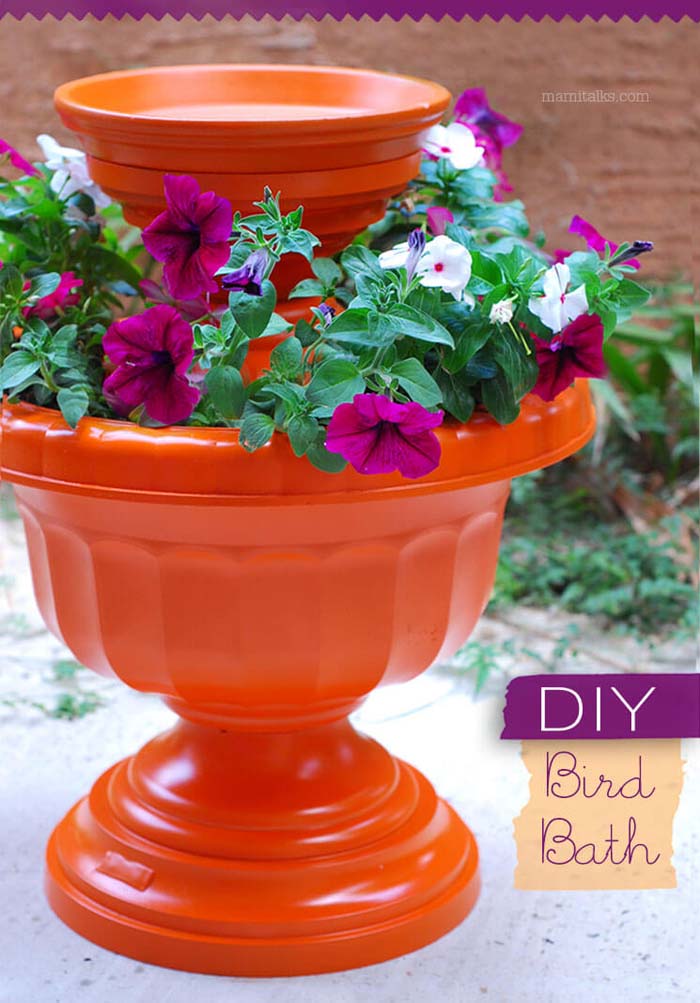 Are you ready to decorate the porch with flower pots? We have a great and easy idea to upgrade a pot and turn it into a water feature surrounded by colorful cascading flowers.
You need a pot on a pedestal of a large size and a smaller ceramic pot. Spray paint the plastic flower pot orange to make the two pieces look like a set.
Place the ceramic pot in the center of the larger one and fill it with water.
via Mami Talks
19. Upcycled Spoons Make Colorful Garden Markers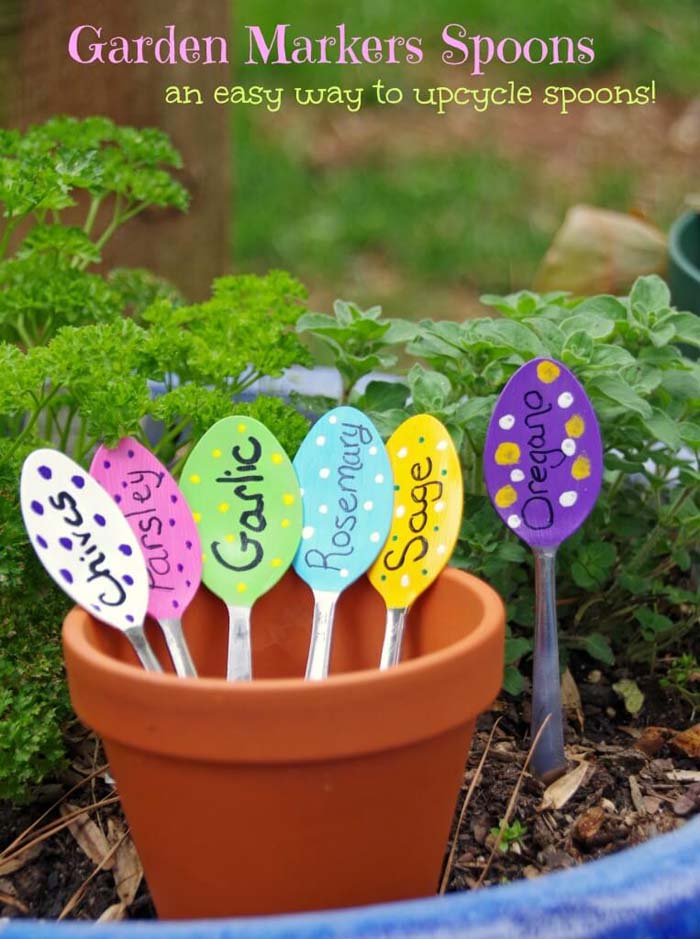 This DIY outdoor craft idea will intrigue your kids! The garden plant makers are cheerful and can be customized as your kids wish.
Acrylic paints are perfect for this idea as they are odor-free and easy to apply.
20. Concrete Garden Décor Cast From Large Leaves

The concrete leaves are one of the most inspiring nature crafts. If you want to add handmade decoration to your backyard which coheres with its natural beauty, you will love this DIY craft.
Preserving the concrete casting is very important to enjoy them for many years. Use paints and metallic adds to create whimsical ornaments.
via Garden Muse
21. Simple Terracotta Bird Feeder Project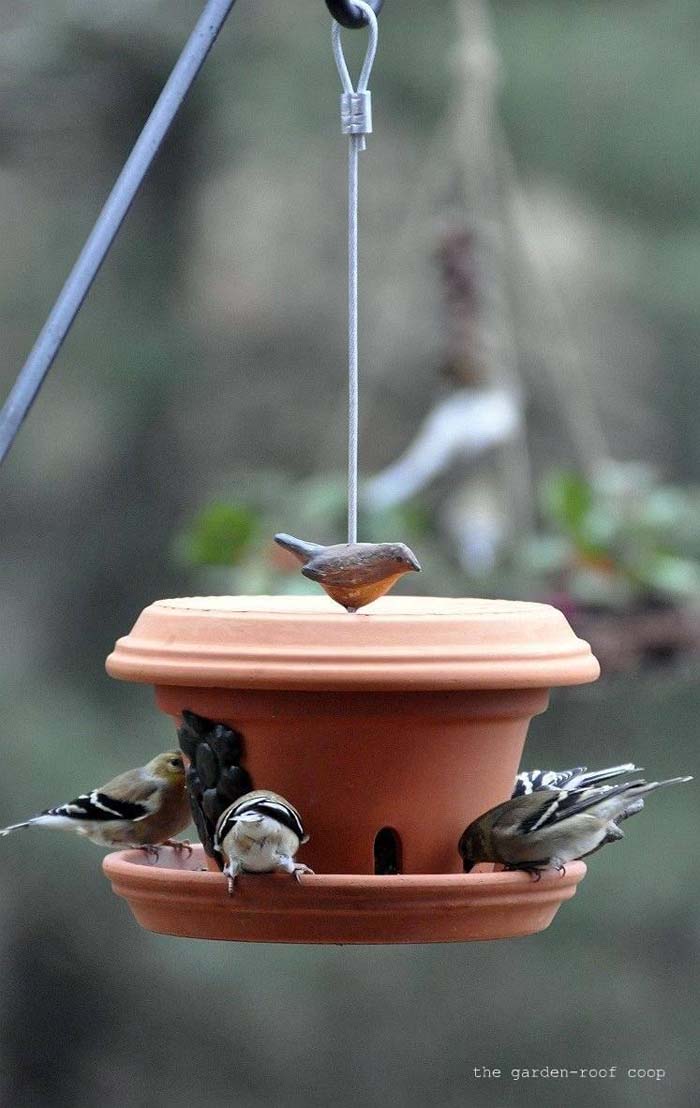 This bird feeder is very inexpensive and will surely make your backyard more beautiful and friendly for the wild creatures.
You need one terra cotta pot and two ceramic dishes to create a working bird feeder. It is hung on a large branch of a tree so that the ambiance is welcoming the birds to take a snack.
22. DIY Mosaic Embellished Stepping Stones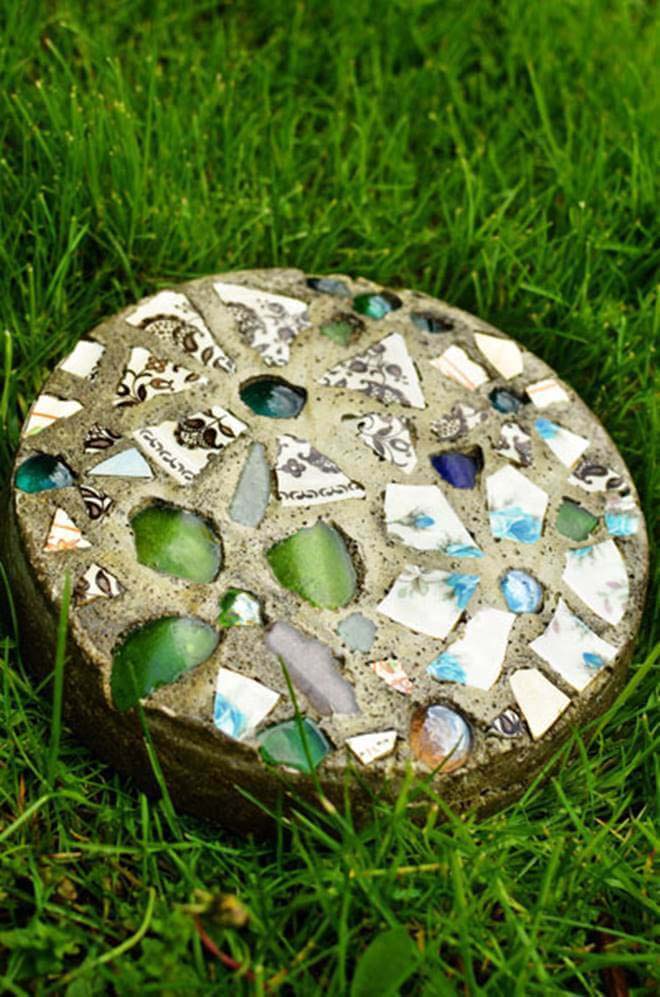 Making a walkway with stepping stones is not only functional but also a beautiful outdoor decoration. This DIY outdoor craft features charming stepping stones with mosaic embellishment.
For that, you need pieces of plates, glass and faux gems. The project is super easy to make! Use a cake pan or another round container as mold and concrete mix to fill it.
23. Large Wood Barrel Becomes Tiered Planter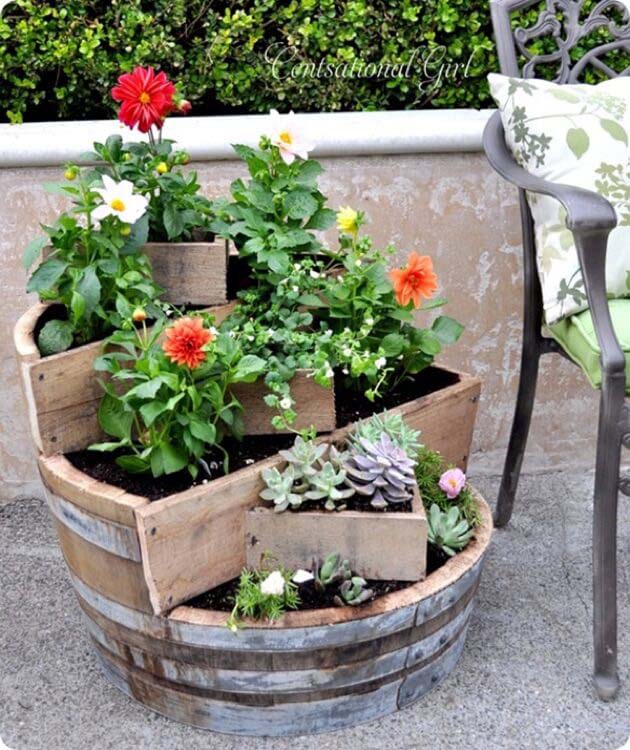 The perfect addition to your rustic garden is a half-barrel vertical garden. Forming levels with reclaimed wood planks will create more planter sections and an interesting garden design.
Place the barrel next to the sitting set to make it appealing with the beauty of the weathered wood and colorful blooms.
24. Add Curb Appeal With DIY Flower Boxes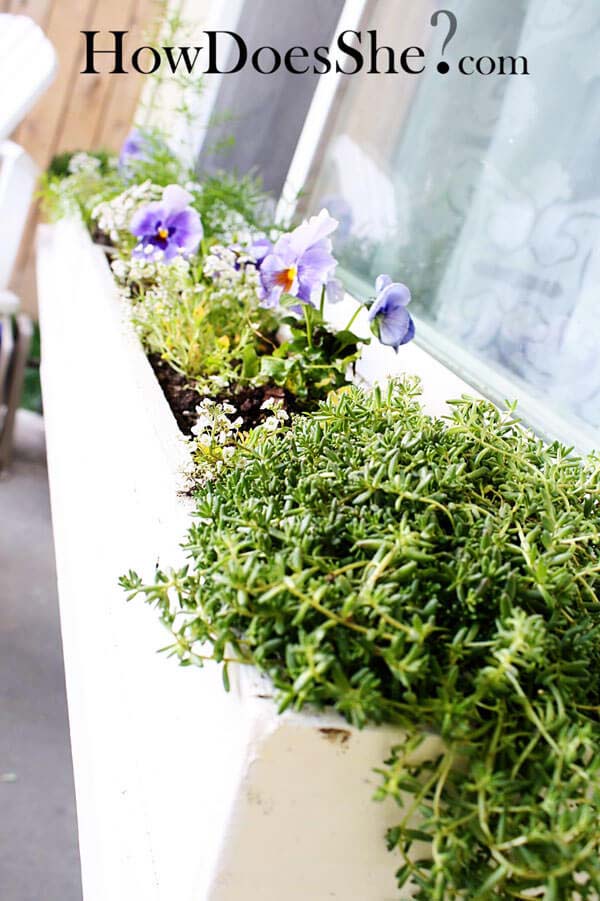 Window boxes are a must for the warm seasons as they improve the curb appeal and also bring a fresh mood on.
This DIY craft idea is super easy and affordable. You can customize the boxes in size and color to match them with the existing exterior and your personal style.
You can combine blooming flowers with succulents and herbs for a vibrant look and insect repelling function.
via How Does She
25. Make Garden Markers From Mason Jar Lids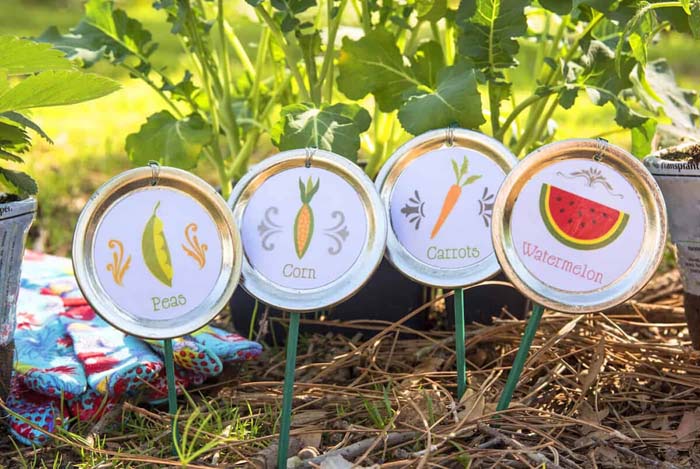 Upcycle the lids from the jars into lasting labels for your vegetable seeds. If you are good at drawing, you can paint the images of the kinds yourself. Otherwise, simply print them out and glue them on the lid surface.
Choosing the pictures for your customized garden labels is quite a big fun.
via Mod Podge Rocks
26. Small Tiered Flower Boxes Make Big Impact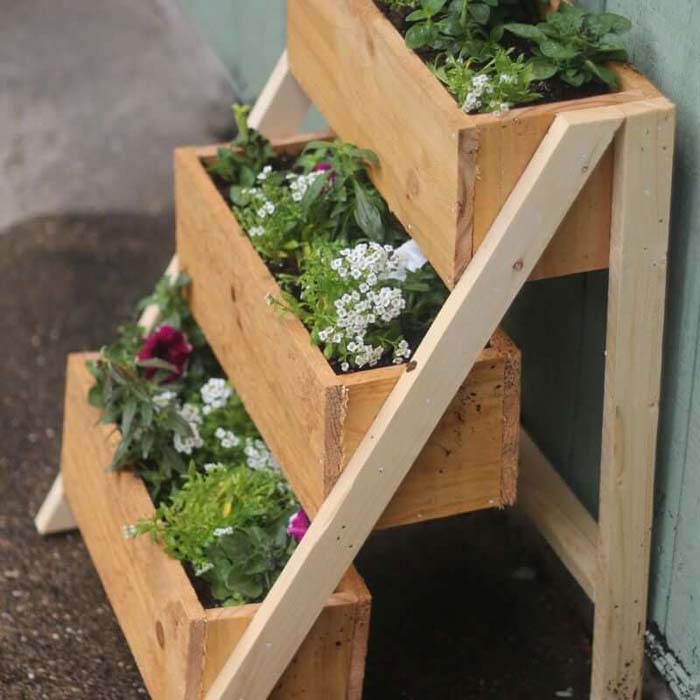 This tiered planter idea is best for small outdoor spaces because of its compact size and impacting look.
The three wooden boxes are arranged vertically in a ladder pattern to help the flowers planted to create a continuous cascade.
They are held by wooden support that can be easily moved from one place to another.
via Home By Jenn
27. Paint River Rocks for Graphic Garden Markers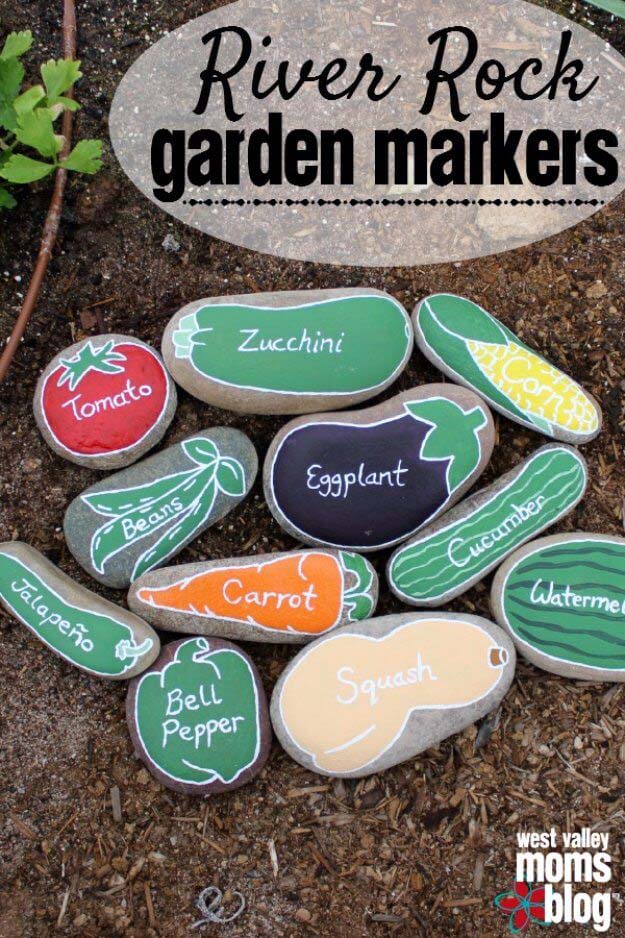 A great activity you can practice in the summer is searching for painted rocks in nature. This movement has been popular for a couple of years now and is great fun for the whole family combining the walk in the fresh air with the seeking of treasures.
This idea has inspired a cute garden craft that will make distinguishing the planted seeds easy. River rocks are decorated with paints to visualize the plants that will grow up soon.
This is a fantastic way to make customized tags with natural materials.
28. Simple Patriotic Garden Flag From Pallets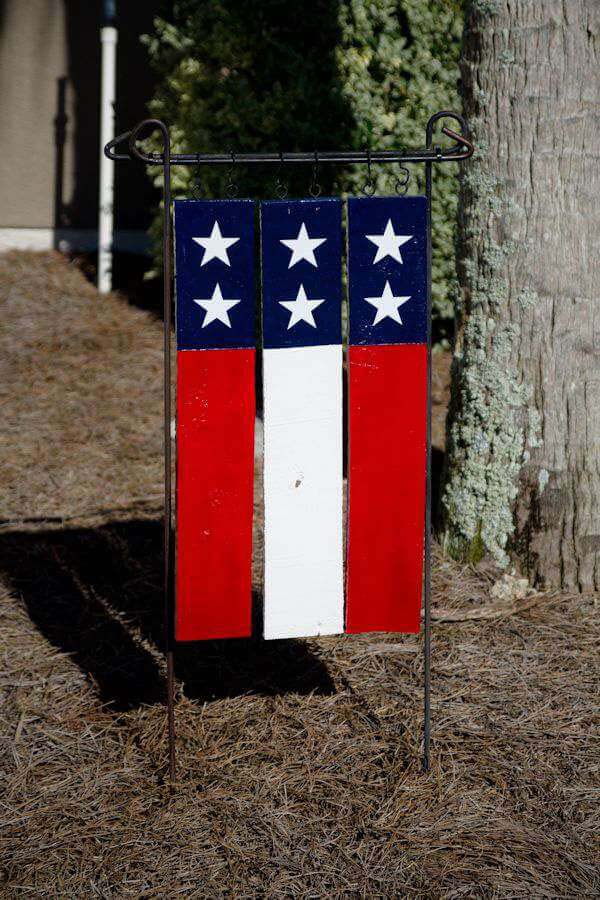 Demonstrate your love for the country and the value it creates for your living with this holiday craft idea. The flag is made from wooden planks which can be taken from a reclaimed pallet.
A metal frame holds the painted slats in a vertical position and lets inserting it securely into the garden soil. The project is fun and easy and is a perfect way to celebrate the 4th of July.
via My Life Abundant
29. Rustic Votive Candle + Mason Jar Display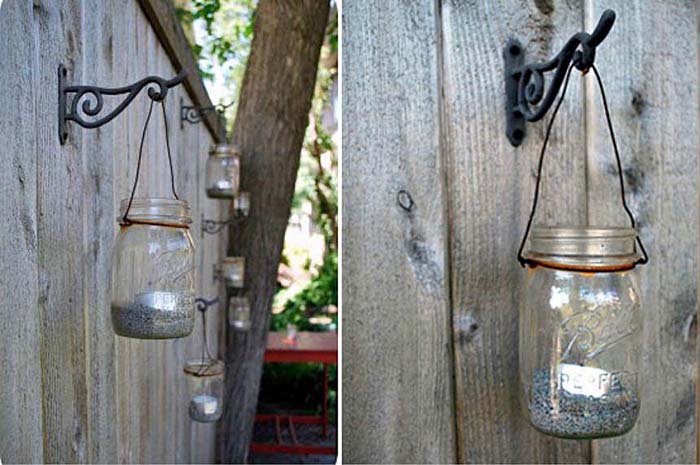 This outdoor garden decor idea is an easy way to make an old fence more appealing or to add a special romantic touch for an occasion celebrated in the yard.
Mason jars are filled with sand to ensure a safe surface for a tea candle. Tied twine around the neck ensures easy attachment to the fence and also enhances the rustic look.
via Chez Beeper Bebe
30. Fast Wine Cork Garden Marker Project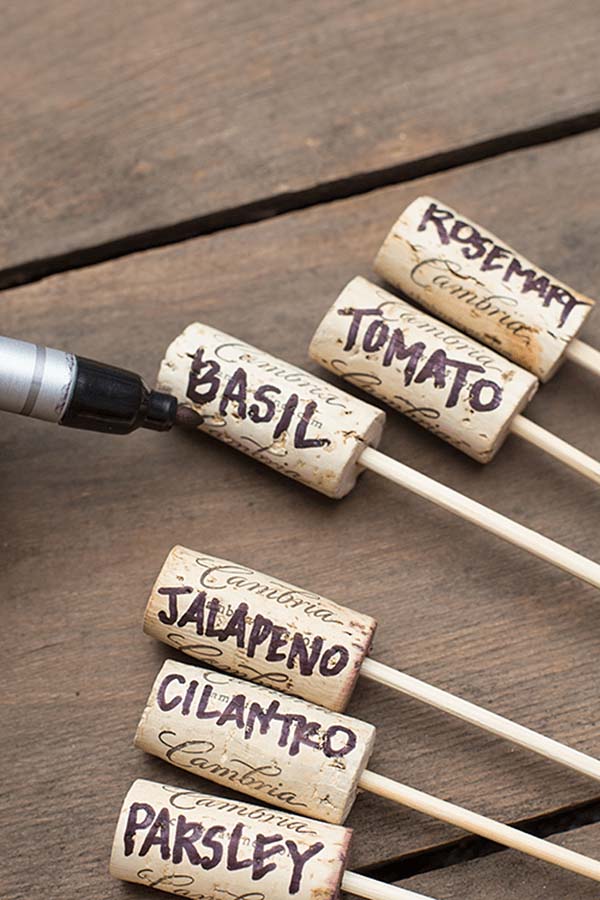 These garden markers are simple to make and at the same time very impacting with their rustic look. You probably already have in hand wine corks, a marker and wooden sticks.
Simply write on each the name of the plant seeds and insert the corks on the sticks.
31. Create Flower Garden From Painted Rocks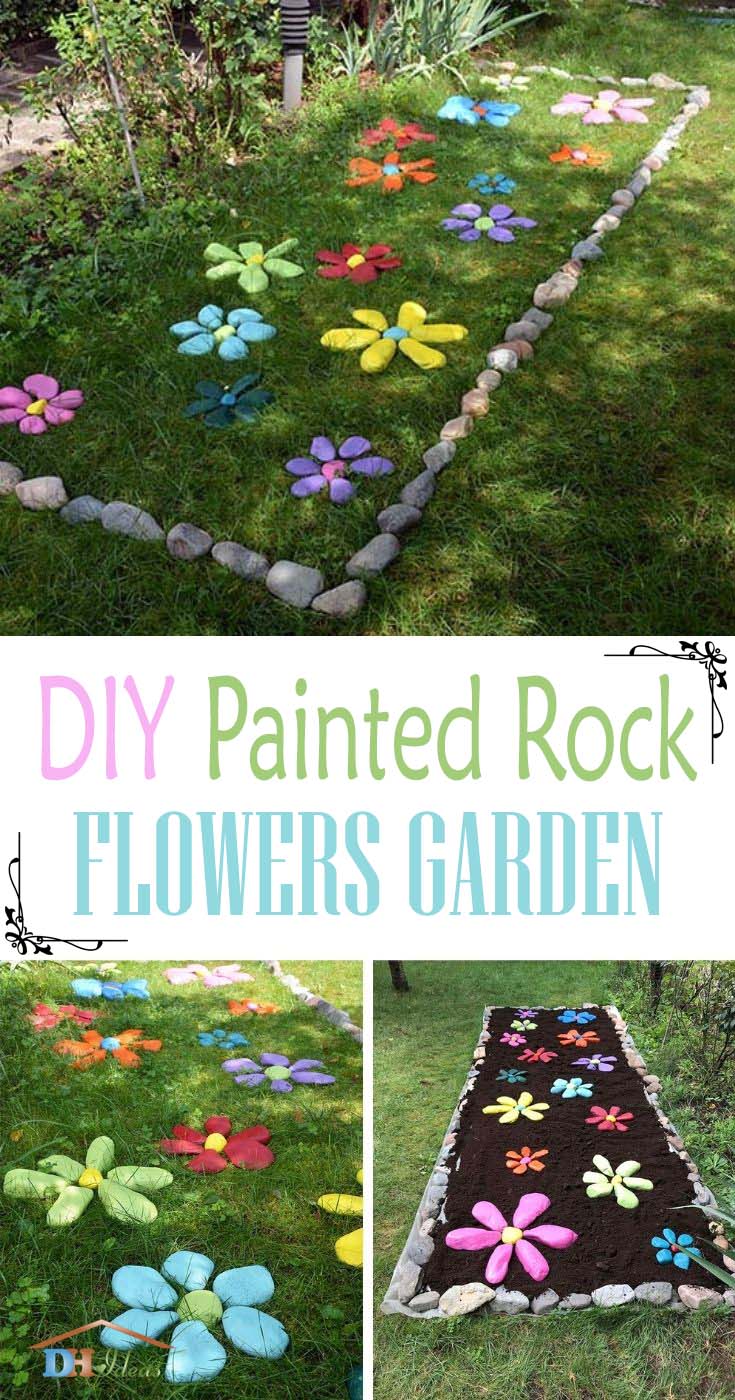 Do you want to have a piece of your garden that is always bright and cheerful? You can make it with painted rocks forming large stone flowers.
This DIY outdoor idea is one of the easiest but very impacting ones and doesn't require any investment, only part of your time, good mood and imagination!
via Decor Home Ideas
32. Solar Lantern Lights Street Number All Evening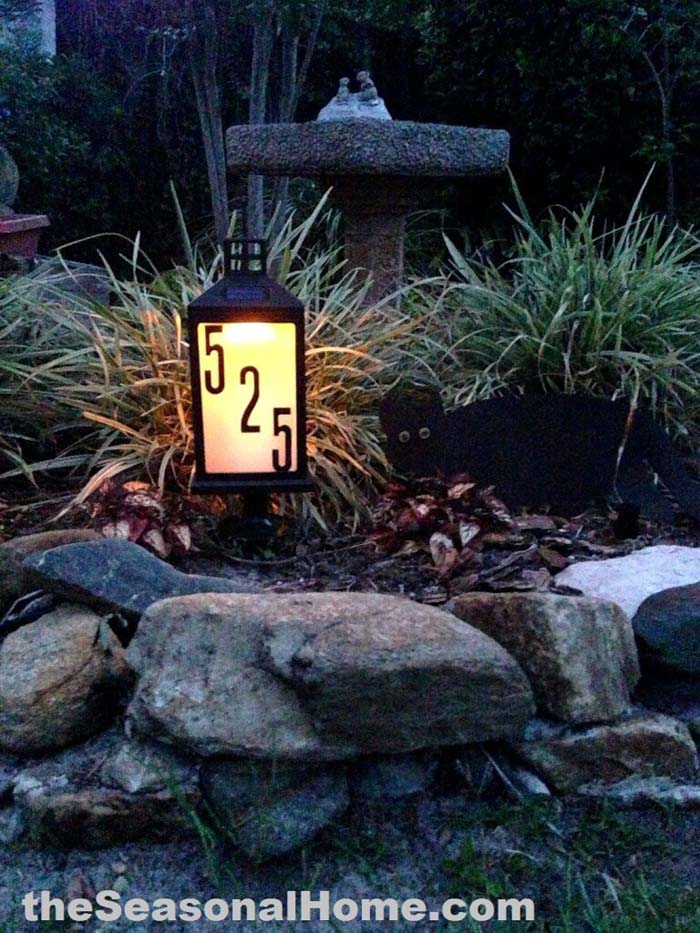 The address sign usually stays next to the front door or to the mailbox. Designs vary from tags and hanging signs to tiered flower pots with inscribed numbers.
Here is another great idea for an address sign which actually very clever since the number can be seen during the darker part of the day as well.
The DIY idea is easy, fun and very inexpensive. The lantern can be inserted in the garden, in front of the stairs, next to a flower pot, or wherever you want to differentiate your house from the remaining.
33. Build a Stone Wall Garden Bed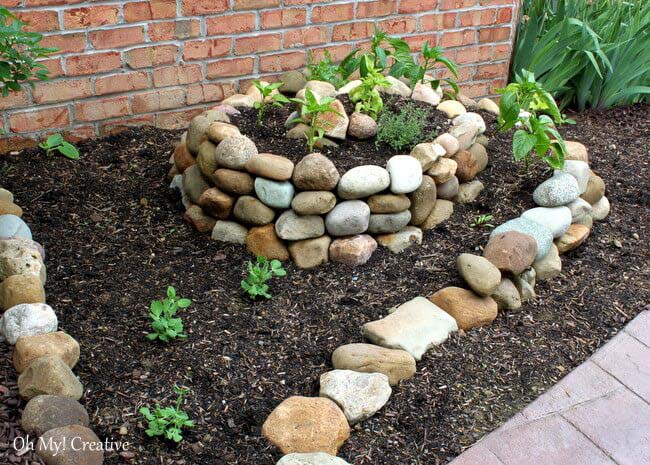 Give the veggie garden a decorative touch with stones. It is an easy DIY outdoor idea that will take not more than an hour from your weekend.
Surround the vegetable part of the garden with stones or stack them together for a bolder statement. Continue the arrangement with a row of stones curved in a curious shape. The rocks make the garden look very aesthetic and keep away small animals.
via Oh My Creative
34. Make Easy Cement Planter Project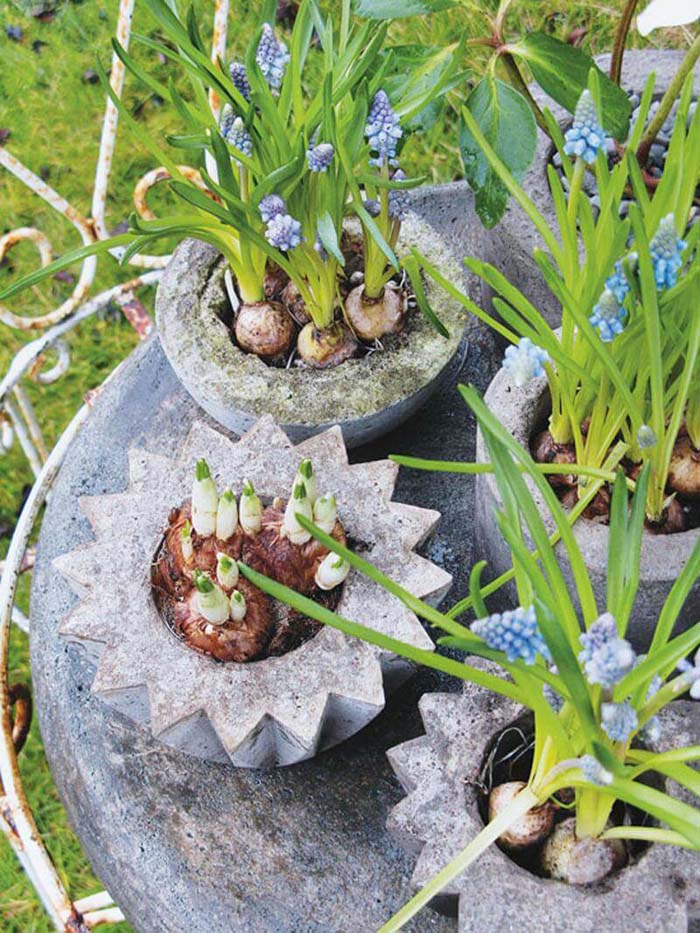 Looking for a stunning craft idea for the garden? Check this one-of-a-kind planter that will become the focal point of your yard.
Using domestic items such as cake forms, you can make amazing concrete shapes to repurpose into pots. Arrange them on a large stone, a bird feeder or a similar flat surface for improved impact.
via BHG
35. Roofing Tin Becomes Outdoor Accent Wall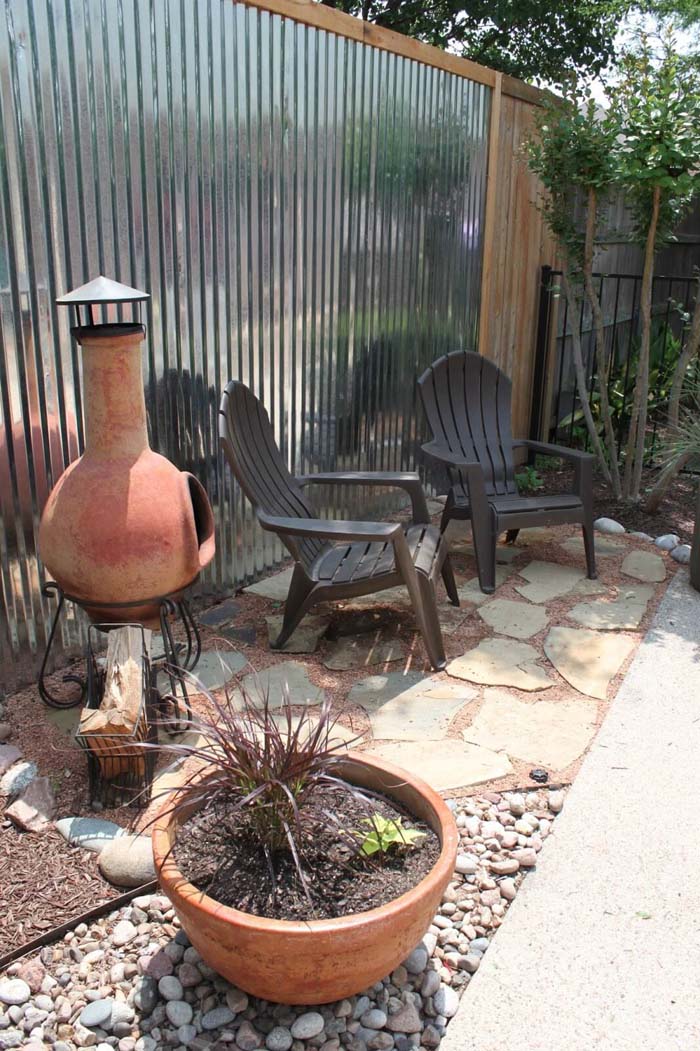 If part of the backyard fence is too worn and you want to quickly repair it with little investment of money and effort, you can try this clever idea for cladding it.
Sheets of corrugate metal are placed on the wooden slats to create an interesting accent wall able to reflect the sun's rays. The framing wood material acts both as a support for the metal sheets and as a decorative element that unites the statement outdoor wall with the rest of the garden decor.
36. Gravity-Defying Bird Bath & Flower Pot Planter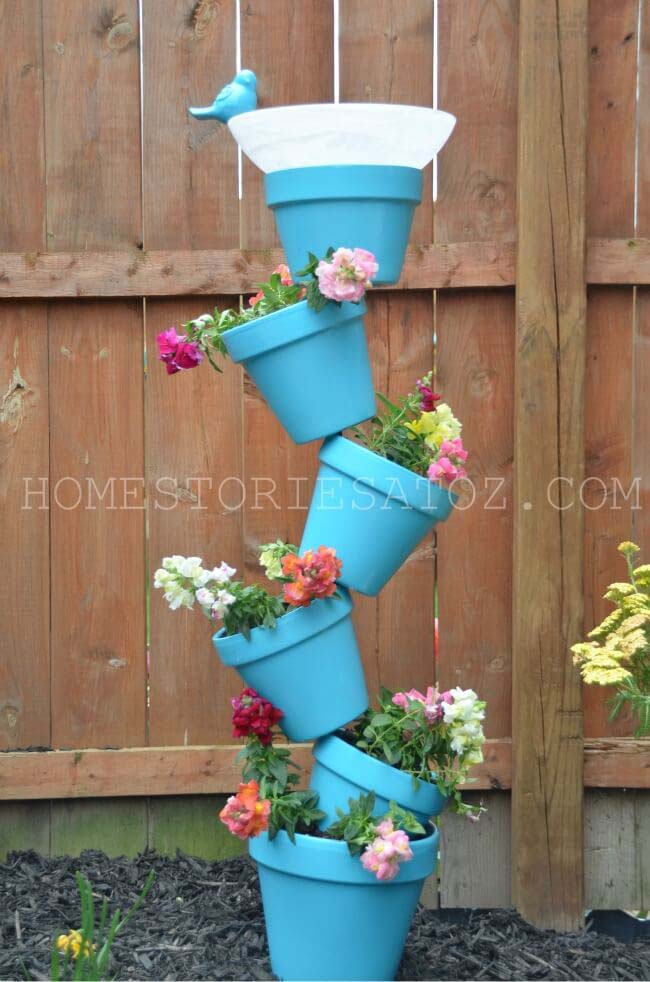 The stacked flower pots are a whimsy type of vertical garden perfect to edge the front entrance, small undecorated corners from the garden or to add accent to an important part of the backyard such as a water feature, an outdoor living area, etc.
To make this tall planter, you need flower pots in two sizes and of identical colors. A metal dowel is a key to the stacked positioning as well as the drilling of holes in the bottoms of the pots. Cascading kinds of flowers are best for this vertical garden as their bloom mass will create a colorful waterfall.
37. Create a Mini Chandelier Flower Planter

Create a flower chandelier for your patio- a stunning item to decorate the higher part of your outdoor space!
You need a vintage chandelier with many sockets. You can find it at a thrift shop on a deal. Get small ceramic pots in identical sizes which can fit in the chandelier sockets. You can leave the light fixture in its original color or spray paint it in a bright one for an improved cheerful mood.
via DIY Show Off
38. Easy Doormat Project From Worn Garden Hose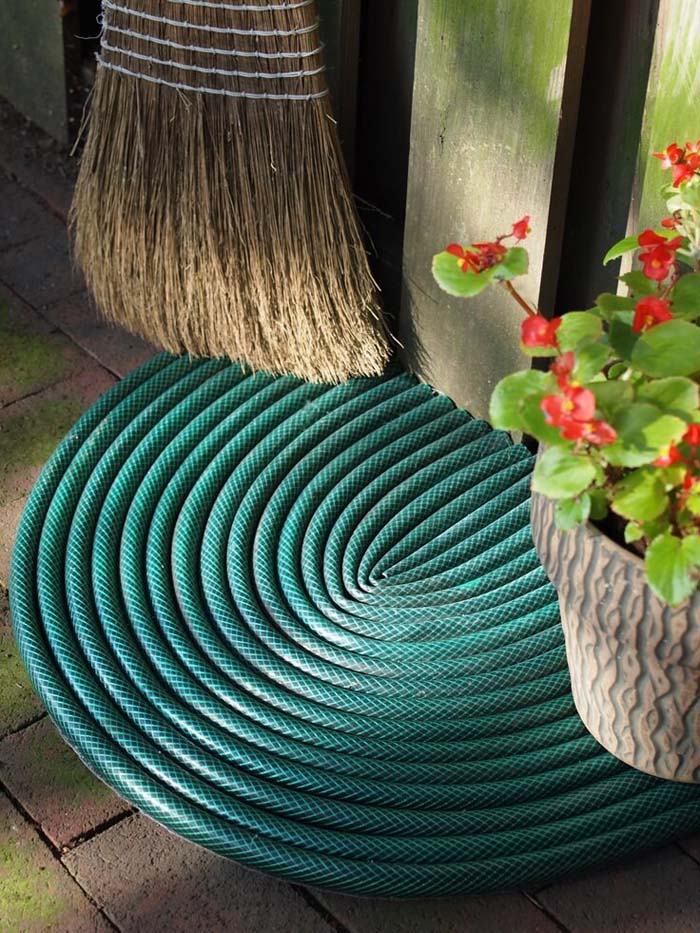 Don't throw but upcycle- a motivating and eco-friendly thought! This has inspired the next idea in our collection of DIY crafts.
What do you do when the watering hose gets damaged? Make an interesting and useful garden mat with it. Twisting the hose is easy once it has stayed under sunlight. You will be able to curve it in a semi-circle easily.
via Mark Kintzel
39. Glass Table Top Becomes Amazing Water Feature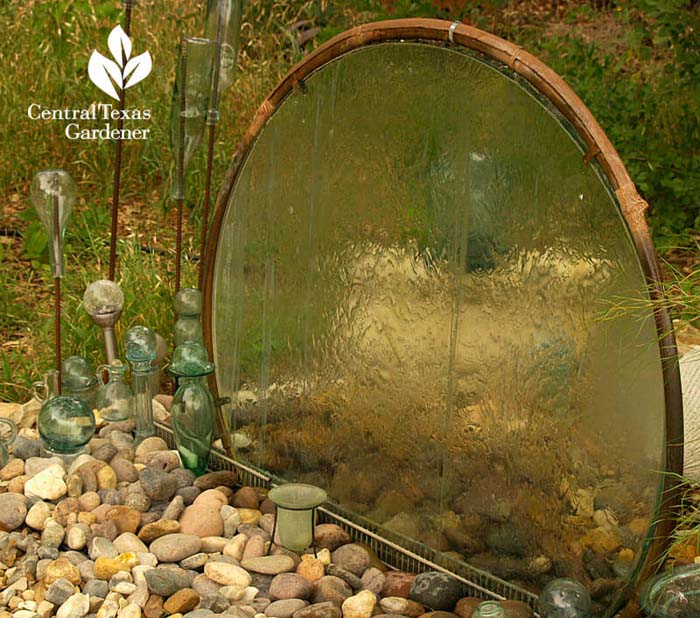 Have you always admired the zen-inspired gardens? You can make a special nook in your backyard spreading relaxation, calmness and balance with this easy DIY outdoor craft.
A glass tabletop is repurposed into a waterfall wall. The water runs gently down the glass thanks to a pump set with a hose hidden at the back of the metal frame. River rocks cover the ground around the waterfall to further implement the Asian-inspired garden design.
40. Solar Chandelier Adds Flair to Outdoor Dining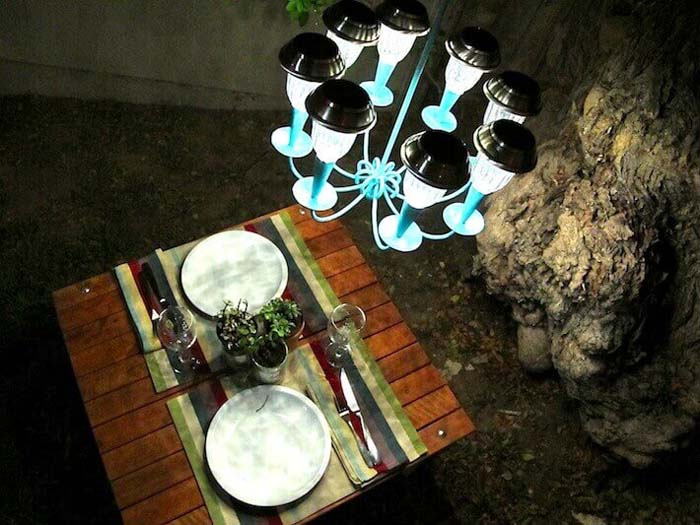 Add a solar-powered chandelier to your patio, porch or deck to make it comfortable for the nights with the smooth welcoming light.
A vintage metal chandelier is perfect for this DIY project because it offers many sockets to install solar lamps. You can customize the metal part of it with spray paints to add a pop of color to the outdoors.
via Home Jelly
41. Garden Shines Bright With Upcycled Spoon Butterflies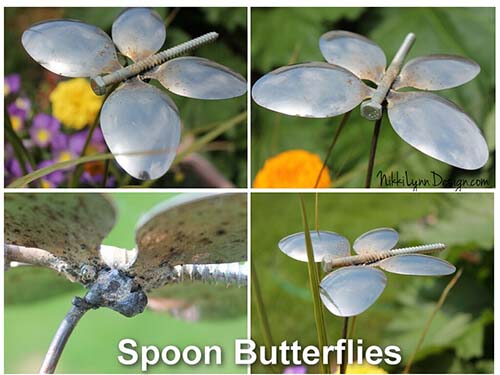 Butterflies are a certain sign that spring has come. If you want to enjoy their beauty all summer long, make your customized butterfly decoration from upcycled spoons and screws.
They will last for many years thanks to the resistance to the outdoor environment of the steel. You can weld the butterfly on a tall metal dowel to let it easily be seen among the greenery.
42. Repurpose a Tea Set Into a Bird Feeder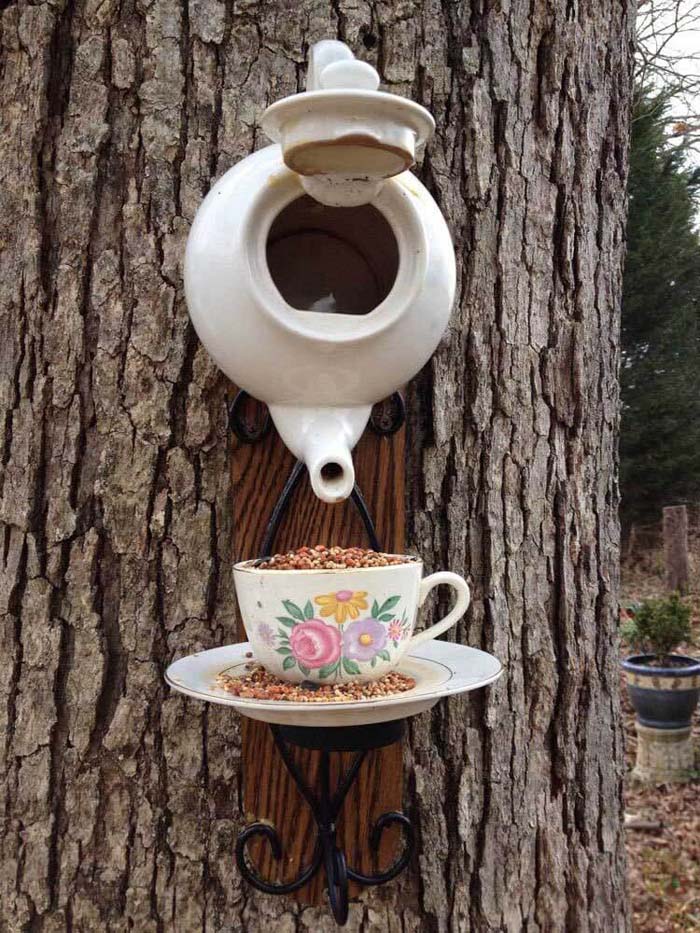 Isn't this bird feeder cute? A vintage tea set is repurposed into a bird inviting feature easily. Simply attach the pot and the cup to a large tree with brackets or hooks.
This is a great upcycling DIY that gives an old and unused porcelain set new life.
43. Upcycle Tire Into Hanging Flower Basket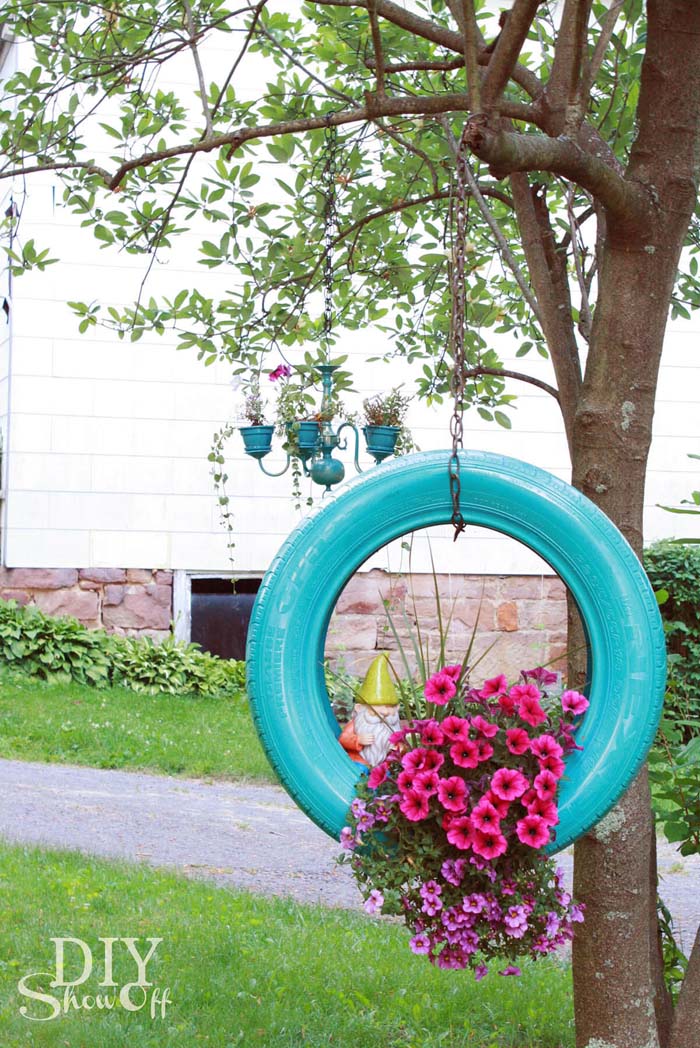 Tires can be used for a number of backyard improvement projects. They can create interesting characters, they can outline gardens, and they can be repurposed into gardens.
Today, we are impressed by the idea of how a useless tire becomes a whimsical hanging planter. The hollow section inside the tire is ideal for filling it with soil to grow cascading petunia. The tire looks amazing when giving it a candy-colored coat of paint matching the existing decoration in the yard.
via DIY Show Off
44. Horizontal Slat Fencing Becomes Vertical Garden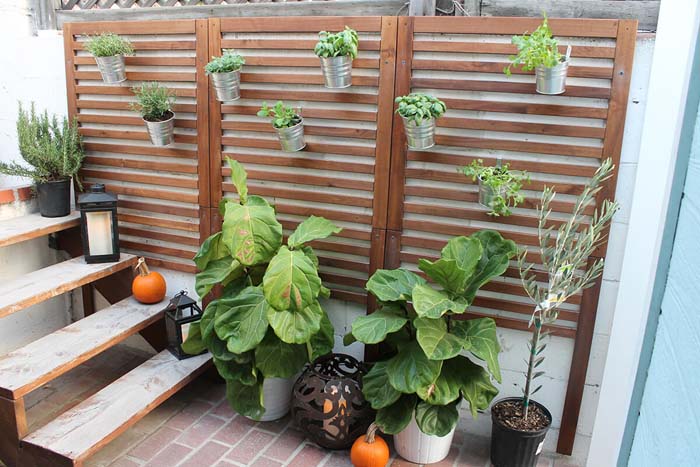 Improve the privacy of the patio in a nature-inspired way! This partition acts as a screen and also as a support for a vertical garden thanks to the distant alignment of the slats.
Used galvanized buckets repurposed into pots match perfectly the farmhouse design of the screen to create together a cozy patio nook.
via Design Wine Dine
45. Metal Watering Can Becomes Artistic Planter

This shabby chic outdoor décor idea is great for everyday garden decoration and also for an accent on a special occasion.
The galvanized watering can is repurposed into a planter with added crystals mimicking water drops. When you make the water drop pieces, make sure to use increasing size crystals for a more realistic representation.
46. Upcycle Classic Garden Statues With Paint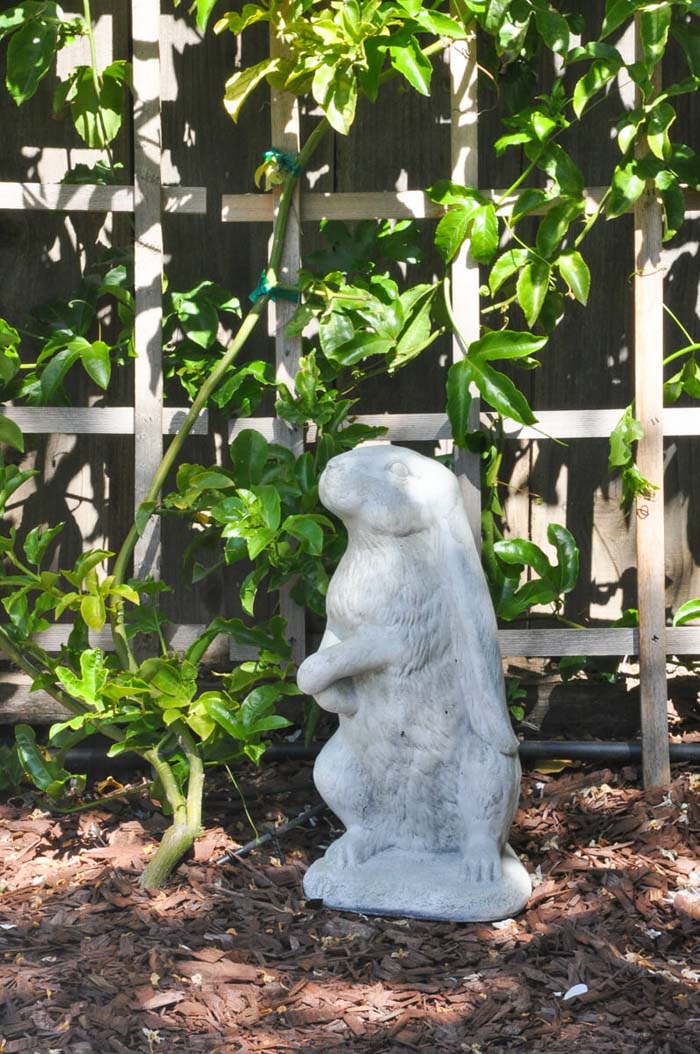 Give the cheap garden statues a new antique look with paint. You would be amazed what a fresh coat of white color paint does!
The statues match in style and look brand new.
47. Dragonfly Garden Decorations From Reused Furniture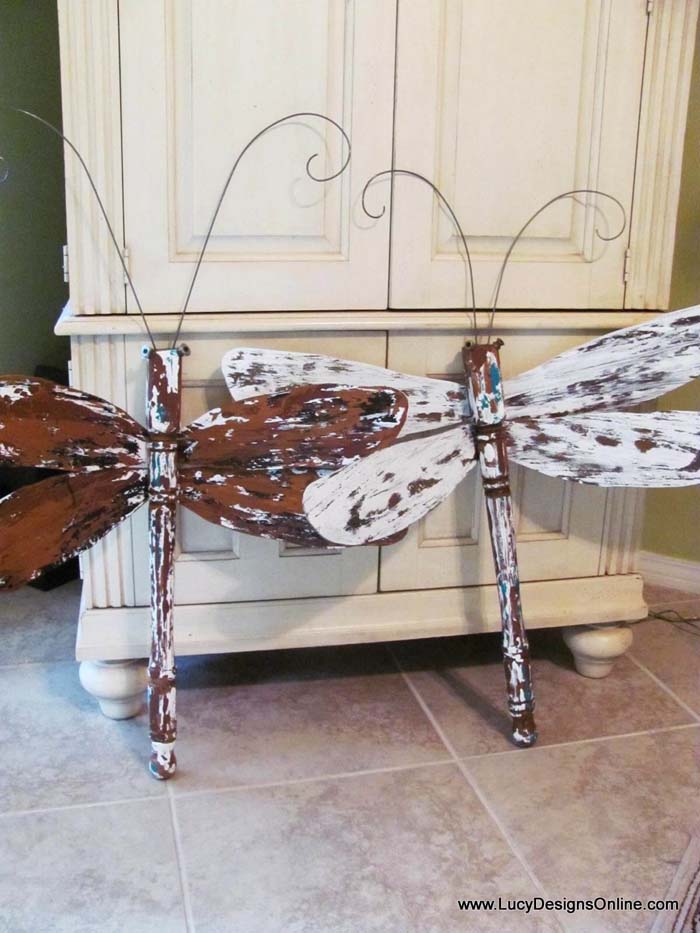 This is another tutorial on how to make spring-related dragonflies. They are quite big thanks to the supply materials which are old furniture legs and metal wings.
The pieces are united by the surface treatment applied. Whitewashing and distressing give them a vintage touch which turns them into fantastic rustic outdoor decorations.