It was only until recently I have discovered painted rocks as a fun and creative way for me and my daughter to spend time together and learn how to paint cute and funny creatures on the rocks.
Believe me, it's so addictive that you will be searching for rocks around you to paint them all day long.
There is also a big community built around painting rocks and hiding them in the real world. Those could be inspirational quotes, cute animals or whatever you like.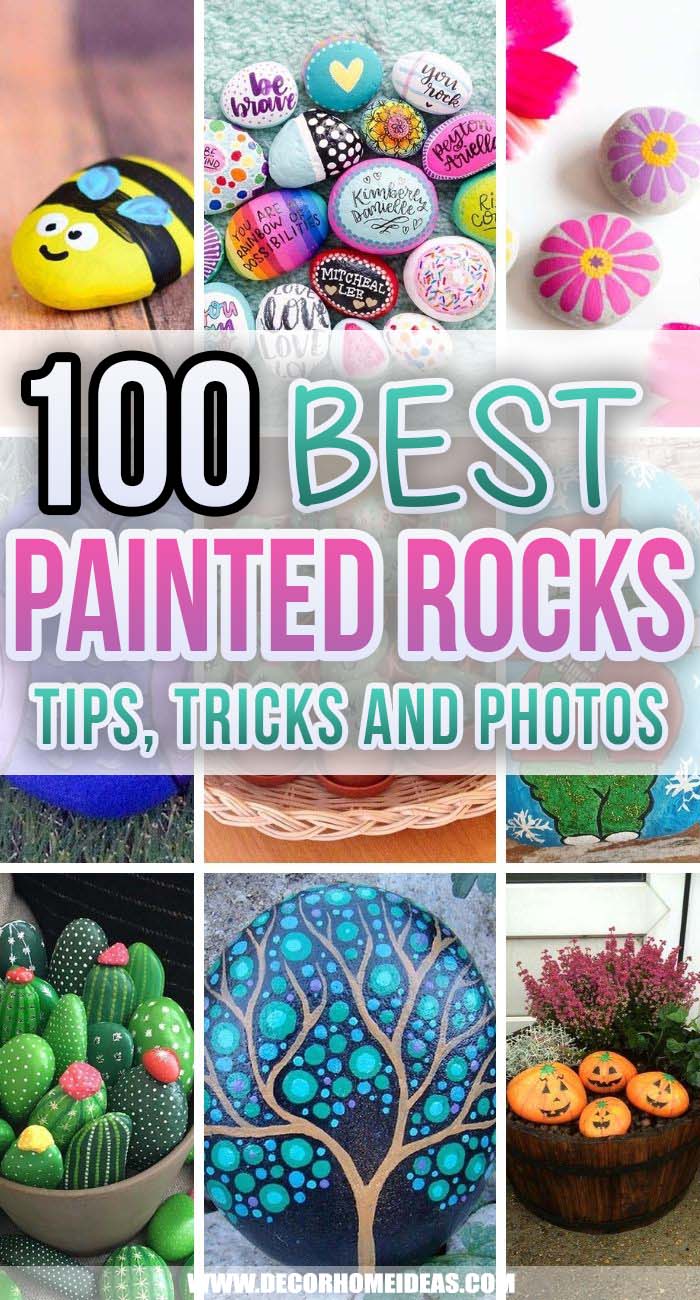 The project also known as The Kindness Rock Project is encouraging people to leave rocks painted with inspiring messages along the path of life.
Another similar project is the one in Humboldt State University where students on the campus are hiding rocks and when they find them they can join a special Facebook group – called Rock'n HSU where they can connect with each other and share the location of the painted rocks, the sayings written on to them, etc.
As this is one of the biggest collections of painted rock ideas on the Internet we have created different sections to make it easier for you to access those that you like the most.
How To Make Painted Rocks
Even though the process of painting rocks may look very easy and straightforward there are some specifics that you should be aware of. Follow these 7 easy steps to learn how to paint rocks that look awesome.
Choose your rock. It's best to have a smooth and flat rock with appropriate shape for your project. Well, you can paint any rock, but those that are more porous tend to absorb paint unevenly and could eventually ruin your masterpiece. You can find a suitable rock outdoors or get one from the local home improvement store.
Prepare the rock by washing it with soap as it may have some dirt on it and then let it dry.
Seal the rock with spray or brush. It will help you with stones that are more porous. If you want to achieve more contrast and vibrant colors you can prime the rock with white paint.
Start painting your rock. Use acrylic paint – it's the best option as it lasts longer. You might need several coats of paint to get evenly colored surface. Don't forget to let each coat to dry off before the next one.
Use very small brushes for the outlines and details. You must be extra careful as this step requires a lot of attention to each detail.
To write on the rock you can use permanent markers or sharpies. They are waterproof and are very easy to use.
Seal off the rock with a waterbase sealer that will protect it from damage.
Pro tip: Try your skills on some sample rocks so that you can get familiar with the process. The best thing is that even if you mess up things, you could always wash the paint while still wet and start over.
Here is an infographic with 7 Easy Steps To Paint a Rock: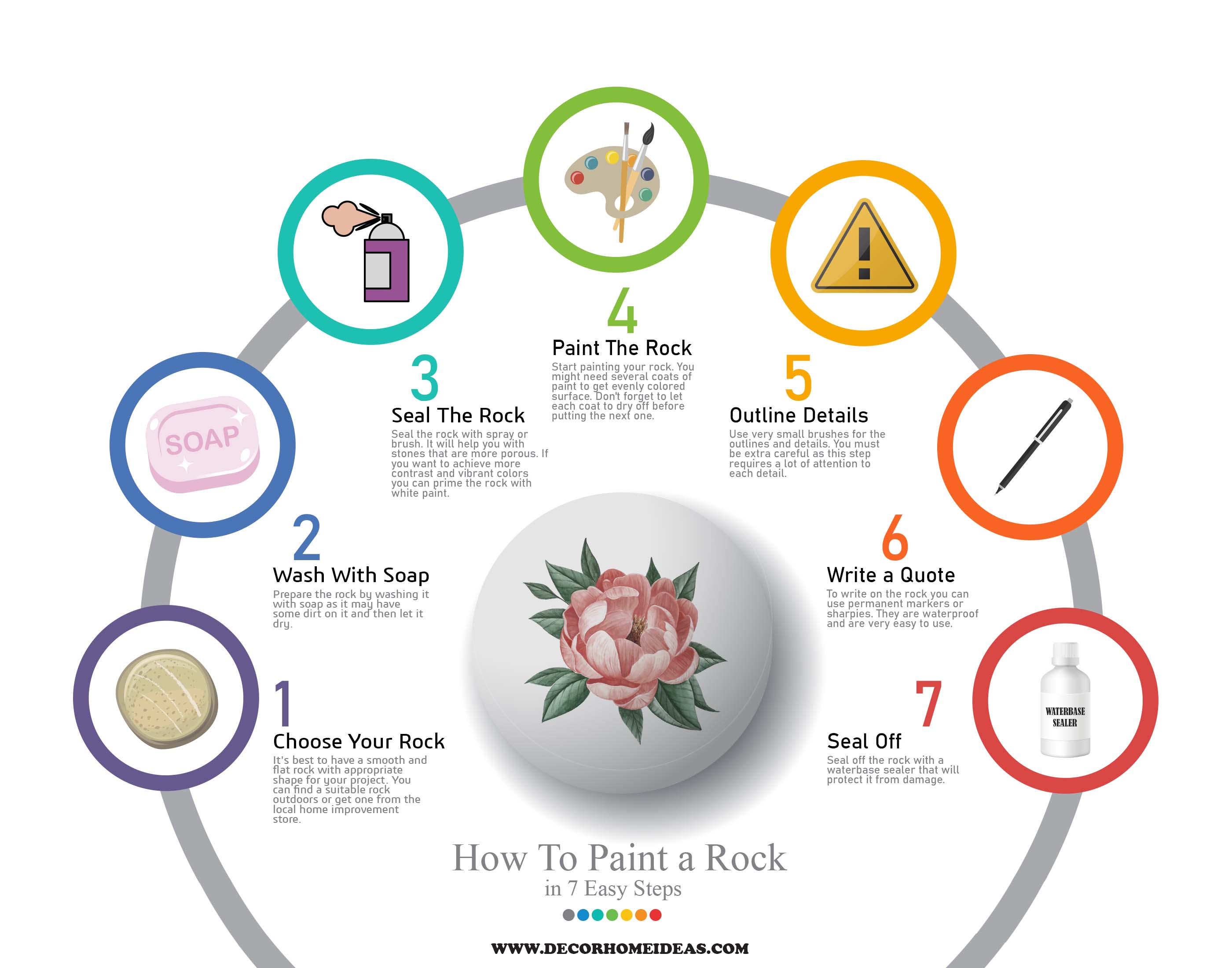 Best Inspirational Quotes To Write On Painted Rocks

Painted Rocks Ideas
Rock Painting Quotes
Quote rocks are perfect to hide and share as kindness rocks, or for giving to friends and loved ones in place of greeting and condolence cards.
Below, you'll find several examples of painted rocks with quotes for every occasion, from famous words of wisdom to heartfelt sentiments to sassy and strong motivators.

Pastel Affirmations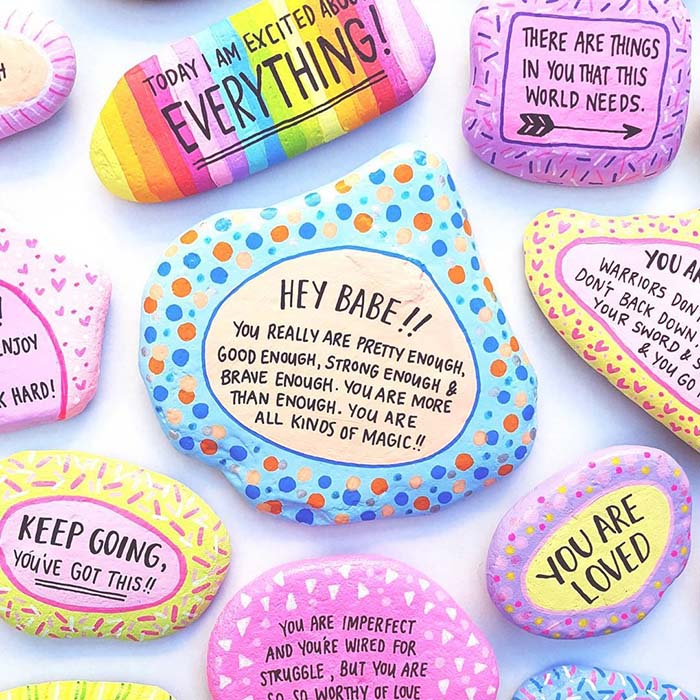 via instagram.com
Beautiful Ocean Waves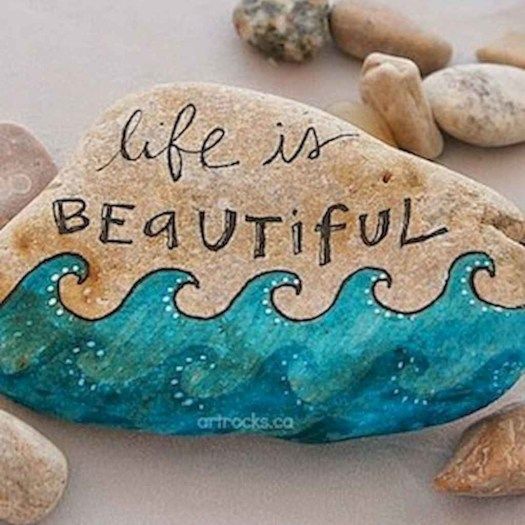 Be The Good Rock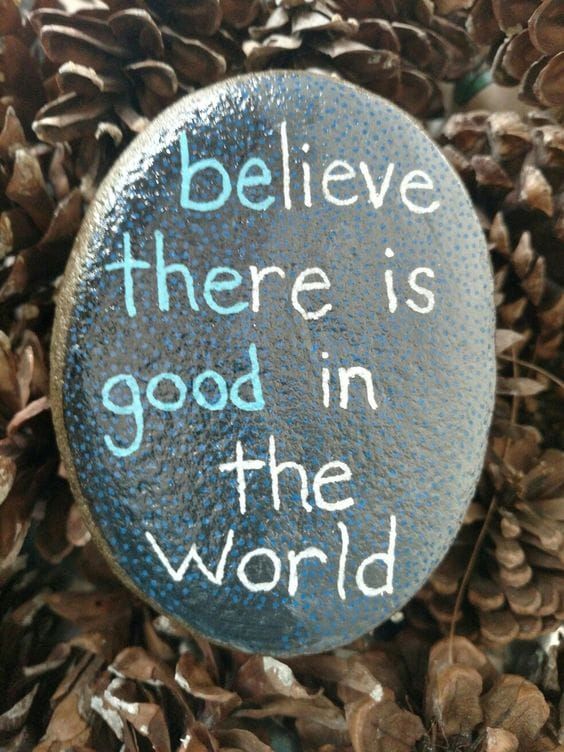 Positive Outlook Rock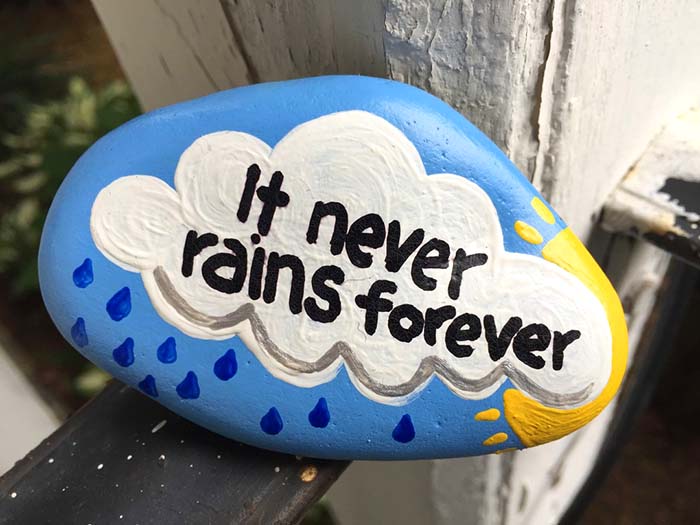 Smile Rock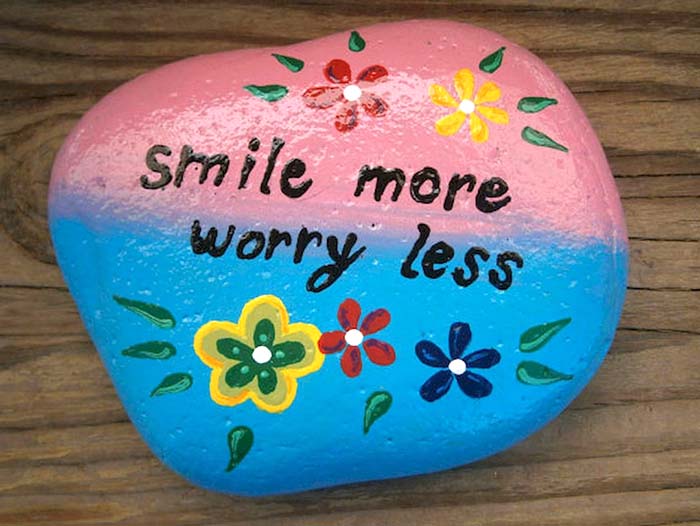 Courageous Reminder Rock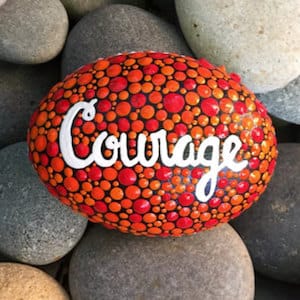 Bright Colors Add Personality To Your Rock Art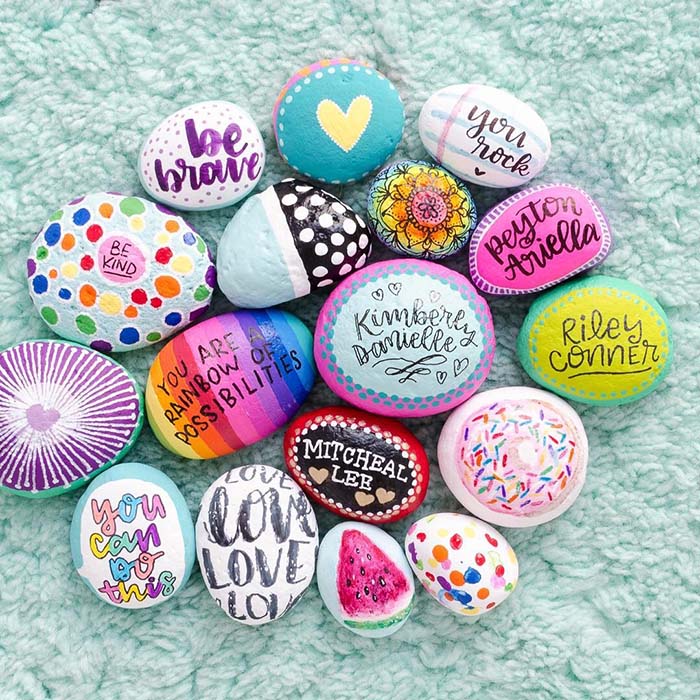 via instagram.com
You Rock Pun Art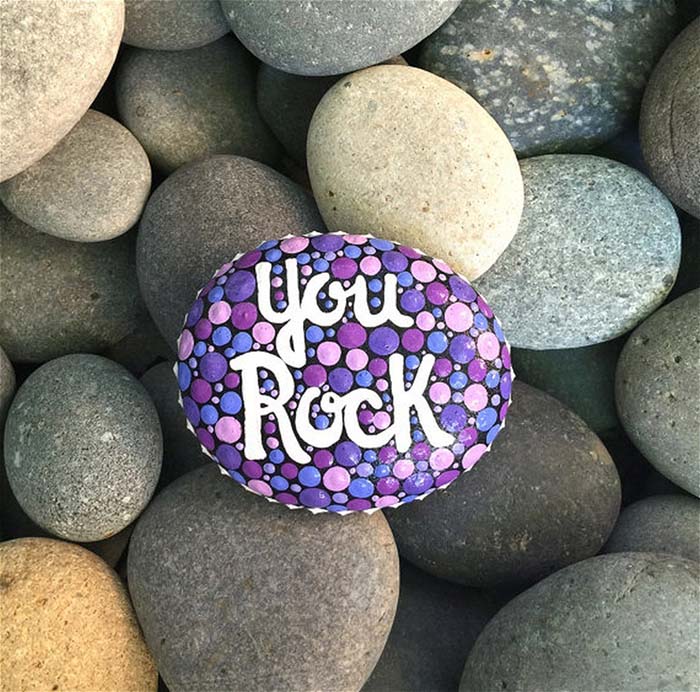 Embrace Your Different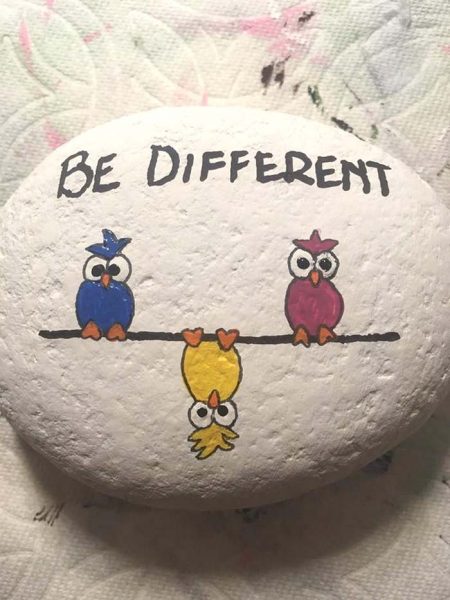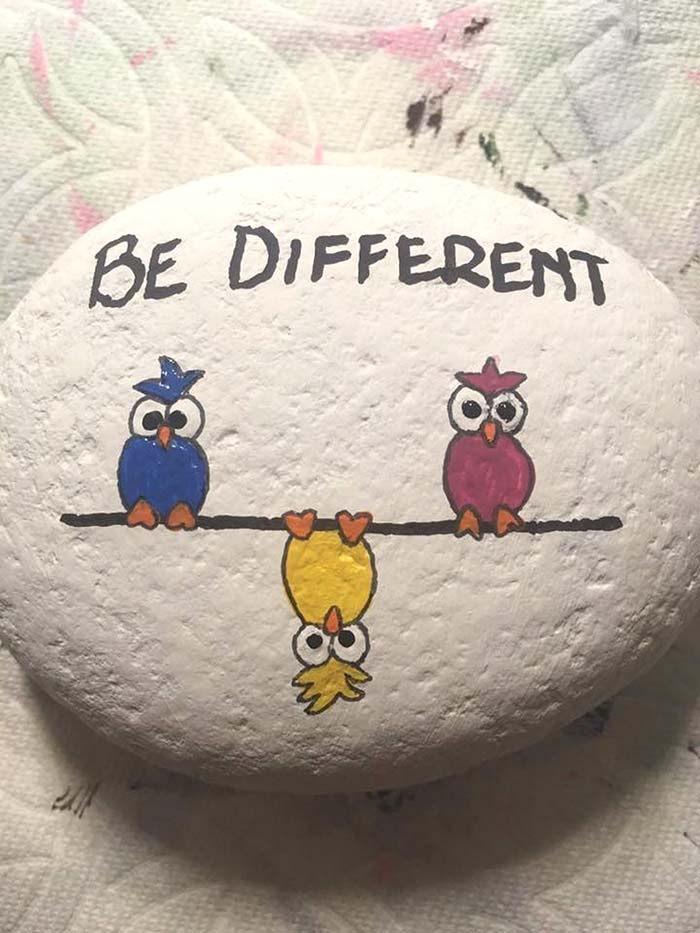 Mountain Mover Rock Art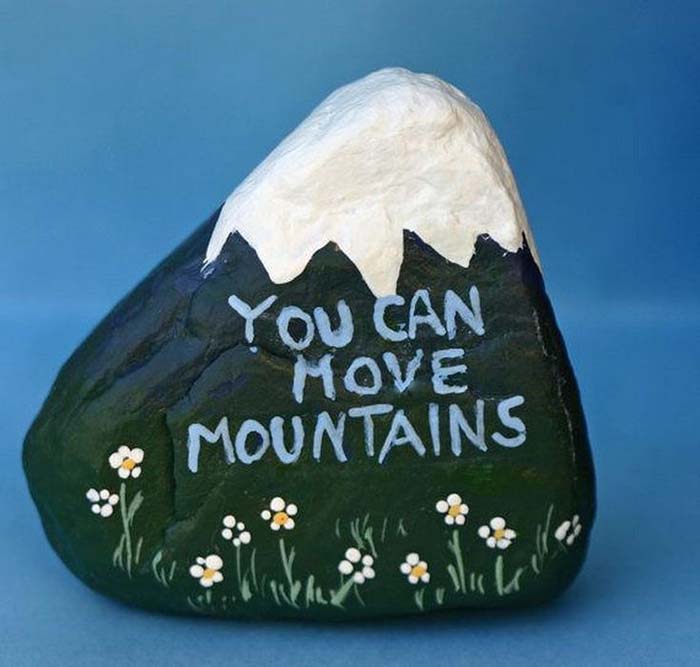 Rock Gift For Friend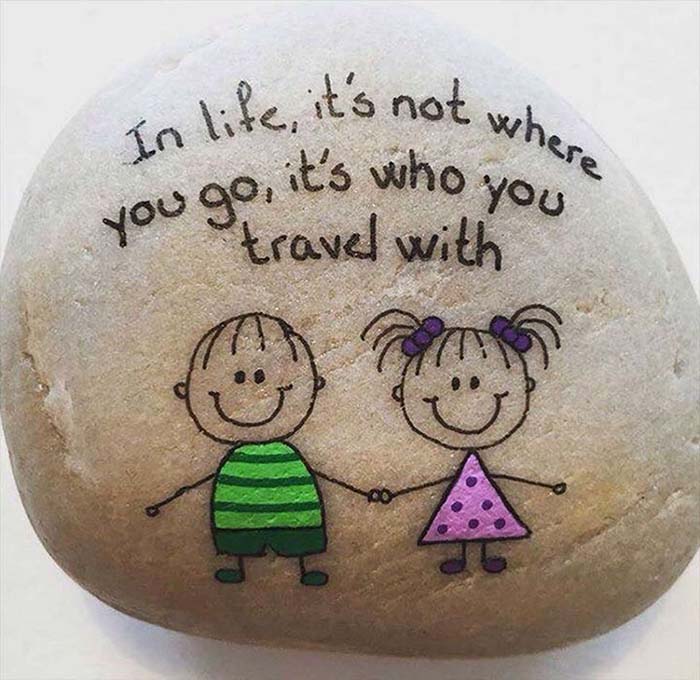 Love Moon Rock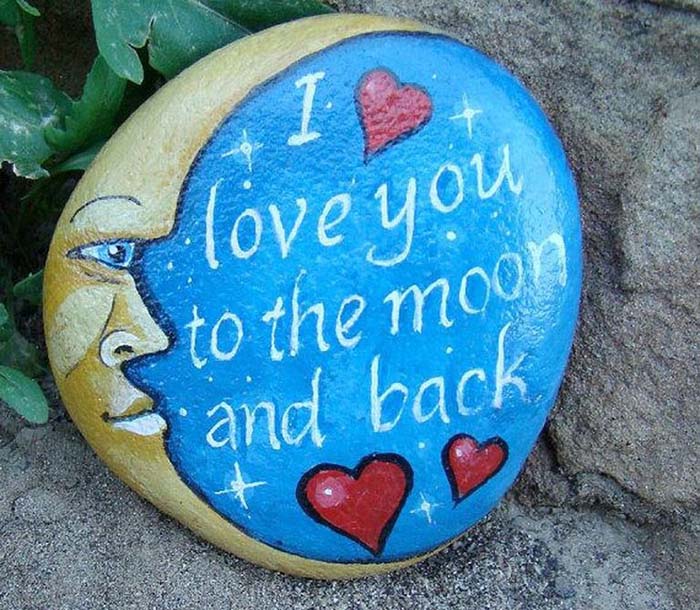 Clever Love Word Play Rock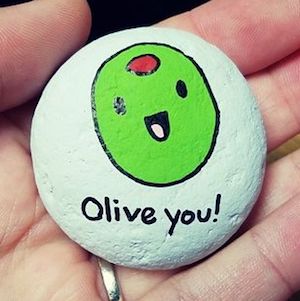 Wishing On Stars Rock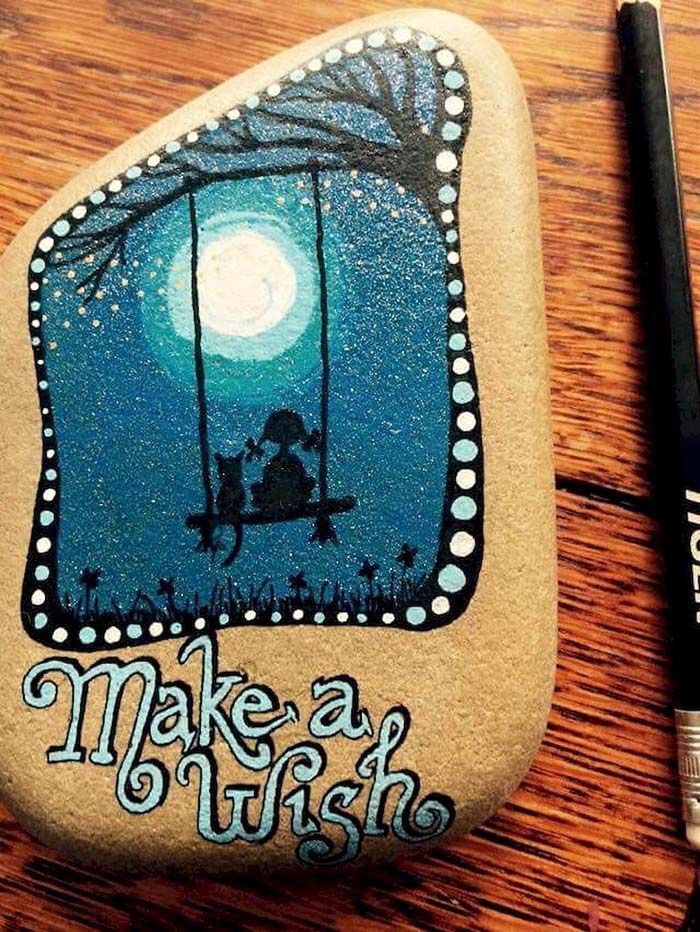 Smiley Flowers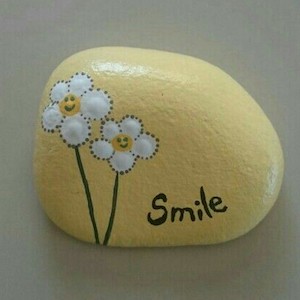 Stress Less Quote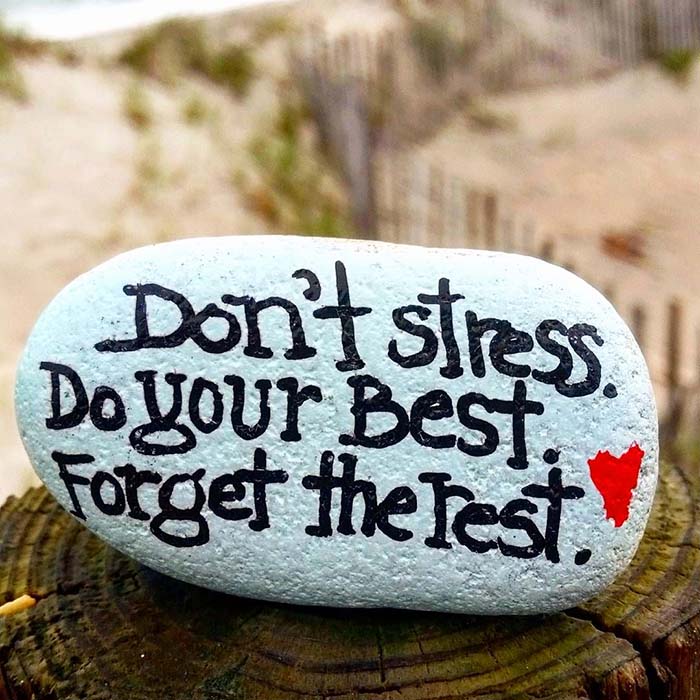 Positivity Art Collection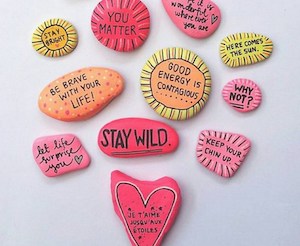 Happy Is A Choice Rock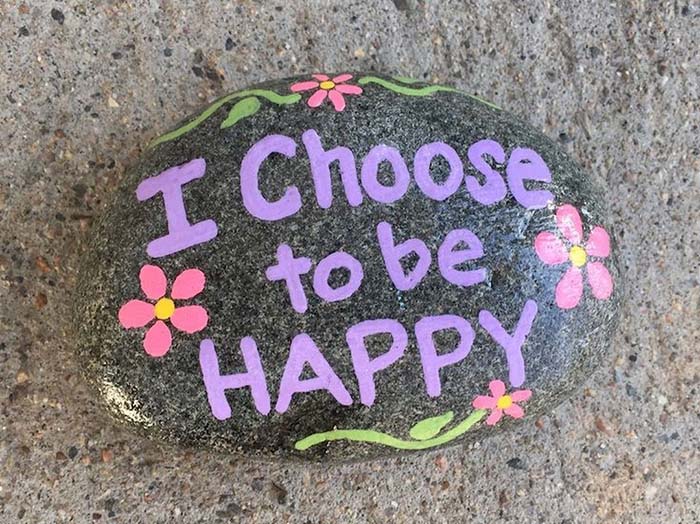 Encouragement Rock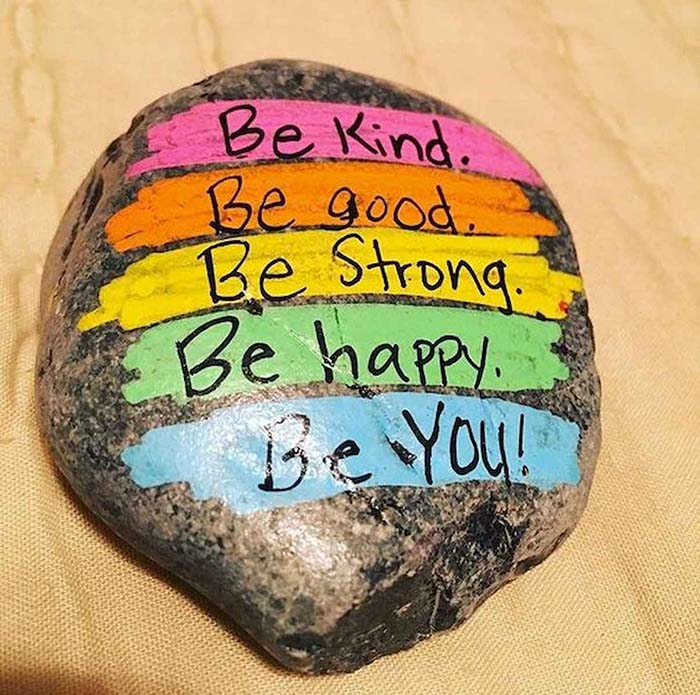 Cactus Painted Rock Ideas
For all of you who are in love with the cactus – here are some fabulous painted rocks for inspiration. The best part is: This type of cactus won't prick you.
If you live in the desert, you know that cacti are some of the most delightfully odd and vibrant sorts of plants.
Bright pops of color catch the eye while their arm-like protrusions make it easy to imagine little green men among the sand.
With cactus-painted rocks, you can let your imagination run wild – without the risk of pricks!
Cactus Rock Garden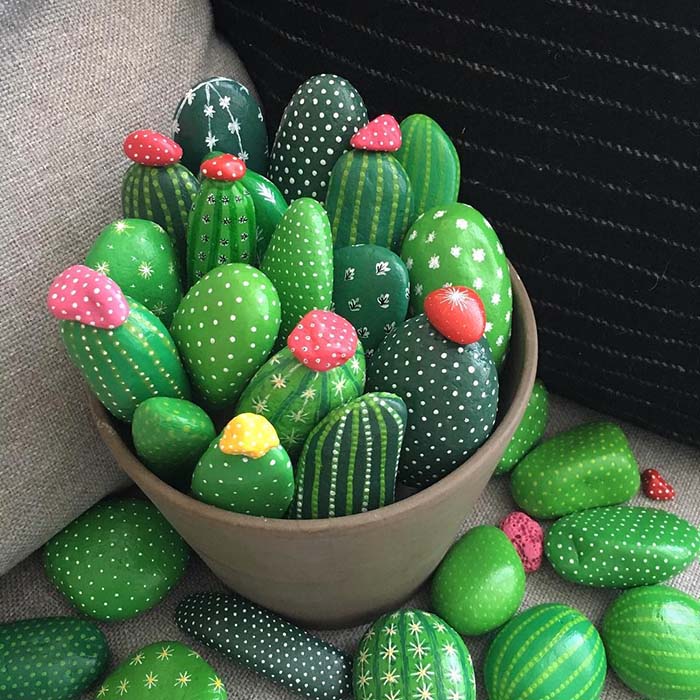 Painted Cacti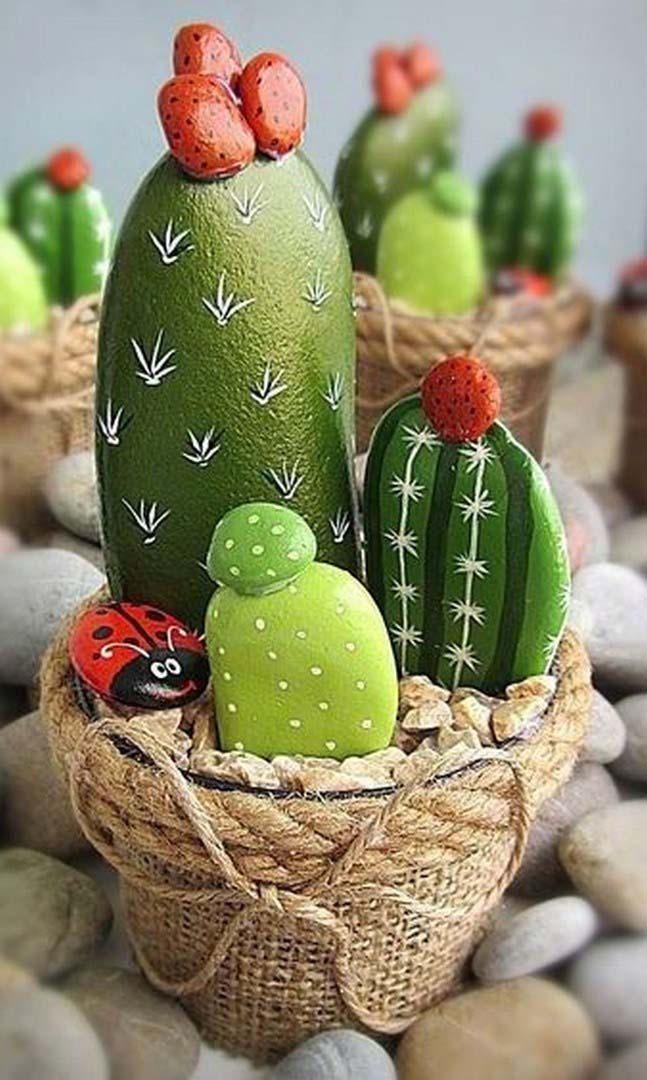 Cactus Art Rocks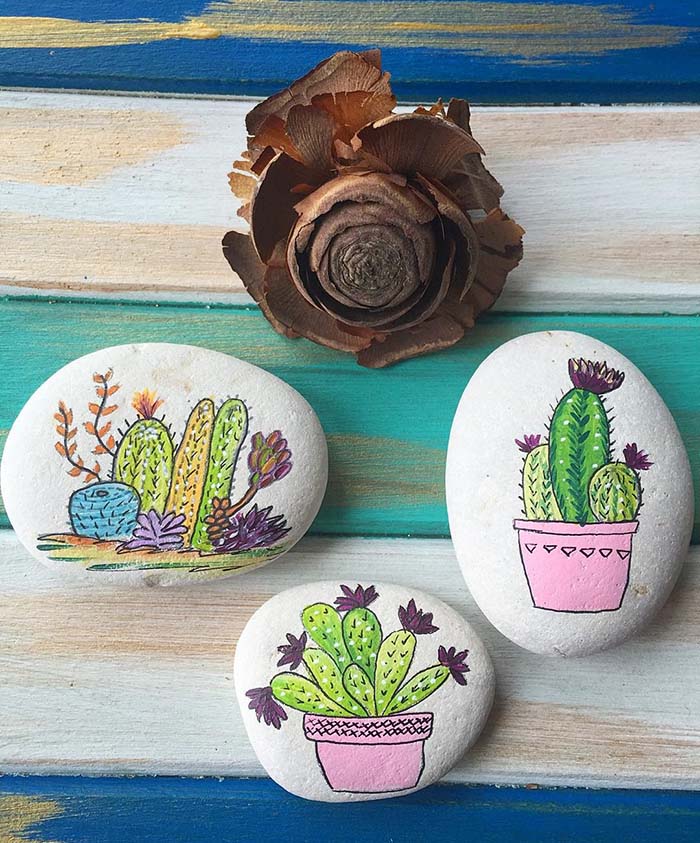 via instagram.com
Colorful Cacti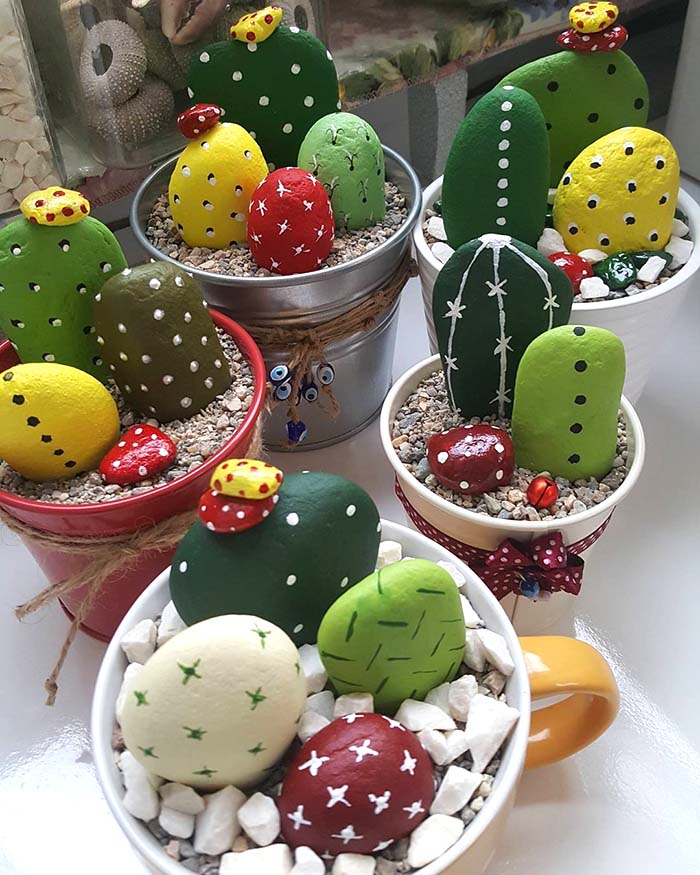 via instagram.com
Smiling Faces Cacti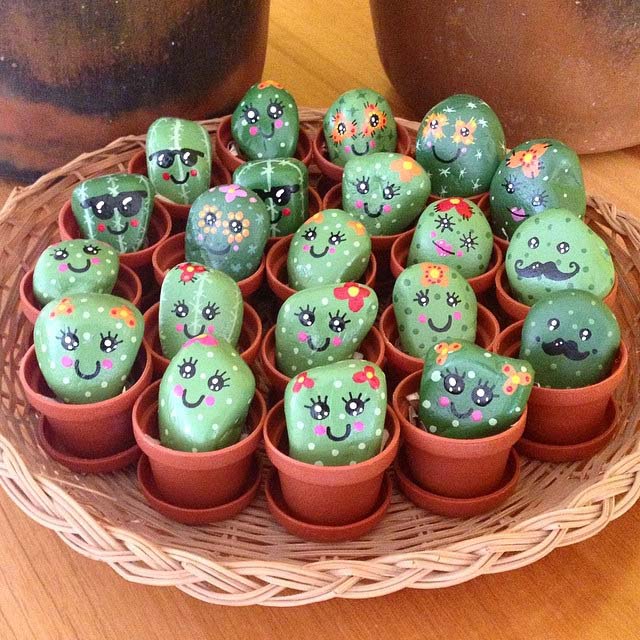 via instagram.com
Fairy Garden Painted Rocks
Fairy garden houses and accessories are all the rage in craft aisles, but a unique way to create a fairy garden with your kids is by painting the houses, flowers, creatures, and mushrooms onto small and medium flat, wide rocks.
Gardens can be styled in earthy tones, brilliant florals, or mixed-and-matched, so they're fun to make with groups of any size.
Fairy Cottage Rock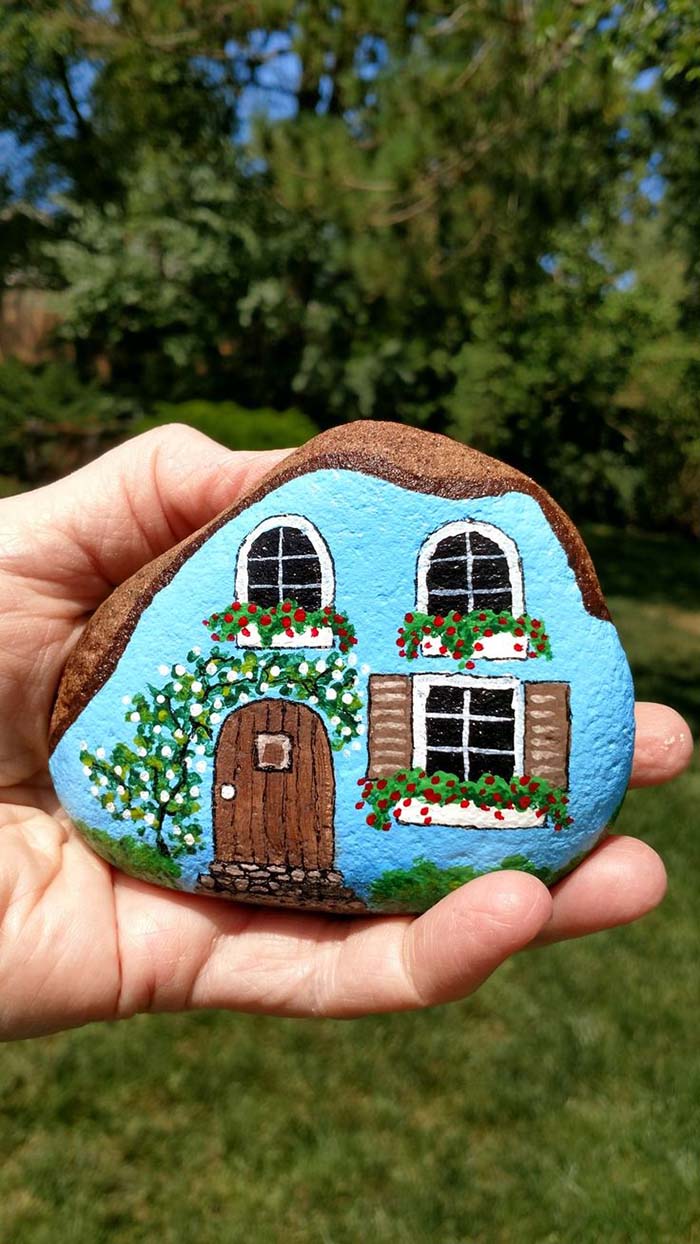 Fairy Village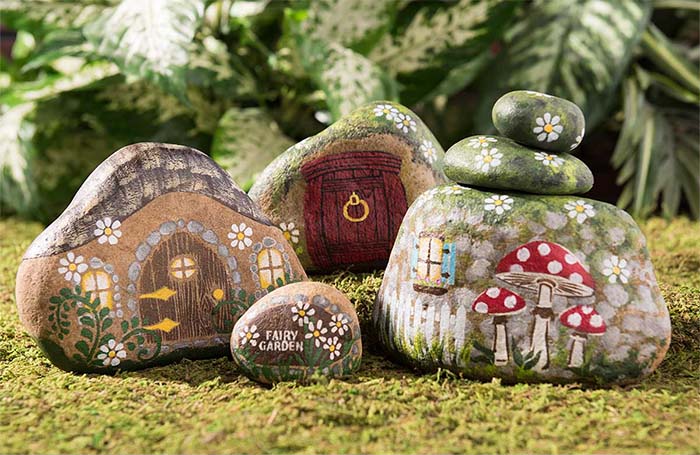 via plaidonline.com
Blooming Garden Rock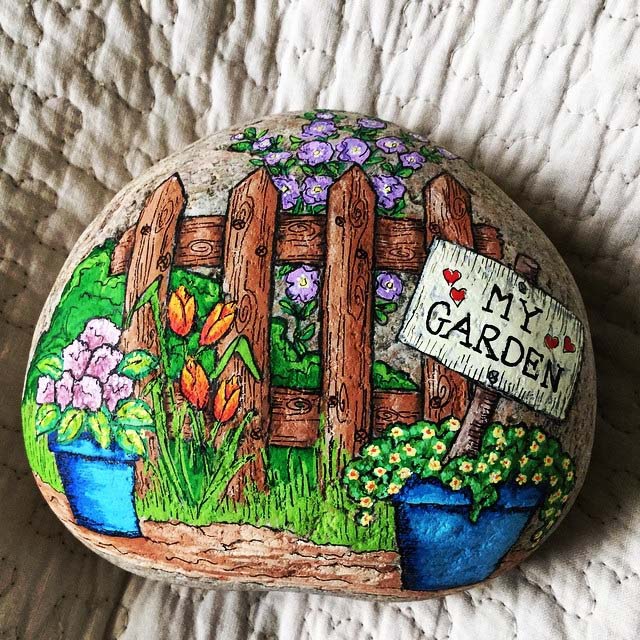 via instagram.com
Fairy Home Shaped Rocks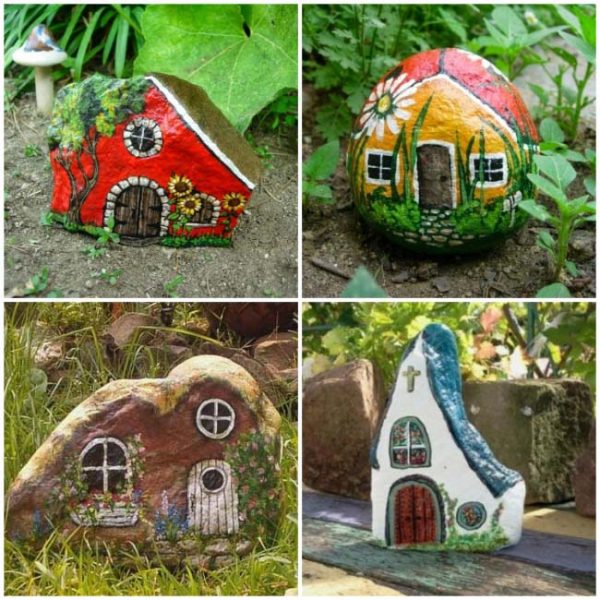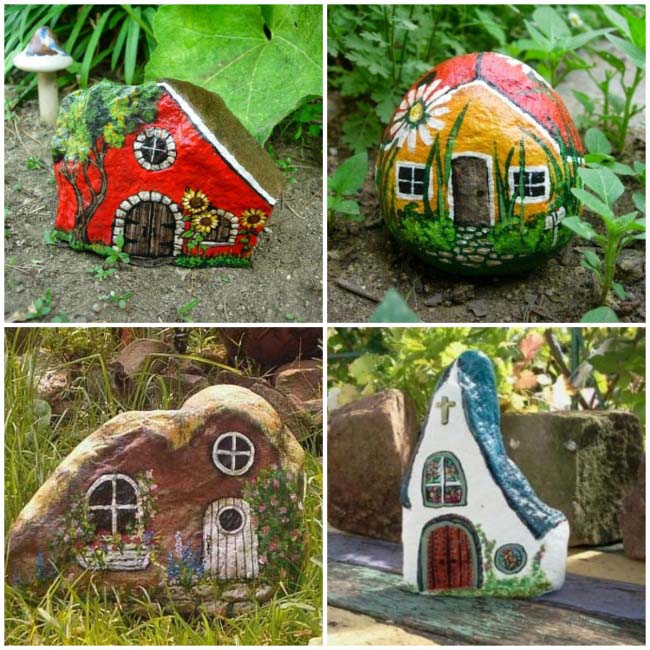 Whimsical Purple House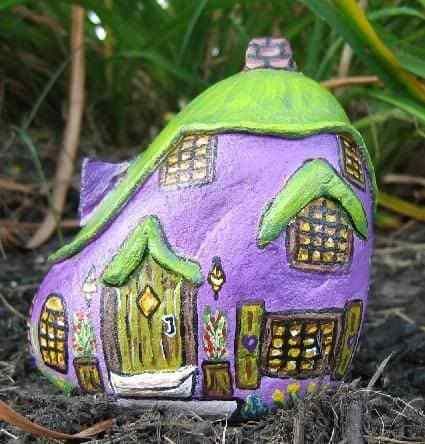 Painted Rock Paperweights
Paperweights are great for displaying short, inspirational quotes and those simple but necessary reminders we need throughout the day.
You can take some to work, keep a handful in the reading nook, and incorporate them with homework supplies to brighten each family member's day.
They also make great place settings or party activities that be taken home as favors.
Daily Reminder Quotes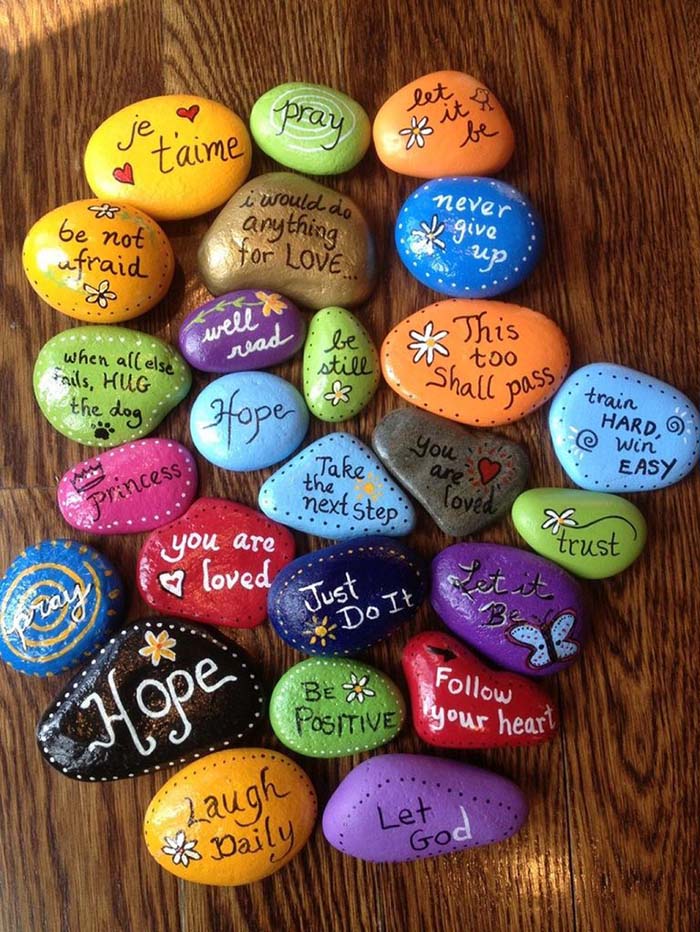 Pastel Palette Rocks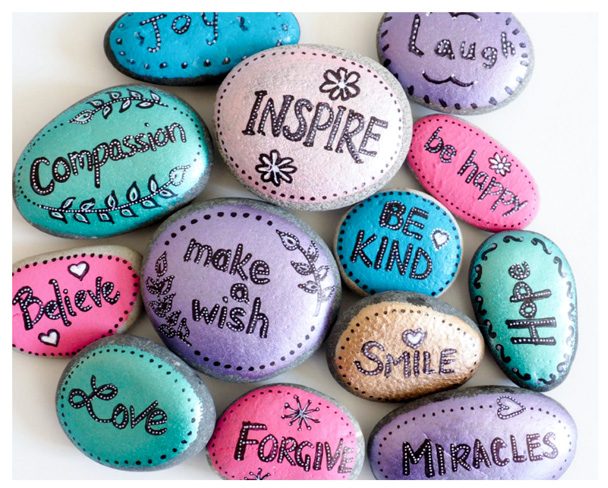 Famous Quotes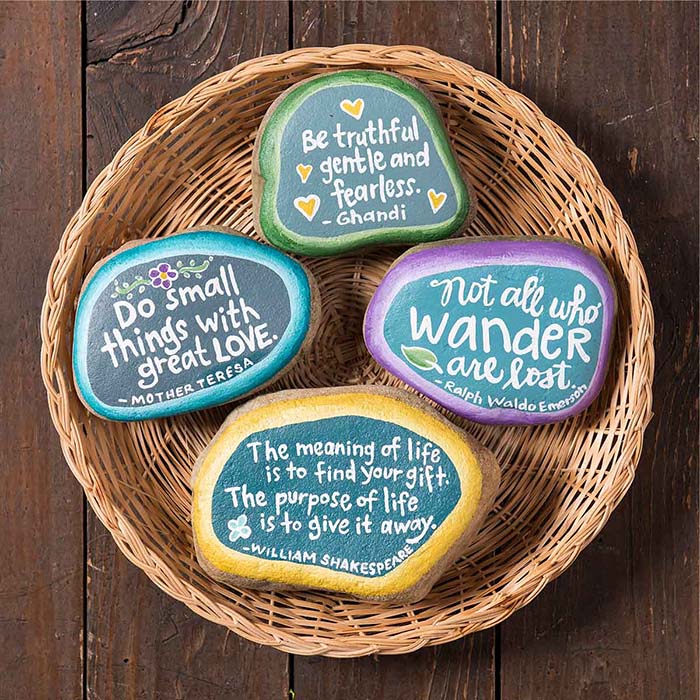 via plaidonline.com
Positive Vibes Rocks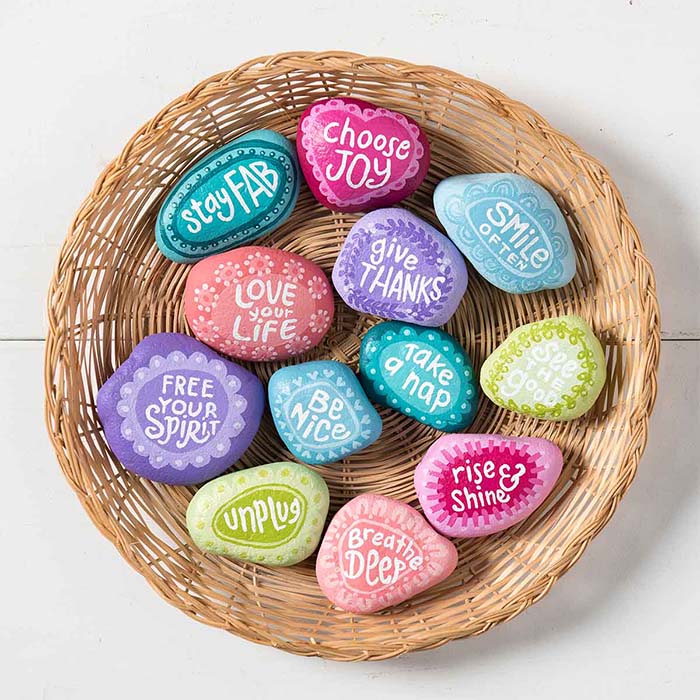 via plaidonline.com
Embellished Rocks
You can buy decoupage glue in stores or make it at home by mixing one cup of glue and one-third of a cup of water.
It can be used to make cute Valentine's Day gifts or art-deco designs that look neat anywhere. Patterned card paper, printed-out photos, ribbons, and lace give texture and contrast you can't get any other way.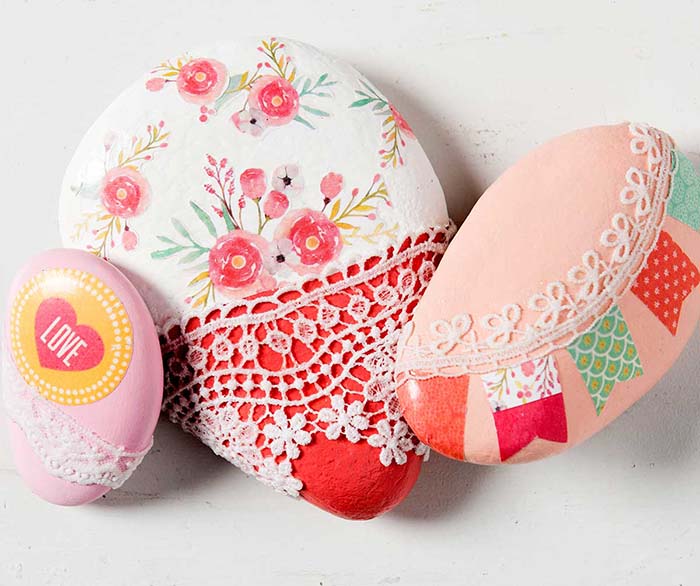 via plaidonline.com
Fairy Doors Painted Stones
Fairy doors are portals to a land of magic and mythical creatures.
Some natural features, like rock formations or the roots of ancient trees, are supposedly real fairy doors, but you can create your own with some stencils and a fine-tip brush or paint pen – and perhaps a sprinkle of fairy dust.
Fairy Tale Door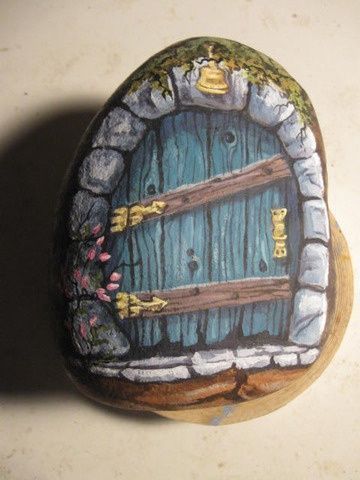 Ornate Rock Door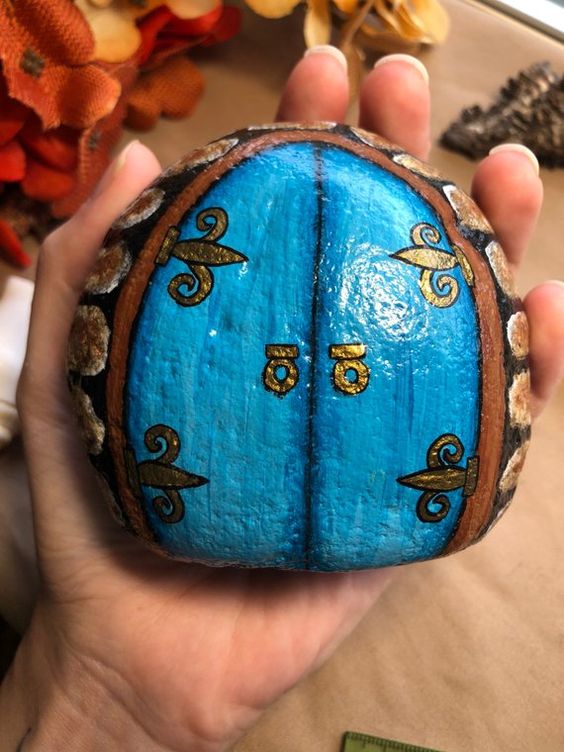 via etsy.com
Halloween Painted Rocks
Ah, Halloween – the unofficial beginning of the holiday season and a time when the young and young-at-heart are naturally inclined to be crafty, creative, and mischievous.
It's cool enough to take the paint party outdoors and get truly spooky with ghosts, goblins, gravestones, and more.
Hand Painted Jack-O-Lantern Rocks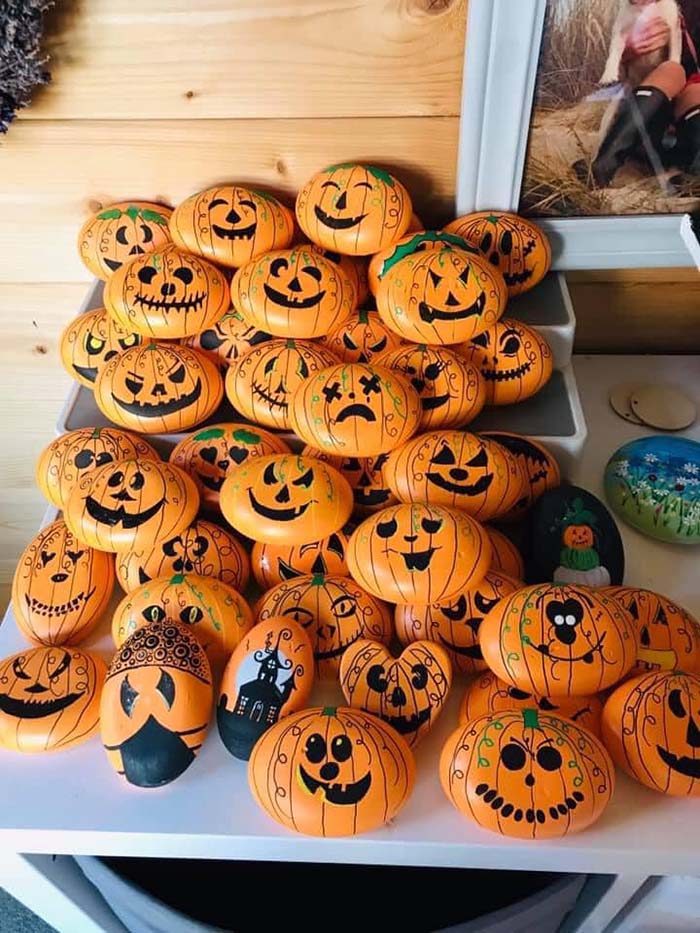 Spooky Halloween Rocks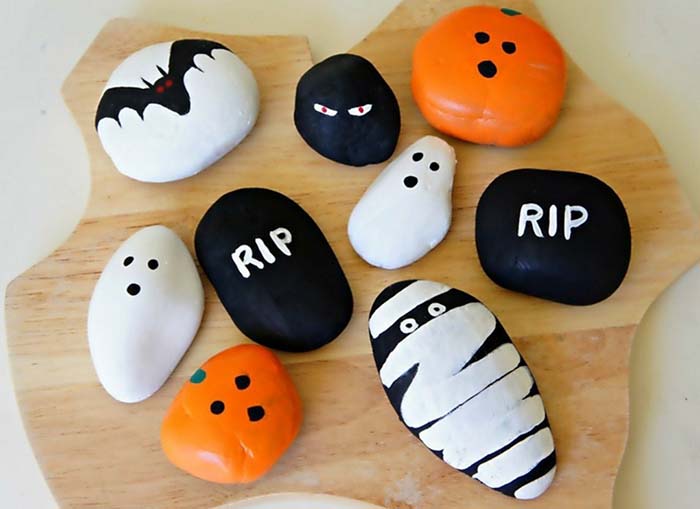 No-Carve Halloween Pumpkins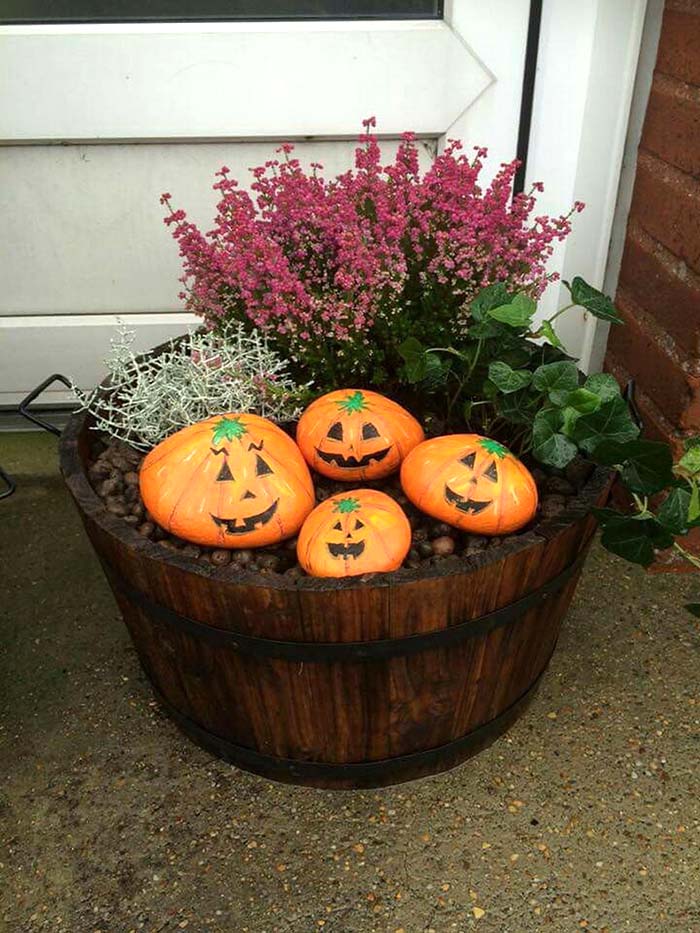 Hatching Bird Rock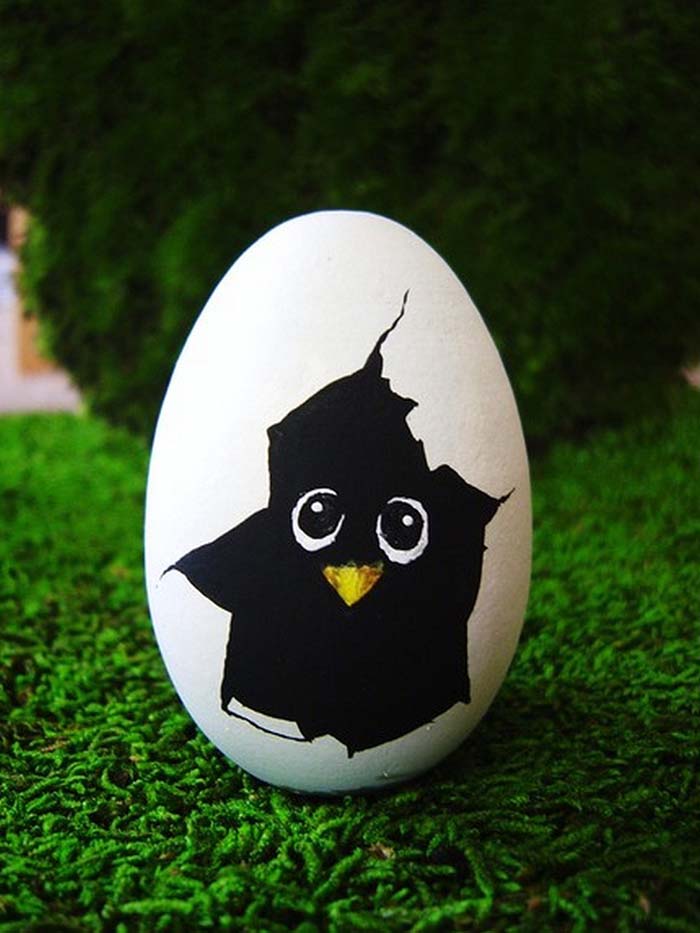 Happy Pumpkin Painted Rock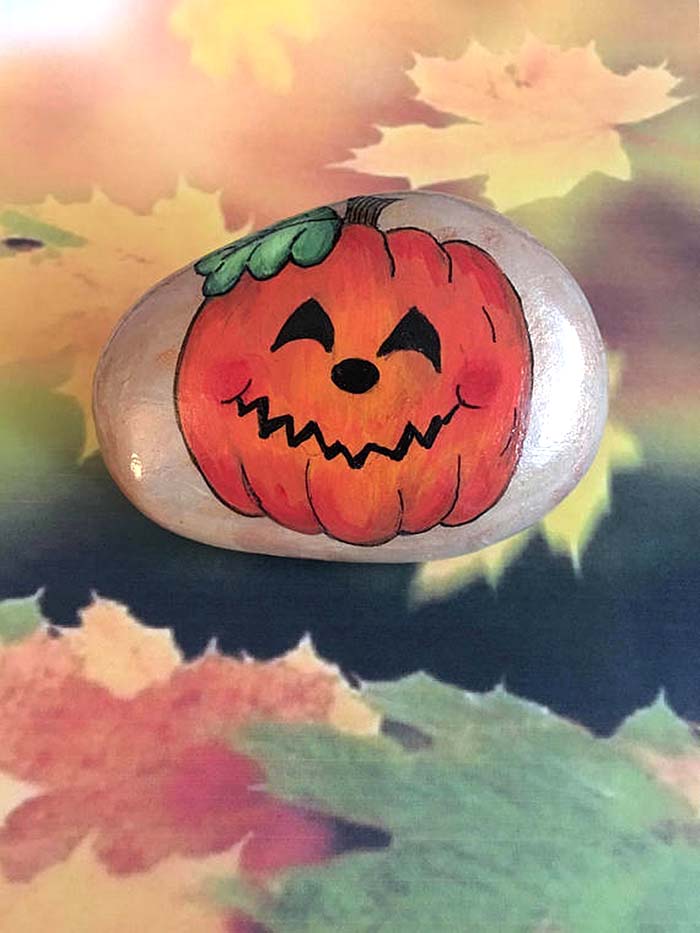 Ghostly Boos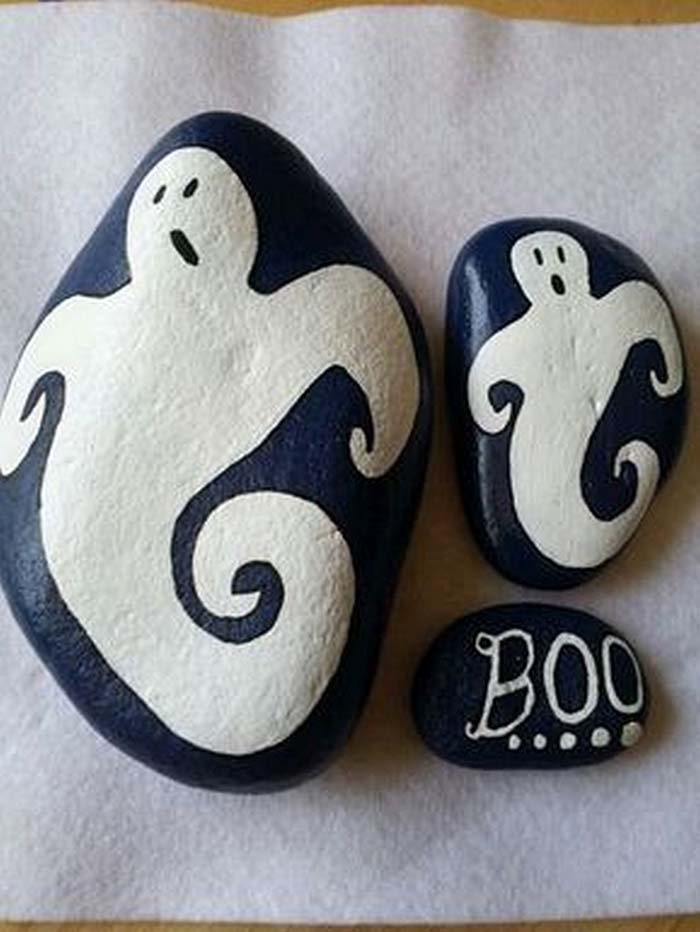 Easter Rock Painting Ideas
Everybody decorates eggs for Easter, but how about instead of food coloring that dyes your fingers purple and boiling all those real eggs, you try painting egg-shaped stones instead?
Hide them for the scavenger hunt and exchange the retrieved "eggs" for the usual prizes, or just send them home as keepsakes.
Hatching Chicks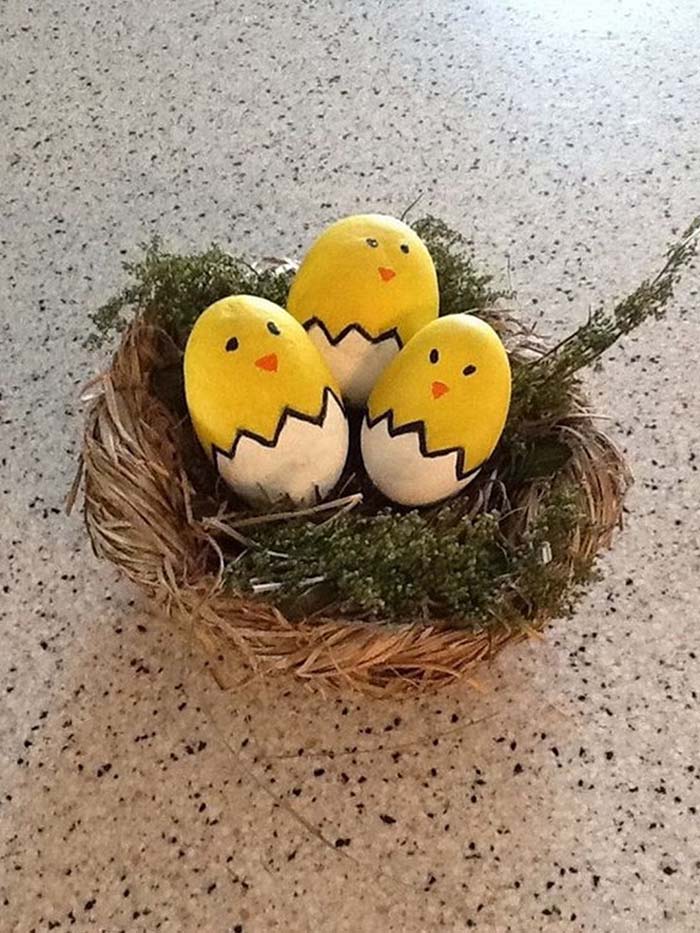 Mandala Painted Rocks
Mandalas were traditionally used in India and Japan to represent specific deities, but have spread and evolved in use all over the world to relieve anxiety or stress and help people feel grounded and centered.
Make beaded designs with a stylus or toothpick; more complex rock painting patterns can be created with concentric circles of paint and stenciled designs.
Intricate Mandala Designs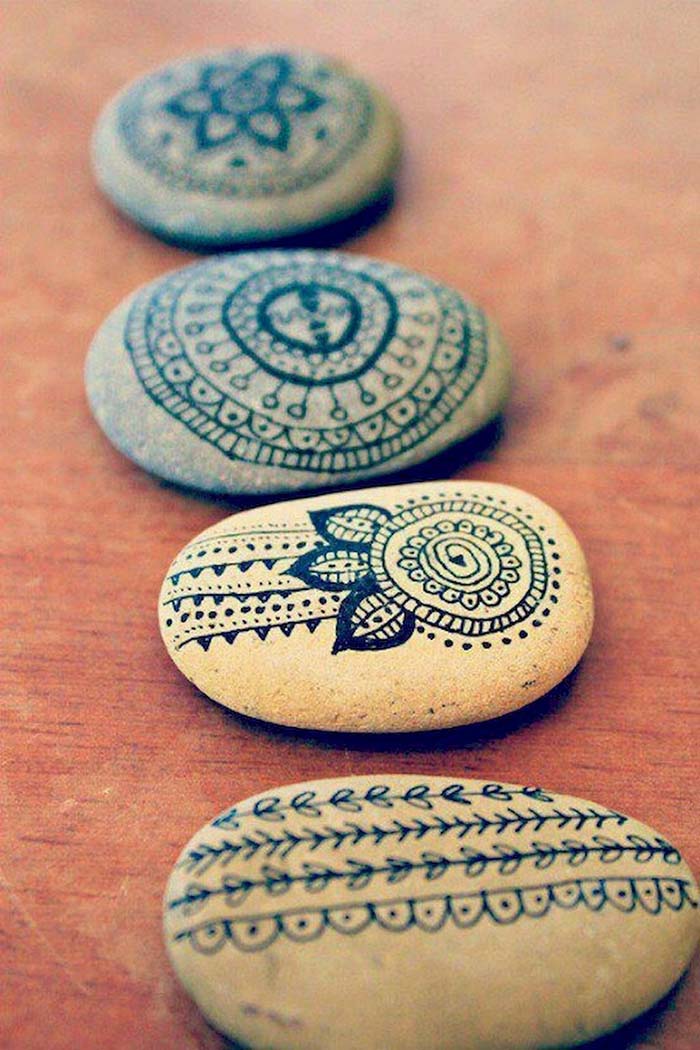 Chakra Colors Rock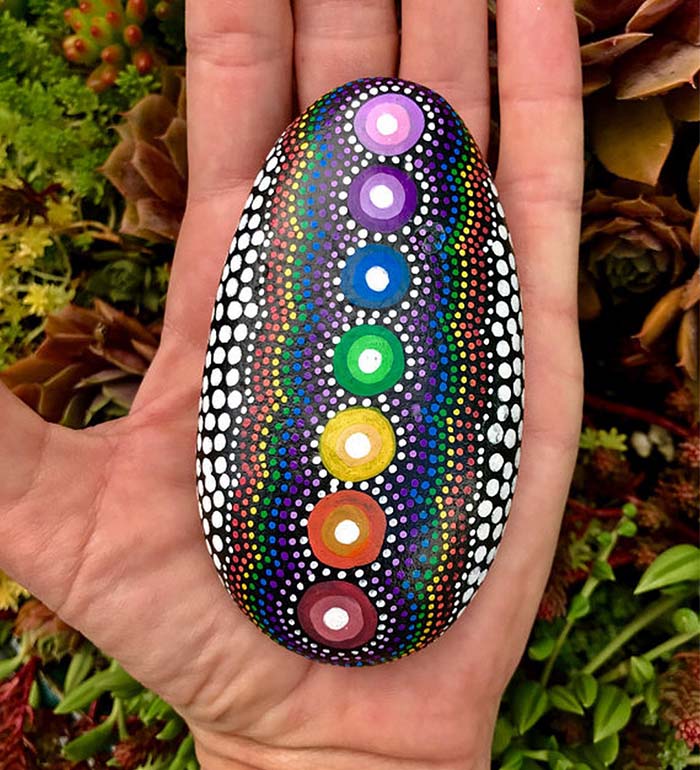 Symmetrical Flower Rock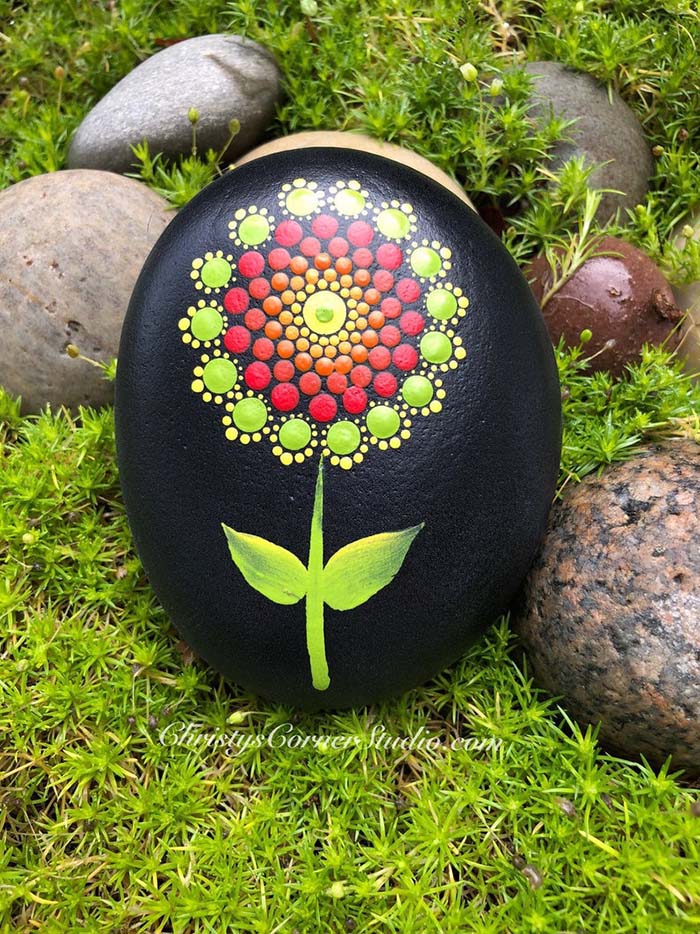 via etsy.com
Colorful Dot Painted Rock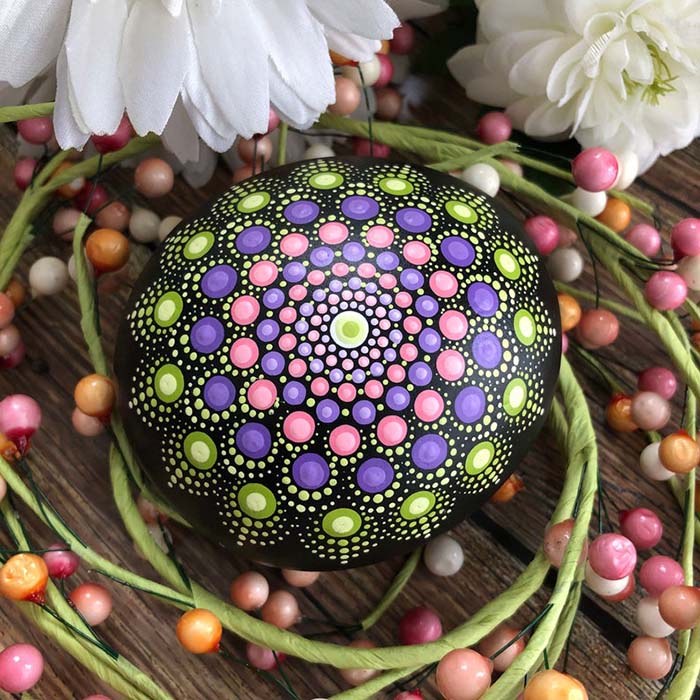 via etsy.com
Creative Painted Rocks
Show off your own talent with freestyle paintings, or have some extra fun with stenciled designs by using specialty craft paint to create cool features and textures.
Acrylic paints come in color-shifting, metallic, marbling and even watercolor varieties for the abstract and otherworldly; finishes and dyes can be used for color blocking, ombre effects, and surreal landscapes.
Stunning Dot Landscape Rocks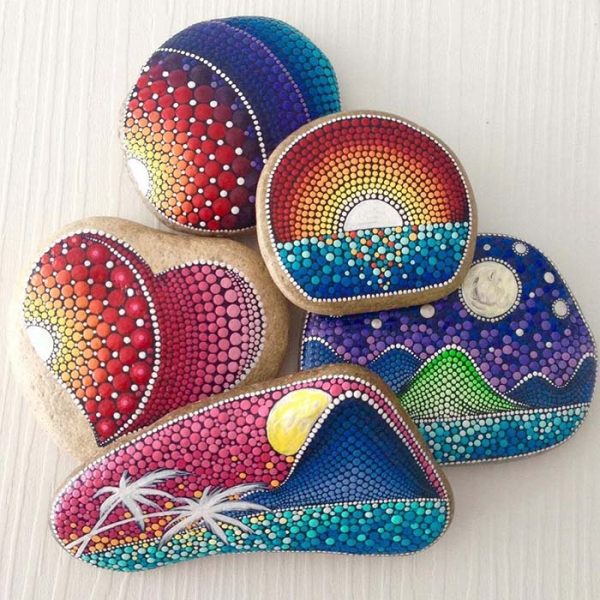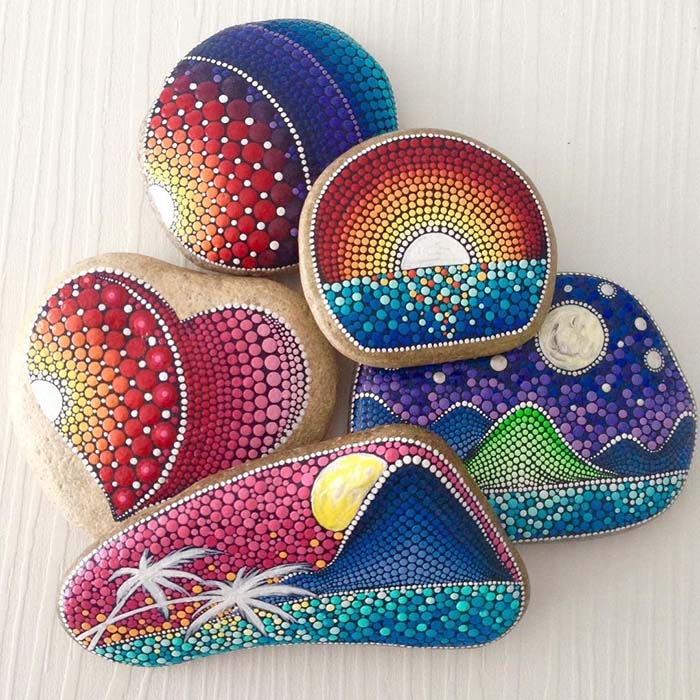 Playful Bird Painting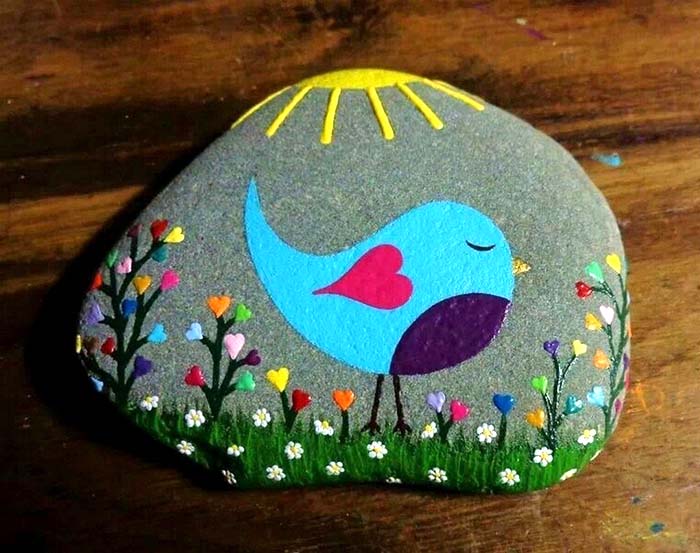 Beachy Sunset Rock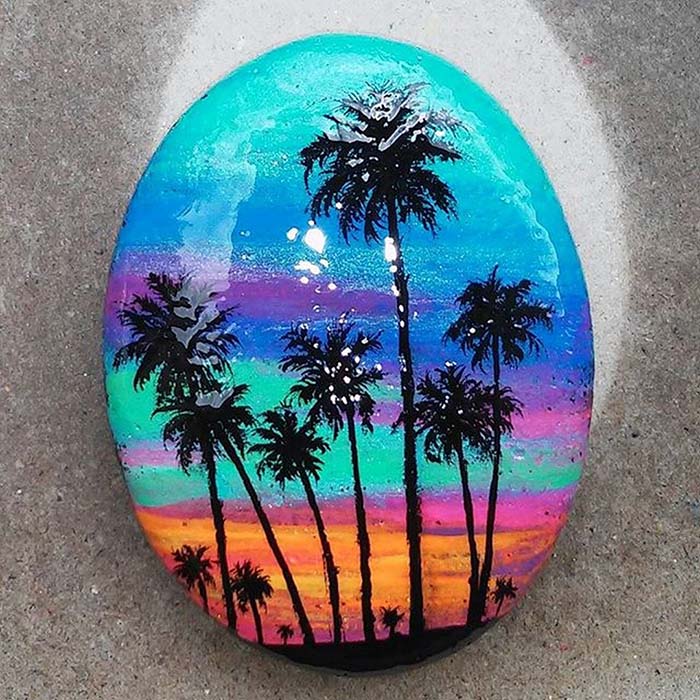 Under The Sea Rocks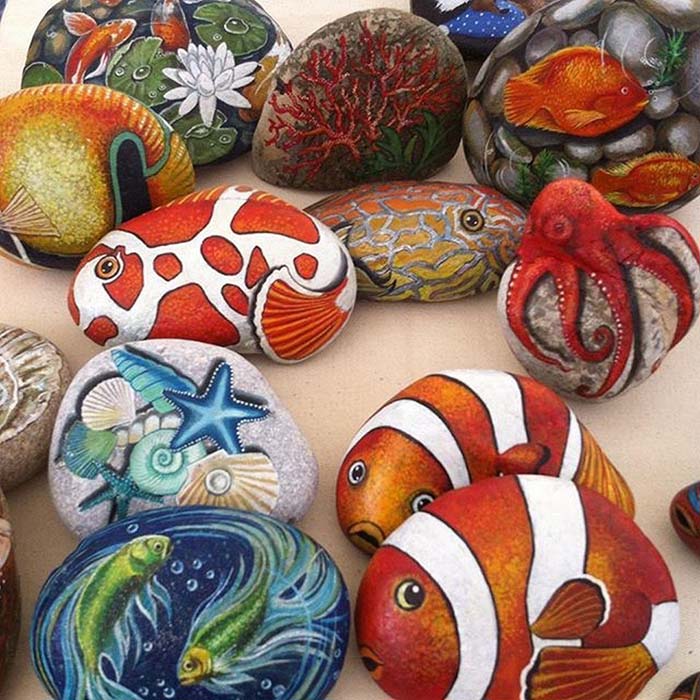 Cute Animals Painted Rocks
You can paint rocks to look like farm and zoo animals by applying a primer and appropriate-color base coat with a wide brush.
Once dry, add faces and other details with a stylus, paint pen, or toothpick.
These are great for decorating a child's bedroom or playroom, or teaching little ones animal sounds and names, with sight words painted on the bottom.
Cat Companion Rocks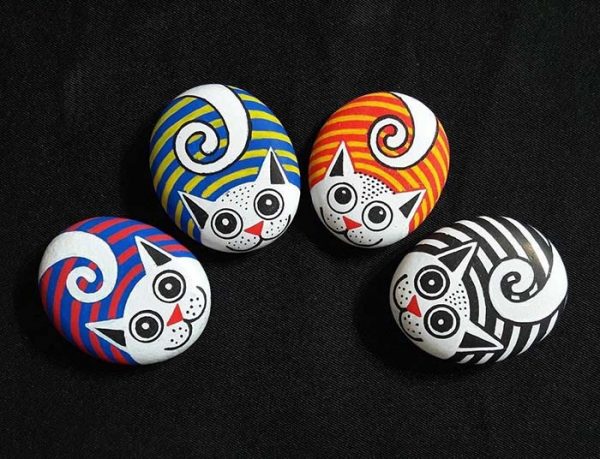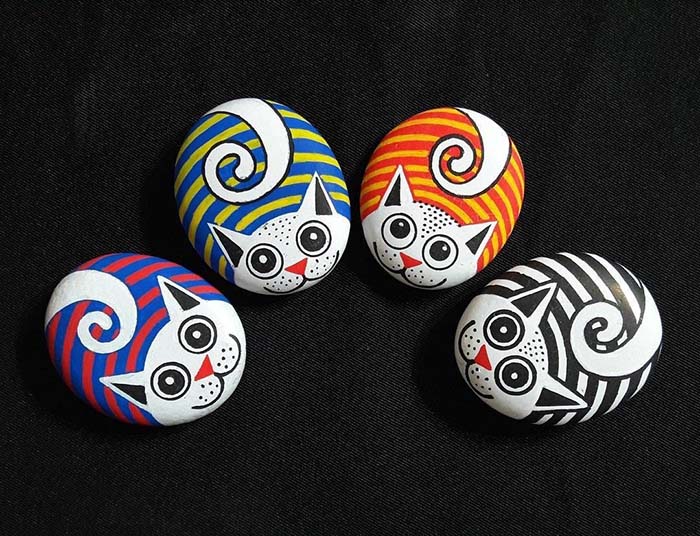 Purrfect Painted Cat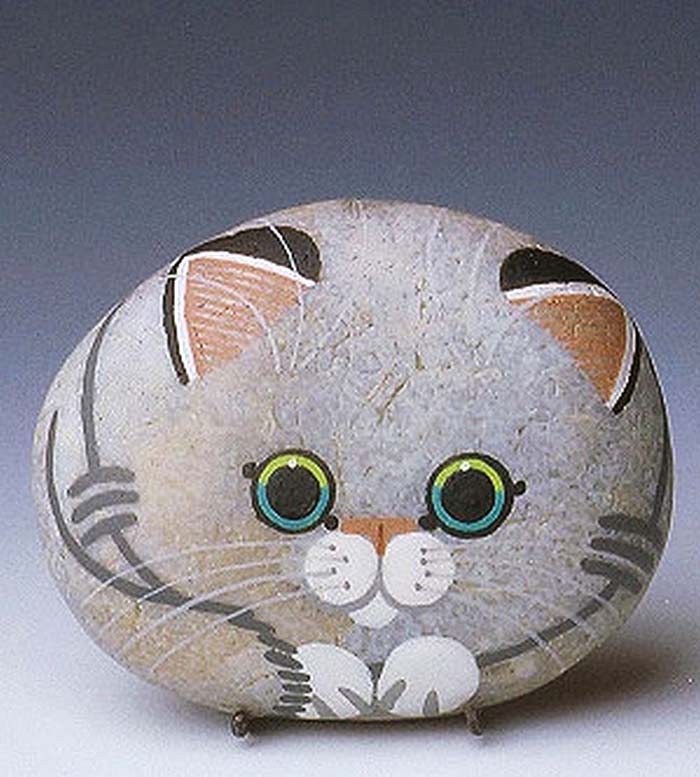 Painted Piggy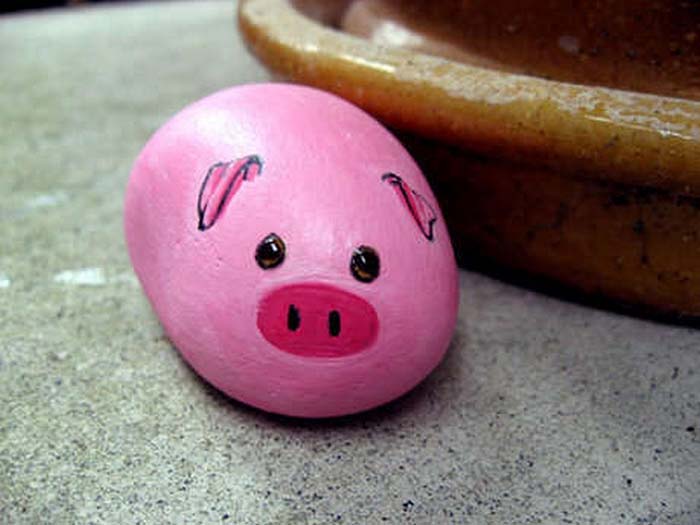 Brightly Colored Fish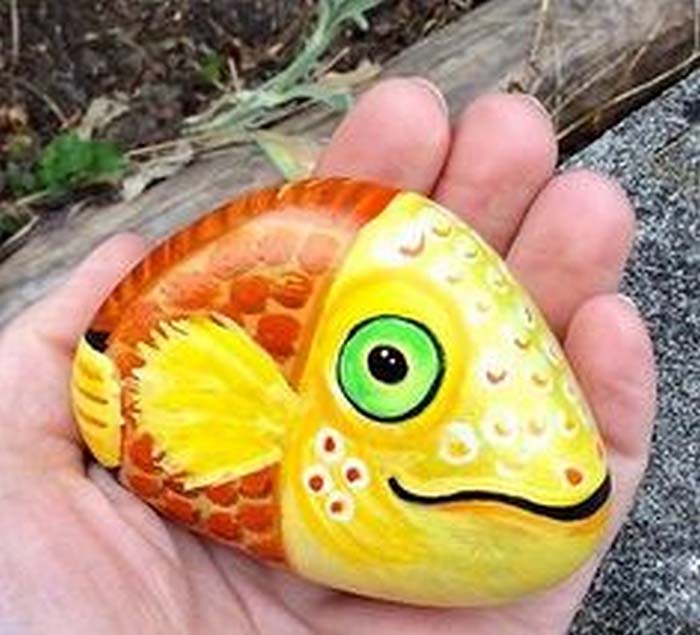 Owl Painted Rocks
Owls almost universally symbolize wisdom, and are therefore a favorite among bookworms and academics.
They're also nocturnal and frequently cast as witches' familiars or cryptic guides in fairytales.
Still others are quirky or just downright cute! Painted owl rocks are perfect for celebrating Fall and back-to-school – or, you know, just for a hoot.
Wise Owl Rock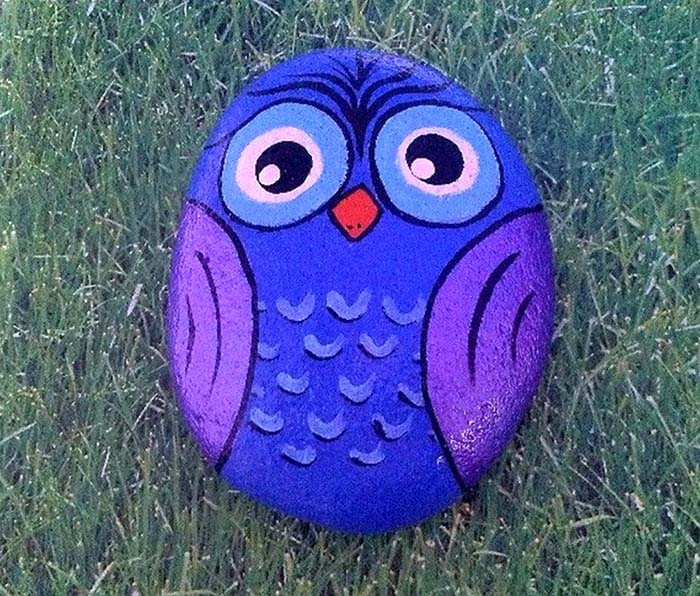 Parliament of Painted Owls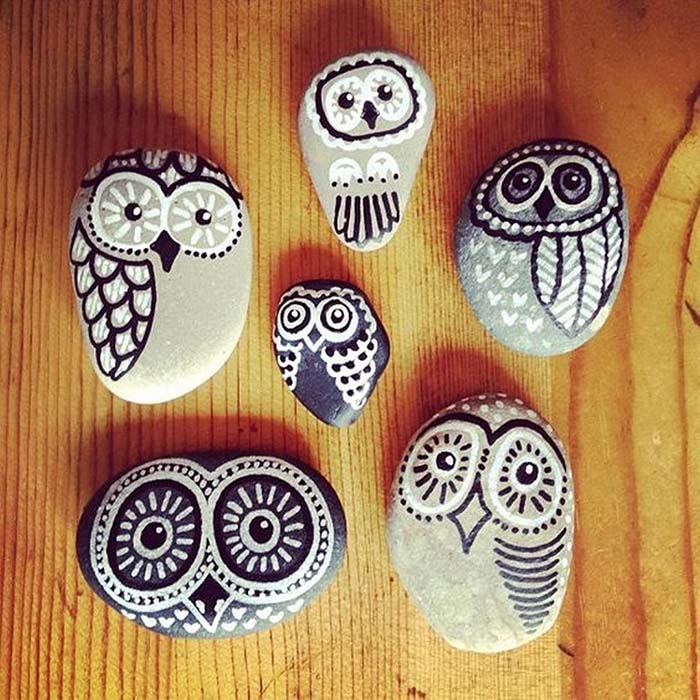 Painted Owl Pair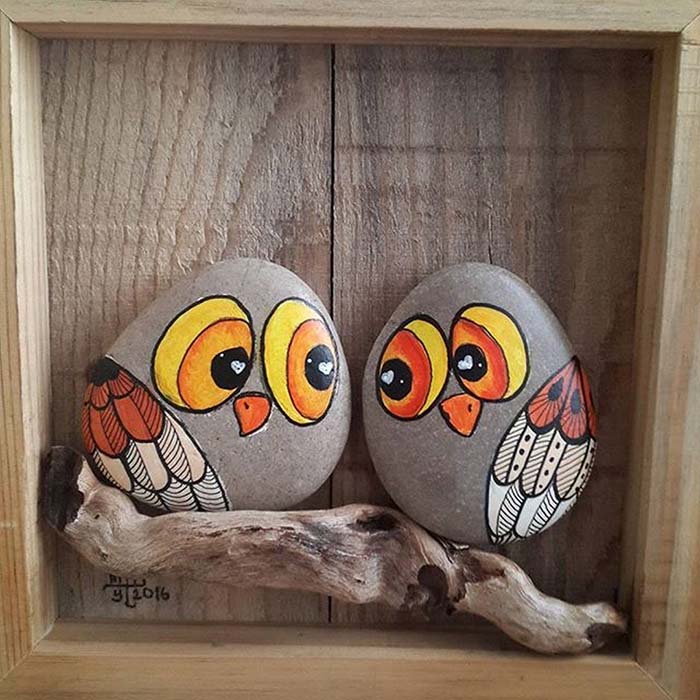 Fruits Painted Rocks
Rocks-fruits may not be as juicy or flavorful as real ones, but they sure are bursting with color!
Painting them might even help encourage healthy eating habits by creating a fun experience around nutrition.
Round and half-moon-shaped rocks make perfect lemons, limes, apple wedges, and watermelon slices. Use bright colors and varnish for a glossy sheen.

Rock Fruit Salad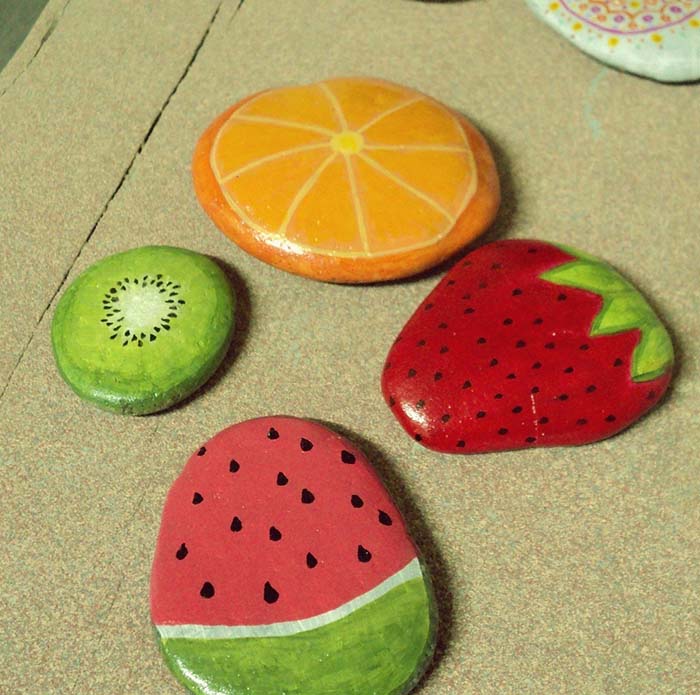 Easy Painted Strawberries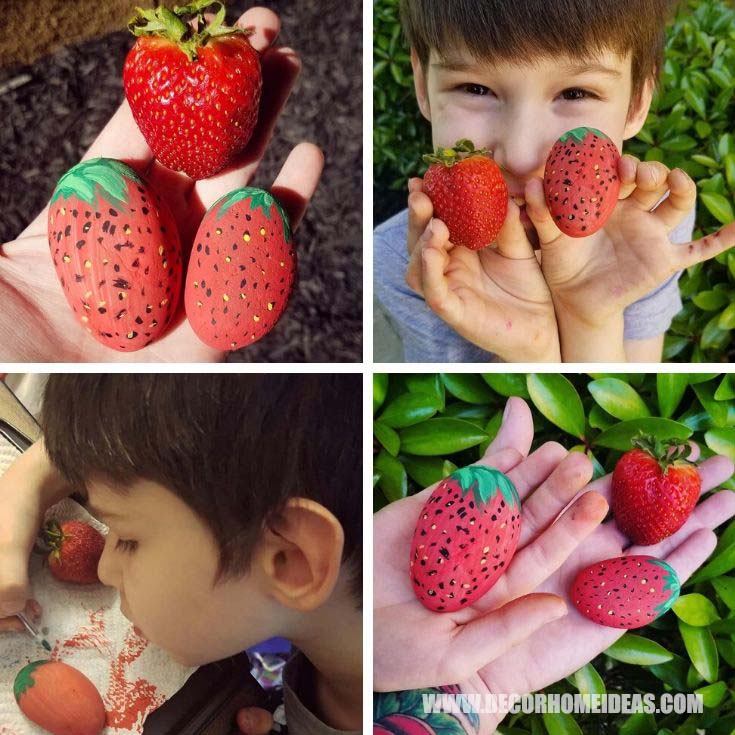 Love Inspiration Painted Rocks
Love love? The world certainly needs more of it.
Make the message loud and clear by placing high-contrast hearts – the unmistakable symbol of love no matter where it goes or who receives it – on clean, dry rocks.
Use special effects to draw the eye, or pastels (on primer) for a sweeter effect.
Dot Art Hearts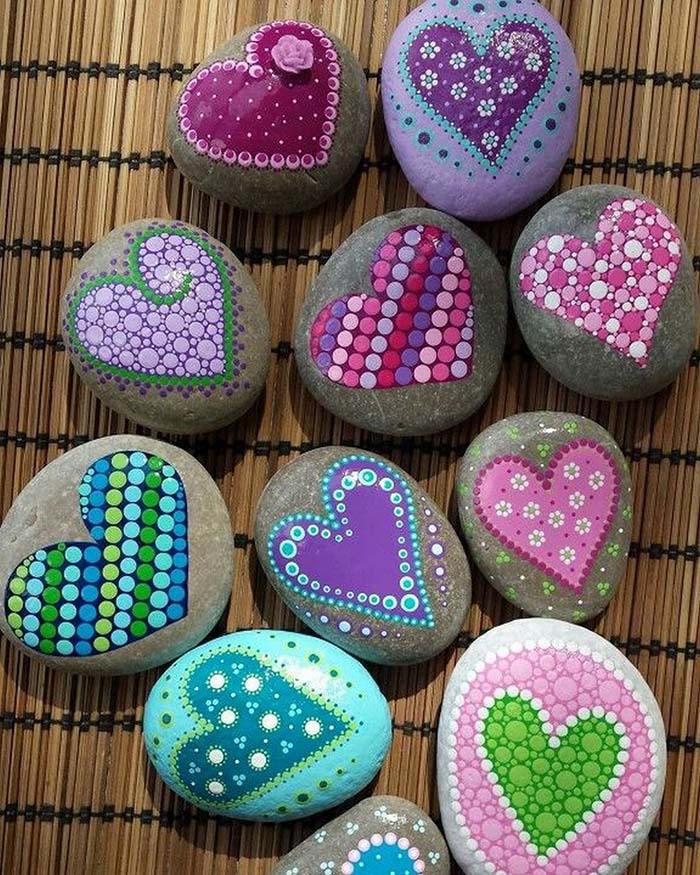 Rainbow Love Art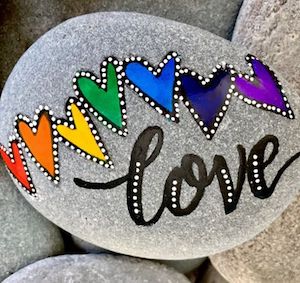 Emoji Painted Rocks
Fun, funny, and educational, too, emojis are pretty simple to make in bulk as long as you have plenty of round rocks with relatively flat surfaces.
You only need yellow, black, and red paint, with a few accent colors. As a bonus, name the emotion on the bottom to help kids explore emotions and describe how they're feeling.
Rock Art Emojis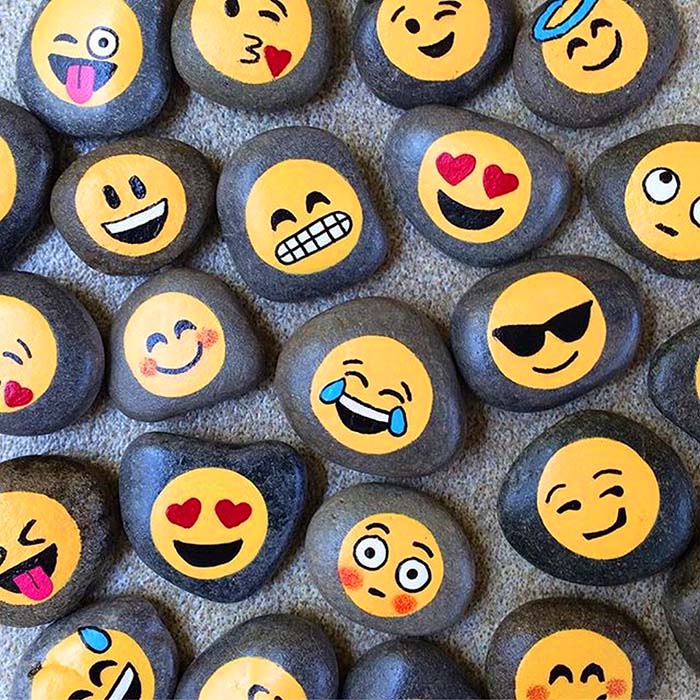 Poke Rock Art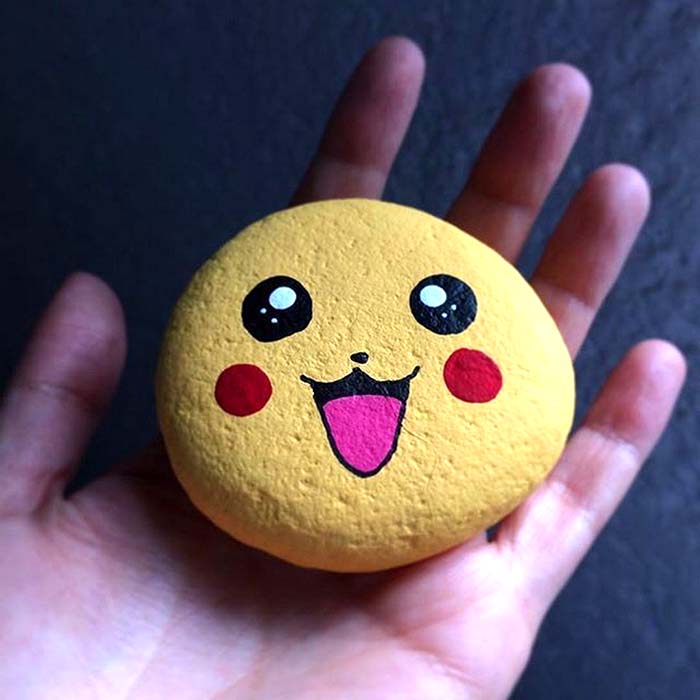 Fun and Easy Painted Rocks
If you have some odd-balls in your rock collection or are just looking for some simple rock-painting ideas, you've come to the right place.
From burgers and ice cream to unicorns and superheroes, these make great creative alternatives to coloring books.
Cartoon characters are also an inexpensive addition to themed parties.
Love Couple Art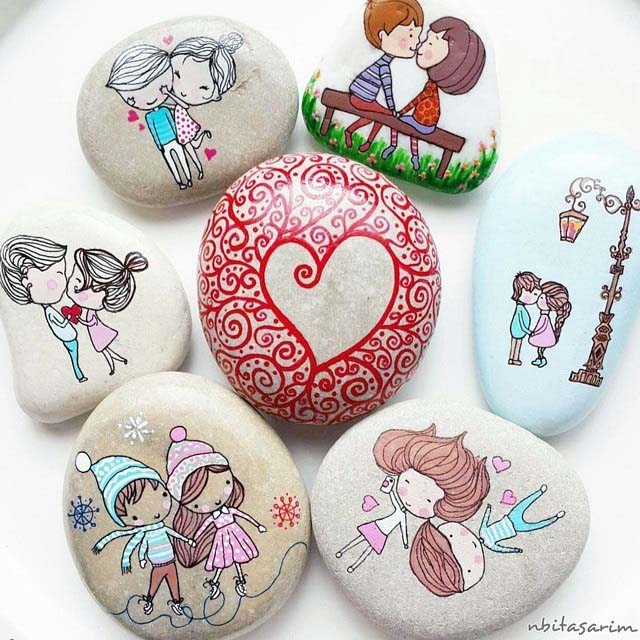 via instagram.com
Favorite Characters Rocks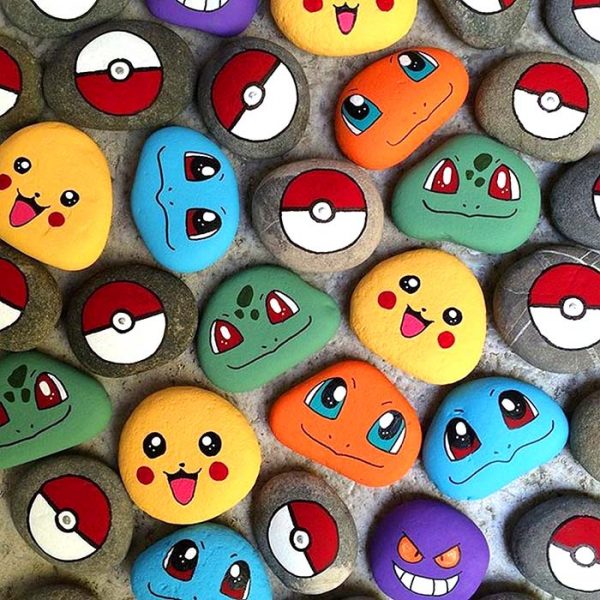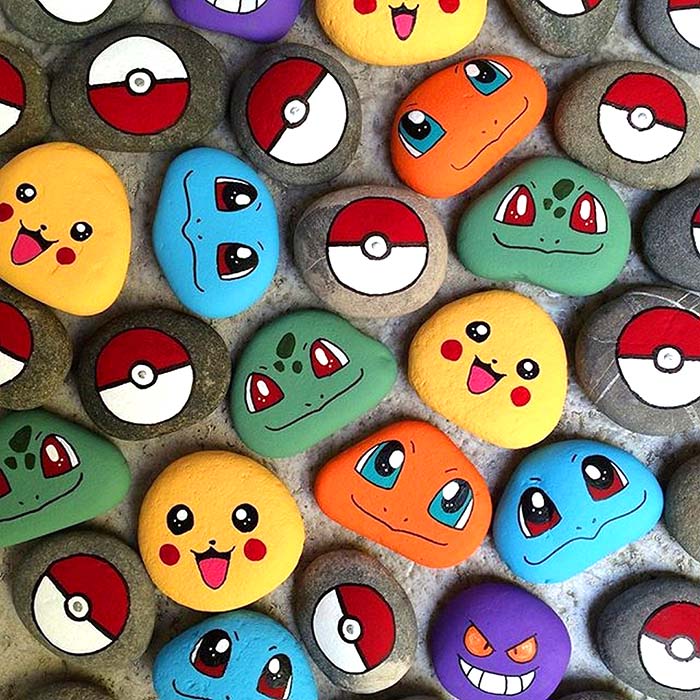 Rockburger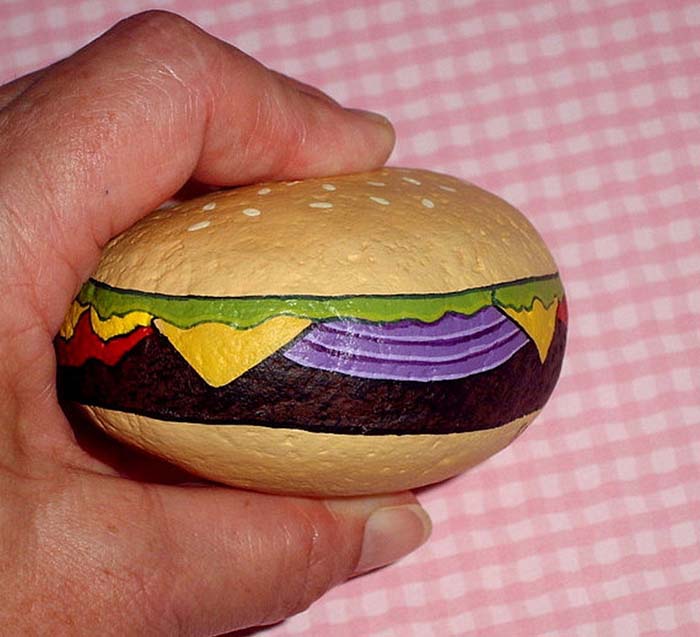 Summer Fun Rocks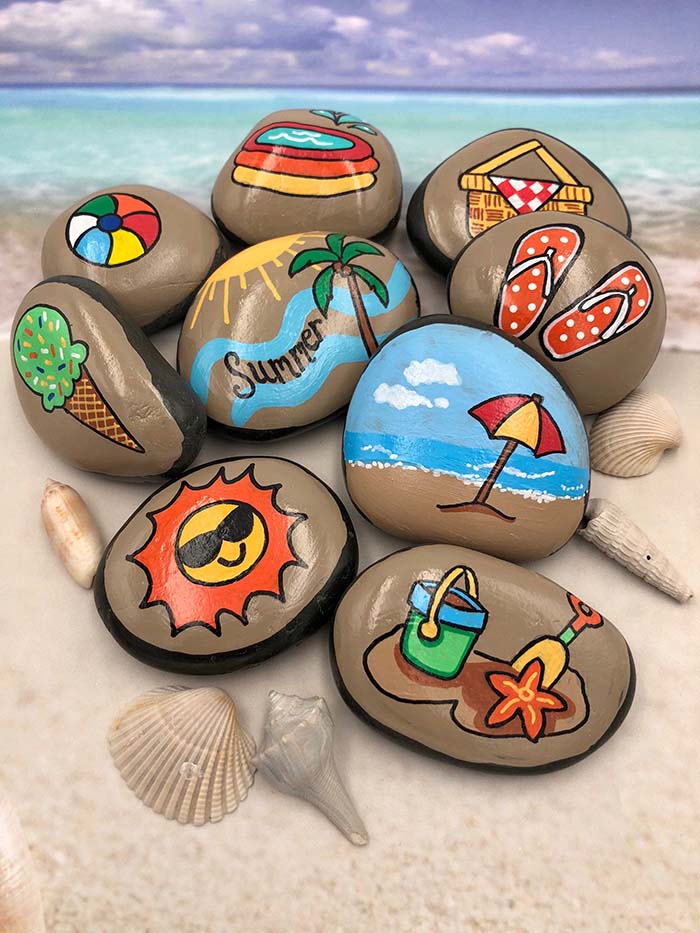 via etsy.com
Pretty Pastel Bird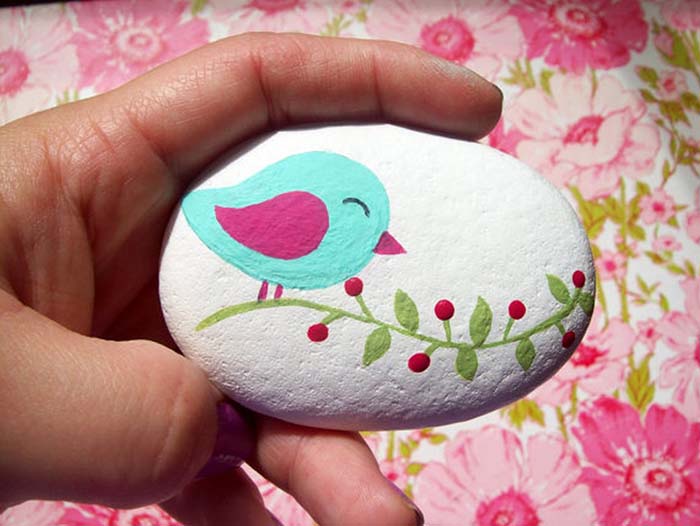 Mythical Painted Unicorn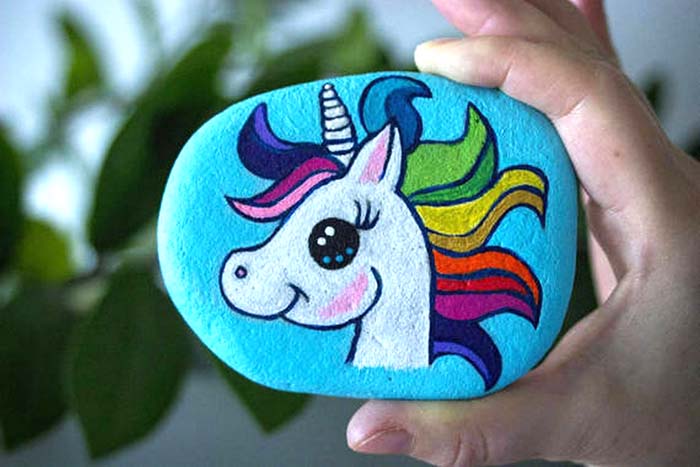 Man Of Steel Rock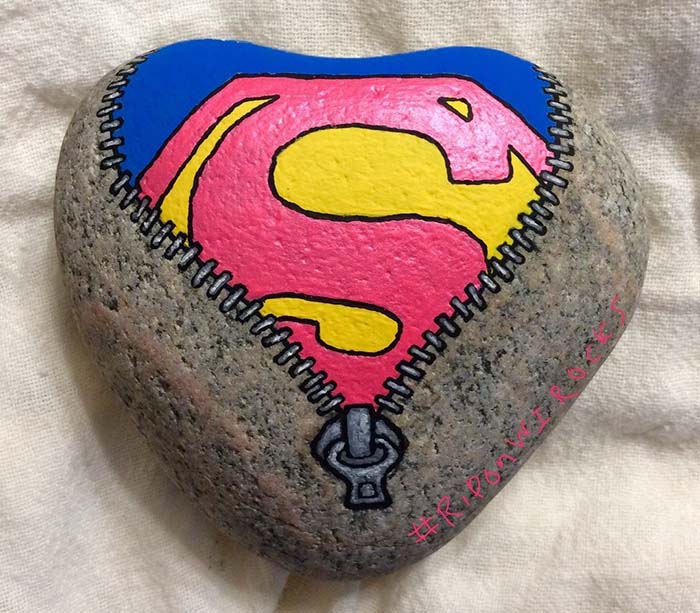 Delicious Rock Cones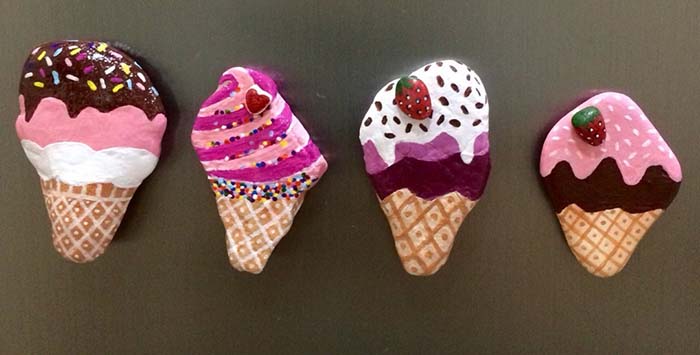 Your Favorite Heroes Rock Art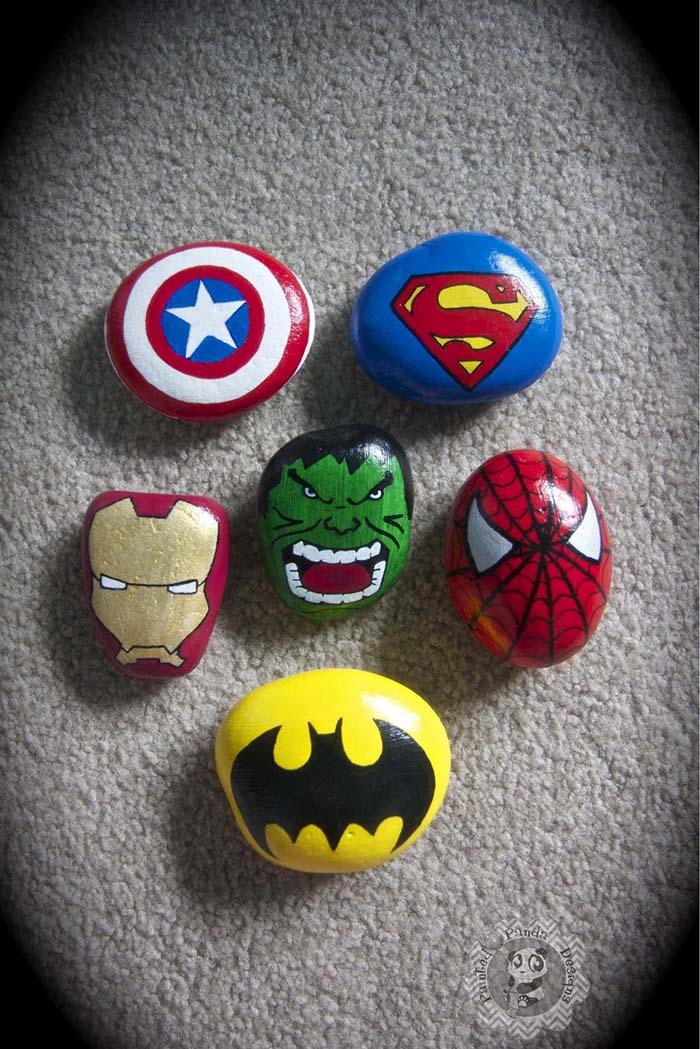 Birds and Pigs Rock Paintings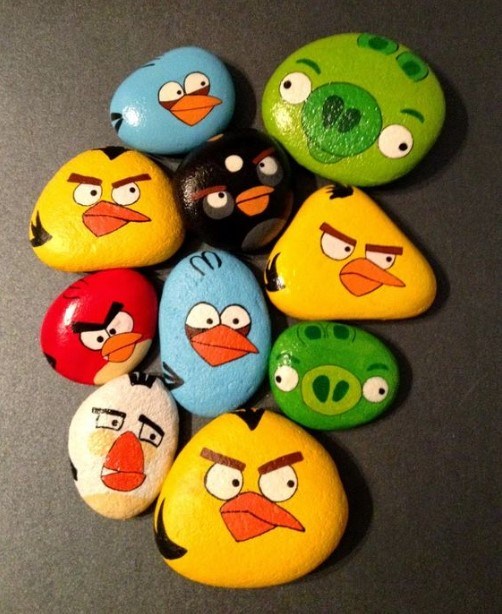 Flowers Painted Rocks
Flowers are a natural subject for painted rocks, especially since they're both found outdoors and often placed in gardens!
You can also give them to your sweetheart or an ailing loved one; they brighten up any room, and best of all, they'll never wilt or fail to bloom.
Flower Bouquet Art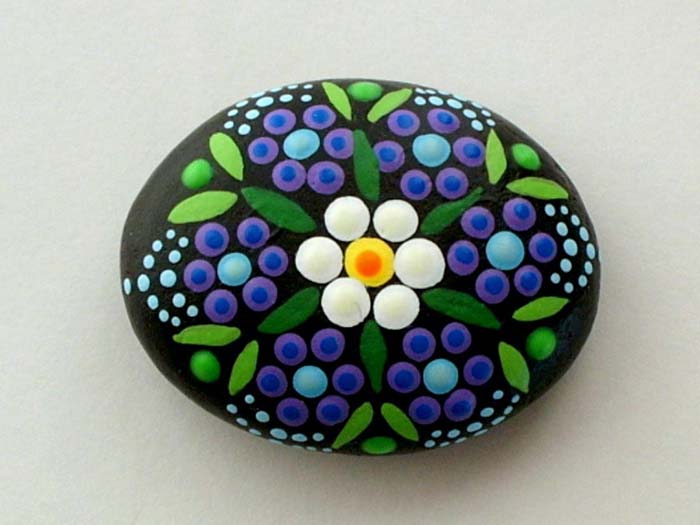 Lily Of The Valley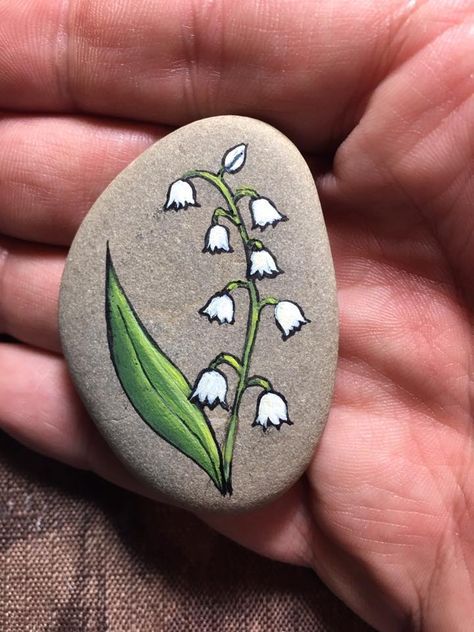 Bright Painted Zinnias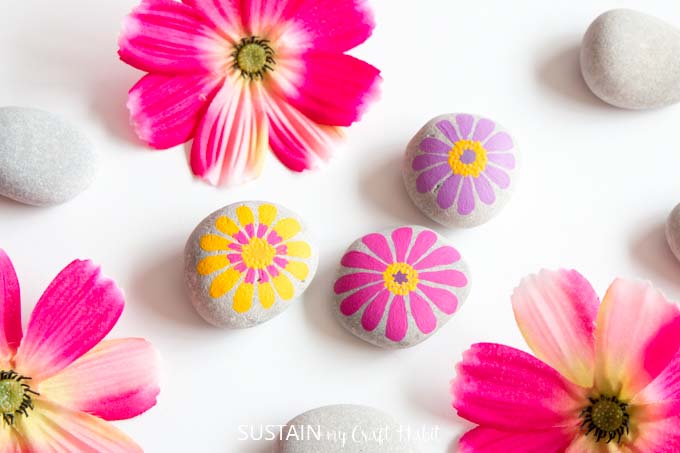 Rock Flower Garden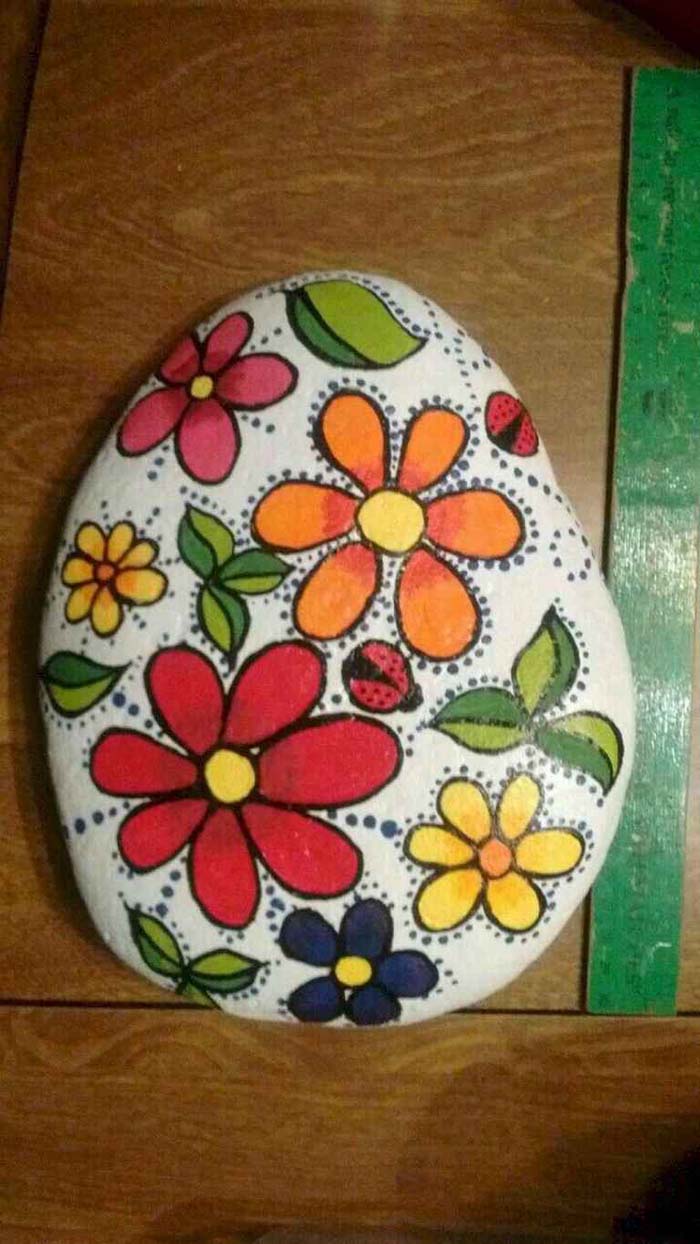 Flowering Love Art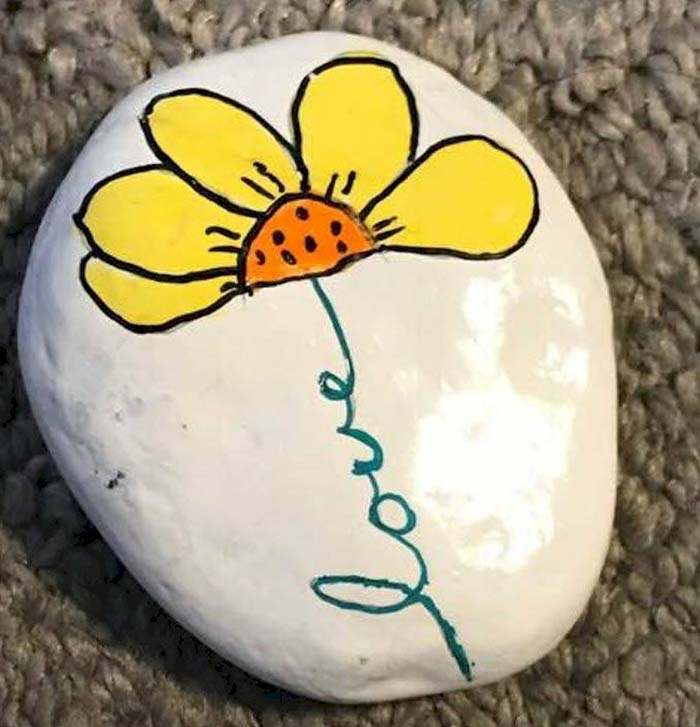 Christmas Painted Rocks
If you love painting rocks, you won't be able to resist your brush at Christmastime.
Snowmen, snowflakes, Santa hats, Christmas trees and more can line your shelves, be given as gifts, grace the dinner table, and ornament every nook and cranny for a festive holiday season you won't forget.
Sparkling Painted Snowman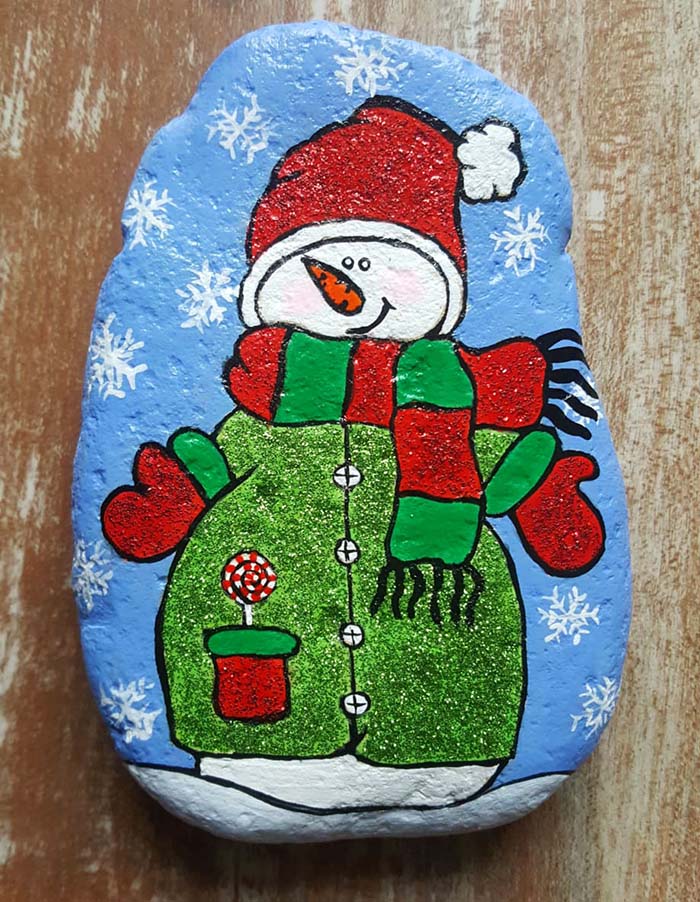 via Art's Stone
Snow Family Rocks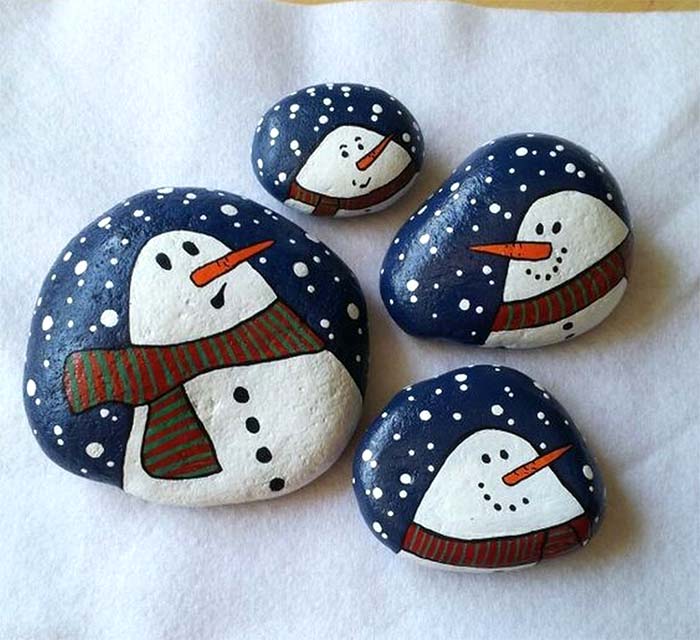 Frosty Rock Art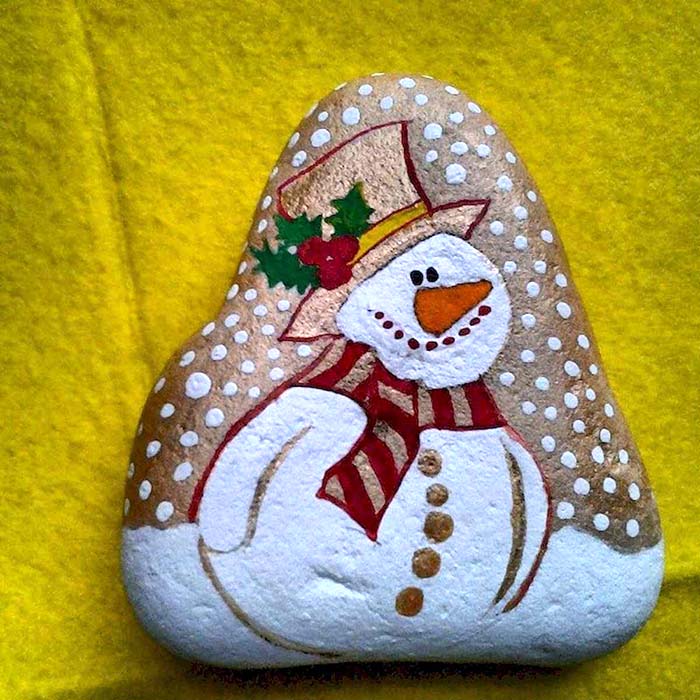 Painted Holiday Rocks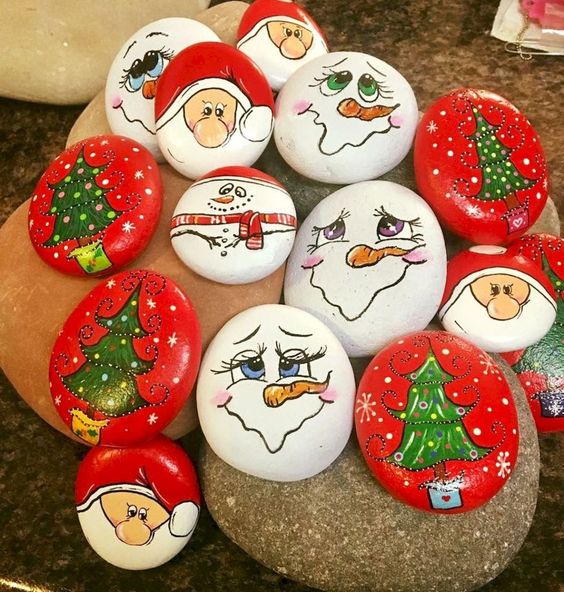 Stunning Painted Snowflakes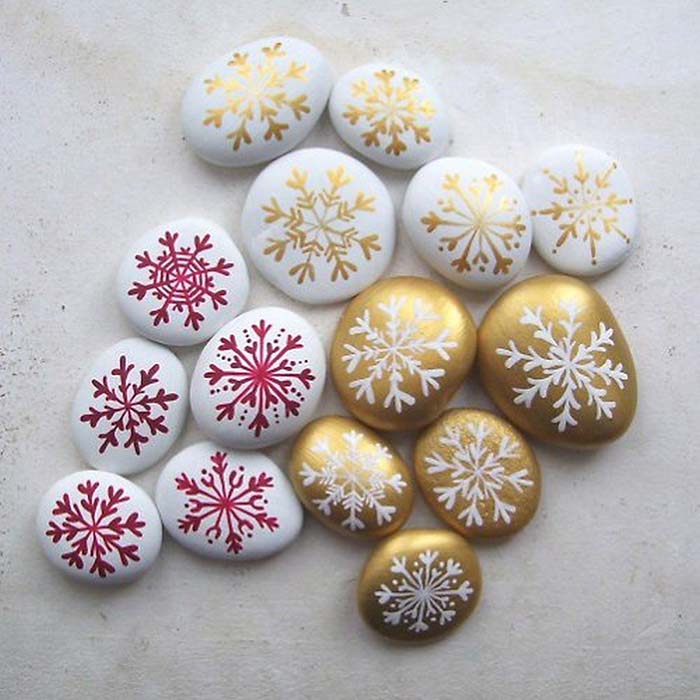 Let It Snow Holiday Rocks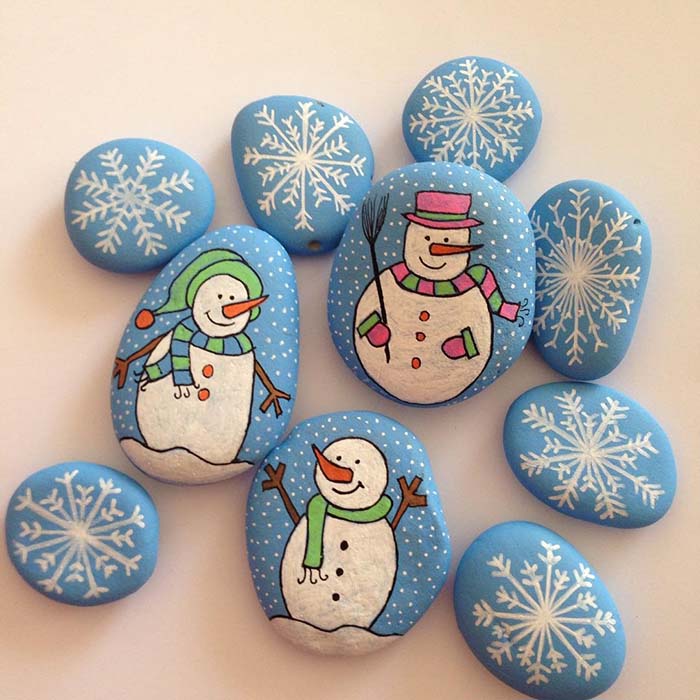 Glittery Snowman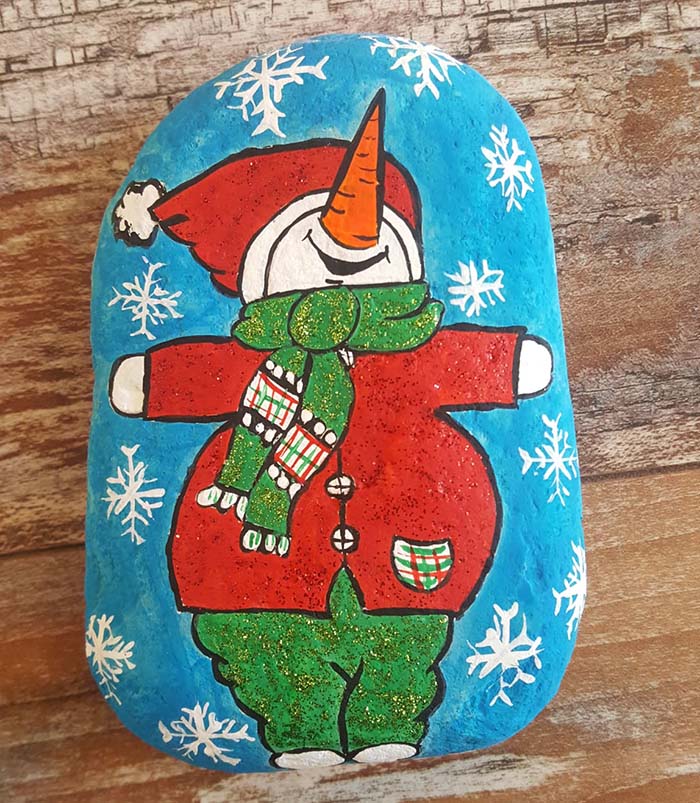 Turquoise Painted Rocks
Turquoise is traditionally thought to have heavenly healing properties in cultures from Native Americans to Tibetans to ancient Persians.
This spiritual significance makes the color turquoise particularly appropriate for creating Zen gardens or evoking feelings of tranquility, connection, and peace.
Mystical Tree Painting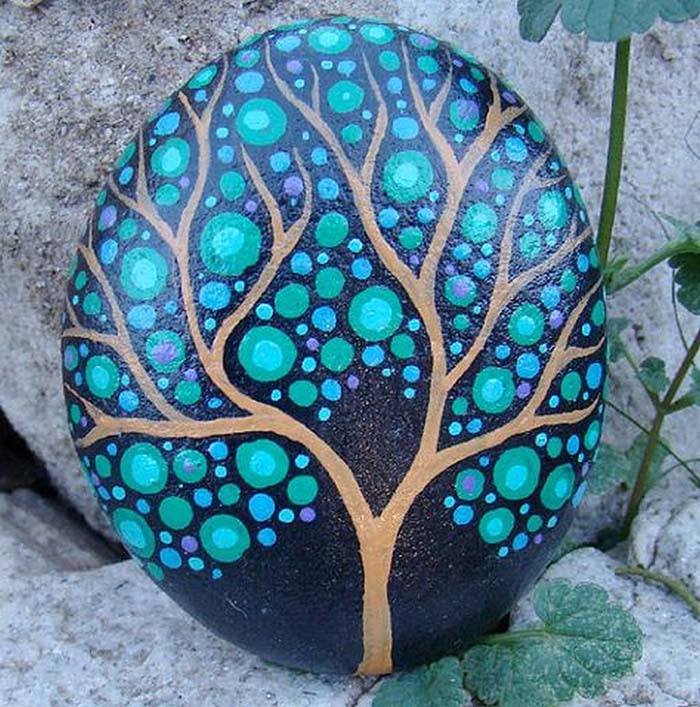 Nautical Rock Art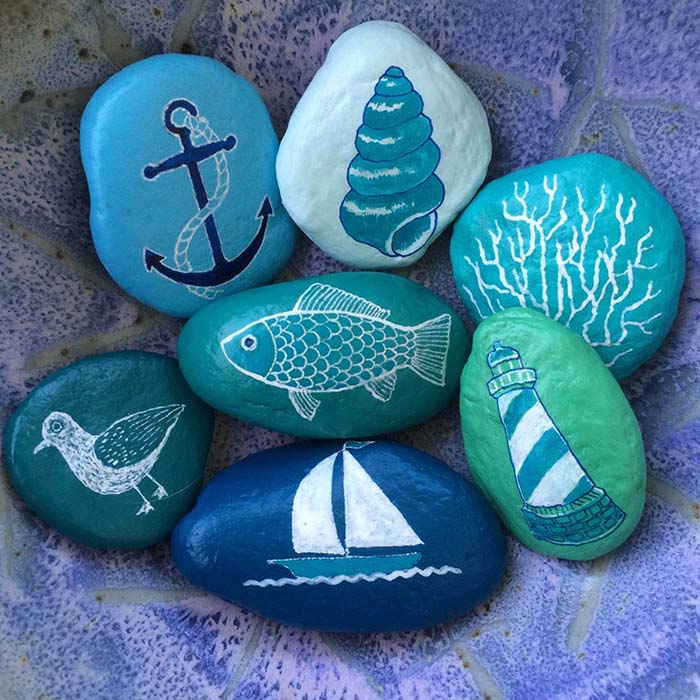 via etsy.com
Turquoise Affirmation Rock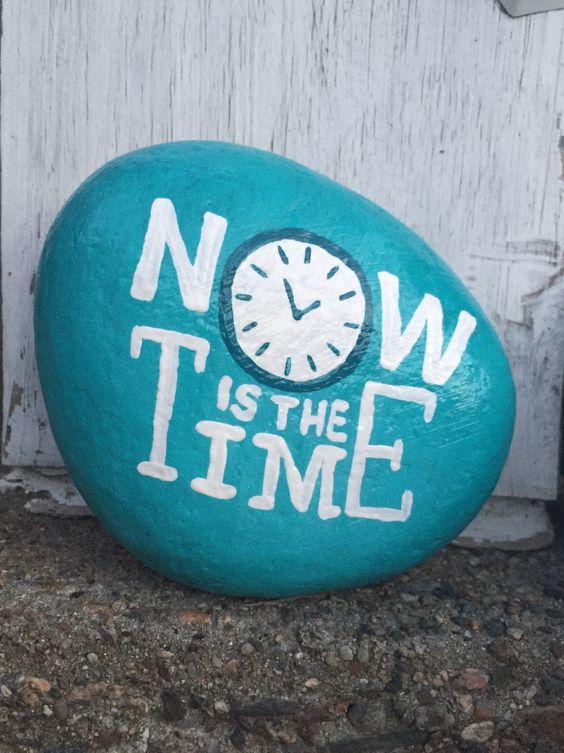 Blue-Hued Dot Art Rocks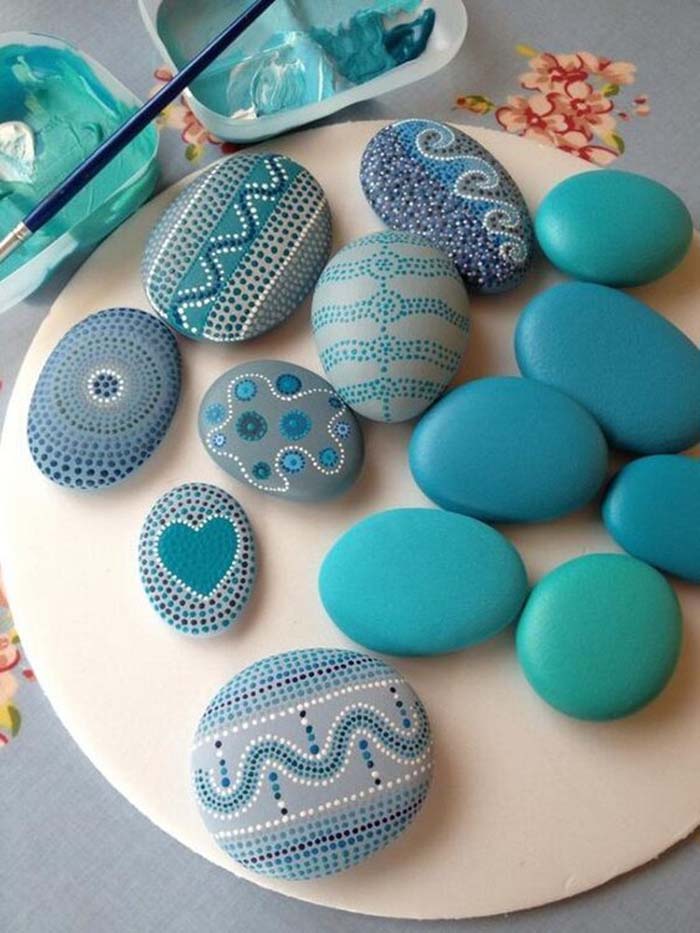 Painted Rocks For Outdoors
Painting rocks to be displayed outside your home or hidden for fun is easy: just paint as usual, then brush on a clear, water- and weather-proof sealant to keep them safe from the elements.
Remember to let all layers dry before applying the next. Add a hashtag to the bottom of hiding-rocks so you can follow their journey online.

Painted Rock Snails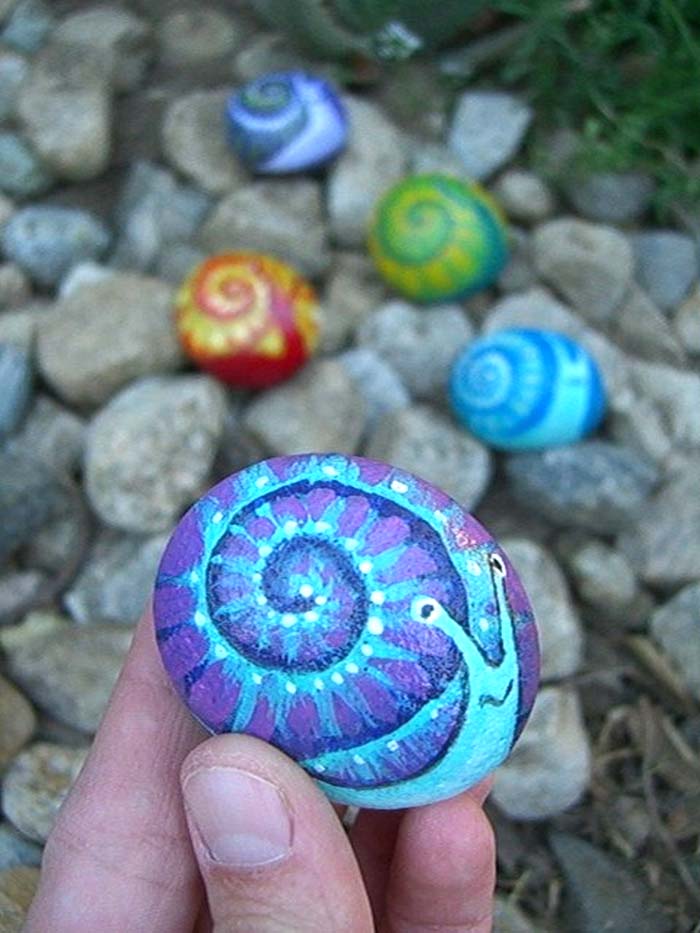 Colorful Garden Ladybugs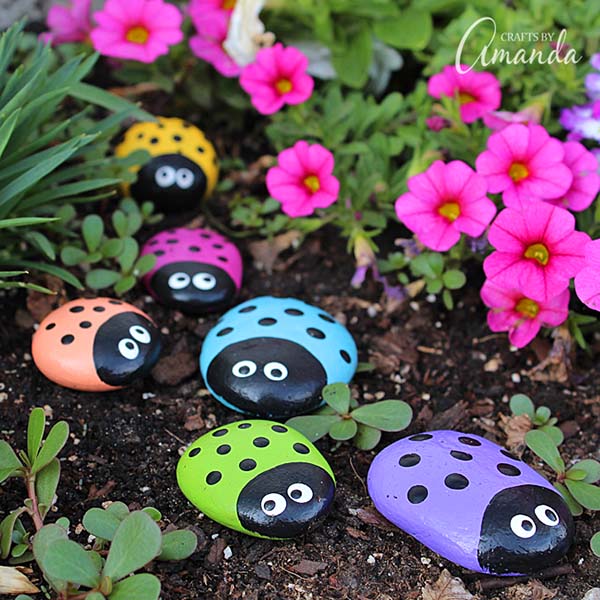 Buzzing Bee Painted Rocks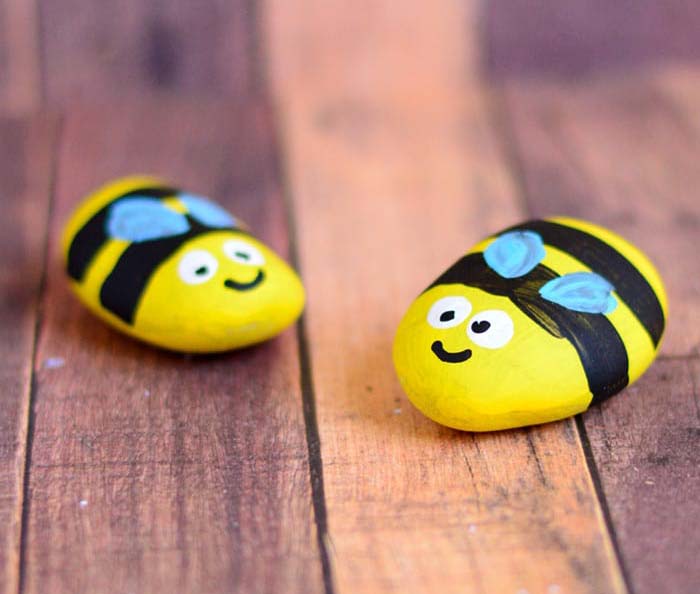 Beautiful Leaf With Dragonfly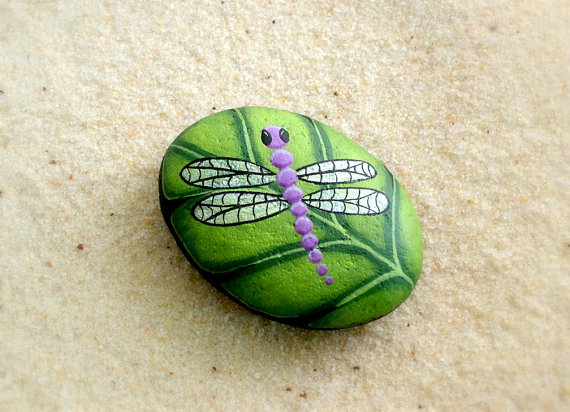 Turtle Made From Painted Rocks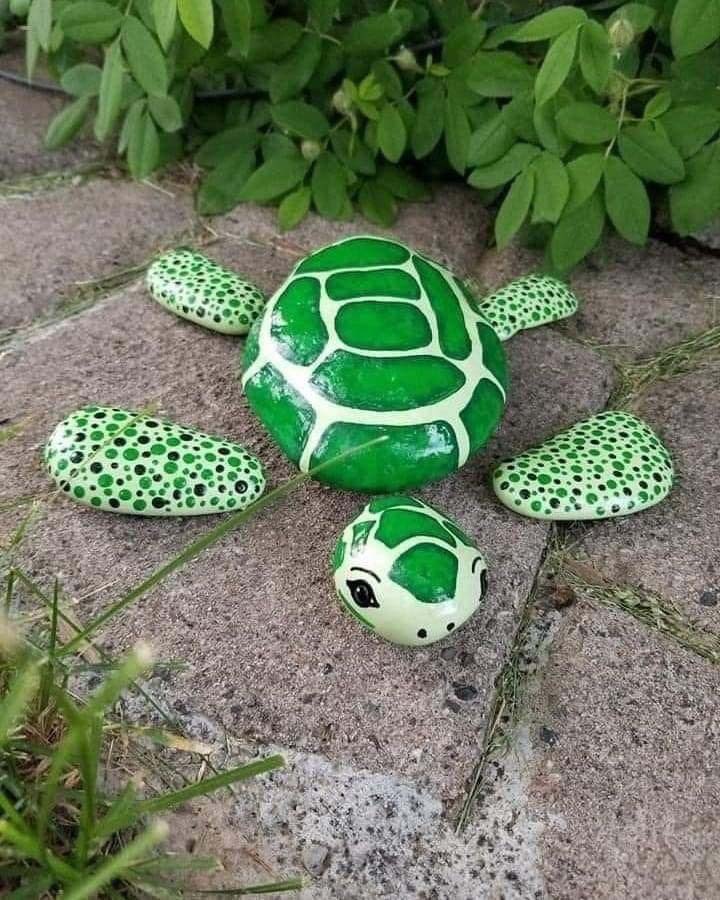 A Garden Made From Painted Rocks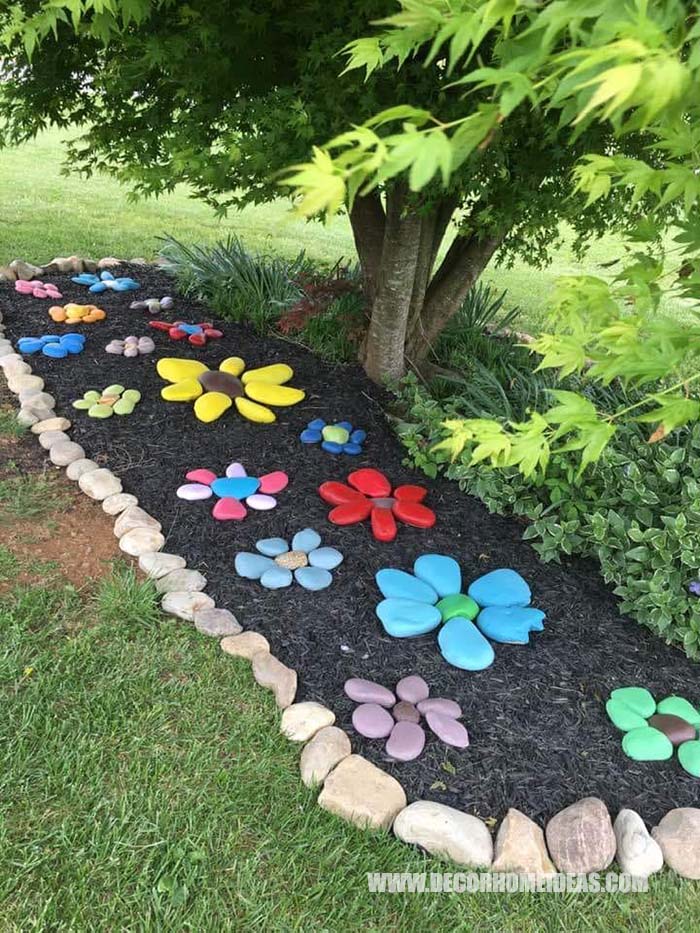 A painted rock flower garden is a great idea to spruce up your garden and create a fun activity for your family. Kids would love to help you paint all these colorful flowers and arrange them in your backyard or garden.
Painted Rocks With Cars
Create novelty cars, classic replicas, or a fleet of race cars without any small pieces or a touch of model glue by painting them on rocks, preferably flat on the bottom and rounded on top (although how round will depend on the kind of car).
Cars can be anything – cute, tough, sophisticated, death-defying – and they also represent freedom, so a project painting cars is a great way for everyone to express their individuality.
Psychedelic 60s Van Rock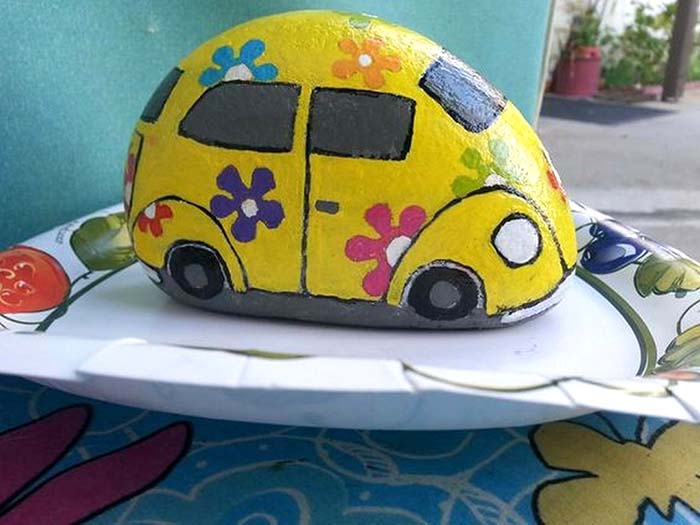 Two Sided Sayings
Flip rocks are pretty much what they sound like – rocks that invite the finder to flip them over.
The top often sets up a joke or asks a question, but sometimes it's just the first half of a sentence.
While often funny, they can also be inspirational or reassuring, making them great to hide for strangers, share with friends, or use as icebreakers.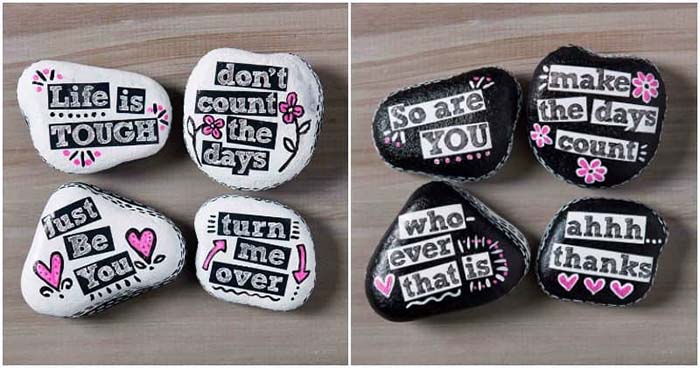 via plaidonline.com
VW Bus Painted Rocks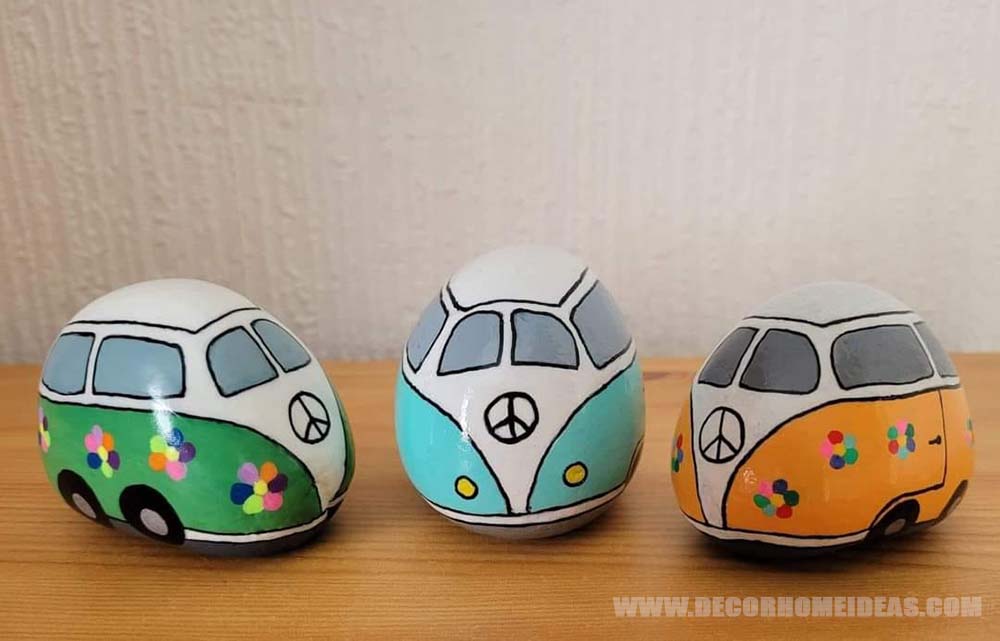 via Natasha Dienes