The best thing about DIY crafts is that you can turn boring objects into extraordinary items. For example, a piece of yarn can become a sweater or a cardboard box can become literally anything you (or your kids) can think of.
While we are in love with all sorts of crafts, we really like the ones that use items we already have on hand.
What To Make With Coffee Filters?
One such item that we always have on hand is a regular box of coffee filters. Coffee is essential to our daily routine. We're sure we're not the only ones.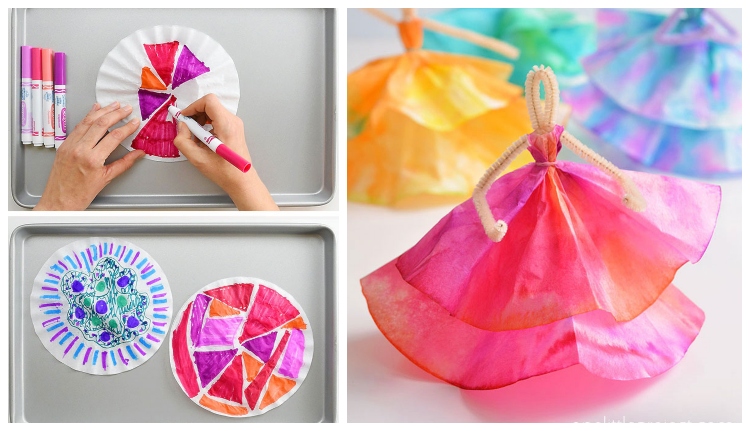 If you have a box of coffee filters, you can easily turn a few of them into an adorable springtime craft – DIY coffee filter dancers! To make one dancer, you'll need 2 coffee filters, a pair of scissors, washable markers, a tiny elastic and 2 pipe cleaners.
I know what you'll ask, and no, permanent markers won't work. Put those Sharpies away ( or at least for this project only ).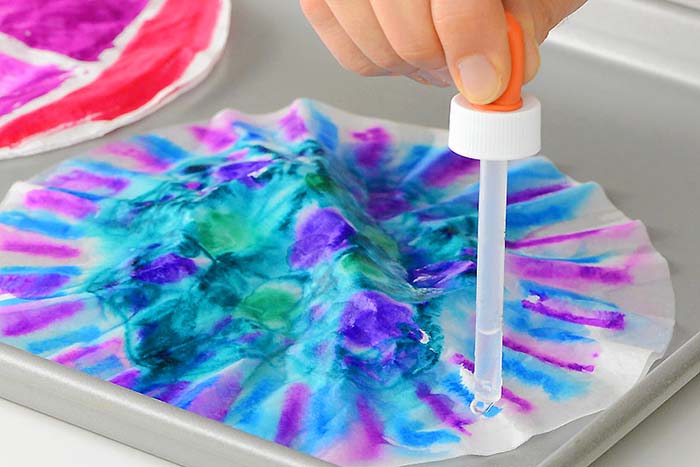 If you have kids, you probably already have some colorful and washable markers in your house. The washable part is essential so that the colors bleed and create the rainbow watercolor effect on the dancer's dress.
It's also helpful to have a baking sheet on hand. The baking sheet creates a mess-free surface or at least less-mess area for you (or your kids) to create this easy DIY craft. 
Gather your supplies, and then watch the video below to see how easy it is to make these beautiful dancers.
Debbie from One Little Project explains everything in details in a step by step tutorial which you can find: HERE
What we really love about it is how adding just a few drops of water causes the colors to blend and create such lovely shades on the dresses. You could get even more creative and use a variety of colors to make endless variations and effects on each dress.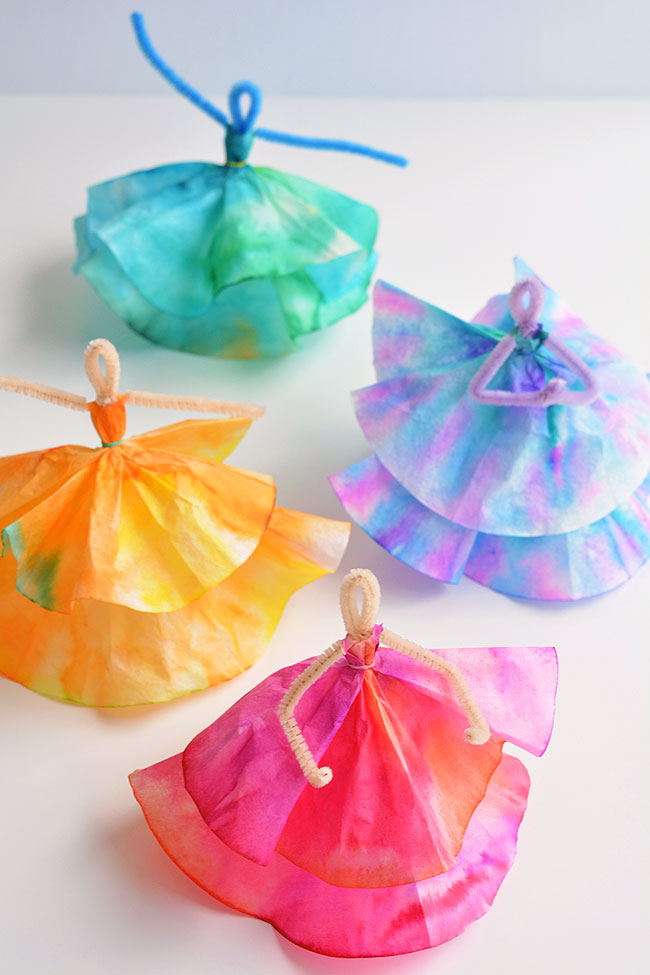 For a pinkish dress, try reds, purples, oranges and of course, pinks.
For a bluish dress, try blues, greens and purples.
For a yellowish dress, try yellows and oranges.
We can't stress out how easy this craft is. Even a toddler or child as young as pre-school age would enjoy coloring and mixing colors on the coffee filters with the markers and dripping the water on top to see the colors blend and change.
It's a good educational craft project that shows how colors blend together. In our book, this craft totally counts as at-home arts and sciences.
These dancers would be beautiful spring decor. We can also picture young children making them dance around the dining room table!
Have you ever made a craft with coffee filters before?  
Don't forget to visit One Little Project for all the supplies and steps to make these beautiful coffee filter dancers.