Mason jars are everywhere right now, and for good reason.
They're affordable, attractive, and highly versatile.
If you love the look of mason jars and are interested in decorating with a mason jar design in a fun and unique way, then it's time to consider these mason jar string art ideas.

They are fun to make and to look at and are sure to inspire you to make your own art.
Before browsing all these mason jar string art ideas, let's define what string art is and especially mason jar string art.
String art is a creative way to recreate paintings and decorations using a string and forming the contour with nails which you need to follow with yarn.
There are thousands of amazing ideas to create, but mason jars are very popular.
Supplies needed:
Mason Jar String Art Pattern
Computer and a printer to print it ( if you do not have a printer at home, you can copy from the computer screen – quite primitive option but it works great).
Wood board – 10×18 inch is perfect
Wire nails – I used approx. 80-100 pcs ( Nickel colored if possible )
Hammer
Tape
2 rolls of yarn – white and pink
Faux flowers
Scissors
How to make a Mason Jar with string
Print mason jar template.
Select a board(or cut one) that is big enough for your project
Stain the board
Start on one corner of the jar pattern and mark every 1/2-3/4 inch on the lines.
Attach your paper to the board using tape
Using a drill to make holes for the nails
Remove the paper
Place a towel down and then your board. Using a hammer, nail in the nails about half way
Tie on your string and go around the outline of your jar at least 2 times but more is fine.
End your string where you started and tie the strings together. Cut the string.
Add your flowers or other fun to your vase!
1. Refresh Your Room with a Pink Stringed Flower Jar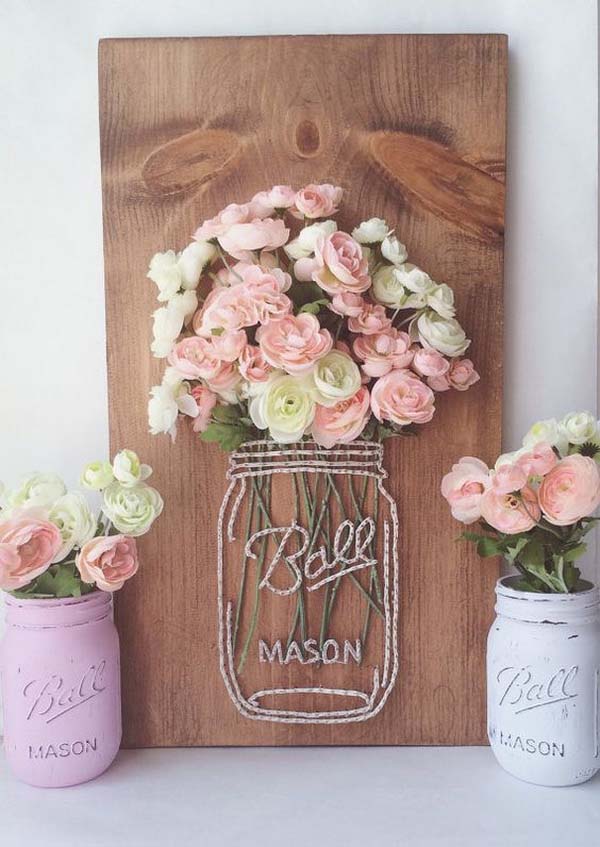 This attractive jar is outlined with a light pink string that perfectly complements the pink and white flowers.
Adding some color to the jar with a different string is a wonderful way to make a design pop and to help set it apart from other similar designs.
The full jar of flowers seems to pop off of the board, making the flowers look realistic.
Check availability: Here
2. Add Daisies and a Heart to Your Burlap String Art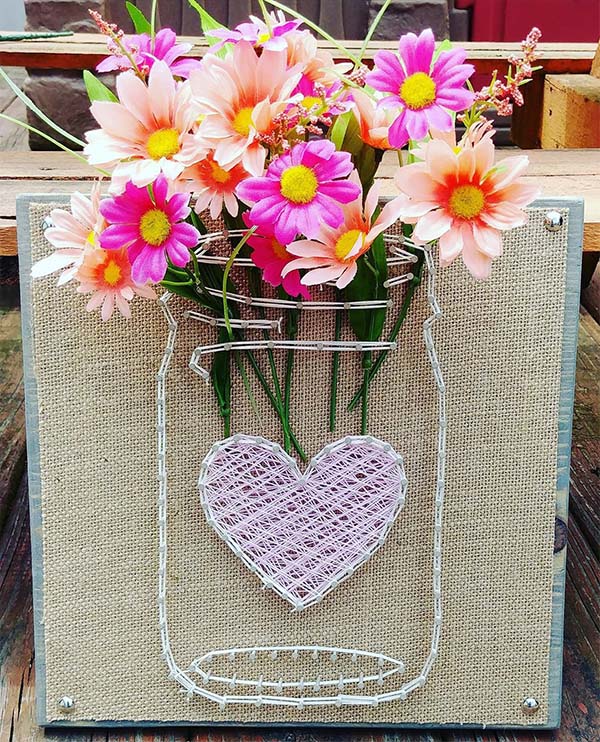 Bright daisies are complemented by the light pink heart on the front of the jar.
The important thing about adding a solid design to the front of a mason jar string art piece is to ensure that there is enough string to make the heart seem solid.
This helps it to pop off of the art rather than blending in and getting lost or downplayed by the bright flowers.
Check availability: Here
3. Get a Rustic Look with a Zig Zag String Mason Jar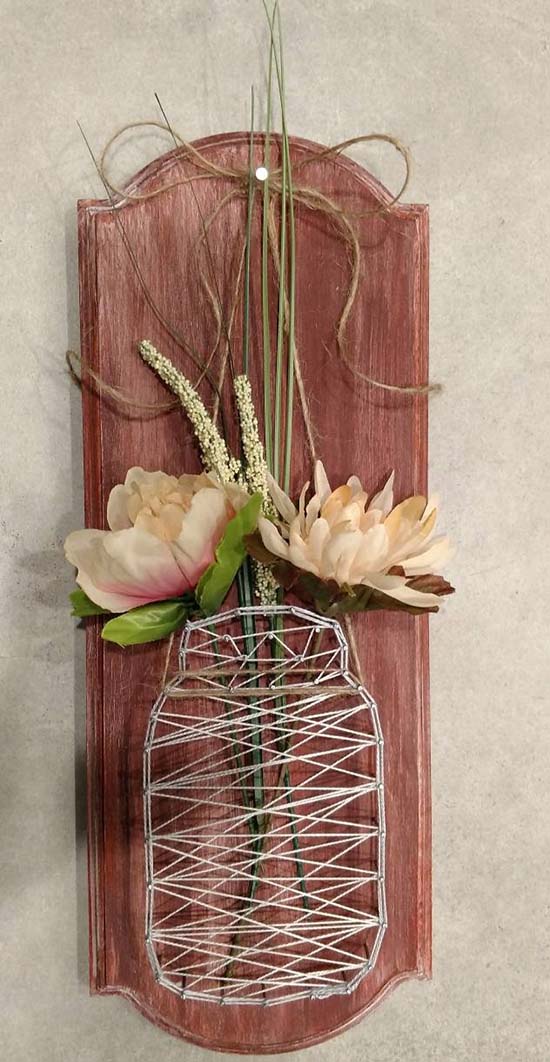 Everyone loves zig zags.
Not only are they fun and a little more exciting than just an outline, but they also add a lot of movement to the art and to the appearance of the jar itself.
Rather than having the art you make look flat and still, by adding zig zags you can make sure that it looks festive and as though it has natural movement.
Check availability: Here
4. Make a String Mason Jar with Ease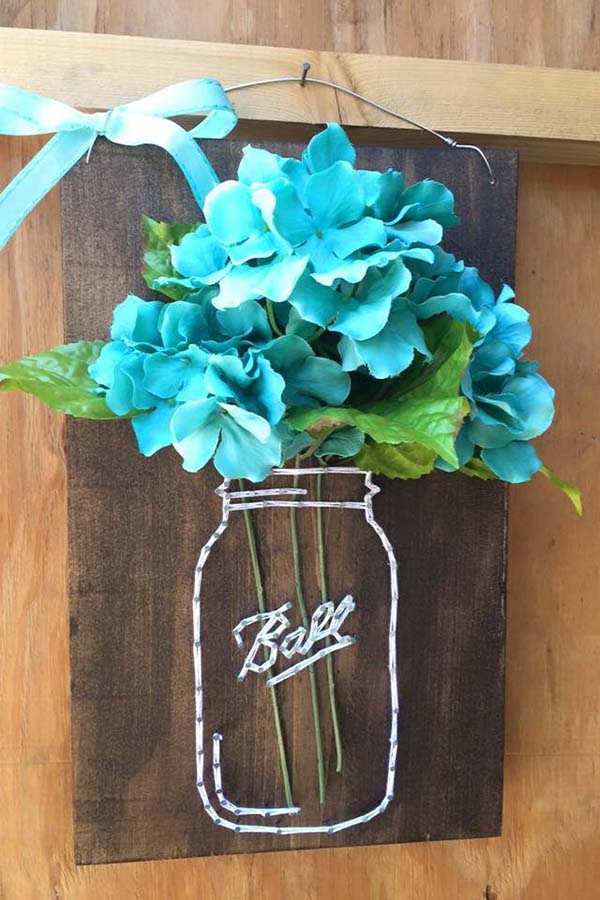 Sometimes you just want some simple art to hang on your wall, and that's when it's a good idea to do a simple outline with the "Ball" name on the front of the jar.
This prevents the jar from looking too busy and overwhelming, which is great when it is going to be displayed around a lot of other art. Adding bright flowers helps the art to pop.
Check availability: Here
5. Welcome Fall with a Beautiful String Mason Jar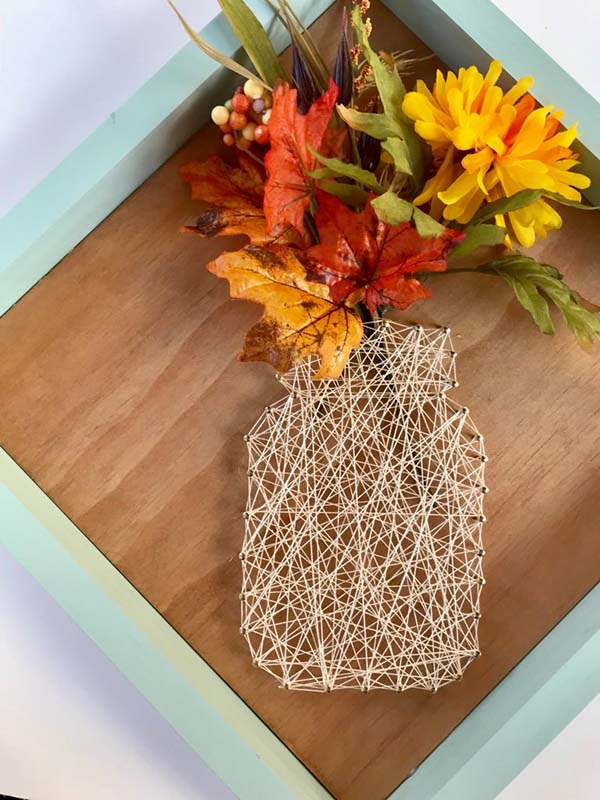 Fall colors are gorgeous, and attractive fall leaves and flowers look even nicer when they are displayed on an attractive wood board and with a full and busy string art jar.
Using a lot of thinner string and making sure that the jar is mostly covered helps to prevent the jar from looking bare or empty and adds movement and design to the art.
Check availability: Here
6. Celebrate Harvest Season with a Blue String Mason Jar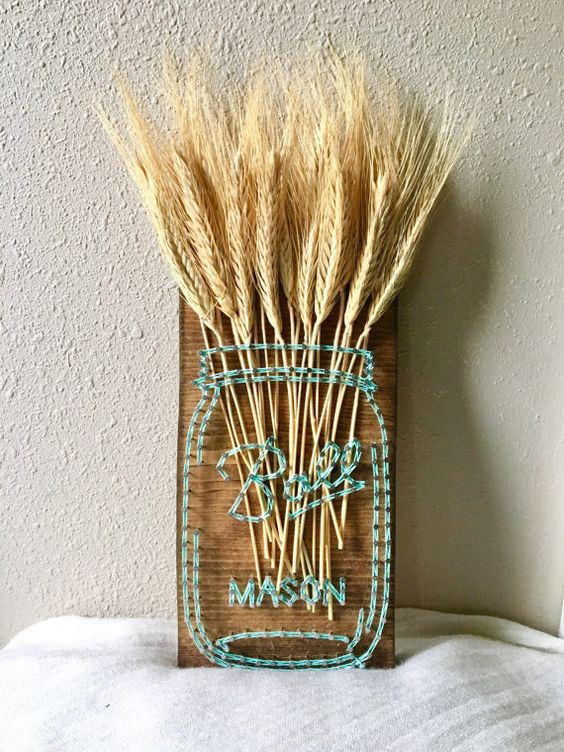 Bold blue string really helps to set this mason jar string art apart from others that you have seen in the past.
The blue of the string perfectly complements the dark wood background as well as the lighter wheat that is in the jar. Thanks to the use of monochrome browns behind the blue, the blue pops and is easily seen.
Check availability: Here
7. Add Color to a Hanged String Jar with Tulips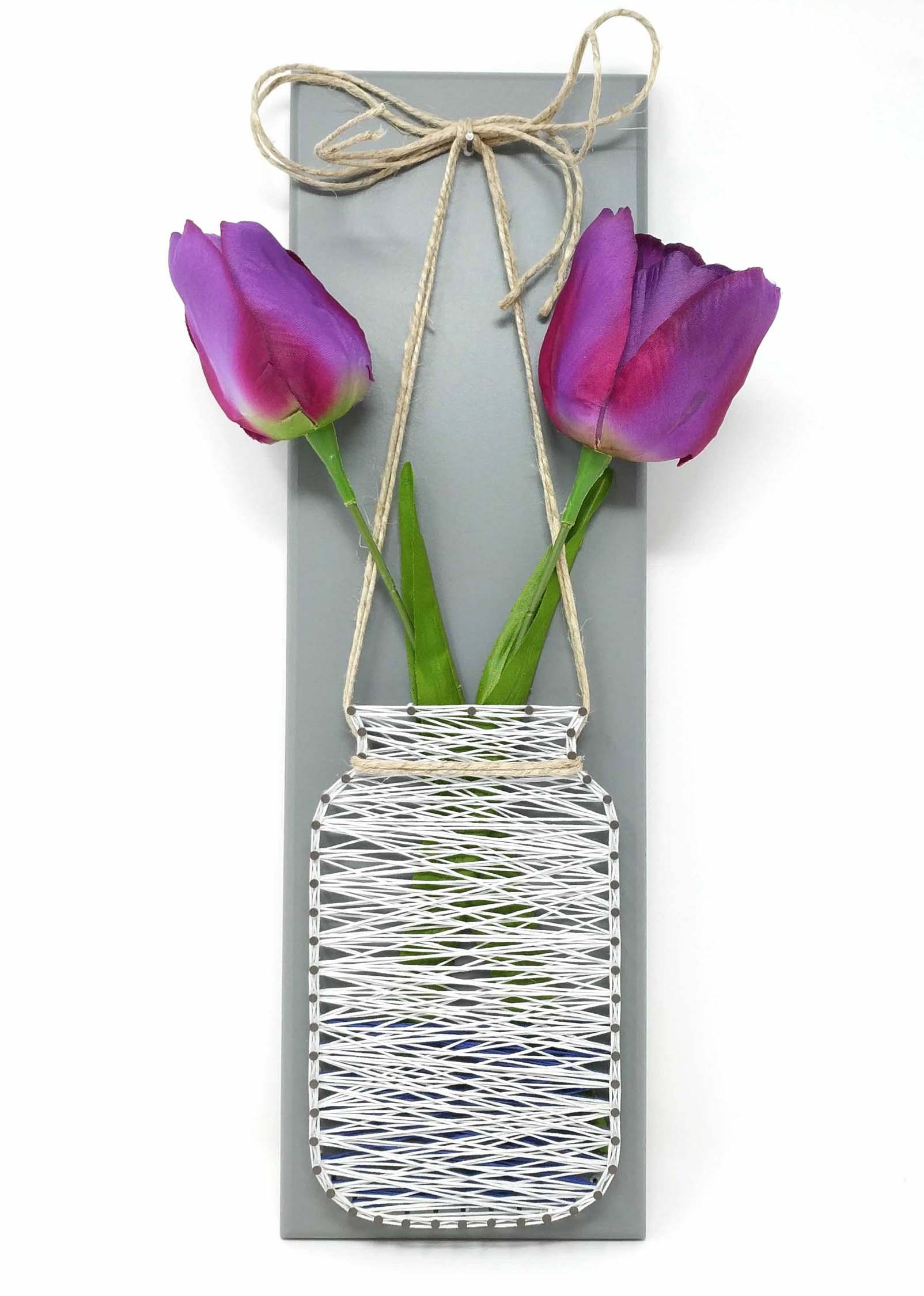 Adding longer strings to make it look like your jar is hanging is a fun way to update string hard.
This also allows for the inclusion of longer stemmed flowers, like bright purple tulips.
The longer stems won't look out of place, thanks to the long strings hanging the jar. Using an attractive horizontal weaving on the jar helps make it look more solid and full.
Check availability: Here
8. Achieve a Modern Look with a Geometric String Jar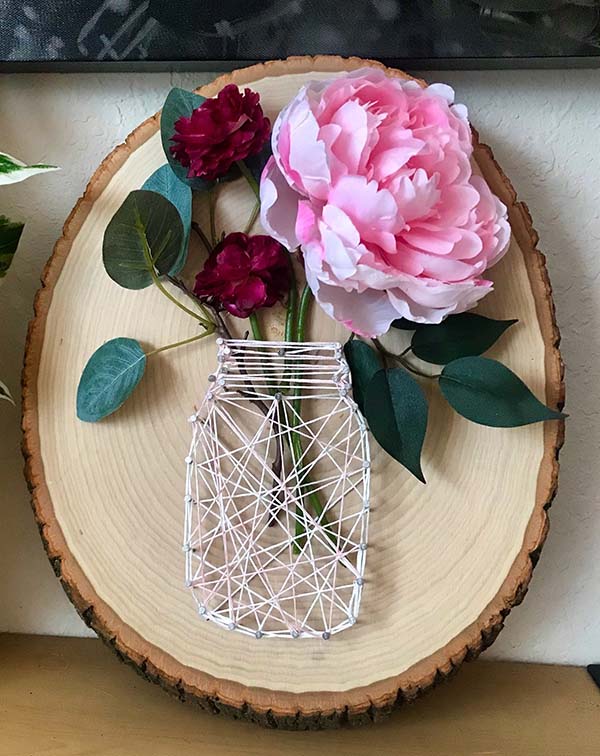 An open angular design ends up looking very geometric, which is fun and a little different from other jars that are simply outlined.
Keeping the string thinner helps the geometric design of the jar to pop off of the board and allows it to really shine.
By pairing the jar with an oval board and loose and airy flowers, the whole piece of art has movement and doesn't appear too sharp.
Check availability: Here
9. Use a Rustic Wood for a Farmhouse String Jar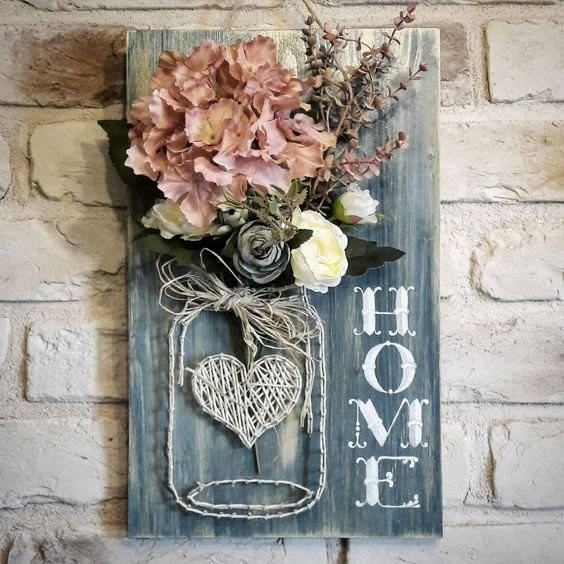 Neutral string can blend in a lot when used on natural wood tones, but simply washing the wood with a blue paint helps the jar to stand out.
The light colors of the flowers are reminiscent of an old farmhouse, and the painted "HOME" down the side of the art helps to establish feelings of love and remembering being with family.
10. Make a Statement with a String Bow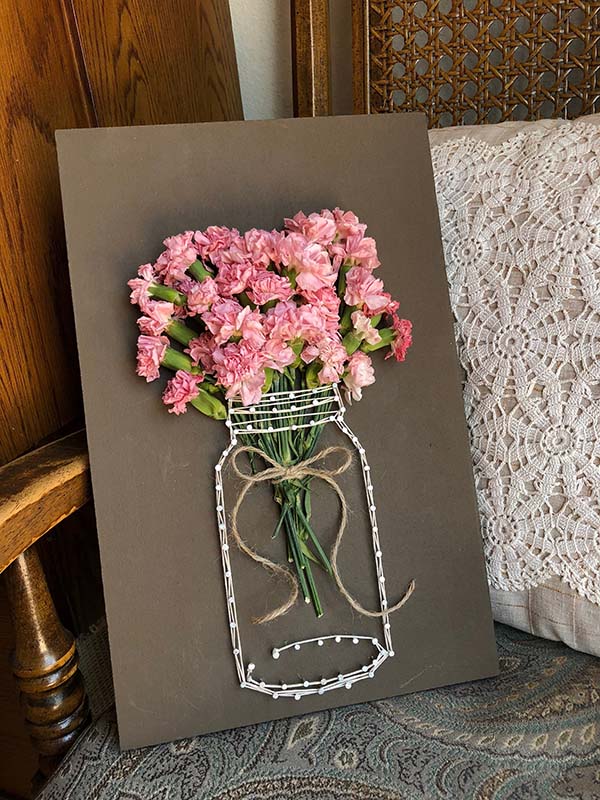 There's no reason that the flowers in your mason jar string art can't be tied with a nice to bow to keep them all together.
This jar has a simple outline that is then offset with a longer organic bow. The flowers, along with the bow, prevent the jar from looking too plain and help make this piece of art stand out from a gallery wall.
Check availability: Here
Any of these fun mason jar string art ideas are sure to spark your creativity and inspire you to make your own art.
When you're ready to decorate your space in a unique and exciting way, then consider turning to one of these fun designs for inspiration.