It is not a secret that we love wine! We know what to do with the elixir closed in the bottle. But how about the bottle after the wine is gone?
Don't throw it away as we have prepared an amazing collection of non-standard and beautiful ideas that will add a point of interest to your interior or exterior.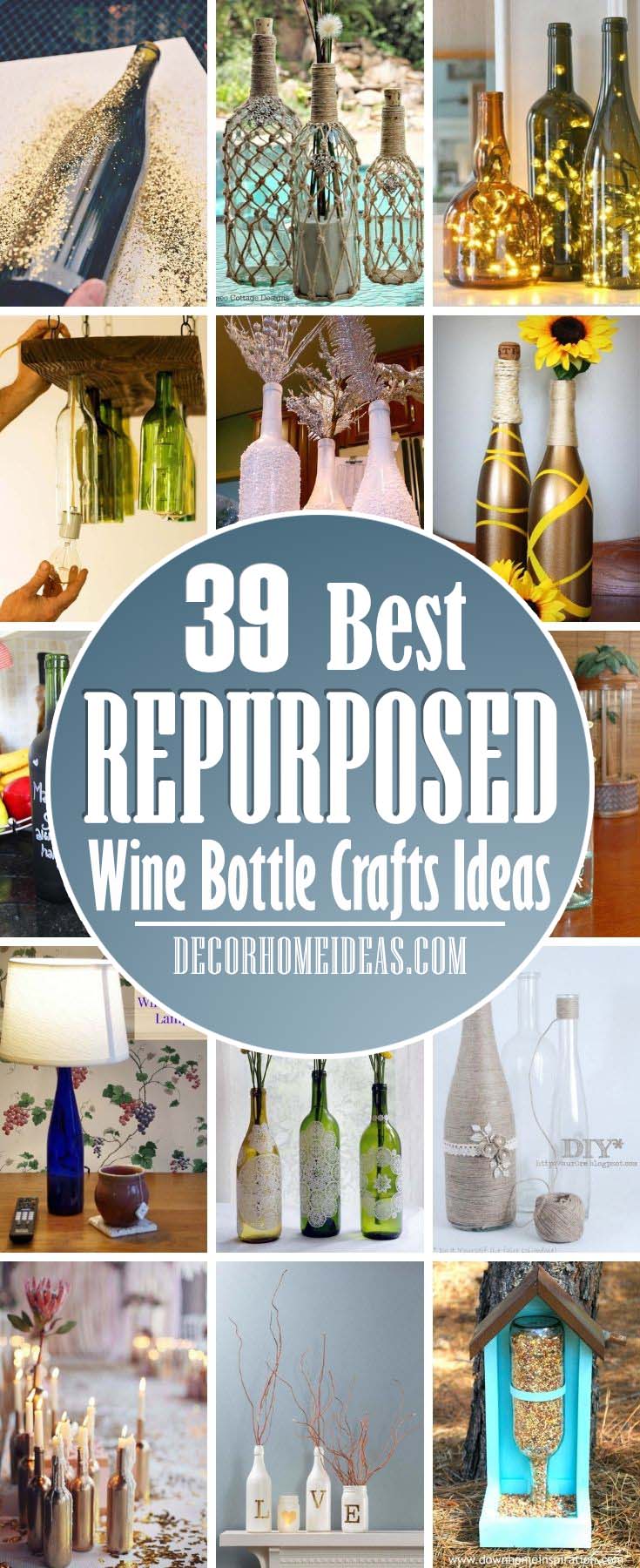 Get to know the best craft ideas that will give new life to the glass bottles and will let you recycle them in a more attractive way!
1. A Light in the Darkness

You may have thought that cutting a glass bottle is impossible but not anymore. You can do it using the thermal shock effect. Get a string and pass it through the glass.
Detach the bottom and start placing polka dots on the glass following a pattern you like.
Spray paint over the dots and then carefully remove them.
Then place a candle on the bottom and assemble both parts together.
via Madame Criativa
2. A Zen Garden for Your Desk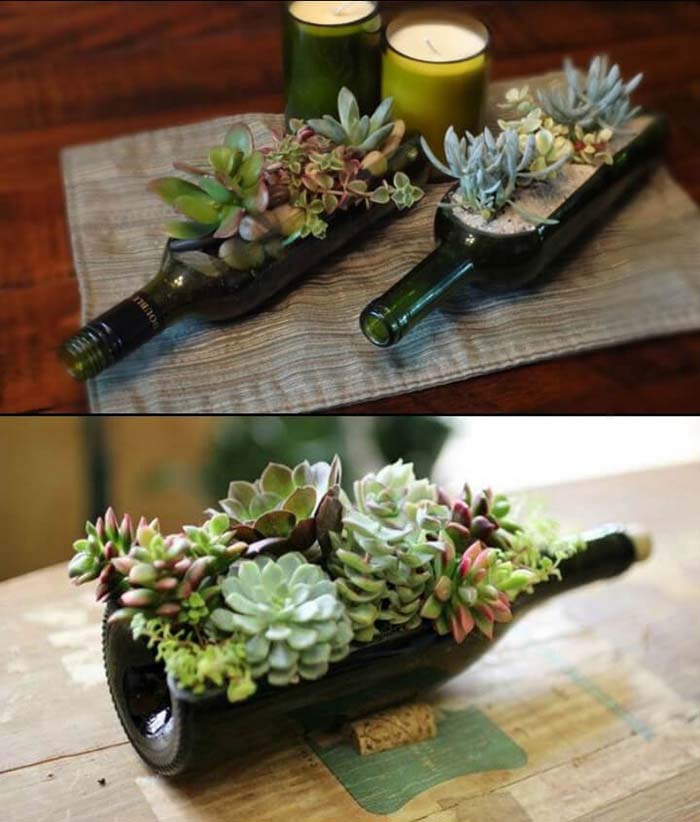 The wine bottles can be turned into succulent planters. Cut the top part and then fill it in with sand and suitable potting mix.
This glass planter can beautify a windowsill, a mantle or can be used also as a table centerpiece.
via Melted Bottle
3. Book Page Bottles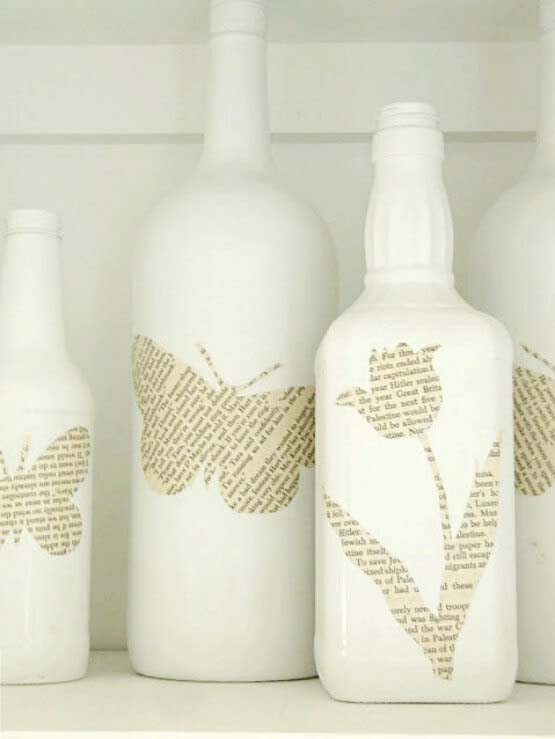 Although one of the easiest DIY wine bottle transformation projects, it has a great decorative impact, especially when a few bottles are grouped on a shelf.
First cover the external surface of the glass with a thick coat of white paint. Then get a newspaper or a book and draw patterns of images you like.
Gluing them onto the surface can be done with a Mod podge.
via The Wicker House
4. Chandelier From Old Wine Bottles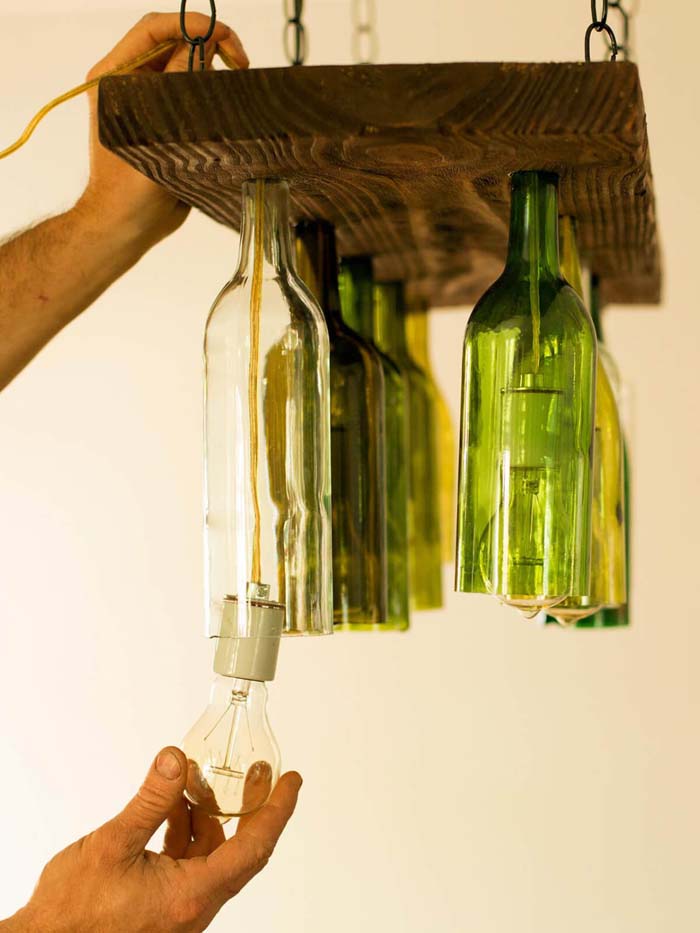 This amazing project uses wine bottles and a barn wood to end as a chandelier with rustic and modern touches.
Apart from cutting the glass, the other harder step is to put through cable through each bottle in order to attach the bulb.
via DIY Network
5. Decorative Yet Functional Outdoor Lights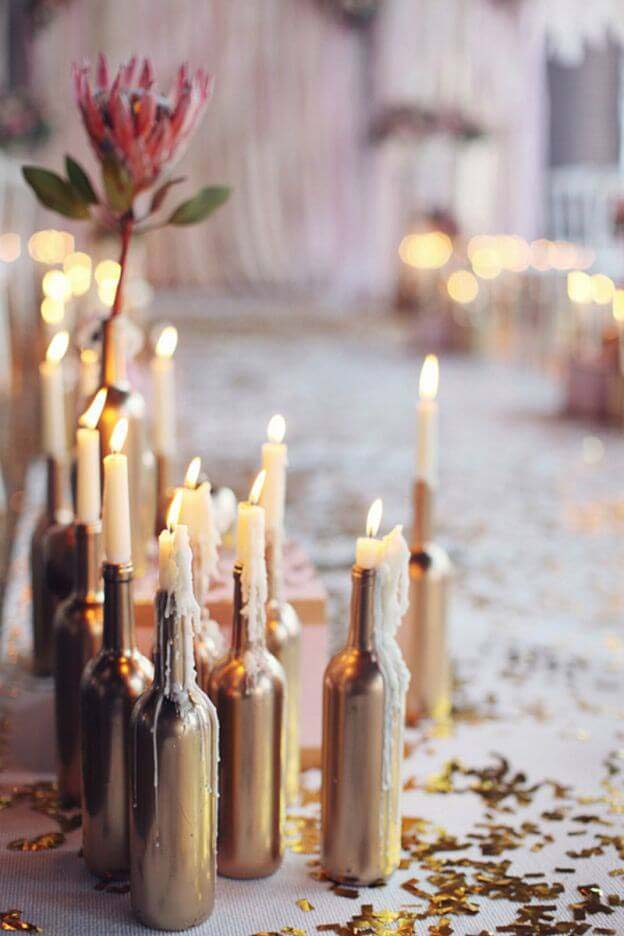 As easy as it looks, the only upgrade you should do to the wine bottles is to clean them well from any residue as to let the metallic spray paint stick well.
Then place a candle into each bottleneck. Such a DIY wine bottle candle could be part of a romantic dinner or surprise.
via Ruffled Blog
6. Decoupage Wine Bottles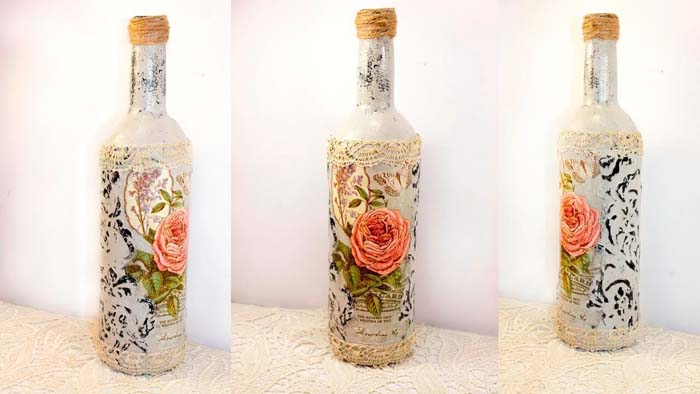 The wine bottles can be upcycled by making decoupage on the surface. Their look will be entirely changed- from a floral motif to a themed or holiday image.
This way they can be reused many times by storing different alcohol in them.
via DIY Elanka
7. DIY Collaged Map Wine Bottle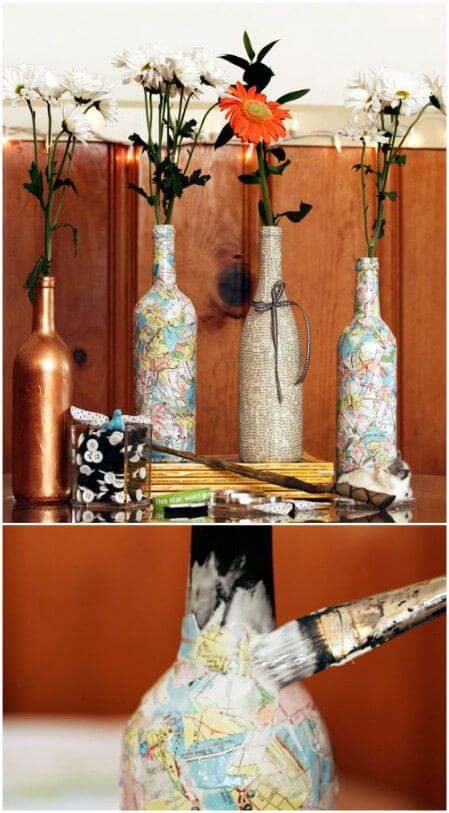 This technique is very similar to the decoupage. The difference comes with the entireness of the image.
Instead of gluing an image, it is torn into pieces that are glued onto the glass to create a volumetric surface thanks to the overlapping of the pieces.
This technique can be applied by using an old world map, book pages, colorful paper scrap pieces.
via Karen Kavett
8. DIY Glittered Wine Bottles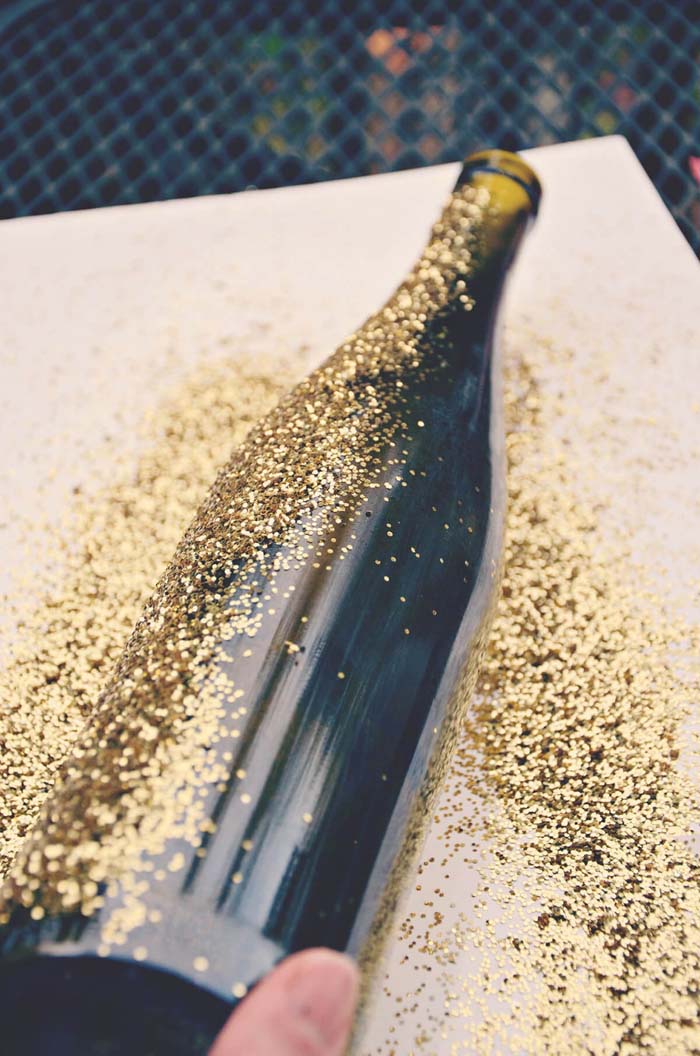 This wine bottle can be used as a Christmas decor or as a glam accent on a shelf.
Making it is an easy task- sand the entire glass surface and then cover it with an acrylic sealer. Pour glitter on a paper and start rolling the glass surface in the glitter.
9. DIY Self Watering Wine Bottle Planter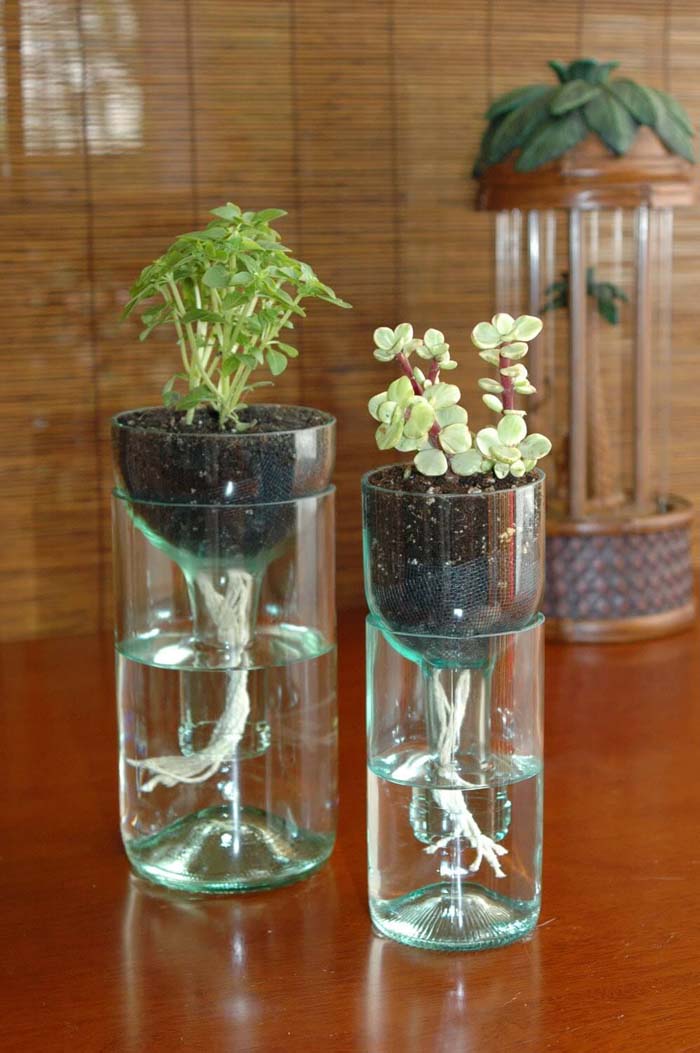 If you cut a wine bottle into halves, you can turn it into a modern planter that will require almost no maintenance.
The neck-half will be holding the plant, the other one will water it. Use mesh to protect the soil from falling into the neck. Attach a few cord lengths at the mesh bottom which will transport the water to the roots.
Then fill the mesh with soil and plant the flower.
via Cheap Crafting
10. DIY Wine Bottle Backyard Centerpiece

Are you looking for a craft that will anchor interest in your backyard? This bottle centerpiece will surely do.
During the day the sunlight will pass through the glass, reflecting beautiful shades. During the night, the lamp's illumination will go through the glass, making the illumination smoother.
11. DIY Wine Bottle Bird-Feeders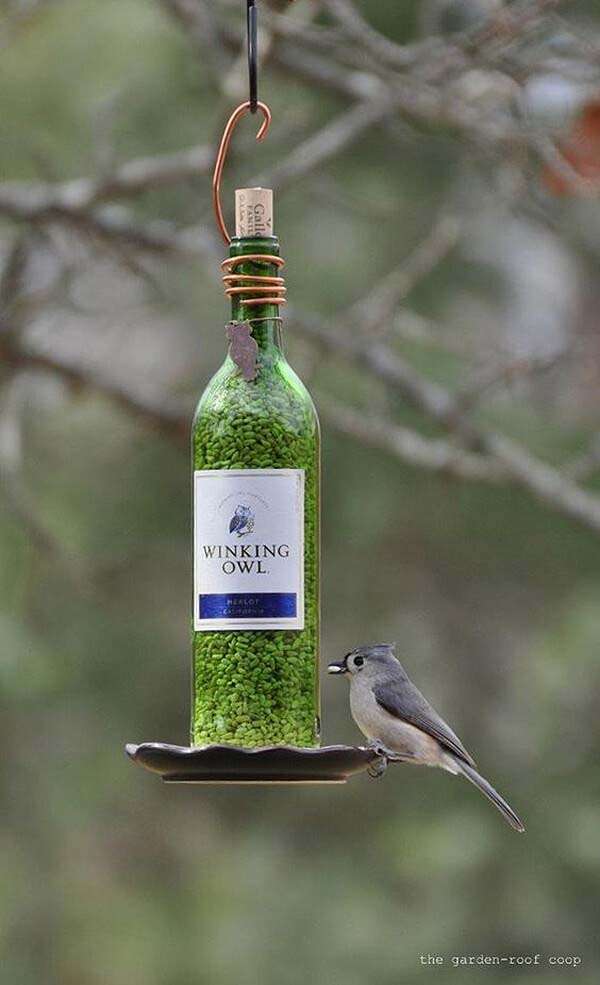 Would you like to welcome nature to your yard? This bird feeder will do it.
Start by drilling a hole in the wine bottle. Use a special diamond drill bit to make it.
Once the holes are drilled (one on each side), attach a plate or a saucer to the bottom using epoxy.
12. DIY Wine Bottle Candles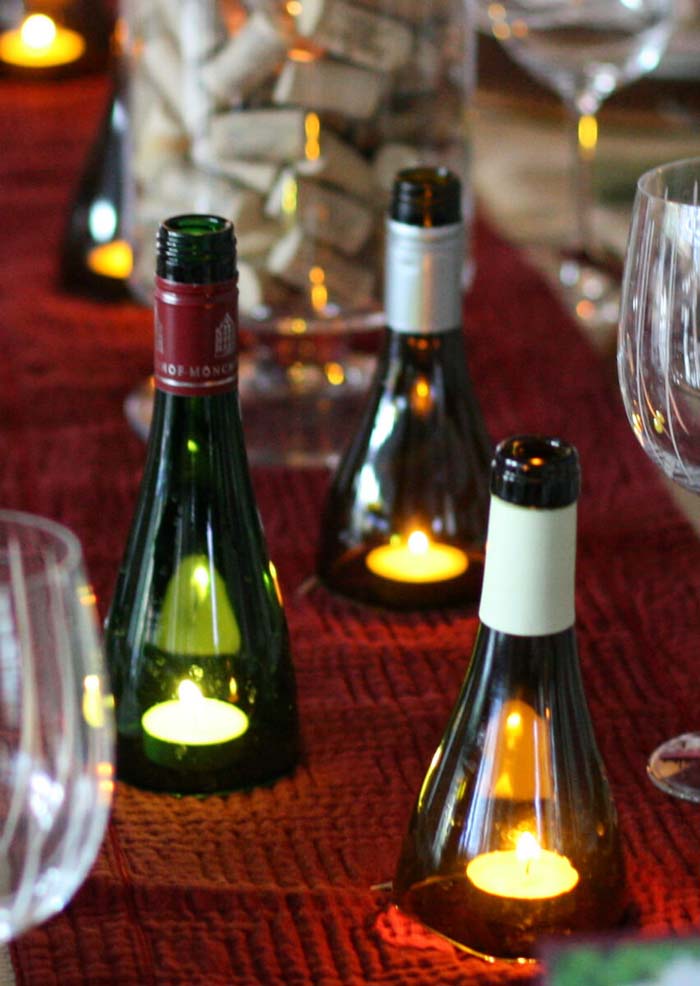 Similar to other projects, a wine bottle is cut into halves with a glasscutter bit.
Both of the halves can be turned into candle holders with different designs.
13. DIY Wine Bottle Decor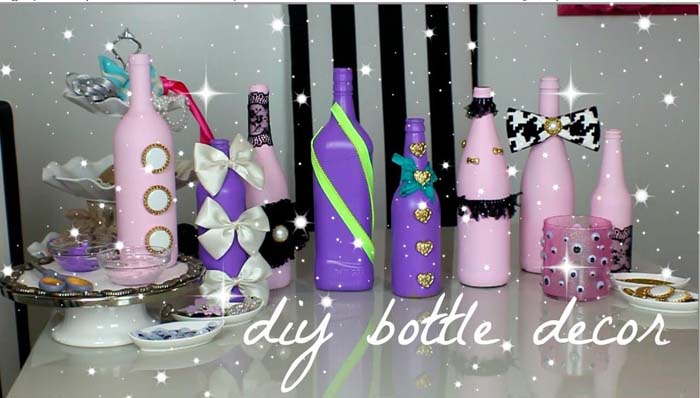 The wine bottles can be used for fun and very inexpensive themed decor. Whether for a bachelorette or a birthday, the bottles should be painted first.
The thick coat of paint provides a good adhesive surface and background that will distinguish the accents and motifs.
via Lauren Azevedo
14. DIY Wine Bottle Floating Candle Holders

This is an example of what can be done with the bottom half of a wine bottle.
Filled with water, it will make the tea candle look like a floating flame.
via La Crema
15. DIY Wine Bottle Party Favors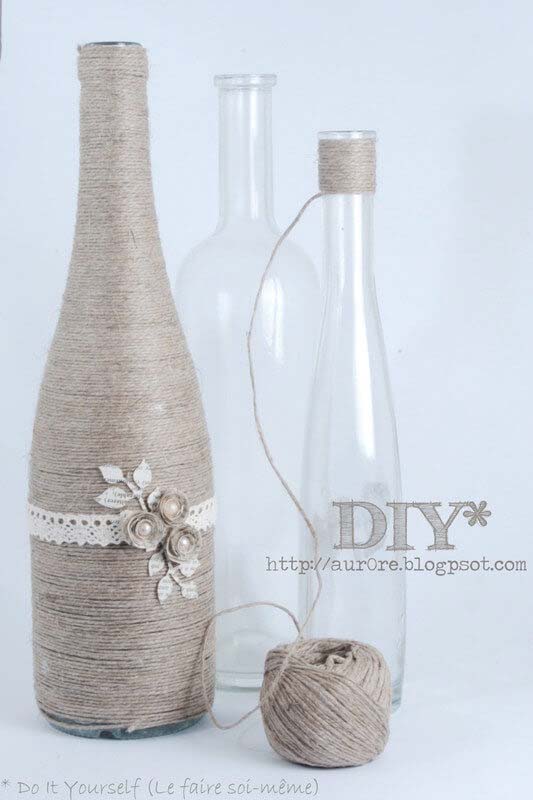 The upcycled wine bottle can become a rustic decor only by weaving it with cord. To let the cord stay on the glass, use a hot glue gun.
The new layer gives a lot of decoration possibilities. Use lace, pearls, gems, faux flowers to make the bottle unique.
via Le Blog Aurore
16. DIY Wine Bottle Tiki Torches

You can make entertaining decor for your next outdoor party by turning the plain wine bottles into tiki torches.
Start by cleaning the bottles. Then make the torch assembly- for each bottle you need a tiki wick, a metal fitting, gravel for the bottom and oil.
17. Fish Netted Wine Bottles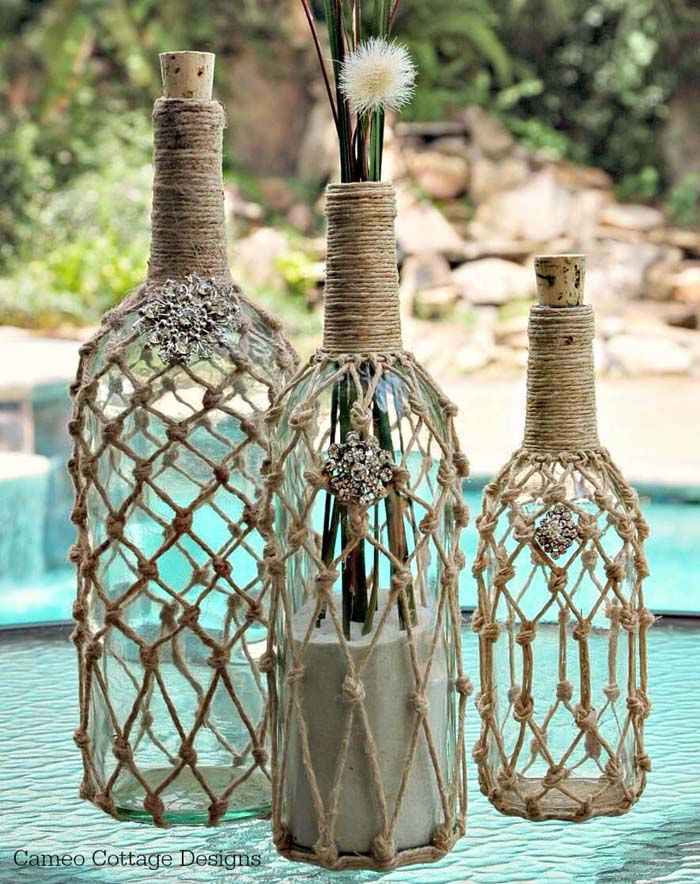 There is a wine bottle craft for all of the interior decors.
If you want to upcycle a bottle and fit it into a coastal decorated area, wrap the bottle into twine woven as a fishnet.
18. Gorgeous Twine Wrapped Bottle

Such twine-wrapped bottles will give a pop of color to the interior, especially when grouped together.
All you need to do is to prepare the glass surface for sticking the twine onto it. Use a hot glue gun or white glue.
via Wedding Window
19. Halloween Wine Bottle Craft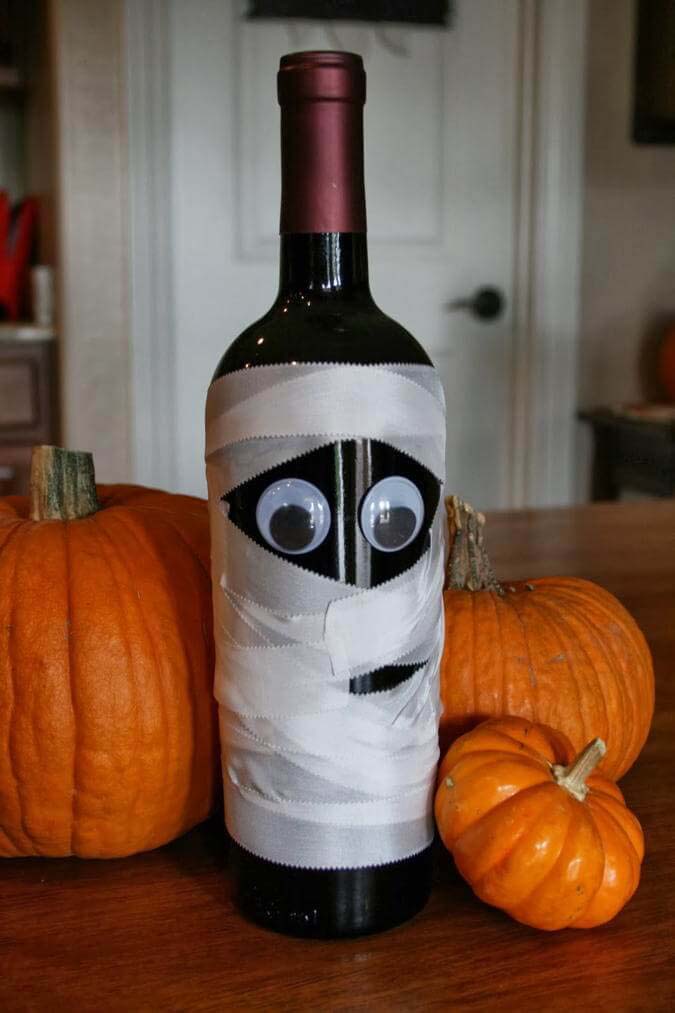 Another theme of the DIY wine bottle crafts cover is Halloween. This cute peeking mummy is made out of medical tape wrapped around the bottle.
A pair of oversized googly eyes will finish the creepy image in a fun way.
20. How To Create Chalkboard Bottles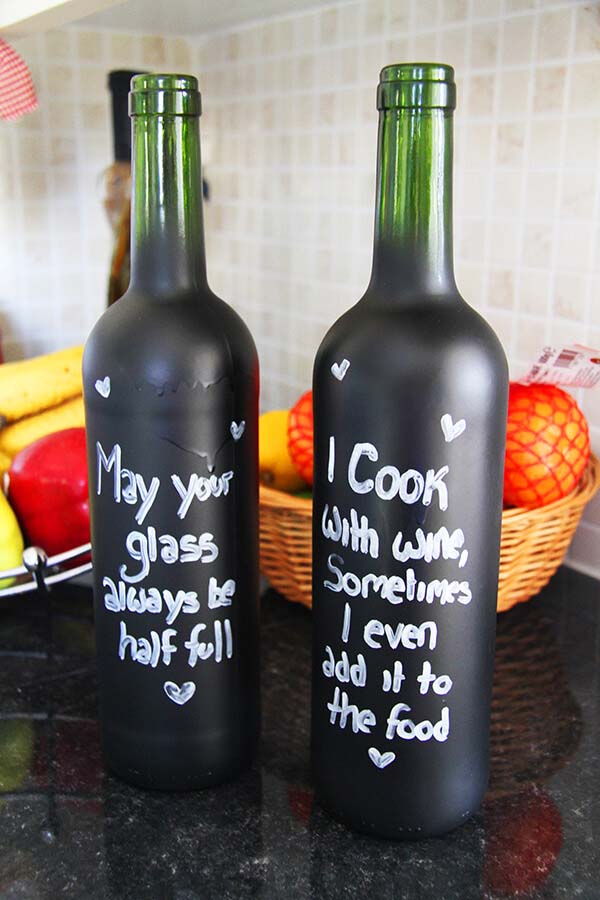 This craft will provide an individual approach to each bottle. Painting the glass with black chalkboard paint gives a canvas for fun messages or inspiring words that will stay forever.
via Be Spoke Bride
21. How to Cut Wine Bottles

Wanna know all the possible ways to cut glass bottles? The author below has gathered them all in one place.
You can trust each method as it has been shared by people that have already tried it.
22. How to Flatten Wine Bottles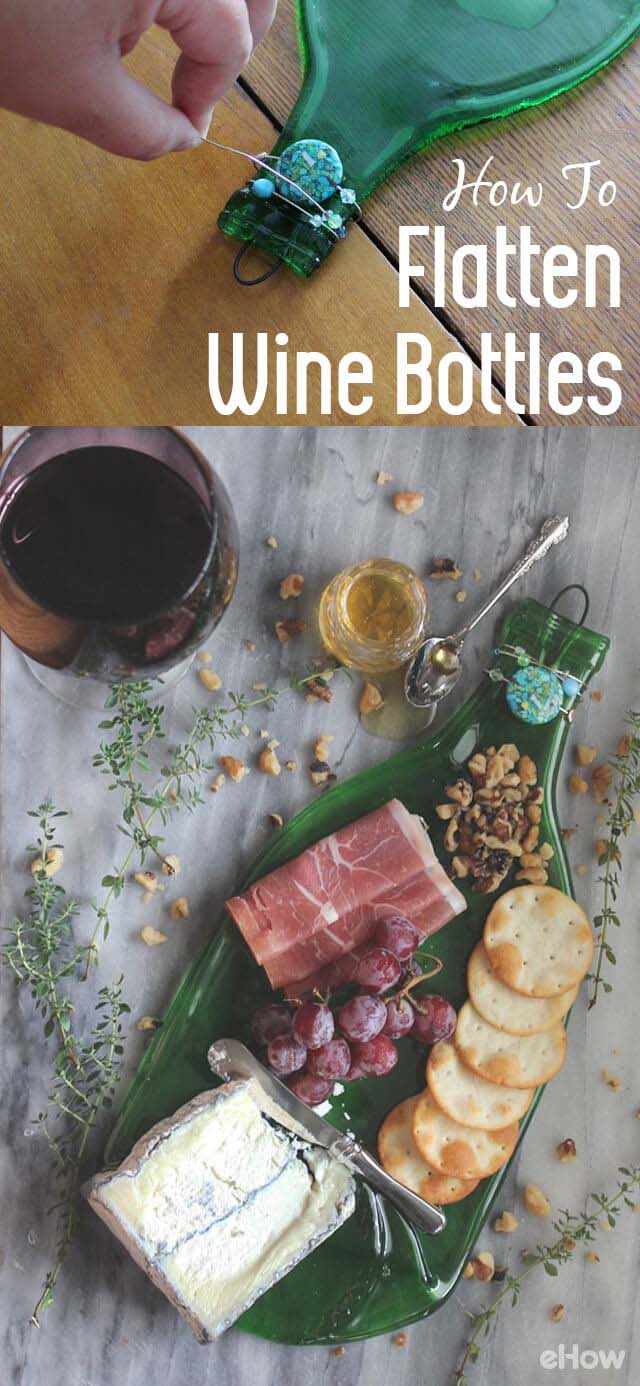 A wine bottle can be even flattened. For that purpose, a kiln is needed.
Once the shape of the glass is changed, the bottle transforms into art that can be placed somewhere just like that or be given some functionality.
via Hunker
23. How to Make a Wine Bottle Bird Feeder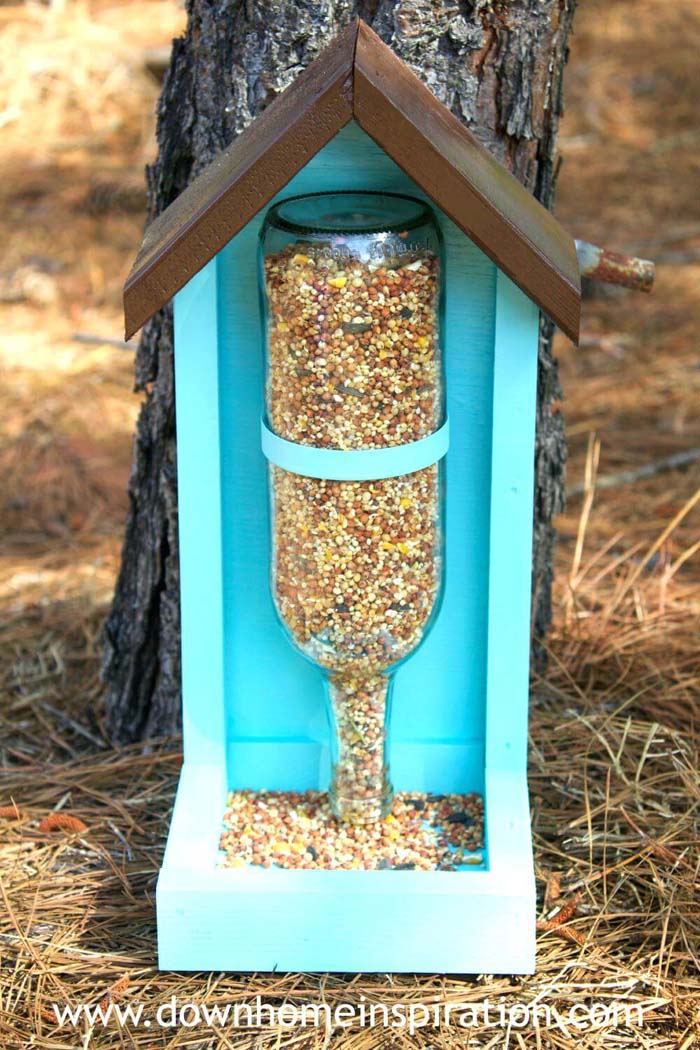 For this cute bird feeder, you don't have to cut the wine bottle.
A small birdhouse holder should be built out of scrap wood where the bottle will be sitting in.
24. How to Make a Wine Bottle Lamp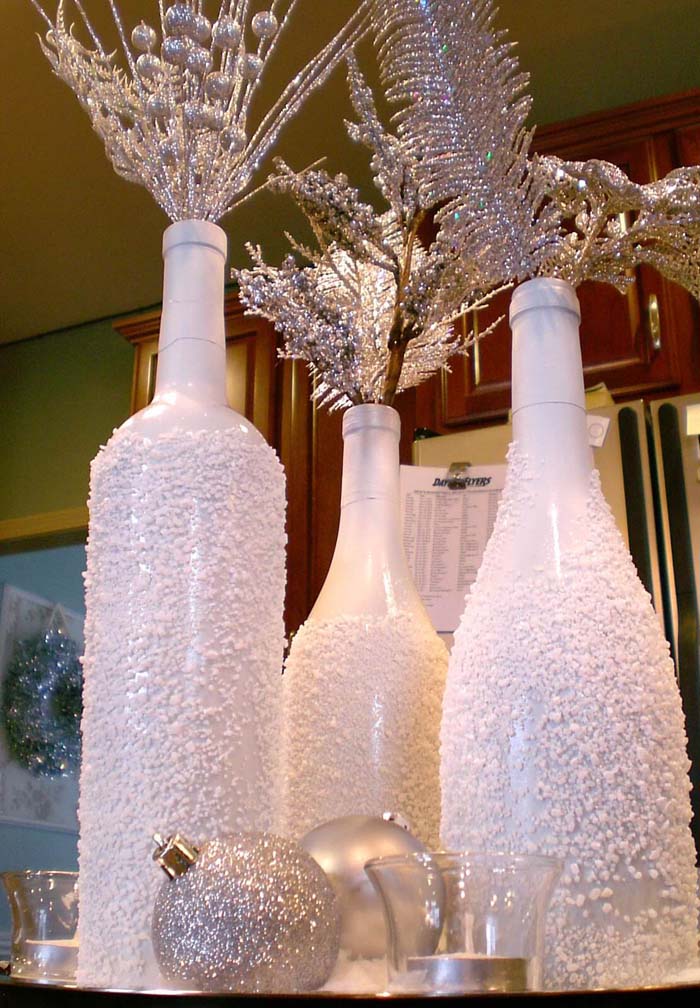 This DIY wine bottle craft goes to the Christmas-themed projects.
The sprinkled salt over the glass surfaces makes the bottles look covered with snow.
25. How to Make Wine Bottle Wind Chime

The sound of a wind chime is irreplaceable, especially in summer.
You can make your own wine bottles by cutting them in halves. The next steps are given in detail below.
via WikiHow
26. How to Put Christmas Lights in a Wine Bottle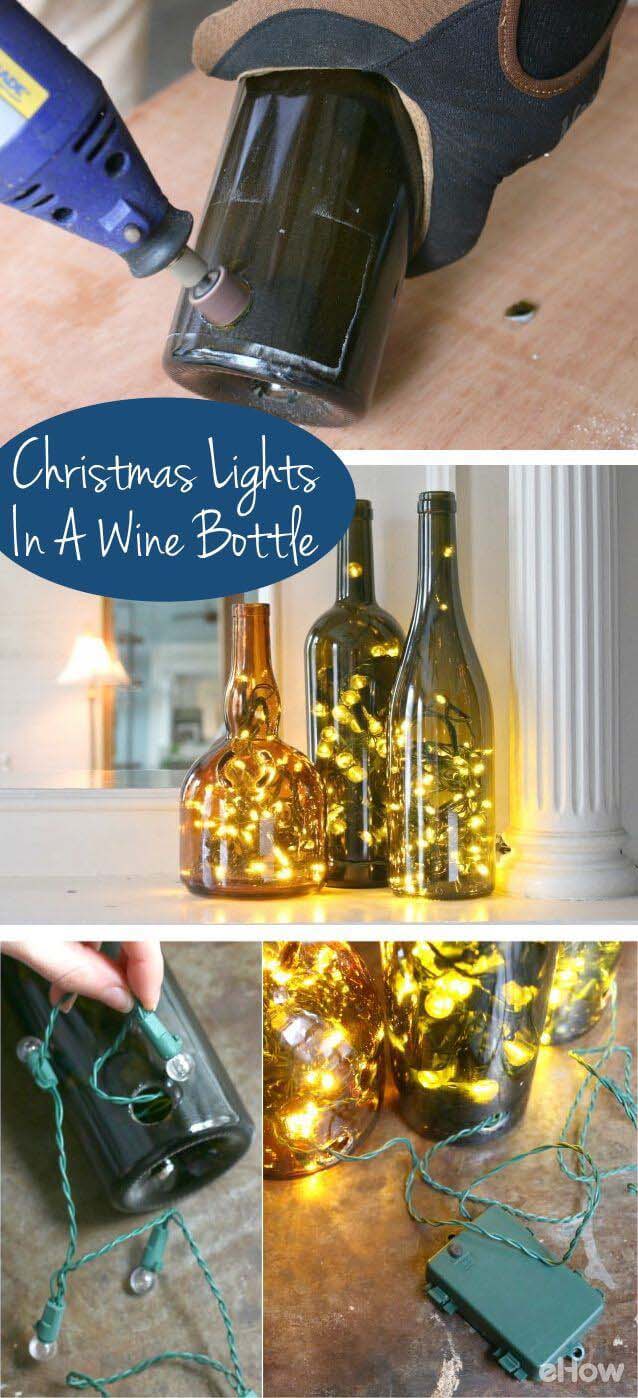 These lanterns can be used during the entire year because of the gentle light they are spreading.
Start by drilling a hole in the lower part of the bottle. Put in the fairy lights and voila!
via eHow
27. Ombre Wine Bottles

This craft is an example of Halloween decor with upcycled wine bottles. If you change the colors or the adjacent decor, they can add a pop of color all year long.
The first layer of paint must be white as it provides a good contrasting background for the candy effect.
via Brit Co
28. Outdoor Recycled Wine Bottle Lights

The tiki torch project can be modified just a little so that the wine bottles are turned into scones.
Aligned in a row onto the external wall of the house or the fence, they will outline a gentle light path.
via Design Sponge
29. Painted Wine Bottles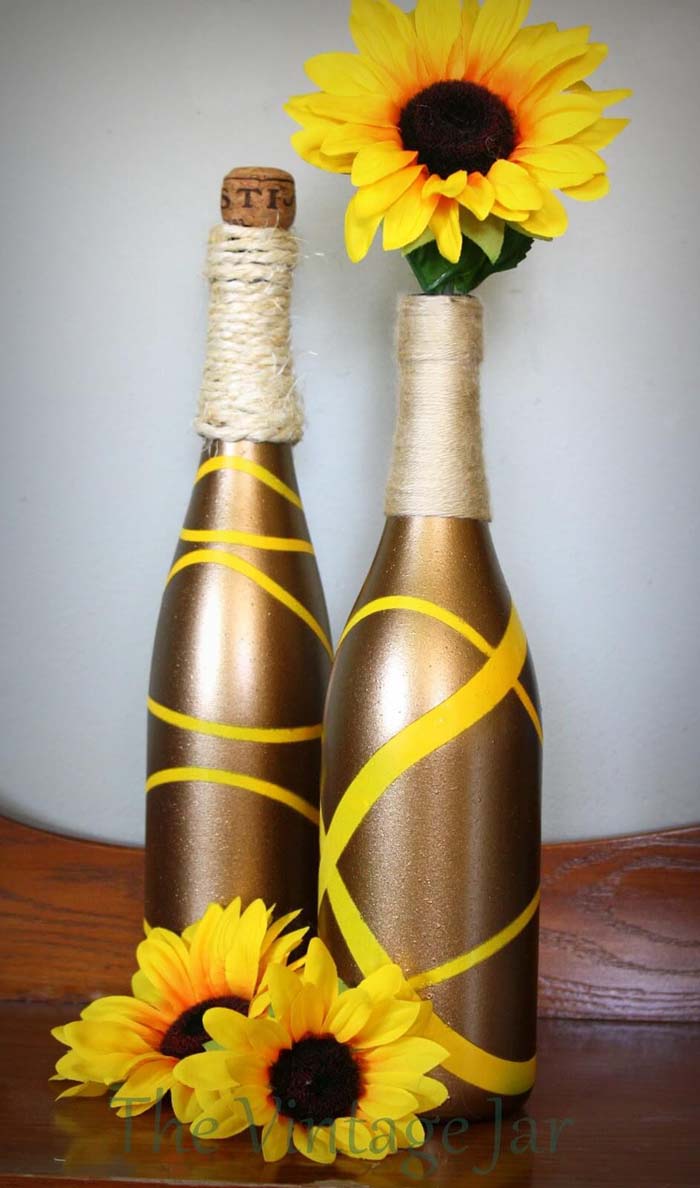 To achieve the twisted embodied lines, you need flat rubber bands. Clean the surface well and spray with a light color.
Let it dry and add the rubber bands onto the glass. Spray the darker color. Then remove the bands and decorate with twine.
via The Vintage Jar
30. Paper Doily Decoupaged Bottle Tutorial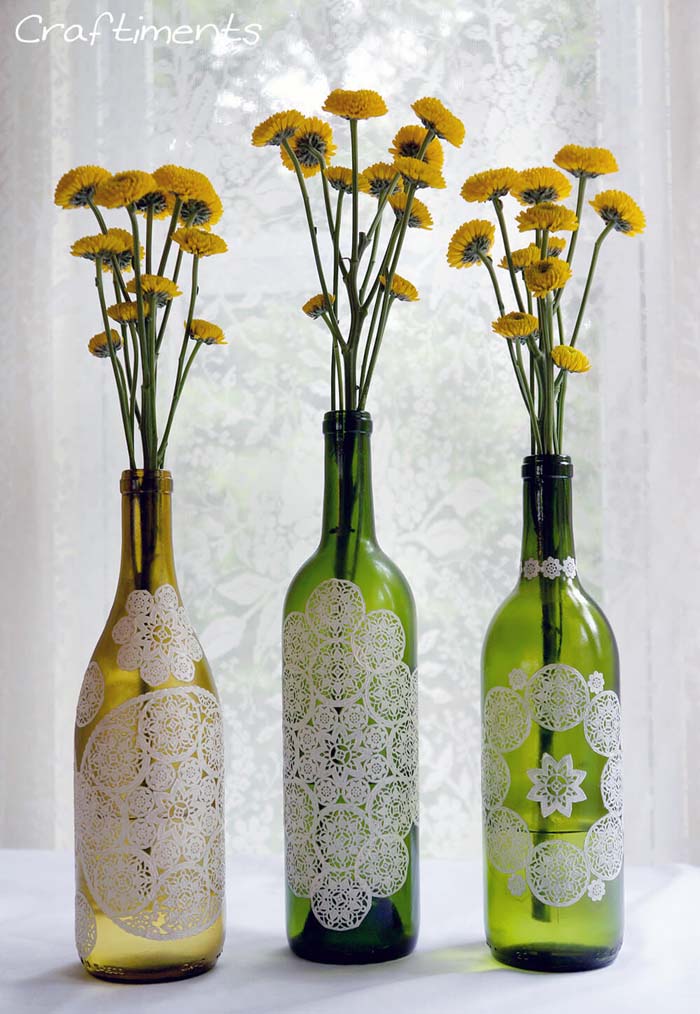 The empty wine bottles can be decorated with doilies instead of napkins.
First, cut the paper into the shape you want. Then glue it onto the clean glass surface with Mod podge or white glue.
The finished bottle will be given a farmhouse fresh look.
via Craftiments
31. Repurpose Wine Bottles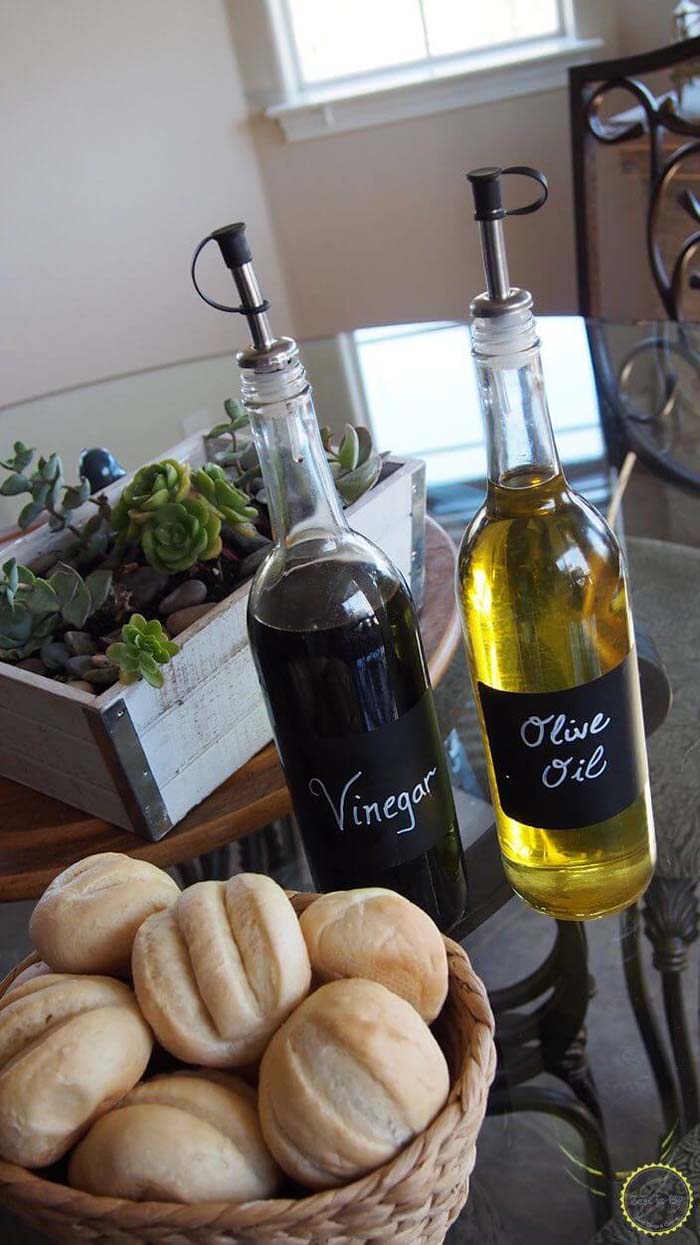 In less than an hour, you can make your new set for oil and vinegar. All you need are two wine bottles, chalkboard foil and a marker.
To make the pouring easier and controlled change the cork with dispensers.
via Zest it Up
32. Snowman-Inspired DIY Wine Bottle Craft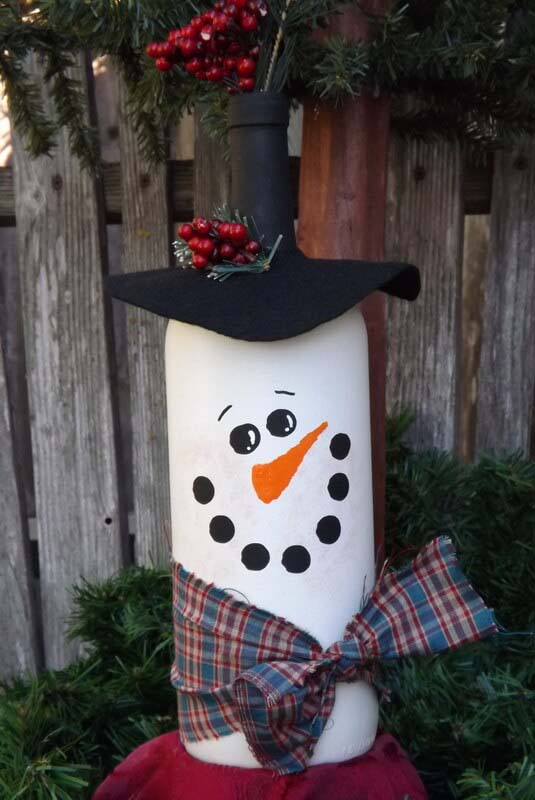 This smiling snowman is made out of a wine bottle, paints and some fabric.
After painting the external glass surface with chalk paint, start forming the other parts of the face using black and orange acrylic paints.
Decorate it with a hat and a bow to finish the image of the snowman as we know it.
via Love to Know
33. Trendy Bottle and Jar Home Decor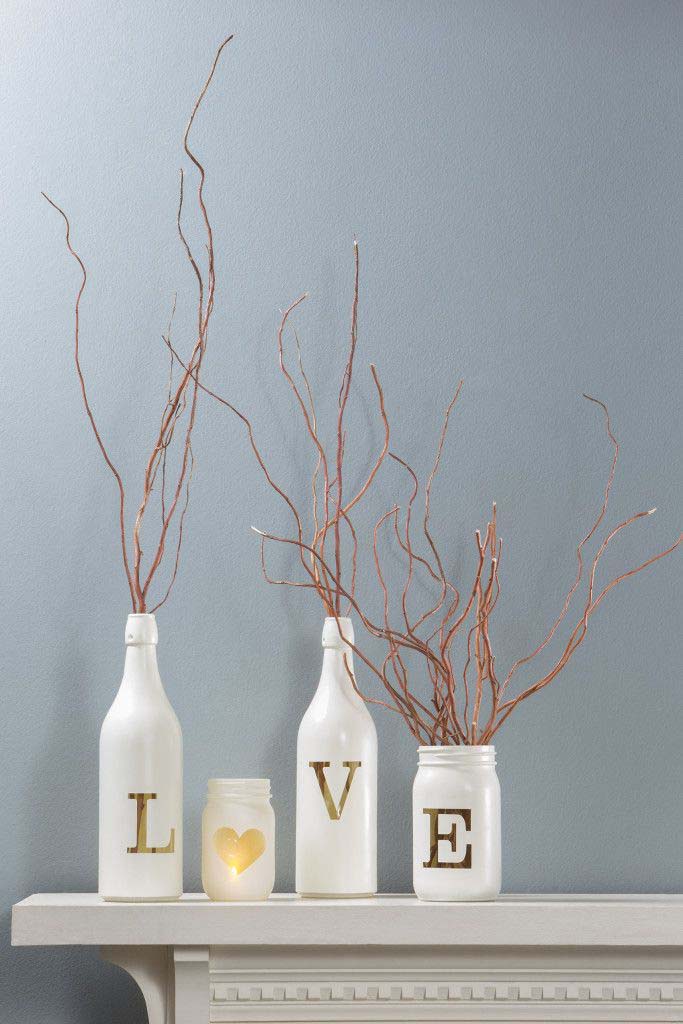 To get the initial imprint on each glass surface, stick a vinyl letter. Paint the glass all over and let it dry.
Then peel off the letter. If you prefer, you can use only wine bottles for this craft.
In this case, the usage of the Mason jar is to make a certain meaningful emphasis with the cute heart.
via Craft Warehouse
34. Wine Bottle Centerpiece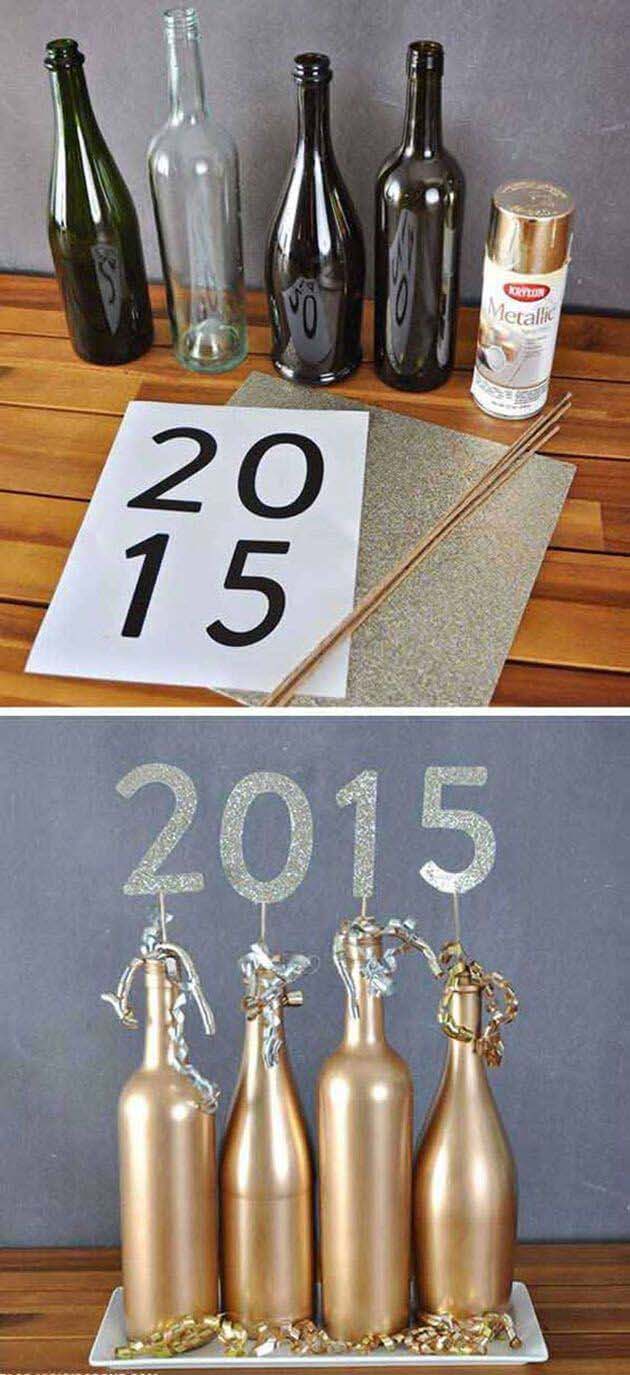 This glamorous decor is an easy project. The metallic surface is achieved with spray paint.
The stands for the numbers are ready. The numbers can be taken from a craft store or you can make them yourself by cutting them from glitter paper.
Attach them to wire or wooden skewers. Then just insert them in the cork.
via Vicky Barone
35. Wine Bottle Lamp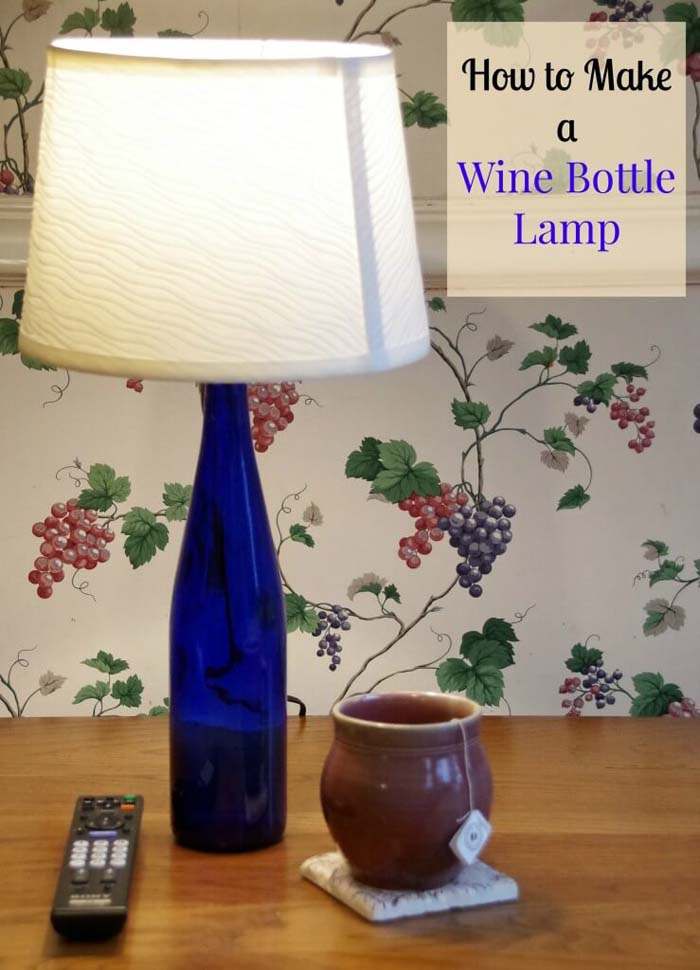 If the pedestal of your reading lamp is damaged or you don't enjoy it anymore, replace it with a wine bottle.
Drill a hole in the bottom of the bottle to put through the cord and put the light assembly in the neck.
36. Wine Bottle Upcycle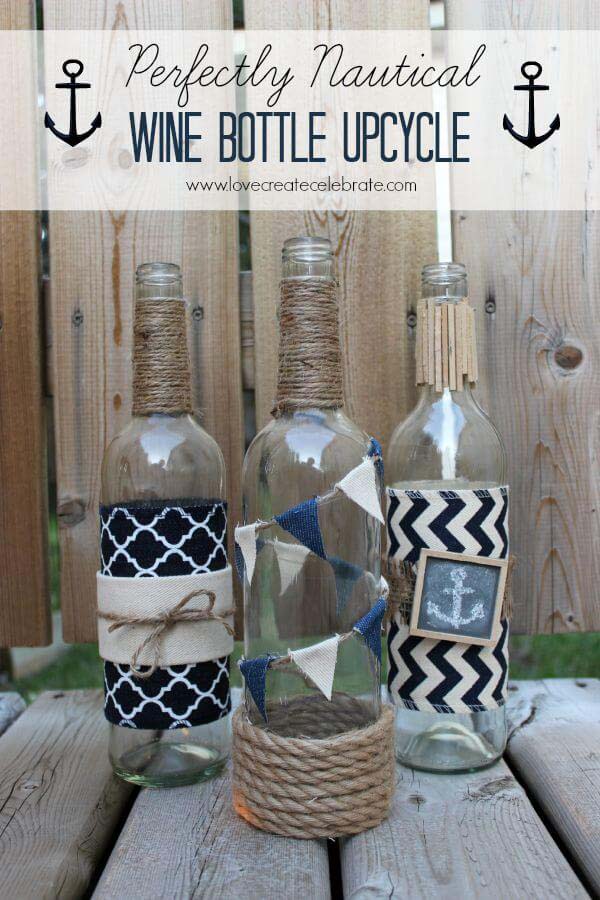 Do you need some fresh nautical vibes in your home? This project will ensure the desired effect in few simple steps.
Wrap the wine bottles with twine. Use fabrics, wood sticks or dowels to make them more interesting.
37. Wine Bottles in Full Bloom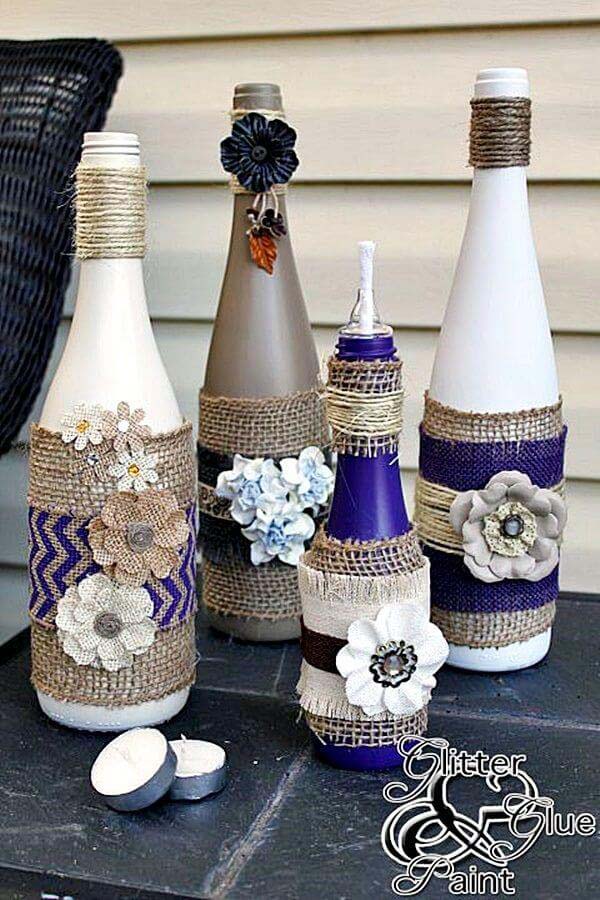 Such bottles can be used inside and outside. While deciding their application, start painting the glass. Choose a color that will let the accents attached later on pop out.
Use burlap, twine, pearls, gems, paper flowers and whatever you like to decorate the painted wine bottles.