The colorfully painted furniture ideas that we are about to show you will give new life to your old furniture pieces.
You can find inspiration for bold and statement pieces or for subtle colors that light up the ambiance.
Among all of the inspirations, you will also find helpful information about the paint techniques and a few tricks to make your life easier when you start your furniture makeover project with paint.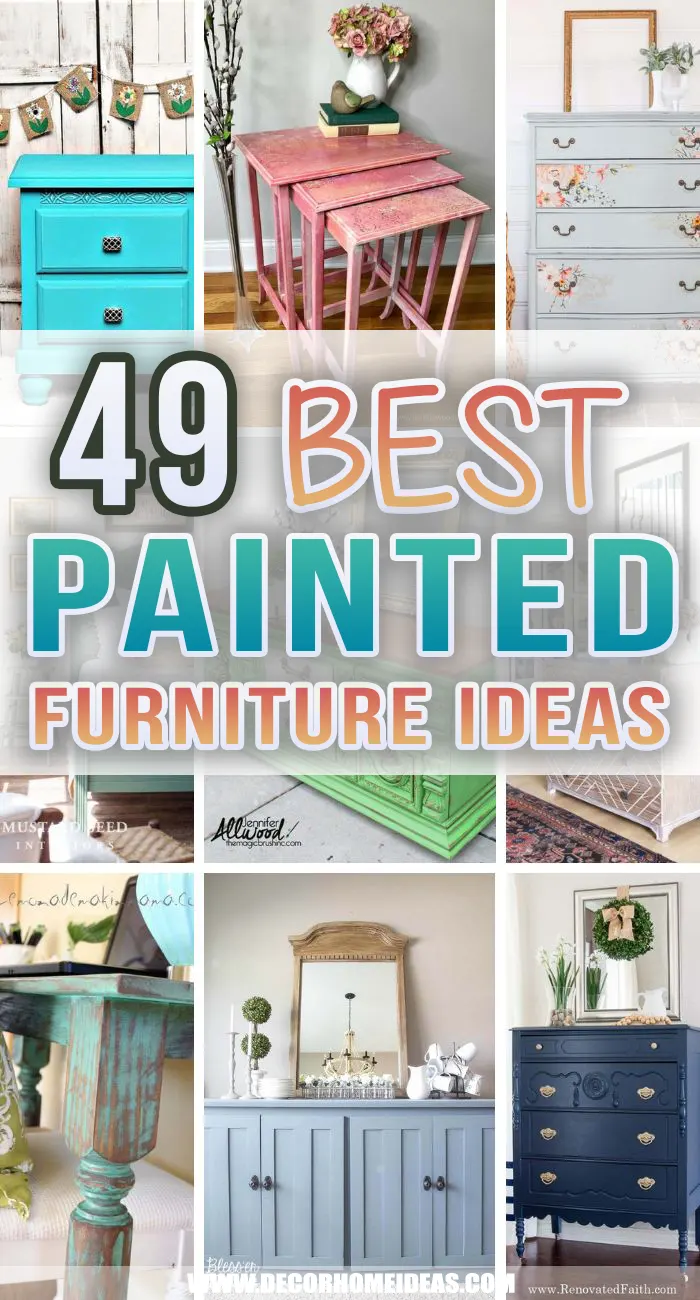 Let's all get creative with the largest collection of Painted Furniture Ideas For an Easy Style Upgrade.
1. Highlight The Details Of A Furniture With Paint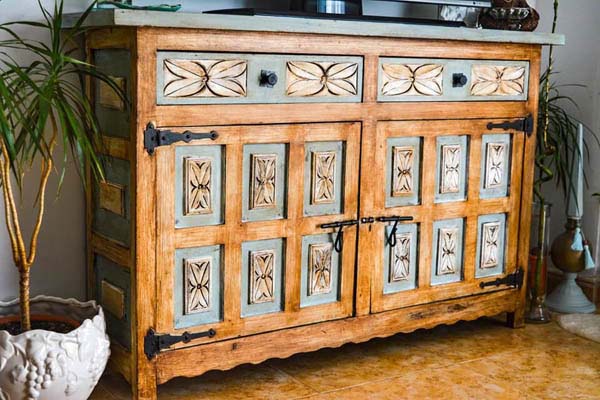 Use a contrasting paint color to highlight the beautiful details of a rustic piece of furniture.
Pair it with décor accents placed closer to it.
via Decor Home Ideas
2. Navy Blue For A Bold Statement Piece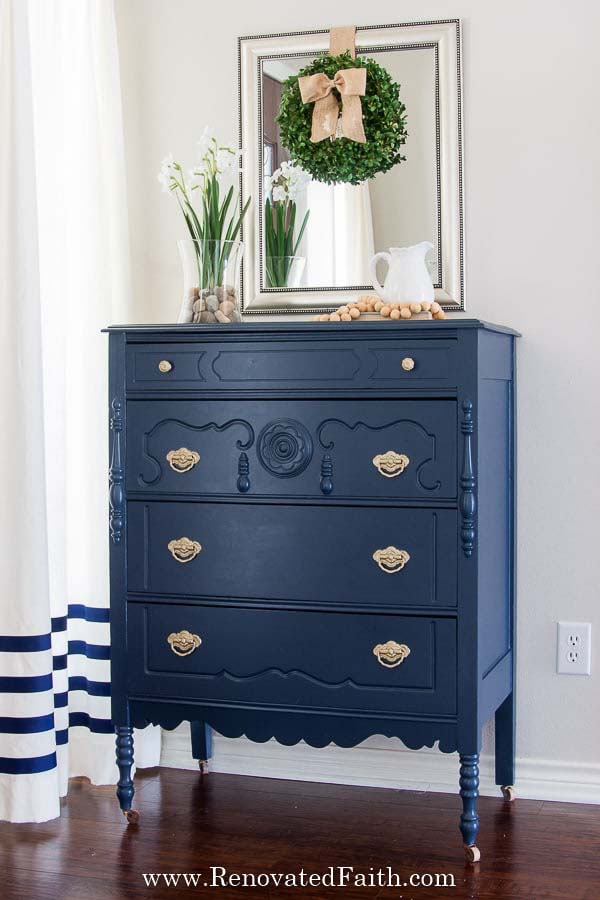 The navy blue color is so versatile! It looks good on walls, on tiles and also on furniture.
The vintage dresser gets an amazing transformation with two coats of paint. Added golden hardware gives it a unique royal elegance.
via Renovated Faith
3. Eggshell Color Is So Romantic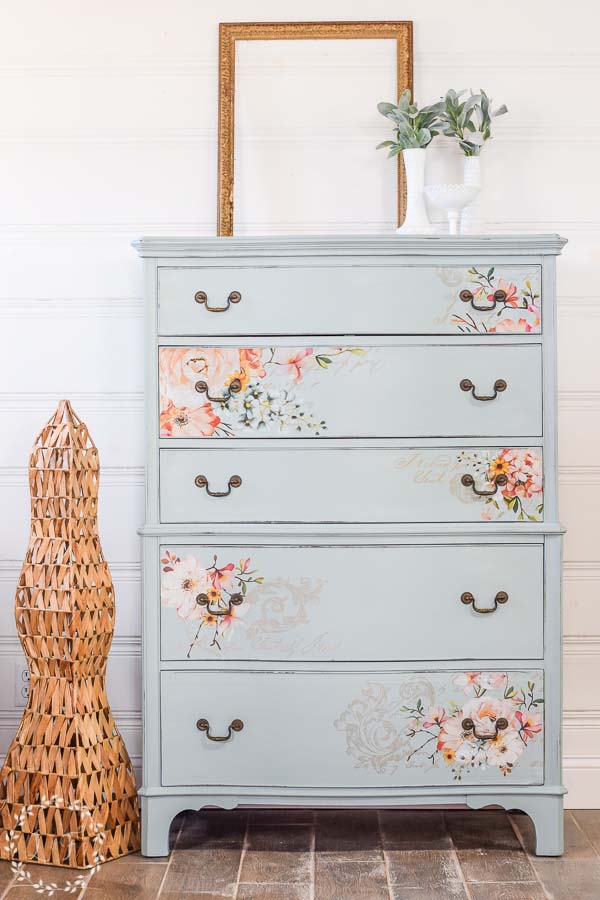 The dark navy color creates a bold statement. The pale blue color adds so much romance and delicacy!
It can be applied to a piece of bedroom furniture to make the ambiance more relaxing and welcoming.
4. Watercolor Abstract Makeover Idea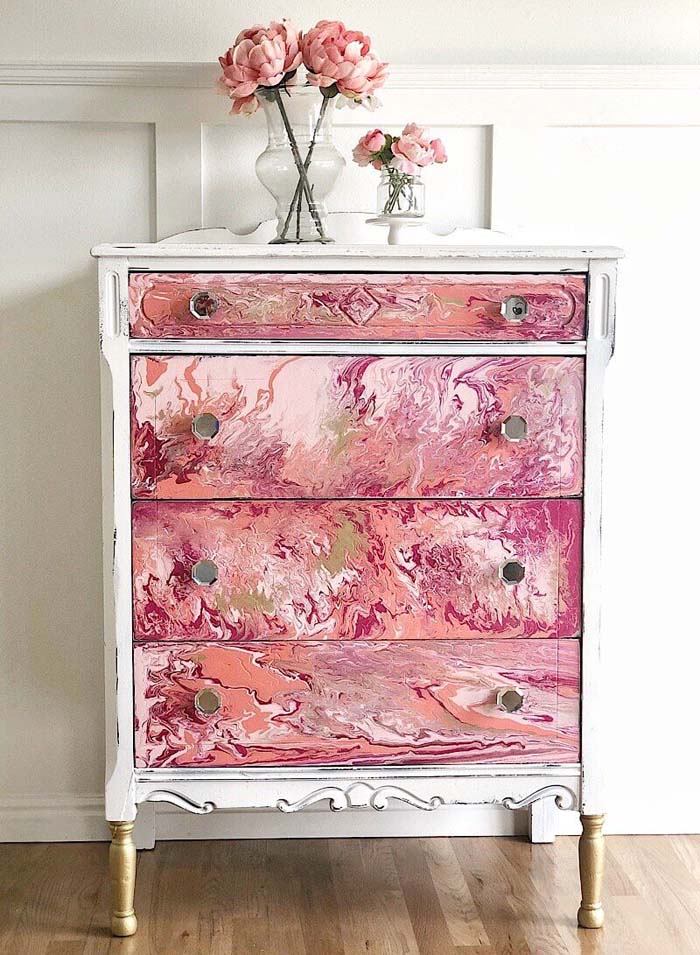 The beautiful gradation of the paints mimicking a watercolor painting is called the paint pour technique.
You can blend multiple colors and create this effect on any piece of furniture.
For visual interest, aim to apply the technique on a flat piece because it will reveal the fusion of the colors in their own pattern. There is a video tutorial in the link below which will be very helpful for beginners in this example of painted furniture ideas.
via Jami Ray Vintage
5. Nautical Chair Makeover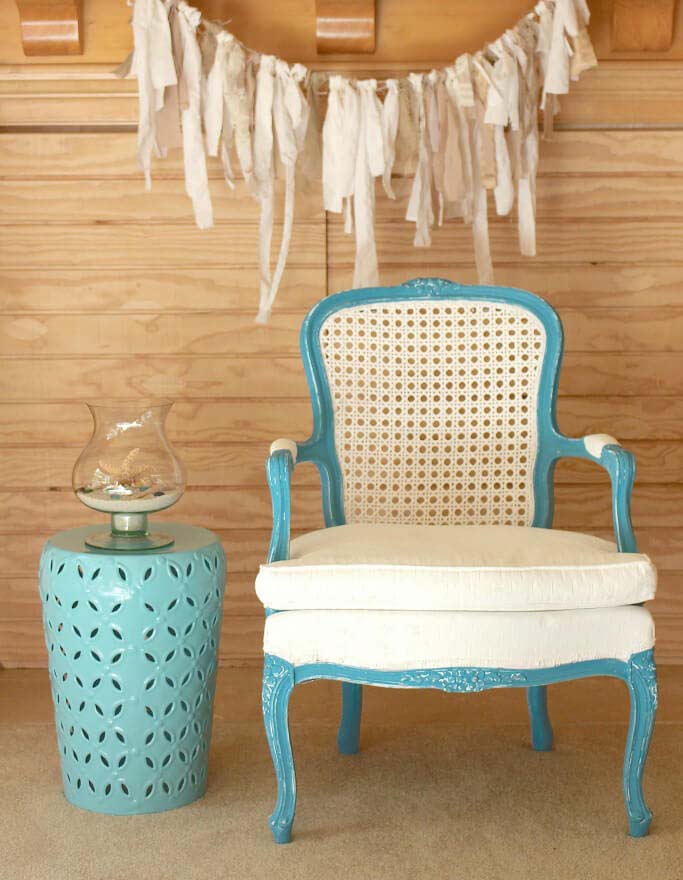 Want to make a coastal nook in your dining or living room, or why not on the porch? This easy DIY furniture makeover idea will add a huge amount of nautical refreshment to the existing home décor.
For that, you need an old vintage chair, beach blue paint and a white cushion. Once the paint has cured, distress the edges of the chair. Pair the chair with a side table in a matching color or the same color.
6. Shabby Chic Nightstand With Pink Paint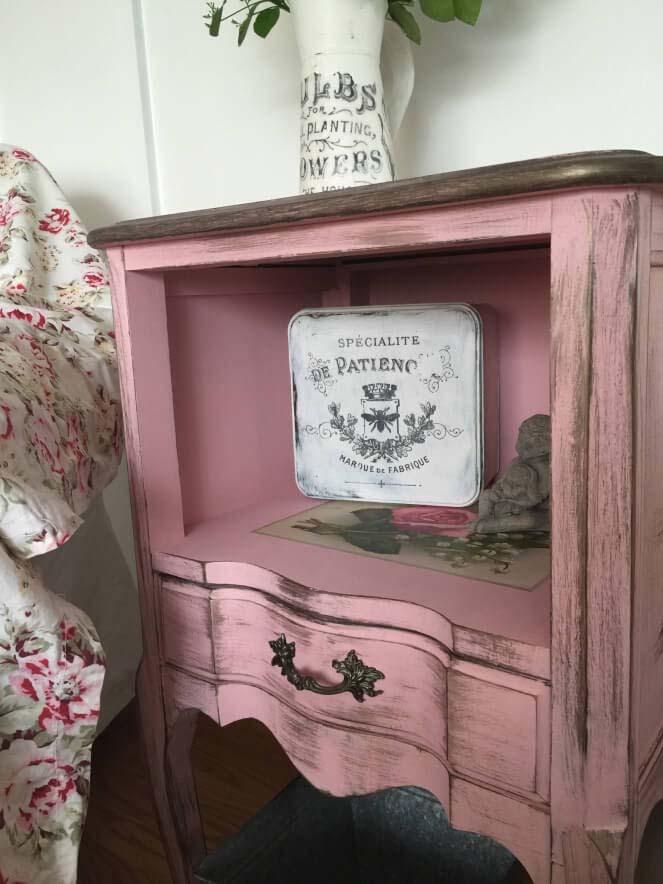 Bring the romance of French culture into your bedroom with this amazing nightstand makeover. Take a jar of pink and metallic paint. Apply a thick coat of pink paint on the dresser.
The metallic paint needs to be applied with a stroke technique on random areas to mimic distressing.
Add decoration in the shabby chic style such as angel statues, porcelain vases, a reading lamp with a floral stand, etc.
7. Dresser Makeover With Bold Green Paint And A New Counter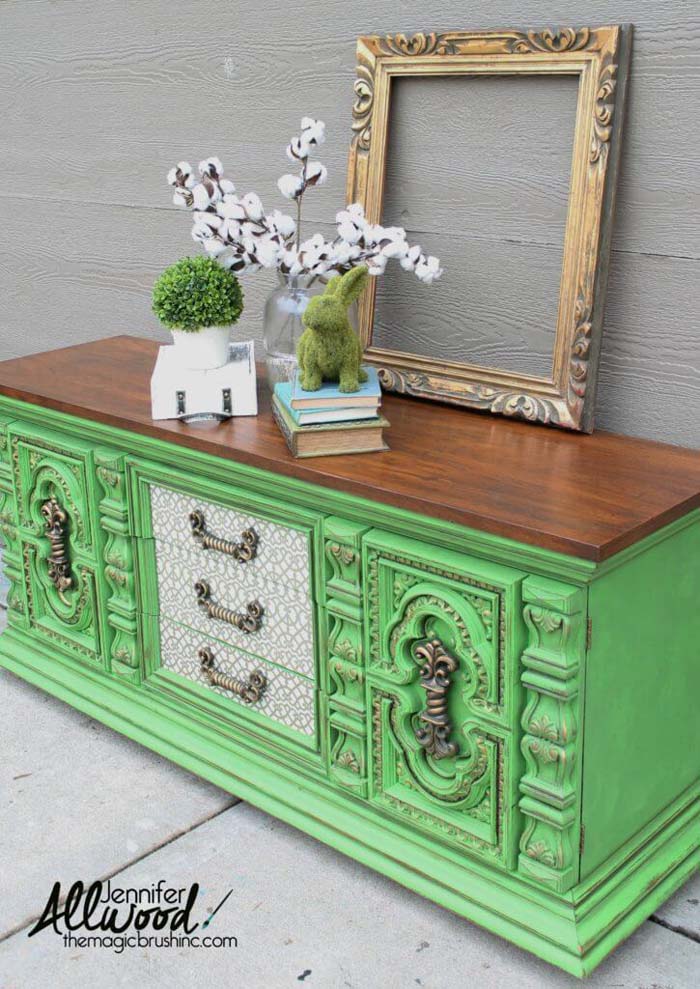 The carved ornaments of the vintage furniture cannot be repeated by any new designs of furniture. They showcase a man's efforts and workmanship and that makes them so valuable.
If you have such antique furniture in your home but it needs a refresh, try this DIY makeover idea.
The bright green color provides a bold contrast that will turn the dresser into a focal point. Add a new counter in dark brown to blend the statement piece with the existing home décor.
8. Modern Update With Geometric Patterns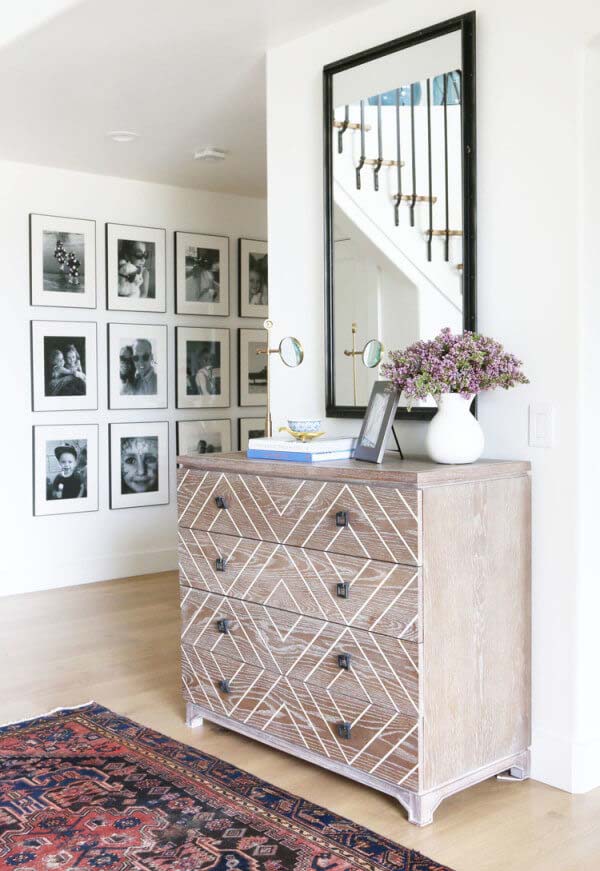 You can give an old piece of furniture a modern look by applying geometric shapes on the wood surface. How to do it? You can use stencils to outline the geometric pattern in a perfect shape.
If you are going for a simpler pattern, even a ruler will do the job easily.
In case the original color of the piece is too dark and contrasting, you may want to first mute its tone to create a lighter background for the strikes.
9. Floral Ornaments On An Old Oak Cabinet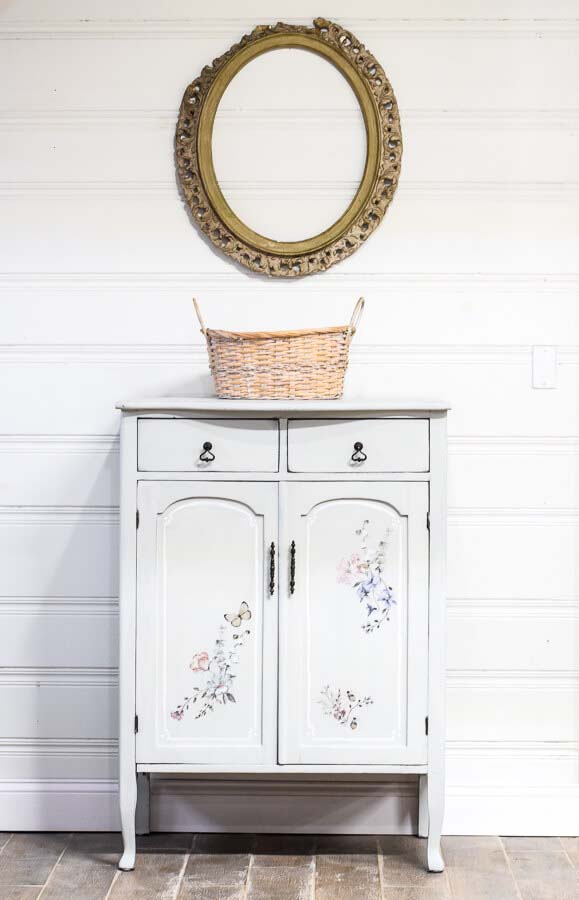 The old oak cabinet can become a beautiful shabby chick piece of furniture with this makeover idea with paints. Apply a new coat of paint on it, preferably a light color. If you don't want to get out of the rustic nature of the furniture, distress the edges with sandpaper.
Once the paint has cured, you can apply the floral ornaments on the surface. In this particular idea, transfers are used but the effect will be as beautiful if you use the decoupage technique with Mod Podge.
10. Makeover With Metallic Paints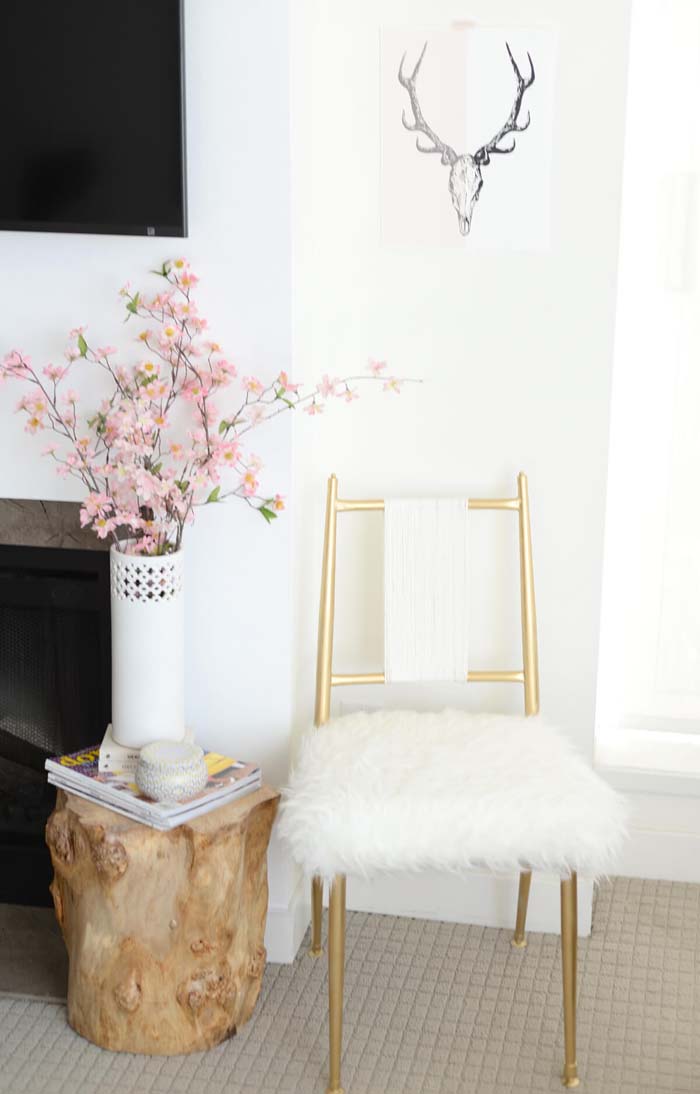 An easy way to give an old chair with metal legs a glammy look is to try this furniture paint makeover idea.
Apply spray paint with a metallic finish.
You can choose from a golden, a copper or a silver hue, whichever suits best the existing décor.
Add a furry rug on the seat and voila, your modern chair will be the modern accent of the room.
via 204 Park
11. Paint Beautiful Ornaments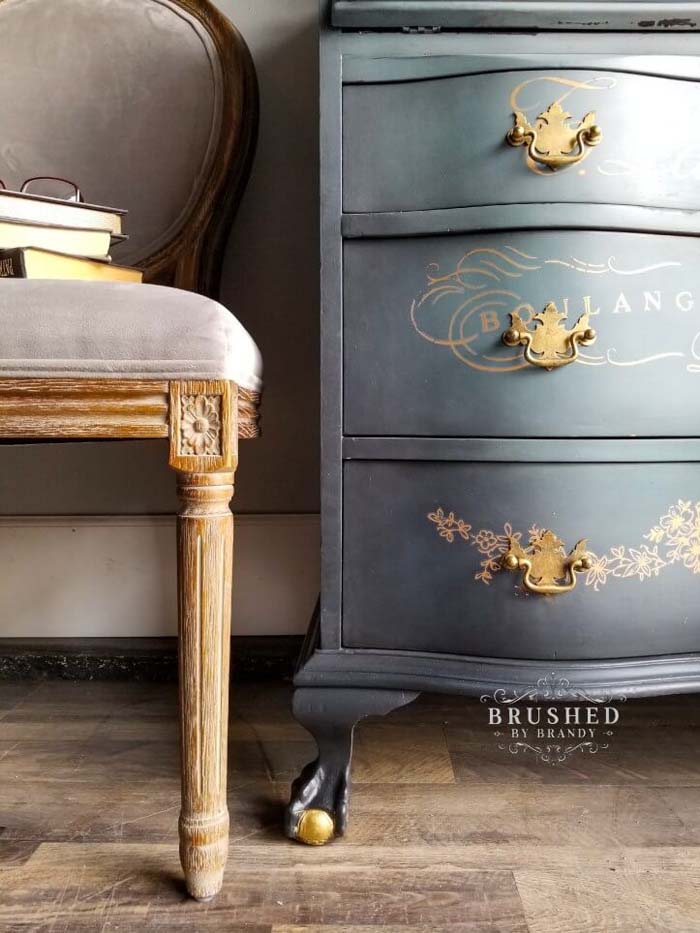 The furniture pieces found at the thrift store can be turned into a décor treasure with some little changes. This furniture makeover idea uses chalk mineral paint to create a thick and whimsy color with a matte finish.
Use metallic paint for small details of the piece to create a contrast and highlight the age of the piece.
12. Create A Focal Point With Paints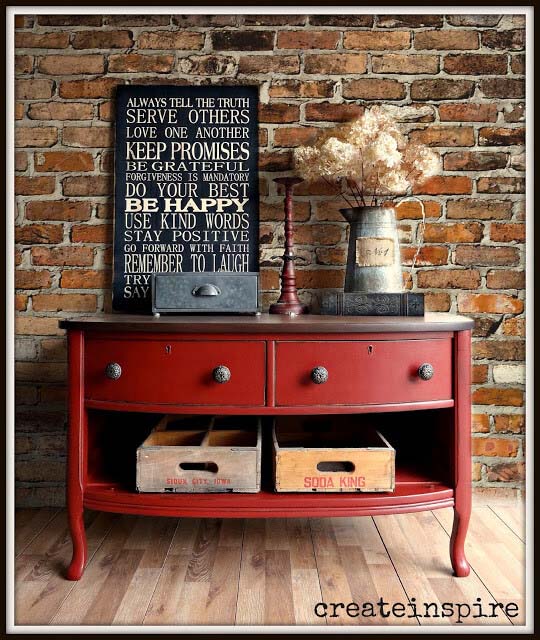 This is another idea of giving an aged piece of furniture new life. Its unique design and rare wood material deserve attention.
Turn it into a functional piece of furniture by coating it with a bold paint color. Red, green, blue, and yellow are colors with a character that can blend with most décor styles.
via Create Inspire
13. A Makeover With Blue Paint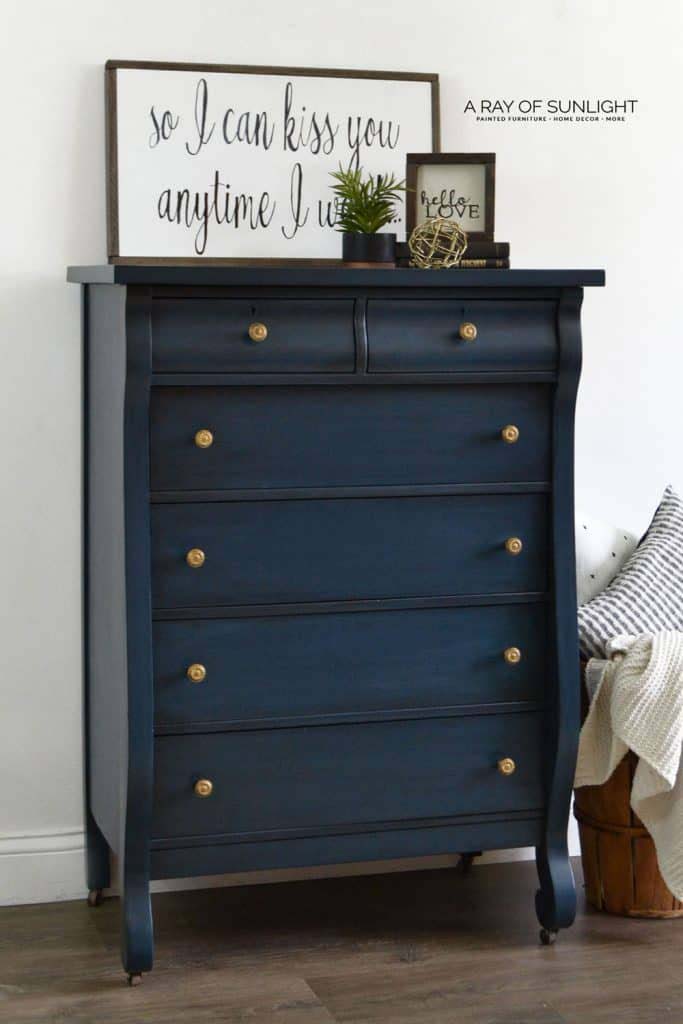 Give an old dresser a vintage coastal look with blue chalk paint. Apply the new coat with diluted paint to achieve an uneven texture that creates a unique rustic effect.
The ink blue matches perfectly with the golden details. They can be added with new drawer knobs or with ornaments painted directly on the drawers.
This upcycling idea can be upgraded to another level if you apply gold stain on random areas of the repainted wood surface.
14. Armoire With Floral Painting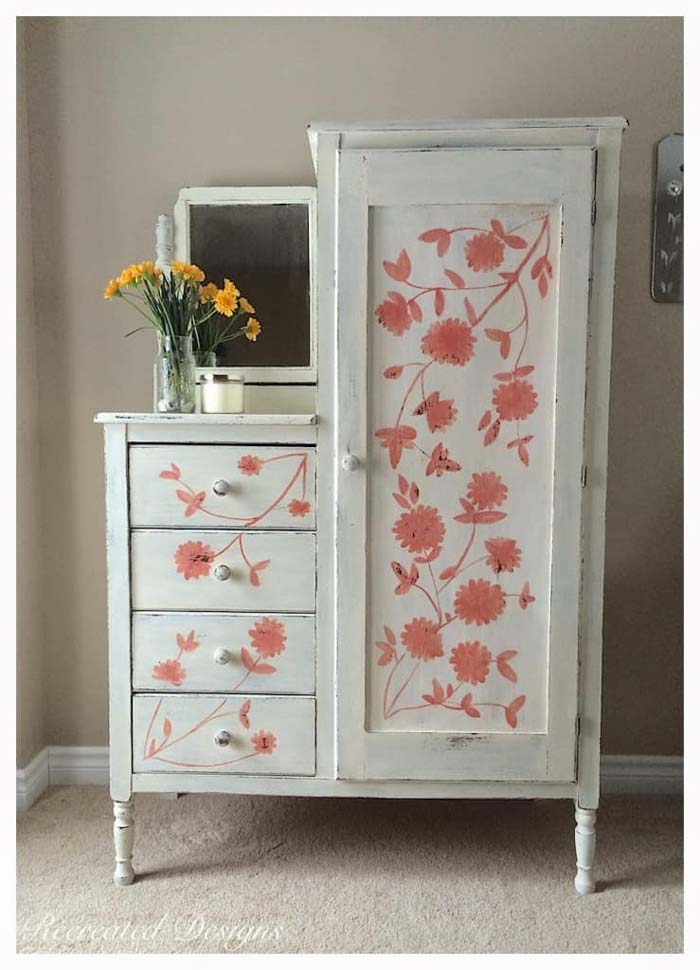 Armories are rare pieces of furniture and if you have one, don't throw it away. With this DIY furniture makeover idea, you can give the piece a brand-new look and enjoy its elegance and functionality.
If you are not good at hand painting, you can opt for floral transfers or decoupage paper with Mod Podge.
15. Give The Dresser A New Character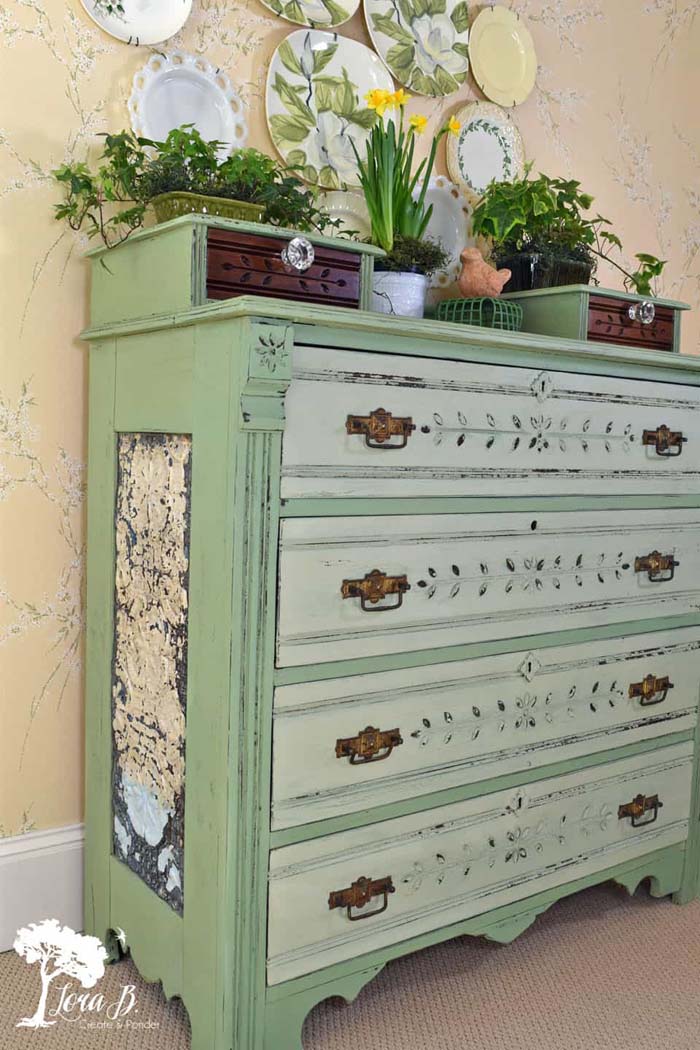 Olive green is a great color choice for vintage furniture makeovers. It succeeds in refreshing the wood without losing its rustic look.
At the same time, the green color possesses character which will brighten up the overall home décor.
via Lora Bloomquist
16. Partial Makeover With Paint Is Interesting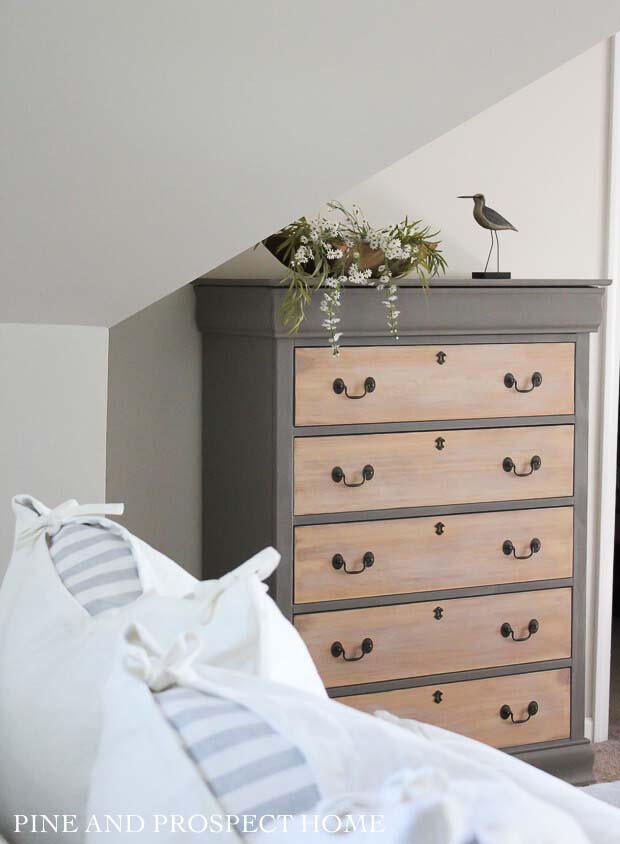 Mix new with old! In other words, paint only part of the piece of furniture to create an interesting effect.
This idea is suitable for pieces in good overall condition. In this idea, the main structure of the chest has been repainted in dark grey.
The drawers have been left in their original wood color. The final result is a mix of modern and rustic which will easily match any existing décor.
17. Faux Marble Look With Paints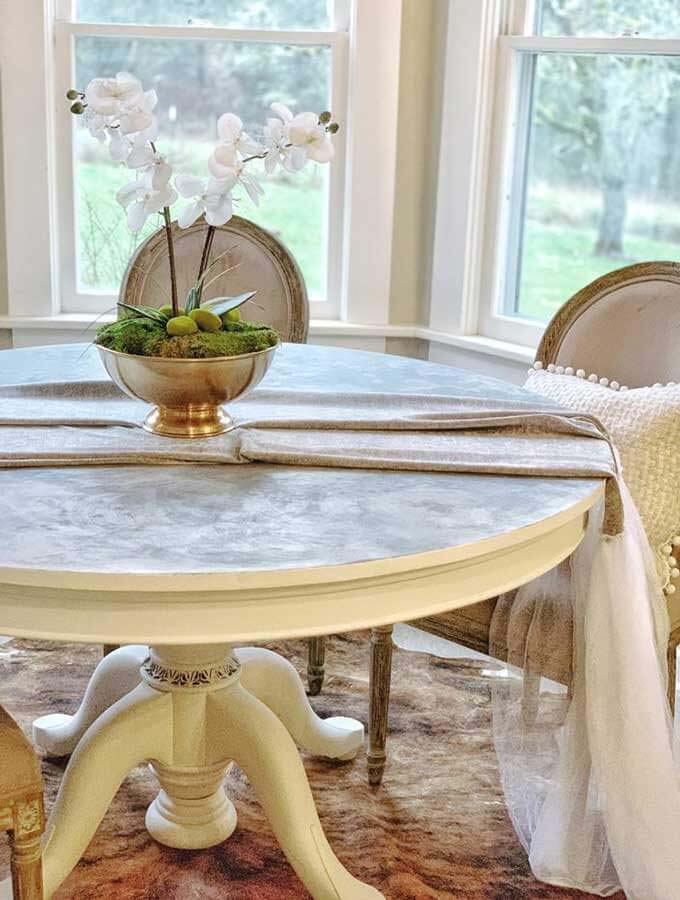 Marble is expensive but we cannot deny what elegant effect it creates in the home décor. Luckily, there is a way to recreate it with low investment and without any difficulties.
For that idea, you need chalk paints in white, grey and black colors. Pour little amounts of them on the flat surface and spread them with a rotating movement on the entire surface.
The blend of the colors you will see creates a beautiful marble effect. Seal it with a water-diluted transparent varnish to enjoy it for a long time.
via Hallstrom Home
18. Nesting Side Tables Makeover Idea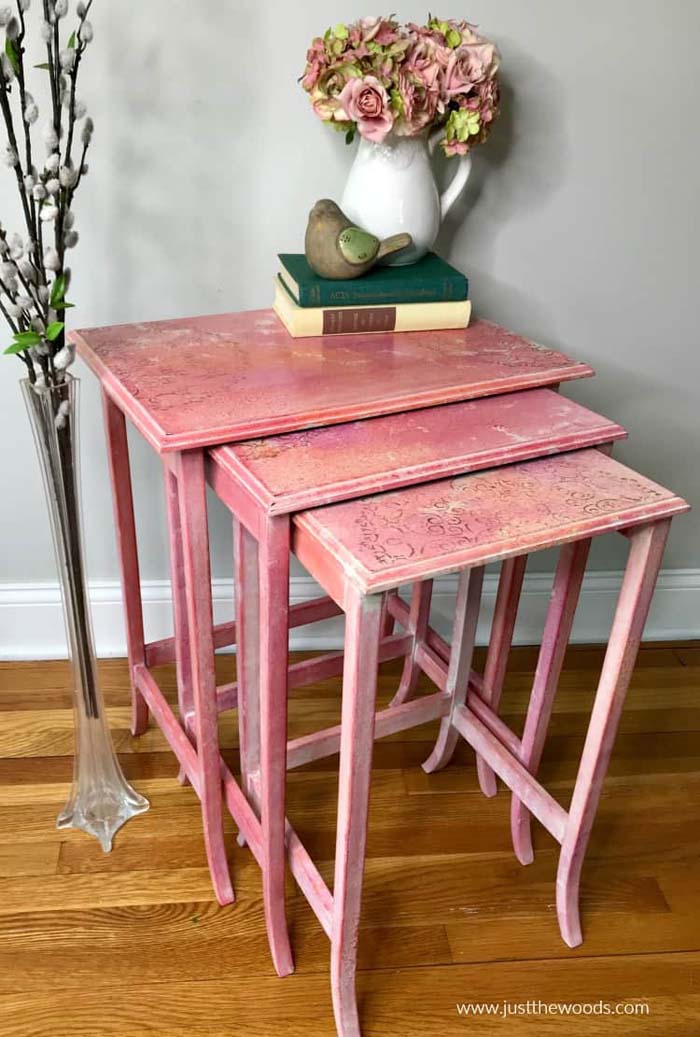 The watercolor technique has been adopted also in the painted furniture ideas. It is time consumable but the final result proves that it was totally worth it.
The tie-dye effect is created by the random application of three colors of paint all over the surface of the tables. Salt wash is added to the brush from time to time to create a rough and tangible texture on the wood.
Once the new coat of paint has dried, it is time to whitewash with white paint the entire surface. Then, you need to sand gently the wood to reveal the beautiful watercolor painting you have created.
via Just The Woods
19. Desk Makeover Idea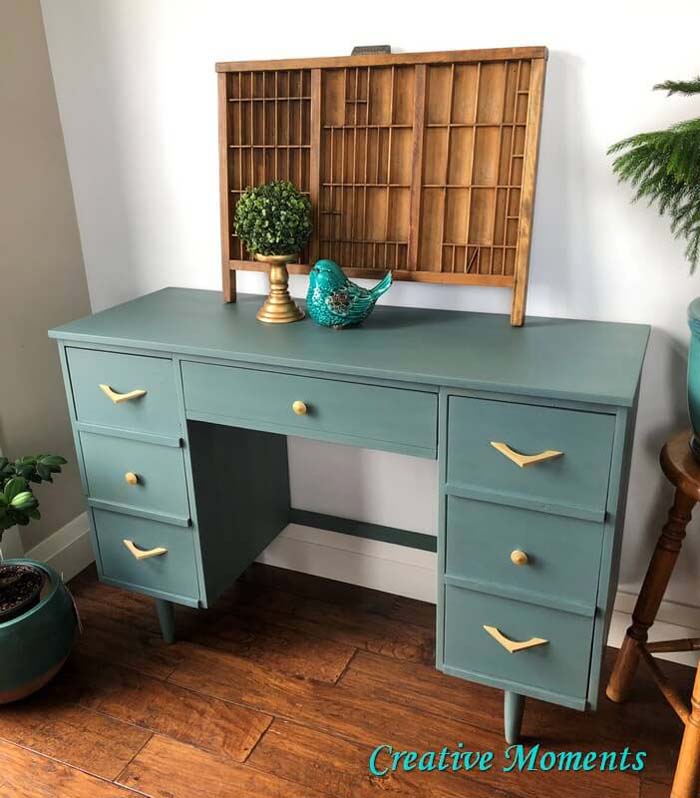 Give the desk a new modern look with the right paint color and eye-catching hardware. The milky green color matches perfectly the old designs of dressers and desks.
If your home décor mixes farmhouse and modern or keeps the interior simple and clean, the desk will add some warmth and interest.
via Creative Moments
20. Upcycling Idea With Paint And New Knobs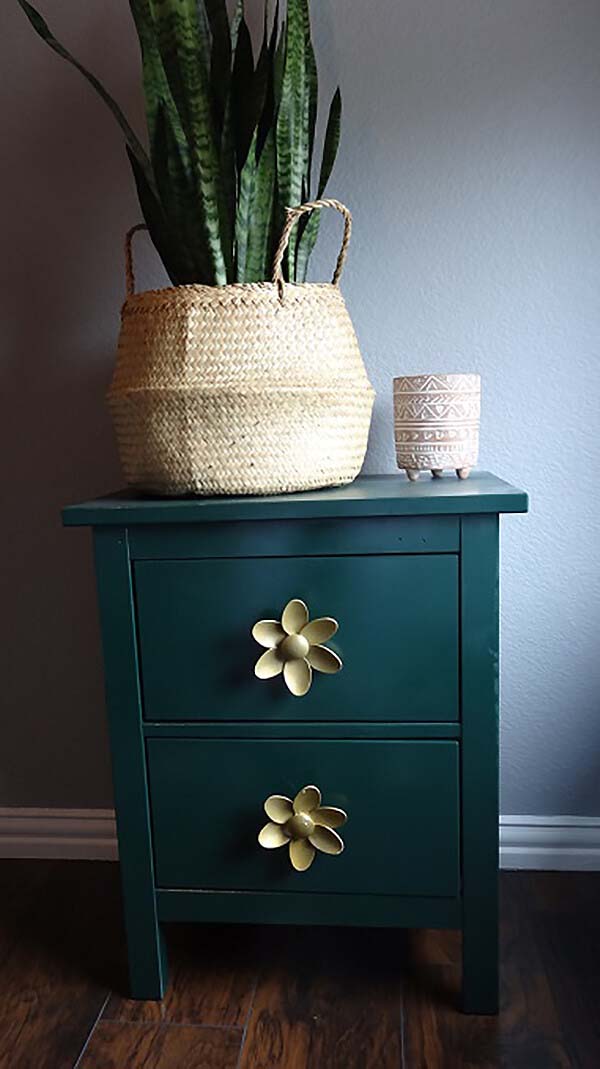 Change the overall look of your bedroom without replacing any of the furniture. How is this possible? The most affordable and easy way to make it is to repaint the nightstands.
Choose a dramatic color such as green or blue and apply it on the wood surface. Highlight the bold color with beautiful knobs in a lighter color
via Flawless Chaos
21. A Nightstand Makeover Idea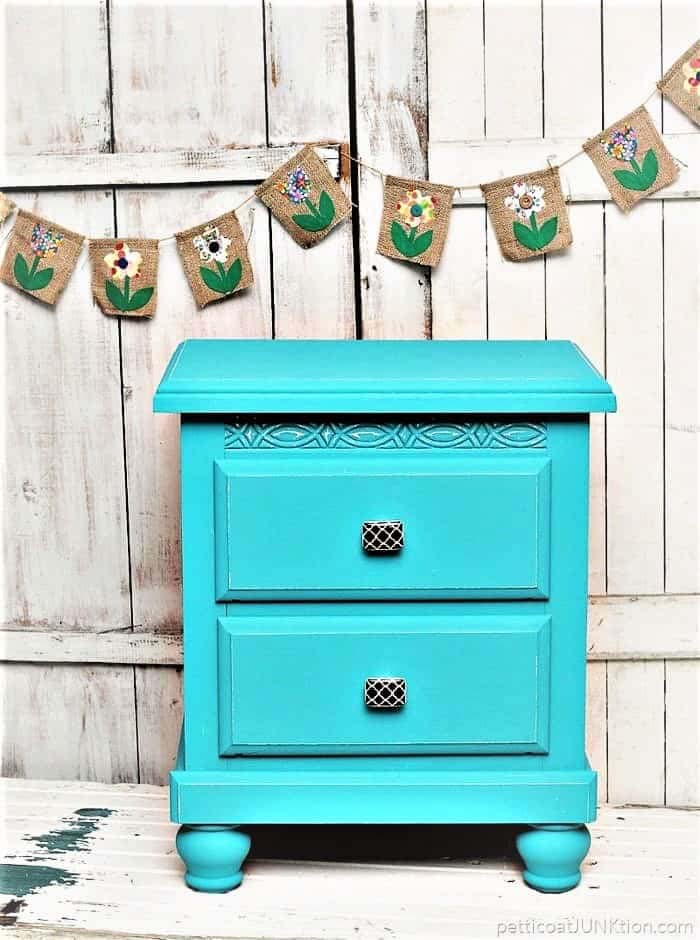 If your bedroom is missing a bright pop of color, check out this easy DIY furniture makeover idea. Choose a fun bright paint color. Make sure that it will match the existing décor.
To give the finished piece an attractive look, find new knobs that match the new color of the nightstand and do not fade against the vivid background color.
22. Upholstered Trunk With Golden Paint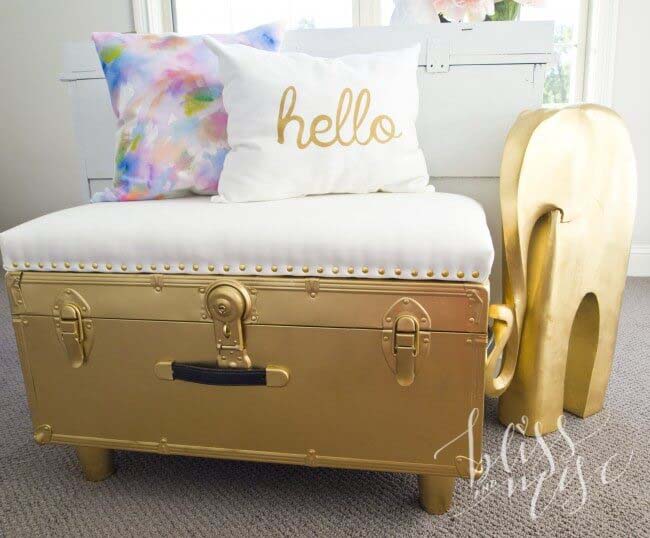 Another trash-to-treasure idea reveals how an unappealing old trunk can become an appealing ottoman.
This repurposing DIY idea requires gold paint and a cushion.
Spray the golden paint on the leather surface and let it dry. Attach the cushion with thumb-tacks with a golden finish. If you want you can put the suitcase directly on the floor, or add short legs to lift its height a bit.
via Bliss and Misc
23. Green Beauty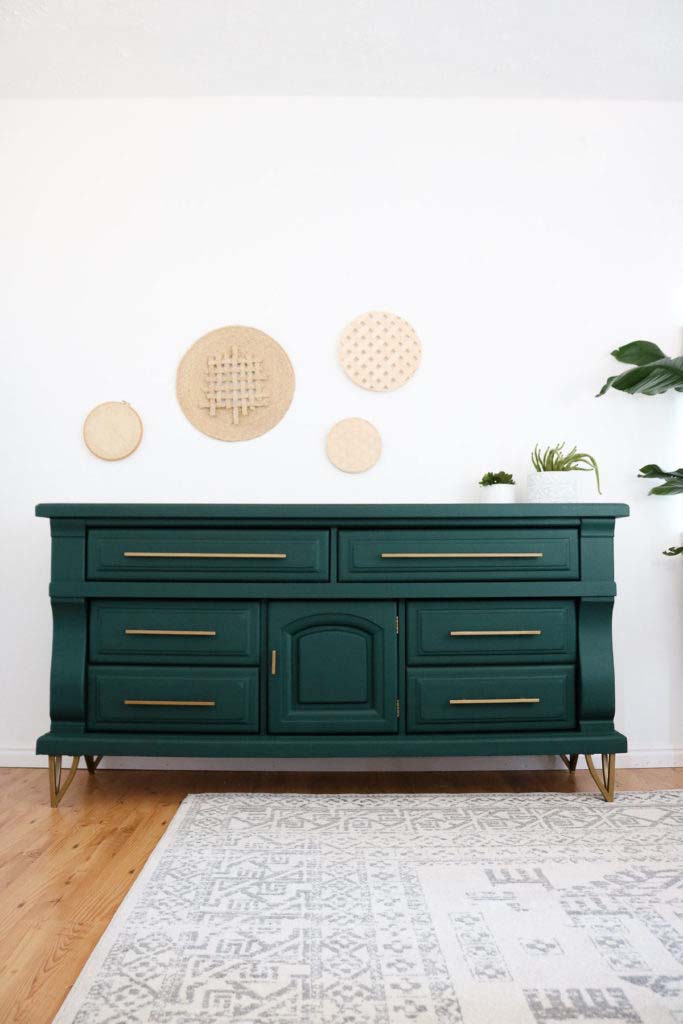 When you upcycle an old piece of furniture, do it with style! In other words, choose a bold, vivid and unique paint color.
Don't forget to replace the hardware with a new one that pairs with the transformed appearance.
via Lily Ardor
24. Makeover In Green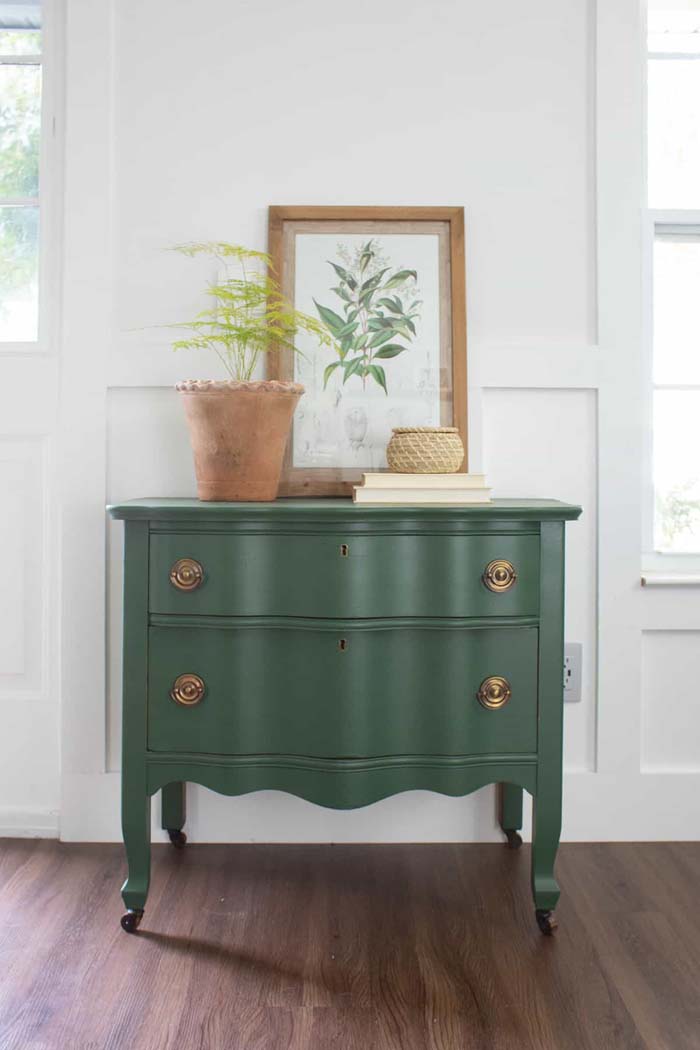 To give the furniture piece an elegant look, choose the right green shade.
The hue is perfect for the piece and for its location. It is surrounded by two windows which highlight the visual interest created by the new paint color.
25. Create Details With Stencils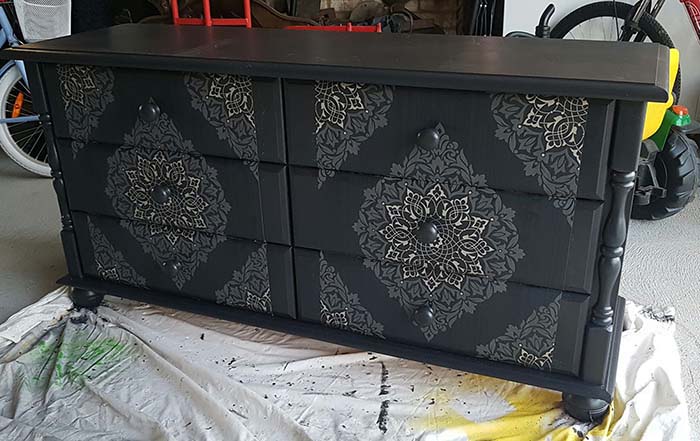 If the piece you are upcycling, doesn't have any ornate carvings, you can create them with stencils! Check this furniture makeover tutorial that will turn a plain dresser into a unique piece.
via Decor Home Ideas
26. The Perfect Shade Of Pink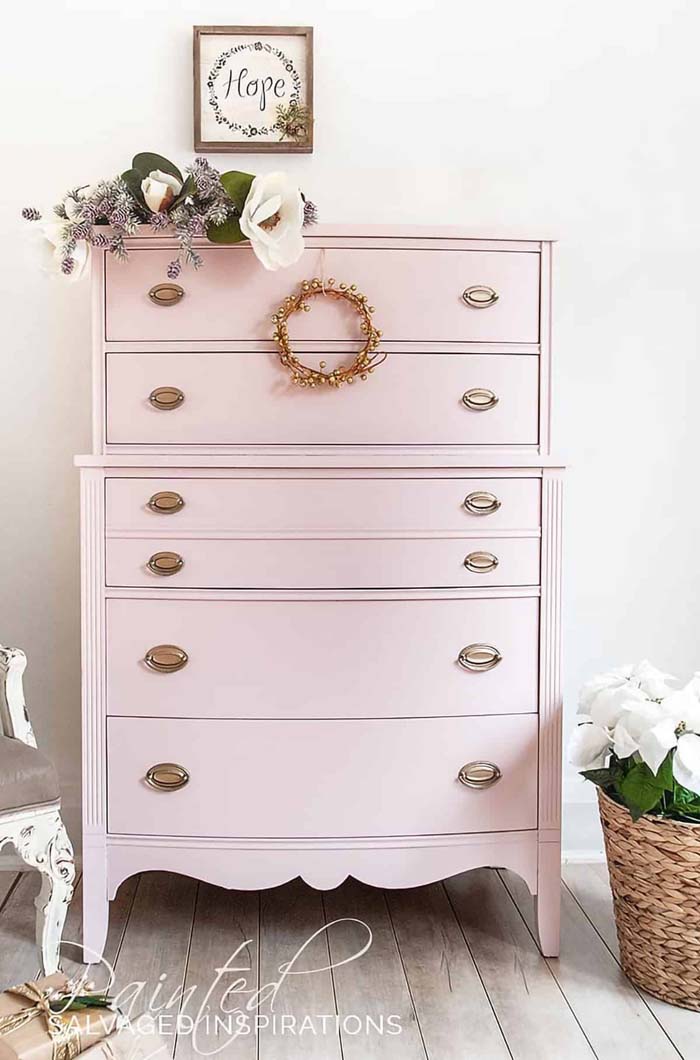 Want to add a feminine touch to your interior? Do it with the best shade of pink! The Pink Champagne color is enigmatic and elegant.
27. Subtle Blue For A Coastal Touch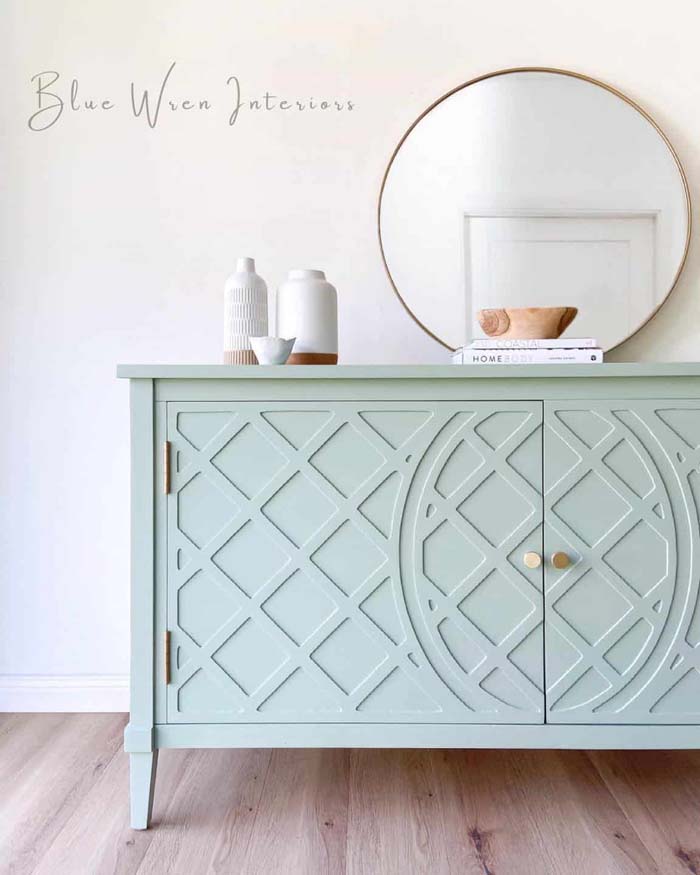 Tune your home interior to a relaxing coastal mode with this amazing subtle blue dresser. Style the decor pieces on its top to match its beach effect.
28. Elegant Rustic Coffee Table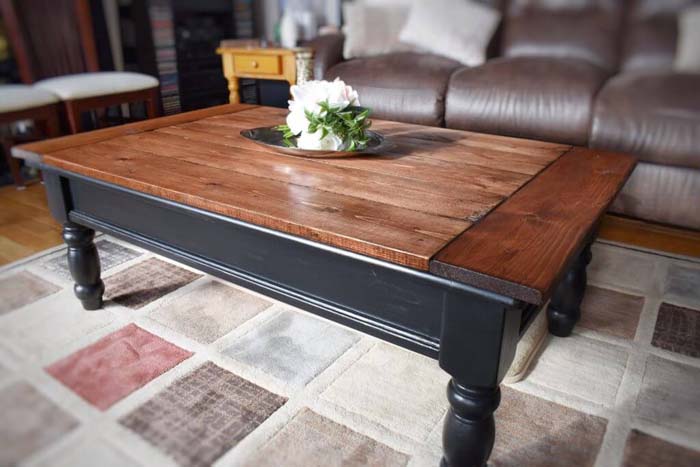 Another idea for a partial paint makeover is featured with this DIY coffee-table makeover. Only the leg structure of the table is painted a new color.
Grey is a good color choice because it matches a contemporary home interior and gives the rustic designs a modern twist.
29. IKEA Dresser Makeover Idea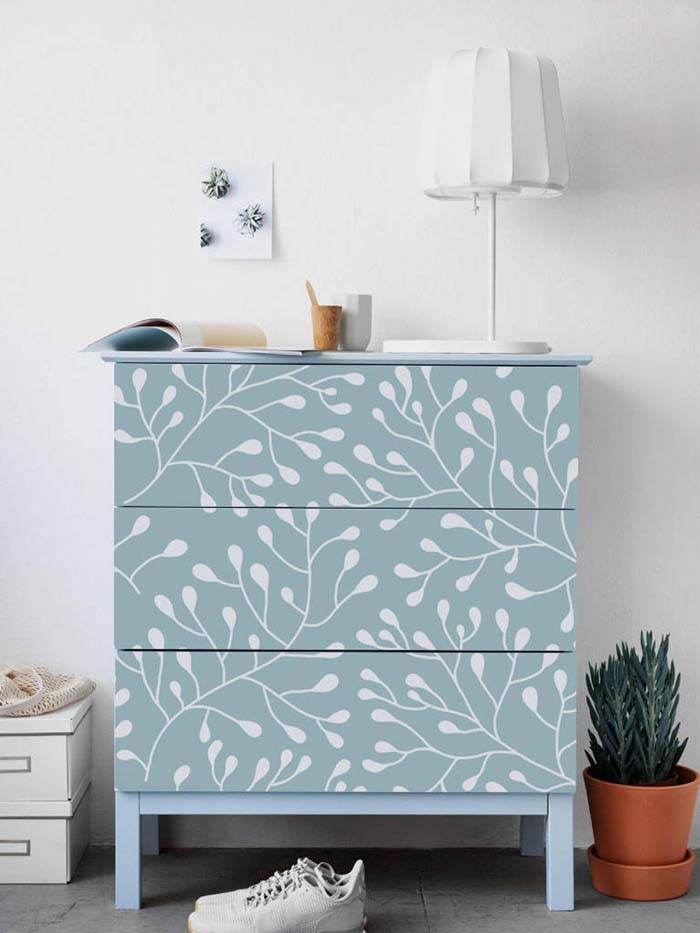 Ikea's furniture is great for many reasons- it is affordable, it is functional, and it is universal when it comes to interior style.
If you feel that the Ikea piece needs to be given a character, try this paint and decal idea.

30. Create A Distressed Look With A New Technique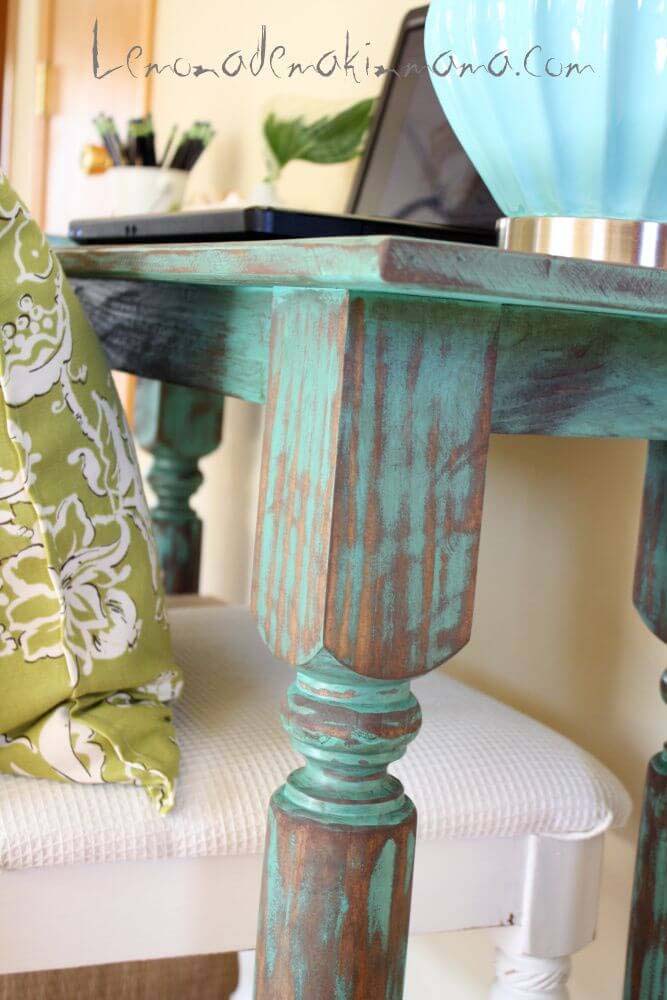 There are a few ways to give a piece of furniture a distressed look. What you see in this table makeover idea is called "clean breaks" and is so fantastic!
The blend between the original wood color and paint creates a dramatic weathered finish that is easy to be recreated on any wood surface.
The secret is in using a liquid paint stripper instead of a sander. Where you want to have distressed areas with no paint, pool and drip the stripper.
31. Cheerful Stripes For A Dresser Makeover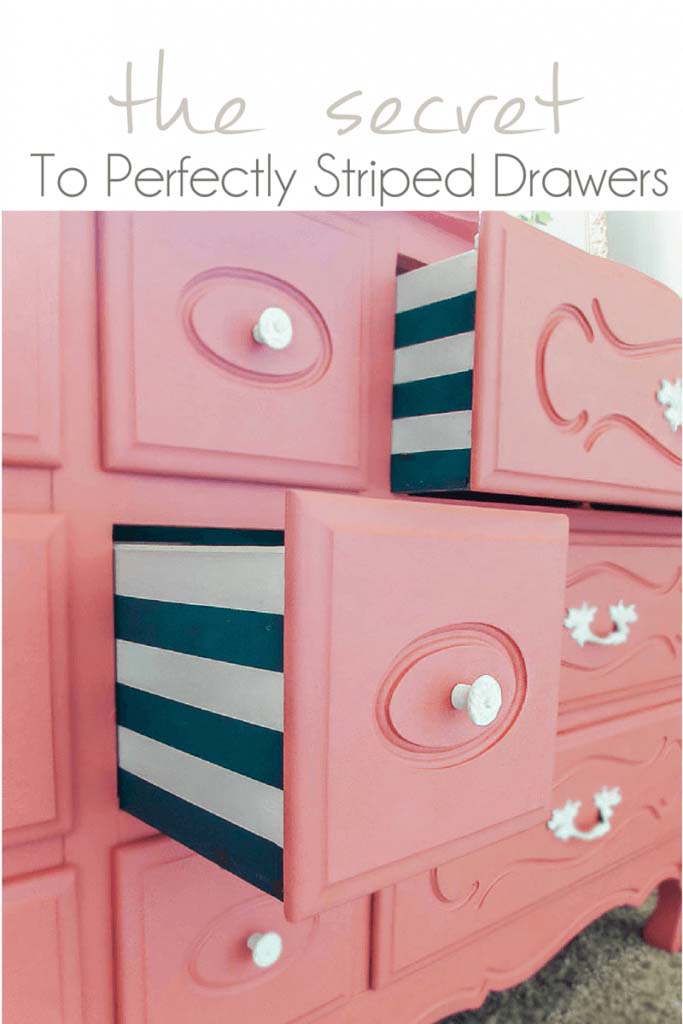 When you want to make a thorough piece of furniture makeover, don't underestimate the inside of the piece. Especially, if it is used according to its storage functionality.
This chest of drawers has been transformed into chick pink treasure. The beauty doesn't end with the bright pink tone.
Once a drawer is opened, you can enjoy a playful striped pattern applied on the sides of the drawers and the beautiful match with the pink color on the drawer front.
32. From Trash To Treasure Desk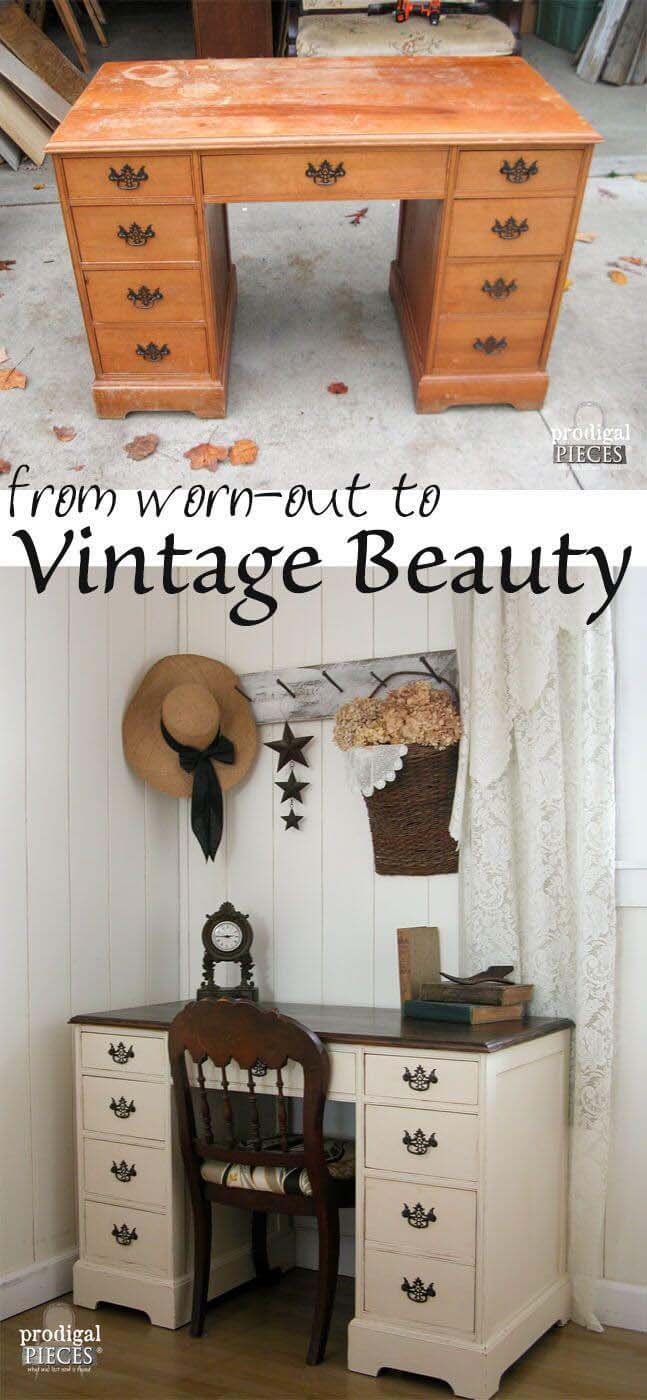 When you take a look at the first photo, you would think: "Why waste time on refurbishing such an ugly piece?"
Well, take a look at the second photo and you will get the answer: "Because the uniqueness of the vintage furniture is one of a kind" and because everything is possible with some paint and passion!
via Prodigal Pieces
33. Paint The Kitchen Cabinets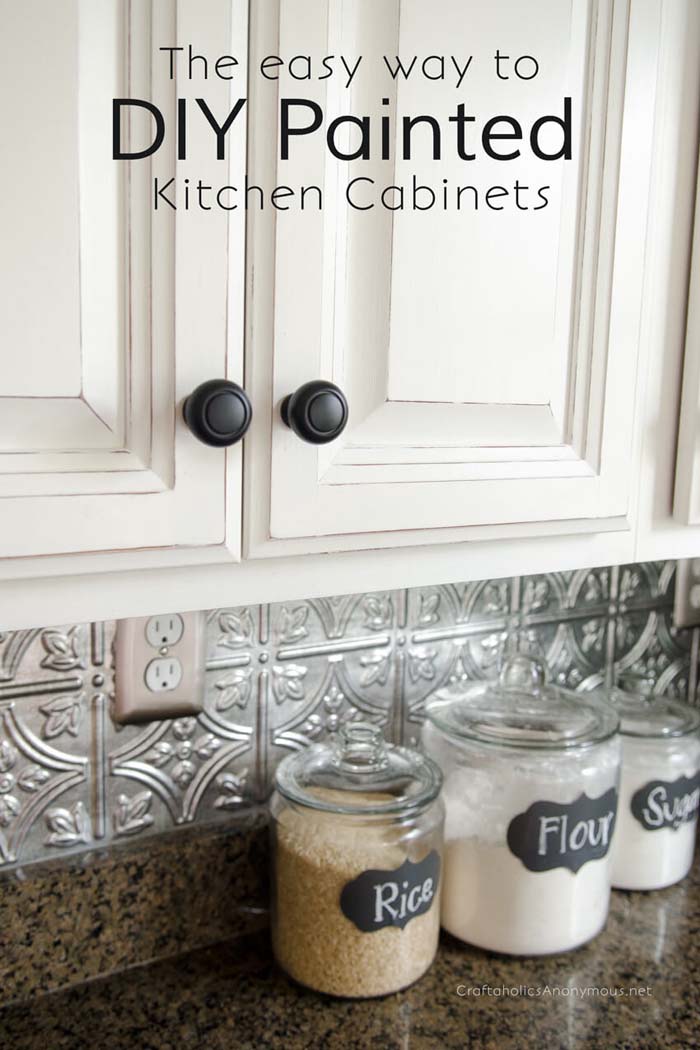 You would think that this idea is nothing new but actually it is because it reveals the secrets to applying a new coat of paint on the kitchen cabinets the easy way.
There is no need for sanding or priming the wood before the paint. Simply clean the wood before you start painting with a simple degreaser.
34. Fabric Paint Makeover Idea

Did you know that you can paint over fabric? Isn't that cool? No need for upholstering by a specialist which means less money involved! Painting is also a savior when it comes to specific furniture designs like the chair in this inspiring painted furniture project.
There are people working with chalk paint but in this specific tutorial, special fabric paint is used to give the overwhelming retro fabric pattern an elegant and fresh transformation.
via 2 Bees in a Pod
35. Chalk Painted Chair

And if you don't believe that you can apply plain chalk paint on fabric, you need to see the tutorial below!
The beauty of the upholstered chair is kept and even highlighted by the application of light grey chalk paint on the entire surface.
via 2 Bees in a Pod
36. Ombre Drawers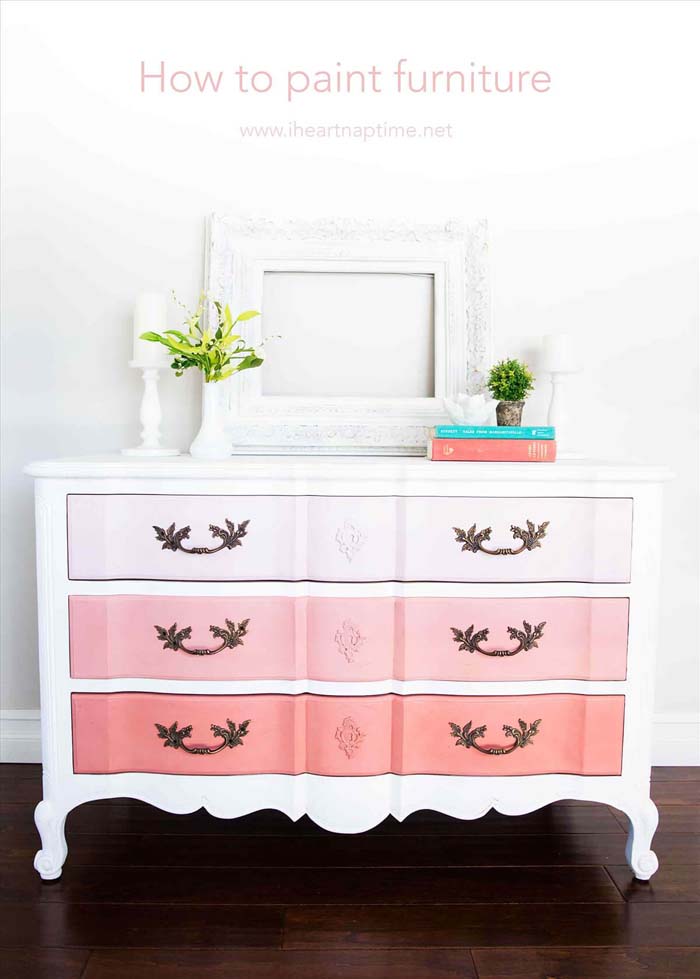 The ombre effect is very cheerful and cute. Although related to contemporary designs, it works perfectly well with retro pieces.
This color technique is easy and surely creates an eye-catching décor effect.
via I Heart Nap Time
37. Create A Statement With Lemon Yellow Color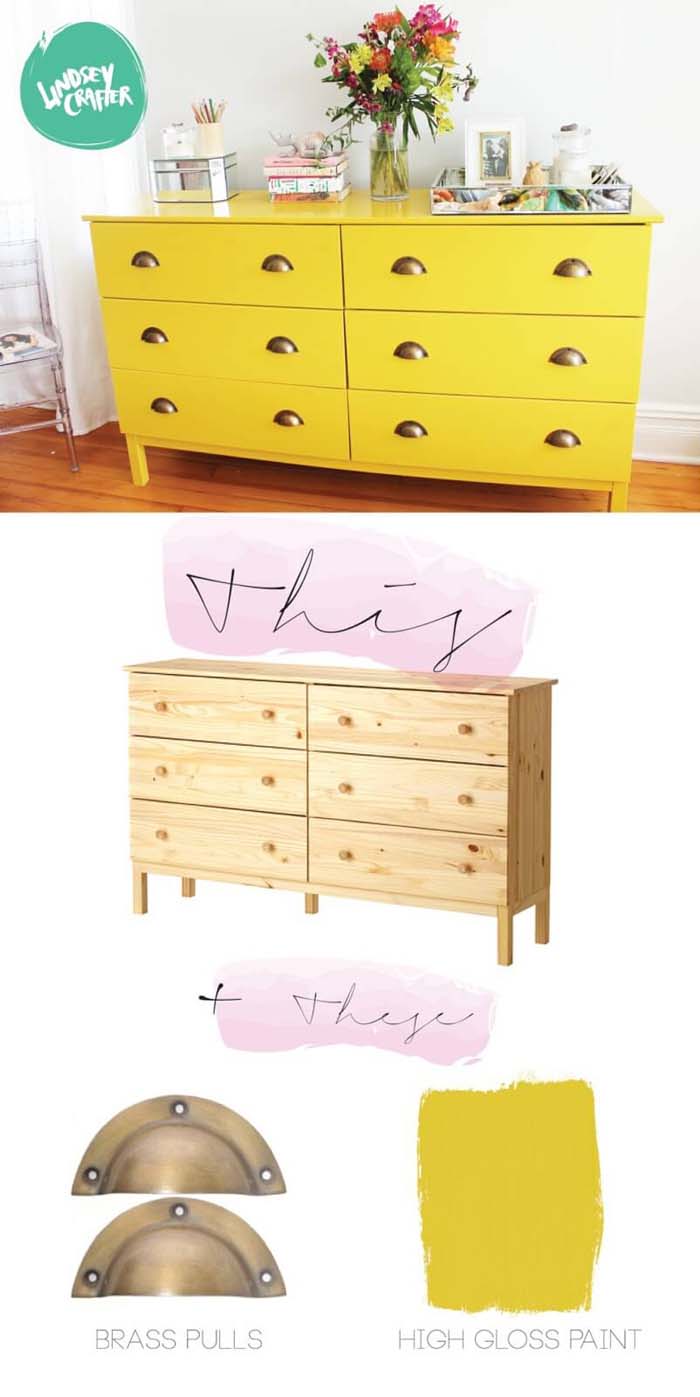 No need to invest in expensive furniture. You can make it look unique and expensive with the right paint color and good hardware.
See how a regular chest of drawers turns into an eye-catching statement piece. You will enjoy the brightness it adds to the décor and its functionality
38. Distressed Bed Frame Idea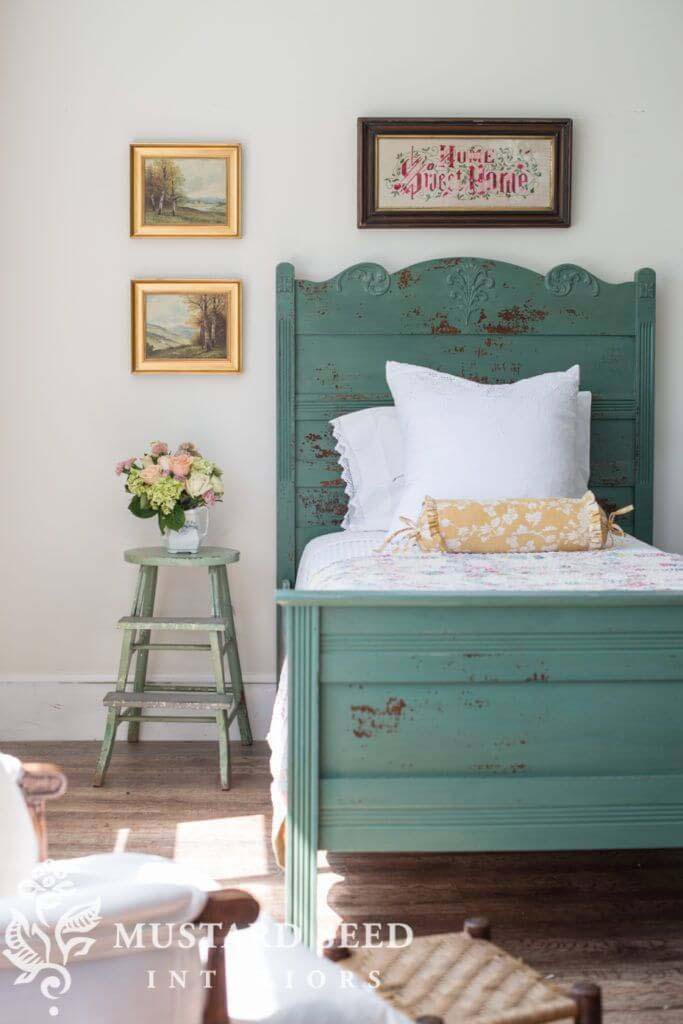 The weathered look of the wood is achieved by the standard distressing method- with sandpaper.
It works best when a new coat of lighter paint is applied to the original surface. The distressing will reveal the color underneath and will age the piece.
39. Fake Patina Finish Idea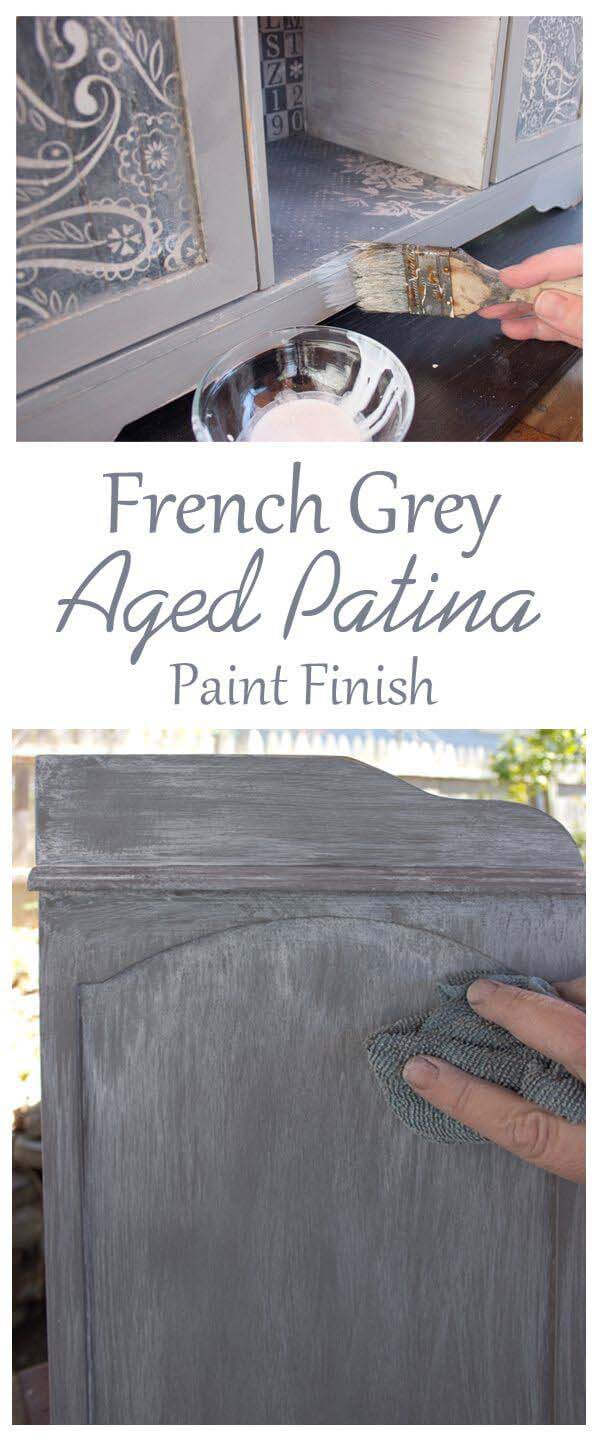 Along with the decal transfer and the decoupage, the patina finish is another way to change the look of an already-painted piece of furniture.
What you need is a spray wax, a scruffy chip brush and rags to wipe down the excessive wax.
40. Whitewash Wood With Liming Wax

Whitewash can be done with white acrylic paint or with liming wax. What is the difference? The acrylic whitewash creates a new layer over the existing surface.
The liming wax interacts with the existing top layer and then leaves its traces.
To apply it and make sure that the contact between the medium and the surface is good, use a plastic spackle knife first.
41. Rit Dye Will Revive The Fabric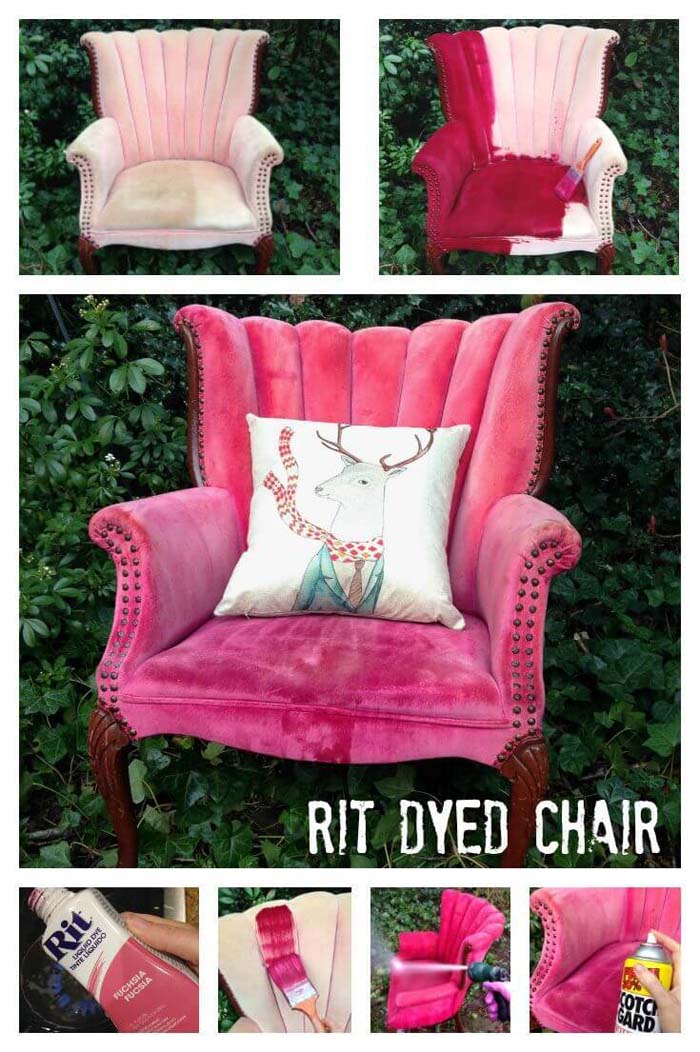 The RIT dye paint is intended for fabrics. It is created to let you easily change the color of the existing fabric without any special preparation.
Use a plain brush to apply the desired color and let it dry. In the end, water jet the fabric to remove the excess paint.
42. From Retro To Modern Dining Table Makeover Idea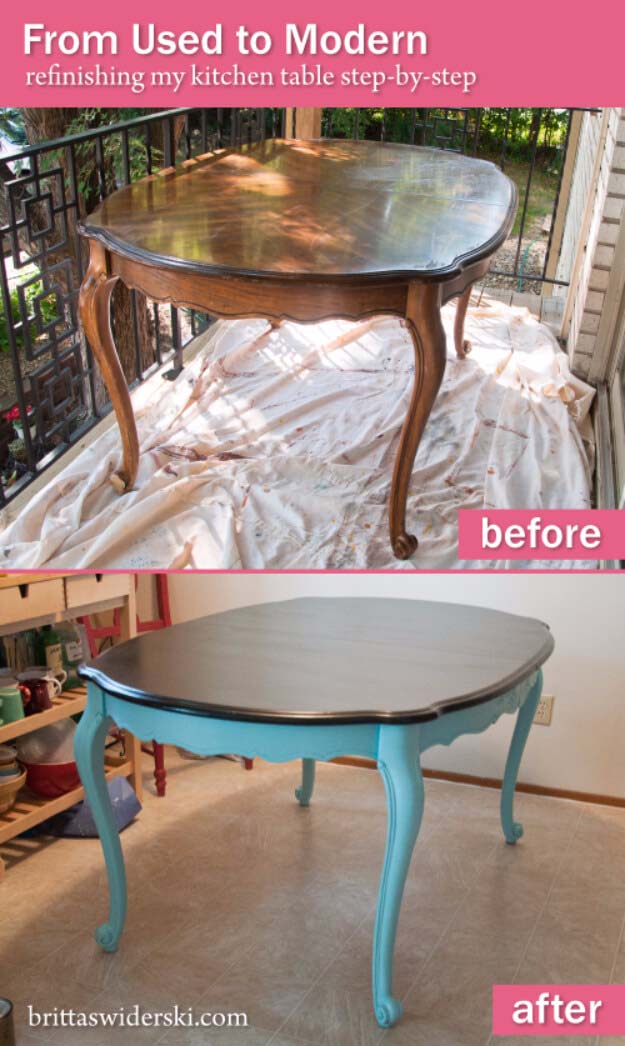 Use a modern color combination to give the rustic dining table a modern look.
Blue and black pair well together and are related to the contemporary interior style.
43. The Secrets To A Good Paint Makeover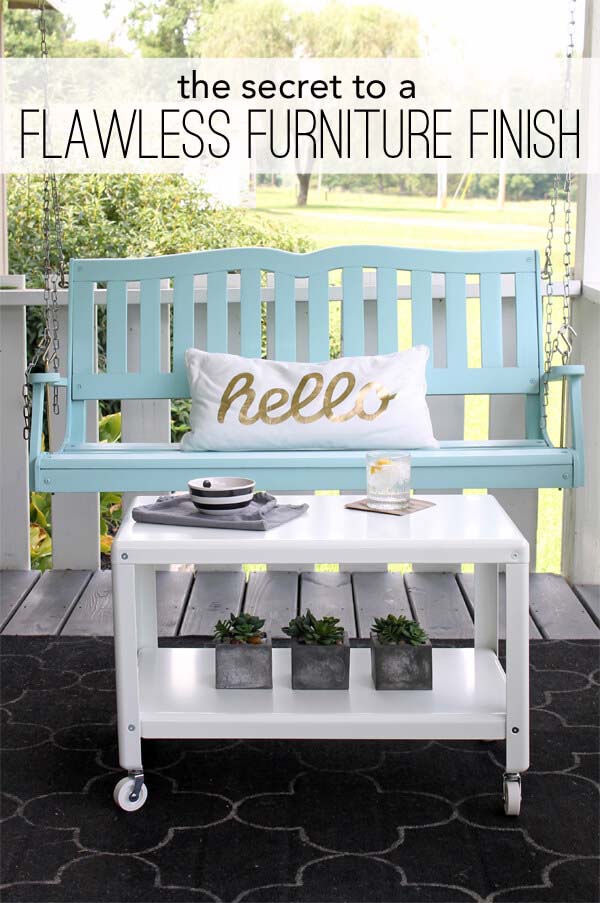 Do you think that you know all about painting furniture? That's what I also thought before reading the article below. Trust me, the more you paint, the more you learn about tricky places and best practices.
I am sure that reading it will give you a good prep for your painted furniture project.
44. A Side Table With A Character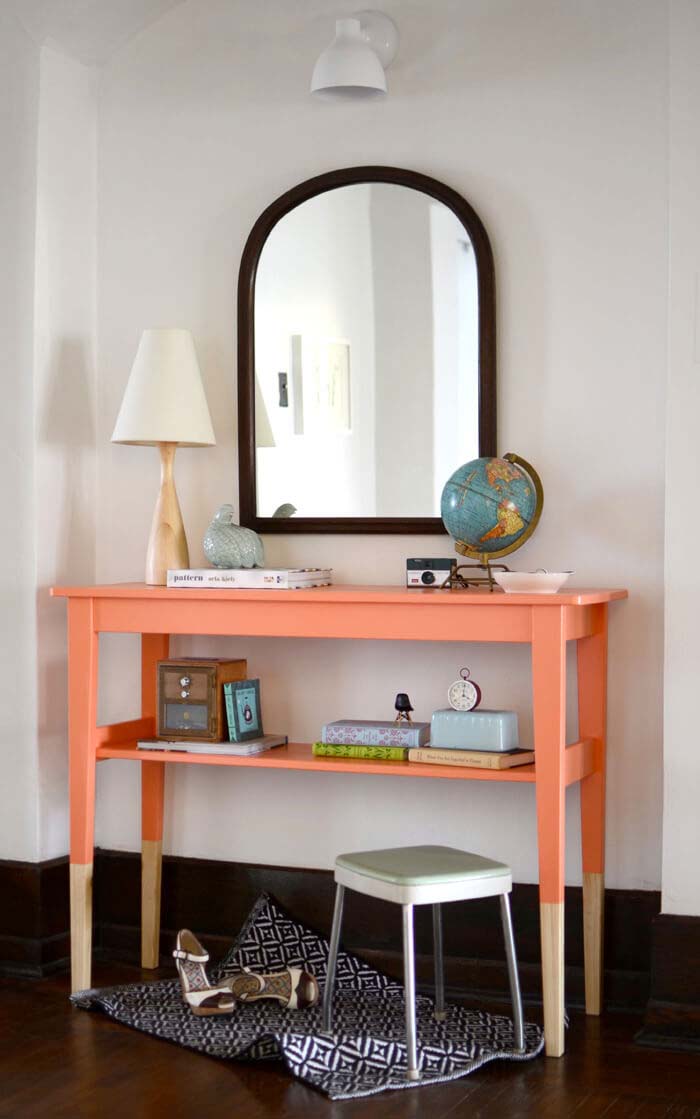 Applying an unexpected color on the entryway side table will surely be noticed by your guests.
Orange, yellow, green, blue are all colors that create a pop of color, especially in a contemporary interior design which usually needs a personal touch to get some character.
45. Hide Scratches With Chalk Paint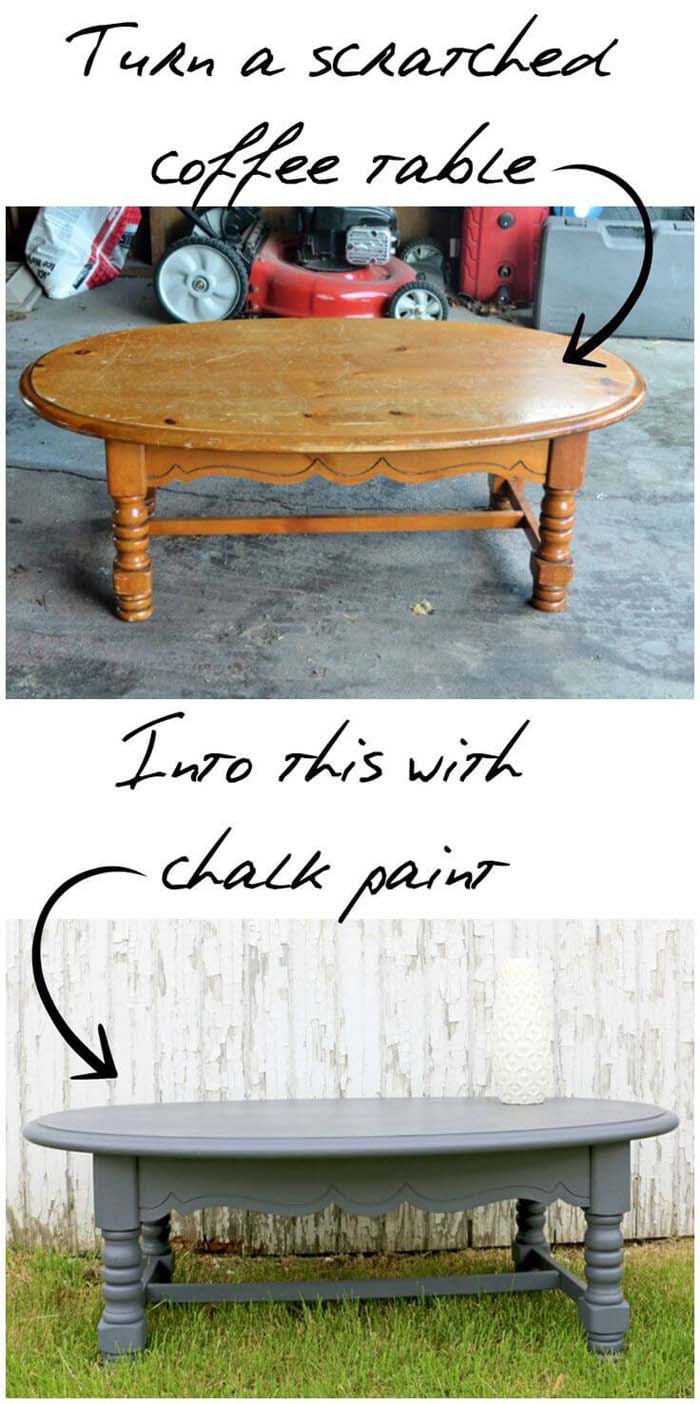 If you think that there is no way to hide scratches on the wood surface, we have good news for you. Chalk paints create a solid and even coat that fills them well.
Apply a coat of clear wax at the end to protect the painted surface.
46. The "No Sanding" Method For Laminate Furniture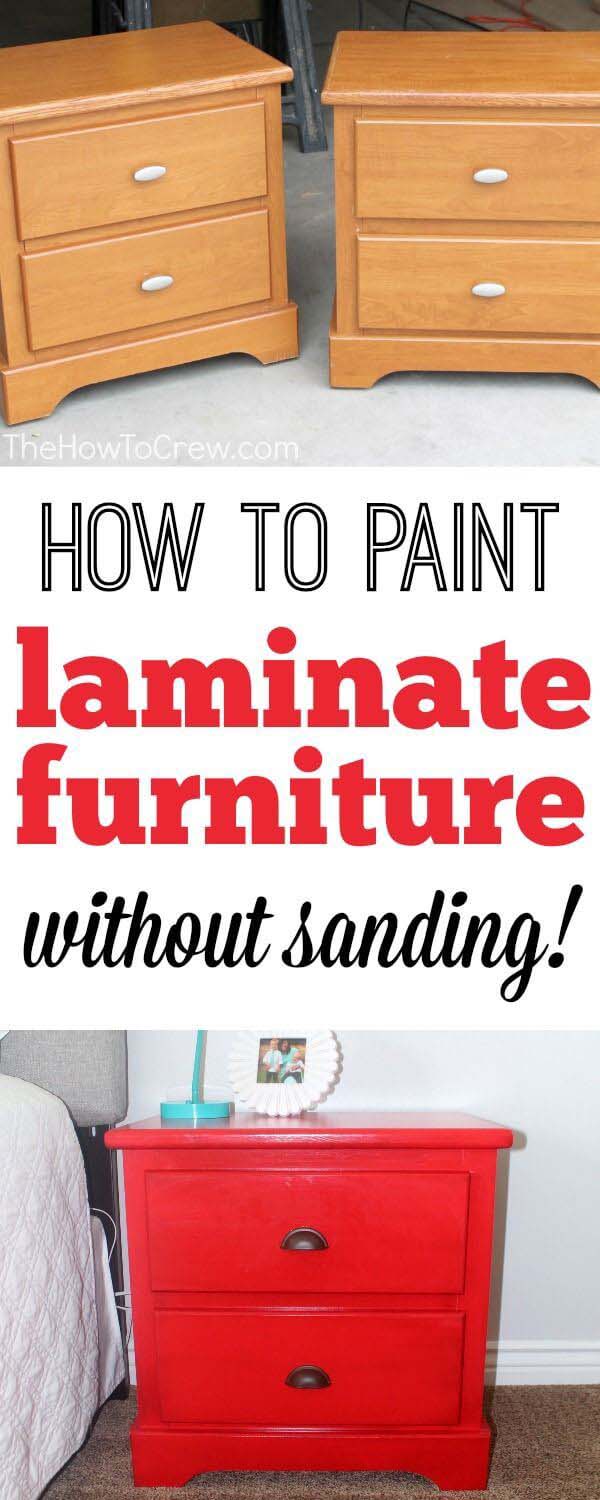 Applying a new coat of paint onto laminate furniture has always been disappointing for me. The surface is too glossy and this doesn't let the paint interact with the wood.
Luckily entire sanding of the surface is no longer needed. The cleaner and more time-effective way to repaint such furniture are to use chalk paint.
47. Change The Original Color With A Lighter One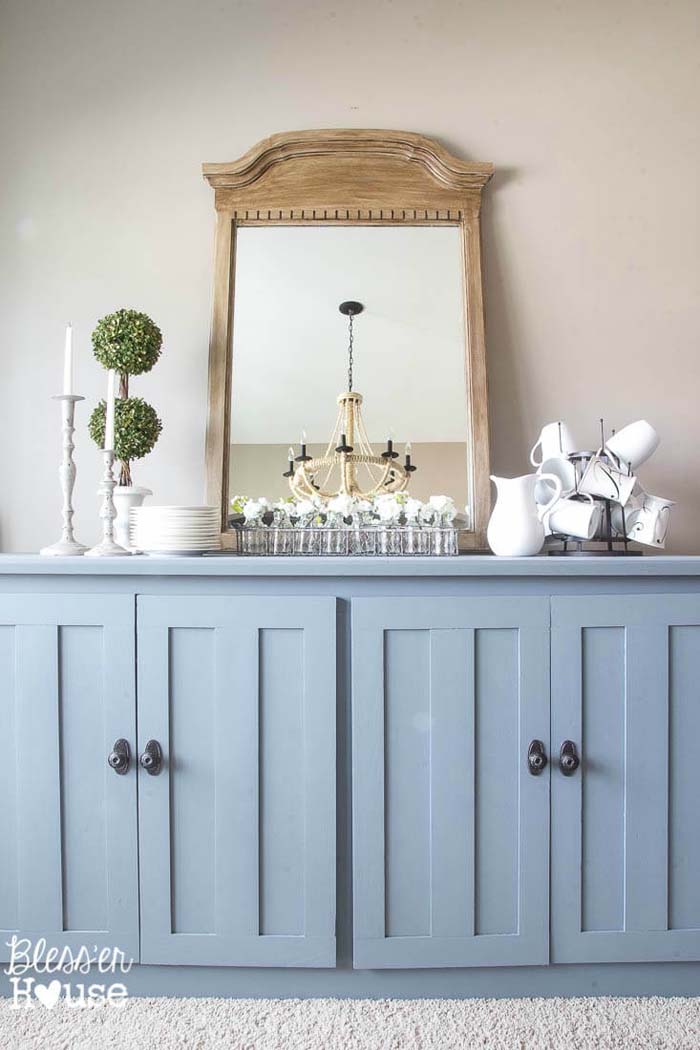 This is a piece of advice you may find helpful for furniture pieces in a small room. Change their outer look with light paint color to create a visually larger and airier room.
The example here proves the significant overall effect. The original color of the media stand was characterless brown. The subtle shade of blue smooths visually its large dimension and creates a beautiful coastal effect in the room.
via Blesse'r House
48. Refresh The Cupboards With A New Paint Color

Painting the furniture is surely the cheapest makeover method, however, this doesn't mean that the cheapest paint is the best idea.
When you opt for a paint makeover, make sure that you get the most suitable paint and paint color.
49. Makeover Idea With Furniture Glaze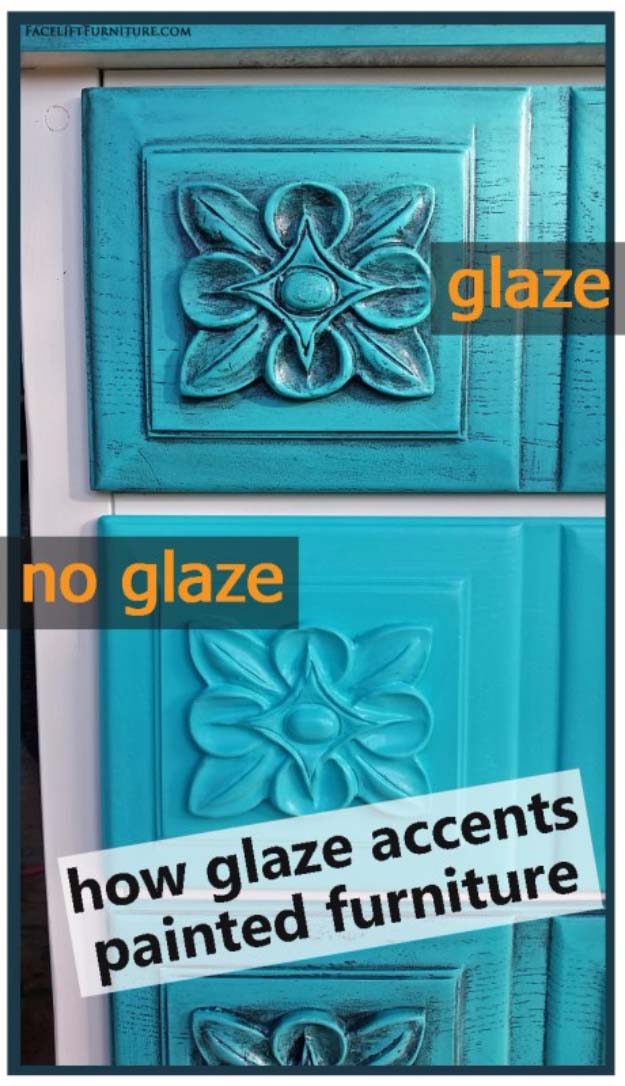 There are many products that are intended for highlighting painted furniture detail. One of the most regular ones, glaze, could be called the best one. Why?
It comes in a variety of colors, it is easy to apply and mostly, you can easily control its intensity and the final effect.