With the next ideas, we are going to prove one more time that the old stuff could be an inspiring source of unique decor. Do you have an old door that you wish to throw out? Wait for a second and see how you can repurpose it into a bold statement with a functional application.
The vintage door can be used inside and outside as a means to simply decorate or as an additional storage area?
Some of the old door projects upgrade the repurposing into building family-inspired cabinets, partitions or screens, and some even finished nooks!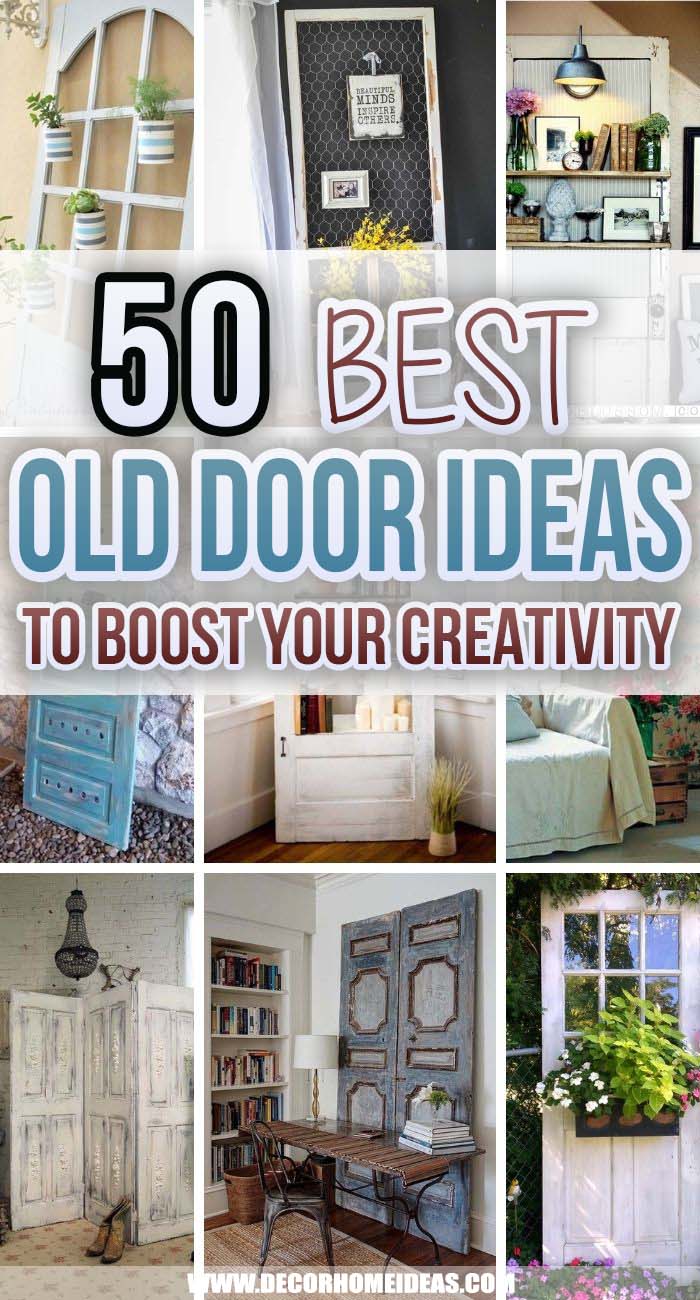 Are you already curious to know how the old doors transform into a charming and vintage piece of your home? The best 50 amazingly creative repurposed old door ideas are only a second away from you.
1. Add Style with a Bi-Fold Corner Door Shelf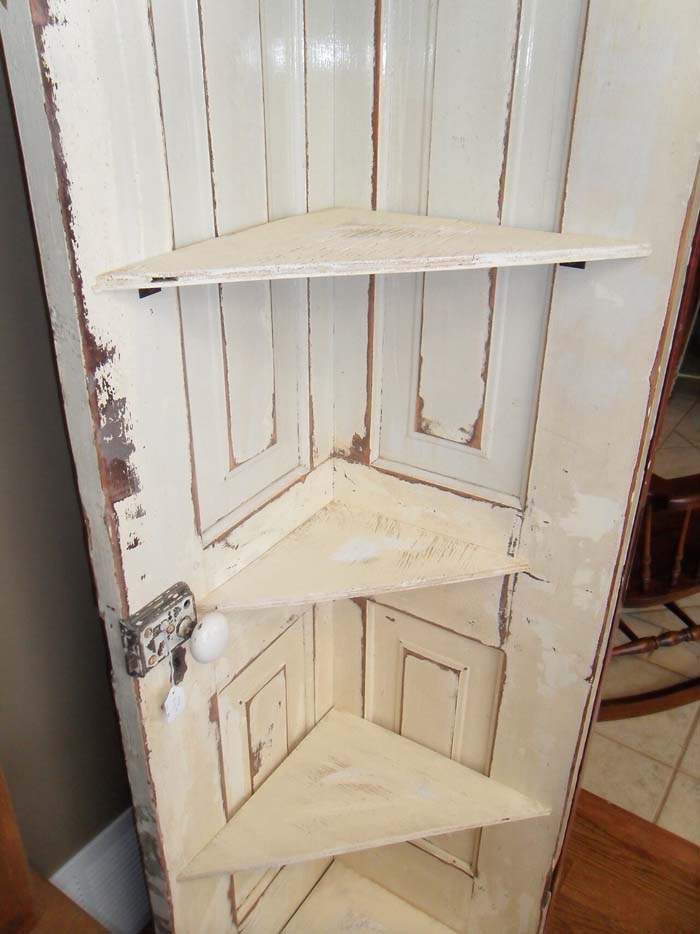 If you need more storage places, do not underestimate the corners of the rooms. Typically, they are left empty. But here is an inspiring idea of how to utilize them and contribute to sprucing up your space.
Use a bi-fold door as the stand for a shelving unit. Simply measure the internal distance between the doors to cut your shelves.
This piece can be used for the storage of various items. In the bedroom, the repurposed bi-fold doors can become a jewelry display, in the living room this unique piece of furniture can turn into a bookshelf with a farmhouse effect.
2. Discover Timeless Beauty with Door and Bench Combo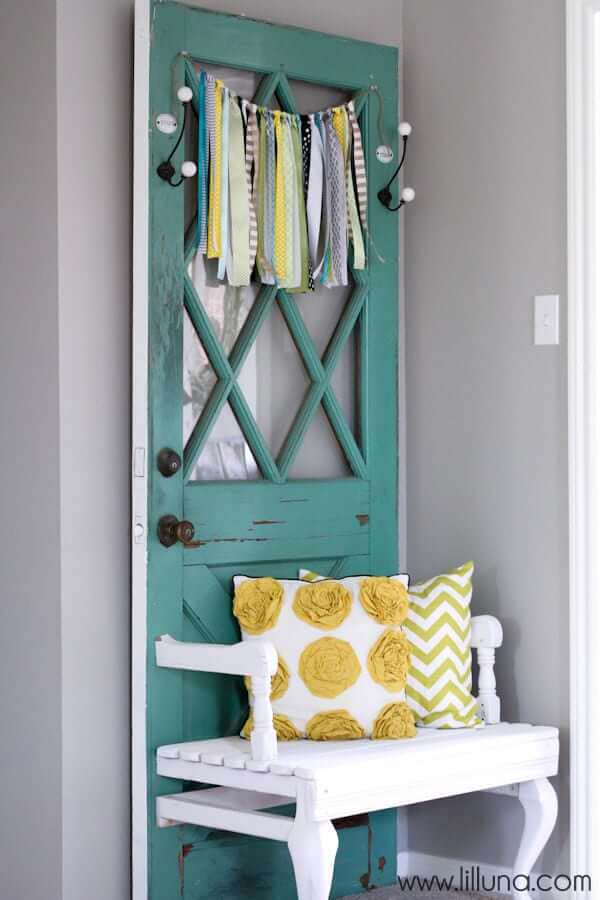 Use an old door to turn it into a unique piece of entryway furniture. The door would actually act as the support and back of a sitting bench for two.
Add pillows to make staying there comfortable and also to enhance the visual interest.
This idea can be used also for creating functional items for the backyard as a potting bench for example.
via Let's DIY It All
3. Add Art to Your Walls with an Arched Cabinet Door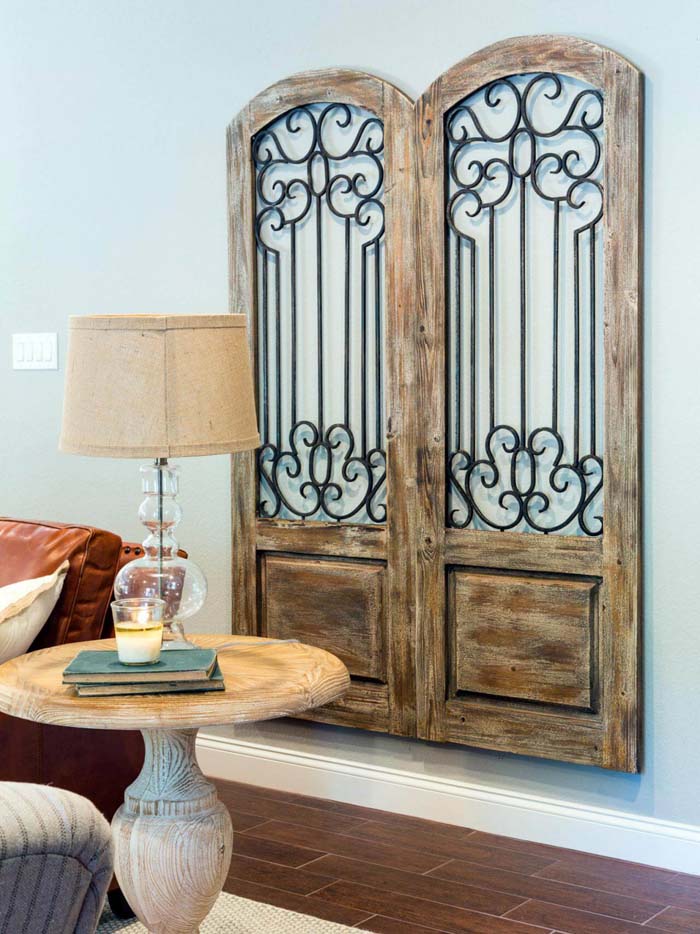 You can use the old doors as wall art. The unexpected repurposing into a decorative piece of your interior will create an instant point of interest.
The wood can be changed so that it matches the existing interior and looks good against the color of your wall. These arched cabinet doors don't require any modification because their shape and antique look are enough to create an amazing decorative effect.
4. Upcycle a Door into a Rustic Bar Counter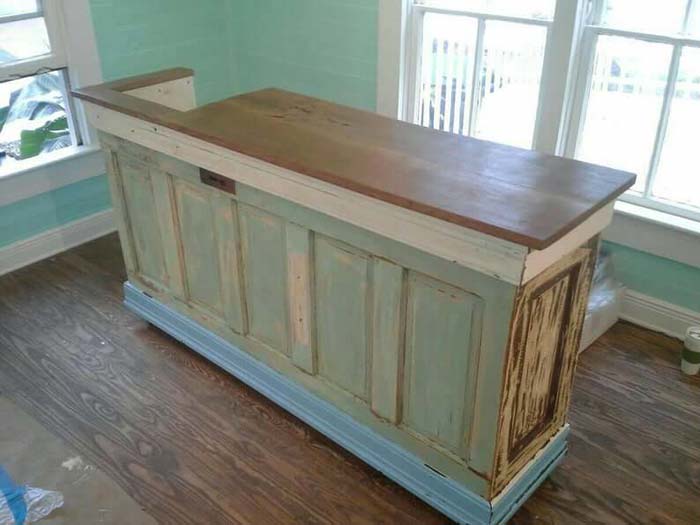 With different reclaimed wood pieces, you can make beautiful storage furniture. An old door, old cabinet doors, the frame of the door and a new wooden board make a complete chest for storage.
In case the wood has cravings like shown, you don't need to do any changes to the outer surface as it is beautiful as it is. In case the wood is plain and flat, you can try giving it a weathered look by distressing a coat of paint.

5. Transform a Barn Door into a Rustic Porch Table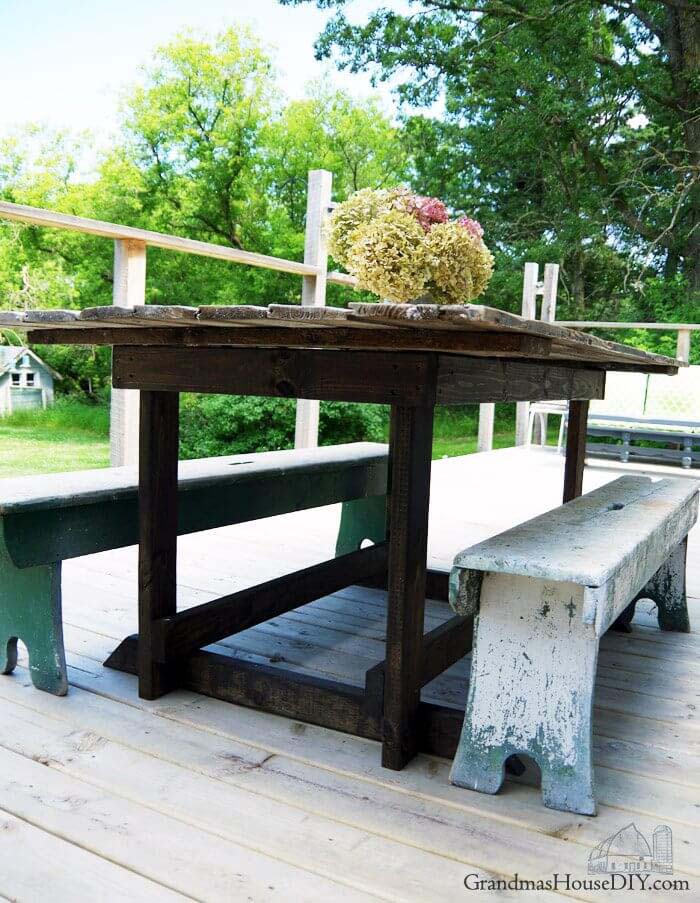 This porch table has an incredible farmhouse look thanks to the top made of a reclaimed barn wood door. The rest of this DIY project requires wood according to the cut-out list in the tutorial below.
It is of a very clever design because it keeps the base small and the table large enough to gather many people with enough space for their legs.
6. Create a Rustic Library with Repurposed Old Door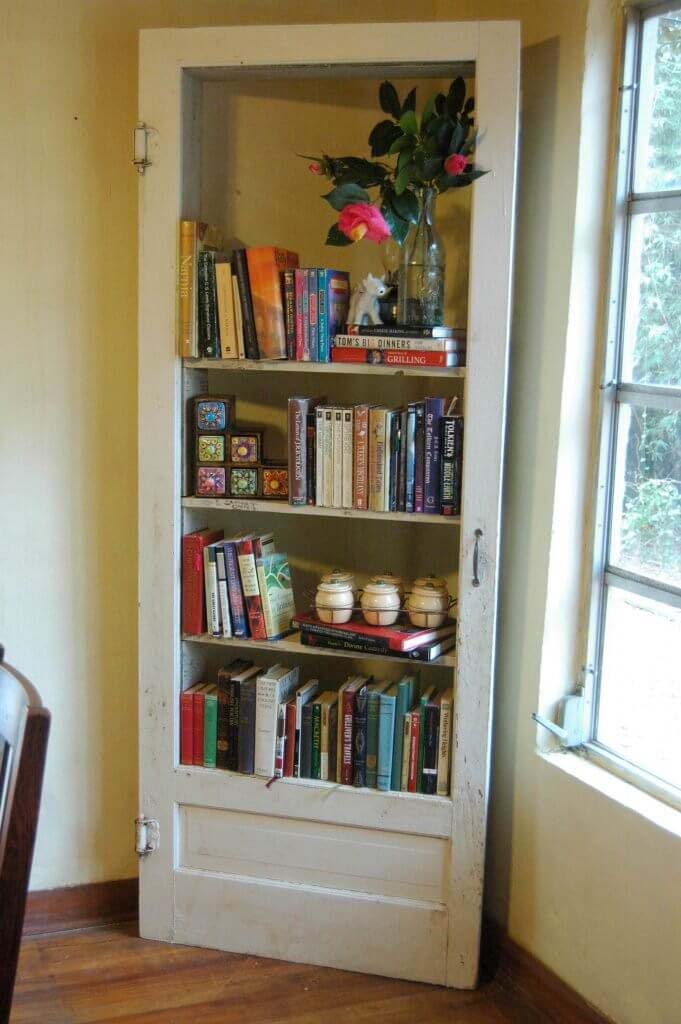 This old door has been upcycled into the frame of a library. Wood scraps were used to make the shelves. The visual interest of creating a built-in library makes the unit so attractive.
The best place for this DIY repurposed old door idea is a corner where the door could be seen from anywhere in the room.
7. Make a Unique Photo Display with an Old Door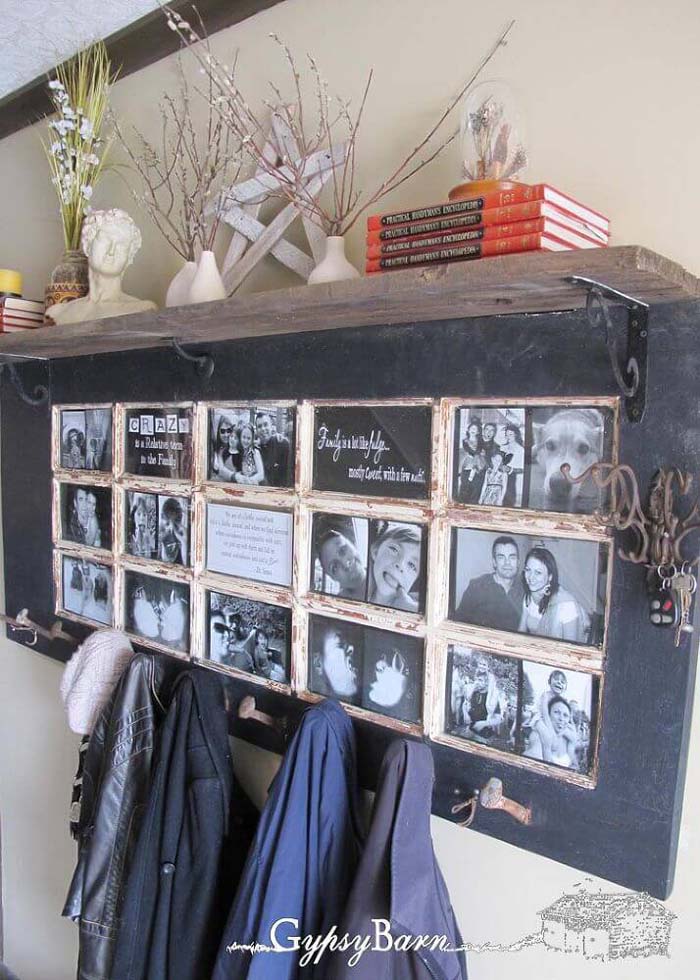 Looking for a way to let your family photographs stand out? Try with an attractive photo frame. The old door transformed into a picture display acting also as a coat rack is just a genius idea!
In order to lessen the number of modifications needed, find a door with window panes. Place the photos in their places. Add a shelf to the top via brackets to make space for other family-enhancing decorations.
via Hometalk
8. Turn an Old Door into a Classic Full Length Mirror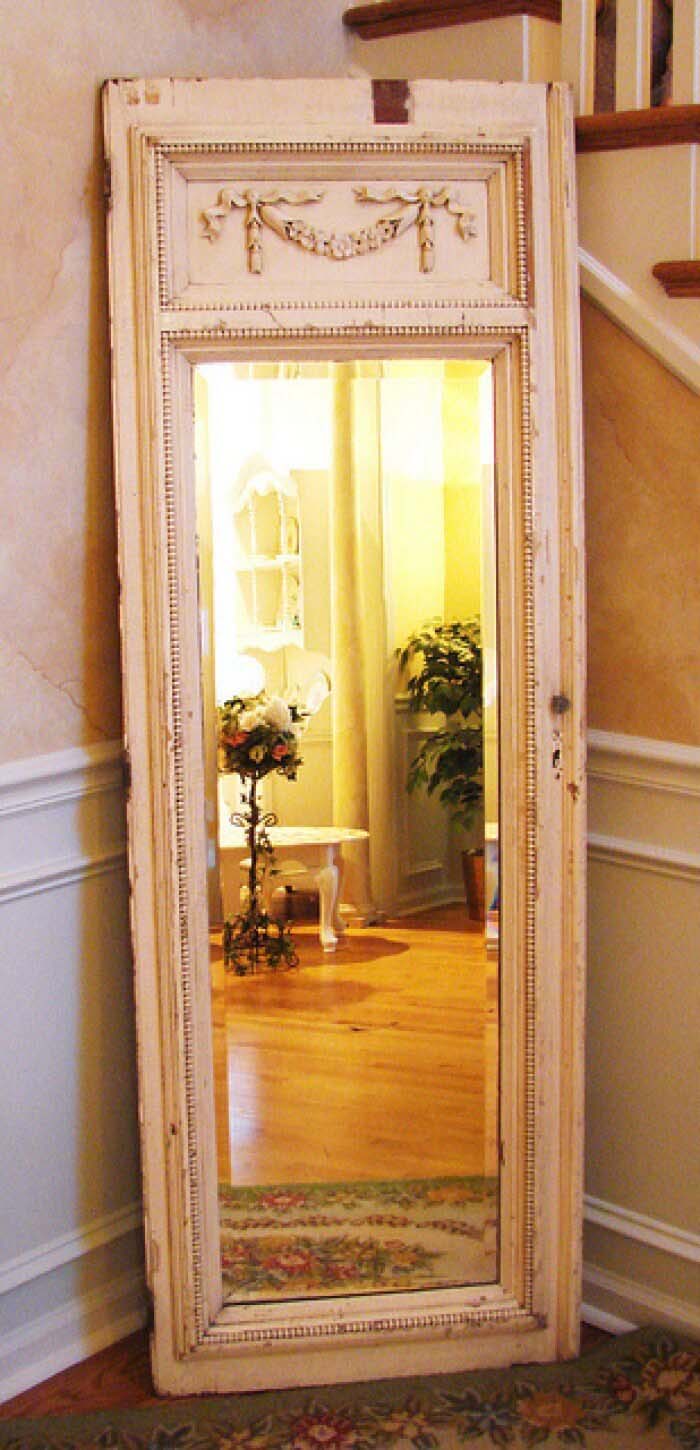 This door is so beautiful that it needs a new life. And that has happened by replacing the bottom panel with a full-length mirror.
The functional repurposed door has a weathered look thanks to the marks of distressed and peeled-off paint. The existing ornaments at the top enhance the Victorian feel. Every part of this old door speaks about its age and value, even the hinges.
9. Maximize Space with a Repurposed Door Table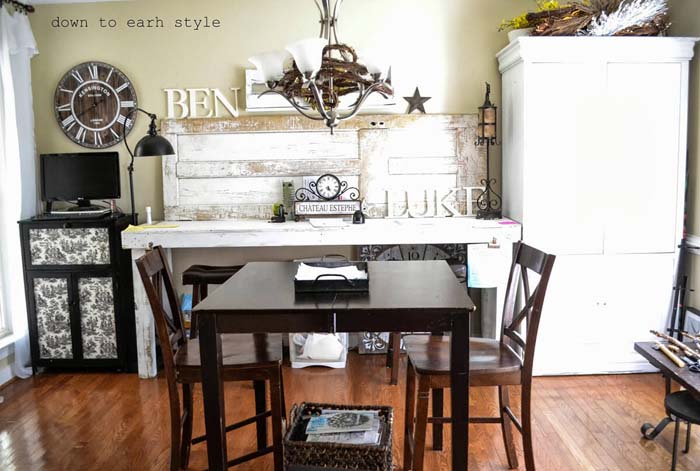 This craft table thinks about functionality and space-saving. It also thinks about making a beautiful farmhouse statement in the combined space.
Assembled in a bench-like shape, it is placed tightly against the wall. Its white weathered look makes a gorgeous backdrop for the darker pieces and accents in the room. Add hooks to the board to sort ribbons and other smaller items. The top can be used for creating your customized DIY treasures.
10. Build a Rustic Coffee Table with Door Crafts

If you ever see a crawl space door, don't miss it because we have got an awesome repurpose idea. Because of its size, it is perfect for a coffee tabletop. As supports you can use cabinet doors and hinges to attach to the bottom side of the door.
Add a bottom shelf to add space for storage of books, games, pillows. You can leave the table as it is or add casters to make it movable.
11. Upgrade Your Bedroom with a Rustic Door Headboard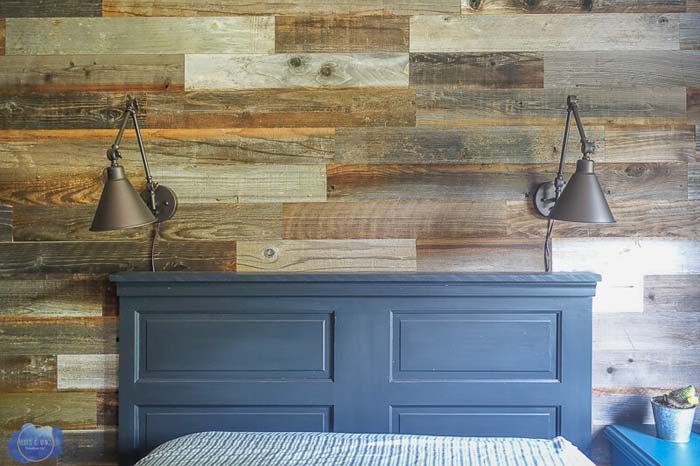 The headboards are one of the means to make the interior of a bedroom more welcoming and relaxing. In addition to that, they can function as a statement piece.
An easy idea to add this bed accessory without investing a lot is to use an old door. There are numerous designs you can choose from as well as colors.
12. Be Creative with a Repurposed Door Ironing Station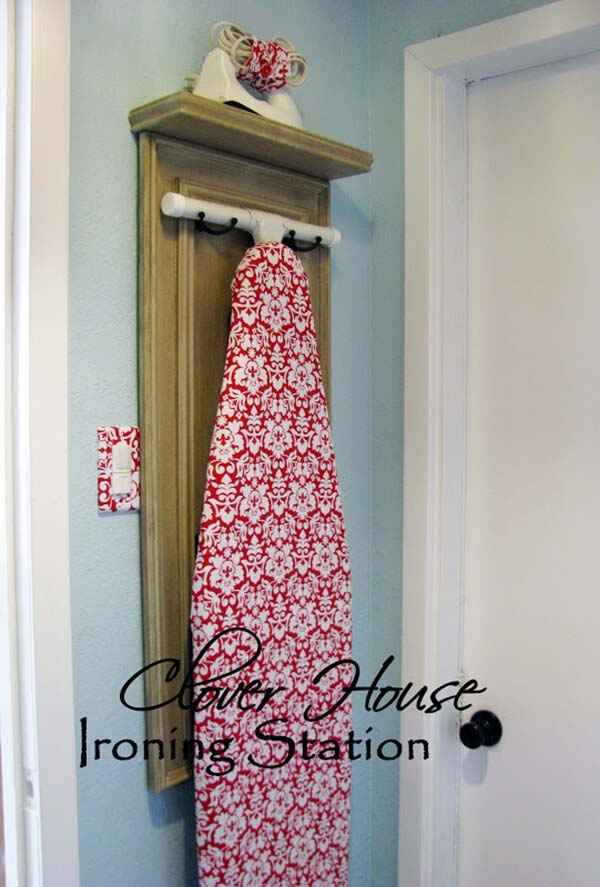 If you would like to make your home more organized by creating space-saving storage solutions, try this fun and functional idea. It repurposes an old door into an ironing station simply by adding hooks to hold the ironing board.
Hang the door on an empty area of a wall and add some embellishments to turn the functional storage piece into part of the interior decor.
via Clover House
13. Revamp a Door into a Functional Entryway Element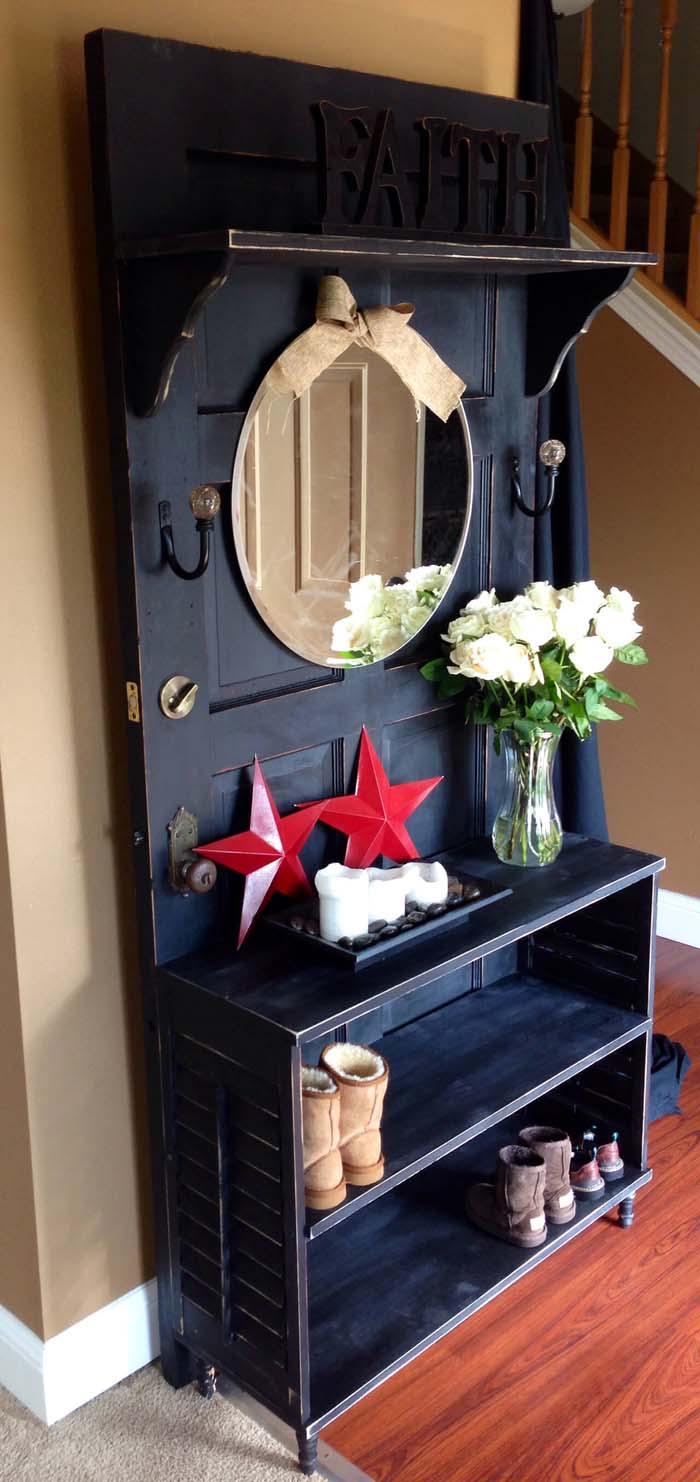 This entryway storage area is all you need to put everything you need in one place and give the space an organized and neat look.
An old door has been repurposed into the back of the multifunctional shelf unit. Two identical shutters act as the sides to which the shelves are attached. The two sections formed are just enough for storage of the shoes often worn by the family.
The top shelf is open to act as a display for decorations. Two wrought iron hooks above it enhance the vintage design of the storage unit and also play a role in the organization as places for key chains.
14. Get Classic Elegance with Rustic Door Dressing Screen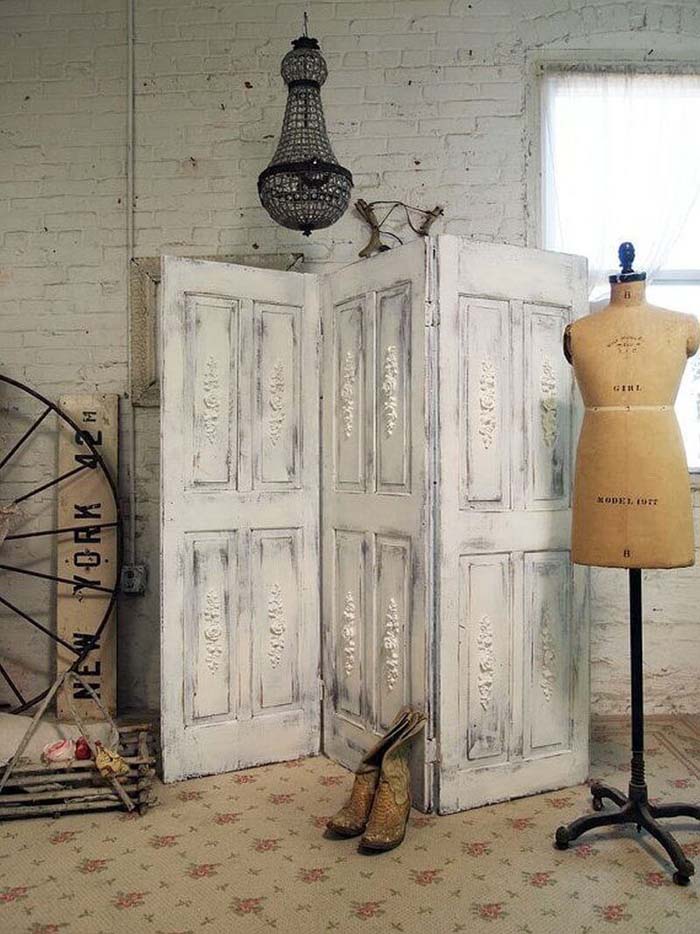 Partitions could be used in many ways but they are quite expensive. Assembling old doors with hinges is a simple way to create a room partition. You need three or more doors.
The wooden surface is a good canvas to try different effects so you can make your handmade partition match the existing decor.
A bright color can make a bold statement in a neutral room. Ornaments glued to the whitewashed sides can give the repurposed doors an antique look.
15. Transform an Old Door into a Functional Storage Cabinet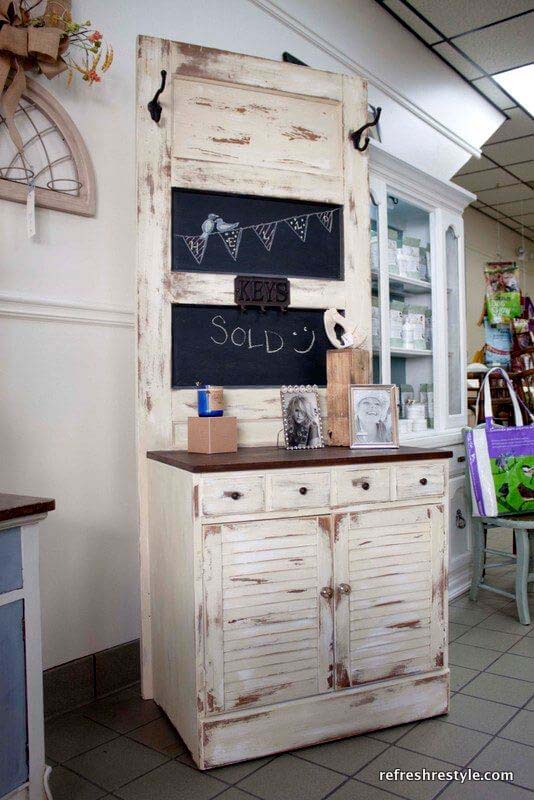 Need a storage unit with a small footprint and yet big enough to store all items related to the entryway? This creative idea of repurposing an old door is what you need. Added chalkboard surfaces to the top of the door give a canvas for family art that will add to the homely look.
The bottom part of the built unit acts as a storage cabinet with shelves, perfect for organizing the shoes. At the side of the door, two iron hooks are screwed where coats can be hung or all key chains stored safely.
via Refresh Restyle
16. Bring Coastal Charm with Dusky Blue French Panel Backdrop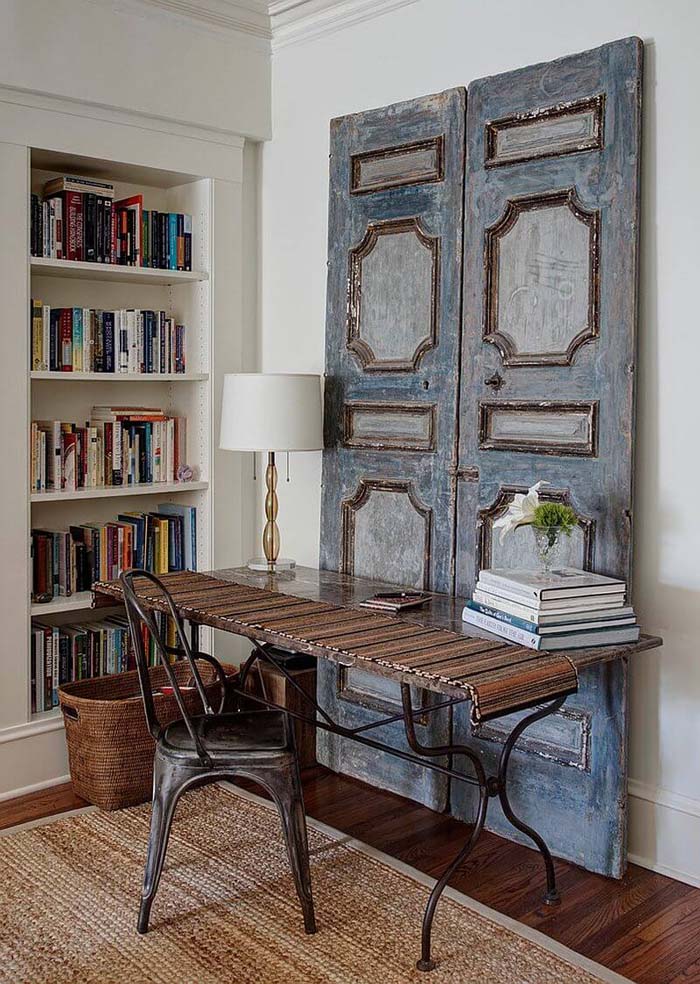 Need a quick vintage wall decor for your elegant living room? You need two-panel doors and some paint to make them eye-catching.
When leaned against the wall, they make a first impression with their bolder color and then you can notice the distressed edges of the panels.
This repurposed old French door idea can be used as stand-alone wall art or to be placed before a desk, a chest, a side table.
17. Unwind in Luxury with Upcycled Door Garden Nook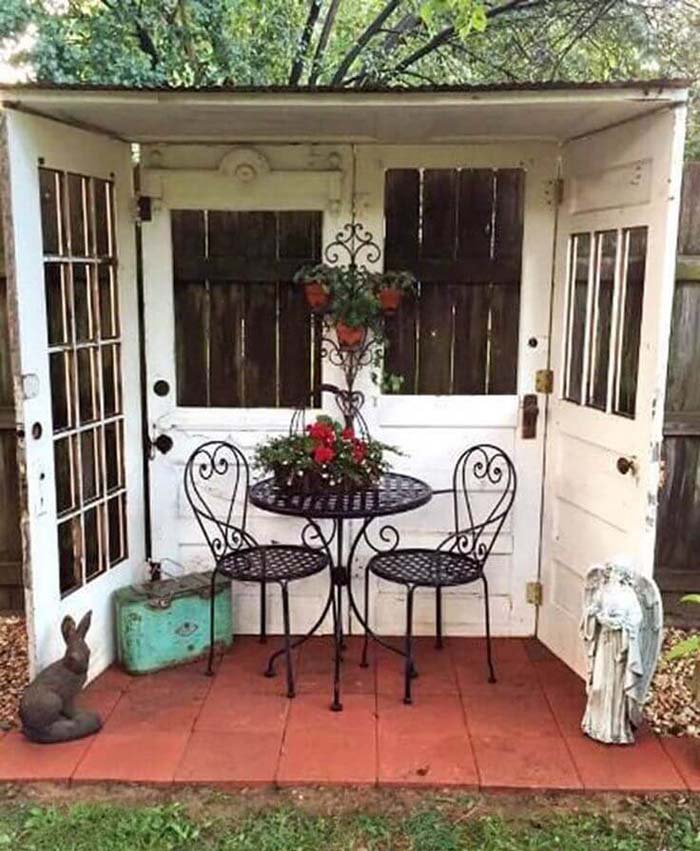 Four doors are used together to create a romantic vintage nook in the backyard. While this door assembly is good for differentiating the zone from the rest of the garden, it also acts as a privacy screen.
This handmade screen can be upgraded to a shade provider if another door is added at the top. Thus you can enjoy the fresh air in the comfort of your home in any weather.
via Brenda Townzen
18. Stand Out with a Stable Door Display Shelf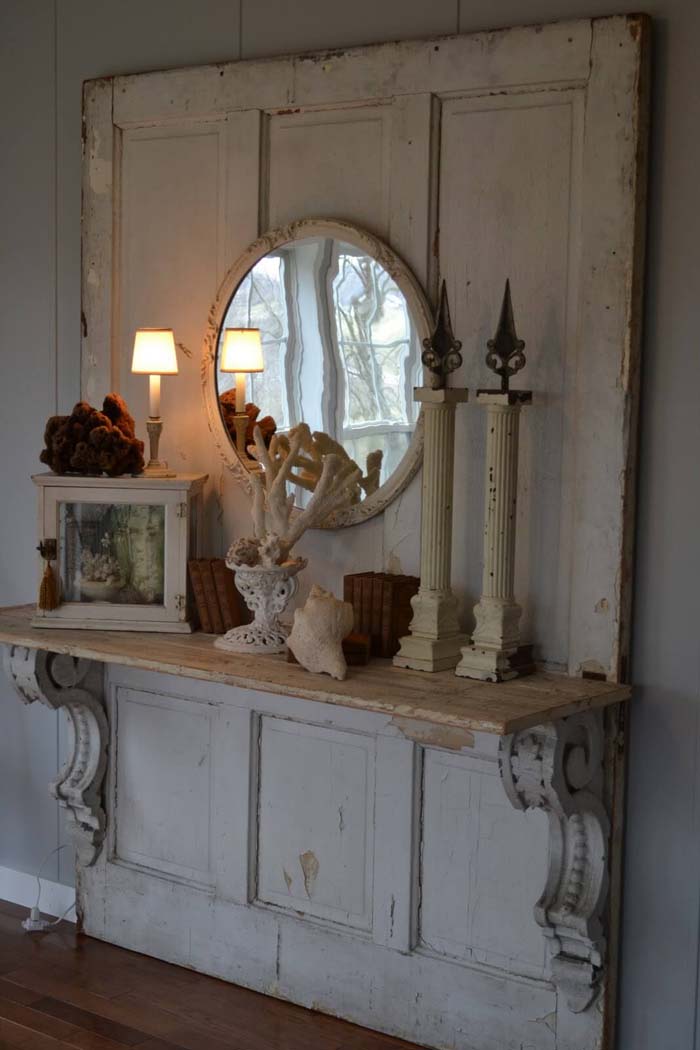 Once this has been a beautiful and stable door. The signs of wearing have been too much to be still in use. Therefore a new purpose has been given to it- as a faux mantle.
The original surface has not been touched up at all. Instead, the cracks remain to remind of its age. The added shelf to the middle of it acts as a mantle where books or decorations can be displayed. The edges are decorated with carved pieces that give the unit a true vintage feel.
19. Layer Natural Beauty with a Rustic Floral Door Display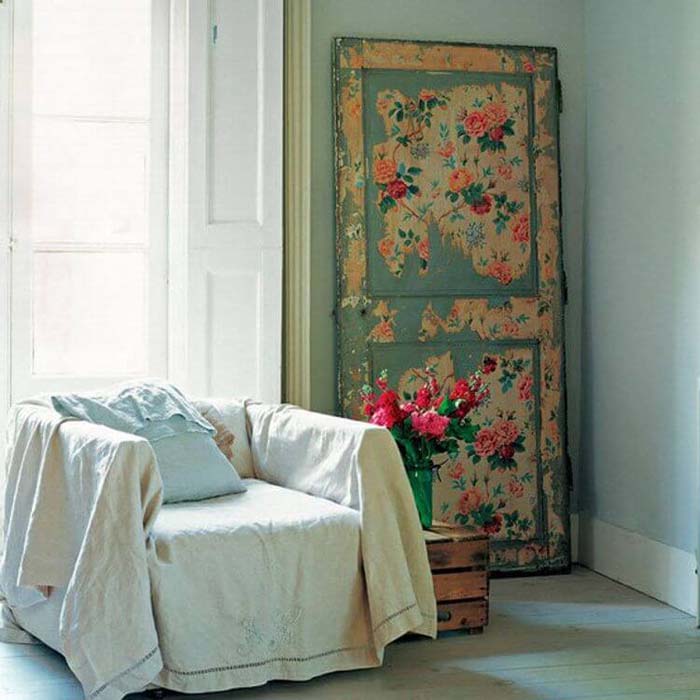 Another technique you can try on your repurposed old door is the decoupage. Mixed with distressed paint you can achieve the effect of paper showing in the cracks of paint.
This imitates a Victorian look that will add elegance and a romantic vibe to a private room such as the bedroom.
20. Impress Guests with Freestanding Garden Door Window Box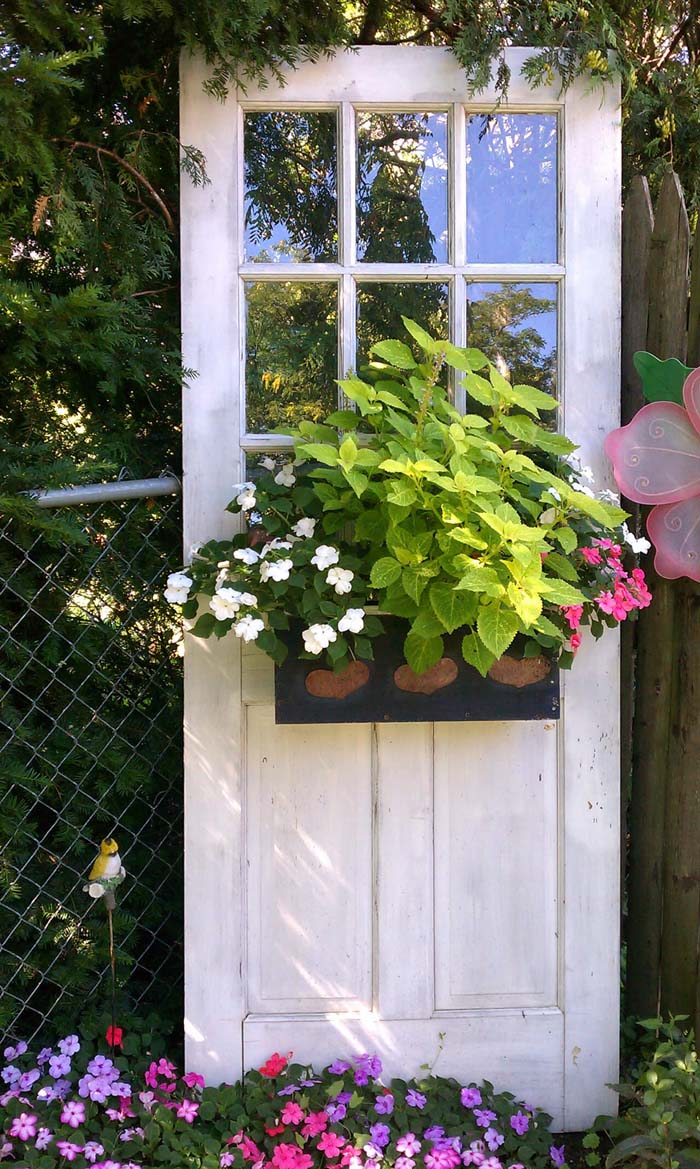 Use an old door to give a flower garden a point of interest and why not also to add a new space for planters? This freestanding door is leaned against a chicken wire fence to provide a contrast for the colorful impatiens flowers to stand out.
The window panes are left and a flower box is added below them to hold seasonal flowers.
21. Go Back in Time with a Vintage Letter Writing Desk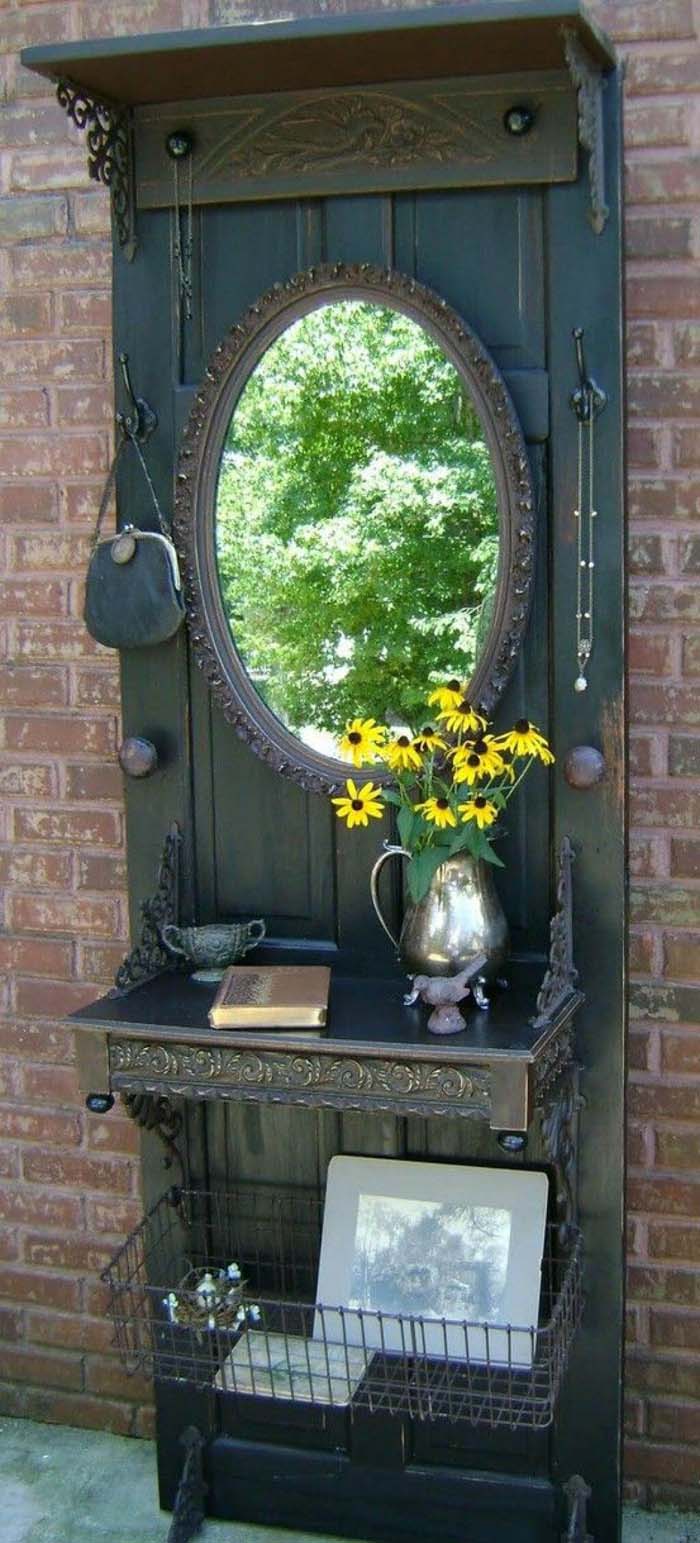 Do you admire vintage antiques? They are so romantic and so breathing history out! This idea features a reproduction in this style added to the outdoors. A vanity letter writing desk is made with an old weathered door, a wire basket and wrought iron corbels.
The iron brackets add to the antique look together with the deep color and the distressed areas. There is a shelf added to the top of the door to provide space for another vintage accent.
22. Refresh Your Bedroom with Multiple Doors Headboard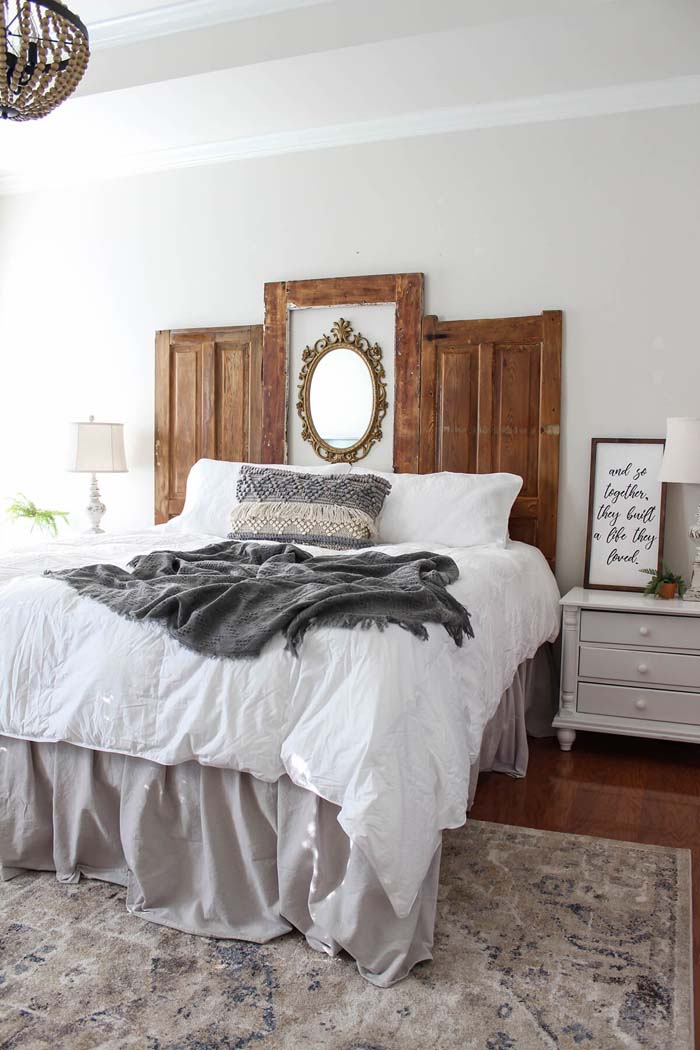 This incredible DIY upcycles two doors and one door frame to create an elevated headboard with a farmhouse look. The emptiness in the middle door is used to add an antique mirror that will visually enlarge the room and additionally enhance the uniqueness of the decor.
This mirror can easily be replaced with a wreath, a picture or any other decoration that will contribute to creating a one-of-a-kind headboard.
via Beauty for Ashes
23. Elevate Your Pantry with a Gothic Glass Door Finish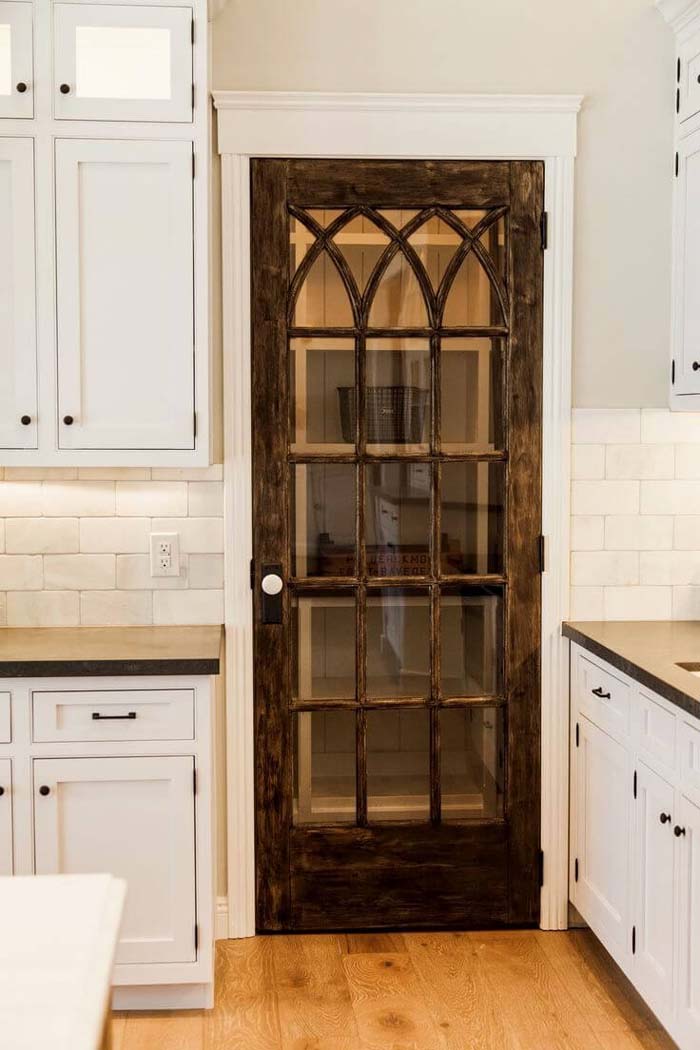 This antique Gothic lattice door is repurposed into a pantry door that matches the dark countertops of the kitchen. The glass panes are left to let some natural sunlight go in and let see what is inside be possible.
If you succeed in finding such a treasure, make sure to use it inside your home to add an antique and unique personalized vibe.
24. Store Your Jewelry with a Rustic Door Organizer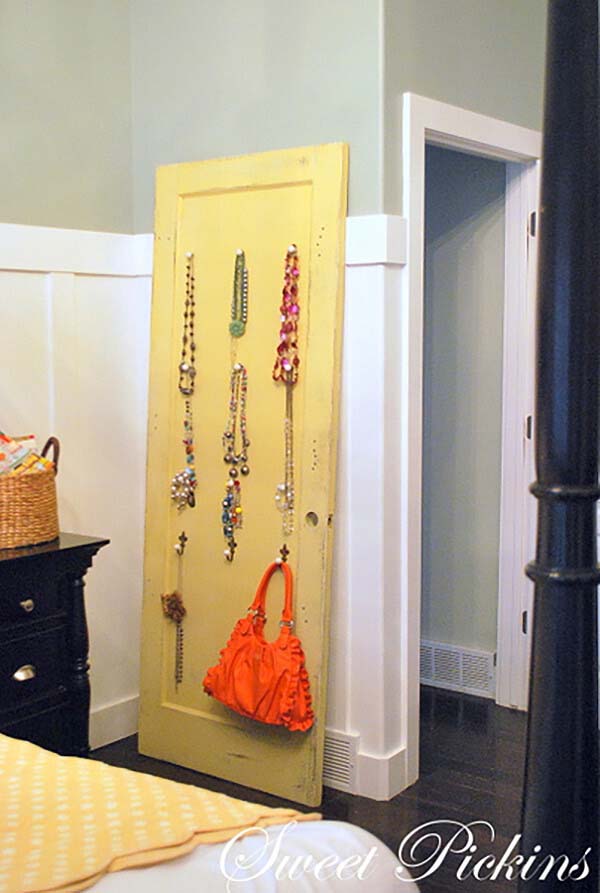 Lean the old door against the wall in the bedroom. Screw hooks on the surface and arrange your jewelry. Depending on the interior, you can change the color of the surface or play with the design of the hooks in case you are looking for a greater antique look.
Once all of your accessories are placed on the hooks you will be enjoying not only the practical sorter you have created but also the gorgeous decorative piece.
via Milk Paint
25. Divide Your Room with a Rustic Antique Door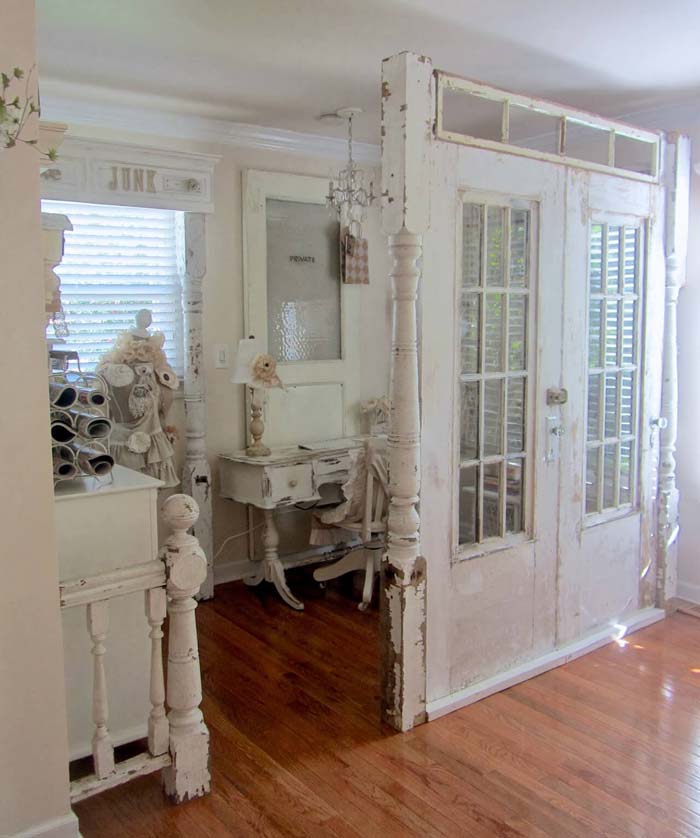 Use double glass-paned doors to create a partition that can zone the areas in a room. This idea can be inspiring for creating a home office, a craft studio, a reading nook and even a play nook.
Leave the glass panes on the doors to let the light go through and make the formed nook feel and look airier.
26. Transform an Old Door into an Elegant Wall Clock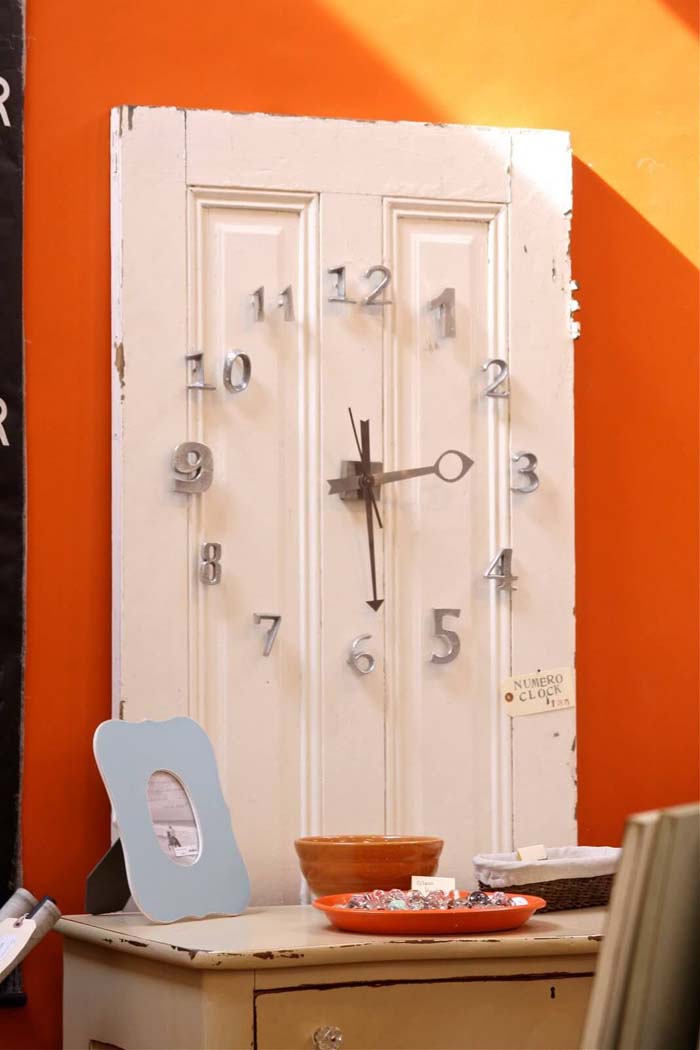 If you already have a desk in the entryway, you can upgrade it without changing anything on it. Simply make some space to insert a door behind it.
The repurposed door becomes a desk topper that creates a point of interest because of its unusual place. The surface can be used for hanging a clock, a mirror, a wreath or a large family photo.
27. Add Privacy to Home Office with Aesthetic French Doors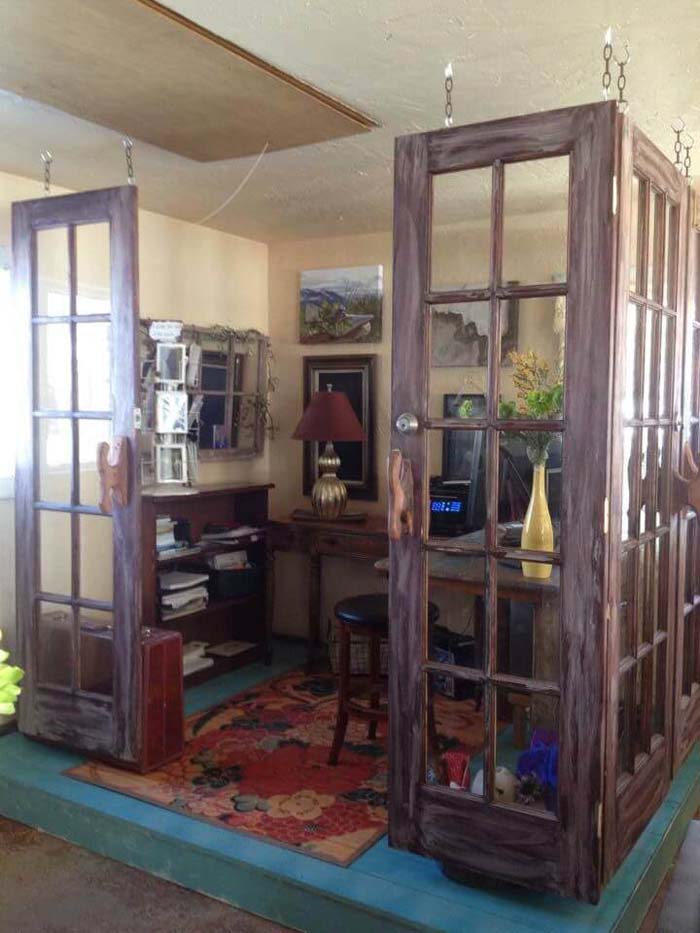 There may be many reasons why you have a home office, especially nowadays. If you have made it in an odd part of your home or you have dedicated an area from a shared space, you can use old doors to distinguish it and make it more private.
It is an appreciated hint to use French doors with window panes as good light is very important for the working atmosphere. Another inspiration you can source from this image is how to attach the doors.
Since you will be building a new small room into the bigger one, use hinges to assemble the doors to each other and chains to suspend them from the ceiling.
28. Add a Functional Touch with Chalkboard Door Decor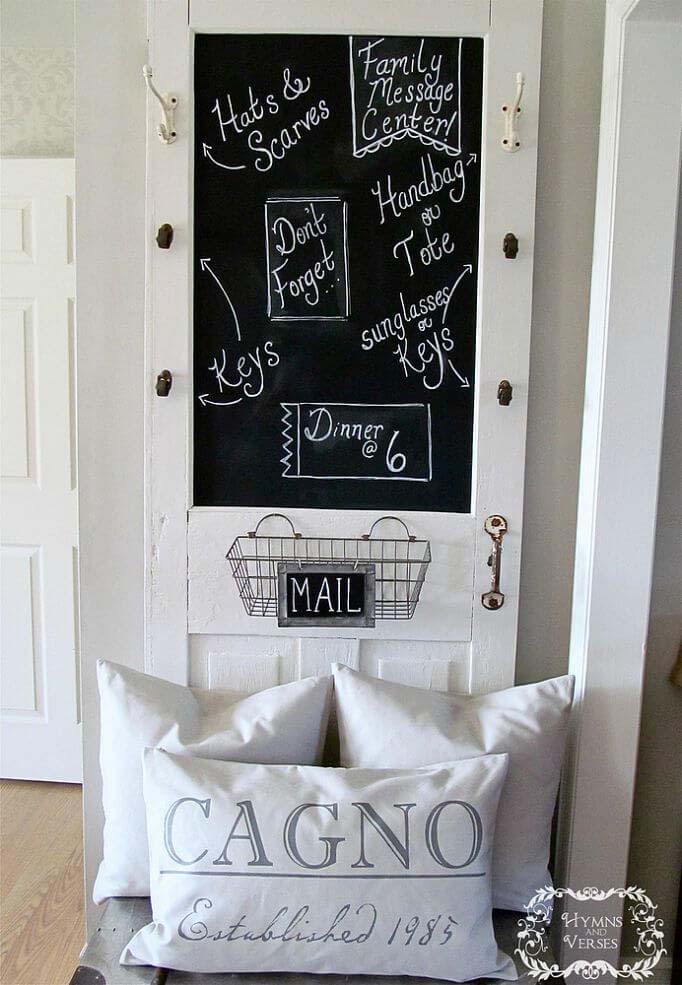 Do you need a piece of decor that will add character and a homely vibe to your space? Then transform an old door into a cute message board.
All you need is to change the glass pane with a plywood board that is preliminarily covered with chalkboard paint. To make this decor also a functional piece of your home, add a small bench to its bottom.
via Hymns and Verses
29. Create a Rustic Transition with Victorian-Style Door Frame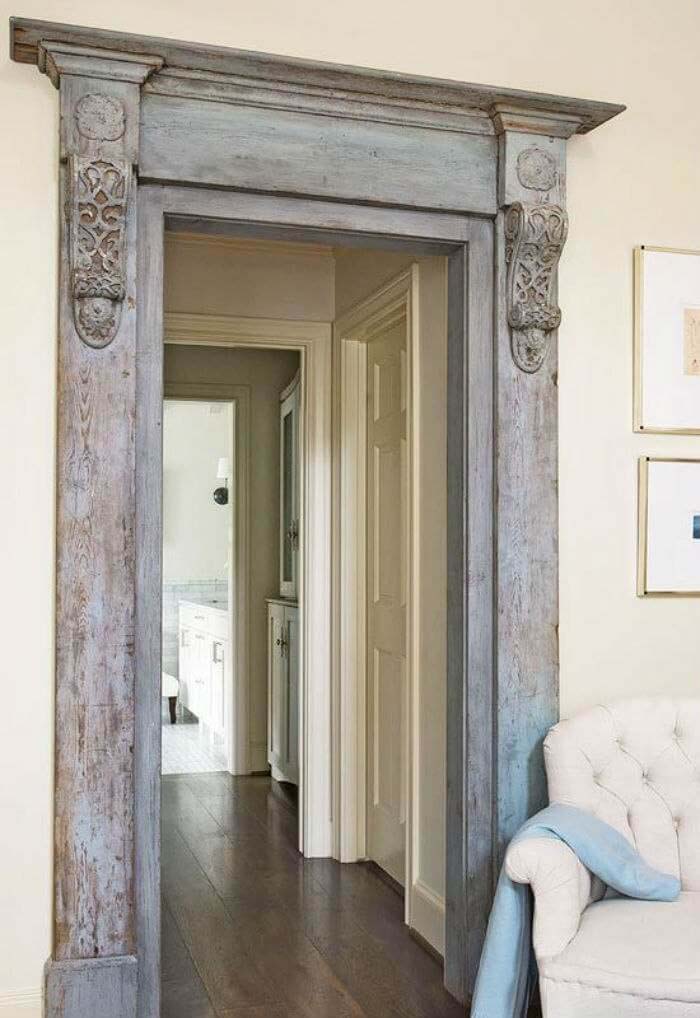 If you have transitional rooms and the door has been taken out to make the united space feel airier and continuous, you can use the provided space for the door to add a statement.
Use an antique door frame like this Victorian door frame example. The unique ornaments will show the quality of the wood and will emphasize its age and historical value.
In addition to that, such an antique will add elegance and enhance the homely vibe.
via VK
30. Improve Your Outdoor Privacy with Colorful Doors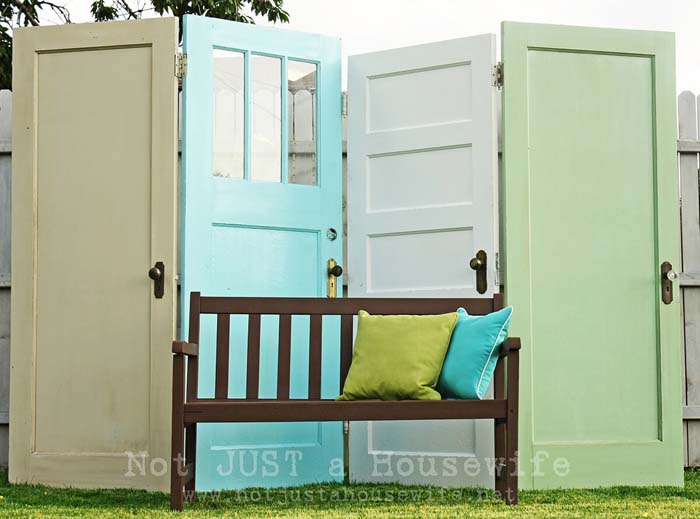 The screens are very good for zoning your backyard and adding privacy to a sitting or relaxing area. This idea uses four different in look doors and some hinges to make their assembly easy and the screen foldable.
Each door is of a different pastel color to give the garden an overflowing pop of color. The effect of painting them all one color would also be great if you are going to accentuate on the screen another way.
31. Invigorate Your Yard with Stenciled Door Table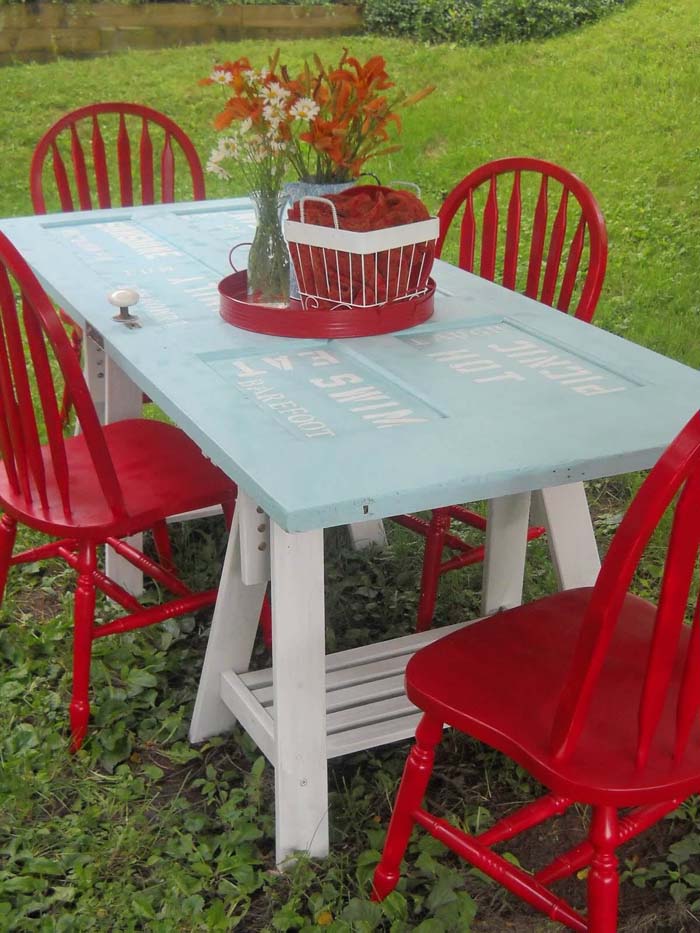 This is a great idea of how to repurpose the old wooden door into a functional and appealing piece of your backyard.
The solid wooden board is so stable that it becomes the top of a table in the outdoor relaxing area. Use paints and stencils to give it a pop of color and charm for the summer season.
32. Showcase Your Skills with a Porch Swing Door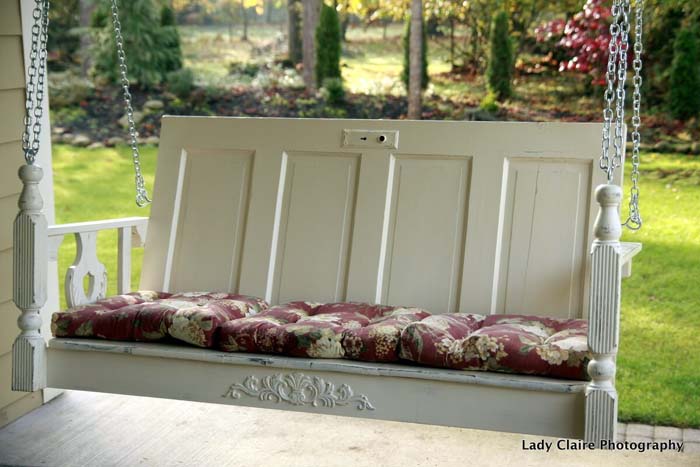 Need a relaxing corner on your porch? In case the space available is not that much, you can ensure this entertainment feature with a swing.
This idea features a swing made of a unique antique door that has no longer been in use. To give it a new function and find a way to expose its beauty, it is combined with a tabletop to form a bench. For the armrests, the legs of the same table had been used so that they match the style of the swing.
via Huckleberry Lane Furniture
33. Bring Rustic Elegance with Weathered Door Bench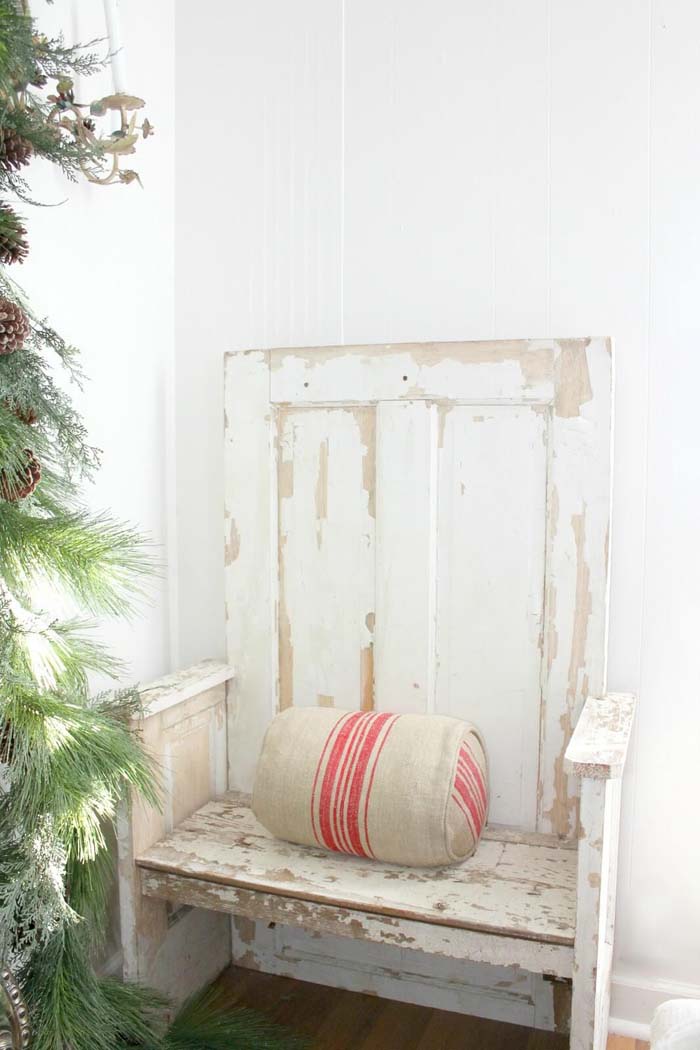 This wooden bench has been made out of an old door. The weathered look is what gives it such a charm and in case your door is not that old, you can try applying different surface techniques to achieve this effect.
Add a cushion in a burlap or coffee bean sack pillow to make sitting there more comfortable and to add to the farmhouse look.
via Rusty Hinge
34. Create a Chic Vertical Garden with a Repurposed Door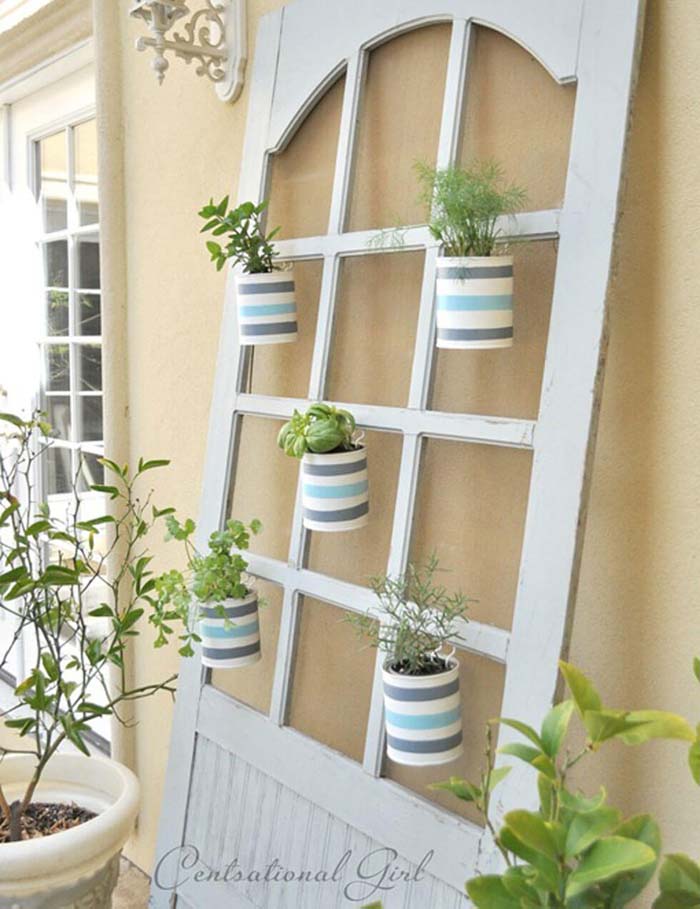 The old doors can be repurposed into a functional storage unit for the porch. Simply by leaning one against the wall, you reveal a new space to hang baskets with flowers.
Make sure to prepare everything in advance as hanging the pots to an inclined door could take some time. Choose a color for the paint of the door and the decoration of the pots that will match the existing decor or use the opportunity to turn it into your bold outdoor statement.
35. Get Unmatched Aesthetics with a Door Bookcase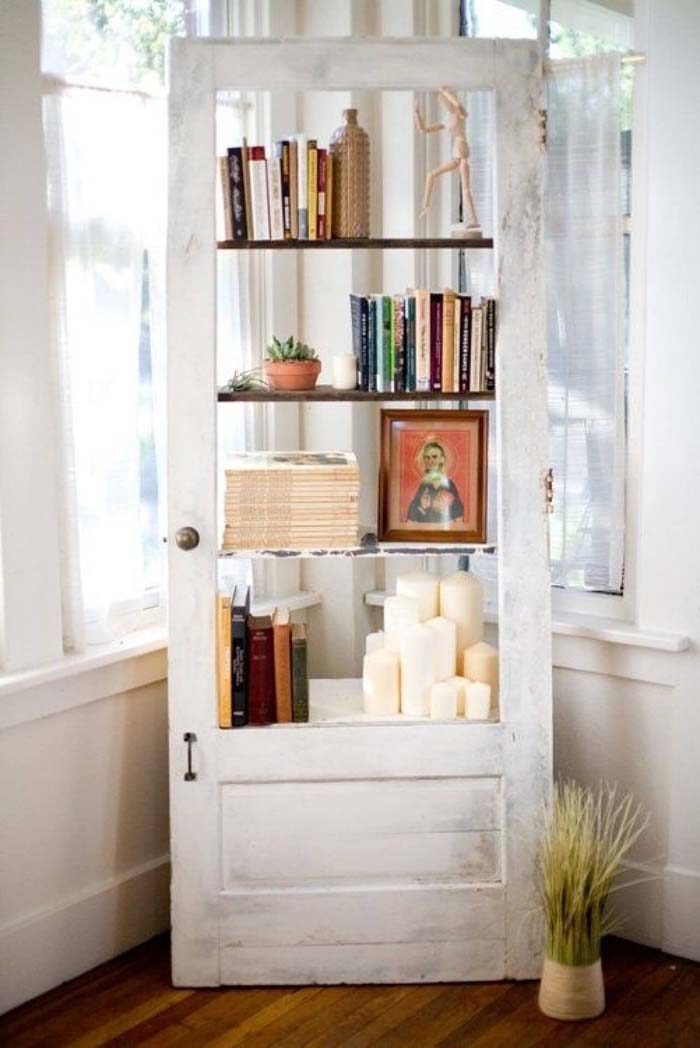 This is another great idea of repurposing an old door into a shelving unit. For this purpose, you need a door with glass panes. Remove the glass so that the place where they were installed remains empty.
Add shelves and arrange books and decorations! In these easy steps, you have been able to turn the useless door into a beautiful corner bookshelf.
If you want to enhance the interesting look of this piece, don't remove the hinges as they will add to the vintage look of the shelf unit.
36. Make a Statement with a Vibrant Red Sliding Barn Door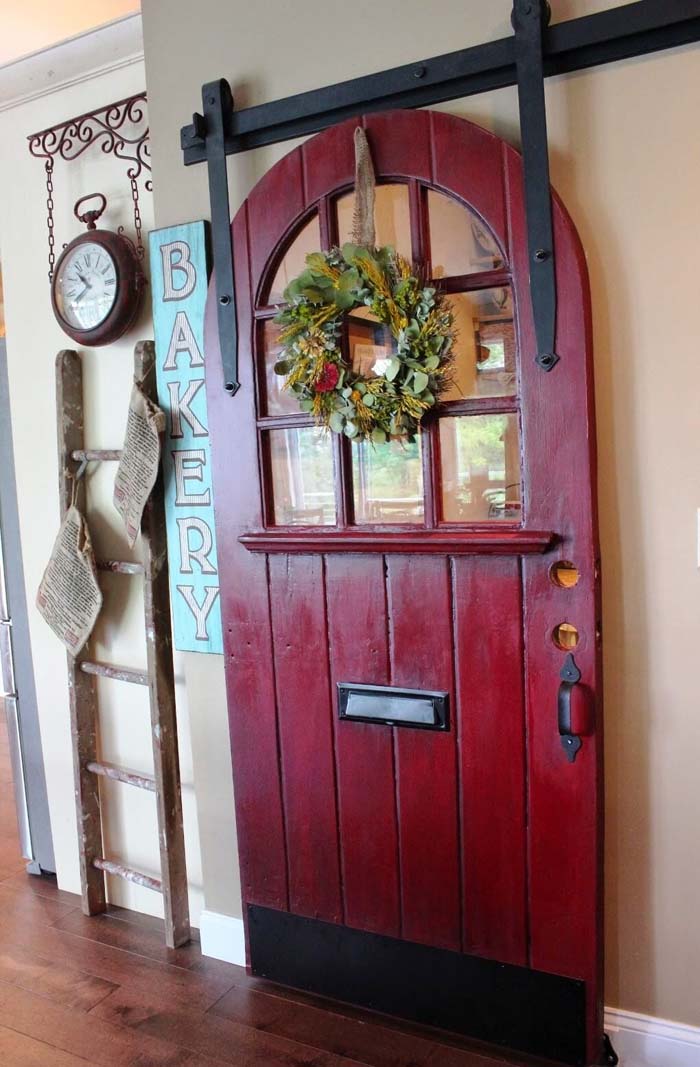 Looking for a unique statement for your home? Try this amazing and inspiring idea for replacing the plain pantry door with a barn wood front door.
The eye-catching colors and the surprising repurposing make an incredible focal point.
37. Adorn Your Room with Rustic Door and Wreath Display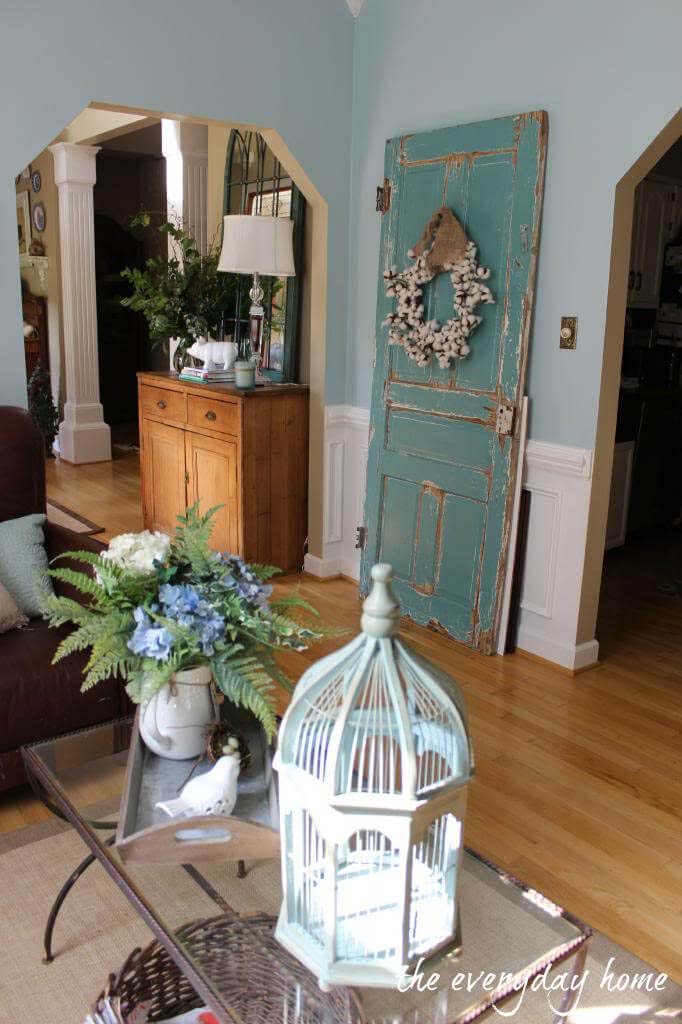 Sometimes you can only lean an old door against the wall to turn it into an amazing part of the interior. Add a wreath to make it more interesting.
If you enjoy the rustic effect, distress the surface with sandpaper.
38. Add Texture with a Five Panel Door Bed Headboard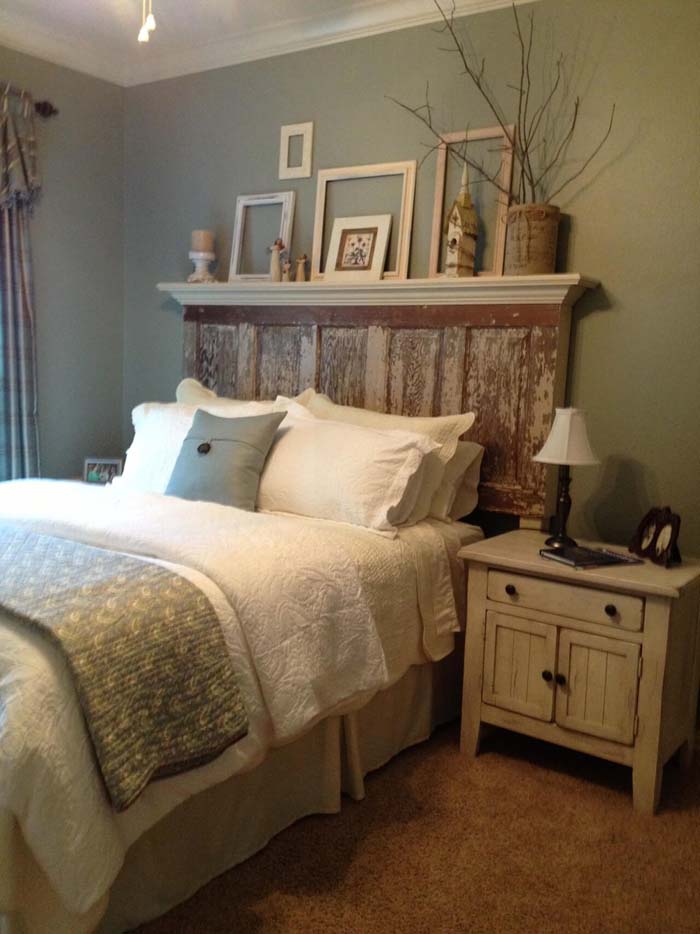 Sanding down and refinishing an old door to create a unique headboard is another way to repurpose and add style as well as personality to your bedroom.
A shelf has been added to the top of this door to display decorations. The distressed paint in neutral colors will fit with just about any paint color scheme you have chosen.
39. Define a Space with Chicken Wire and Wreath Door Decor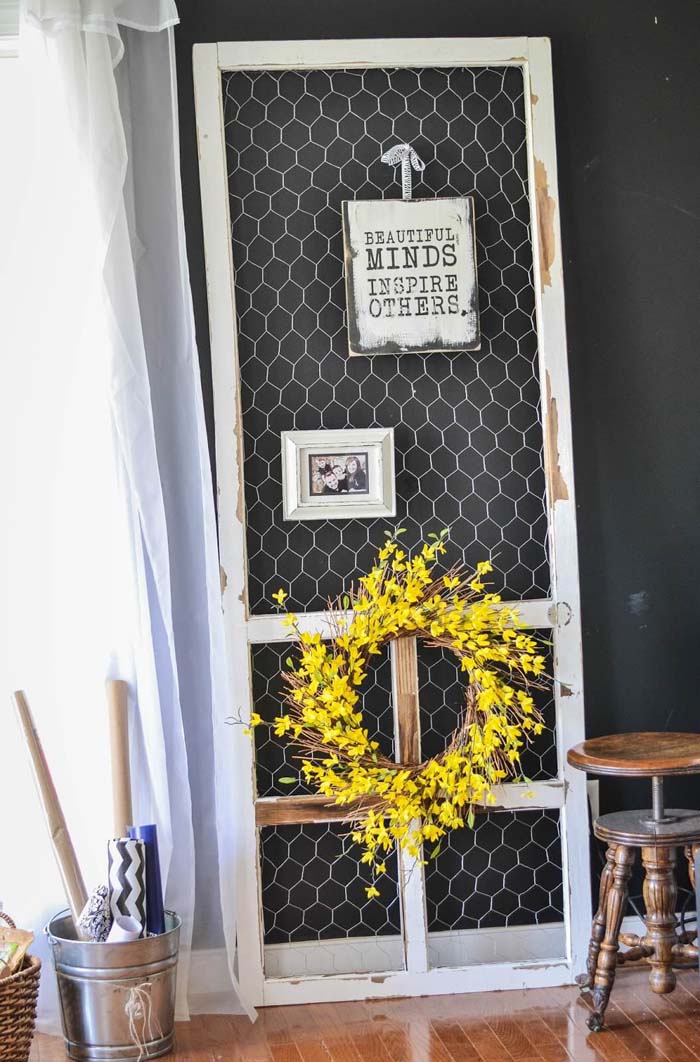 The old glass pane door can become a beautiful farmhouse decor by replacing the glass with chicken wire.
The chicken wire is also very practical when it comes to easy attachment of decorations like wreaths, pictures, even seasonal embellishments like Christmas balls.
40. Add Splendour with a Shabby Barn Door Jewelry Stand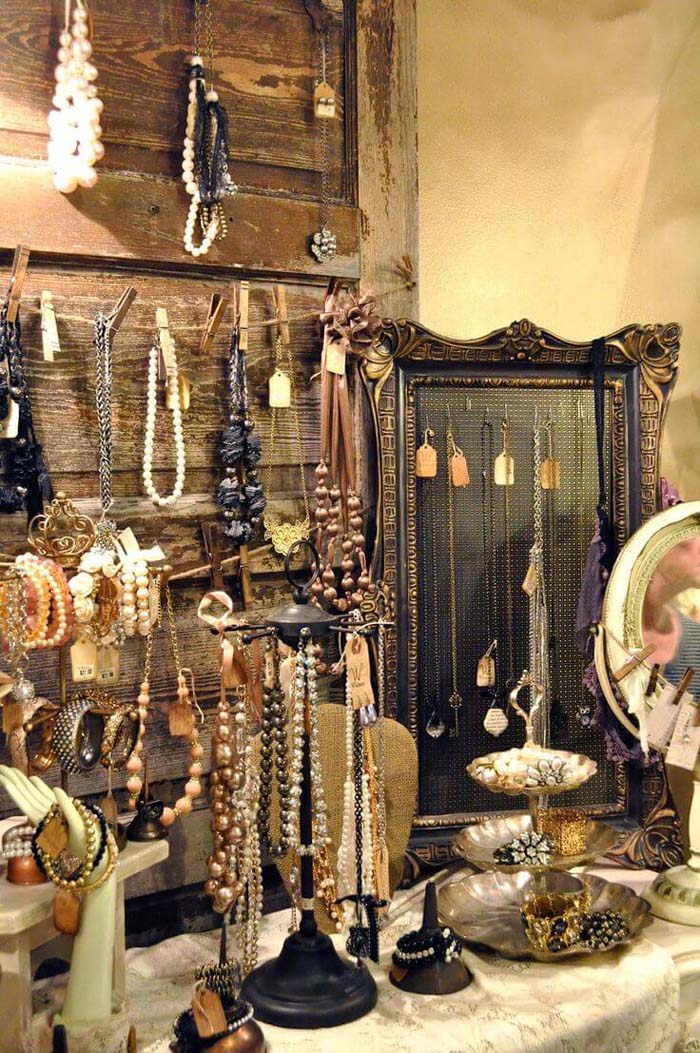 The old door repurposing ideas can be used also in the shops. Adding it as a beautiful backdrop, the old doors can also be very functional to hold many small items, like jewelry for example.
Add old doorknobs, hooks, even nails to the wooden surface where the pieces of jewelry can be sorted and showcased. The added string of twine makes a dedicated place for hanging necklaces with clothespins.
via Jennifer Rizzo
41. Make a Cozy Garden Bench with Upcycled Old Door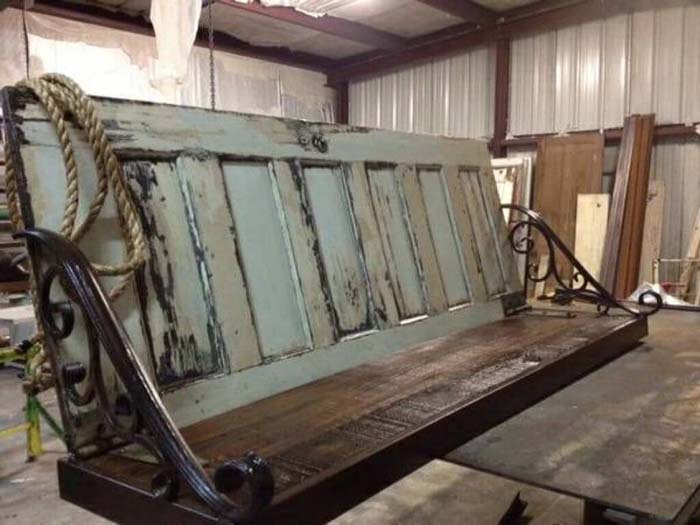 We saw how a swing can be made out of an old door. Using the same tutorial and similar materials, you can make a rustic bench to put in the garden among the greenery and cheerful colors of the blossoms.
For that idea, you need an old door, a wooden beam, wrought iron armrests and hinges. Depending on your vision, the surface of the bench can be showing the marks of age or be upgraded with a new coat of paint.
42. Hang Your Coats with a Rustic Barn Door Hanger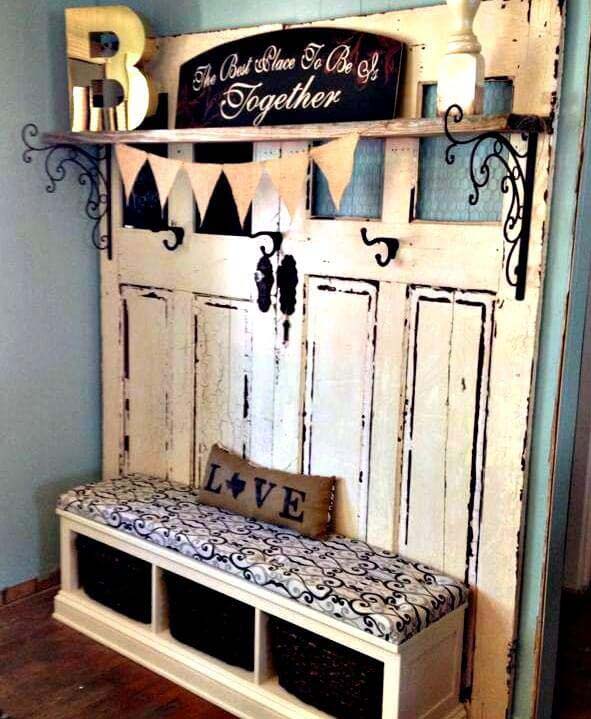 Make a combined unit that will provide a sitting area, a compartment for storage of shoes and a dedicated area for the coats. This idea features even more- a top shelf to add family-inspired decorations.
Made of a reclaimed door and a bench, this entryway piece of furniture is a unique way to make the space more organized without covering much of the floor space.
43. Elevate Your Dining Table with a Glossy Door Tabletop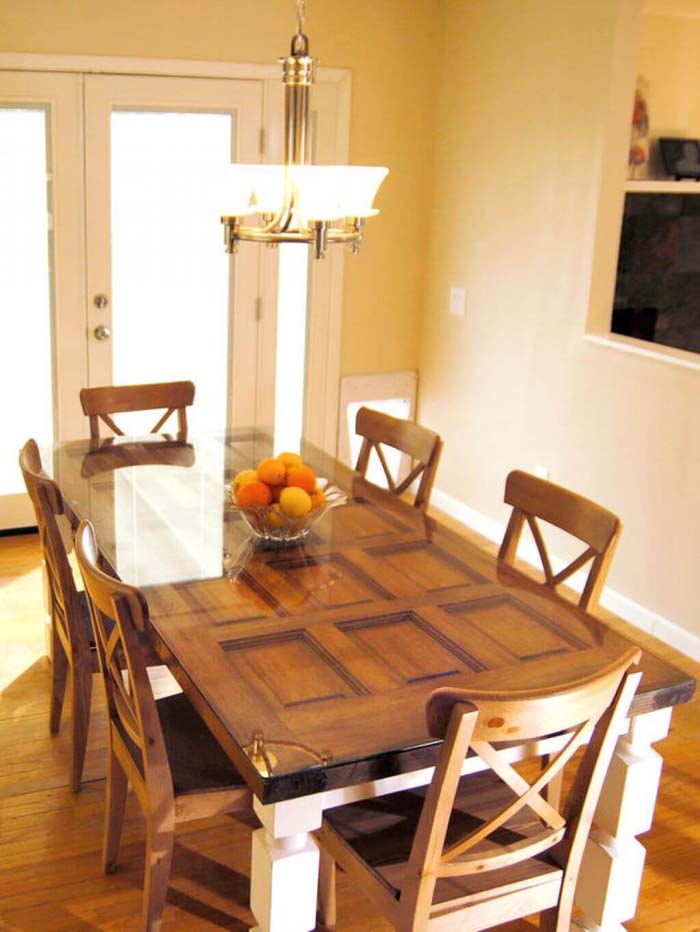 Maybe you have been wondering how an ornated door can be transformed into a tabletop? Filling the sections with material to make the entire surface even would take a lot of time and will ruin the design of the door.
This image gives a hint of how to turn a twelve-panel door into an elegant dining table. Get a glass panel of the size of the door and place it onto the door.
In addition to ensuring that the table can be used, it will protect the wood from damages and stains.
44. Turn Old Doors into Gorgeous Faux Window Shutters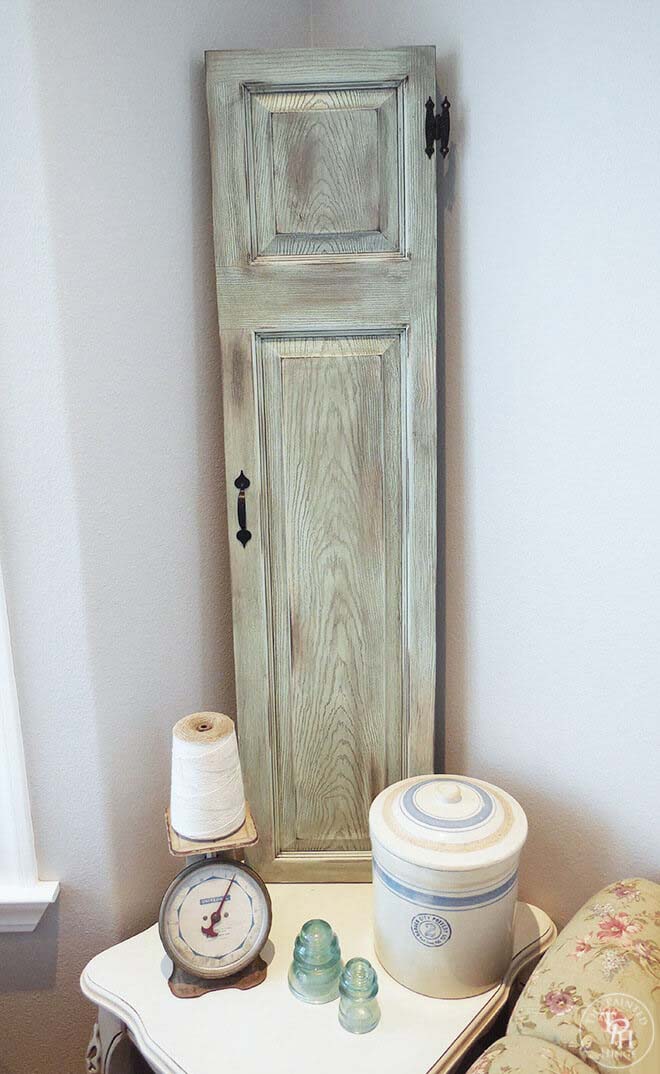 Do you like the decorating ideas with old shutters? Below you can find inspiration on where to install them and how to get the most of their rustic look.
In case you don't have any shutters or you don't want to invest in buying them, you can try making them from an old door. The final look of the faux shutters is so good that you wouldn't regret spending time on this DIY project.
45. Transform Your Door with Chalkboard and Shelf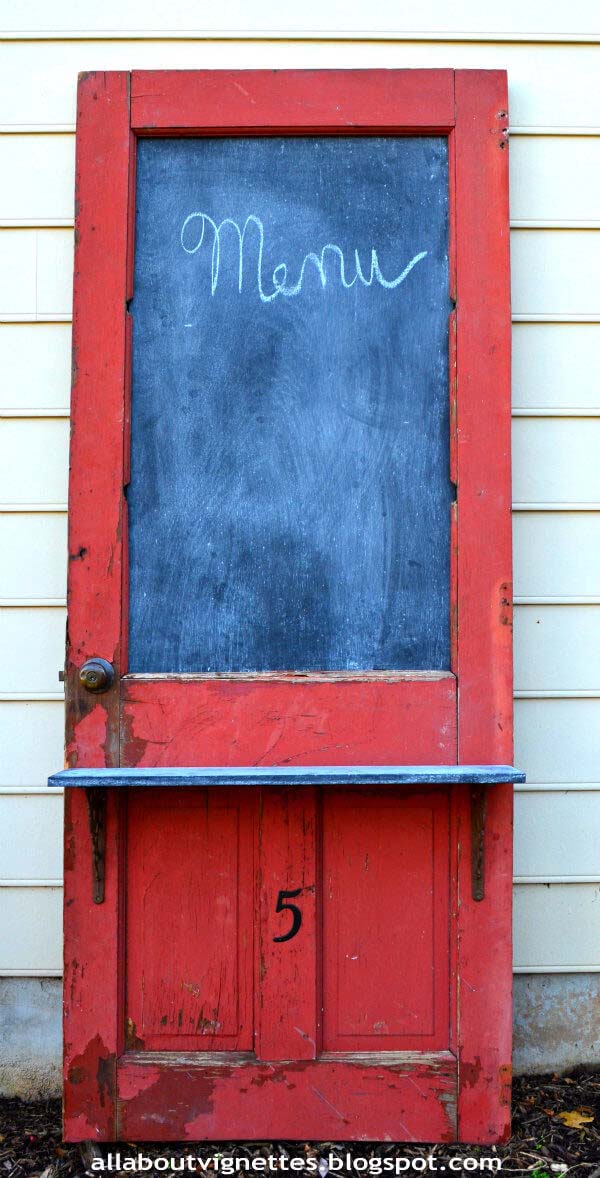 This old door is repurposed into a decorative storage unit for the backyard.
The added chalkboard that replaces the windowpane gives endless opportunities to write welcoming or inspiring phrases while the shelf below makes space to put a vase with seasonal flowers or make it another flower stand.
46. Bring Farmhouse Charm with Upcycled Wooden Door Bench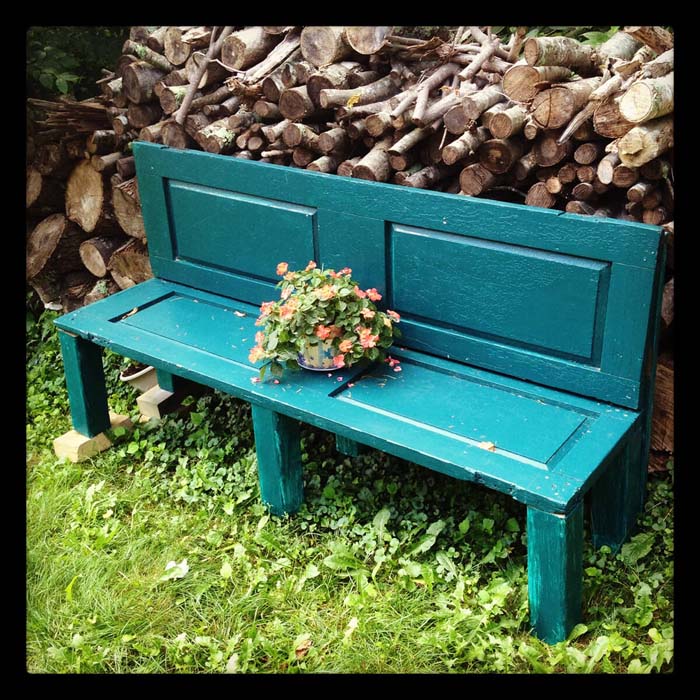 Because of the size of the doors and the stability of the solid wood, they are a great supply for building sitting furniture. This garden bench is an example of a design you can make simply by cutting the door into two halves.
Add posts to the bottom side of the seat to support it.
via Valley of the AS
47. Experience Unrivaled Style with Vintage Door Lighted Shelf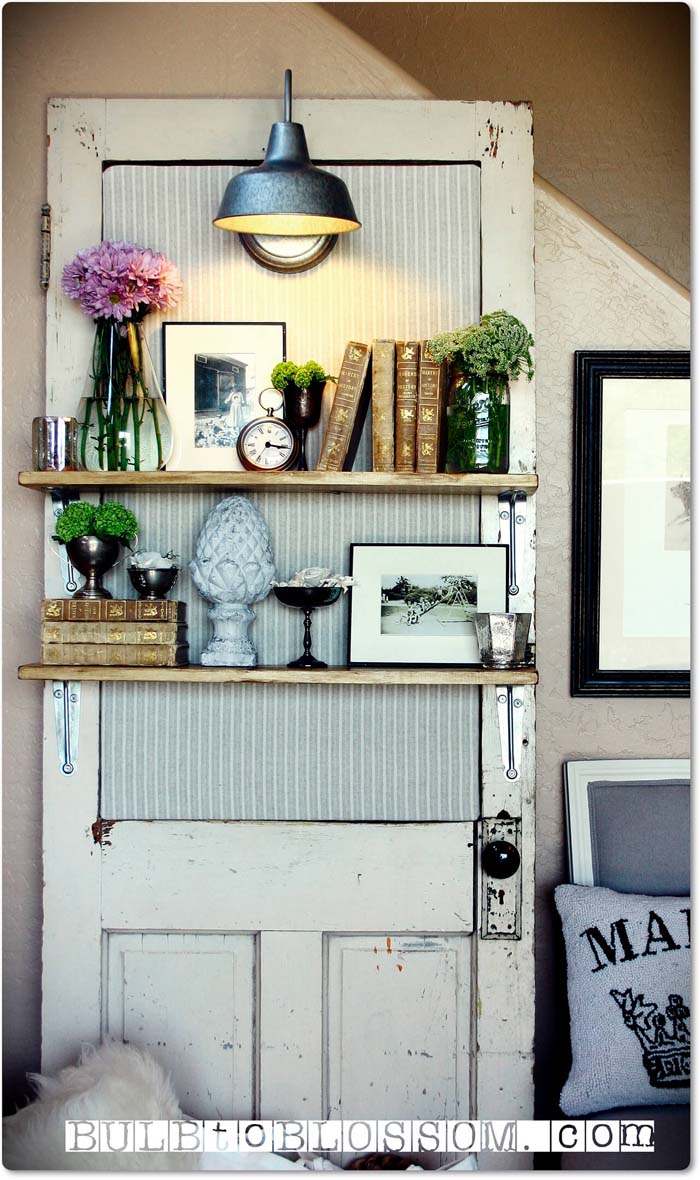 This salvaged door idea proves that trash could be turned into treasure with some creativity and wish. Finding the best spot for the weathered door is of the greatest importance.
The neutral interior of this room needed a piece to add character. The door becomes a bookshelf by adding two boards to the top with brackets. The original old doorknob, the latch and the hinges are left to increase the vintage effect the door adds to the space.
An interesting idea was to put a vintage lamp sconce to the top edge that will illuminate the great display at night.
via Bulb To Blossom
48. Light Up Your Home with Vintage Door Sconces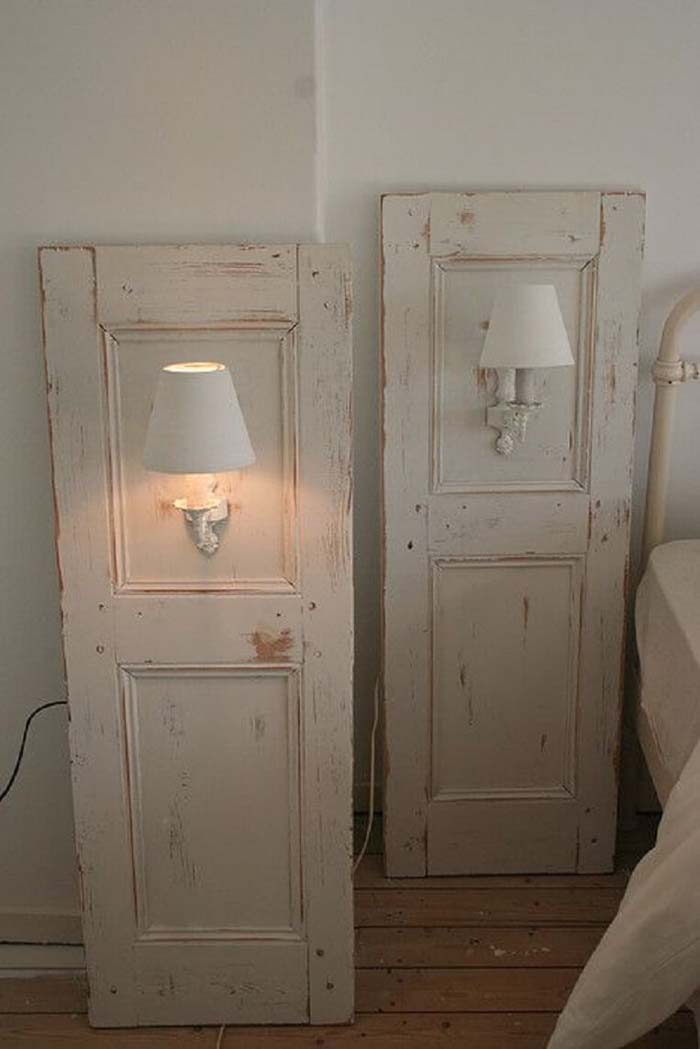 If your bedroom is not that big but you want to provide the comfort of a regular room, you can repurpose two identical doors into space-saving nightstands.
Depending on the function of these non-standard nightstands, you can add a lamp sconce to the top and a shelf below to store books and magazines.
49. Be Bold with a Repurposed Door Wine Rack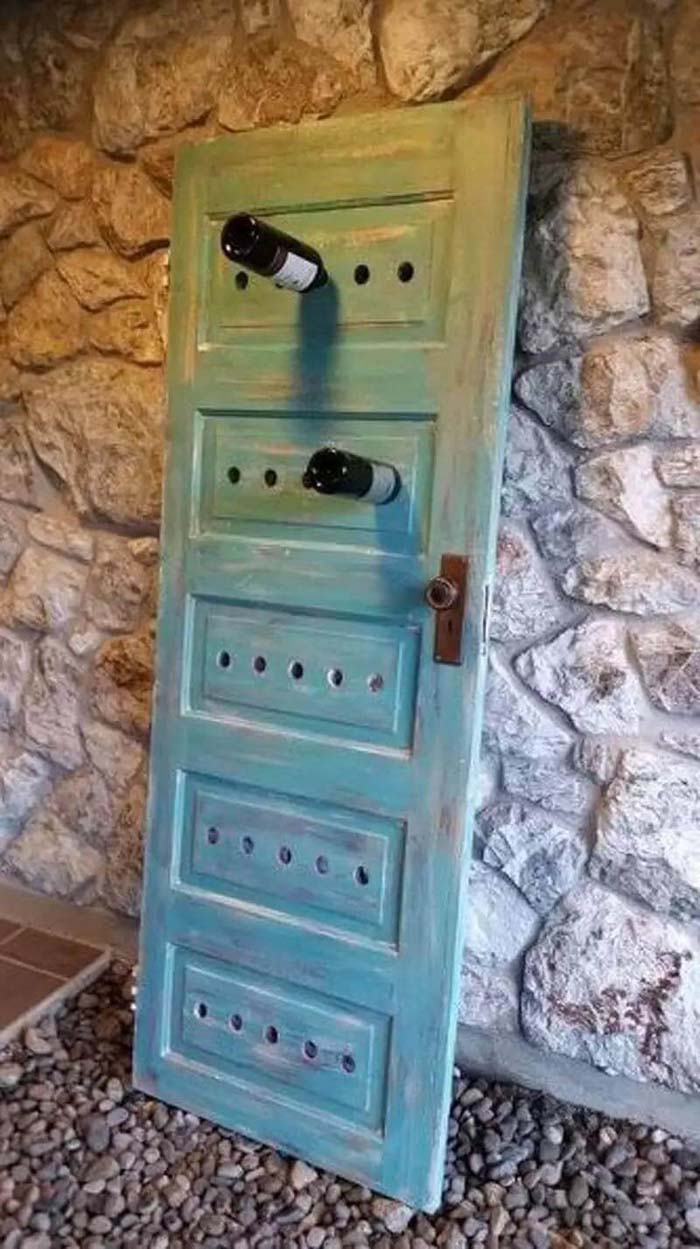 Having a wine rack makes the collection of special sorts of wines more personalized and valuable. Making racks built-in the walls could be an investment you can't afford at the moment, so we give you an idea for a temporary solution, following the easy DIY steps below.
Choose a solid door in the first place and then drill holes that will hold the wine bottles. Lean the door against the wall to make sure that it will withstand the weight of the wine collection.
50. Elevate Your Home Decor with an Exquisite Sliding Door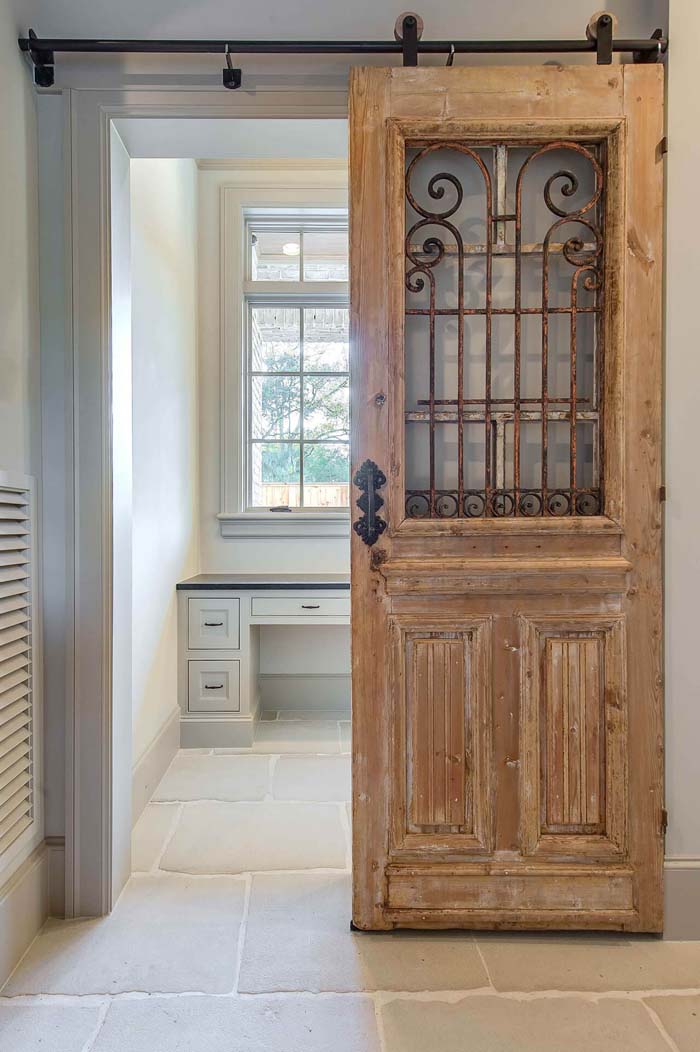 This door is so beautiful that it would be a crime not to find a new way to re-live it! You can include it in the interior as a decorative piece or give it a dual function as a practical part of your home.
Apart from installing it somewhere in your home, you don't need to do anything else on it.
Leaving the rusty marks, the weathered surface of the wood as they are lets this piece interact with the existing decor giving it a unique bold accent. The added metal dowel turning the windowed door into a sliding door makes the idea perfect for small spaces.