Generally speaking, kitchen space is one of the toughest rooms in the house to keep it nice and tidy.
Moreover, the kitchen countertop situation can be especially challenging.
It is unquestionably the heart of our house!
The problem with kitchen counters is that they are often the most spacious flat surface in the house.

As a result, loads of stuff, such as books, mail, newspapers, groceries, that should not be there, end up exactly on the kitchen countertop.
Don't Miss These Too:
And let's face it – having cluttered countertops surely blocks the use and enjoyment of your kitchen.

Luckily, I have prepared 24 great ideas to declutter the kitchen to bring sanity back there! Have a look!
1. Boho Off Counter Fruit Storage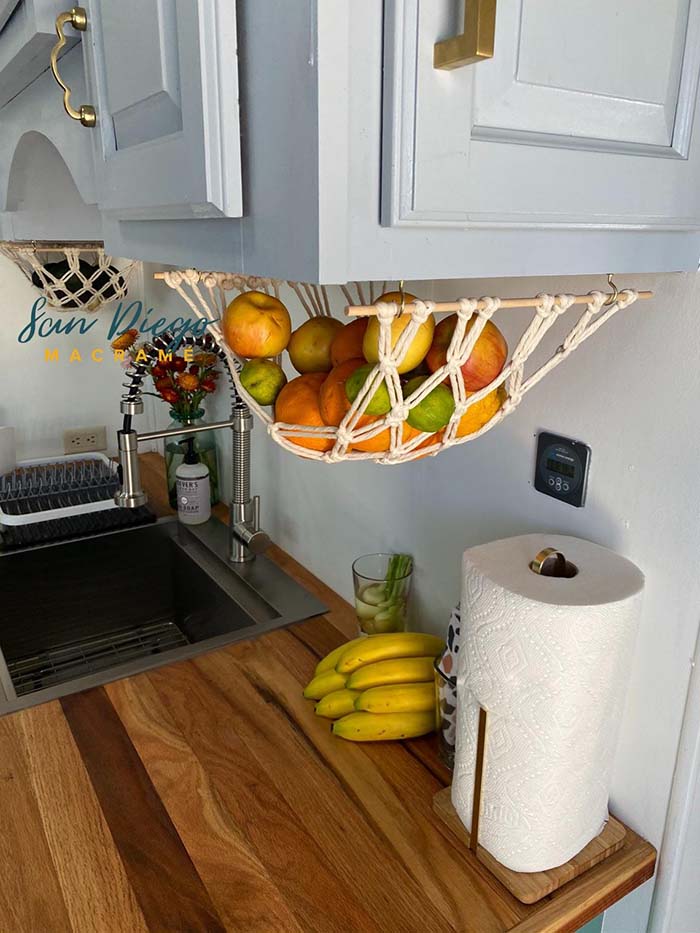 Clear up some counter space with this cute and functional macrame fruit hammock! Can hold anything from limes to bananas.
The hammock is 12 inches wide and 17-19 inches long. 4 complimentary gold cup hooks are included for instant hanging.

2. Cake Stand Offers Elevated Storage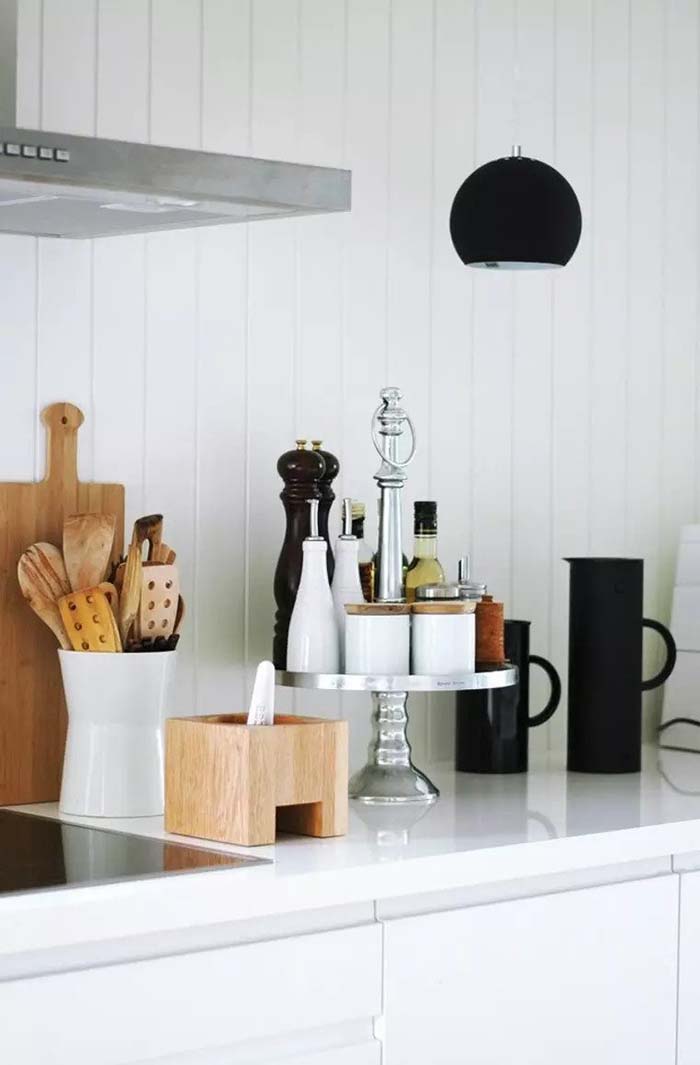 Photo: Credit
To start, here is a smart and elegant idea — why don't you keep the hot plate area free with a repurposed cake stand to hold some of the cooking ingredients (such as olive oil, salt & pepper, sugar etc.)?
3. Add Narrow Storage Vertically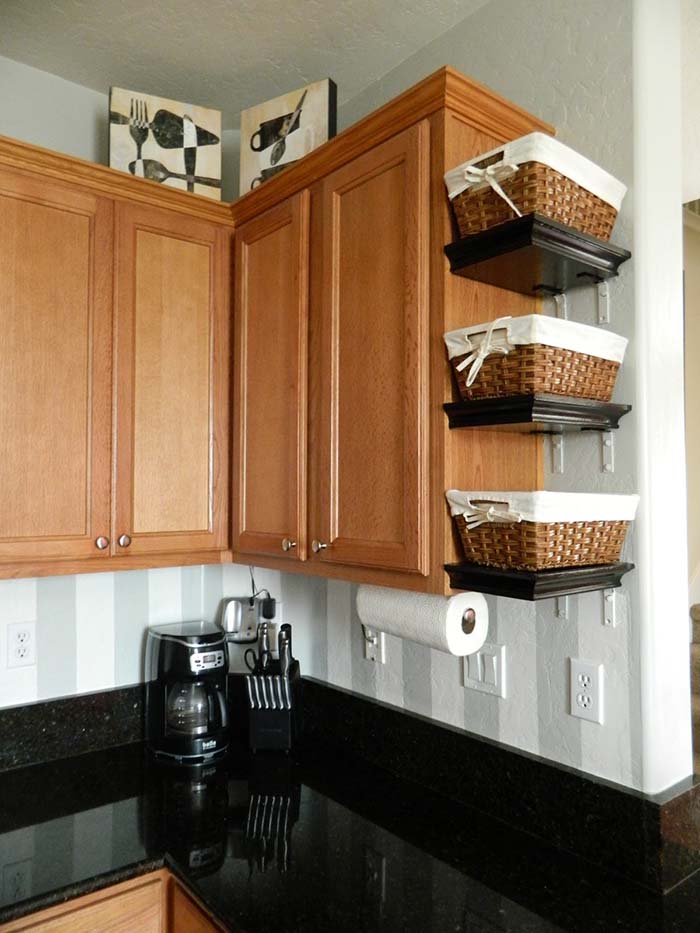 Photo: Credit
Another great idea for a clutter-free kitchen is to exploit that vertical space somehow.
See, it is very practical as well as giving the kitchen space a bolder, funnier look.
4. Two Level Kitchen Storage Unit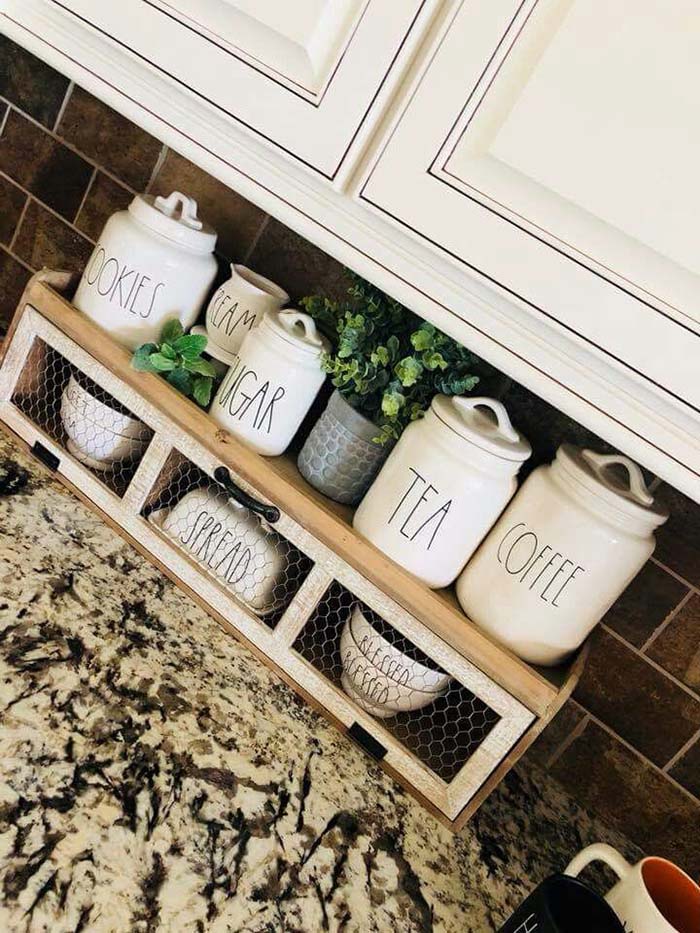 Photo: Credit
This small wooden, IKEA style stand could work as an excellent kitchen countertop organizer!
In this way, you will be able to arrange the canisters and save some space.
5. Hide Cleaning Supplies Behind Facades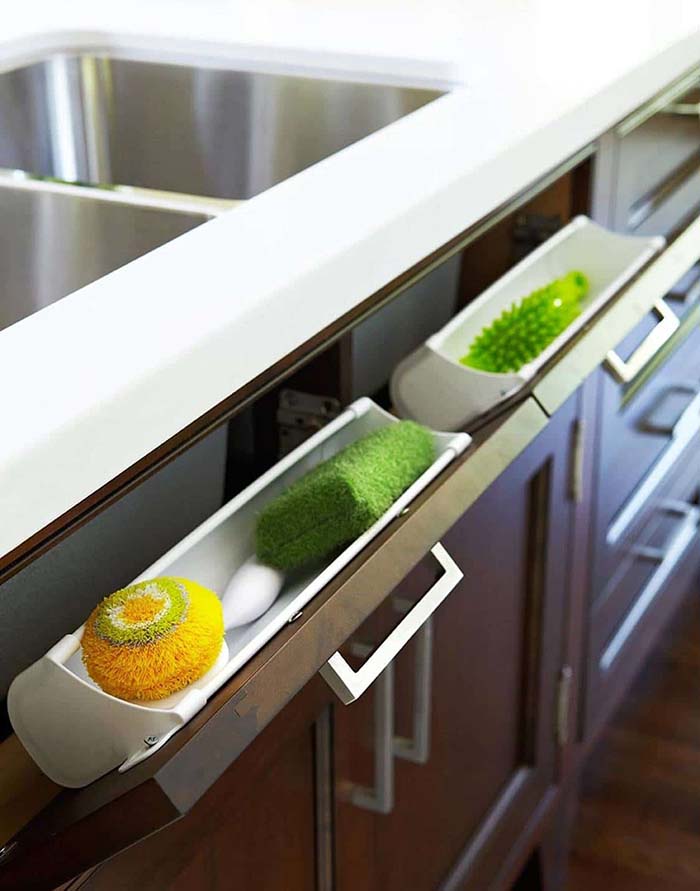 Photo: Credit
Congrats to the blogger Anne Hepfer who created this lovely 'stash' to hold bottles, dishes, and scrub brushes.  
Keeping the sink area free will brighten up the whole kitchen space, trust me!

6. Create A Multilevel Tea Center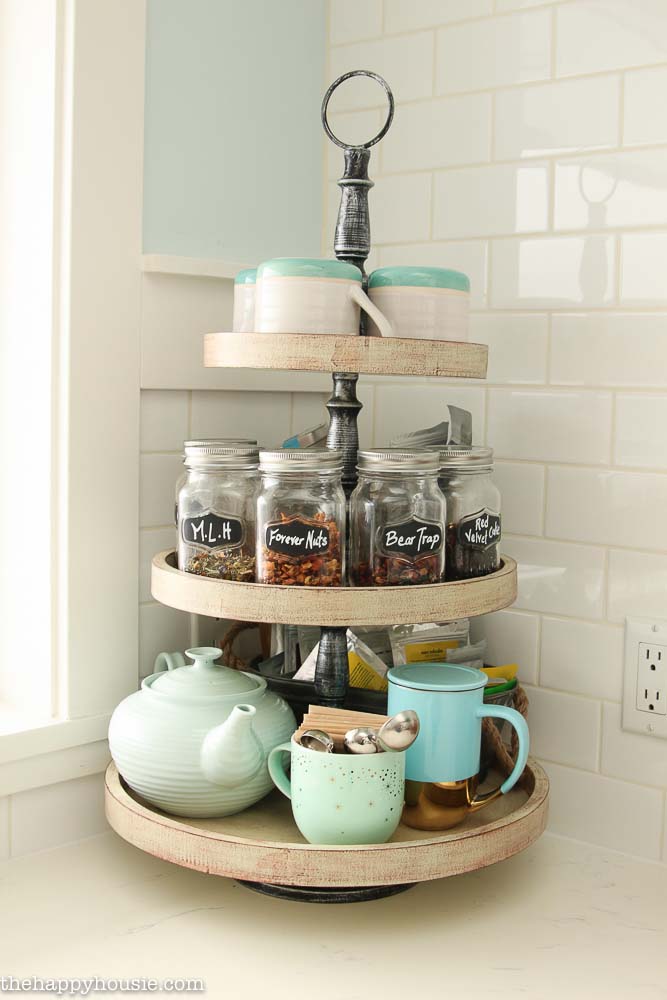 Photo: Credit
Is your family loves drinking teas?
If so, why don't you re-create this lovely "tea station" by using the old 3-level cake stand you never need?
It will make all your guests envy you. 😉

7. Use Cabinet Sides For Hanging Storage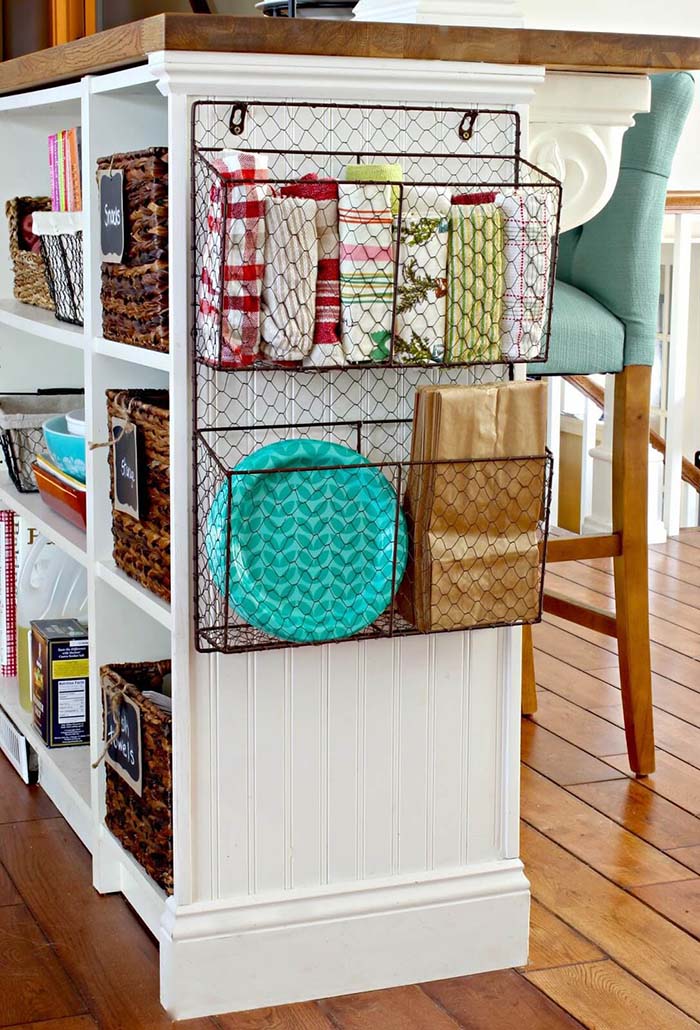 Photo: Credit
What do you think of hanging a bunch of wire baskets on the side of the kitchen island?
Meant for magazines, newspapers and shopping bags, it does surely works to declutter the kitchen countertop.

8. Use Under Cabinet Shelves For Spices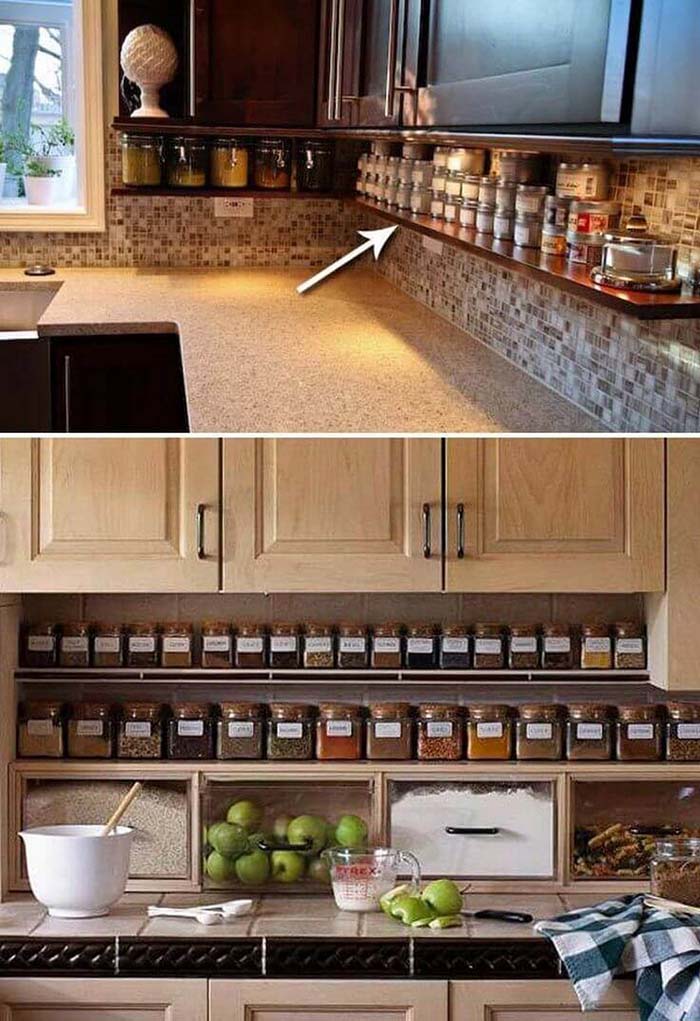 Photo: Credit
There is another easy and affordable hack for a clutter-free kitchen.
This spice jar shelf under the counter is both appealing and practical for cooking, don't you think?
9. Refrigerator Magnet Storage Center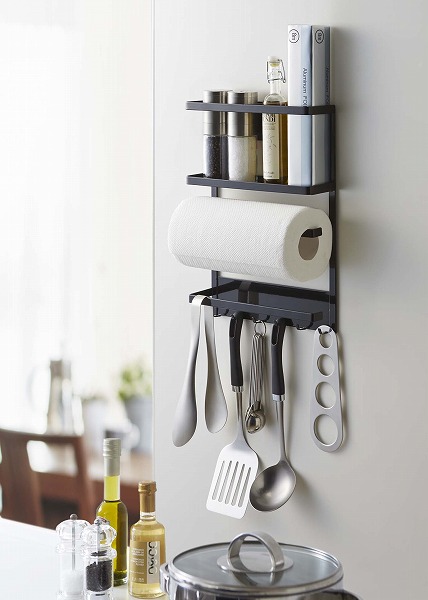 Photo: Credit
Containers of spoons and spatulas are easy to grab, for sure, however, they often get in our way.
In this Nordic style kitchen, a few workhorse utensils hang neatly with a magnet to the fridge.
10. Lift Up Cabinet Door Coffee Bar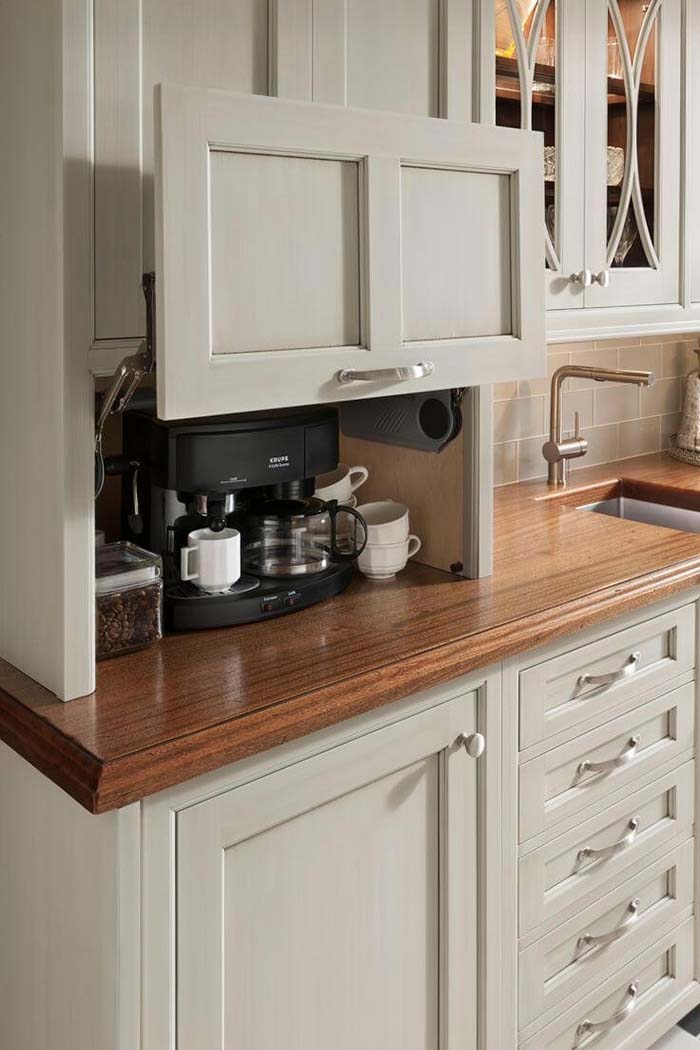 Photo: Credit
The area around the coffee machine is usually untidy and covered with coffee. Worry no more!
You can easily hide it by installing an additional, movable cupboard door. Tiny coffee bar is perfect for small kitchens.
11. Countertop Tea Caddy Shelves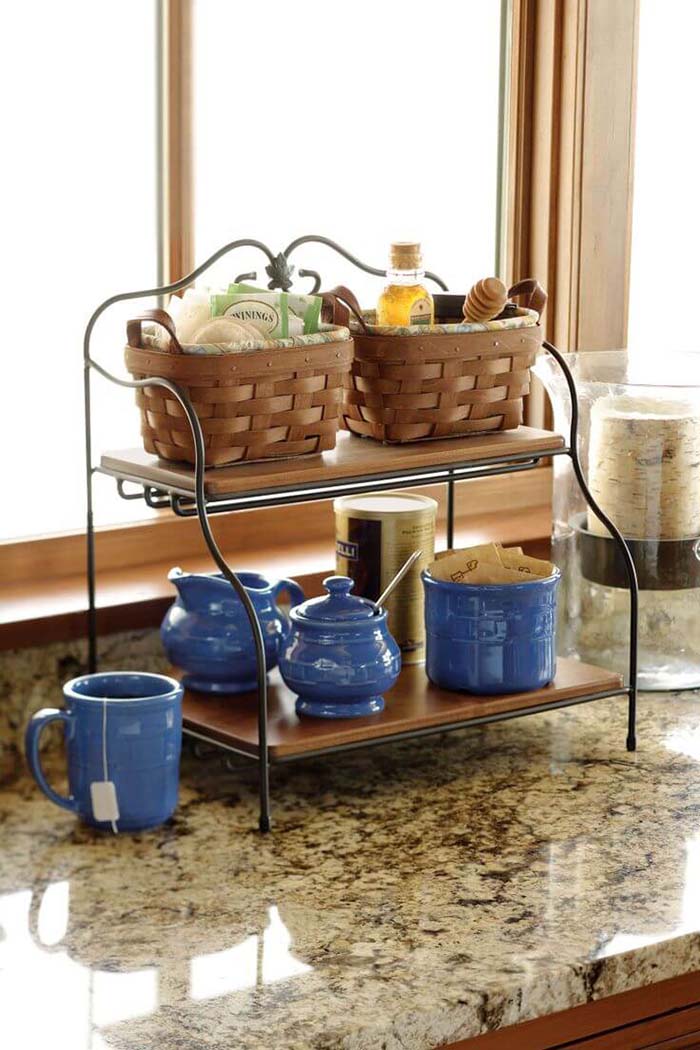 Photo: Credit
This lovely, two-level shelving unit is very practical as it can works as a kitchen countertop organizer as well as to be carried to the living room when you invite guests for a cup of tea.
12. Elevate Storage With Hanging Baskets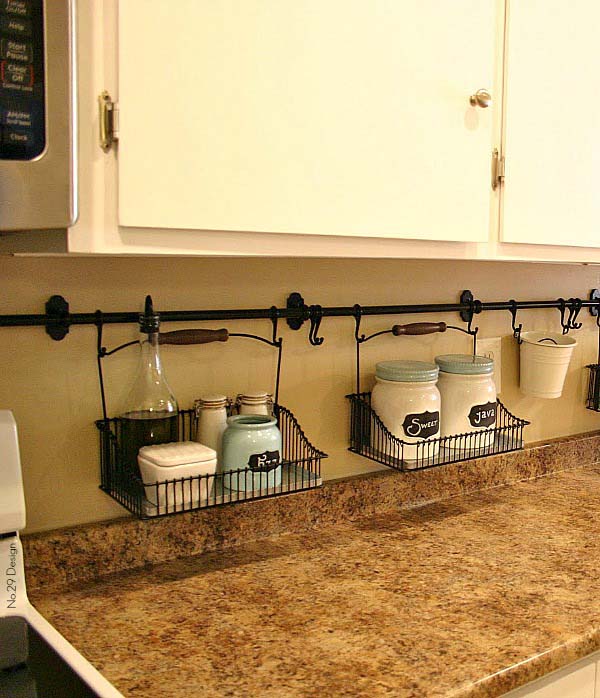 Photo: Credit
Using the backsplash area is an excellent way to keep your counters tidy.
Moreover, these baskets are usually being offered in various sizes so they can fit your needs.
13. Add A Small Shelf With Storage Hooks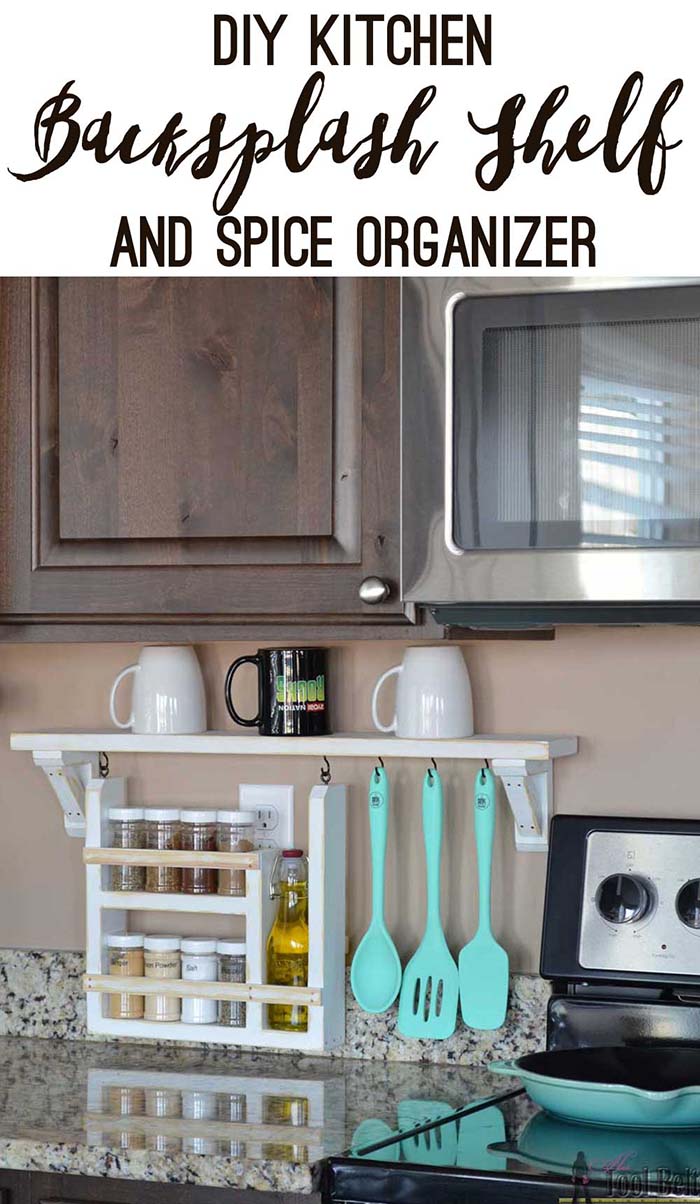 Photo: Credit
Can you imagine this lovely, tiny backsplash shelf is entirely made out of corbels?
It is an amazing way to organize your regularly used kitchen gadgets and declutter the kitchen countertop.
14. IKEA Kitchen Storage Center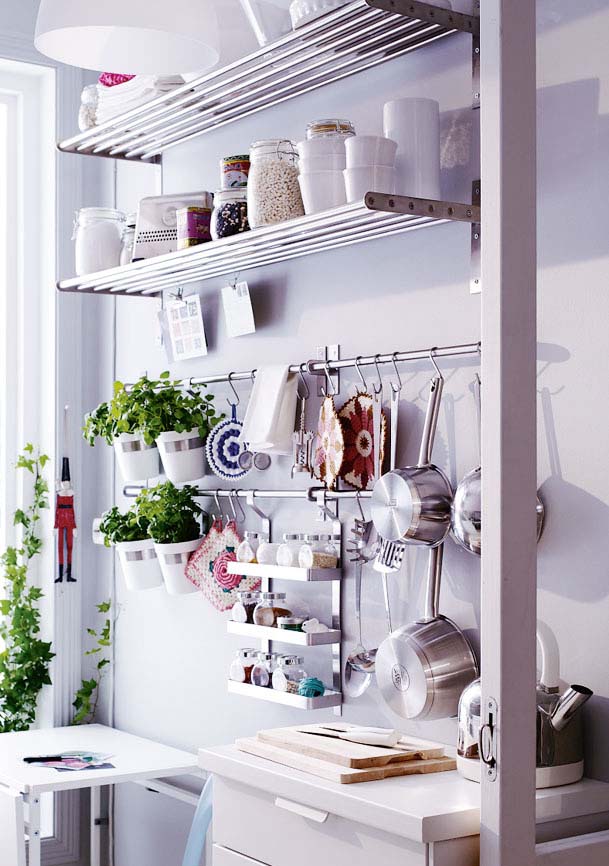 Photo: Credit
The good thing about many IKEA items (apart from the design and the price), is that they are very versatile furniture or accessories.
Its series of metal hangers and shelves are so practical for hanging potted spices, spoons and spatulas, as well as spice and tea jars.
15. Cabinet Mounted Cookbook Holders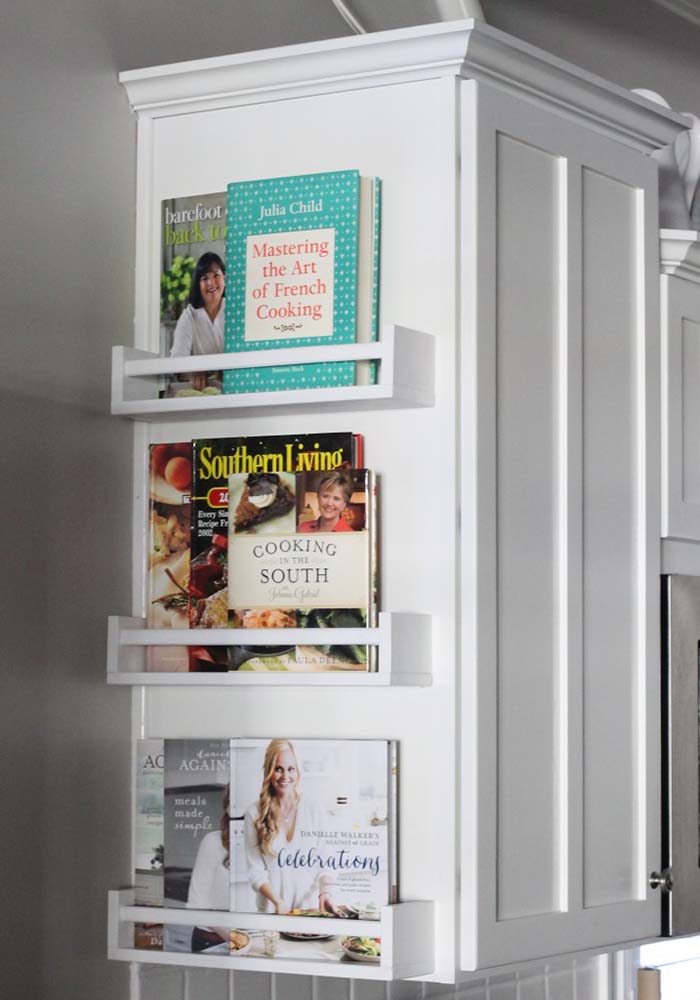 Photo: Credit
A simple spice shelf could perfectly work as a cookbook storage and help you utilize the vertical space in a smart manner.
It is a tiny tany improvement, however, it makes a solid statement in the kitchen space.
16. Organize Kitchen Essentials In A Tray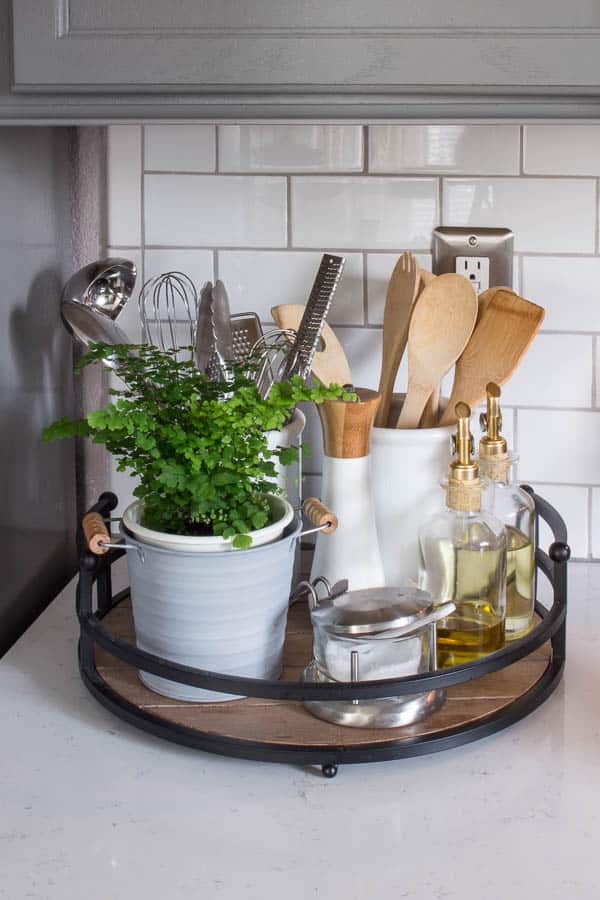 This organized oval tray received its own mini potted parsley to add a delicate pop of green.

Lovely way to keep the oven area nice and tidy, right?
17. Narrow Hanging Basket Storage Solution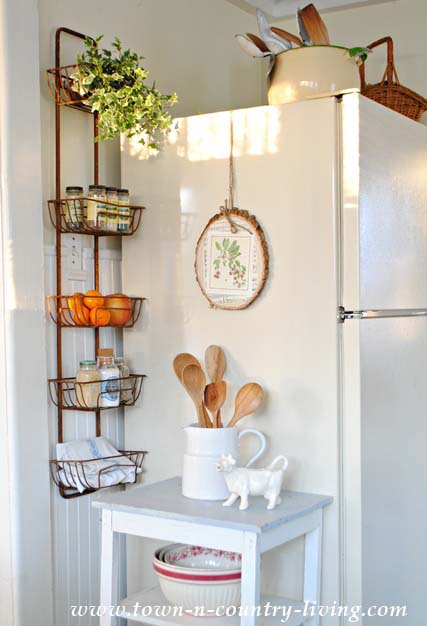 Photo: Credit
To me, this is a contemporary version of the old-school hanging fruit basket every home used to have.

You can use this kitchen countertop organizer for everything, including fruits, spice jars, kitchen towels and many more.
18. Open Shelving With Pot Storage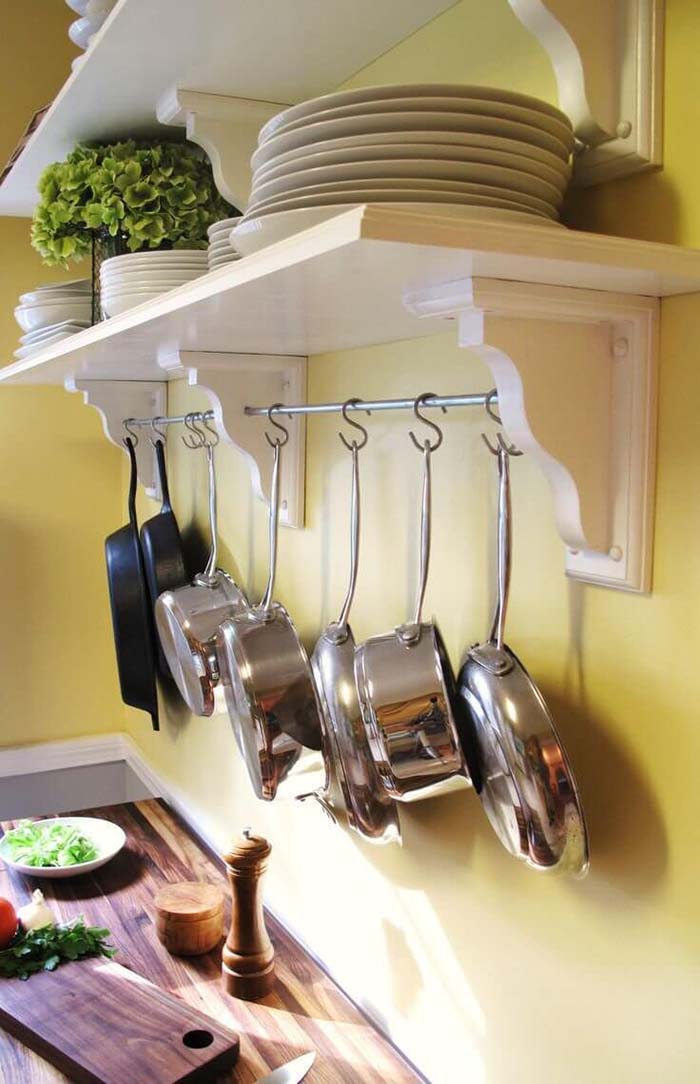 Photo: Credit
Add some style to your kitchen countertop with the industrial pipe pot rack holder.
It is not just very practical, but it also fits various interior design styles – from modernistic to classic, farmhouse kitchen.
19. Countertop Corner Cutting Board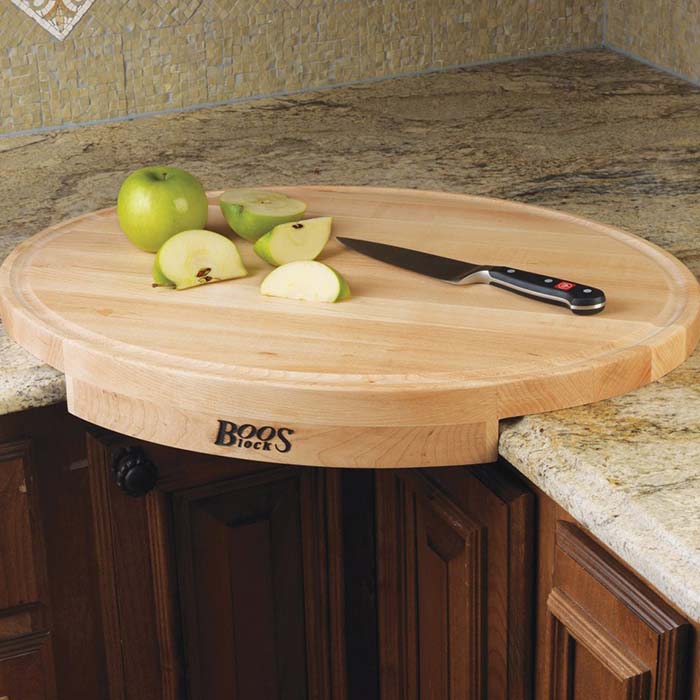 Photo: Credit
Have you ever seen a corner cutting board like this one? The bestie of every clutter-free kitchen!
With added stability, this is the perfect extension to your tight kitchen corner.
20. Banana Hangers Keep Fruit Elevated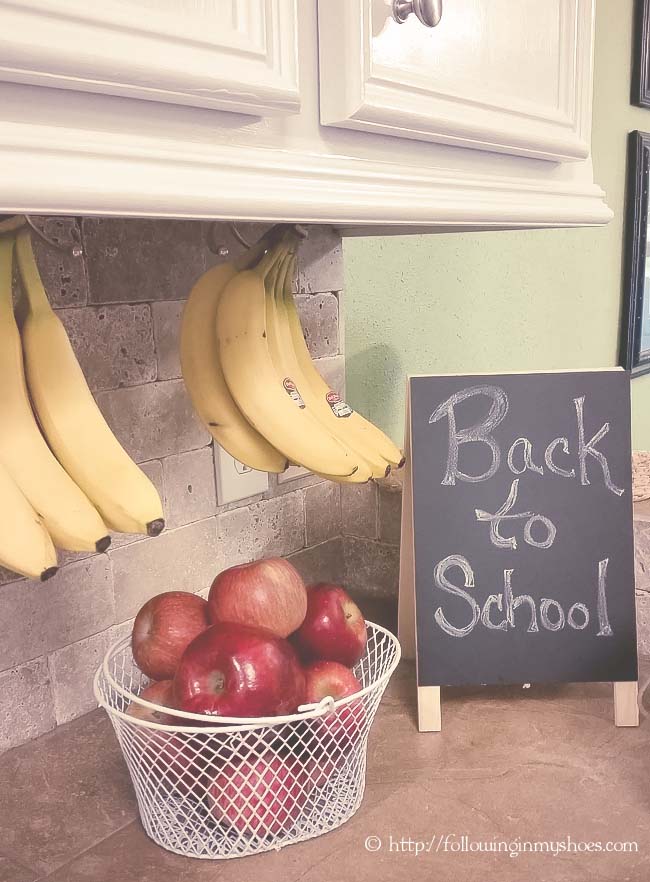 Photo: Credit
Here is an easy DIY project for every newcomer in the crafting world.
These fun banana crooks are in fact metal backpack wall hooks, being screwed into the underside of the kitchen cabinet.
21. Wood Container Cutting Board Storage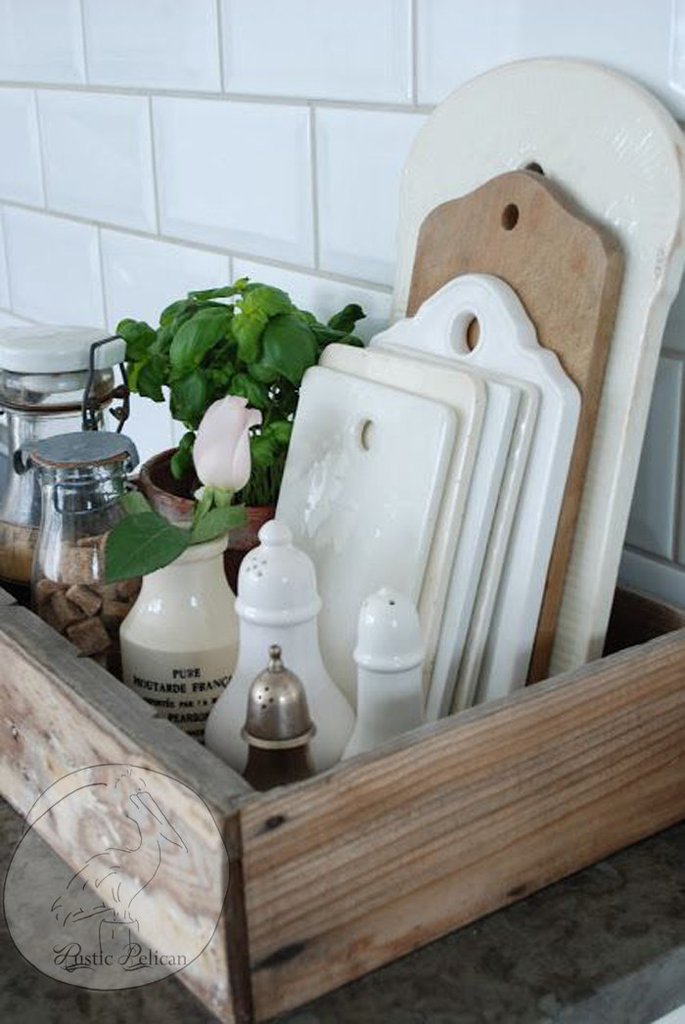 Photo: Credit
This reclaimed wood tray to store the cutting boards and cooking ingredients is an ideal fit for every rustically chic kitchen.
Adding a splash of greenery will make a nice contrast with the wooden material for a more appealing look.
22. Hanging Shelf Herb Garden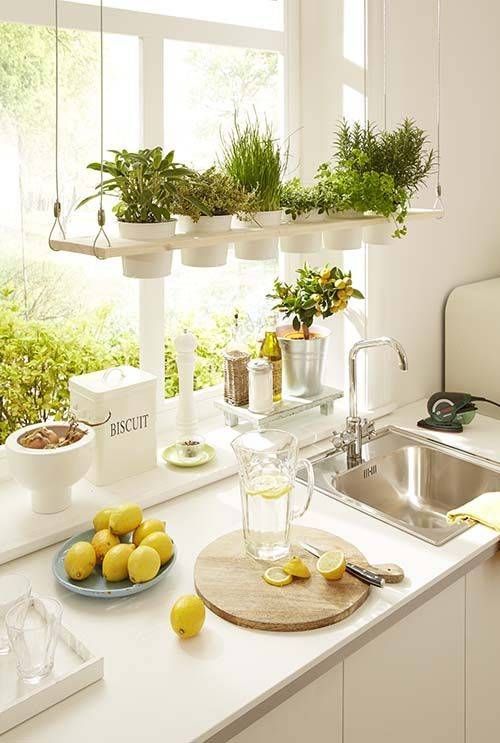 Photo: Credit
As this kitchen gets a lot of sunlight every day, it surely was a good decision to let the potted herbs hand above the sink.
In this way, they are near at hand and they bring to the kitchen space a lively, fun vibe.
23. Repurposed Books Knife Blocks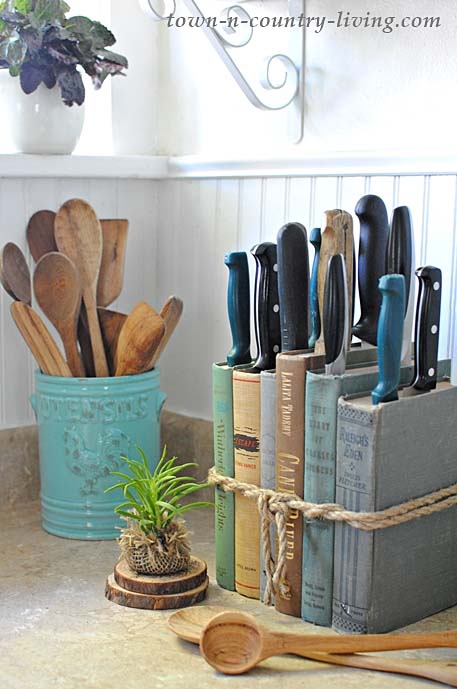 Photo: Credit
I was dying to share this project for a clutter-free kitchen with you!
The DIY kitchen knives storage is made out of old books tighten up with a rope. It is a very conversational and unique feature to this kitchen.
24. Add Useful Storage Above The Microwave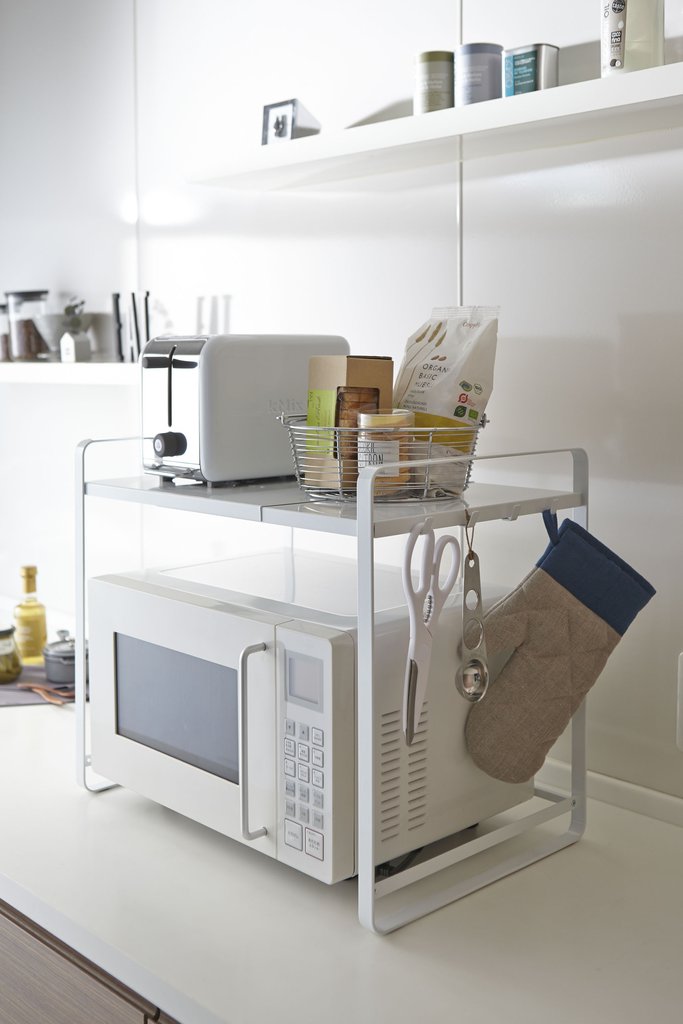 Photo: Credit
This open, Scandinavian-style shelf above the microwave could be great storage for cook books, as well as the toaster.
I know that it's not easy to declutter the kitchen which is a hot mess, but don't give up, there is always something to add up!
25. Open Shelf Glass Jar Food Storage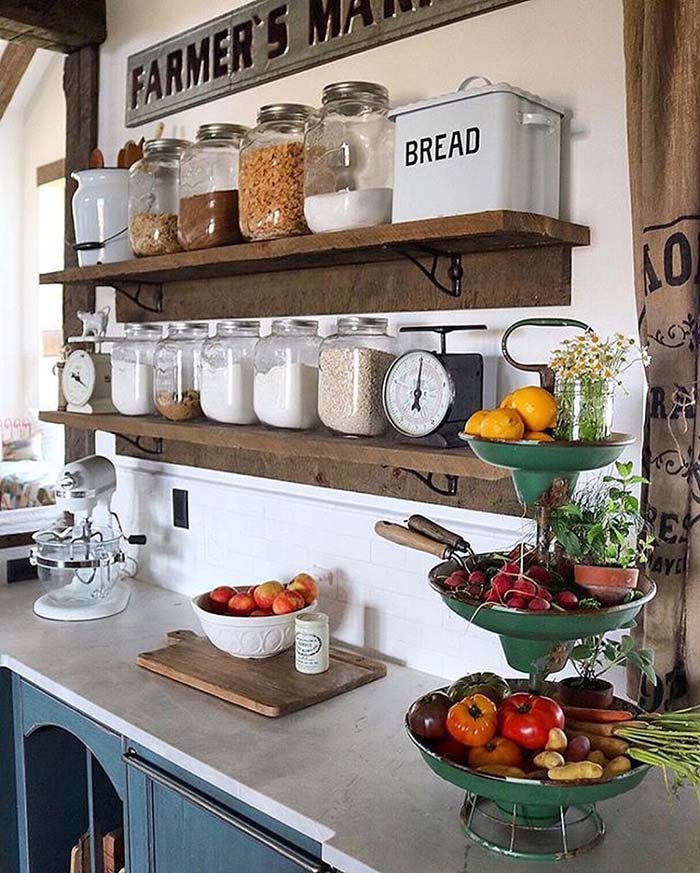 Photo: Credit
There is no better way to store these large jars with food ingredients than building two-level shelving above the kitchen countertop.
Now you will have all the space in the world to prepare your family's favorite meals in an entirely clutter-free kitchen.
Which one of these smart hacks for decluttering the kitchen countertop did you like most? Will some of them fit your current kitchen space design?