One of the old rustic accents that have easily made their way into the contemporary designs is the corbel. This architectural piece was once created to carry any supplemental weight that the wall may not be able to support on its own.
Today, corbels are used not that much as a weight-bearing element but as a way to add interest and rustic warmth to the interior.
The corbels are most often made from solid wood, with fine fretwork or curved design that instantly attracts the sight.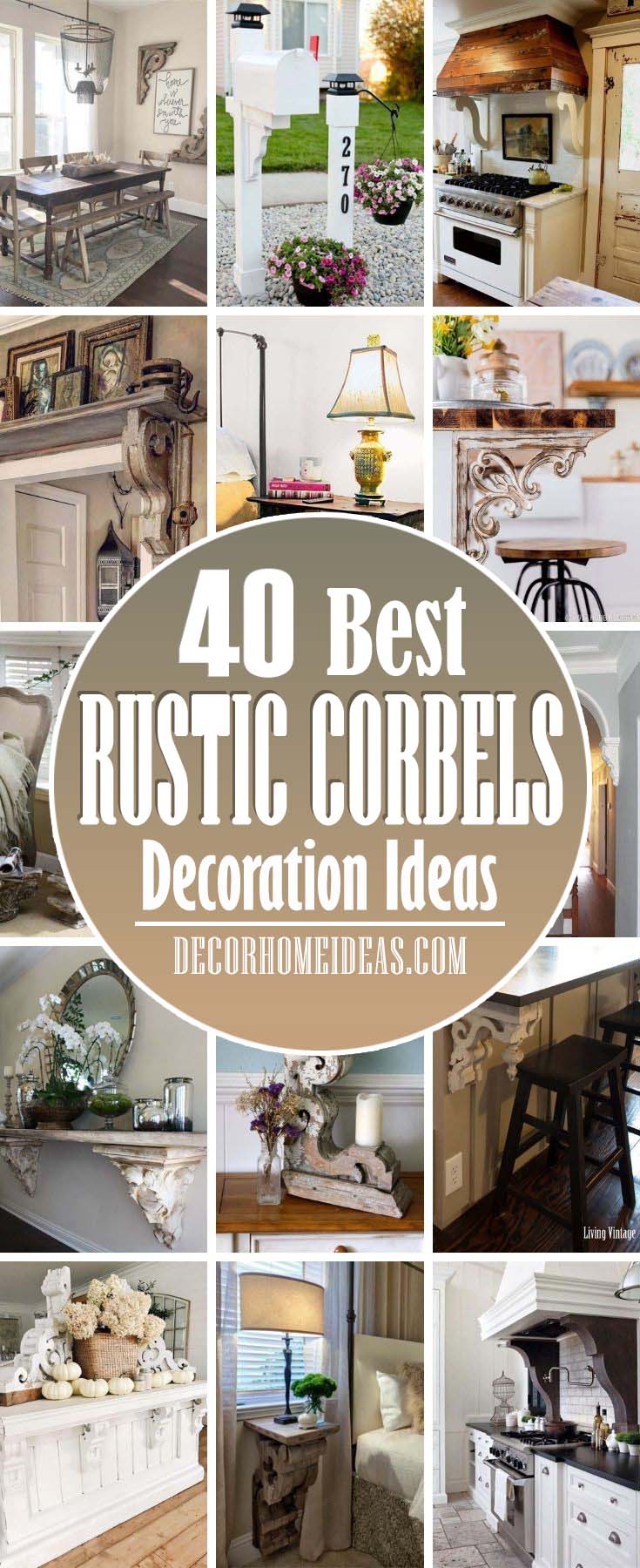 Today these architectural pieces can be found at thrift shops, salvage yards, on Etsy and on eBay. There are also numerous DIY projects for making your own corbels.
If you love the aged beauty of the corbels and want to have that special architectural accent in your home, see the best ideas on how to include it in your interior.
1. Enhance Your Home's Architecture with an Aged Wood Corbel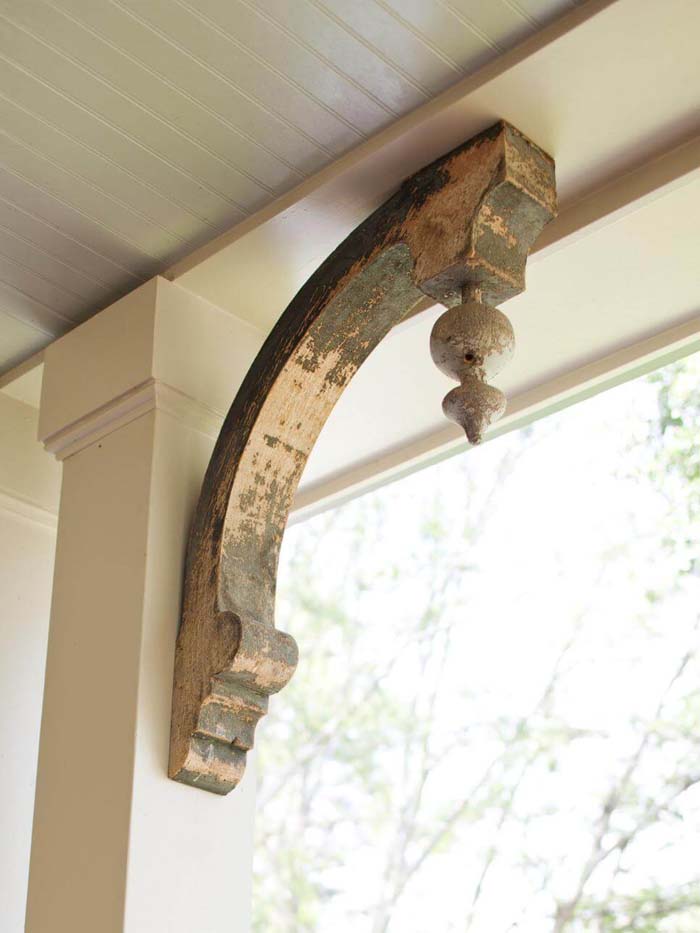 Use an aged wooden corbel to accentuate a defining architectural piece of your home.
It will add extra interest and will make the whole arrangement look like an antique feature.
via HGTV
2. Showcase Your Favorite Books with Antique Bookends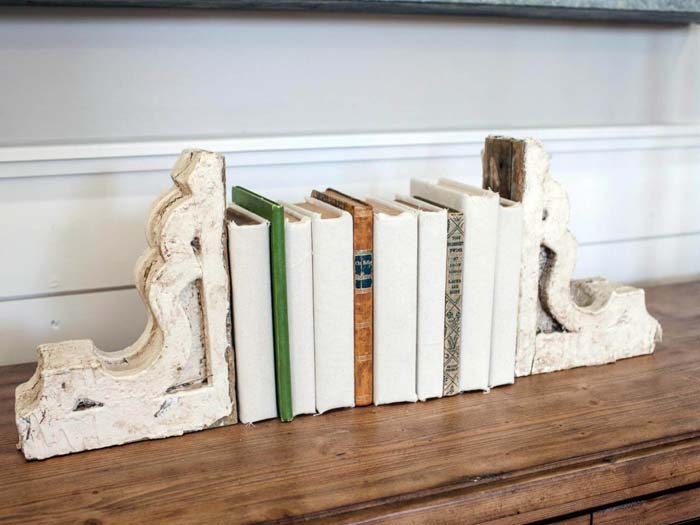 Hold a few favorite books with two corbels. These antique bookends will not only frame your books but will also serve as a decor accent.
via HGTV
3. Romantic Bedroom with Upcycled Headboard and Corbels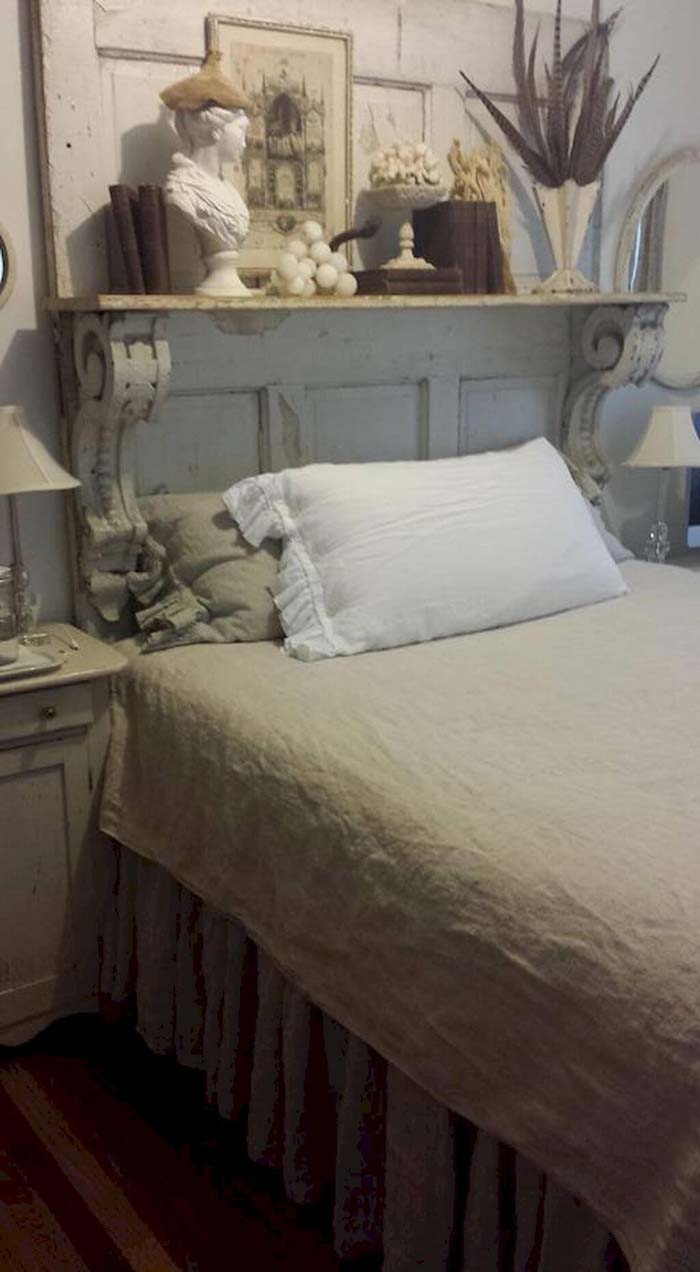 Embellish your upcycled vintage headboard with corbels. Let them hold a shelf that will display your vintage decor accents.
The bedroom becomes exceptionally romantic and welcoming with such a bed set.
4. Customize Your Absorber Panels with Corbels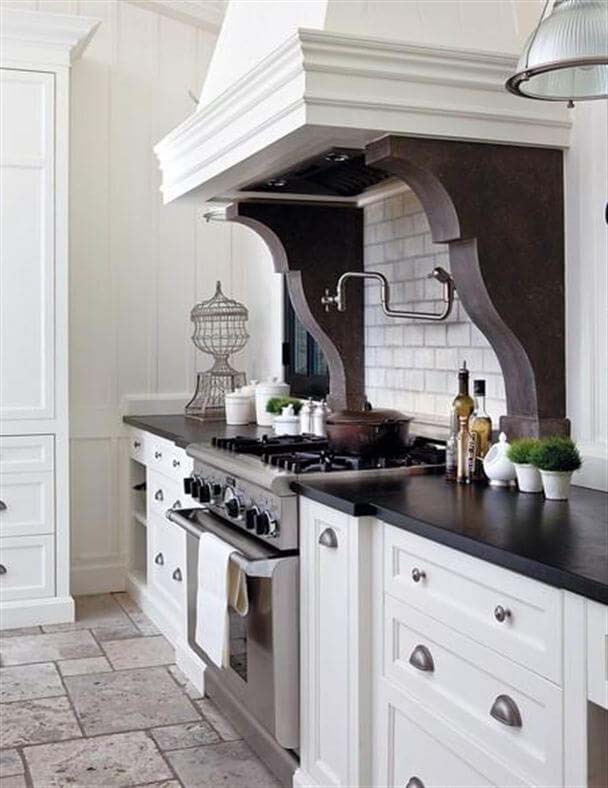 Give your absorber panels an architectural look with corbels.
Coordinate the size, color, and design of the corbels with those of the cabinets and countertop.
5. Transform Your Doorway with Fretwork Corbels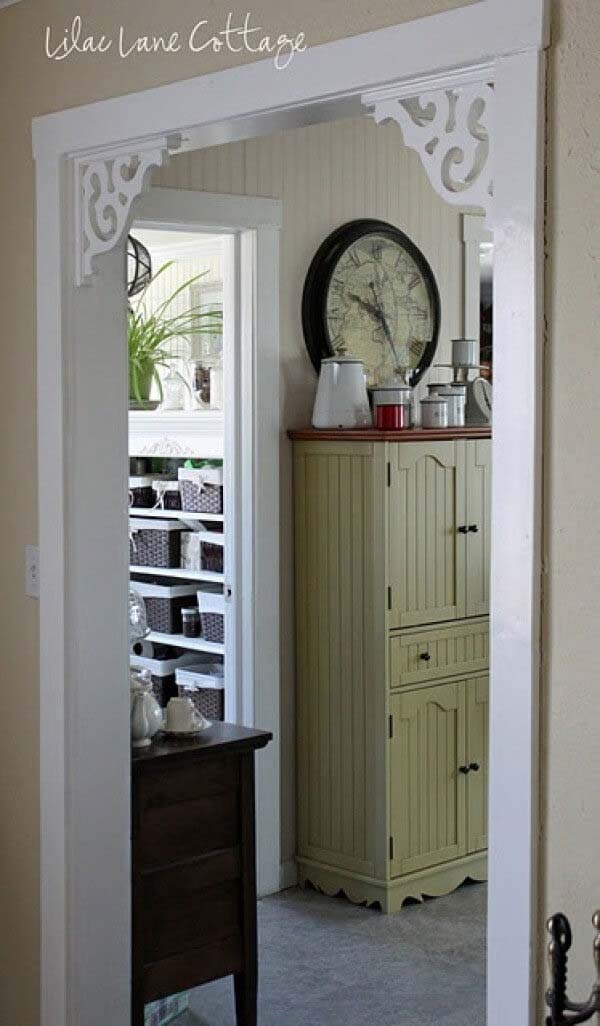 If your doorway needs something to let it pop out, do it with fretwork corbels.
Placed at the top corners they will easily and instantly transform this opened transitional space.
6. Modify an Old Drawer into a Vintage Piece with Corbels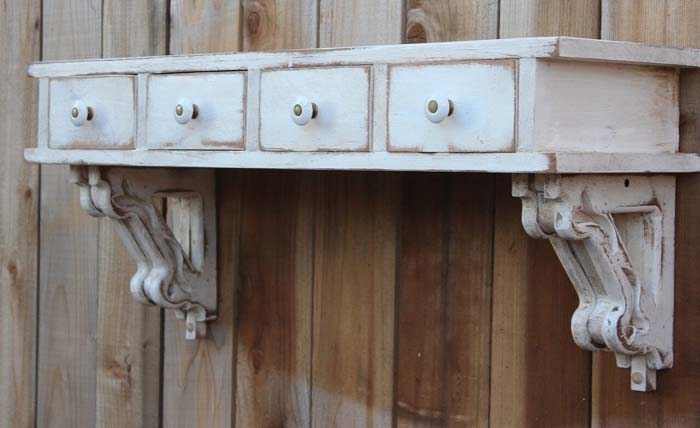 Any wooden vintage drawer can become a valuable piece of furniture if updated with corbels.
Although they are not actually supporting the drawer, they give it a look of a strong storage place.
via Etsy
7. Transform Your Bedroom with a Corbel-Supported Nightstand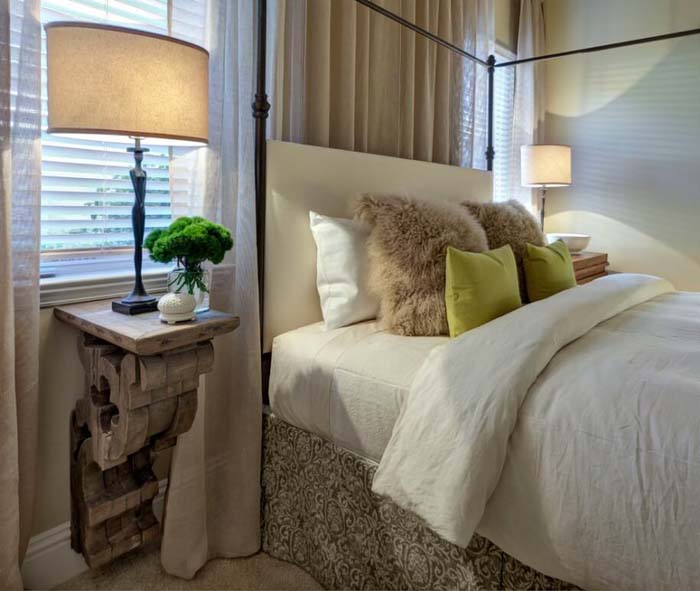 If your bedroom needs a make-over, a stylish nightstand will make it happen. A large corbel becomes the support of this vintage piece of furniture.
Fixed to the wall, it won't take up any from the floor space so that makes it suitable even for tiny bedrooms.
via Laura Miller
8. Incorporate a Corbel into Your Décor for a Unique Shelf Support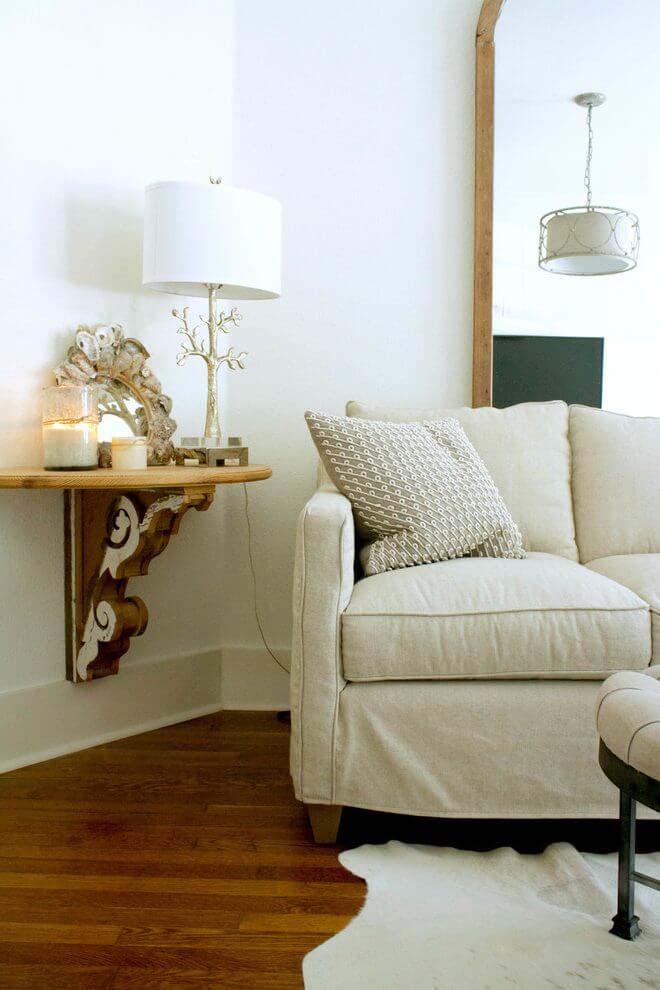 Use a corbel as a support of a small shelf.
Fixed to the wall in the living room, it will function as a side table or as a display for decor accents.
9. Decorative Victorian Corbels to Enhance Your Home's Exterior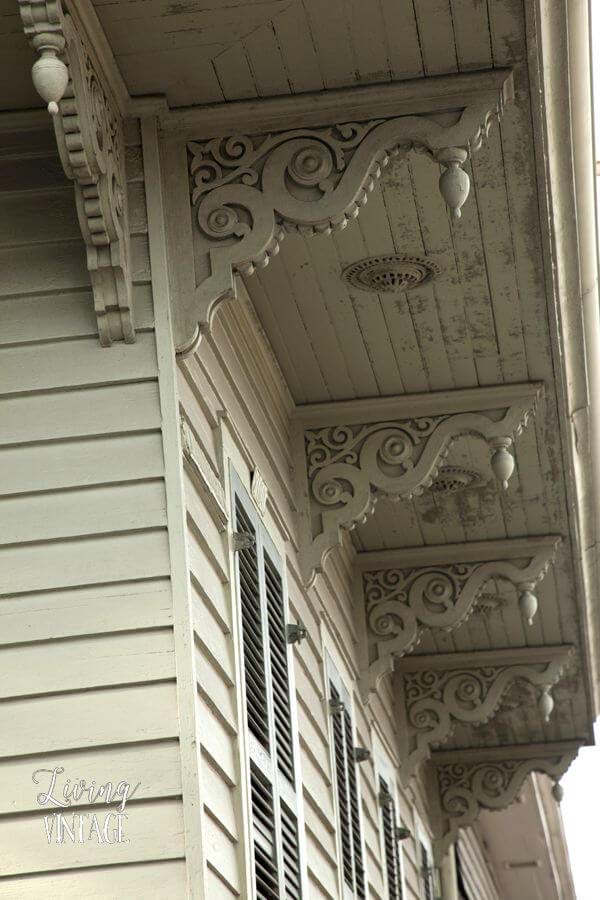 Recreate the specific Victorian architectural beauty in your exterior with corbels.
Added to the ceiling of the porch, they will turn your home into a charming and historical place.
10. Update Your Countryside-Style Kitchen With Corbels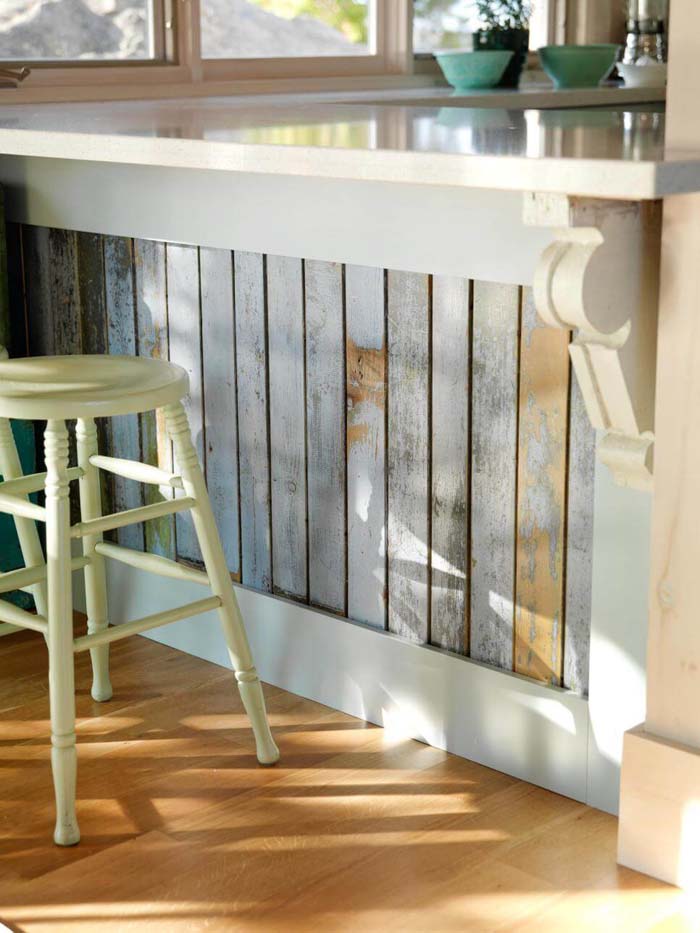 If you want an update of your countryside-style kitchen, you need to consider elements that will suit its concept.
Corbels are perfect to add architectural structure and to give a custom look to the vintage island.
11. Transform Any Opening with a Corbel for a Unique Character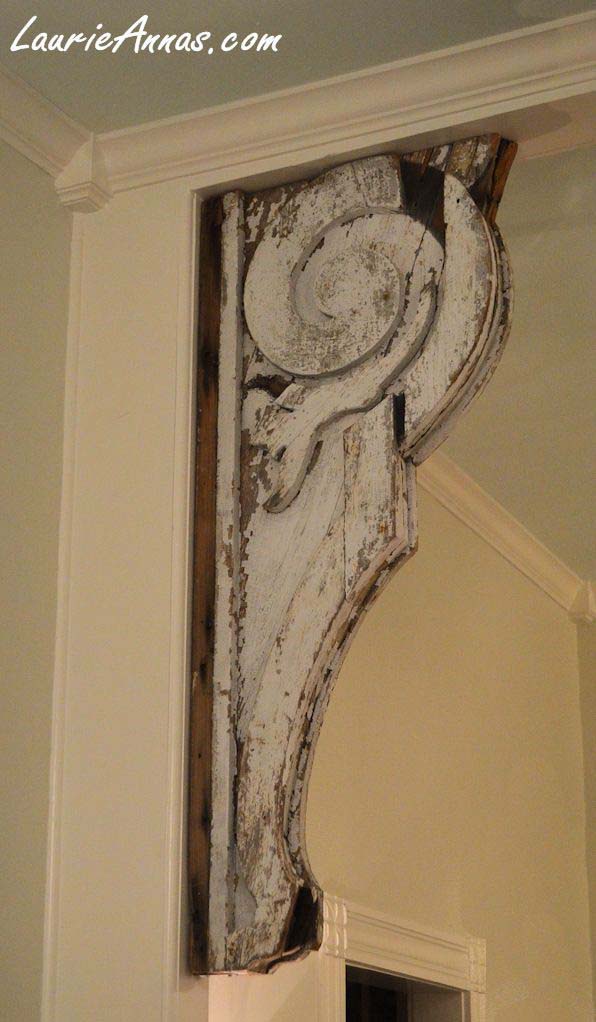 Any opening can be given a character with a corbel.
Whether antique or modern, the corbel will make a great impact, making space feel more antique because of its structure and design.
via Laurie Anna
12. Make an Impactful Entrance with Decorative Corbels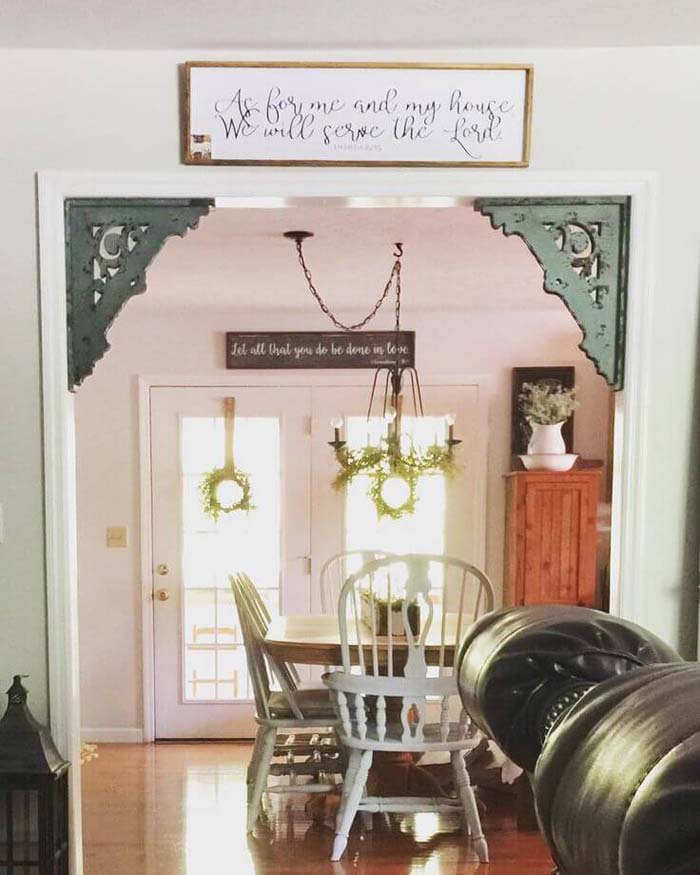 For a greater impact and stress onto a transitional opening, use corbels in a contrasting color.
The paint can be distressed to let their antique beauty pop out. They will instantly attract the eyes, so consider placing meaningful wall art above them.
13. Transform a Shelf into an Amazing Focal Point with Corbels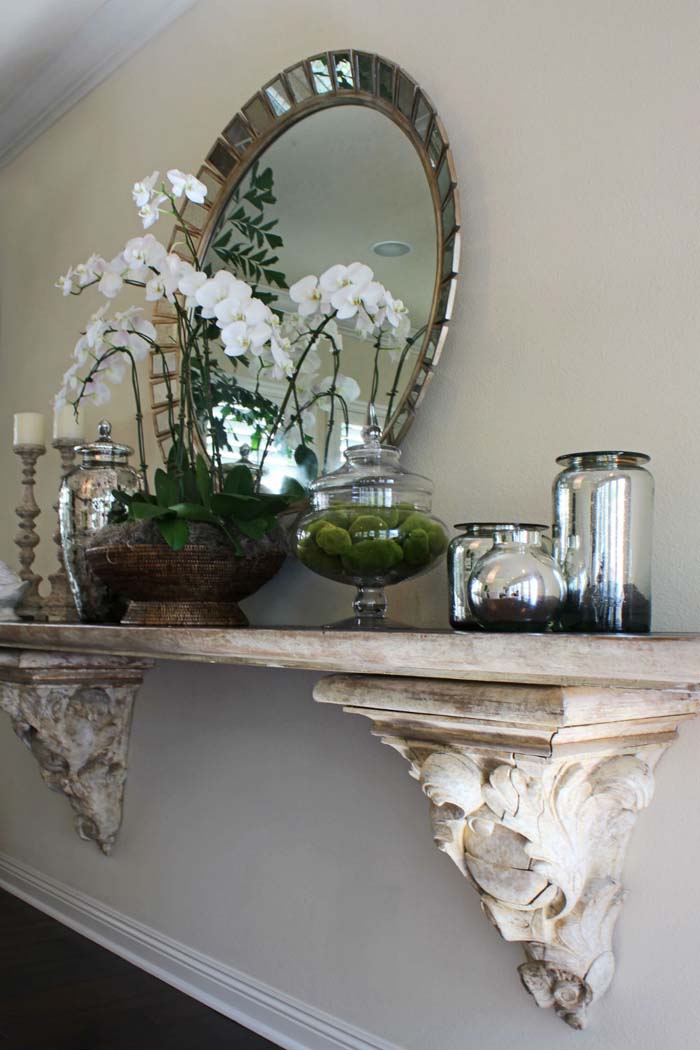 Regardless of the space, a shelf is placed, it will become a focal point of the room when supported with decorative corbels.
These fretted brackets will anchor the taste for fine and ancient treasures.
14. Add Dimension to Exterior Spaces with Large Corbels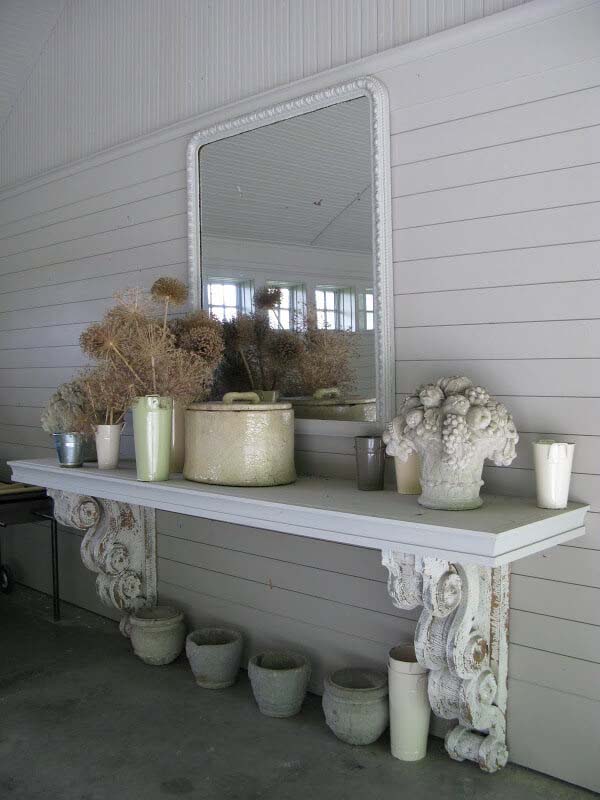 Large corbels have a significant contribution to a more elegant setting even on the exterior.
The distressed brackets are holding a wide shelf that holds a collection of antique vases and flower pots.
via The Martha Blog
15. Antique-Style Flower Pot Display for Victorian-Inspired Home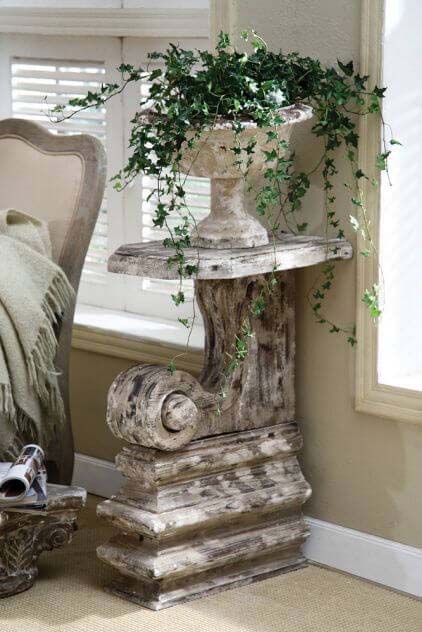 Your Victorian-style-inspired home needs a special flower pot display. Such that will boost the antique rustic vibe of the space.
This stand can be used for the display of any other decorative accents.
via Wayfair
16. Transform Your Exterior with a DIY Corbel Accent Mailbox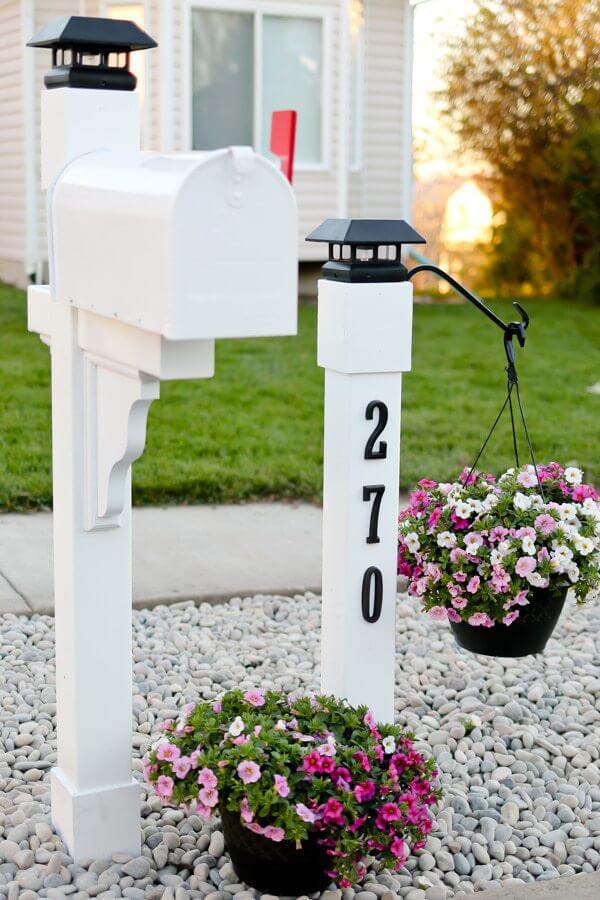 Another way to use a corbel in the exterior is to make them a fine accent of a handmade mailbox.
Made only within a weekend, these posts have done a great transformation on the exterior, increasing the curb appeal and making it more homely.
via Tidbits Cami
17. Enhance Your Decorative Setting with Corbel Accents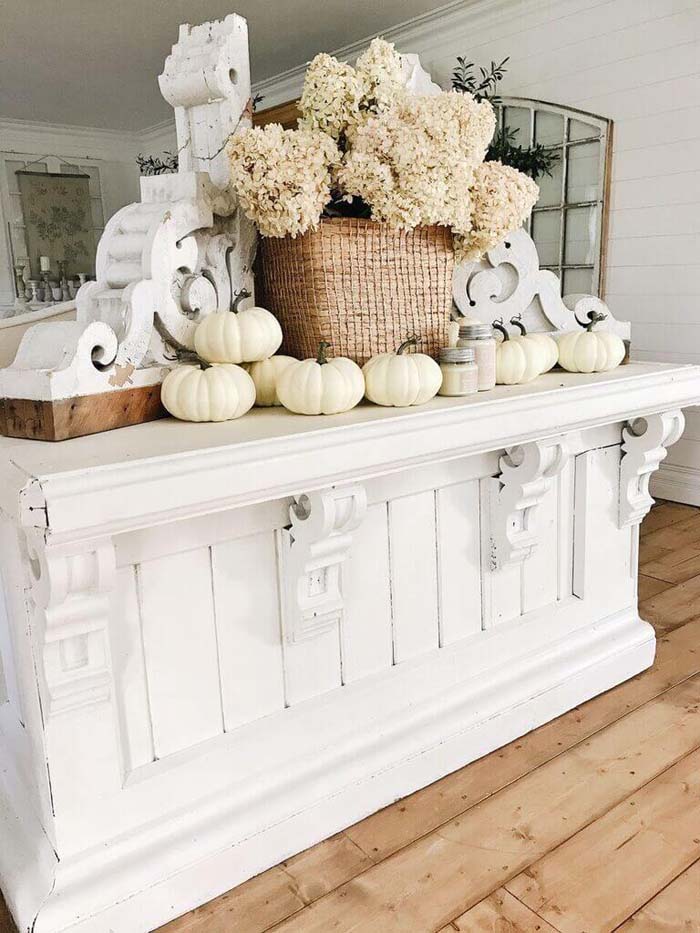 Accentuate your seasonal decoration stand with corbels of different sizes and designs.
Place them beneath the shelf as brackets and two larger to frame the decorative setting.
via Liz Marie Blog
18. Craft a Stunning Wall Shelf with Easy-to-Construct Corbels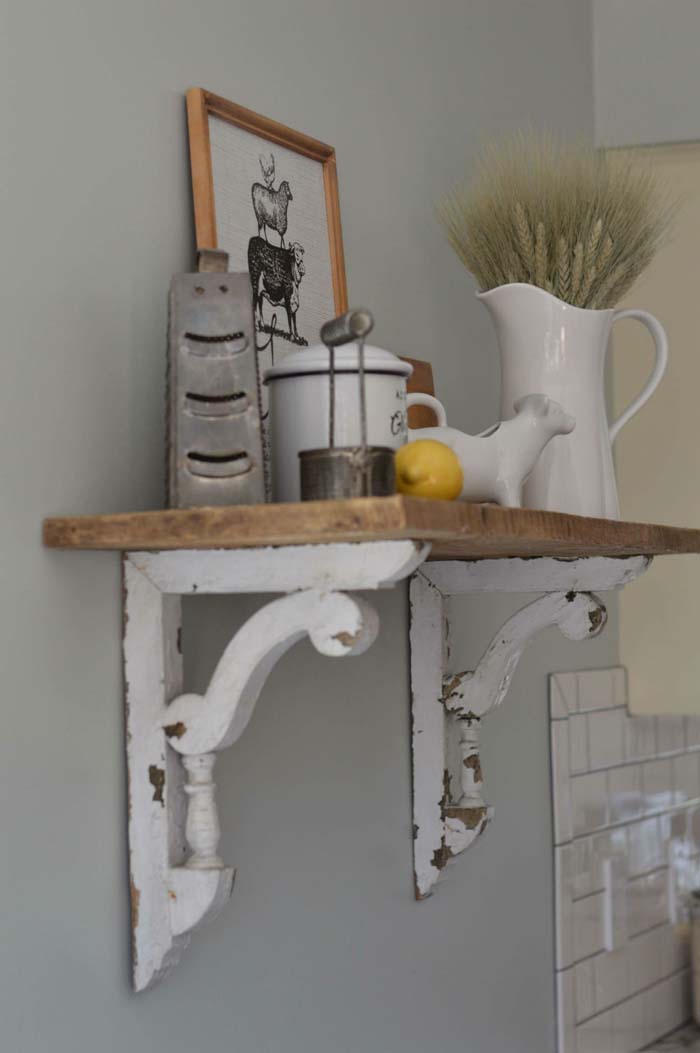 Build your own floating shelf that will beautify an empty part of a wall.
Its decorative value will be enhanced not only by the elements arranged on its top but also by the fine details of the corbels.
19. Add Character to Your Contemporary Kitchen with Corbels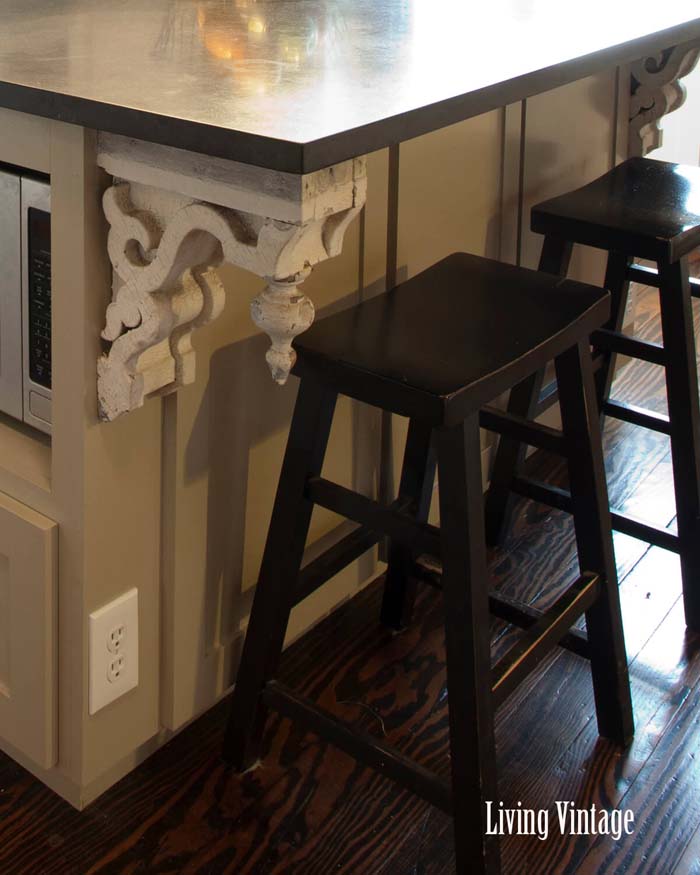 Add character to your contemporary kitchen island with corbels on both front corners.
This rustic touch will contribute to making this functional part of the home more welcoming and homely.
20. Transform Your Dresser Into a Rustic Vintage Centerpiece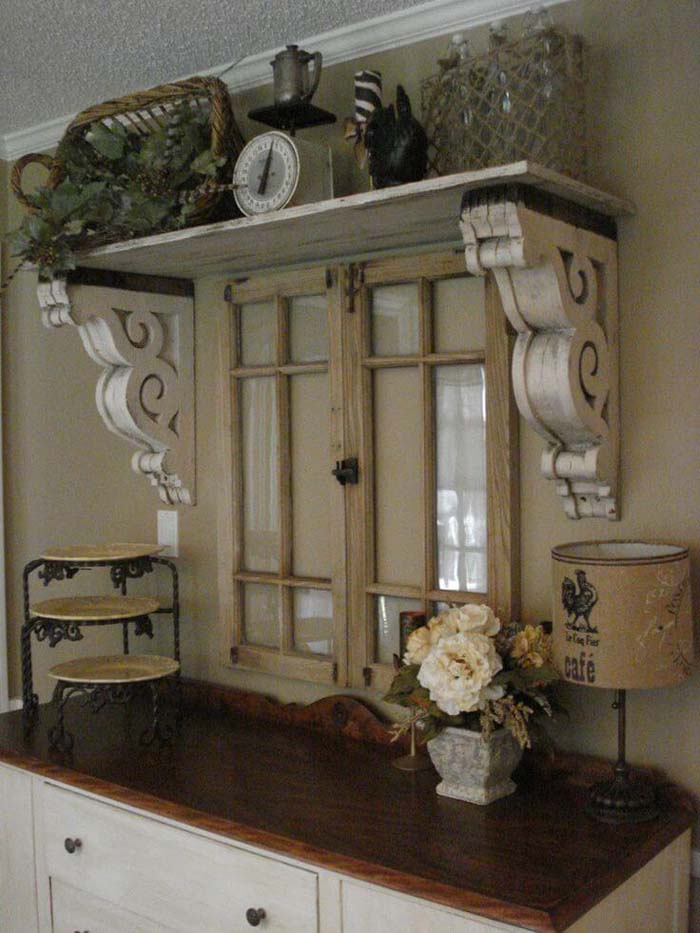 Turn a dresser into a vintage centerpiece. All you need are an old pair of windows, two corbels and a shelf.
The combination of these Victorian architectural pieces and the upcycled wood creates a rustic setting that increases the appealing and welcoming level of the living room.
21. Vintage Art Display Utilizing Antique Corbels and Shelving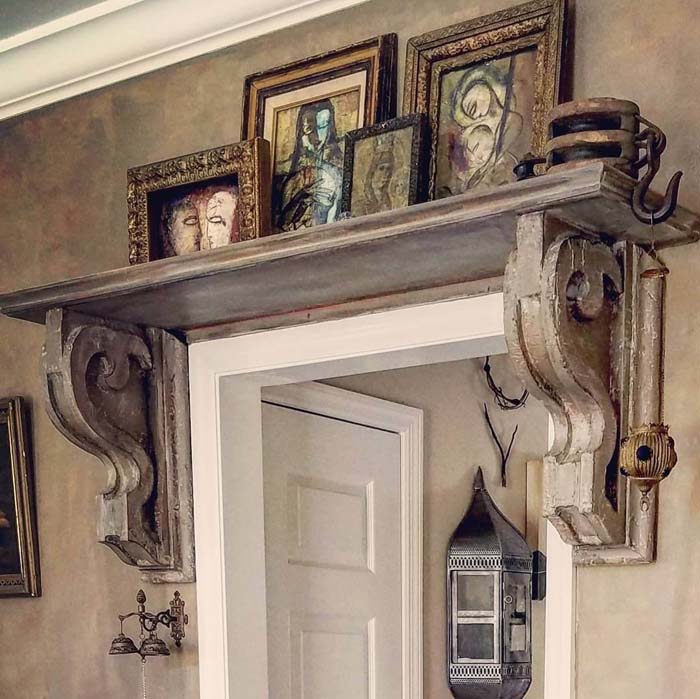 Turn the space above a door into a vintage display. Two large corbels hold a shelf for art display.
The value of the art paintings is underlined by the antique look of the shelving.
via Linda Spriggs
22. Enhance Your Home Architecture with Corbel-Adorned Arches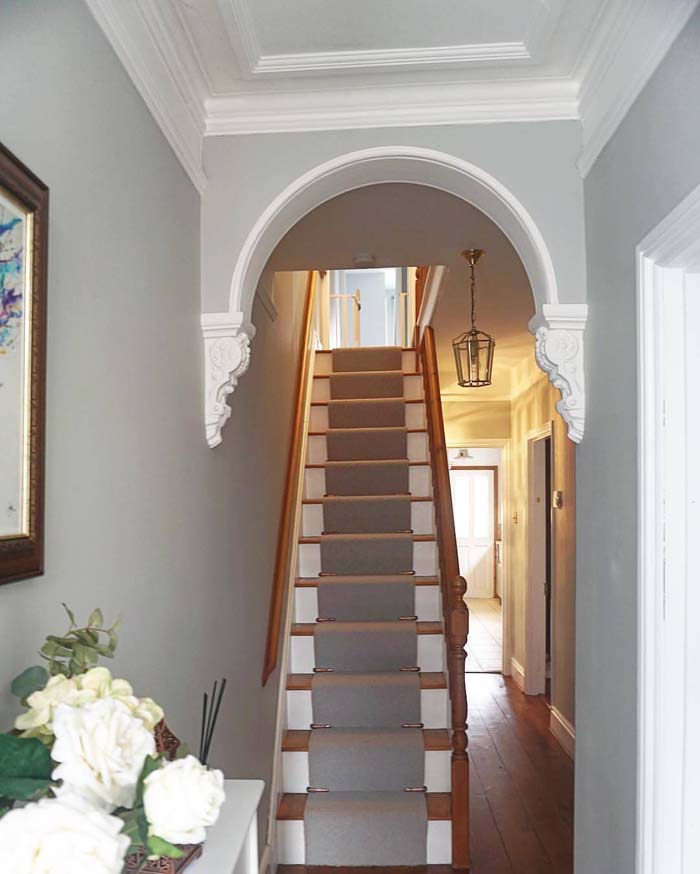 Finish the arch with molded corbels. They are offered in various designs and sizes so finding the best model is not a difficult task.
For a greater framed effect, make sure that their color contrasts with the wall and staircase color.
This design hack will lift the architectural appeal of your home.
via End Of The Row
23. Rustic Farmhouse Charm with Corbel Shelves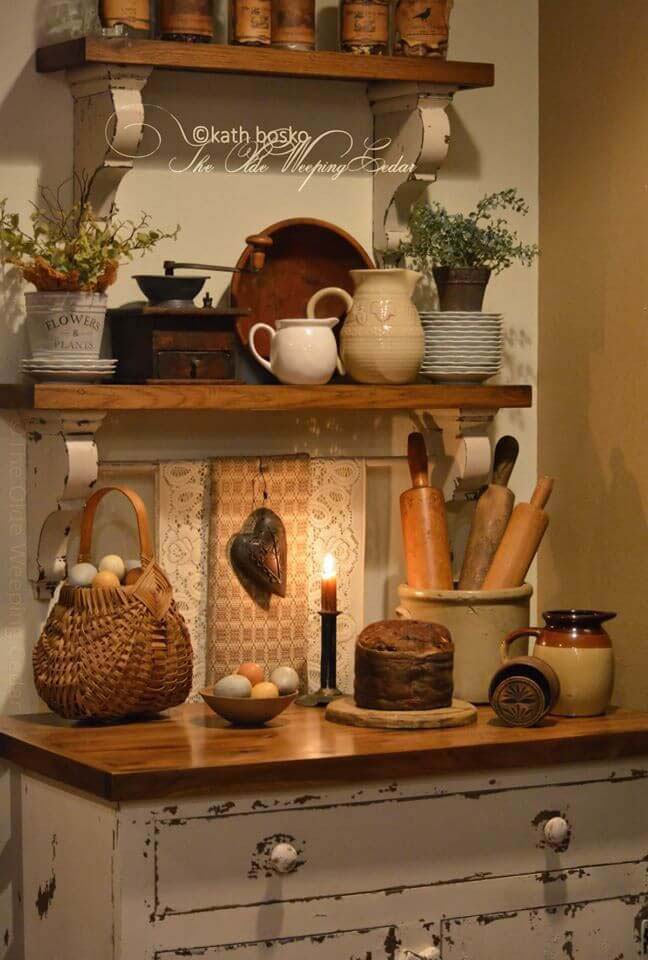 The simplest corbels also have a great rustic impact.
Used to hold shelves for farmhouse decor, they will add charm to the setting without drawing attention from the rest of the elements.
24. Create Stunning Handmade Wooden Range Hood with Corbels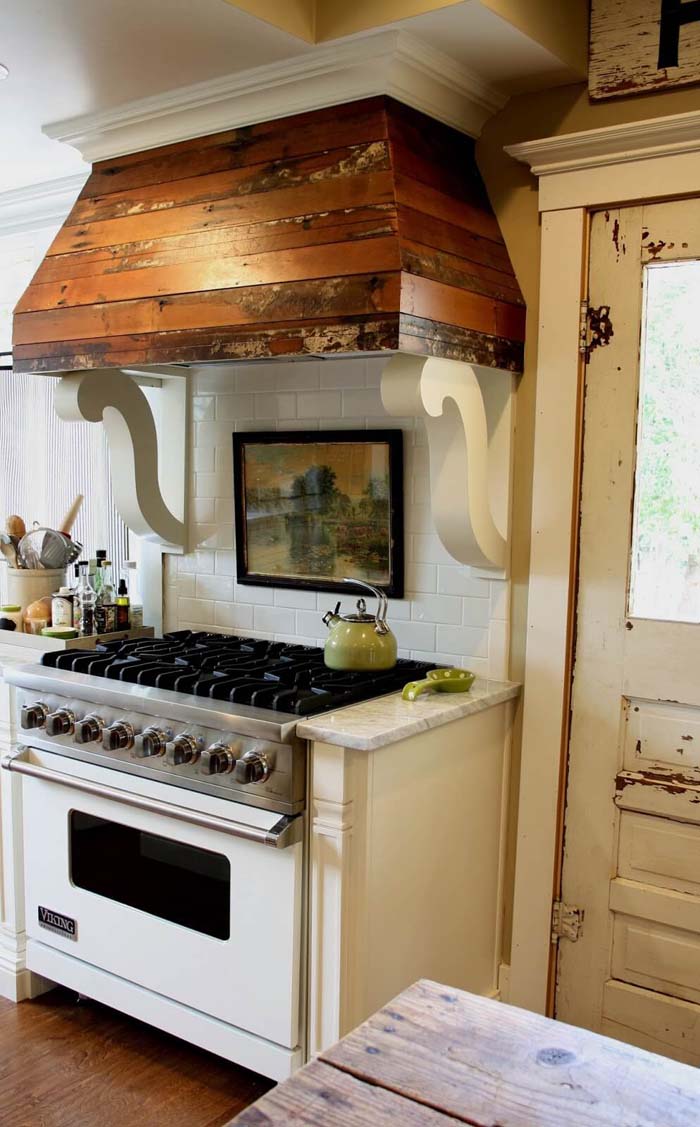 Create a custom look for your kitchen with a handmade absorber hood. Use scrapped wood like pallet slats to build the structure.
The hood is visually suspended on two white corbels to ensure a smooth mix of the textures and styles and to differentiate the cooking place.
25. Get Creative with a Corbel for Home Accents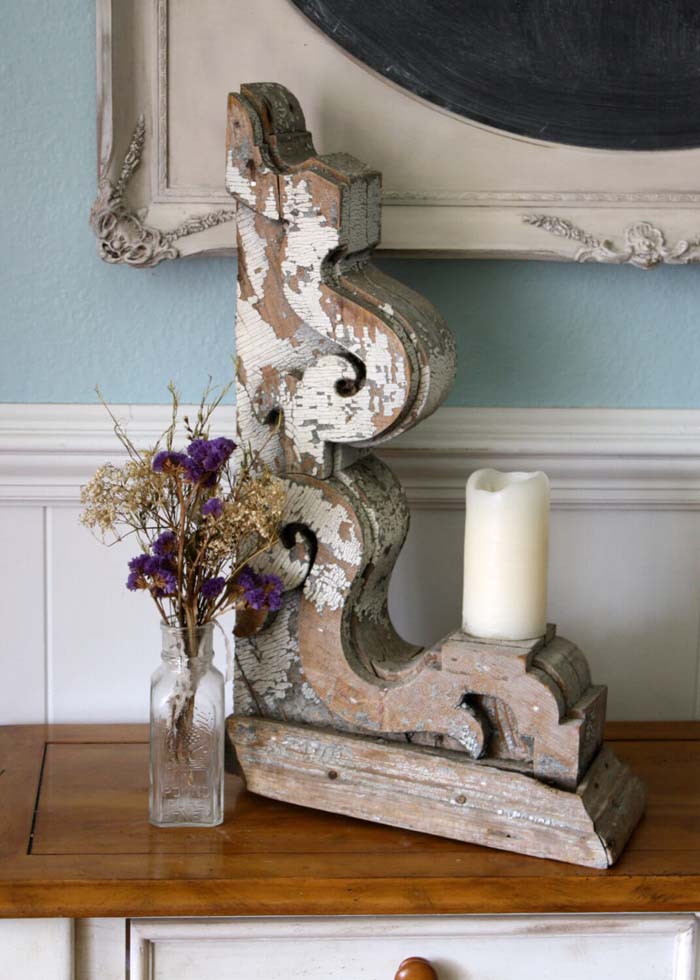 Next time hunting the thrift shop, make sure to get a corbel. You can use it as a candle holder, as a bookend, as a lampstand, independently as a rustic accent and many more.
Leave it weathered for a more dramatic look or change its color when a bright touch or a match with other accents is needed.
via Etsy
26. Make a Stylish Shelf Above Your Bed with Repurposed Corbels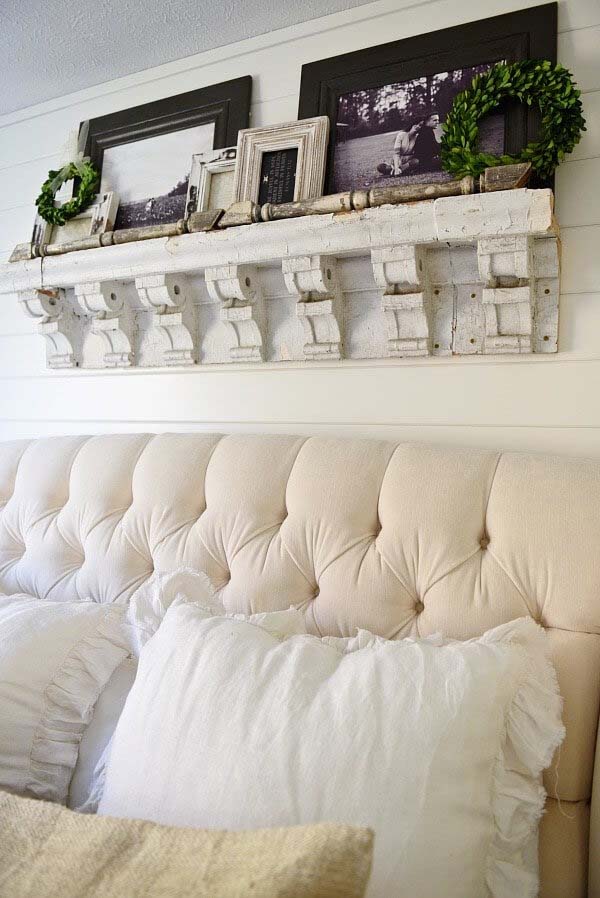 These corbels are a section from a roof that has been beautifully repurposed to become a shelf above the bed.
If you need a longer shelf, add more corbels on each side. Decorate with family photos, signs, candles.
via Liz Marie Blog
27. Upcycle an Architectural Corbel into a Unique Lamp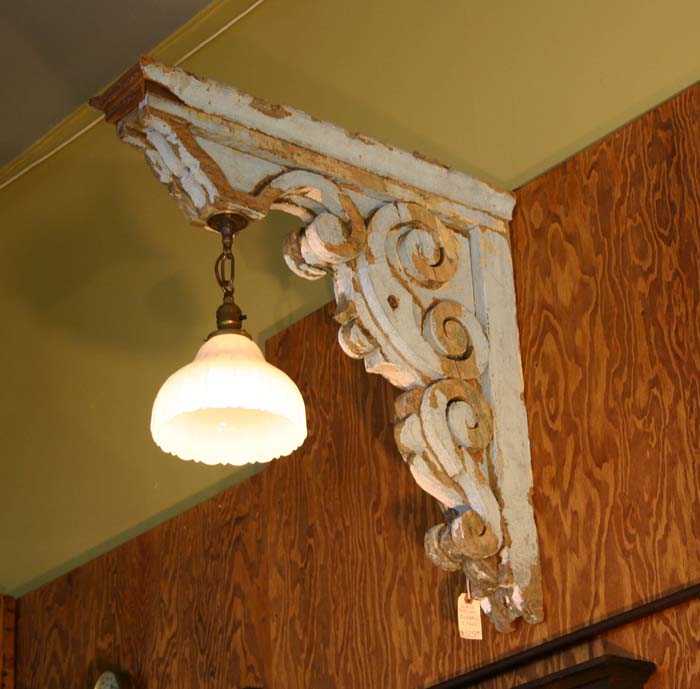 Get a textured accent and an illumination source in one. This piece is sold at a workshop that aims to recover and repurpose salvaged architectural items.
Turning the corbel into a lamp instantly makes it a desired acquisition.
via Arciform
28. Craft a Unique Corbel Nightstand for Your Small Bedroom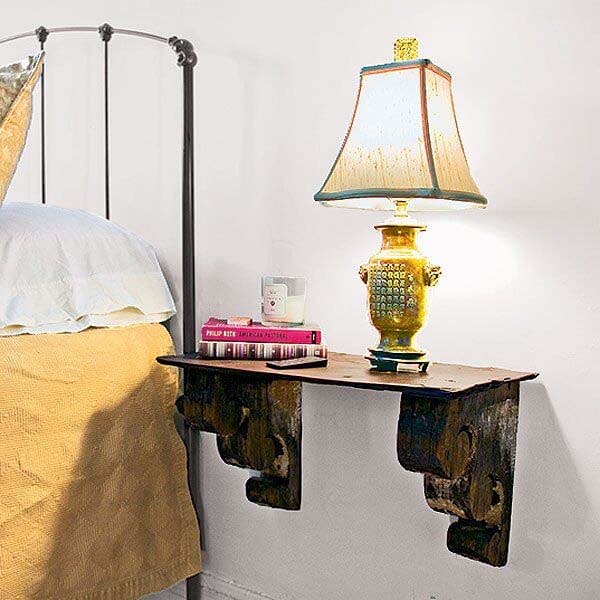 If you are wondering what design of a nightstand will fit your small bedroom, why not make yourself a corbel nightstand that won't take any of the floor space?
A pair of old rustic corbels, a slat and suitable hardware define this DIY as an easy weekend project.
via This Old House
29. Decorative Corbels for Enhancing Cabinetry Design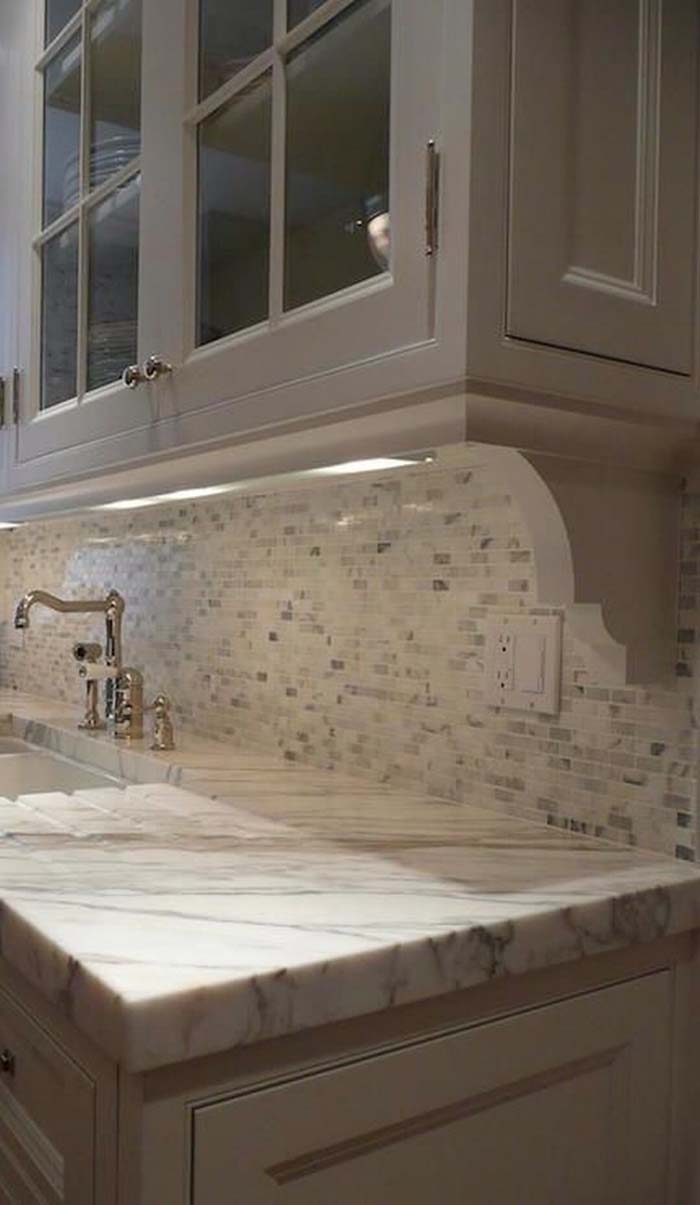 Corbels are a designer's solution for filling up a dead space under the cabinets.
Their function as a decorative element is expressed through softening the straight box lines of the cabinets and framing their start and end.
via Decorpad
30. Create an Easy DIY Sconce Lamp with Wood Slabs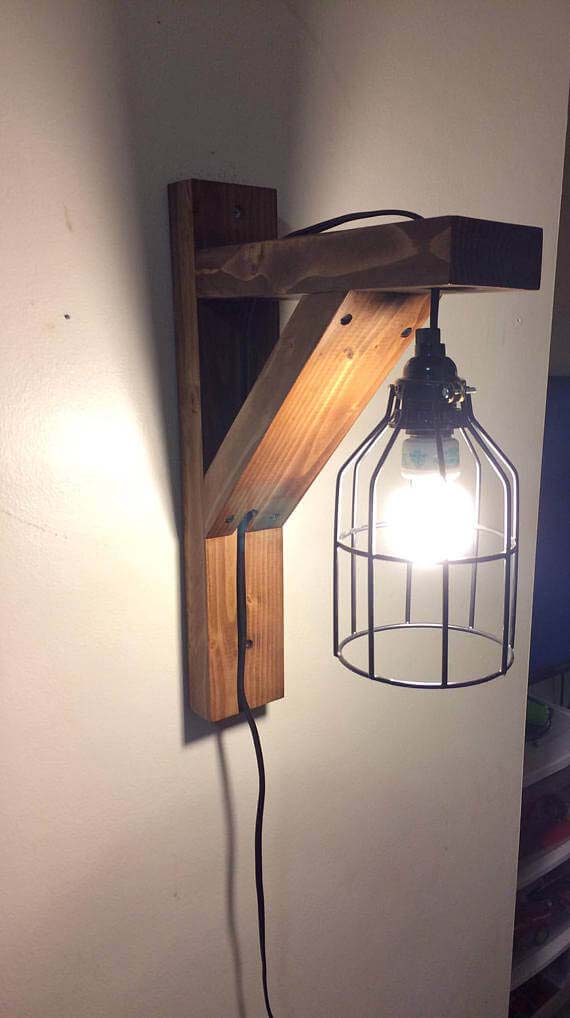 This scone lamp sold on Etsy can be easily made by any DIY beginner.
You need only 3 pieces of wood slabs and a lamp.
Assemble the wood pieces into this triangular shape, drill holes to put through the cable of the pendant light and nail them to the wall.
via Etsy
31. Rustic Antique Flower Pot Stand with Corbels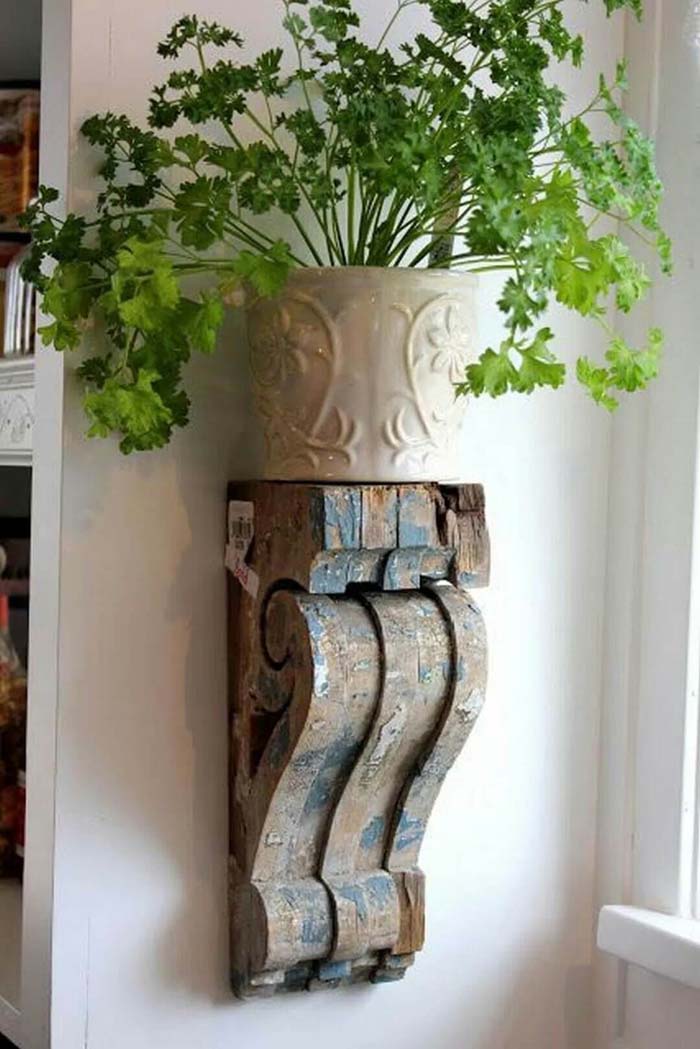 Three corbels are tightly assembled to each other to create a stunning antique flower pot stand.
Along with its functionality, its worth as a decoration is great because of the great rustic touch it brings into this white and naturally lit space.
via Decofilia
32. Instantly Update Your Kitchen Countertop with Corbels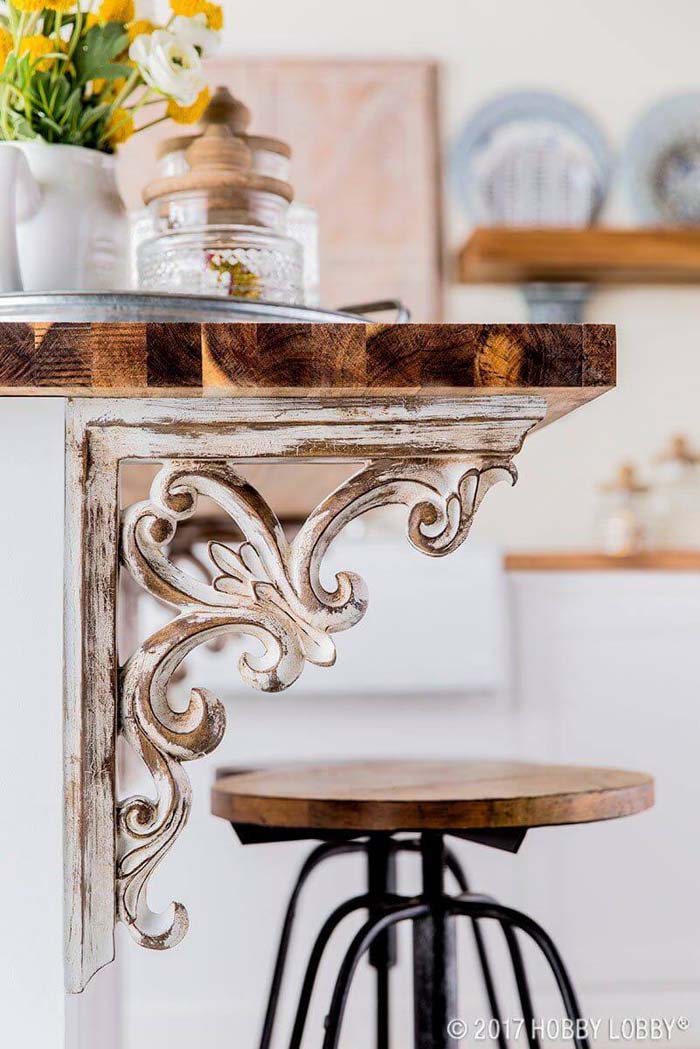 Looking for an affordable way to update your kitchen? A quick, easy and inexpensive way is to add corbels to the kitchen island.
Although they will not be functional, they will do an instant makeover to the countertop, making it more rustic and pretty.
via Hobby Lobby
33. Craft Corbels to Enhance the Rustic Charm of Any Room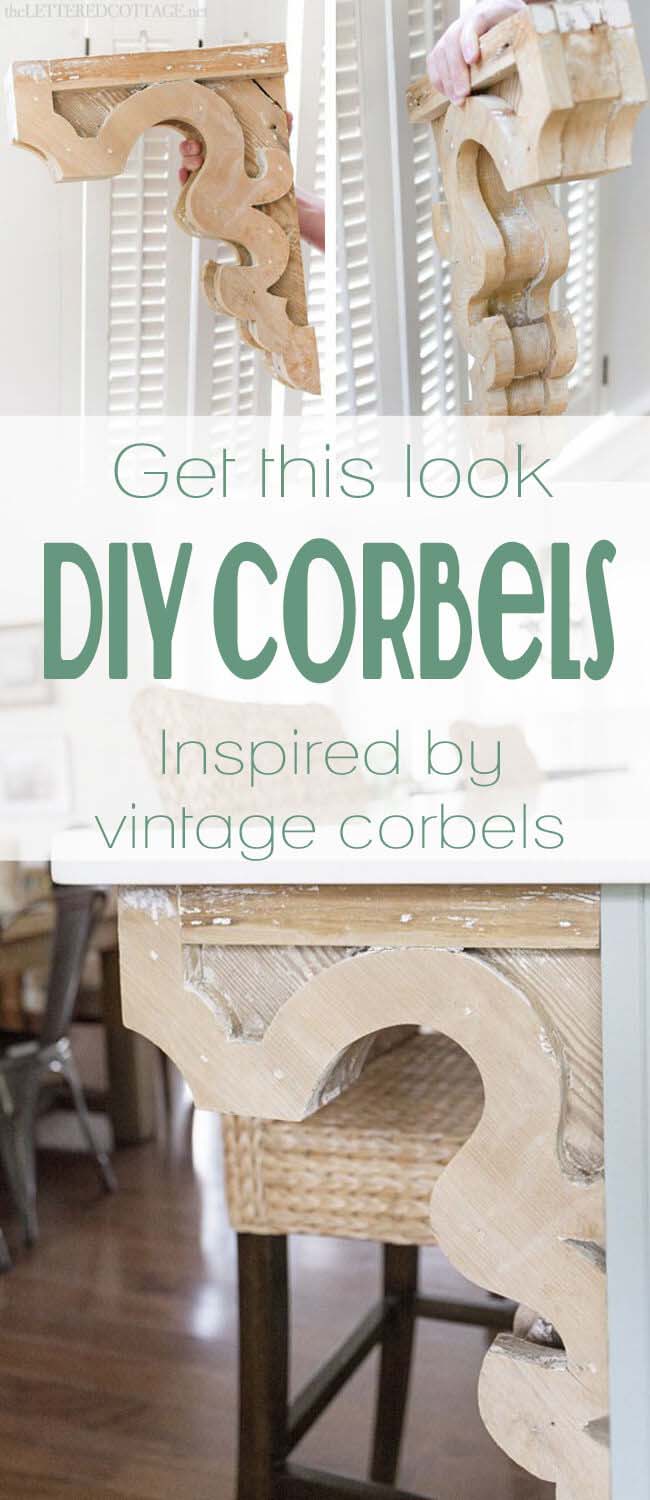 You can't find any corbels? You can make them yourself and they will look as curvy and stunning as an antique.
If you are in love with the rustic charm they add, make sure to visit the link below with a tutorial and free pattern.
via Remodelaholic
34. Enhance Your Dining Room with Corbel-Framed Wall Art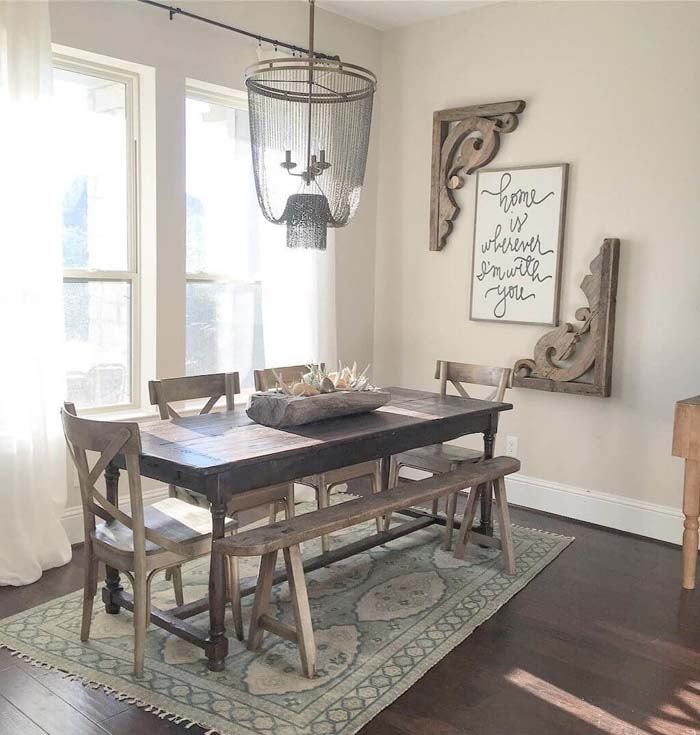 Are you looking for a unique decoration for your dining room?
Use corbels to frame meaningful wall art. They will grab the attention easily and will help the important statement or image be noticed.
35. Beautify Your Fireplace with Corbel-Supported Wooden Mantel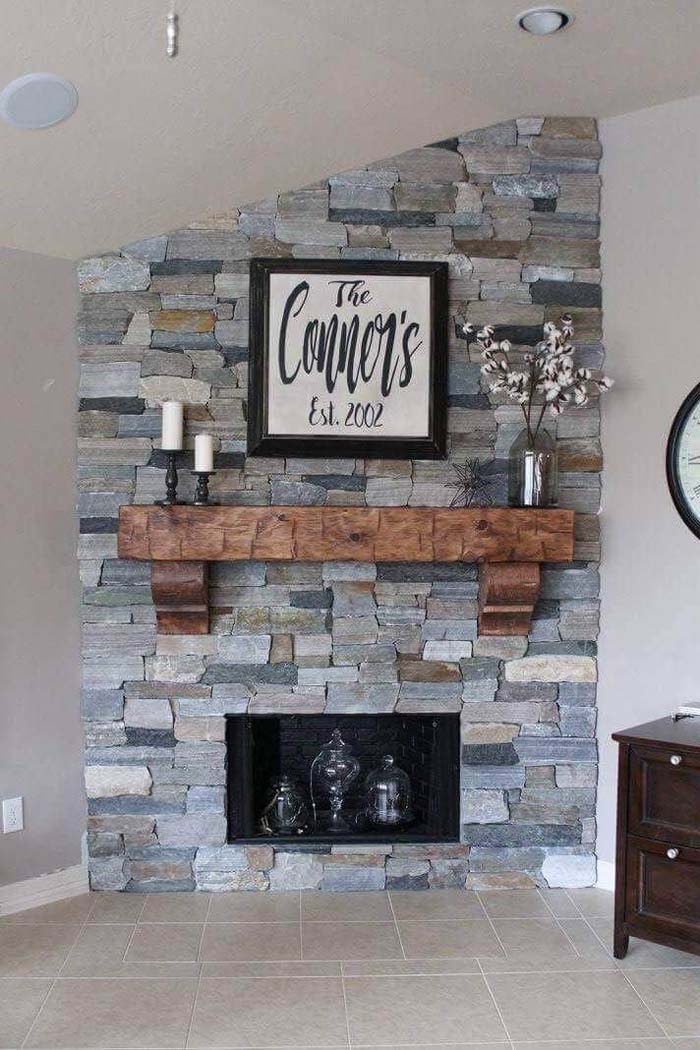 Add a wooden mantel supported on corbels to make the cold stone wall of your fireplace feel like an integrated part of your home.
Although this mantel is a contemporary item, its handmade production gives it a rustic aged look which ensures more added charm and warmth.
via Etsy
36. Give Your Floating Shelves a Spectacular Look with Corbels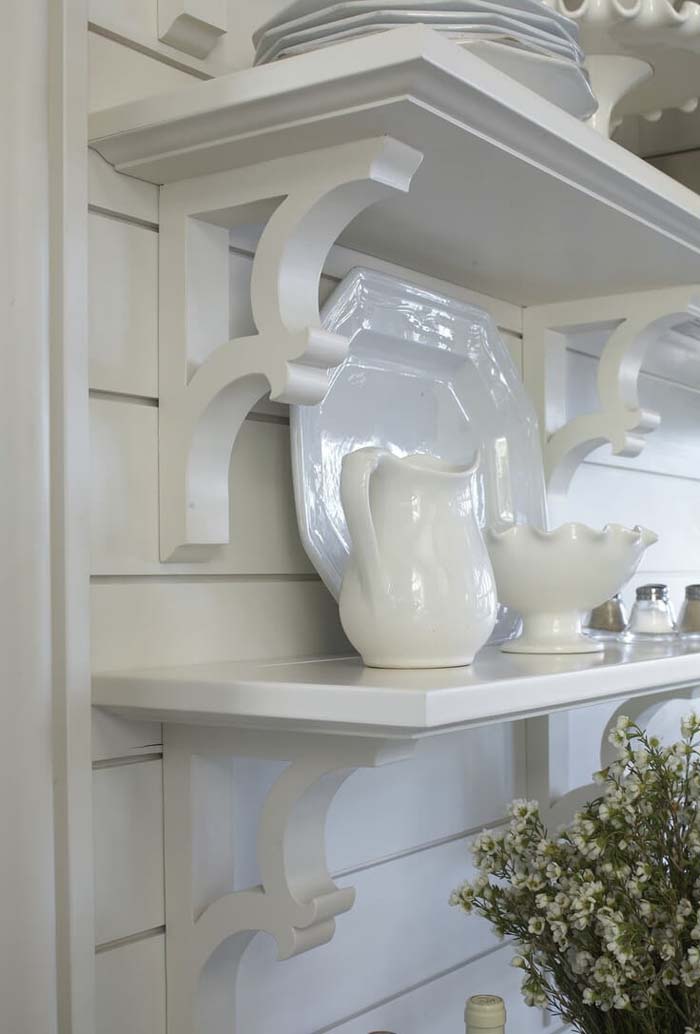 Give your floating shelves a unique look by supporting them with corbels.
They will also contribute to creating the illusion of heavier and pricey storage furniture.