It's no secret that green plants brighten and refresh your space — but have you ever considered using them as part of your wall decorations?
With their organic texture and dramatic color variations, houseplants make the perfect modern alternative to traditional wall art.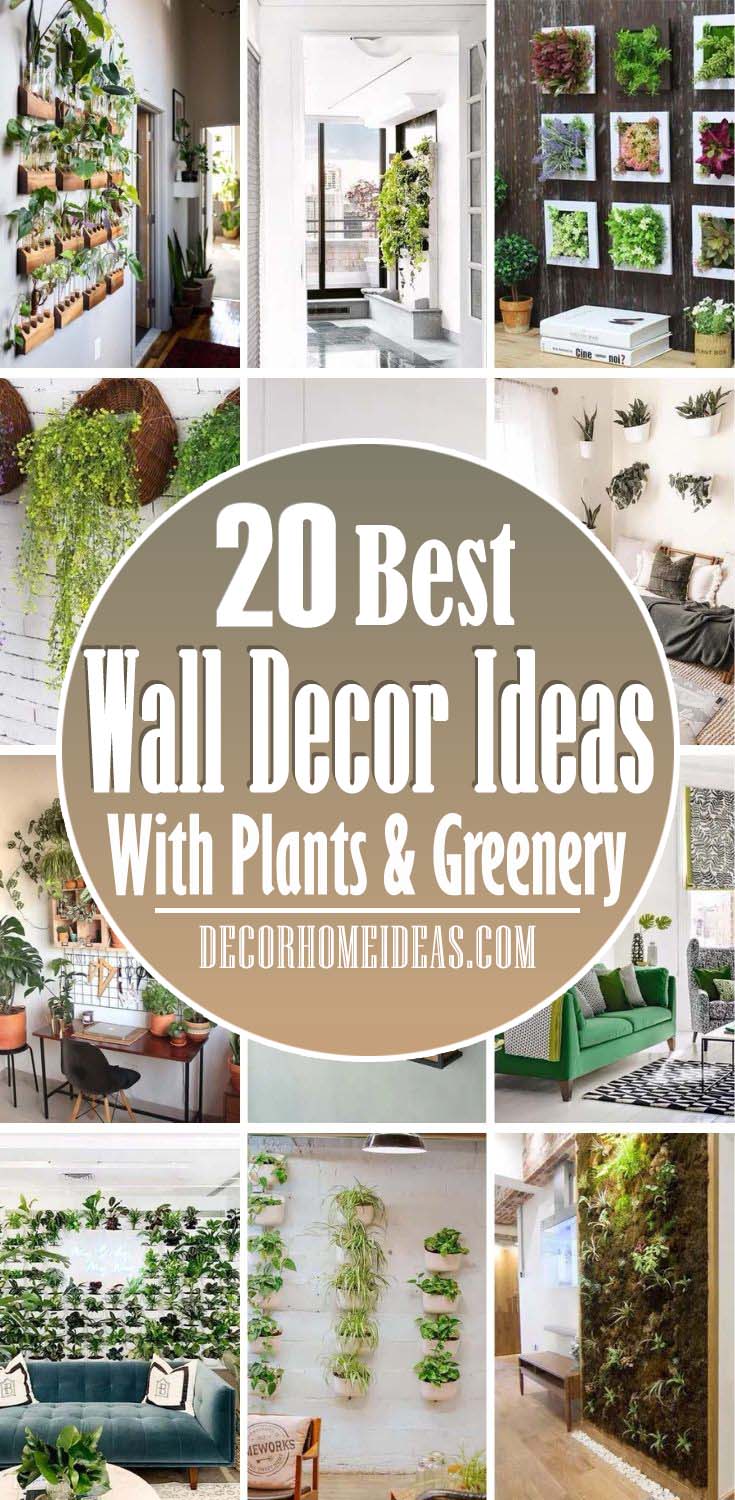 Check out these 20+ stunning ideas for inspiration as you design your own plant art.
1. Beguiling Green Hues and Blue Accents in Home Décor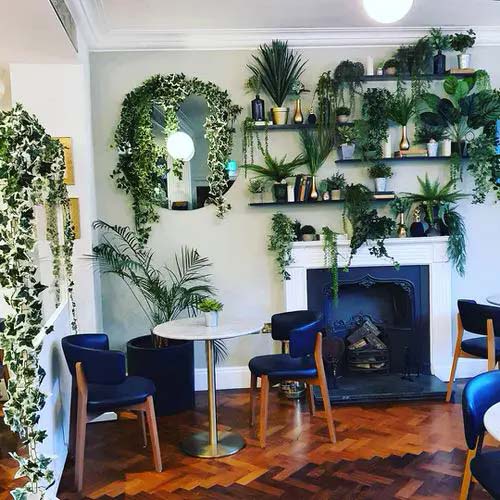 There's something beguiling about the deep green hues of potted plants. Bring them out with blue accents in a similar saturation.
The combination is breathtaking — a surefire way to jazz up a simple space.
2. Create an Enchanting Plant Wall with Staircase Effect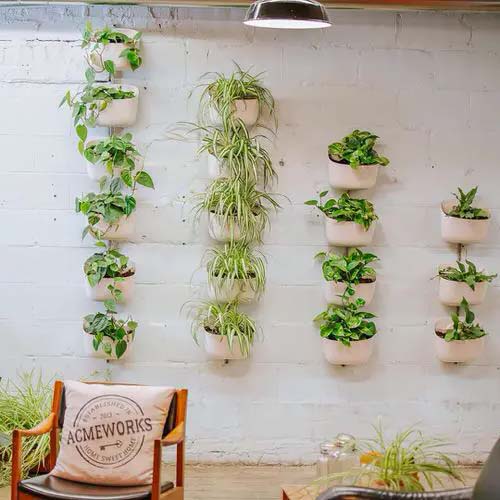 Your guests won't be able to stop staring at this plant wall, which is deceptively simple.
Each column gets progressively shorter, creating the impression of a bar graph or a set of stairs.
Place a different plant in each column or each pot to achieve the perfect blend.
3. Transform an Old Door into a Stunning Plant Wall Decoration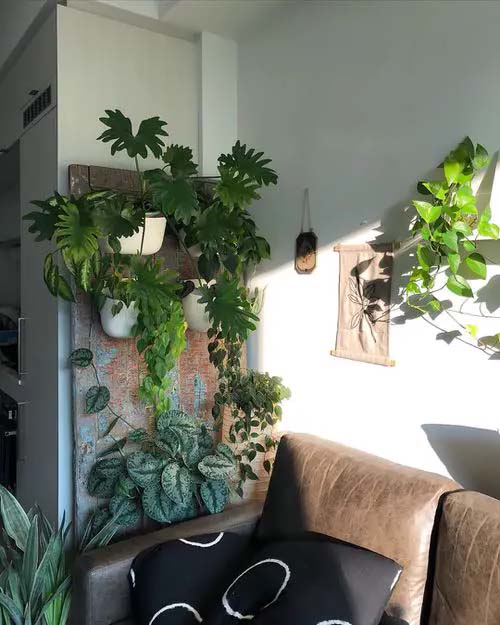 Do you have an old door in a shed or garage?
With a few affordable supplies, you can turn it into a gorgeous plant wall.
Attach a few ring brackets, drop in some potted plants, and you have a decoration that's completely unique. This design works particularly well with vines and large plants.
4. Create a Floating Garden Oasis with Hanging Pots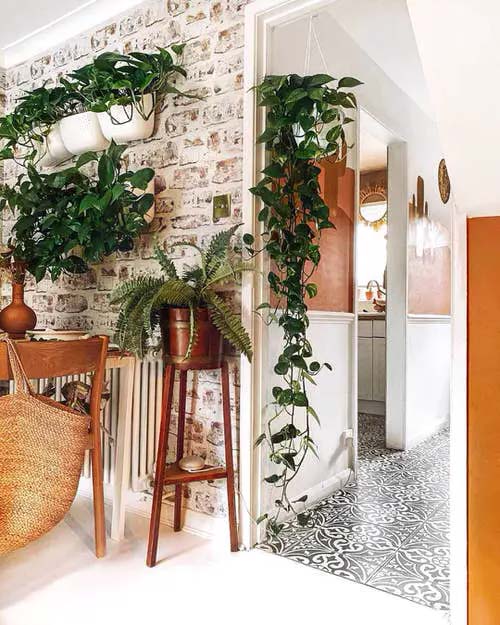 If you want to keep the focus on your plants, do as this homeowner did and use pots that are similar in color to the wall.
The hanging pots blend into the brick, giving the impression that the leaves are floating.
5. Transform Your Office with Wall of Lush Green Plants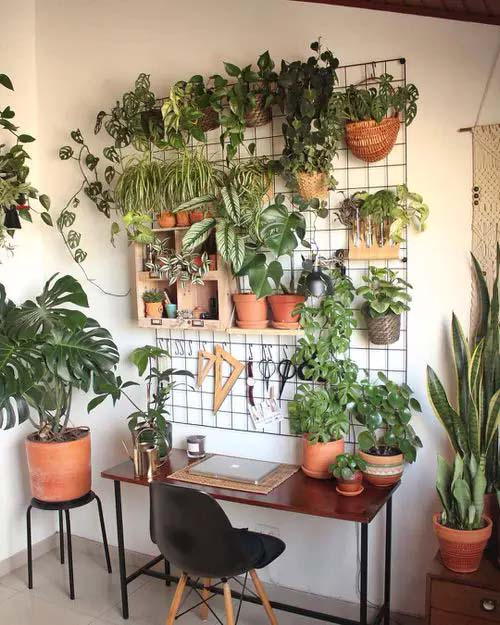 Have you ever longed to work in the great outdoors?
By covering your office wall with shelves of lush green plants, you can recreate the experience. The best part?
You'll be warm and cozy all year long.
6. Maximize Plant-Based Decorations with a White Wall Backdrop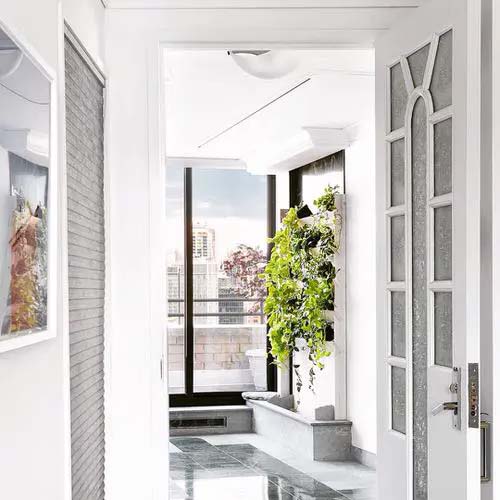 When you want to maximize the impact of plant-based decorations, white walls are the way to go.
The brilliantly green leaves look even more vibrant on a white canvas.
Here, the homeowner uses simple shelves to hold potted plants with cascading vines.
7. Bring the Jungle Vibe Home with a Plant Wall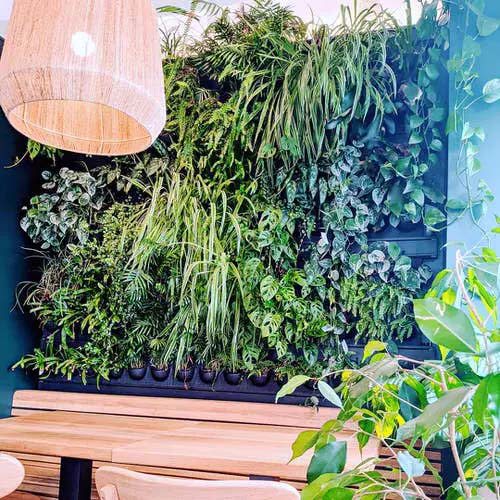 If you've ever wished you could live in the jungle, this plant wall might be the next best thing.
It's all about excess, with multiple plants that create a thick, lush wall of leaves.
Choose identical plants for a uniform look or go with different species for a wild vibe.
8. Aesthetically Pleasing Wall of Plants with Dramatic Contrasts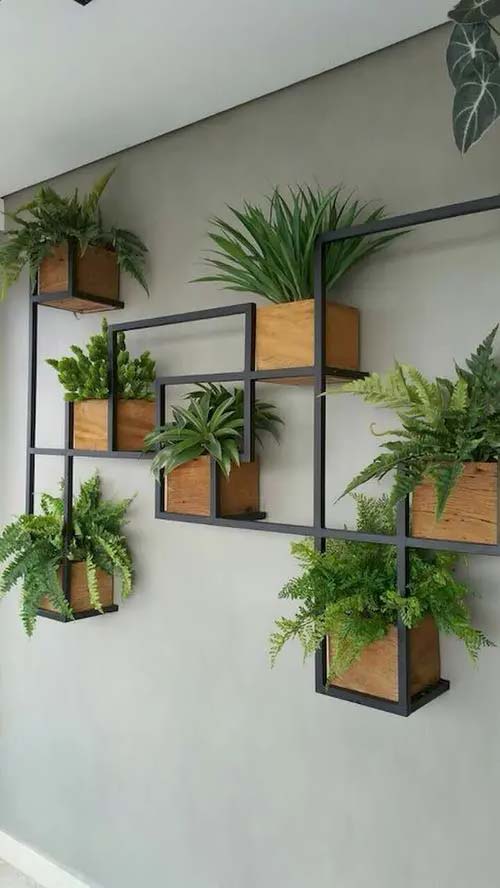 We think you'll agree that it doesn't get more spectacular than this wall of plants.
The dark, angular metal frames contrast beautifully with the warm wooden planters and the pops of green in the leaves.
The result is truly a work of art.
9. Striking Design Statement with a Full-Plant Wall Feature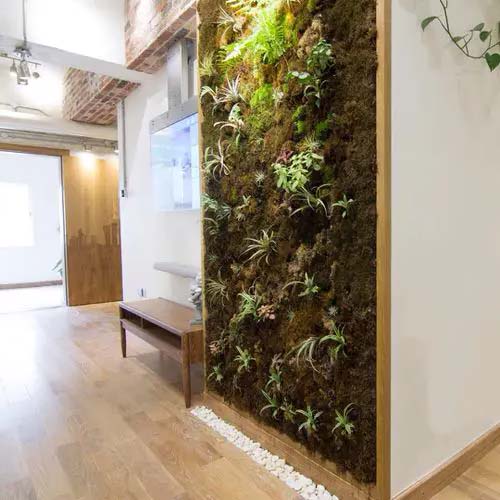 If you want to make a striking design statement, you can't go wrong with a full-plant wall.
This stunning feature wall looks like a vertical garden, with small green plants growing out of a bed of moss.
With some careful engineering, you can achieve the same look at home.
10. Create an Instant Feature Wall with Metal Grid and Plants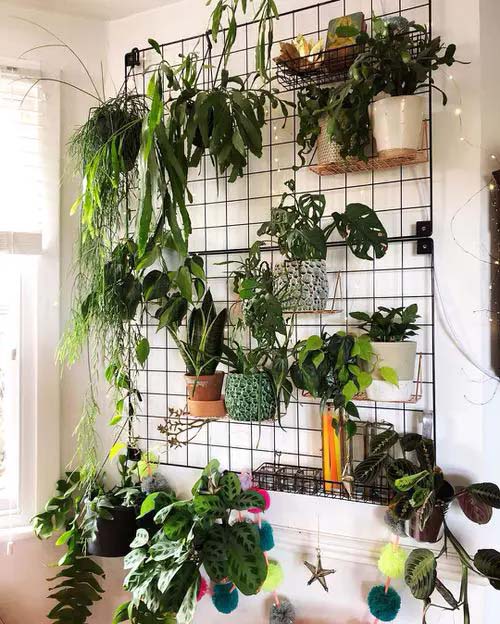 Do you have an empty wall?
Hang a large metal grid, and you have the perfect canvas for a green, living feature wall.
Just hang an assortment of plants in varying sizes and colors, and you have an instant showpiece. A few twinkle lights add just the right touch of sparkle.
11. Combine Hard and Organic Textures for a Cohesive Aesthetic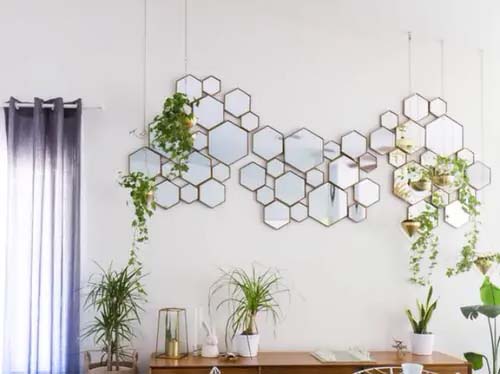 Combine hard and organic textures by pairing crisp mirrors with natural plants.
Here, the sharp metal frames around the mirrors play beautifully against the wild greenery that spills from the hanging pots.
12. Neon Signs in Living Walls for a Modern Twist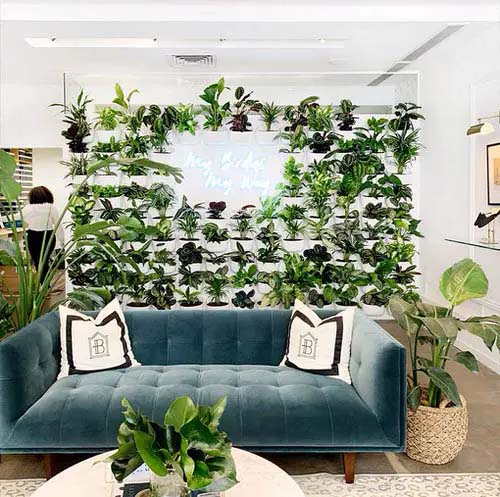 For serious plant lovers, there's nothing more exciting than a full wall of plants — unless that wall also includes a neon sign.
This completely unexpected combination is impossibly charming and decidedly modern.
13. Unique Array of Grids and Shelving for a Vast Variety of Flora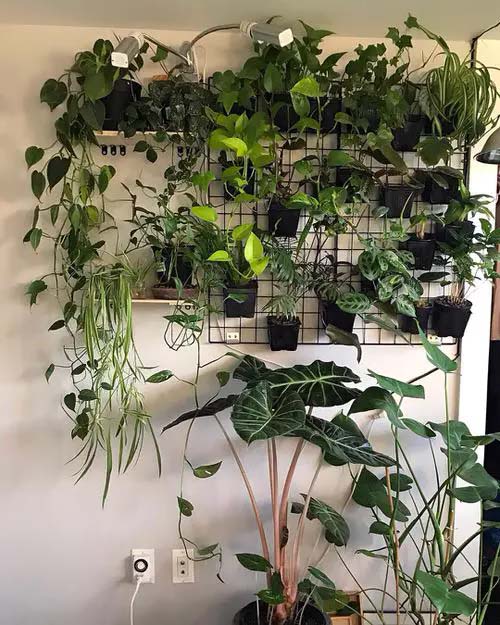 Show off an array of plant types with this creative collection of grids and shelves.
A metal grid holds a huge variety of small potted plants, bringing a delightful range of colors, textures, and leaf shapes.
Two side shelves create a sturdy spot to store potted vines, and large floor plants complete the wild look.
14. Display Nature's Beauty with Moss Bases and Wooden Planks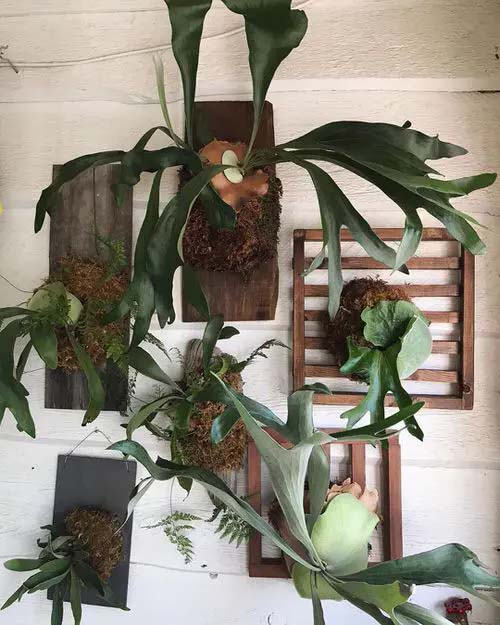 Have you ever seen a set of deer antlers mounted on a wall?
This creative arrangement has a similar vibe — but with a natural twist.
Using lush moss bases and wooden planks, this setup gives the impression that the plants are growing right out of the wall.
15. Bring Warmth to Your Home with Plants and Hanging Baskets
If you have a rustic home, bring a warm, organic feel to your space with plants and rounded hanging baskets.
Between the wicker and the charming vines, there's not a straight line in sight — it's the perfect way to create contrast with a hard wall.
16. Add Organic Charm with Rustic Wooden Planters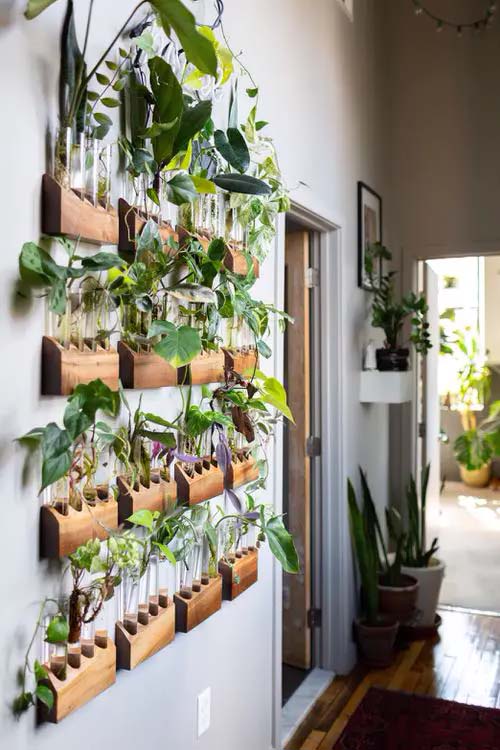 Bring nature into your home with this creative arrangement, which features rustic wooden frames that support rows of plants in test tubes.
Don't miss: 25 Most Popular Indoor Plants You Can Easily Grow In Vases
At first glance, the organic wood and leaves look perfectly suited — and when you look closer, the glass test tubes add in a fun pop of personality.
17. Create a Colorful Plant Gallery Wall with Wooden Frames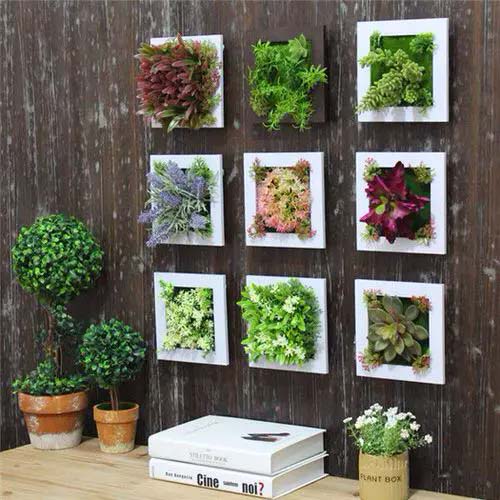 If you're looking for an alternative to a traditional gallery wall, why not replace framed photos with framed plants?
Here, the homeowner uses tiny wooden frames to showcase a variety of colorful plants. The bright white finish unifies the design.
18. All-Cream Wall of Greenery with Wrapping Corner Dimension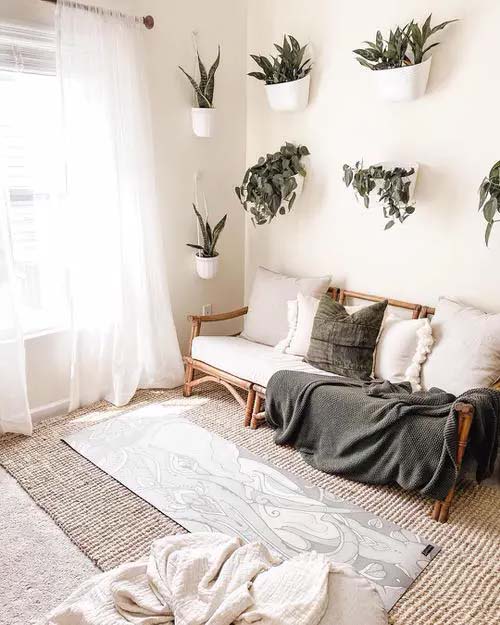 This arrangement is all about simplicity.
The magic is in the all-cream palette, which makes the color of the green leaves even more thrilling.
We love how the plants cover a full wall and wrap around the corner for dimension and depth.
19. Modern Living Room with Crisp Accents and Lush Greenery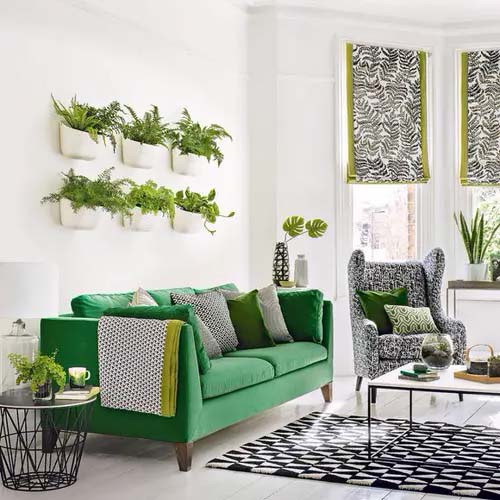 Modern style, fresh plants, and luxurious materials combine in this stunning living room. The secret?
The designer uses green as an accent color, tying the plants seamlessly into the overall aesthetic. Black and white accents create a look that's sharp but welcoming.
20. Integrate Natural Beauty into an Industrial Aesthetic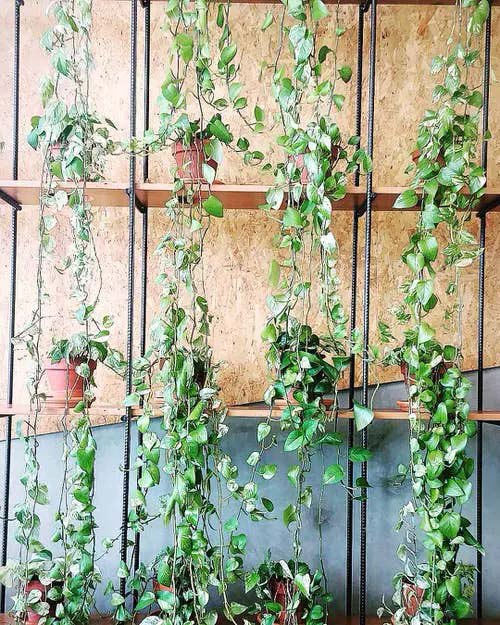 This project demonstrates how plants can integrate into a stark industrial space.
The wood and metal shelving maintain the utilitarian vibe of the home, and the spectacular green vines soften the hard materials.
You might even consider using shelves suspended by ropes for an additional touch of texture.