A gallery wall is a perfect way to fill a plain space with color and texture.
Of all the home-decor trends, it gives you the most freedom — you can create a classic photo gallery, or go wild and combine works of art and other hanging items for a one-of-a-kind design.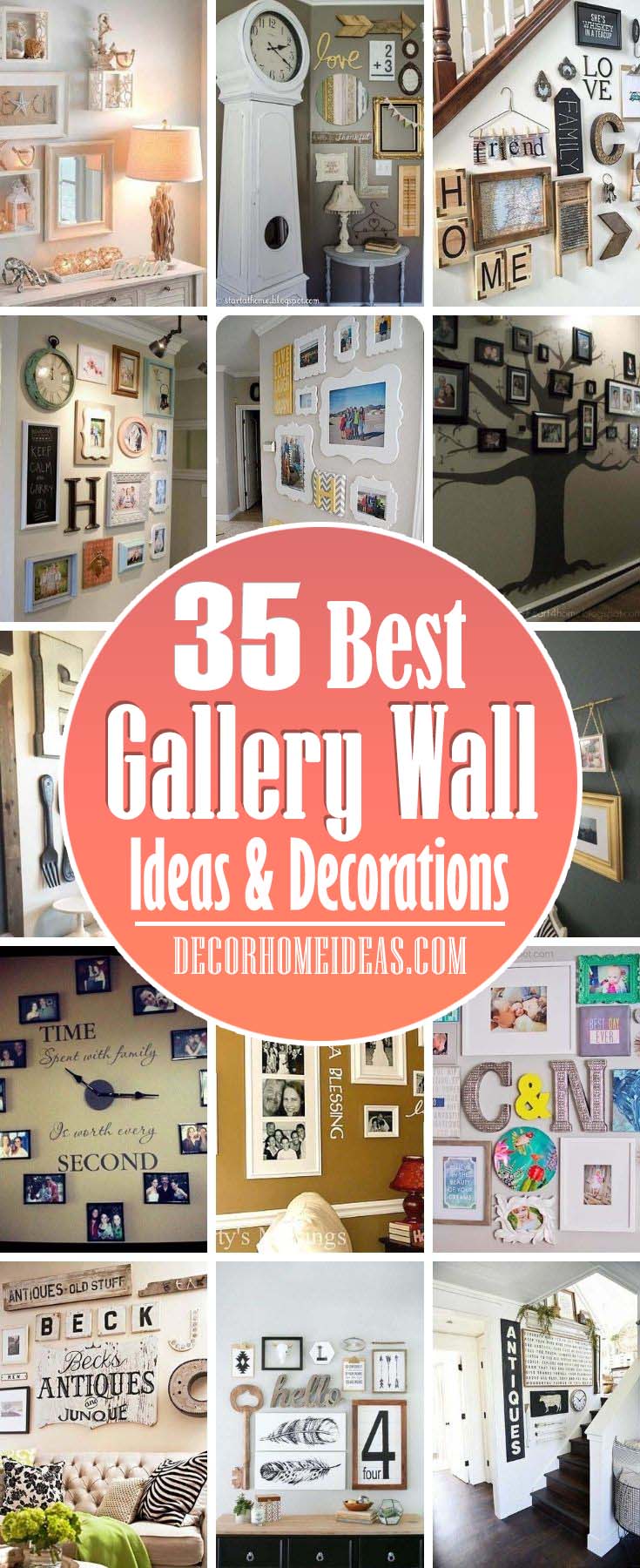 In fact, a gallery wall is a perfect way to showcase small items that don't fit anywhere else.
As you gather the items for your personal gallery, look to these gorgeous ideas for inspiration.
1. Transform Your Corner Gallery Wall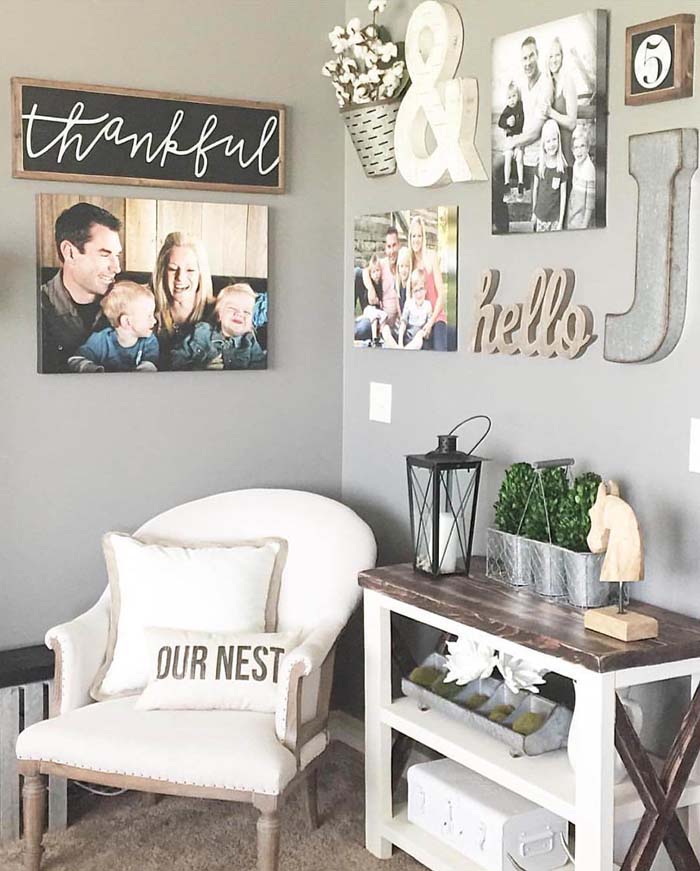 Turn a corner gallery wall into a cozy reading nook by adding a chair.
The hanging picture frames balance the low height of the chair, and a couple of adorable pillows add to the shabby-chic vibe.
2. Varying Shapes and Sizes for a Contemporary Gallery Wall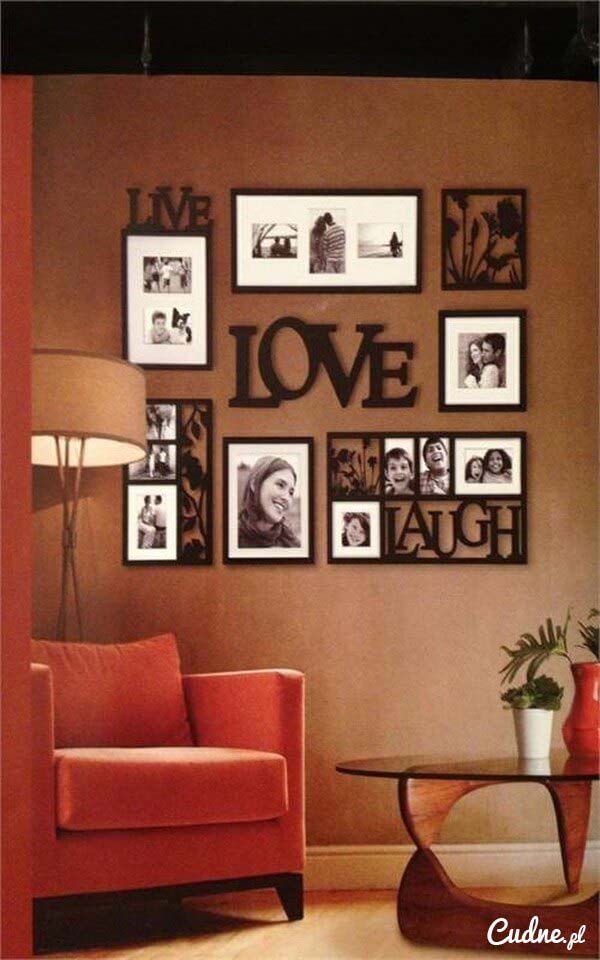 This gallery wall puts a creative spin on the classic symmetrical style by arranging pieces in varying sizes and shapes to create a crisp square.
Laser-cut accents and wooden word signs contrast perfectly with the crisp rectangular photo frames for a fun, contemporary look.
3. Vibrant Colors Bring Life to a Gallery Wall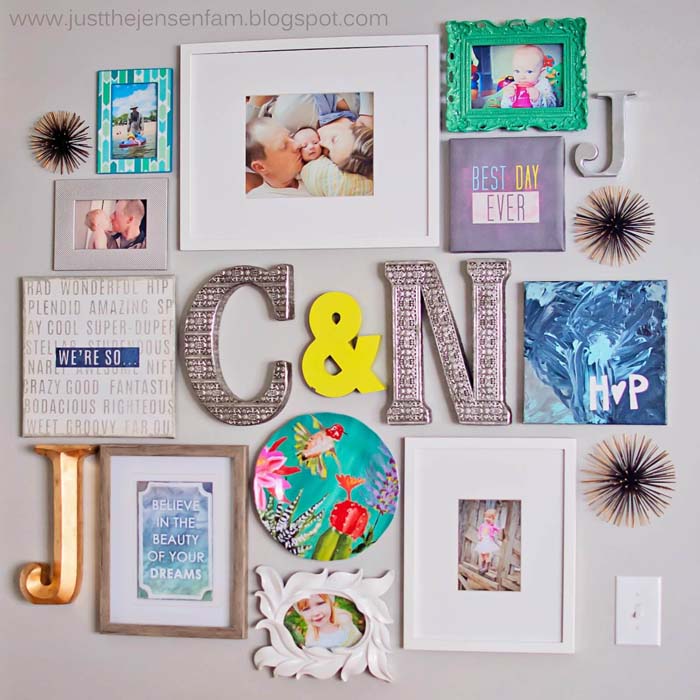 Nothing energizes a room like vibrant colors, and this gallery wall uses them perfectly.
We love the light-toned photo mats, which help the room feel open and airy; it also sets off the brilliant pops of yellow, green, and blue for a fresh feeling.
4. Create an Elegant Seashell Gallery Wall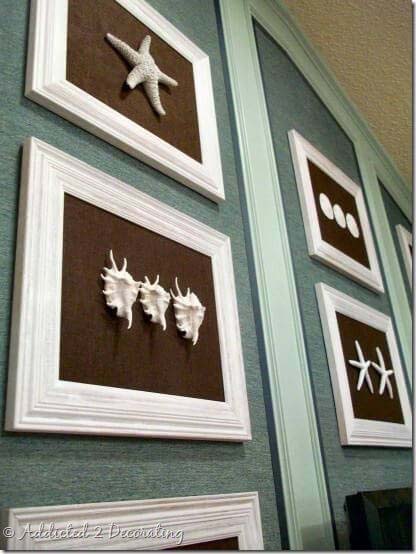 Don't have any framed photos?
No problem — this creative project uses seashells, antique frames, and linen to create an ultra-sophisticated gallery wall.
Choose any collection of small objects that match your decor theme; a quick coat of paint ties everything together.
5. Display Family Photos Creatively with Vinyl Decals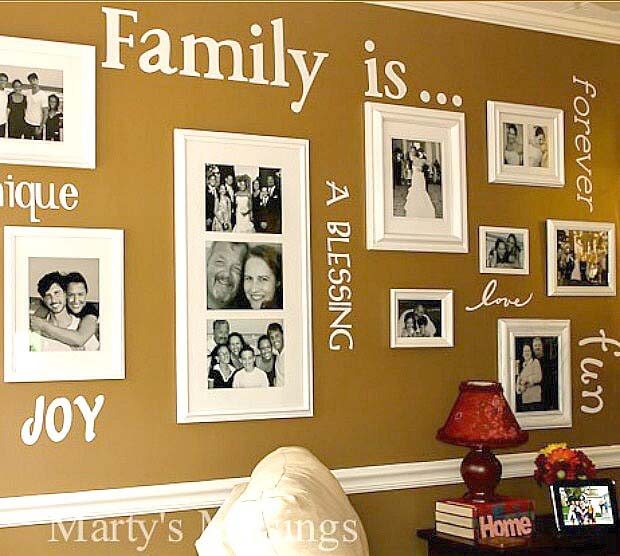 If you're looking for a creative way to display your family photos, try vinyl decals.
Words like "forever", "joy", and "love" set a positive and loving tone for a living room or playroom.
As a bonus, the decals are easy to apply and remove, so you can play around with different layouts without harming your walls.
via Martys Musings
6. Make a Rustic-Chic Gallery Wall in Your Cottage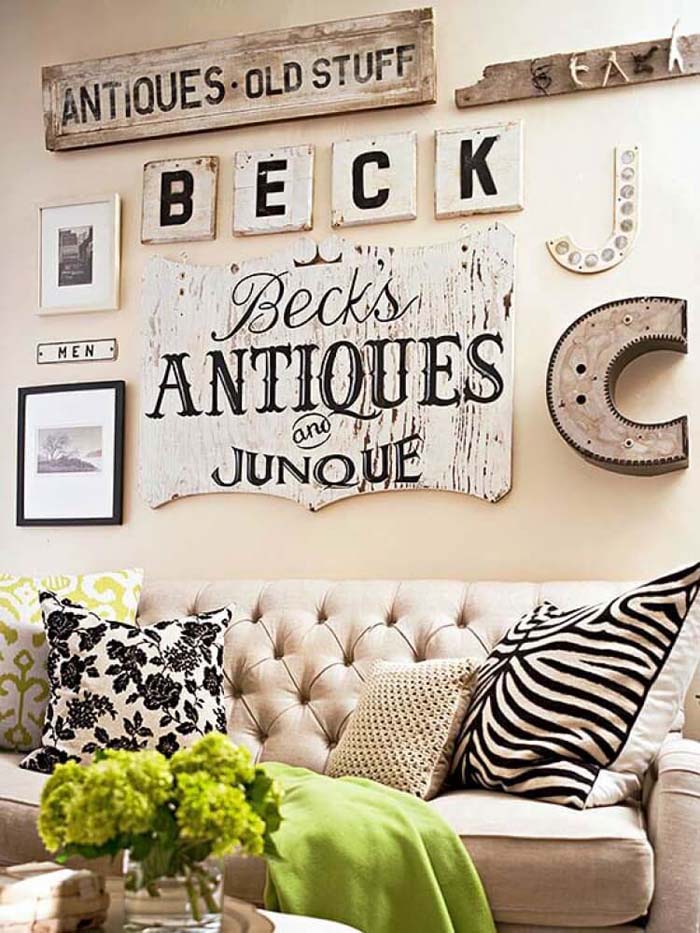 Gallery walls don't have to be modern — you can use pieces with distressed frames to match your rustic-chic farmhouse or cottage.
Add in a few vintage signs for an adorable old-world look.
Here, the homeowner uses a cream and black palette for a look that's stylish and country-casual.
via Blesser House
7. Create a Themed Gallery Wall to Fill an Empty Kitchen Space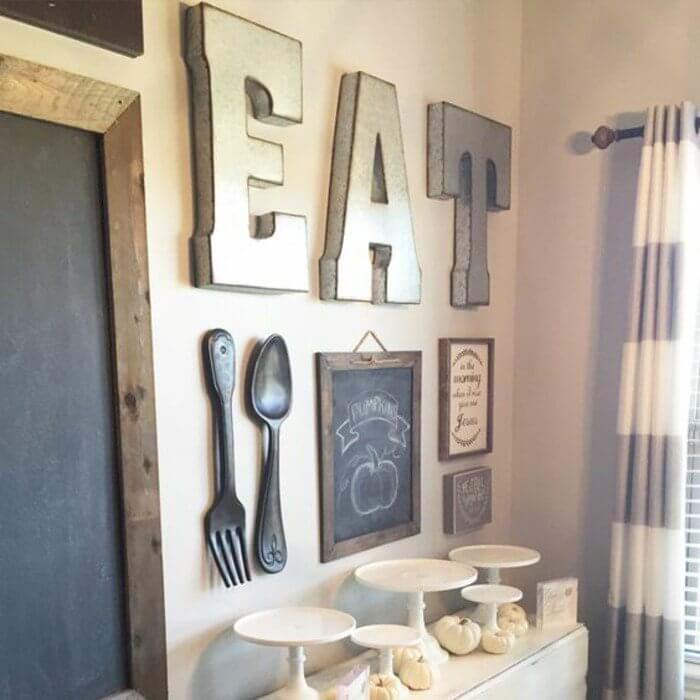 Fill an empty wall in your kitchen with a themed gallery wall.
Here, oversized letters set the tone for the arrangement, supplemented by oversized utensil wall art.
Add a chalkboard and write the menu for the week, and round out the design with your favorite framed quotes.
via Archzine
8. Personalized Gallery Wall with a Family Tree Theme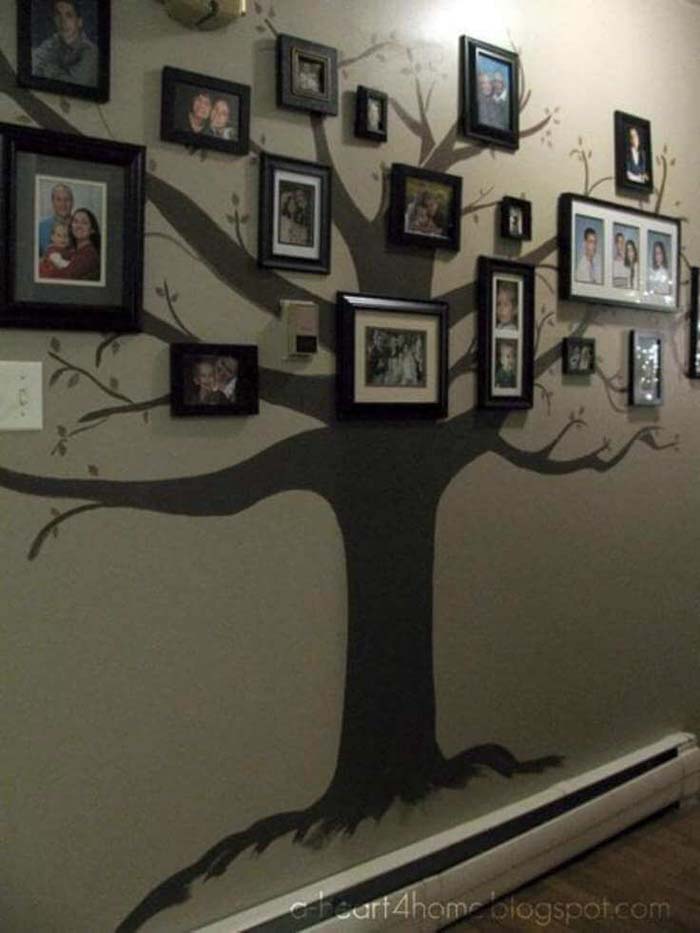 A gallery wall is a beautiful way to show off generations of family photos.
This project is a fun way to bring your family tree to life using an actual tree.
Hang the photos so they appear to be dangling from the branches, and paint in a few leaves or flowers for a dramatic flair.
9. Jazz Up Your Child's Room with a Fun-Themed Gallery Wall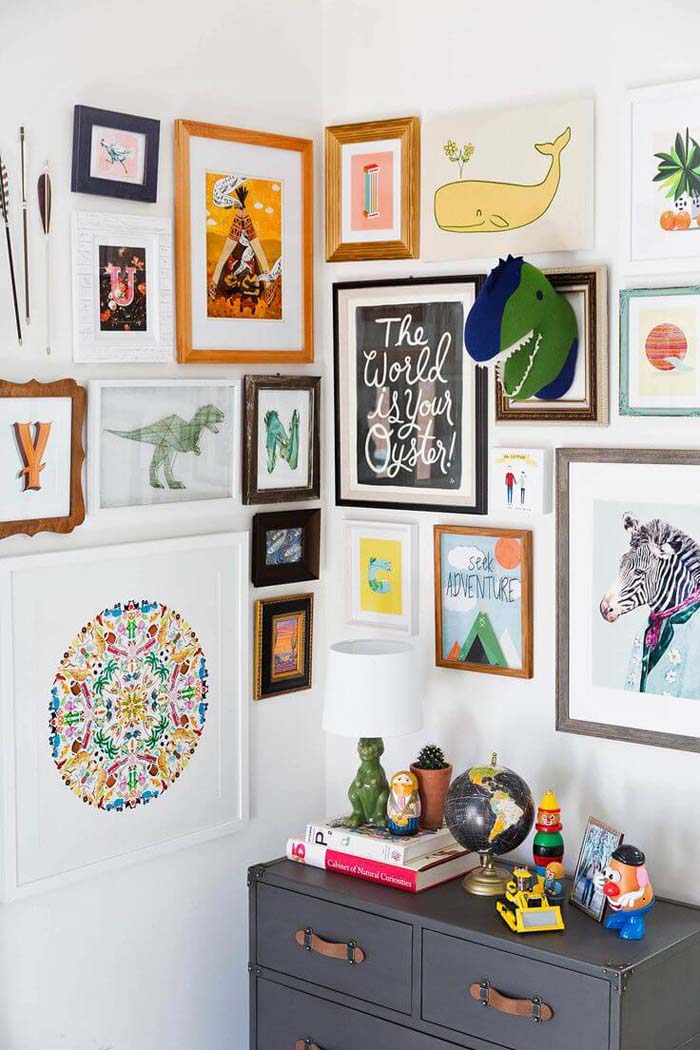 Jazz up your child's bedroom or playroom with a special kid-themed gallery wall.
Packed with brightly colored animal prints and inspiring quotes, this wall is a delightful way to celebrate your little one's interests and make the room feel ultra-personal.
via Honestly WTF
10. Create a Dramatic Atmosphere with a Dark Gallery Wall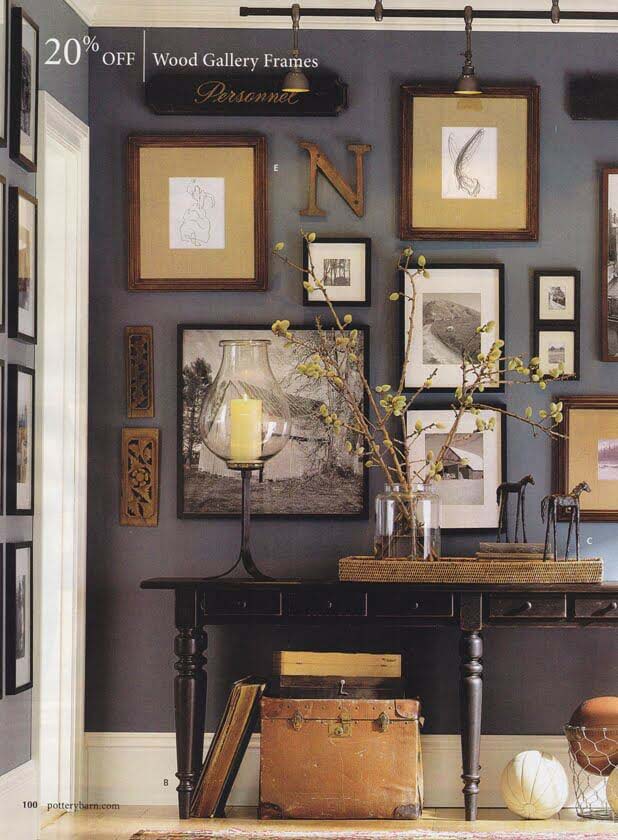 Working with a large room? Make a grand, imposing impact with a dark gallery wall.
The richly toned frames look elegant and moody against the dark paint, and the gorgeous old-world furniture brings in a hint of vintage charm.
Here, a tall lamp and vase overlap the gallery wall, creating lovely layers.
via Home Sweet Home
11. Capture Your Personality in One Wall with Framed Photos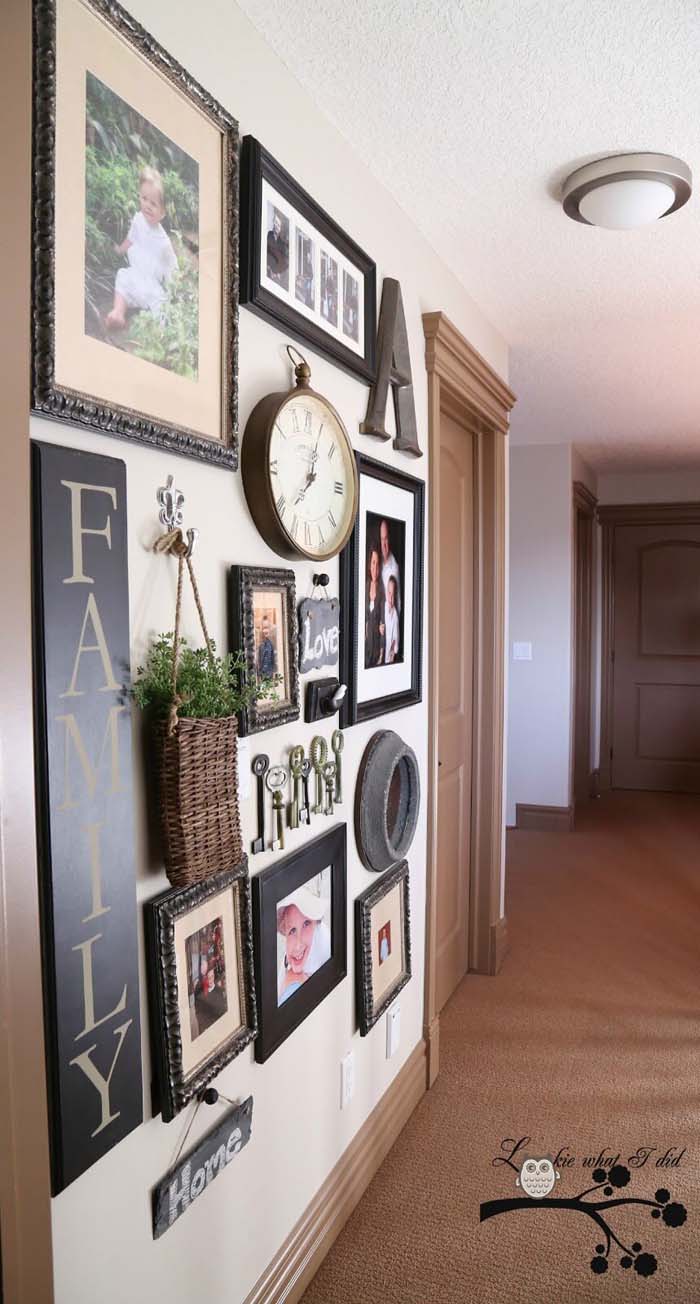 Capture your personality in one wall by combining framed photos with other elements that you love.
A vintage clock, a set of antique keys, and a hanging plant bring a thrilling contrast of shapes and textures.
For extra style, choose items that pop off of the wall for a 3D effect.
via Look What I Did
12. Custom Family Gallery Wall with a Monogram Centerpiece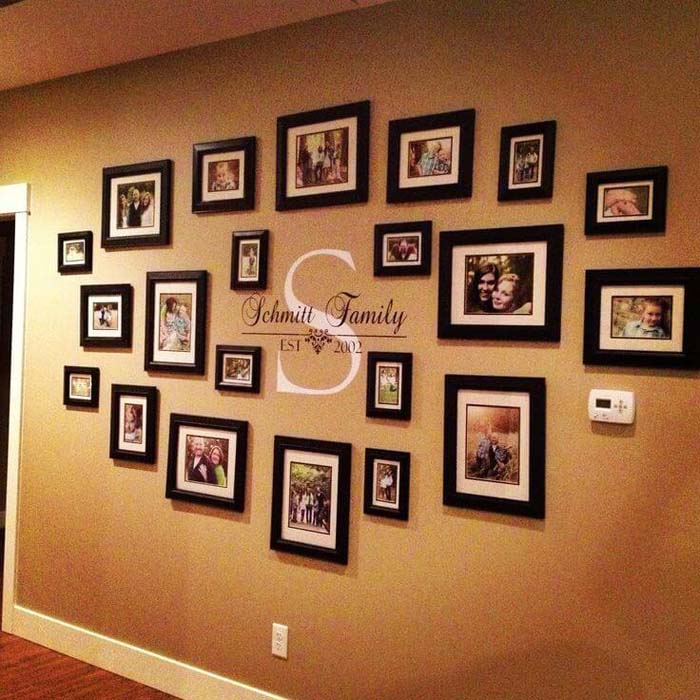 Display your family photos in their full glory with a gallery wall that's oriented around a monogram.
Use a single initial for a contemporary take, or customize the monogram with your last name and the date the family started for a more traditional vibe.
13. Transform Your Room with a High-Impact Gallery Wall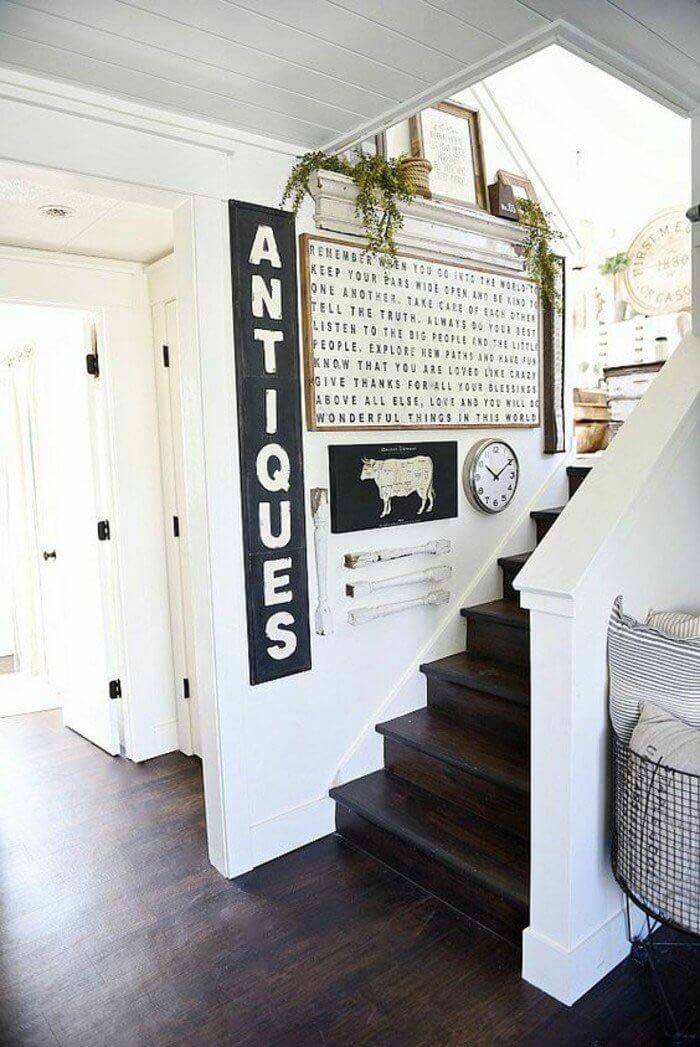 If you love to make a bold, eye-catching statement, this striking gallery wall is a great option.
It uses high-impact pieces to turn an otherwise ignored space into a focal point of the room. For maximum drama, choose unexpected items and strong colors.
via Archzine
14. Add Funky and Colorful Frames to Liven Up Your Photos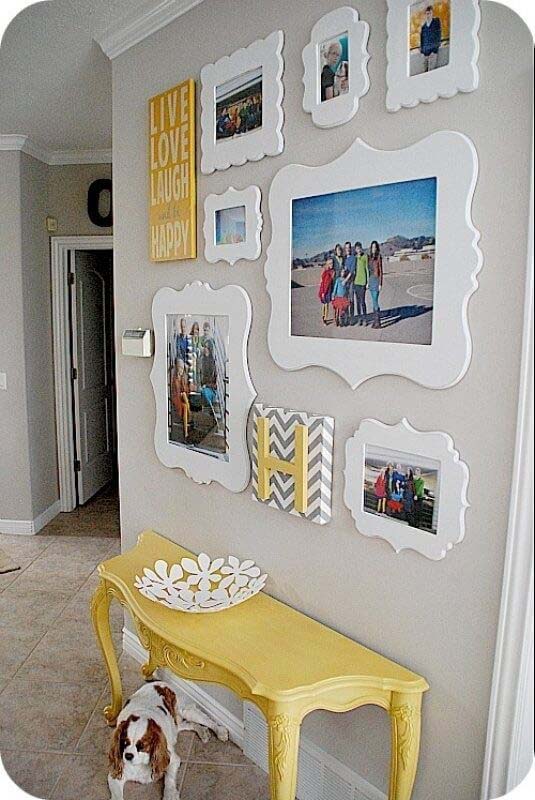 Bring new life to your photos with fun, funky frames. Unexpected shapes instantly draw attention to the wall.
To make sure your layout stays unified, choose frames in a single color. A colorful quote plaque and a monogrammed piece add a personalized touch.
via Peripecias
15. Spruce Up Your Small Hallway Space With a Gallery Wall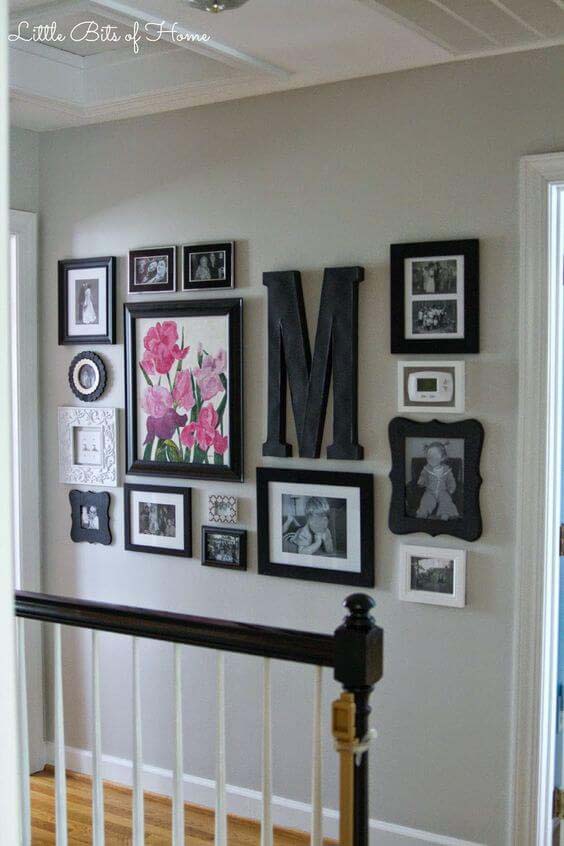 Are you trying to figure out how to fill a small wall in a hallway?
A gallery wall is a great solution; it livens up the space, all without affecting the flow of traffic.
Here, large-scale letters and frames in varying shapes create a lively look, and an adorable frame makes the thermostat part of the arrangement.
16. Elevate Your Picture Wall with Stylish Photo Chains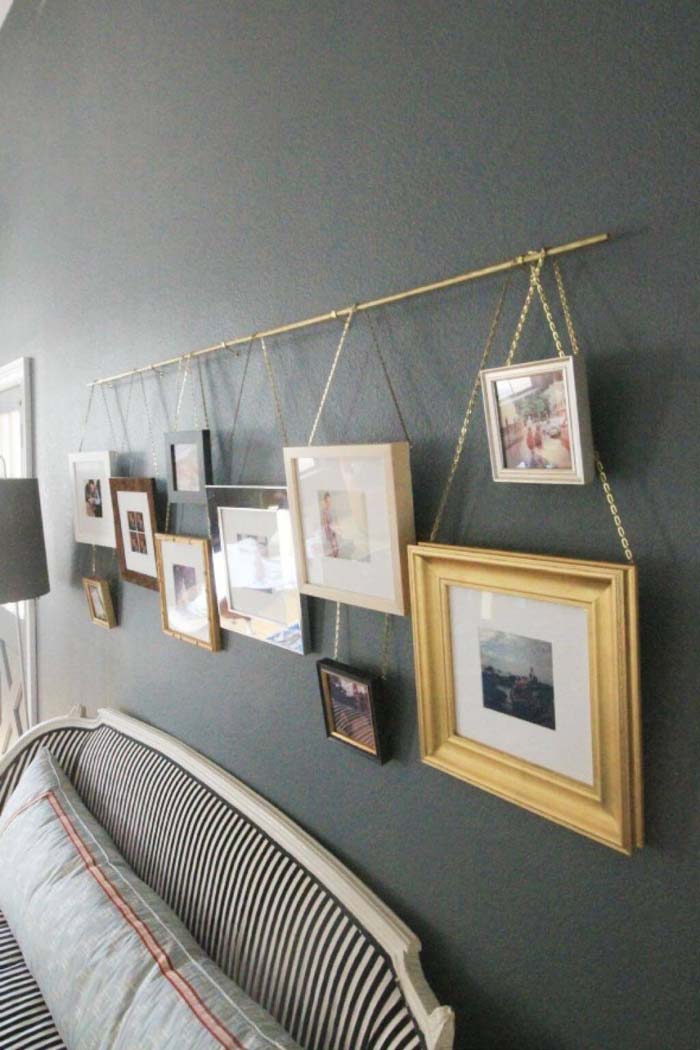 Minimize the drilling you need to do with a classic picture rail.
Delicate chains are a stunning way to hang your framed photos — as a bonus, they add extra shine and texture to your space.
Hang photos at different heights to bring levels and depth to a flat wall.
17. Charming Gallery Wall of Custom Scrabble Tiles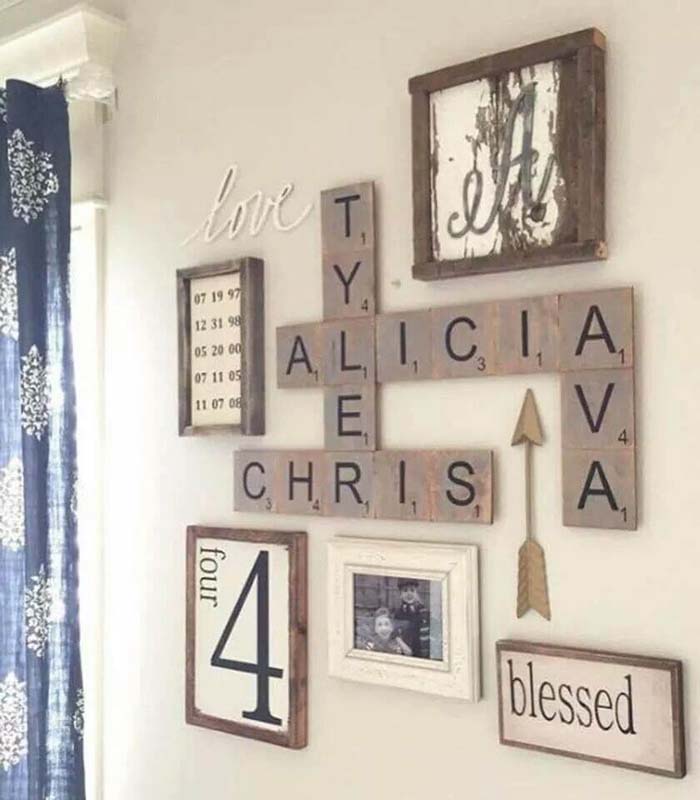 Clever and impossibly charming, this gallery wall uses oversized Scrabble tiles for a custom look; each row of tiles spells out the name of a family member.
The weathered frames and natural wooden finish add a rustic farmhouse twist to a casual living room.
18. Create a Glamorous Glow with Decorative Marquee Letters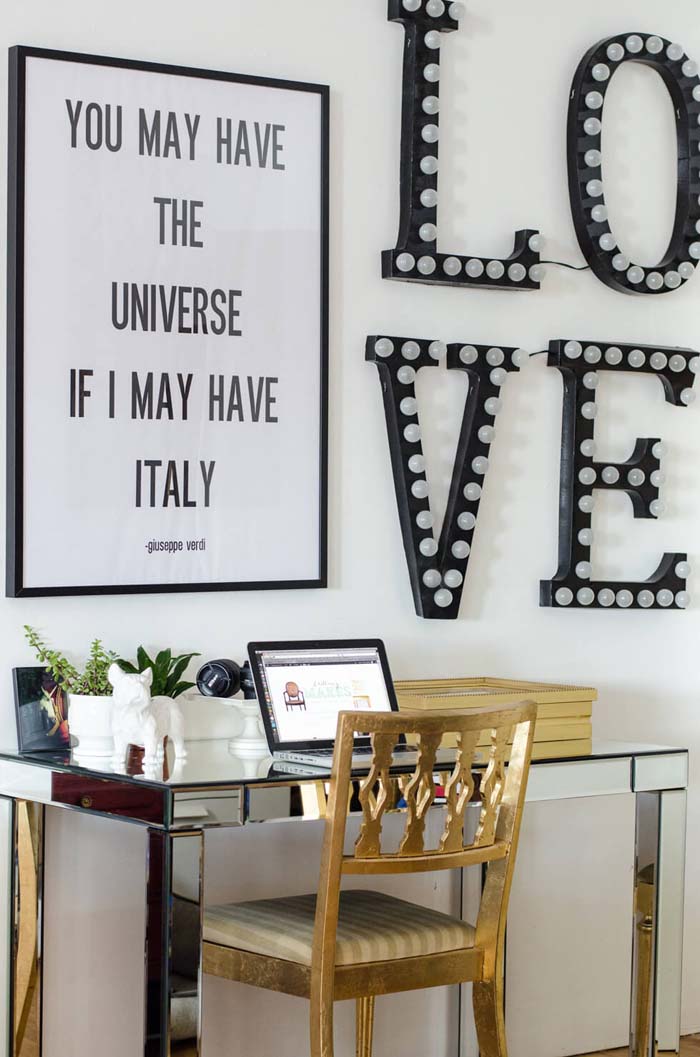 Full of Art Deco flair, this gallery wall uses vintage marquee letters to make a statement that's impossible to ignore.
Add photos if you have them — a black-and-white poster or a framed quote amps up the glamorous look. After dark, turn the letters on to fill your space with a gorgeous glow.
via Fashion Dixit Fashion Vivendi
19. Frame Your Photos for a Cohesive Look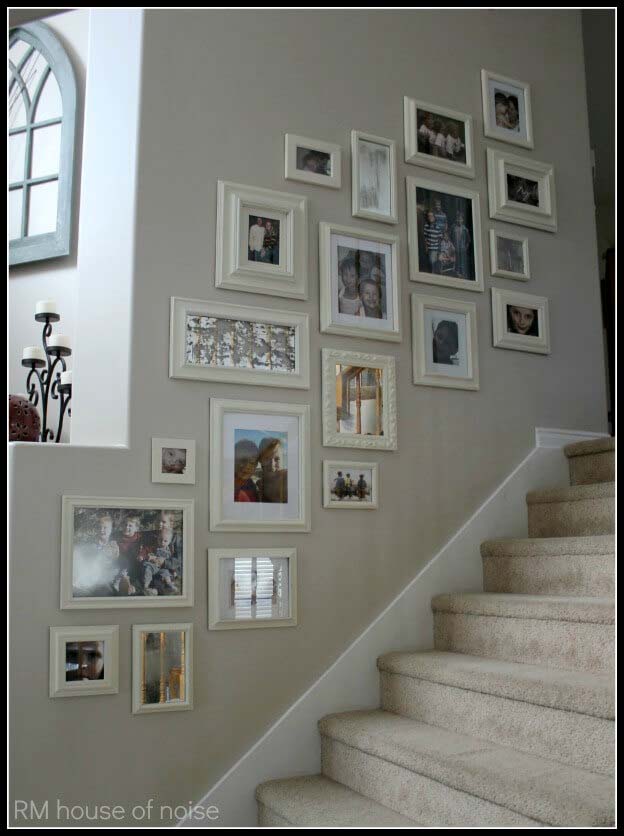 Give a cohesive look to a collection of disparate photos with matching frames.
The identical frame colors tie together each piece, so you can add everything from landscape shots to candid family photos.
Choose frames in varying sizes and shapes for an eclectic yet elegant aesthetic.
via House of Noise
20. Pinterest-Worthy Gallery Wall with Mixed Media Pieces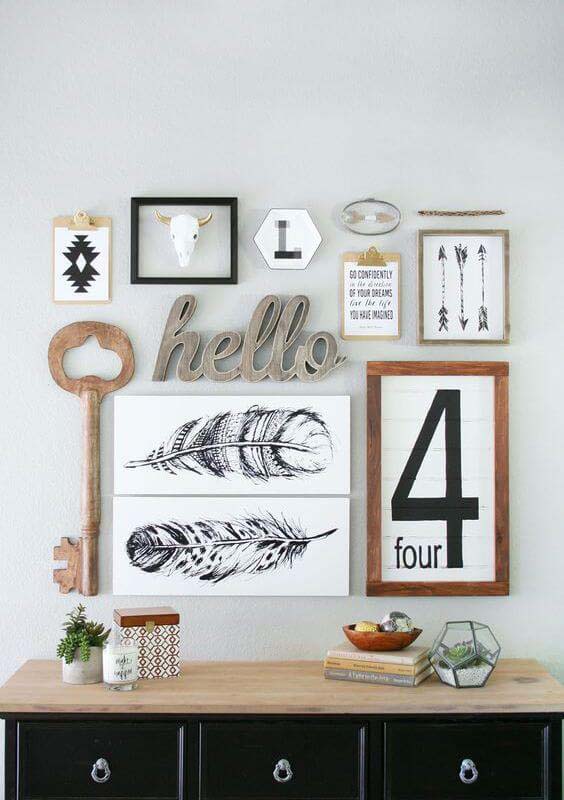 Create a Pinterest-worthy gallery wall by integrating mixed-media pieces into the mix.
Don't be afraid to get creative with unexpected items, such as a clipboard, a giant key, and even an embroidery hoop.
The trick is to select items in a similar color palette for a coordinated look.
via DIY Romania Blog
21. Celebrate Your Family's Legacy with a Captivating Gallery Wall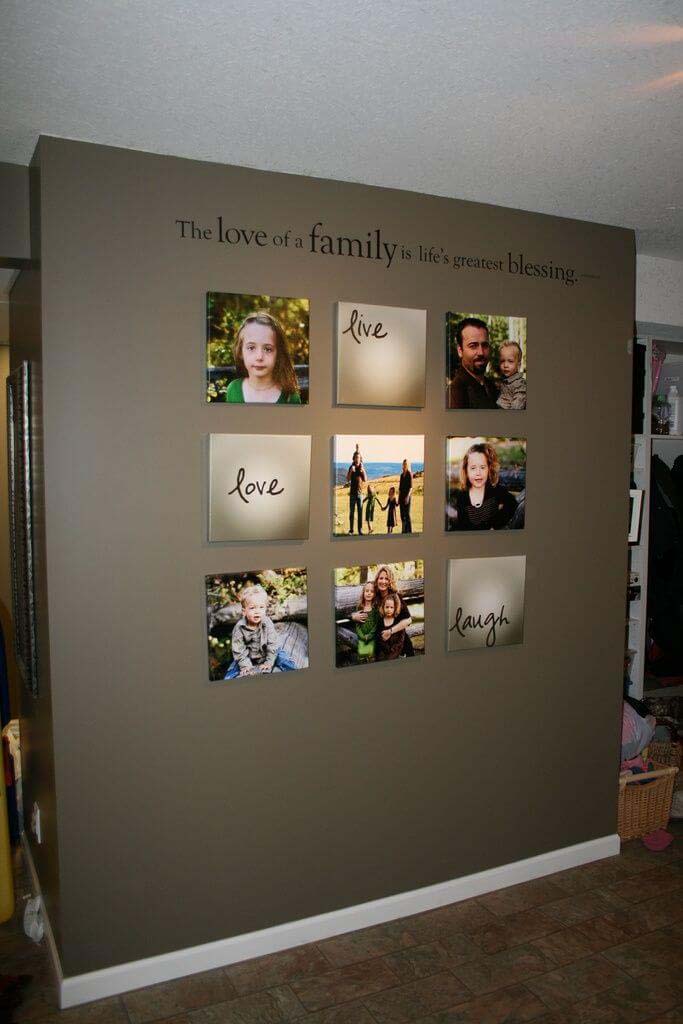 Simple and powerful, this gallery wall uses images and text to communicate the theme of your family.
The magic starts with identical canvases, which bring order to the varying photos. Simple words in a handwritten script break up the lines of the grid.
22. Cozy Gallery Wall with Natural Wood and Oversized Objects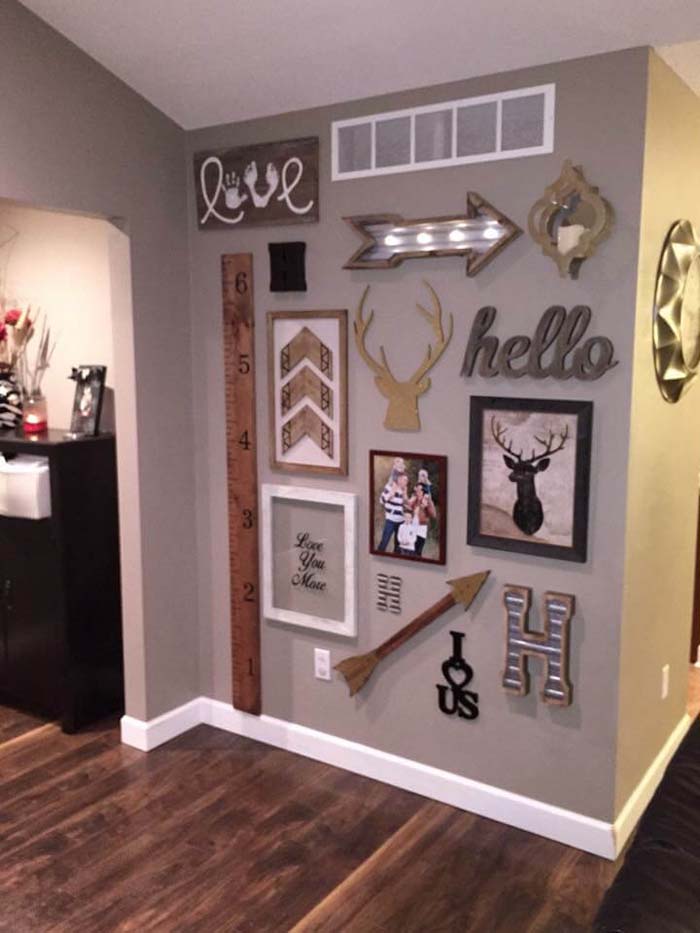 This gallery wall embraces the homey vibe of natural wood and utilitarian materials.
Packed with adorable oversized objects, this is a design that demands a second glance.
The deer-head silhouettes and neutral colors tone down the feminine look for a result that's sure to please the whole family.
23. Create Family Memories with a Personalized Photo Wall Clock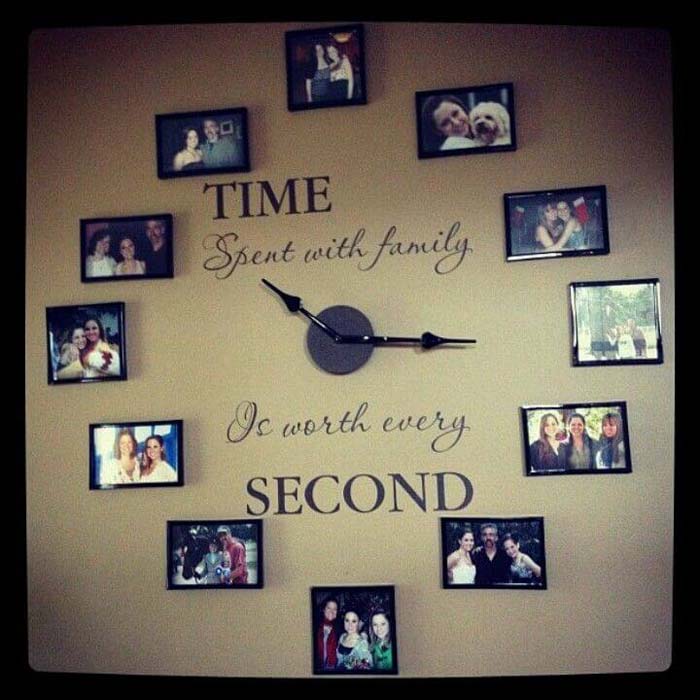 Telling time is a fun family activity with this creative wall clock. Instead of numbers, you can use a different family photo.
A sweet vinyl quote reminds you to savor every moment with the ones you love.
24. Add Dimension to Your Gallery Wall with Shadow Boxes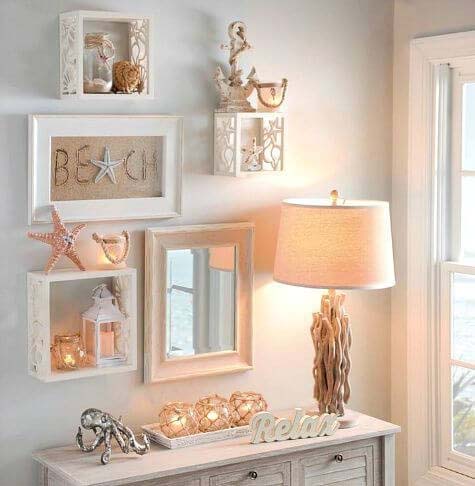 For a gallery wall that pops, use shadowboxes in place of traditional photo frames.
The added depth mimics the look of architectural detail and gives you more space to add treasured mementos.
Here, the cream tones and sea creatures set a beachy tone.
25. Make a Gallery Wall with a Picture Ledge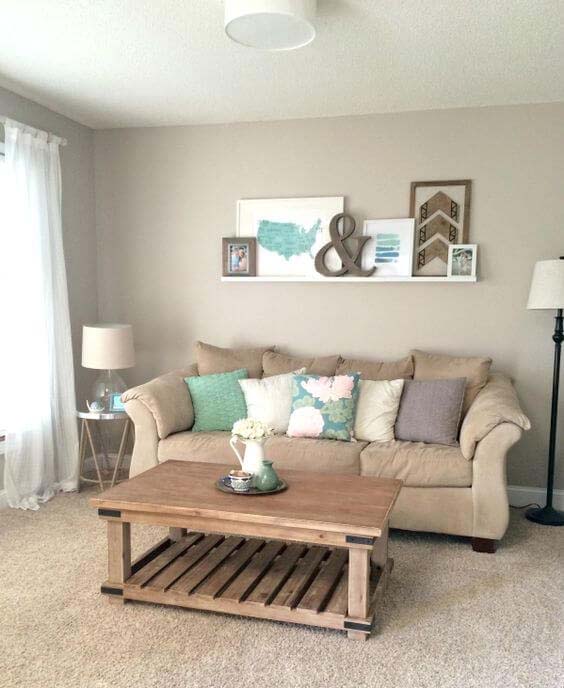 Create the effect of a gallery wall without the need to drill many holes using a picture ledge.
Install the ledge, and you can lean a variety of framed pieces against the wall. The secret to a beautiful arrangement is to layer items on top of one another.
26. Treasure Your Family with a Special Moments Gallery Wall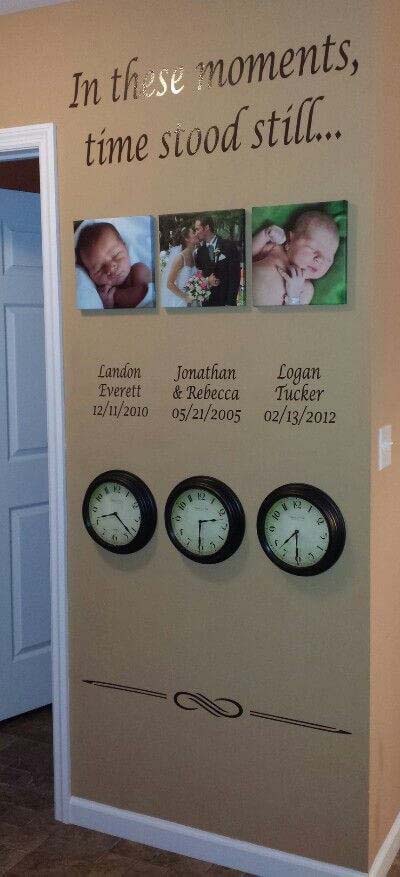 Show your family how much you treasure them with a special moments gallery wall.
It celebrates births and weddings with a photo, date, and a clock that's permanently set to the time of the event.
27. Showcase Classic Family Photos Timeless Gallery Wall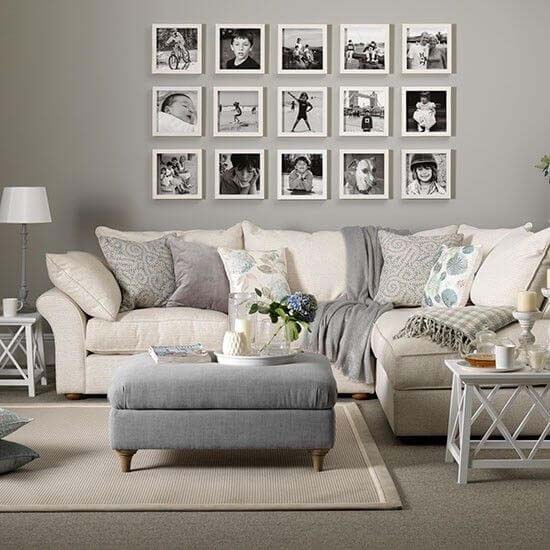 Symmetry never goes out of style, as proven by this stunning gallery wall.
Using black and white photos framed in identical white frames, this display highlights family photos in a sophisticated, museum-style design.
via Heart Handmade
28. Create an Inviting Entryway with Soft Pastel Frames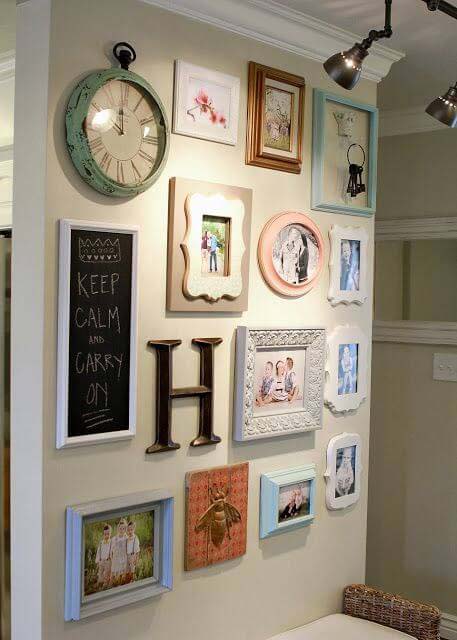 Set a calming vibe in your front entry with a gallery that features soft pastel frames.
The soothing colors instantly establish a relaxing, welcoming atmosphere.
29. Add Visual Interest with a Corner Arrangement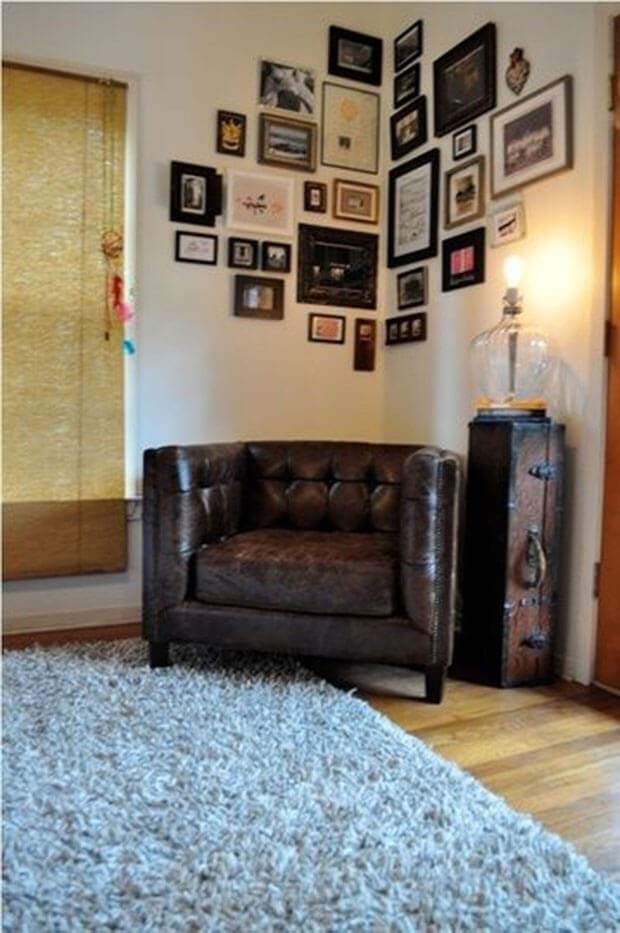 A corner brings natural visual interest to a gallery wall.
Select a symmetrical arrangement for a bold look, or use an eclectic assortment of frames to decorate your reading area.
30. Transform Your Stairwell into an Imposing Gallery Wall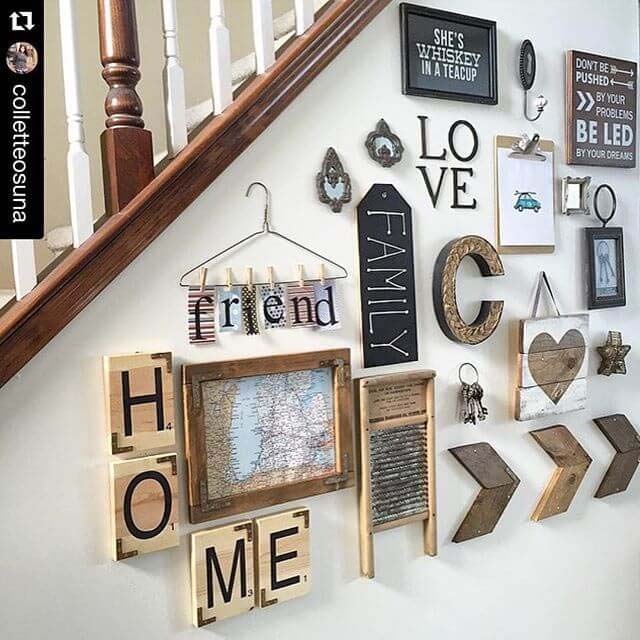 The wall beneath the stairs is often ignored — here, it's transformed into a spectacular gallery wall.
Use the unique shape to your advantage with varying items in different materials and finishes.
31. Welcome Your Guests with a Vertical Gallery Wall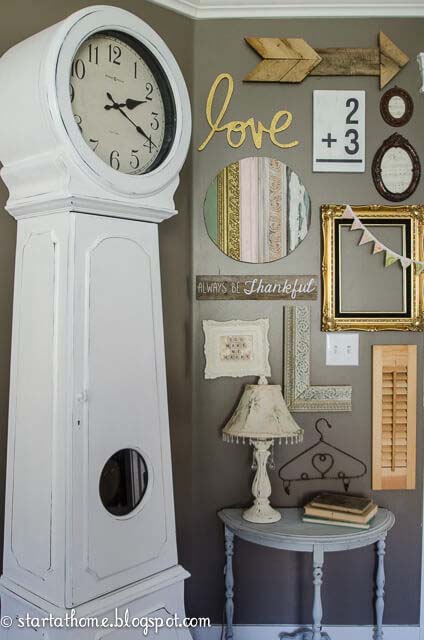 The entryway is your guests' first introduction to your home; make a positive impression with a beautiful vertical gallery wall.
Use photos if you like, or show off a surprising array of antiques and handmade items.
via Start at Home
32. Inviting Vintage Gallery Wall Ideas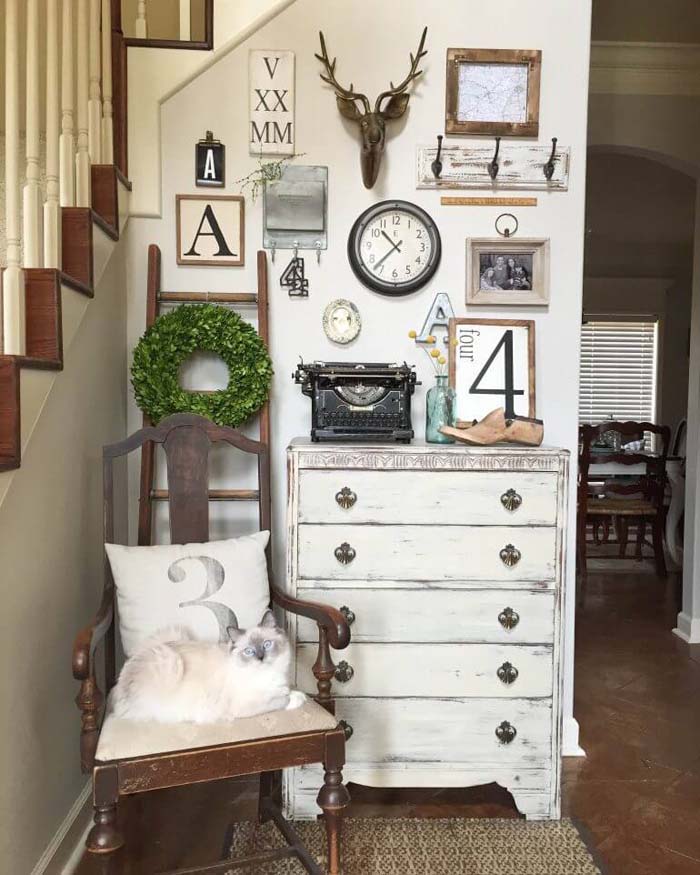 Welcome friends to your home with a vintage gallery wall.
Using weathered finishes and natural colors, this design creates a loving, homey feeling that sets visitors at ease.
via Our Vintage Nest