The entryway is a space with dimensions of a tiny room. Entering a home, it is the first thing we see and so that makes it the beginning of the first impressions gathered about the housekeepers and their taste.
One of the most common and yet interesting ways to decorate the entryway is to furnish it with a table. Its role in the interior is important as it declares the status of the entryway as being an irreplaceable part of the home entity and also becomes the focal point of the entryway décor.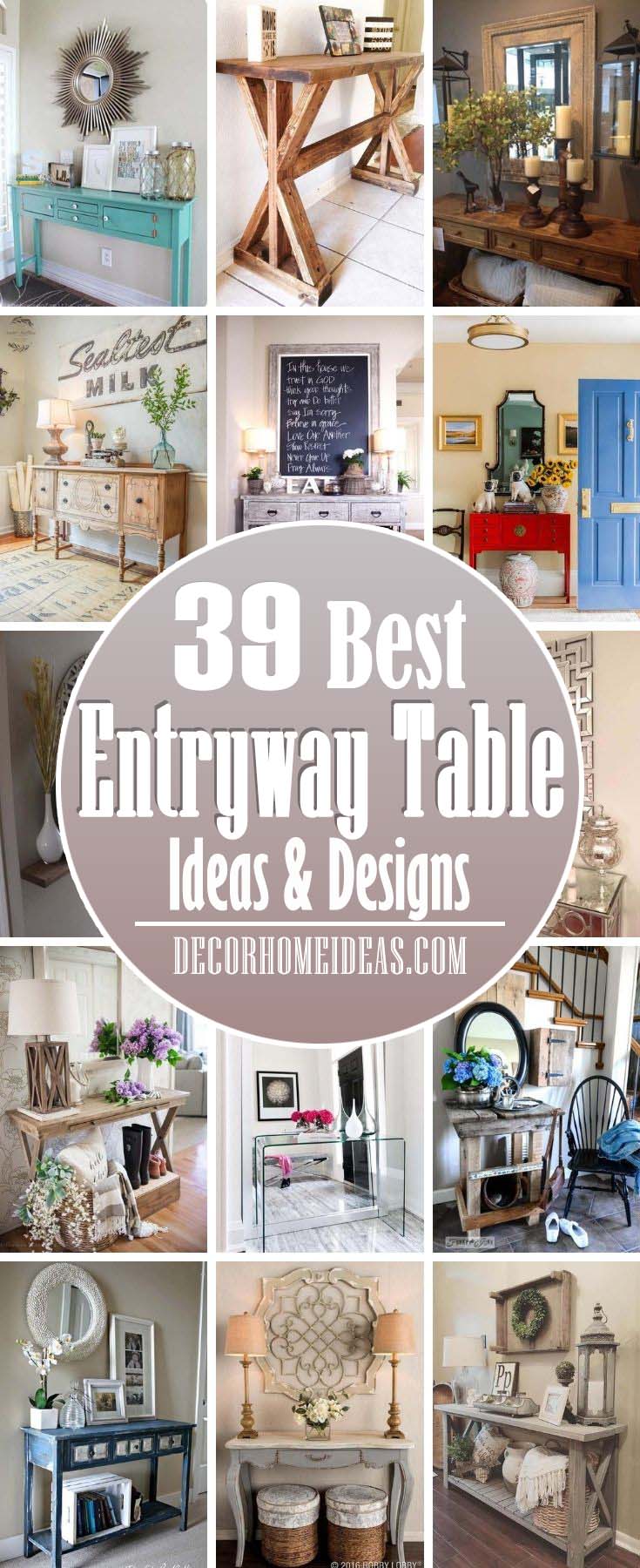 The importance of the entryway tables dates back to the times of Louis XIV or the Sun King. Such tables acted as luxury elements in that times and thus they have become a benchmark for the finest taste.
Today the variety of entryway tables let us find the best matching piece for our interior with regards to design and space limits.
Let's see which are the best 37 entryway tables that will help you achieve a remarkable and appealing interior of that space.
1. Contemporary Entryway Table with Mirrored Wall Accent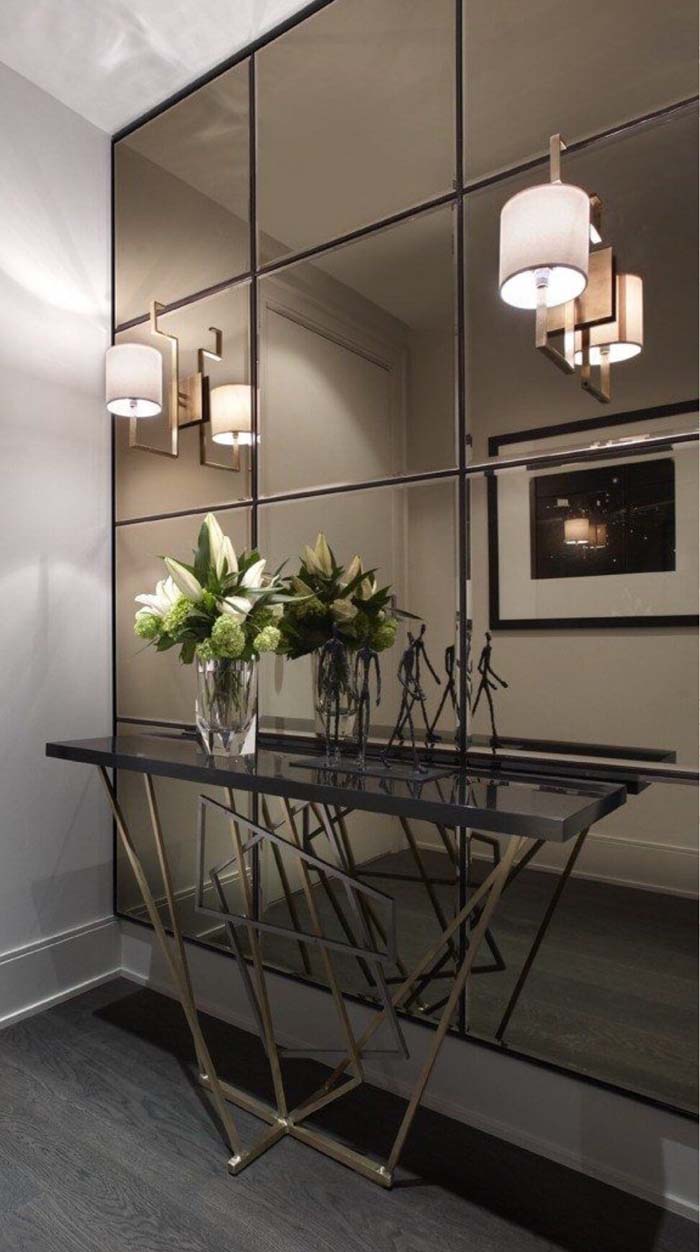 This modern entryway table incorporates contours and materials that are not common.
The abstract design of the table complements the mirrored wall which creates an illusion for a wider space.
via Archilovers
2. Antique Entryway Table for a Luxurious First Impression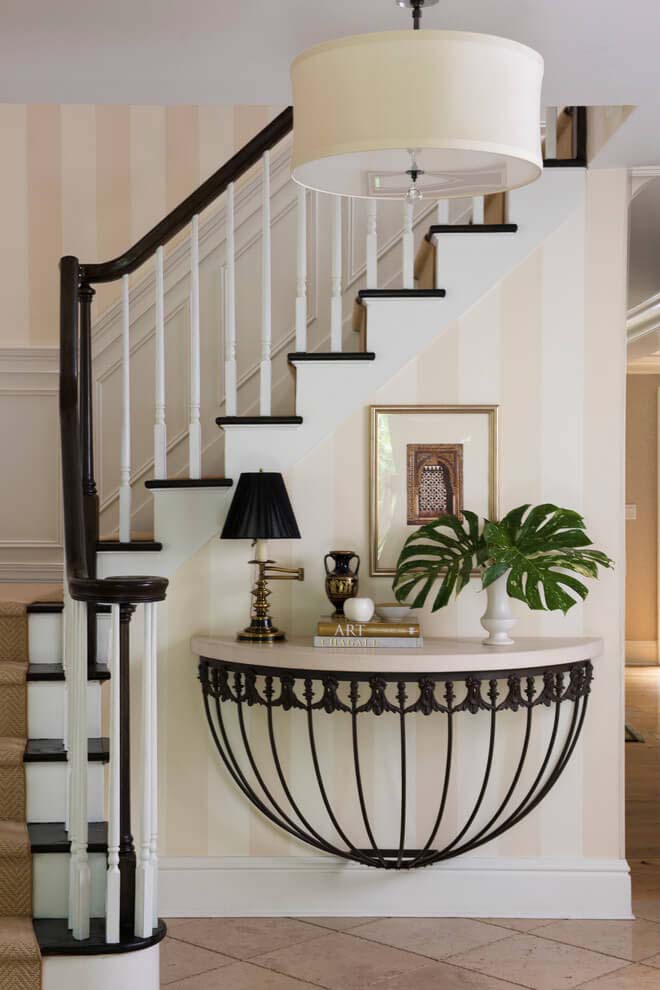 An entryway table with such an antique look and complexity gives a first impression of the luxury and sophisticated taste of the housekeepers.
The feature that grabs the attention is the ornaments of wrought iron that suspend the countertop.
via Forbes
3. Modern Farmhouse Entryway Table with Open Concept Storage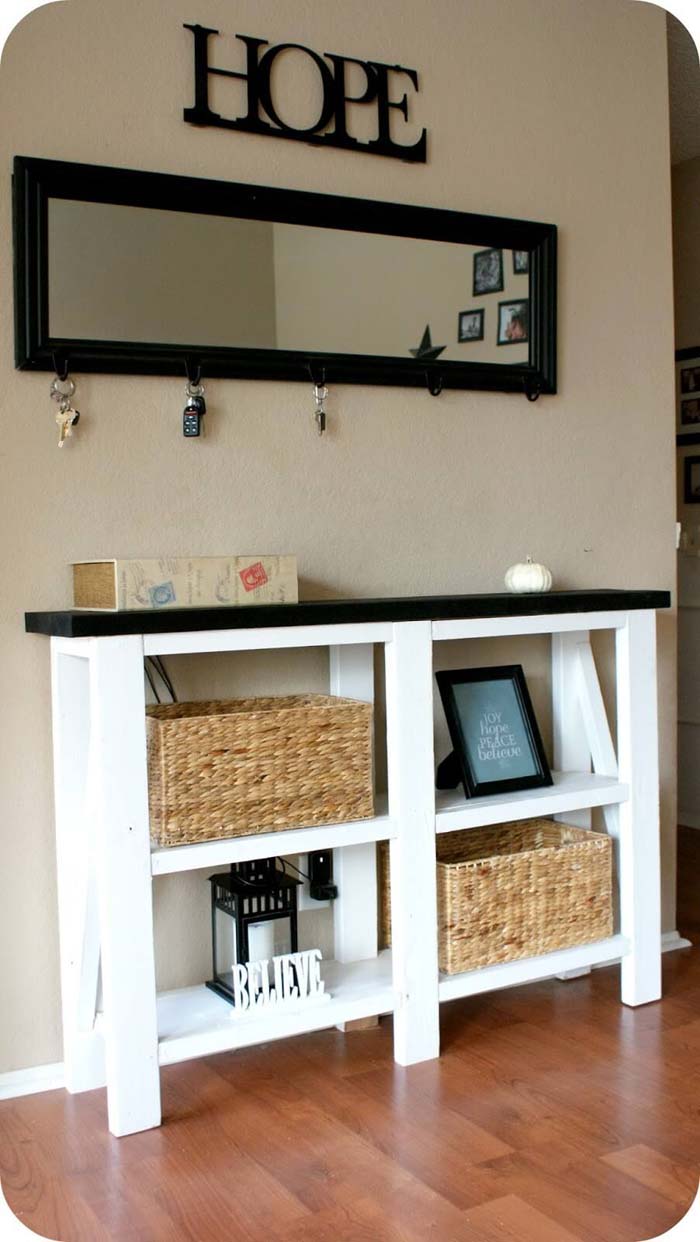 This entryway table is inspired by the farmhouse living but has a modern touch expressed with the balance between white and black.
Its open concept allows storage of items hidden in baskets and decor accents that create a more welcoming atmosphere.
4. Add Quaint Charm with a Wire Spool Entryway Table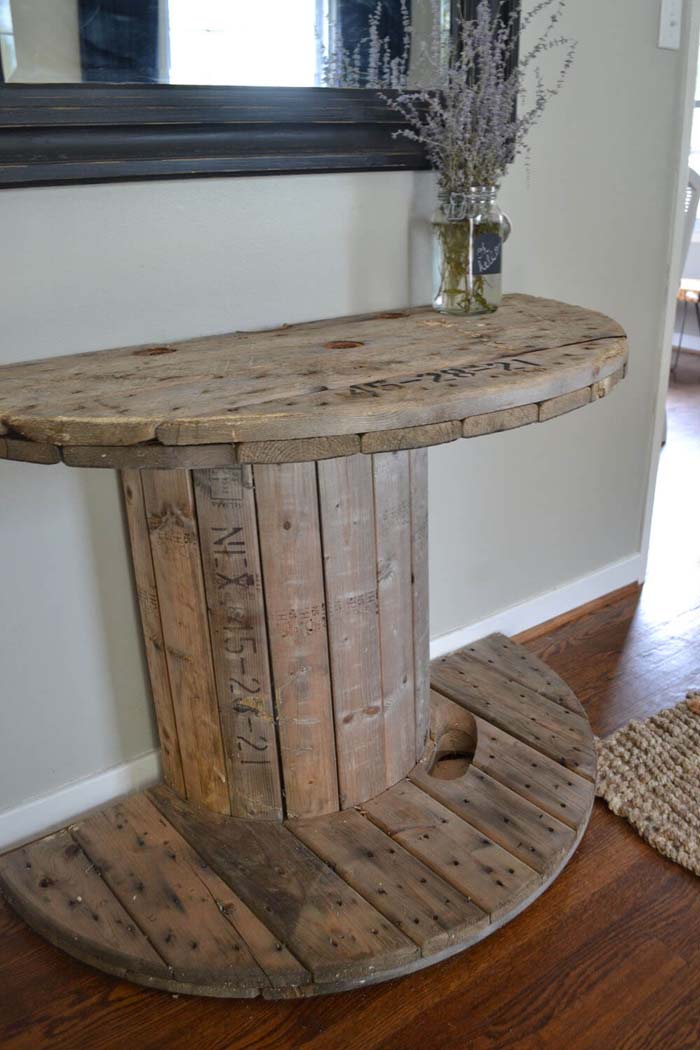 If your love the welcoming spirit of the farmhouse, then you will appreciate the creativeness and charm of an entryway table made of wire spool.
Cut into halves, one of them is fixed to the entryway wall just beneath a large mirror.
5. Ornate Entryway Table with Two Matching Chairs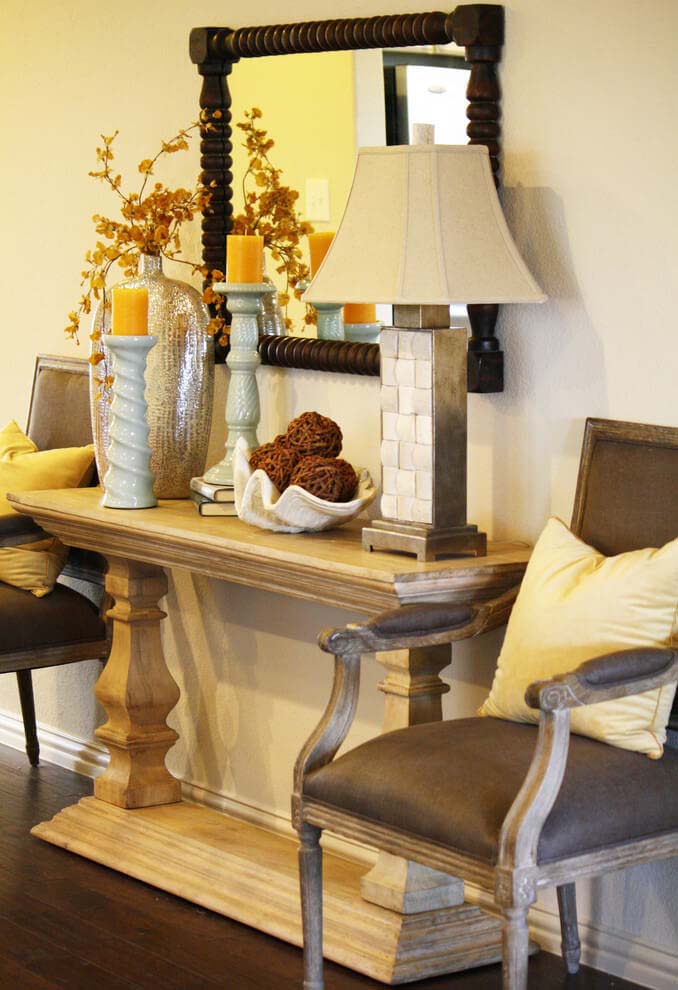 The impressiveness of this table is marked by the ornamented supporting legs.
Made entirely of wood and combined with two chairs at each side, it states that the entryway welcomes to a cozy home.
6. Upcycle a Console Table for Shabby Chic Entryway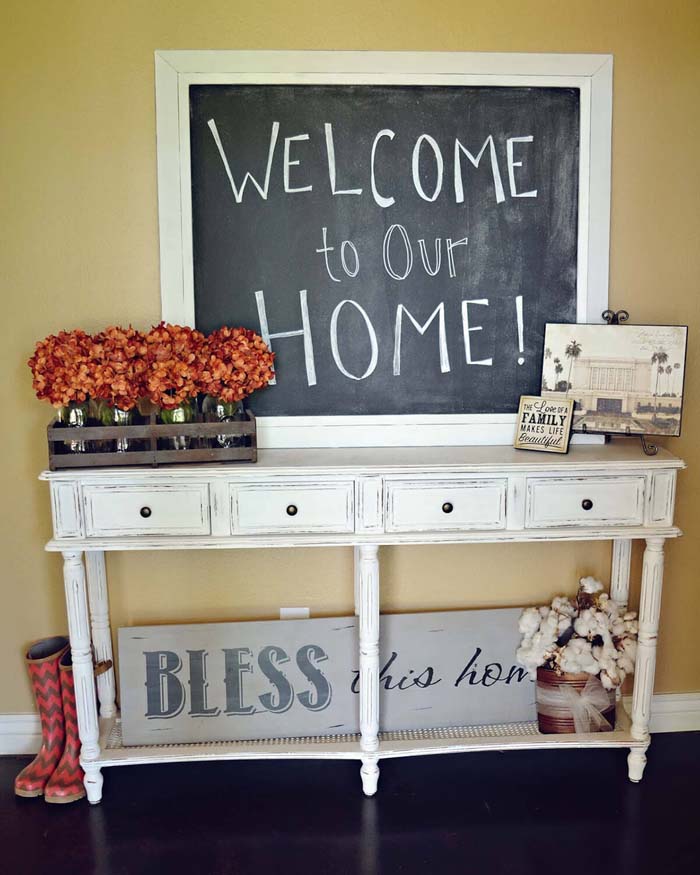 If you are looking for an affordable entryway table, upcycle an old console table. To give it a shabby chic look, paint in white and distress random areas.
Because of its vintage value, it must accommodate rustic or farmhouse decoration.
7. Create a Stylish Entryway with a Black Console Table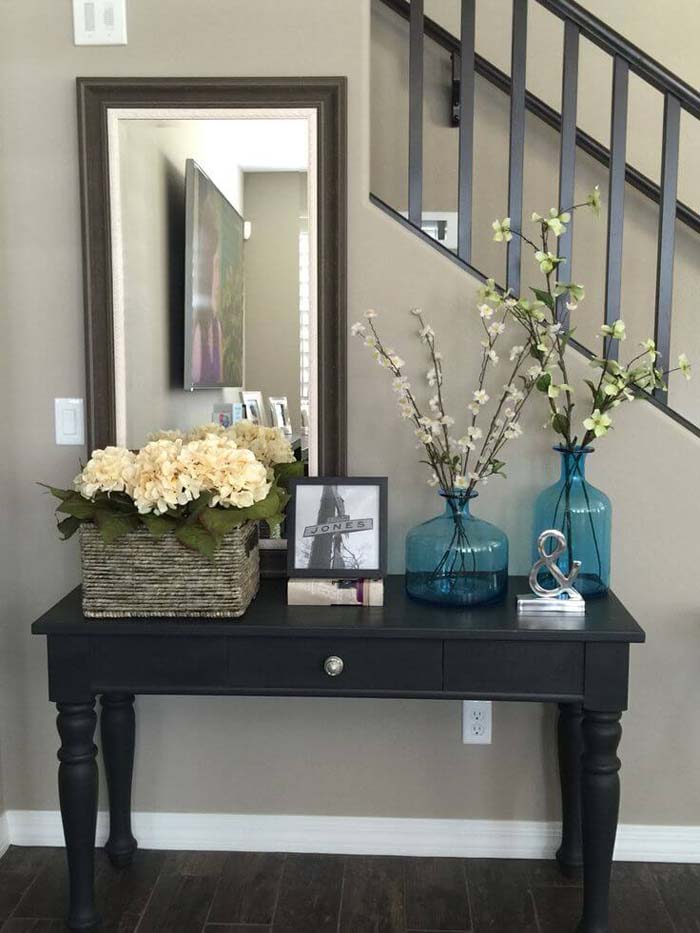 A console table in black will become a functional centerpiece of an entryway painted in white, grey or in combination between the two.
Its wide surface lets displaying of art or decor accents. The drawer will help with the storage of keys.
8. Small Footprint Entryway Decorated in Black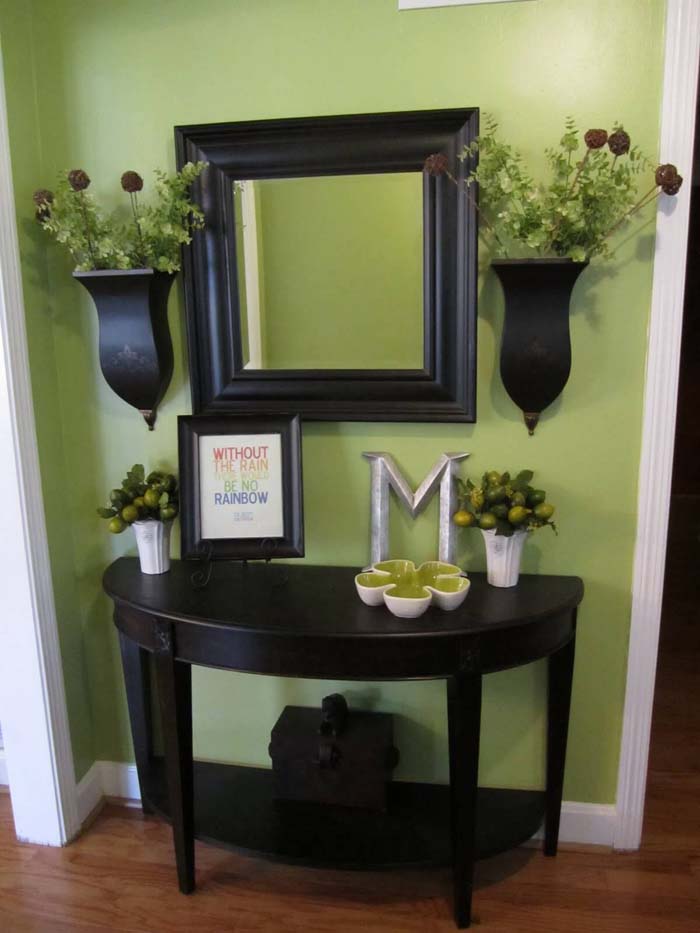 The decor arrangement of this entryway stakes on black.
The semi-oval table takes a small footprint that is just enough to hold decorative accents that increase the welcoming look of the space.
9. Elevate Your Home Entrance With Luxurious Gold Accents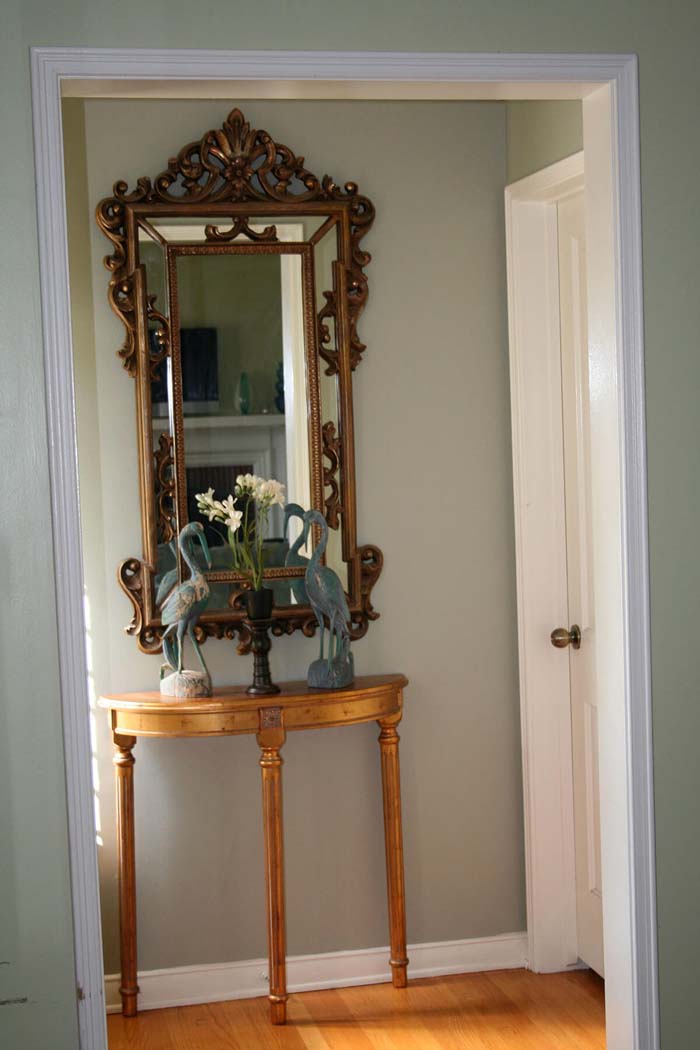 If you want to suggest the luxury of your home, start with the entryway. A small table in metallic gold will hint the fine taste and attention to the smallest details.
10. Add a Countryside Accent to an Entryway with a Small Table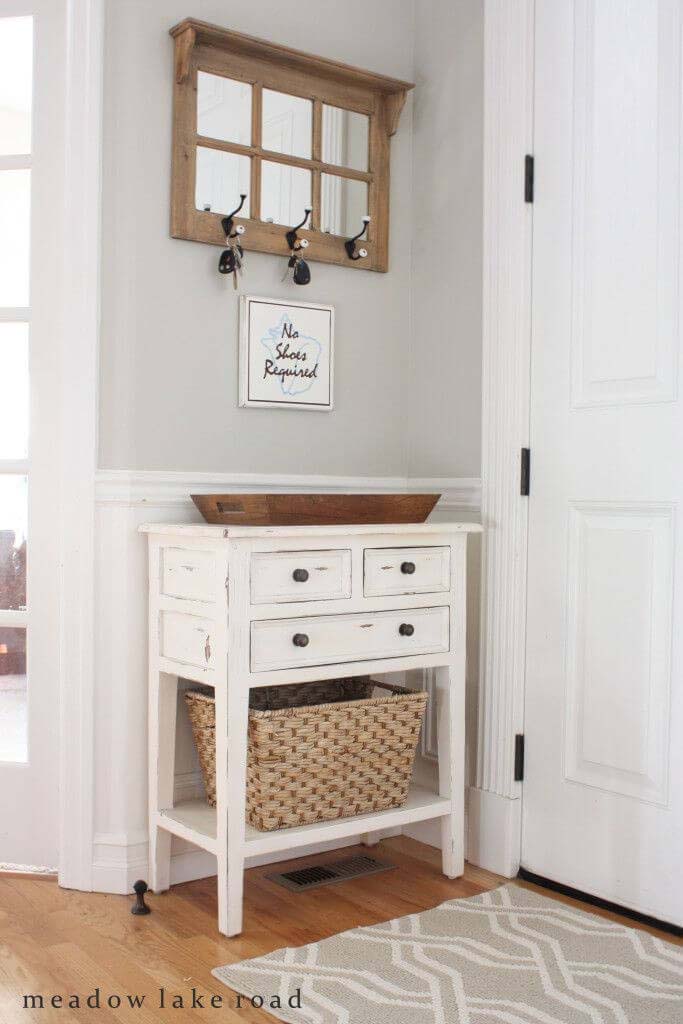 Welcome your guests with a countryside accent. This small and chic table will fit even in the tiniest entryway but will be able to give it a nice look especially in combination with a few more rustic accents like a basket and a tray.
11. Create an Inviting Entryway with a Provincial Style Table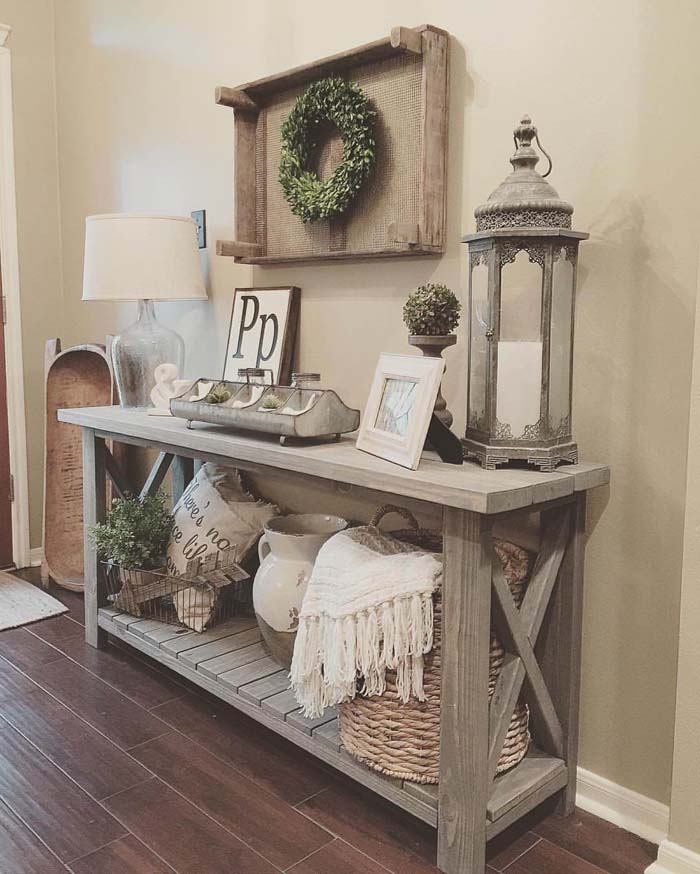 The province style is known for its appealing welcoming capability and romantic vibes.
An entryway table in this design will beautify the space and will inspire with its darling nostalgia of the simpler life. Want to know how to make it yourself? Just follow the instructions on the link below.
via Home Decor Momma
12. Simple Rustic Console Table with Ample Storage Space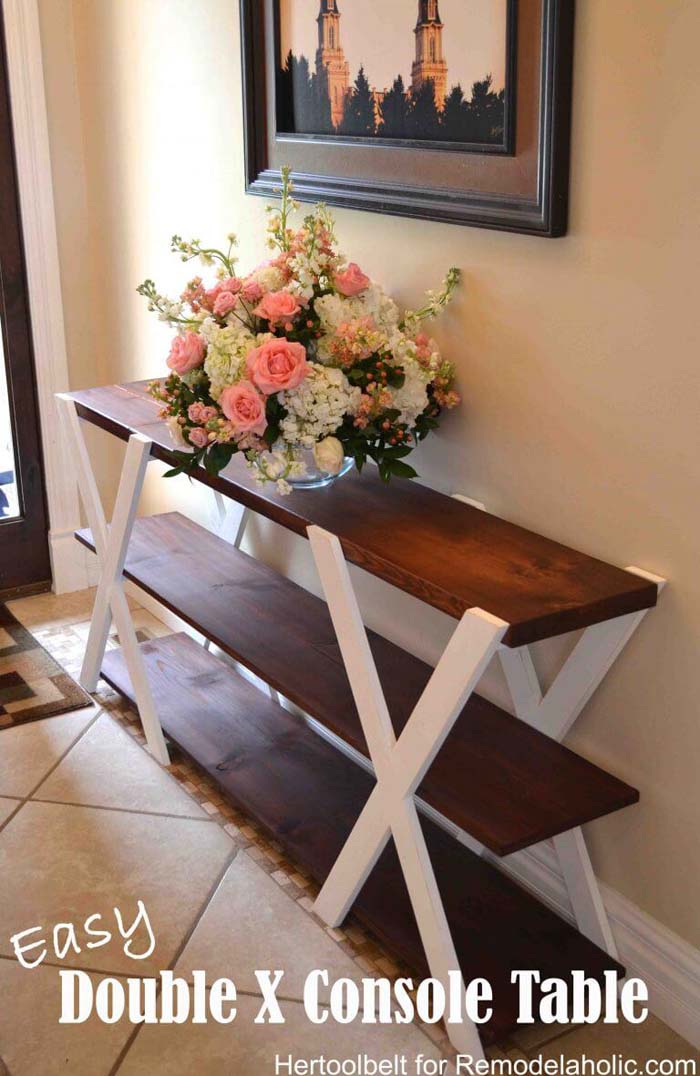 This easy-to-make console table combines rustic beauty with tons of storage places.
Made entirely of wood, the white and dark brown color combination, attract the sight instantly. Use the levels for other rustic elements like jars, candles, some frames etc.
via Remodelaholic
13. Elegant Entry Table Ideas for a Grandiose Foyer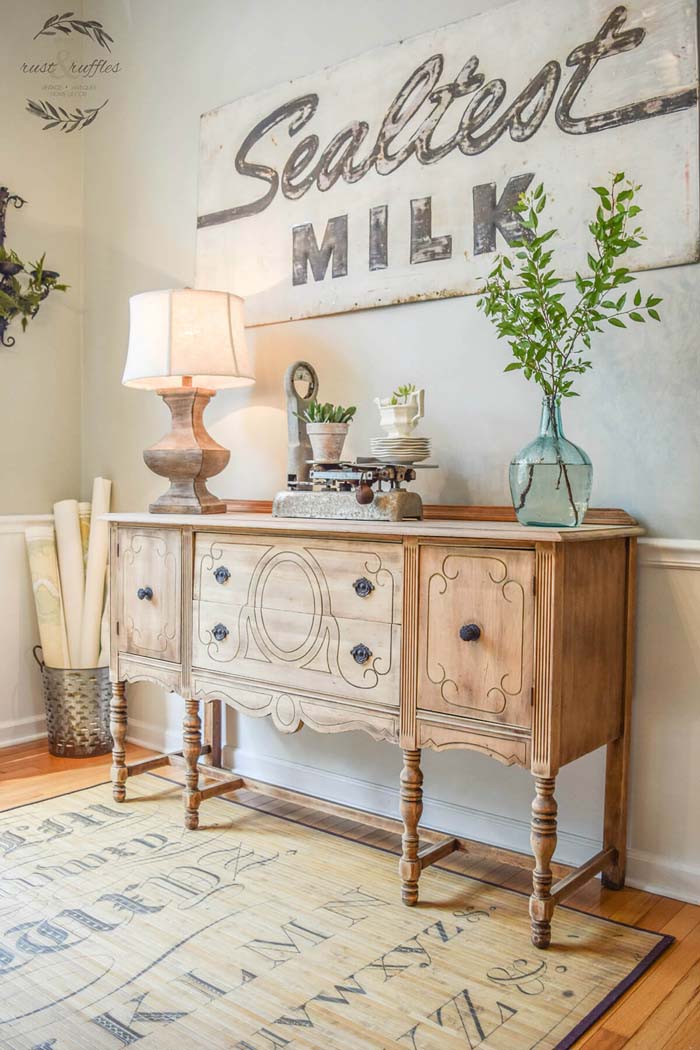 The design value of this entryway is expressed with an artistic entryway table.
Its elegance through the fine ornaments and quality wood material will be appreciated at all times.
via Lehman Lane
14. Create a Unique Entryway Table with Upcycled Pallet Wood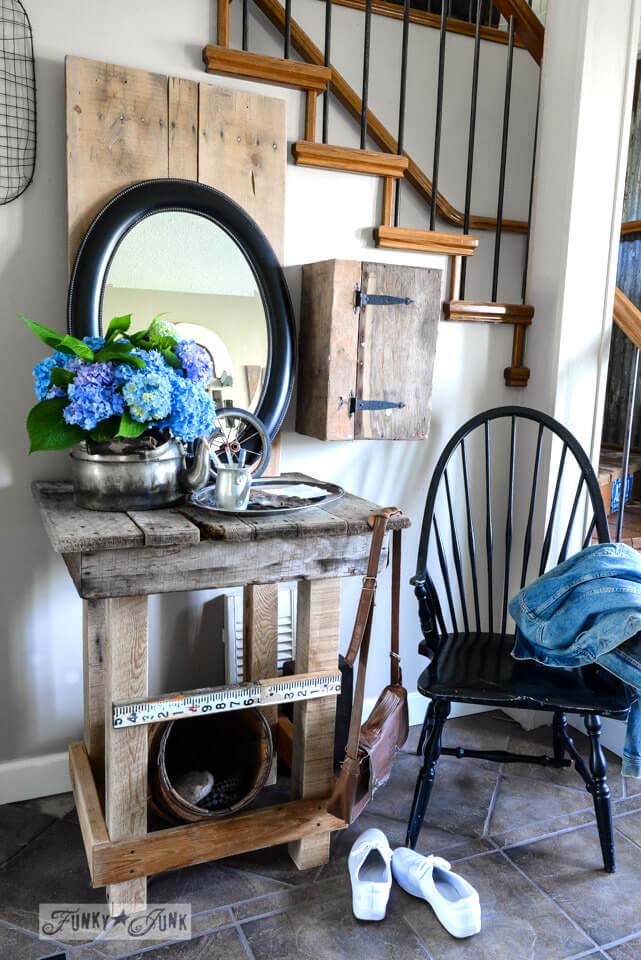 If you want a more creative and unique entryway table, you can make one yourself from scrapped materials.
Made of weathered pallets, it can be customized according to your entryway space.
15. Contemporary Entryway Table with Marble Countertop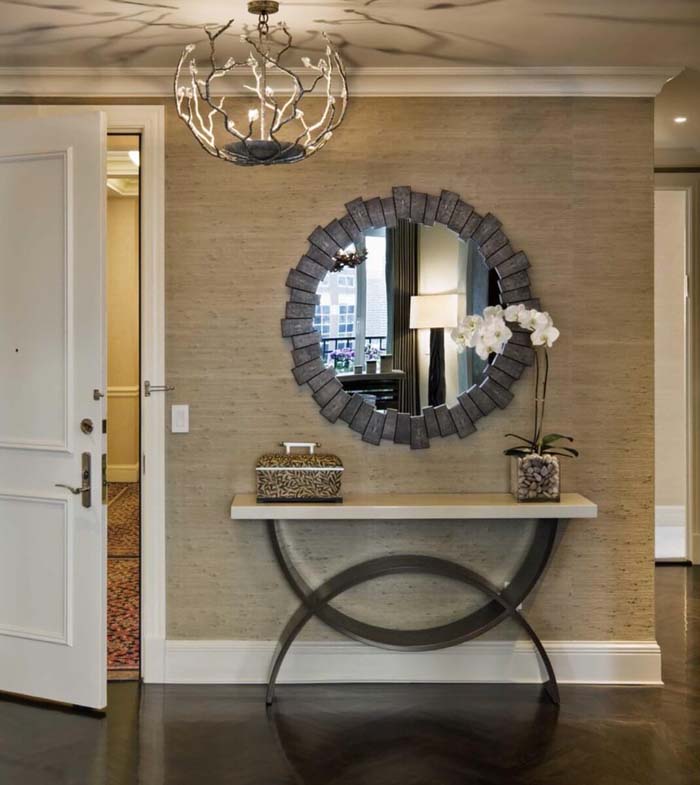 The combination between two metal semi-circles and a marble countertop makes this small entryway table a modern interior accent.
It combines extremely well with a large mirror and a light feature of the same design. Because of the minimalist nature of the table, it shouldn't be overcrowded with decoration elements.
16. Upgrade Your Entryway Table with a Cloth Covering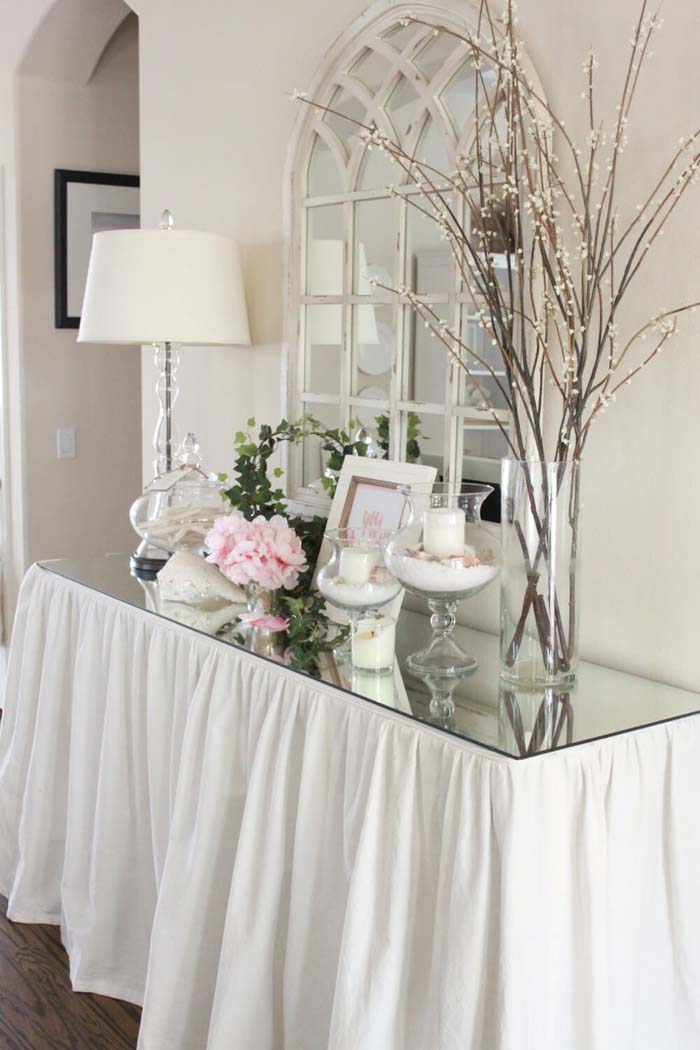 If you already have a glass entryway table but you want to upgrade it, you will make an instant makeover with just a piece of cloth.
Whether white or in another color, the cloth should be spread evenly to the floor at all sides as to make it look elegant.
via Starfish Cottage
17. Farmhouse and Modern Styles with DIY Console Table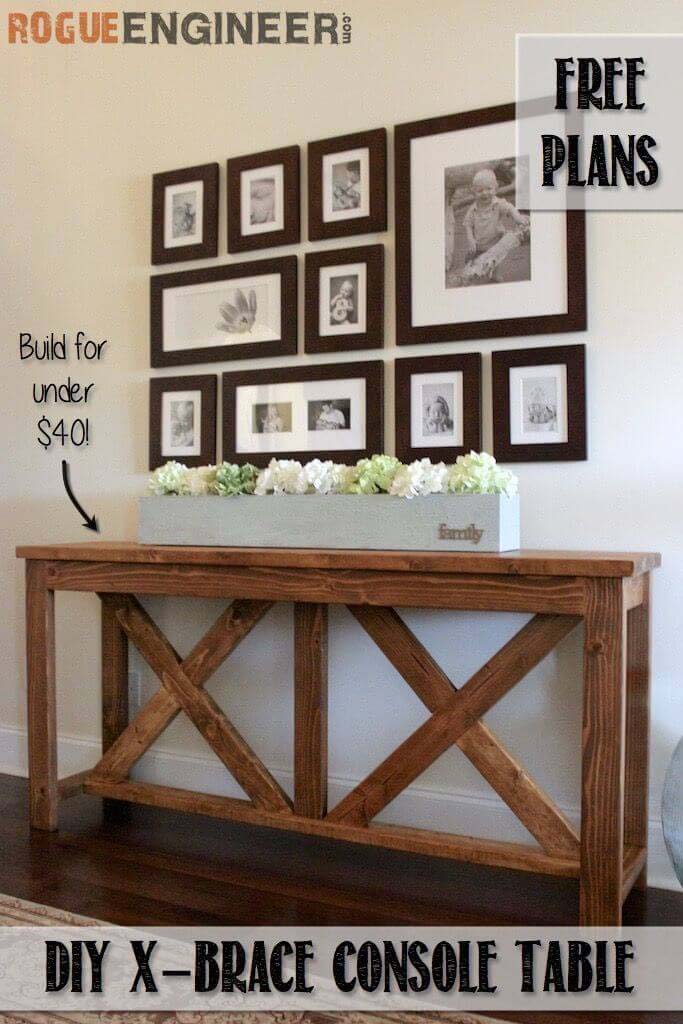 Farmhouse and modern meet in this DIY console table. Made entirely of wood, its X-brace support and height turn it into a focal point of the entryway.
We should also note that it is a very affordable and beautiful way to increase the decor value of your home.
via Rogue Engineer
18. Add Vintage Furniture and Accents to Your Entryway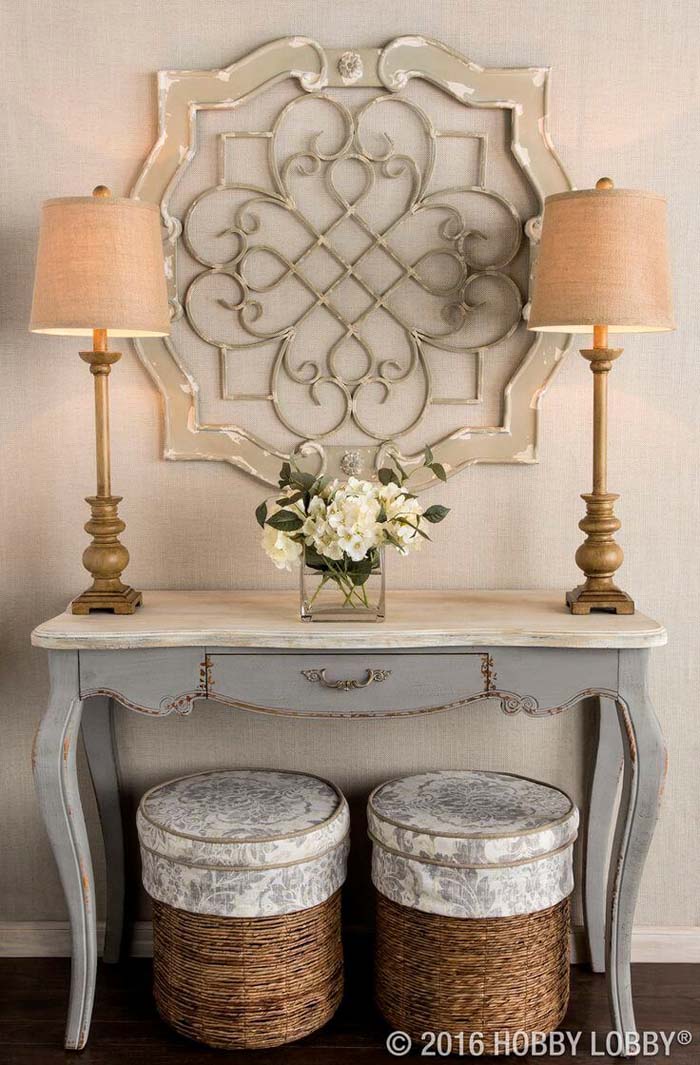 An easy way to add more character and interest to your space is to lean on the vintage furniture and accents.
An old table like this one doesn't require much work to be used in the entryway. It will look stunning if it is left in its original state.
19. Contemporary Entryway for Adventurous Homeowners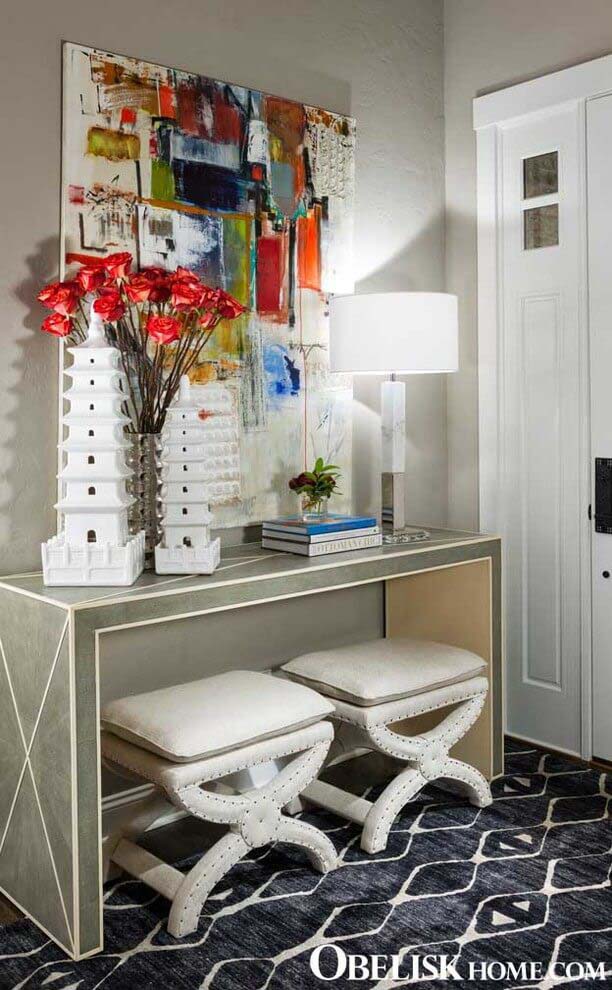 Every inch of this entryway speaks for the artistic and adventurous nature of the housekeepers.
The non-traditional console table provides a storage place for two stools and displays for interesting elements.
20. Boldly Contrasted Entryway Table Makeover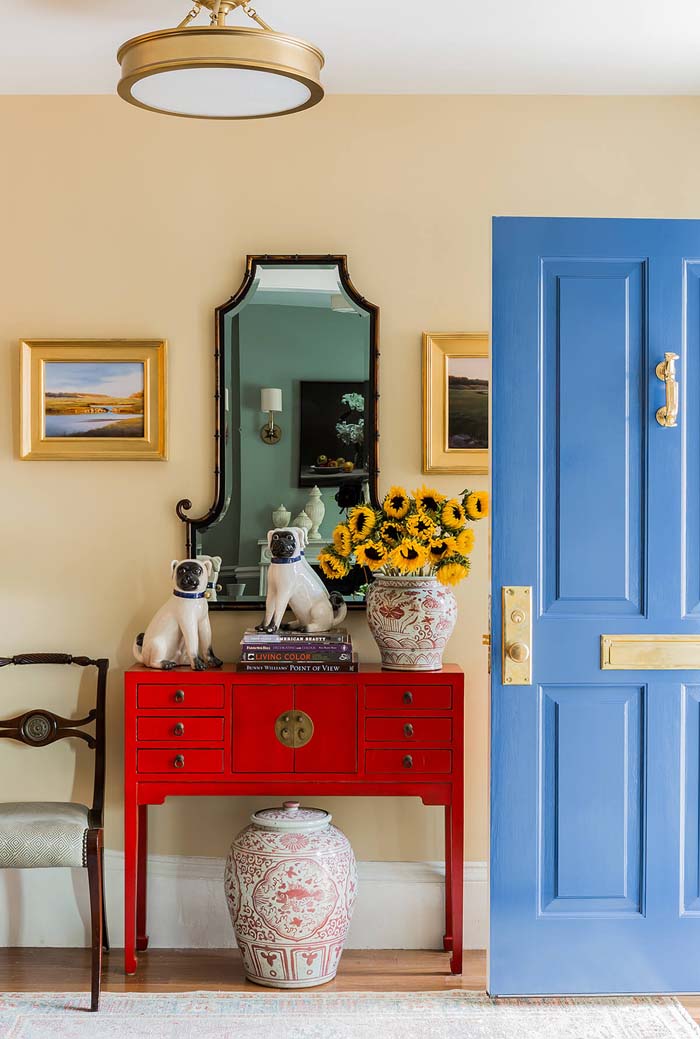 Sometimes the key to showing good taste and decorating abilities is to make a dramatic contrast. Usually, this means is used on small pieces of furniture or on accents.
This entryway table is an example of how impressive and impacting the entryway can be.
21. Reimagine a Coastal Entryway with a Rustic Upcycled Table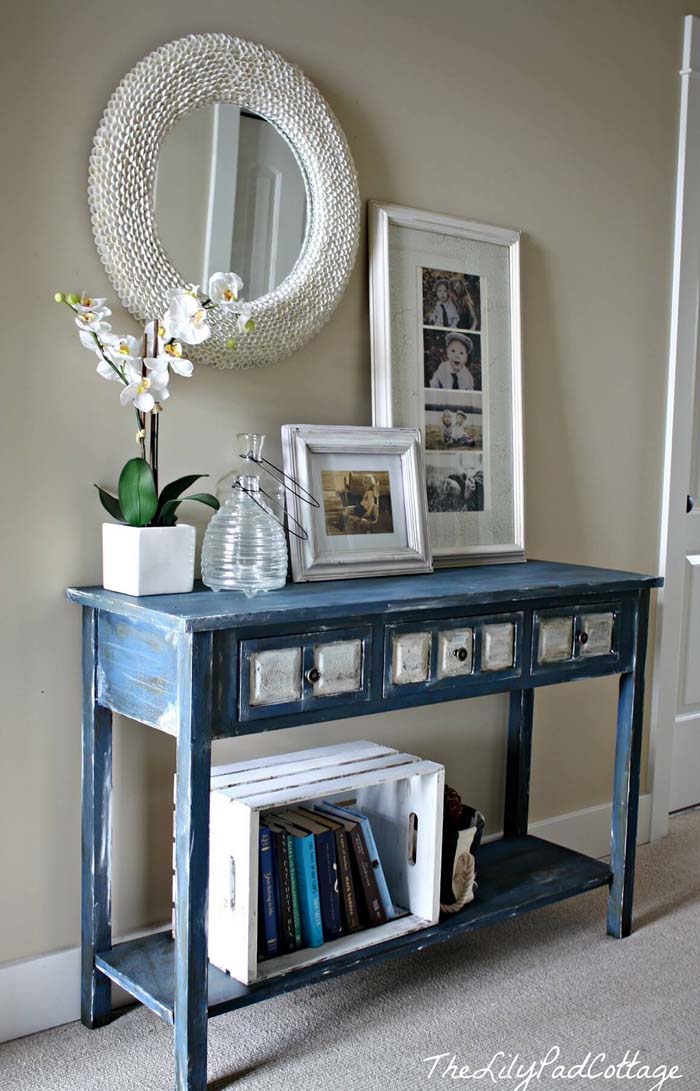 Welcome the coast in your entryway with a rustic upcycled table.
The beach impact can be easily seen with the chosen color combo and the complementing mirror surrounded by a frame with shells.
via Lily Pad Cottage
22. Make the Most of a Small Entryway with a Suspended Table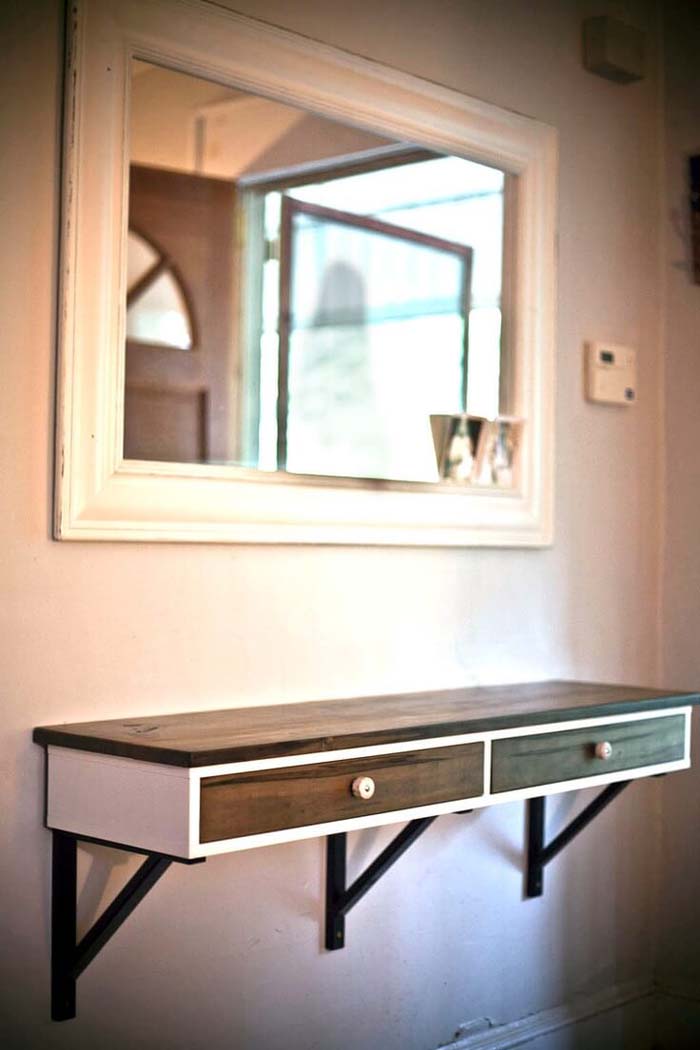 If the entryway is too small but you don't want to make a compromise with the furniture, there is a way to have your entryway table.
Instead of the standard design on legs, you can suspend it on brackets and thus don't take any of the floor space.
23. Utilize Mirror Surfaces in Narrow Entryways for Airier Spaces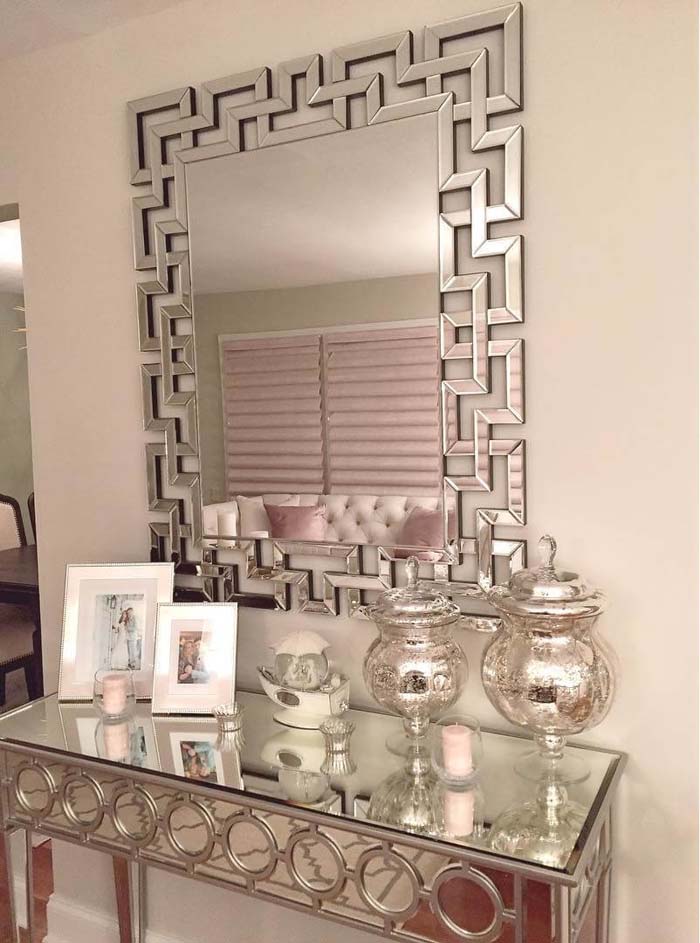 In cases where the entryway is narrow, use the mirror surfaces to create depth and illusion for airier space.
In addition to that, it also reflects the light so it will help you make the space brighter.
24. Handcrafted Entryway Table with Low Level Storage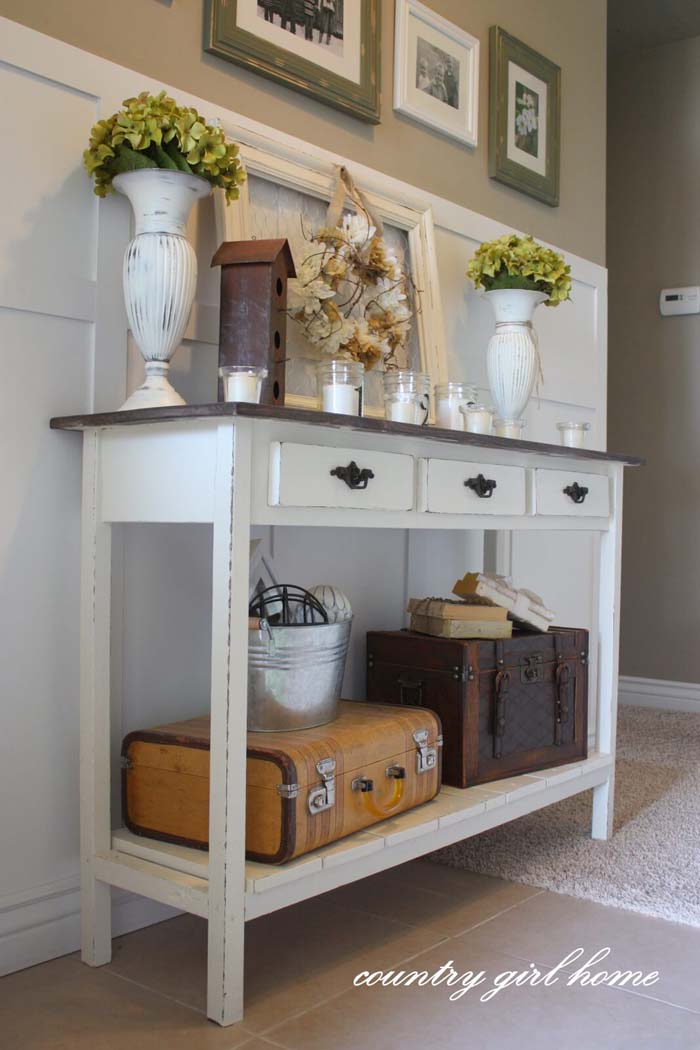 This functional entryway table is entirely hand-made to answer the storage and style preferences of the creator.
There is a low level that allows the placing of larger items like a basket or trunk which increases the farmhouse impact. The top is left for smaller decorations like candle holders and vases.
25. Refresh Your Entryway with a Contrasting Color Table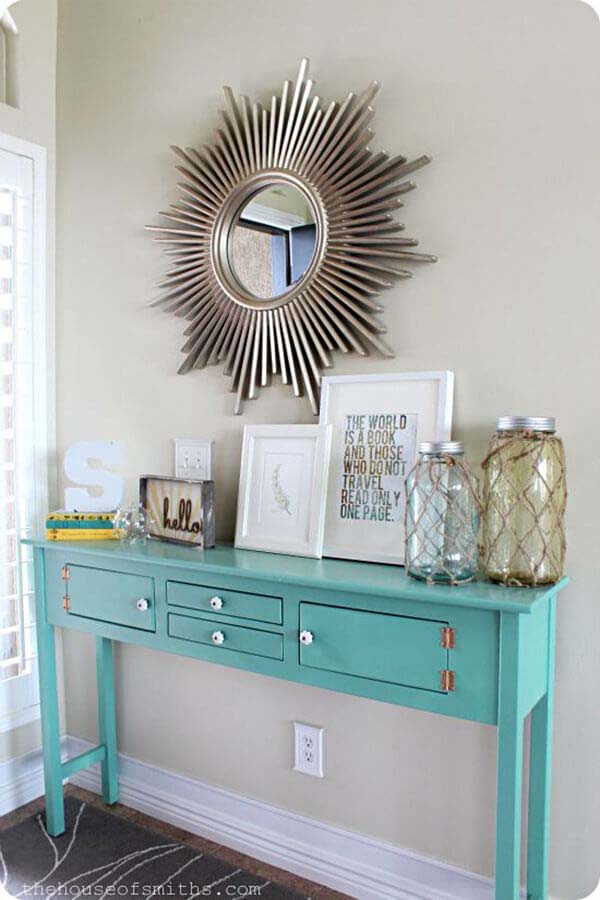 Give a touch of uniqueness and extravagance to your entryway with a table in contrasting colors.
If you choose the same egg blue color, stake on beach-affected decorations in white or made of glass.
26. Transform Your Entryway Table with a DIY Ikea Sideboard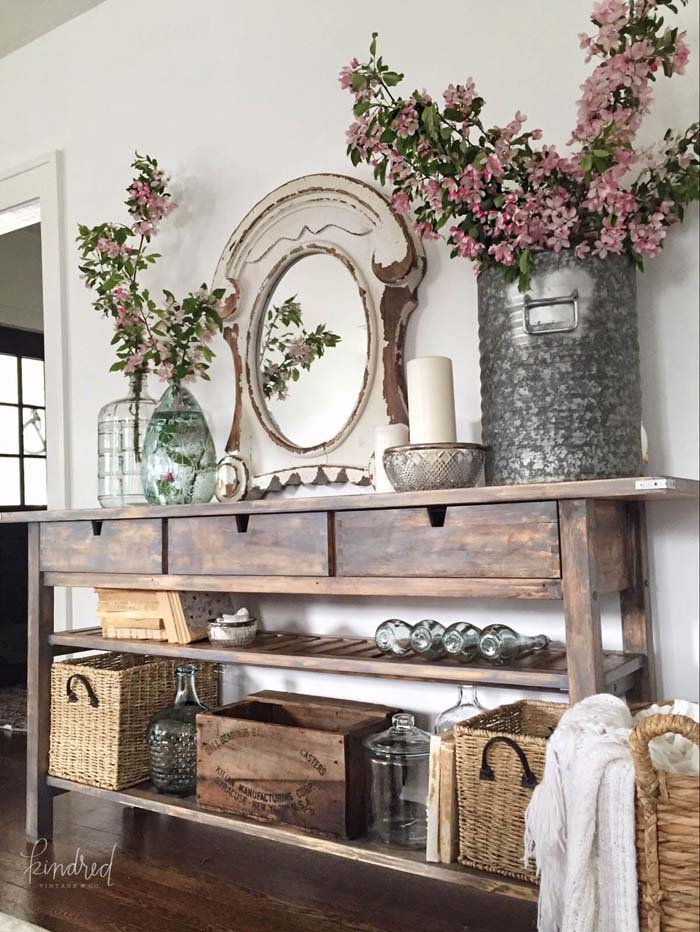 If you have a very practical entryway table but its look is not to your taste, you can always do a renovation like a story with this Ikea sidebar.
With the help of stain, it has been turned into a breath-taking rustic beauty.
via Kindred Vintage
27. V-Shaped Base Offers Attractive Look to Rustic Table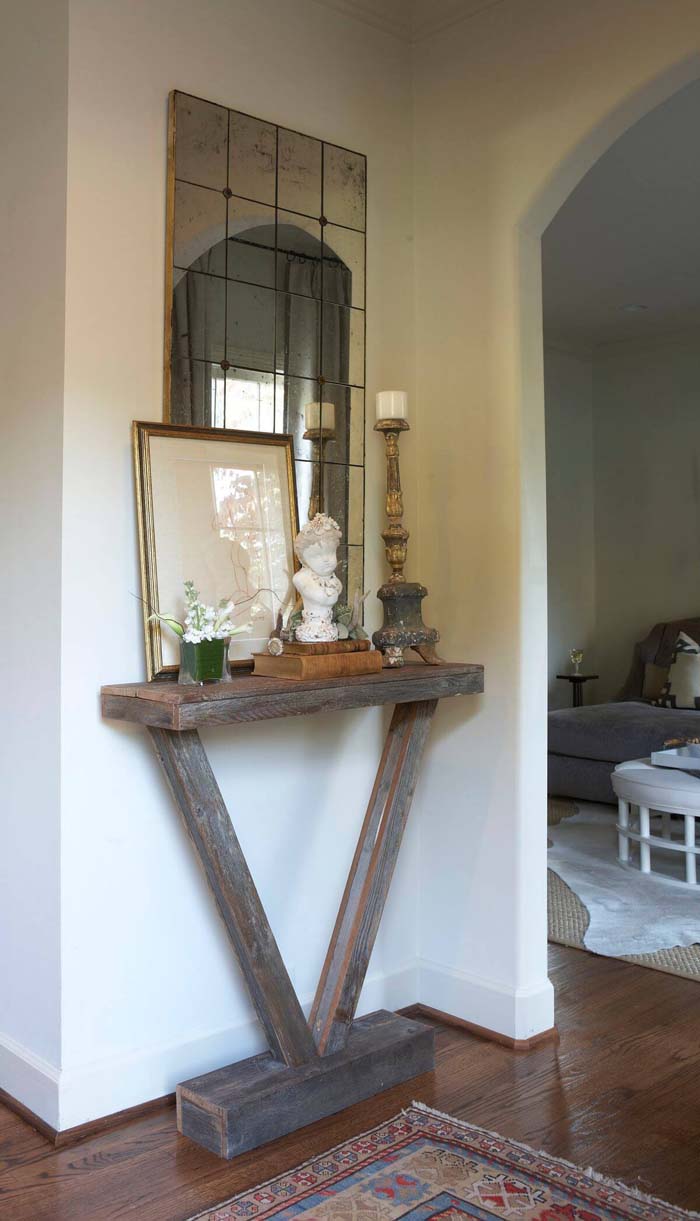 Although the design of this small table isn't that complicated, it has an attractive look because of the V-shaped base.
It will add just enough character and charm to the entryway when in arrangement with other rustic accents.
28. Rustic Wooden Entryway Tables with X-Braced Supports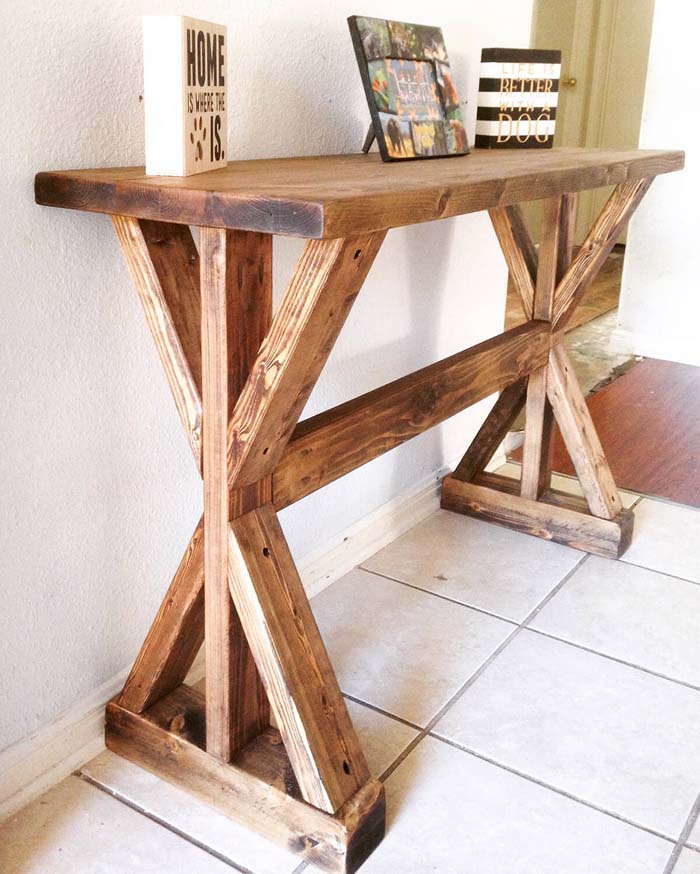 Choosing a wooden entryway table has its advantages as wood matches almost all interior styles.
This one will add a countryside charm to the place because of the X-braced supports that remind of a sawhorse.
via Ana White
29. Suspend Beam Tables for a Stylish Entryway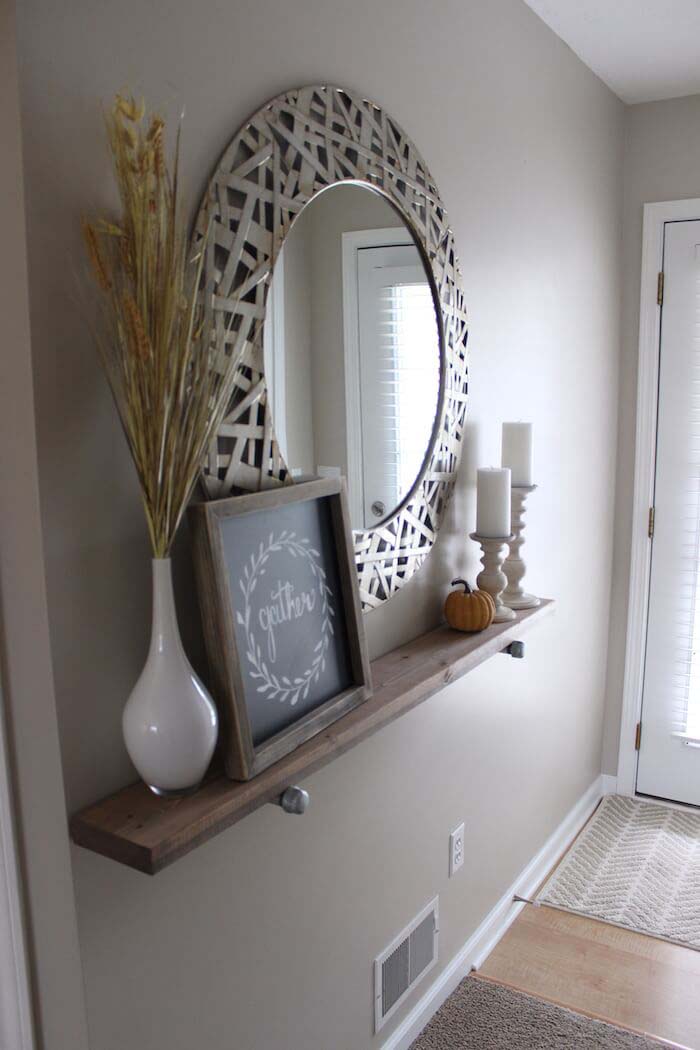 Entryway tables don't have to be very complicated to make a good impression.
A simple beam suspended on brackets will have the same decoration impact and function as a large table does if placed at the right wall and if cohered with the rest of the interior design.
via Grandville Life
30. Transform an Upcycled Cabinet into a Homely Entryway Table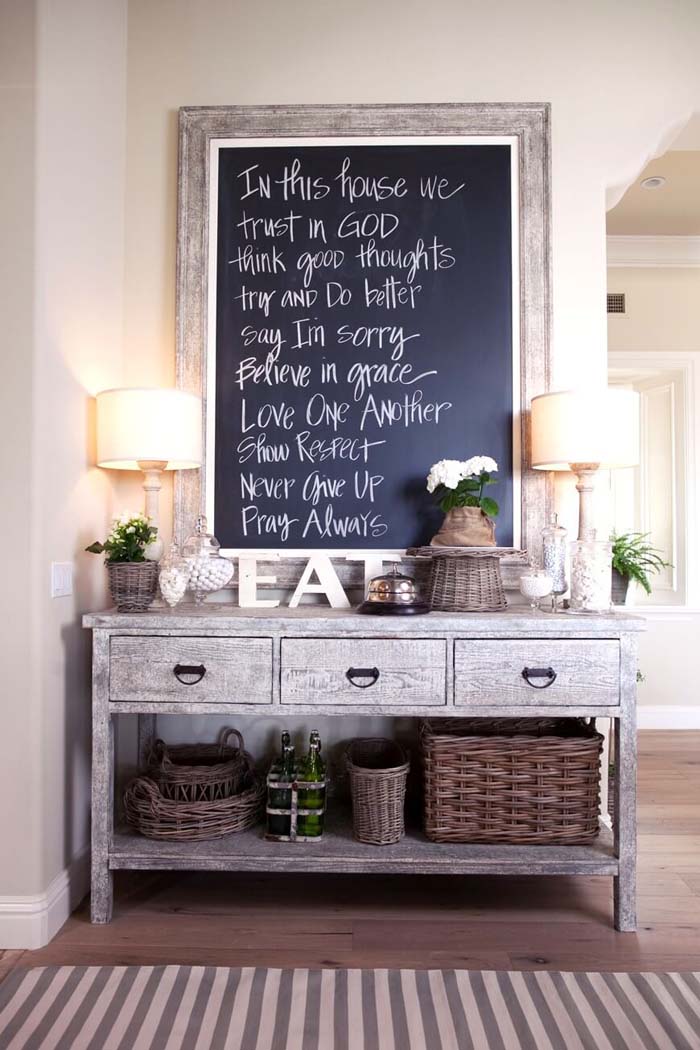 An upcycled cabinet used as a table in the entryway will make the space look feel homely and integral with the rest of the rooms.
You can combine it with a chalkboard frame to write inspiring sentences or welcoming phrases.
via Confetti Style
31. Repurpose Old Sewing Machine Legs for Entryway Tables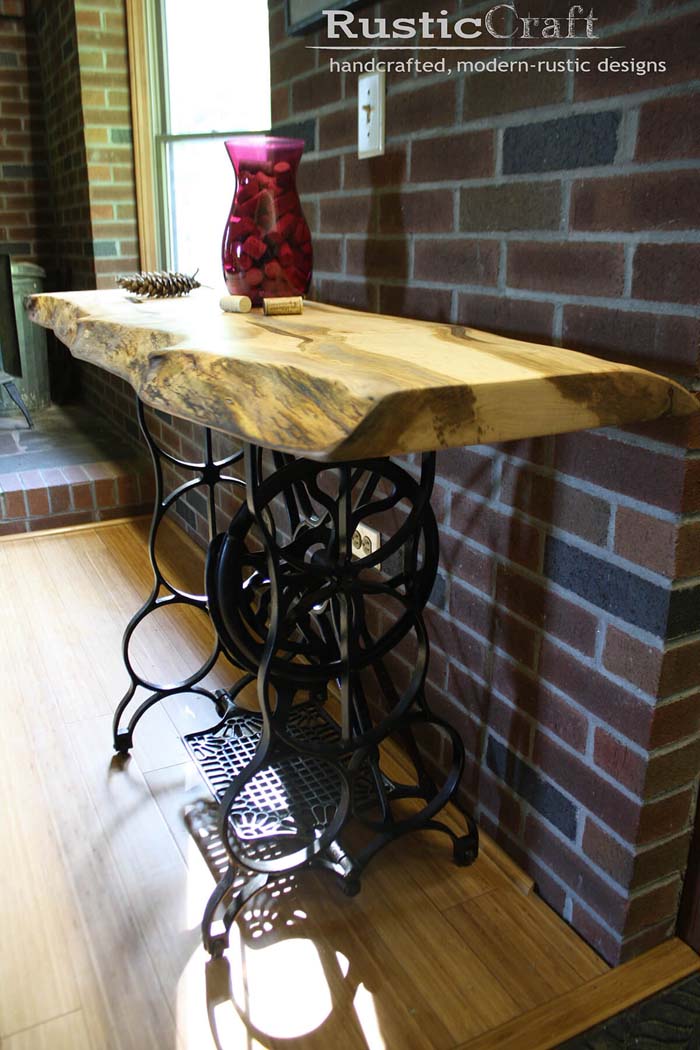 The upcycling of furniture always ends in having a one-of-a-kind element.
The legs of an old sewing machine are a source of numerous DIY projects which also include making an impressive rustic entryway table.
via Rustic Craft
32. Make a Sleek First Impression with Glass Entryway Table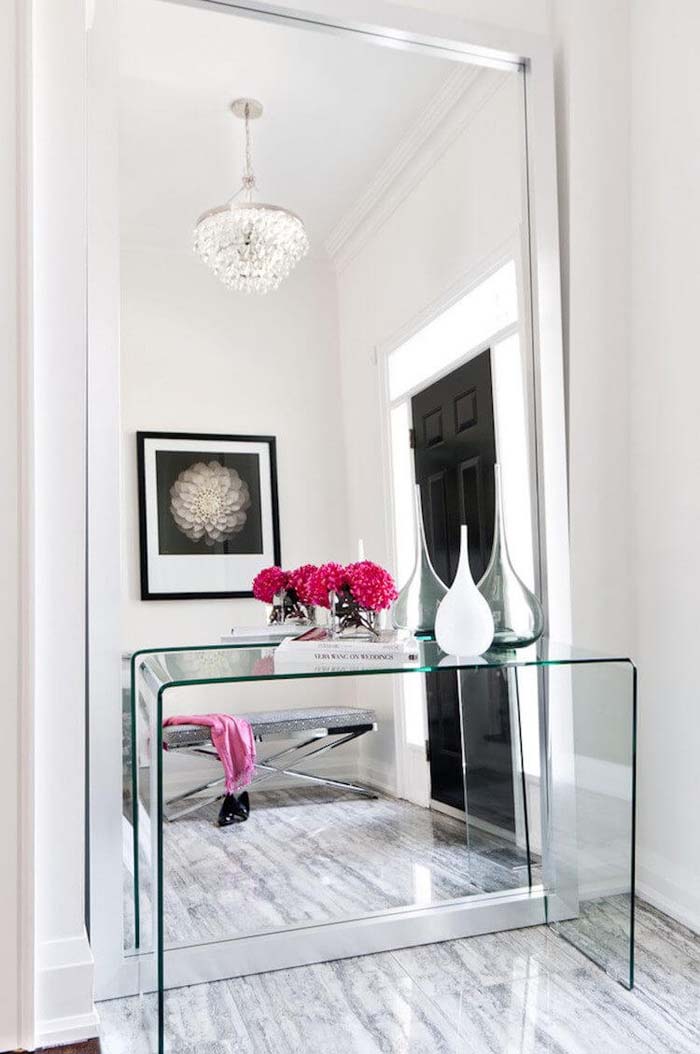 Glass is related to modern and contemporary design. If this is your taste for the interior, you can use it even for your entryway furniture.
A glass table will add a sleek and luxury accent to the space, especially when combined with other refined and glam accents.
via Dea Vita
33. Add Artistic Charm with Handcrafted Tree Trunk Table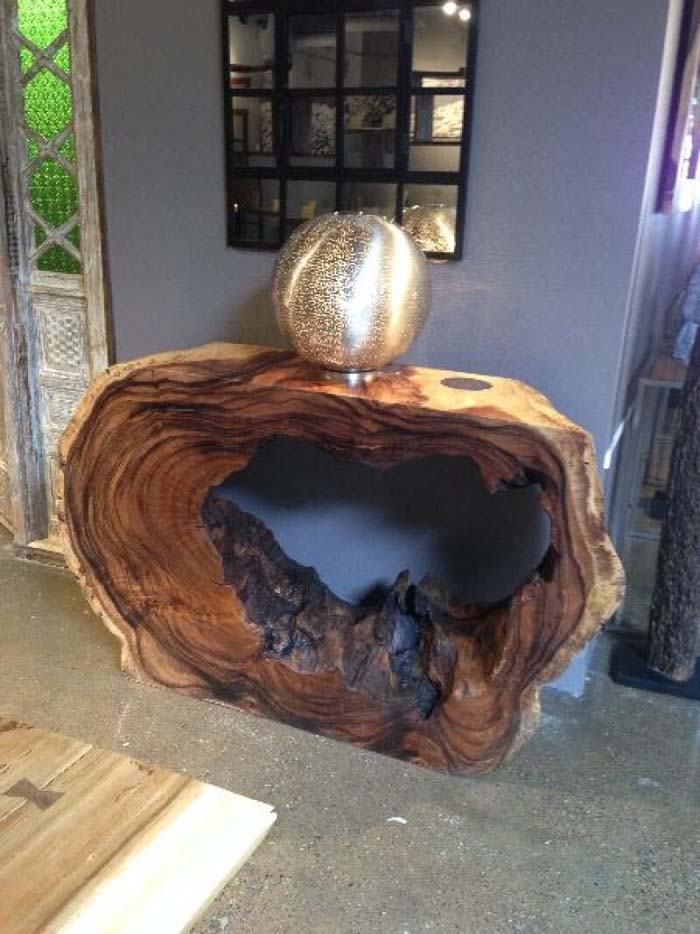 This entryway table will be appreciated by all artistic souls.
It can be handcrafted by a large tree trunk with the help of special tools. Its function will be mostly decorative but it is certain that it will be the focal point of the entryway.
via Tabulous
34. Rustic Wood Table with X-Brace Supports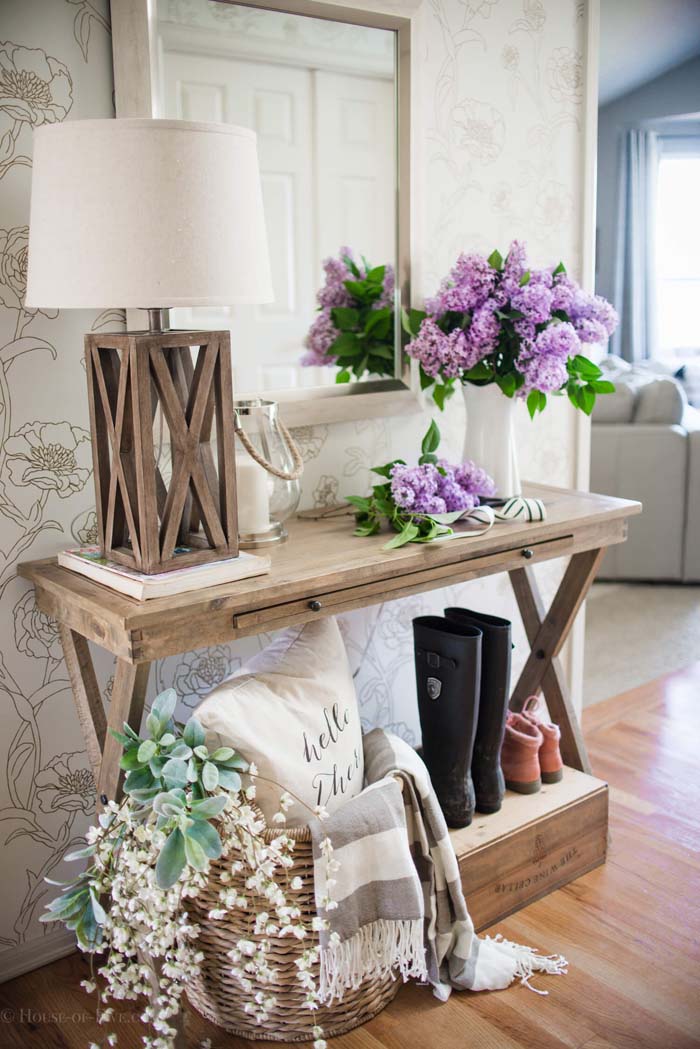 This rustic table is beautiful and functional at the same time. Made of refinished wood, its design can be easily recreated.
The x-brace supports are quite high which allows storage of larger items beneath the table.
35. Appealing Wooden Entryway Table with Hidden Baskets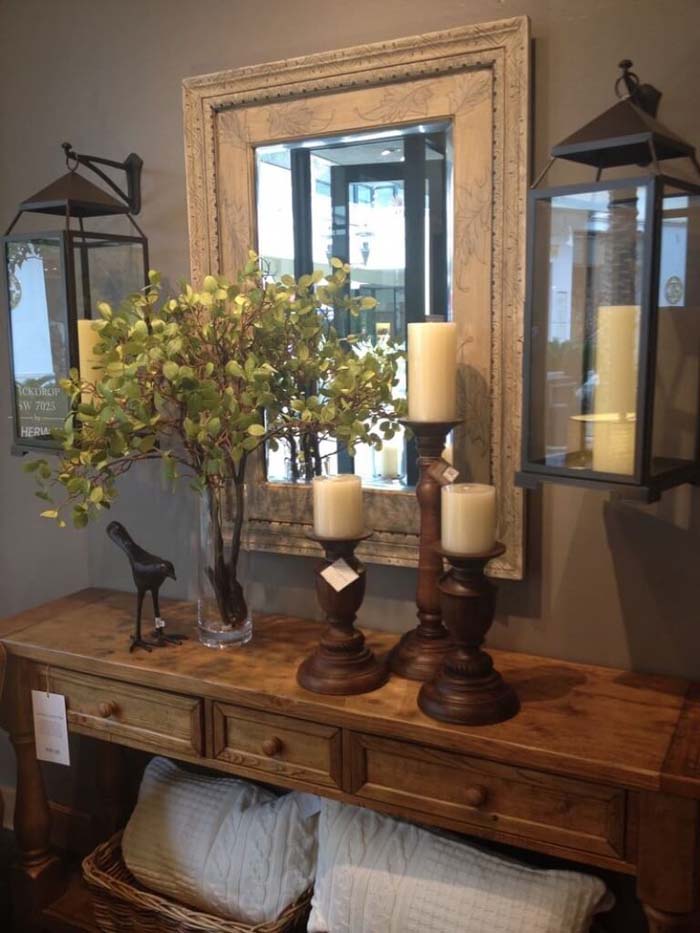 This wooden table will make any entryway feel more welcoming and appealing. It is relatively high and allows the hiding of two large baskets for cushions.
36. Create an Inviting Entryway with a Wooden Beam Table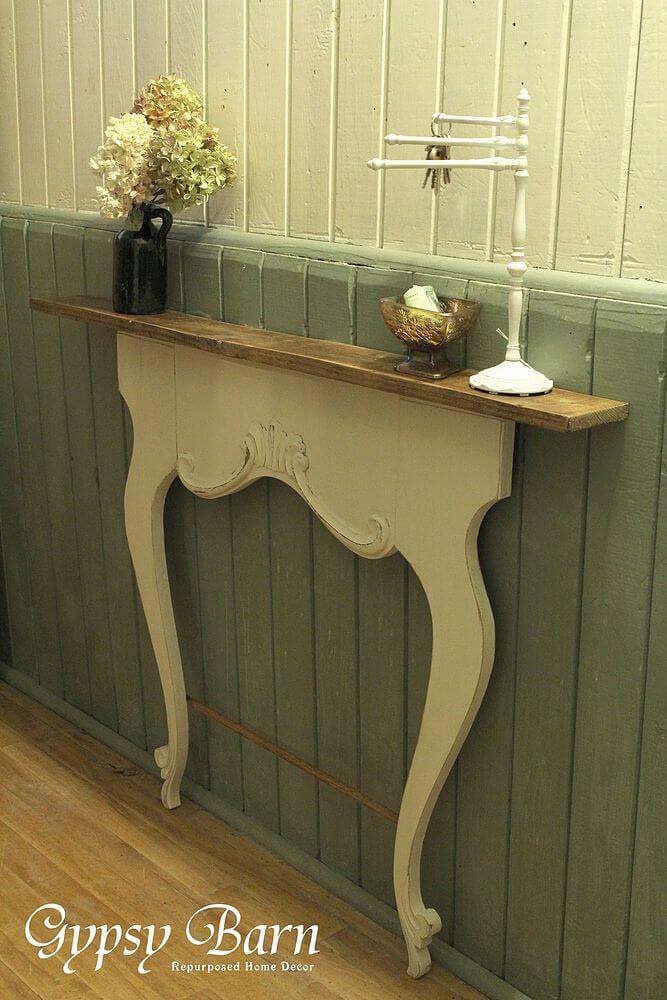 This small table could be your inspiration for an entryway upgrade. A wooden beam is attached to the wall to serve as a display of decorations to increase the welcoming character of the space.
The lyre-shaped legs are rather decorative than supporting but they give a finished rustic look to the piece.
37. Antique Grey Table Enhances Light Grey Room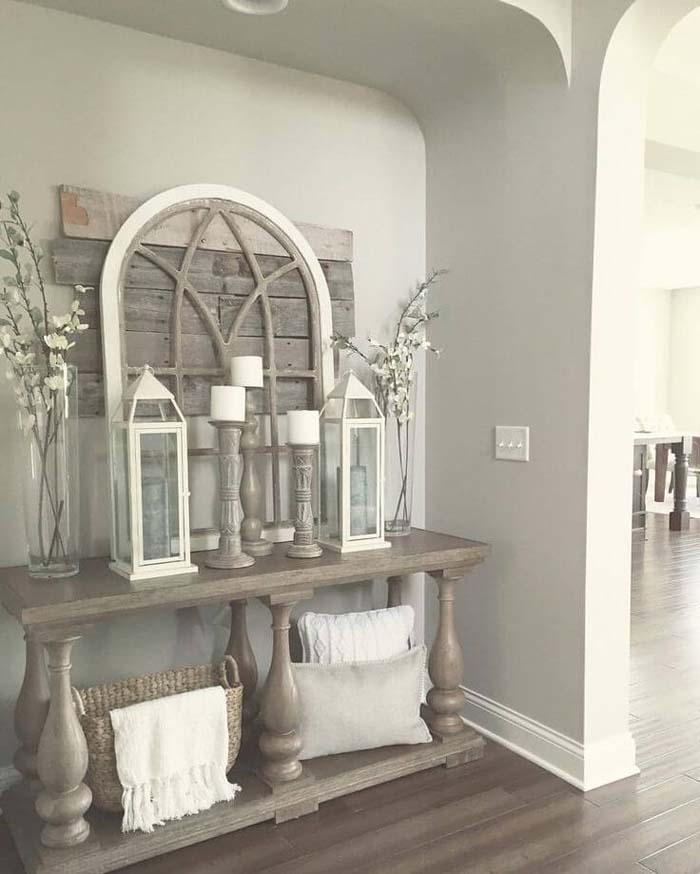 Light grey walls embrace a creamy grey-colored wooden table. Its antique value is enhanced by the ornamented legs which connect two levels for storage.
The bottom board can easily accommodate two rustic wicker baskets while the top is left for decorative elements in the same style.
via Beautiful Chaos