As fall is one of the best seasons, because of the harvest, colors and warm weather it's also a great time to make some fall decoration projects.
Whether it's a fall centerpiece, mantel decoration or fall craft idea, they are all beautiful and in most cases very easy to do.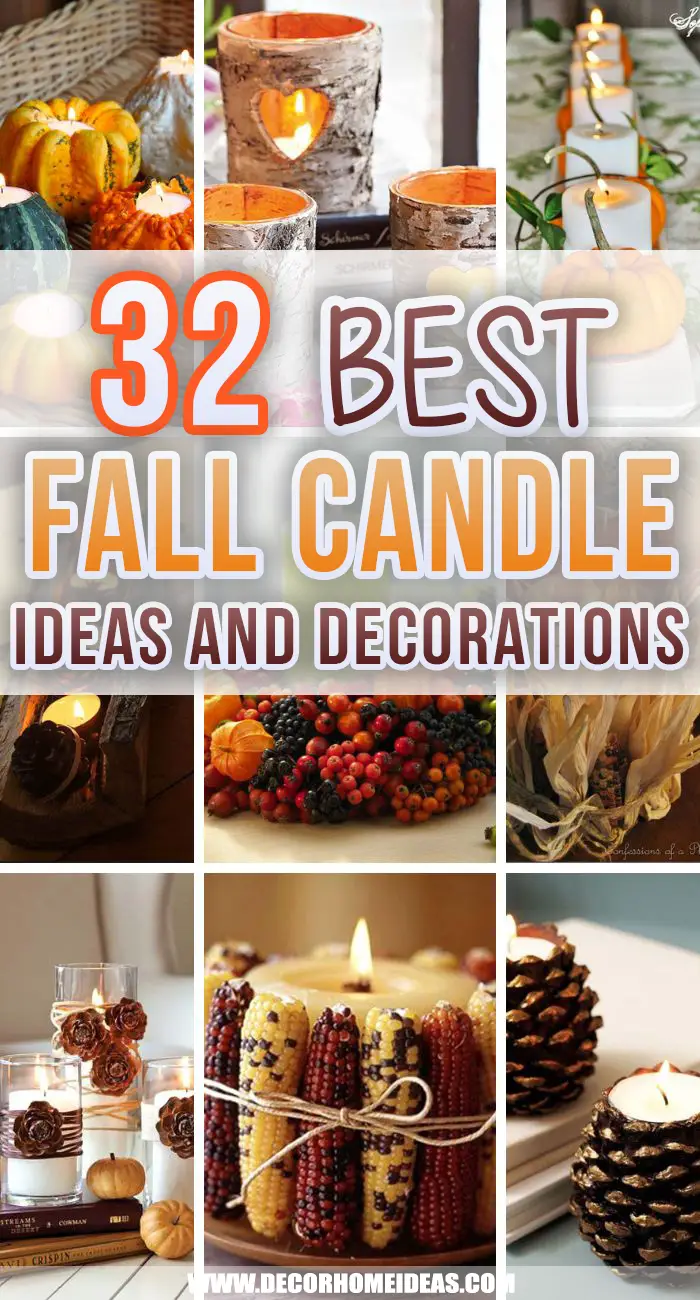 Today, we would like to share with you some fall candle decorations to make your home warm, cozy and romantic.
1. Light Up the Squash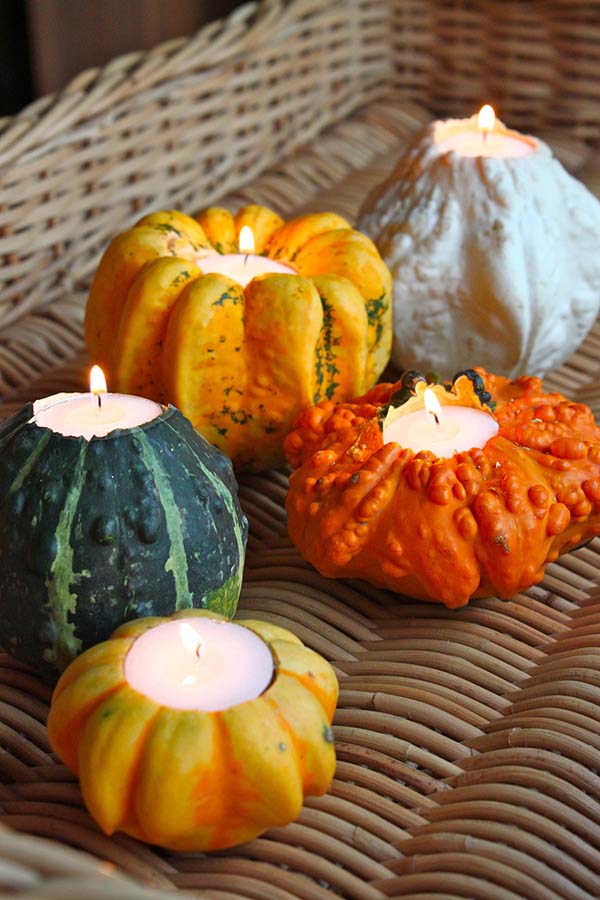 Photo:Credit
These fancy little candles speak of the season like nothing else.
Celebrate the most special of days by adding these simple, darling accessories for your home. They look great on a table, a tall drawer or next to the kitchen stash of items.
Tiny squashes that hold a simple light candle are enough to embrace the beauty of the season. Before you take a look at the full 26+ collection, remember what you have lying around for years and it's calling for a new usage.
We often keep candles on high shelves, gift them to someone or simply keep the best ones for a good holiday. Then when the holiday comes, we have already forgotten about them.
We are about to fix this!
2. Heart-shaped Lights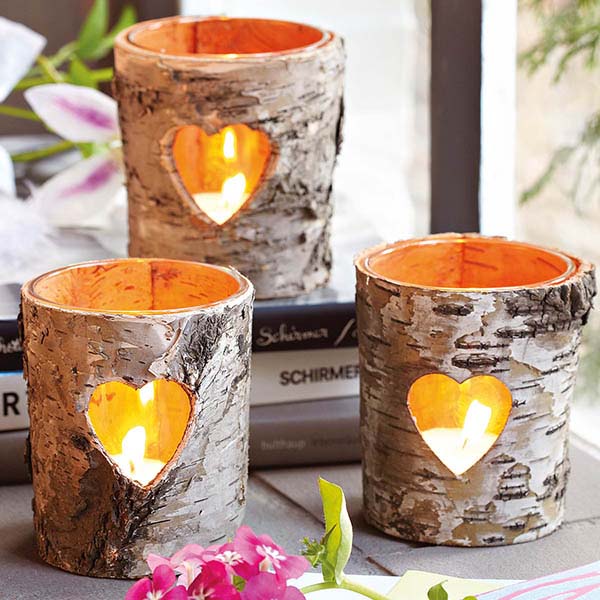 The heart is one of the most famous symbols that are unrelated to times changing, to seasons changing, to any change for that matter.
The heart is a symbol of love, warmth, easing into the special role of radiating light and goodness around.
Truly, we are what we radiate.
3. DIY Twig Votive Candle Holders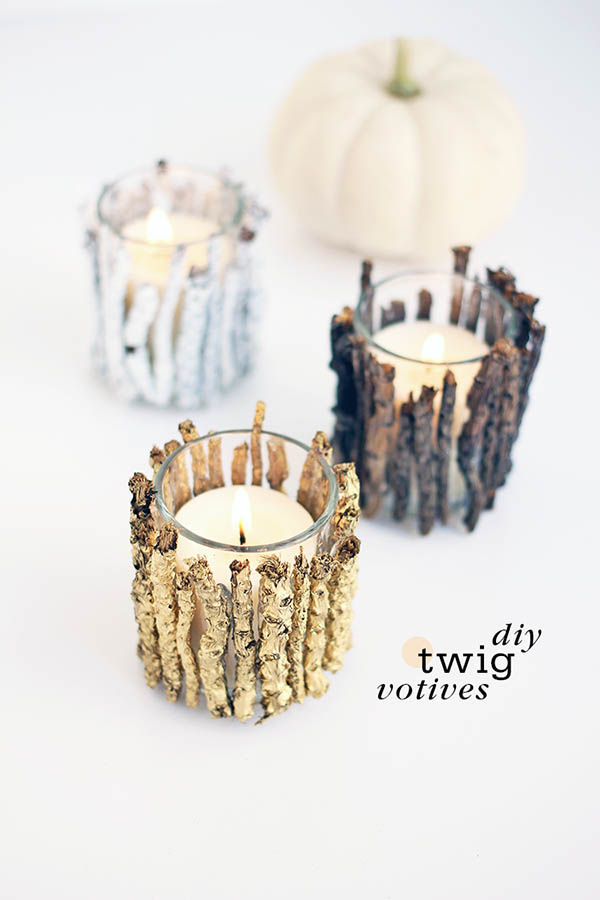 Going easy on ourselves is especially important around seasonal holidays.
We tend to get overwhelmed with additional tasks, with too much preparation, making things more complicated than what they need to be.
No hustle and bustle, these candles will help you relax, meditate and unwind your mind from mapping all the tasks and ideas.
DIY Project Details: www.freutcake.com
4. Candle Wreath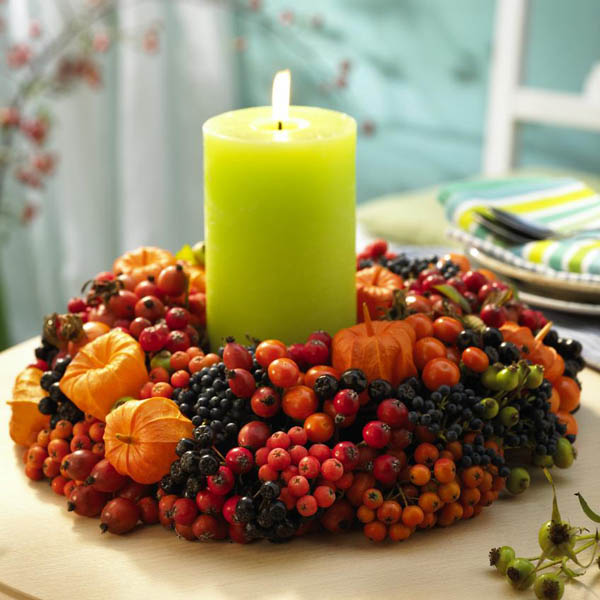 Photo:Credit
One of the most common seasonal gifts are the candle wreaths and I have received plenty of them during the course of time.
A tall, gentle candle and a lavishly decorated wreath are a good masterpiece, a summary of the season's beauty.
Try different types of material for the wreath and see what works.
5. Corn Candle Decoration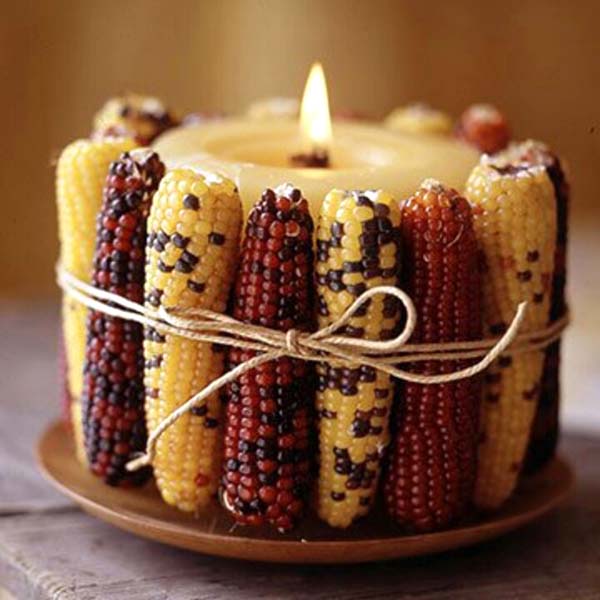 Photo:Credit
To some of us, candles are corny and to others corns are friends of candles.
It's not a corny gift to give someone a candle if the candle is unique and speaks of their character and style.
The corn here plays a special role – it's a formidable player in the game of décor!
6. Floating Fall Candles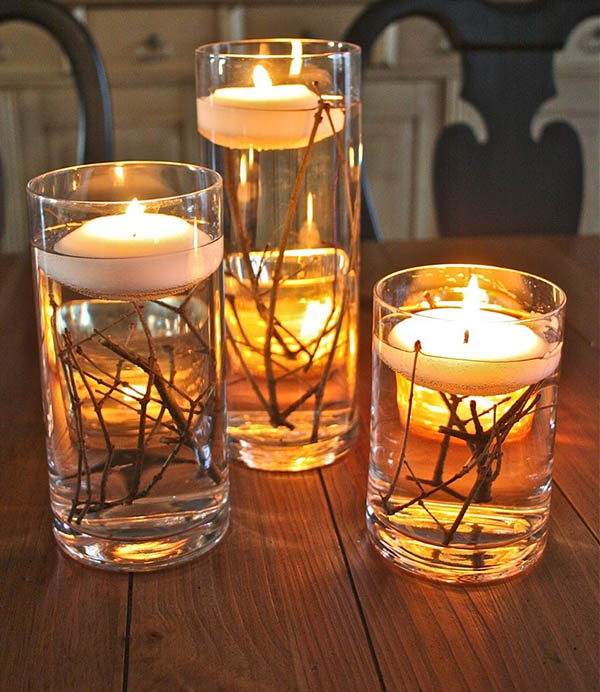 Photo:Credit
These sweet, little pieces are a typical example of how unique a candle can be.
Don't buy the regular candle pieces in the stores, take a couple of unique products that will look and smell amazingly.
Three candles of different height, all lit and full of wooden sticks that definitely state that the autumn has arrived.
7. Lantern Motives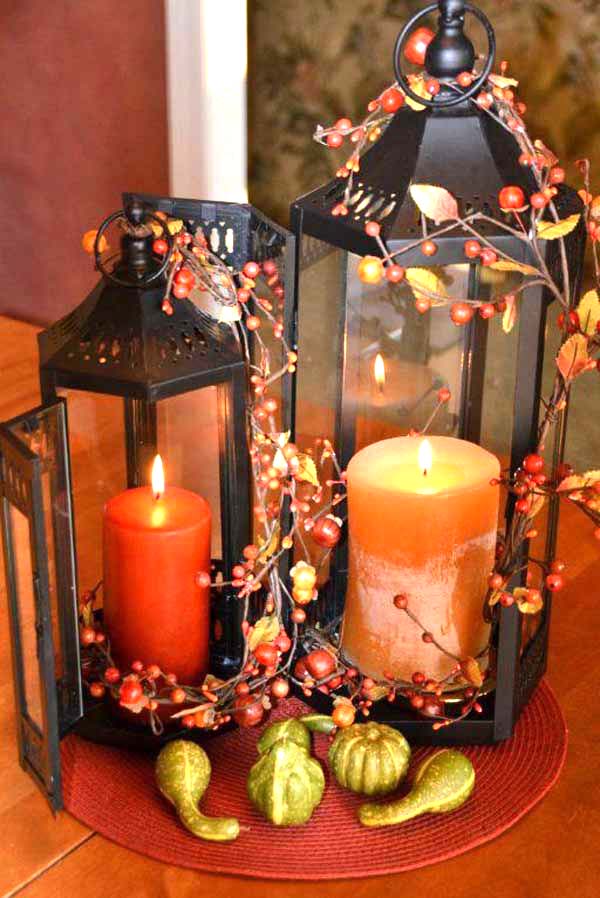 Photo:Credit
Lanterns, squashes and branches, all nicely set up in a cozy corner of the room.
Lanterns are truly great for high places, for little unused spaces and wherever your imagination goes.
They are an indoor and an outdoor motive; they kind of polish the look of the room and add special character to it.
8. Leaves of the Fall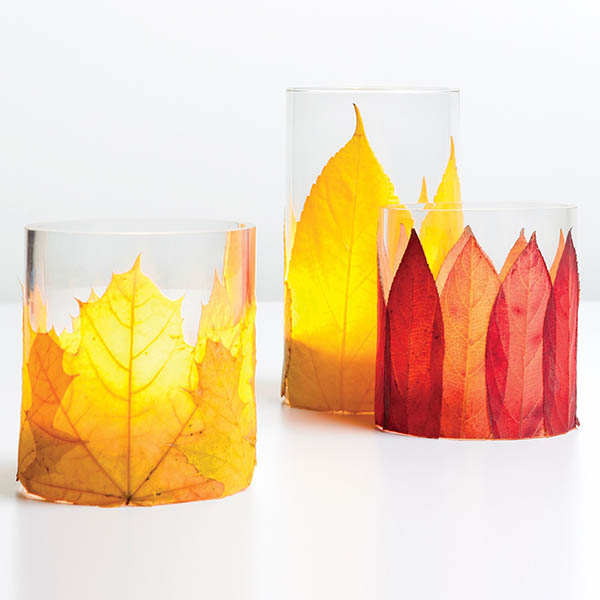 Image:Source
These leaves are everything, right?
Bright yellow and flaming red colors that entice our eyes, bring us up closer to the nature of things.
Celebrating life isn't all that hard.
These remind us how gracefully the leaves fall and how they return next season, vibrant and green.
9. Unspoken Words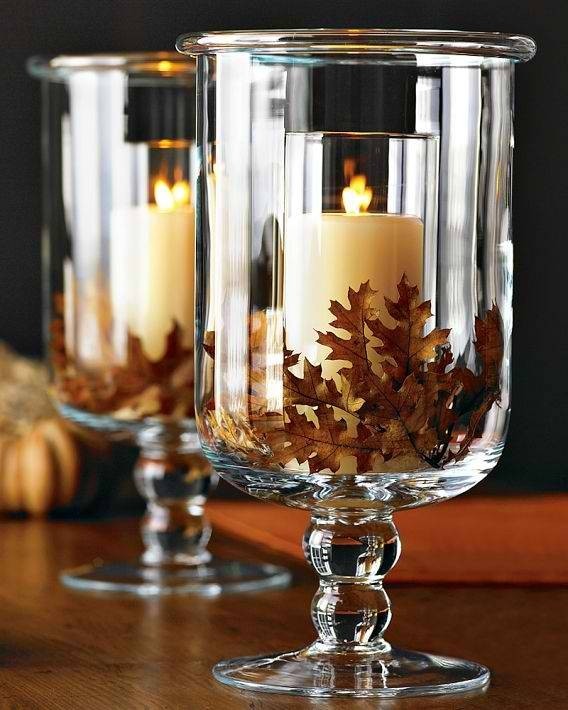 Photo:Credit
A gesture often speaks louder than words. There is certain intimacy in candles like these.
You don't just give them to anyone; they have to find their rightful owner who has the style and taste to appreciate them well.
Such a marvelous design and a hit of curiosity here!
10. Cinnamon Candles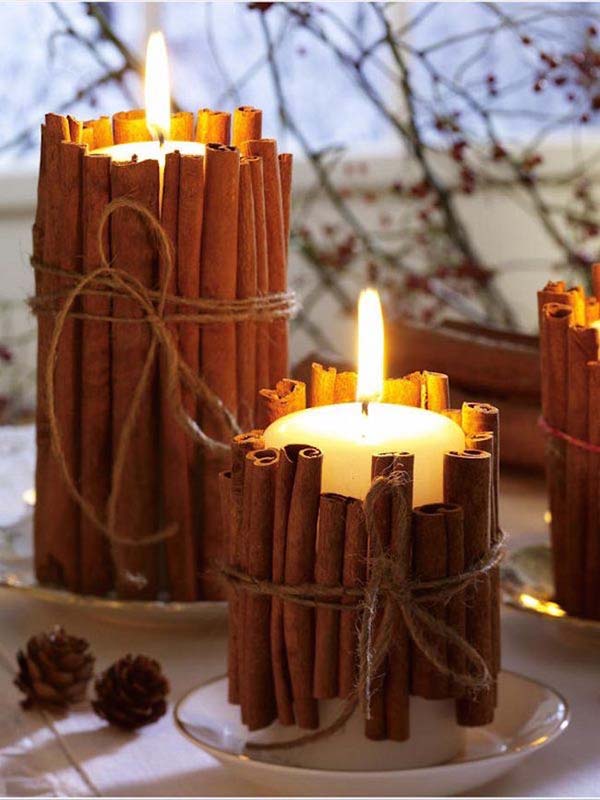 Image:Source
While we circle around the topic of candles and we strain from their religious symbolism, we see how candles have adapted well to our own lives.
There is another version:
a cinnamon-wrapped candle with a lovely white flame and a thick body that will last for a long time.
11. Supreme Inspiration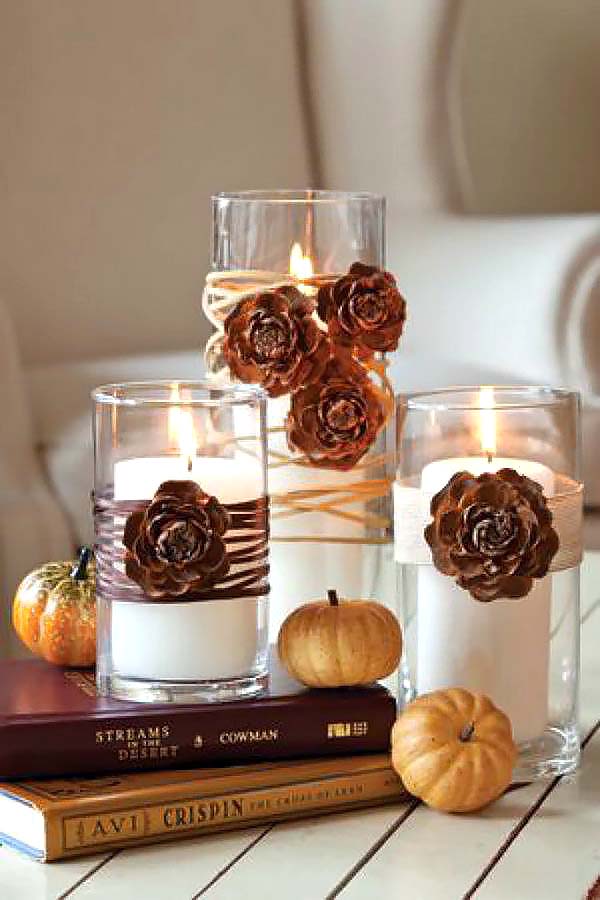 Photo:Credit
Three candles, brown book covers, three squashes – such a harmony here!
The beauty of the brown flowers speaks of the Earth. The tiny squashes lying around speak of the Fall.
The candle lights speak of the innate warmth of a supreme home that embodies the harmony of living.
12. Glass Bowl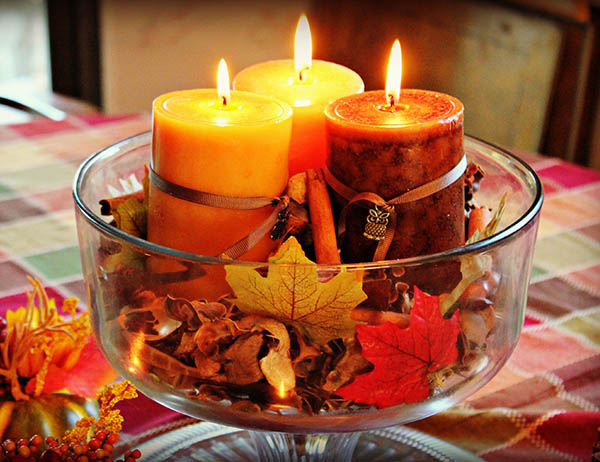 Photo:Credit
Journey off to a far off land and discover that they too use candles.
These candles are snuggling in the glass bowl and they have mastered the beauty of the season.
Nothing speaks of domesticity like a portion of the best well-designed candles, gather together in a pot.
13. A Candle, A Pinecone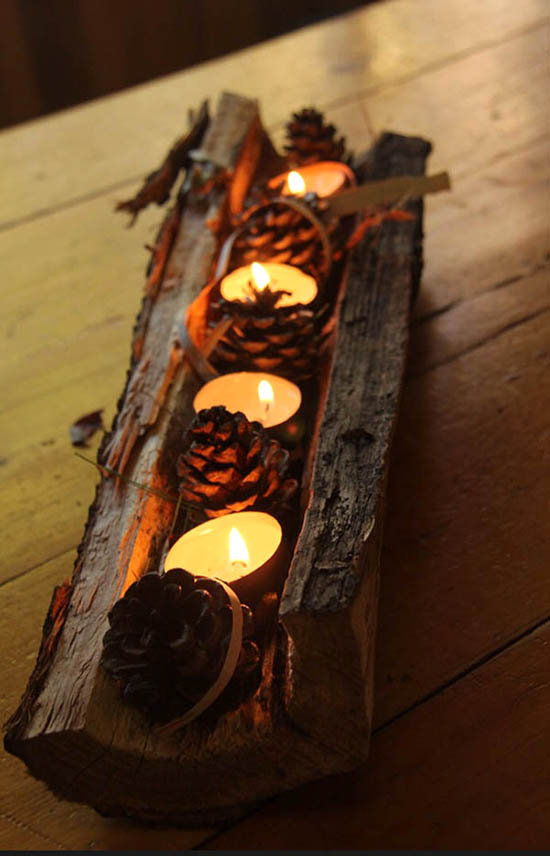 Photo:Credit
Well, pinecones are probably the cheapest and most sublime resources of  fall decoration.
Combine them with wood, small candles and a pinch of elegance and all is right with the world.
Or, at least with the living room! Generous, special and lively, that's required from a times décor.
14. Wooden Stand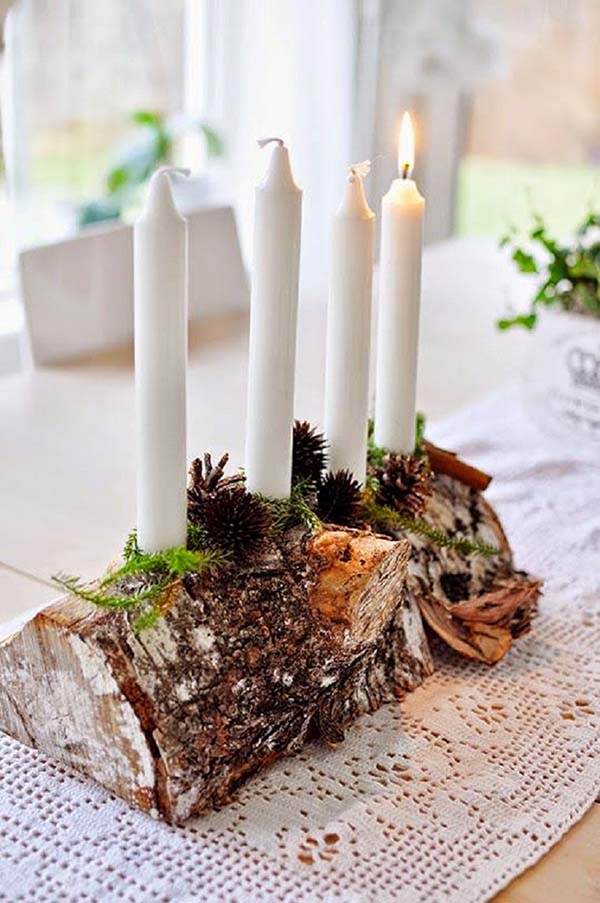 Photo:Credit
Four tall white candles all lit and inviting, sitting on a piece of wood – it's unexpected, tender and loving way of saying Hello, Season of Fall!
Embrace the season, fast-forward to the winter and you have a long-lasting decoration.
Tables have turned and now the wooden stand is in the center.
15. Pinecone Candles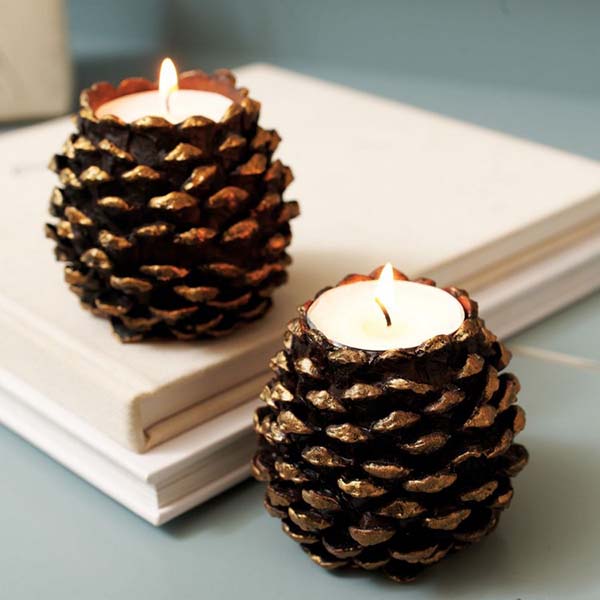 Image:Source
Well, these two can send us straight ahead into the bliss zone.
Pinecones cannot be dismissed no matter how many examples we use to illustrate their decorative powers.
Add a tiny flower on the side and you are good to go.
16. Wood Art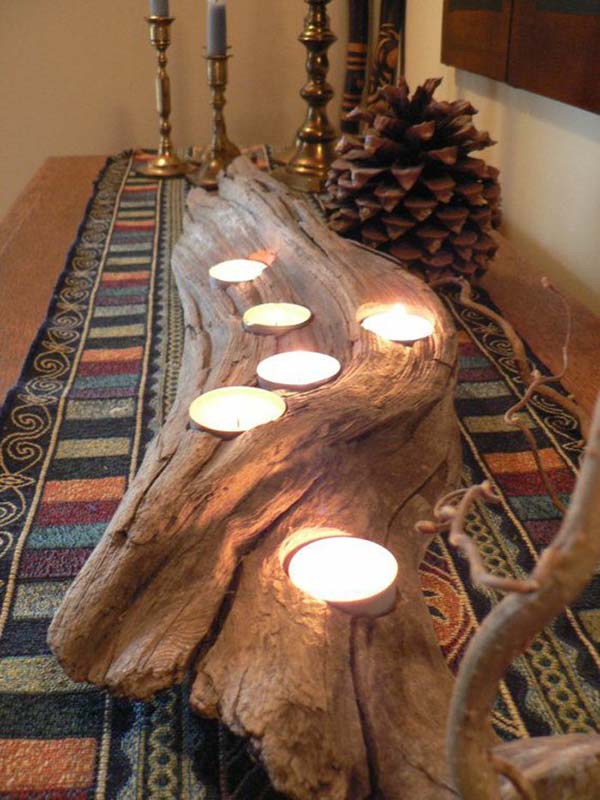 Photo:Credit
For the most part of this collection, we show tiny, festive pieces of beauty.
Now we have a whole masterpiece and it's all wooden, artistic and unforgettable.
Let's face it! This wood will leave us speechless no matter where we find it.
It could be in a cabin in the forest, our living room or in our garden.
17. Candle Bottles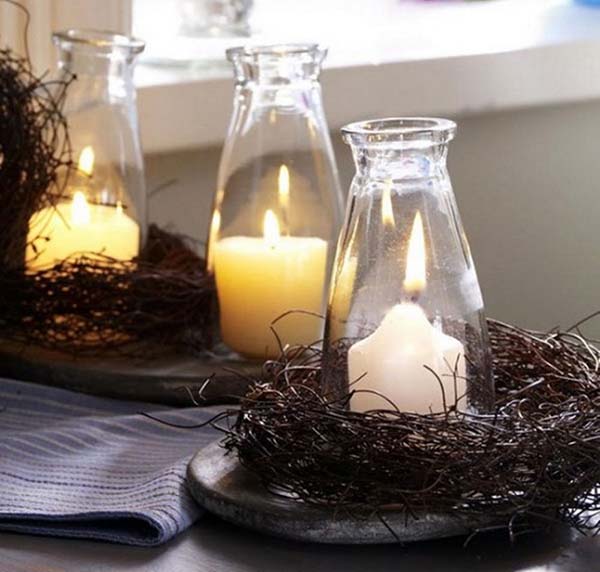 We know milk is for the kids. Candles are for the grown up kids like us.
Tall candle bottles, of all shapes and sized are pretty astounding.
The dark wreaths around them enhance the beauty of the white candles.
Contrast is the key to a lovely spread, alchemy of décors.
18. DIY Fall Candles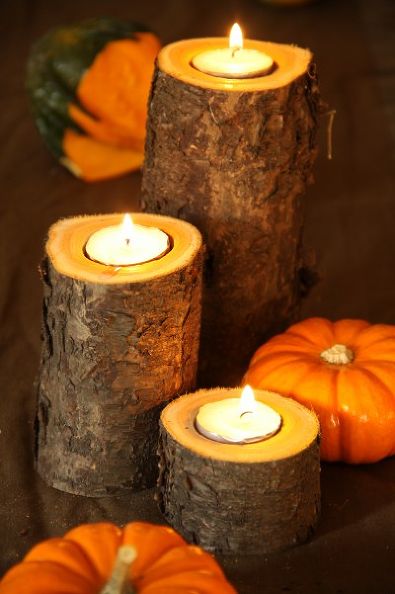 Very easy DIY project to make beautiful fall candles. Just cut some tree branch and drill into it to make space for the candles. Arrange as per your taste.
DIY Project Details: livedan330.com
19. Corn In a Glass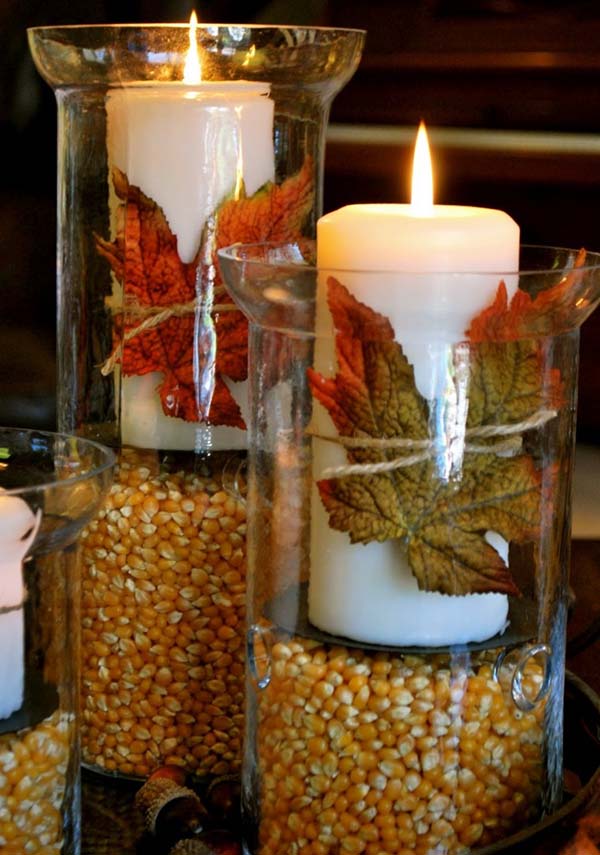 Photo:Credit
If you can get some transparent glass containers for the corn, you can add some candles at the top and decorate with rope and fall leaves.
20. Candles In Lanterns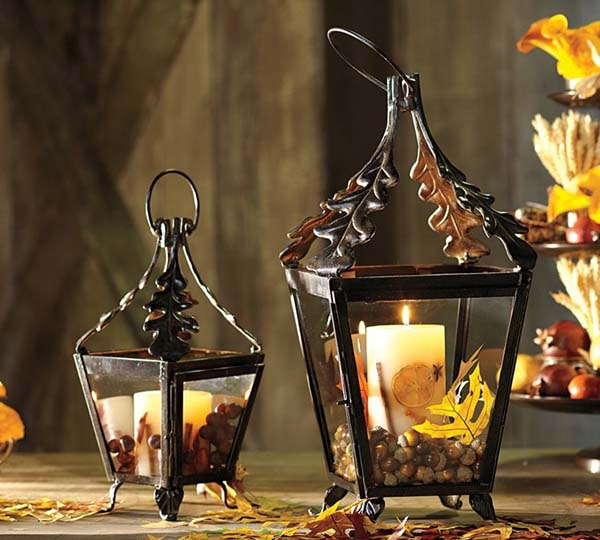 Photo:Credit
What's more beautiful than candles in lanterns? These lanterns are already fall season themed so they are perfect for decoration. Add some acorns and leaves for ultimate result.
21. Easy Decor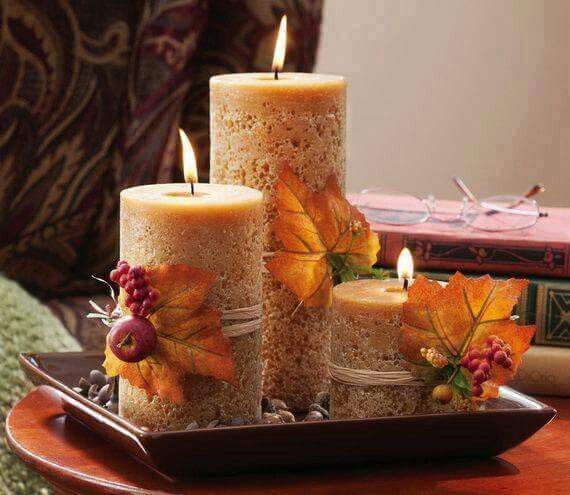 Photo:Credit
If you want a fall decoration as easy as possible, this one is just for you. Get 3 candles and decorate them with rope and leaves. Put them on a tray and arrange them. Mission accomplished.
22. Baguette Board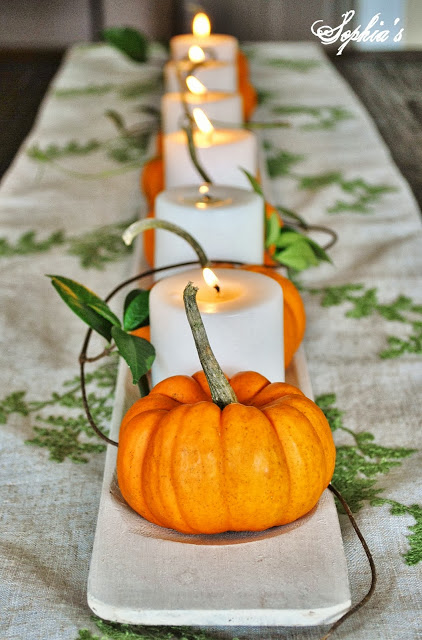 Photo:Credit
Get some mini pumpkins and put them on the baguette board add the candles and you have a beautiful fall candle decoration for your table.
23. Fall Candle Centerpiece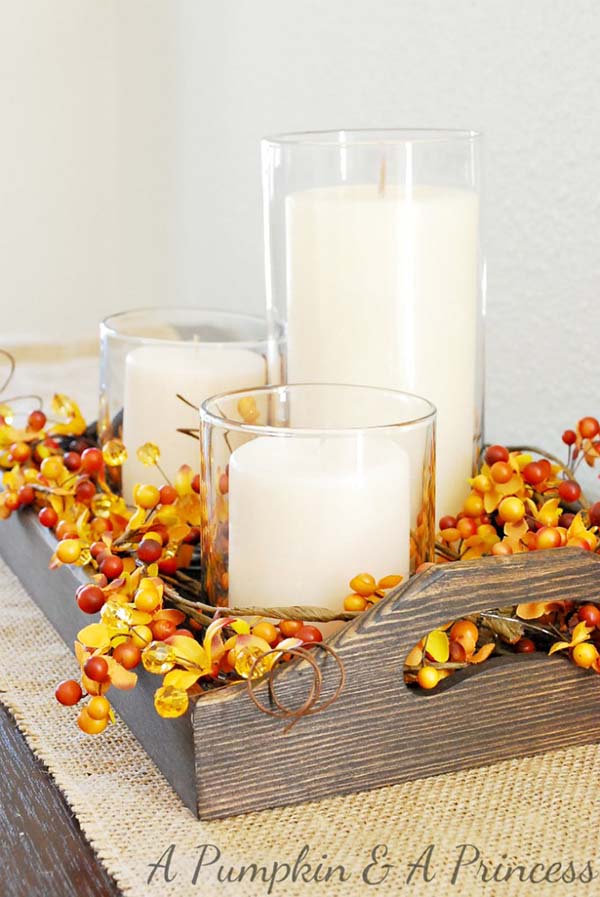 What you need is a wood tray, candle vases, berry picks and garland. Simple, but very creative and easy to recreate.
DIY Project Details: apumpkinandaprincess.com
24. More Pinecones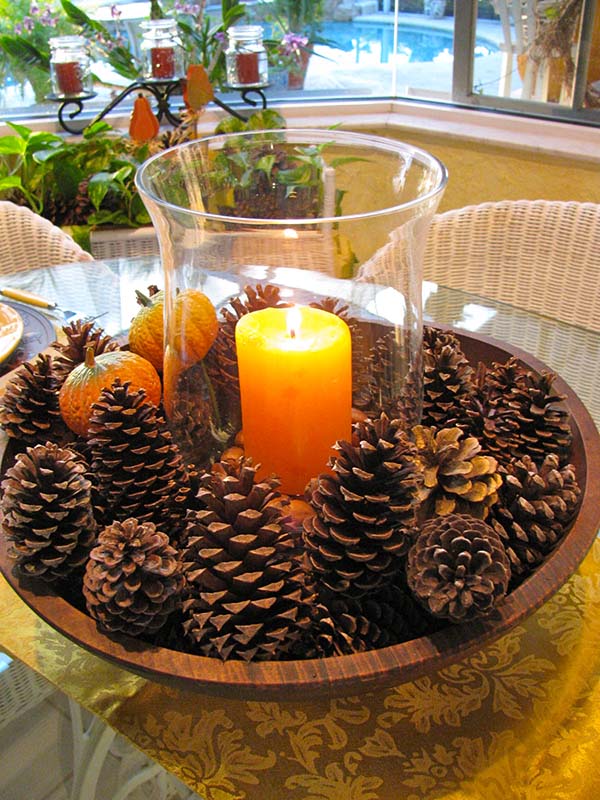 Another very easy to do project is putting all the pinecones in a wooden bowl and then a candle glass vase.
DIY Project Details: ritamay-days.blogspot.com
25. Wire Basket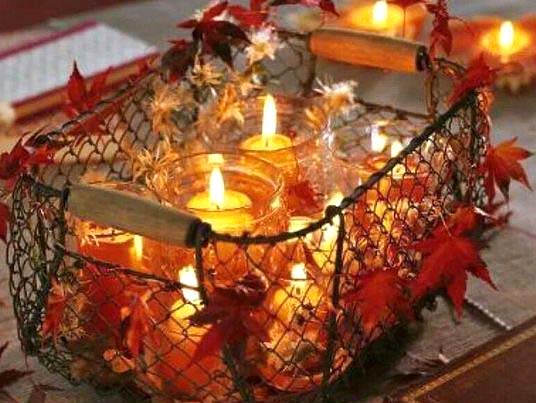 Your wire basket could be used for a stunning candle fall decoration. Arrange with fall leaves. Be careful not to start a fire though.
26. Rusty Springs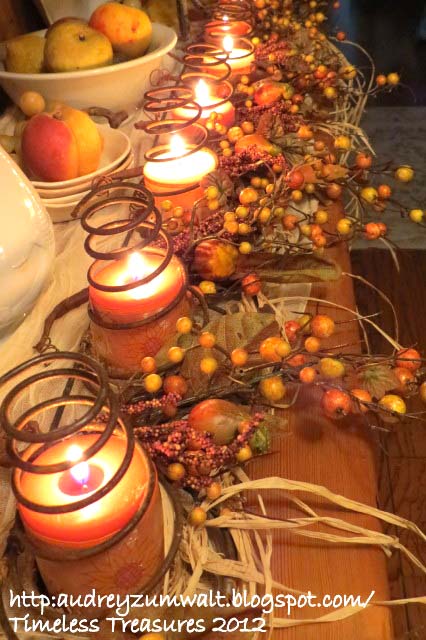 I've never seen a candle decoration like this before? Using some old rusty springs to put around the candles.
DIY Project Details: audreyzumwalt.blogspot.com
27. Indian Corn Candle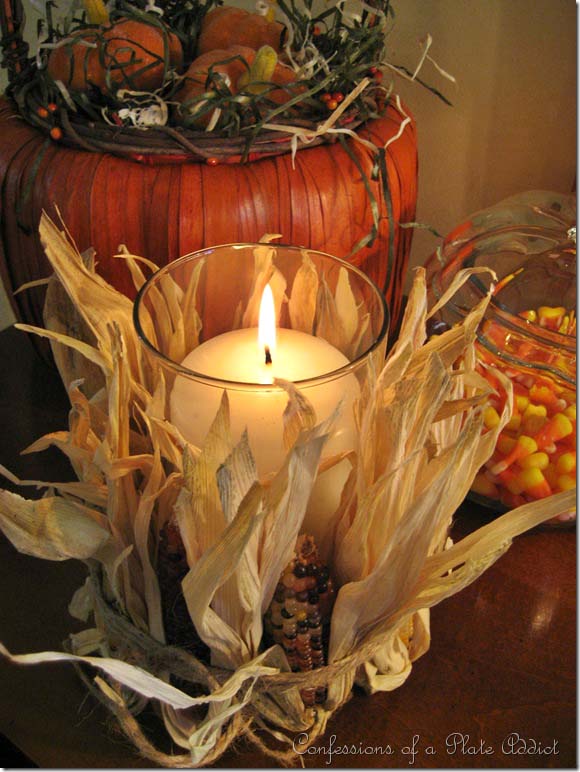 DIY Project Details: confessionsofaplateaddict.blogspot.com
If you liked the selection, please don't forget to PIN IT and SHARE IT with your friends and family, they will thank you for sure!