There isn't a better way to give the interior a warm vibe or make the outdoors more appealing than the beautiful fall décor.
Especially with rustic elements, the fall décor will facilitate a smooth transition between summer and winter and will create a homely and calming atmosphere at home which will let you adjust to the colder weather outside.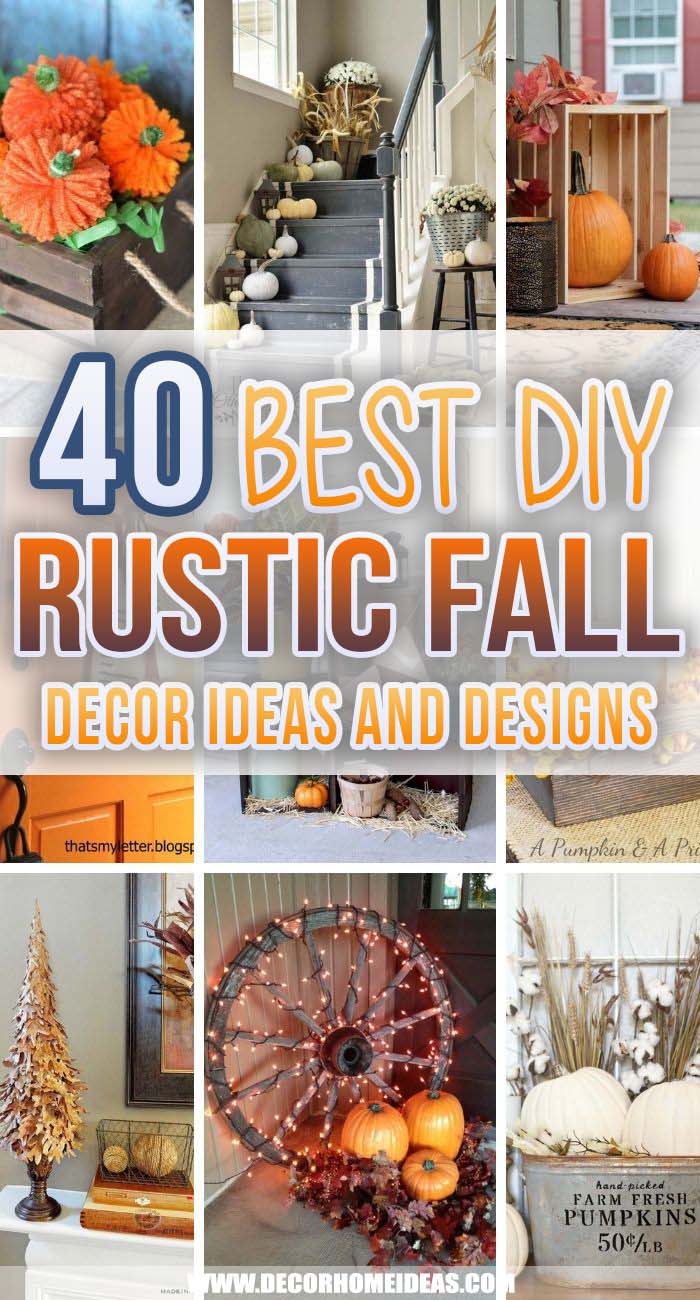 The rustic fall decor ideas we have gathered here are easy, affordable and most of all unique – the perfect addition to your festive décor.
1. Enjoy Magical Fall Lighting with a Log Table Runner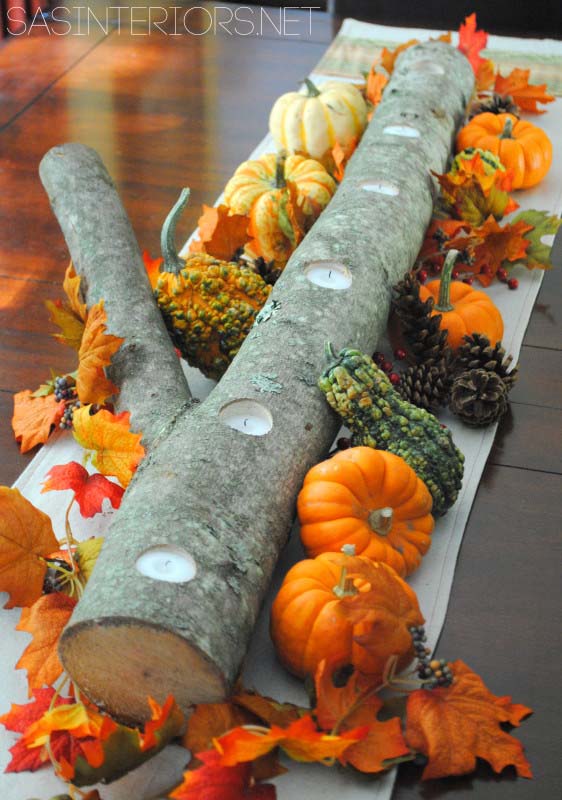 This breath-taking centerpiece collects all colors nature generously offers in autumn. The neutral grey trunk acts as a basis that lets the orange, red and yellow leaves interweave with the contrasting green and brown textured pumpkins and pine cones.
The log is turned into a light feature acting as a frame of tea lights.
via Jenna Burger
2. Be Charmed with a Grapevine Monogrammed Wreath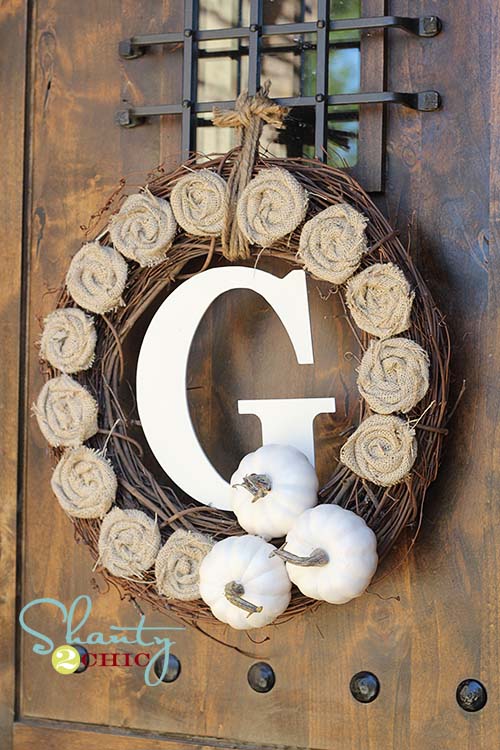 This gorgeous rustic wreath can be made for less than $10! The burlap rosettes are the charming embellishment of the grapevine basis that gives the earthy color an eye-catching beauty.
Add tiny pale creamy pumpkins or other pastel embellishments from nature. The wreath attached on your front door will improve the curb appeal of your home in a charming way and will greet warmly your guests.
via Shanty 2 Chic
3. Show Your Fall Harvest with a Rustic Vintage Drawer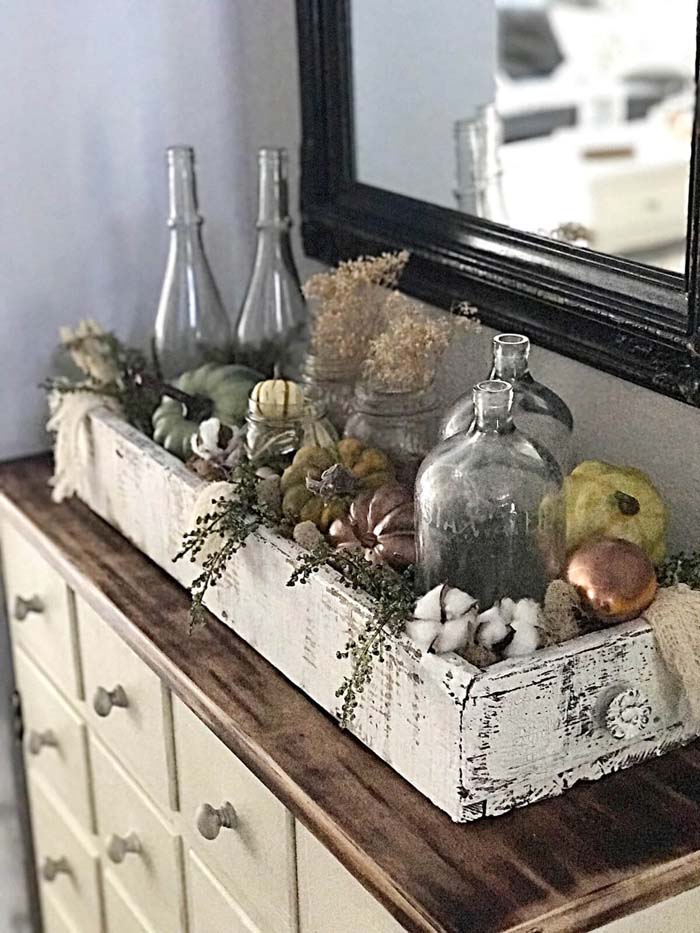 Repurpose a weathered drawer into an accent celebrating fall! Autumn is a rich season and its gifts deserve a special place to be displayed. Add pumpkins, cotton twigs, greenery, even dried grains over a layer of burlap serving as a soft cushion that embraces them.
Any vintage containers like glass jars and bottles or small metal buckets could help to upgrade the items into a well-arranged decorative display.
4. Create a Beautiful Floral Display with Pumpkin Vase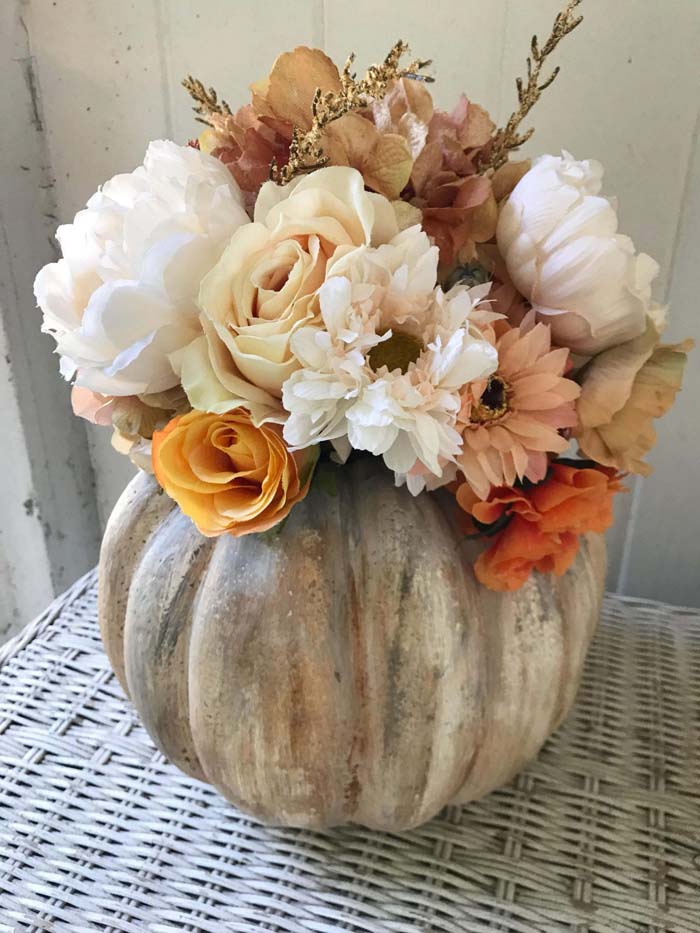 For those of you that like the moderate accents in the décor but yet want to properly mark the coming of a new season, here is a minimalist idea for fall decoration.
The vase made of a pumpkin can be placed indoors or outdoors to hold a bouquet of gentle flowers. The colors of the blooms belong to the pastel palette which adds a gentle subtle effect over the otherwise rougher holder.
via Etsy
5. Create a Focal Point with Fall Mantel Decor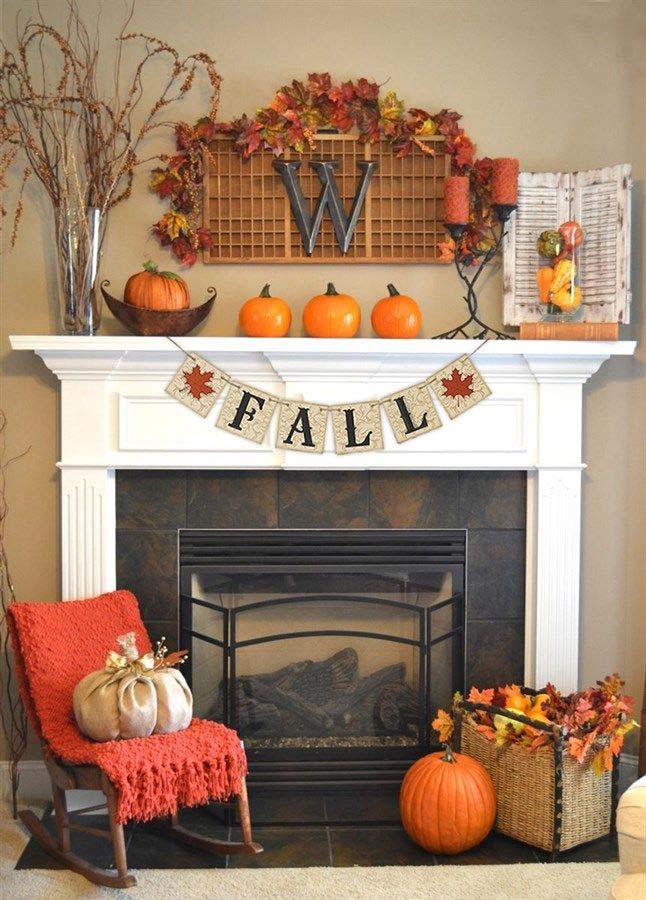 The point of interest of this fireplace mantel décor is the unique fall banner. 6 squares form a word that is framed by the image of autumn maple leaves.
That banner could be made from a poster board with a matte pattern or from burlap. To enhance the rustic effect, thread the pieces onto rope or twine.
6. Make an Eye-Catching Fall Wooden Sign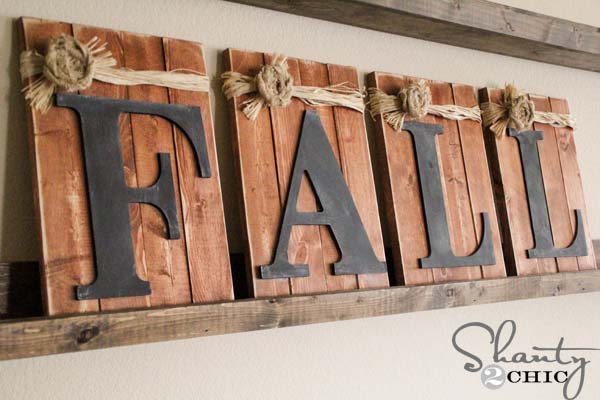 This amazing sign is made using three of the most adorable rustic materials- burlap, wood and chalkboard.
The set of four lathe rectangles imitate small shutters that hold the letters forming "FALL". At the top of each wooden basis, there is a ribbon giving it a finished look with a small burlap rosette.
via Shanty 2 Chic
7. Add a Touch of Elegance with White Pumpkin Display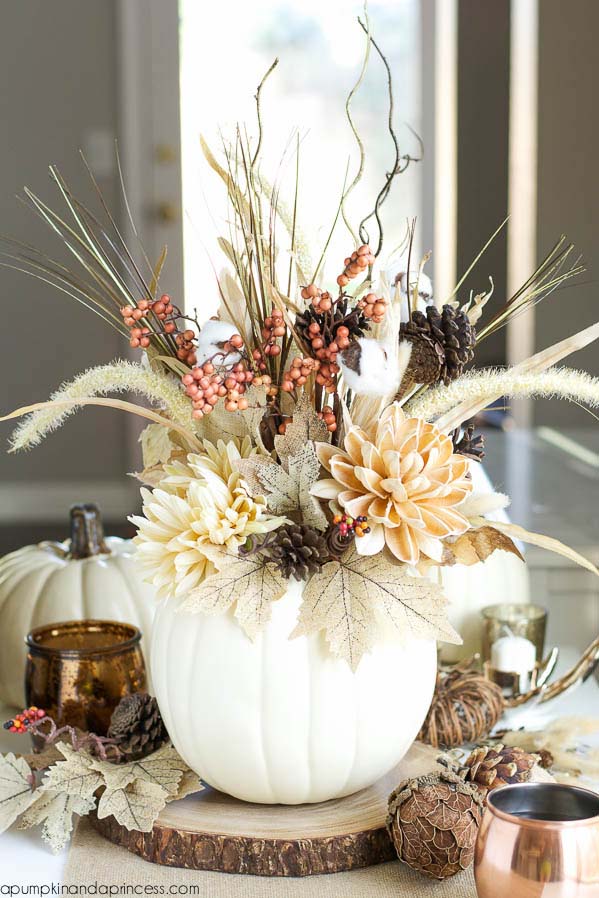 The Cinderella pumpkin is no longer a vehicle! It is a fantastic vase that elevates the seasonal blooms of fall. The white pumpkin is well hollowed out to accommodate a bouquet of twigs, pine cones and blooms that celebrate the season.
This unique rustic vase could welcome your guests at the entryway or give the festive table a customized design.
8. Bring Rustic Charm with Reclaimed Wood Pumpkins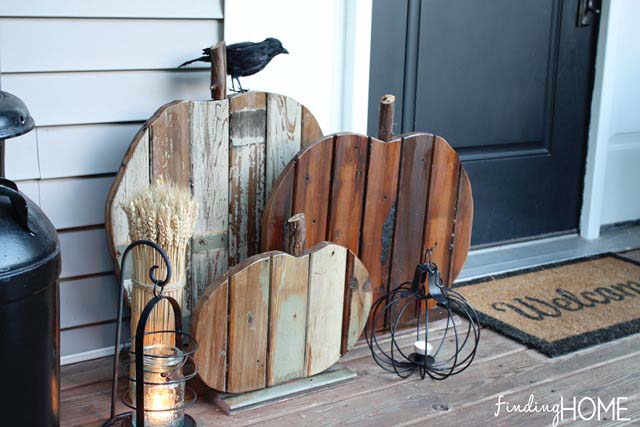 If you are looking for an alternative to the standard pumpkin decoration, you can try making these charming wood pumpkins. Some reclaimed wood and painting supplies give each pumpkin a different texture.
The largest one reveals the weathered effect from sanding white-washed wood. The middle one stands out against the white with its stained and glossy finish.
The smallest wood pumpkin cutout combines dark wood and a distressed white surface to give the set a completed look.
9. Upgrade Faux Pumpkins with Paint for a Rustic Look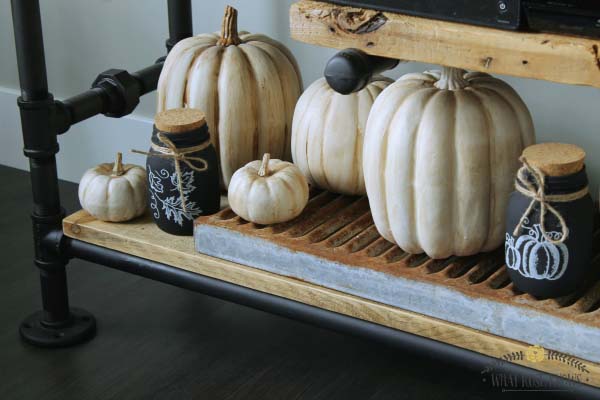 The amazing whimsical finish of these pumpkins is achieved with spray paint and some wax. Depending on the amount of wax used after letting the acrylic paint dry, the finish of the pumpkins can vary from matt to glossy.
And since the rustic décor could be pricy, this is a great idea to save money by giving the old décor a new pretty look.
via What Rose Knows
10. Style Up Your Home with Vintage Tray Candle Centerpiece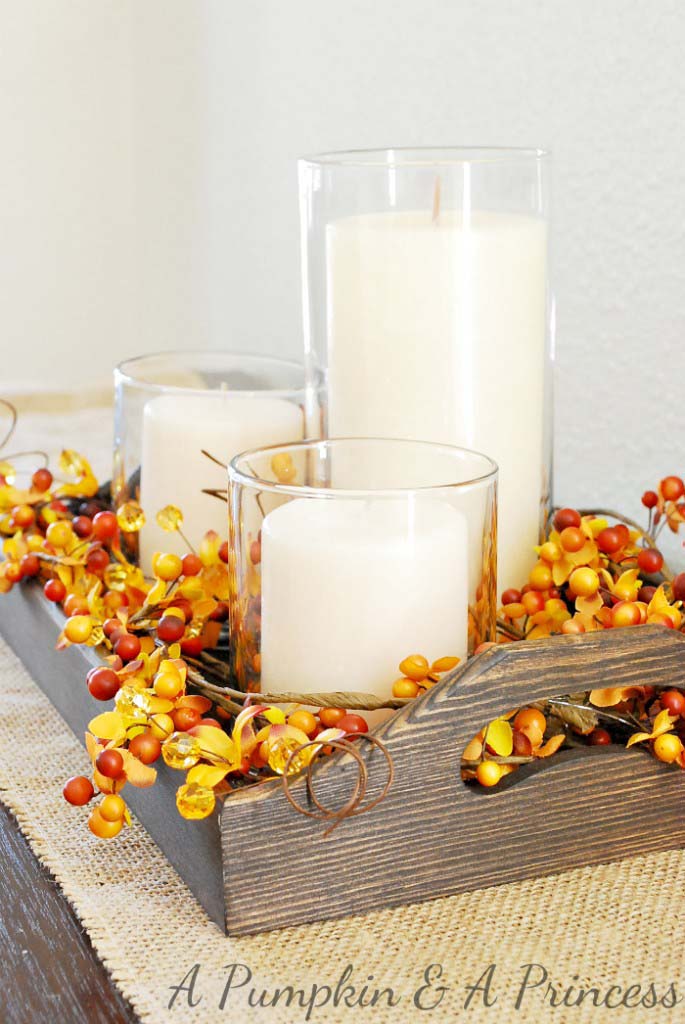 Simple items set in the right combination have a wonderful décor impact. This idea is proof of that and inspiration how to give your fall interior a gentle rustic touch.
You need a wooden tray, some faux berry twigs and candles to form the centerpiece for the holiday dinner table or for your porch seasonal décor.
11. Bring Farmhouse Charm with Rustic Crates Fall Display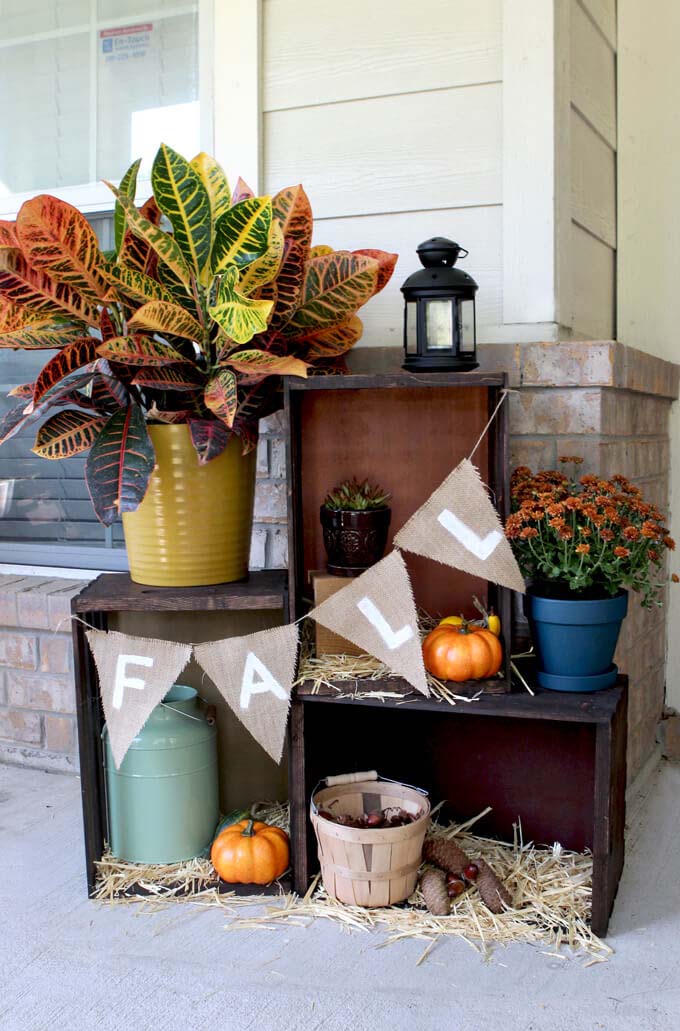 Are you wondering how to display the rustic nature-inspired décor on the porch? A few wooden crates placed upright transform into sections setting a brown scene for fall plants, orange pumpkins, farmhouse containers.
The unique rustic fall décor is embellished with a burlap banner charmingly announcing the theme of the exhibition.
12. Wow Guests with a Porch Crate Lantern Holder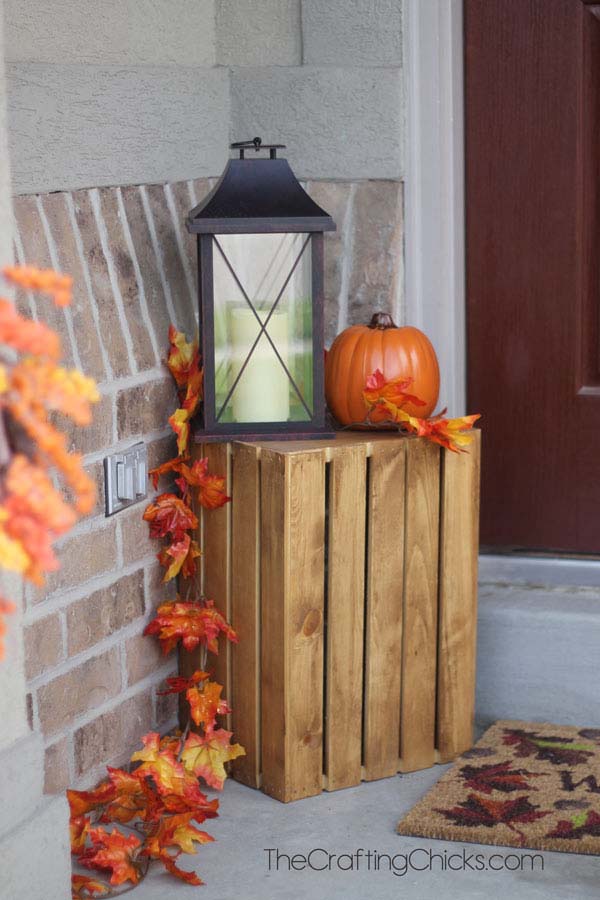 So simple and so amazing is this fall porch décor. It welcomes fall on a large wooden crate with a plain pumpkin and a vintage lantern.
The lantern holds a candle that sets the cozy warm mood of the forthcoming homely atmosphere. A garland with faux maple leaves adds a subtle autumn background that coordinates with the welcoming doormat.
13. Get a Natural Look with DIY Fall Leaf Tree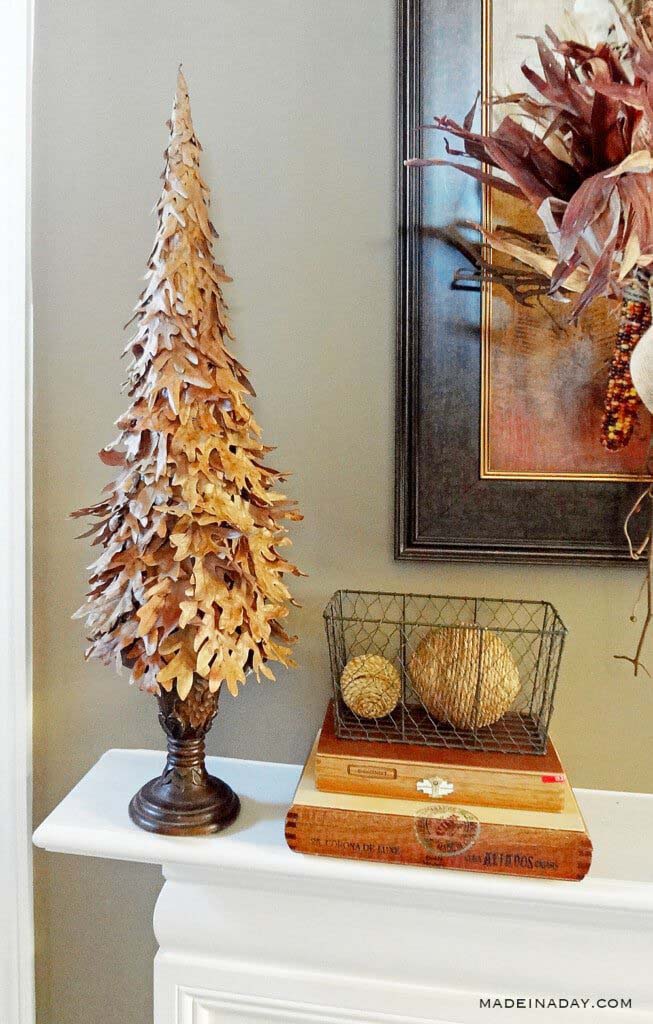 Who says that the festive trees are only related to Christmas? You can use this elevated accent as part of your fall décor and create an unusual point of interest.
Made only within a couple of hours, this DIY fall tree doesn't require any investment, just some real fallen leaves and a piece of poster board curved into a cone.
via Made In a Day
14. Show Gratitude with an Elegant Fireplace Mantel Decor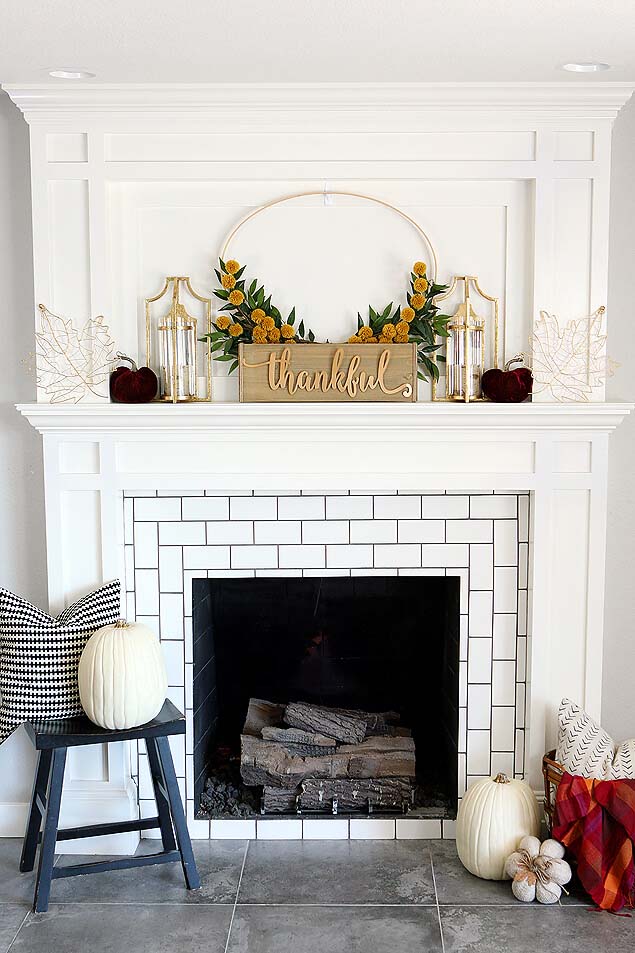 Make your mantel the center of your fall décor with this adorable DIY arrangement. A few items from the craft store and you can make a wreath to add warm tones to the neutral zone.
Add a small sign to relate the décor piece to Thanksgiving and two pumpkins to edge the fall arrangement.
via Eighteen 25
15. Transform a Rake Head into a Rustic Autumn Wreath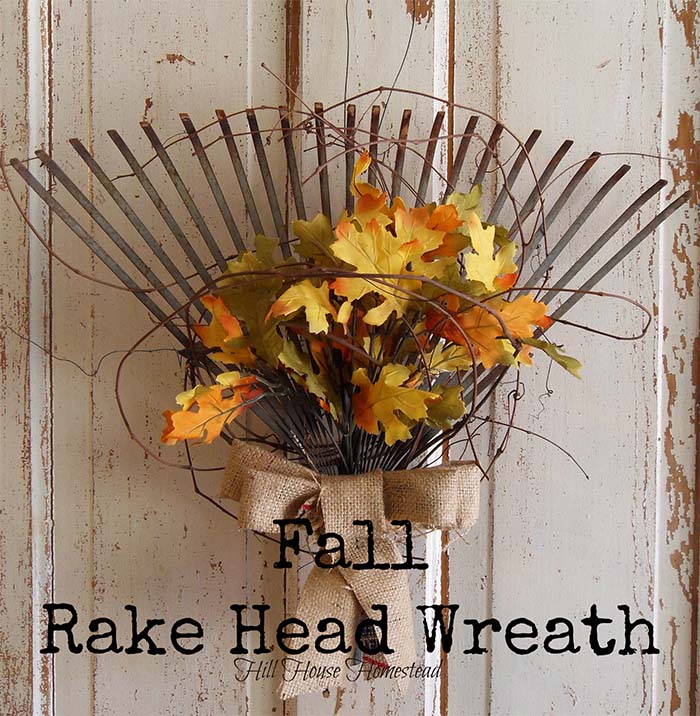 Looking for a rustic alternative to the wreath for the front door? Turn the head of an old rusty rake into a welcoming art. Its shape reminds of the structure of a bouquet and that makes it even more suitable for a fall décor piece.
You can use a garland of faux leaves to weave around the metal bars or insert a bouquet of real ones that you have gathered from the garden.
Add a wide burlap ribbon to the bottom to finish the bouquet design and hang it on the door. If you want to upgrade the craft into a personalized piece, you can glue a sign with your family's initial on it.
16. Accent Stenciled Mason Jars with Wheat Flowers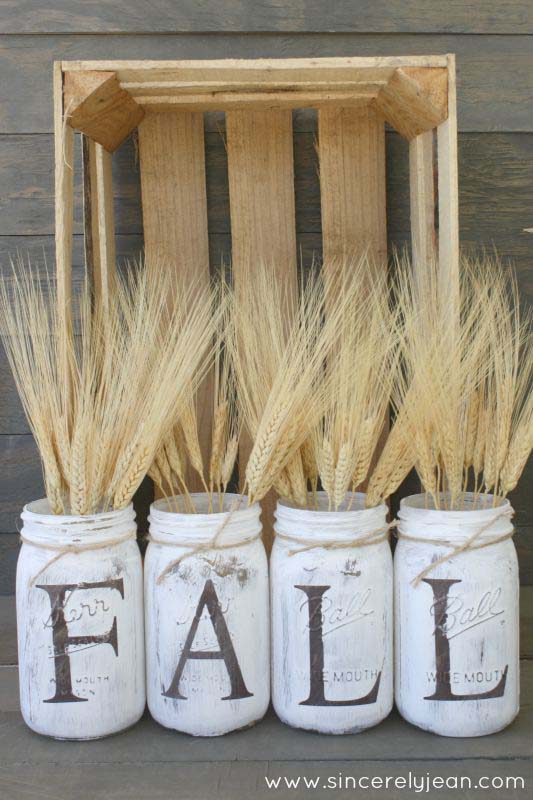 Turn the Mason jars into a set of vases celebrating fall. For that purpose, paint the glass outside white so that the stenciled letters forming the word "FALL" stand out.
You can fill the repurposed jars with fall flowers, fall leaves, dried grains.
via Sincerely Jean
17. Light Up Your Home with Leaf and Popcorn Votives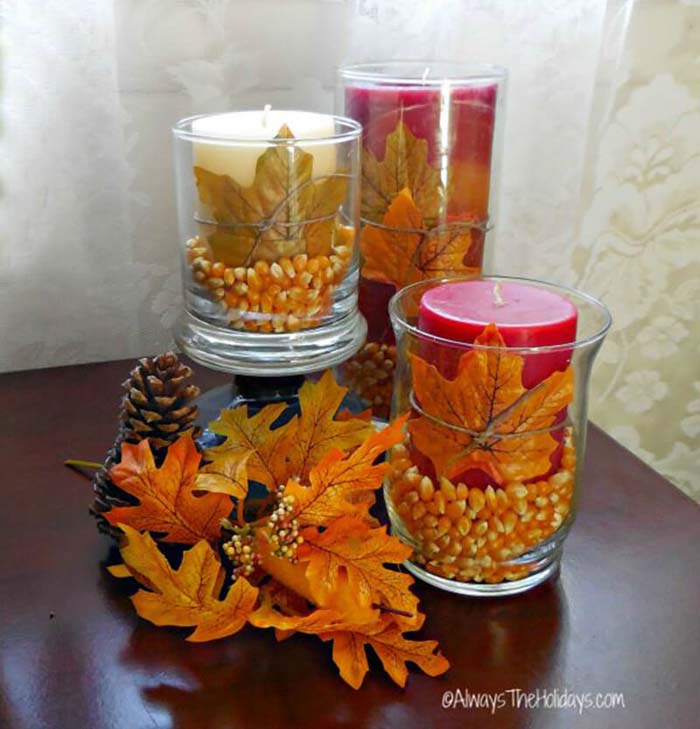 This example of rustic decoration is a composition of natural materials. The glass containers are filled with corn grains that set a basis for candles decorated with autumn leaves.
For a greater interior impact, all candle jars are grouped together and tied by a large branch with leaves.
18. Adorn Your Mantel with Mini Pumpkins and Burlap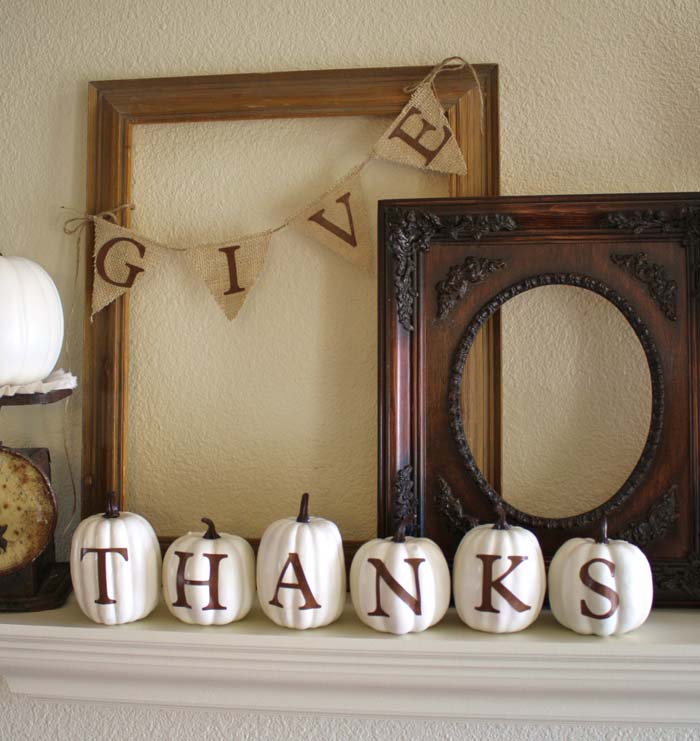 You can make a piece of rustic fall décor entirely from natural materials. The pumpkins that are a must in the fall interior are given a dual function as a sign marking Thanksgiving.
Use acrylic spray paint to give the pumpkins uniform neutral color so that each letter stands out easily.
Such component art could find a place as an addition to the decoration on a mantel or windowsill.
19. Add Artistic Flair with a Rustic Framed Fall Wreath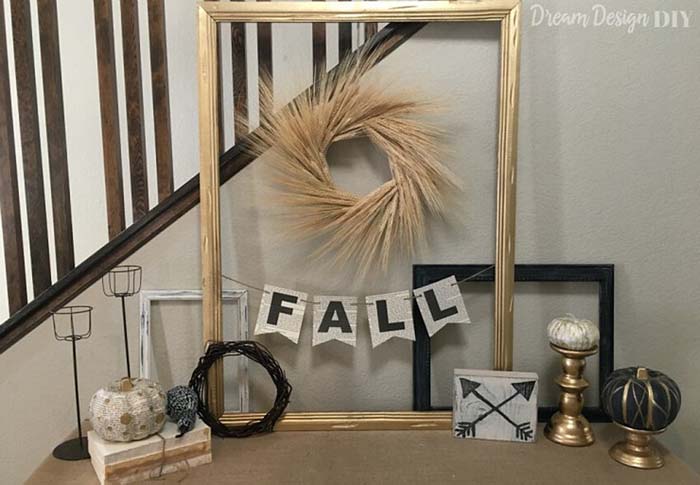 This amazing banner has a wonderful rustic effect over the nook marking fall. Each letter has been inscribed on a piece cut from an old book page.
This interesting idea is an easy fall décor idea that requires no investment at all. 
via Dream Design DIY
20. Get Rustic Elegance with Galvanized Trough Fall Bouquet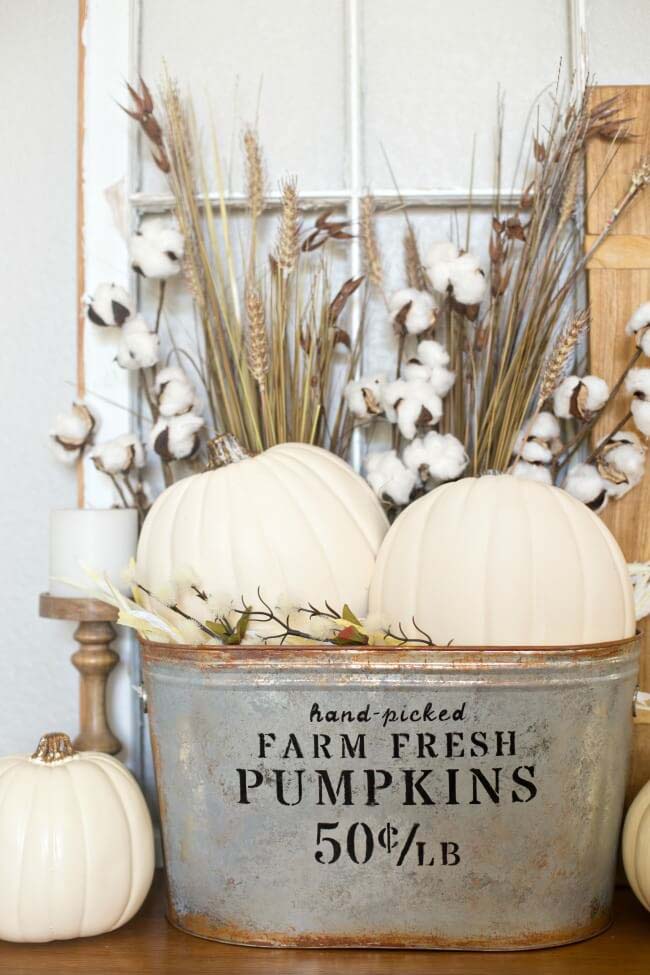 This farmhouse fall décor turns a rusty vintage bucket into a unique pumpkin holder.
Brown grains and cotton twigs create a lovely natural background for the pail pumpkins to stand out and together praise the rich harvest in autumn.
via A Night Owl
21. Embrace Minimalism with an Easy Fall Centerpiece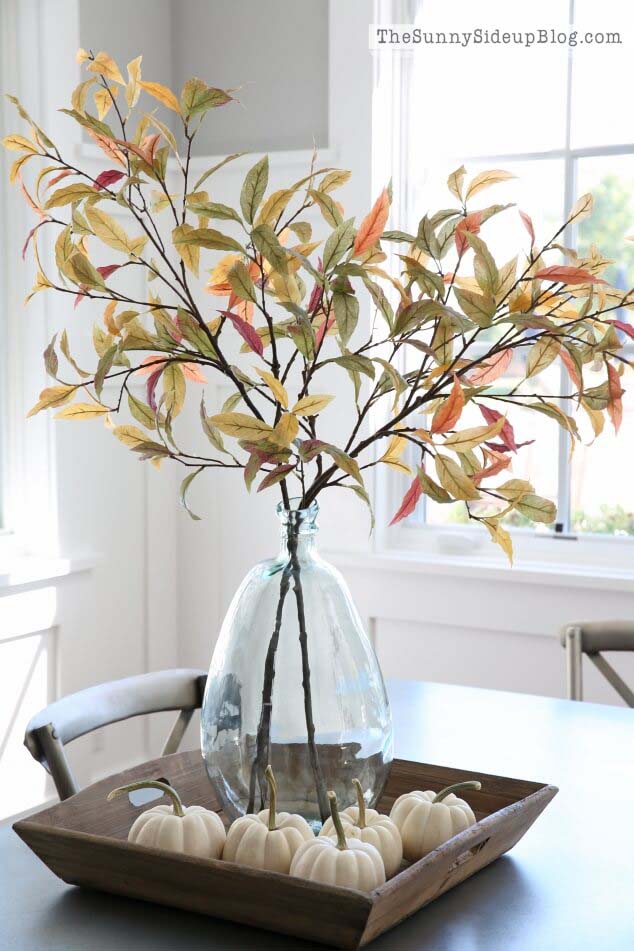 It is so inspiring how leaves change their colors in autumn. From green, they start turning red, then yellow and finally become brown just before they are taken by the wind.
Use this natural effect to give your interior a unique and warm color accent. Place twigs from a tree with leaves into a transparent glass vase.
It is very important that the holder of this fall bouquet is neutral so that the attention remains on the twigs. Place the vase directly on the table or in a wooden tray where small pumpkins can be arranged to enhance the fall theme.
22. Add Texture with Whitewashed Fall Porch Decor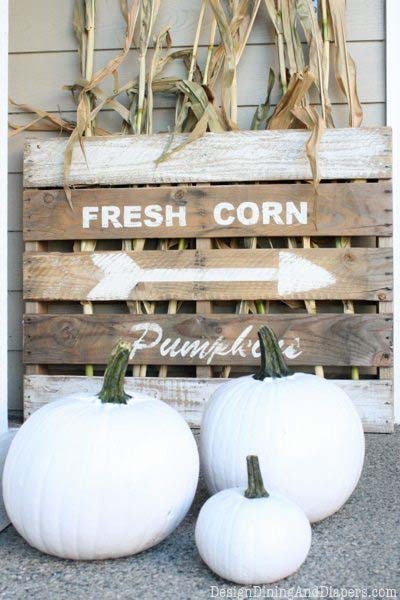 Love the subtle type of décor? This porch décor idea in the fall theme is what you need to turn your home into a welcoming place that celebrates the season in a charming and warm way.
The sign is created from reclaimed wood. You can use pallet or crate slats for that idea. Then add white pumpkins in front of the sign and corn leaves bouquets at the back to relate the inscriptions with the other parts of the fall arrangement.
via Taryn Whiteaker
23. Define Your Porch with Wood Pumpkin Silhouettes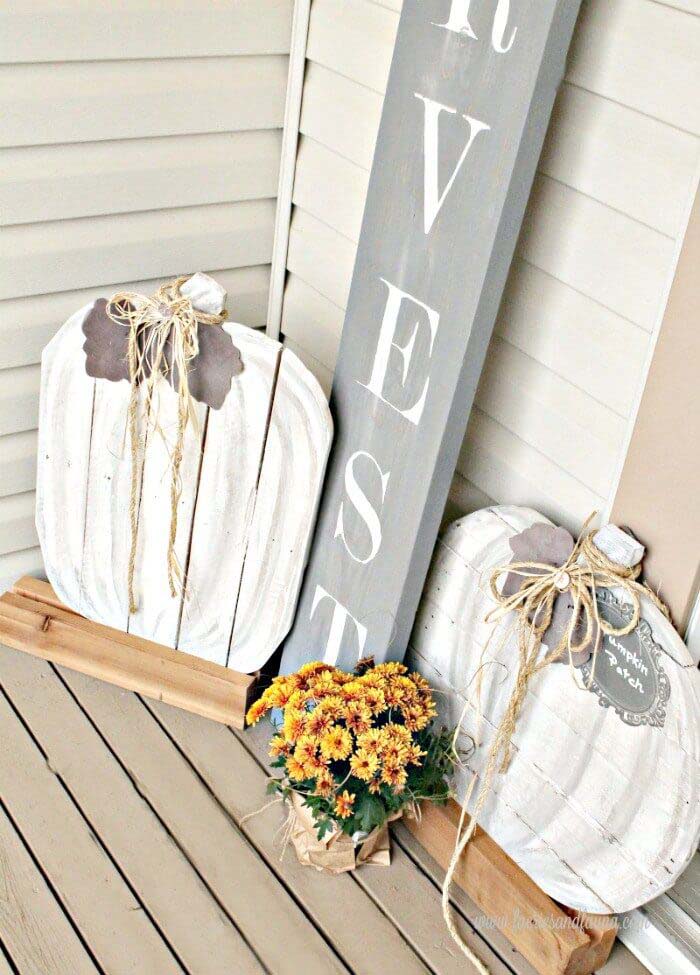 If you prefer a universal fall decor for your porch, you can try this porch arrangement with faux pumpkins. They are cut from wood pallets and then painted to remind the texture of a real Cinderella-type pumpkin.
The leaves are mimicked with leather cutouts tied to the pumpkin stems with twine. That addition gives the faux pumpkins a dimensional look and an enhanced rustic effect.
24. Embellish Your Staircase with Rustic Fall Decor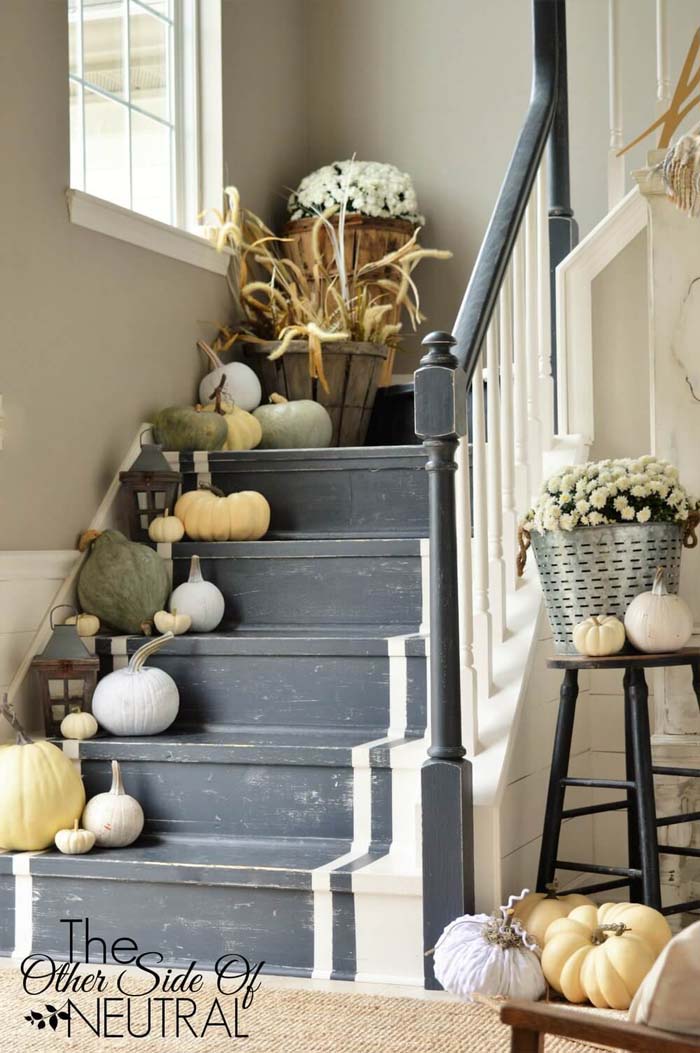 This staircase fall décor proves that every piece of your home can become festive and appreciative without ruining the airy feel in the room.
For that purpose, plan the alignment of the pieces carefully. We recommend that only one of the sides of the staircase is decorated so that there is room enough to use it and also to create an elegant and moderate point of interest.
25. Get Creative with Pumpkin Wood Tree Slices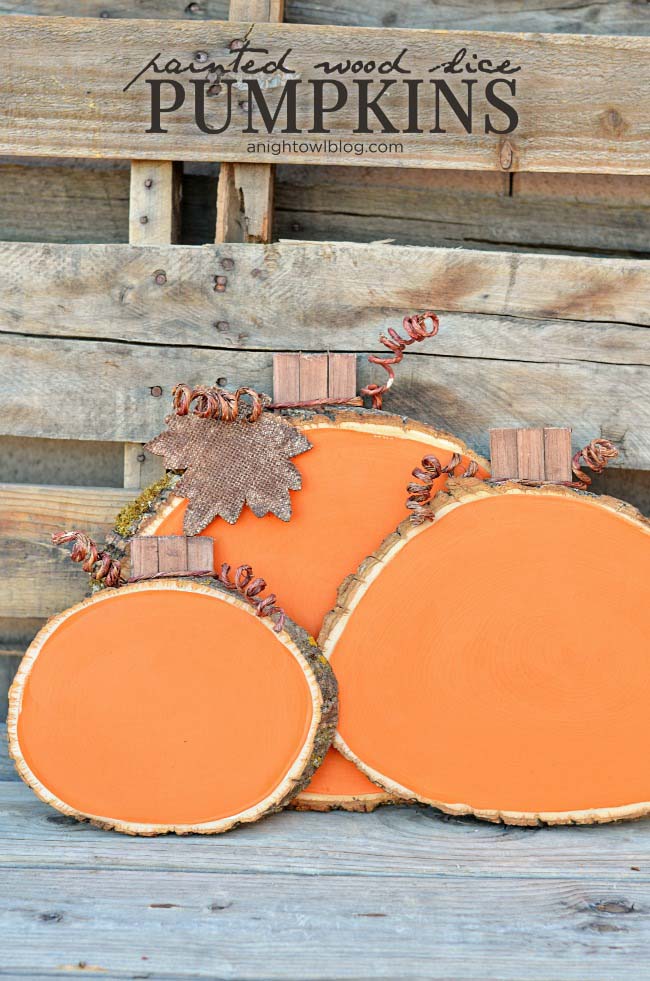 Another idea for an alternative to the pumpkin features wood slices transformed into bright orange fruits.
The leaves and the stem of the pumpkin are also included in the wood art and are made of a curling ribbon and burlap cutouts.
via A Night Owl
26. Upcycle a Ladder into a Chic Outdoor Fall Display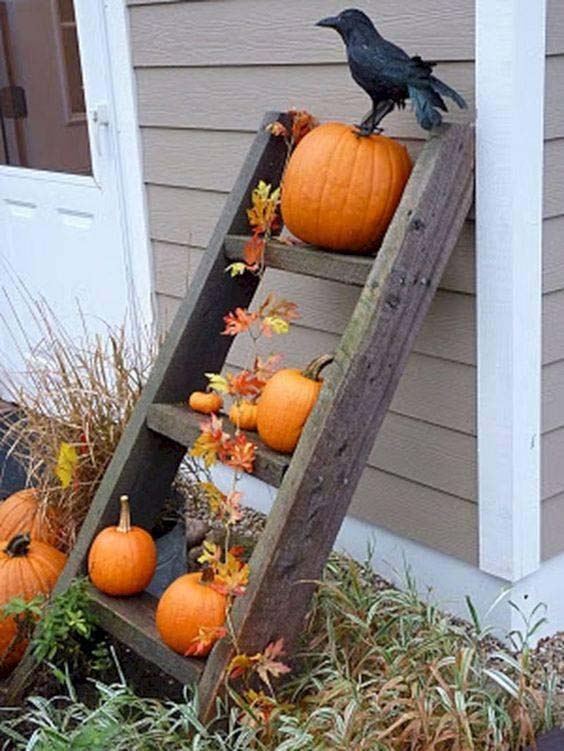 You can use a ladder as a display for seasonal décor. In autumn that could be tiny pumpkins sitting on the steps. In summer, the ladder can act as a stand for flower pots.
Add a creepy element like a craw figure to the top of the ladder to remind you of the scariest holiday in autumn.27. Pumpkin Pallet Sign
27. Turn Pallets into Vintage Fall Signs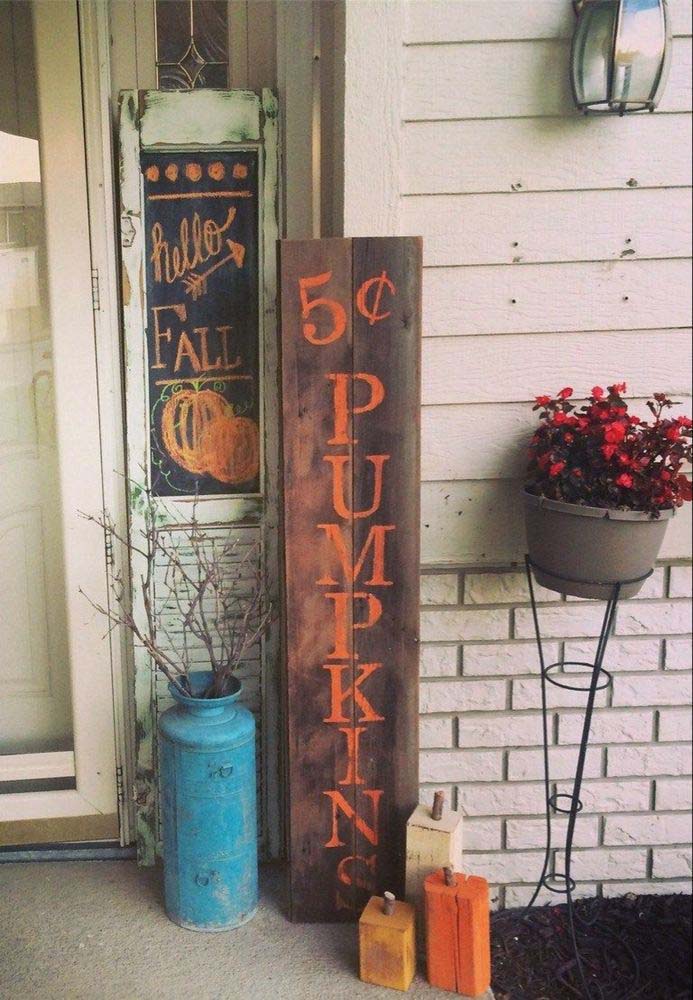 This porch is a charming representation of rustic fall decor. The sign is made from reclaimed barn wood that is stenciled with vintage font in the most favorite autumn color.
Three wood stumps are shaped into pumpkins that coordinate with the inscription of the sign.
A mil can continue the rustic arrangement to display a dry branch. Right behind it we can see a shutter repurposed into an outdoor wall art thanks to replacing the window pane with a chalkboard piece.
28. Boost Your Curb Appeal with Pumpkin Topiaries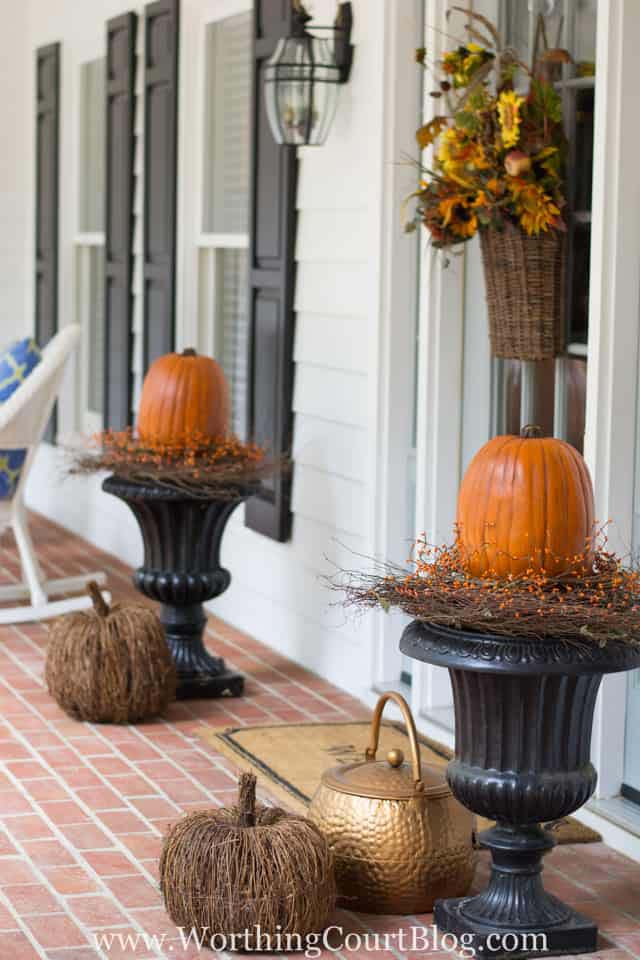 The pumpkin topiaries are a lovely way to give the typical pumpkins a new look. Elevated on urns or flower pots, they serve as vertical decorations framing the front door.
For an enhanced rustic look, place them over a layer of dried grass, a grapevine wreath, why not a burlap piece of fabric twisted like a nest.
via Worthing Court
29. Bond with Your Family with a Dried Leaf Art Project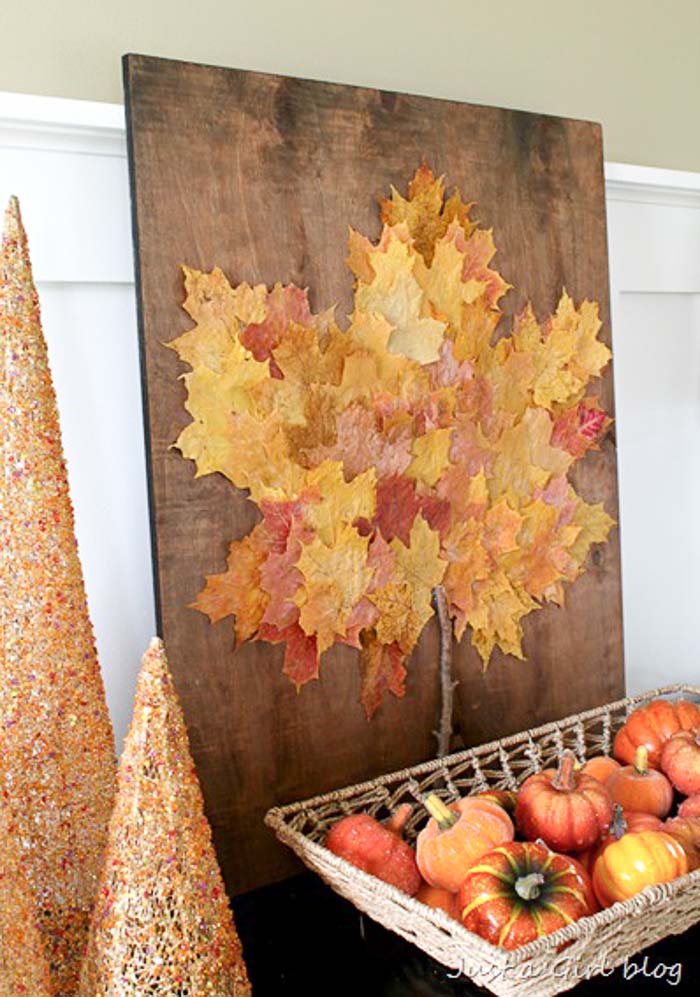 This wall art is the perfect family DIY project. A wide wooden board becomes the canvas for an autumn tree made of leaves gathered from the garden.
Let your kids collect colorful leaves that have fallen down the ground and then release their imagination by shaping the tree.
via Just a Girl
30. Utilize Burlap for a Unique Fall Centerpiece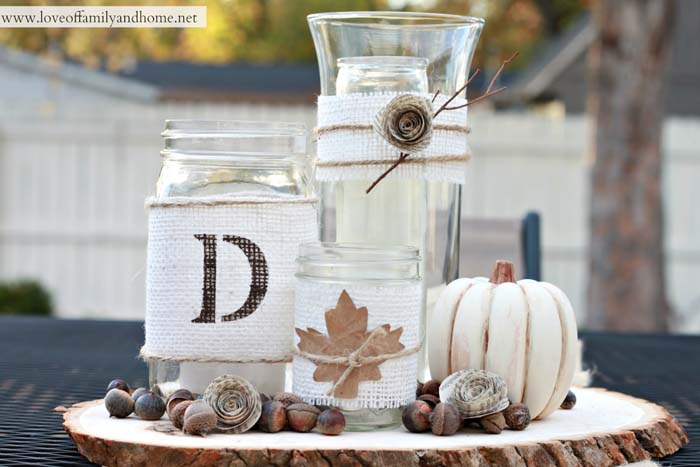 Make this fantastic set of glass vintage containers embellished with burlap. If you like the combination, you can use two jars you have saved and a vase from the Dollar Store.
Experiment with the twine to create a different pattern on the burlap and thus let each container have an individual look.
Place in a wooden tray or on a wood slice and surround with acorns, pine cones, pumpkins, leaf garlands.
31. Make a Statement with Upcycled Fall Decor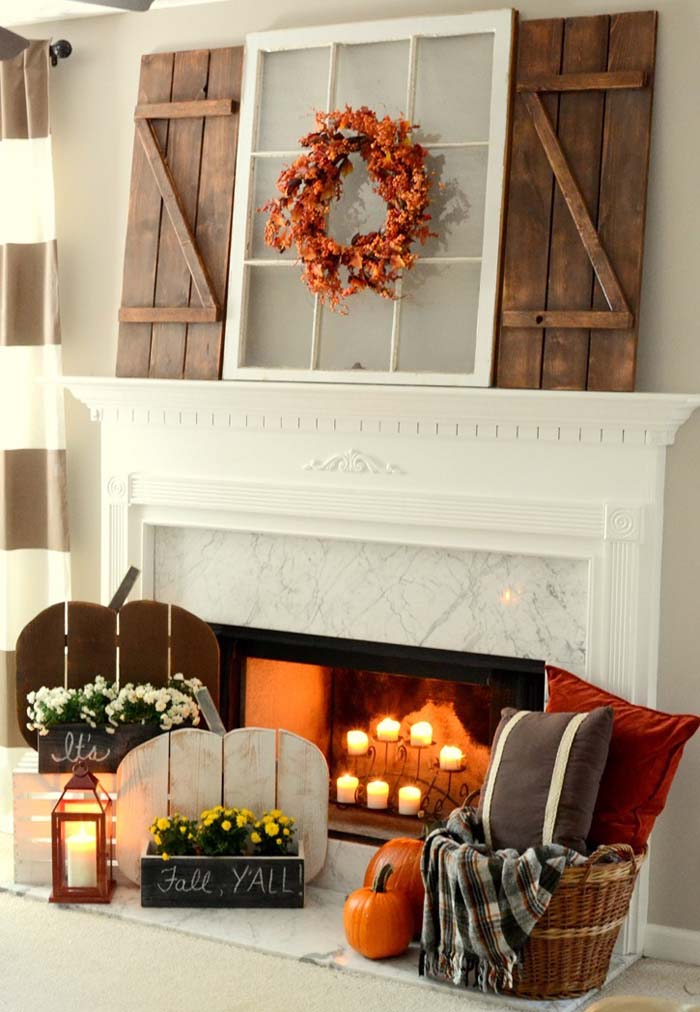 This is an inspiring idea of how to combine the pumpkin motif with alive fall flowers. Wooden cutouts in pumpkin shape act as supports of small wooden boxes. These boxes hold chrysanthemums that add warm shades to the neutral interior.
The autumn decor continues over the mantel where a repurposed window with shutters acts as wall decor. Decorated with a wreath, it sets a welcoming and homely feel together with the rattan basket that holds items to keep you warm during the colder days.
32. Elevate Your Pumpkin Silhouettes with Bunting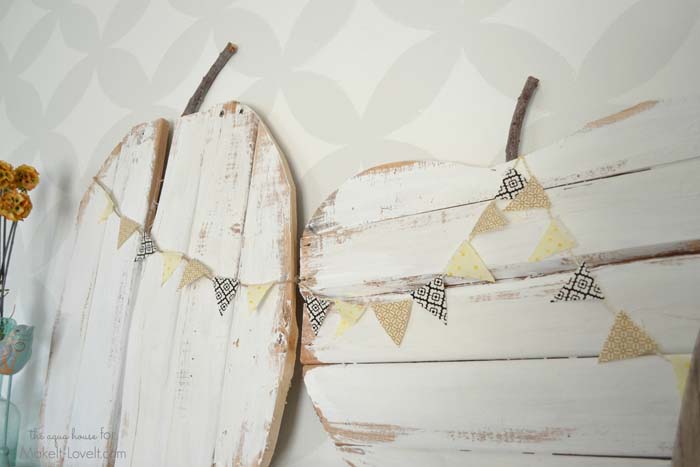 These wooden pumpkin cutouts are given a dimensional look with handmade banners.
The triangles can be cut from poster board, scrapbook sheets or fabric. Whichever material you choose, make sure that the patterns are vintage.
via Make It Love It
33. Illuminate Your Home with Rustic Lighted Wagon Wheel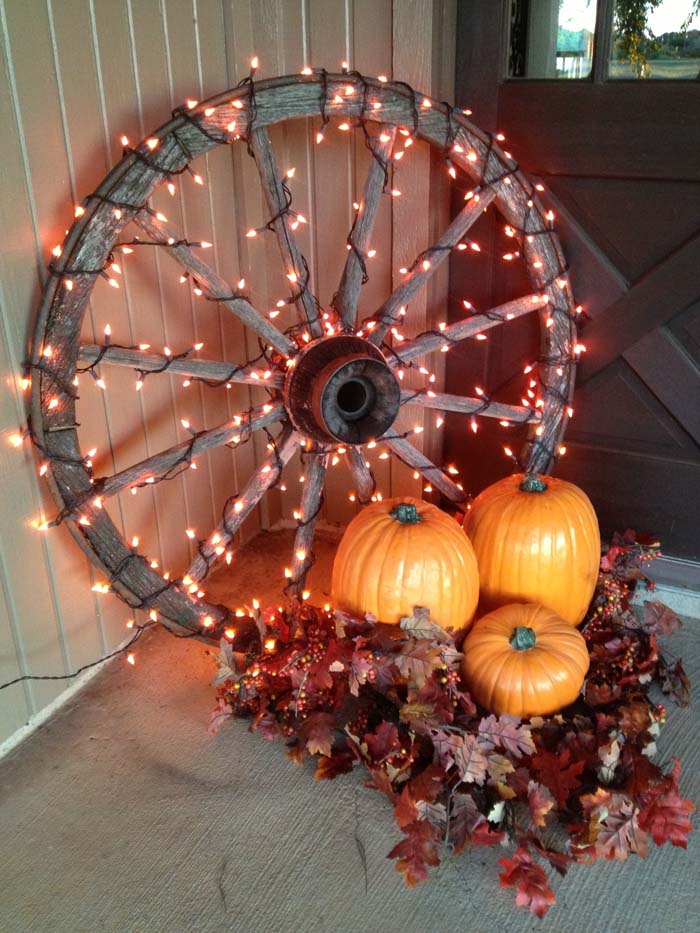 Use rustic items like a wagon wheel as a backdrop for your fall decor on the porch.
Trace it with a string of lights to give it a point of interest and an opportunity for the arrangement to be seen even at night.
34. Unleash Your Creativity with Wood Block Pumpkins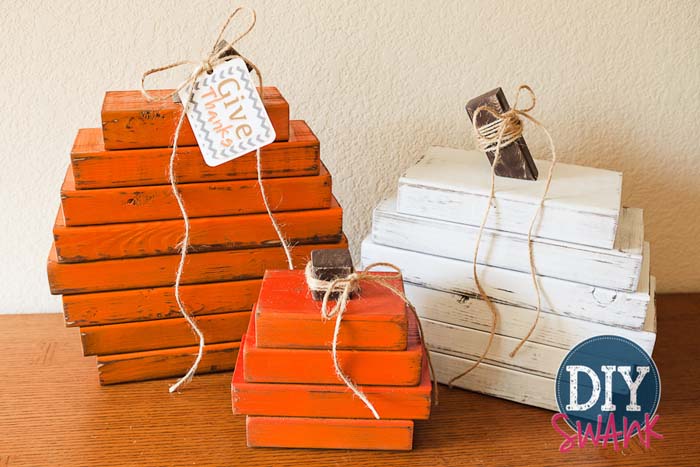 Book lovers will appreciate this creative alternative to the pumpkin decor. Wooden blocks are stacked in piles to form three different in size wooden pumpkins. The lengths of the blocks vary so that eventually altogether they trace a shape reminding the pumpkin.
A short piece of wood post peeks out the top block to act as a stem. Each pumpkin is embellished with a twine ribbon and a tag encouraging the giving of thanks.
via DIY Swank
35. Welcome Guests with Large Wooden Door Tags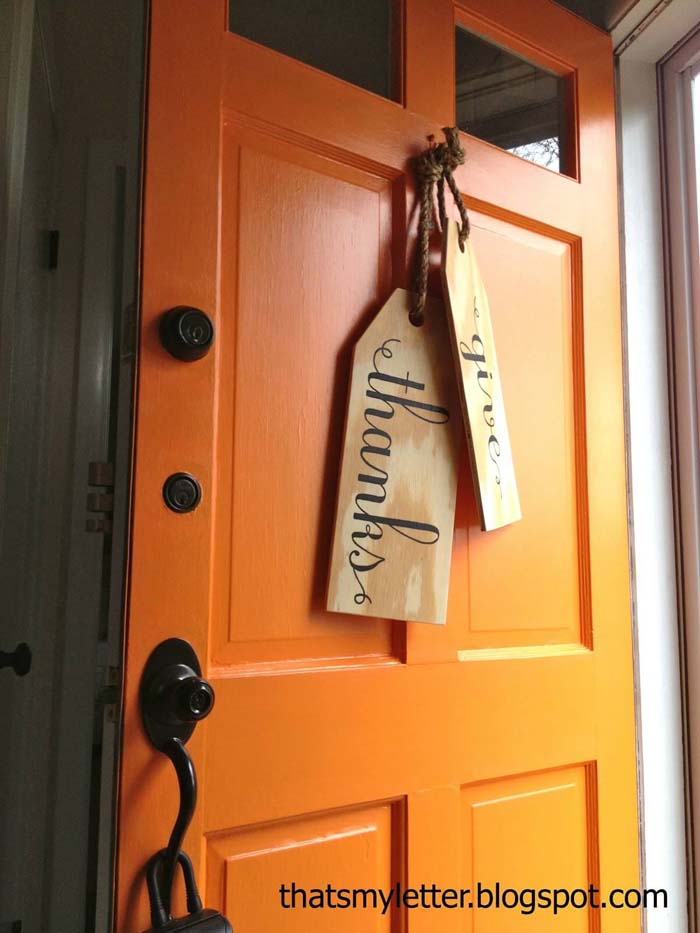 If you want to stimulate the values of Thanksgiving, you can do it in an undoubted way by placing a set of similar tags on the front door. They replace the standard front door decoration represented by the wreath to stimulate the giving of thanks.
Such a DIY rustic decor idea can be made with any wood scrap pieces that are given a good and smooth shape and stencils.
via Jaime Costiglio
36. Deck the Halls with Paper Mache Art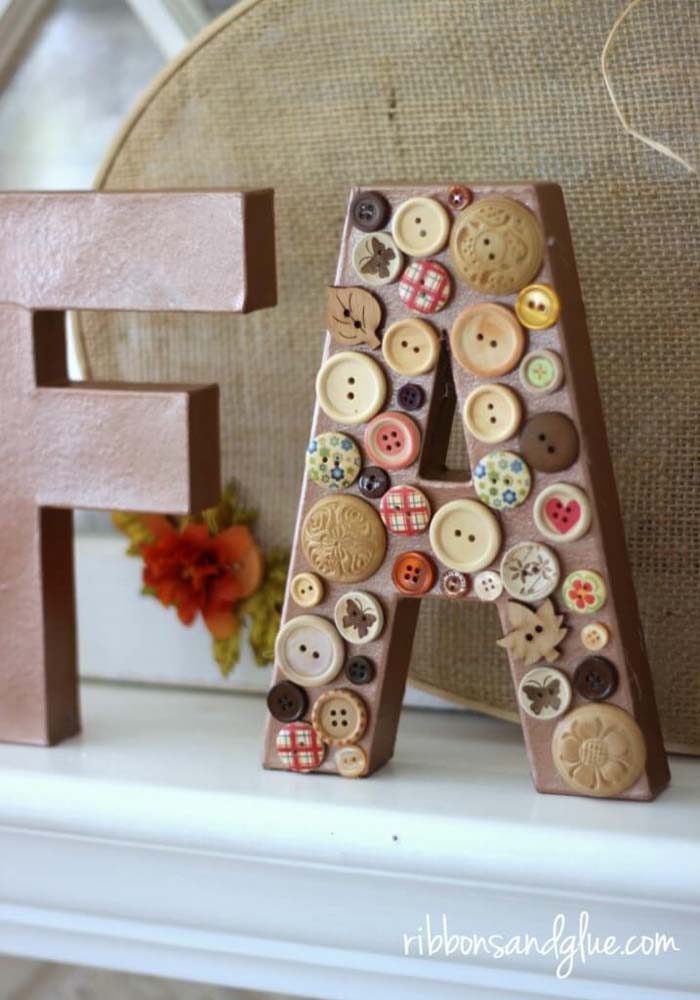 The fall season will be more beautiful with this cute letter art. The letters are paper mache panted in fall color.
A wide collection of buttons embellish one of the letters to give the word art an additional point of interest. This set is the perfect addition to the mantel décor or the windowsill at the porch.
via Ribbons and Glue
37. Transform Wood Scraps into Rustic Pumpkin Decor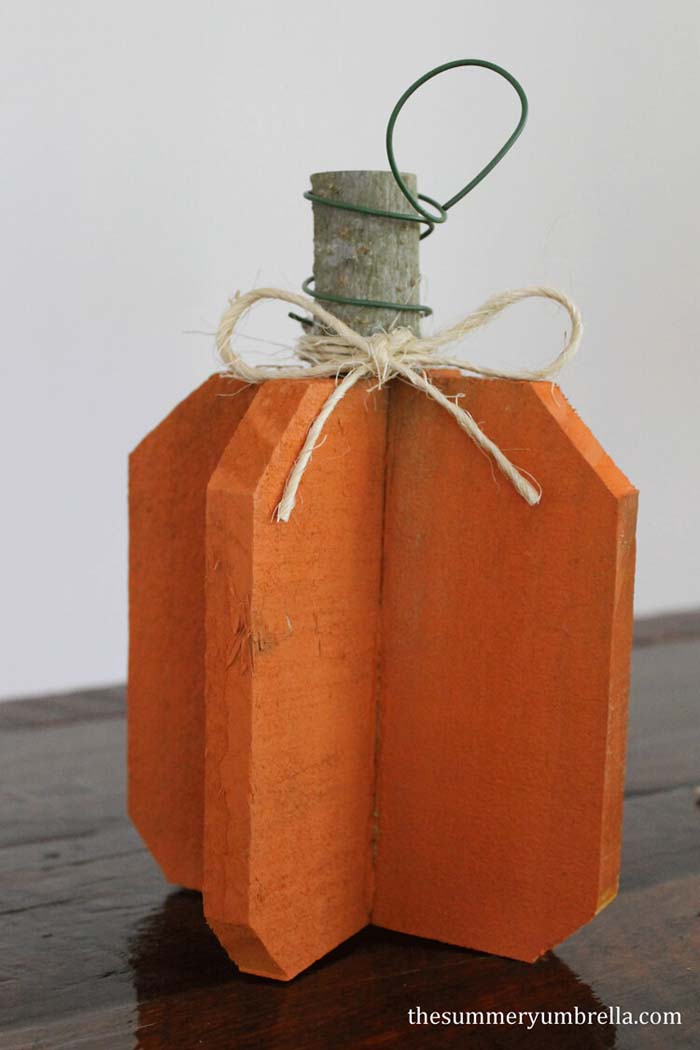 Have small bits of reclaimed wood left? Transform them into your unique pumpkin alternative.
Prepare a bright acrylic orange paint, twine and wire to embellish the wooden autumn figure.
via LZ Cathcart
38. Stand Out with a Large Weathered Wood Welcome Sign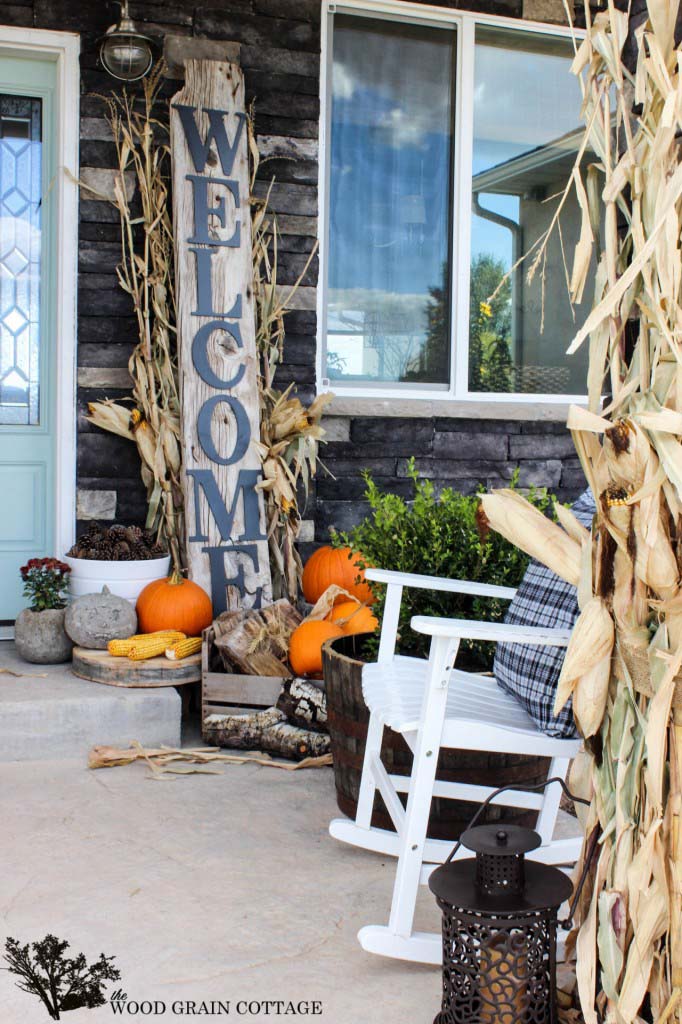 This sign impresses with its dimensional design. A weathered board having the finish of driftwood stands tall against the porch wall to greet the guests with large chalkboard letters.
The rustic appeal of the sign is enhanced by the many corn stems and pumpkins emphasizing the rich harvest during autumn.
39. Turn Fruit Crates into Rustic Fall Decor Accents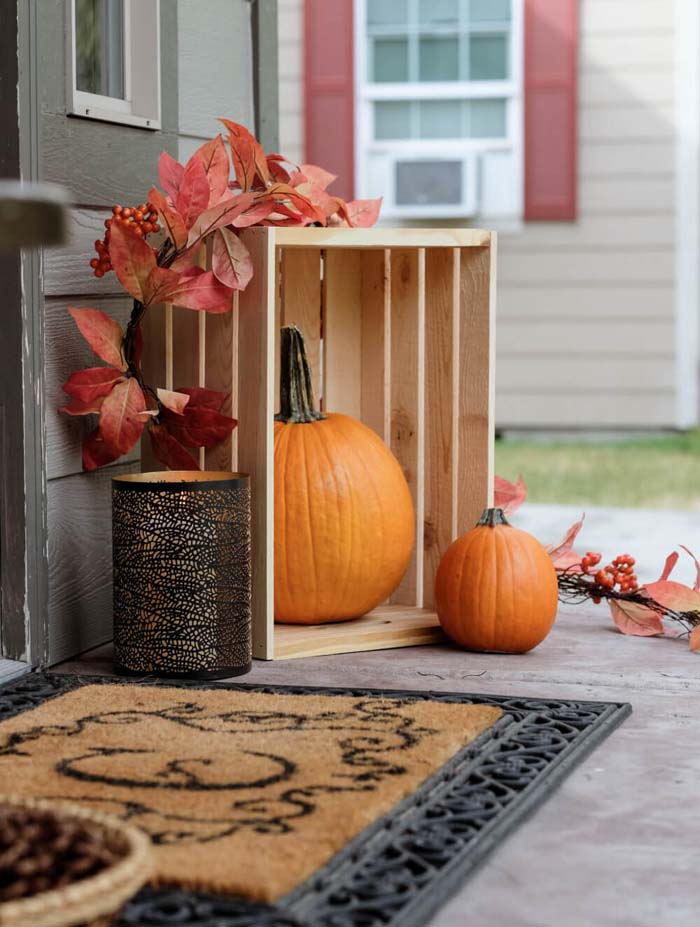 Setting the pumpkins into an interesting container will give them a brand new look and décor effect. This is one of the easiest ways to give the decoration you have got a point of interest and new look.
Whether outside on the porch or indoors, a crate standing upright reveals a hollow section where you can put pumpkins, vases with fall flowers or other elements related to fall.
via Joyfully Growing
40. Add a Pop of Color with Pumpkin Yarn Crafts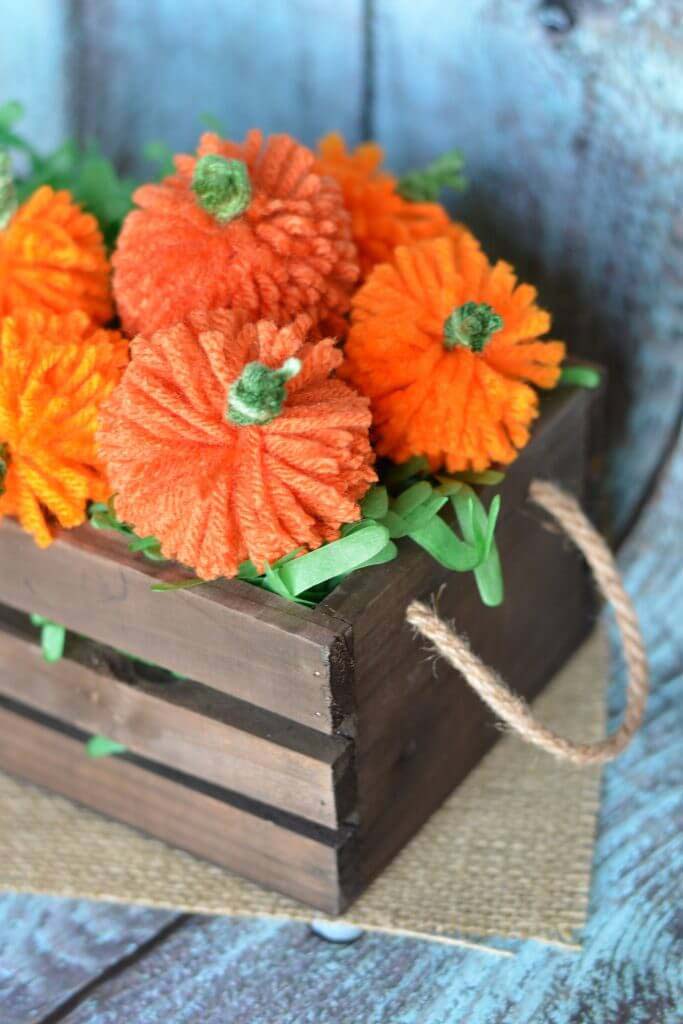 Pom-poms are very cute and depending on the color of the yarn they can be incorporated into the decoration of every season.
Incorporated in the rustic fall décor the pom-poms look like mini pumpkins made from bright orange and green yarn.
To let these small embellishments stand out and give their rustic impact, place them together in one container like a wicker basket, a small crate, a wooden tray.
via Not Quite Susie