Decorate your home for fall on a budget sourcing supplies from the Dollar Store.
From farmhouse to rustic, you will be surprised to see how cheap items are transformed into unique decor pieces, showing the warmth and beauty of the autumn season.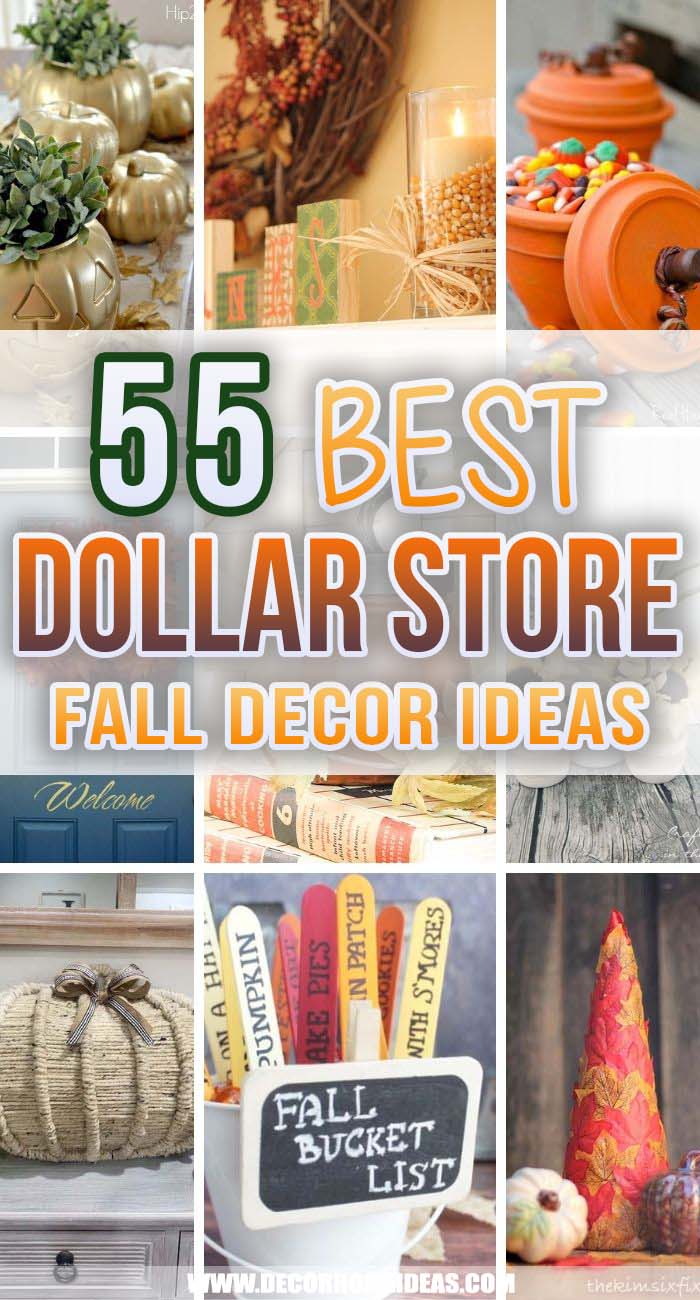 There are plenty of Dollar Store fall decor ideas to choose from to add a cozy fall nook indoors or outdoors or to spread the fall spirit all around your home.
1. Light Up Your Home with Acorn Mason Jar Votives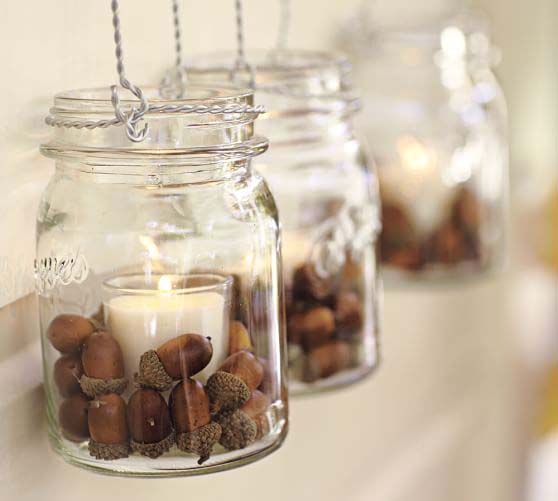 The light from a candle instantly makes the ambiance cozier and intimate.
That twisted through the prism of autumn means a glass jar, a votive candle and acorns.
Make more of these fall candle holders and add in groups on the mantel or all along with the dining table.
2. Bring Rustic Charm with an Acorn Wreath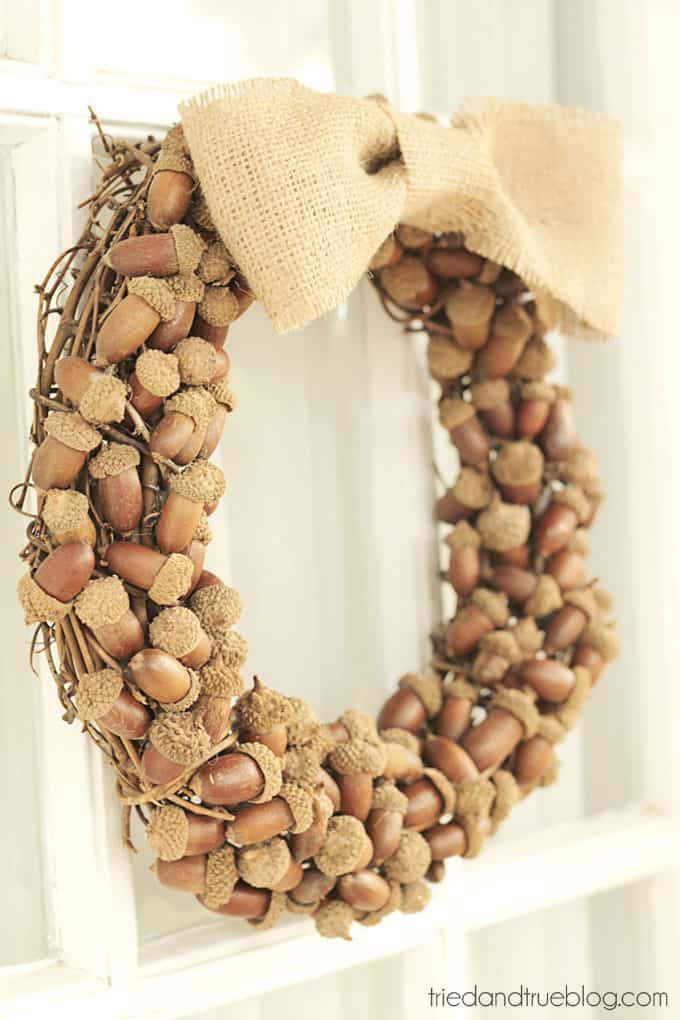 Acorns are one of the cutest fall motifs and you can get them for free. While you are doing your walk in the park or in the forest, gather acorns that will be used as an embellishment of a fall wreath.
The basis can be wire or grapevine, both available at the Dollar Store.
via Tried and True
3. Embellish Home with Antiqued Dollar Store Pumpkins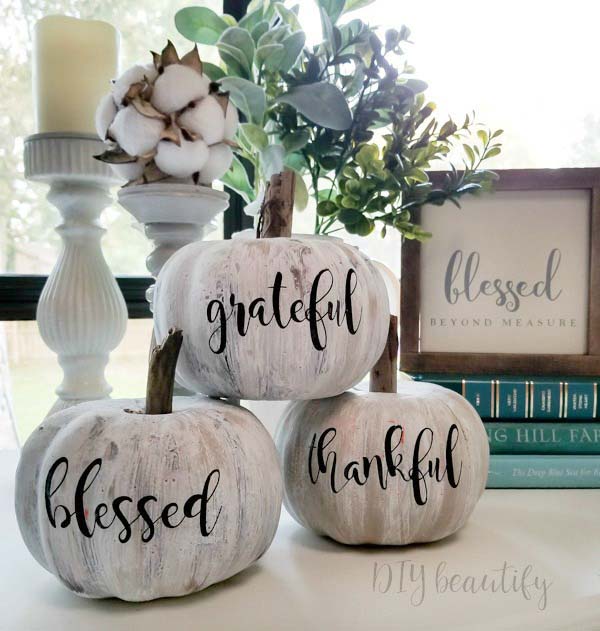 This fall decor idea is cheap, easy and looks amazing! Three plastic pumpkins from the Dollar Tree get a total makeover with two paint types and sticks from the backyard.
Once the antique surface finish is achieved, print out inspiring words to write on the pumpkins.
via DIY Beautify
4. Get Creative with Apple Tea Light Candles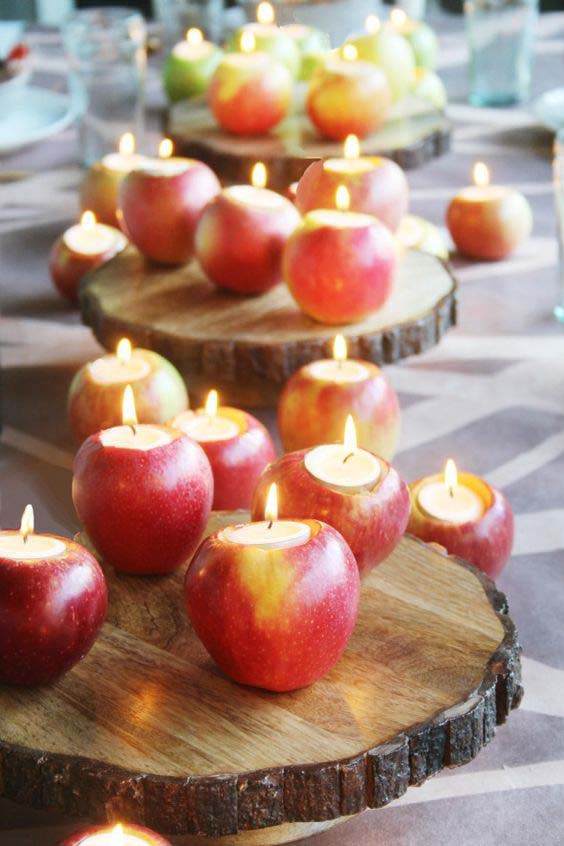 Slices of wood center nature-inspired tea light candles on the dining table. Holes are made on the top of each apple as big as to accommodate a tea light.
In addition to the warmth these candles spread around, they will also disperse sweet apple fragrance.
5. Create a Beautiful Glow with Autumn Leaf Mason Jar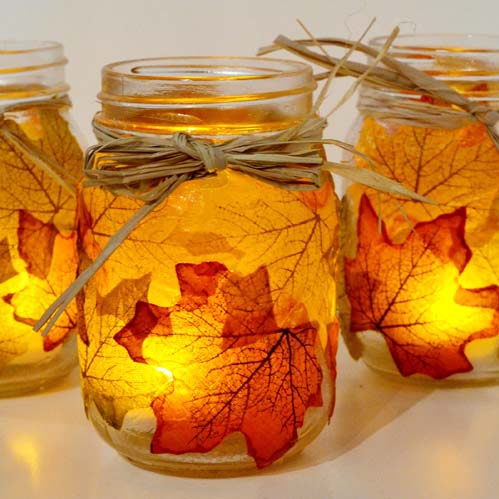 Real or fake autumn leaves become the charming embellishment of jars from the Dollar Store. Glued with Mod Podge, they take the oval shape of the Mason jars easily.
Put a tea light candle inside the jar and watch the flame color alternated by the color and texture of the leaves.
6. Adorn Your Door with a Colorful Burlap Pumpkin Wreath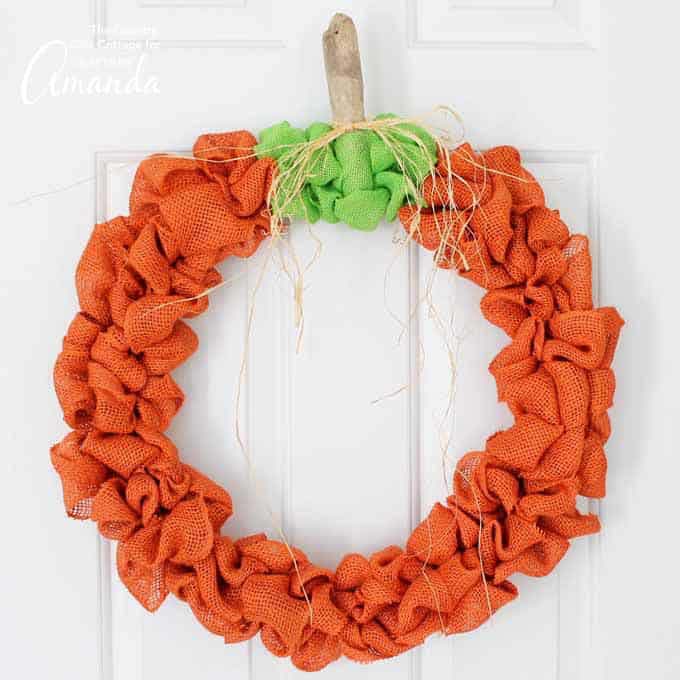 The round shape of the pumpkin and its colors have inspired the author to create a front door wreath with a rustic effect.
The wire wreath form has been bought on a budget from the Dollar Store and then quickly covered with orange burlap ribbon. To make the interesting shaggy design all around the wires of the form, follow the tutorial below.
via Crafts by Amanda
7. Add Texture and Definition with a Burlap Wreath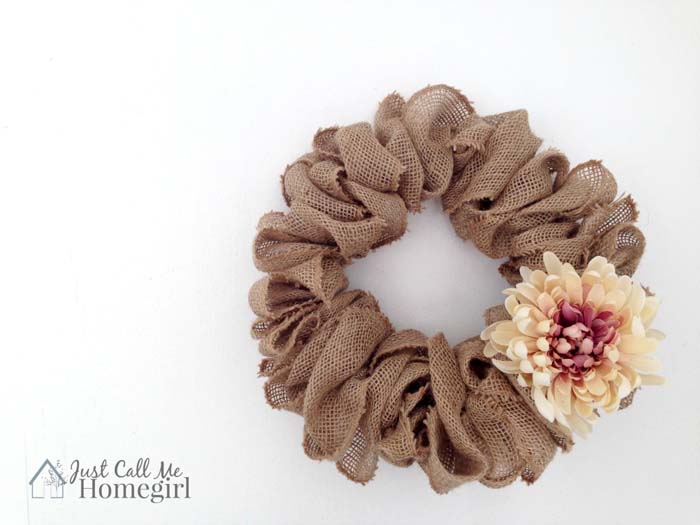 The basis of this wreath could be a wire wreath form from the Dollar Tree or a hanger if you want to experiment with the shape of the wreath, a heart one for example.
Then a burlap ribbon, 5″ wide, is strung on the wire, alternating the side ends of the ribbon.
You can experiment with this wreath idea with other colors of burlap ribbon and add an embellishment that will enhance its fall decor effect.
8. Brighten Your Home with Candy Corn Mason Jars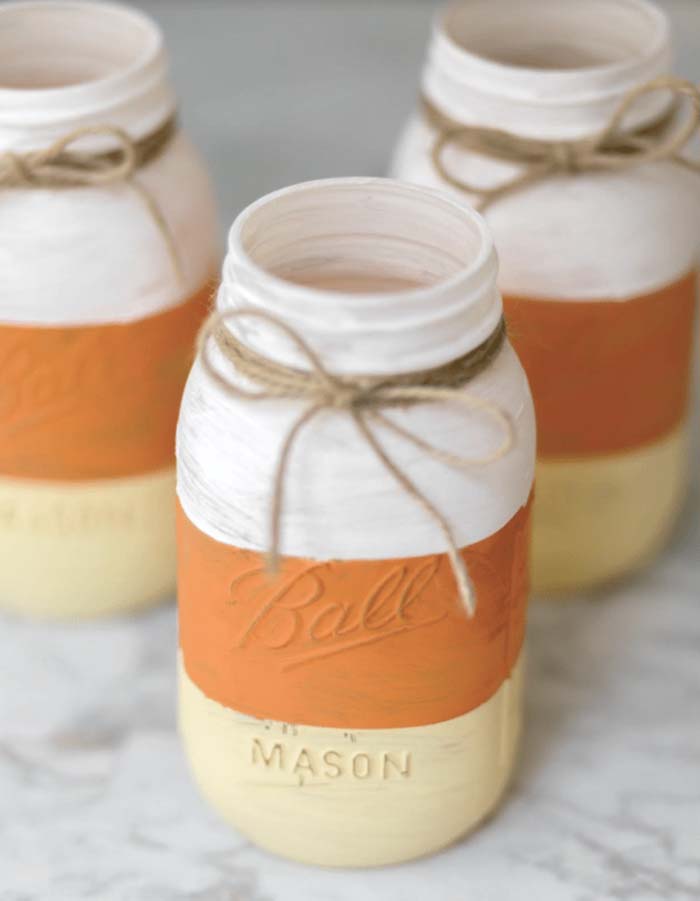 Looking for an idea to spruce up Mason jars in the spirit of the fall? This one is so incredible and cute! The outer surface of the glass is painted in chalk paint stripes mimicking the colors of candy corn.
The typical color combination of the candy corn celebrates the fall harvest. These jars could be additionally embellished with leaves, burlap ribbons or left with a twine bow on the top for a more neutral rustic look.
via Hip Mama's Place
9. Upgrade Your Decor with Colorful Candy Corn Candles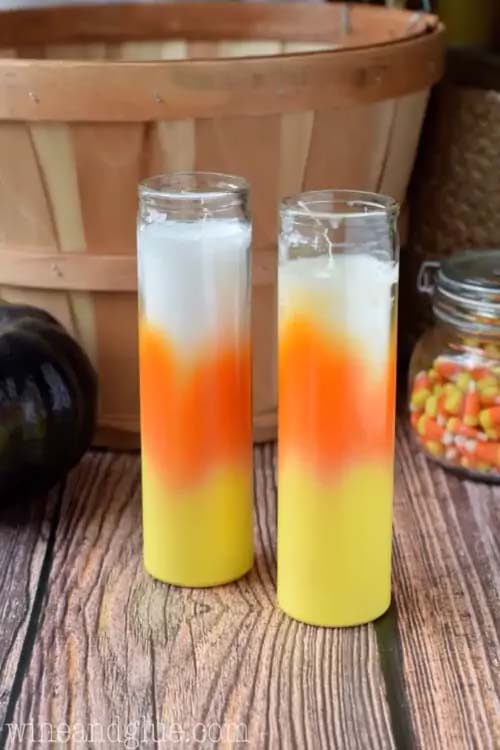 Candle making is fun and easy with this inspiring idea! The candles are bought from the Dollar store and then spray painted in the candy corn pattern.
There are no strict rules when making them. Just follow the color order and enjoy the ombre effect.
via Wine and Glue
10. Uplift the Mood of Your Space with Cinnamon Stick Candle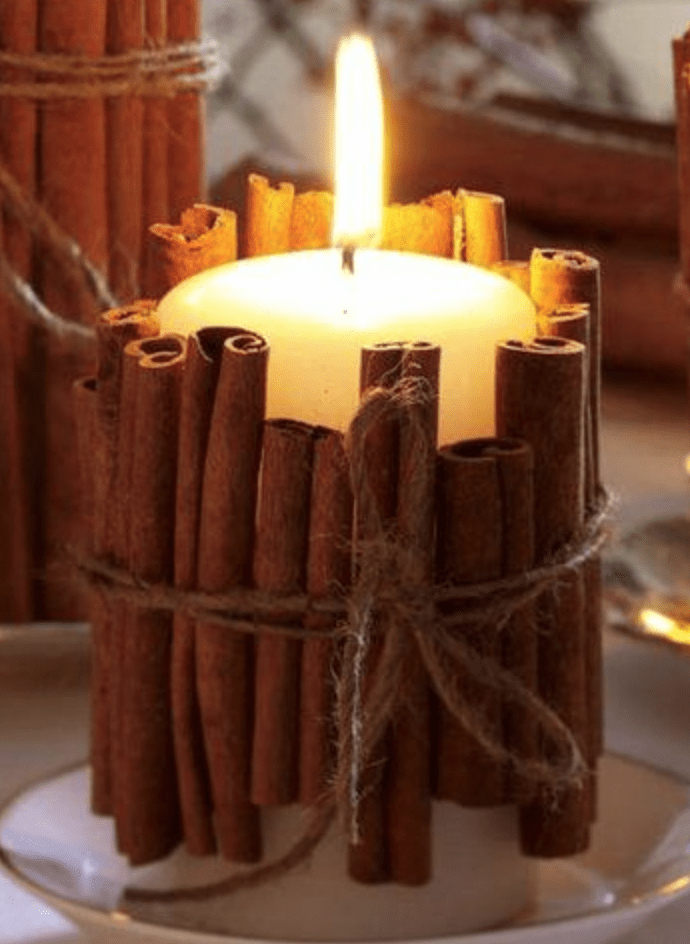 Give your fall candle project not only an attractive look but also an amazing fragrance!
Simply, tie cinnamon sticks with twine around a plain pillar candle.
11. Add Sparkle with Floral Copper Pumpkins Centerpiece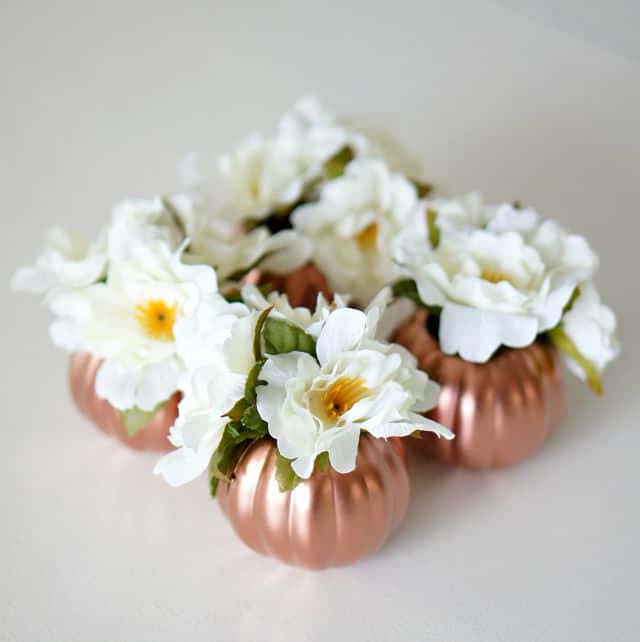 The tiniest plastic pumpkins from the local Dollar Tree get a glamorous finish with metallic spray paint. They are also given a new function as vases holding white faux anemone blooms.
Placed together in a group they add festive elegance to the ambiance.
12. Impress Guests with Distressed Dollar Store Pumpkin Decor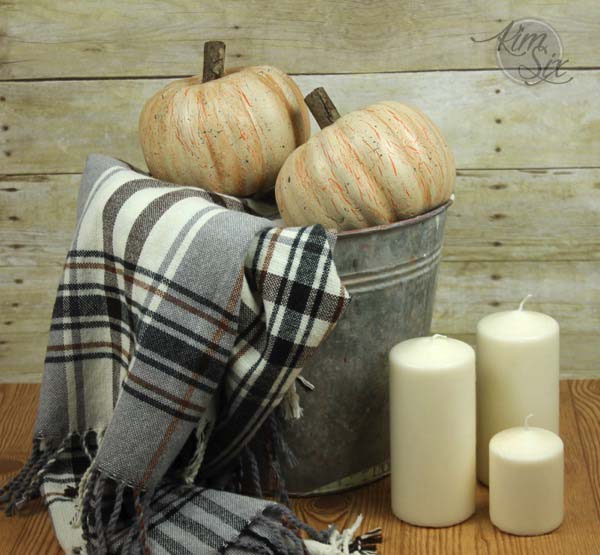 Don't these look realistic? Well, they are not. These are the orange plastic pumpkins the Dollar store offers in October. Some people love them as they are, some try changing their look so that they remind more of a real pumpkin.
This true look is achieved by applying a coat of acrylic paint over the plastic.
Wait, there is a secret on how to keep the paint on the glazed surface and give it a crackle effect. Before painting, give the surface a nice film of school glue.
via The Kim Six Fix
13. Elevate Your Home with DIY Fabric Tape Pumpkins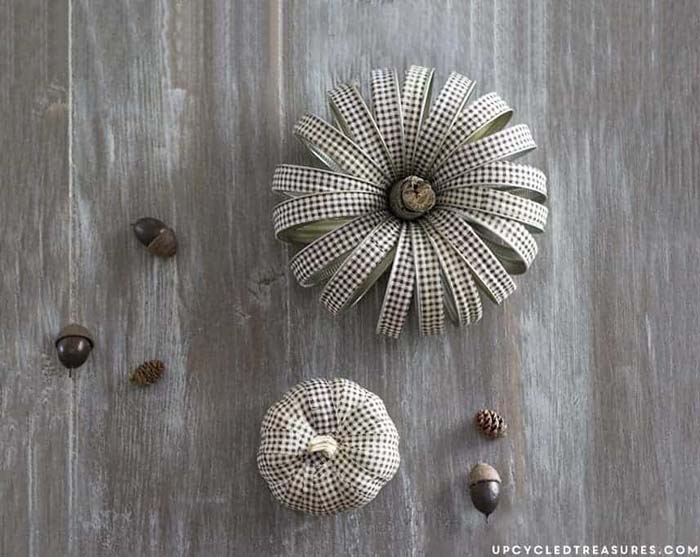 Have you already tried decorating with fabric tape? Then you know what a magical supply it is! Plus, you can choose from a number of patterns and colors!
That same type of tape has been applied on small plastic pumpkins to give them a new rustic look thanks to the buffalo plaid pattern.
14. Get a Luxurious Look with Rustic DIY Fall Acorns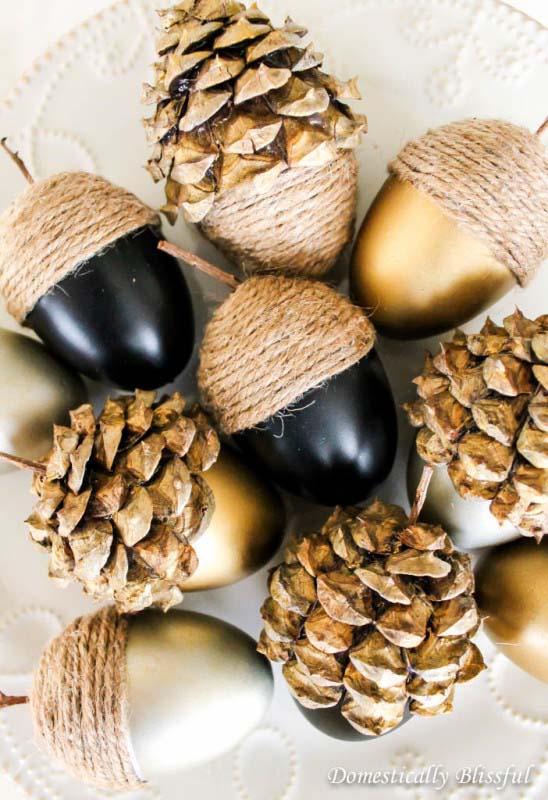 The plastic Easter eggs are of the perfect shape for making oversized acorns that will enhance your fall decor in a uniquely natural way.
The plastic surface is firstly well hidden with spray paints. After that, twine and pine cone leaves decorate the tops of the eggs to complete their look. Make more of these and spread them around your house to add fall festivity.
15. Add a Cheerful Accent with No Sew Placemat Pillow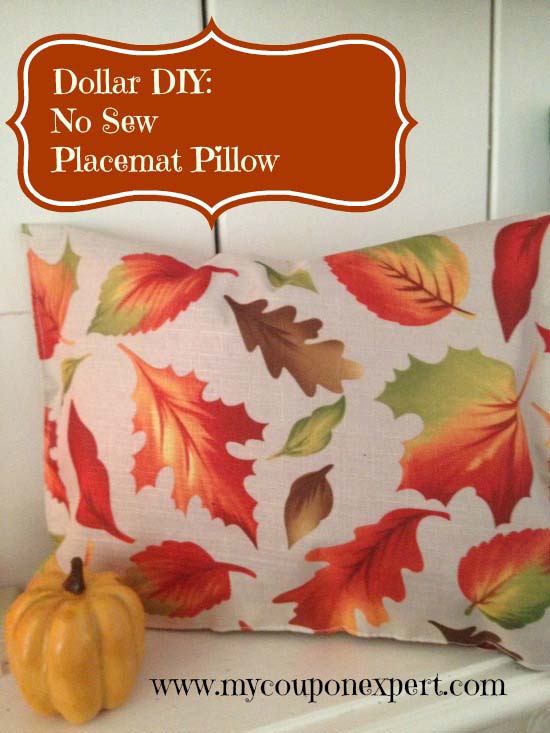 Another easy fall decorating project makes a Dollar Store placemat a cheerful pillow.
Add this to your neutral couch or to the bench in the entrance.
via My Coupon Expert
16. Transform Wine Glasses into Rustic Pumpkin Decor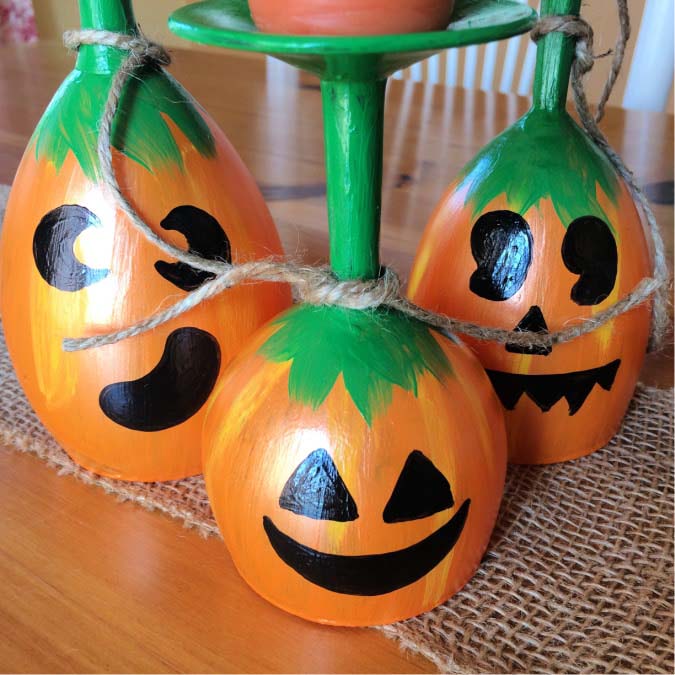 This fall decor idea features cute pumpkin wine glasses that could be used as a centerpiece, as candle holders or for mantel decor.
For that, prepare clear wine glasses from the Dollar Tree and paints.
Acrylic is the perfect choice to draw the cute faces of pumpkin lanterns on the glass. This project is also quite safe to involve your kids in.
17. Deck the Halls with a Dollar Store Fall Leaves Tree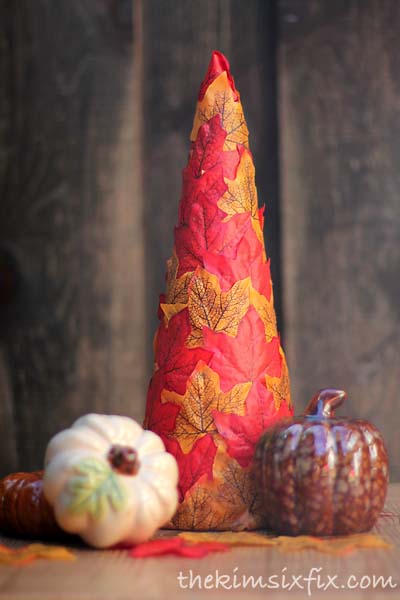 Who says that festive trees are decor only for Christmas? With some poster board or a foam tree and leaves, you can elevate your fall decor and give it a customized look made with your own hands.
Cut a rectangle from the board and glue it in a conical shape. Use Mod Podge or school glue to stick the leaves to the form.
via The Kim Six Fix
18. Welcome Guests with a Dollar Store Fall Wreath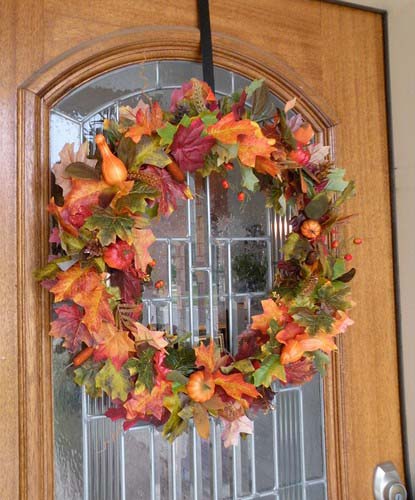 This amazing DIY fall wreath takes you straight to the Dollar Store where you can find all the needed supplies. You are probably not keen on the faux flowers and leaves sold there but when you take the plastic stems off, they look quite realistic.
Glue the leaves on the wreath form aiming to cover it thoroughly. When the basis is ready, you can insert or glue the squash, pine cones, and little berries.
19. Add Artistic Flair with a Dollar Store Leaf Bowl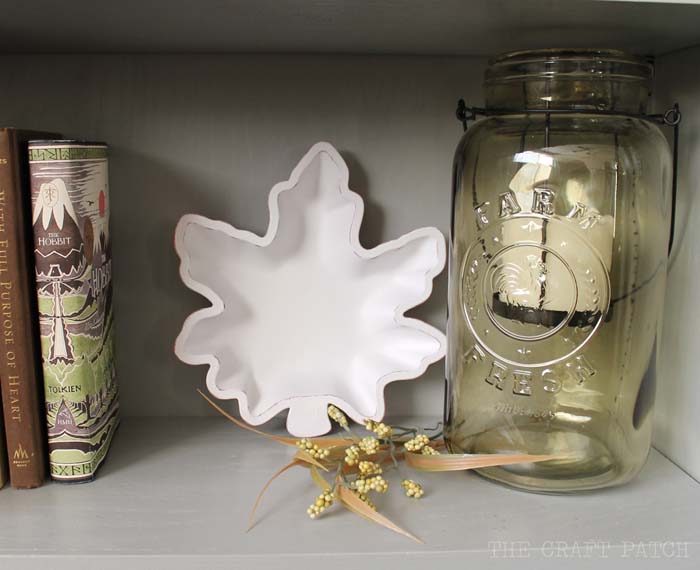 This decor idea can be used for your fall tablescape or as an addition to a fall nook somewhere else in the house. The cheap plastic bowls with autumn leave shape are taken from the Dollar Store for cheap.
Since the orange transparent plastic doesn't look pretty, the author decided to spray paint with white Rustoleum.
The final result of spraying several thin layers is fantastic- the bowl looks very trendy as if made of gypsum.
via The Craft Patch
20. Transform Your Pillows with Fall-Inspired Covers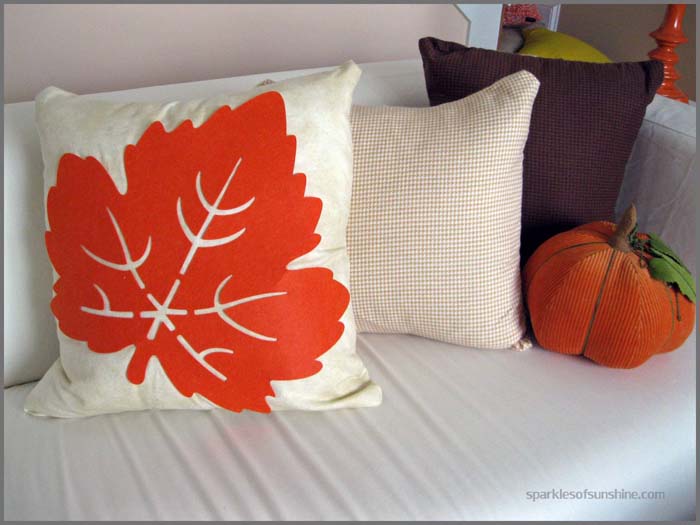 When you see the felt leaf decorations at the Dollar Store, don't bypass them. You may be wondering how to include them in your fall decor but not anymore! This interesting DIY Dollar Store project repurposes them into fabric embellishments.
Instead of buying new pillow covers for your fall interior, glue the felt leaves on the pillows already there. Quickly, easy and fantastic!
21. Add Character with a Pumpkin Wooden Table Runner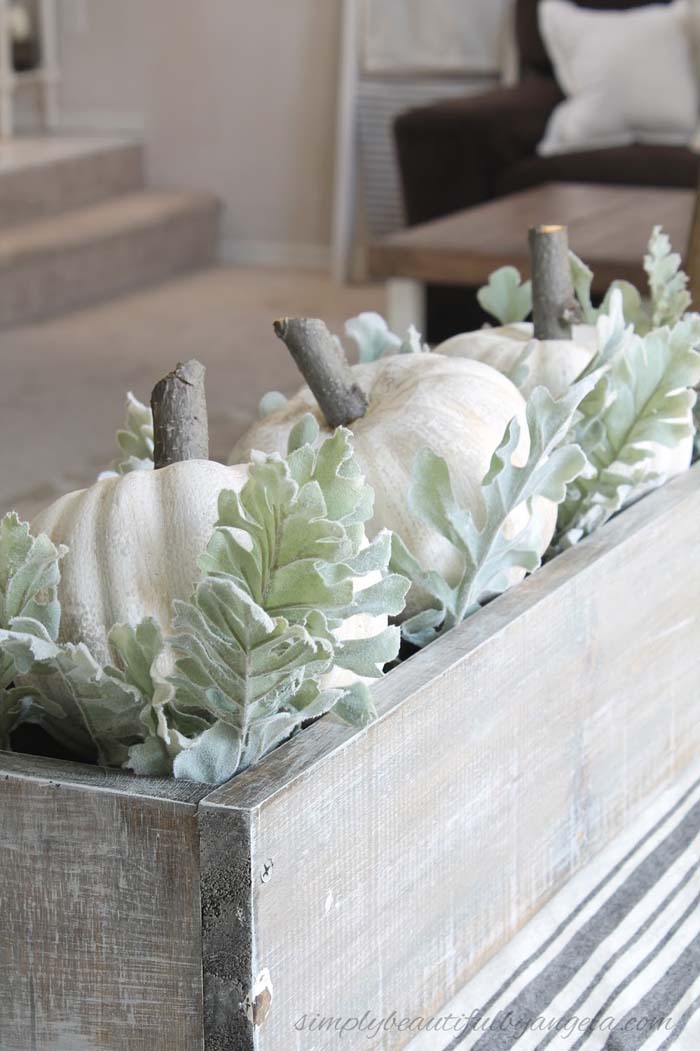 This is another tutorial aiming to transform the plastic orange Dollar Store pumpkins into realistic fall decor. Using black, white and some brown paint, the plastic material is easily hidden.
The final touches are brown lines to give the shapes dimension and light brown brushes over the entire pumpkin to give it "a dirty" look.
Placed in a wooden box, a wire stand or in addition to the mantel decor, the white pumpkins do create a more festive ambiance for fall.
via Simply Beautiful by Amanda
22. Embrace Minimalism with a Dollar Store Pumpkin Topiary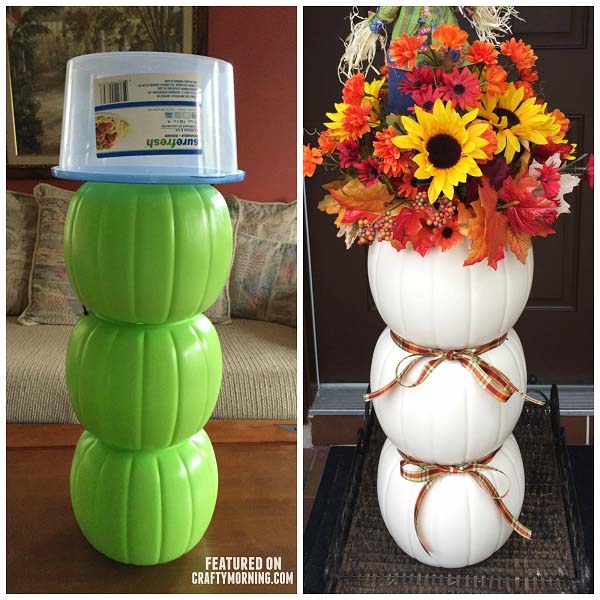 This image should have inspired you already! Three cheap plastic pumpkins and a plastic food bucket are lined up vertically to create a fantastic front porch topiary.
The magical transformation of the plastic happens with chalk paint that thickly covers the green plastic.
Insert faux flowers and leaves in the food bucket and a figure of a scarecrow to add some Halloween interest.
via Crafty Morning
23. Indulge in the Lavish Look of No Sew Burlap Pumpkins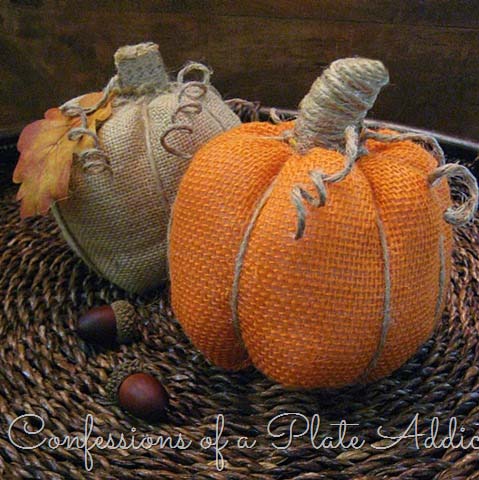 These burlaps are so cute and easy you may want to make dozens of them, even prepare some as gifts for Thanksgiving!
Prepare burlap fabric, twine and polyfill to stuff them inside. Don't worry, no sewing is involved!
via Confessions of a Plate Addict
24. Add a Pop of Color with Yarn Pumpkins Decor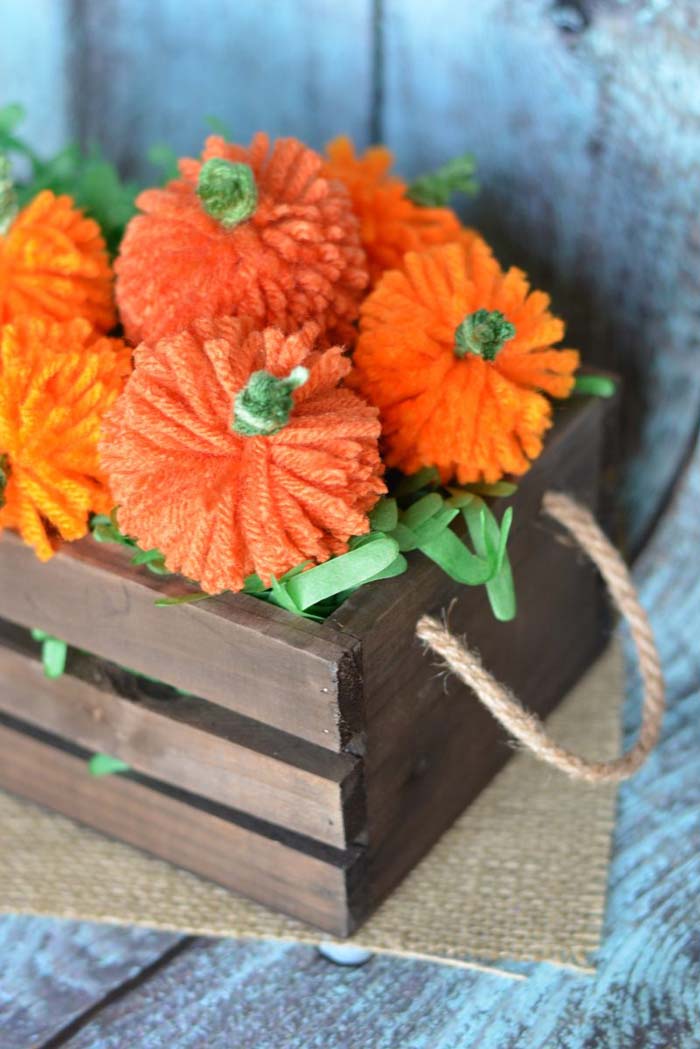 If there is festive decor, there are pom-poms included. We have seen Christmas garlands with pom-poms but we bet you haven't seen fall pom-poms.
This DIY fall decor idea proves that pom-poms could be made to suit the current decor. And for fall that means orange and green- the cute color combination of the pumpkins.
Since the pom-poms are not that big, you would like to place all of them together in a wicker basket, tray or a small crate so that they are easily noticed.
via Not Quite Susie
25. Organize Your Fall Time with a Rustic Bucket List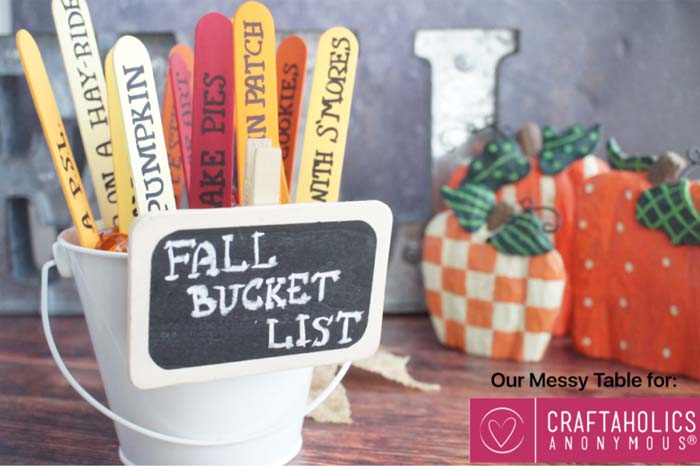 Make fall homely and meaningful with this customizable DIY idea. Get a set of the largest popsicle sticks, paint them in the autumn colors and write on family activities.
Insert them in a small bucket from the Dollar Tree that will keep the interest on showing only part of the inscribed.
26. Illuminate Your Home with a Fall Candle Centerpiece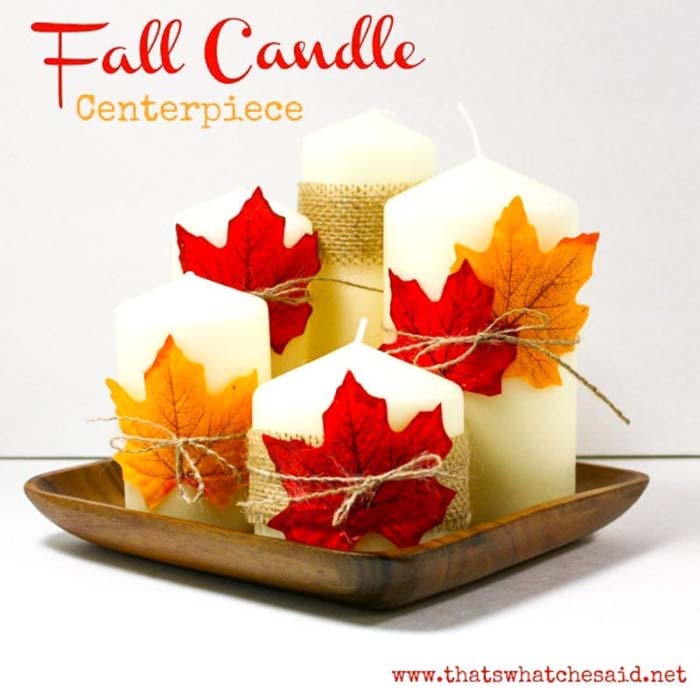 Fall and rustic go together because they are both related to the warm and cozy vibe. These candles incorporate both of these and are a perfect way to decorate your home without spending a lot.
Start with buying candles of different sizes from the local Dollar Tree. If you find a package of faux autumn trees there, would be great. Otherwise, you can collect leaves from the park.
Using burlap and twine, decorate the candles with your autumn motif.
27. Bring Comfort and Style with a Fall Candle Wreath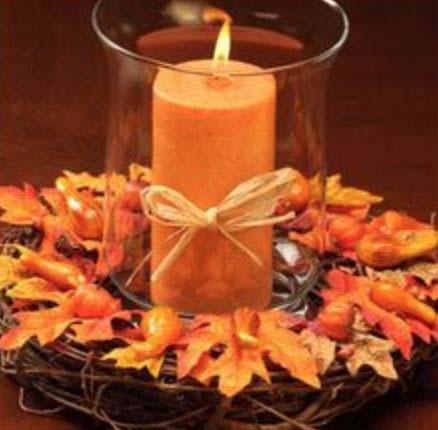 This is another great idea for a DIY fall wreath. This image features how to use it as a way to turn a plain candle holder into a centerpiece but you could also use it as a front door decor.
Get a grapevine wreath and packages with autumn leaves from the Dollar Store. Cut the green plastic stems off as the framing of a candle holder, it could also decorate your front door.
28. Make an Unforgettable Fall Vase with Candy Corn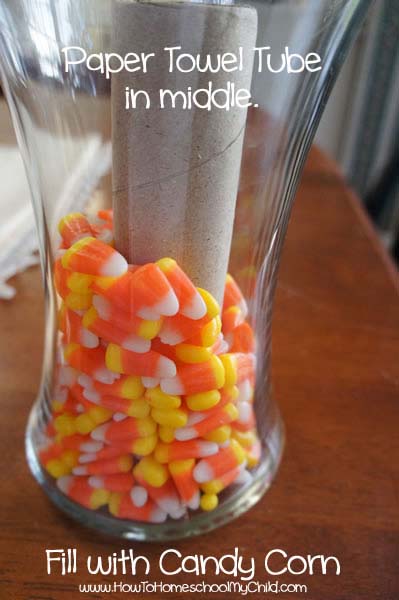 A large bouquet of autumn flowers and leaves is a good way to welcome fall inside your home. If you want to give it a bit of interest, try this idea. Instead of filling the glass vase with water, fill it with candy corn.
The colors of the candies are related to the fall harvest and couldn't be better to accentuate your fall vase.
via How To Homeschool My Child
29. Redesign Your Interior with Fall Candy Corn Jars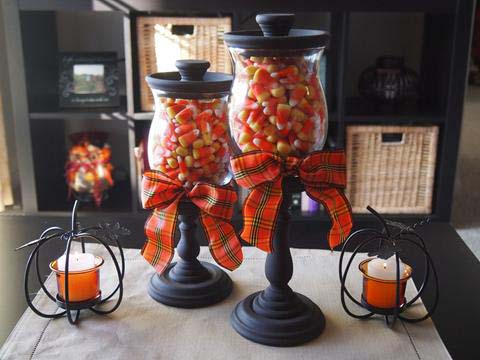 Another way to use the candy corn into a seasonal decoration is to fill them in transparent candy jars. You couldn't recognize that these bowls are from the Dollar Store?
Well, placed on candlesticks and the added large bows have totally transformed them.
30. Showcase Your Fall Harvest with Hurricane Vases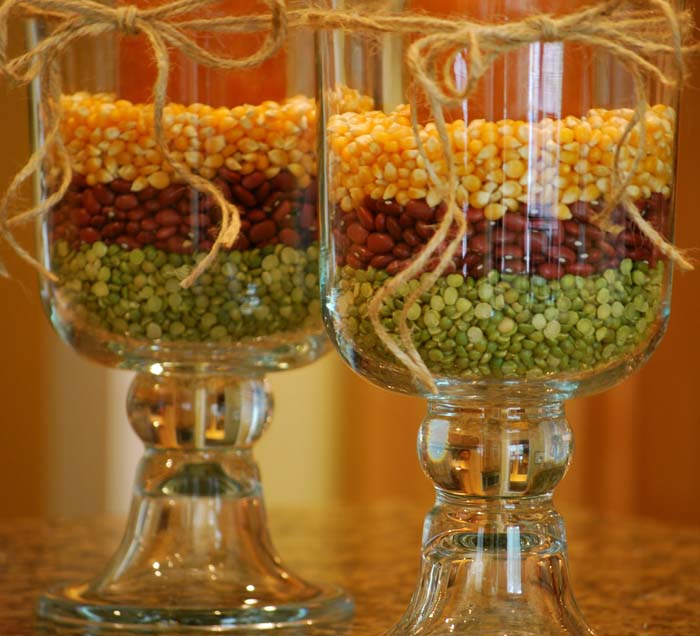 These glasses hold layers of the fall harvest! This is an inspiring idea of how to use natural products as part of your fall decor.
Try finding interesting glasses from the Dollar Store and then start pouring split peas, red beans and corns.
When the layers are ready, insert a candle in the middle and finish with a twine ribbon around the rim of the glass.
31. Get a Luxurious Fall Look with a Hydrangea Wreath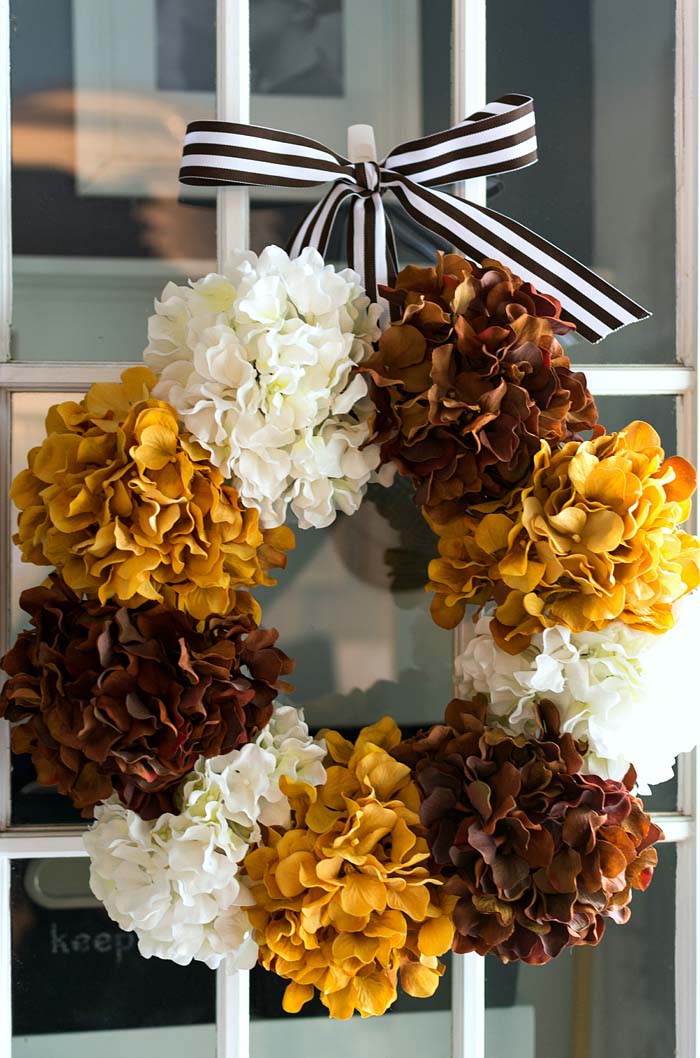 Hydrangeas are usually related to summer but when you see their faded colors, you know that autumn is coming.
It is very impressive how beautiful hydrangeas look when dried and therefore many people prefer to preserve them for a longer time in this state.
If you don't have dried blooms, you can get realistic ones from the Dollar Store. And since they would be part of your fall decor, pick up the ones that are in autumn colors such as brown, yellow and white.
32. Bring Farmhouse Charm with a Fall Leaves Garland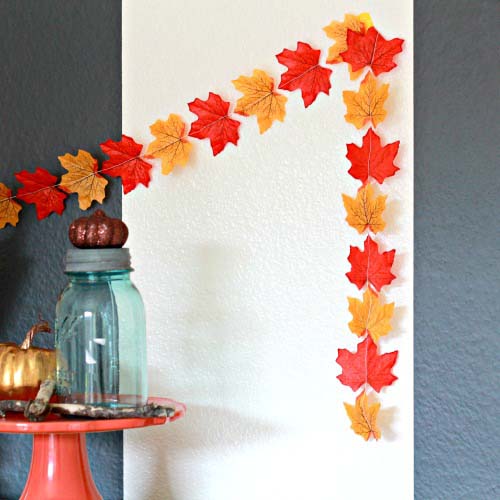 The fall leaf packages from the Dollar Store are turned into an autumn garland that adds loads of festivity! Simply sew leaves together in a straight line down the center of the leaves.
Make it as long as you wish to give your fall nook the perfect customized fall garland.
via Making Homebase
33. Personalize Your Decor with a Monogrammed Fall Wreath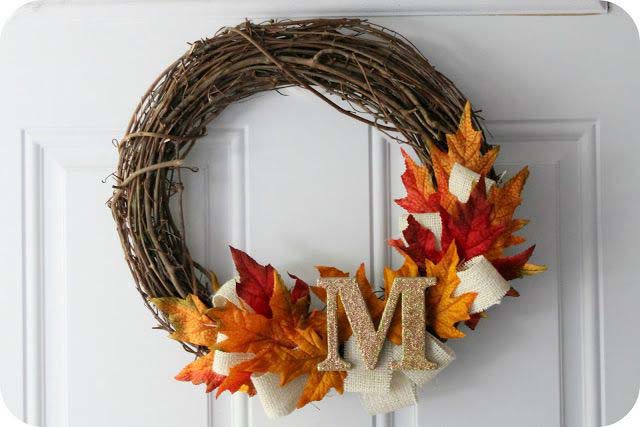 You can find a similar wreath at Amazon or Etsy but the pleasure of seeing the final result after making it yourself is great.
You can get all of the materials at the Dollar Tree- a grapevine wreath, a burlap ribbon, a package of fake leaves and a wood letter.
Place the DIY fall wreath on your front door to give it a personal touch and welcome everyone with the warm tones of fall.
via Amazon
34. Transform Tin Cans into Rustic Fall Luminaries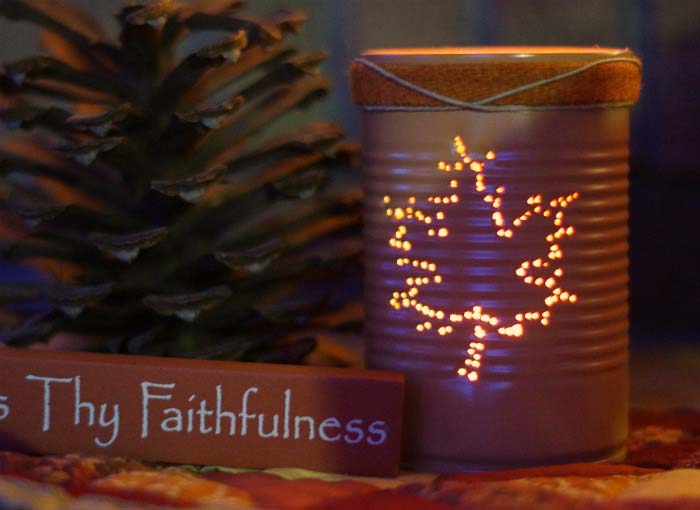 Give your nights at the porch coziness and warmth with this Dollar Store fall decor idea. For less than $5 you can create a fall luminary with a motif of the season you like.
Prepare a nail, a hammer, spray paint and a candle. The project would be much easier and quicker if you also make a sample of the image you would transfer with punches on hard paper.
via Cleverly Simple
35. Create a Floral Display with Burlap Mason Jars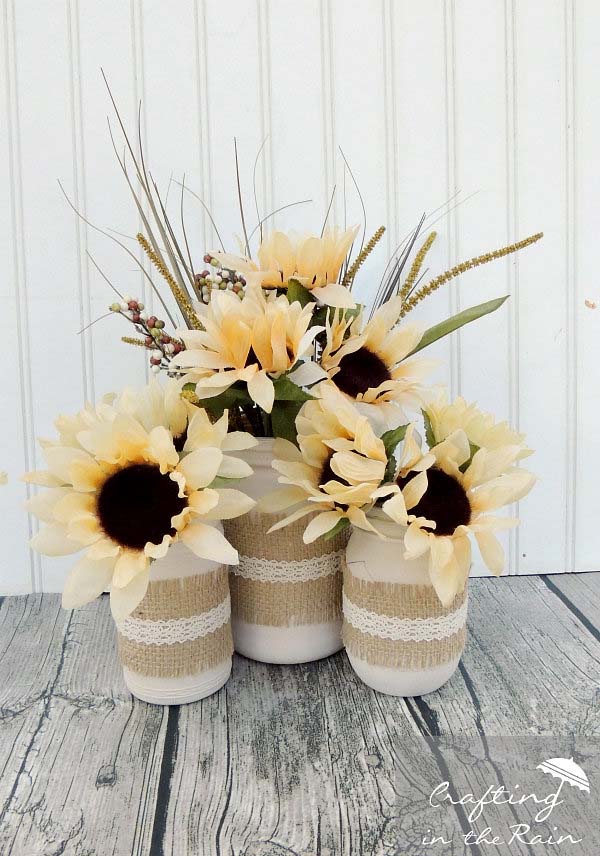 Chalk paint proves to be a universal paint as it covers well all types of surfaces, including glass. If you are lacking a fall centerpiece, try this flower vase set.
Prepare three jars. They can be of an identical size or of different heights for increased interest.
Apply white chalk paint with a foam brush and wait until it dries. Then glue a piece of burlap decorated with a strip of lace.
36. Add Splendour to a Home with a Framed Plastic Pumpkin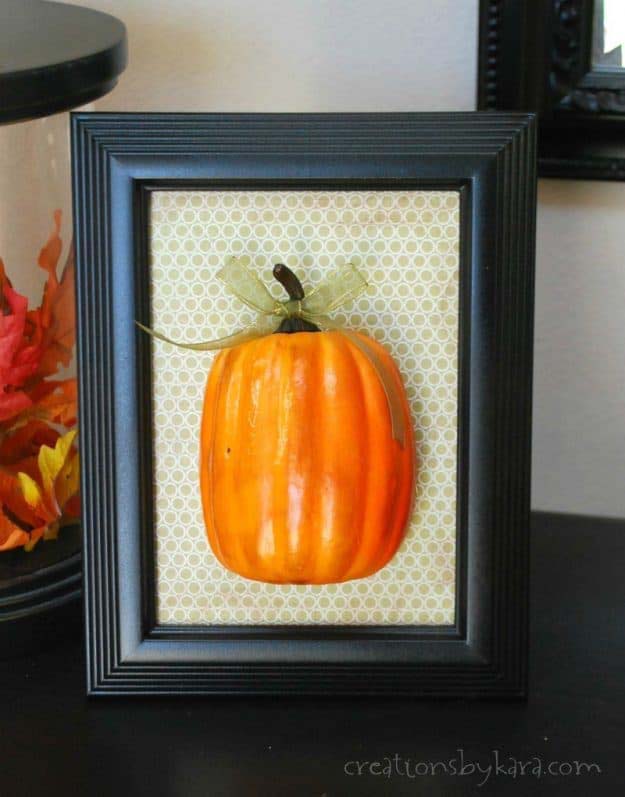 Looking for a way to get around the standard pumpkin decor? This idea is the perfect alternative to the typical fall decor. Cut off the back third of a plastic pumpkin from the Dollar Store so that it is flat.
Now it is time to find a frame that will let the pumpkin stand out and won't defocus from the dimensional art.
Glue a piece of scrapbooking paper on the glass and place your pumpkin piece on it. Easy, unique and totally affordable fall decor project!
37. Decorate Your Mantel with Rustic Give Thanks Pumpkins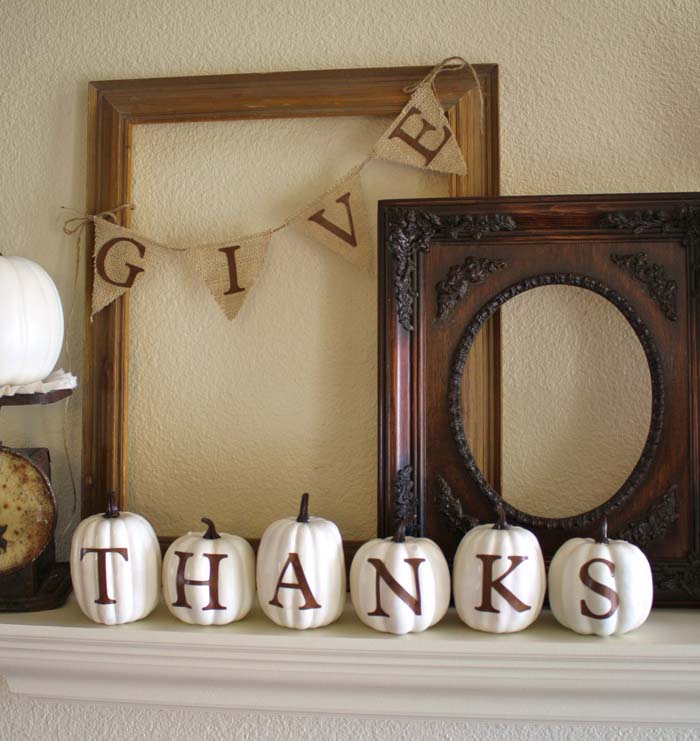 Use the tiny plastic pumpkins from the Dollar Tree to create word art for Thanksgiving. You can use a spray paint can or chalk paint to hide the orange plastic and ensure a good neutral background for the letters.
To make sure that the letters are well outlined, you can use stencils to help you in the painting process. Display the word puzzle on the mantel or other long enough surface where the set will stand out.
38. Make Your Home Sparkle with Glitter Fall Leaves Garland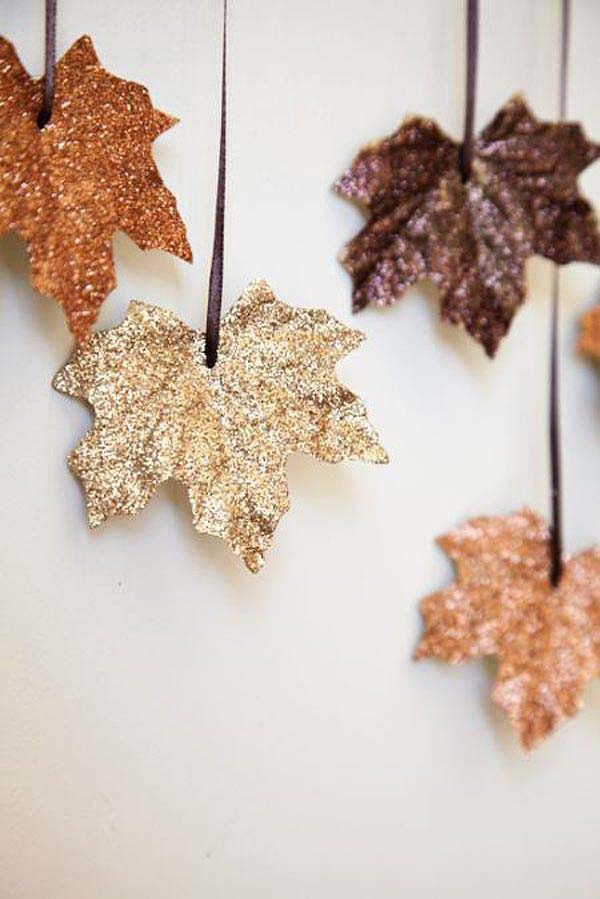 Only some glitter paint and the faux leaves from the Dollar Store get a glam look, a perfect way to give a blank wall a fall statement.
You can put them all together in a garland or add a ribbon to each and suspend them from the ceiling in varying heights.
39. Add a Rugged Appeal with Gourd Candles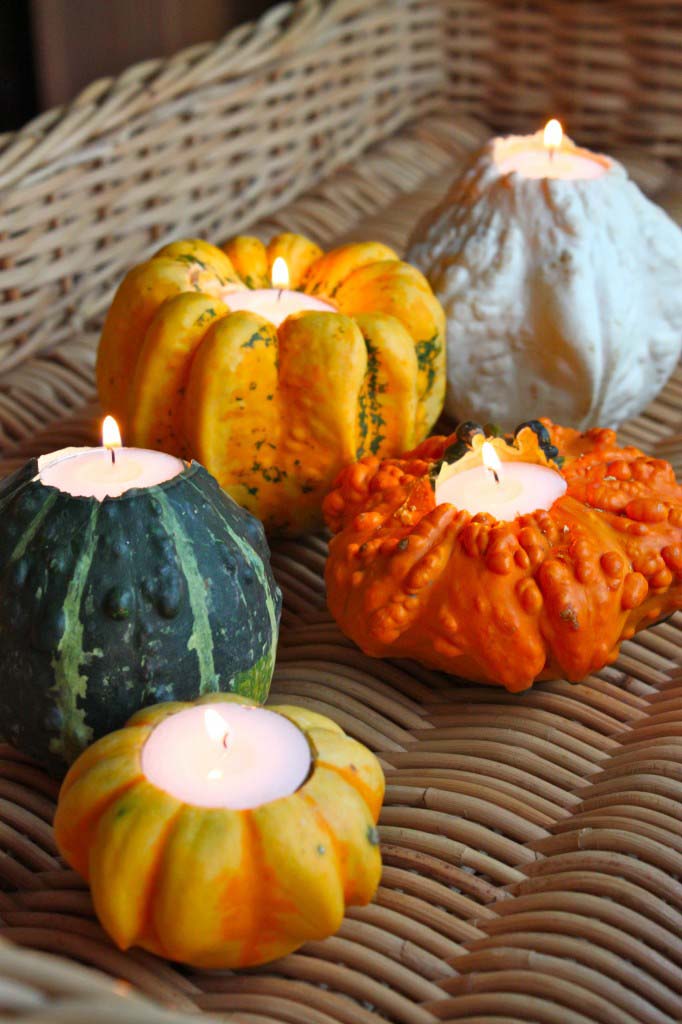 This inspiring idea was created as a tradition of a family to treat dear friends with gifts for Thanksgiving. The tops of a variety of little pumpkins and gourds are drilled so that a tea candle could be accommodated.
You could use these little nature-inspired candle lights to decorate your living room and make the ambiance cozier at night.
via Revel
40. Bring a Contemporary Vibe with Bandana Pumpkins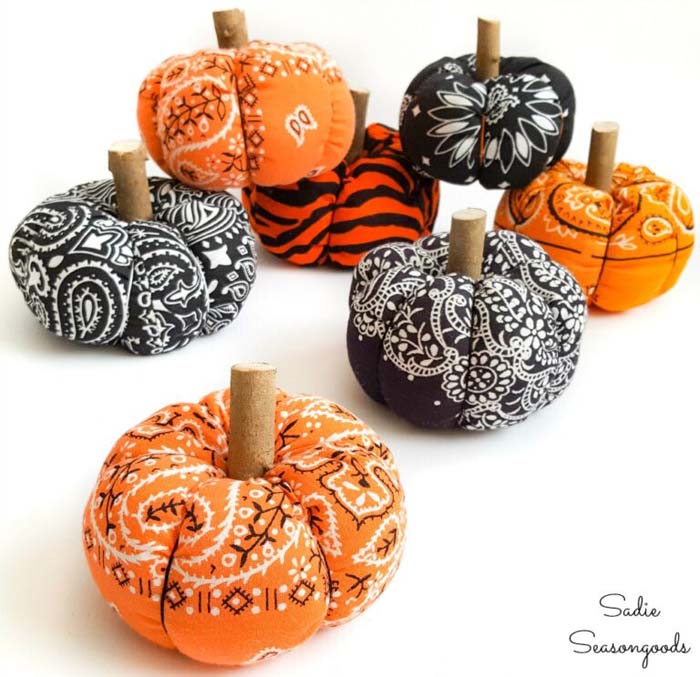 The fabric pumpkins are very cute! You can make them from burlap with a no-sew technique or try this interesting tutorial. Halloween bandanas offer great colors and patterns and that makes them perfect for the fabric pumpkin project.
They are light and various in design and that makes them good to accentuate existing fall decor if it is lacking color and interest.
41. Add a Touch of Warmth to a Home with Fall Leaf Candle Jar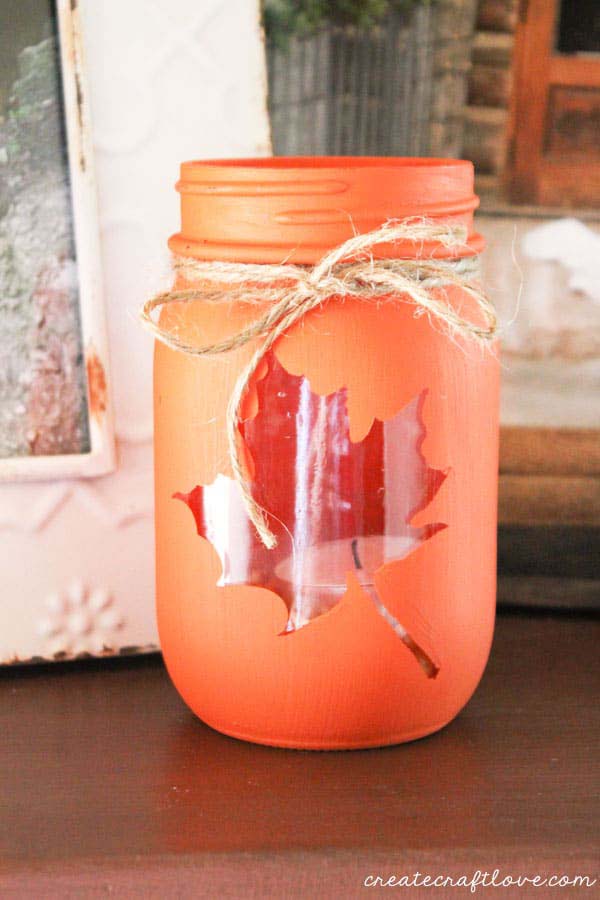 Cut a fall leaf on adhesive vinyl and apply it on the outer surface of a clean jar. Apply a thick coat of orange paint. That could be acrylic or spray.
Once the paint has dried, peel off the vinyl image and place a tea candle in the jar. Once the flame is lit, you will enjoy it's warming light glowing from the transparent leaf.
42. Boost Your Curb Appeal with Mesh Pumpkin Wreath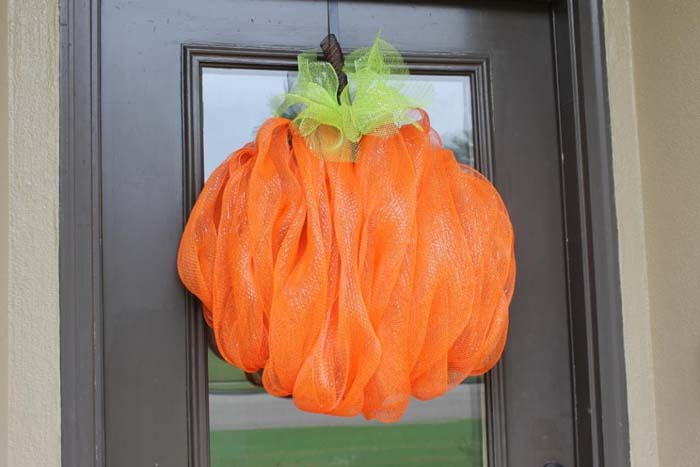 Do you like this pumpkin wreath? It is very cute and obviously an interesting way to represent the typical pumpkin motif of the fall season.
All supplies are taken from the Dollar Tree- pipe cleaners, orange and green ribbon and a wire wreath form. Follow the instructions below to make your seasonal front door decor that will welcome guests in a cheerful way.
via Miss Kopy Kat
43. Give Plastic Pumpkins a Rustic Makeover with Burlap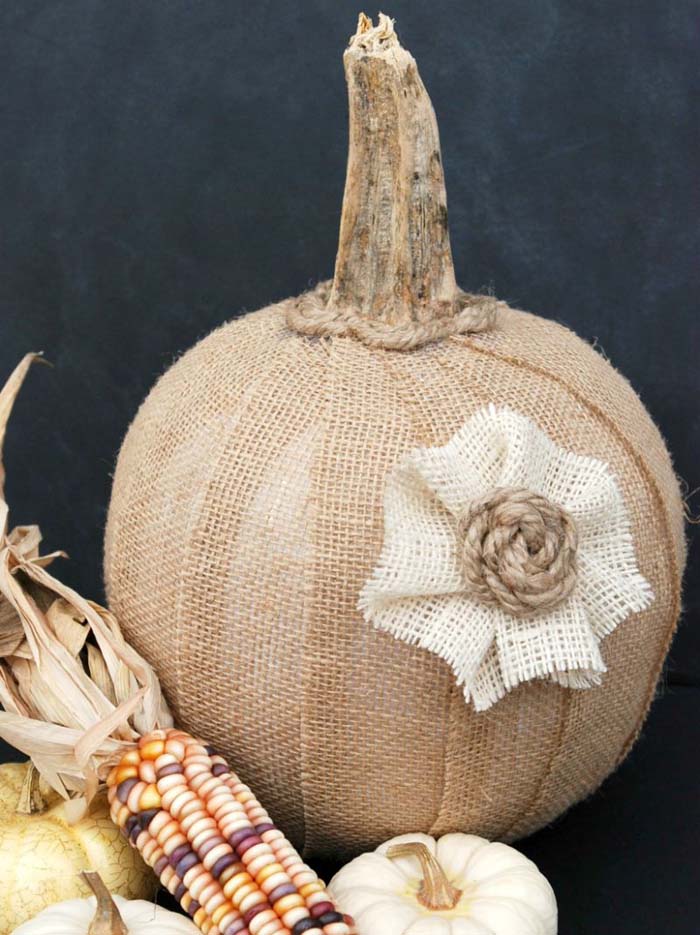 This fall decor idea transforms a dollar tree pumpkin into an appealing rustic piece. Strips of burlap are hot glued onto the plastic pumpkin after it has been well coated with white chalk paint.
The strips overlap at one of their sides so that the curves of the pumpkin are imitated. Add a stick from the backyard as a stem and decorate with a burlap flower.
44. Customize Decor with Popcorn Kernel Filled Candleholder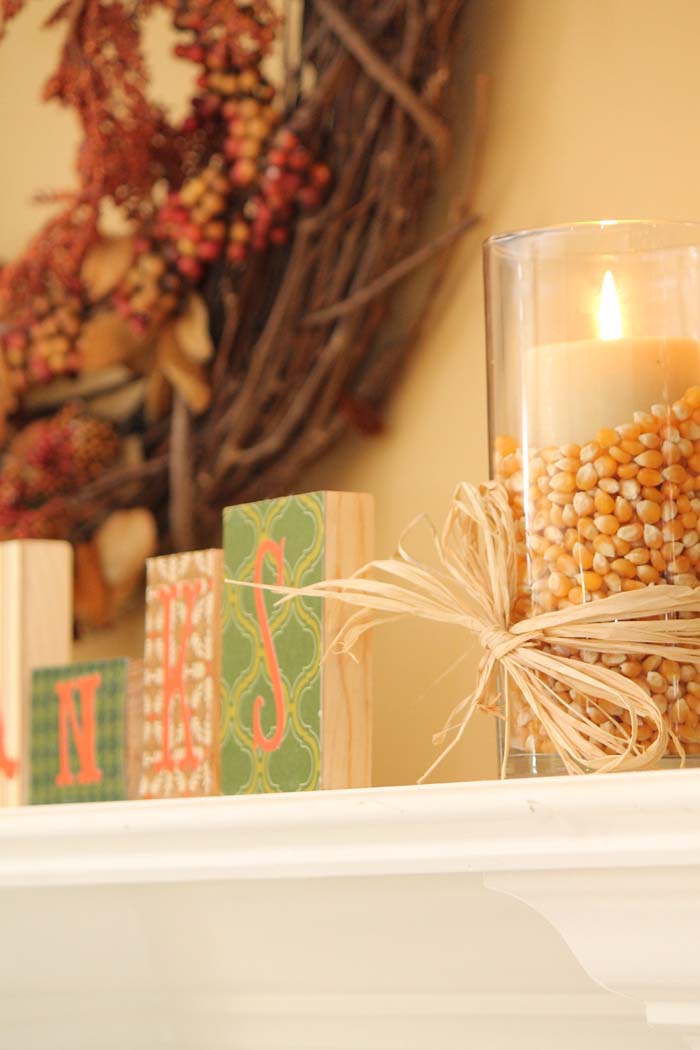 Love turning candle holders into seasonal decor? You could make this piece of decoration in a very budget-friendly way by visiting the Dollar Tree.
Find tall glass candle jars first. If there is a spool with raffia, don't miss it. It would be the perfect way to finish your centerpiece and give it a rustic touch.
Fill the jars with corn beans and insert votive candles in the middle. The corn will serve not only as a backdrop but also as safe support for the candle when it is lit.
45. Wow Guests with Pumpkin Door Decor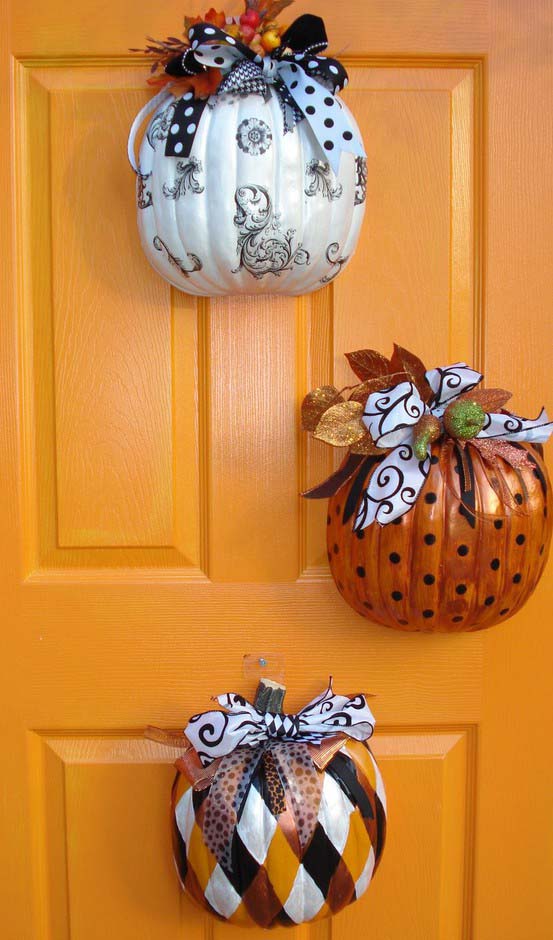 Slicing the plastic pumpkins from the Dollar Tree gives you numerous fall decor ideas. We saw a half of it repurposed into framed art and now it is time to see them as welcoming front door signs.
You can experiment with their texture, colors and embellishments like polka dots, triangles, buffalo plaid patterns, decoupage paper, ribbons, etc.
46. Liven Your Halloween Party with Pumpkin Serving Trays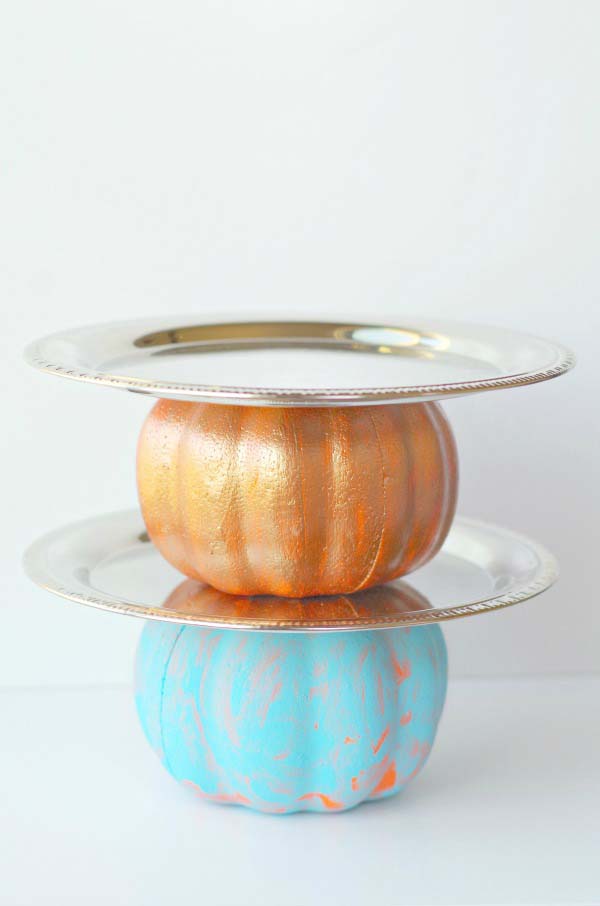 Serve the treats for Halloween or for Thanksgiving on a unique pumpkin stand topiary. Use foam pumpkins as supports that hold serving plates in silver or golden finish taken from the Dollar Store.
Each plate is rigidly fixed on the top of the pumpkin with a hot glue gun.
via Val Event Gal
47. Maximize Halloween Storage with Pumpkin Jars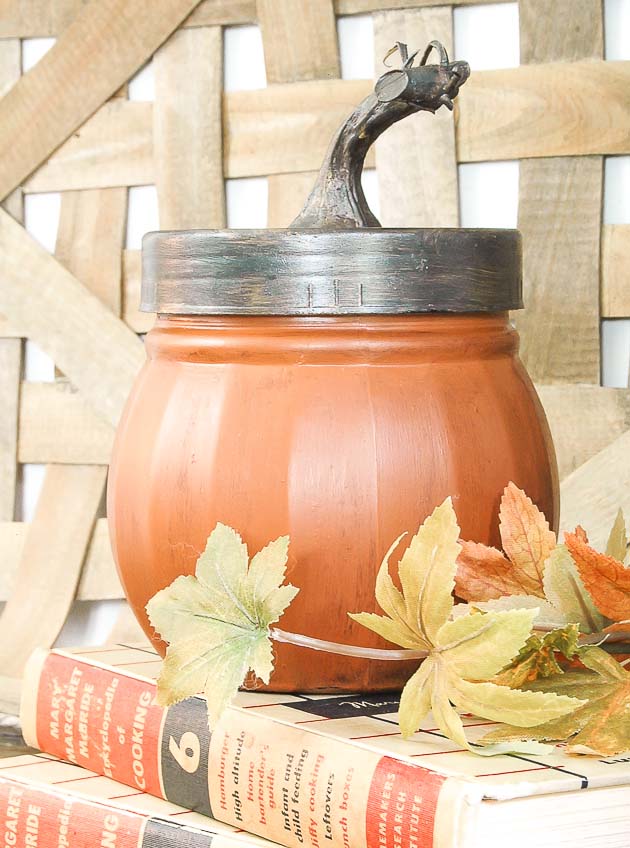 These storage jars are lovely! Probably you have seen these little round jars with screw-on lids at the Dollar Store. Take as many as you wish for your fall DIY decor.
Paint the outside orange with craft paint. Once the paint dries you will see how much the jars start to remind you of a pumpkin. The lid is given an industrial look thanks to layering two coats of different paint.
You can end up here or add a faux pumpkin stem on the lid with a hot glue gun.
48. Unleash Your Creativity with Scarecrow Mason Jar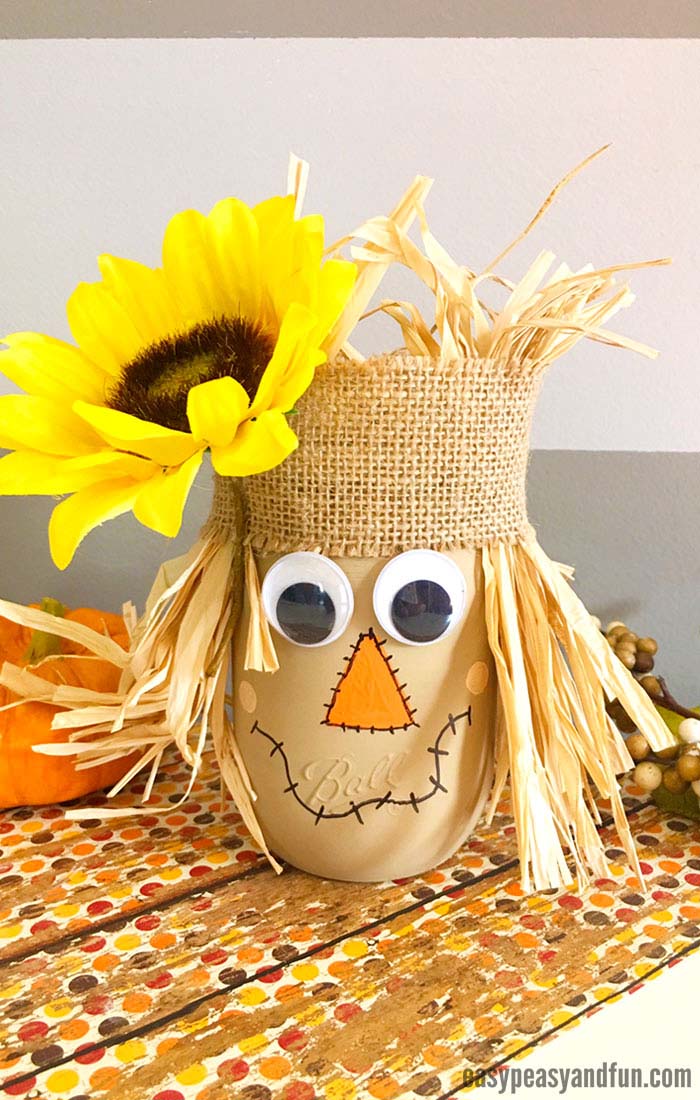 Autumn is a favorite season of the smallest too! This DIY fall decor idea focuses on famous Halloween creatures like the scarecrow.
The materials needed could be all taken from the Dollar Store and that makes it clear that the project will be cheap and fun!
Don't forget to add the large sunflower to the scarecrow hat if you wish to ensure a pop of color and a cheerful effect.
49. Create a Lavish Look with Sisal Twine Pumpkins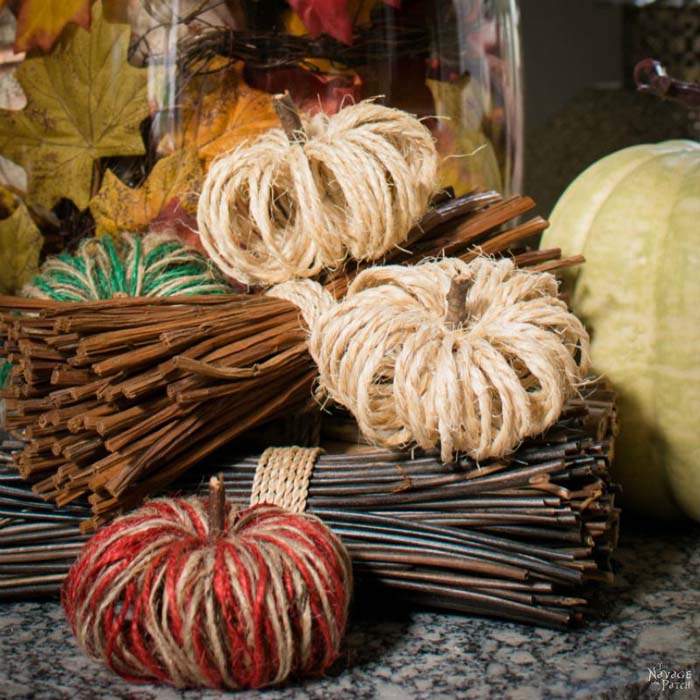 Are you obsessed with pumpkins? Then you must be looking for loads of visual variations of the typical image. And if you are missing an alternative way to make a tiny pumpkin, this is your craft idea!
These rustic pieces can be made with yarn, twine, sisal or thin rope. Wrap the chosen material on a pipe insulator or a noddle that has been preliminary hollowed to allow a length of wire to be inserted.
Once the coils are wrapped, the wire is pulled up through the openings of the insulator to tie the coils.
Add a piece of cinnamon stick or a small real stick to the top of the twine pumpkin to mimic the stem.
via The Navage Patch
50. Experience Unrivaled Style with Spray-Painted Pumpkins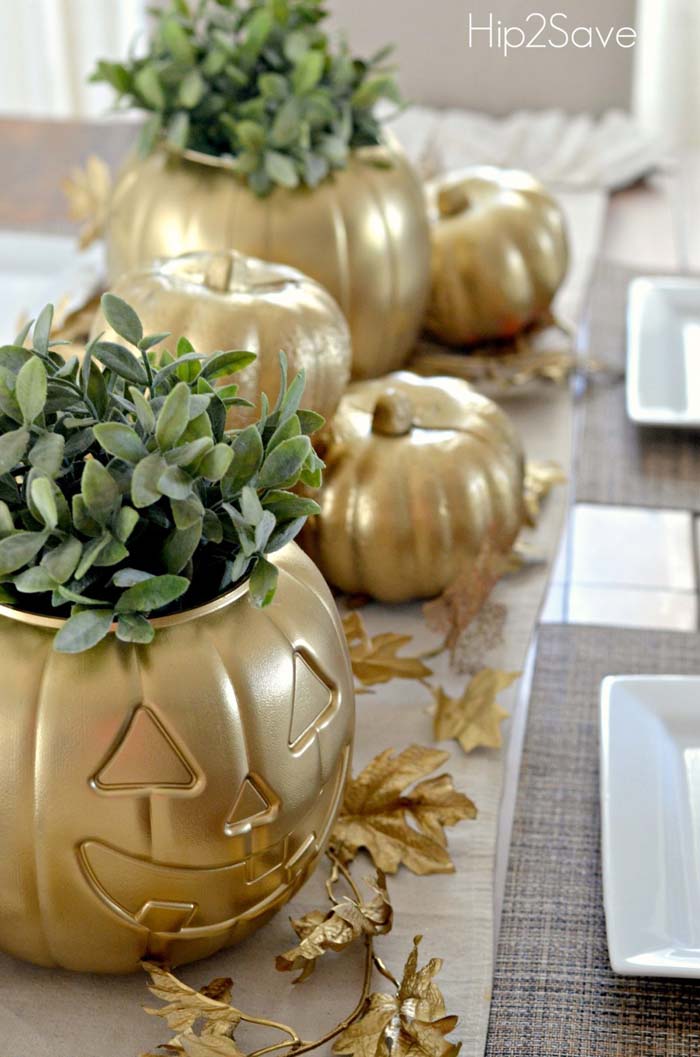 This is a quick DIY fall decor idea that gives the plastic pumpkins a glam look. Get different types of pumpkins from the Dollar Store and prepare a can of gold spray paint. Cover the outside wall with the spray and wait for the coat to dry.
Once you are happy with the new surface finish you can start experimenting the arrangement of the golden pumpkins.
The lanterns can be repurposed into vases or flower pots and placed at both ends of the festive table. Place the rest of the pumpkins in between the lanterns. You can put them in a row or stack them in a pile.
via Hip 2 Save
51. Layer Natural Beauty with a Square Fall Leaves Wreath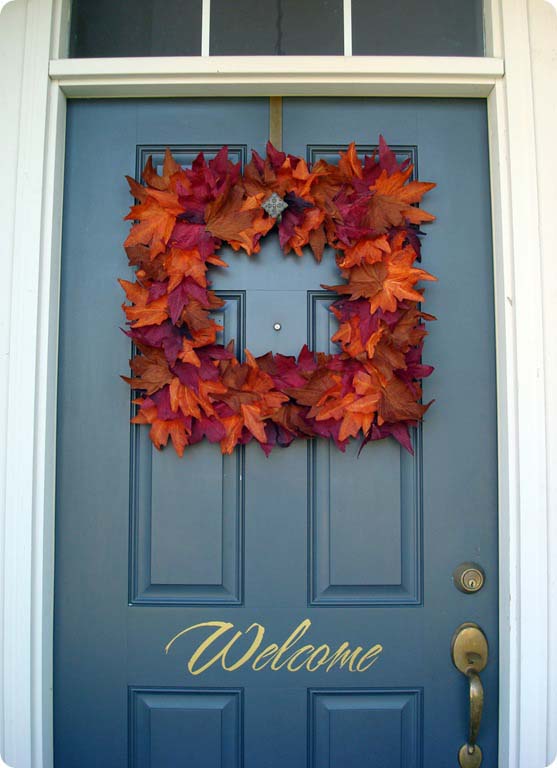 Get a foam core board and a package of nice large leaves from the Dollar Store. You can make a wreath of any shape, just outline it on the board and cut accordingly.
The base won't be probably seen once you cover it with leaves but just in case spray paint it in a color close or identical to those of the leaves.
Layer the leaves on the basis with a hot glue gun. In case there is wire incorporated in them, bend the top layer of leaves to give the wreath some dimension.
52. Get Ready for Fall with a DIY Pumpkin Wreath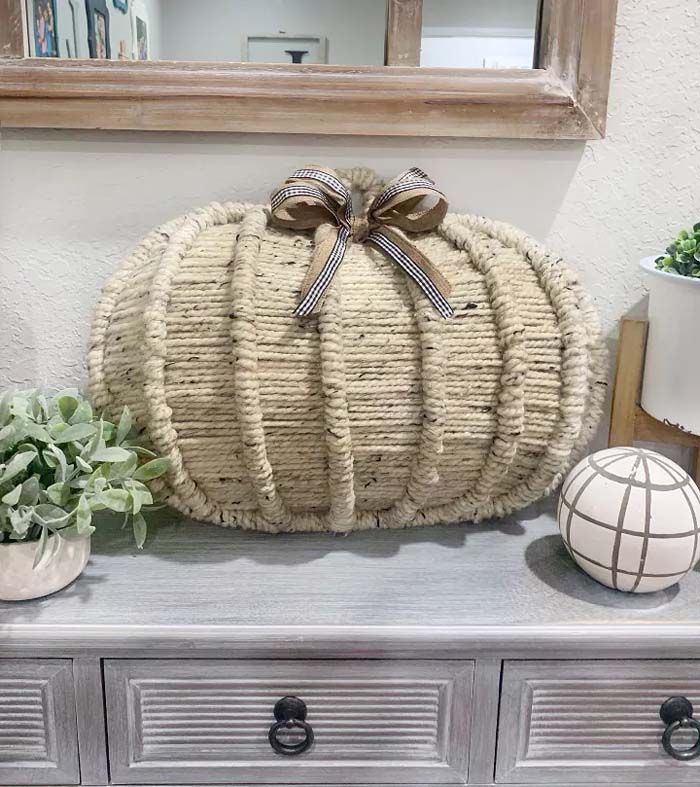 Looking for a decor piece that is different from the traditional pumpkin? Here is an easy, effective and affordable project for you.
Get a pumpkin wreath from the local Dollar Tree and start weaving yarn around the wire. There is a certain pattern to follow to achieve this finished look.
Once the pumpkin wreath is ready it will add amazing fall textures and warmth into your home.
via Hometalk
53. Let Your Kids Have Fun with Terracotta Pumpkins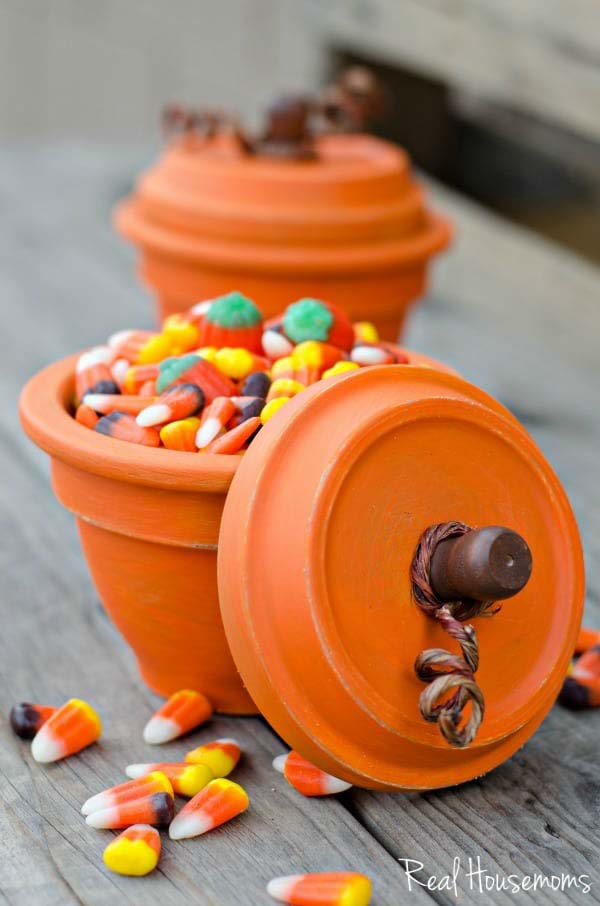 This DIY fall decor idea is fun, functional and can be done only in an afternoon. It also keeps things on the budget-friendly side getting all supplies from the Dollar Store.
Little terra cotta pots and the corresponding lids are transformed into candy corn jars waiting to treat kids on Halloween.
via Real House Moms
54. Cozy Up Your Decor with Twine Pumpkins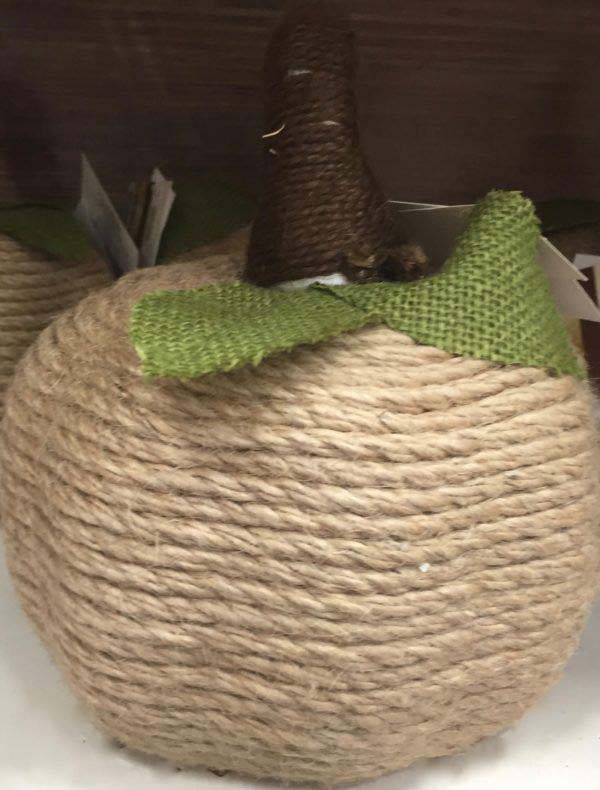 If you are looking for a way to give the plastic pumpkins a rustic look, cover them with twine. The hot glue gun will support you in the process of wrapping the orange surface with the natural thread.
The original stem can be taken out and replaced by a stick. Otherwise, just wrap the stem with green yarn.
55. Make a Bold Statement with Wine Corks Pumpkin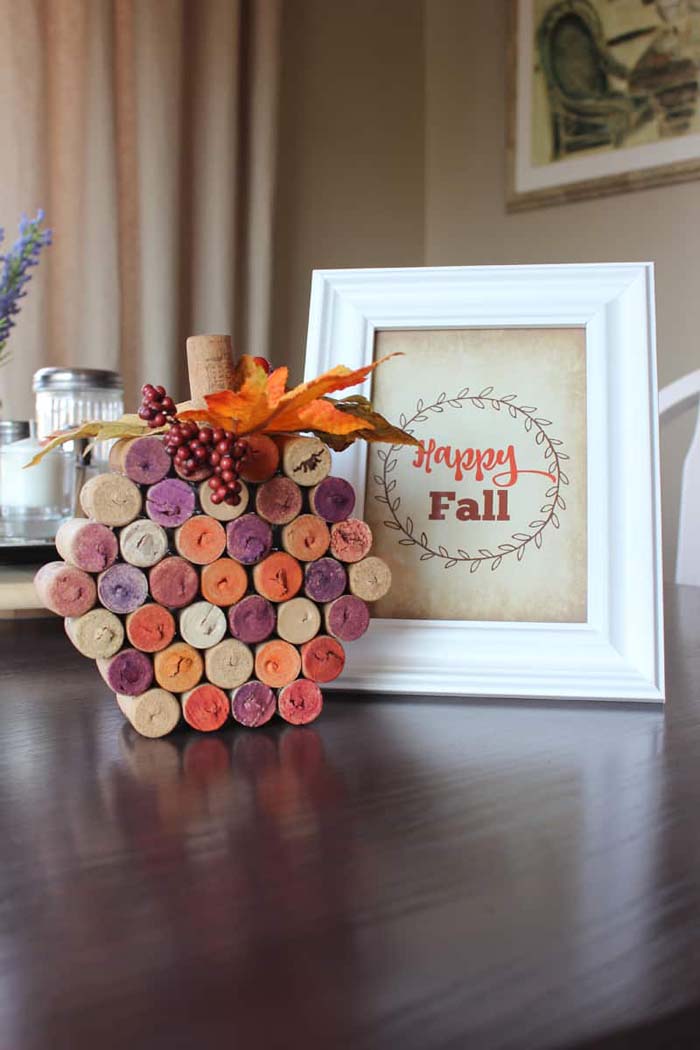 This festive fall decor is very cute and can be customized in size depending on the number of wine corks you have. Once you glue the corks together in a pumpkin shape, the fun starts.
Color their tops with water coloring paints. You can experiment including all fall colors or stick to the orange one.
Another cork acts as a stem glued vertically on top of the pumpkin. Decorate the bottom of the stem with faux leaves and berries to enhance the design of a pumpkin.