Outdoor Christmas trees spread your festive cheer to everyone who passes your home.
As you're planning decorations for your outdoor tree, the challenge is to find items that are weather-resistant and visible from a distance.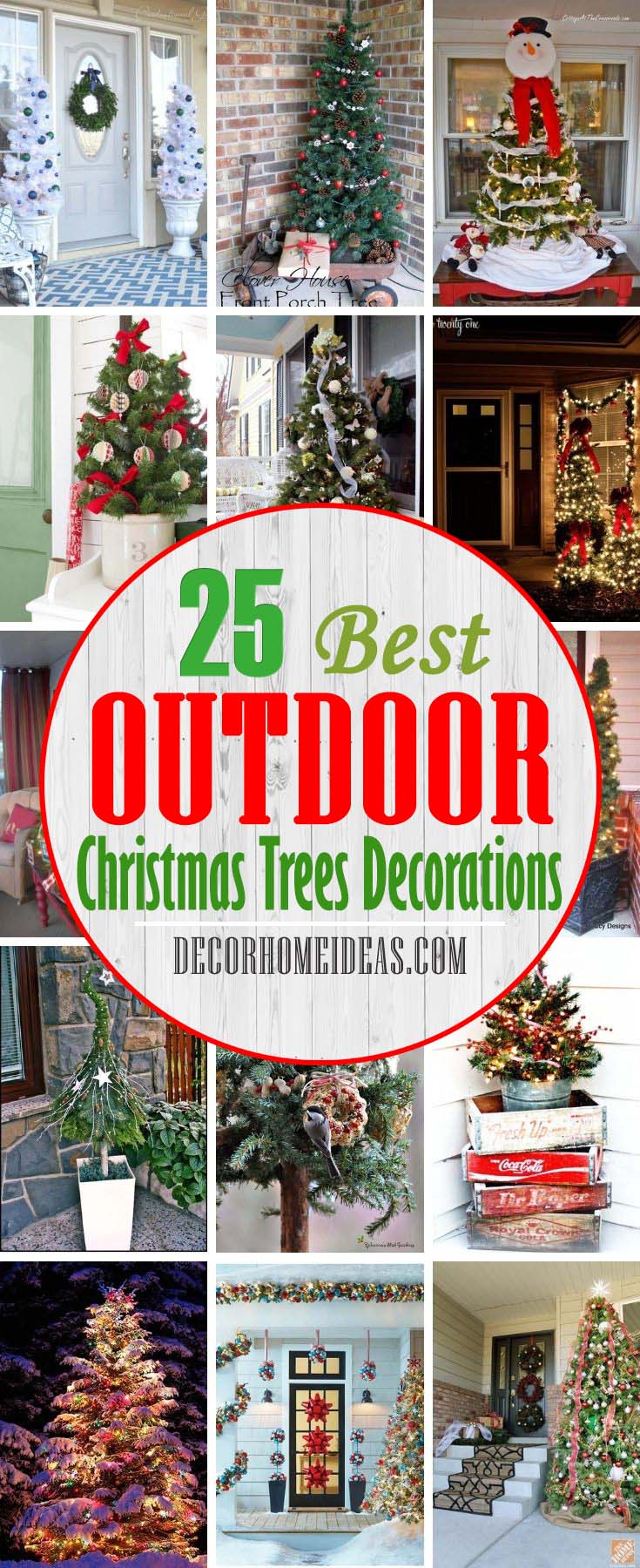 Whether you're dreaming of a tiny, potted front porch tree or you want to decorate the pine in your front yard, these gorgeous examples offer plenty of decorating ideas.
1. Transform Your Outdoor Trees with Festive Christmas Lights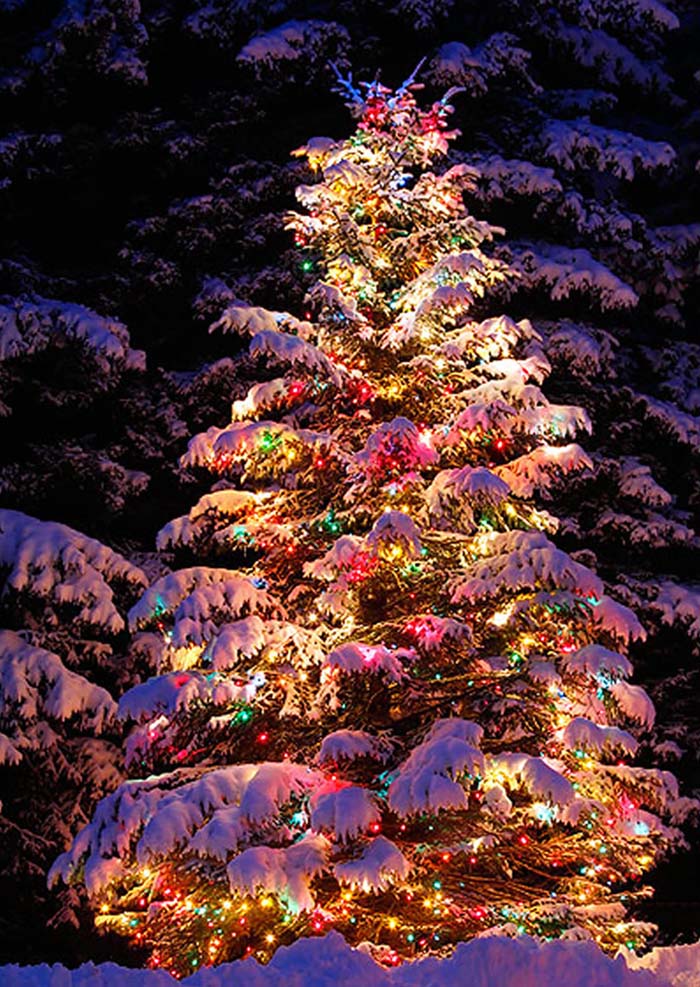 If you're lucky enough to have a real tree in your yard — whether it's pine or another variety — all you need is lights.
Wrap your tree in outdoor-safe Christmas string lights, and you'll have a tree that will delight the entire neighborhood.
Choose colors for a joyful look, or select white lights for an effect that looks great all winter long.
2. Add Festive Charm with Small Christmas Trees in Planters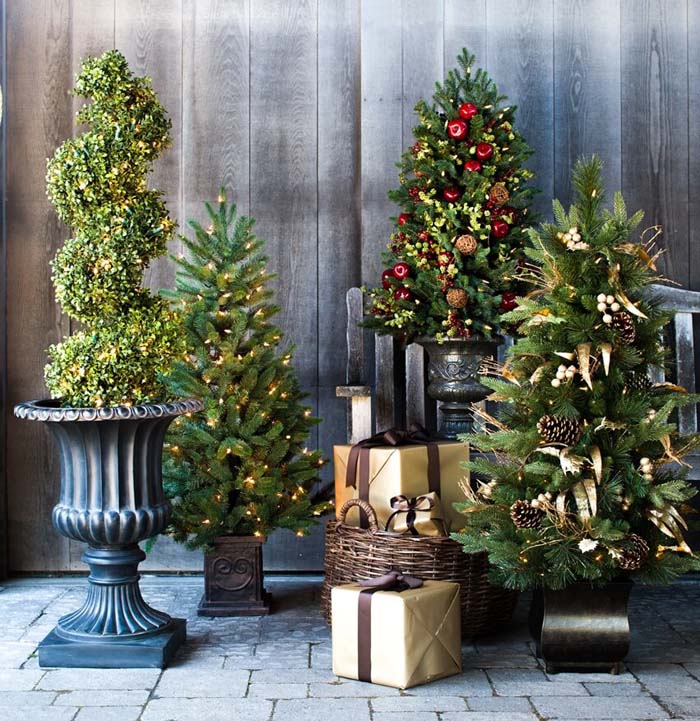 Do you have a few empty planters waiting around for the spring?
Break them out this winter to use with tiny Christmas trees.
Decorate the trees with lights, pinecones, or any sturdy plastic ornament. Set them on your front porch or use two to flank your front door.
via Balsam Hill
3. Create a Stunning Christmas Tree with a Tomato Cage

You'd never guess that this gorgeous Christmas tree is a DIY project that starts with a tomato cage.
The result is incredibly durable, so you can leave it outdoors in the snow or rain.
We love the simple red poinsettia ornaments and the simple red bow.
via Two Twenty One
4. Personalize Your Tree with Laminated Paper Ornaments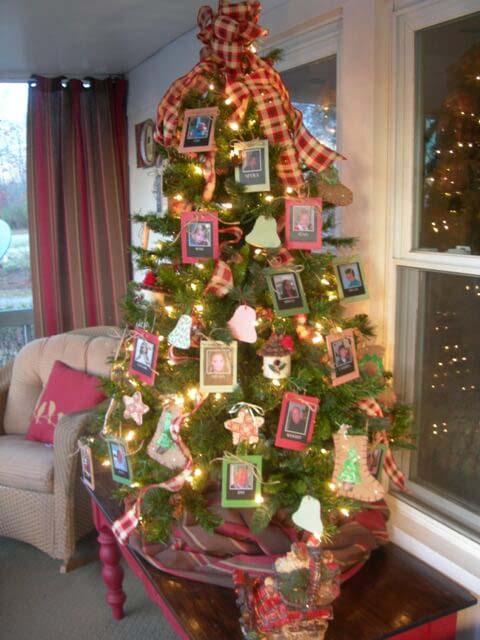 Paper ornaments are an easy option for outdoor trees — as long as you laminate them.
The thin layer of plastic keeps out moisture, so your adorable ornaments look lovely all through the holidays.
Here, a collection of adorable photo ornaments personalizes the tree.
5. Custom Kids' Artwork Laminated Star Ornaments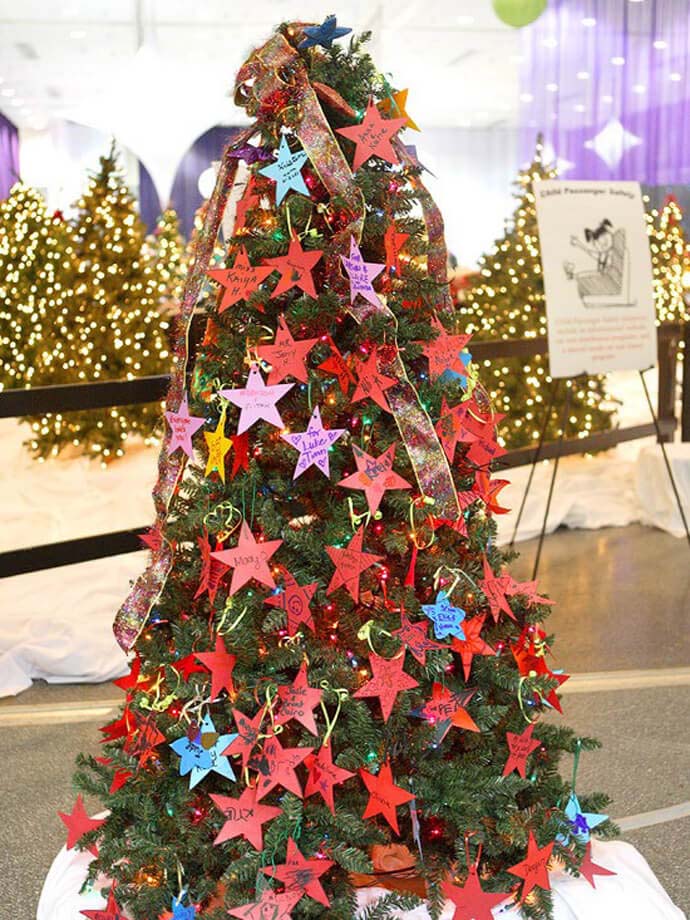 Here's another fun way to use laminated paper ornaments.
The tiny stars all feature custom kids' artwork; if you don't have children, decorate your own or simply leave the stars blank for a chic look.
The oversized stars look great from the steps or the road.
6. Enchant Your Home with a Mini Wonderland Tree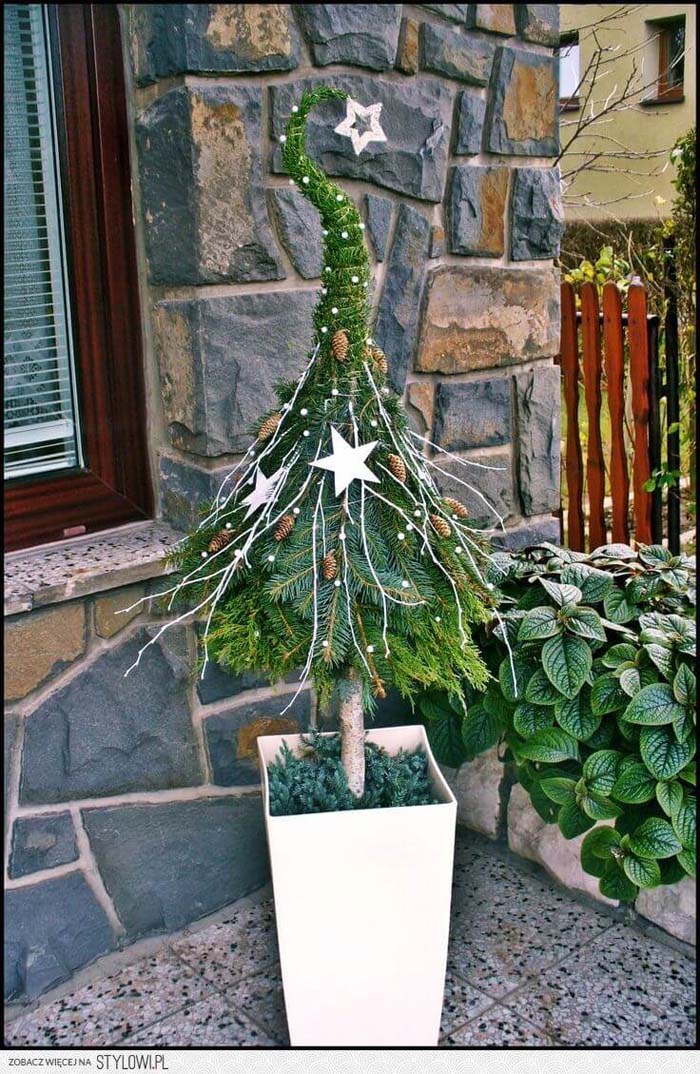 Greet your guests with a tiny, Wonderland-inspired tree.
The magic starts with the tip, which has been bound with a fishing line to create a whimsical curl.
Add a few Dr. Seuss-inspired branch ornaments, tiny pinecones, and charming stars.
7. Create a Magical Entrance with Lighted Christmas Trees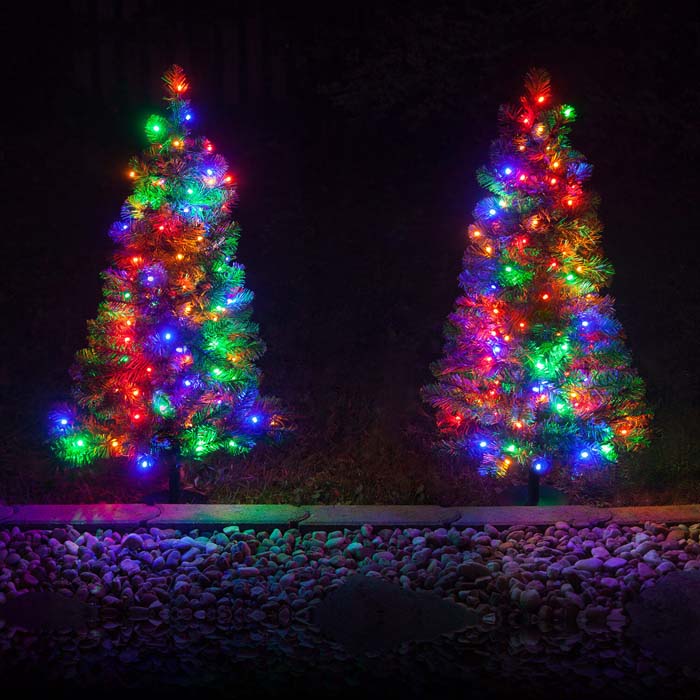 Capture the joy of the season by lining your front driveway or walkway with a row of lighted Christmas trees.
Affordable mini versions work just fine; cover them in rows of colored lights to create a truly magical entrance.
via Wayfair
8. Rustic Christmas Tree Perfect for a Farmhouse Porch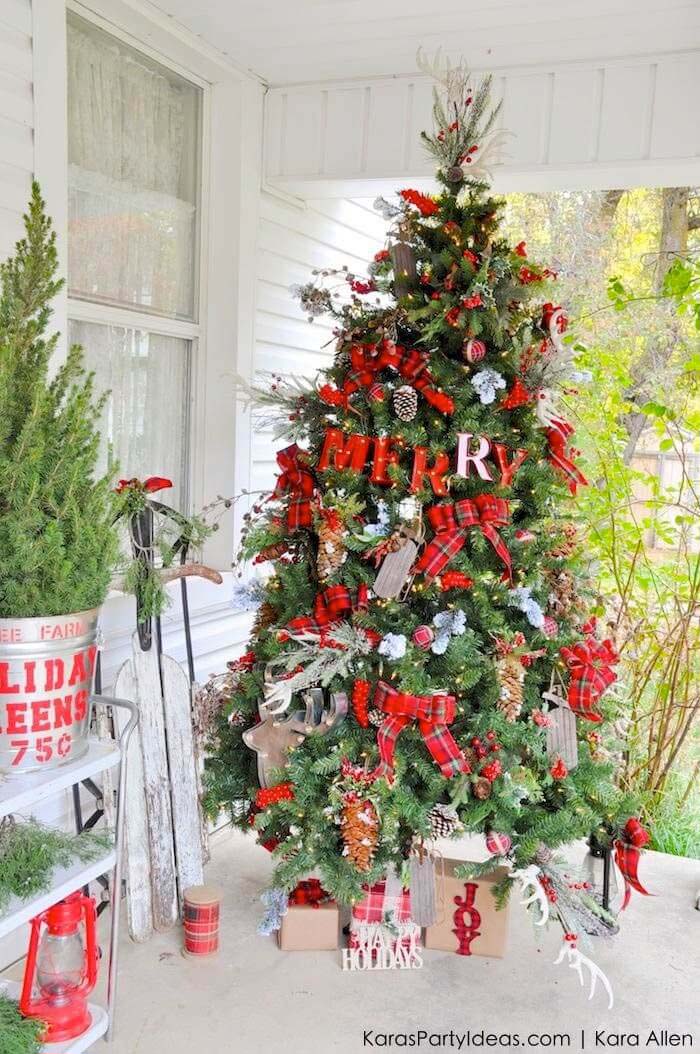 This spectacular rustic Christmas tree will make you smile every time you come home.
With its brilliant red color scheme and rustic textures, it's right at home on a farmhouse front porch.
Galvanized metal, pinecones, and faux berries are durable and beautiful.
9. Add an Elegant Monochromatic Touch to Your Christmas Tree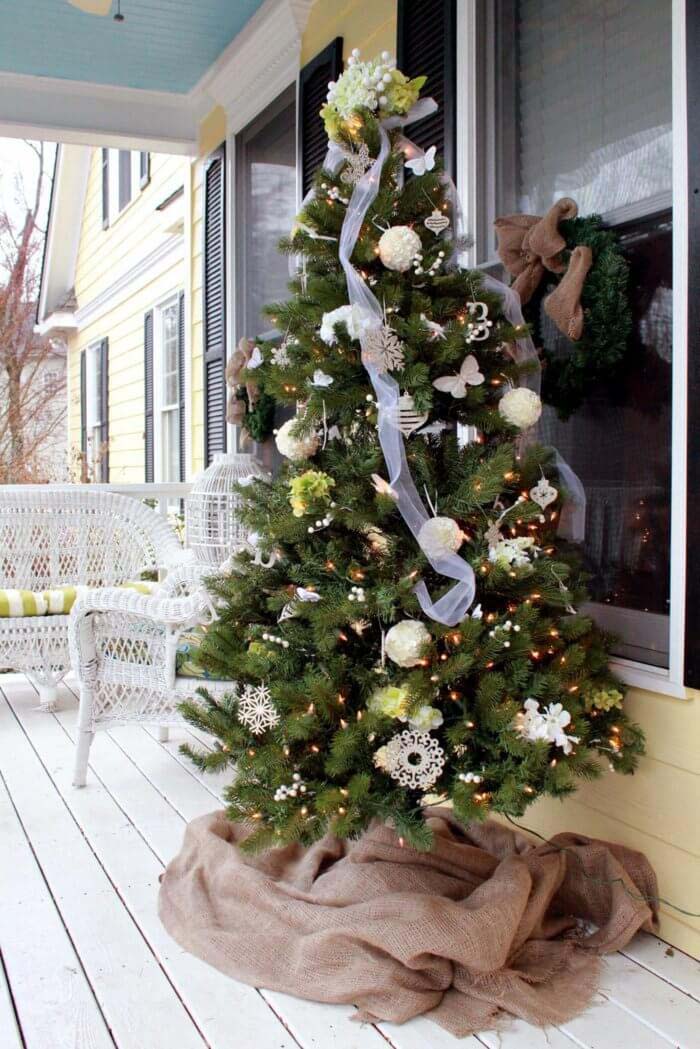 A monochromatic selection of ornaments is a sophisticated way to deck your outdoor Christmas tree.
Here, an all-white palette makes the green boughs pop.
In place of a tree skirt, simply wrap the base with folds of burlap for a rustic twist.
via Fresh Ideen
10. Create a Traditional Holiday Look with a Front Porch Tree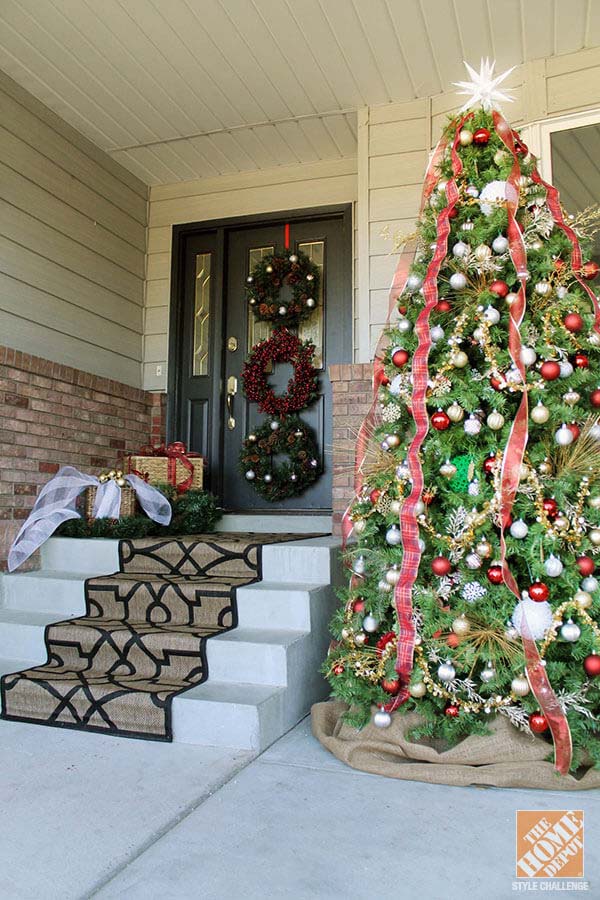 If your holiday style is traditional, this front porch tree is sure to be a hit.
To recreate it, all you need is a selection of classic Christmas balls, garland, and ribbon.
In cold climates, make sure to choose plastic ornaments that stand up to the cold weather.
via Home Depot
11. Spruce Up Your Entryway with a Welcoming Tree Display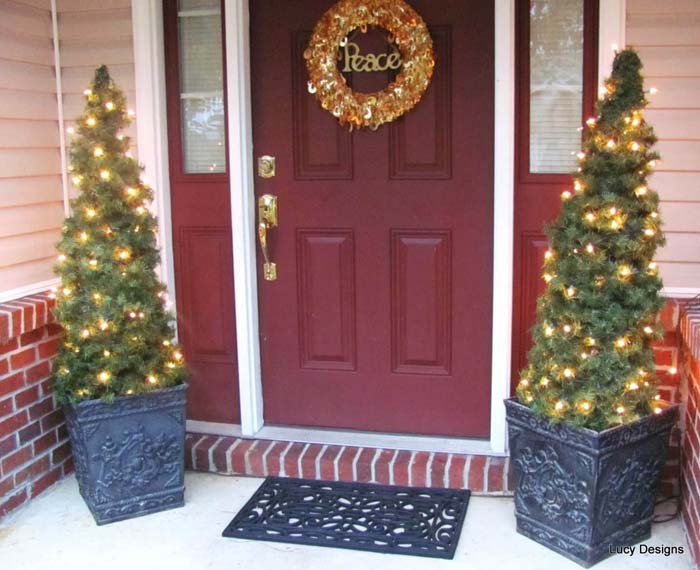 Simple yet impactful, this lovely display is a breeze to set up.
Two artificial trees fit neatly in sturdy outdoor planters, creating a festive way to frame your front door.
Add a few white lights, and you're ready to welcome holiday visitors.
12. Add Mid-Century Style with a Colorful Tree Display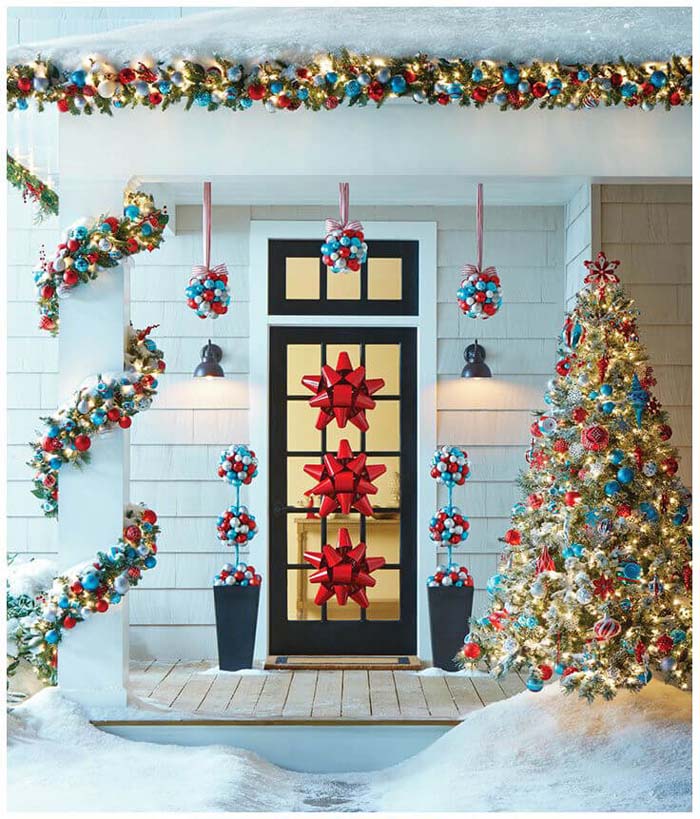 Mid-century modern style is all the rage, and this stunning outdoor tree display captures the vibe perfectly.
It's all about the unexpected red and blue color scheme, which brings retro charm to your home.
Pair your colorful tree with matching topiaries, hanging ornaments, and garland for an over-the-top design that will stop passersby in their tracks.
13. A Minimalist Winter Wonderland for Your Home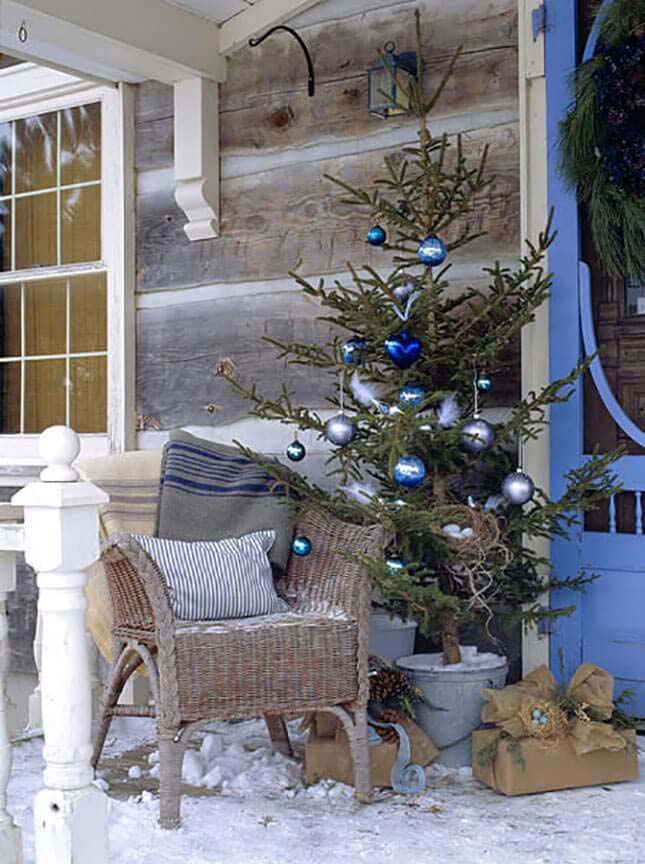 When the outside of your home is relaxed and welcoming, an imperfect tree is a perfect complement.
We love how this tree features a limited selection of ornaments in cool, icy colors. The effect is minimalist but still inviting.
via Brit Co
14. Create a Festive Front Porch with a Miniature Christmas Tree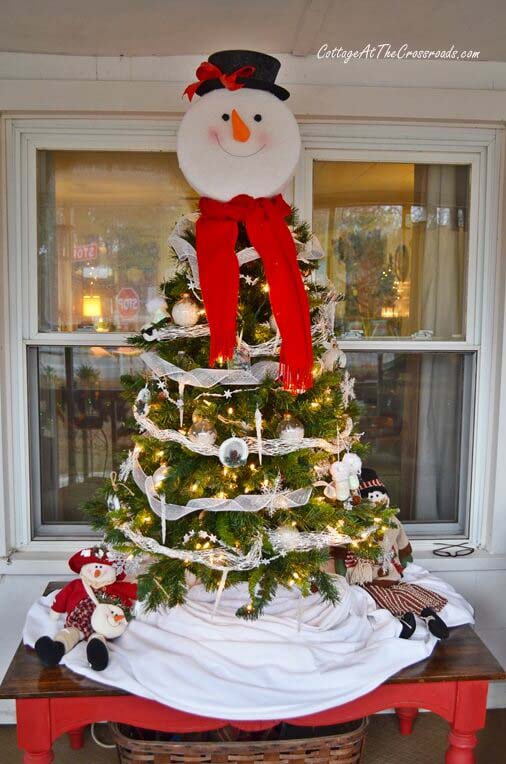 Make use of the table on your front porch by using it as the base for a miniature Christmas tree.
This adorable option replaces a traditional star with a snowman head and scarf, creating a cute hybrid that will bring joy to every visitor and delivery person.
15. Create an Enchanting Look with Trees of Different Heights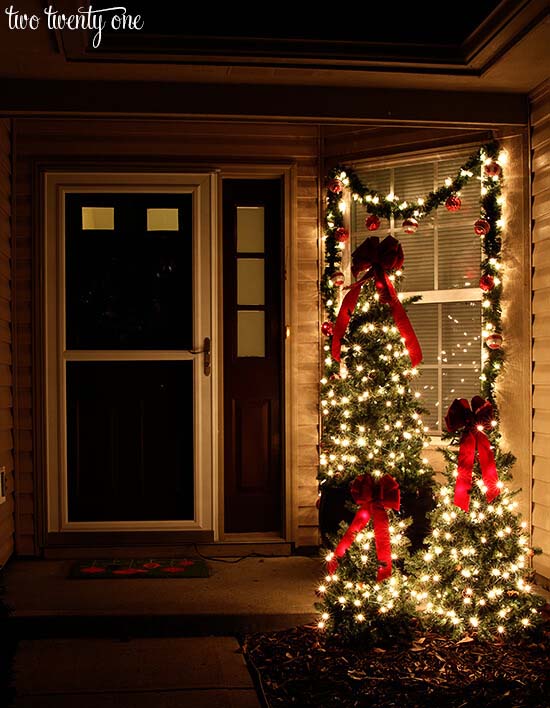 When it comes to powerful decorating, levels are everything — even when it comes to Christmas trees.
Here, three trees in different heights create an enchanting look that transforms the front of your home.
Don't worry about ornaments; white lights and red-ribbon bows are affordable and beautiful.
via Two Twenty One
16. Attract Songbirds to Your Tree with Birdseed Ornaments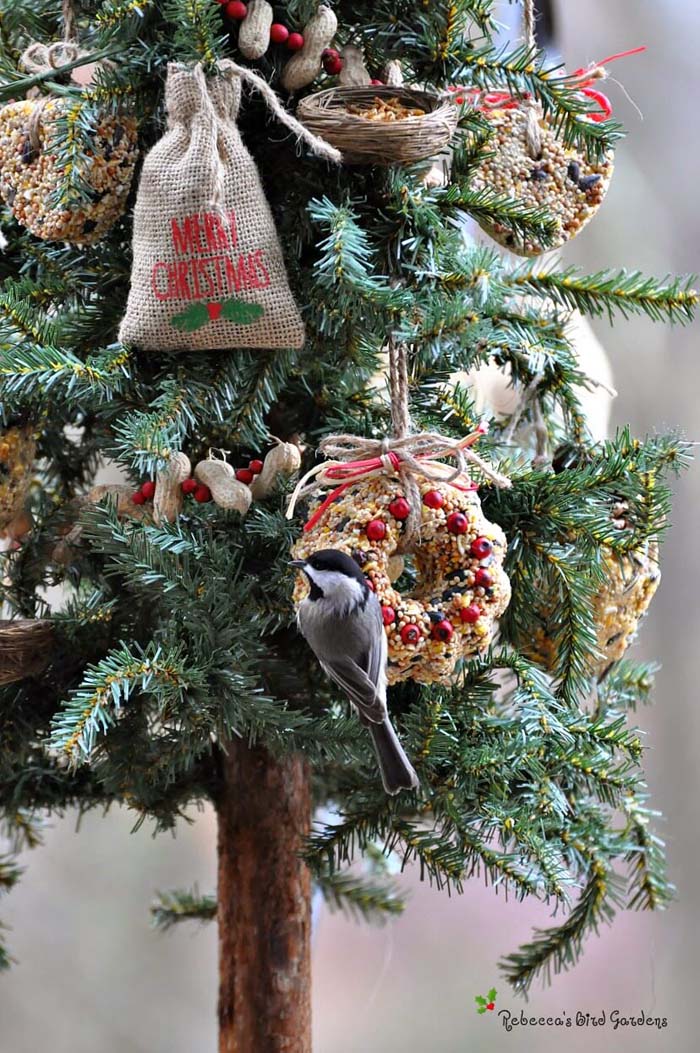 Does your yard attract tiny songbirds?
Give them a Christmas treat by decorating your outdoor tree with birdseed ornaments.
The substantial designs give the birds a place to perch as they snack. Make sure to put this tree near a window so you can keep an eye on the fun.
17. Cozy Up to a Colorful Christmas Tree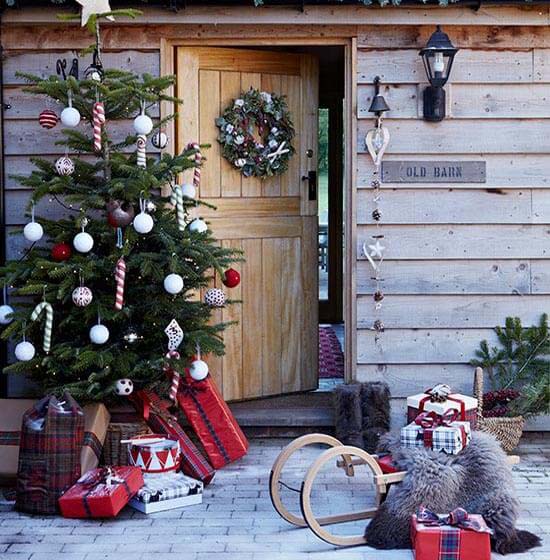 Imagine coming home to this lovely tree every day — the colors alone are sure to make you smile.
We love the natural, wild look of the branches paired with the large globes and candy canes.
It's the perfect addition to a cabin or farmhouse.
via Ideal Home UK
18. Embrace the Holiday Spirit with a Grand Outdoor Tree Display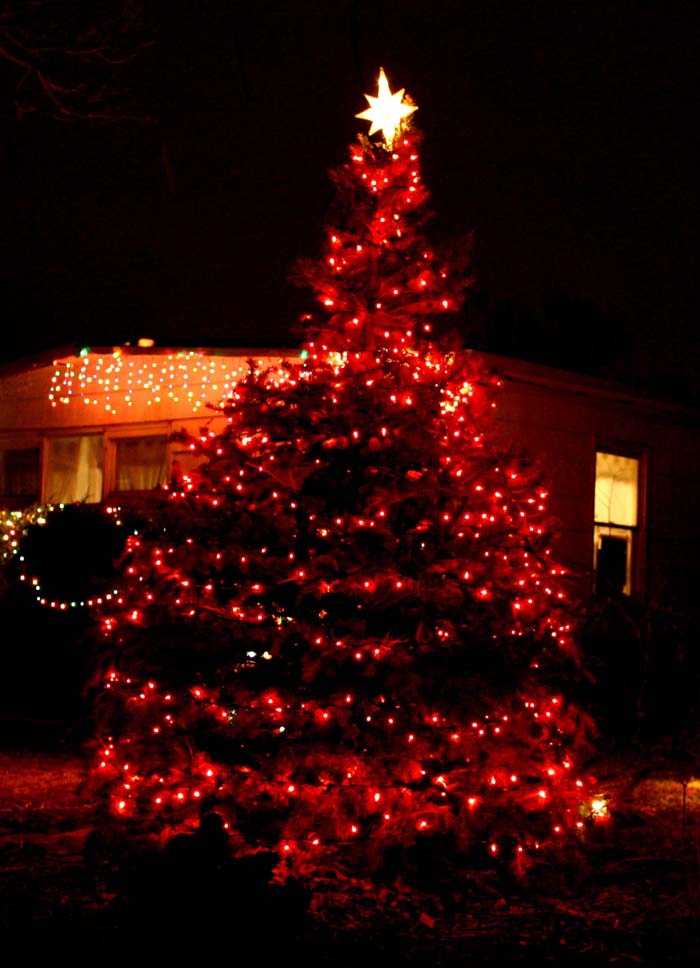 When it comes to an outdoor Christmas tree, you can never go too big.
Don't be afraid to decorate the biggest tree in your yard; just make sure to buy lots of Christmas lights.
An oversized star topper seals the deal.
19. Make a Statement with a Tiny Tree and Vintage Crates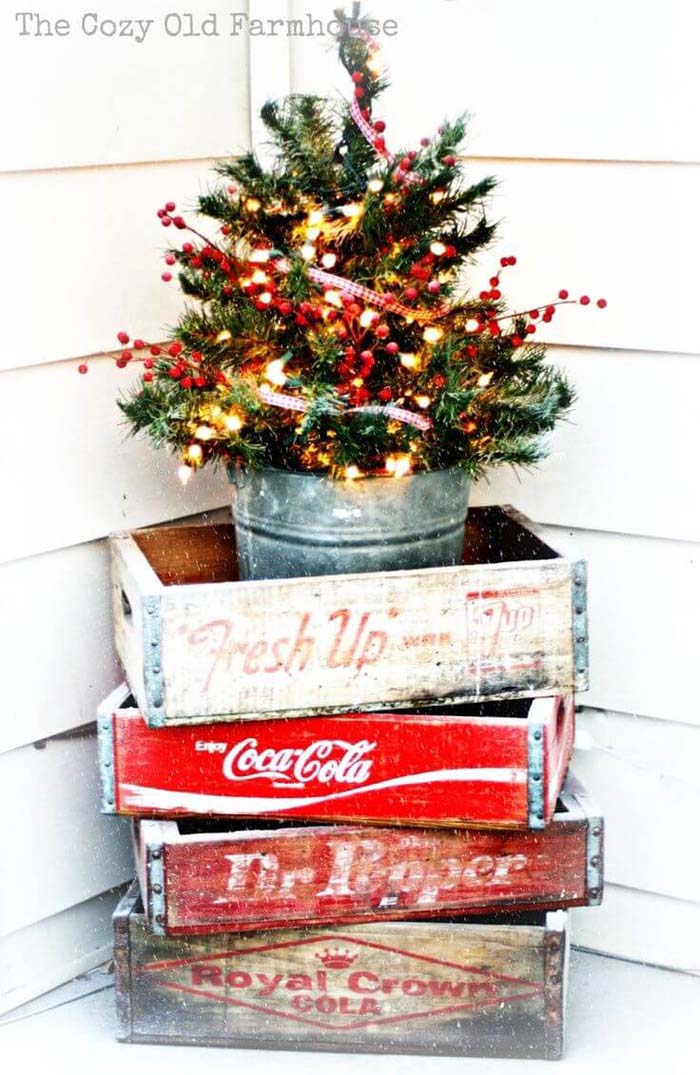 Prefer to go tiny? This impossibly adorable tree makes a big statement, thanks to the stack of vintage wooden crates stacked underneath.
It's perfect for a small porch or a city apartment.
Buy a pre-lit, pre-decorated version, or choose your own decorations for a few dollars.
via Country Living
20. Upcycle Unused Furniture into a Christmas Tree Stand Display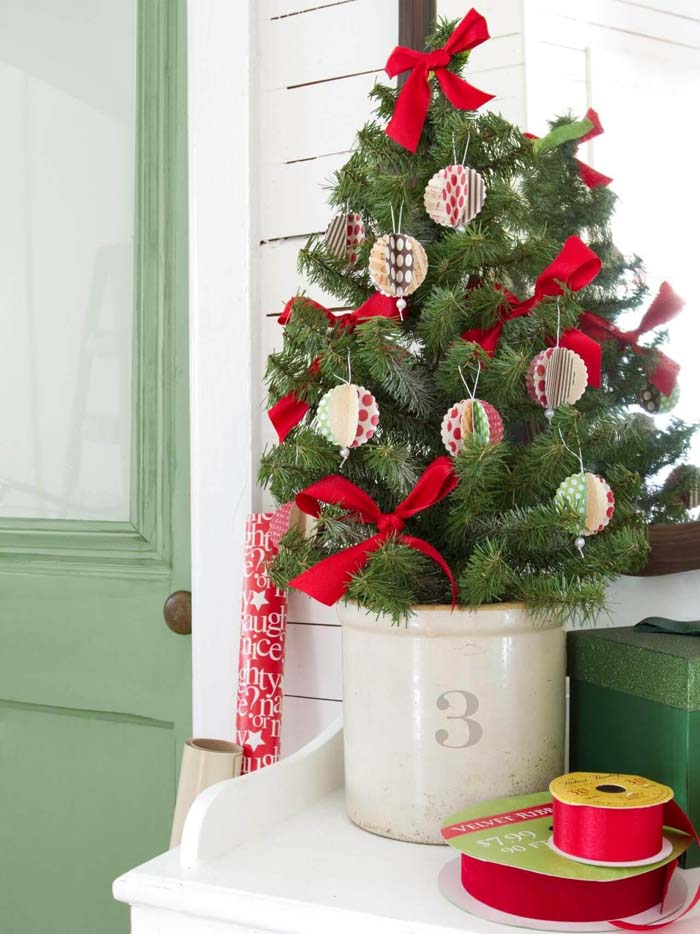 If you have a bench or table that goes unused during the winter, set it on your front porch and use it as a Christmas tree stand.
Here, an elegant planter elevates a simple miniature tree, and brilliant red ribbon bows add a vibrant pop of color.
21. Add Vintage Charm to Your Décor with a Rustic Wagon Display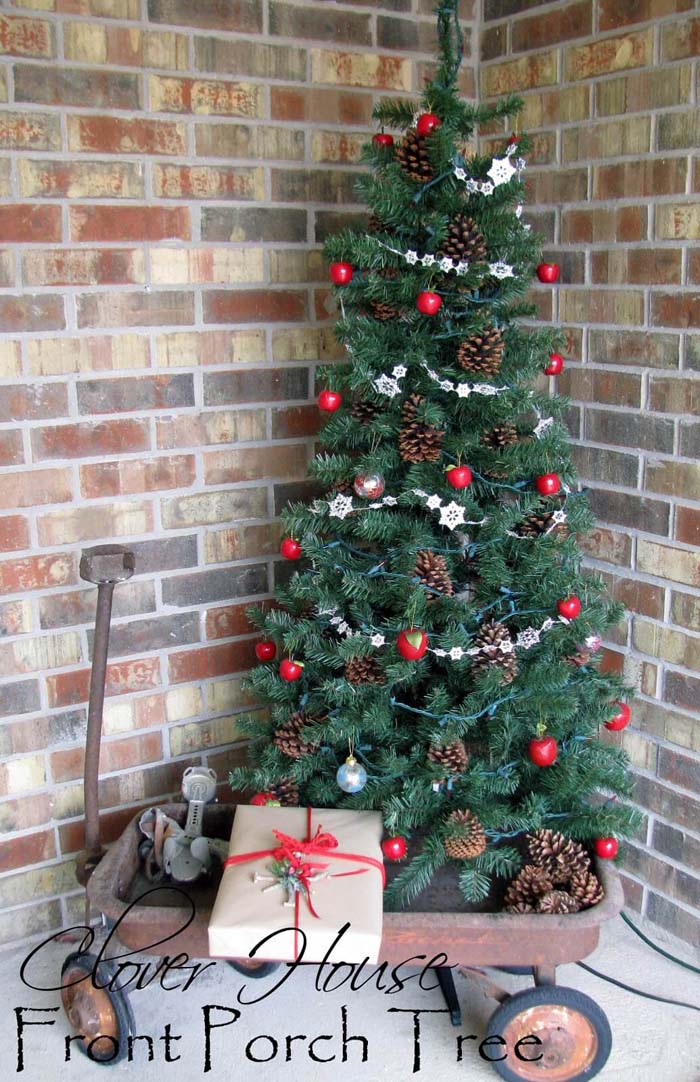 Step back in time with this sweet vintage wagon display.
The corrosion on the wagon accentuates its age — it also plays beautifully next to the rich green colors in the Christmas tree.
Pile in a few pinecones or a wrapped gift for extra fun.
via Clover House
22. Elevate Your Christmas Décor with White Trees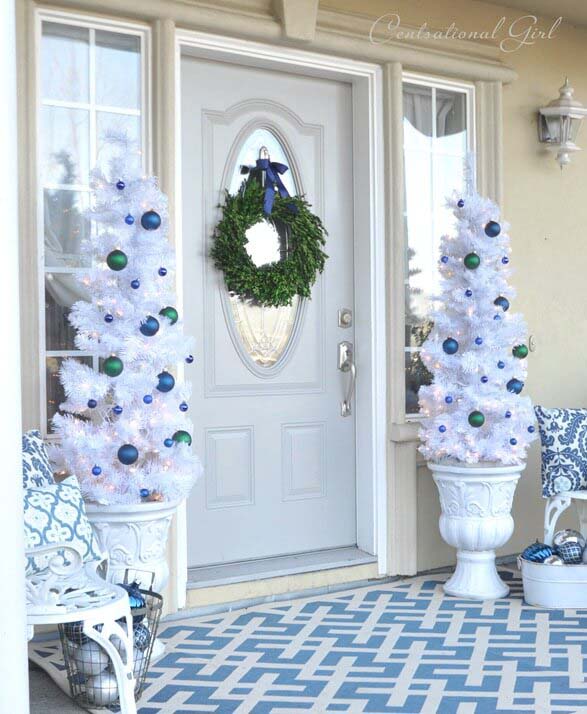 Looking for a modern take on Christmas decor?
White trees make a big, contemporary statement.
We love how the homeowner has paired them with blue and green ornaments for a look that's festive and completely unexpected.