Do you have a cake stand that rarely sees the light of day?
This Christmas, take your beautiful stand out of the cupboard and turn it into part of your holiday decorations.
Whether you're working with one stand or three, an elegant cake stand makes a beautiful base for a festive display.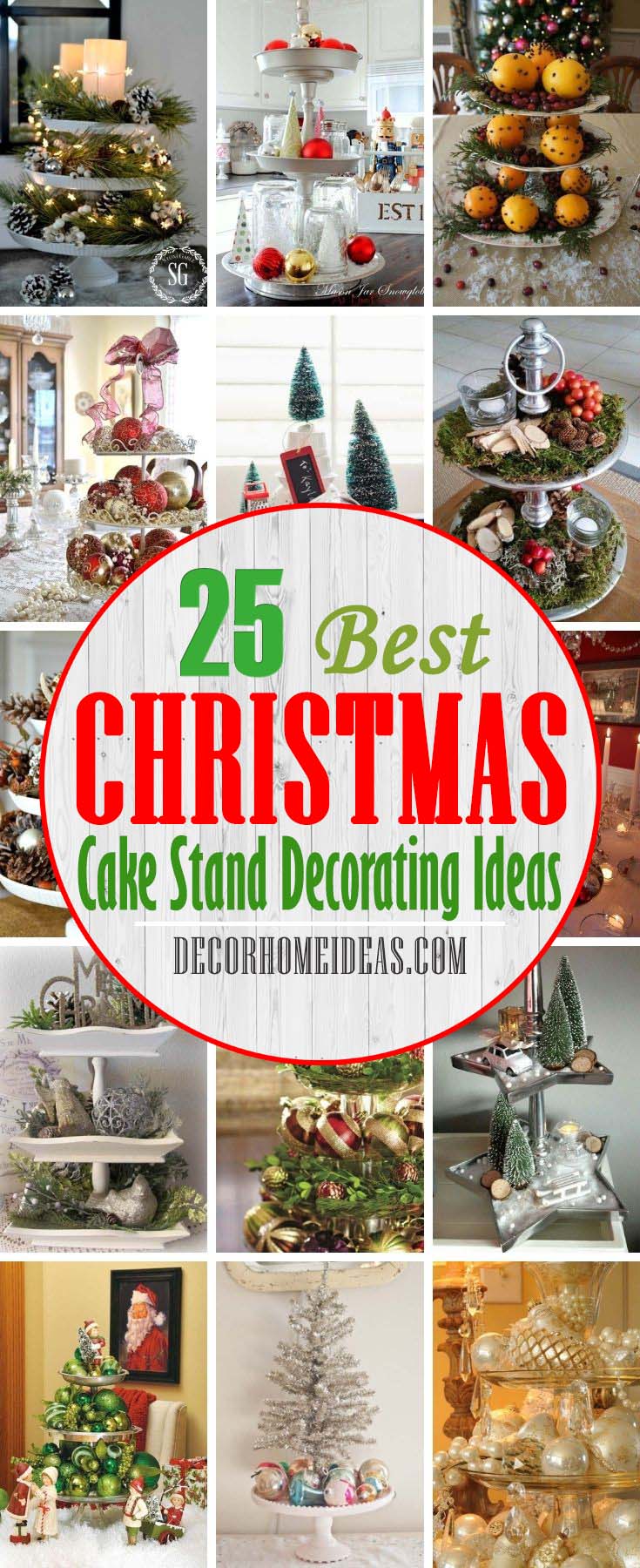 1. Create a Festive Aroma with Clove-Spiked Oranges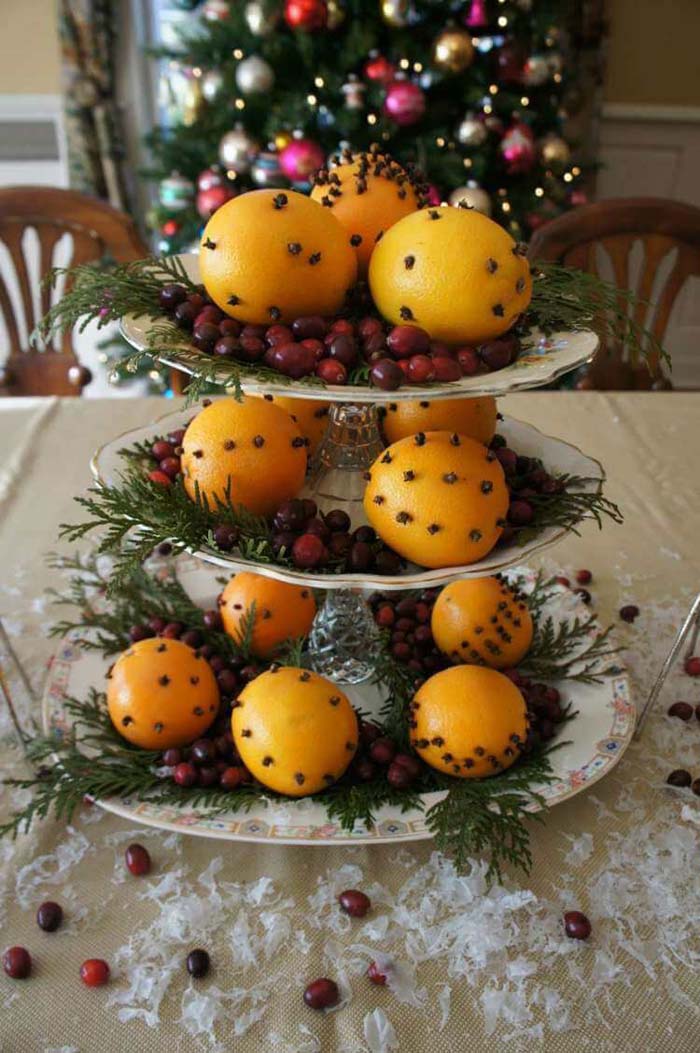 Fill your house with a gorgeous aroma by filling your cake stand with clove-spiked oranges.
These traditional Christmas oranges, which are also called pomanders, create a delightful blend of citrus and spice.
As the week progresses, the oranges dry out, turning into natural air fresheners by the end of the holidays.
2. Create a Natural and Traditional Christmas Display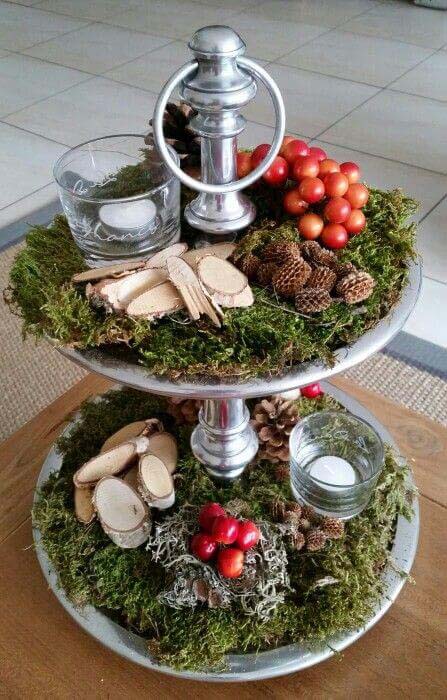 If you're looking for a natural, traditional Christmas display, look to elements found in nature.
Here, a two-tiered cake stand holds a stunning display of moss, pine cones, berries, and small slices of wood.
Don't worry if you can't find the exact items; pine boughs work just as well. Add a few candles for a twinkling touch.
3. Classic Christmas Décor with Pine Boughs and Holly Leaves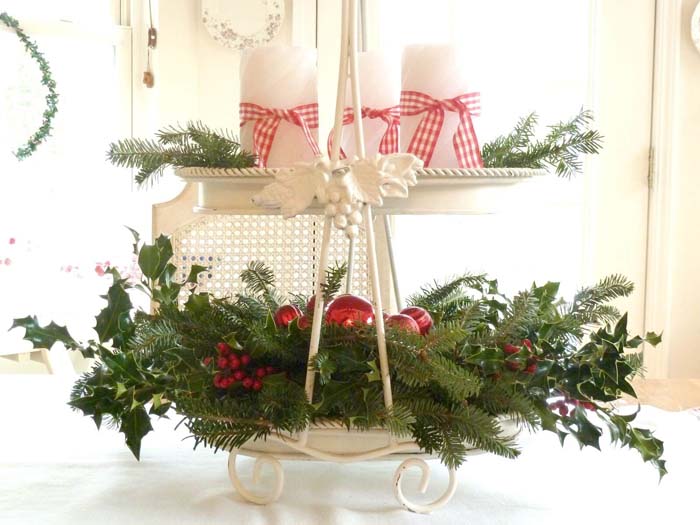 Nothing says Christmas quite like pine boughs and holly leaves. Put them together, and you have the perfect thing to top your cake stand.
We love how the red Christmas ornaments bring out the color of the berries for a classic decoration that fits in vintage and contemporary homes.
4. Easy Festive Centerpiece for Your Christmas Party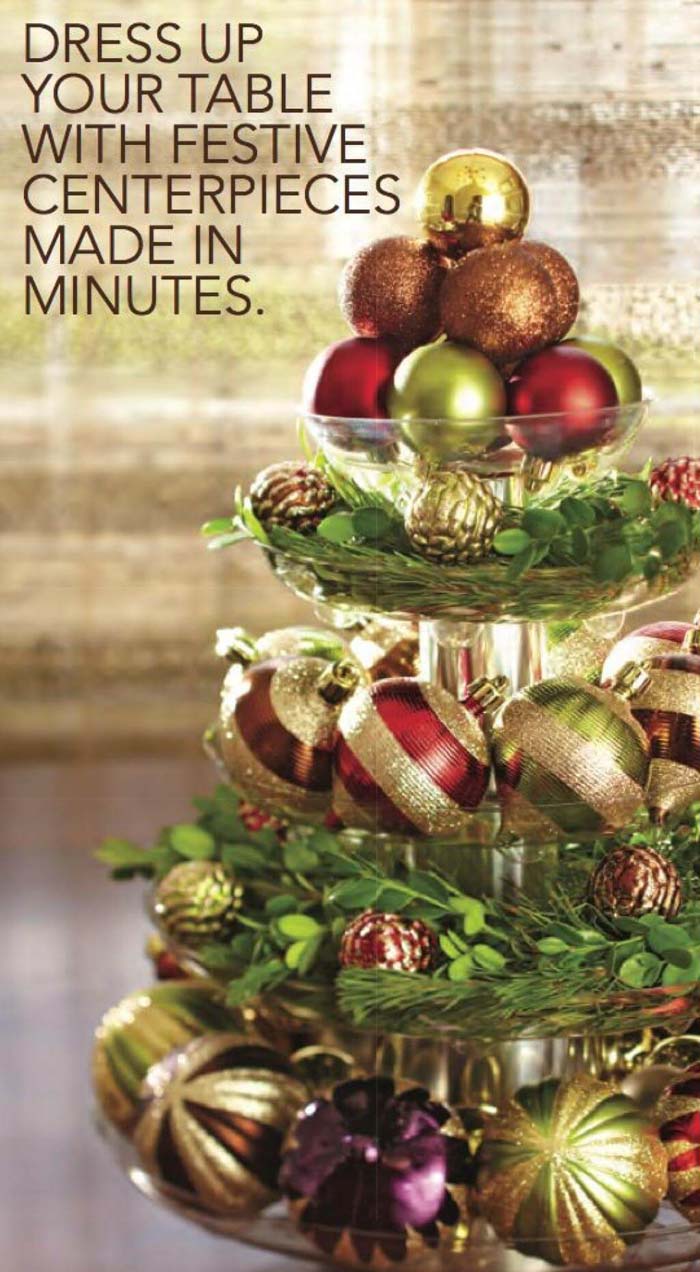 Are you hosting a Christmas party or dinner this year?
Turn a multi-tiered cake stand into a stunning centerpiece with a few simple items.
Boxwood greenery, pine branches, and a selection of ornaments take any buffet or dessert table to the next level. The best part?
You can put this piece together in less than 30 minutes.
5. Festive Holiday Centerpiece with Red, Green, and Silver Accents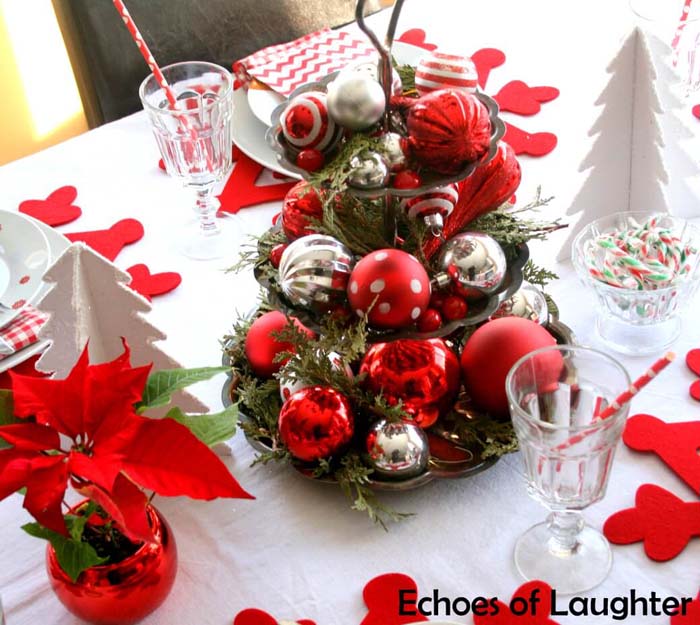 Bring a sparkling twist to your red and green decor theme with the addition of silver.
To make this eye-catching centerpiece, all you need is some cedar boughs — or any type of greenery you can find outside.
Add a pile of red and silver ornaments to create a centerpiece that your guests will love.
6. Create a Glittering, Glamorous Christmas Cake Stand Display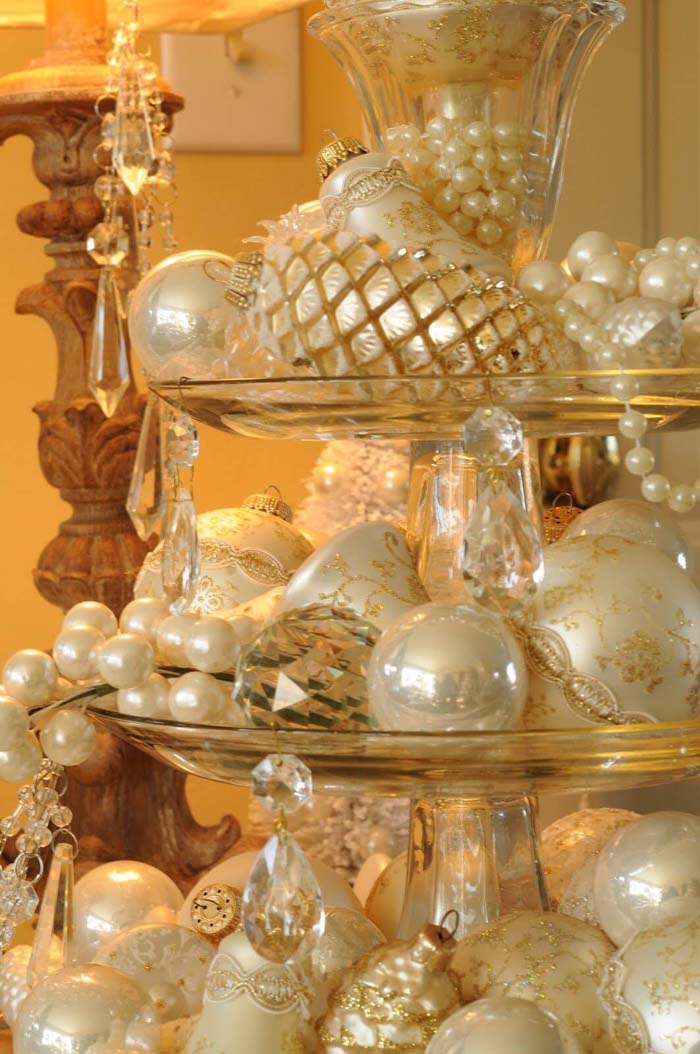 Go glam this Christmas with an over-the-top cake stand display.
The secret is to use ornaments and garlands with a similar color scheme and high-impact finishes.
Here, the combination of gold and pearl finishes, plus a few crystals and a hefty dose of glitter, create a centerpiece that's chic and sophisticated.
7. Capture Vintage Charm with DIY Snow Globe Decorations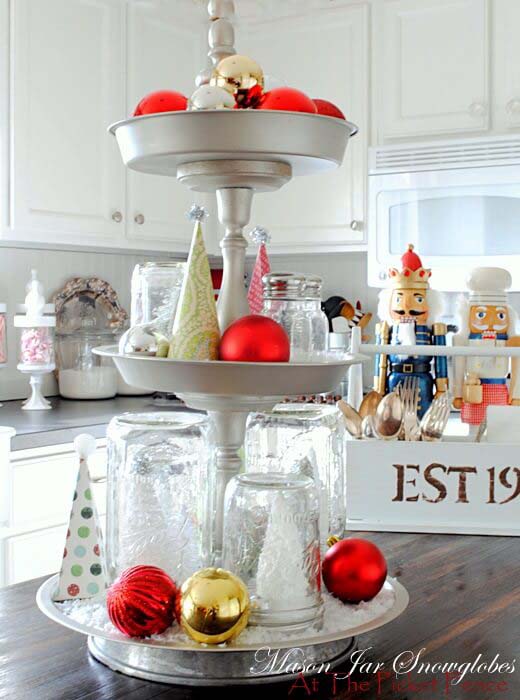 Capture the vintage charm of snow globes by making your own out of snow globes.
We love how this massive three-tiered cake stands pairs DIY globes with simple ball ornaments for a surprising luxe effect.
If you want a bit more color, add a few paper-cone trees.
8. Eye-Catching Cake Stand Display with Kitchen Essentials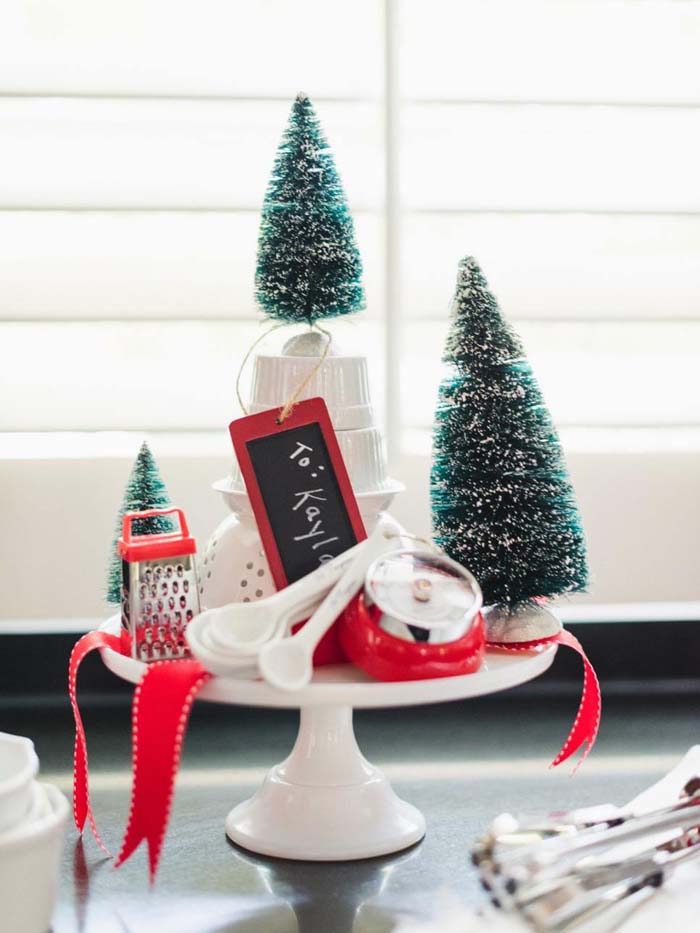 The simplicity of this cake-stand display is magnetic — it's hard to look away.
Look closer, and you'll see that most of the items are pieces you have on hand already: tiny dishes, a colander, measuring spoons, and a miniature grater.
The sweet bottle-brush Christmas tree and red ribbon complete the elegant culinary theme.
via HGTV
9. Unearth the Beauty of Nature with a Touch of Gold and Silver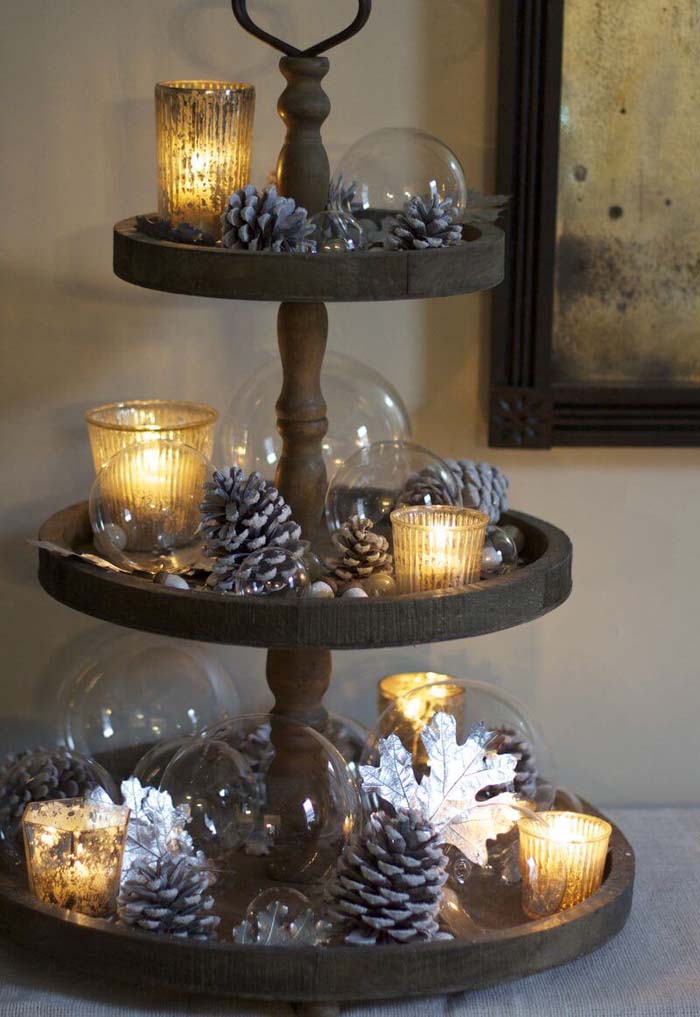 Do you love the natural beauty of pine cones and leaves?
Elevate them with a coat of silver spray paint and set them on a cake stand.
Here, golden candles and lovely clear balls add an unexpected combination of style and texture for a beguiling result.
via Urban Comfort
10. Make a Statement with Monochromatic Christmas Décor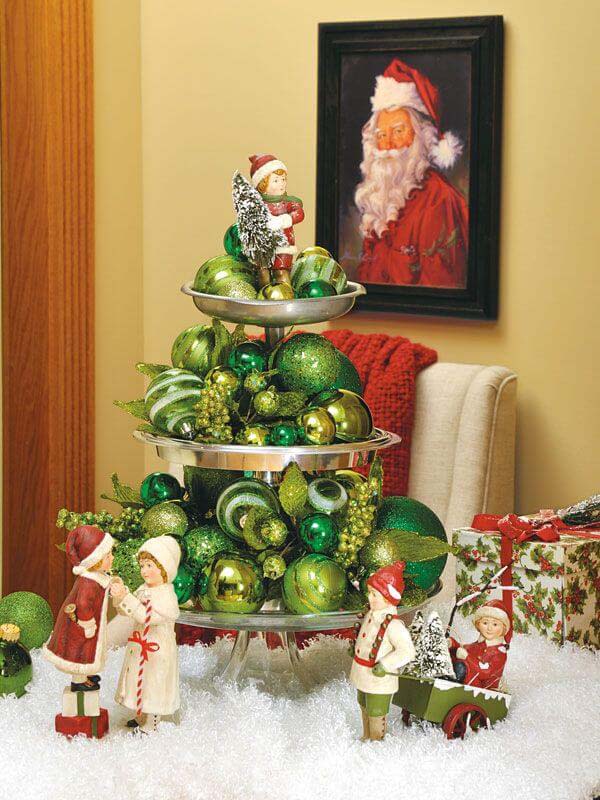 If you're new to Christmas decorating, keep one thing in mind: you can't go wrong with a monochromatic arrangement.
Here, a collection of gorgeous green vintage ornaments is all you need to turn a simple cake stand into a masterpiece.
11. Retro-Inspired Tinsel Tree Décor for Your Cake Stand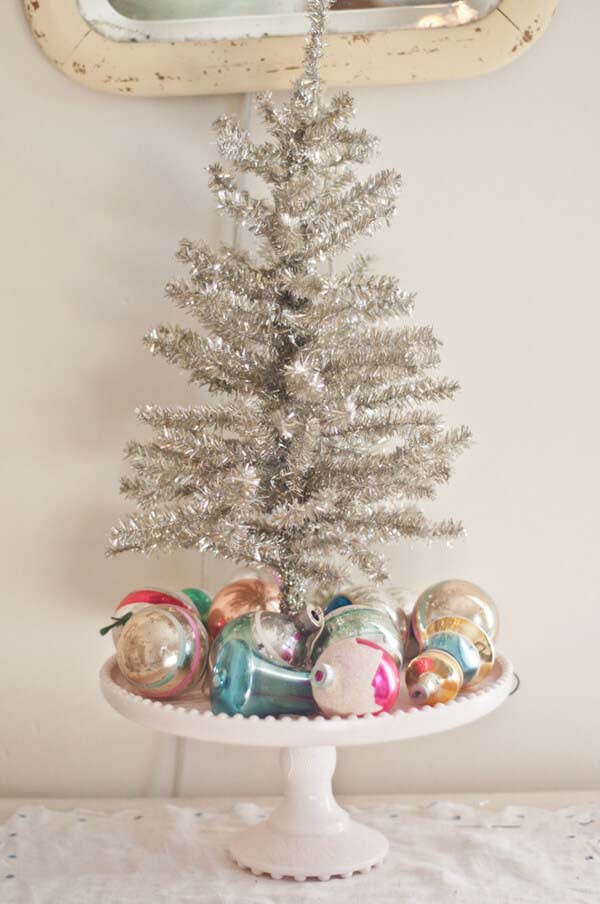 Give your decorations a retro spin this year by topping your cake stand with a miniature tinsel Christmas tree.
Every time the light hits it, the tree will sparkle dramatically.
Take the vintage look to the next level by covering the base of the tree in a bed of pastel-colored ornaments.
12. Rustic Christmas Display with Galvanized Steel Cake Stands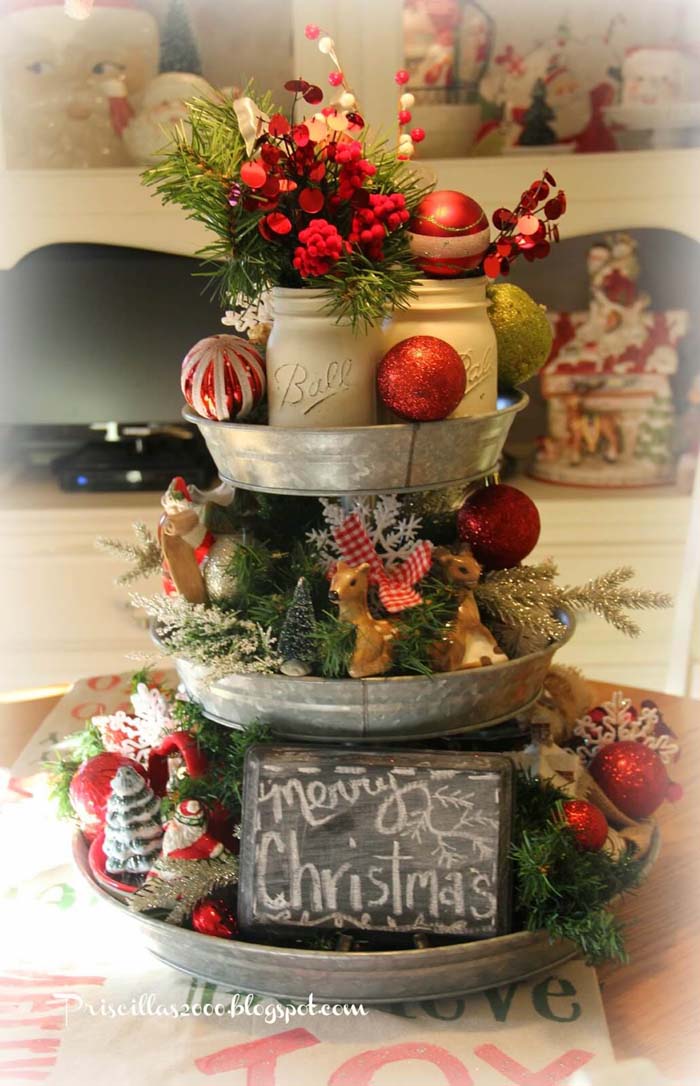 Do you have a rustic cake stand made from galvanized steel?
Amp up the rustic vibe by filling the stand with traditional Christmas decorations.
A pair of Mason jars coated in milk paint make a fun addition to a timeless display.
via Priscillas
13. Craft Your Christmas Décor with Natural Elements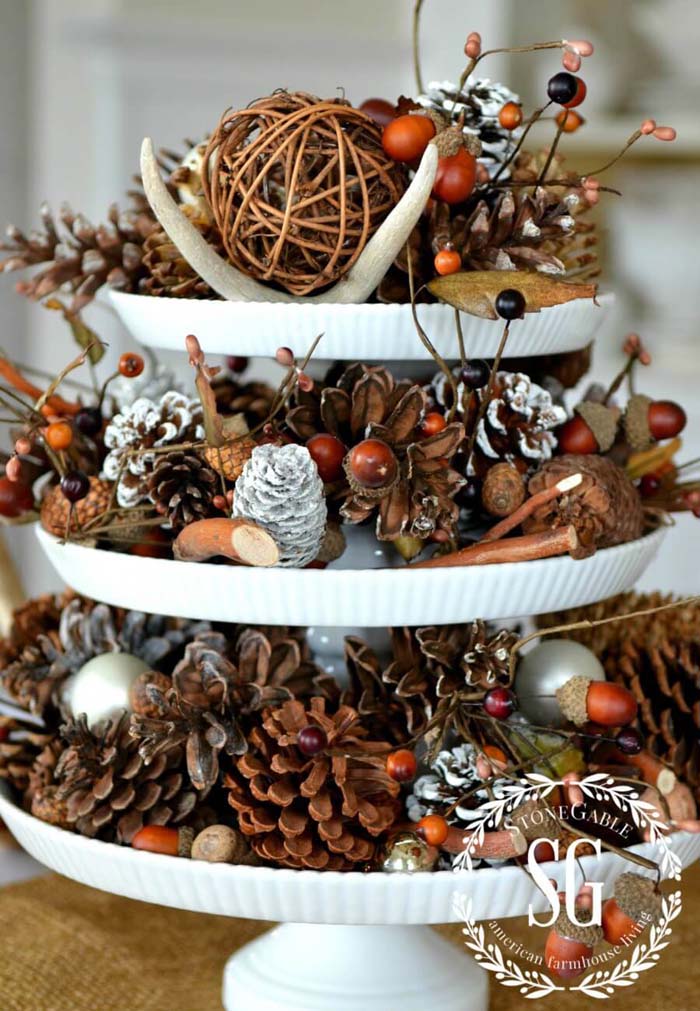 Spectacular Christmas decorations don't have to cost a penny — all you need is a bit of creativity.
Head out into your backyard to gather all of the lovely natural items you can find.
Pinecones, acorns, twigs, leaves, and dried berries all look lovely together.
Use white paint to frost a few of the pine cones and bring a wintry color variation.
via Stone Gable
14. Elegantly Accent Your Cake Stand with Matching Ornaments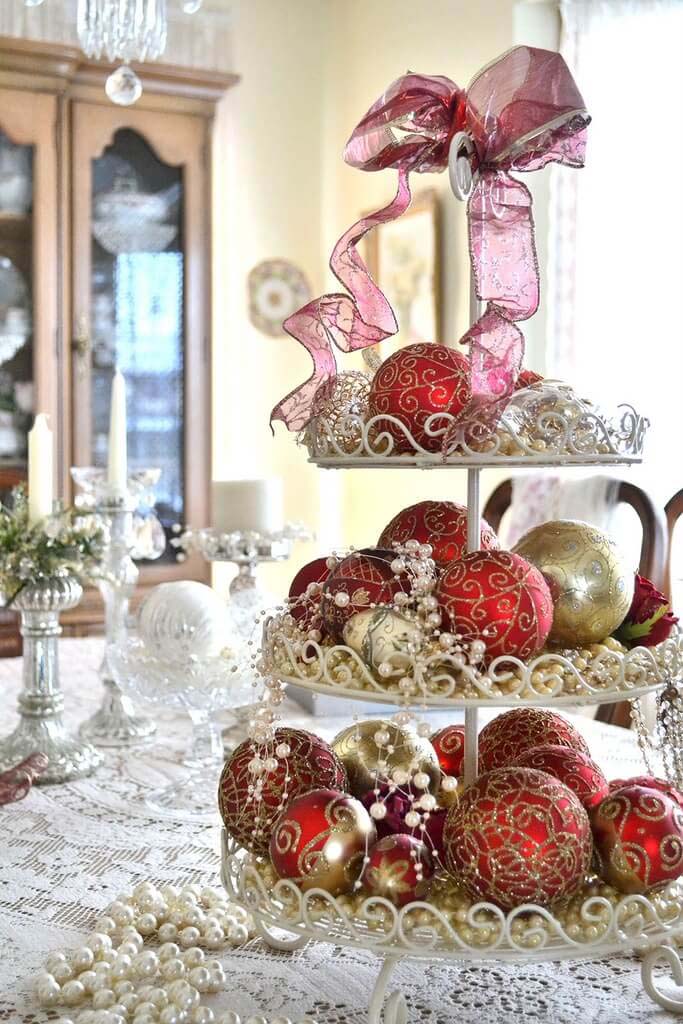 If your cake stand features elegant scrollwork accents, lean into the opulent look with matching ornaments.
Glittering scrolls echo the stand's edges, creating a piece that looks like a cohesive designer display.
If you can find them, scatter a handful of pearls on each tier for a feminine effect.
via Pop Culture and Fashion Magic
15. Enchant Your Home with a Timeless Cake Stand Decoration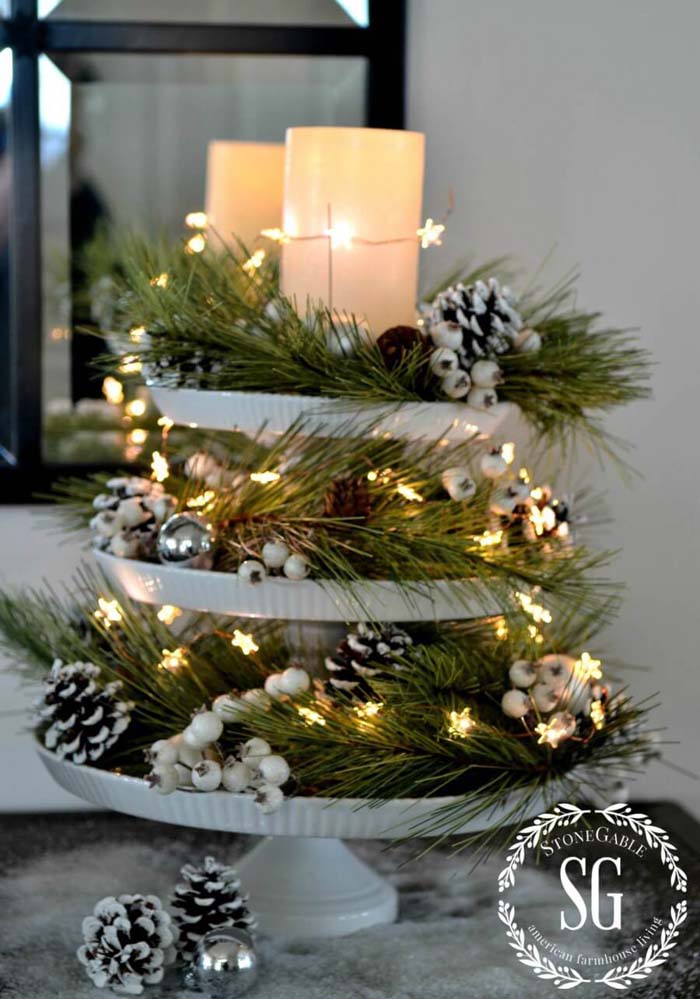 This timeless cake stand decoration fits into any home.
That's because it uses accents that look great in every setting: pine garland, frosted pine cones, and white berries.
Tiny star lights add a magical twinkle that supplements the glow from a battery-operated candle.
via Stone Gable
16. Vintage Decoupage Cake Stand with Faux Snow Accents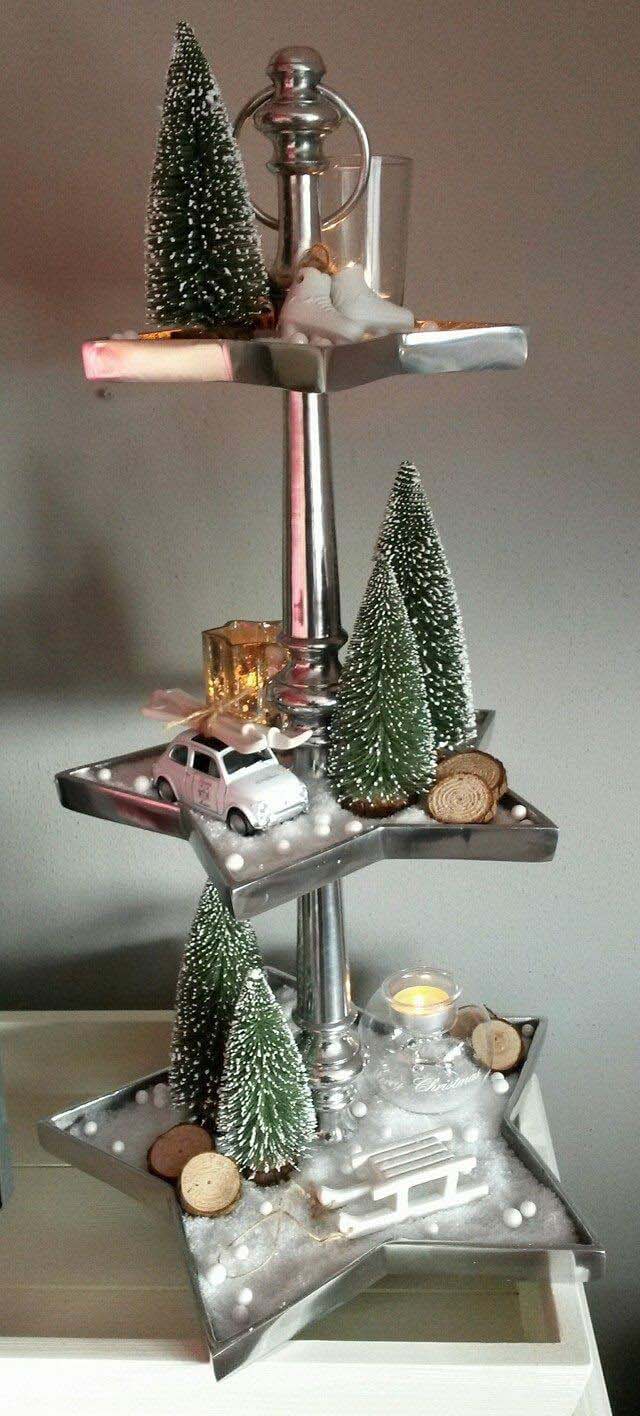 The shape of this cake stand is the star of the show — a collection of vintage decorations highlight the unique design.
If you look closely, you'll see a bed of faux snow that unifies each tiny accent.
17. Adorn Your Cake Tray with Refined Boxwood Wreaths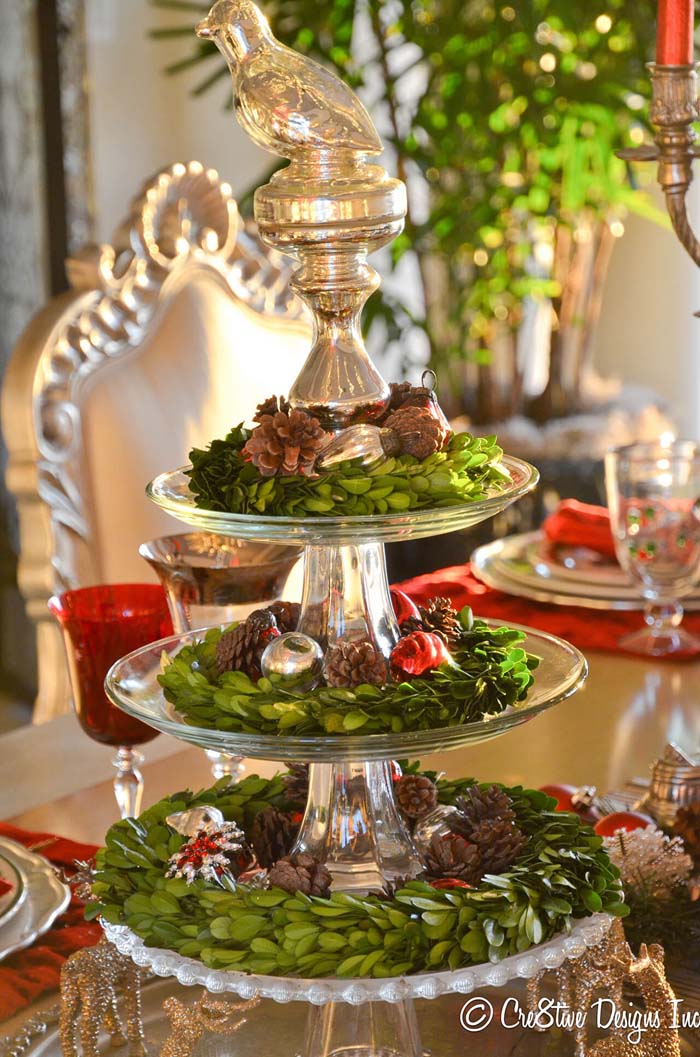 Boxwood wreaths are a sophisticated and contemporary alternative to pine or cedar.
Here, three wreaths decorate the tiers of a stunning cake tray.
Use boxwood as a standalone piece, or add tiny pine cones and ornaments for a pop of color.
via Cre8tive Designs
18. Create an Unforgettable Impression with a Tall Cake Tray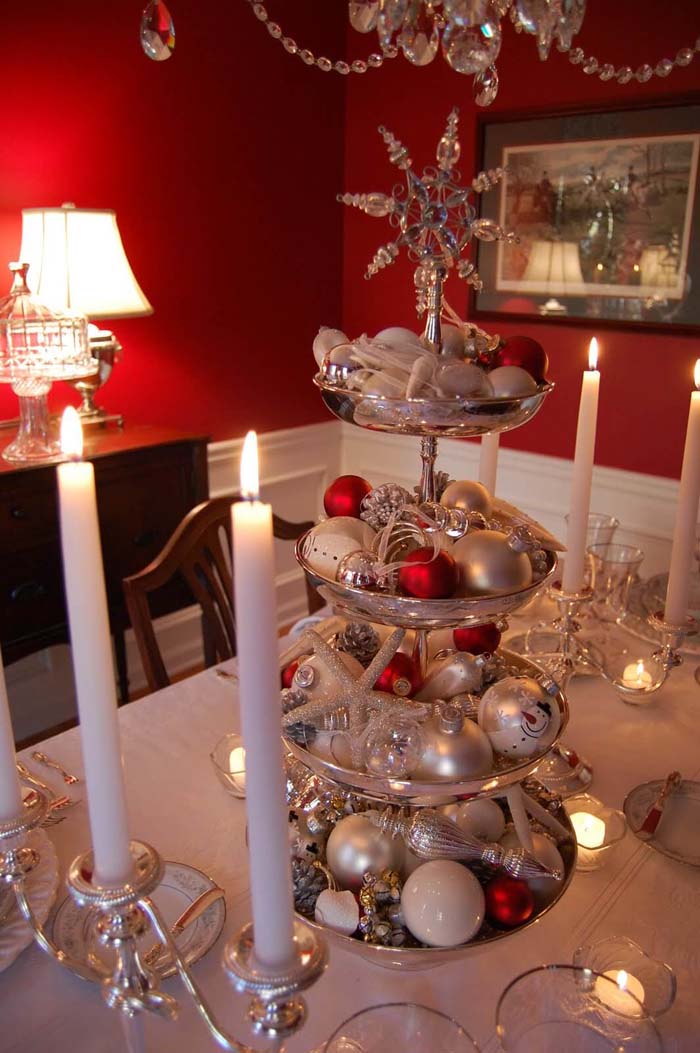 When you're looking to make a big impression, a tall cake tray is a perfect solution.
We love how each tier is overflowing with spectacular silver and red ornaments; your guests will adore examining the different designs throughout the meal.
19. Showcase Heirloom Ornaments with a Silver Cake Stand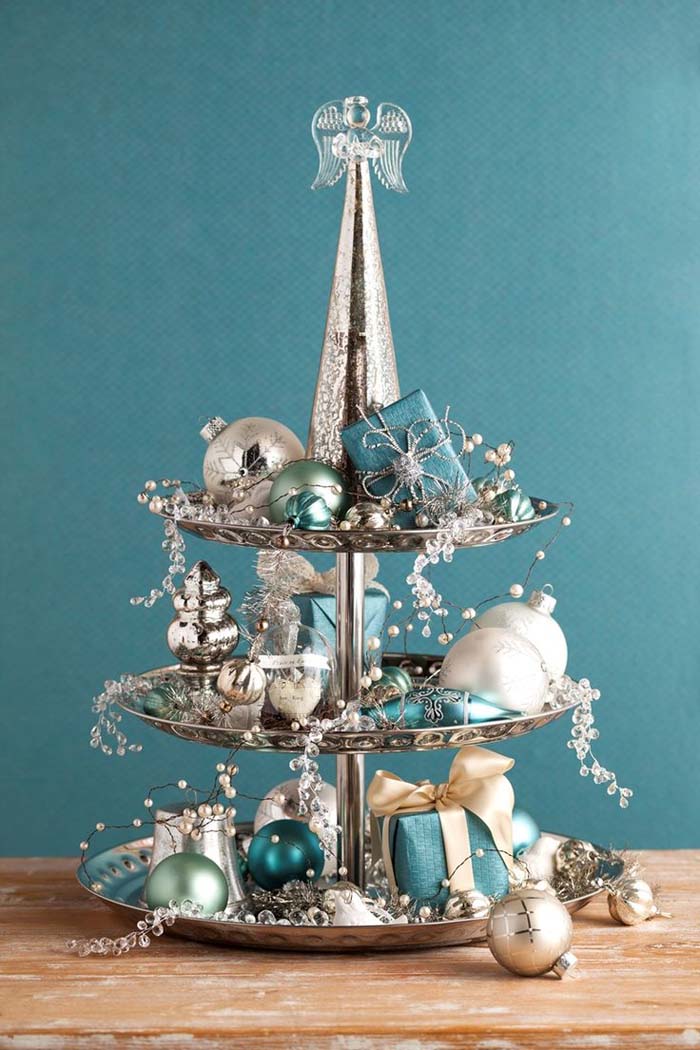 Do you have heirloom ornaments?
Display them prominently this season on a silver cake stand. As you can see here, a limited color palette creates a chic and stunning effect.
This is a fantastic way to decorate a hallway table or accent your Christmas dessert buffet.
20. Create a Luxurious Cake Stand with Dollar Store Accents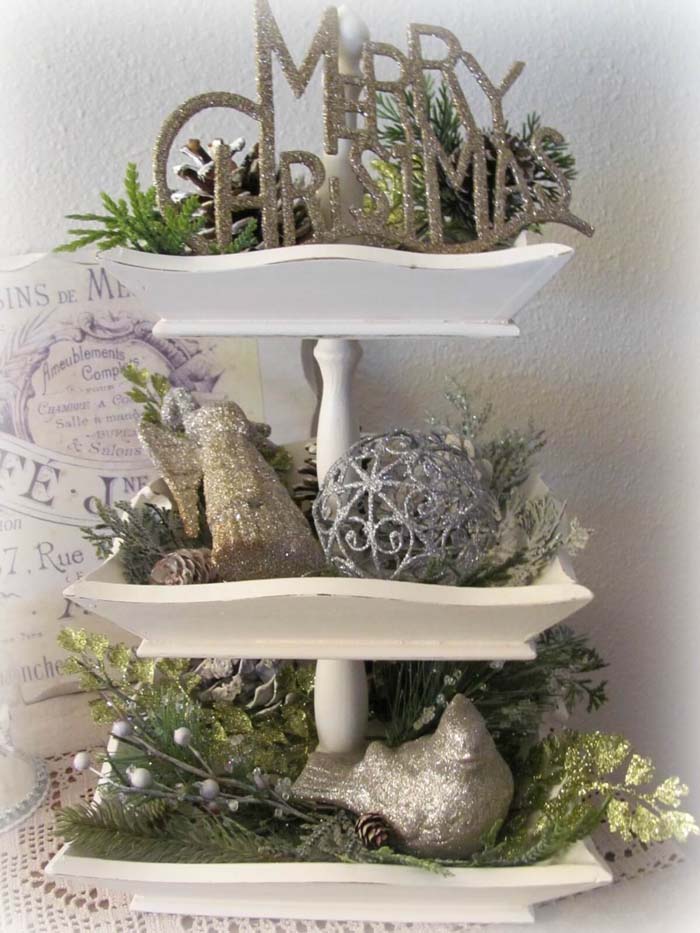 This lovely cake stand looks like a high-end piece, but you can find all of the accents you need at the dollar store.
The trick to keeping things sophisticated is to stick to a similar finish; here, the homeowner uses glitter, gold, and silver ornaments on a bed of faux greenery.