When you're feeding a crowd, dips are the perfect party food — they're easy to prepare, they use minimal dishes, and your guests can serve themselves.
If you're hosting a Christmas gathering this year, don't be afraid to move beyond traditional chip, cheese, and veggie dips.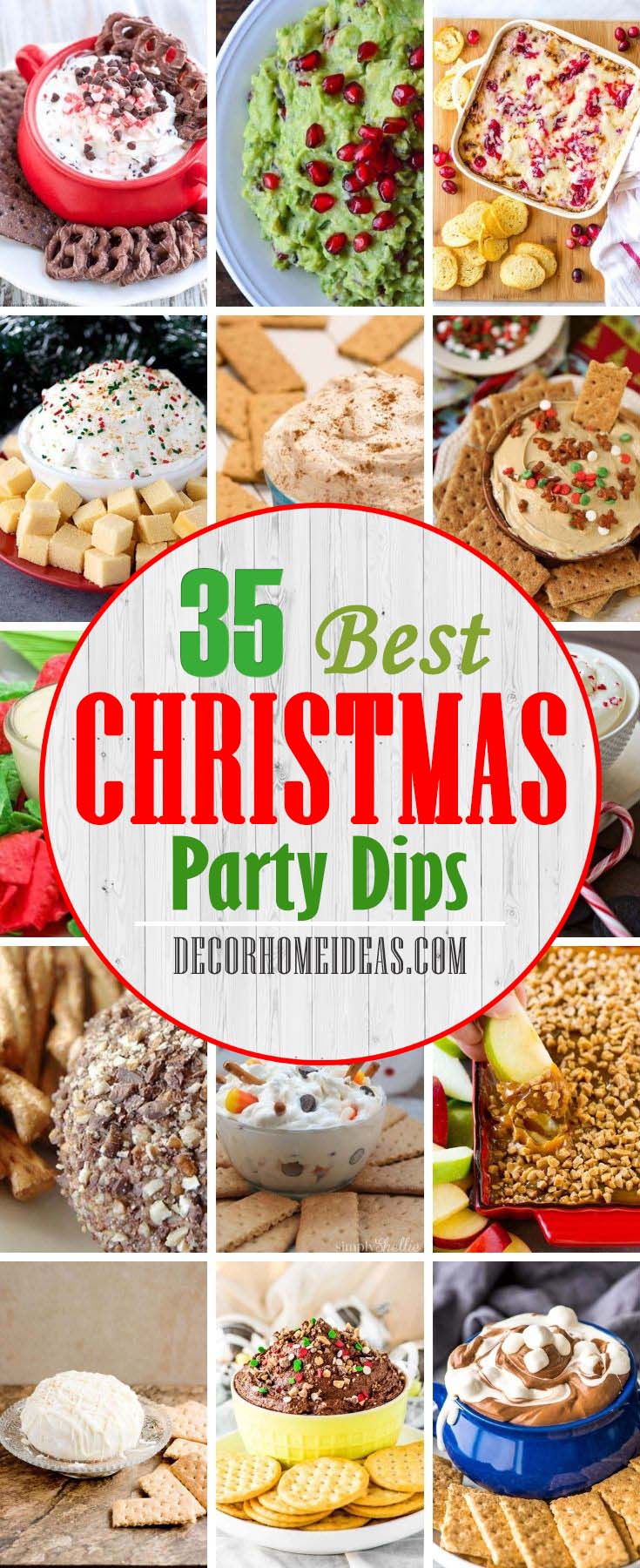 These delicious dips range from sweet to savory, so you can find the perfect complement to your menu.
1. Irresistible Sweet Dip for Your Last-Minute Holiday Party

Hosting a last-minute holiday party?
Don't panic; with a few simple ingredients, you can create a delicious dip that your guests will love.
It's sweet, fluffy, and irresistible — plus, you can serve it with a variety of sweet crackers, cookies, or fruit slices to create plenty of choices.
via The Pinning Mama
2. Indulge in a Fluffy Cheesecake Dip with Candy Canes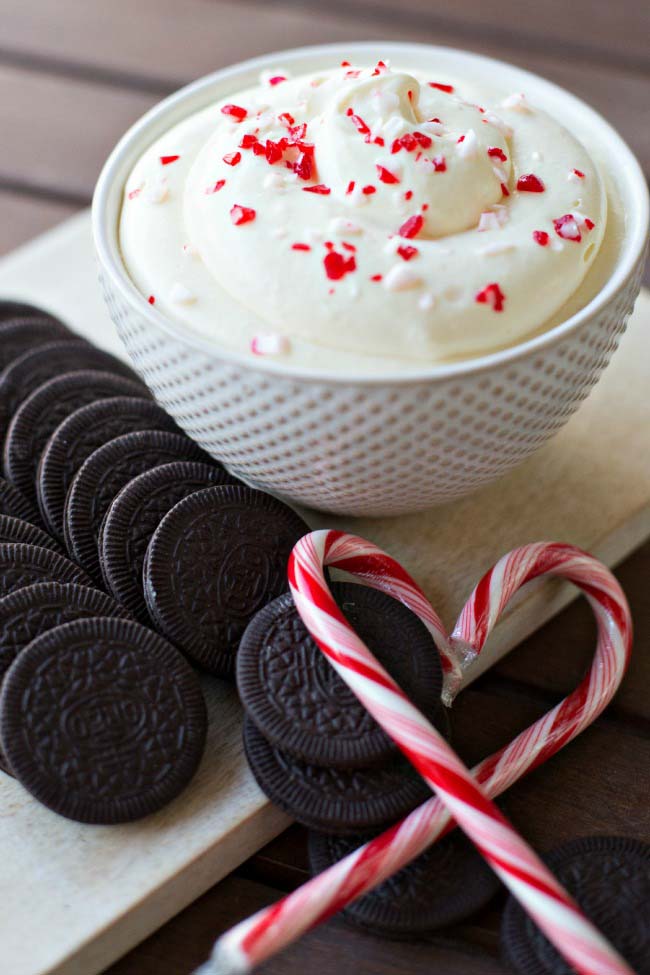 Cheesecake plus candy canes — does it get more delicious?
This easy dip comes together in minutes. It's just as light and fluffy as it looks, thanks to the box of cheesecake instant pudding mix that's incorporated into the blend.
Be sure to serve it with crushed peppermint on top for a festive look.
via A Night Owl
3. Wallow in a Winter S'mores Dip with Peppermint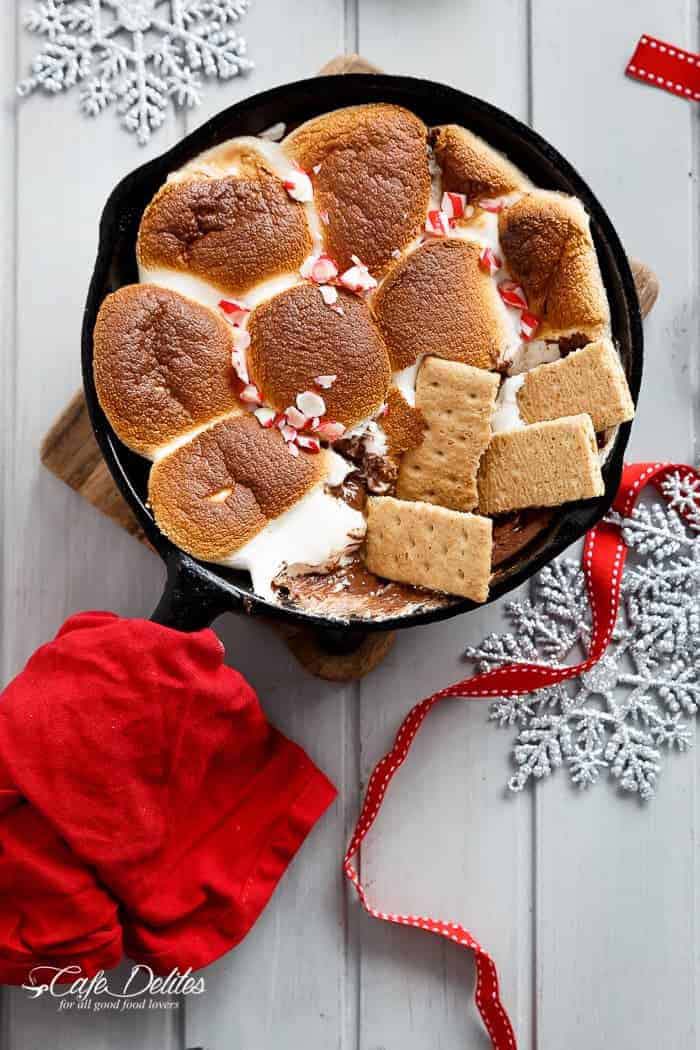 Bring s'mores into the winter season with this creative dip.
Baked with creamy chocolate and perfectly browned marshmallows, it has everything you love about the classic summer treat.
Add in peppermint, and you have a dessert that will have your guests coming back for more. Serve it with graham crackers for an authentic vibe, or set out any cookies you have on hand.
via Cafe Delites
4. Scrumptious Cheesecake Caramel Dip for the Holidays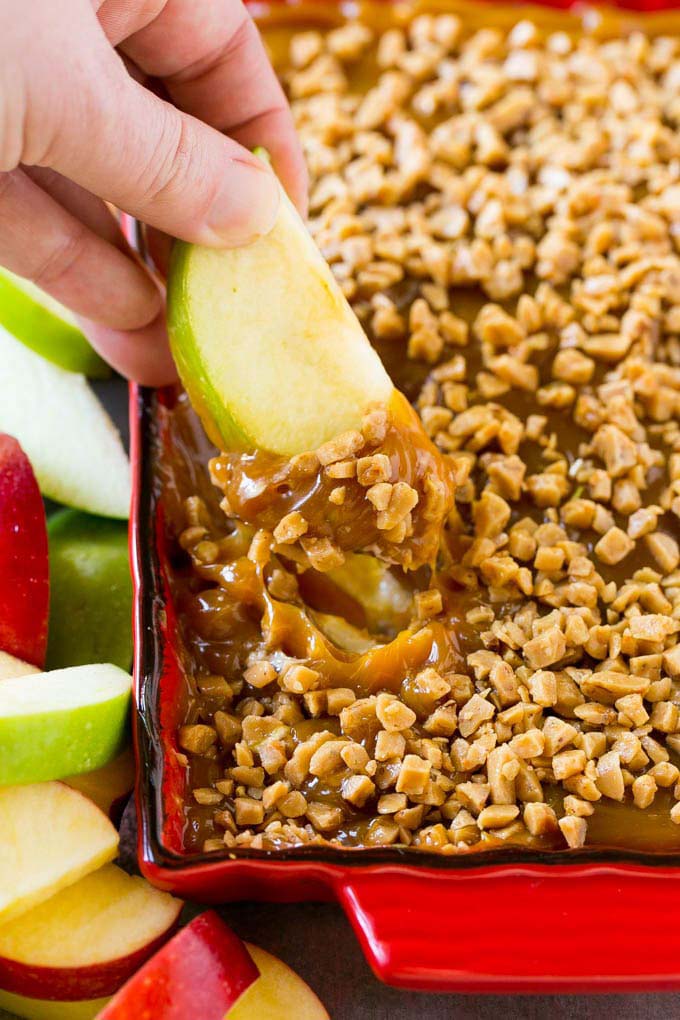 Give your holiday visitors an indulgent treat this Christmas with a gooey caramel dip.
Hiding under the thick layer of caramel is a smooth, creamy cheesecake base that adds the perfect finishing touch.
Garnish this dip with nuts if you like and serve with apple slices for a fun dessert.
5. Caramel and Cinnamon Cream Cheese Dip with Toffee Bits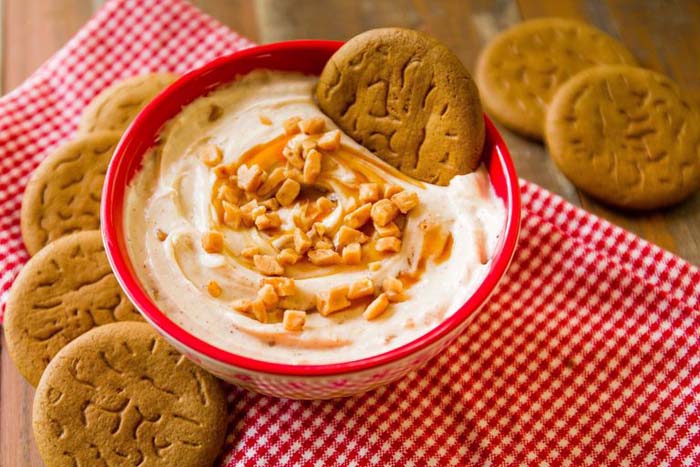 Caramel and cinnamon are the perfect pair, as you'll see in this mouthwatering dip.
The rich cream cheese complements the spices and the toffee bits that are hiding inside for a super-sweet treat.
Don't be surprised if you get plenty of requests for the recipe at the end of the night.
via Delish
6. Make a Delicious Cherry Cheesecake Dip for an Easy Dessert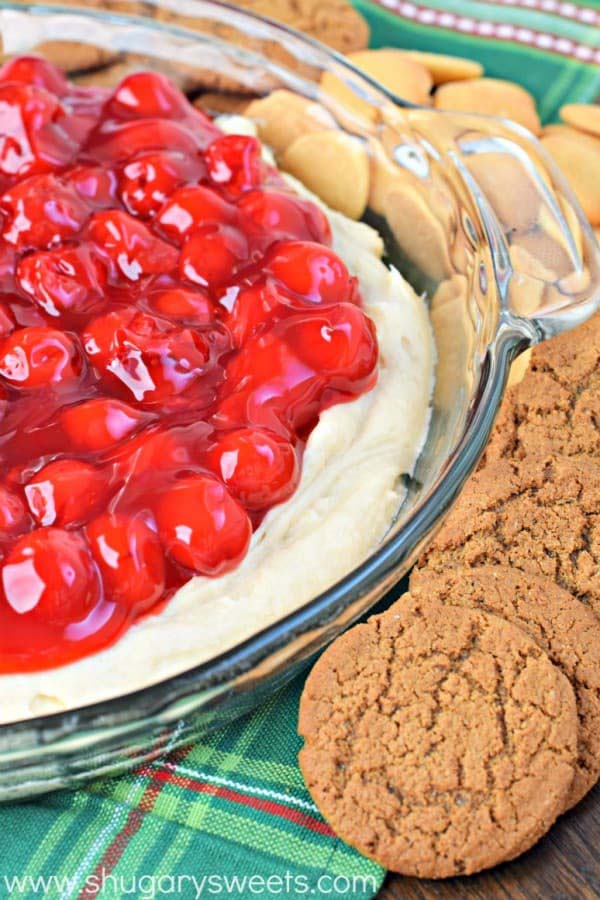 Everyone loves a cheesecake slathered with cherry sauce.
Bid farewell to the hassle of cheesecake-making with this fantastic dip.
Filled with the incredible flavors of cherries and cream cheese, it pairs perfectly with graham crackers, gingerbread, or oatmeal cookies.
via Shugary Sweets
7. Sweet Holiday Cheese Balls: An Irresistible Appetizer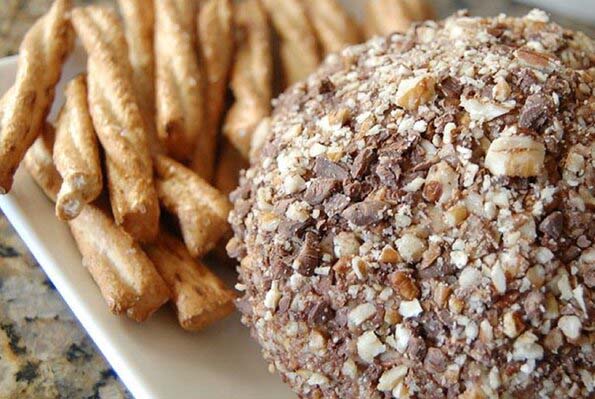 If you love savory cheese balls, why not try a sweet alternative this holiday season?
Cream cheese sets the tone, while chocolate chips add tiny bursts of sweetness in every bite.
Add pecans or leave out the nuts for the perfect festive appetizer at your next party or dinner.
via All Recipes
8. Rich and Creamy Eggnog Dip with a Chocolate Twist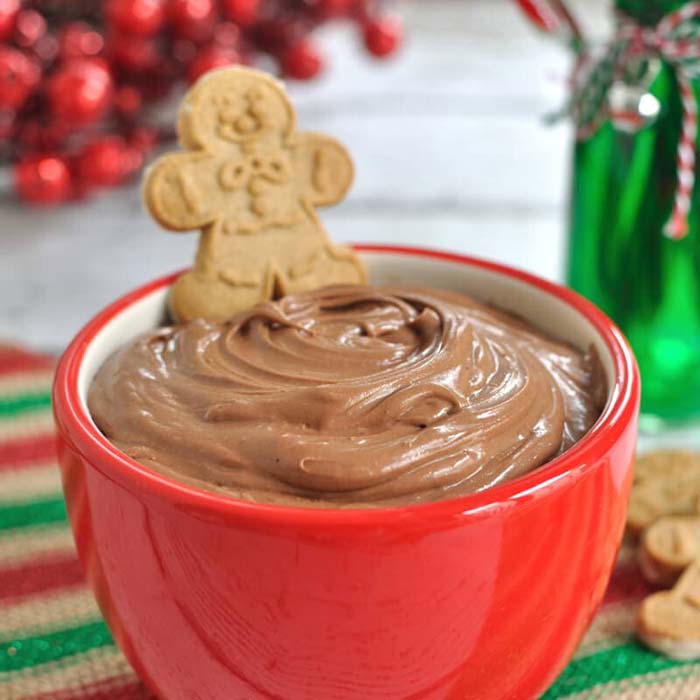 Are you a fan of eggnog?
If so, you'll love this dip, which combines classic eggnog flavors with a burst of chocolate.
Go ahead and prepare it ahead of time — it'll last for a couple of days in the refrigerator, so you can streamline your party setup.
9. Treat Guests to a Sweet and Tangy Christmas Cookie Dough Dip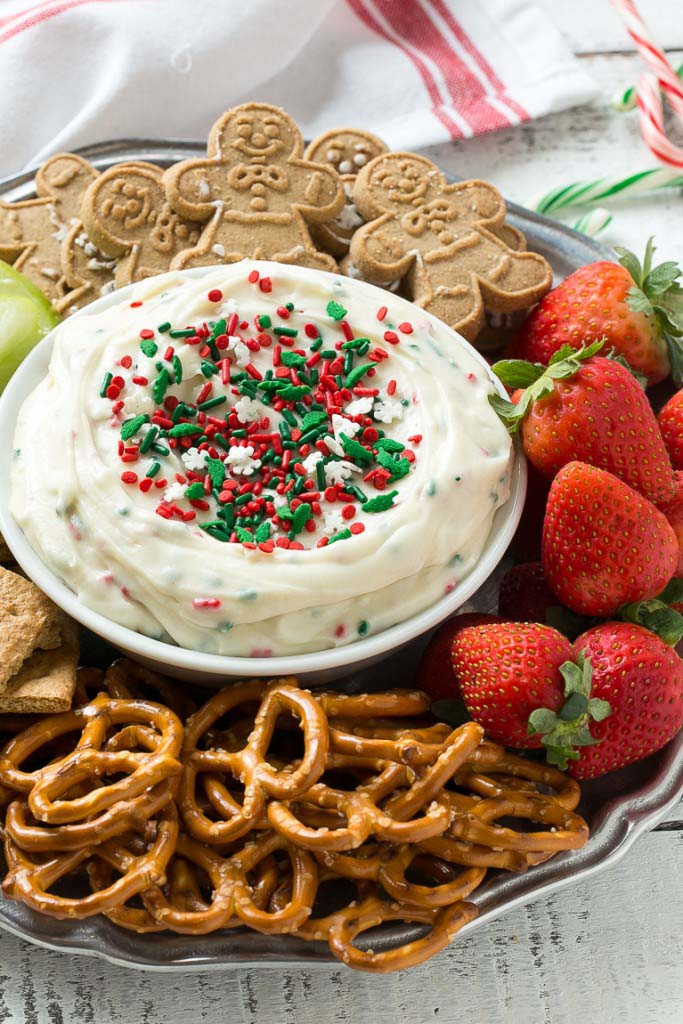 Packed with the light sweetness of sugar cookies, this Christmas cookie dough dip is a fun take on the traditional holiday treat.
We love that it uses yogurt to add a bit of a tang; plus, since you can make it in a few minutes, it's a great option for impromptu parties.
10. Indulge in this Delicious 'Crack' Dip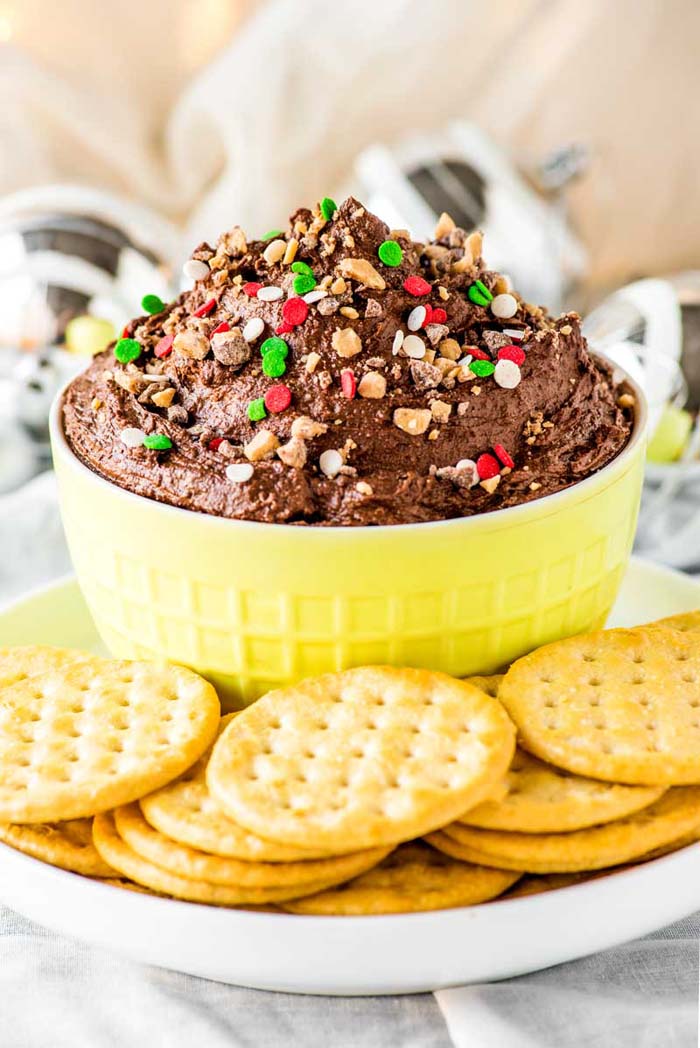 There's a reason this dip is called "crack" — you'll be hooked from the first bite.
Hidden inside are toffee bits, chocolate, and cream, so there's a surprise in every bite.
Customize this dip by adding your favorite sweet candies, sprinkles, or even crushed candy canes.
via Homemade Hooplah
11. Fluffy Sweet Dip: A Refreshing Treat for Holiday Parties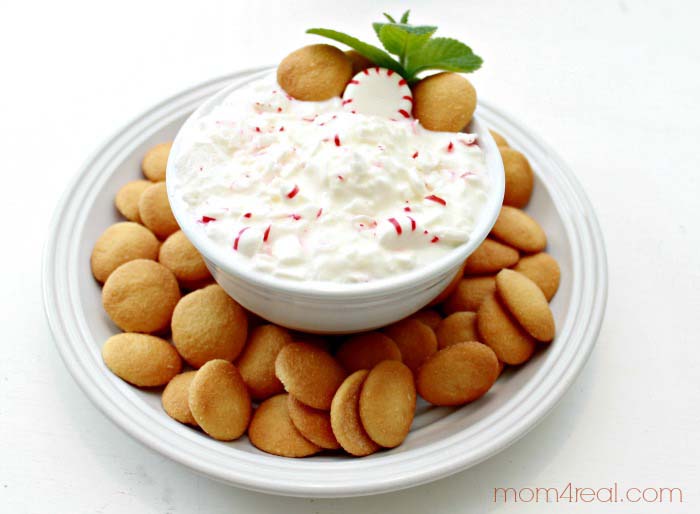 When you're putting together a menu for a holiday party, sweets are essential.
This fluffy dip is the perfect way to balance out a table packed with rich treats.
It's light and sweet, but not overpowering, so guests can get just the right palate cleanser after an indulgent meal.
via Mom 4 Real
12. Delight Party Guests with a Festive Pepper Jack Cheese Dip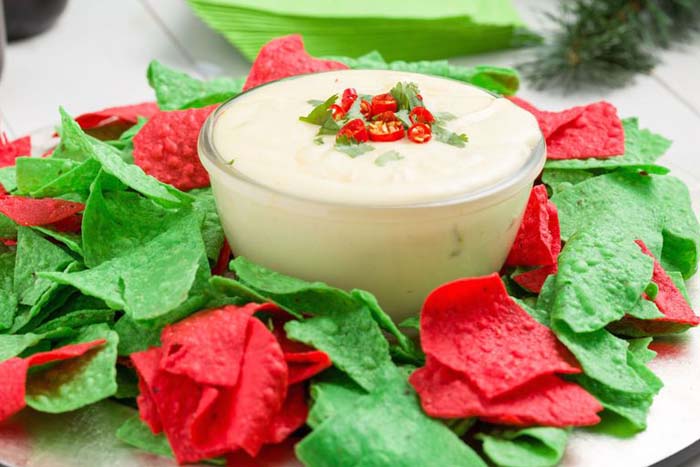 Looking for a savory treat to surprise your Christmas party guests?
Switch out your usual queso for this festive version.
Pepper jack cheese delivers just a hint of spicy flavor, and the adorable red and green garnish looks gorgeous on your buffet line.
via Delish
13. Enjoy a Tasty Fusion of Cinnamon Rolls and Cheesecake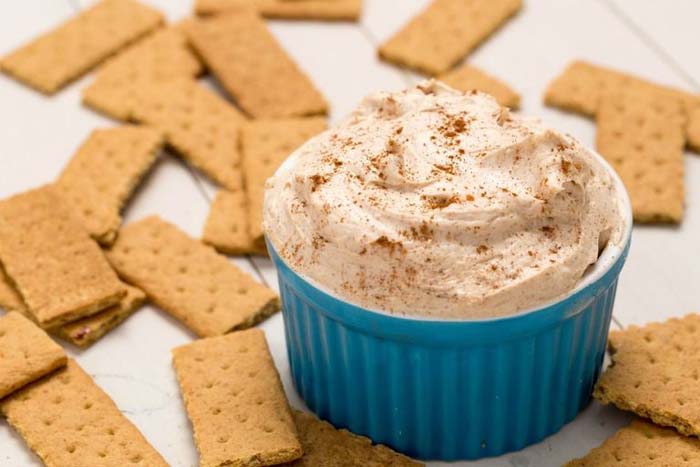 Cinnamon rolls. Cheesecake.
This remarkable dip combines these classic flavors into a single dish.
It tastes complicated, but you'll be delighted at how easy it is to make — in less than five minutes, you'll be party-ready.
via Delish
14. Sweet and Tangy Cranberry Cream Cheese Dip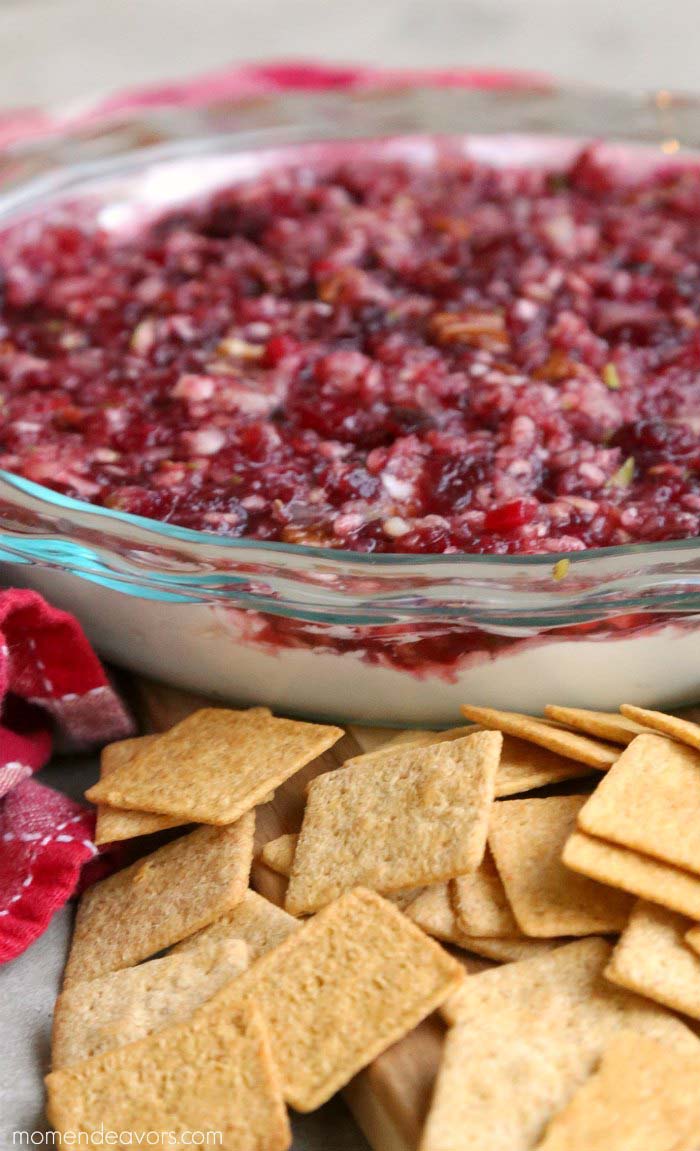 Cranberries aren't just for Thanksgiving — here, they combine with cream cheese to make a dip that's equal parts sweet and tangy.
We love the ingredient list, which includes pineapple, pecans, and apples.
Serve it with crackers, cookies, pretzels, or any salty and sweet snacks you have on hand.
via Mom Endeavors
15. Enjoy a Low-Carb Cranberry Cream Cheese Dip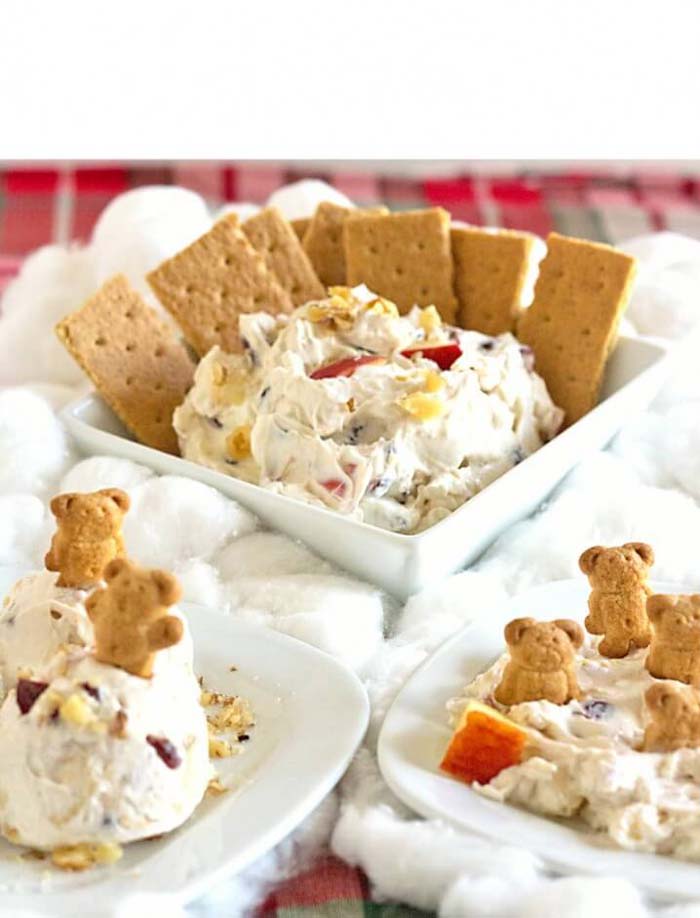 Are you trying to reduce your carbs this winter?
This cranberry cream cheese dip has you covered.
It's packed with low-carb ingredients, so you can indulge guilt-free. Add in as many nuts as you like for an extra burst of protein and crunch.
via It's Yummy
16. Deliciously Spiced Eggnog Dessert for the Holidays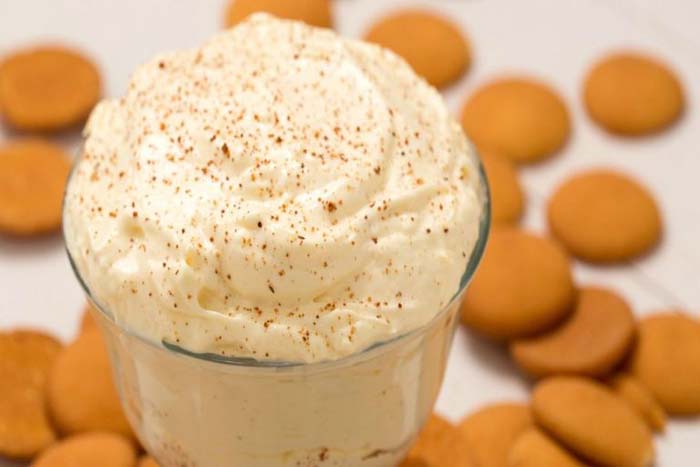 Here's another way to incorporate eggnog into your holiday dessert menu.
Rich with cinnamon, spices, and eggnog, this dish has a warm and welcoming taste that's perfect for a winter party.
Serve it with gingerbread, sugar cookies, or any other light, sweet treats.
via Delish
17. Indulge In Complex Flavors of Eggnog Cookie Dip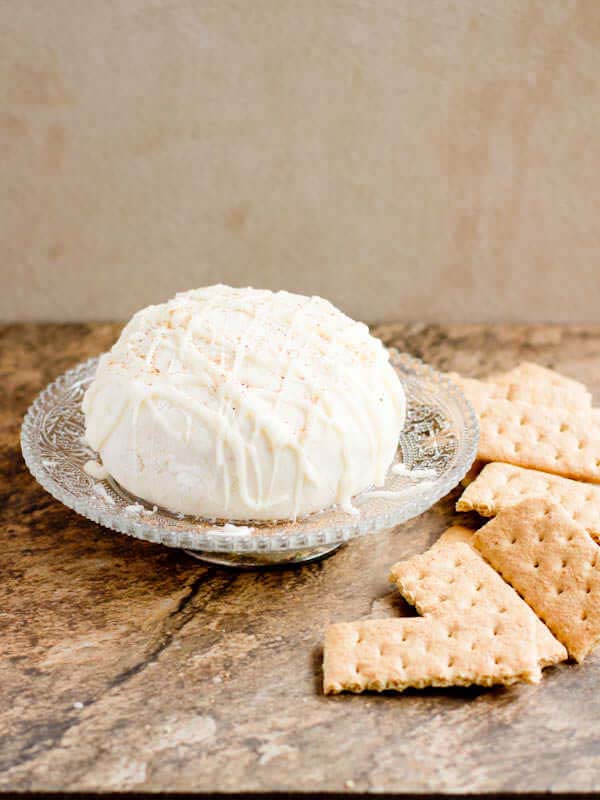 Once you taste this eggnog cookie dip, you'll never be the same — the flavors are strong yet surprisingly complex, and the lingering hint of eggnog is just right. The secret?
White chocolate and nutmeg, which make an unexpected yet remarkable pairing.
via Oh Sweet Basil
18. Creamy, Boozy Eggnog Dip – Perfect for Your Holiday Party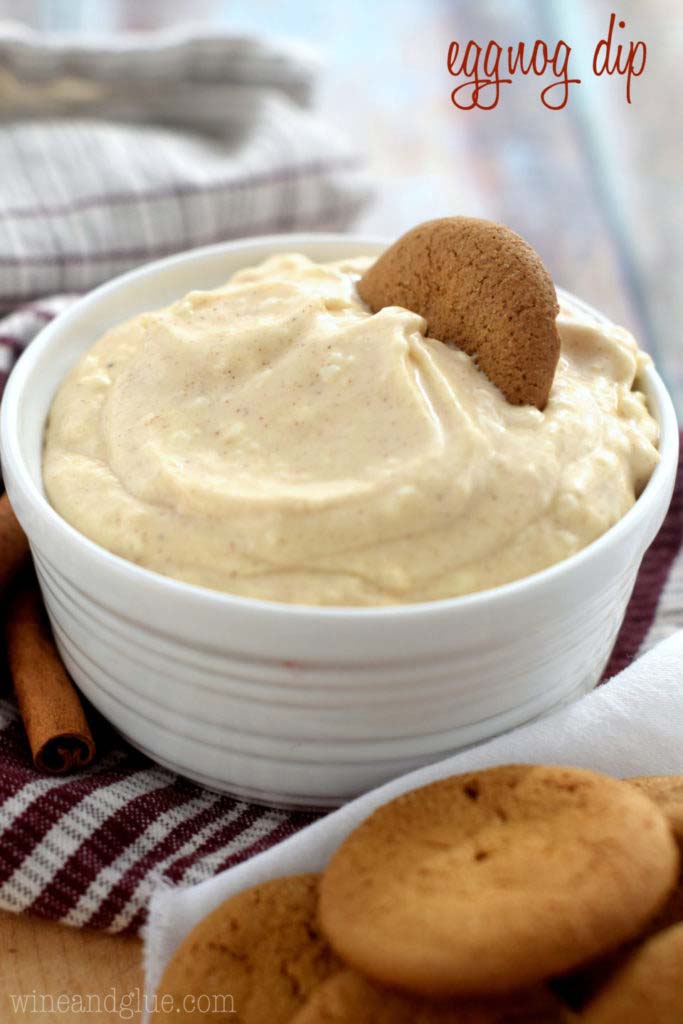 If you're a fan of straight eggnog, head straight for this dip.
It's creamy and sweet, and the hint of rum makes every bite feel like a party in your mouth.
We love that it works well with practically any dipper, from cookies to fruit slices.
via Simple Joy
19. Gingerbread Fluff Dip: A Sweet and Spicy Holiday Treat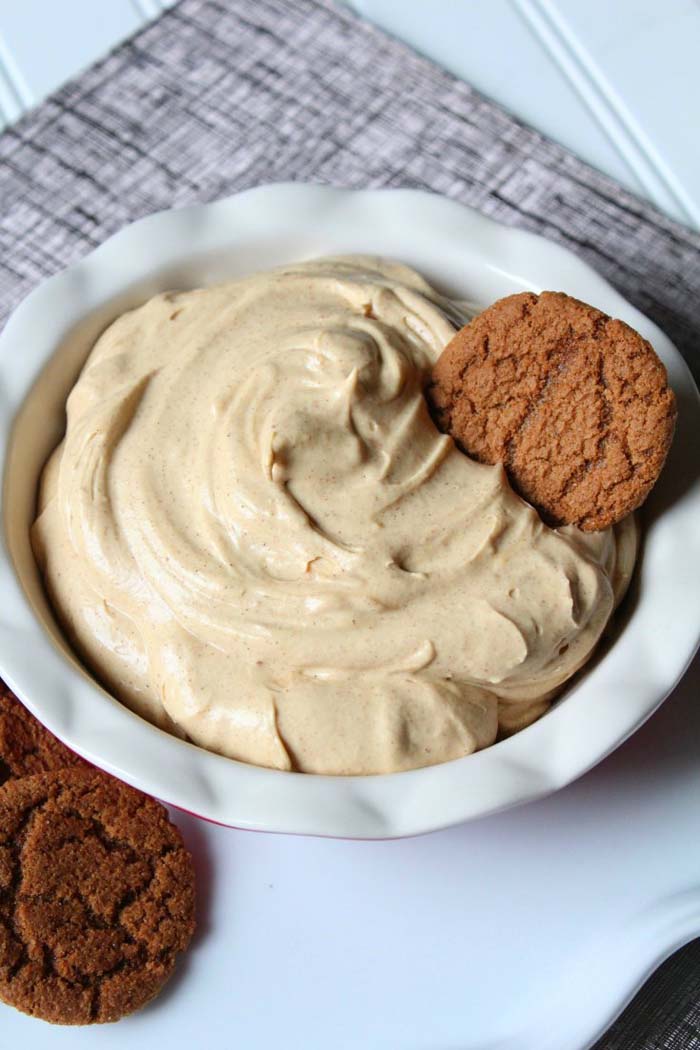 There's something special about fluffy dips, and this gingerbread recipe doesn't disappoint.
Paired with cream cheese and Cool Whip, the warm ginger, molasses, cinnamon, and nutmeg are reminiscent of hot holiday drinks.
Save the recipe, because you'll definitely want to make it again.
20. Fluffy Christmas S'mores Dip with Mini Marshmallows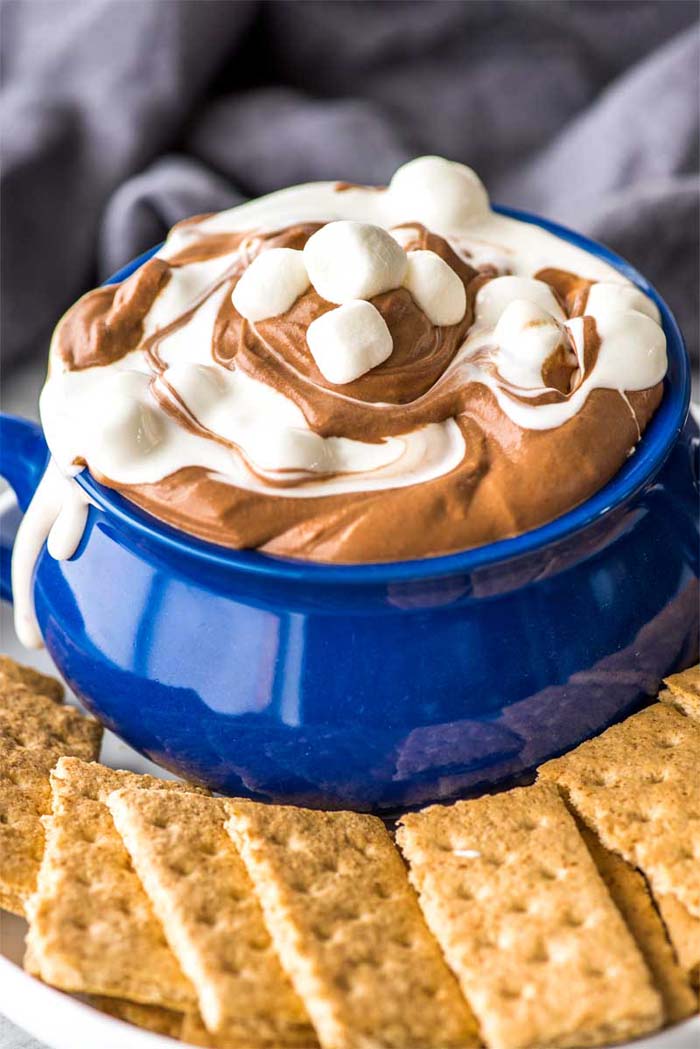 This super-fluffy take on s'mores is a fun way to round out a delicious Christmas meal.
The texture is light and airy, so your guests can indulge without feeling weighed down.
Don't leave out the mini marshmallows — they're a delicious touch.
via Homemade Hooplah
21. Sugar Cookie-Flavored Dip Made with Coffee Creamer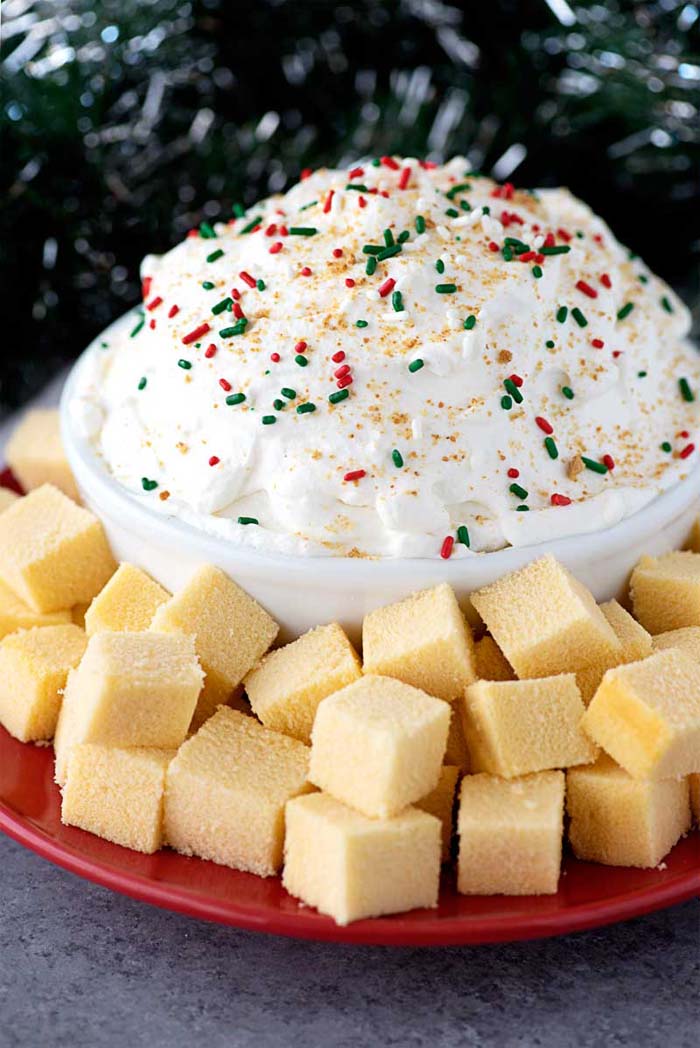 To taste this dip, you'd never guess it's made from a surprise ingredient: coffee creamer.
Sugar cookie-flavored creamer brings all of the traditional flavors of Christmas, all without the need for complicated ingredients.
Whether you serve it with pound cake, graham crackers, or cookies, this dip is sure to be a hit.
via Homemade Hooplah
22. The Perfect Party Dip for Gingerbread Lovers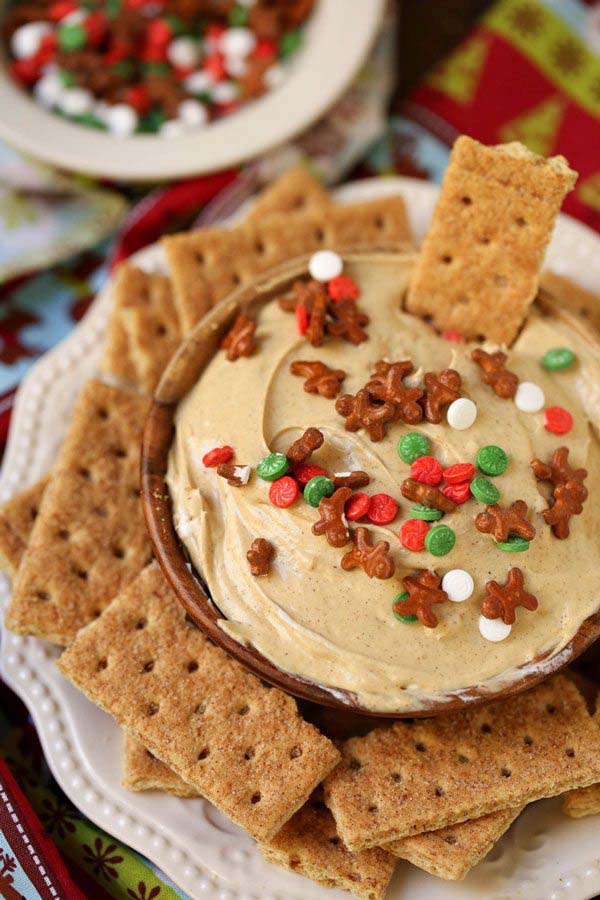 When you think of Christmas, do you think of gingerbread men and gingerbread houses?
If you answered "yes", this is the party dip for you. It uses a delicious combination of spices and molasses, plus Cool Whip for the perfect fluffy texture.
23. Rich, Fluffy Hot Chocolate Dip for A Cozy Treat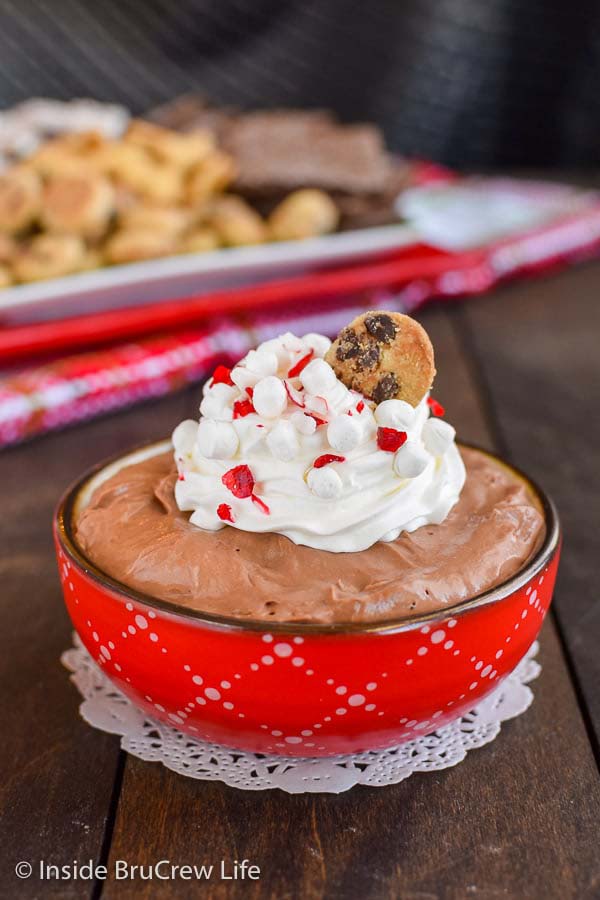 Capture the joy of a warm, cozy cup of hot chocolate by turning the classic flavors into a rich dip.
This light, fluffy dip looks as good as it tastes; your guests won't be able to stop themselves from coming back for seconds.
Add a dollop of cream topped with mini marshmallows for the full effect.
24. Hot Cocoa Dip with Cream Cheese and a Cool Whip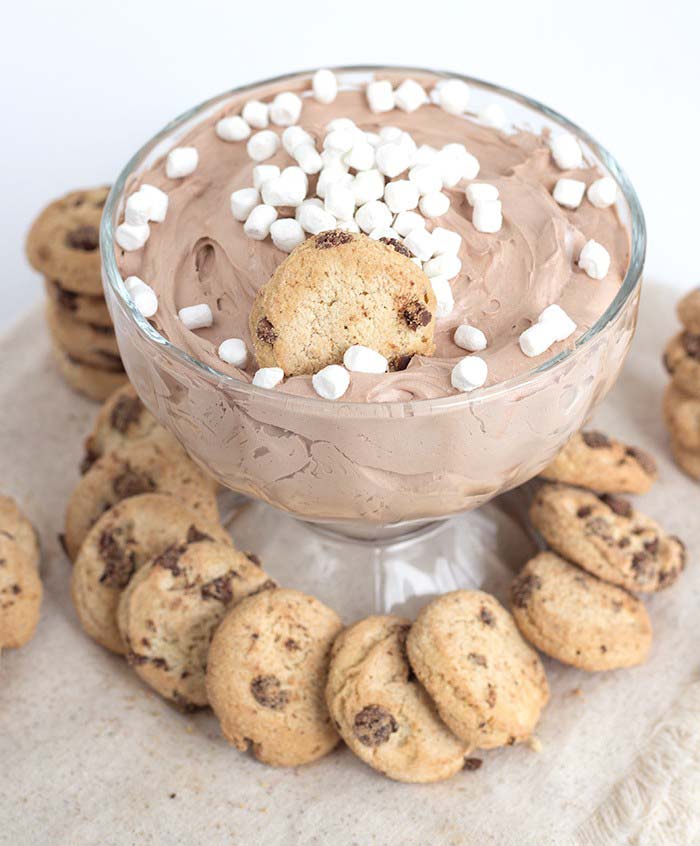 Here's another fun take on hot cocoa dips — it even uses dried cocoa mix for the authentic flavor you remember.
We love how the cream cheese adds a subtle depth, and the Cool Whip brings a delicious lightness.
via Chocolate Chocolate and More
25. Flavorsome Peppermint Bark Cheesecake Dip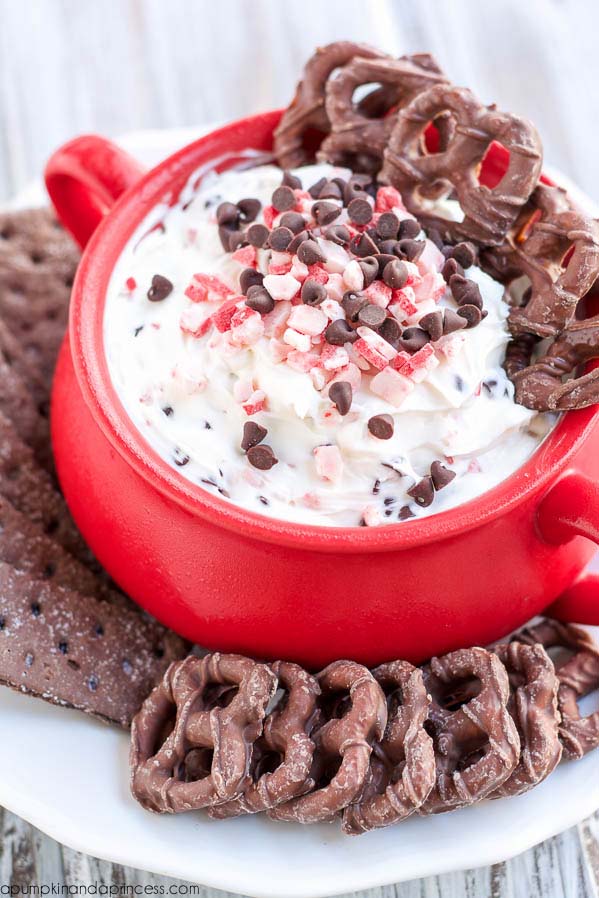 If you've ever had peppermint bark, you know how well the spicy mint pairs with the creamy dark chocolate.
Bring that spectacular combination to a buffet table with this cheesecake dip.
It's impressive enough to serve at a party, but you can also make it for a family night at home.
26. Enjoy a Festive Holiday Treat with Peppermint Bark Dip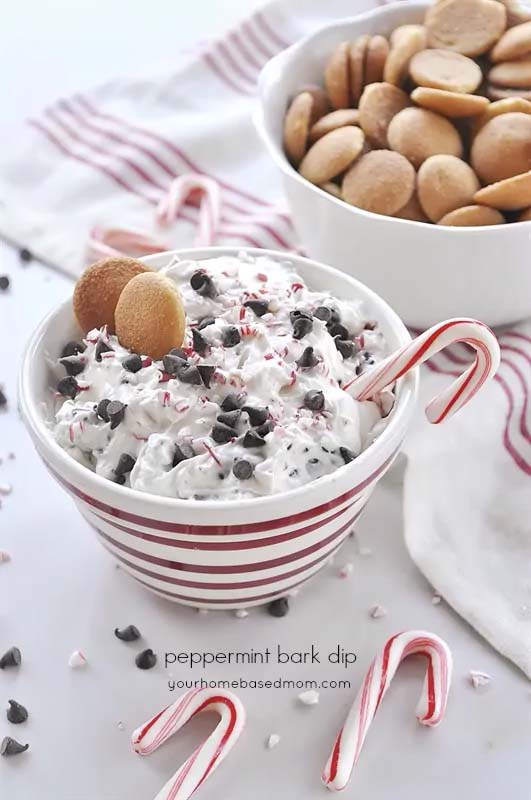 Do you love a dip with lots of delicious sweet bites?
This peppermint bark dip fits the bill. It's loaded with the satisfying textures of the bark itself, creating a full sensory experience.
Serve it with cookies, vanilla wafers, gingerbread, or any of your favorite Christmas cookies.
27. Holiday Dip with Peppermint, Mocha, and Cheesecake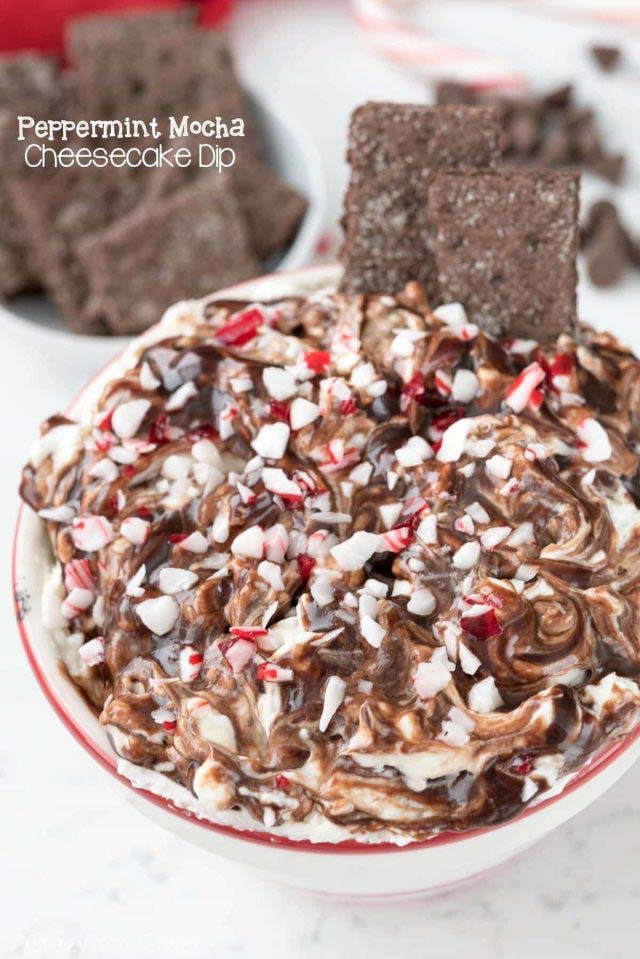 Peppermint, mocha, and cheesecake make a mind-boggling combination in this dip, which is just as indulgent as it looks.
The trick is to add plenty of chocolate chips for texture; they combine with the swirls of Cool Whip and cream cheese to create a fun holiday dessert.
via Crazy For Crust
28. Sweet & Spicy Holiday Guacamole with Pomegranate Seeds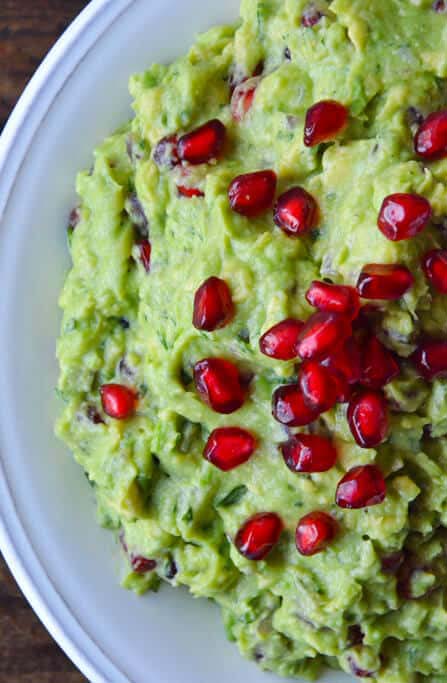 Balance your Christmas cookies with this holiday-themed gourmet guacamole.
The magic is in the pomegranate seeds, which taste fantastic and look stunning against the green avocado.
With each bite, you'll get a juicy burst of sweetness and a savory tang of spices.
via Just a Taste
29. Refreshing Orange Yogurt Dip with Balsamic and Cinnamon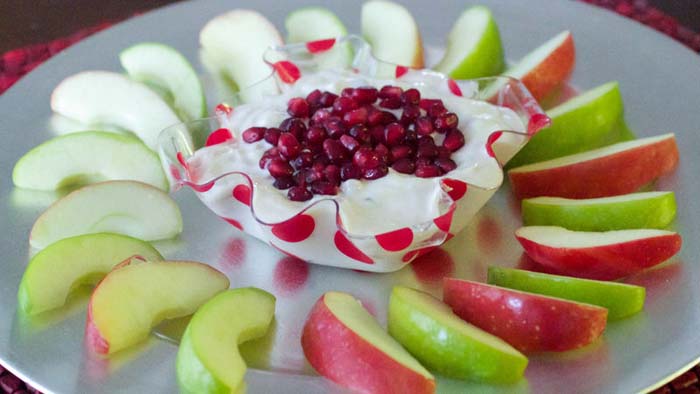 Are you in search of a lighter dip?
This yogurt dip tastes like a rich treat, but it's packed with good-for-you Greek yogurt.
We love the combination of orange juice, balsamic vinegar, and cinnamon; the flavors are surprisingly refreshing.
via Pillsbury
30. Gooey Cake Batter Dip Perfect for Graham Crackers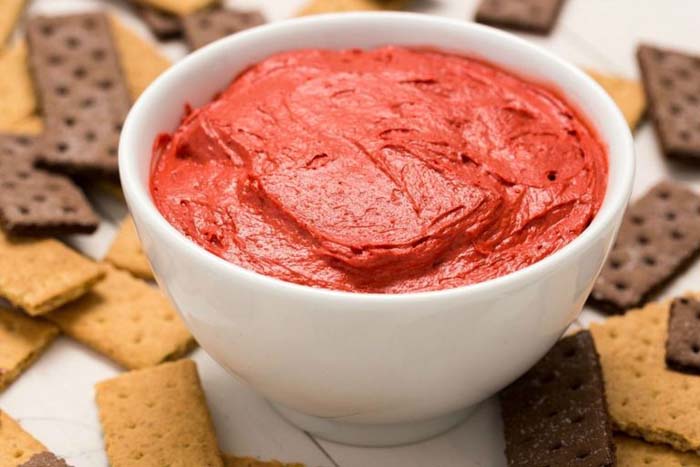 This gooey, deep-red dip offers the taste and texture of cake batter, but without the raw eggs.
A generous serving of cream cheese creates a frosting-like taste to seal the deal.
It's delicious with graham crackers, but you might simply want to eat it with a spoon!
via Delish
31. Luscious Caramel Pecan Cheesecake Dip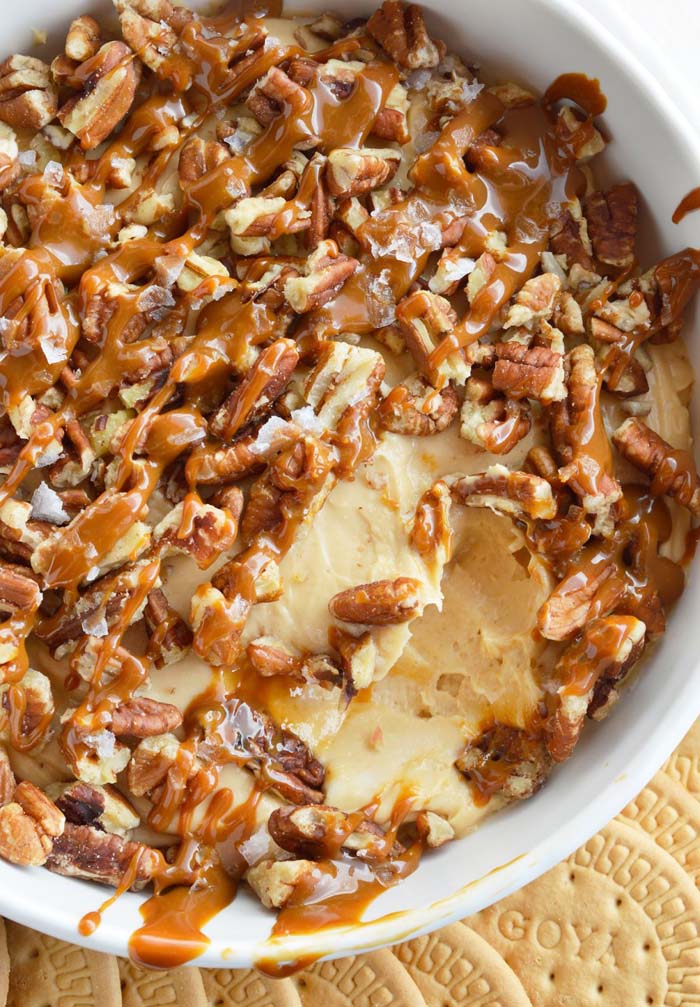 Try not to swoon when you look at this dip — with its pecan topping laced with luscious caramel, it might make your heart beat faster.
Underneath the sweet and crunchy top, a decadent cheesecake awaits.
via Wonky Wonderful
32. Deconstructed Snowman Dip: A Fun Holiday Treat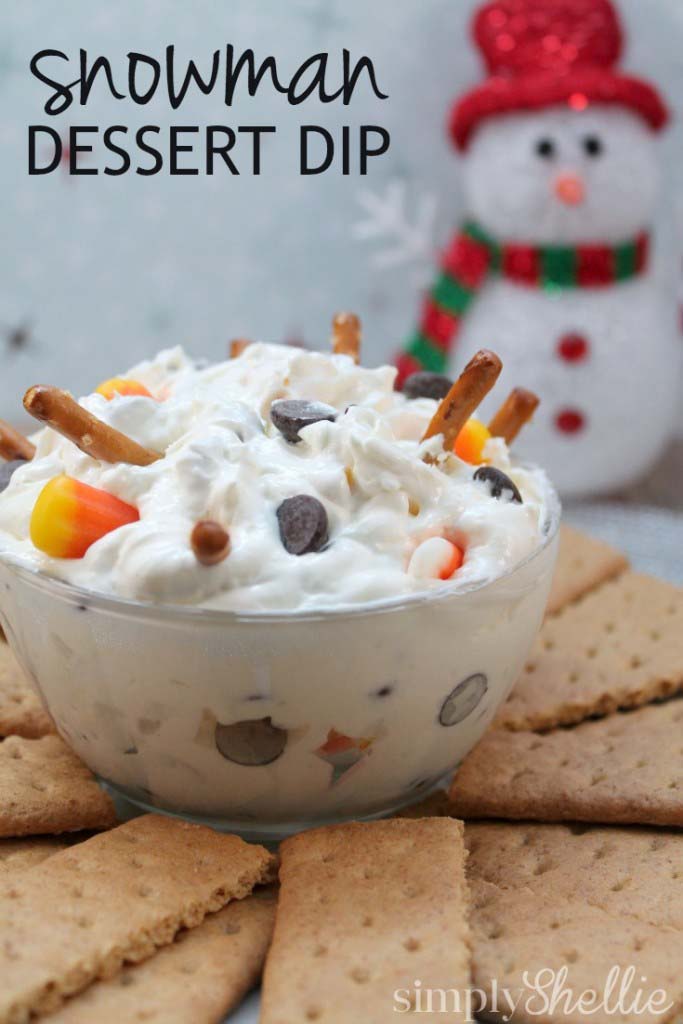 When it's mixed, this dip looks a bit like a deconstructed snowman — a fun, playful look for a Christmas party table.
Hidden inside the dip, your guests will discover chocolate chips and candy corn; pretzels add a tasty crunch.
via Simply Shellie
33. Cranberry Dip for Your Holiday Potluck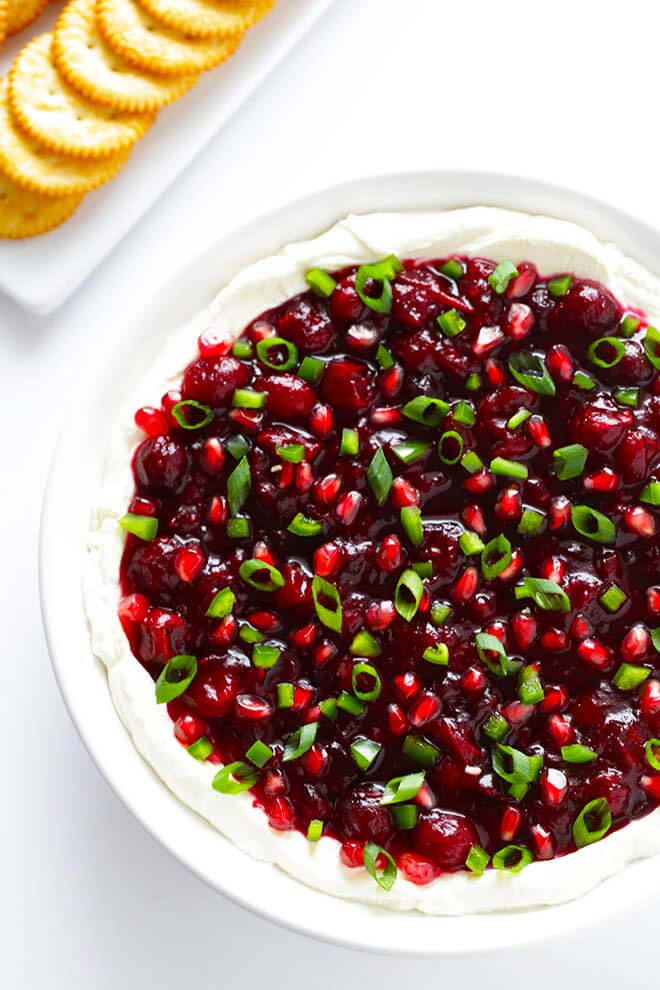 If you're heading to a potluck at Christmas, whip up this cranberry dip.
With its ruby-red berries and bright green chives, it looks stunning on any table. Inside, a tantalizing blend of sweet and salty ingredients are delicious on crackers, chips, or even fruit.
via Gimme Some Oven
34. Savory White Cheddar Cranberry Baked Dip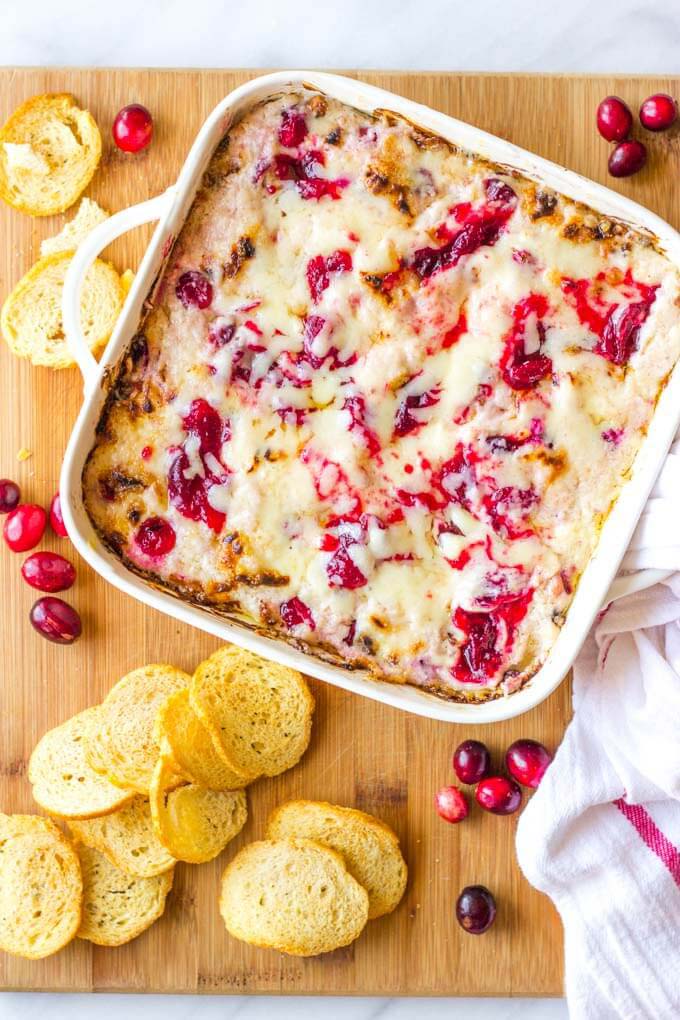 The salty, creamy taste of white cheddar balances sweet and tangy cranberries in this baked dip.
Place it on the table right out of the oven, and your visitors can dip crostini, crackers, or apple slices.
via Little Broken
35. Enhance Your Appetizers with Wine-Spiked Cranberry Sauce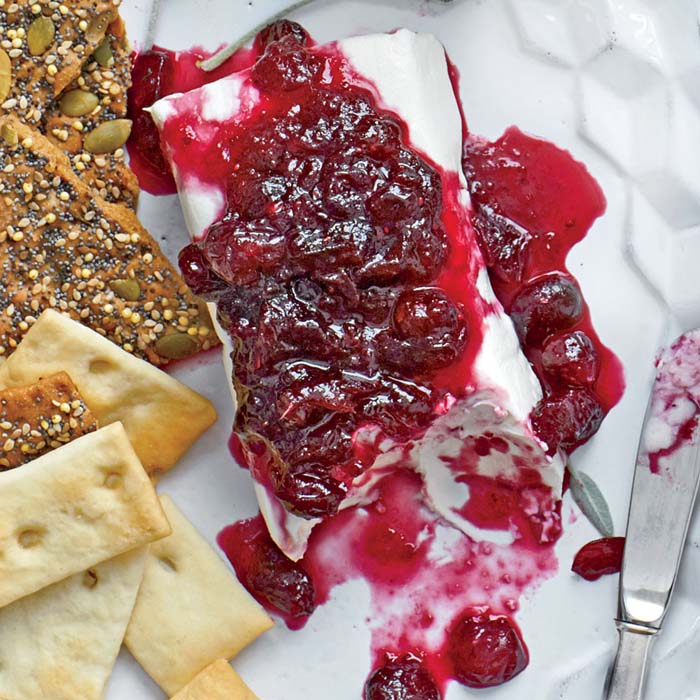 Wine-spiked cranberry sauce makes a sweet, spiced topping for a block of cream cheese in this showstopper party dish.
The hot berries melt the cheese, creating just the right consistency for dipping and spreading.
You can even replace the cream cheese with goat cheese for a different twist.
via My Recipes