Minimalist Christmas decor is like a breath of fresh air in the midst of the busy holiday season — simple decorations allow the beauty of the materials and colors to shine through.
If you're looking for ways to simplify your home this season, these lovely, pared-down pieces are a fun place to start.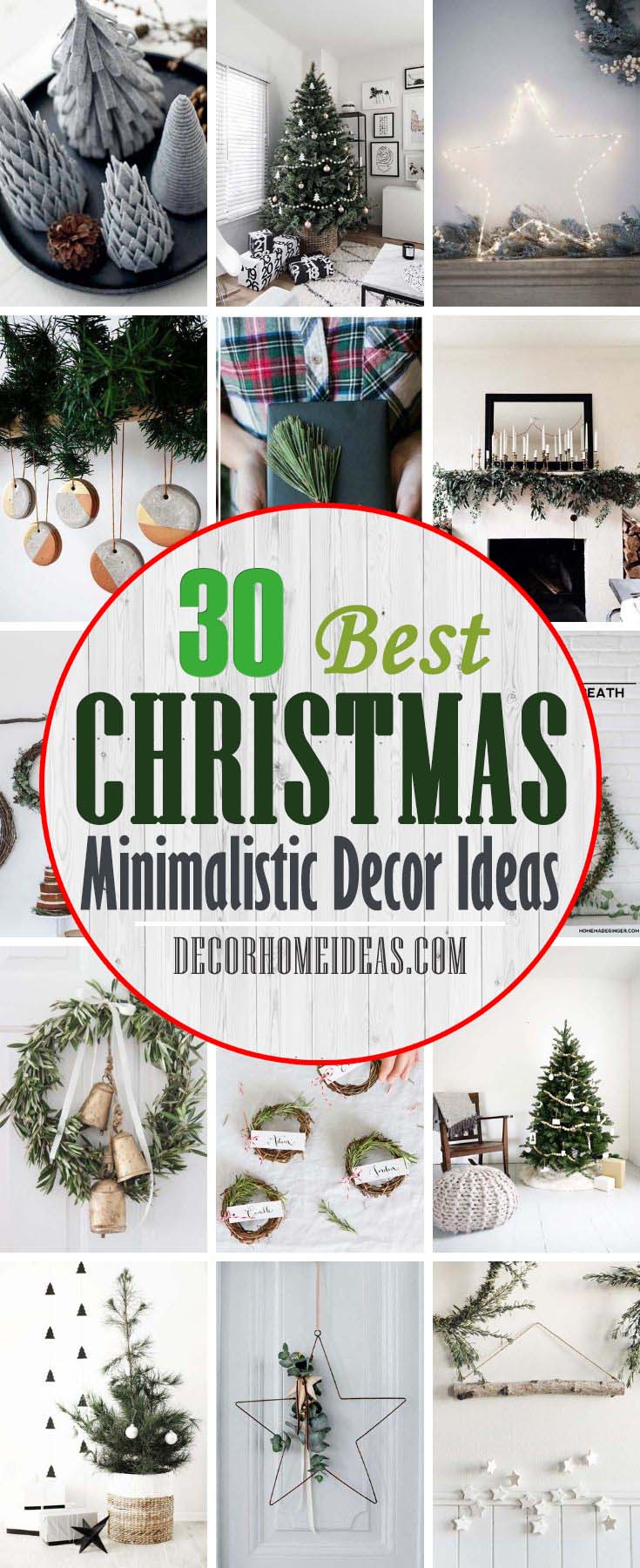 1. A Greeting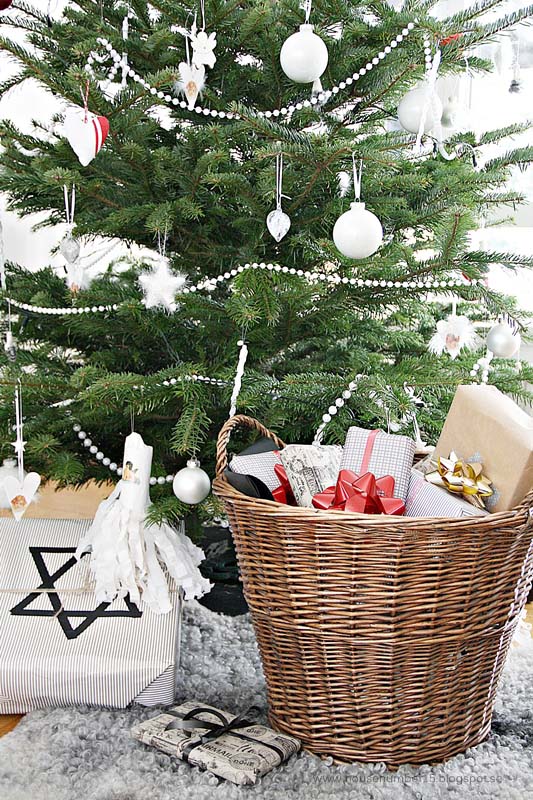 Do you like to place wrapped Christmas presents under the tree as decorations?
Use simple gift wrap for a look that's festive but restrained.
Wrapping paper printed with vintage postage stamps and simple black and white plaid looks stunning when paired with an elegant red ribbon.
via House Number 15
2. Acorn and Glass Christmas Ornaments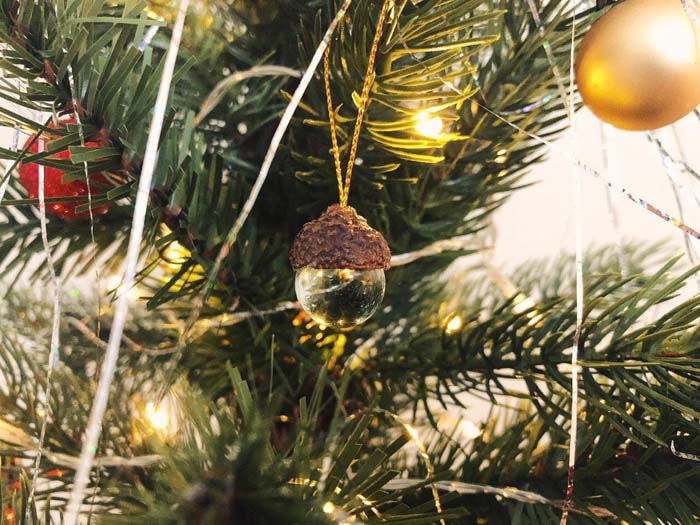 Decorate your tree with this super-cute acorn ornament.
The body of the acorn is a simple clear glass sphere, so you can see the lights and the pine needles from every angle.
An elegantly textured top completes the look while maintaining a natural color scheme.
3. Concrete Christmas Ornaments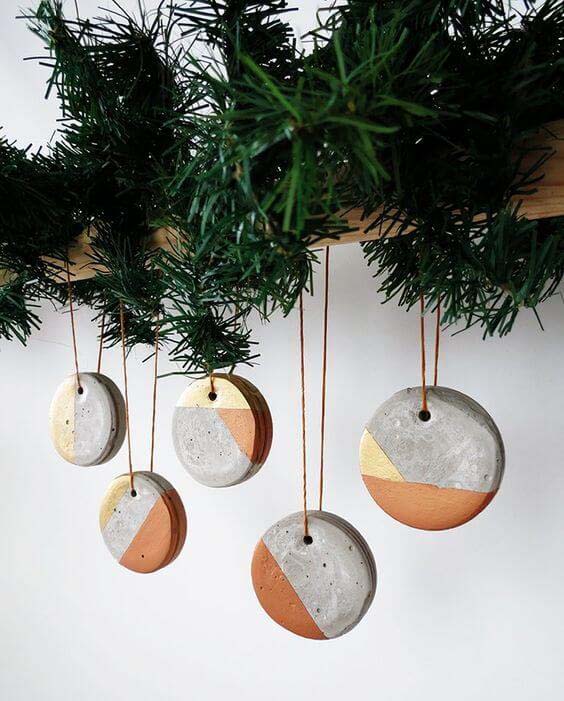 If you have a modern or mid-century home, these concrete Christmas ornaments will fit ight in.
The shape and materials are as pared-down as it gets — this intentional design choice showcases the natural color variations of the concrete and allows the tiny colorful accents to make a huge impact.
4. DIY Branch Stocking Display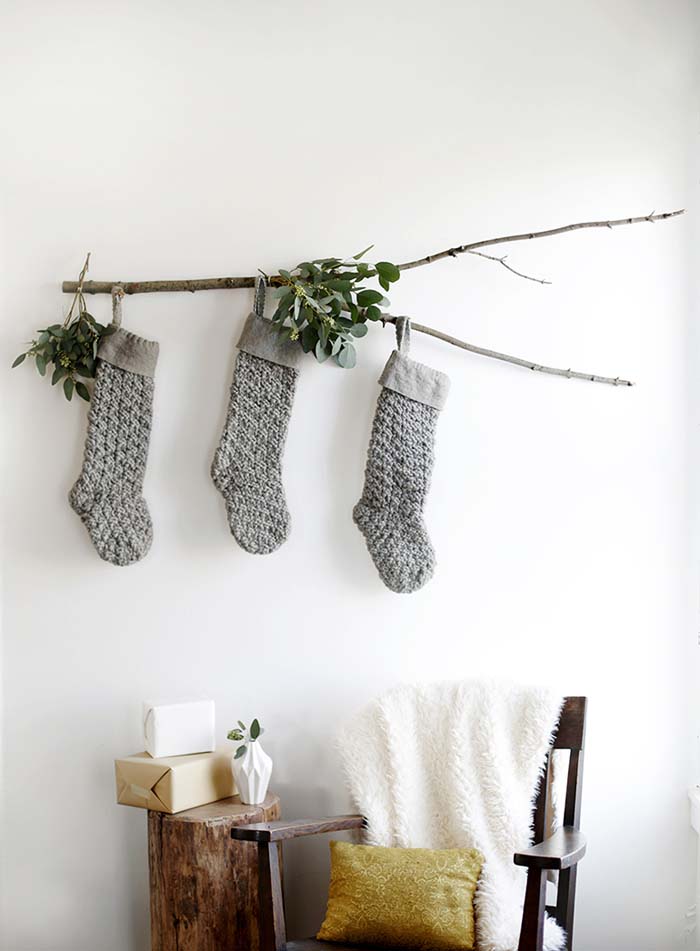 Don't worry if you don't have a fireplace; just head outdoors to find a branch.
Mount it on the wall to create a handy spot to hang the stockings.
Bring in a pop of color with a few leaves, or leave it bare for a classic Scandinavian design.
5. DIY Christmas Tree Garland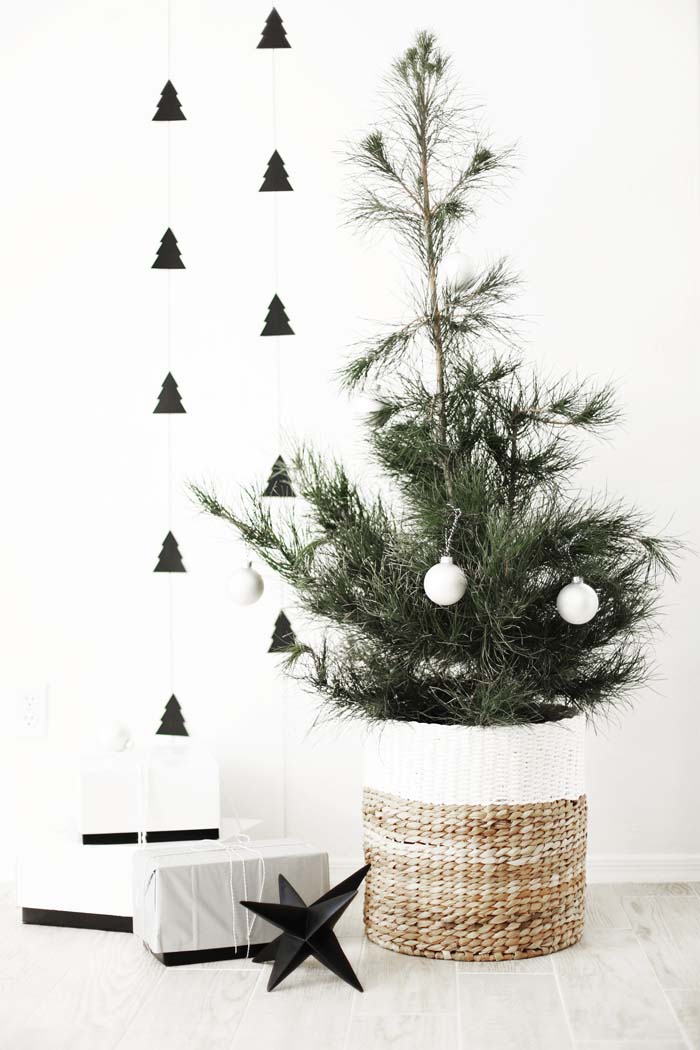 Have you ever considered using black in your Christmas decor?
Here, the simple black paper adds a chic, contemporary look to a sweet tree garland.
The result is just as festive, making it a fun addition to a modern farmhouse.
via Kristi Murphy
6. DIY Mini Cranberry Wreath Place Cards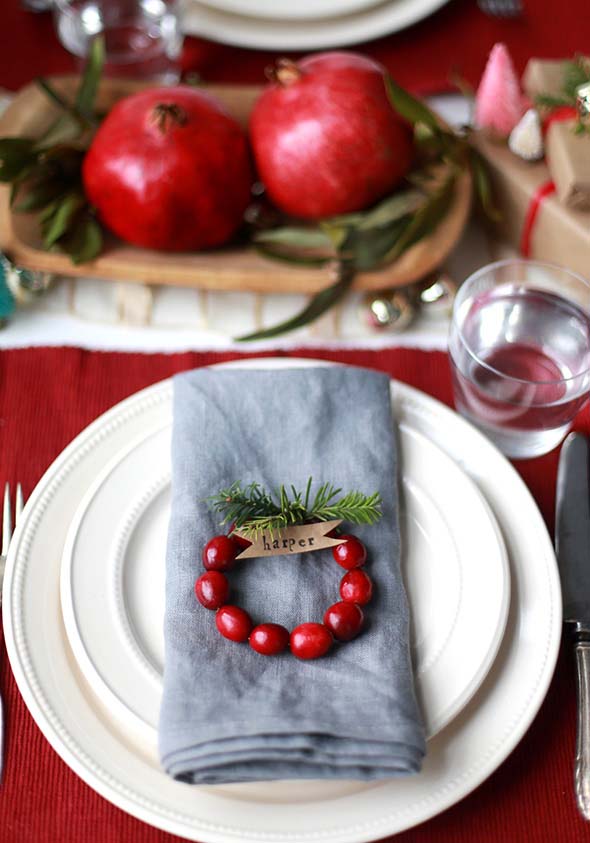 Natural materials make the best Christmas decorations, as you can see in this stunning place card.
It looks spectacular, but you can make it yourself for next to nothing.
A ring of brilliant cranberries and a tiny sprig of pine create a Christmas wreath; top it off with a hand-stamped name on brown paper — it's a great way to recycle paper grocery bags or even cardboard boxes.
via Say Yes
7. DIY Natural Seasonal Wreath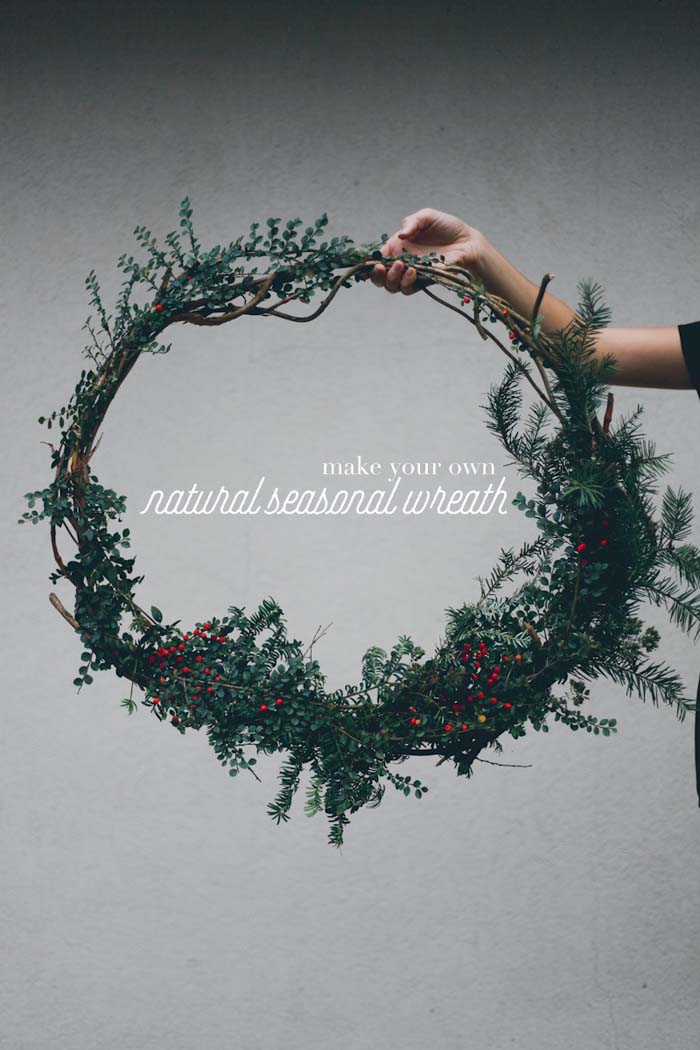 Wreaths are a mainstay of holiday decor.
This year, why not create one that's special to your area?
By using local plants that are in season, you'll get a piece that feels like a natural fit for the surroundings.
via Treasures and Travels Blog
8. DIY Tiny Star Wall Hanging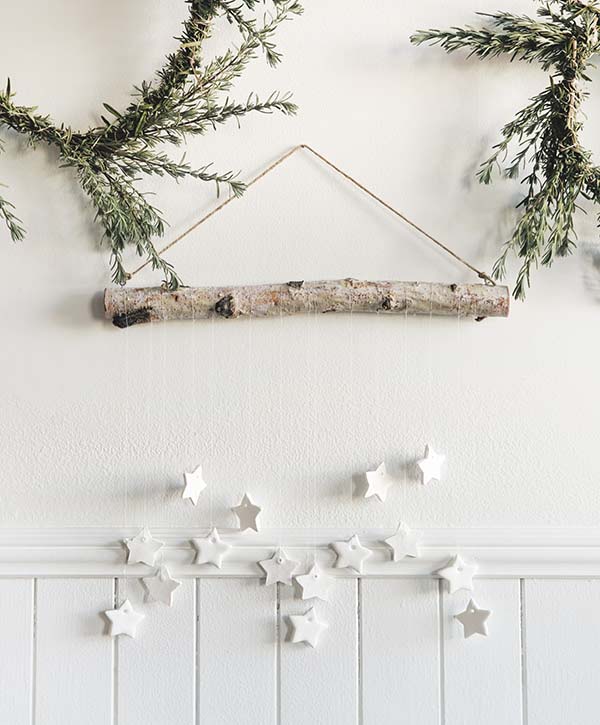 How sweet is this wall hanging?
The tiny white stairs paired with the gorgeous natural texture of the branch make a decoration that fits into both rustic and modern spaces.
Keep the stars white, or paint them to match your wall color for a true minimalist vibe.
9. Felt Christmas Trees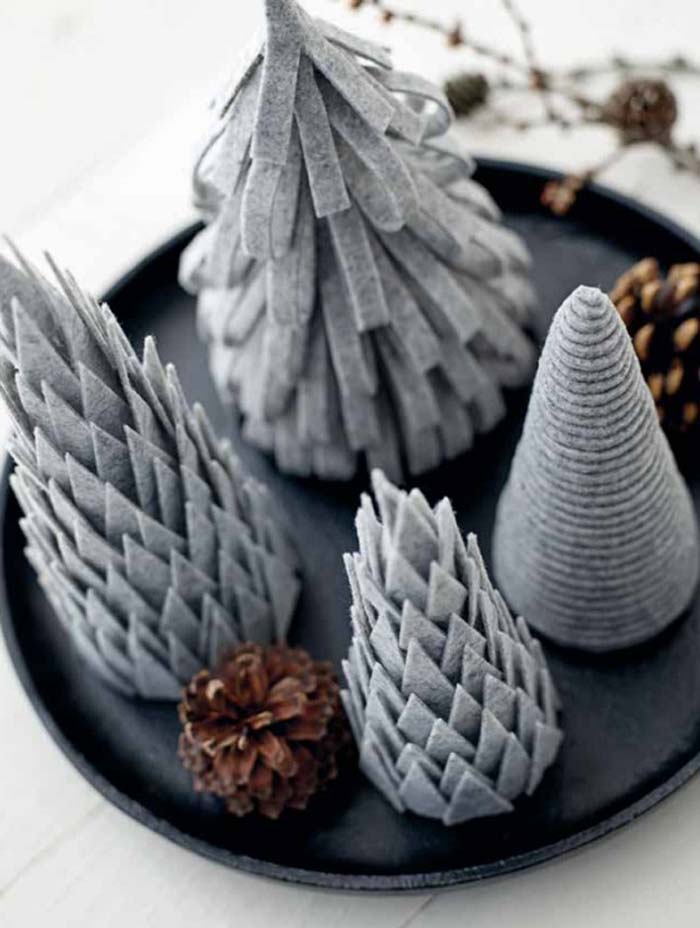 There's something beguiling about simple felt fabric.
Here, it's used to create tiny Christmas trees — each one shows off the unique texture and varying tones of the material.
By using the same color for varying styles, you can create a chic, expensive vibe.
via Marianne Debourg
10. Fresh Garland Decor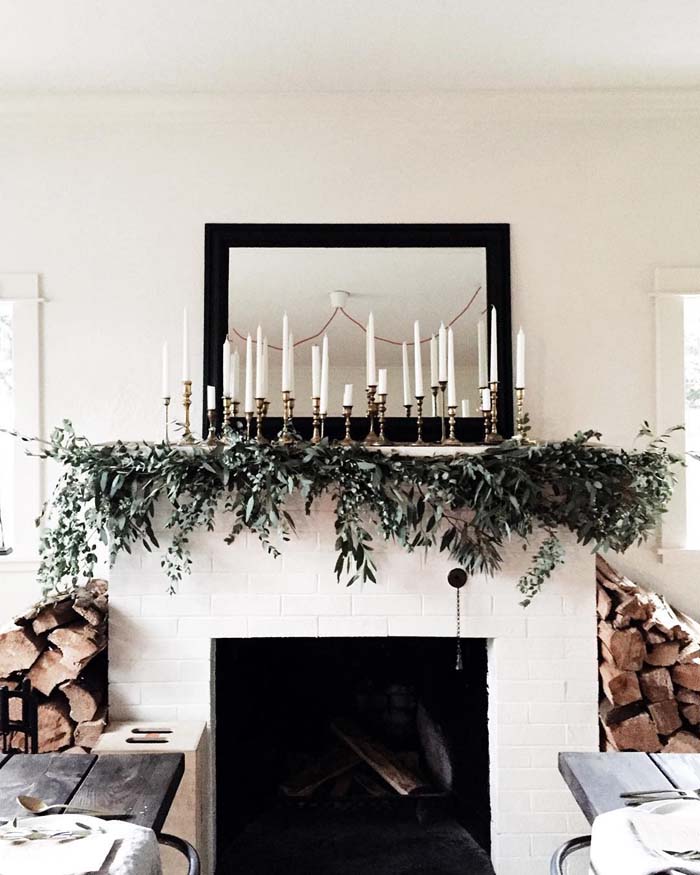 Who says holiday garlands must be made from pine or cedar?
The gray-green color of this stunning version gives your Christmas decorations a contemporary, Scandi-chic twist. The best part?
The plants are so beautiful that you don't need to add anything else.
via Vanessa Schmidt
11. Fresh Green Wreath with Bells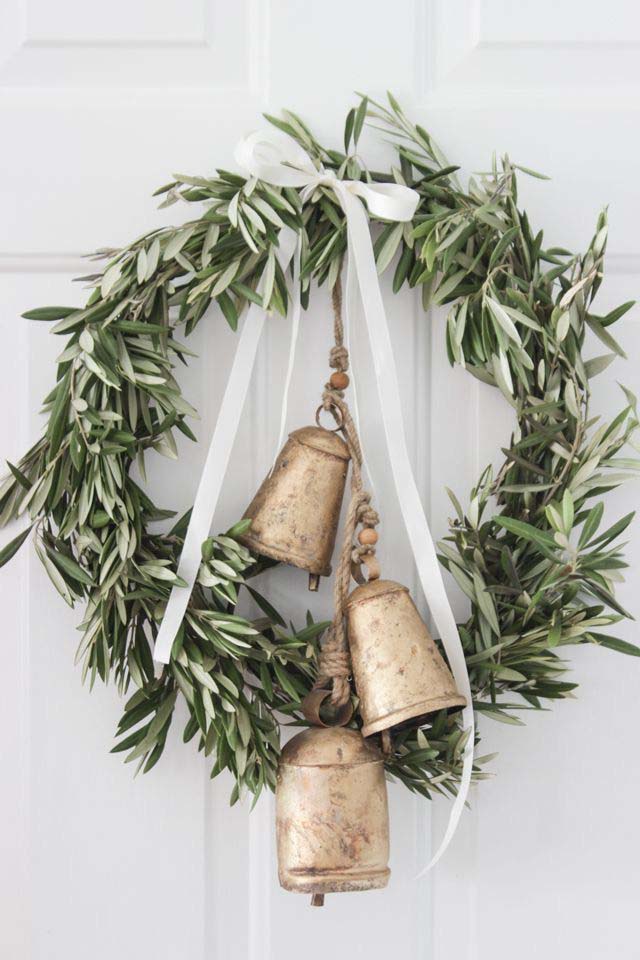 Here's another fun way to use unexpected greenery this Christmas.
We love the elegant white ribbon; use it alone for a modern look, or add in a few vintage bells for a touch of Old-World charm.
Either way, your front door will look spectacular.
12. Geometric Xmas Tree Ornaments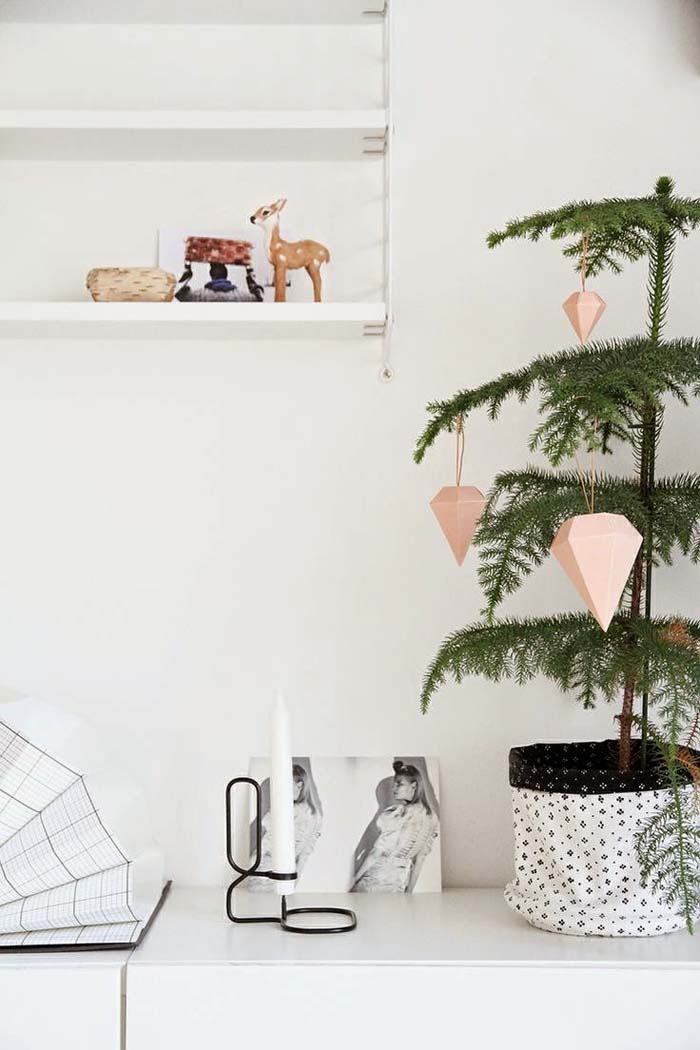 Looking for an easy, affordable DIY project?
These simple geometric Christmas ornaments fit the bill. All you have to do is cut, tape, and add a hanging loop.
The multi-faceted design brings life to the plain paper — don't be surprised if your guests gush over each one.
13. Giant DIY Christmas Wreath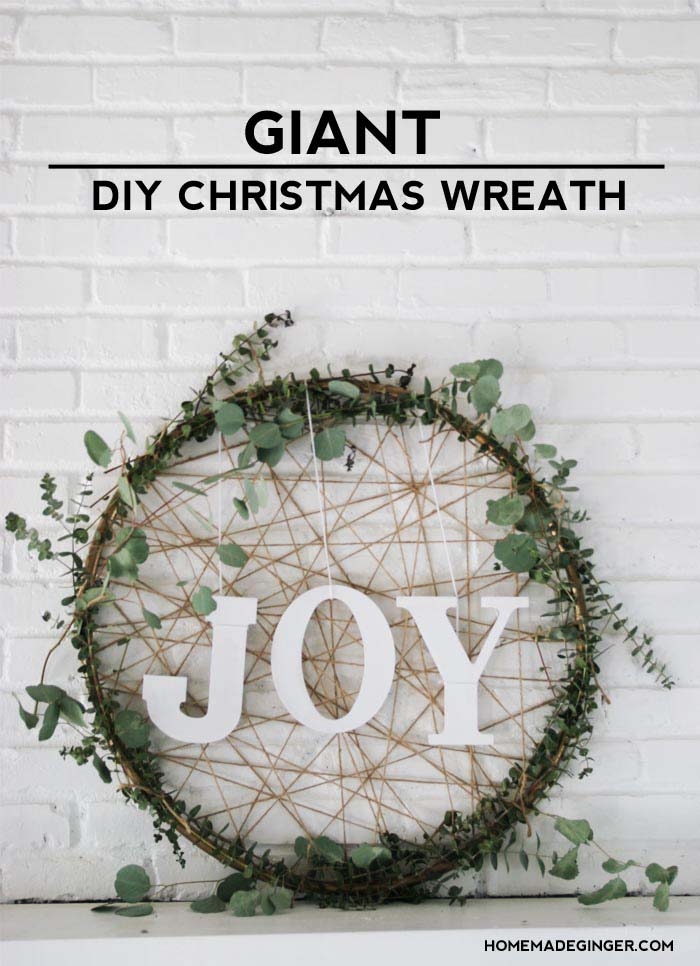 When you want to make a big impact without spending a lot, bigger is always better.
This enormous Christmas wreath is a breeze to make, but it dresses up an entire wall.
Add the word in the middle or leave it out for a more minimalist effect.
via Homemade Ginger
14. Leaf-Loaded Ornaments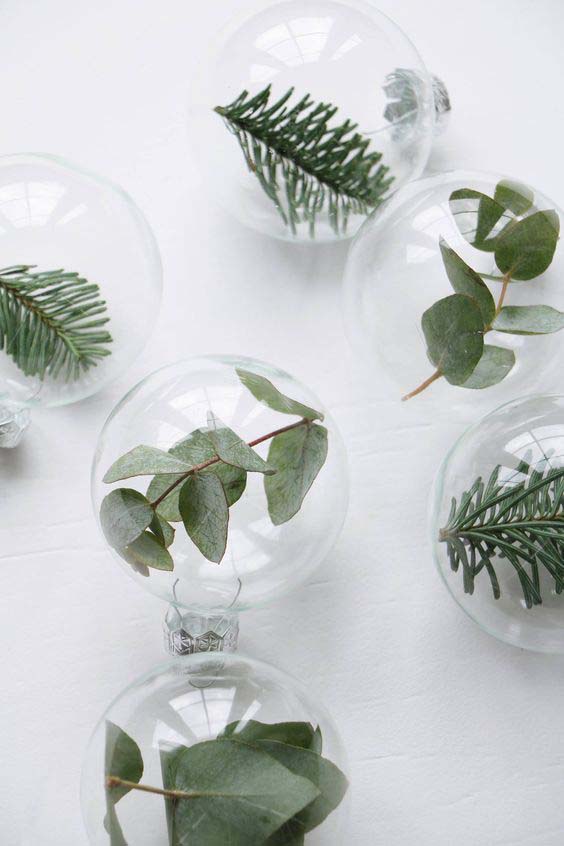 If you're a lover of the great outdoors, these leaf ornaments are the perfect way to celebrate.
They're a breeze to make — just pick anything you like and tuck it into a clear Christmas ball.
The transparent material makes it look like the leaves are floating in midair.
15. Leafy Branches for Decor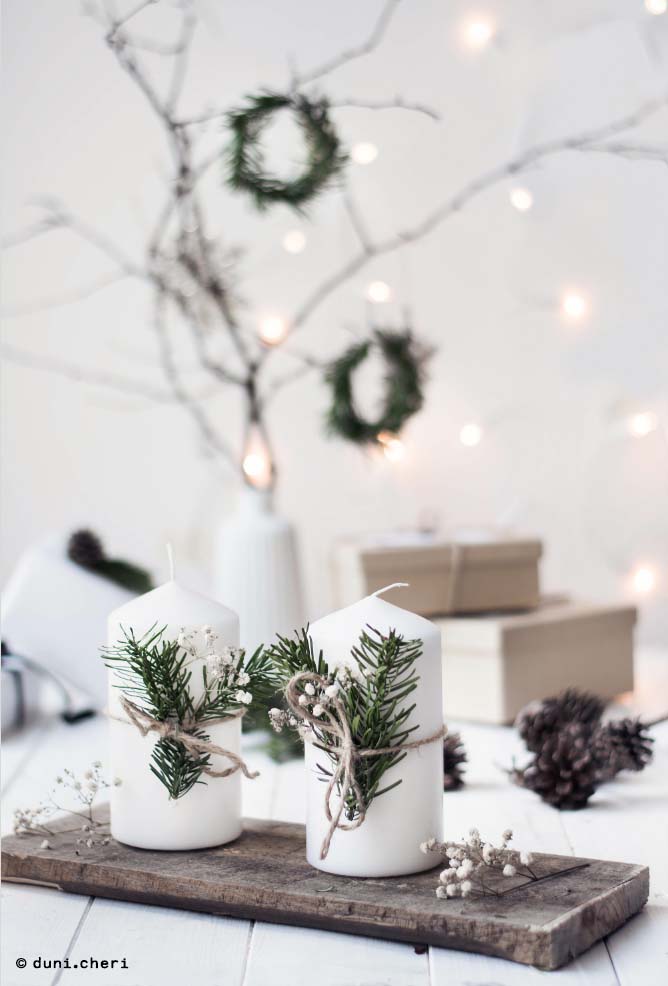 Do you have candles that look a little too plain?
Dress them up using a few pine branches.
Tie them around the candle with twine; the combination of natural colors and textures is beautiful yet low-key.
via Duni Cheri
16. Less is More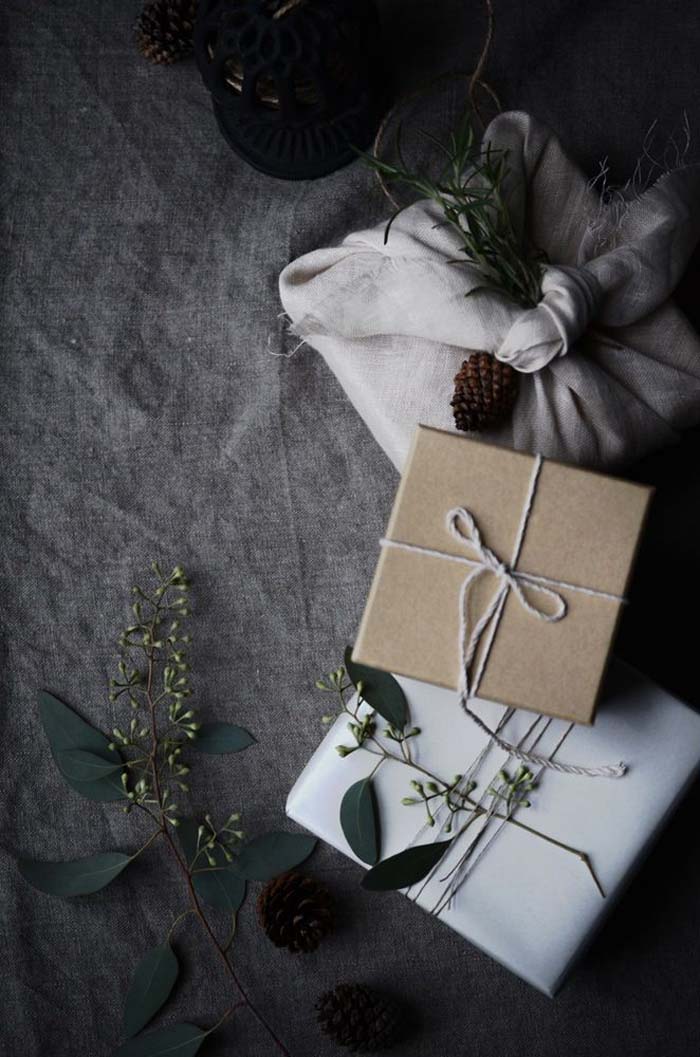 Change up the way you wrap Christmas presents with minimalist paper.
White paper, brown craft paper, and plain fabric all make lovely gifts — the trick is to tie them with textured yarn or twine.
If you want a bit of extra color, slip in a green branch or tie on a pine cone.
via Kristina Lynne
17. Mason Jar Centerpiece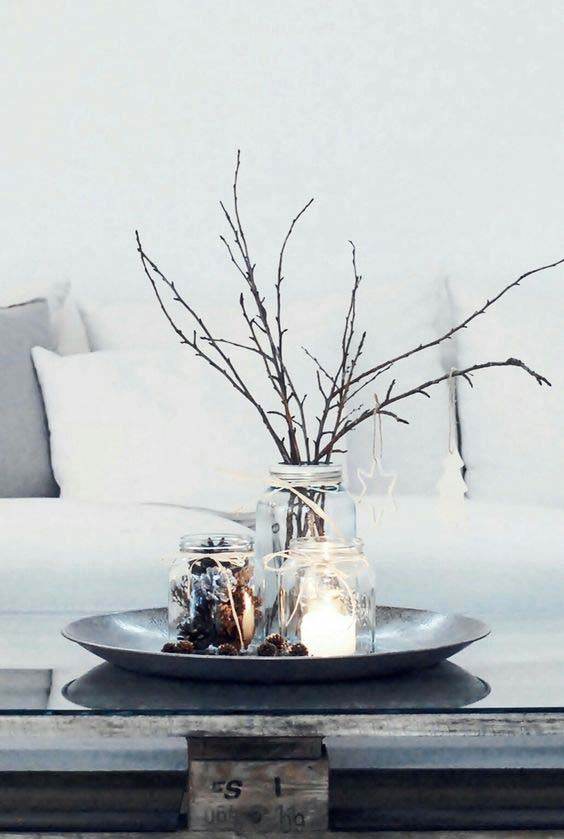 Mason jars are some of the hardest-working items in rustic decor, and this Christmas centerpiece is no different.
It looks super-chic, but upon closer examination, you'll notice that everything is natural.
Acorns, pinecones, and bare branches all look lovely when tucked into the clear glass.
18. Minimal Christmas Tree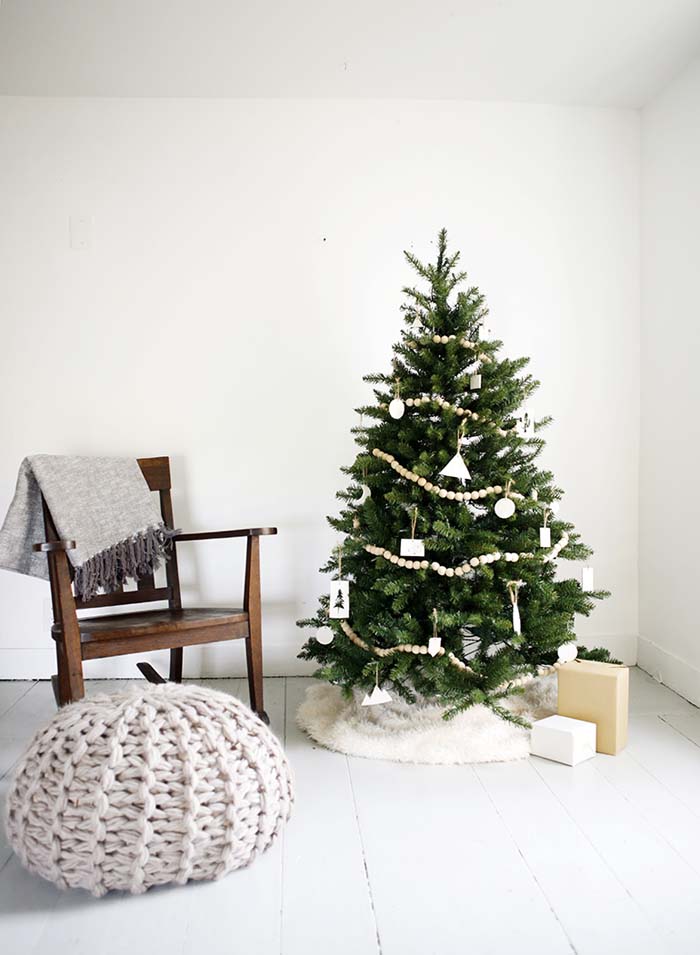 Celebrate the lovely colors and textures of your Christmas tree by adopting a minimalist decoration theme.
Stick to one color — you can't go wrong with white or cream — and use just a few ornaments.
A matching garland gives the tree balance while adding to the sophisticated style.
19. Minimal DIY Wreaths

These wreaths might be minimal, but they sure are spectacular!
We love that they're made with things you probably have on hand: hangers, embroidery hoops, and sticks.
Customize the wreath with greenery you find outside, or take a trip to the florist and pick out whatever speaks to you.
via Idle Hands Awake
20. Nordic Christmas Home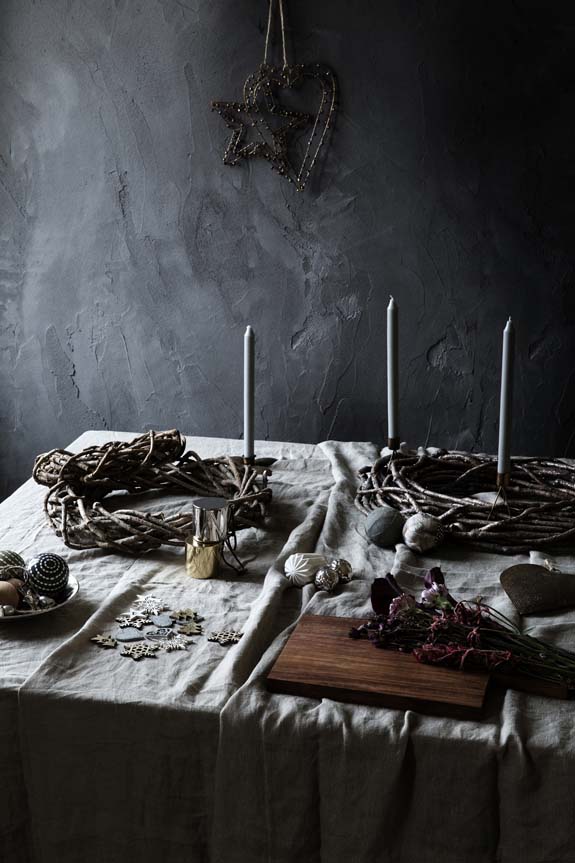 Nordic style is famously minimalist, making it a fun inspiration for toned-down decor.
Here, it's all about materials you can find in nature — twine, sticks, wood, and plants. The neutral palette is striking and simple.
via Bungalow 5
21. Rosemary Wreath Place Cards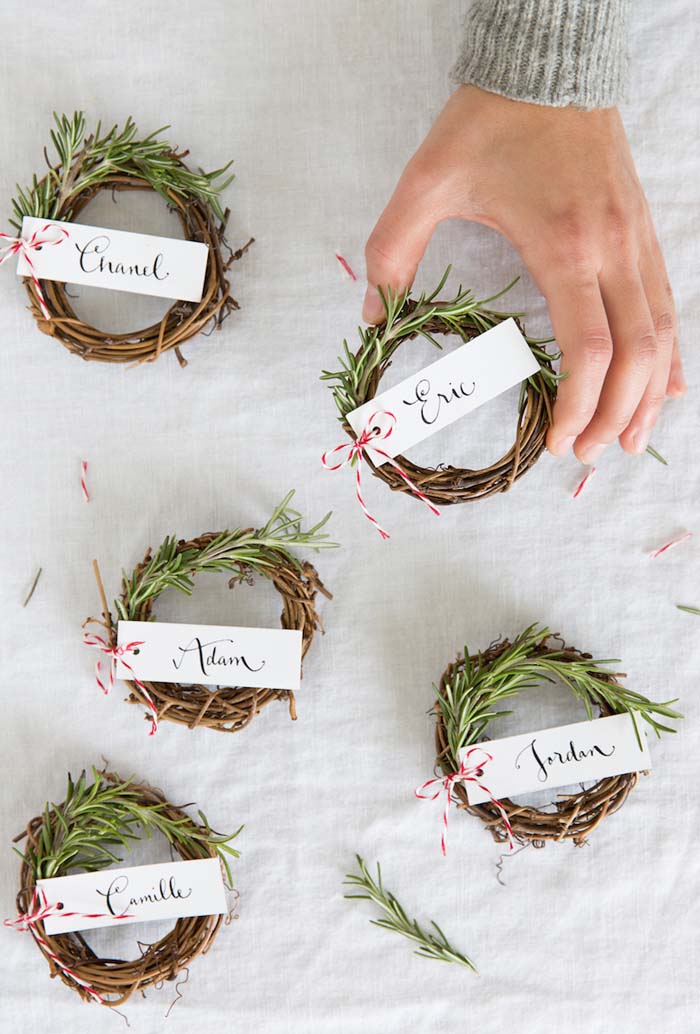 Are you hosting a Christmas dinner?
Welcome your guests with these adorable rosemary wreaths.
They smell as good as they look, and they're incredibly easy to make. We love how the tiny candy cane-striped string adds just a hint of color.
via Camille Styles
22. Scandi Christmas Table Settings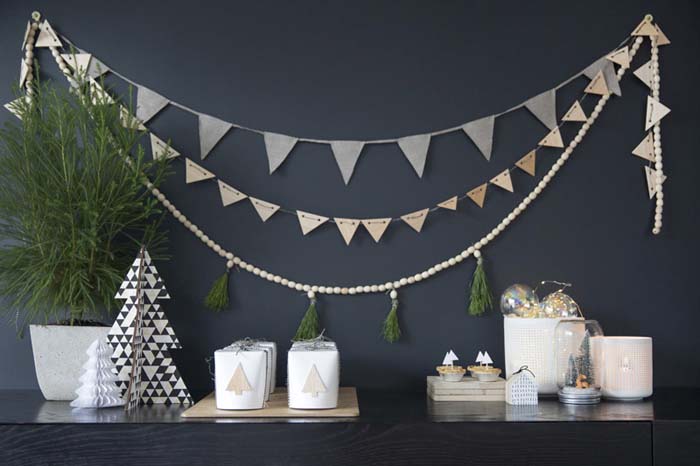 Go for a Scandi-chic buffet table by using an all-white palette.
The simplicity of the color enables the tiny details of each piece to take center stage, creating a truly stunning design. Want a hint of color?
Green and blonde wood are the perfect accents.
23. Scandinavian Christmas Tree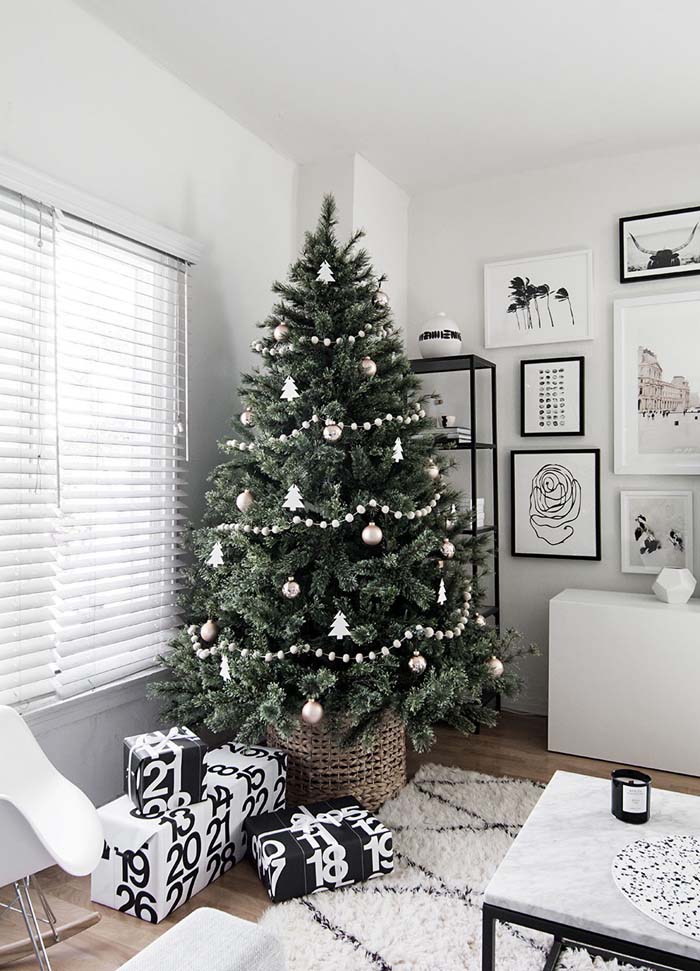 Christmas trees tend to be traditional, but this Scandinavian-inspired design proves that you can integrate a tree into a modern home. The trick?
Monochromatic ornaments and a minimalist arrangement. The simple design pops in a black and white home.
via Homey Oh My
24. Scandinavian Tree Ornaments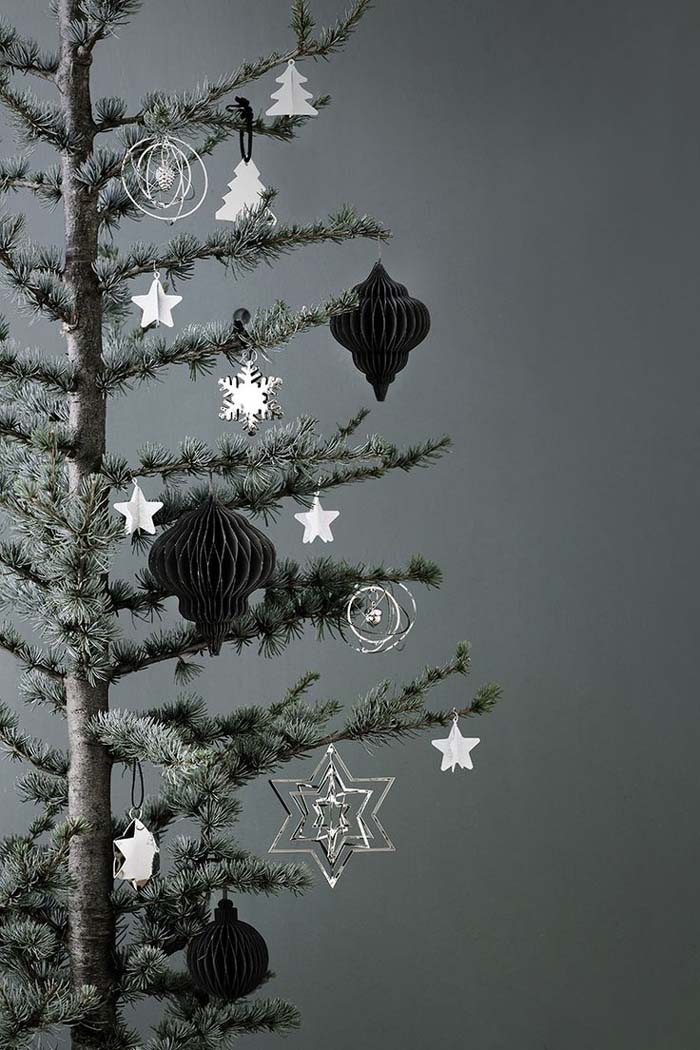 Scandinavian ornaments are known for their strong shapes and multi-dimensional designs.
Accordion-pleat paper, in particular, is a standby in Nordic countries.
If you want to take your tree a step further, stick to a chic black, white, and silver color palette.
via Kristina Lynne
25. Simple Christmas Tree Display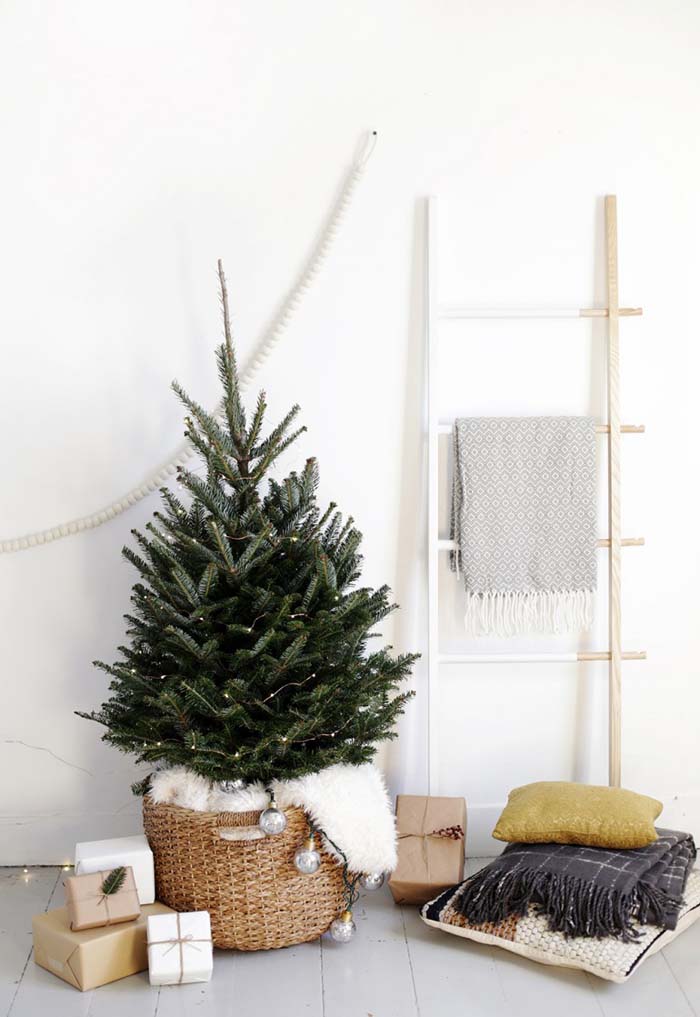 Bring an element of minimalism to any room with a bare miniature Christmas tree.
The small size renders ornaments unnecessary, so you can get away with a string of tiny LED lights. Surround your tree with neutral tones for the full effect.
26. Simple Holiday Gift Wrapping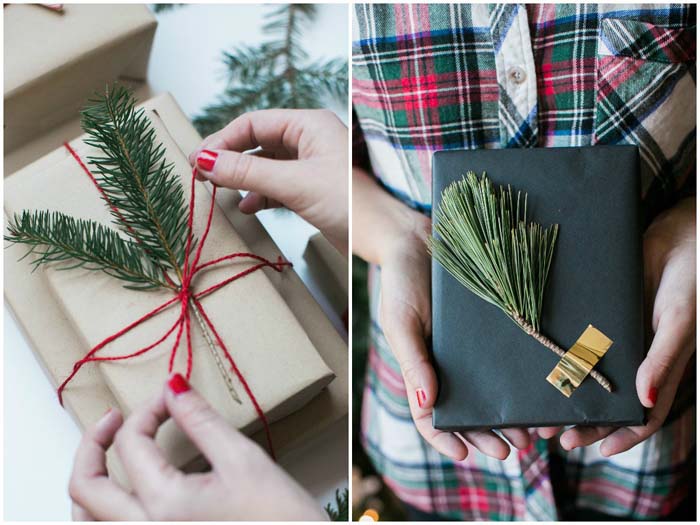 Make your loved ones smile this Christmas with a simple but lovely gift wrap.
A base of solid-colored paper makes a great foundation — you can even use construction paper or kraft paper.
From there, tape or tie on anything that makes you smile: branches, yarn, ribbon, or pinecones all make perfect decorations.
via Lauren Kelp
27. Three Wreaths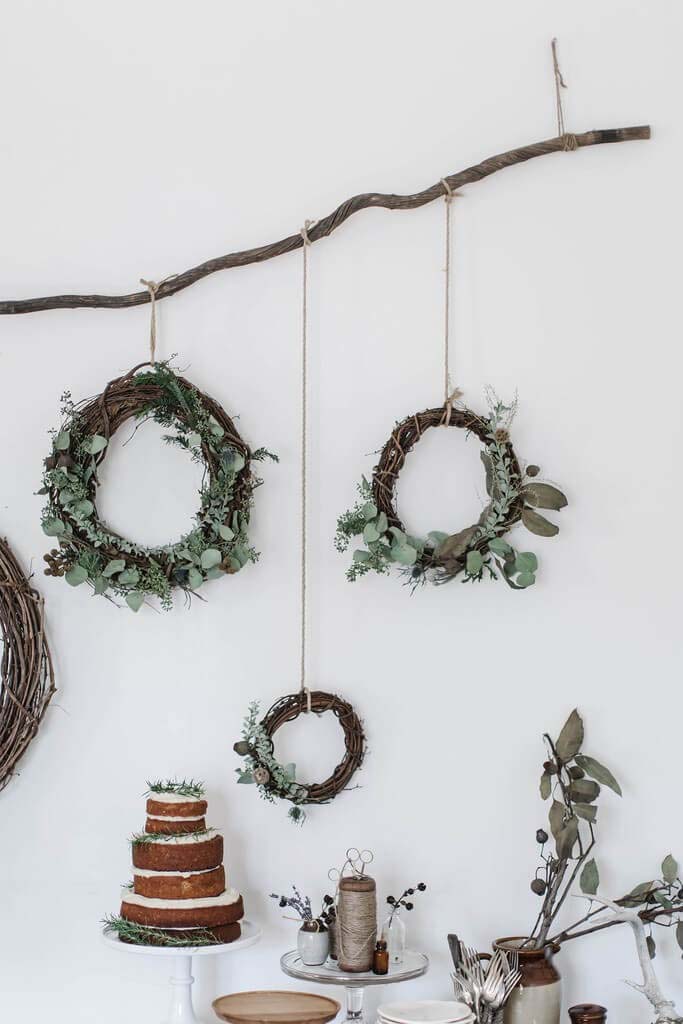 Do you have an empty wall that's begging for decorations?
Create a large, installation-style piece with a long branch and a few wreaths.
The secret is to hang them at different heights for a look that's proportional and eye-catching.
Use twine as a hanger, or choose a ribbon that matches your wall covering.
28. Twinkly Lights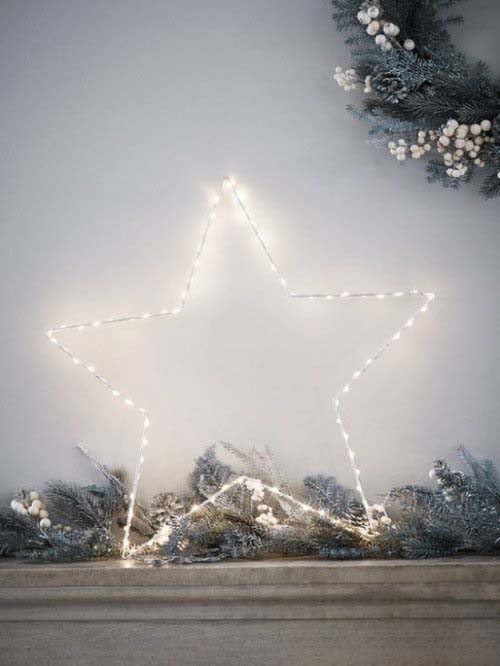 Embrace the simple magic of Christmas by turning twinkly lights into a minimalist decoration.
All you need is a wire and a string of battery-operated lights. Since the wire is so flexible, you can bend it into a shape, word, or other festive elements.
Wrap the lights around the wire and you have a showstopper.
29. Wire Star-Shaped Wreath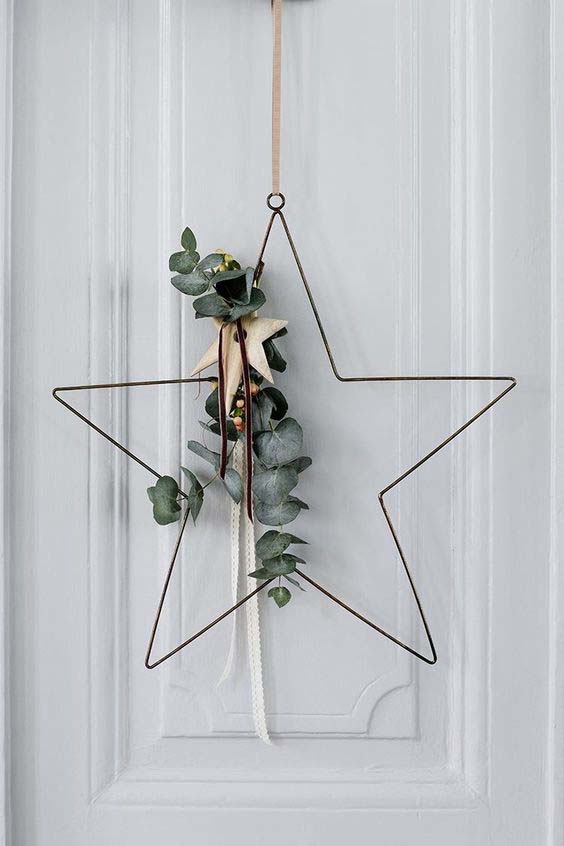 Most wreaths are circular — change things up by making a star-shaped version. The best part?
You can make this wreath yourself using a wire hanger and a pair of pliers.
A tiny grouping of greenery in an offset position keeps things feeling festive.
30. Wreaths With Box Placed Inside Them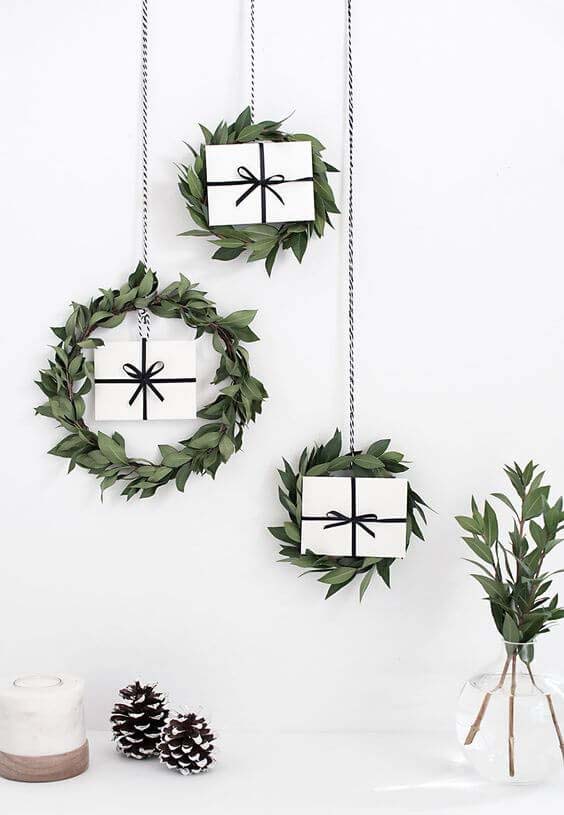 If you have a modern farmhouse or a Scandi-inspired home, embrace tradition with a timeless black, white, and sage green palette.
Here, a trio of wreaths is elevated with tiny white gift boxes wrapped in black ribbon.
The effect is impossibly sophisticated and beautiful.