With it being the time for giving to others, many struggle financially to show their love.
Below are ideas for creative wrapping ideas that are more affordable than buying fancy bows, ribbons, and other things.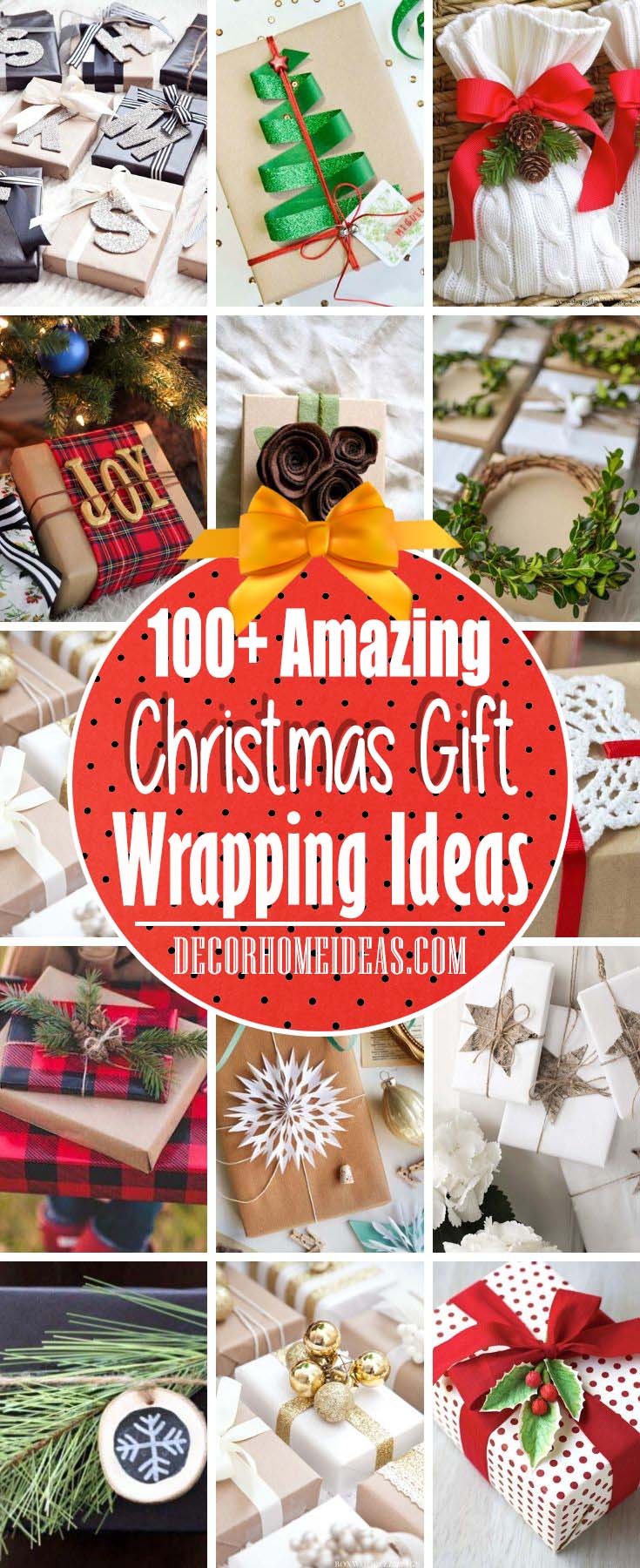 The best part is: you can do all these wrapping ideas very quickly and easily. You can wrap your own DIY Christmas gifts or ones that you have bought.
1. Wrap Gifts with Beautiful Reindeer Craft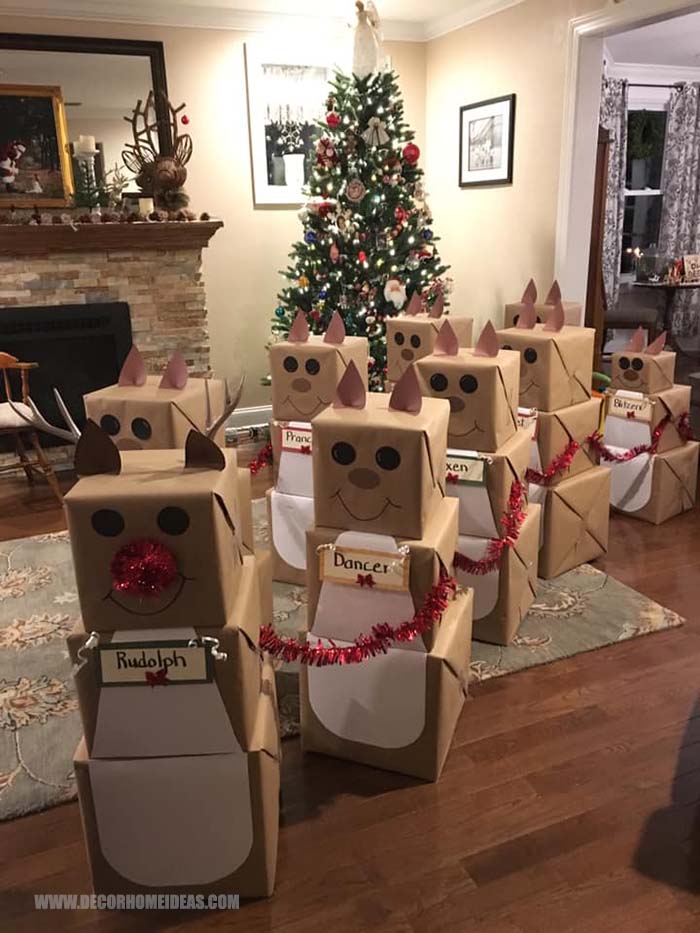 This idea is amazing when you have a lot of grandkids and would like to surprise them with presents. They will have so much fun unwrapping the gifts.
2. Add Flair to Package Wrapping with Twine and Pom Poms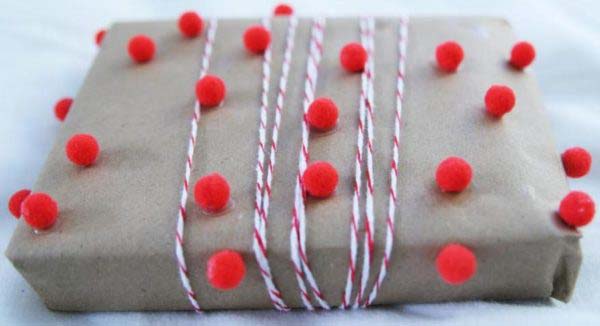 Adding red and white twine around the package makes it easy to carry and adds flair. Adding a bunch of small pom-poms adds flair and dimension.
via Homemade Ginger
3. Elegant and Modern Black Tree Stamps for Packaging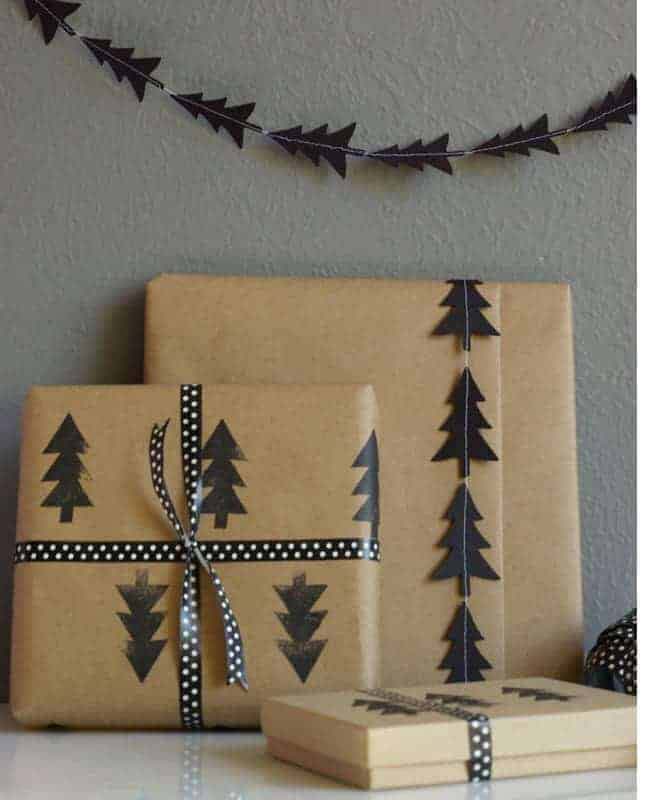 Black tree stamps on brown paper seem simple but they are elegant and modern. You can make black tree cut-outs and attach them to twine to wrap around the package.
via Hello Glow
4. Upcycle a Tan Lunch Bag into a Festive Package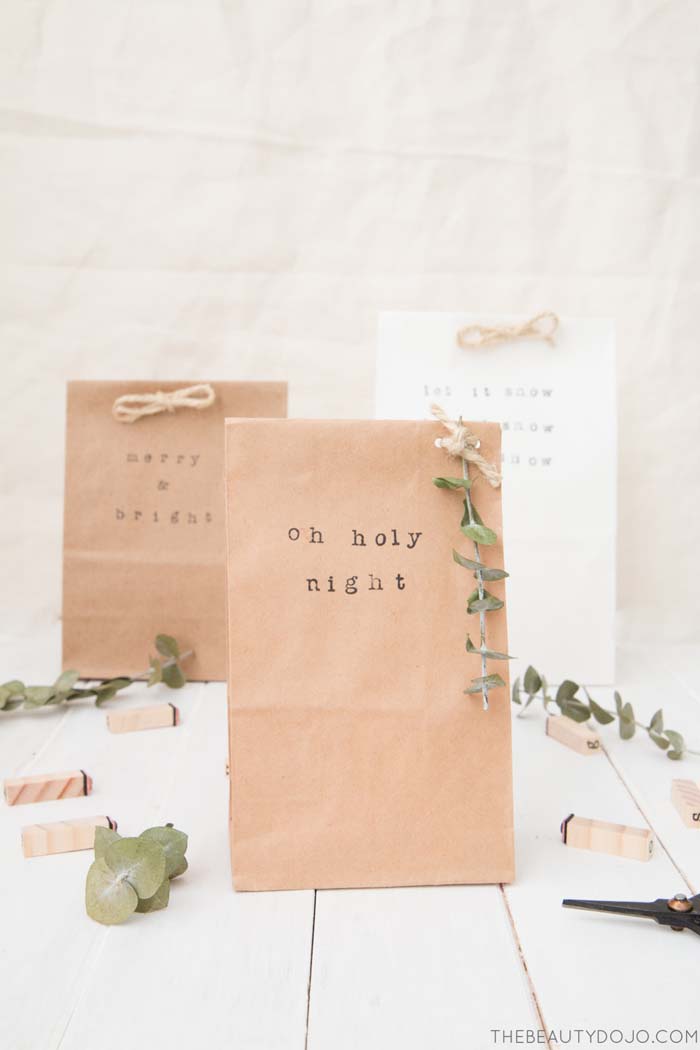 A tan lunch bag can be made festive by stamping on sayings. You can add twine to the top to close the bags and attach other things.
via The Beauty Dojo
5. Add Christmas Ornaments to Tan Wrapped Packages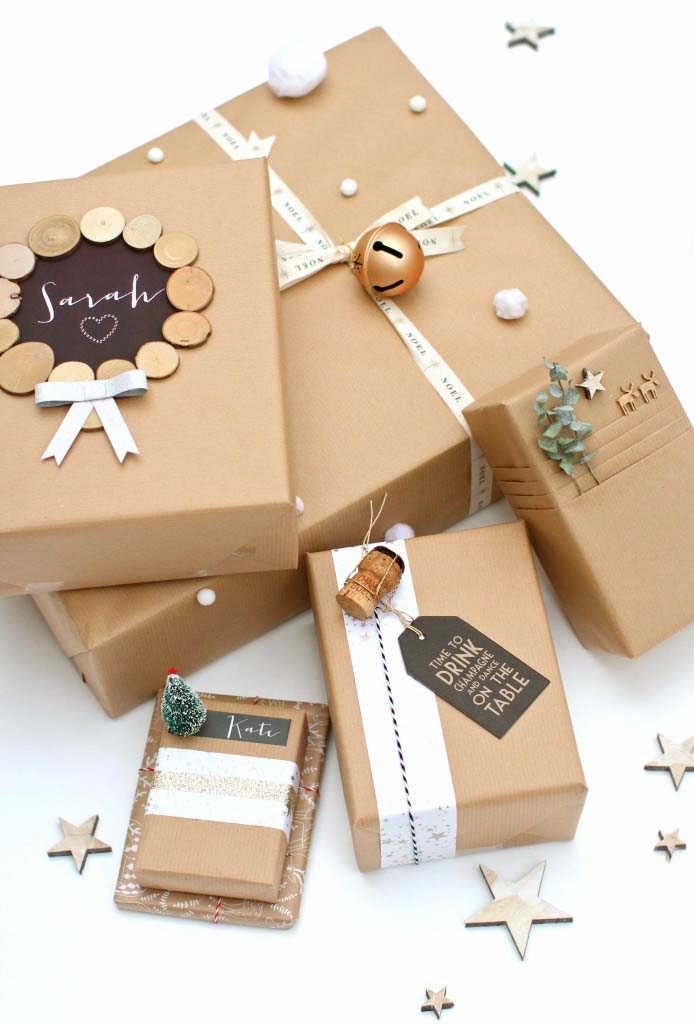 A tan wrapped package can be made festive by adding things onto it. You can wrap thread and ribbon to attach things or glue things to the paper.
6. Elevate Christmas Gifts with Buffalo Check Decor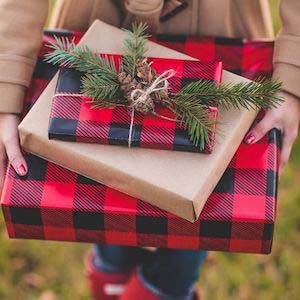 The checkered print is a rustic pattern that people are into. They can be simple with just the checkered paper or can use twine to add things.
7. Wrap Presents with a Burlap and Boxwood Wreath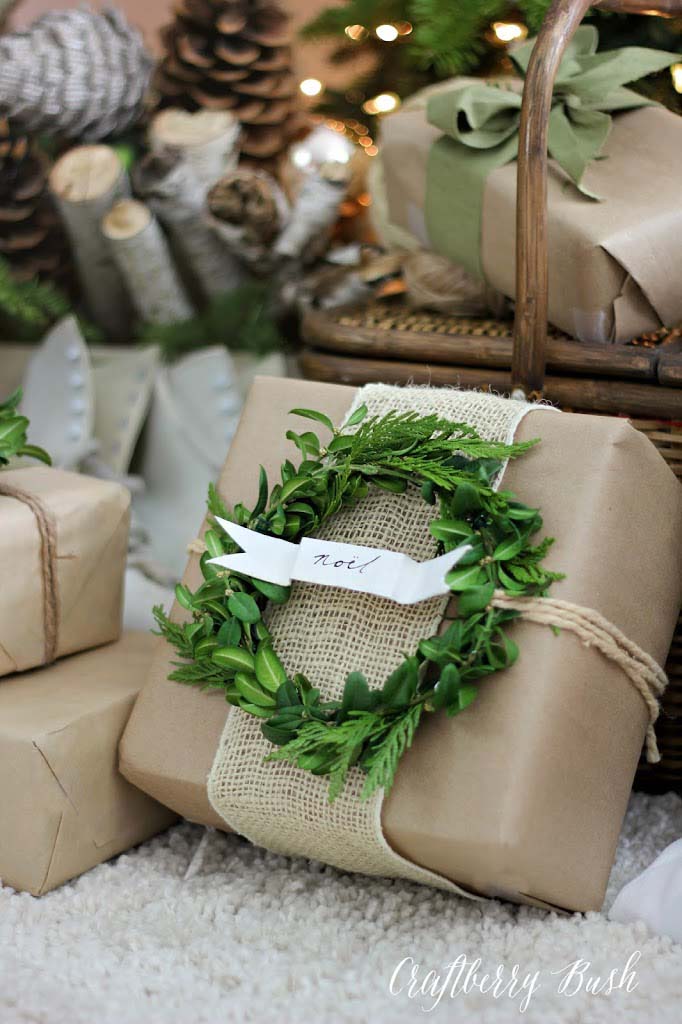 Burlap might seem plain, but it is great for wrapping around tan paper. The perfect thing to top it off is to add some wreaths made of boxwood.
via Craft Berry Bush
8. Decorate Tan Gift Wrapping Paper with Calligraphy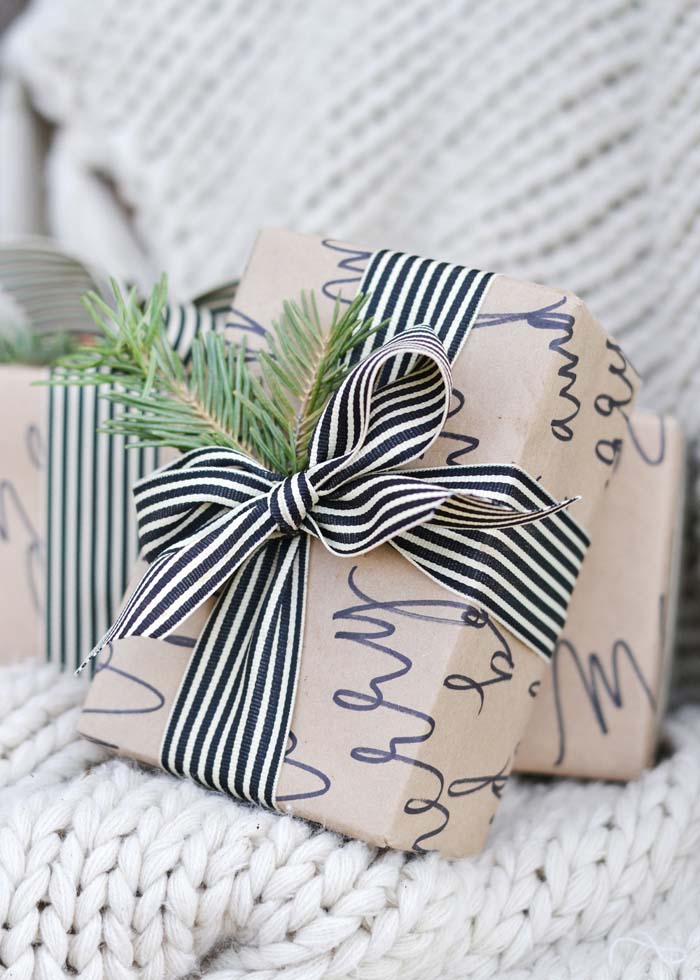 A tan paper can be made decorative in different ways, and a personal way is to write calligraphy sayings over the paper. You can make writing large or small.
via Boxwood Avenue
9. Create a Sweet Candy Bow for Wrapping Gifts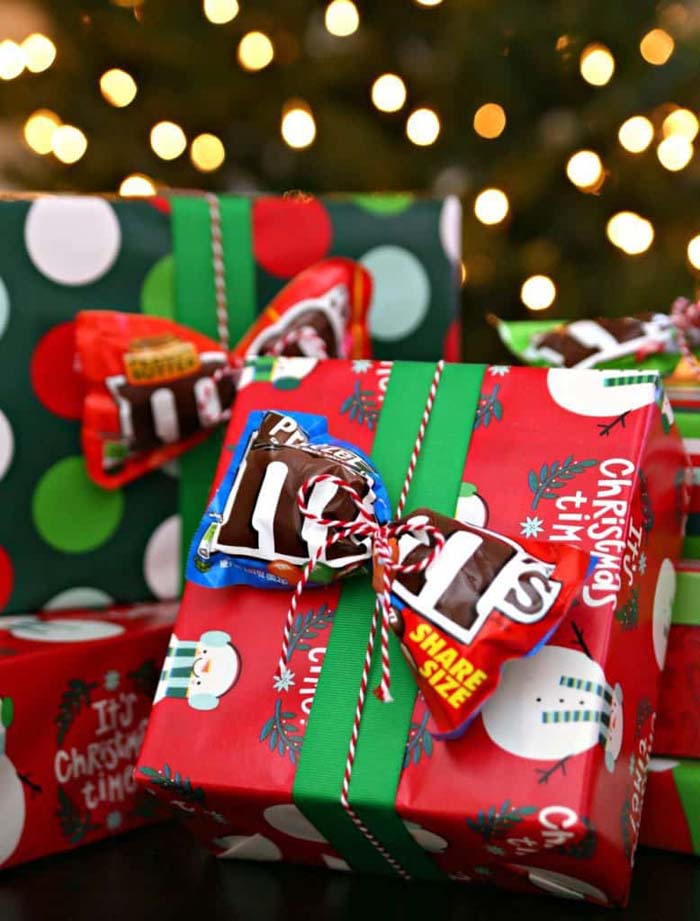 A bow of candy is perfect for children and adults. A bag of M&Ms or Skittles with thread to cinch the middle makes a bow shape.
10. Customize Gifts with Stamping and Twine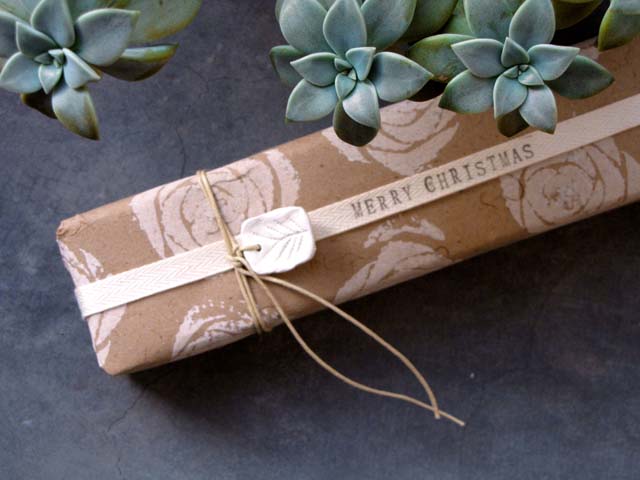 Stamping a tan paper is a great way to customize the gifts. Then you can add twine and clay tags.
via Blog del Anine
11. Personalize Your Gift Wrapper with Chalkboard Paper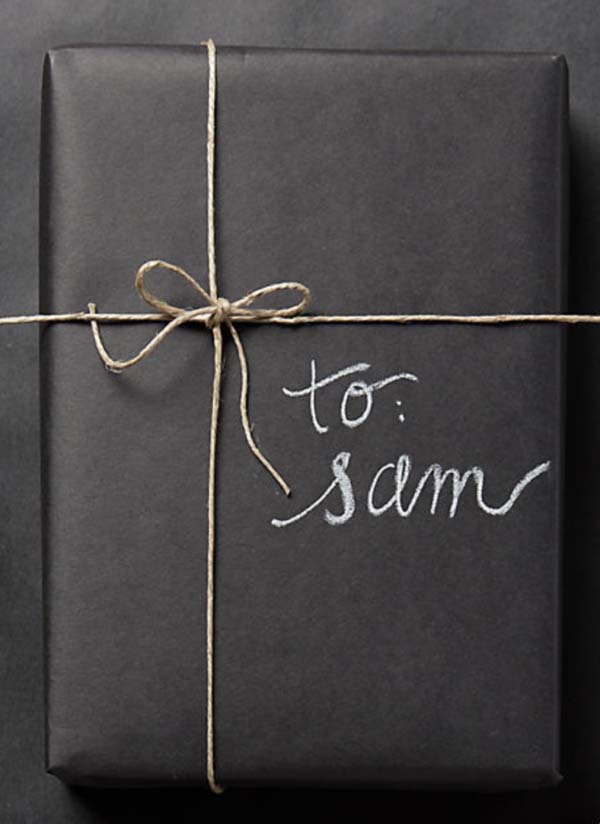 Chalkboard paper is easy for writing on the package to customize it. You can write who the package is for on it.
12. Attach Colorful Cards to Packages with Twine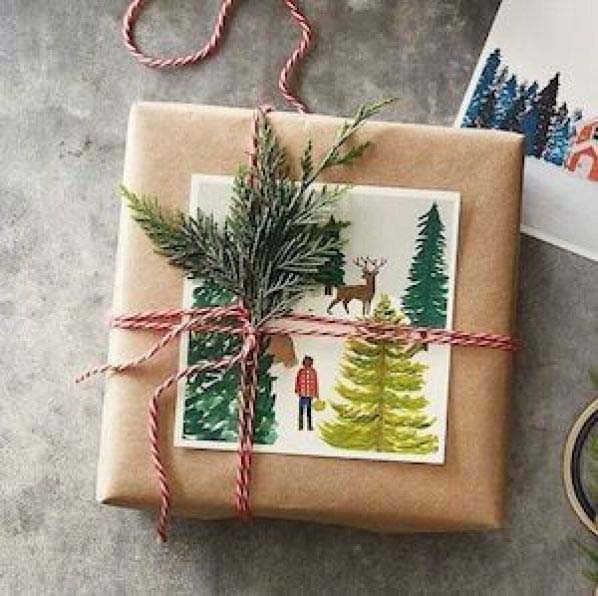 Using twine to attach a card to the package is a way to add color and design to the tan package. That way you give them a card with their gift.
13. Customize Chalkboard Tags for Your Presents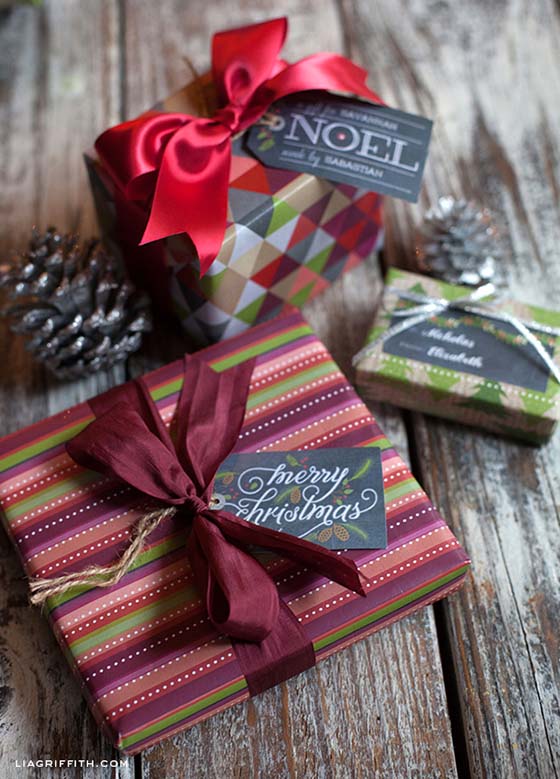 Chalkboard tags are great for designing a tag to fit each person, such as writing their name. You can get tie-on or sticker tags.
via Lia Griffith
14. Use Personalized Brown Tags with Metallic Letters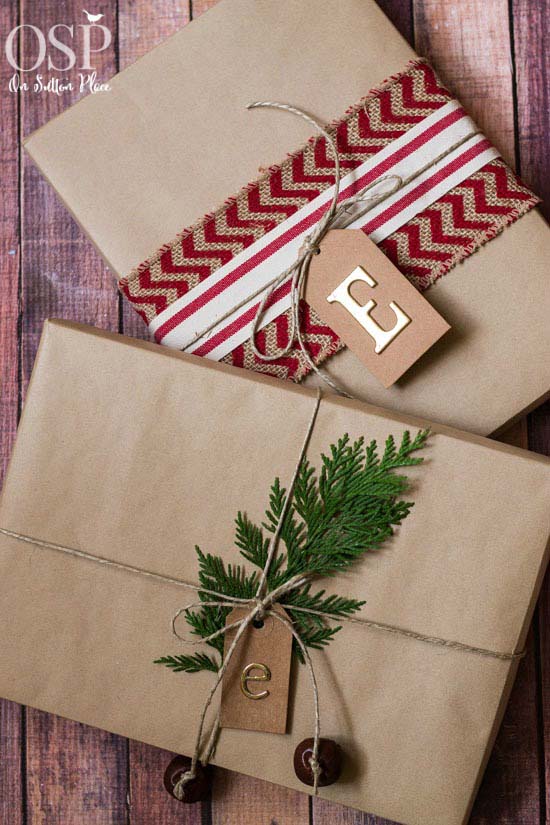 A brown tag with metallic letters attached is a way to make the tags personal. You can add letters if needed.
via On Sutton Place
15. Wrap Your Presents with Christmas Lights Garland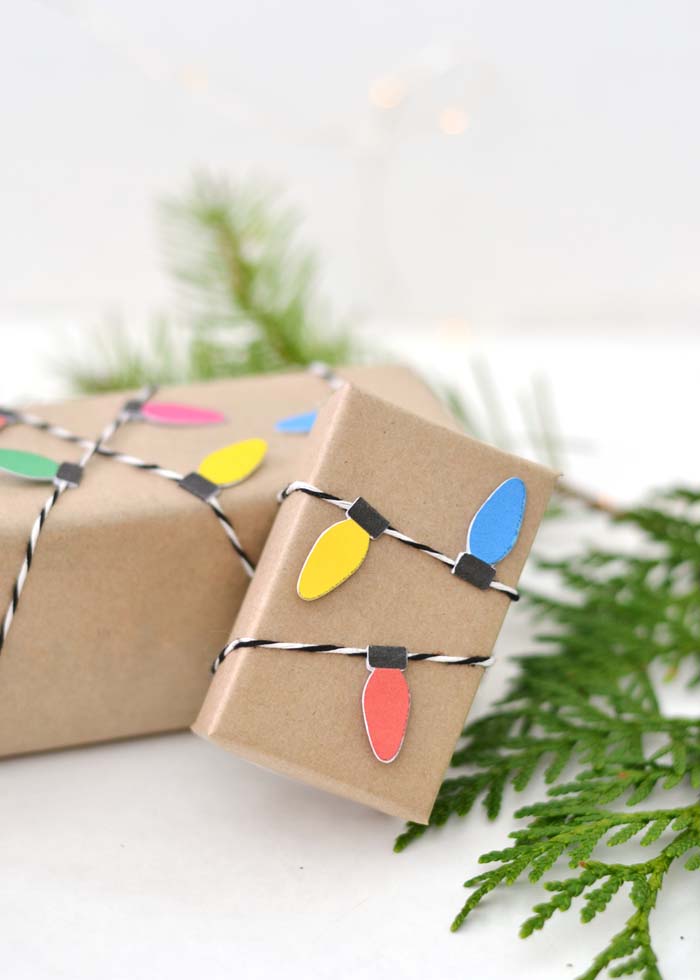 Making little lightbulbs out of paper and attaching them to a thread can add color to a brown paper package. You wrap it around the package to make it festive.
via Boxwood Avenue
16. Turn Brown Paper Packages into Christmas Art Decor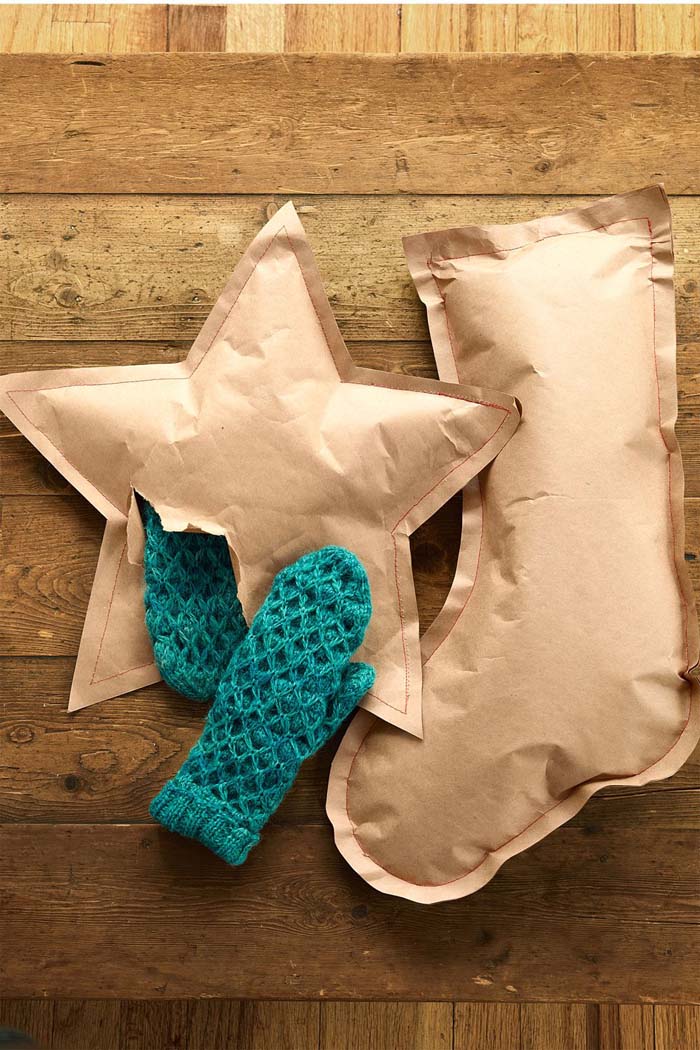 Brown paper can be shaped into shapes, such as stars and stockings, and then sewn almost closed. Once the presents are inside, sew them closed.
via Country Living
17. Make a Christmas Shirt Gift Wrap with Buttons and Ribbons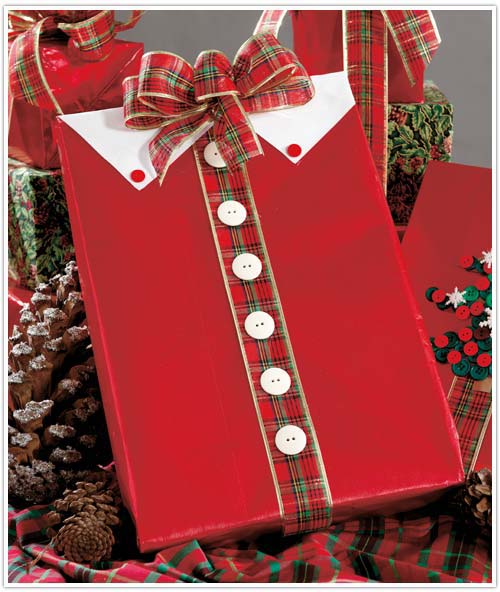 A package can look like a Christmas shirt by adding ribbon, buttons, and paper. It can be made in different colors.
via Ballard Designs
18. Add Rustic Charm with Tree Bark Stars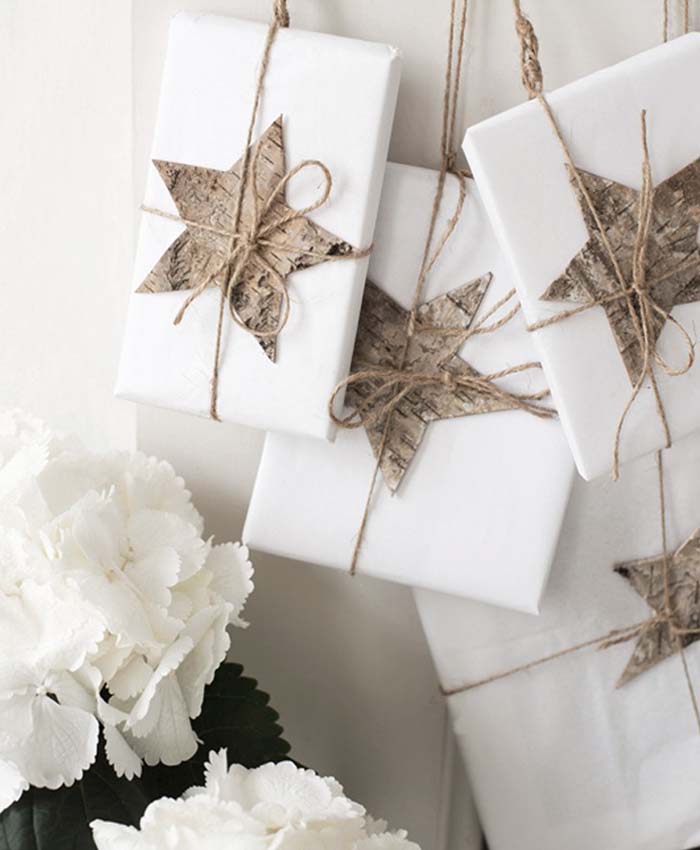 Tree bark stars can be a way to add rustic charm to paper. They can be layered over any paper, but white adds elegance.
19. Decorate Wrapping Paper with Twig Trees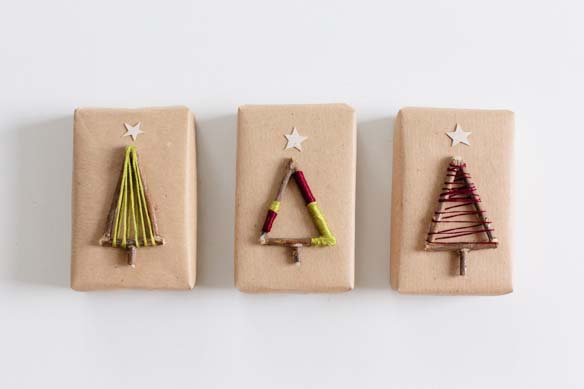 Small twigs shaped in Christmas trees add dimension and color to tan paper. You add the color by wrapping the thread around the twigs.
via Fellow Fellow
20. Customize Your Gift Packages with Clay Tags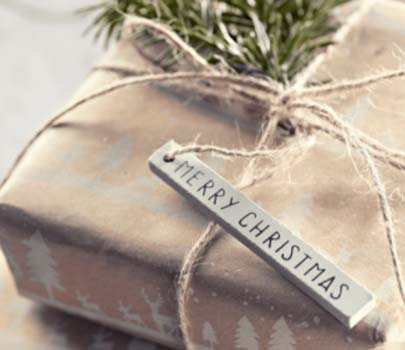 Clay tags are a way to make tags that people keep around and reuse. They can be gotten plain and written on to customize them.
21. Fun and Creative Gift Wrapping with Knit Clothes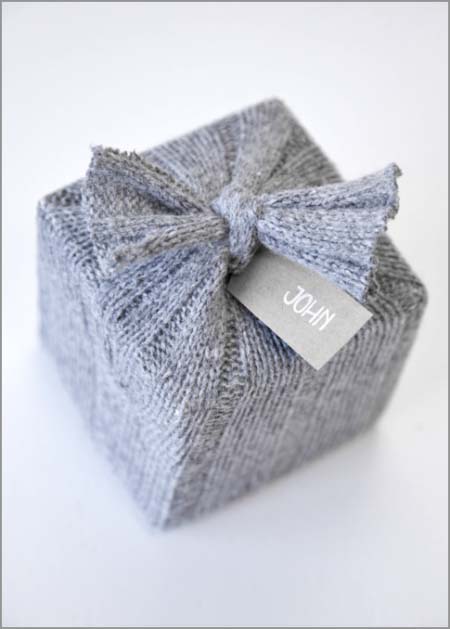 Knit clothes make the perfect thing to wrap presents. Not only are you reusing something no longer being used but creating something unique.
via Boxwood Avenue
22. Create a Festive Reindeer with Wrapping Paper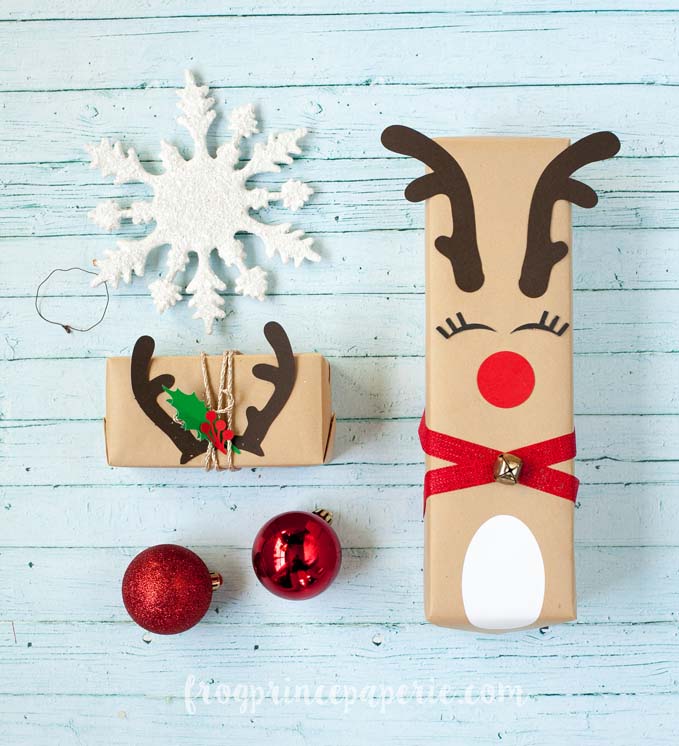 A gift wrapped in the tan paper can be made into a reindeer with paper cutouts, ribbon, and jingle bells. Small packages only need antlers.
23. Craft a Pom-Pom Bow with Cupcake Liners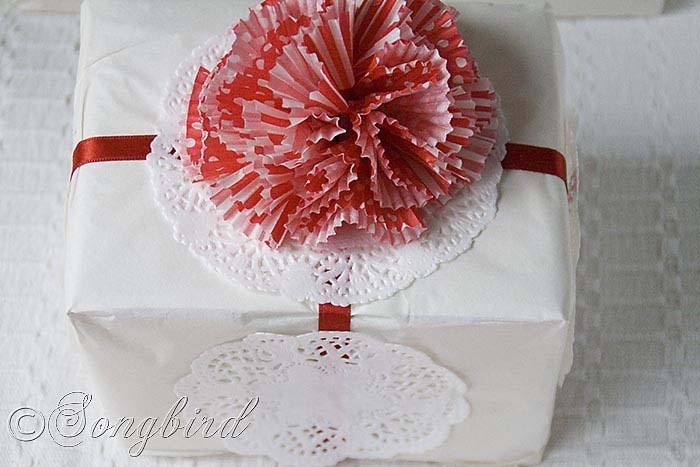 Cupcake liners can be made into a pom-pom bow with ruffles. You can use the same colors, or you can use different colors.
via Song Bird Blog
24. Wrap with a Cupcake Liner Christmas Tree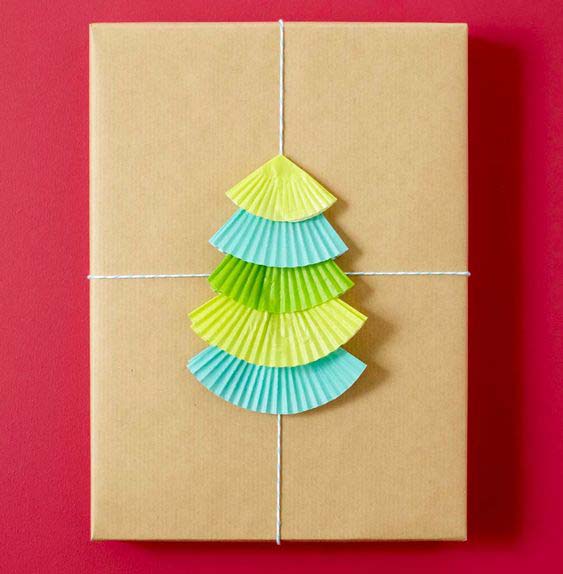 Different sized cupcake liners can be glued on a thread or straight on tan paper to create a Christmas tree. You just layer the liners to create the shape.
via Midwest Living
25. Craft Unique Bags with Knitwear and Pinecone Accents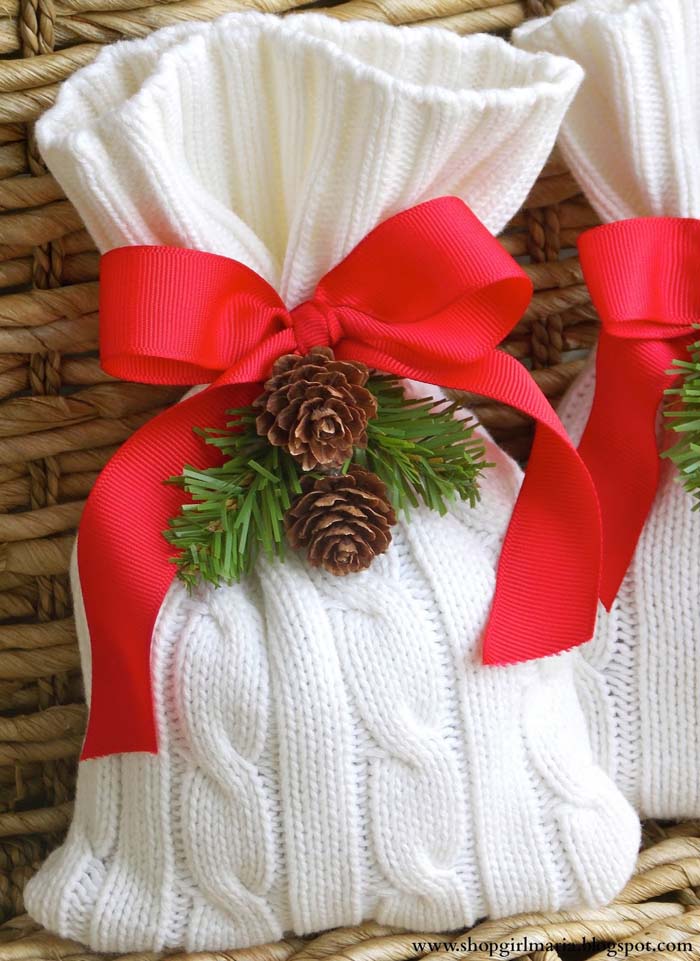 Knit sweaters or socks can be cut and used as bags. You can add dimension and color by using ribbon and pinecones.
26. Make a Gift Box using Felt and Ribbon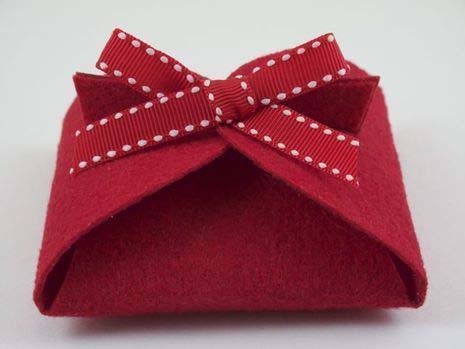 Felt can be cut and folded to form a gift box. It is then closed with ribbon.
via Curbly
27. Create Gift Bags Using Wrapping Paper and Ribbons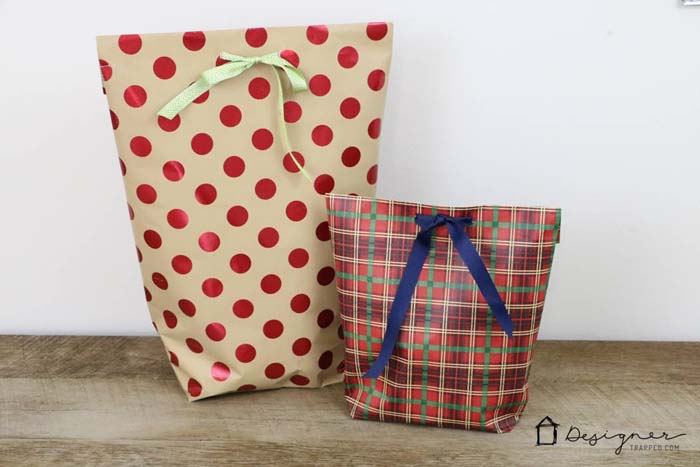 Wrapping paper can be used to create a gift bag. It can be closed with a ribbon.
via Designer Trapped
28. Decorate Wrapping Paper with Twine and Rustic Accents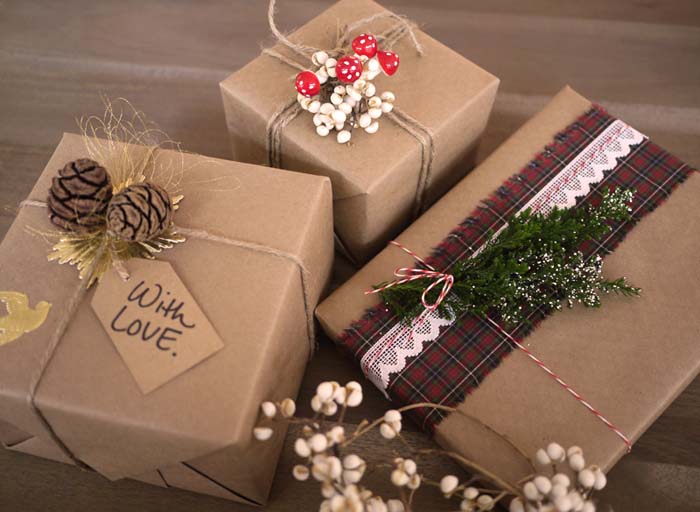 Twine can be used to add things to plain brown paper, and you can layer ribbon under the twine. You can attach pinecones, leaves, pine needles, or berries.
via Honestly wtf
29. Add Sparkle to Wrapping Paper with Glitter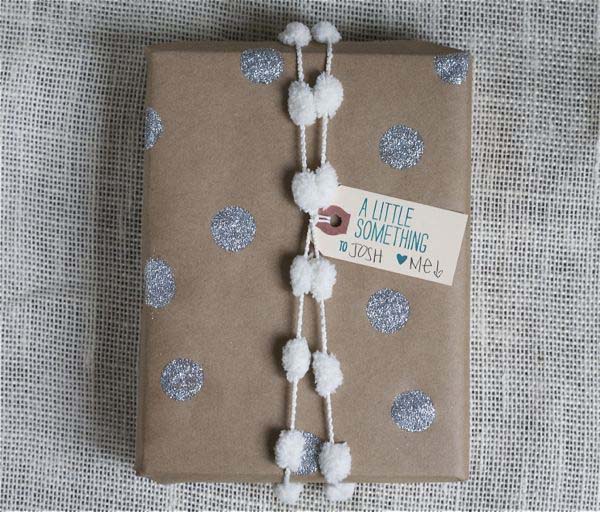 You can add sparkle to tan paper by painting it with glitter paint or gluing on glitter. You can use one color or multiple colors.
via A Cozy Kitchen
30. Elevate Store Gift Boxes with Boxwood Wreaths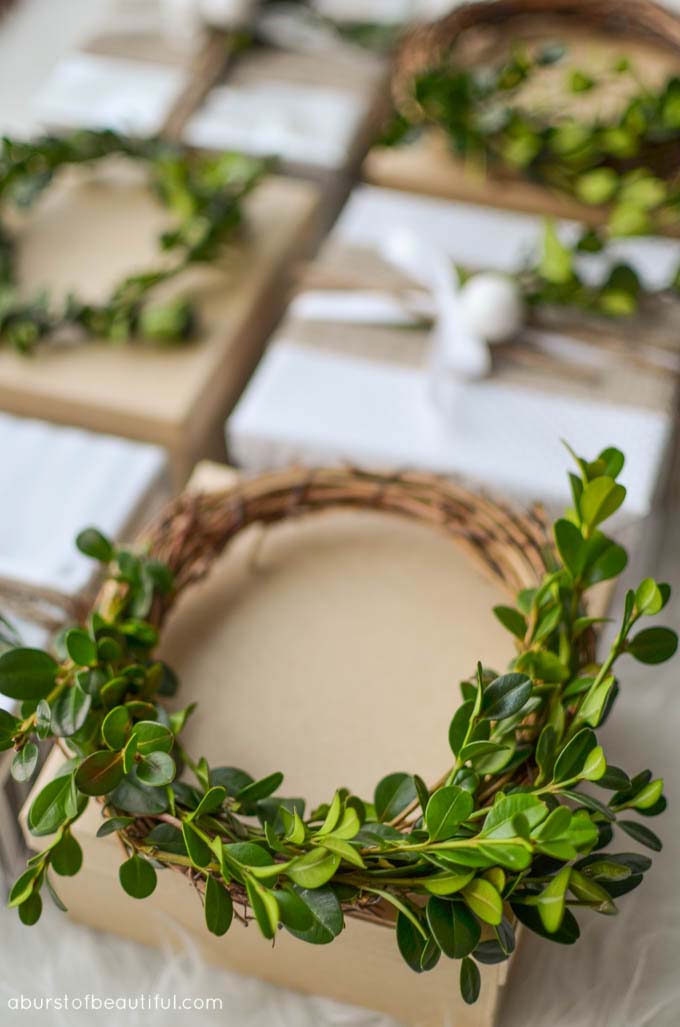 Store-bought gift boxes can be plain, but they can be made decorative by adding things. A small wreath is perfect to add flair.
via Nick and Alicia
31. Personalize Your Christmas Gifts with Child's Footprint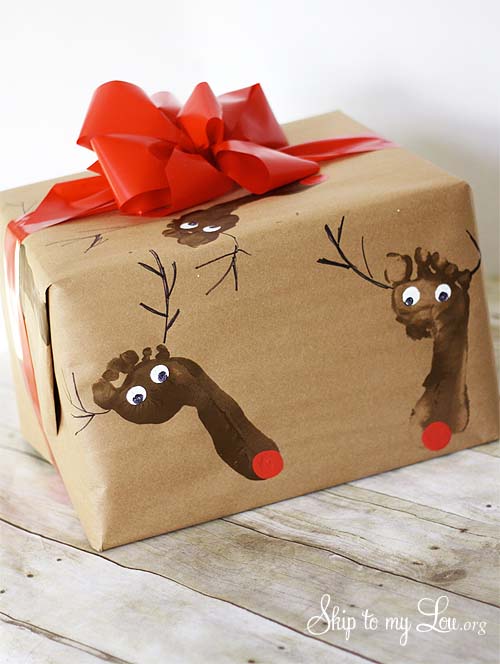 For families with small children, decorating the tan paper with their feet print is a personalized touch. Their print can be used to make the head of a reindeer.
via Skip to Mylou
32. Add a Homey Feel with a Doily Gift Wrap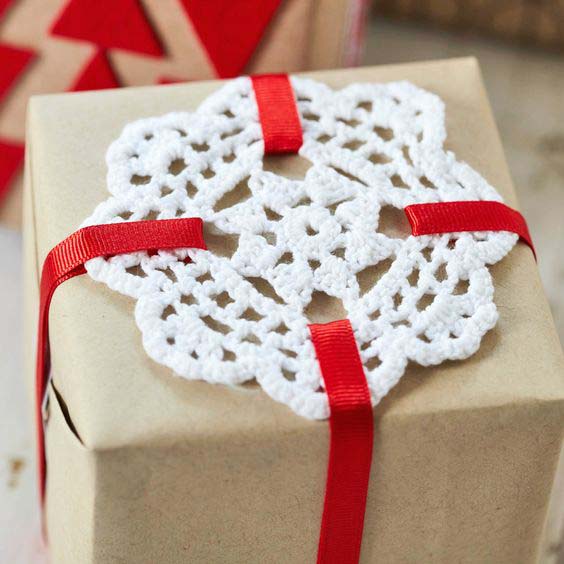 A doily is great for adding a homey feel to the tan paper. It can be attached using a ribbon.
via Midwest Living
33. Add Flair to Packages with Shiny Dollar Store Marbles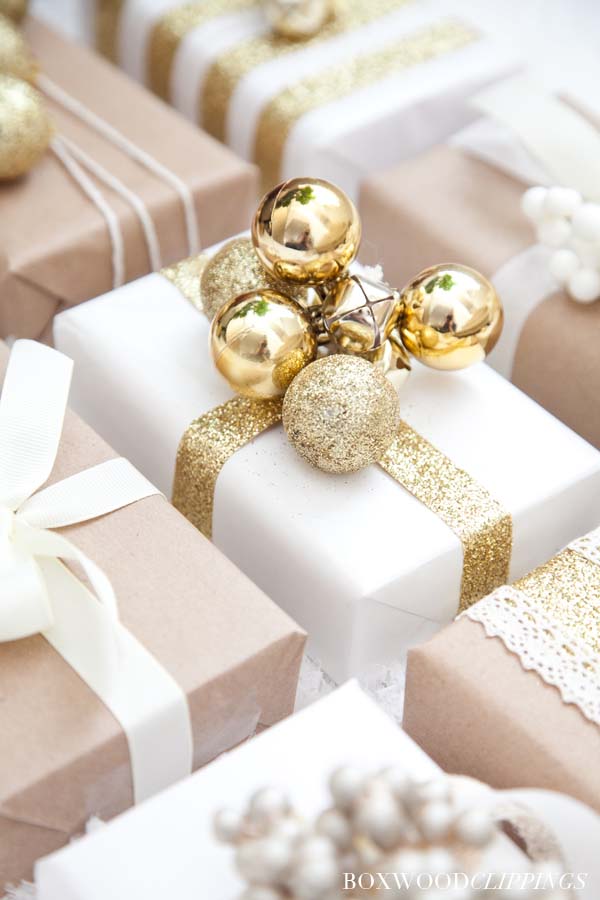 Dollar Tree is a great place to find cheap things to add for flair. You can find ribbon, berries, and bells to an elegant feel.
34. Customize Gifts with a Festive Drop Cloth Wrap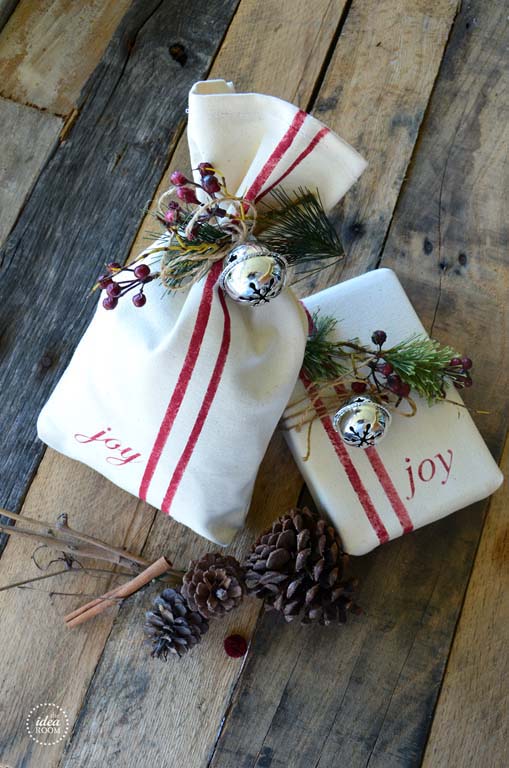 Dropcloth can be used to wrap or bag gifts. They can be made custom by painting on festive words and adding berries and jingle bells.
via The Idea Room
35. Wrap Your Gifts with a Red Duct Tape Bow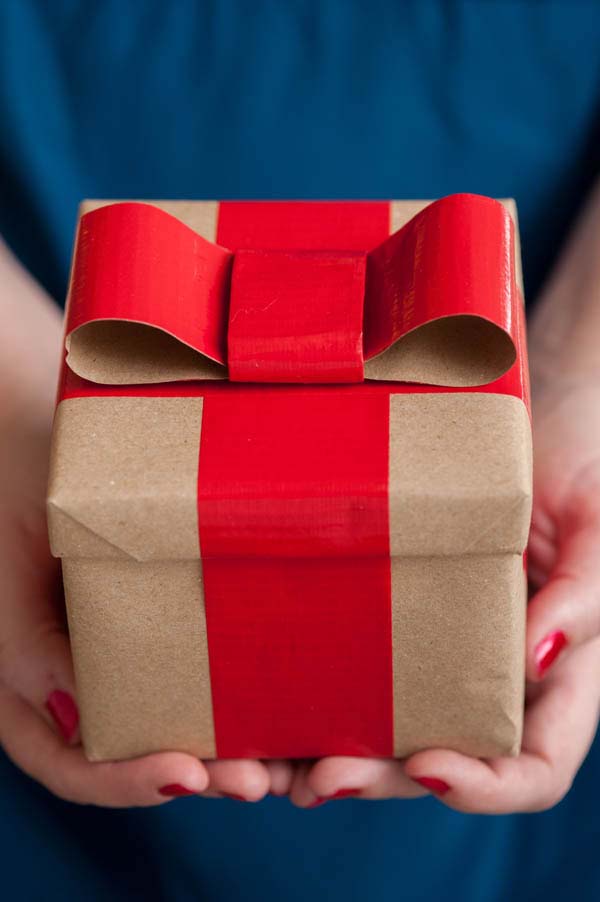 Duct tape is great for decorating a package. You can make a simple and shinny bow using duct tape.
36. Use Metallic Paper Strips for Elegant Gift Wrapping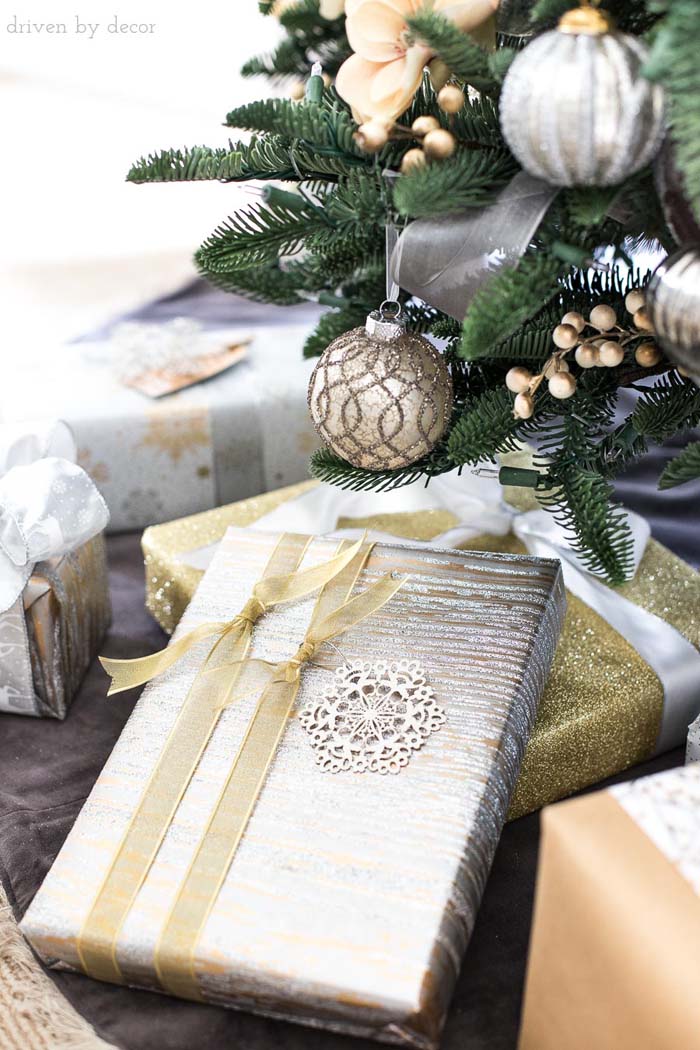 Metallic paper is a way to make a gift elegant. Silver and gold are festive and can be decorated with snowflakes.
via Driven by Decor
37. Make a Festive Reindeer Head from Brown Paper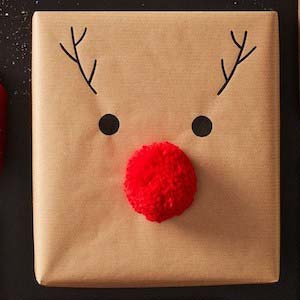 Brown paper can be made festive by making it into a reindeer head. This can be accomplished by drawing on antlers and eyes and attaching a red pom-pom for the nose.
38. Wrap Presents with a Natural Evergreen Wreath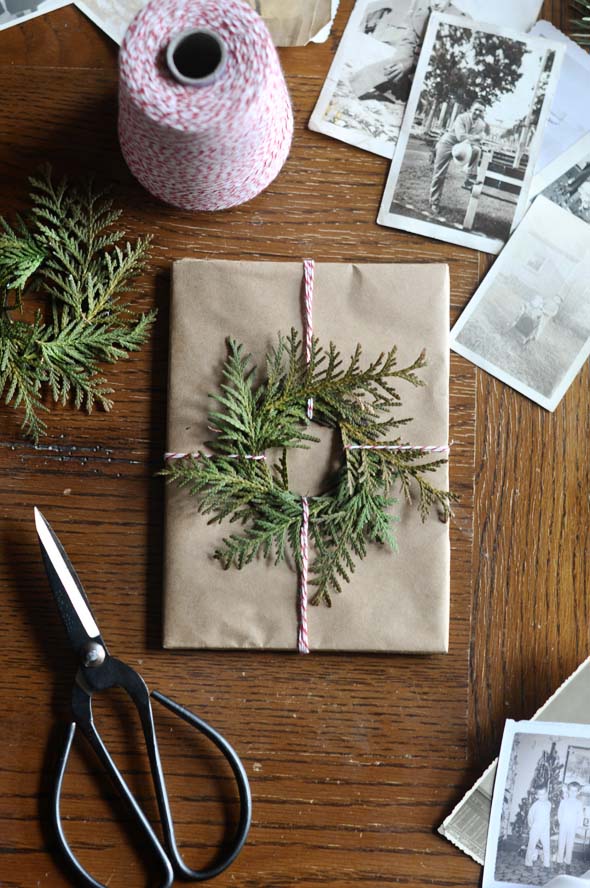 An evergreen wreath is a thing that can be added to a tan wrapped gift to make it festive. It gives a pop of color.
39. Wrap Gifts with a Colorful Fabric Bow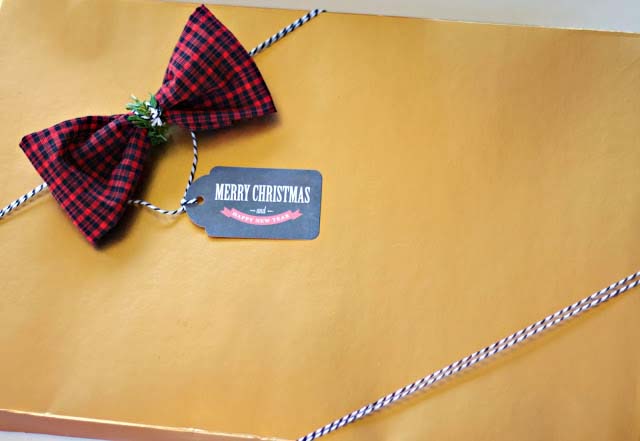 Clothes can be used to create a bow to top off a package. It creates a unique and colored bow.
via Creating Really Awesome Fun Things
40. Create Unique Wrapping Ideas with Clothes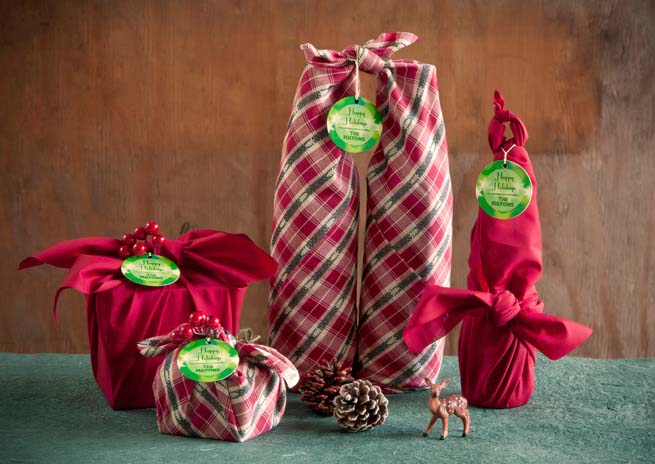 Clothes make for great wrapping material. Things like berries and pinecones can be tied on for flair.
via Evermine
41. Craft a Festive Berry Look with Felt and Jingle Bells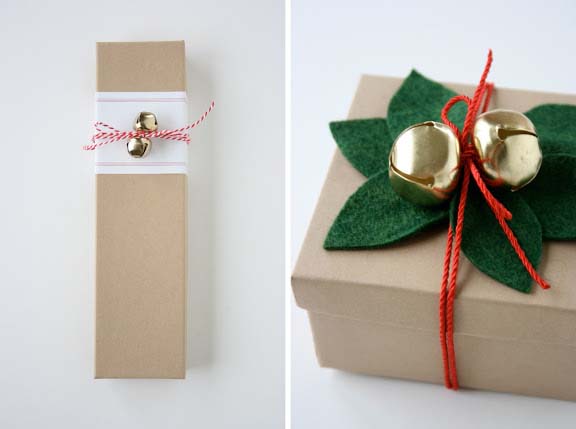 Jingle bells and felt can create a berry look. You cut the felt into leaves and tie the bells on with thread over the leaves.
via Stephmodo
42. Make a Wrapping Bow with Colorful Felt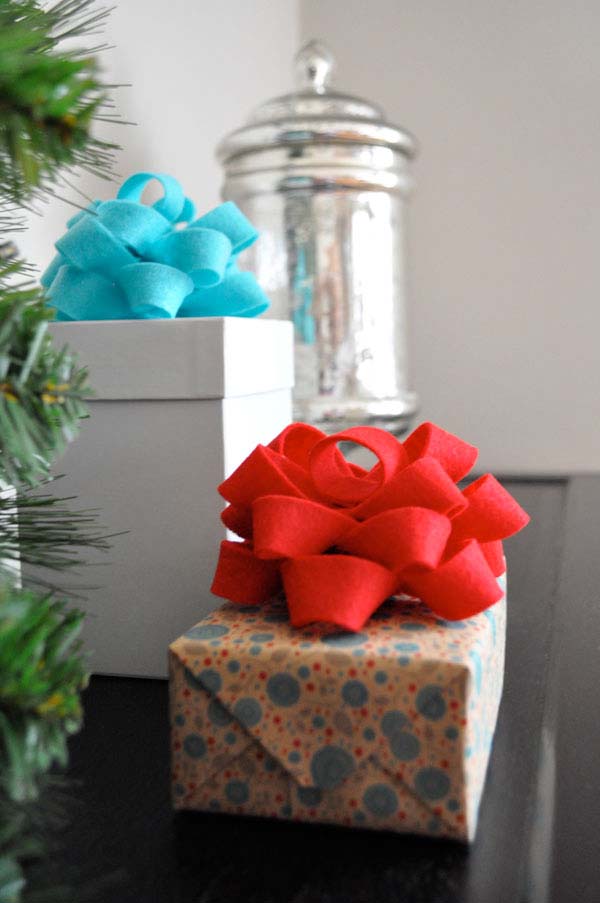 Felt is perfect to create a bow to top a gift. It not only adds bright pops of color, but it also adds texture.
via Twig and Thistle
43. Get Creative with a Felt Rose Gift Wrap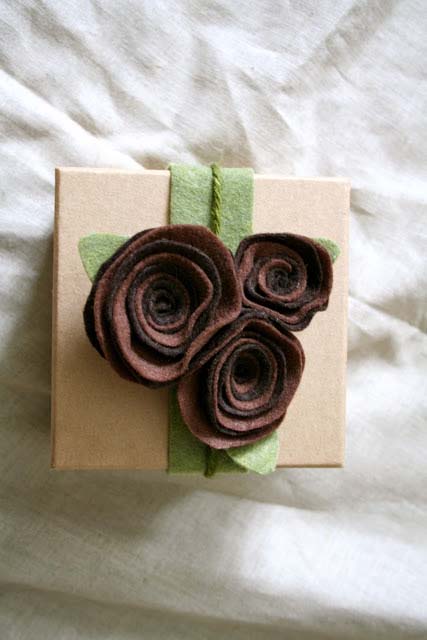 Felt is texturized which makes for beautiful decorations. With layering different sizes of felt, you can create a rose.
via My Design Dump
44. Close Your Gift Bags with Festive Wreaths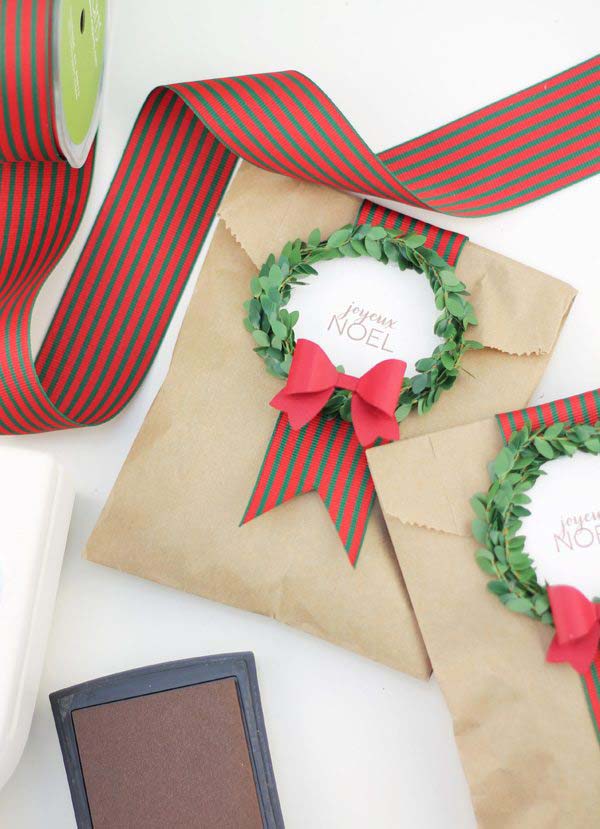 A wreath attached to a circle with a saying is great to add to the ribbon to close a gift bag. A bow can be added for more color.
via Damask Love
45. Add Texture to Your Gift Bags with Paintbrush Art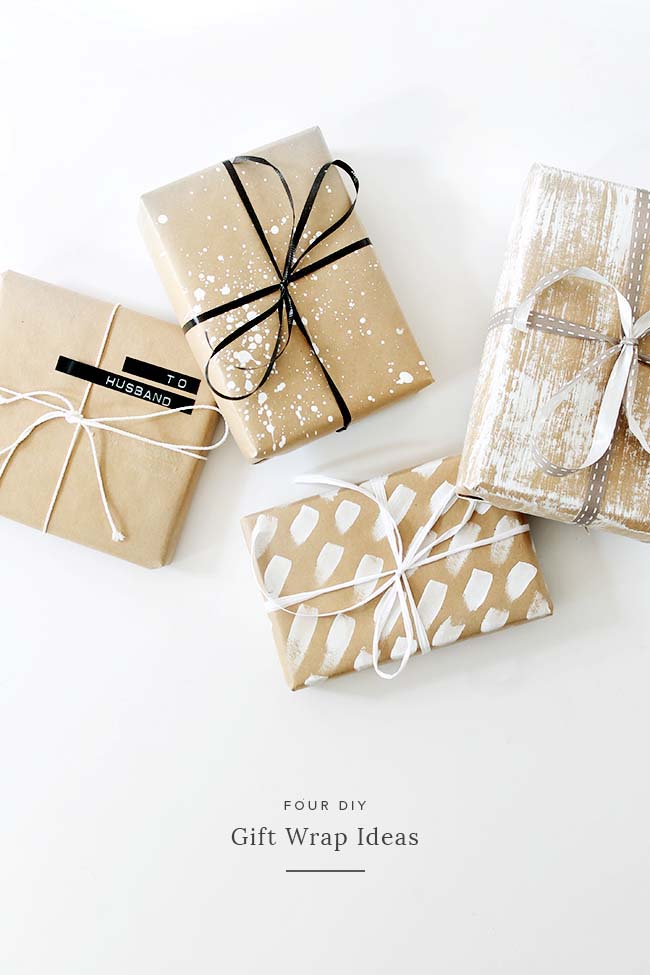 A paintbrush can be used to add texture to tan paper. Different kinds of strokes add patterns.
46. Wrap Presents with Printable Paper and Tags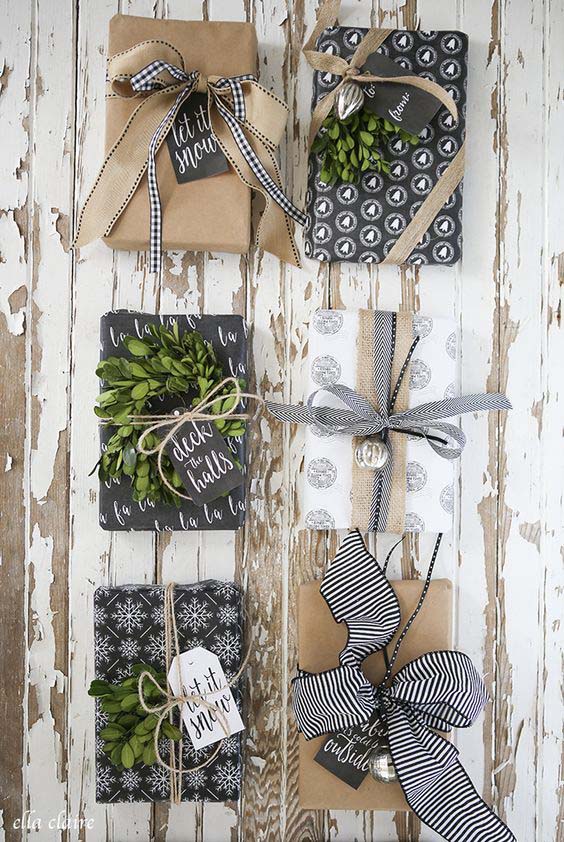 You can find a template for tags online and print them out. This allows you the freedom to decorate the tags.
47. Decorate Your Gifts with Kraft Paper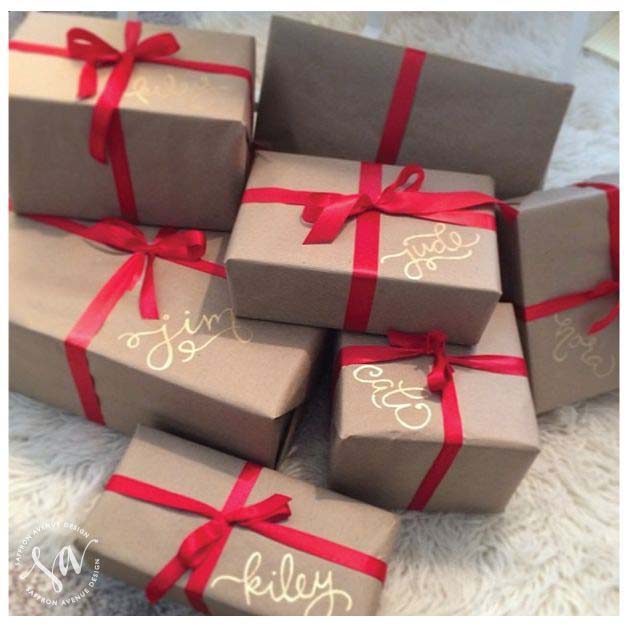 Kraft paper is a tan paper that is easy to decorate. You can add a bow and write using a marker instead of using a tag.
48. Make a Santa Bow with Paper Cut-Outs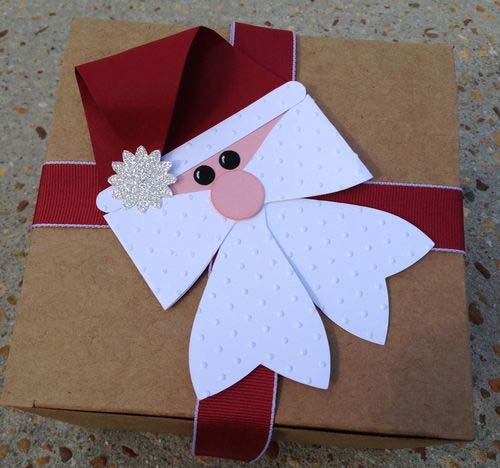 Paper can be cut and shaped into designs to make bows. An example is cutting and shaping a Santa face.
via Craft in Owl
49. Personalize Packages with Paper and Glue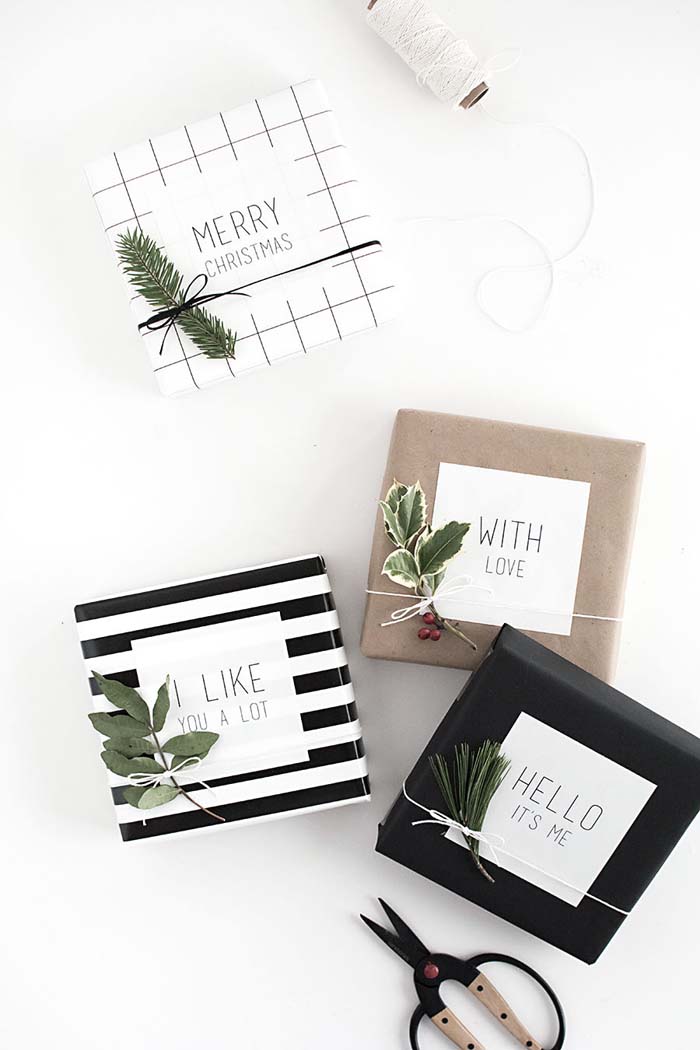 Paper can be easily glued onto the top of a package. Then you can write special messages to each person to make it personal.
via Homey Oh My
50. Embellish Your Packages with Gingerbread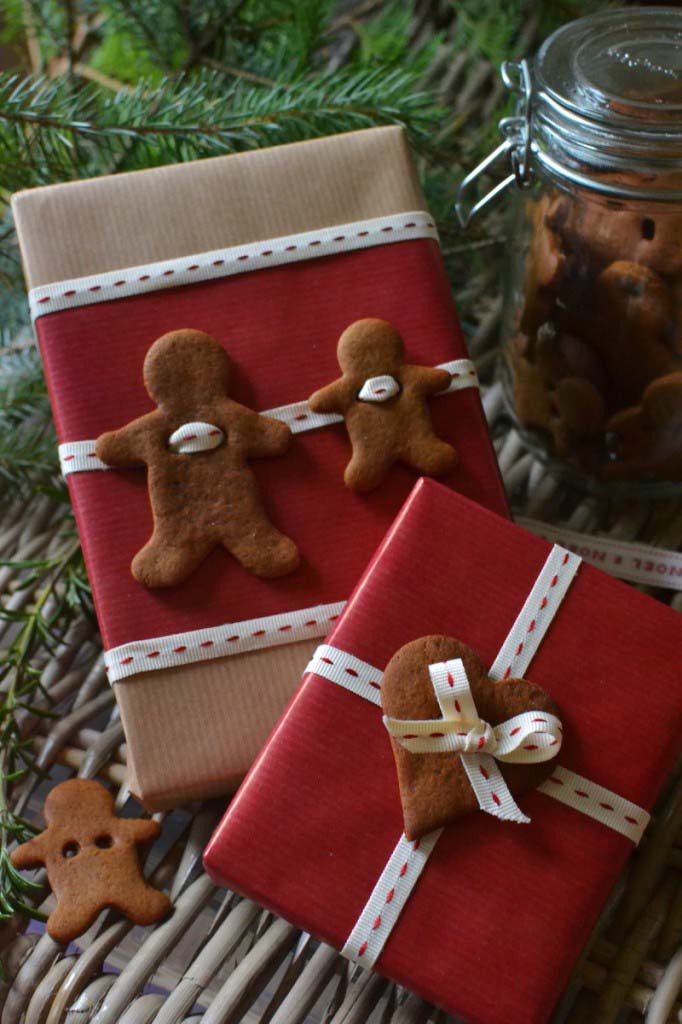 Gingerbread can be used to decorate a package by attaching with ribbon. It also gives the person a sweet treat to enjoy.
51. Add Elegance to Gift Wrap Kraft Paper with Glitter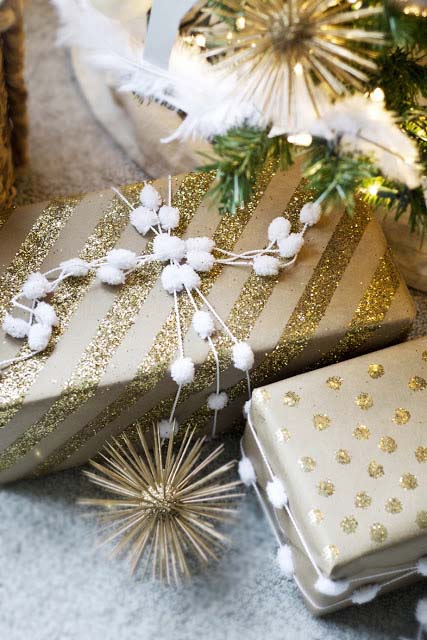 Glitter is a way to add elegance to tan paper. It can be in patterns or in words.
via Creating Really Awesome Fun Things
52. Wrap Gifts with Glitter Monogrammed Letters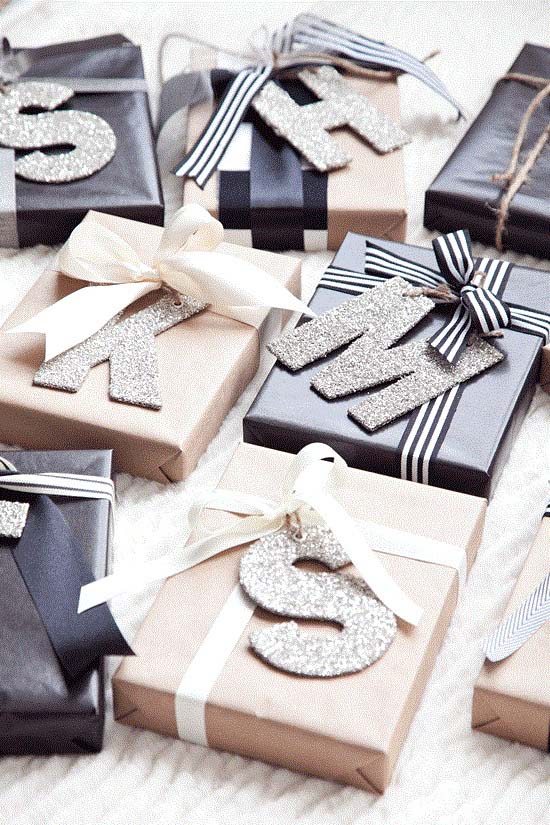 Glittered letters can be used for tags. It works with any type of paper.
53. Add Gold Stars to Your Presents with Paint Markers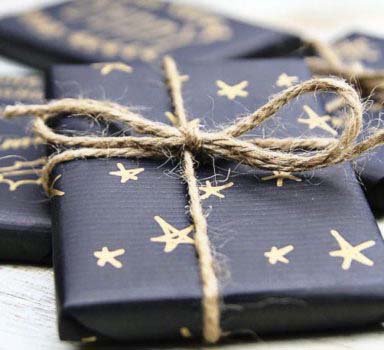 Gold paint markers can be used to add stars to dark paper. It creates a starry night sky.
54. Repurpose Grocery Bags into Stylish Gift Bags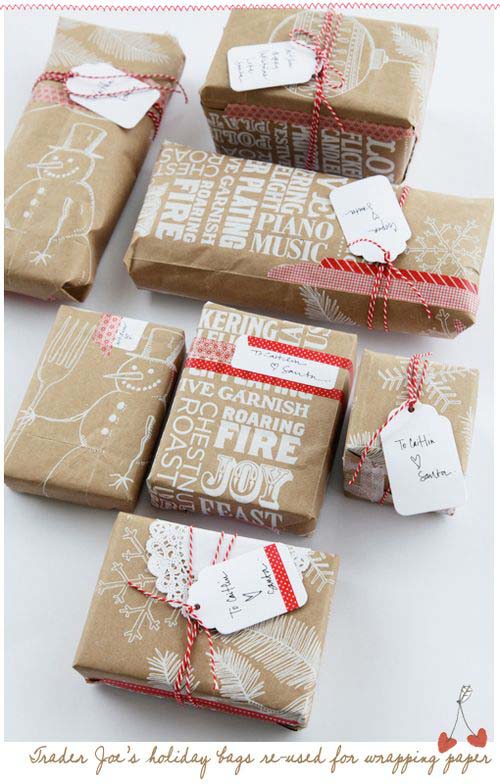 Stores often have bags with festive designs. These bags make great wrapping paper.
via A Creative Mint
55. Decorate with Holly Berries for a Rustic Look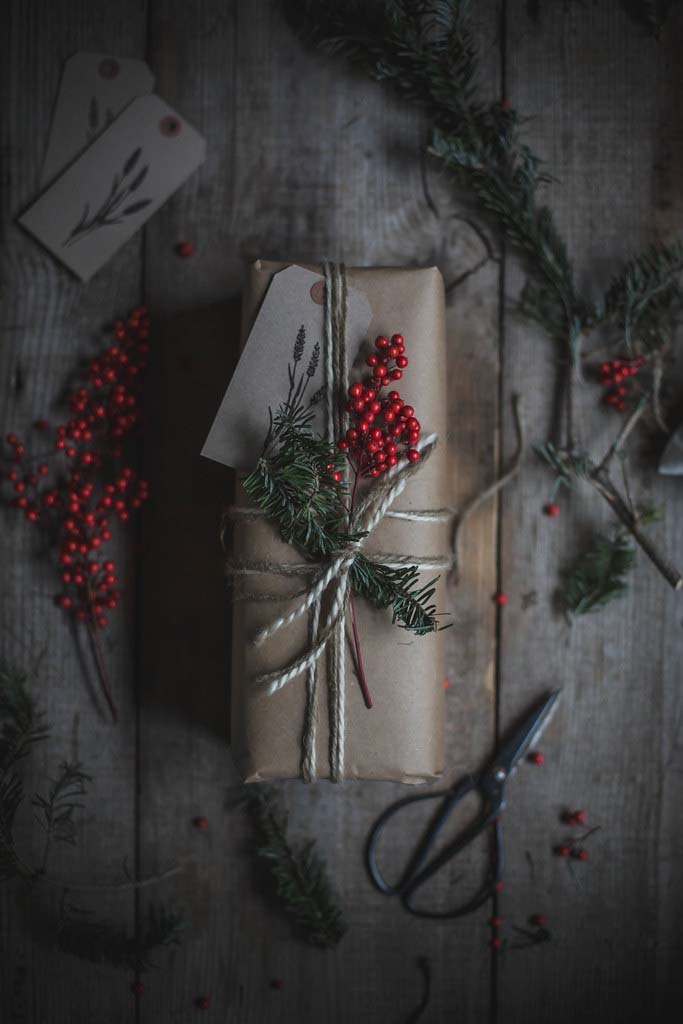 Holly berries are great for adding a festive feel. They can be attached with thread.
via Local Milk Blog
56. Customize Wrapping Paper with Paper Names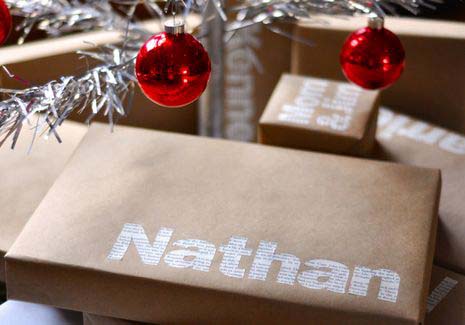 Brown paper is great for customizing. You can add cut out letters instead of tags.
via Man Made Diy
57. Upgrade Your Wrapping Paper with lint Roller Art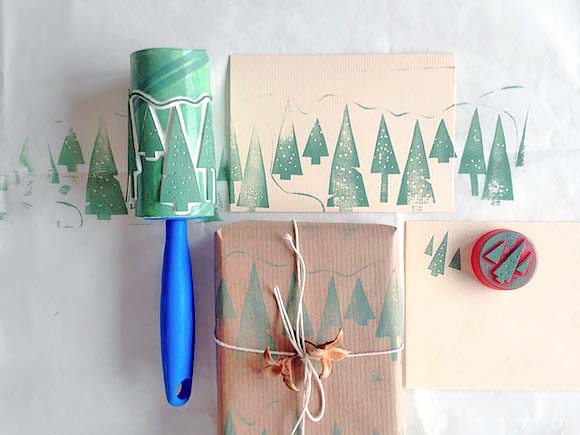 Lint Rollers are great continuous stamps. You can roll the pattern on the paper.
58. Make a Unique Wrapping Paper with Maps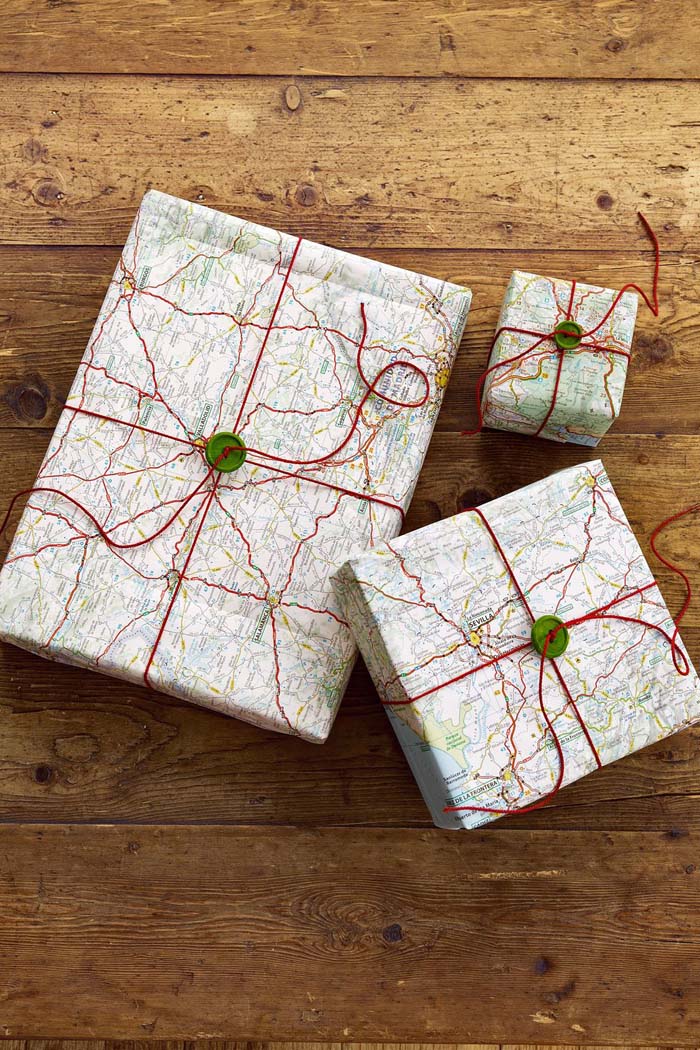 Maps are personalized paper for the area you live in. It is great for travelers.
via Country Living
59. Wrap Presents with a Cute Wooden Beads Wreath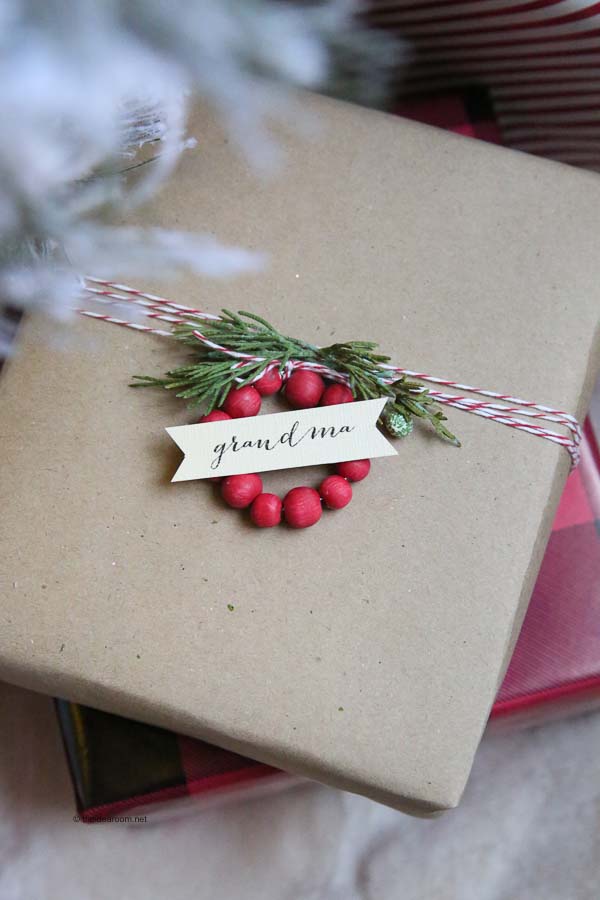 Wooden beads can be shaped into wreaths. Then they can be added using twine with evergreen.
via The Idea Room
60. Adorn Your Presents with Monogrammed Cupcake Liners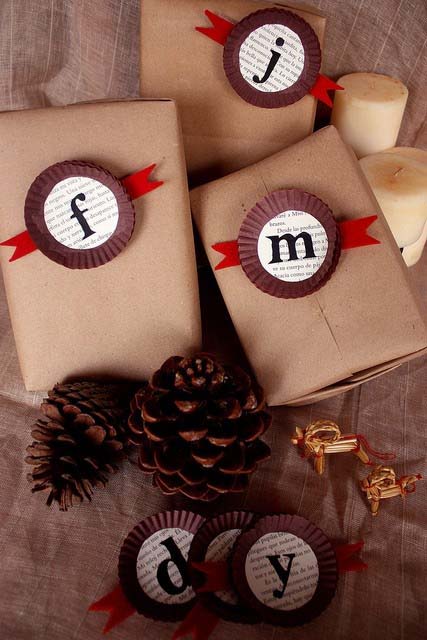 Letters glued onto cupcake liners make unique tags. They can be used to attach cards.
61. Paint-Splattered Brown Paper with Evergreen and Pinecone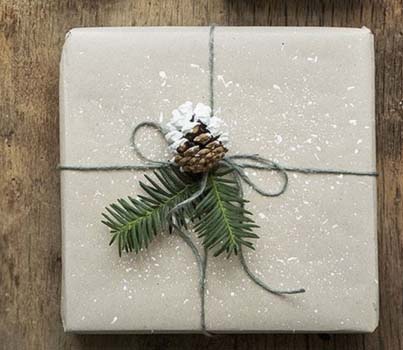 Brown paper with paint-splatter gives a classic feel. Then attach evergreen and a pinecone.
62. Make Rustic Neutral Wrapping Crafts for Presents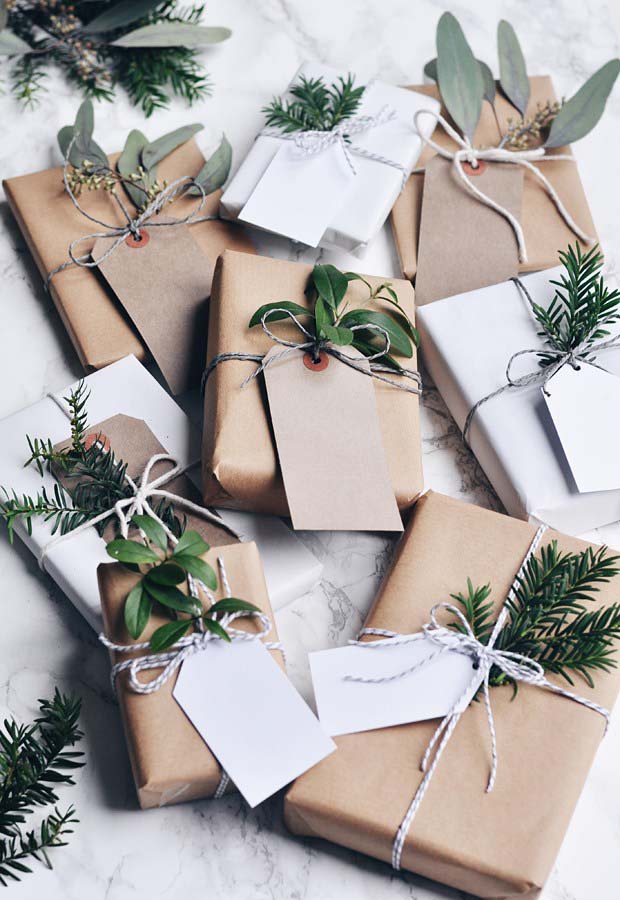 Neutral colors give a simple appearance. They can also work for a rustic look.
63. Upcycle an Old Newspaper into a Vintage Wrapping Paper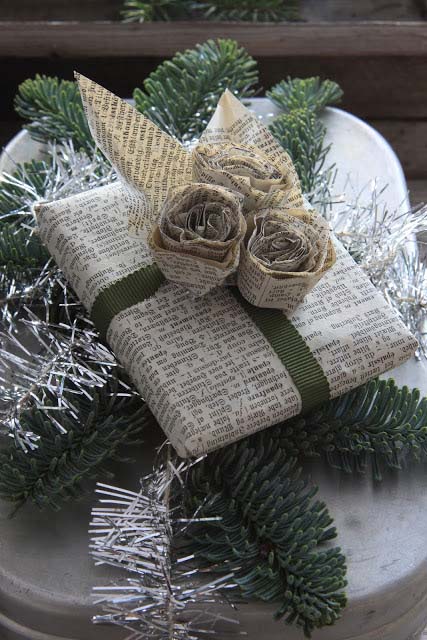 A newspaper can be used to wrap. It can also be made into roses.
64. Paint Your Kraft Paper with Black Trees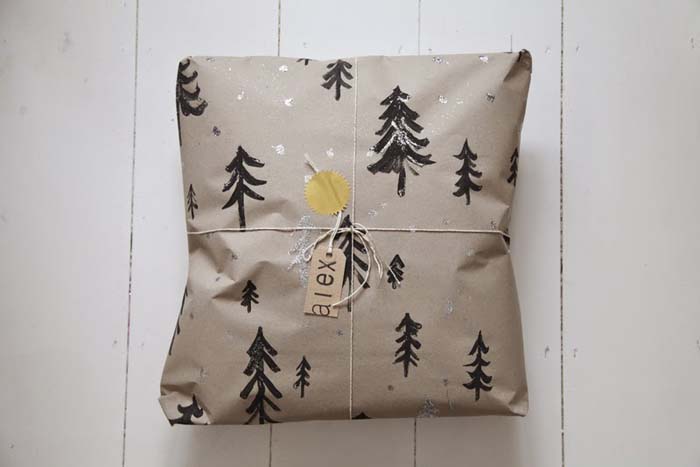 Kraft paper can be painted anyway. It can be painted elegant or colorful.
via Junkaholique
65. Turn Wrapping Paper into Gift Bags with Ribbon Handles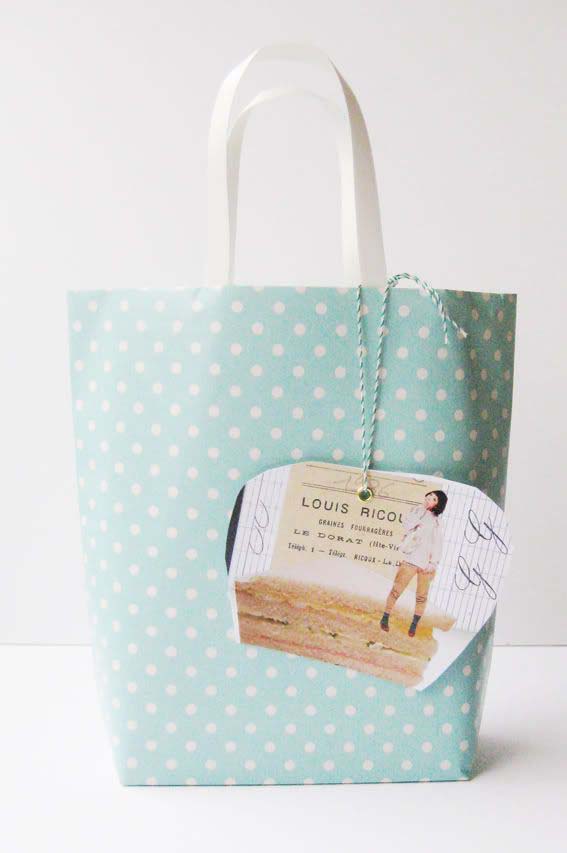 Wrapping paper can be made into gift bags. The ribbon is attached for the handles.
via Hello Sandwich
66. Add Flair to Gift Wrapping with Paper Snowflakes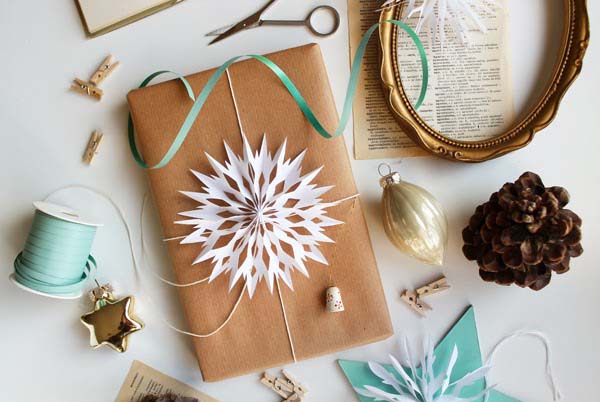 Paper snowflakes add elegance to paper. They can add dimension and flair.
via Giochi Di Carta
67. Wrap Your Presents with a Paper Star Garland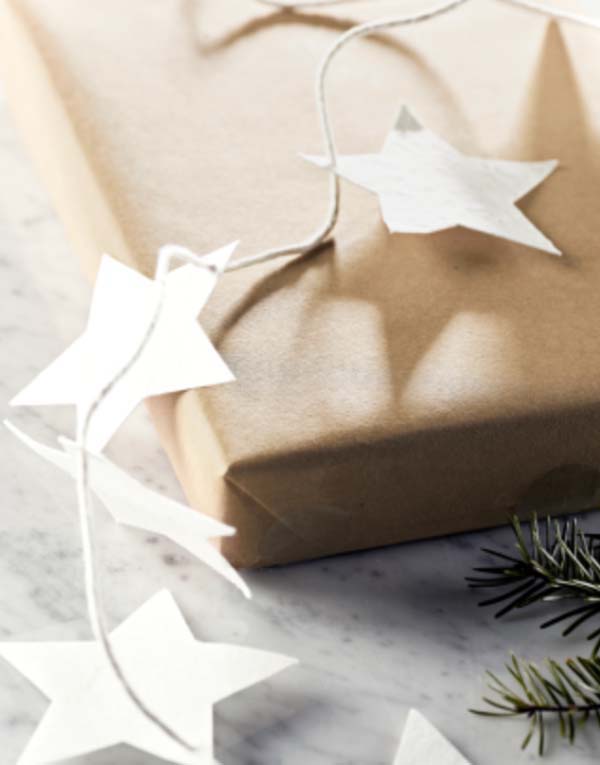 Paper cut into stars can be attached to thread. Then it can wrap the gifts.
68. Enrich Wrapping Paper with a Paper Straw Snowflake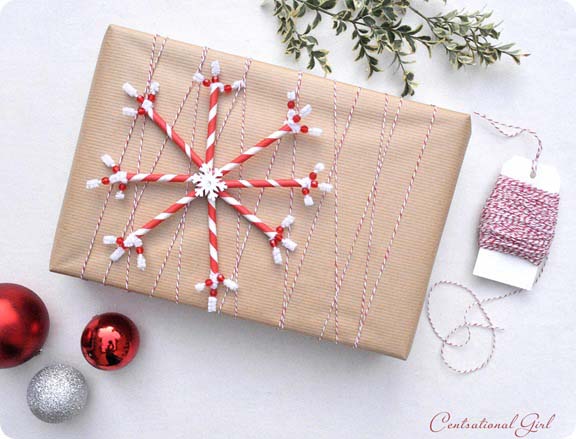 Straws can be cut and glued into snowflakes. Then they can be glued to gifts.
69. Craft a Paper Straw Star a Unique Gift Bag Look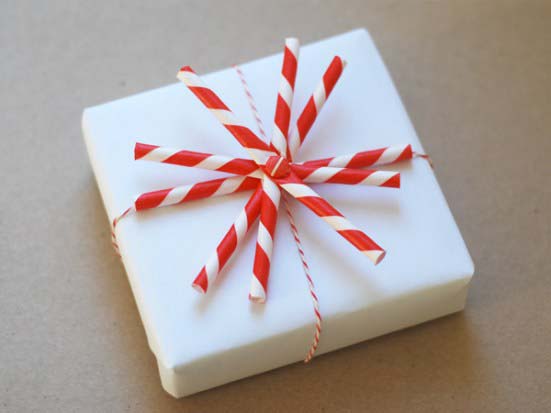 Straws can be cut and glued to form stars. They can be attached using thread.
70. Decorate Paper Circles into Peppermints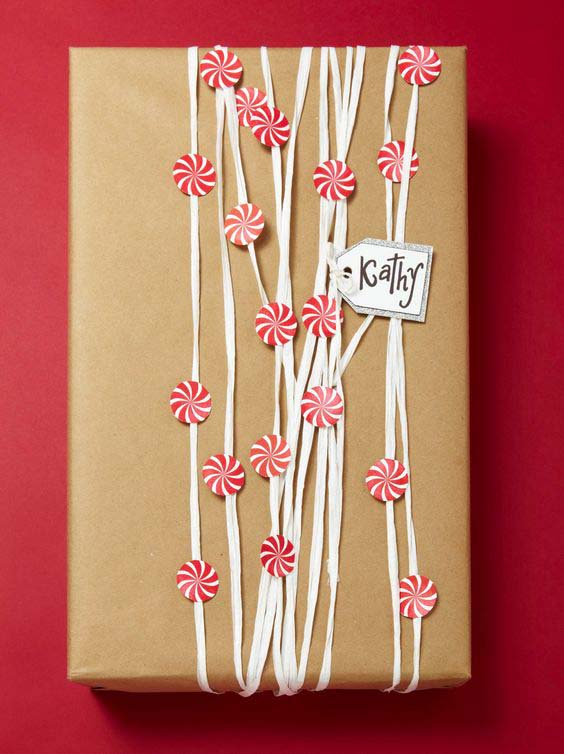 Paper circles can be decorated into peppermints. Then they can be attached using thread.
via Midwest Living
71. Unleash Your Creativity with a Photo Collage Gift Wrap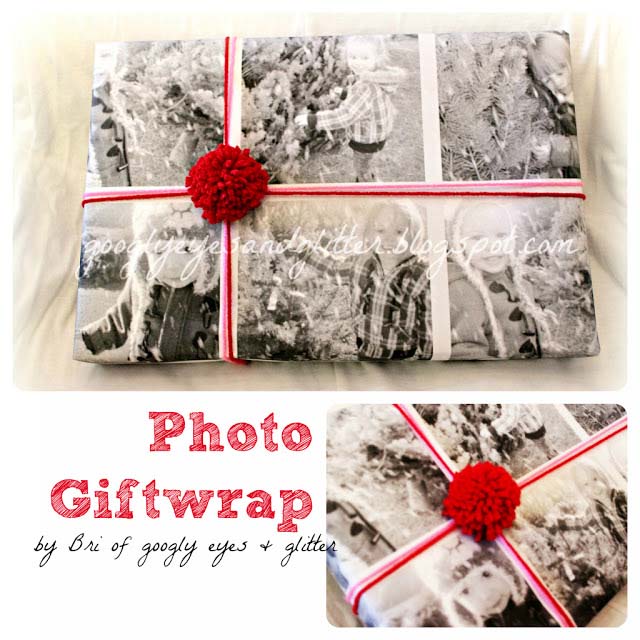 Photos can be personal, so photo paper is great for families. You can add sayings over the photos.
72. Bring a Rustic Look with Pinecones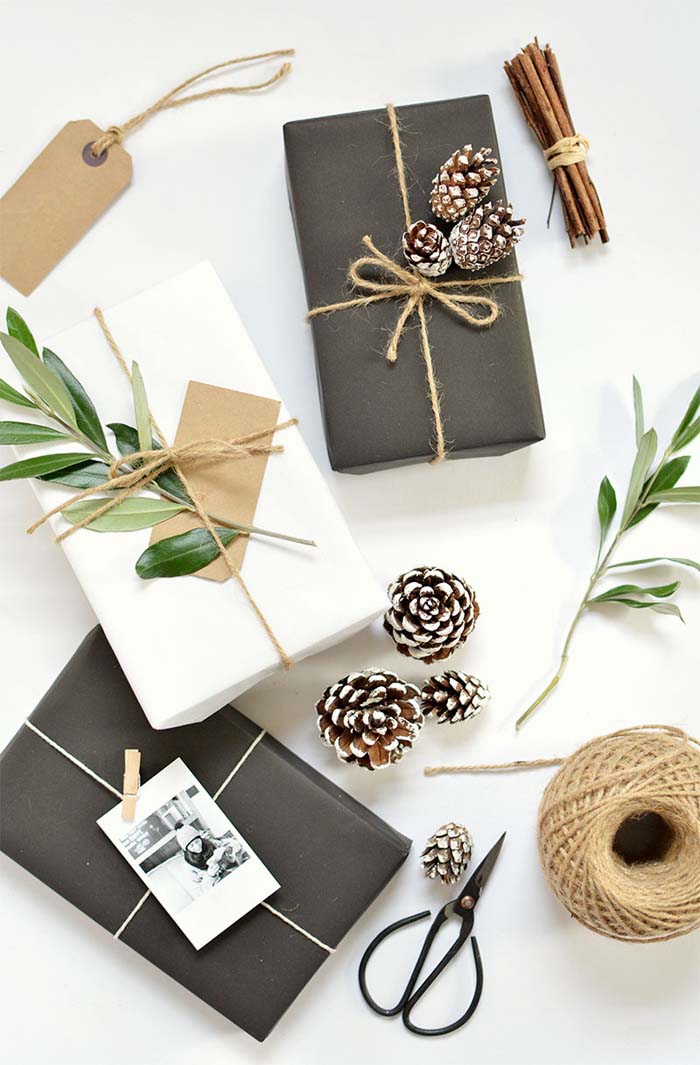 Pinecones are great for adding texture. They can be glued on tied on using twine.
via Burkatron
73. Add Warmth to Your Christmas Gift with a Plaid Wrap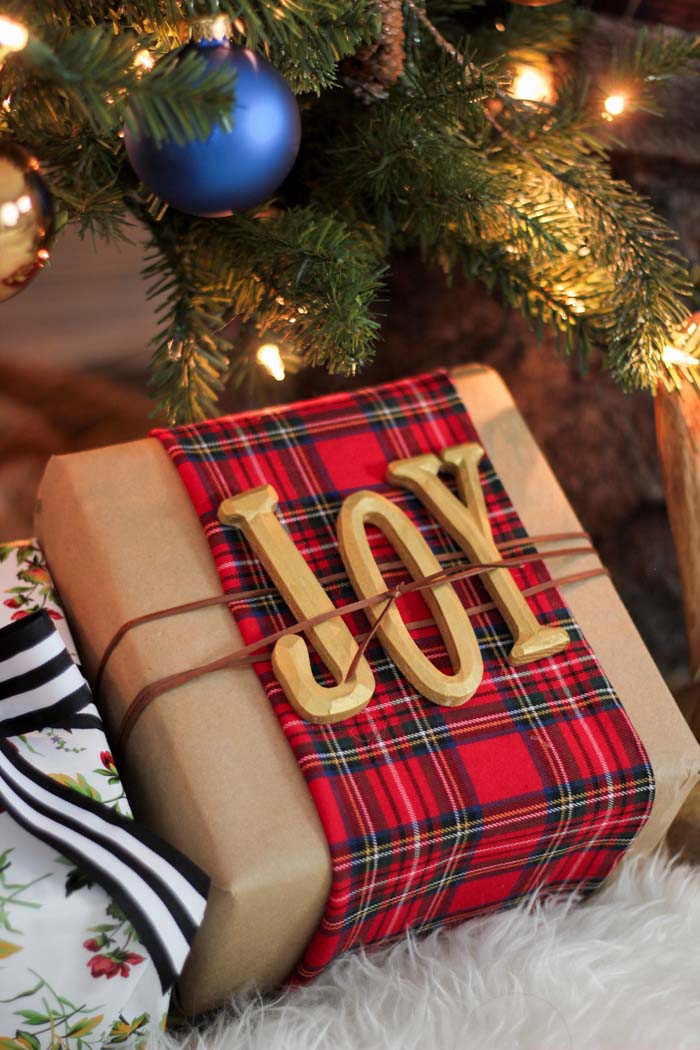 Flannel cloth can give a package a pop of color. You can use it as a wide ribbon.
via Craft Berry Bush
74. Upgrade Tan Paper with Polka Dots Art and Pom Poms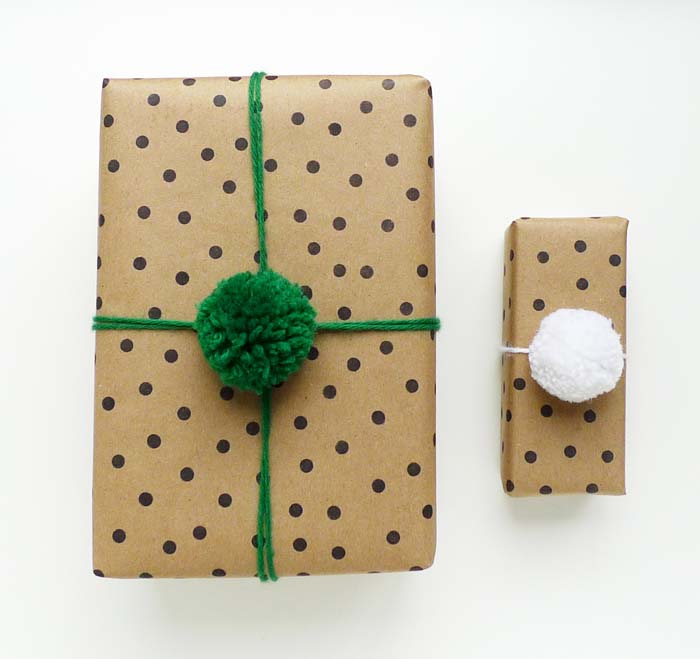 You can take a marker and create patterns on tan paper. A popular one is polka dots.
via Cotton and Flax
75. Add Roses to Polka-Dotted Kraft Paper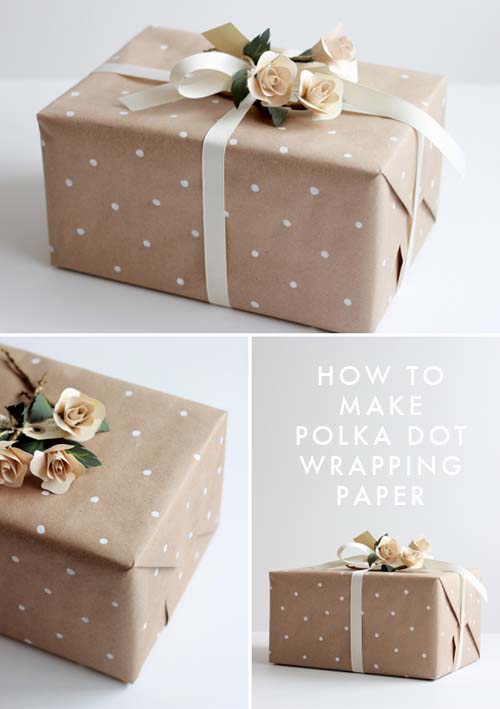 Elegance can be created by adding roses to packages. You can tie the roses in by polka doting the same color.
76. Decorate Wrap Paper with Potato Stamp Christmas Trees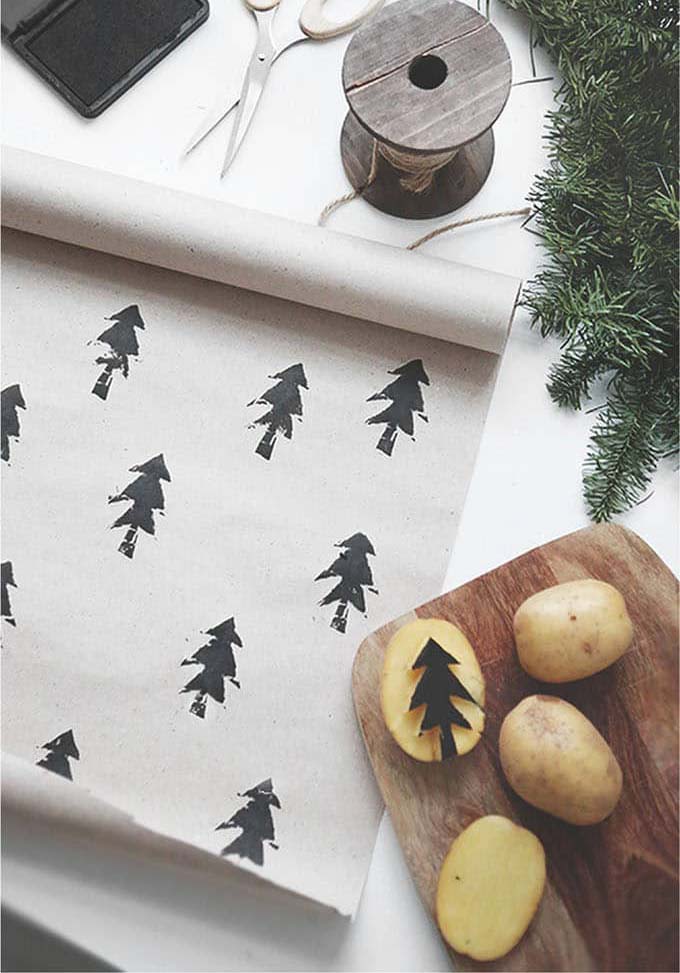 A potato can be a stamp. A tree is simple yet festive.
77. Make a Sleek Christmas Bow with a Silk Cloth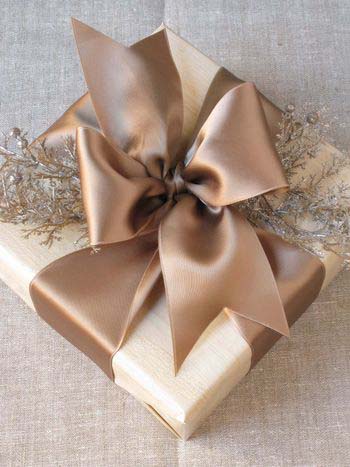 A bow is great decorations. They can be big or small and any color.
via Eddie Ross
78. Upcycle Magazines into Colorful Gift Bows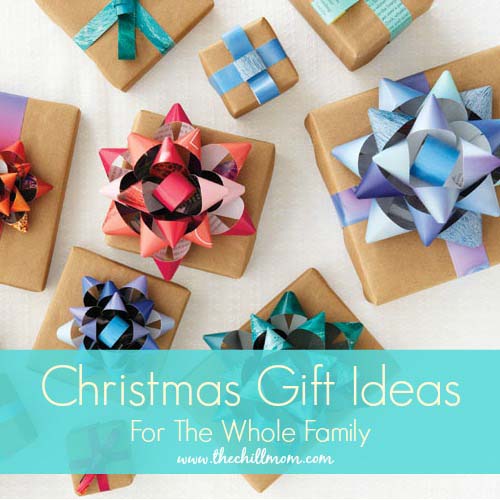 Magazines make for great bows. You can get many colors.
via The Chill Mom
79. Create a Classic Red and White Bow Decoration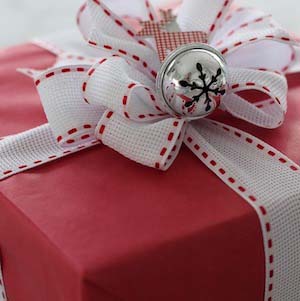 Red and white are classic. It can be accomplished using ribbon.
80. Make Reindeer Art using Paper Cutouts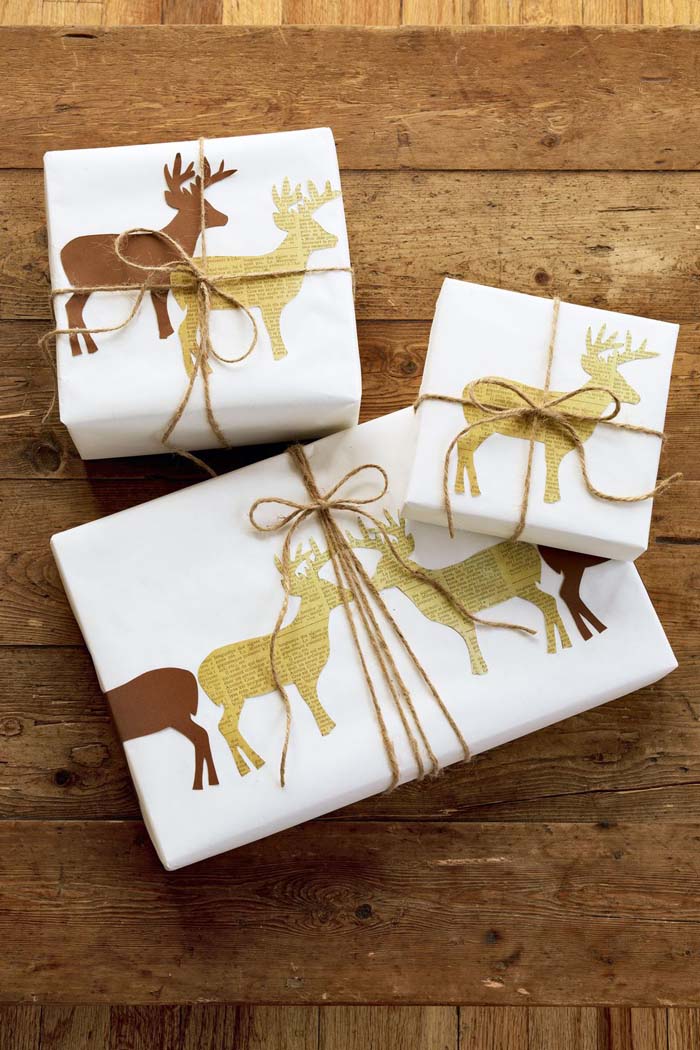 Cutouts make great decorations. A reindeer is a great cut out.
via Country Living
81. Add Color with a Green Ribbon Christmas Tree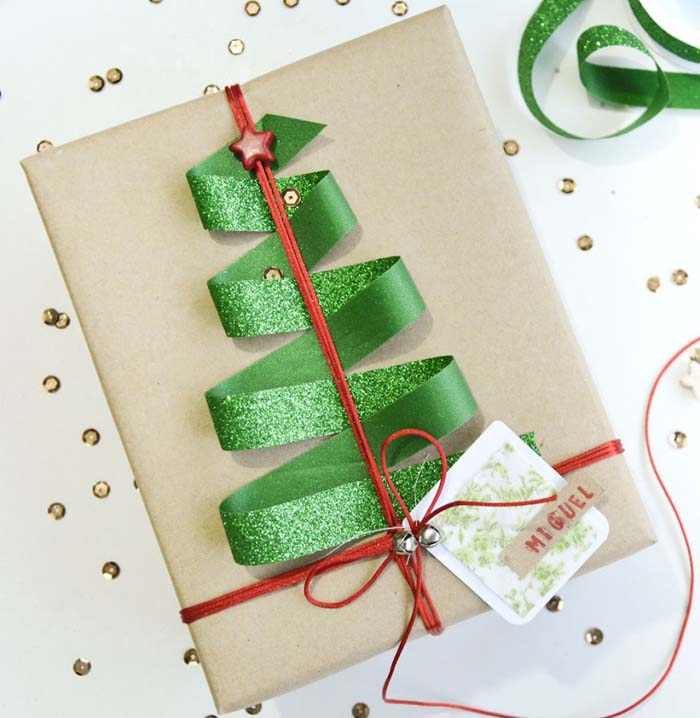 Ribbon can make a Christmas tree. It adds dimension and a pop of color.
via Manualidades
82. Wraps Your Gifts with Rope for a Rustic Feel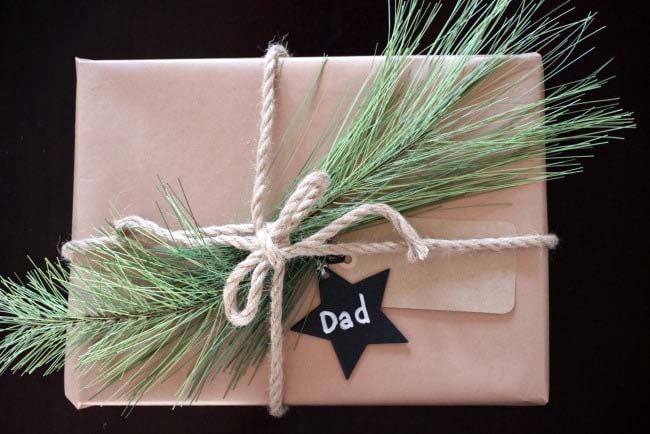 Using rope gives a rustic feel. It is great to hold things on.
83. Decorate with Customized Chalkboard Paper Tags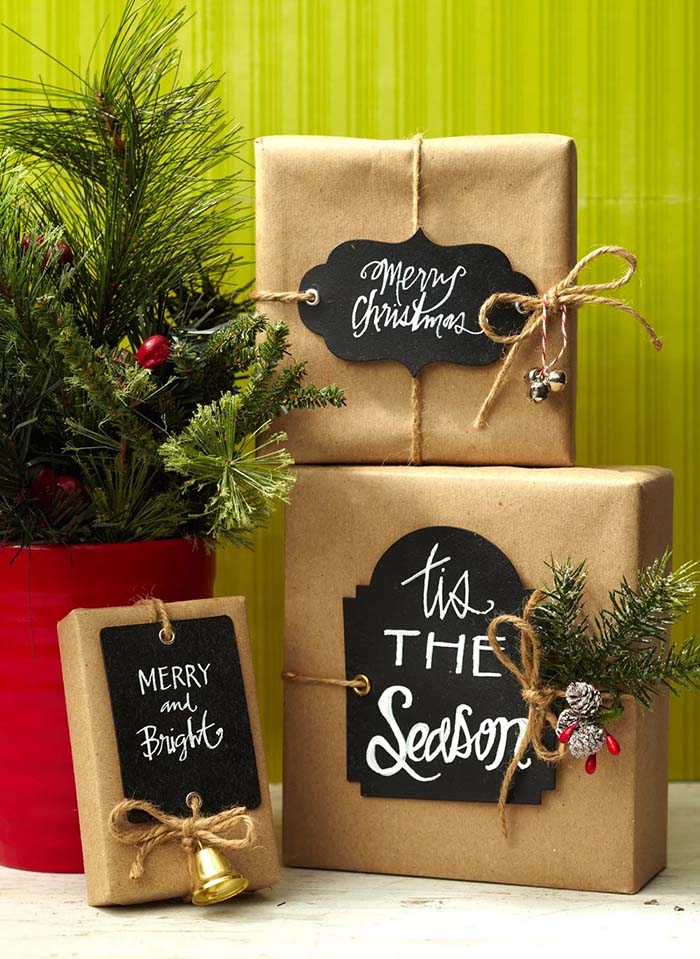 Chalkboard paper makes great tags. They can be customized easily.
via Midwest Living
84. Nature-Inspired Gift Wrap with Chalkboard Paper Accent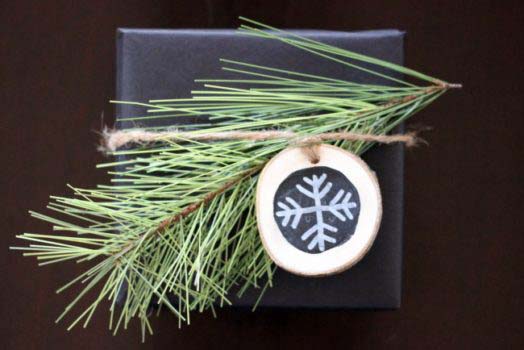 Chalkboard paper makes for great wrapping paper. It makes things stand out when added.
85. Make the Perfect Backdrop with a Doily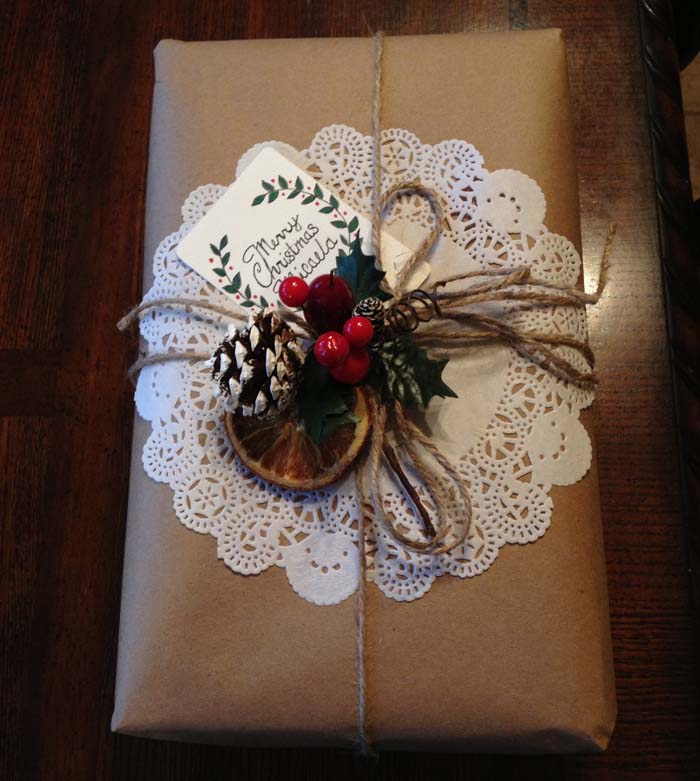 A doily is a great thing to add. It makes a good backdrop for other things.
86. Rustic Flannel Ribbon Decoration Wrapping Paper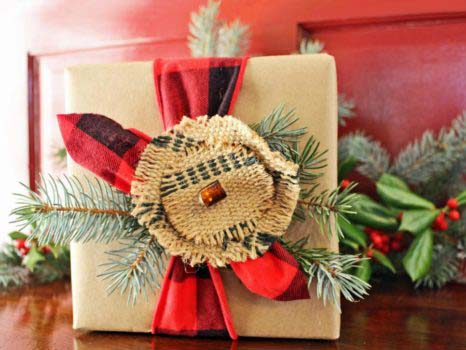 Flannel cloth makes a great ribbon. You can add other rustic touches on the flannel.
via Foodnetwork
87. Customized Tags form Chalkboard Paper and Clothespins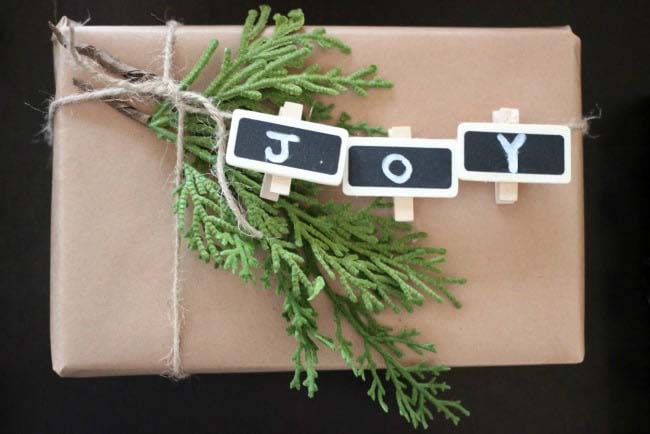 Small clothespins with chalkboard paper make great tags. They are rustic and easy to customize.
88. Utilize a Sheet Music for Music Lovers Gifts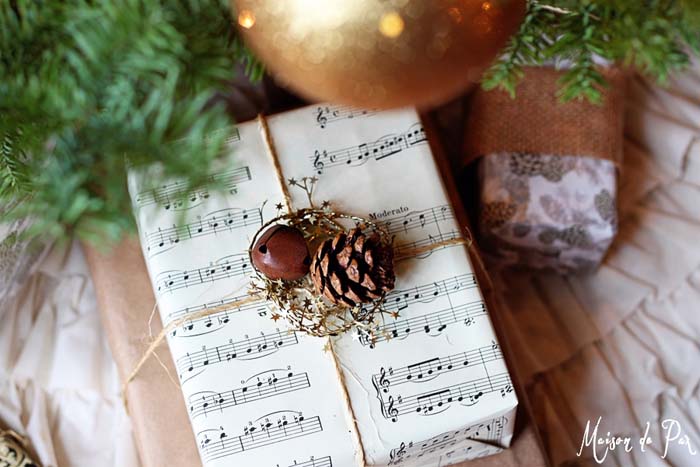 Sheet music is good for music lovers. It can easily have things added with twine.
via Maisondepax
89. Make a Rustic Snowman with Small Wooden Circles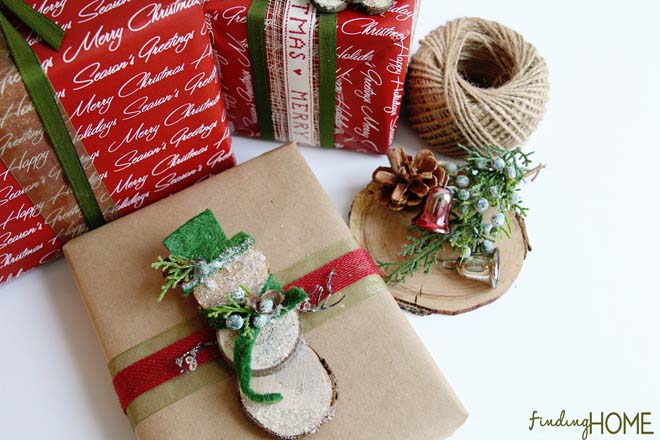 Small wooden circles make for great snowmen. Things can be added to them for decoration.
90. Add Finesse to Presents with Santa Gift Tags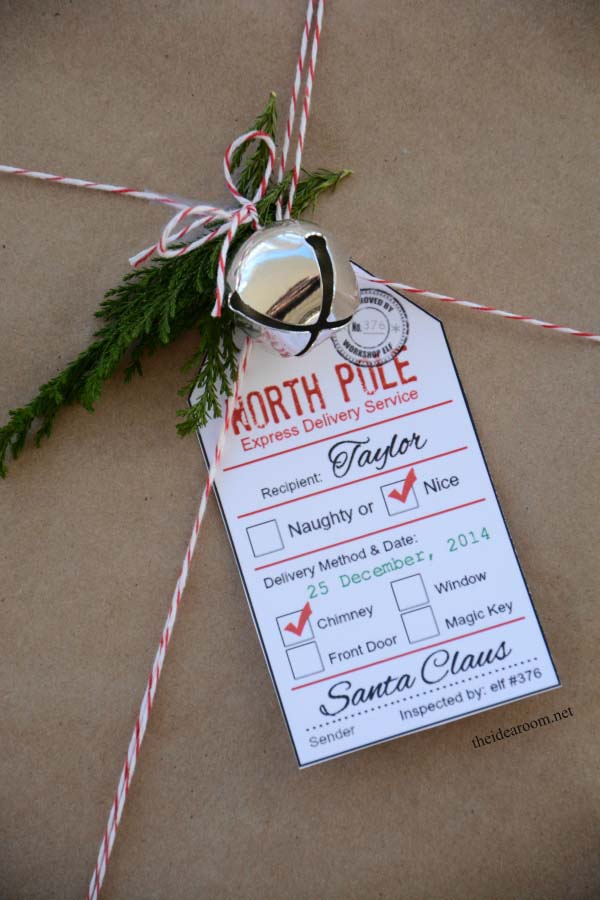 A custom tag will brighten everyone's smile. It can be made from Santa for children.
via The Idea Room
91. Achieve Elegance with Sheet Music and Black Ribbons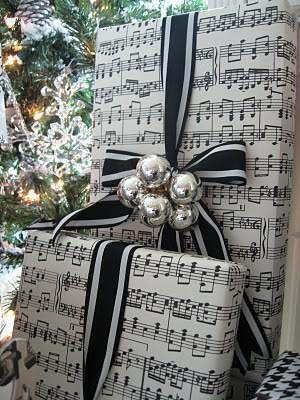 Sheet music can be used for elegance. It is easy to pair with a simple ribbon and jingle bells.
via Home Talk
92. Add Elegance with a Metallic Sheen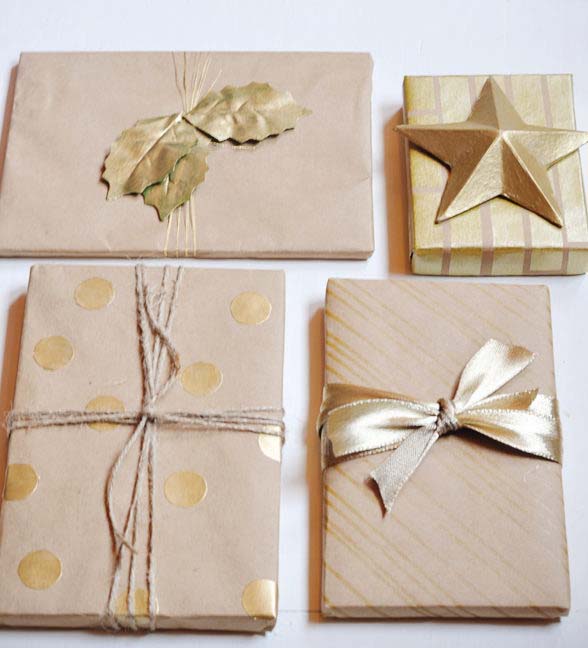 A metallic sheen is great for elegance. It can add a simple design to a package.
93. Transform a Small Ornament into a Gift Tag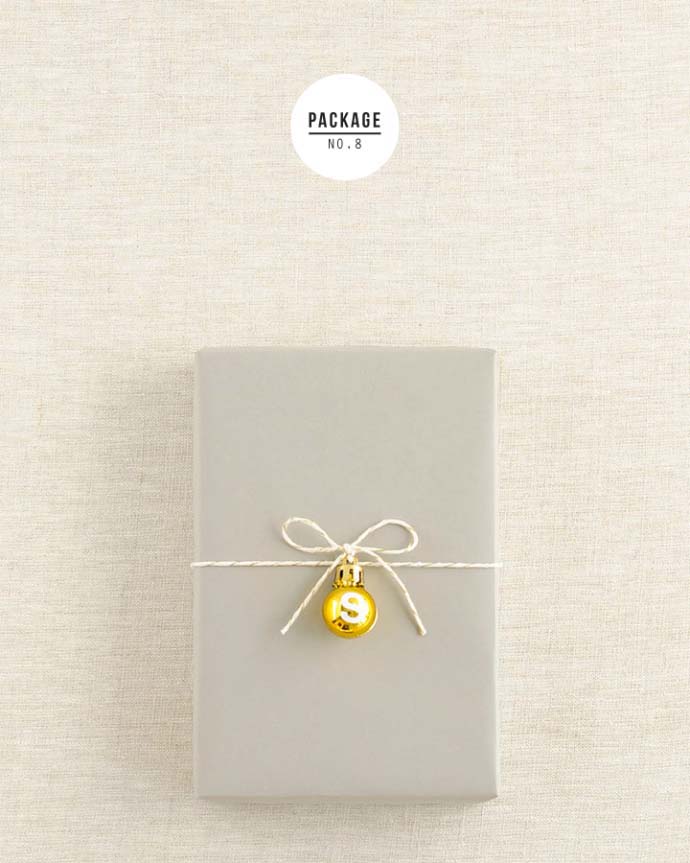 A small ornament is great to use as a gift tag. A letter or letters can be painted on it.
via Sallyjshim
94. Cover Your Gift with a Paper Snowflake Decor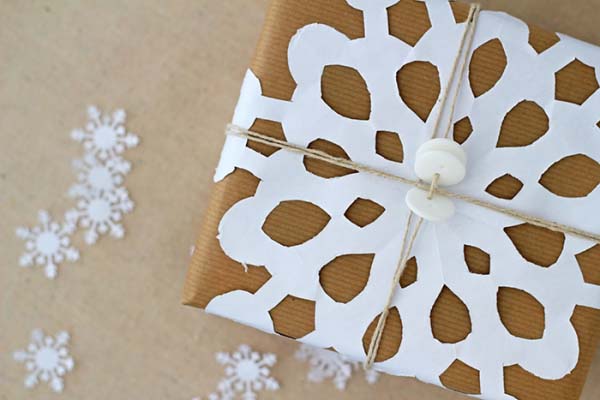 A paper snowflake can cover tan paper. This adds dimension and design.
95. Craft White Paper Snowmans for Your Presents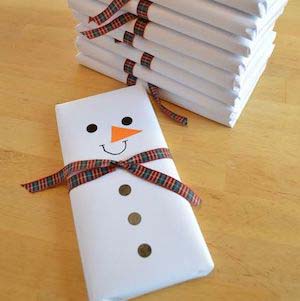 White paper can be made into a snowman. Add a ribbon scarf and draw the face and buttons.
96. Stack Presents to Make a Festive Snowman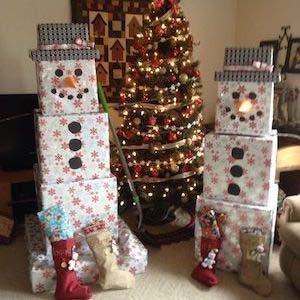 Gifts can be stacked to form a snowman. Make sure they are different sizes and add the features.
97. Make a Snow-Themed Package with Stamping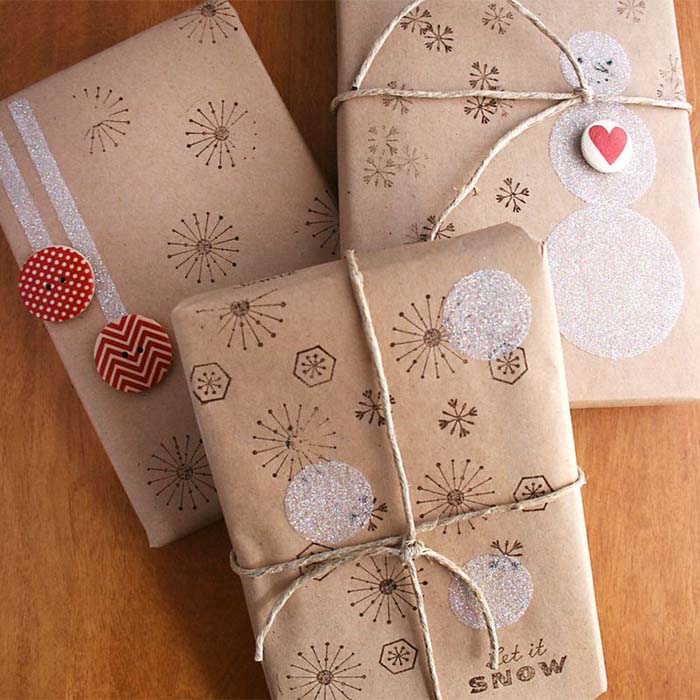 Stamping a package adds design. It can be snow themed with a snowman and snowflakes.
via Cosmo Cricket
98. Use Twine to Make a Star Garland for Your Gifts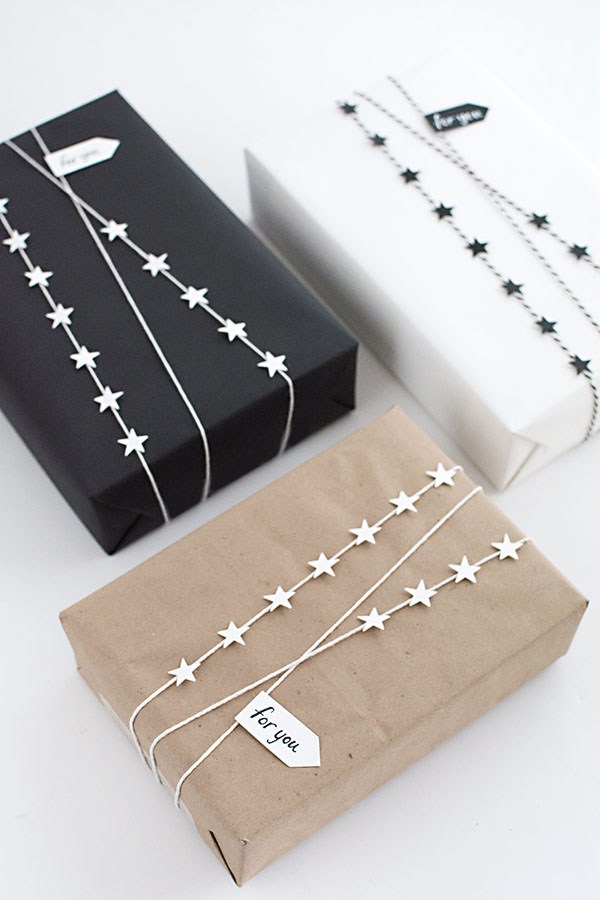 Small stars can be added to twine. Then it is wrapped around the gift.
via Pottery Barn
99. Create Cute Star Straws using Twine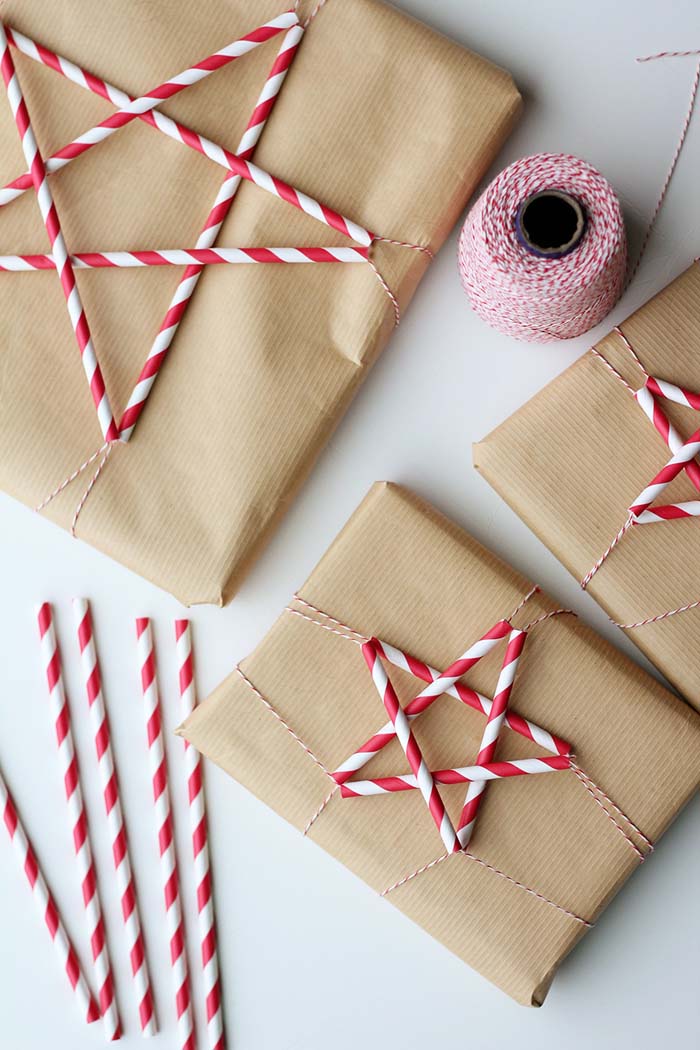 Twine can be threaded through straws. Then it can be attached in a star shape.
100. Sew a Brown Paper into a Festive Star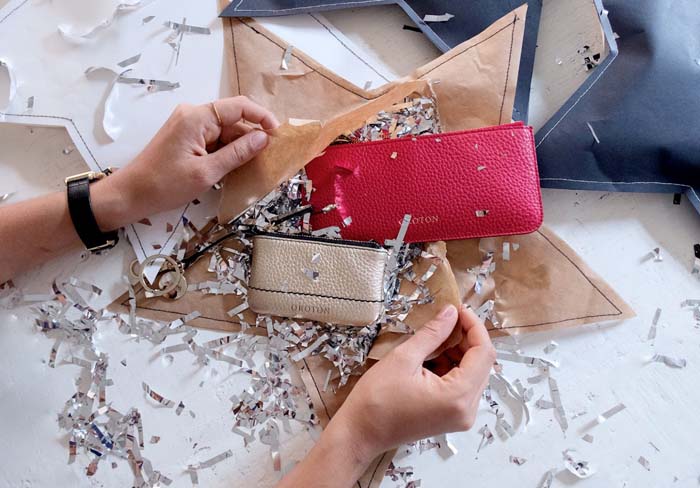 Brown paper is easy to shape into a star. Then presents are sewn inside.
via Collective Gen
101. Adorn Your Gifts with a Circular Twine Wreath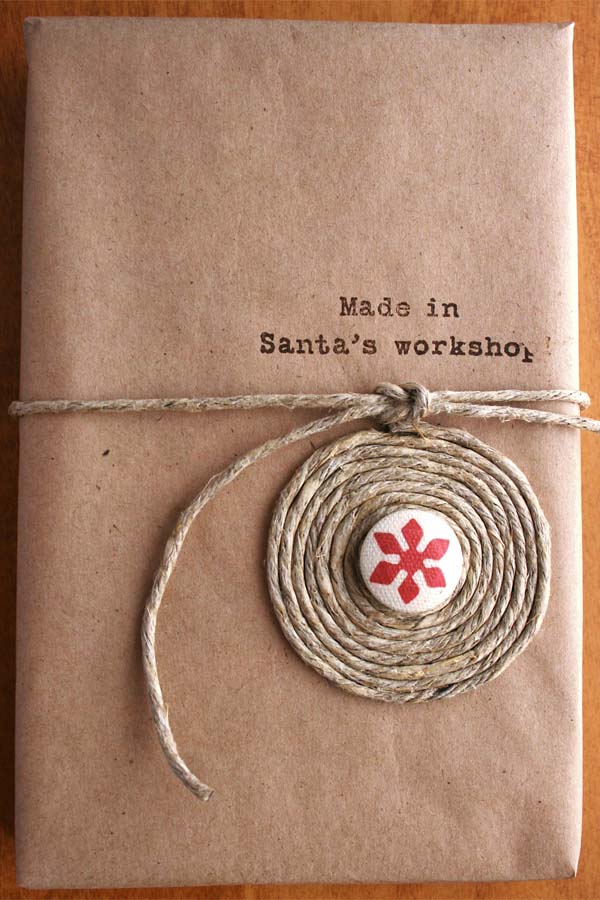 Twine can be used for more than a ribbon. It can be circled on the paper and then have a button added.
via Cosmo Cricket
102. Utilize Pine Needles and Twine for a Vintage Look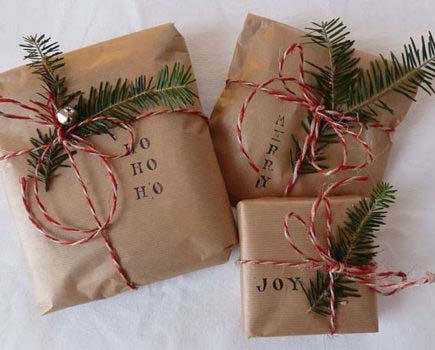 Brown paper can be very vintage. It can be stamped with twine and have pine needles added.
via Natura Home
103. Use Customized Vintage Doilies for Your Gift Wraps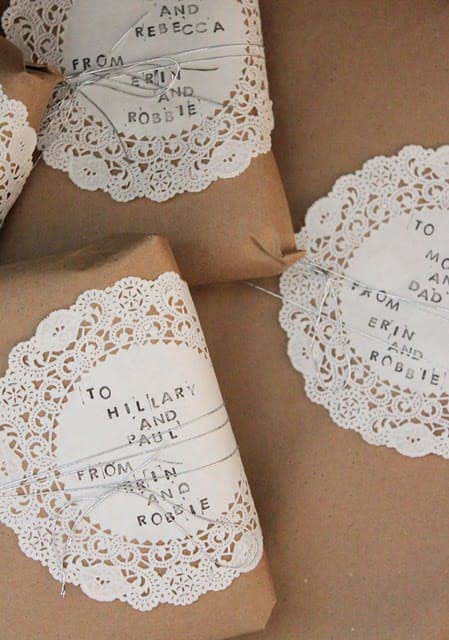 A doily can be an elegant and vintage look. It can be stamped instead of a tag used.
104. Wrap Presents with a Typewriter Letter Paper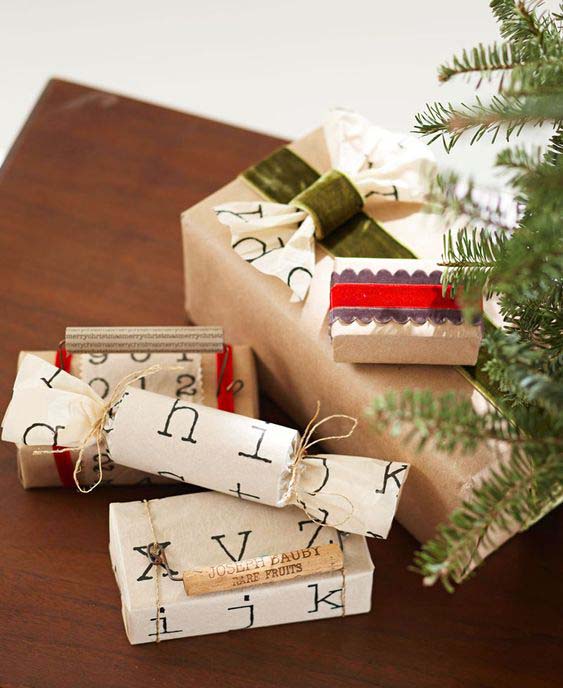 Typewriter letter paper is a vintage look. It can be used to wrap, make a bow, or be a ribbon.
via Midwest Living
105. Make a Colorful Christmas Tree with Washi Tape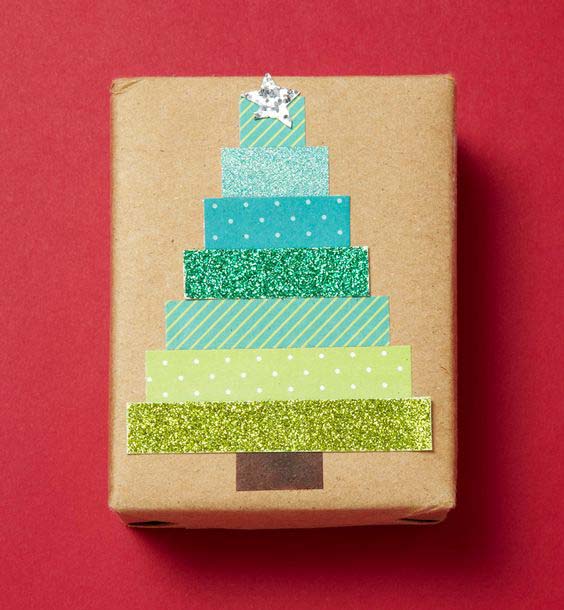 Washi tape comes in many colors. This means it can be used to make designs like a tree.
via Midwest Living
106. Decorate with Stylish Washi Tape Designs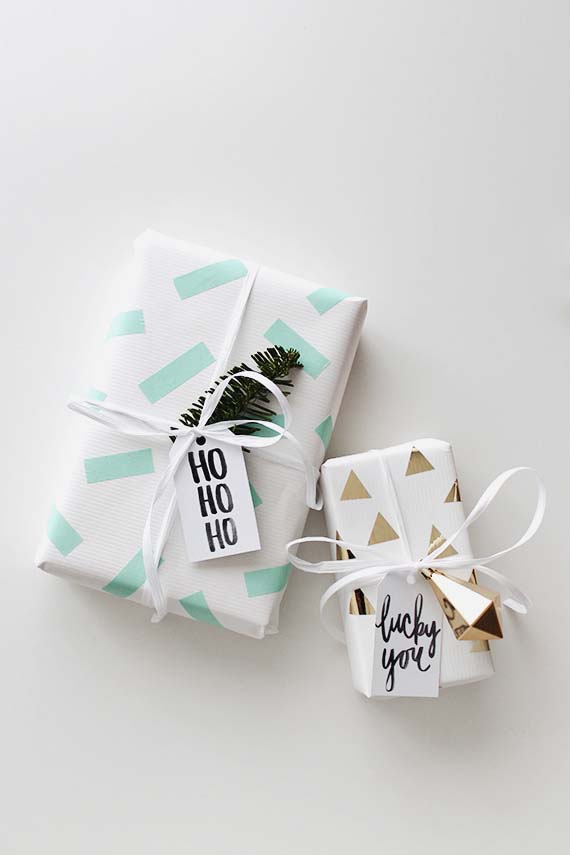 Simple washi tape can be used to make elegant designs. You can make rectangles and triangles.
107. Make a Unique Gift Topper with Watercolors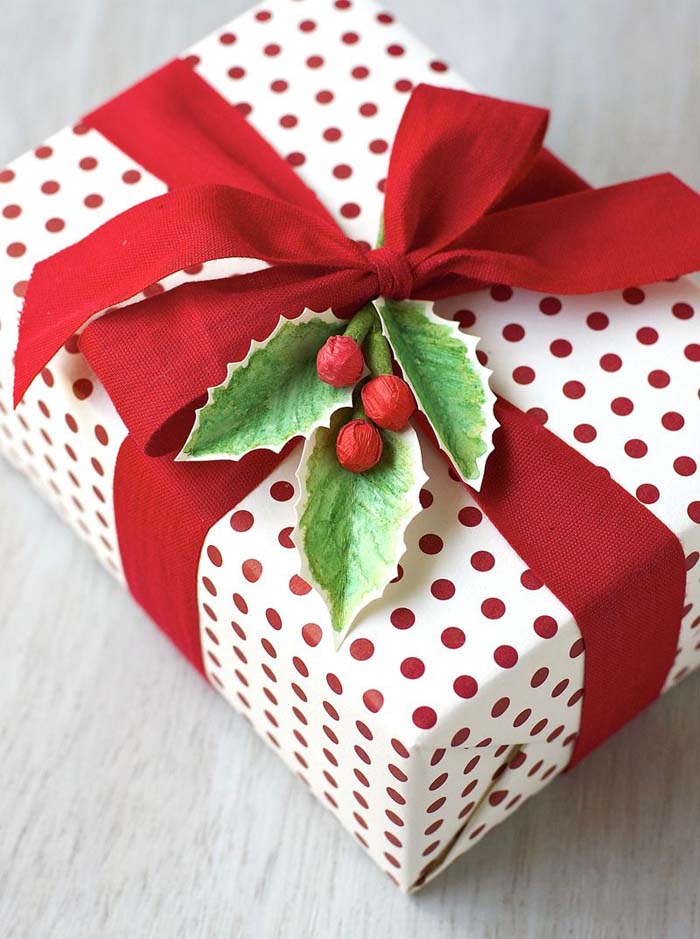 Watercolors can be used to make decorations. An example is leaves for paper berries.
via Urban Comfort
108. Create a Cheery Snowman with Wood Beads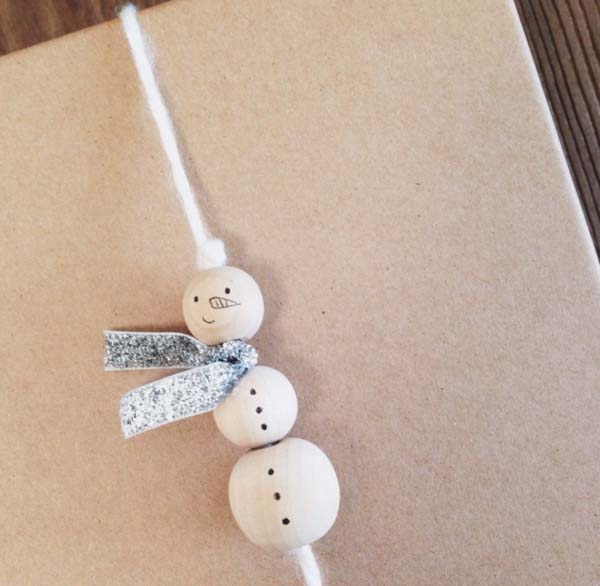 Wooden beads can be used to make a snowman. You can use a marker to paint on the features and ribbon for the scarf.
via Instagram
109. Craft a Rustic Topper with Small Animal Figurines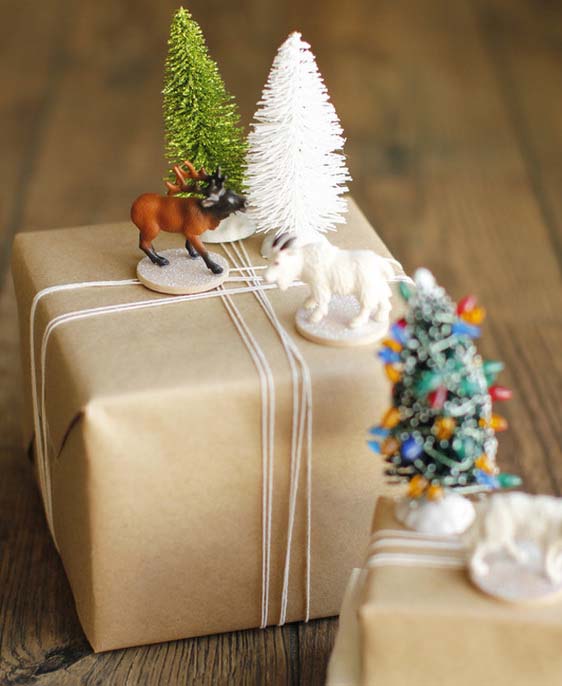 Small figurines are great for gift toppers. It can be glued on or just placed on top.
via Ruerococo
110. Bring Rustic Charm with a Wooden Gift Tag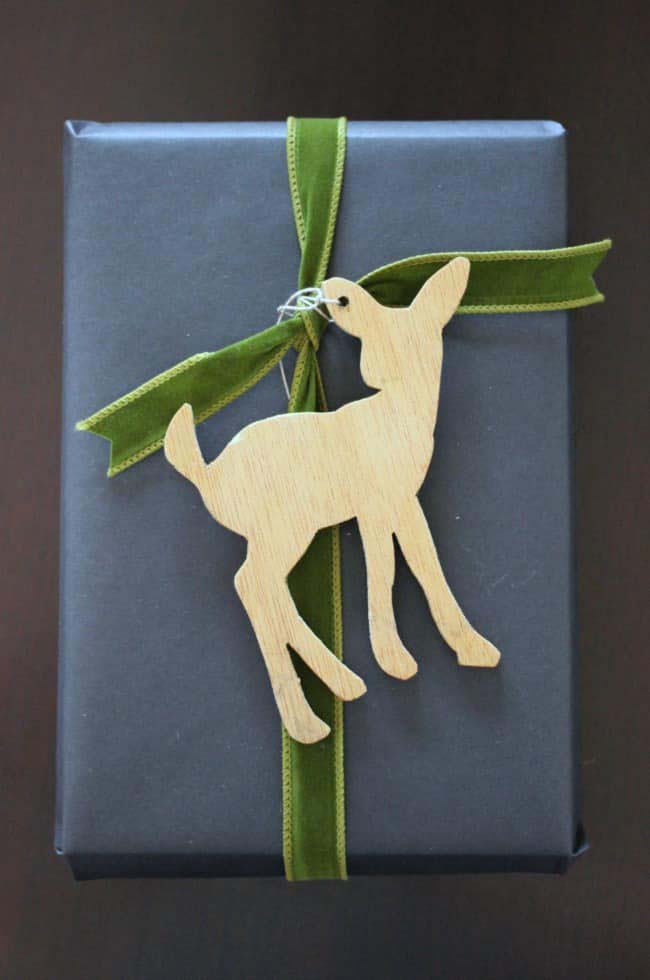 Wood cutouts are great for tags. They can be painted or left plain for a rustic charm.
111. Decorate Packages with Yarn Bows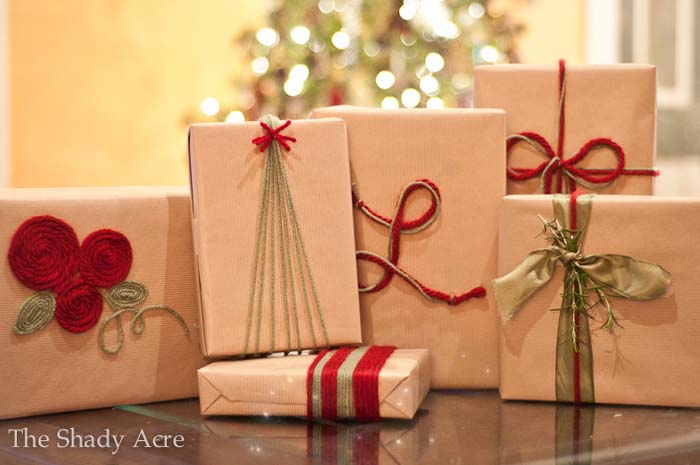 Yarn is great for adding decorations to a package. It can shape patterns or just make a bow.
via The Shady Acre