The Christmas Wreath is something special for the season.
There is no beginning and there is no end for the circular wreath that represents the never-end circle and the evergreen means growth.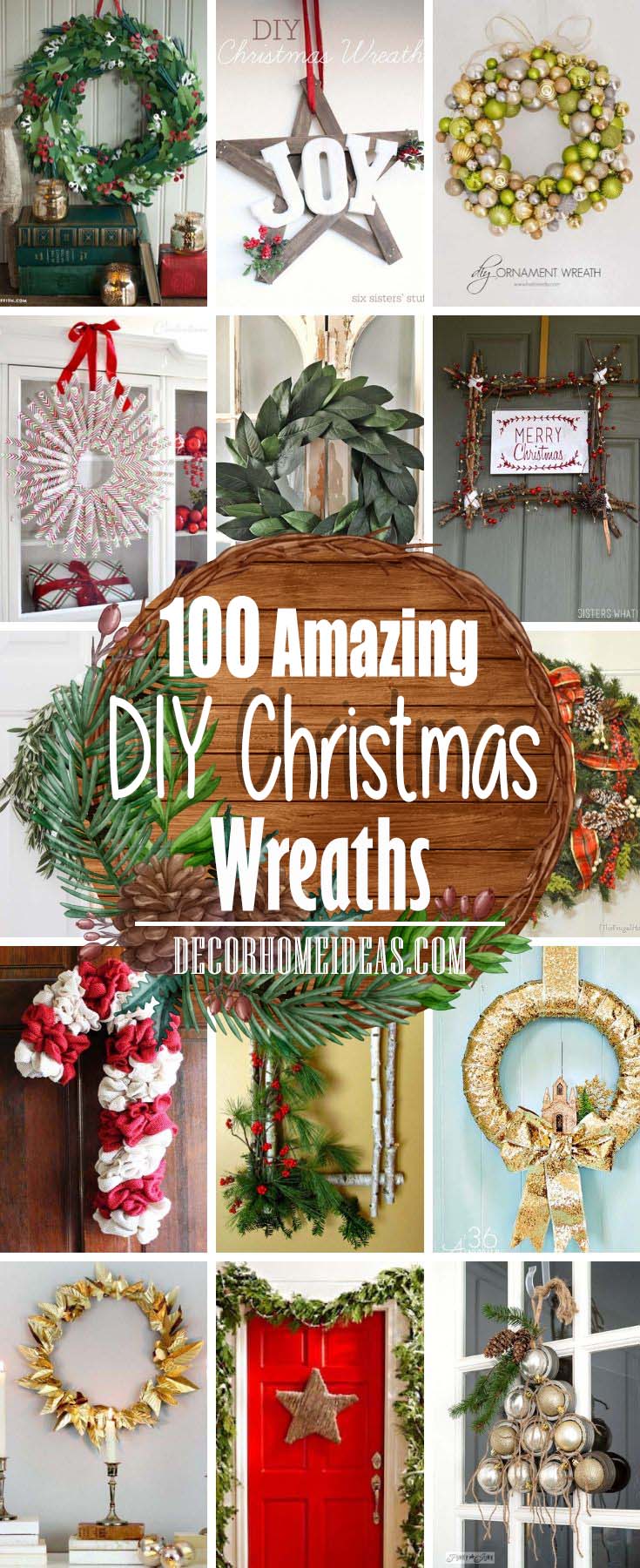 No matter what your wreath means to you, please enjoy this list of creative and festive DIY Wreaths – may they bring joy to your world.
1. Create a Festive Statement with a DIY Birch Christmas Wreath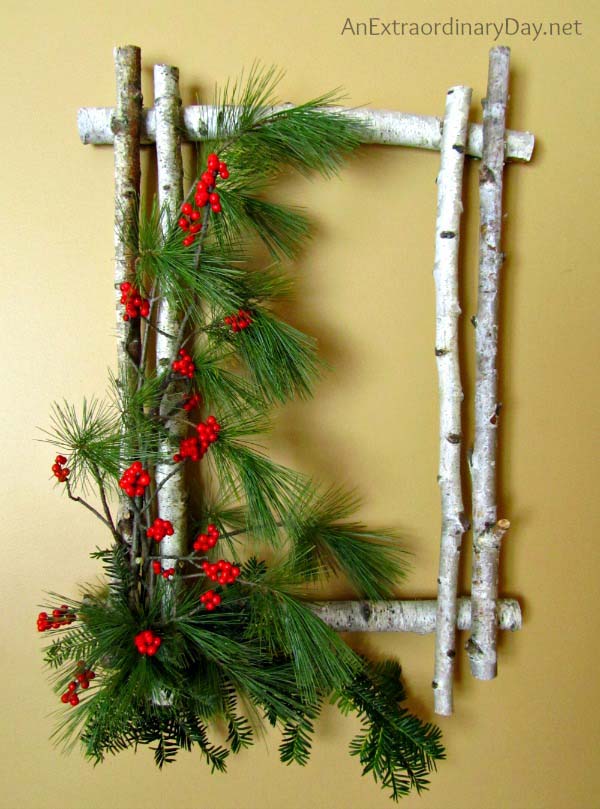 This Birch Beauty would look amazing as your new front door signature Christmas Wreath.
The best part is, no tutorial needed. Making this one requires a few limbs trimmed for the tree in the yard. Happy Creative Hour!
2. Rustic Farmhouse Christmas Wreath with Burlap and Pinecones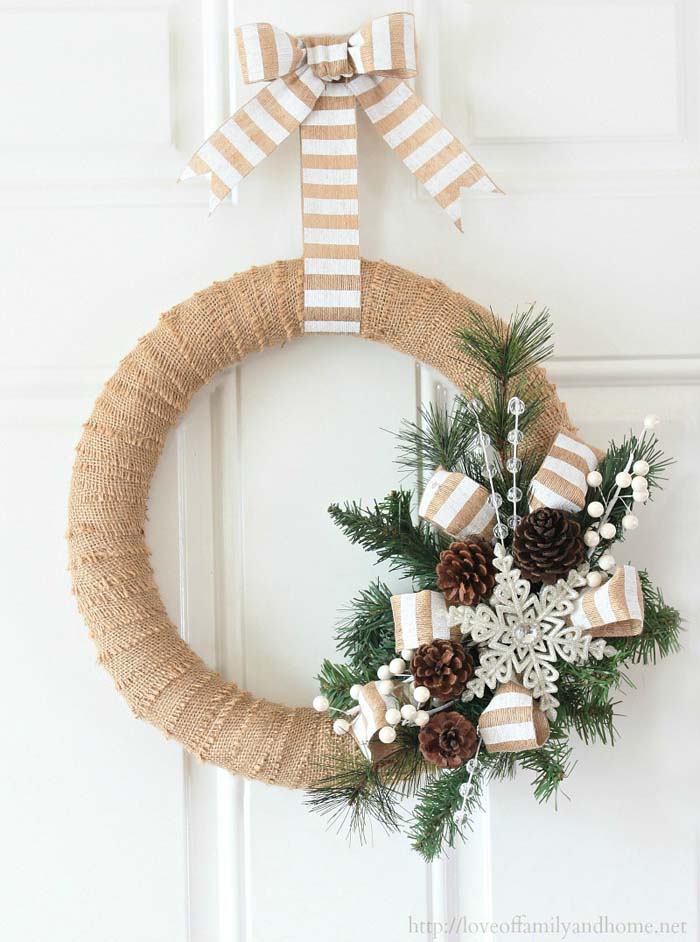 When it comes to the DIY Christmas wreaths, the Burlap simplicity is the perfect choice for your Farm House style home. This one is a foam ring, easy to cover with a few pinecone picks. It is that easy.
3. Make a Santa-Inspired Burlap Wreath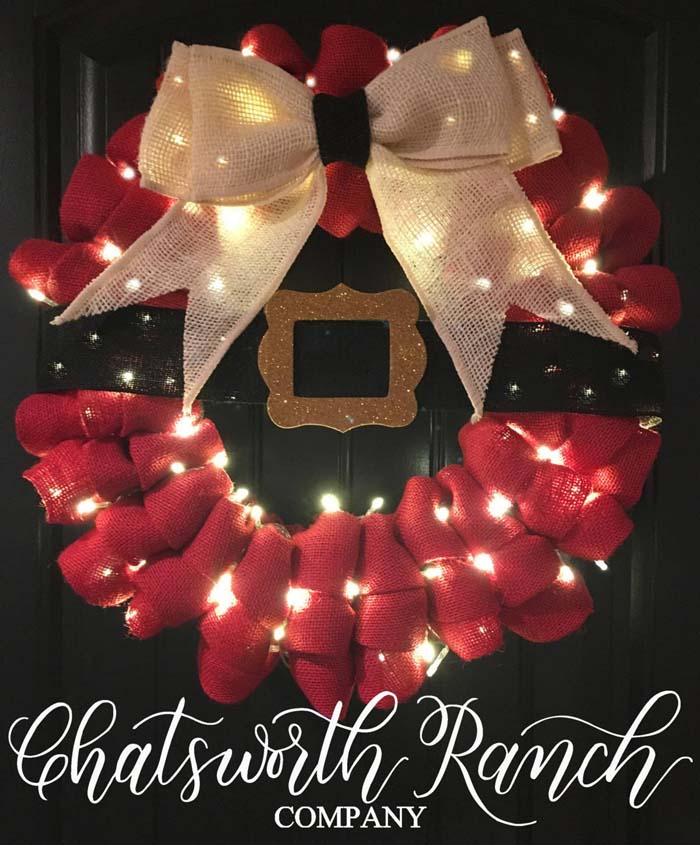 This jolly old elf's belt will have everyone that comes to your door saying "HO HO HO that is the perfect Christmas wreath.
via Chatsworth Ranch
4. Adorn Your Door with a DIY Burlap Candy Cane Wreath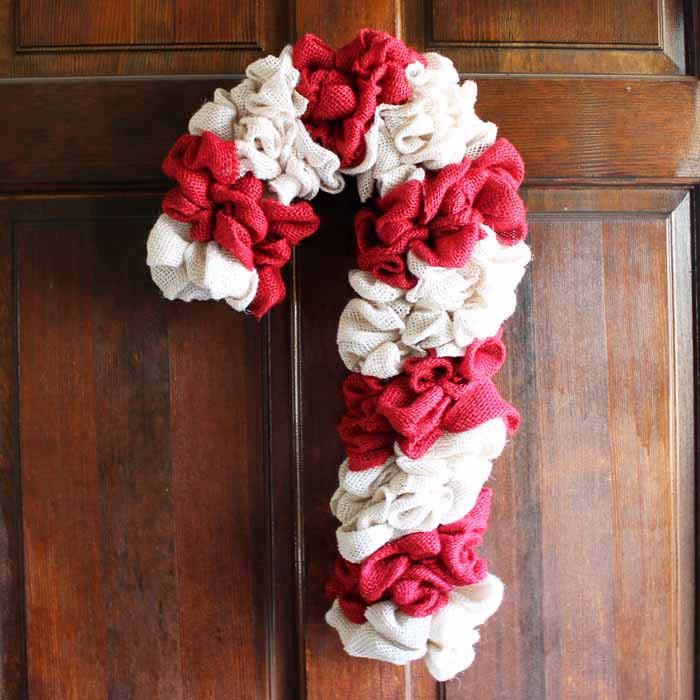 This one will sweeten up the barest of walls. All you need is a couple of hangers, bend it into your candy cane, and slip your burlap on.
This one might rank easiest when it comes to DIY Christmas wreaths.
5. Make a Uniquely Decorated Evergreen Christmas Wreath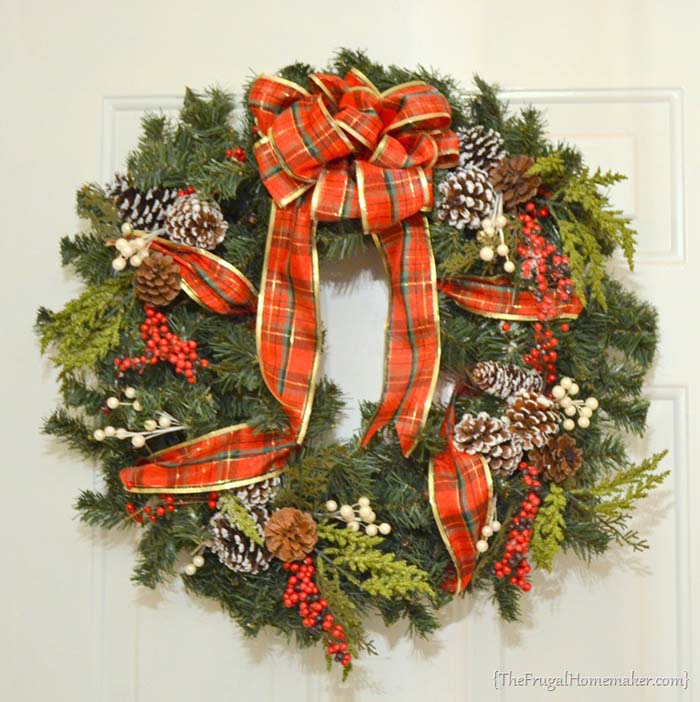 There is nothing artificial about this fancied-up evergreen. Creative colors and designs are all years with this Christmas wreath.
via Frugal Homemaker
6. Create a Rugged Christmas Wreath with Fabric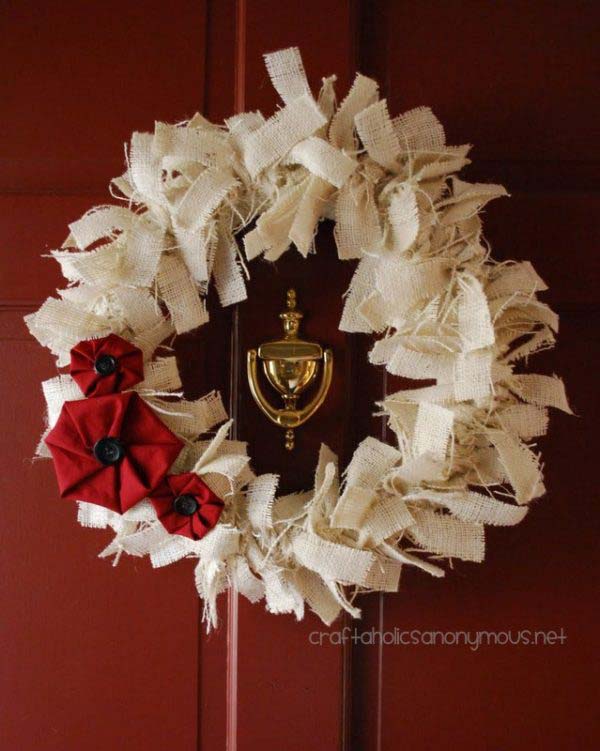 Using a wire wreath from the dollar store, this one is so fun and easy you can even have the kids cut strips of the scraps of Christmas fabric, then tie one on, and keep on tying.
7. Craft a Refined Christmas Feather Wreath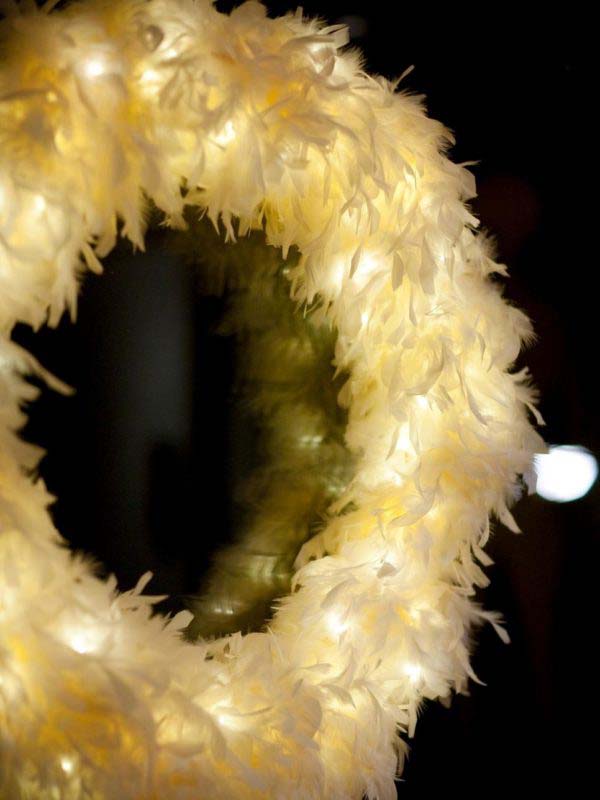 Making a Christmas wreath was never so easy than with this clear idea. Make this the perfect gift, put it together for the Diva in your life.
via HGTV.com
8. Bring Nature to Your Door with a Moss Christmas Wreath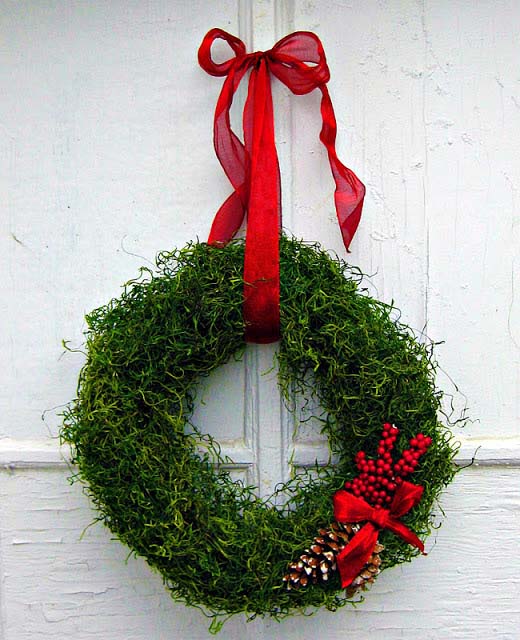 Images of Christmas wreaths sometimes need a chance to grow on us. This one is simply gorgeous.
via Aimee Weaver
9. Give Your House a Glossy Look with an Ornament Wreath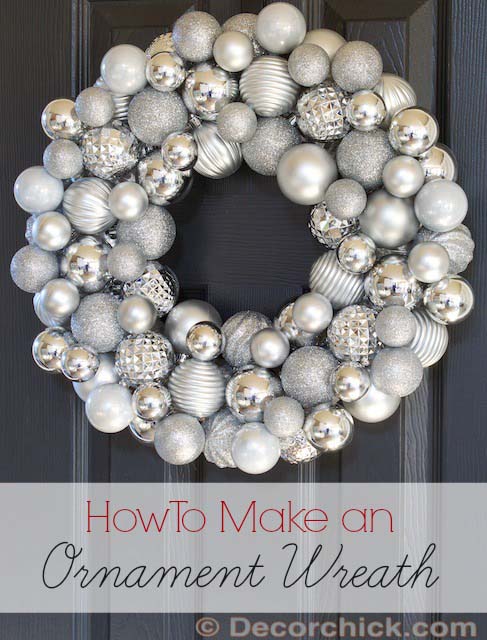 Let's face it, some of us have a problem called Christmas tree ornaments galore!
This one can be a real treasure, use this design idea to preserve all grandma's decorations you can't part with, or even all the handmade ornaments the kiddos made you over the years.
via Decor Chick
10. Make a Colorful Christmas Ornament Wreath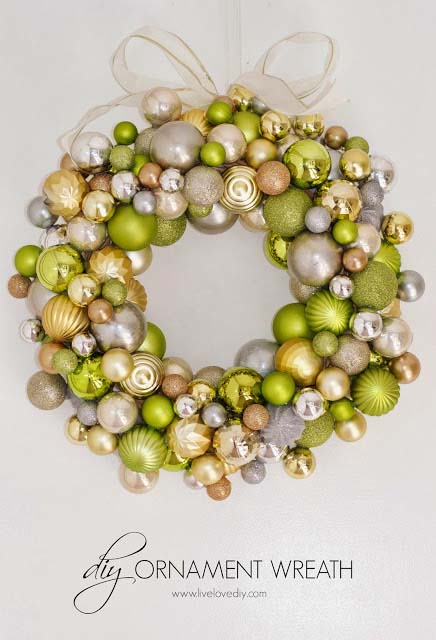 The kids will have a blast with a bag of pompoms and a bottle of glue. You can even make this wreath by cutting a pool noodle and duct tape it into shape. The kids will proudly give this to their teachers.
via Live Love DIY
11. Impress Guests with a Christmas Pom Pom Wreath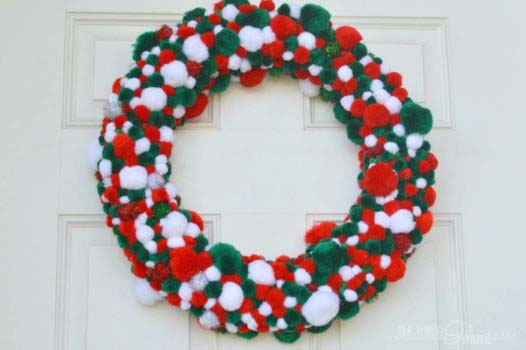 When it comes to how to make Christmas wreaths, it's not about knowing how, it's about making up your mind, or make them all.
12. Glam Up Decor with a Gold Glitter Ribbon Wreath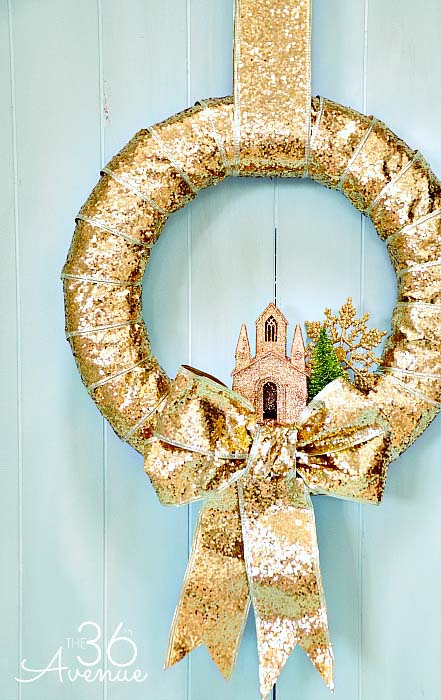 When it comes to how to make Christmas wreaths, it's not about knowing how, it's about making up your mind, or make them all.
via 36th Avenue
13. Create a Plaid Christmas Wreath with a Red Rose Accent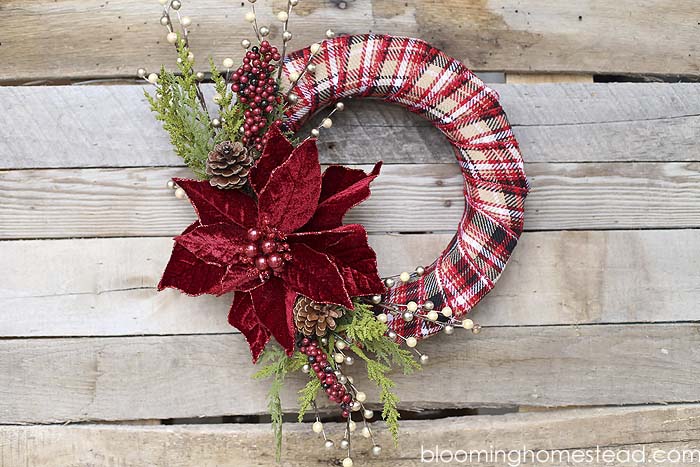 Make them big or make them little, so many Christmas Wreaths ideas.
via Lil Luna
14. Make a Fluffy Christmas Wreath with a Ribbon Bow Accent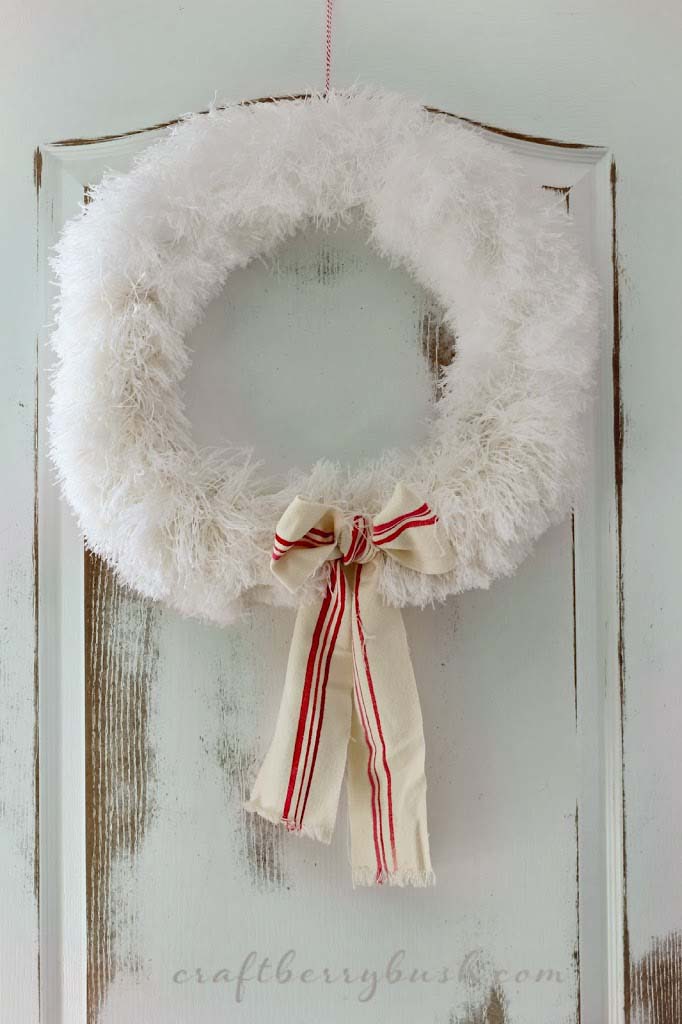 This one will warm any heart as it reminds us of earmuffs and hand muffs, Warm and cuddly, soft, and pure. What is Christmas is all about?
via Craftberry Bush
15. Enhance Interior Decor with a Yarn Pom Pom Wreath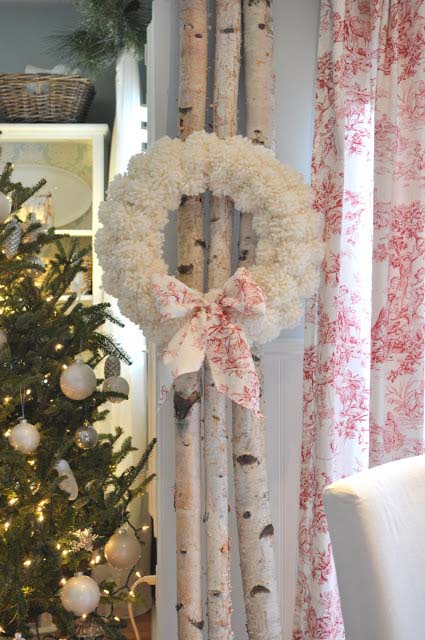 Pom Poms are so much fun to make! Gather all that leftover yarn you have and make something amazing.
via Kim Power Style
16. Craft a Red and White Christmas Wreath with Yarn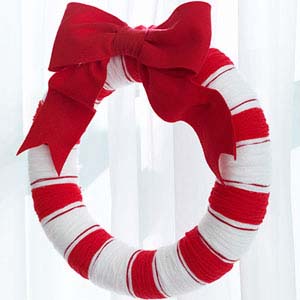 The colors red and white scream the North Pole, wrap them around your wreath for a Santa's Helper gift.
via All You
17. Achieve a Rustic Look with a Clothespin Christmas Wreath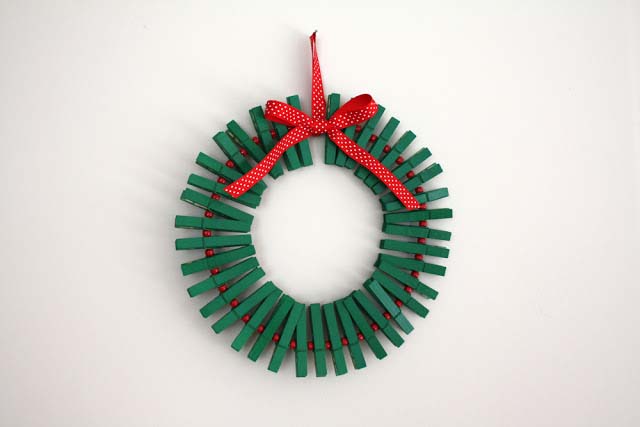 The perfect outdoor Christmas wreaths, it's fun and easy. This is a DIY Christmas wreath dream.
via Gwenny Penny
18. Decorate a Mesh Wreath with Christmas Decor Pieces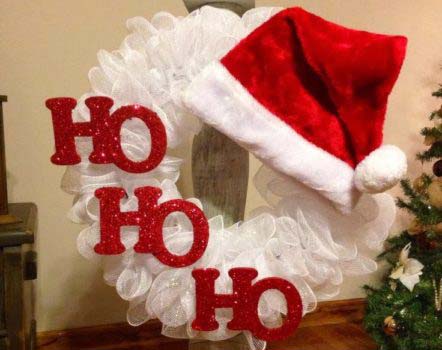 This front door Christmas wreath can also be made with green, Grinchy for sure.
via Blog Her
19. Make a Nature-Inspired Christmas Berry Wreath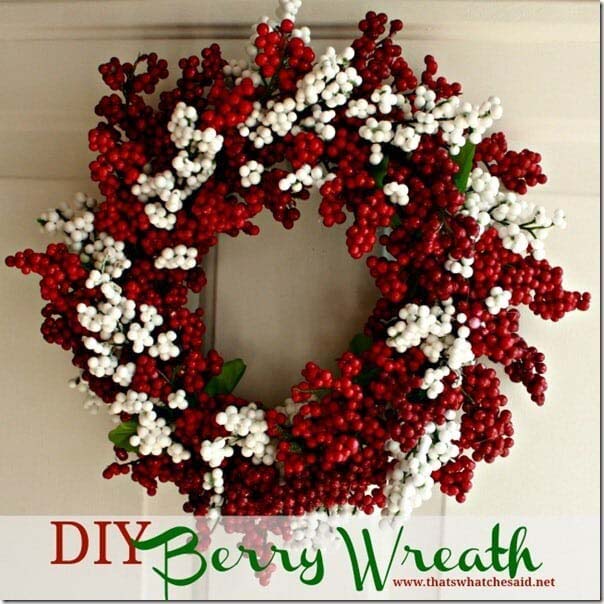 Red means love, white means pure. This wreath will adorn your door and bless all that enter the pure love of the season.
20. Create a DIY Burlap and Red Ribbon Wreath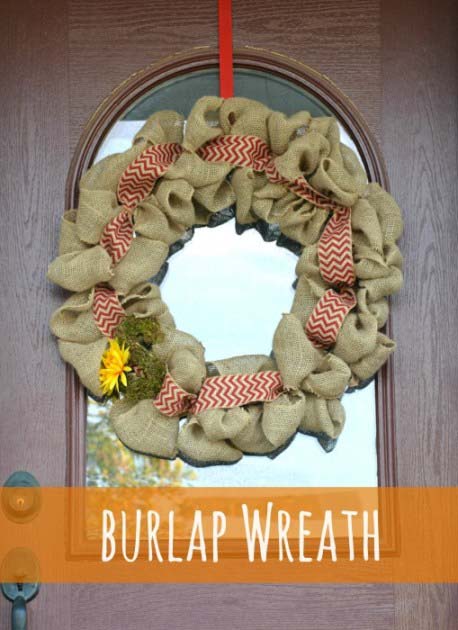 Making a Christmas wreath does not require multiple sorts of decorations. Keep it simple all you DIY Christmas wreath makers.
21. Utilize Bows for a Colorful Christmas Wreath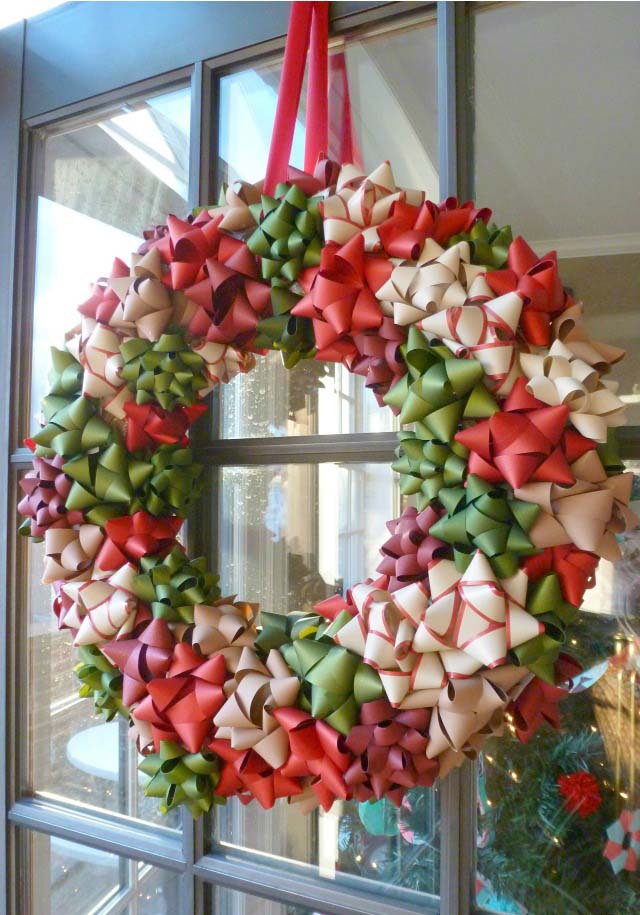 Even on a tight budget, your front door can say Merry and Bright!
22. Build a Wood Star Christmas Wreath with a Joy Sign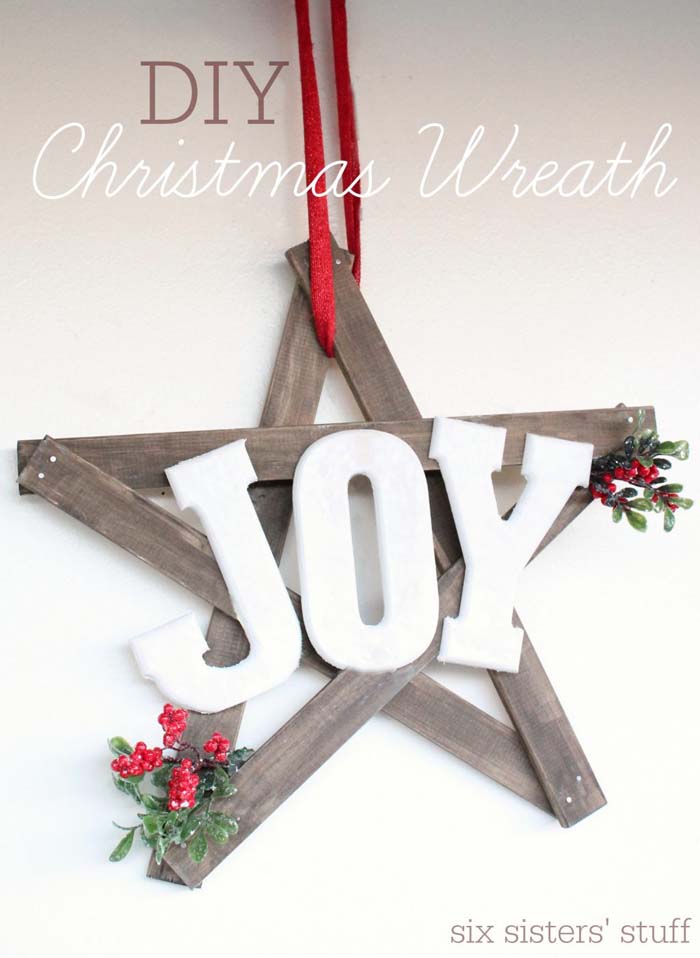 Next time you run in the craft store, have a picture of this on one of your phones. Pick up what you need and run home to make the star that will bring you joy.
23. Elevate Your Outdoors with a Red and White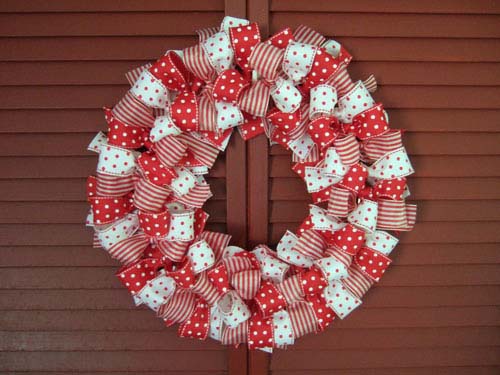 Use your favorite ribbon cut into strip, add a little of your ideal wrapping paper for on that wraps up just right
via Shelterness
24. Make a Statement with a Rustic Christmas Wreath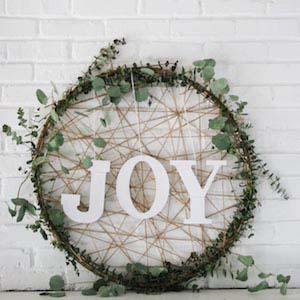 This idea is an eye-catcher, no matter if you love it or hate it, you will remember it.
via Homemade Ginger
25. Create a Nitid Frozen-Themed Christmas Wreath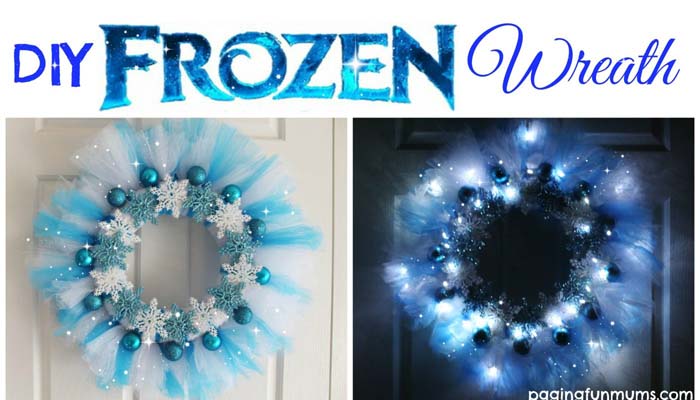 Tule, Tule, Tule will bring out everyone's Yule because it is fun and fancy. Put some fun and whimsy on your door today.
via Paging Fun Moms
26. Elevate the Christmas Spirit with a Jingle Bells Wreath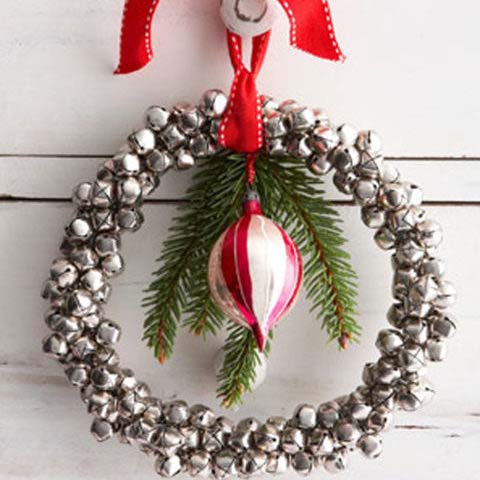 Listen, do you hear the bells? Nothing says Christmas is near like the bells of Christmas. Your front door will have a little jingle with its ring.
via Country Living
27. Let Kids Enjoy Christmas with a Marshmallow Wreath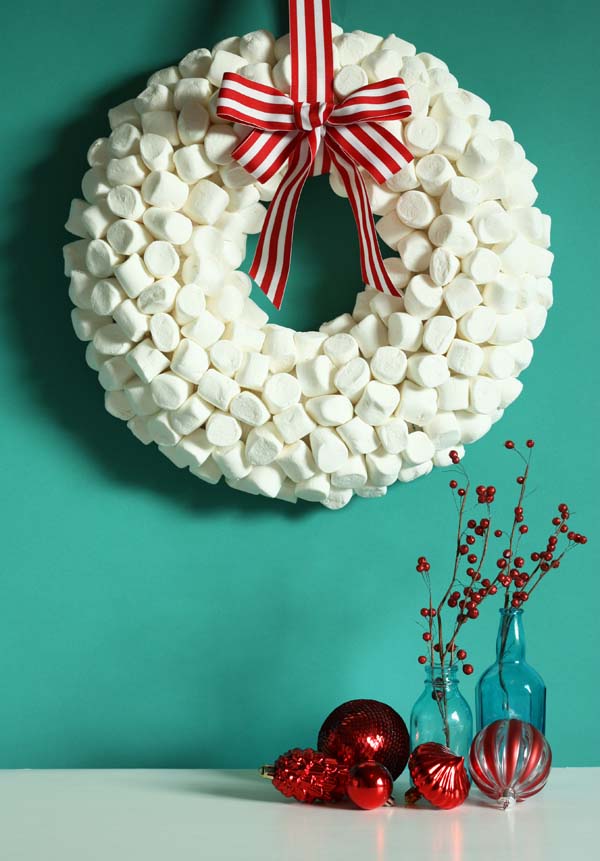 Here is another on the kids will love to make, buy lots of marshmallows for the two to one ratio of gluing and eating. Warm and fluffy says all is right.
via The Sweet Escape
28. Embrace Nature with a DIY Pinecone Wreath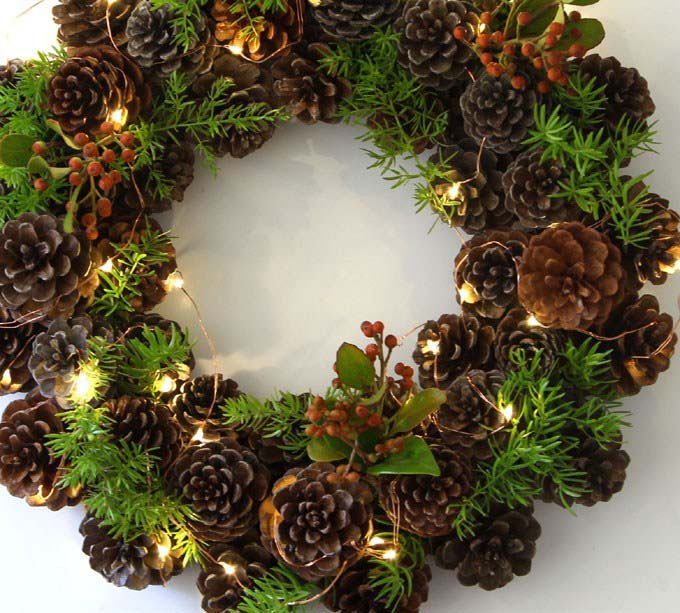 This one is great for a winter nature walk with your kids or even on a date. Gather your bits of nature and then create.
via Remodelaholic
29. Make a Modern Evergreen and Burlap Rectangle Wreath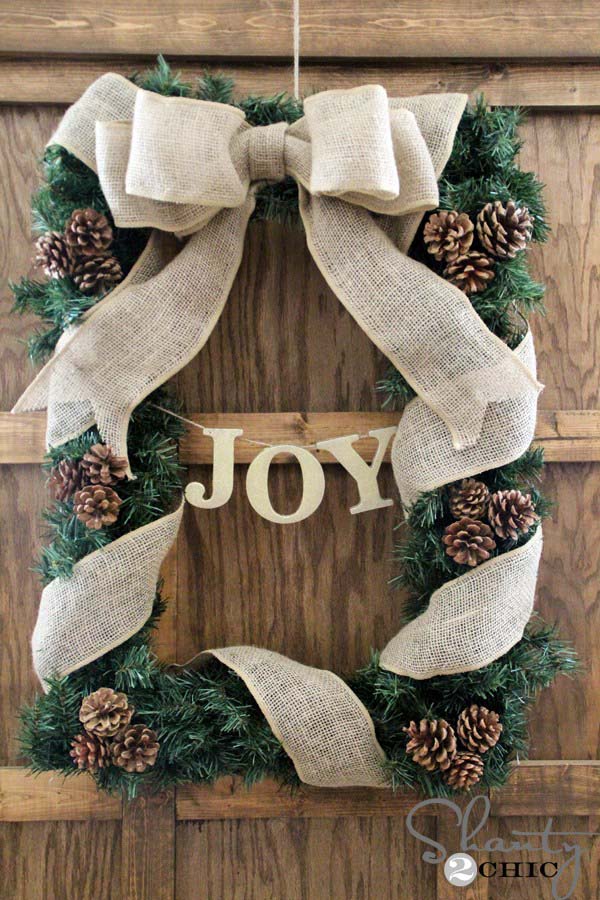 This one is fantastic; it is not square; it is not round. It is an old picture frame that you have hanging around.
via Shanty 2 Chic
30. Upgrade Your Door with a Suave Snowflake Hanger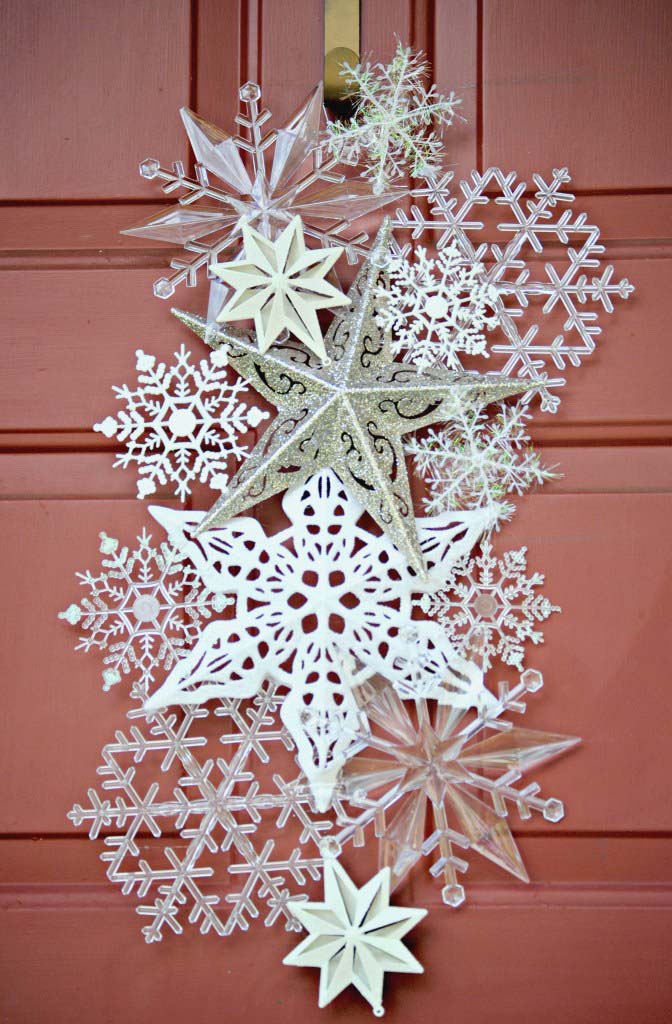 Just like when you were a kid, you gathered those snowflakes on your sleeve to looks at each detail and design.
Gather some flakes; this one says love to all no matter your color and shape. If we hang together, we will be just fine.
31. Repurpose Family Photos into a Classic Wreath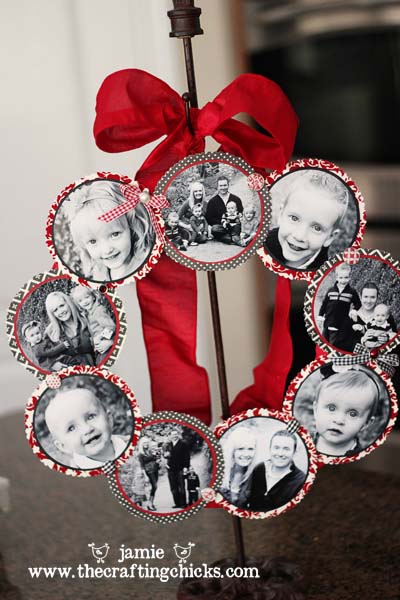 We all have a family, even if it is just our cat. But what team, so you work with, go to lunch with or make plans for.
This one is great for high schoolers, even a selfie ring for your best boy or girl….awwwwwwww
32. Add Rustic Bells to Your Wreath for a Farmhouse Look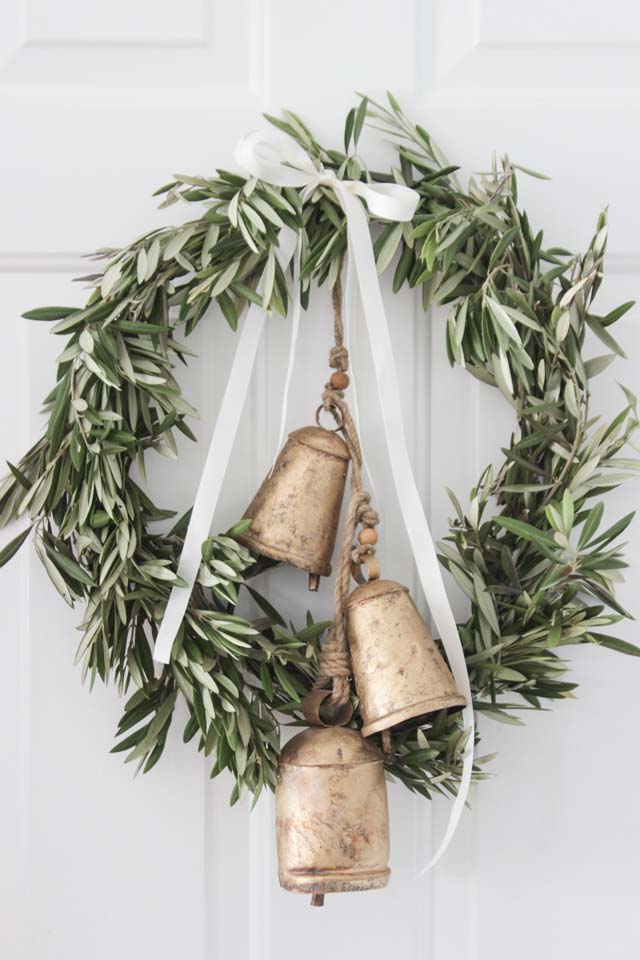 Need more Cow Bell! (if you don't get it, look it up)
33. Enrich Your Christmas Decorations with a Fluffy Wreath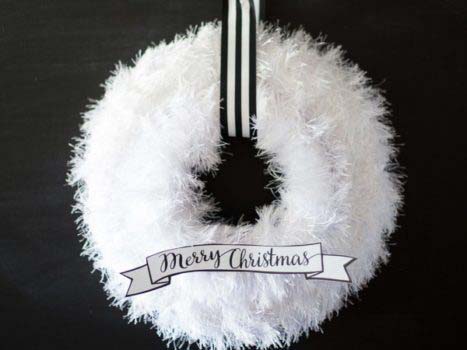 Heavenly clouds and sliver bells just seem like part of decking your halls and making them bright.
via Just Destiny
34. Be Creative with a Gleamy Tinsel Wreath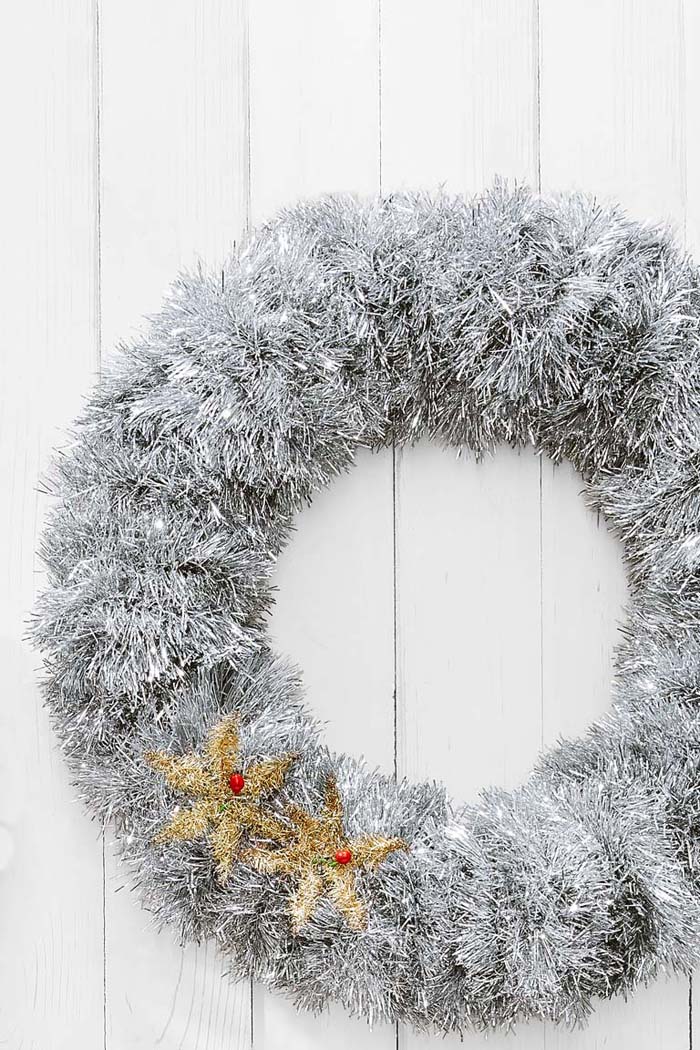 White and fluffy, the Christmas wreaths with fluffy tinsel will remind you of the angels.
via Country Living
35. Make a Colorful Frosty Pinecone Wreath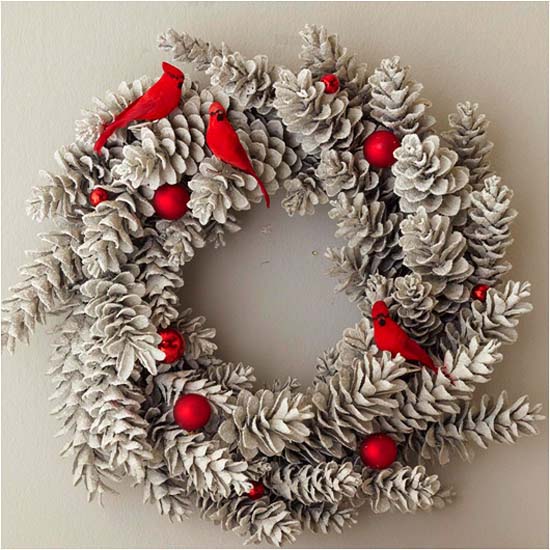 No artificial Christmas wreaths here, only natural and fresh Christmas wreaths make the perfect outdoor Christmas wreaths.
36. Create a Contemporary Wreath with Christmas Gift Boxes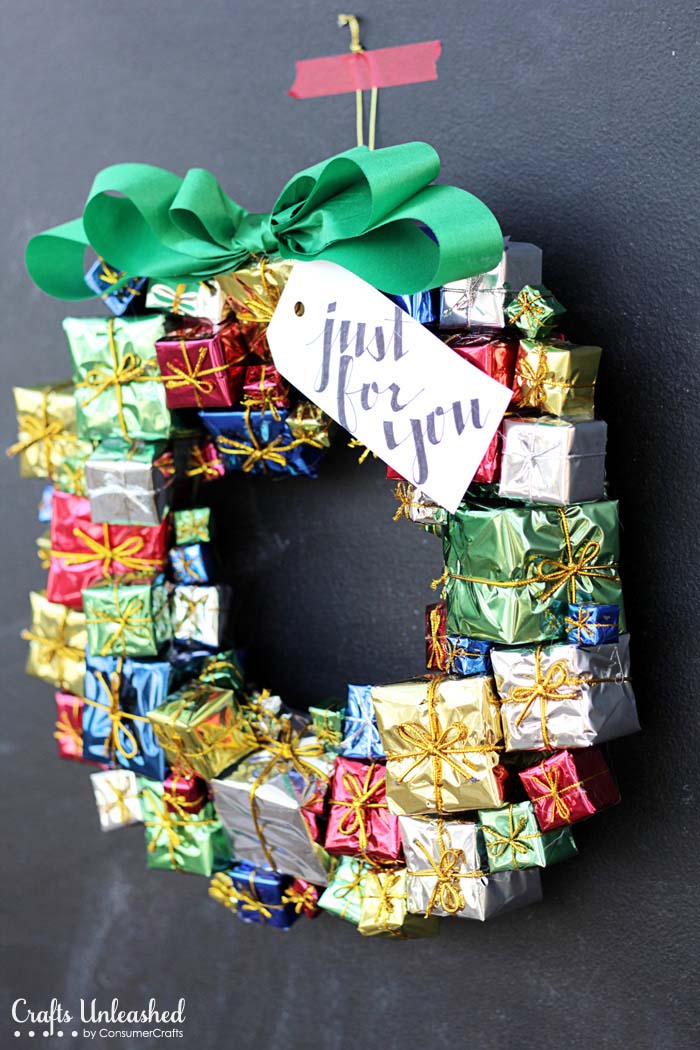 Everyone loves a pretty wrapped gift, Most of us have little time for wrapping, gift bags to the rescue but don't forget the gorgeous packages- right on your wreath.
via Crafts Unleashed
37. Utilize Gift Wrapping Paper for a Colorful Wreath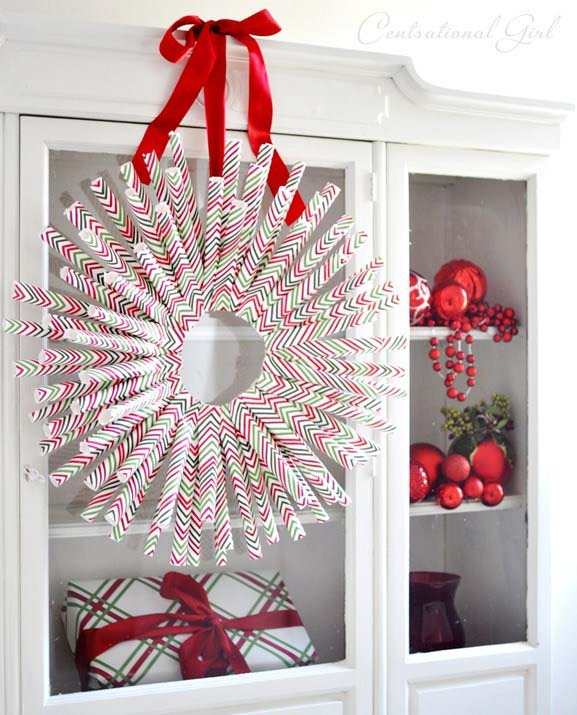 This is wrapped up perfectly! This one you can do tonight, start rolling and have some creative fun.
38. Celebrate Christmas with a Grinch-Themed Wreath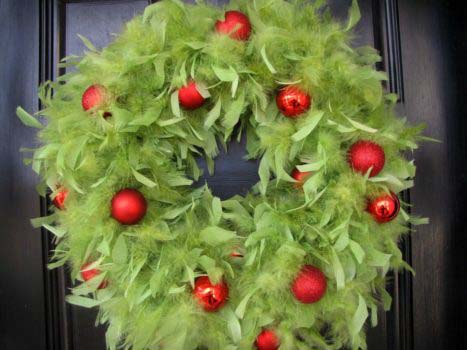 Deco mesh Christmas wreaths need a little practice on how to make Christmas wreaths, but you will love them.
39. Make a Natural Christmas Wreath with Magnolia Leaves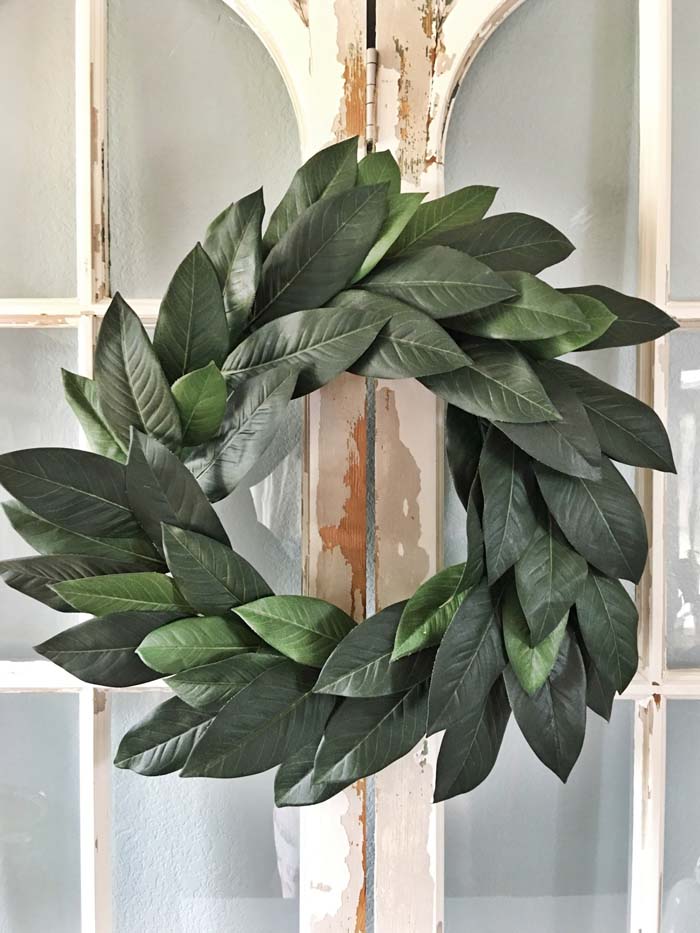 Grapevine wreath with beautiful green magnolia leaves.
via Jolly and Happy
40. Use a Twig Wreath to Complete Your Joy Sign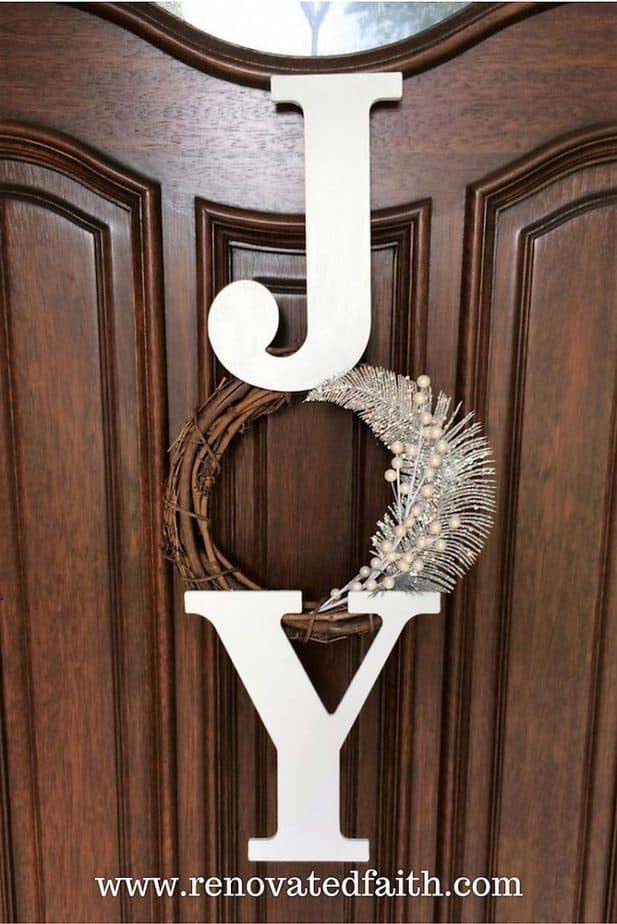 Another way to spread the joy. Joy is for Jolly, Old, Yuletide.
via Renovated Faith
41. Craft a Unique Joy Sign with Twig Wreaths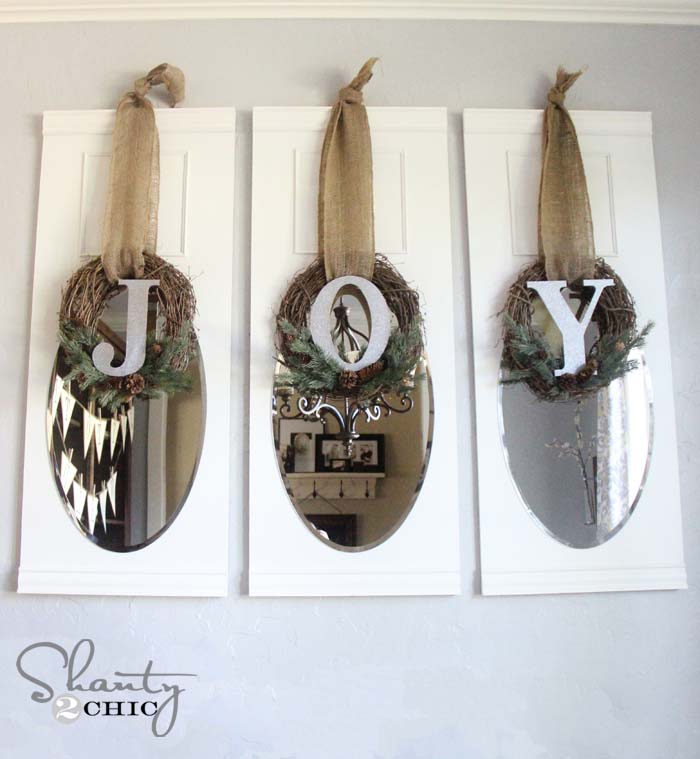 Triple the fun, triple the beauty. And triple your ideas and creativity!
The word JOY can be created in so many creative ways.
via Shanty 2 Chic
42. Create a Gorgeous Gold Leaf Wreath for Your Decor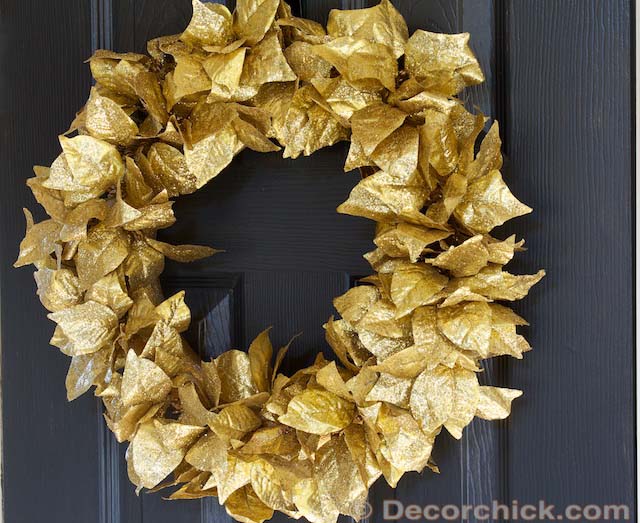 Spray paint some leaves with gold to make an adorable and classy wreath.
via Decor Chick
43. Add a Frosty Snow Design to a Buffalo Plaid Wreath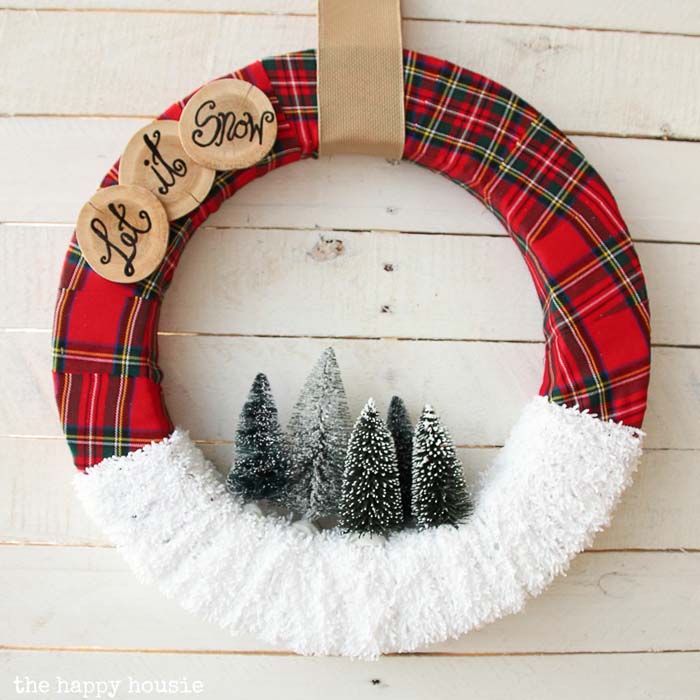 Now, can you say cool? Easy street cool! Color or natural, these can go far by design.
via The Happy Housie
44. Upcycle Popsicle Sticks for a Beautiful Snowflake Wreath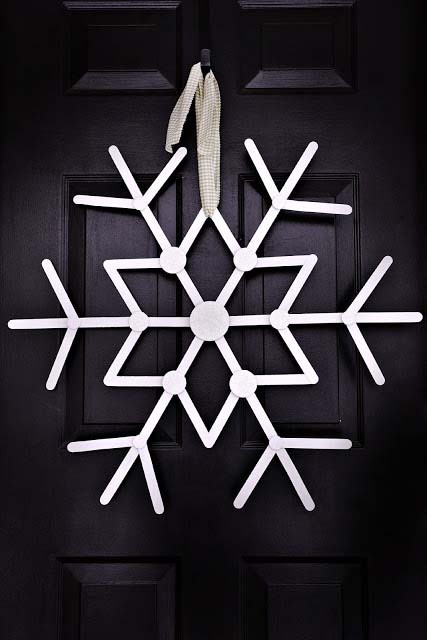 Popsicle sticks or tongue depressors, either will work.
via Ballard Bunch
45. Upgrade Your Grapevine Wreath with Christmas Lights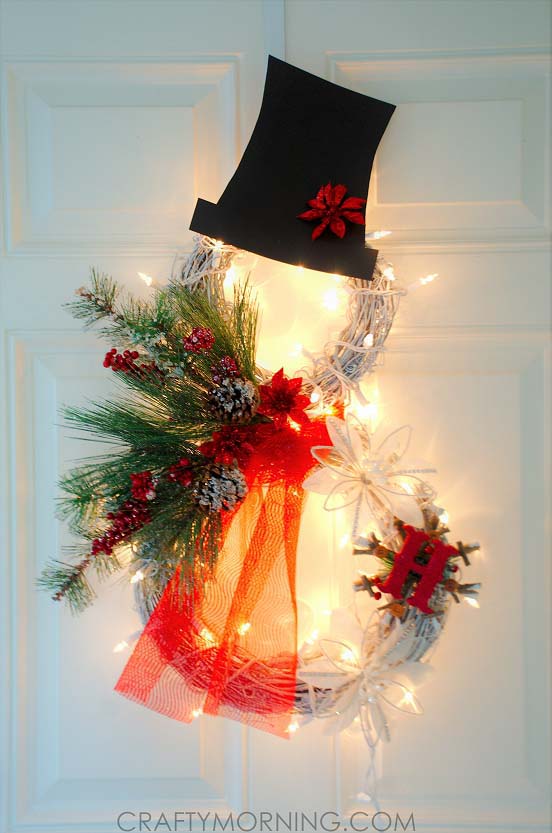 Grapevine Christmas wreaths are festive for sure. You will love this Frosty man hanging on your door.
via Crafty Morning
46. Repurpose Mason Jar Lids and Bulbs for Your Wreath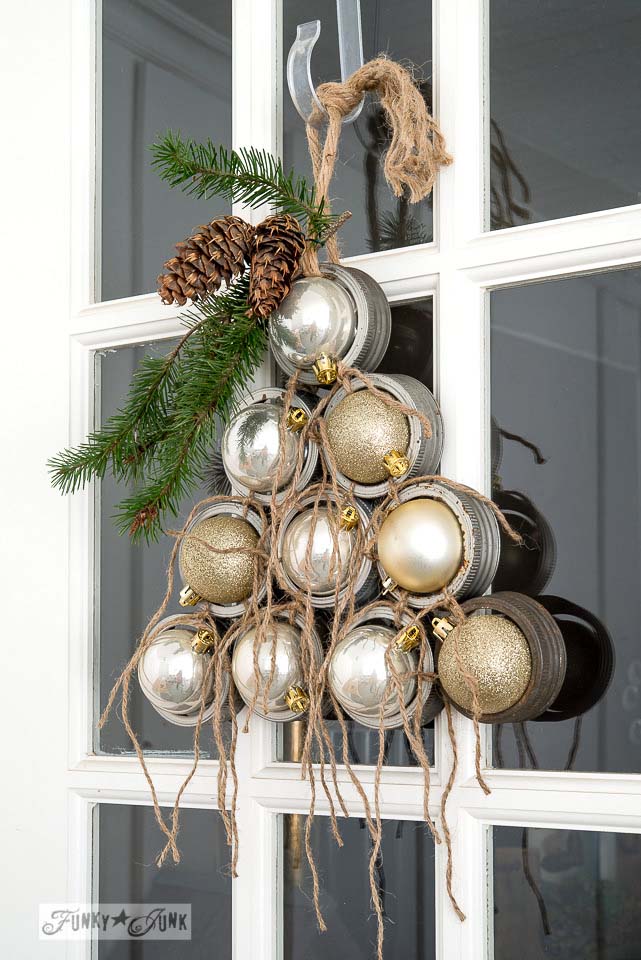 This little Mason Jar lid tree is so homey and comfy looking. Old lids, Old bulbs and a little paint and you will create spectacular decoration.
47. Create a Colorful Wreath with Mason Jar Lids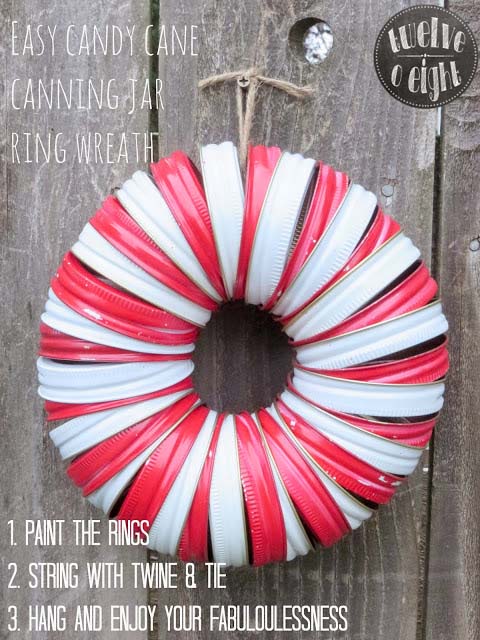 What a great idea of you have old ones of these that can be upcycled to adorable.
via Twelve O Eight
48. Unleash Your Creativity with a Paper Wreath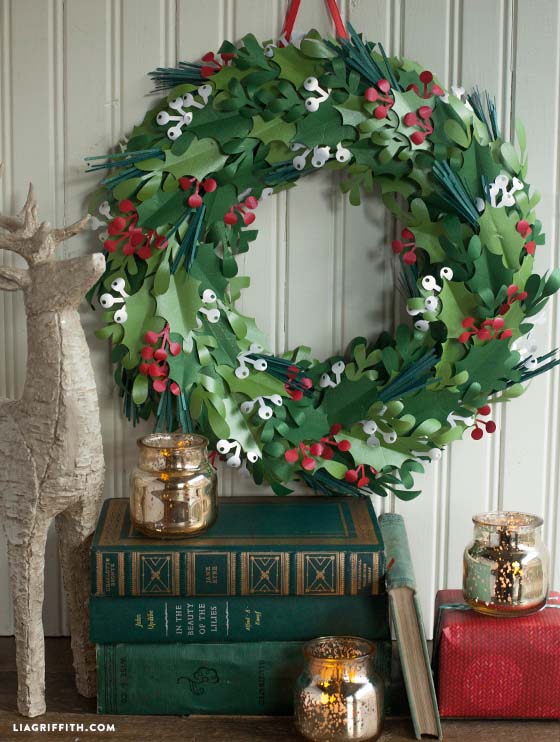 Love the creativity that those can draw out of you.
via Lia Griffith
49. Embellish Front Door with a Peppermint Christmas Wreath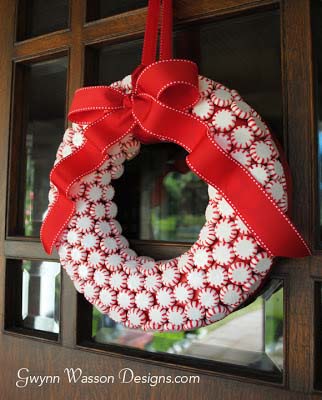 Front door Christmas wreaths are sweeter than ever. You will love how this one makes your house smell sweet and inviting.
50. Upcycle a Red Picture Frame into a Refined Wreath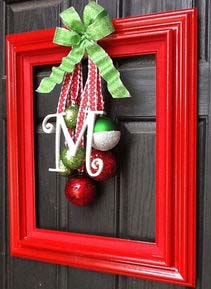 Another way to spruce up some of those frames you have sitting in a box.
51. Decorate with a Handmade Pinecone Christmas Wreath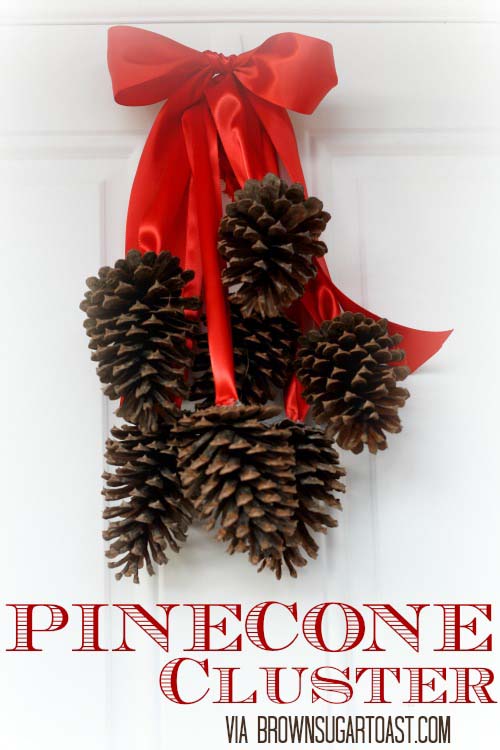 Have a friend that is a minimalist; this one is simple yet elegant.
Pinecones hanging in a cluster say homemade Christmas wreath loud and clear.
52. Utilize Different Colored Pine Cones for Your Wreath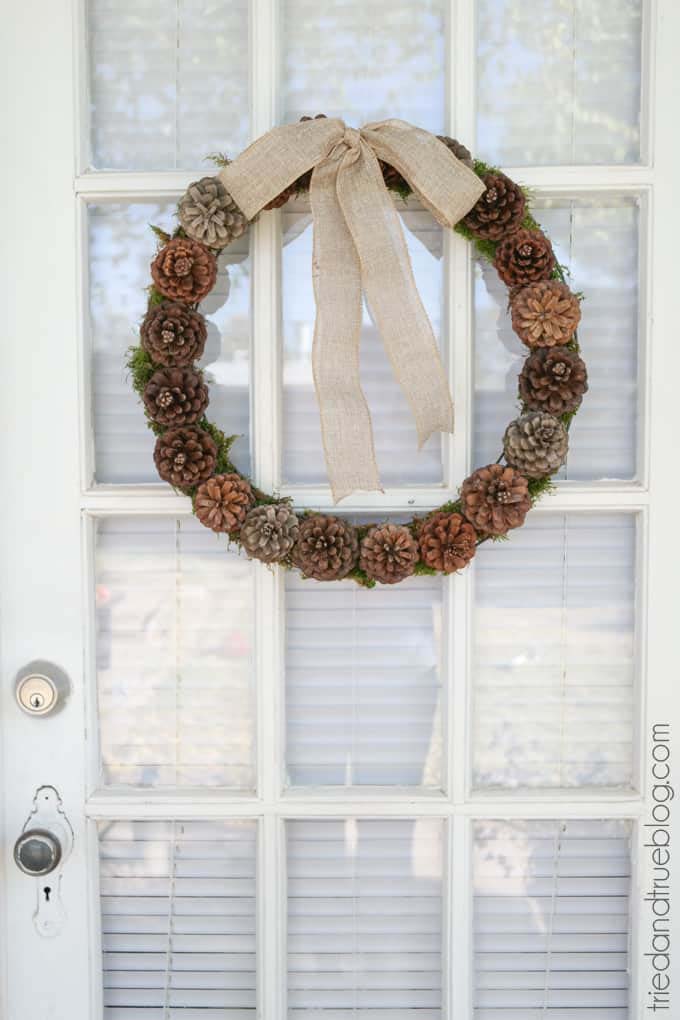 Weather permitting, gathering pinecones in parks and on trails is a great activity ending with a great memory.
via Tried and True
53. Create a Frosty-Looking Wreath with Pine Cones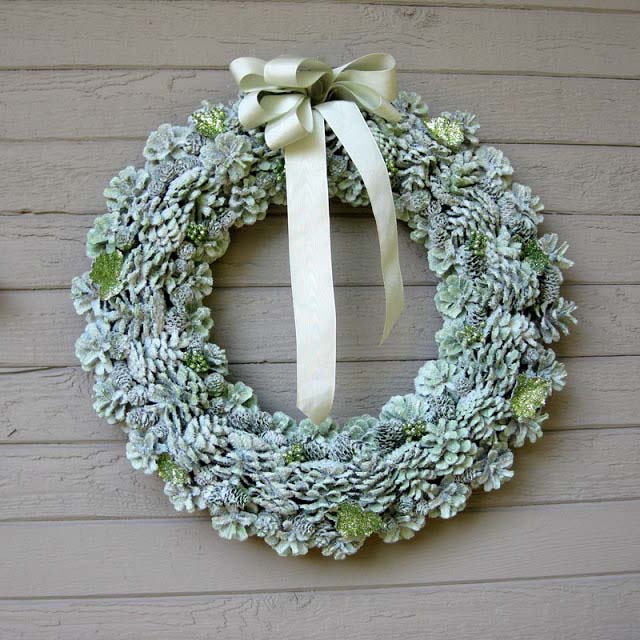 via Felicia Cramer
54. Amaze Guests with a Plastic Christmas Wreath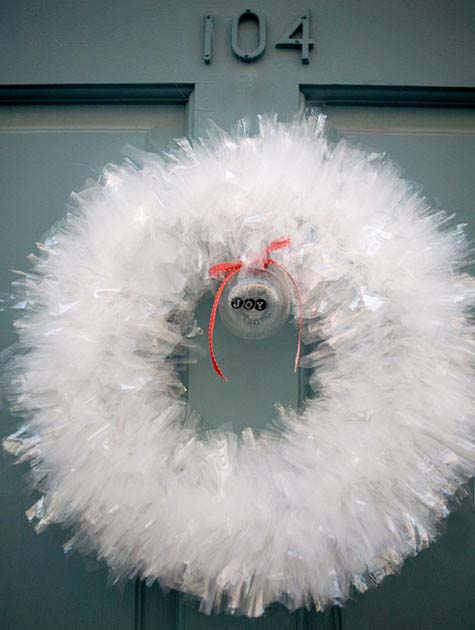 Did you have any idea that plastic wrap count looks so classy and elegant?
via Designs Sponge
55. Uplift Your Door with a Grand Poinsettia Christmas Wreath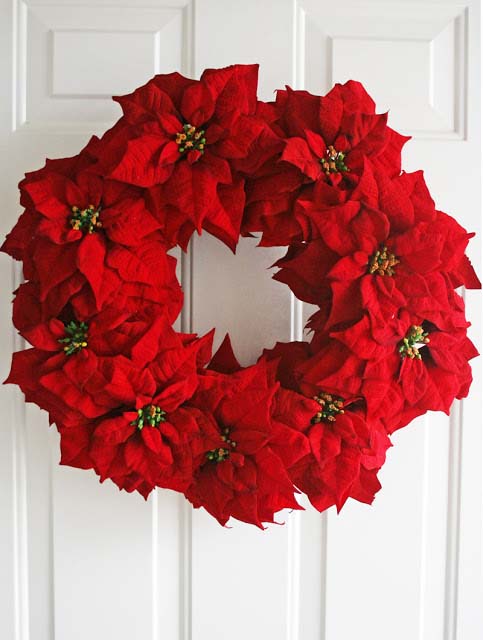 Deep red, always the favorite gift to give the season. Easy to assemble, gorgeous to display.
56. Make a Bright Poinsettia Wreath with Mesh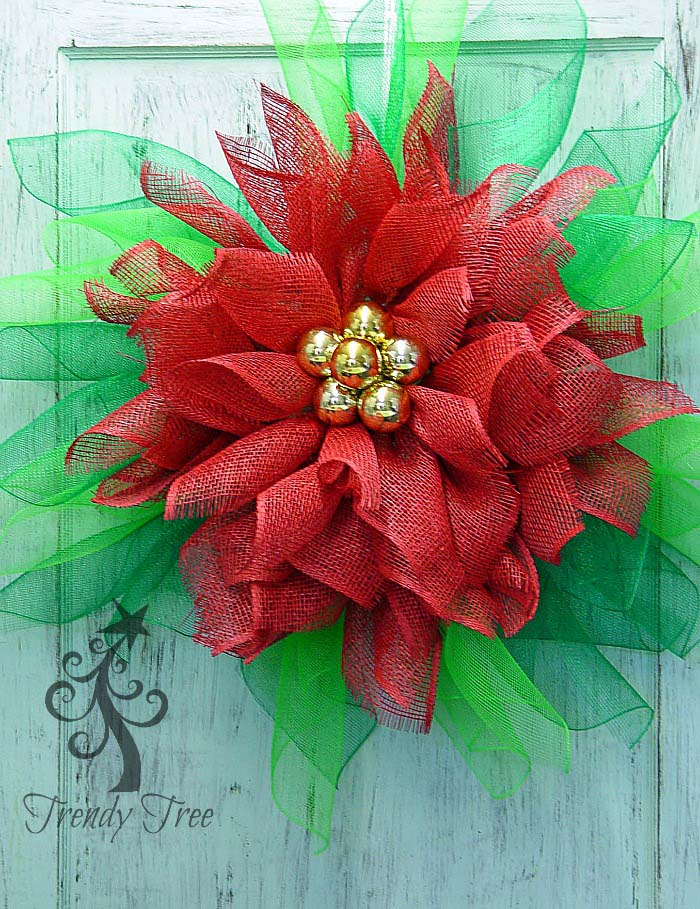 Poinsettias can be found in many different colors. This would be fun to put together in team colors, school colors, etc…
via Trendy Tree
57. Delight Everyone with a Popcorn Christmas Wreath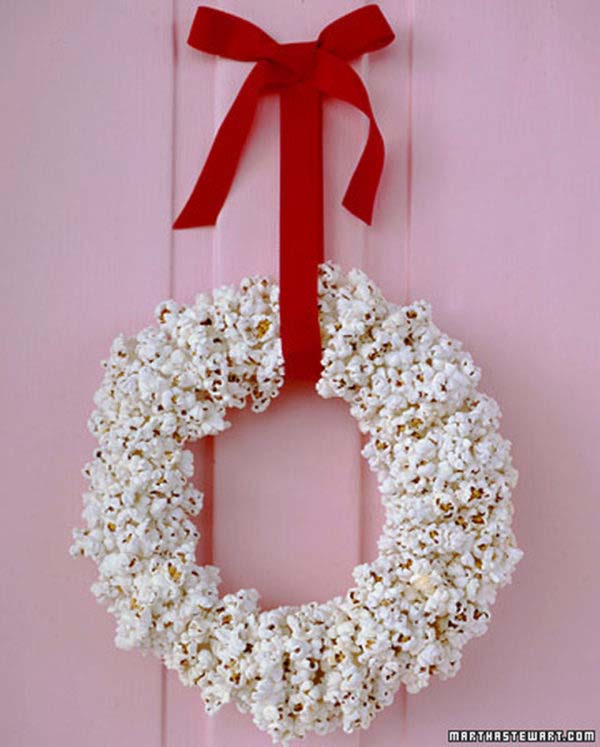 What a great idea, have a popcorn party, watch some Christmas flicks and send everyone home with their own hand made gift.
via Martha Stewart
58. Create a Festive Holiday Wreath with Red Ribbon Knots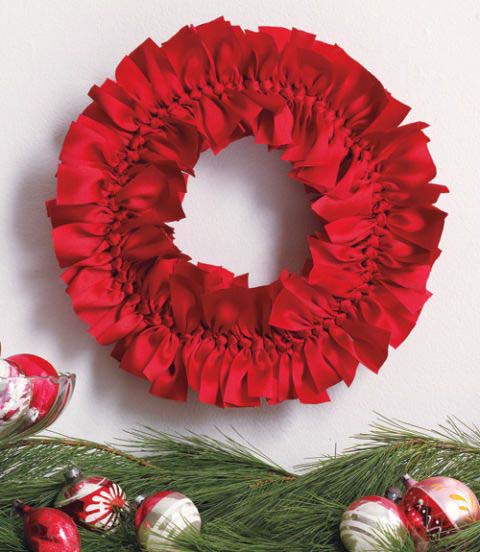 Fabric of different colors or all the same, this one looks like fun to make for your door or maybe as a gift. Personalize our fabric and your colors.
via Woman's Day
59. Put Glitter Ornaments on a Red and White Wreath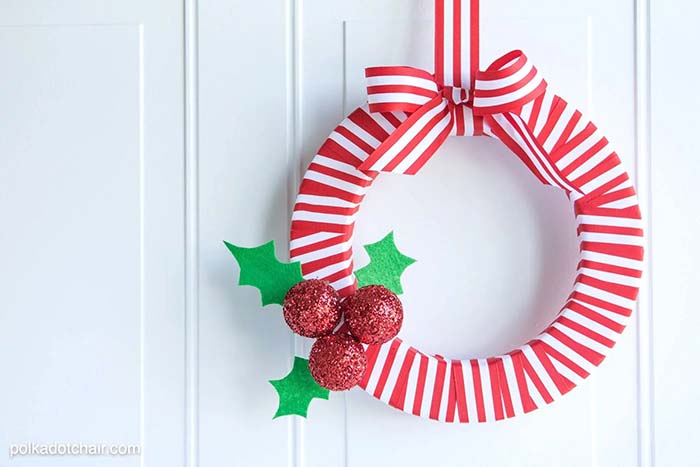 Maybe wrapping paper, maybe a ribbon or even fabric but the ideas are endless with an idea like this.
via Polka Dot Chair
60. Create an Alluring Ribbon Candy Christmas Wreath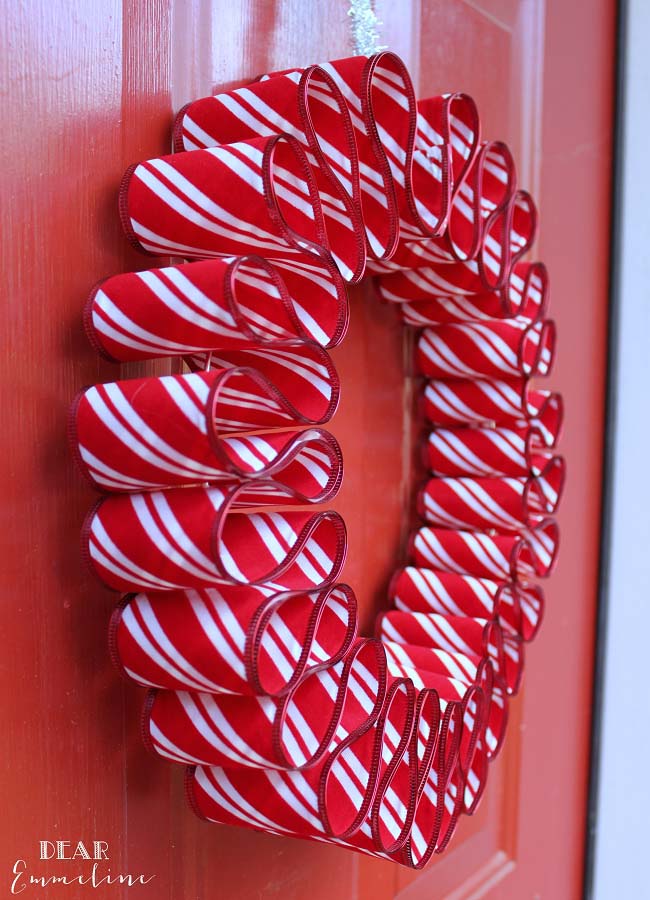 Rock Solid Christmas cheer. Yes, it is found right here, candy, such a great treat.
via Petal & Ply
61. Creative Rudolph the Reindeer Burlap Wreath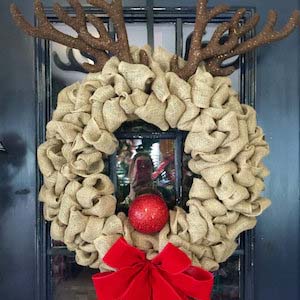 Rudolph is the kid's favorite, the red nose reindeer that we all know and love. Won't you guide my sleigh tonight?
62. Get Timeless Decor for Christmas with Rustic Burlap Wreath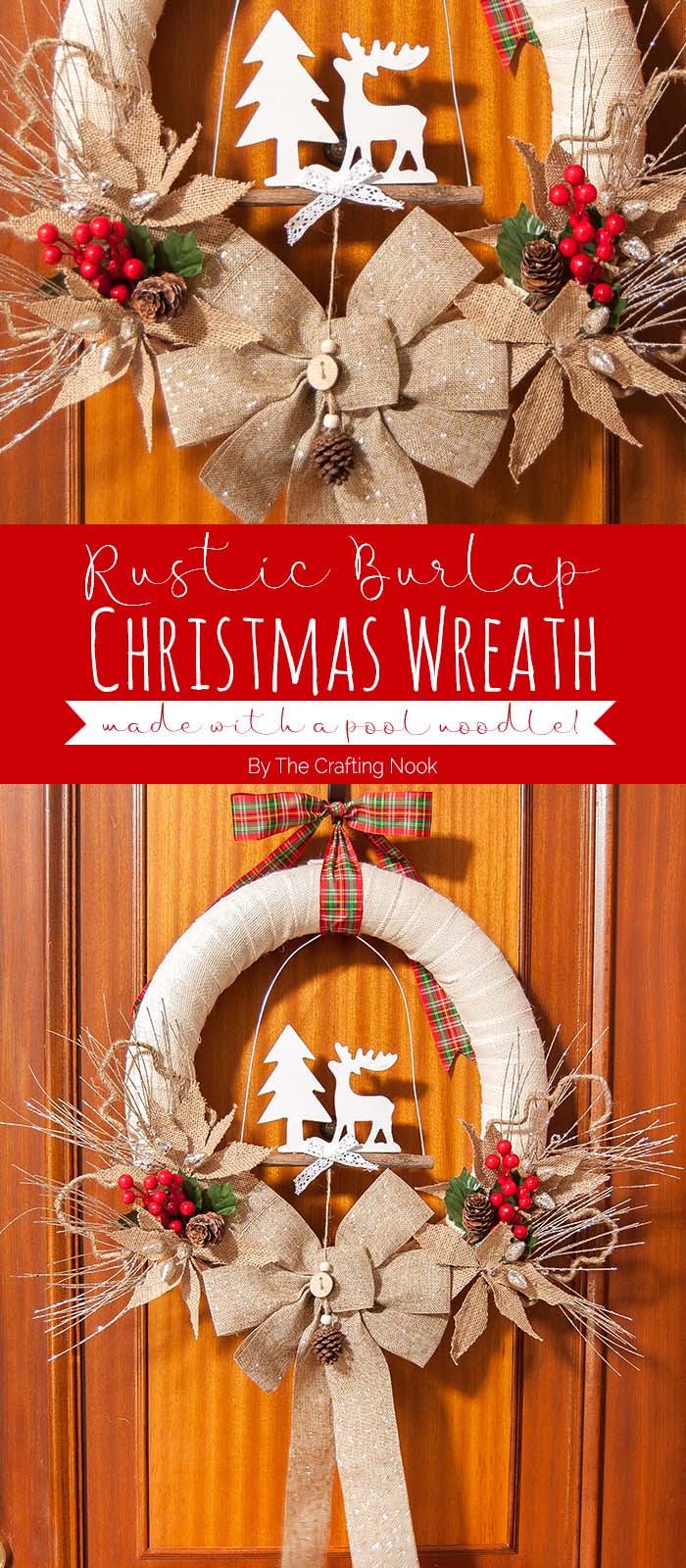 From times gone by, burlap the old gunny sack. Pretty now, the envy of all. When it goes missing, tell them to put it back!
via Titi Crafty
63. Prettify a Grapevine Wreath with Evergreen and Pinecone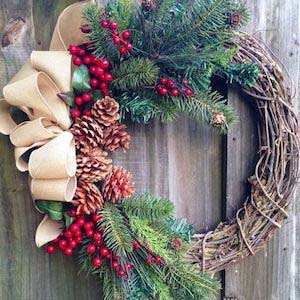 Where do all these ideas come from, the past and the present all get rolled into one.
64. Make a Santa Wreath using Tulle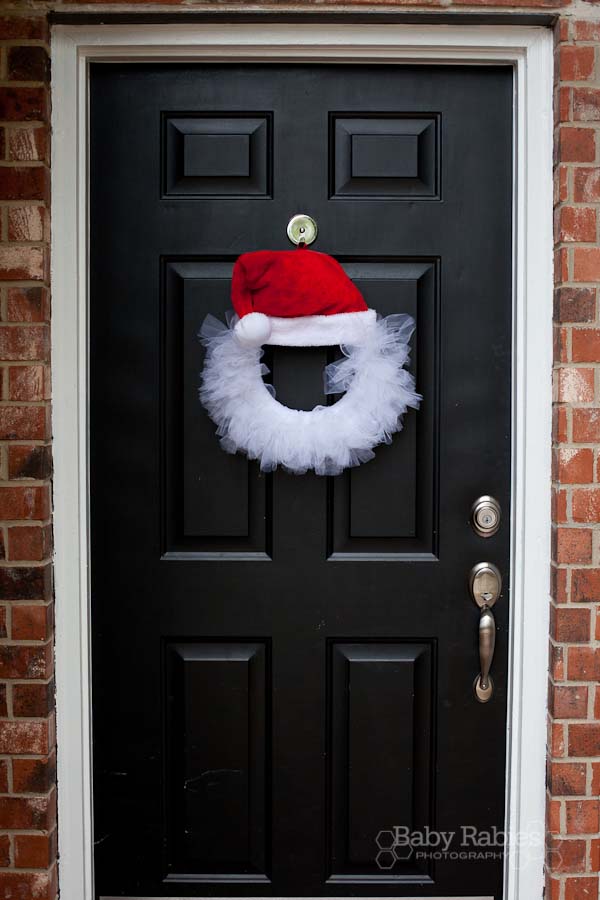 Happy Santa's always thrill and delight. Let's hope this isn't his tutu as that might be a fright.
via Baby Rabies
65. Create a Scandinavian Style Christmas Wreath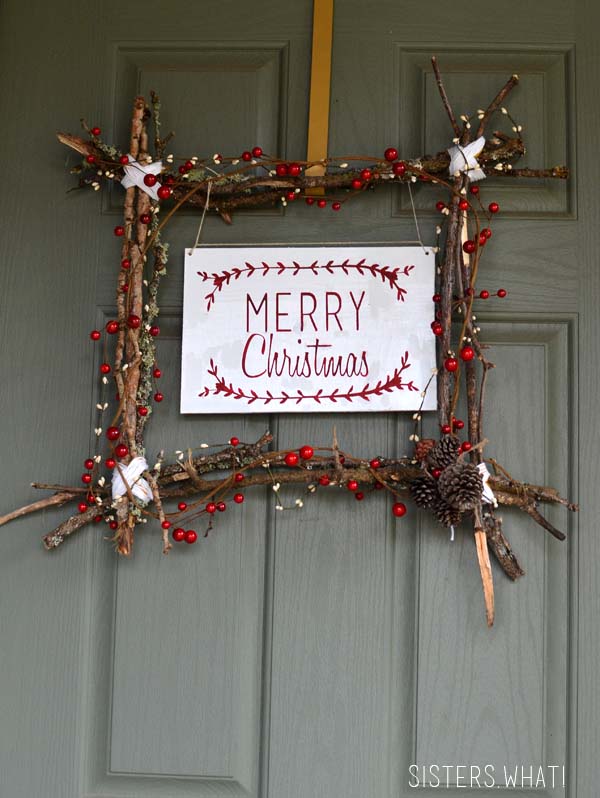 The ancestors that went before had hard times and sorrows, we can remember them and their sacrifices hanging just outside on the door.
via Sisters, What
66. Let Kids Have Fun with a Frosty Snowball Wreath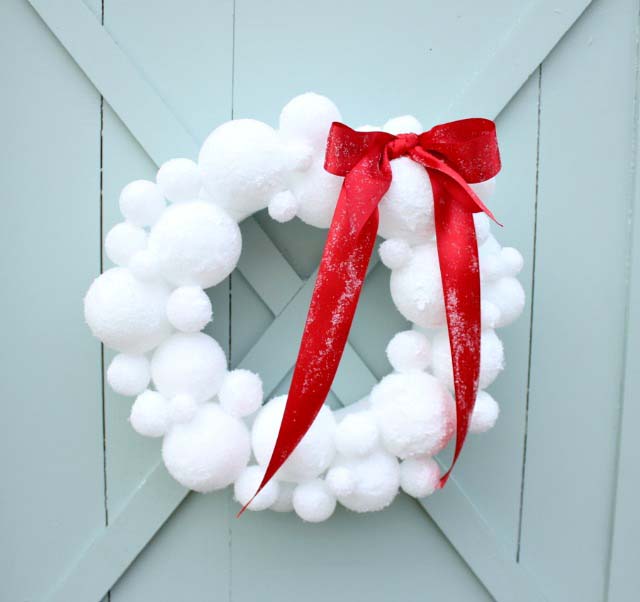 What a creative idea. For every child that wanted to keep their snowballs for the rest of the day, where just might be the way.
via Daisy Mae Belle
67. Make a Cute Tulle Snowman Wreath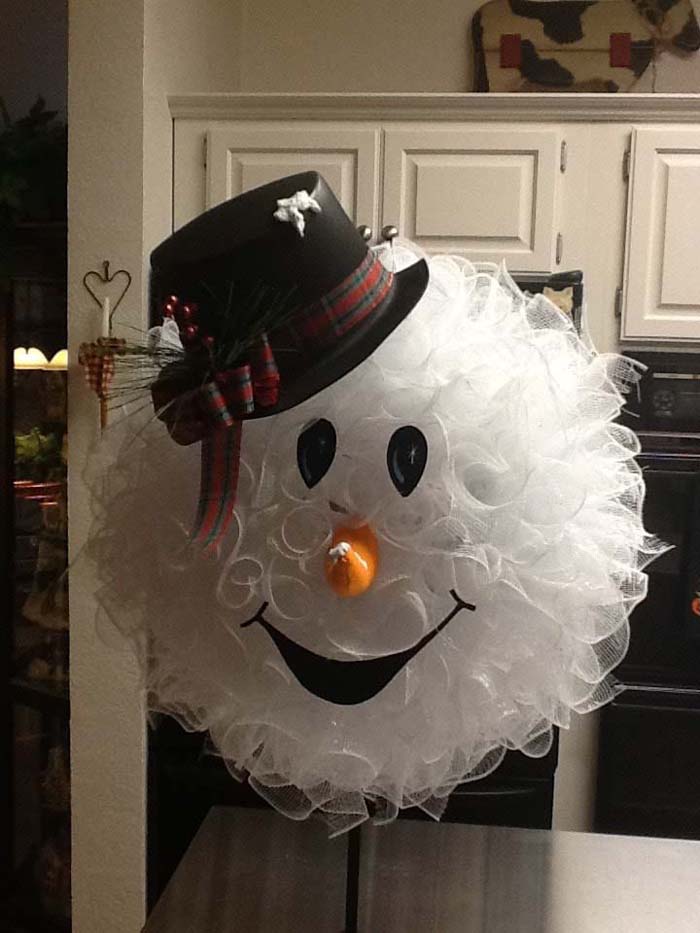 Once there was a snowman tall, tall, tall. On the wreath, he hangs proudly on my wall.
via Grillo Designs
68. Elegantly Arrange Pom Poms for a Snowman Wreath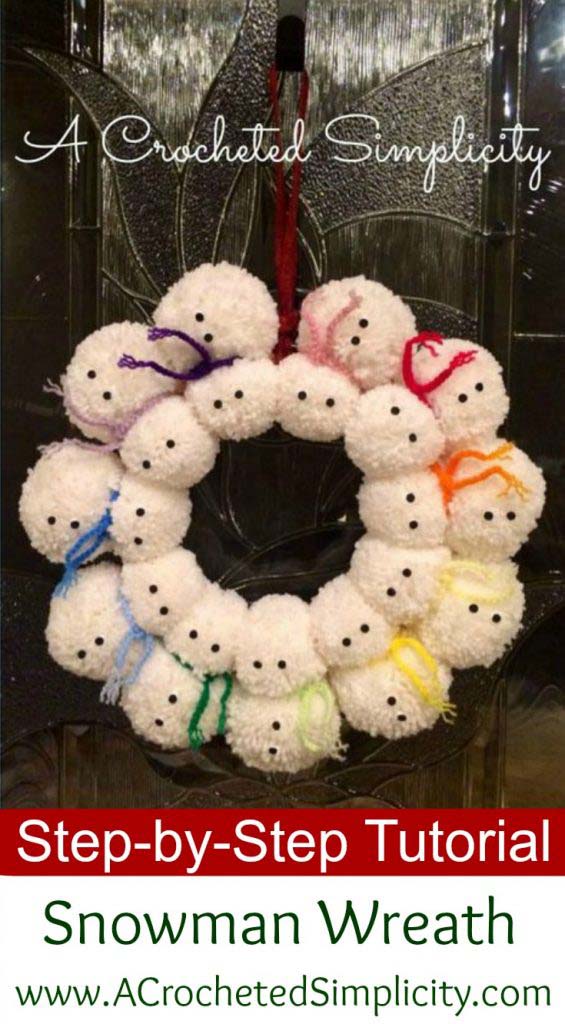 What a great idea together. Gather your things, a little glue and see how easy you can make your door look a little better.
69. Beautify Your Door with a Boxwood Snowman Wreath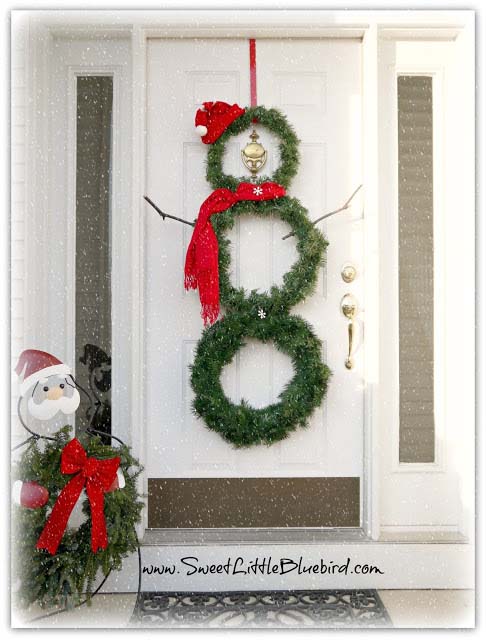 In the sun he melted small, small small, The snowmen of the of cold weather stand tall and bring joy to your door.
70. Create a Trendy Snowman Wreath with Adorable Mittens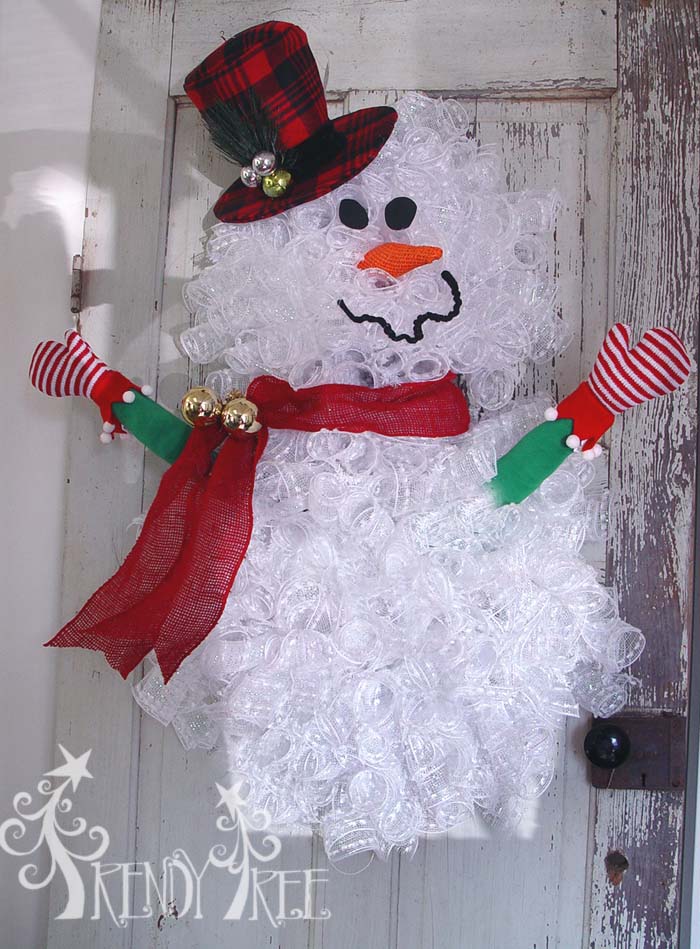 Wreaths are for doors, snowmen just make them so much better. Have you had the same wreath for years, maybe it is time for an update?
via Trendy Tree
71. Make an Elegant Snowflake Wreath using Pine Cones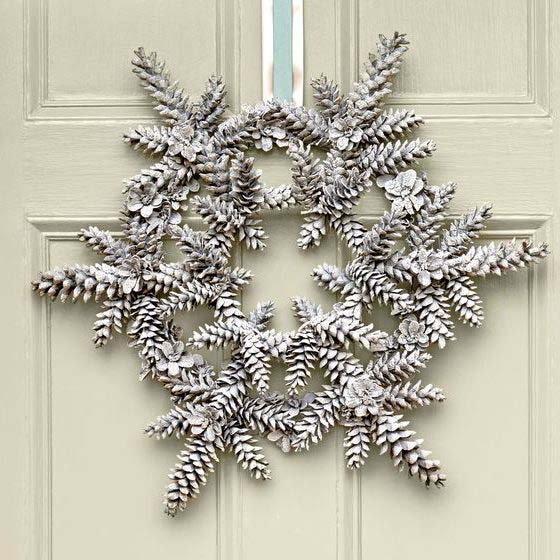 The perfect combination of rustic and elegant, Throw in a bit of class, and you will have some fun.
via Southern Living
72. Repurpose Stripped Straws into a Chic Christmas Wreath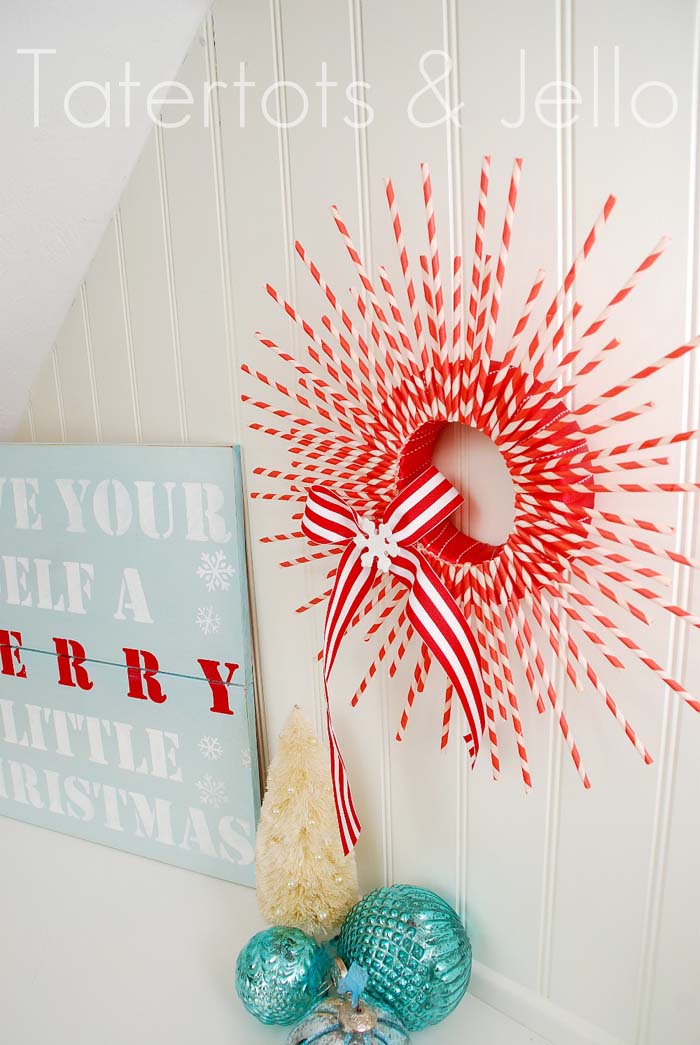 There are so many fun straws on the market, what a great idea for something new and different and a great gift for the waitress in your life.
73. Add Gingerbread Decor to Your Evergreen Wreath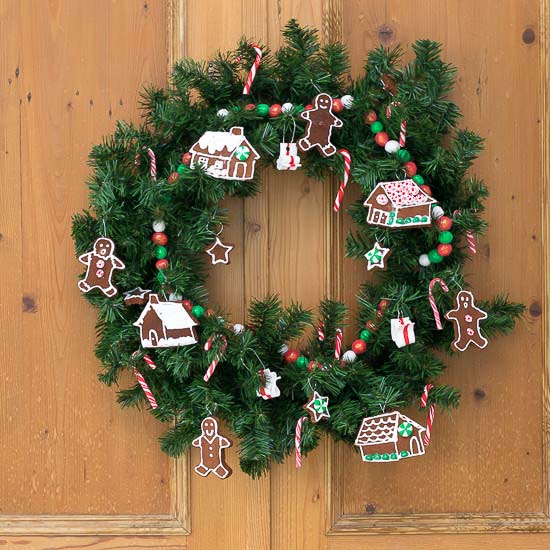 Visions of sugarplums all dance in heads. Till morning we rest but when the sweet sunrises – will you be the first out of bed?
74. Bring Sophisticated Look with a Tinsel Garland Wreath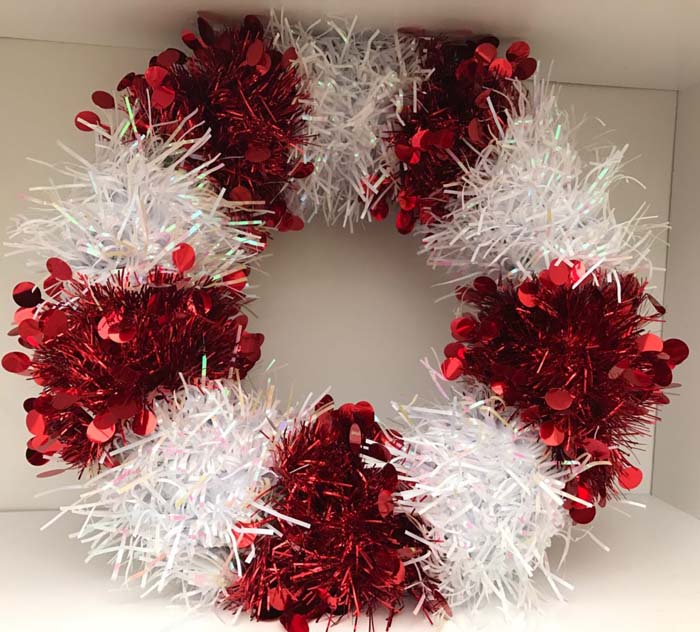 You will never go wrong with the tensile and garland. Indoor or outdoor, they make any space look festive.
75. Make a Classic Star Wreath with Twine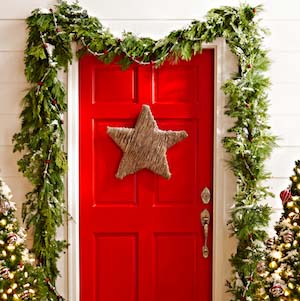 Anything at all, cardboard, or an old rusty star hanging outside. A little glue and twine and you have wrapped yourself up a shining star!
via Lowes
76. Brighten Your Christmas with a Light Bulb Wreath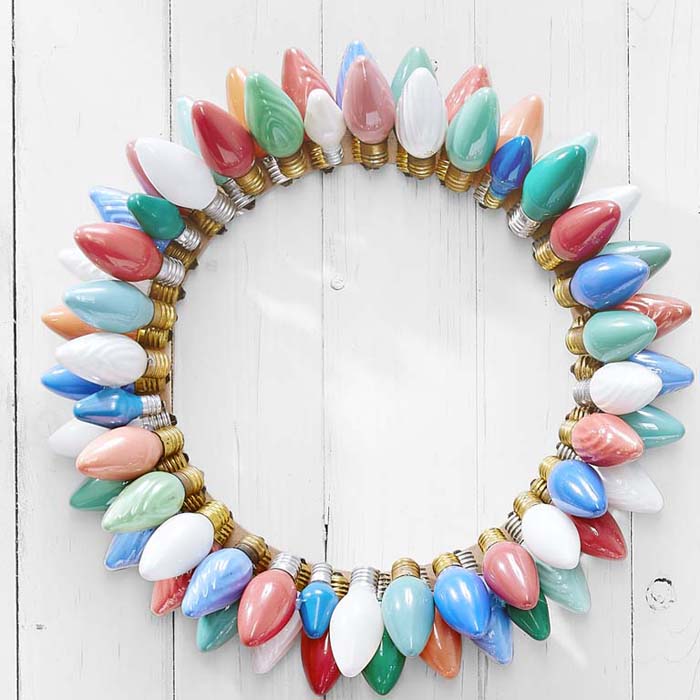 Do you love this idea, so simple and full of life? I wish I had a few lights that look like these.
77. Create a Rustic Red Candy Cane Wreath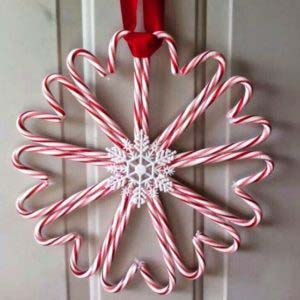 Candy canes are the best Christmas decorations. They are festive and really easy to put together. Create a design that is just right for you.
78. Use Gold Spray Paint for an Opulent Leaves Wreath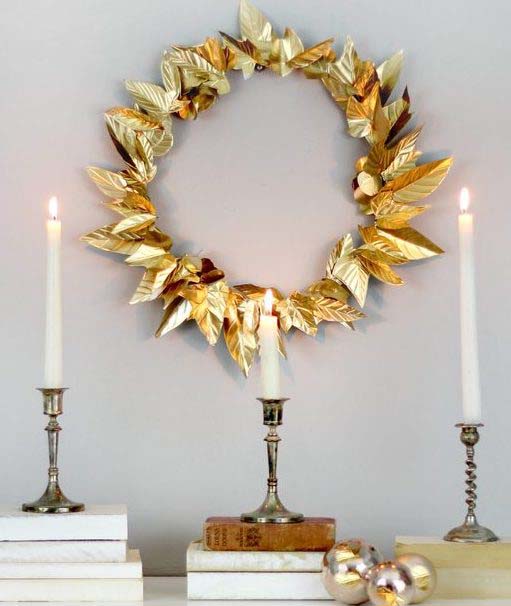 Gold spray paint makes most everything look a little better. These leaves make a golden ring that is elegant for sure.
via eHow.com
79. Make a Red and White Pinecone Wreath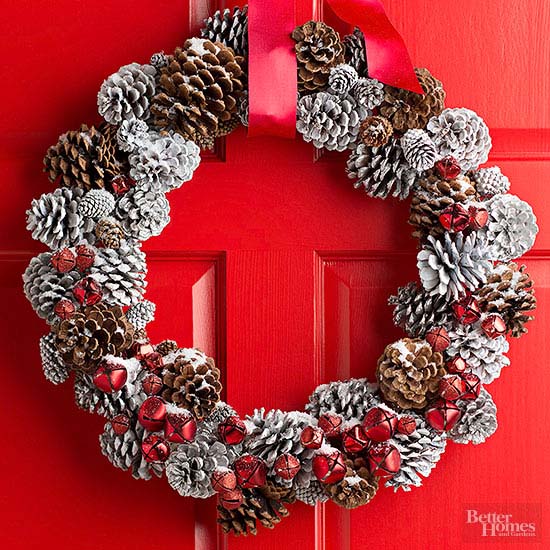 We love pinecones and Christmas. We love the color red at Christmas, combine the two just so. No better way to say Ho Ho Ho.
via BHG.com
80. Decorate Your Door with a Handmade Snowflake Wreath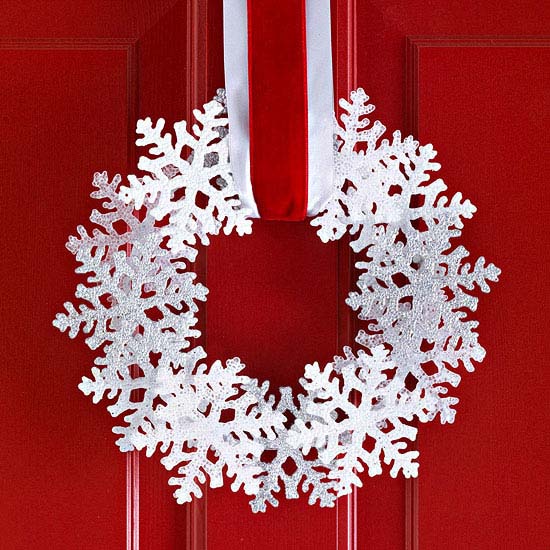 You can buy snowflakes already made and create your wreath, but why not try your hand a few felt cut flakes you have designed yourself?