It is finally the Christmas season! Decorate your home with beautifully simple do-it-yourself Christmas decorations.
Little Santa and Reindeer should cover your front porch and Christmas holly and fir tree should cover the inside of your home.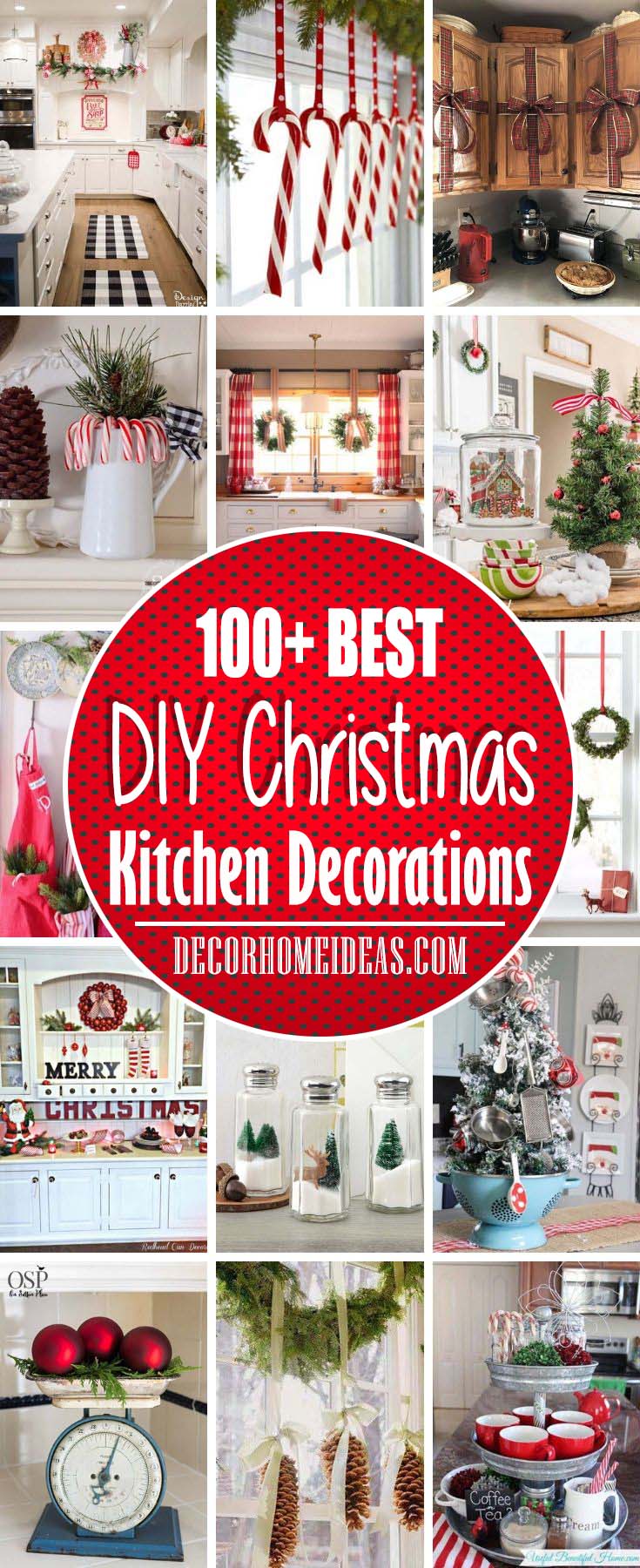 What is Christmas without a big beautiful Christmas tree? Check out these DIY Christmas decorating ideas to make your kitchen the most festive of all!
1. Add Christmas Decor Above Your Kitchen Cabinets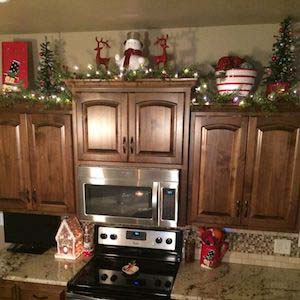 Use the space above your kitchen cabinets by decorating with holly and mini snowmen and reindeer.
2. Place a Christmas Believe Sign on Kitchen Countertop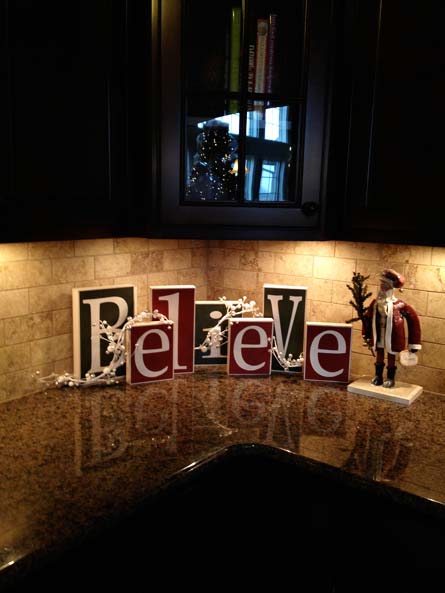 Homemade Christmas quotes painted on wooden blocks can turn your kitchen into a Christmas paradise.
3. Adorn Kitchen Cabinets with a Wooden Believe Sign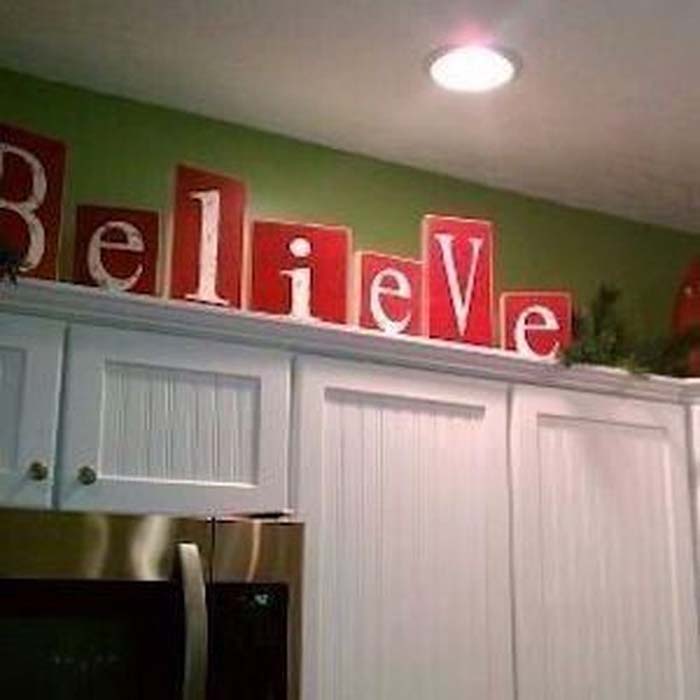 Wooden-painted blocks with Christmas quotes saying "Believe" or other Christmas-related sayings can finish off a beautiful Christmas kitchen.
4. Christmas Cake Stand Centerpiece with Holly and Candles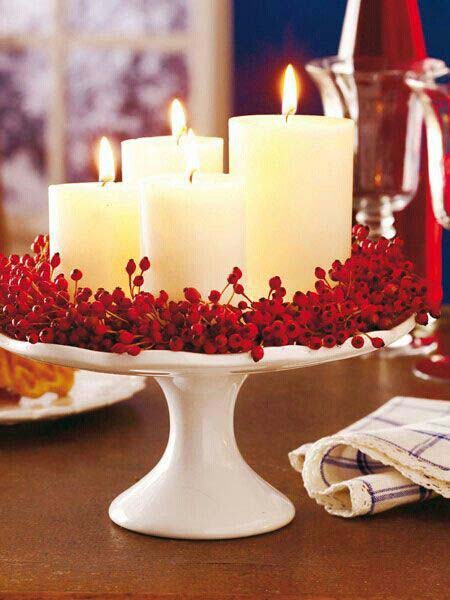 Use Christmas Holly and candles to make a Christmas cake stand centerpiece.
5. Turn a Cake Stand into a Natural Christmas Centerpiece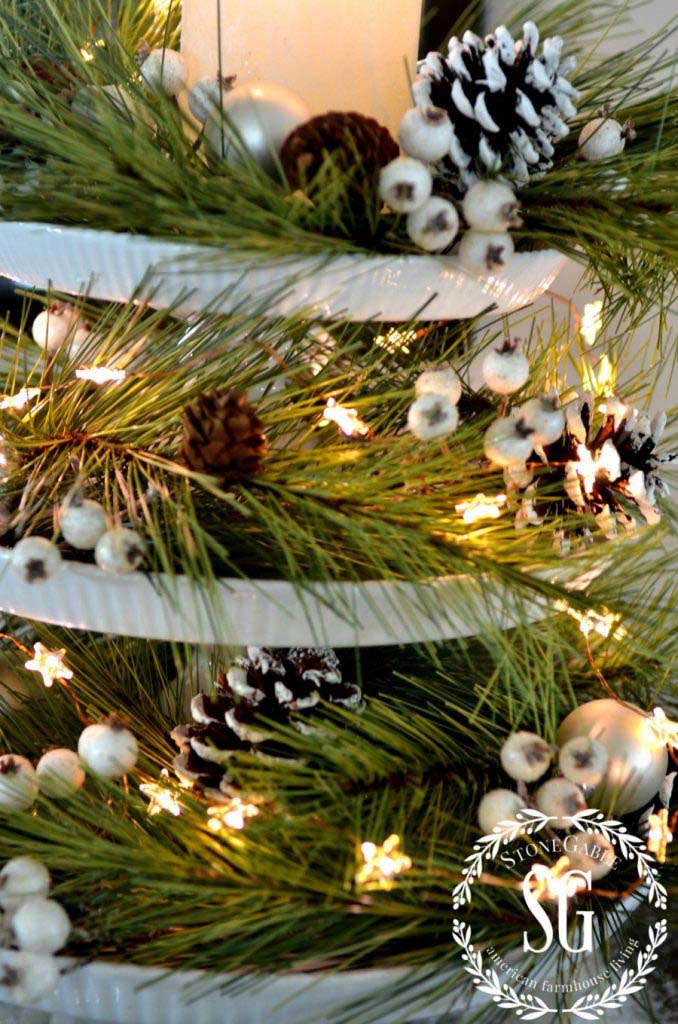 Make a regular cake stand into a do-it-yourself Christmas centerpiece by using pieces of pine tree and painted pine cones to decorate.
via Stone Gable
6. Embellish Kitchen Windows with a Candy Cane Garland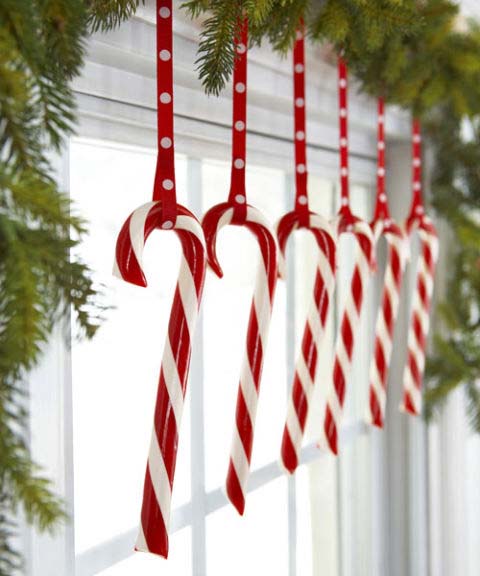 Hang candy canes with beautiful Christmas ribbon to create a winter Christmas land scene.
7. Make a Festive Christmas Banner for Kitchen Window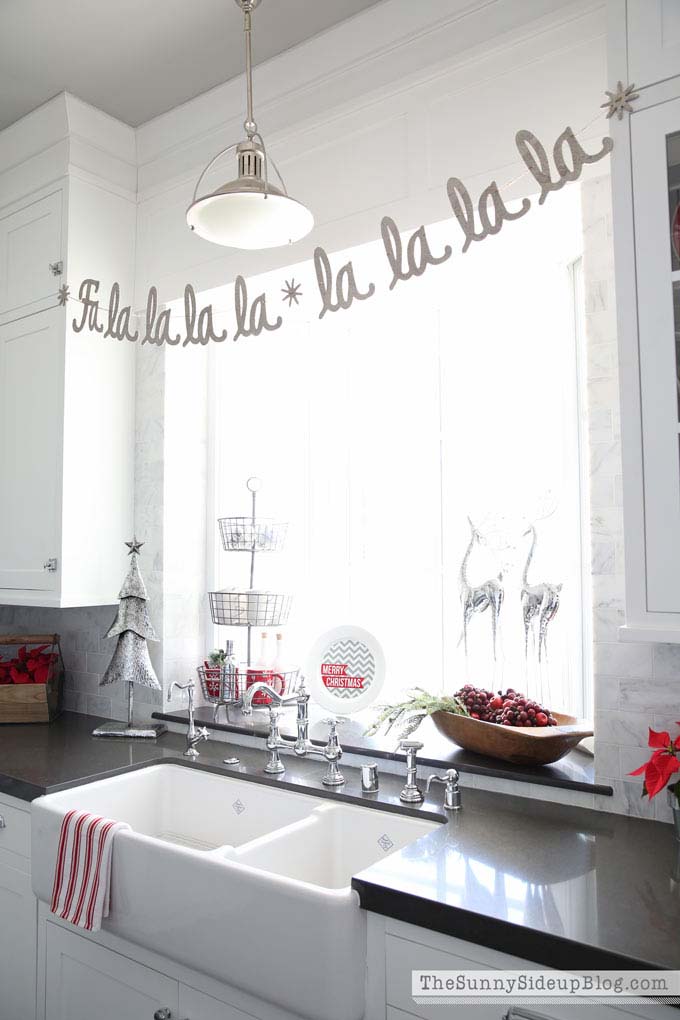 Your kitchen is the heart of your home especially during Christmas, make it a Christmas wonderland with cute Christmas quotes cut from paper and strung together above your kitchen sink.
via Sunny Side Up
8. Create a Christmas Beverage Stand with a Tiered Tray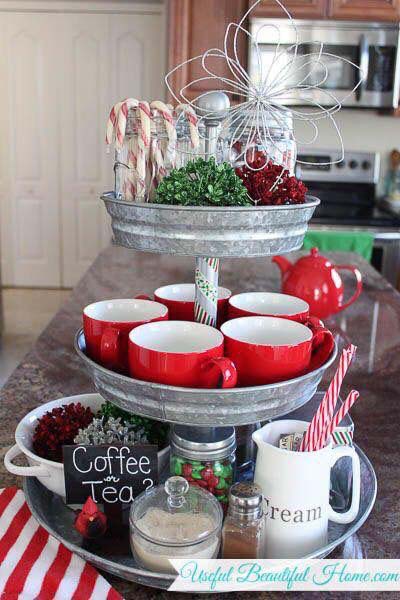 Turn a tiered tray into a perfect Christmas drink stand. Decorate a tiered stand and fill it with tea, coffee, cider and hot cocoa.
9. Decorate Kitchen Cupboards with Red Ribbon Bows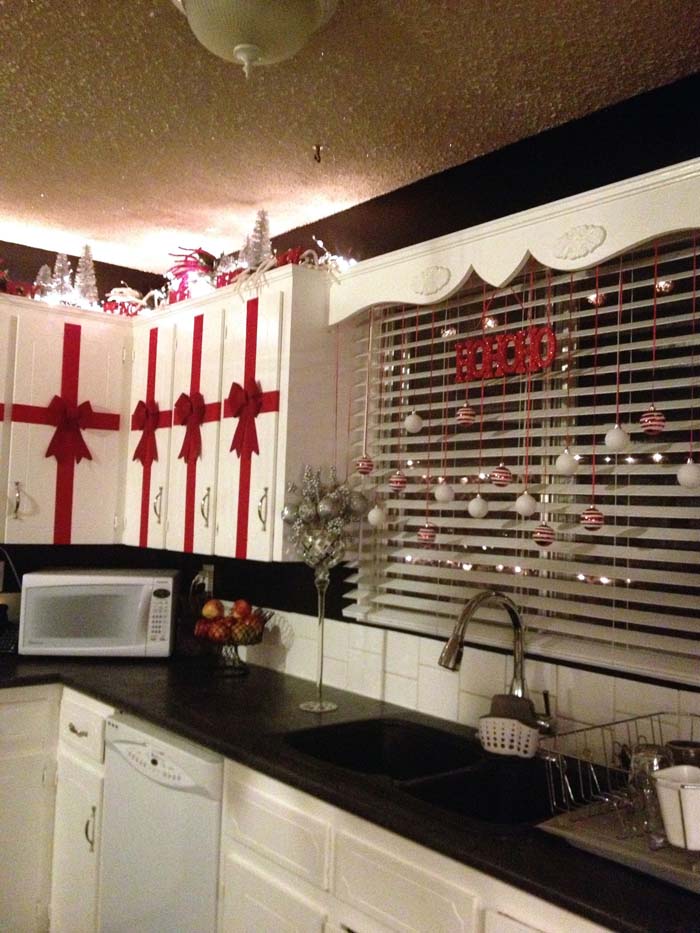 Simply wrap your kitchen cupboards with thick ribbon to make them appear like unwrapped gifts!
10. Upgrade White Chairs with Red Ribbon and Pinecones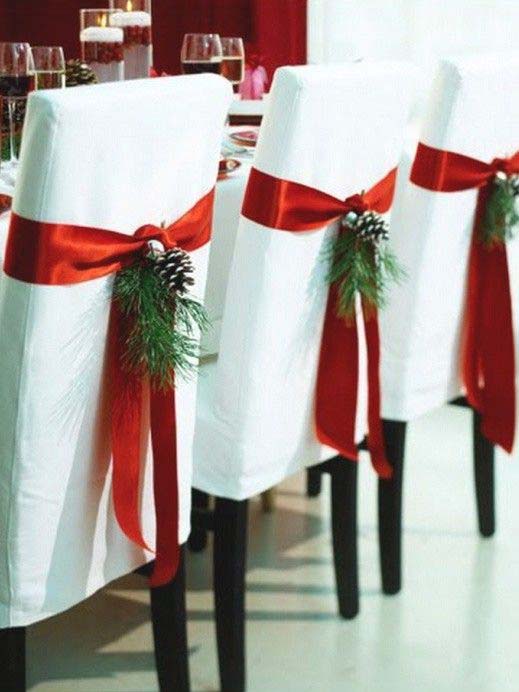 Make your white chairs match the Christmas spirit with red ribbon and pinecones.
11. Brew Up Christmas Cheer with a Coffee Bar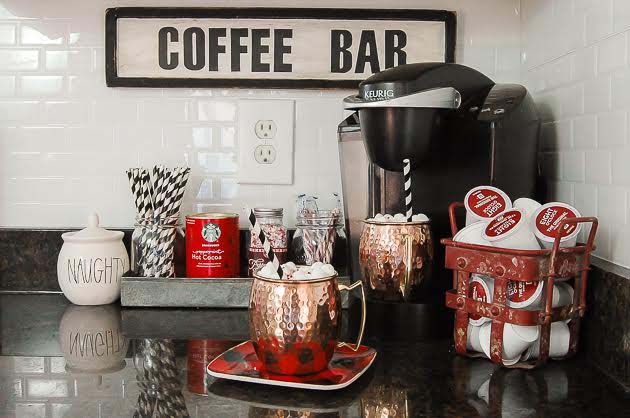 Everyone loves coffee, especially during the cold Christmas season. Use your Keurig, k cups and Christmas-themed cups to create a Christmas coffee bar.
12. Colander Christmas Tree with Kitchen Utensils Decor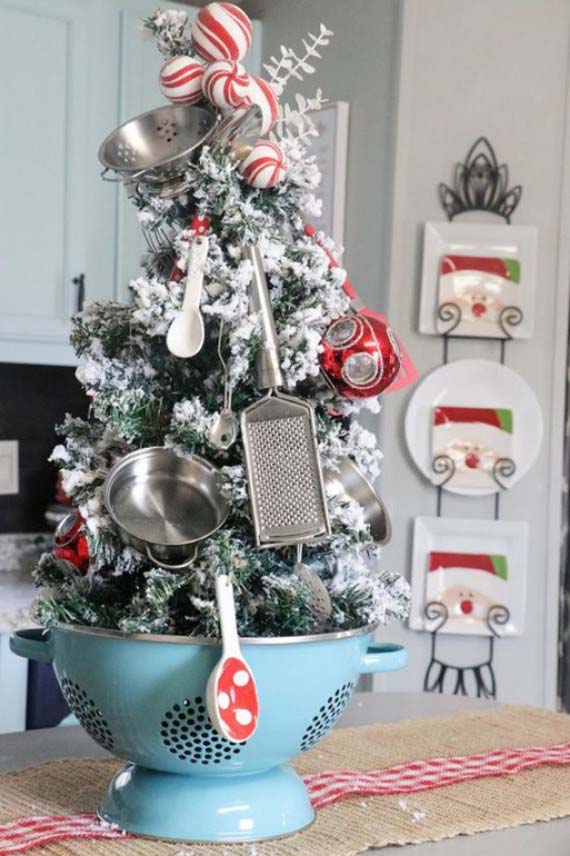 Use mini-sized kitchen equipment as ornaments on a mini Christmas tree to make a kitchen Christmas tree present.
13. Make a Festive Red Colander Centerpiece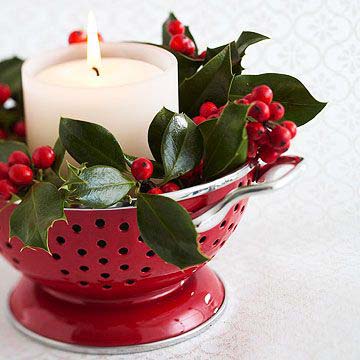 Make a beautiful centerpiece with a red colander filled with Christmas berry and greenery.
14. Repurpose Cookie Cutters into an Elegant Wreath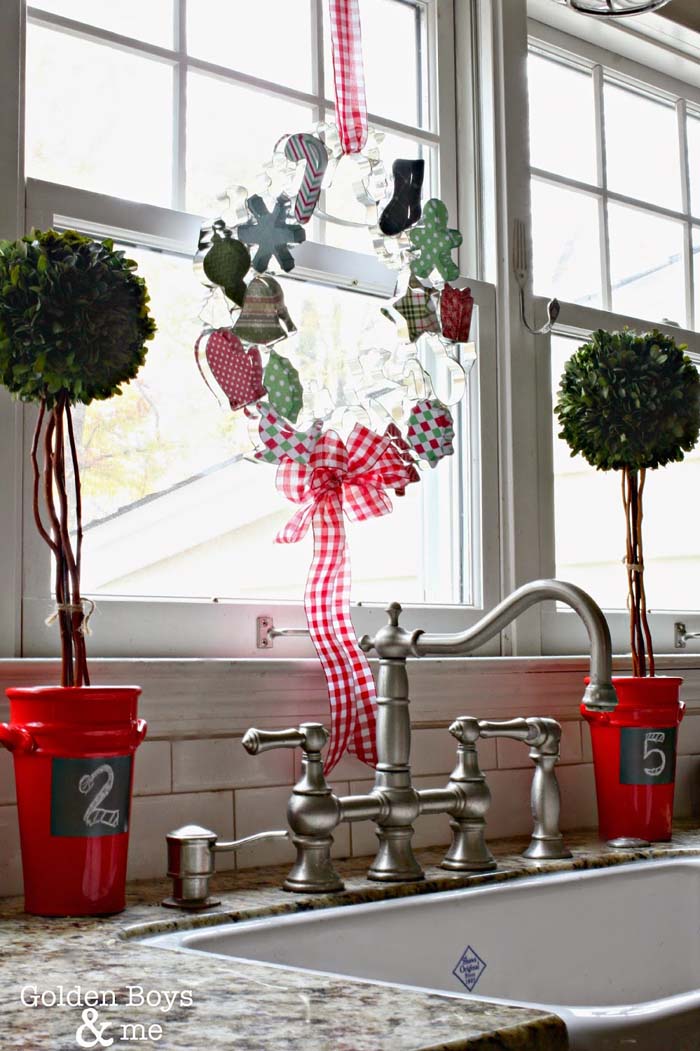 Wreaths are a staple during the Christmas season. Make a kitchen-themed wreath with cookie cutters.
via Golden Boys & Me
15. Brighten Your Kitchen with Christmas-Themed Cookie Jars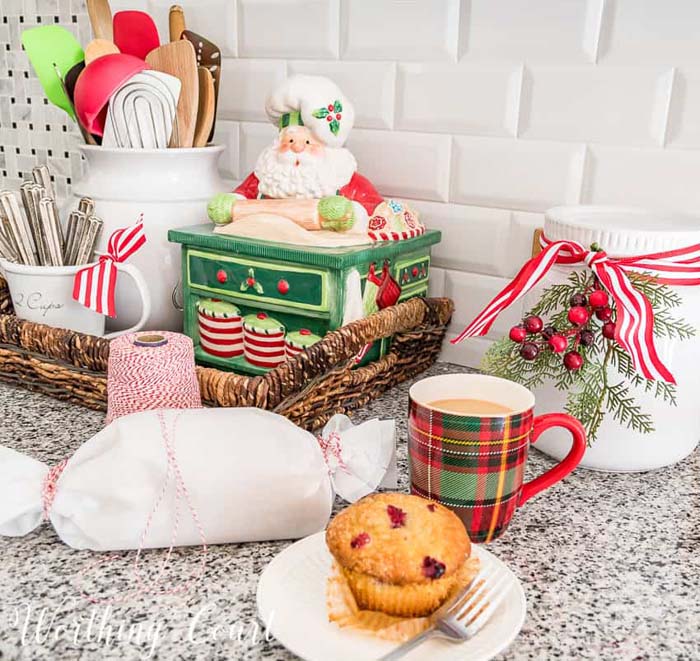 An easy kitchen Christmas decoration is Christmas-themed cookie jars.
via Worthing Court
16. Add Festive Wreaths to a Kitchen Corner Cupboard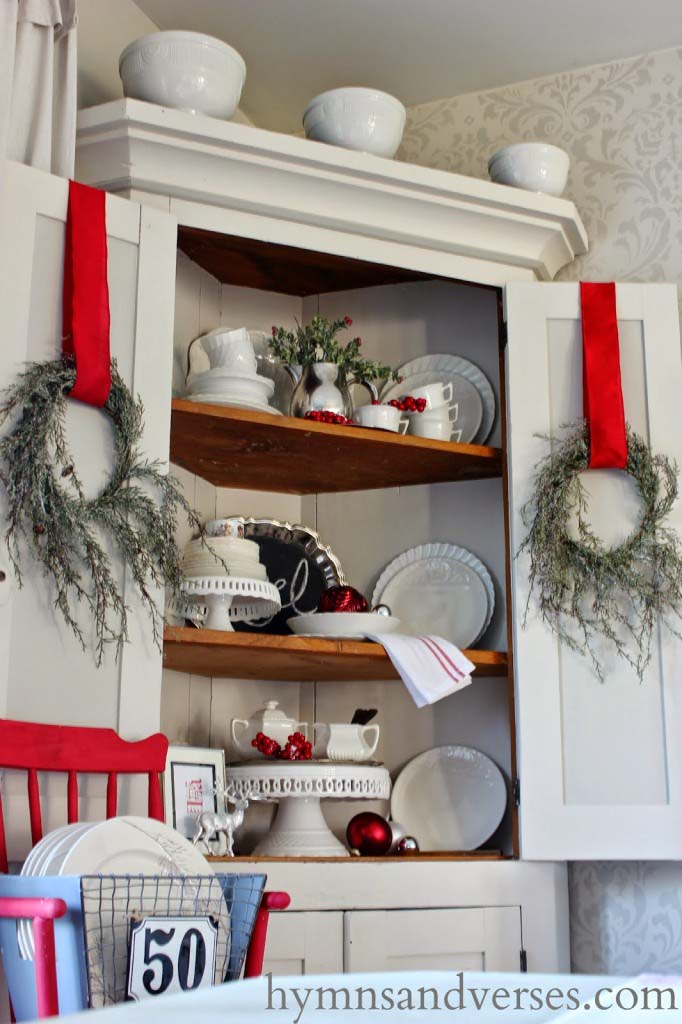 Fill your open corner cupboard with your fine dishes and Christmas holly.
via Hymes and Verses
17. Bring Christmas Cheer to Your Kitchen with Decorative Mugs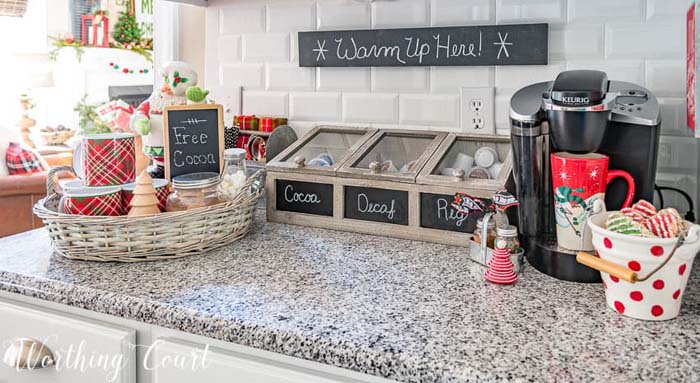 Make a cute space of your counter as a warm-up area. Fill it with your Keurig and miscellaneous K cups and Christmas mugs.
via Worthing Court
18. Transform Your Kitchen Hutch into a Festive Holiday Display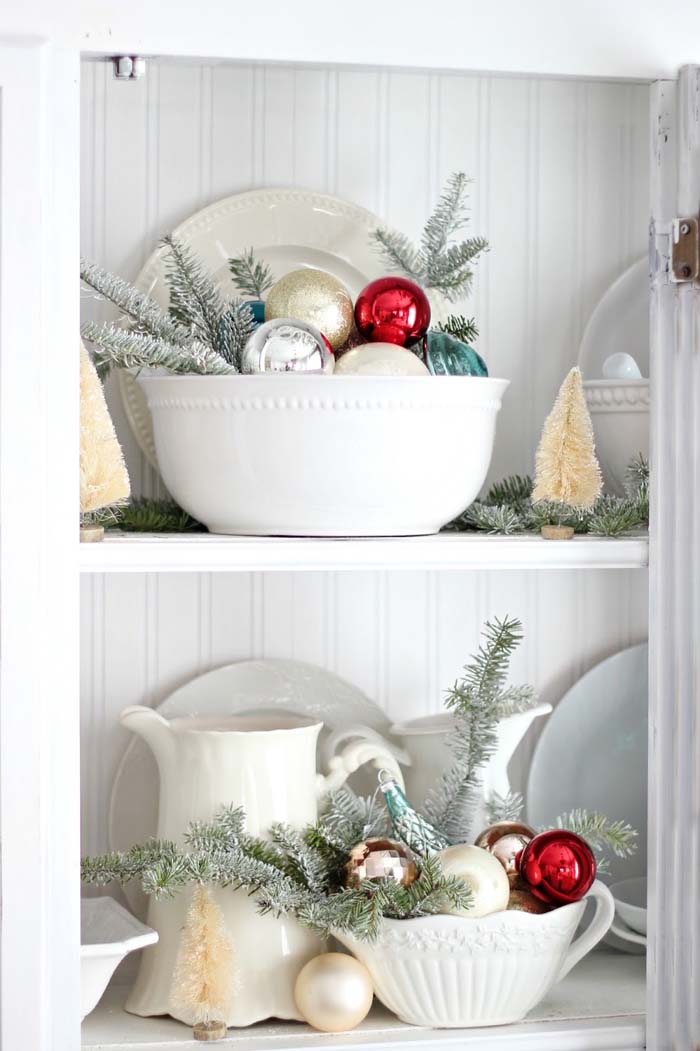 Turn your kitchen hutch into a Christmas wonderland with white dishes, fir and red Christmas ornaments.
via Craftberry Bush
19. Decorating the Kitchen Sink with a Boxwood Garland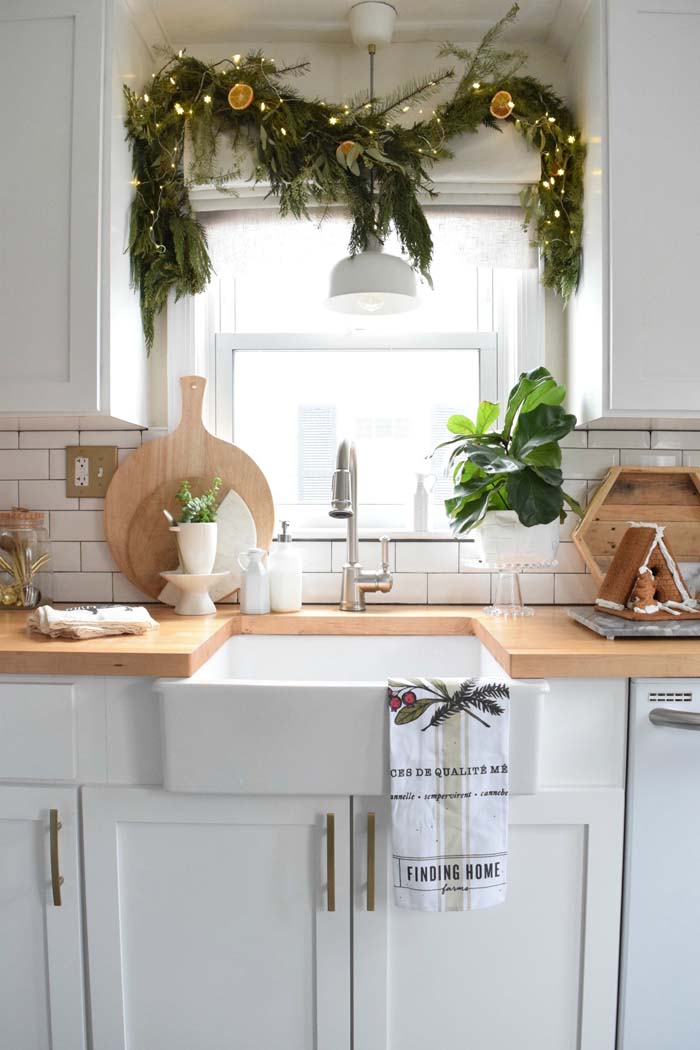 If space is tight, consider just hanging some fir garland and Christmas potpourri above the kitchen sink.
20. Christmas Themed Galvanized Tiered Tray Centerpiece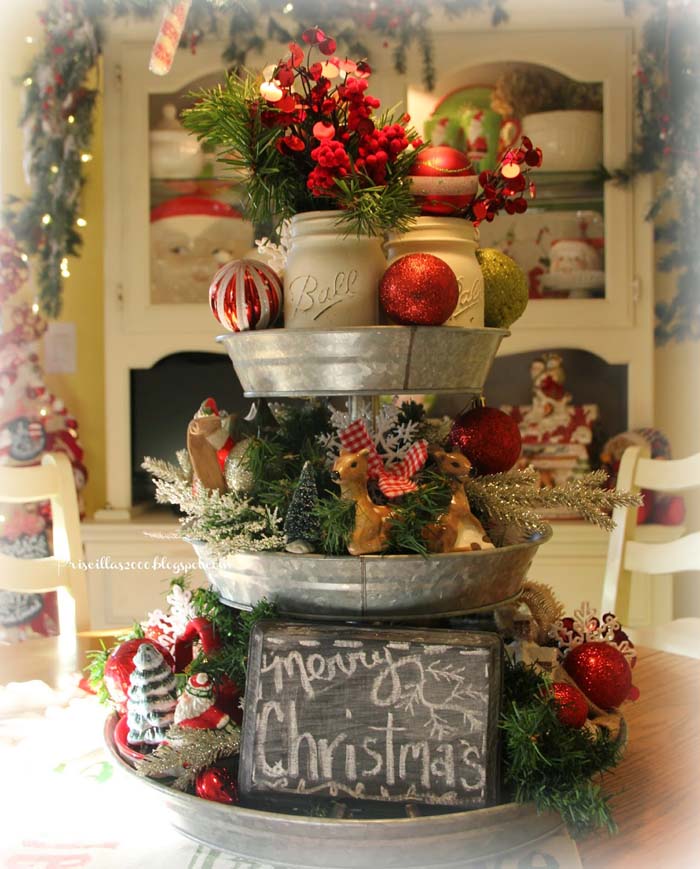 Take a galvanized tiered tray and fill it with Christmas-colored mason jars and other Christmas decor for a beautiful centerpiece.
via Priscillas
21. Make an Evergreen Garland for Above the Sink Decor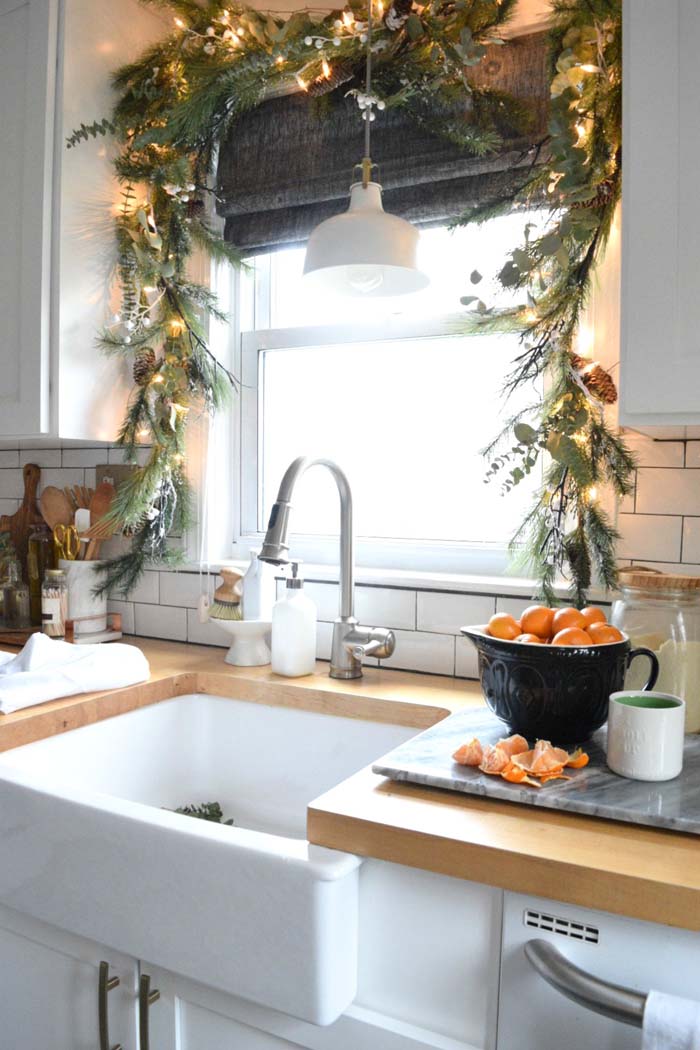 Christmas garland with pinecone decor above the kitchen sink is a wonderful and simple DIY Christmas decoration.
22. Upcycle a Vintage Cheese Grater into Christmas Centerpiece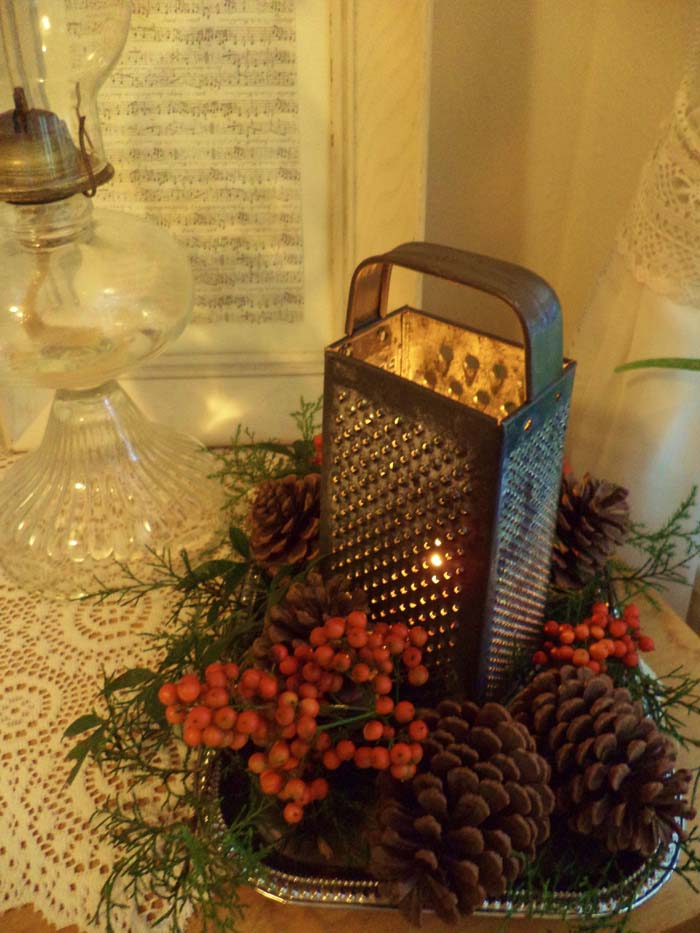 Repurpose a vintage cheese grater by making it the centerpiece of a Christmas themed centerpiece. Surround it with green garland, pine cones and holly.
23. Enhance a Kitchen Hutch with Vibrant Christmas Decorations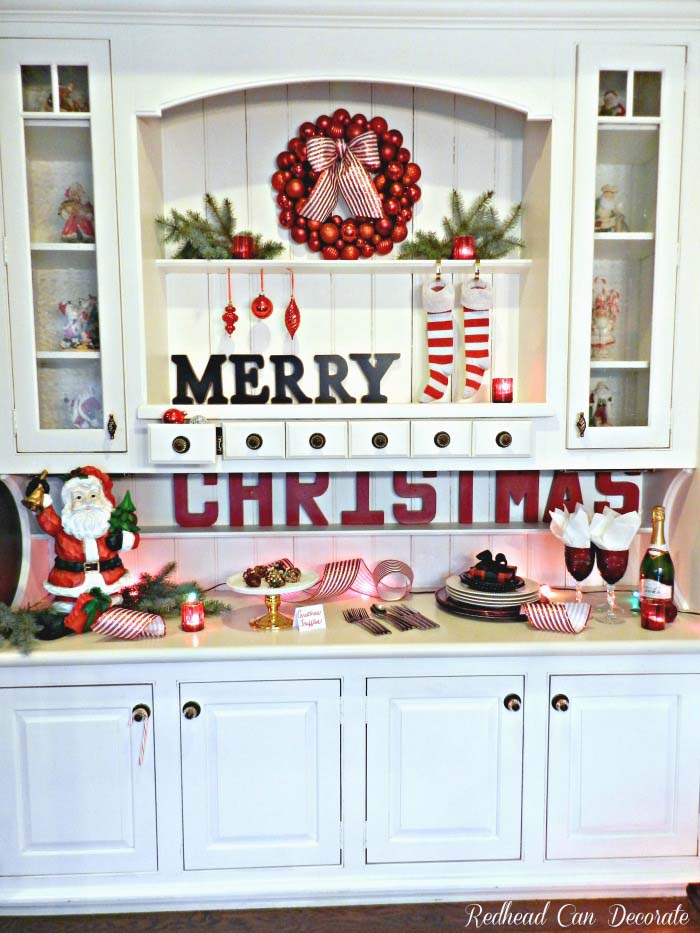 A kitchen hutch is a perfect centerpiece for a Christmas kitchen. By filling it with Christmas decor and painted Christmas blocks you can make cute Christmas themed decorations.
24. Hang Boxwood and Holly Mini Wreaths with a Red Ribbon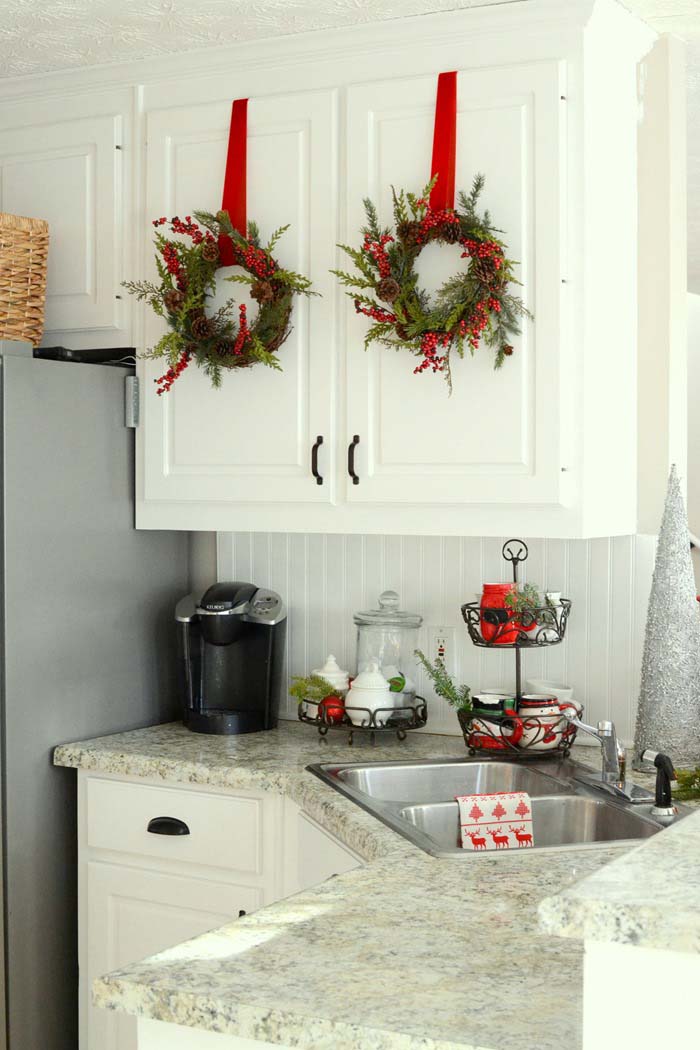 Hang mini wreaths from your cupboards with thick ribbon for simple kitchen decor.
25. Decorate with Gingerbread Houses for a Magical Winter Scene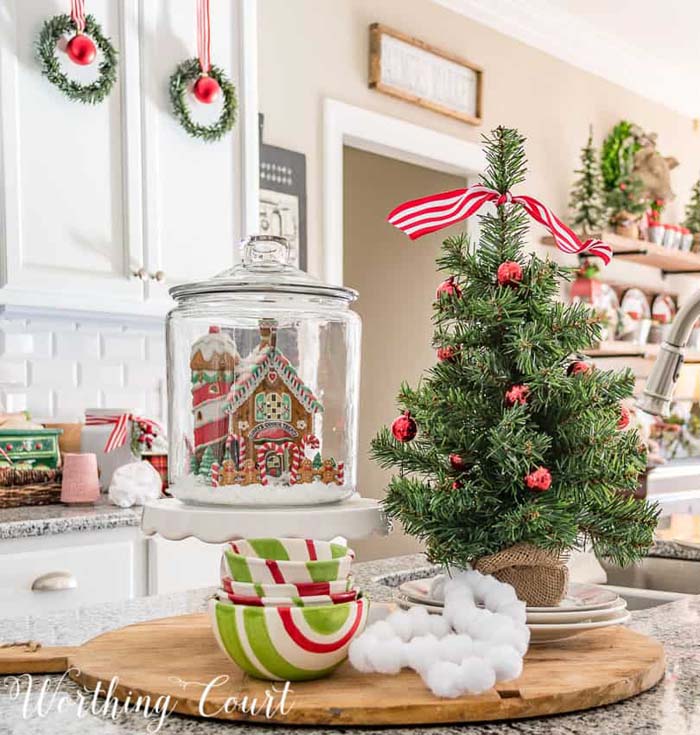 Using gingerbread houses will make an adorable winter scene in a glass cookie jar.
via Worthing Court
26. Add a Decorative Wreath to Your Kitchen Cabinets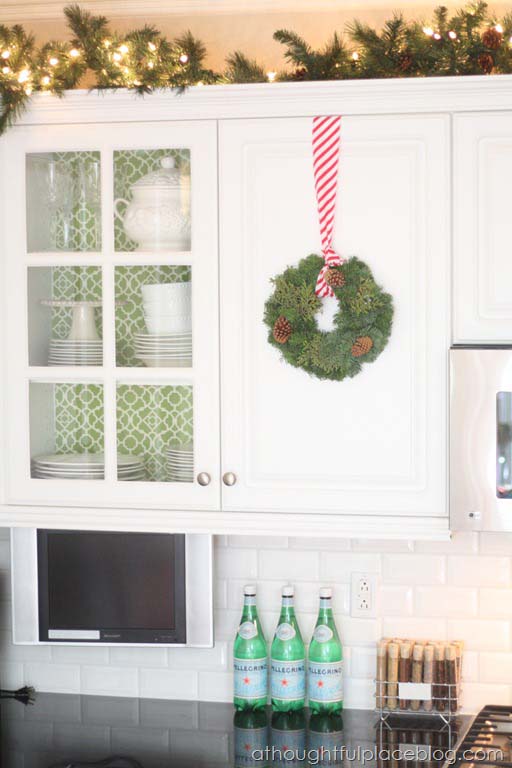 Spice up your kitchen cupboards by hanging a wreath with a thick ribbon from your cupboards.
27. Turn Baking Canisters into Christmas Decor with Ribbons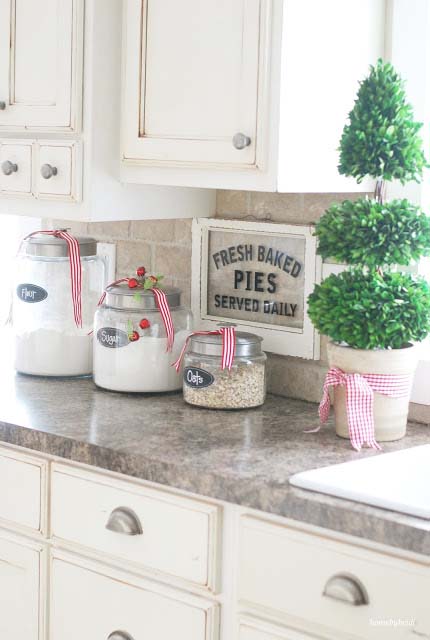 Make your baking canisters Christmas themed with red and green ribbon.
via 11 Magnolia Lane
28. Revamp a Vintage Kitchen Scale with Red Christmas Baubles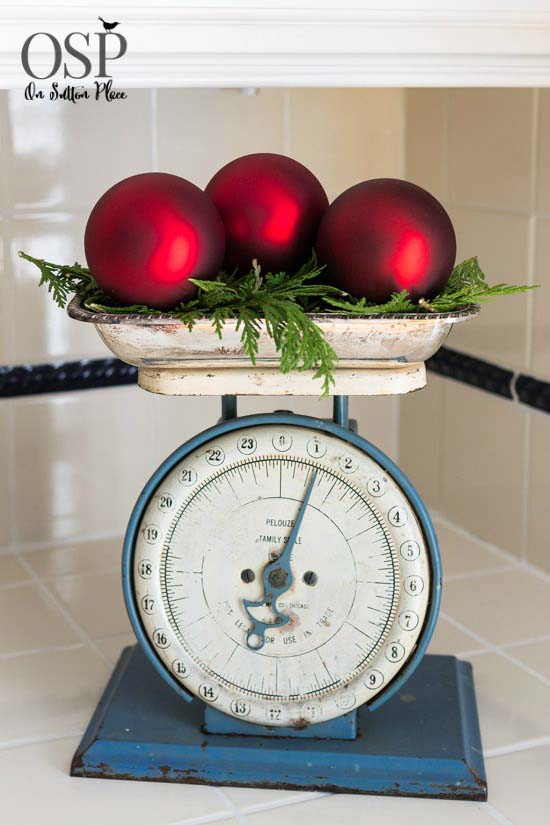 A vintage scale can be turned into the perfect Christmas centerpiece with greenery and red ornaments.
via On Sutton Place
29. Make a Christmas Kitchen Display with a Chalkboard Accent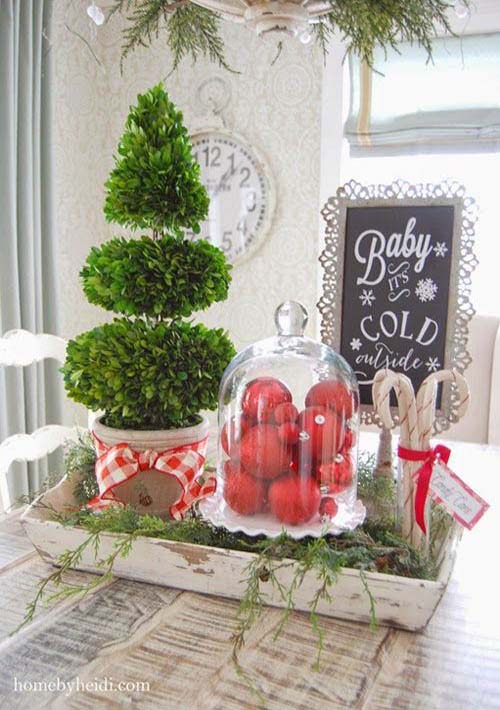 Make a whole kitchen Christmas display with a cute chalkboard, red ornaments and other miscellaneous food displays.
via Home By Heidi
30. Create a Dazzling Kitchen Island with Christmas Decor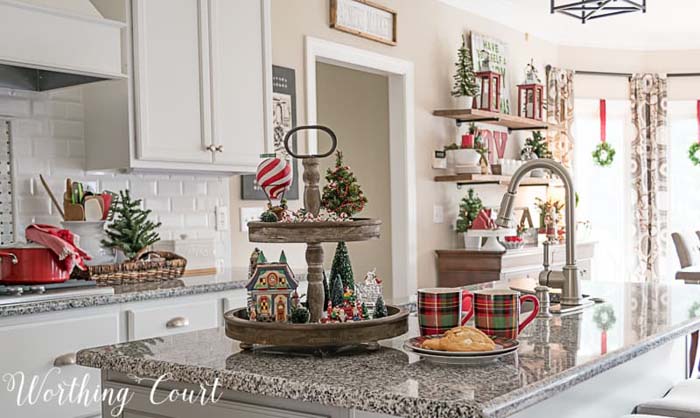 Tiered centerpieces are a perfect addition to a Christmas kitchen. Decorating with Christmas houses and garland adds a DIY Christmas decoration.
via Worthing Court
31. Remodel Your Kitchen with Red Hats and Bows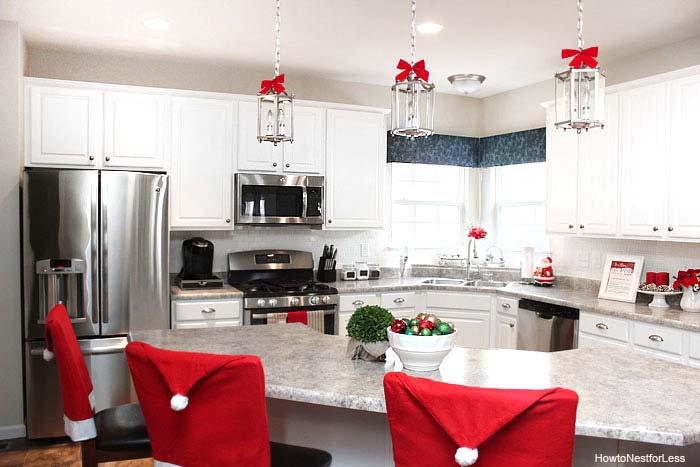 Make your entire kitchen a Christmas homeland by decorating your chairs to look like Santa hats and sprinkling red ribbon bows around.
32. Create a Festive Christmas Nook in Your Kitchen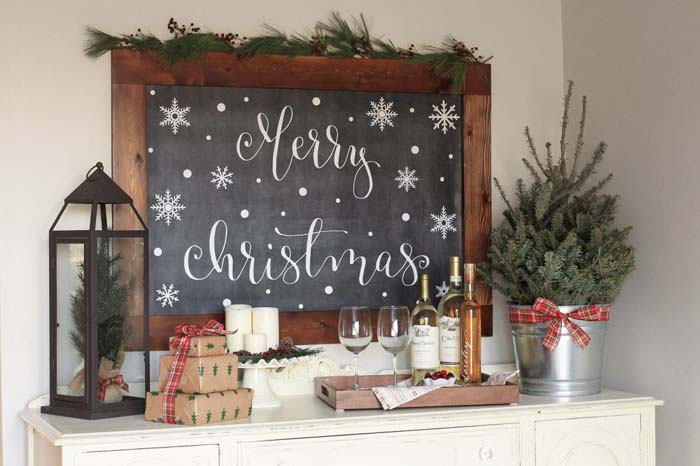 Turn a quiet corner of your kitchen into a perfect Christmas nook. Decorate it with chalkboard, mini Christmas trees and presents.
via Angel Mariemade
33. Turn Kitchen Mug Holder into Cheery Christmas Decoration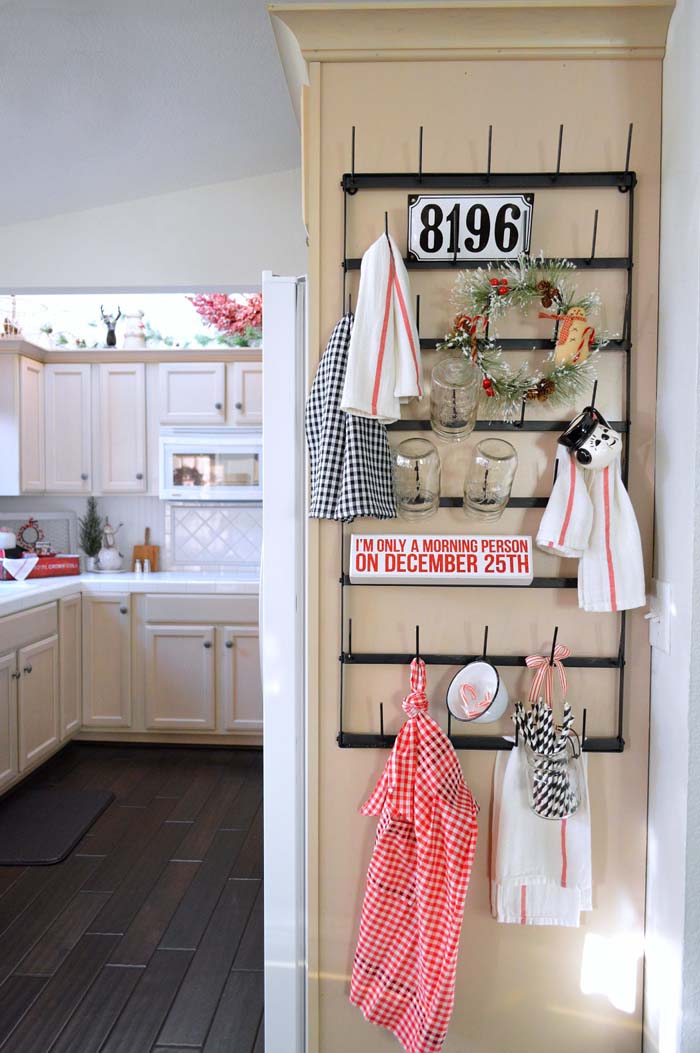 Turn your kitchen mug holder into a Christmas decoration by adding mason jars, Christmas colored towels and mugs.
34. Put a Joy Marquee Sign at Your Kitchen Sink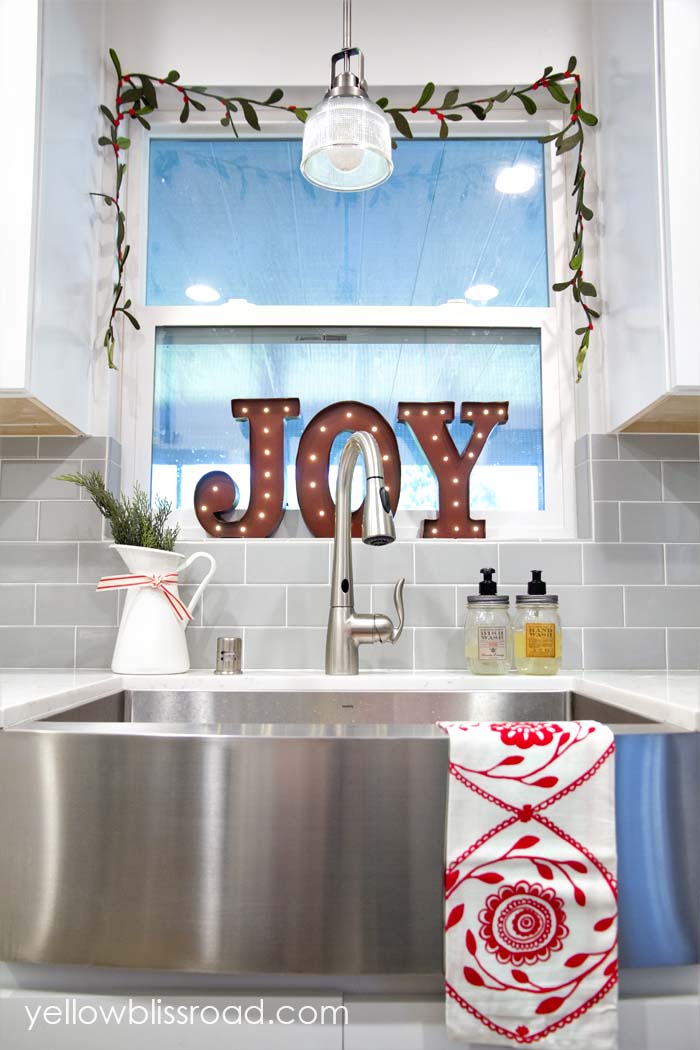 For those homes with a small amount of space, add garland around the window and cute Christmas themed letters.
35. Hang Christmas Baubles on Your Kitchen Chandelier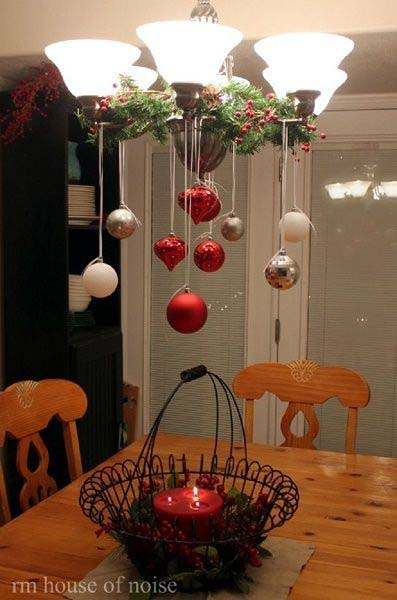 Make your chandelier scream Christmas by hanging ornaments from it!
36. Festoon a Kitchen Window with Christmas Ornaments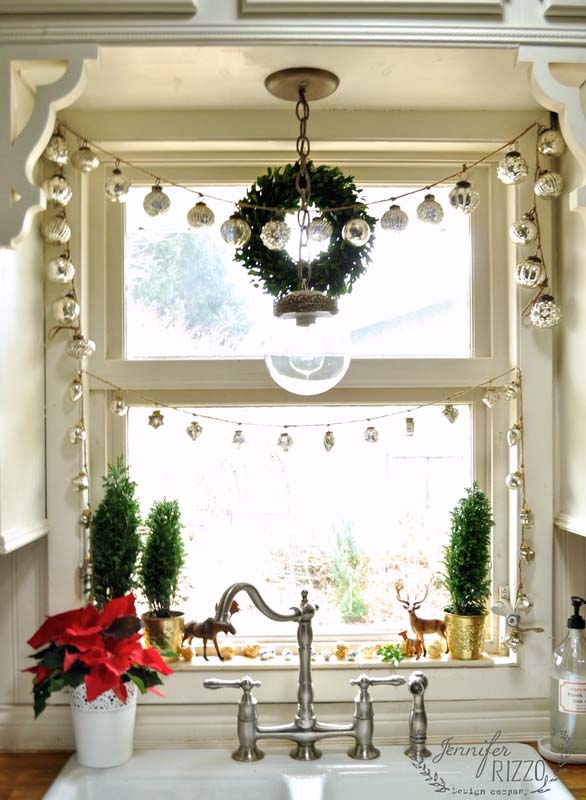 Make your own garland by hanging ornaments from brown yarn.
via Jennifer Rizzo
37. Give Rustic Kitchen Cabinets a New Look with Ribbon Bows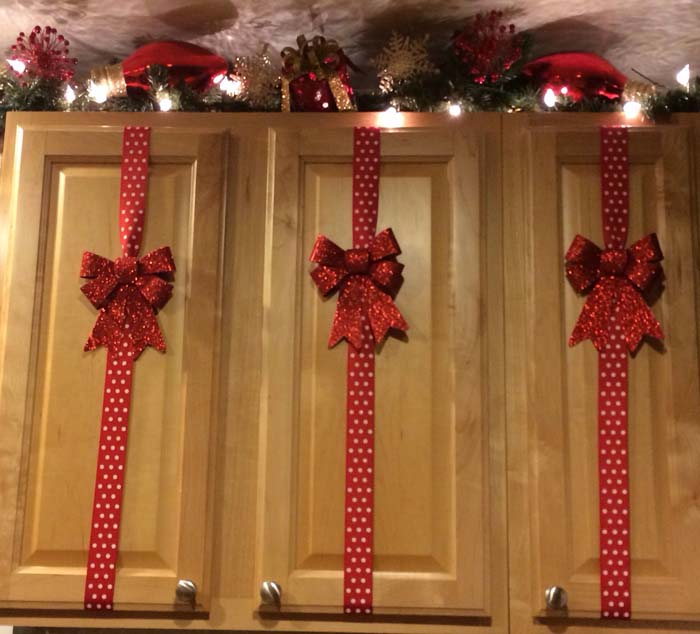 Kitchen cabinets make perfect presents by adding red bows with thick ribbon.
38. Decorate Your Christmas Tree with Small Kitchen Tools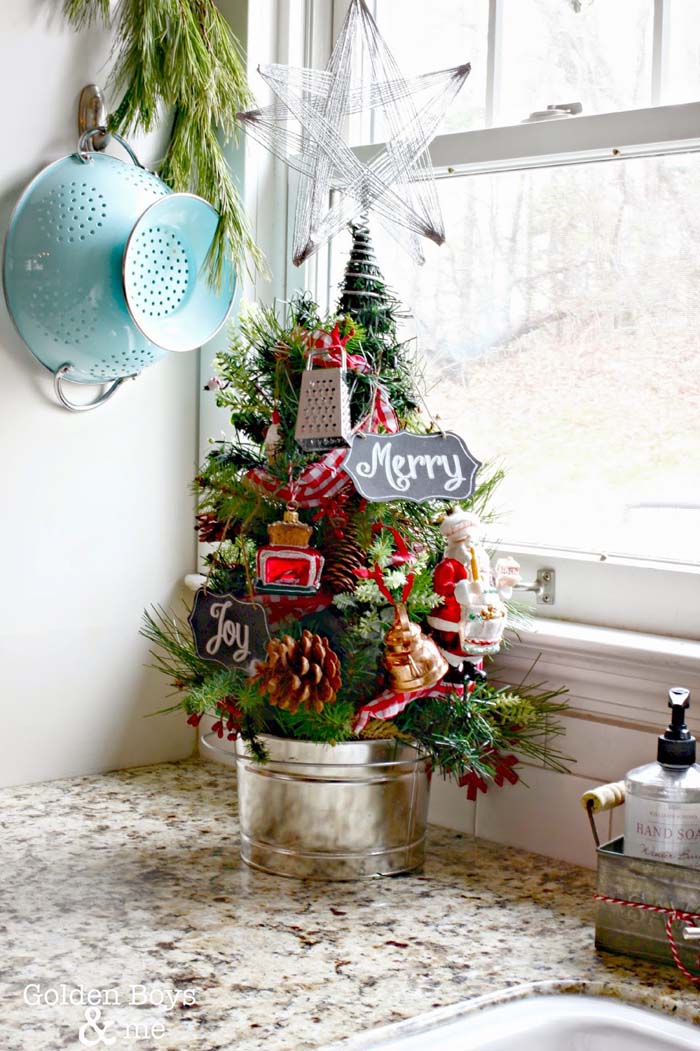 Use small kitchen tools like a mini cheese grater as ornaments from a mini Christmas tree for a DIY decoration.
39. Make a Modern Tiered Tray Christmas Centerpiece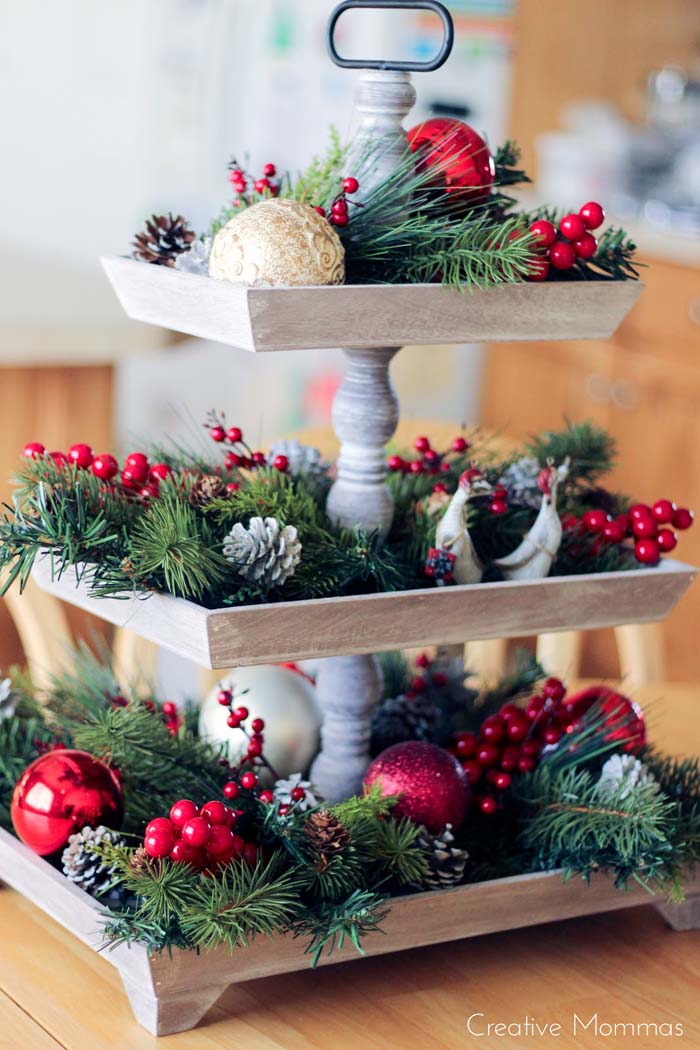 A rectangular tiered tray filled with holly, pine cones and Christmas greenery makes an adorable centerpiece.
40. Enhance Your Kitchen with a Large Christmas Wreath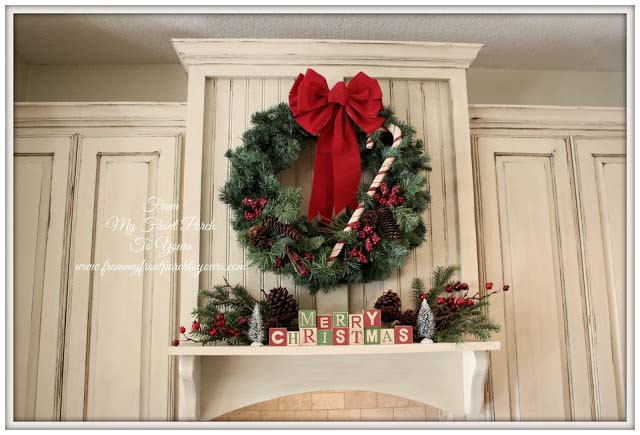 Hang a large wreath above your Christmas decorated mantel for a Christmas feel in your home.
41. Be Bold with Pink Ribbons for Kitchen Christmas Decor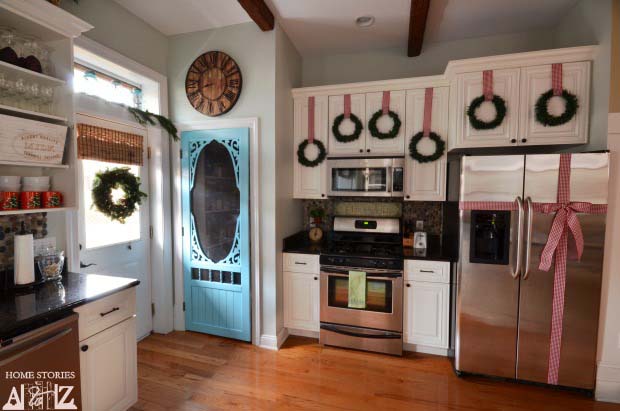 Decorate your cabinets with wreaths and don't forget your refrigerator. By using a thick ribbon you can make the doors look like a present.
42. Decorate Your Kitchen with Subtle White and Brown Garland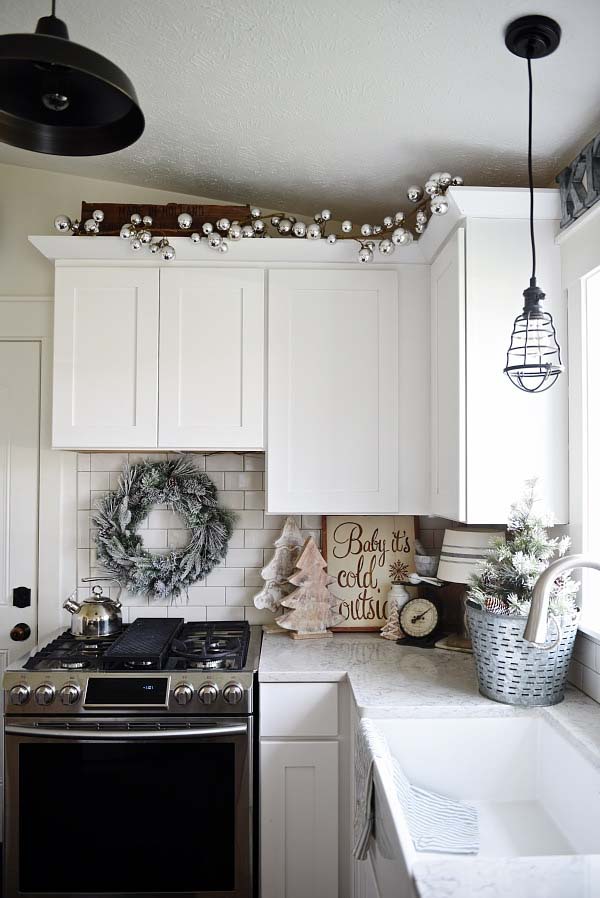 By using mild toned white and brown garland you can easily decorate your kitchen in a soft Christmas theme.
via Liz Marie
43. Arrange Plates and Pine Cones for a Rustic Joy Sign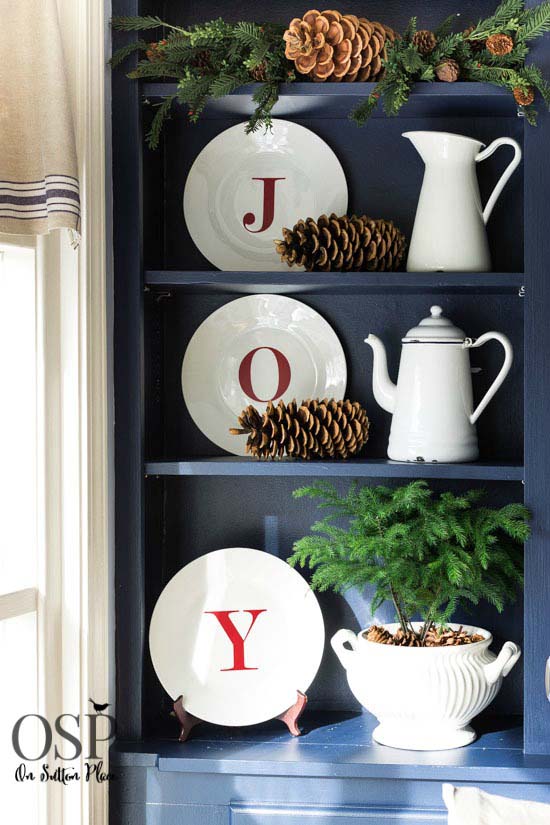 Dollar store plates decorated with painted-on Christmas decor makes a cheap decoration for your kitchen hutch.
via On Sutton Place
44. Adorn a Vintage Kitchen Scale with a Mason Jar Snow Globe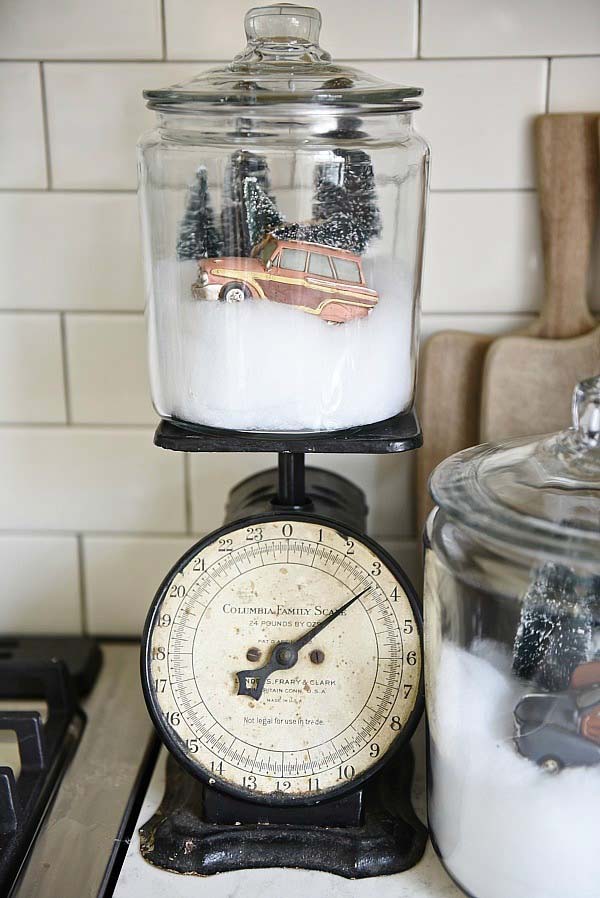 Clear, glass cookie jars can be turned into large snow globes by adding country Christmas themes to the inside of them.
via Liz Marie
45. Turn a Serving Tray into Colorful Christmas Decor with Paint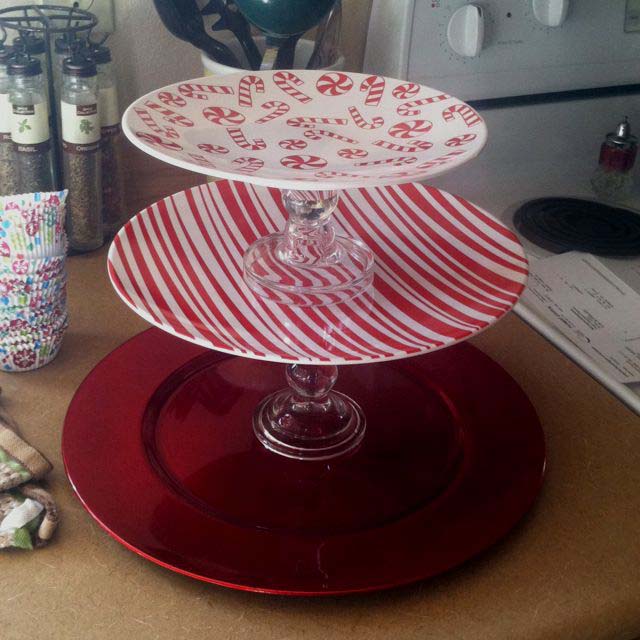 Paint a tiered tray with food safe Christmas colors and turn it into a Christmas themed serving tray.
46. Make a Christmas-Themed Hot Cocoa Bar with Mason Jars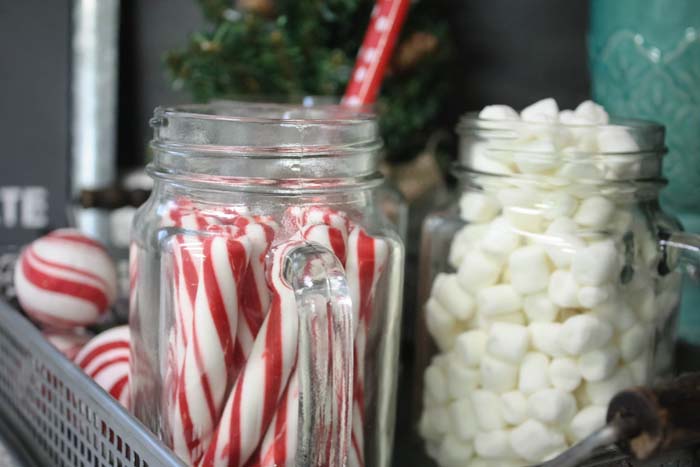 Use dollar tree mason jar mugs with marshmallows, peppermint and hot cocoa to make a holiday hot cocoa bar.
via Re-Fabbed
47. Hang a Vintage Santa Sled for a Farmhouse Kitchen Look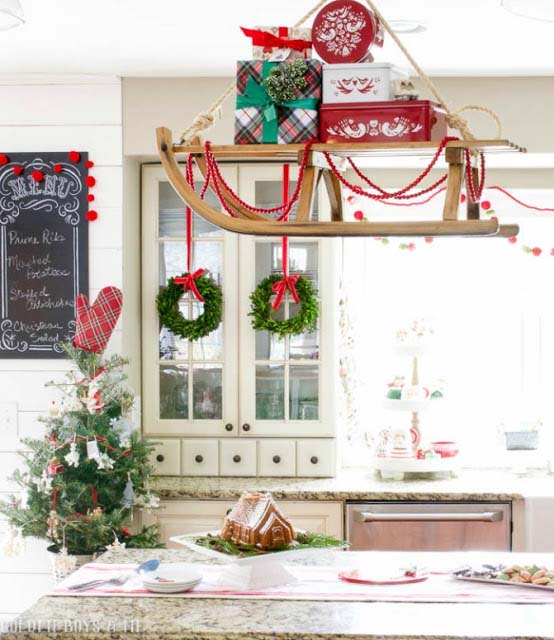 Vintage wooden sleds are the perfect holiday decorations.
48. Spruce Up Your Kitchen with Christmas-Colored Aprons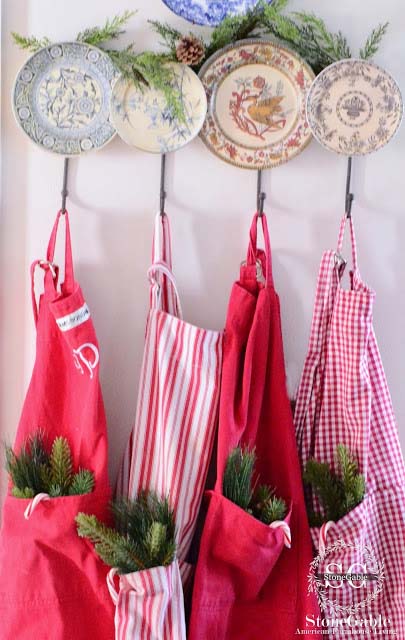 Decorate your kitchen by hanging Christmas colored aprons.
via Stone Gable
49. Galvanized Christmas Tiered Tray for Kitchen Cutlery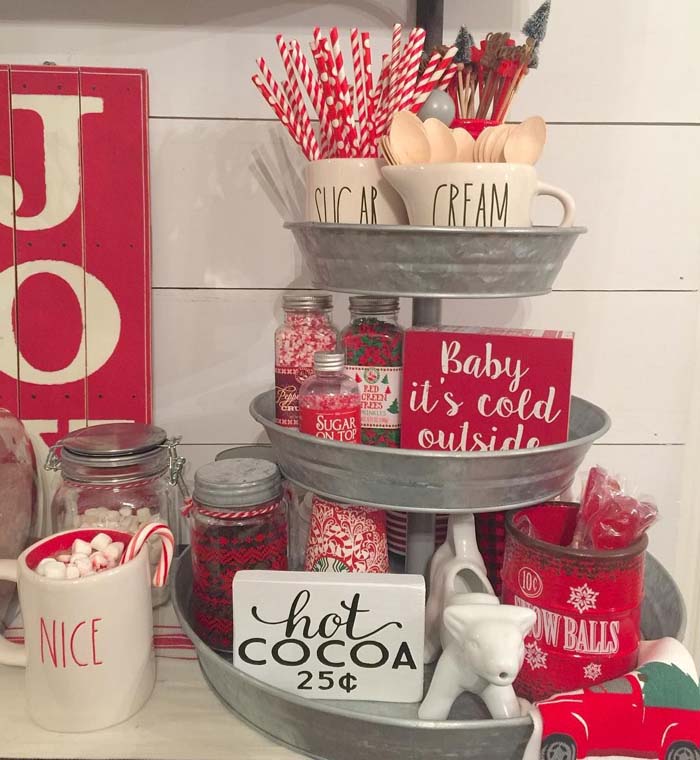 A galvanized tiered tray can be decorated with Christmas colored mugs and hold your cutlery for this holiday season.
50. Decorate Kitchen Stove with Simple Christmas Decor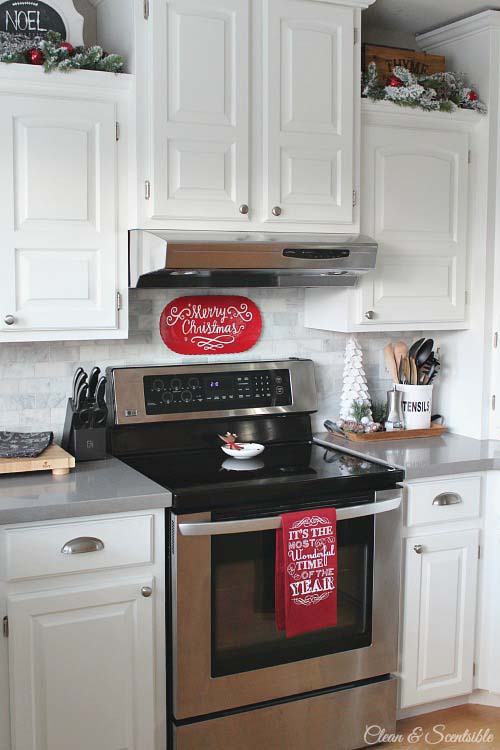 A few simple Christmas decorations are red towels from the stove and a cute Christmas sign above the stove.
51. Create a Farmhouse-Inspired Christmas Kitchen Nook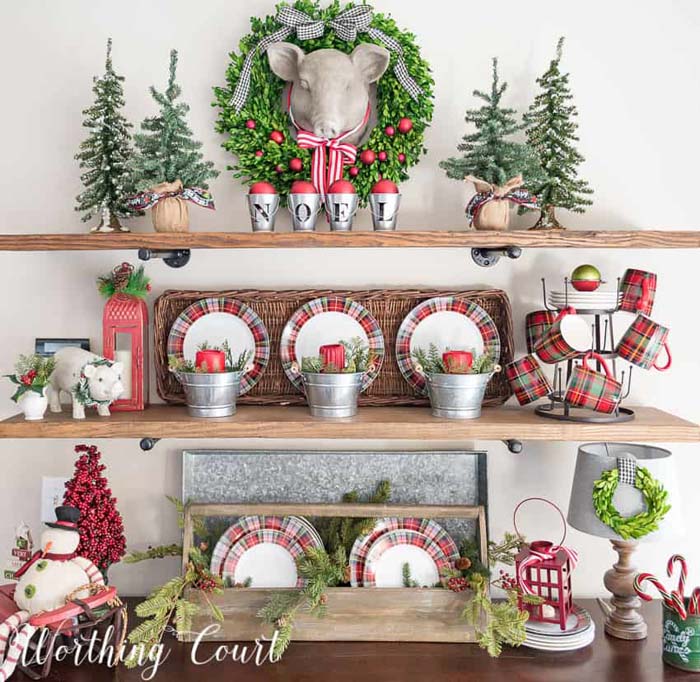 Don't let the shelves in your kitchen nook go un-decorated. Cover them with red and green plates and Christmas greenery.
via Worthing Court
52. Turn a White Pitcher into a Christmas Centerpiece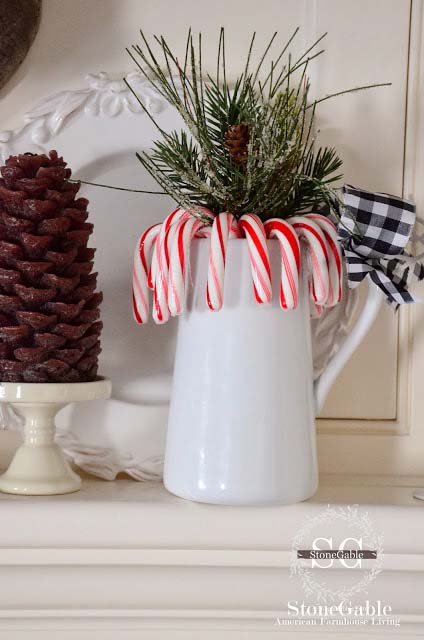 A white pitcher with candy canes creates a great centerpiece.
via Stone Gable
53. Add an Evergreen Garland and Wreath to Kitchen Stove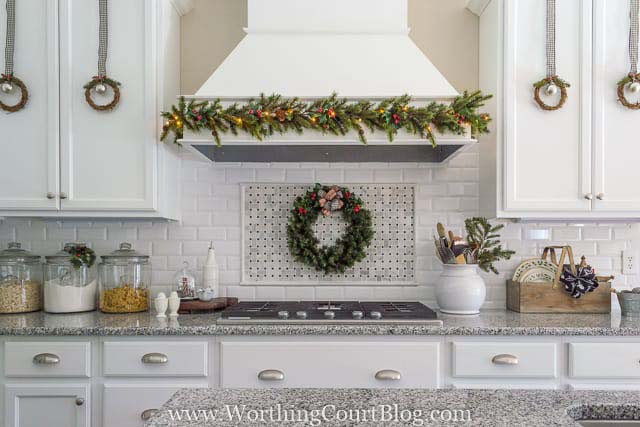 Easy kitchen decorations include garland and wreaths to decorate cabinets.
via Worthing Court
54. Adorn Your Kitchen Windows with Boxwood Wreaths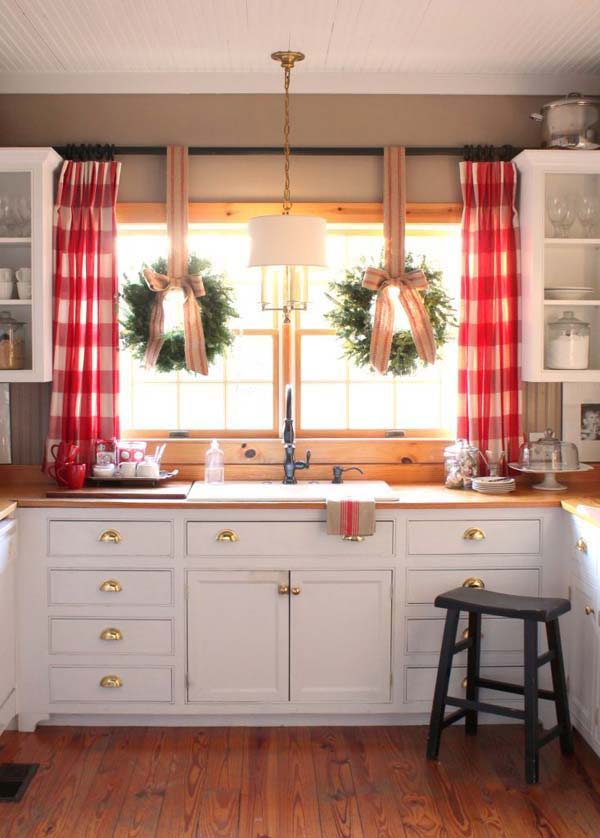 With thick ribbon, hang wreaths in front of your kitchen windows to create a farmhouse Christmas theme.
55. White Pitcher Christmas Centerpiece with Holly and Ribbon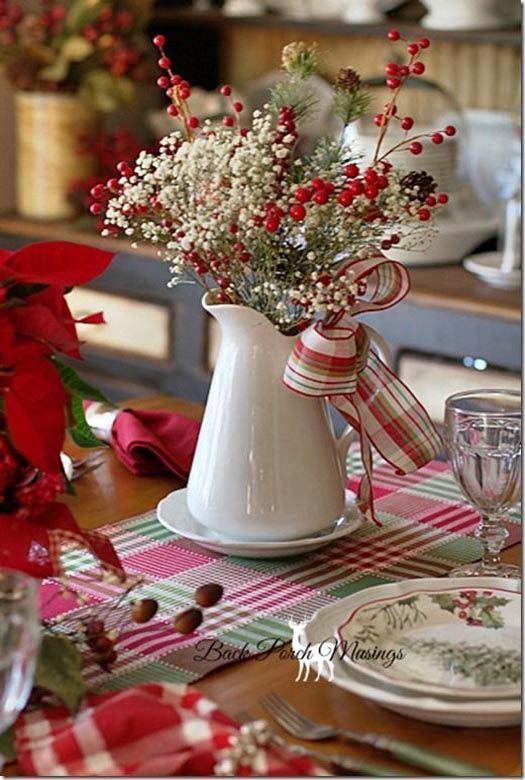 A white pitcher with red holly and red ribbon creates a simple centerpiece.
56. Create an Enchanting Kitchen with Christmas Decor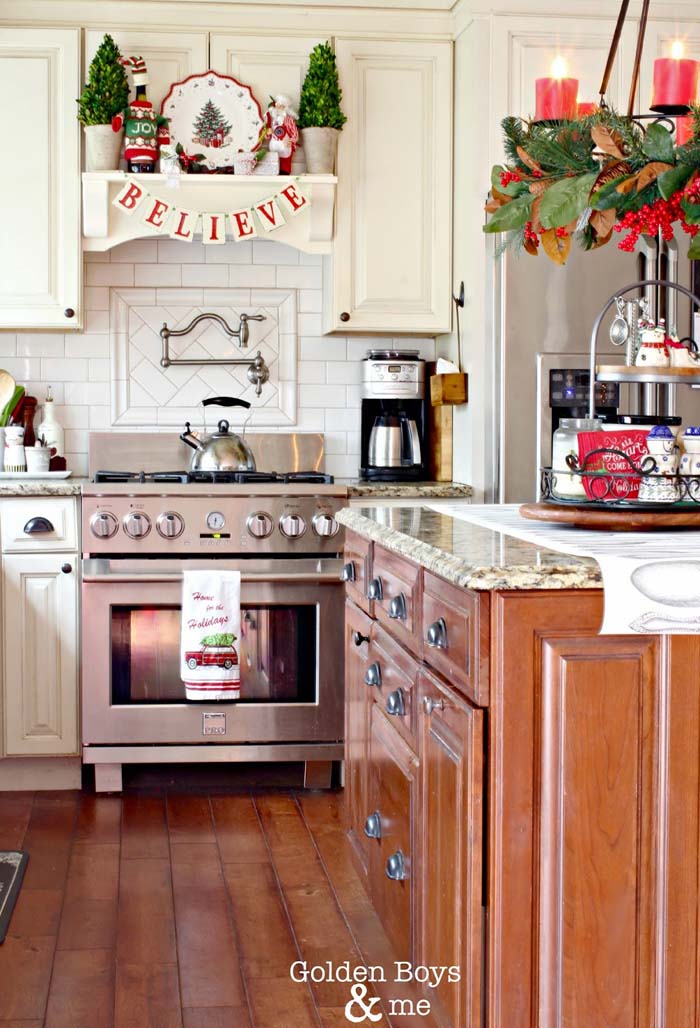 A towel on the stove handle and red candles create an entire Christmas kitchen.
57. Christmas Table Centerpiece with DIY Cement Bowls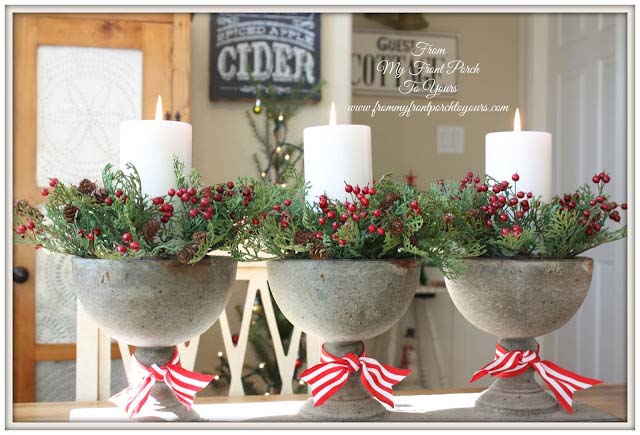 Cement bowls with Christmas decor is an easy DIY Christmas table centerpiece.
via From My Front Porch To Yours
58. Transform Salt Shakers into a Winter Wonderland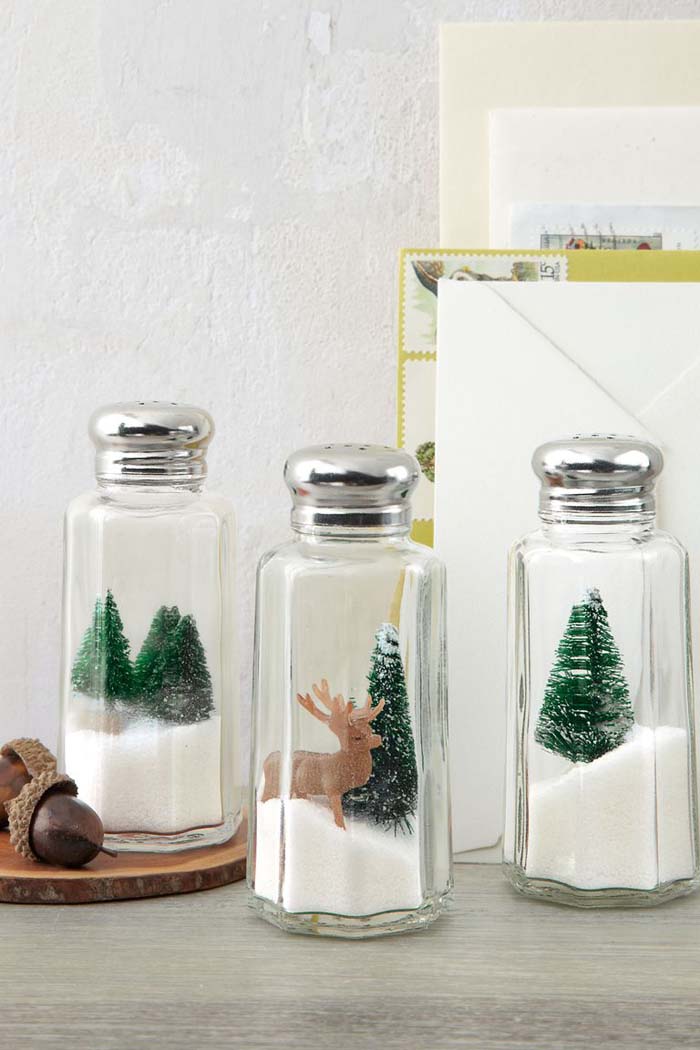 Put mini trees and reindeer in salt shakers to create Christmas scenes.
via Country Living
59. Enjoy Meals in Scented Atmosphere with Potpourri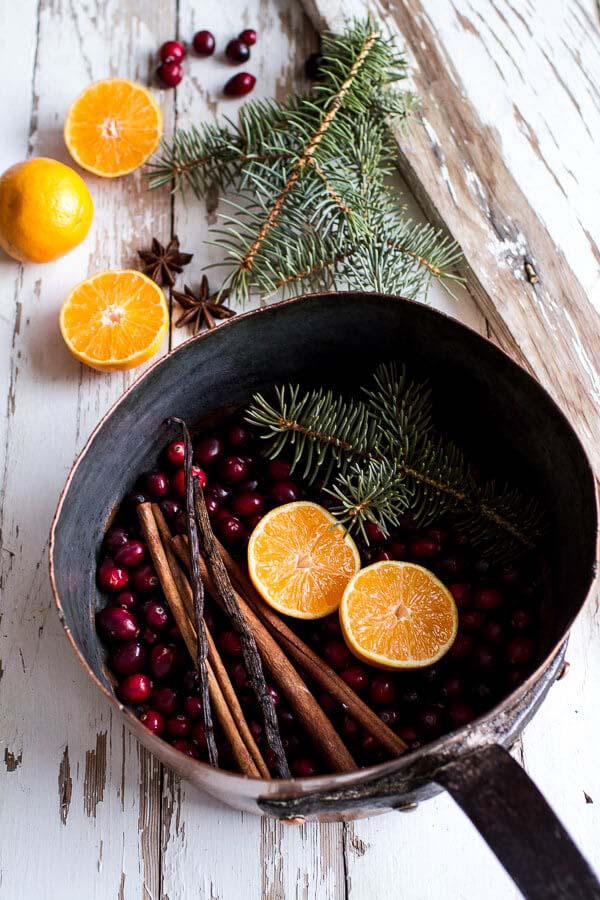 Christmas potpourri in a galvanized dish makes a scented centerpiece.
60. Make a Farmhouse-Inspired Hot Chocolate Kitchen Bar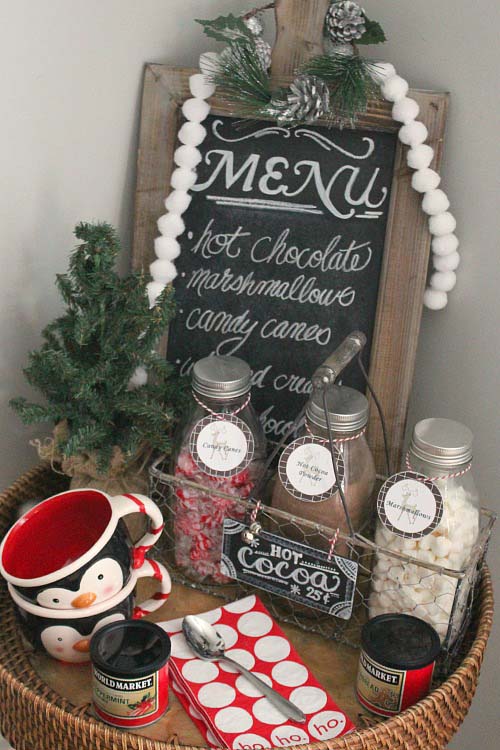 Mugs, cocoa, marshmallows all in Christmas colors makes a cocoa bar.
61. Transform Your Kitchen Nook into an Elegant Hot Cocoa Bar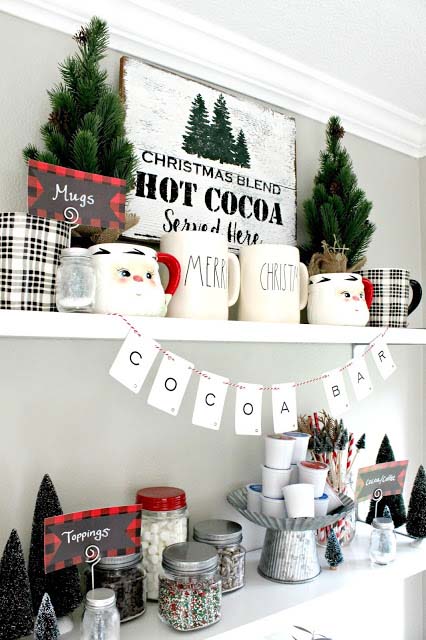 Turn your nook into a cute cocoa bar.
62. Create a Festive Christmas Cards Display on Kitchen Cabinets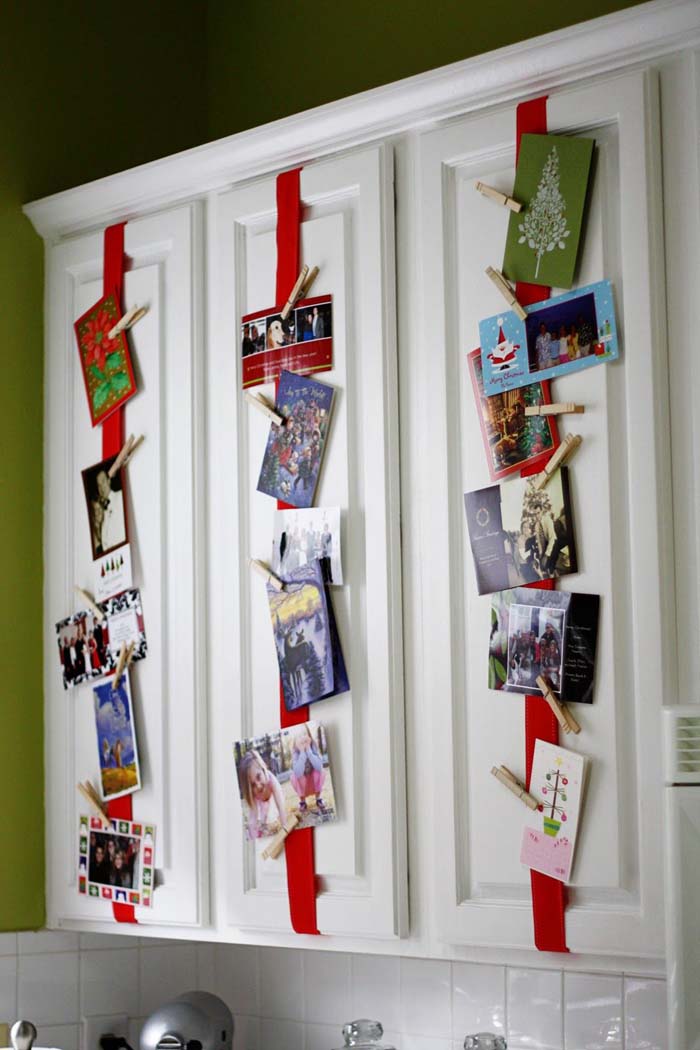 Display your Christmas cards by hanging them from your cupboards using thick ribbon.
via Messa Dark
63. Illuminate Your Kitchen Cabinets with a Christmas Garland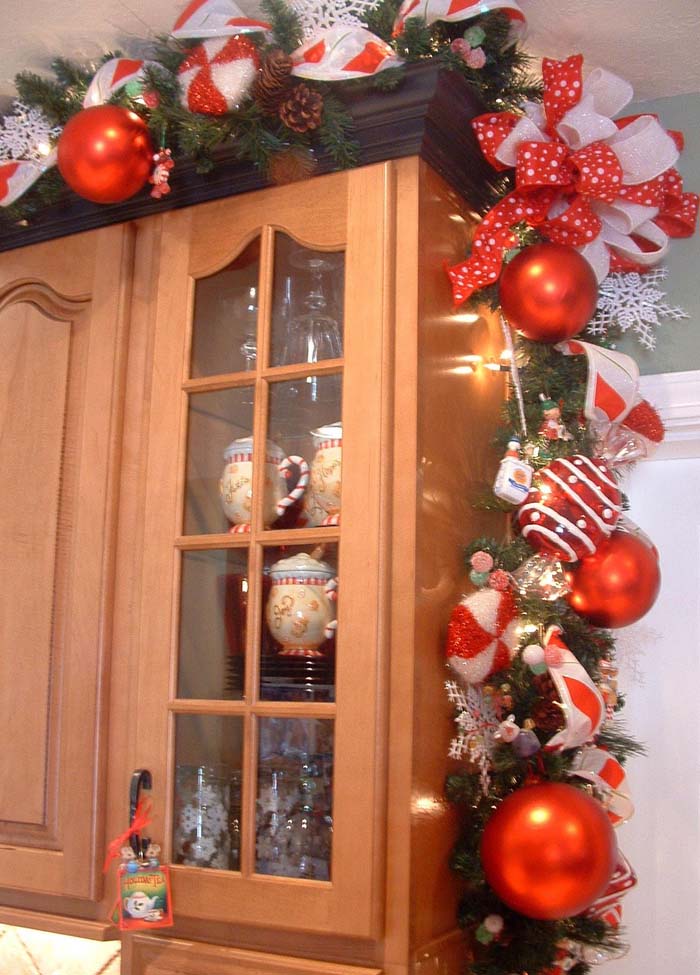 Cover the top of your cabinets with garland decorated with ornaments.
via House of Decor
64. Enhance Your Kitchen Cabinets with Mini Boxwood Wreaths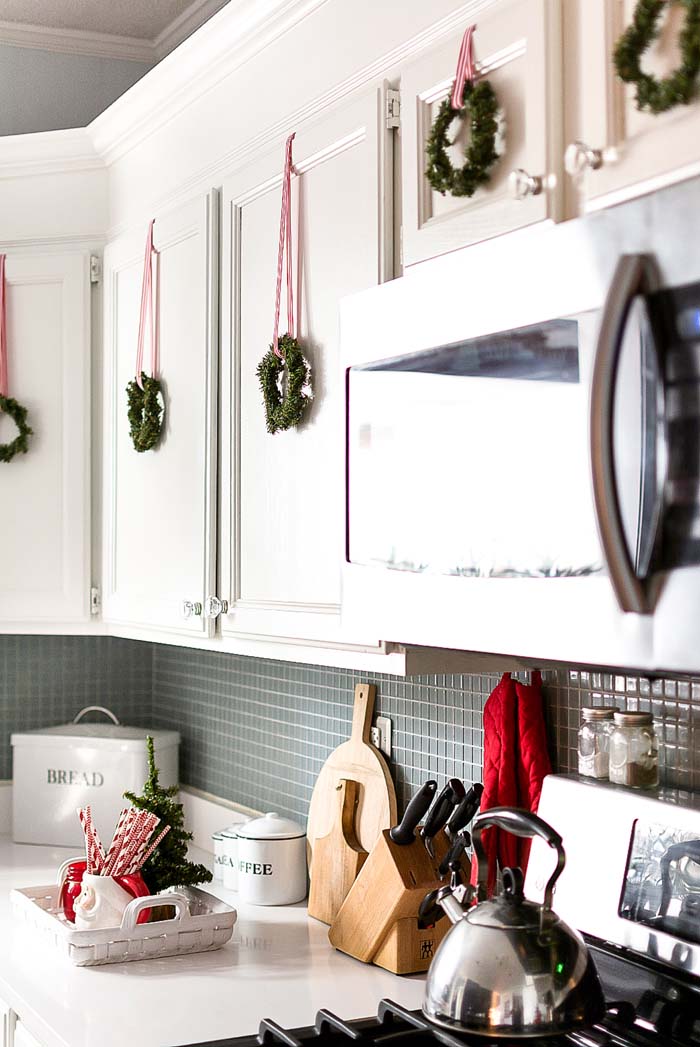 Hang mini wreaths from your cabinets using ribbon for an easy decoration.
65. Utilize an Empty Kitchen Corner for Your Christmas Tree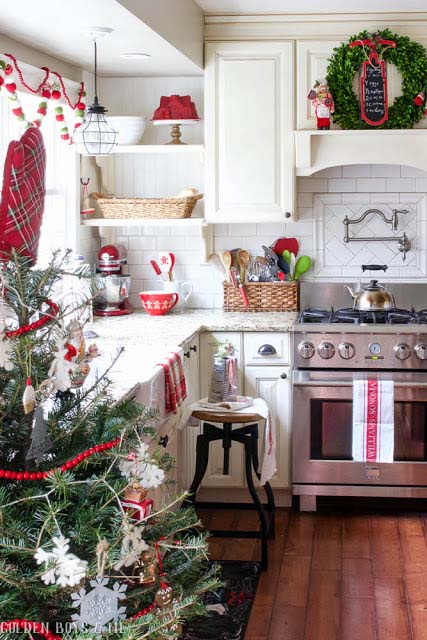 Put a medium-sized Christmas tree in an empty corner of your kitchen.
66. Upcycle Galvanized Buckets into Christmas Tree Decor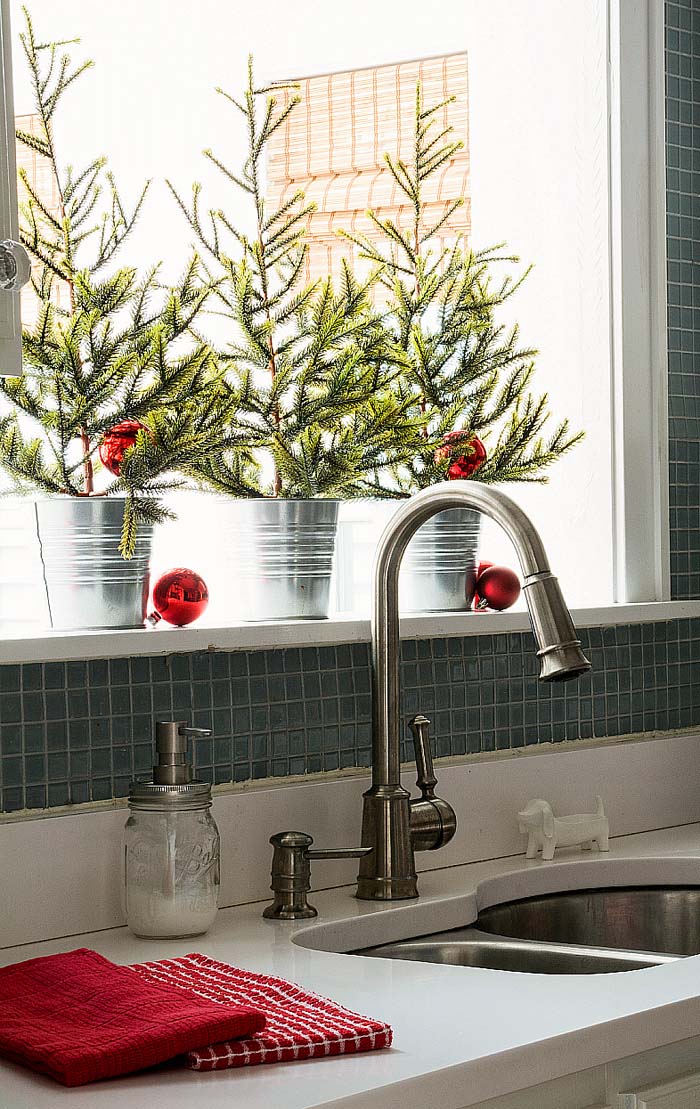 Galvanized buckets are the perfect home for mini Christmas trees.
67. Create a French-Inspired Christmas Kitchen Nook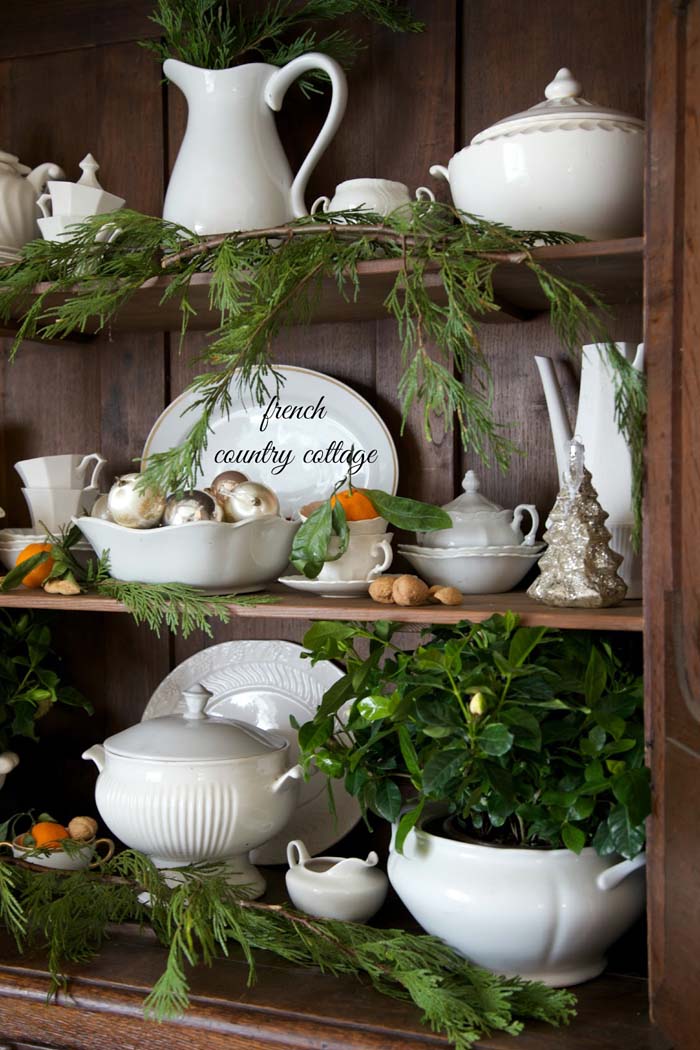 Using your nice dishes and nook you can create a beautiful Christmas corner.
68. Hang Pine Cones on Your Kitchen Window Garland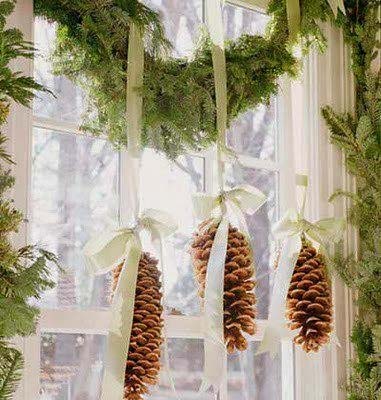 A simple decoration is hanging pine cones using a golden ribbon.
69. Evergreen Garland with Hanging Christmas Ornaments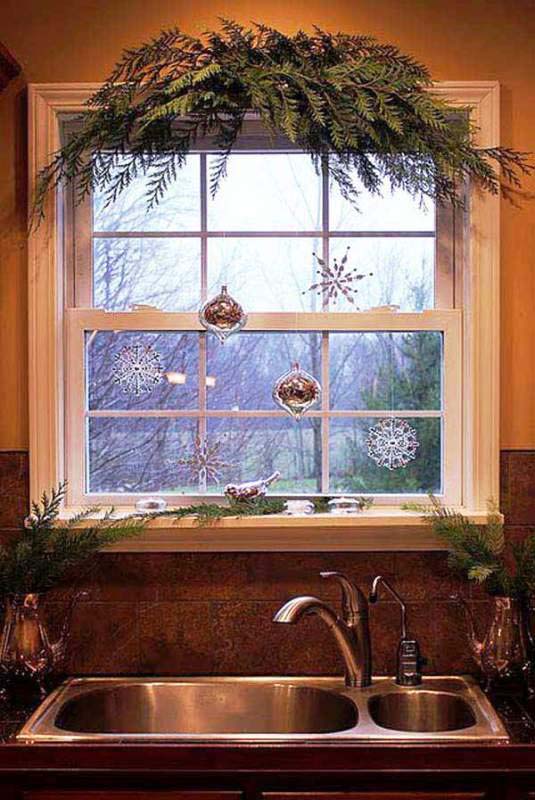 Hang ornaments in your kitchen window with garland above.

70. Create a Festive Christmas Corner with White Vignettes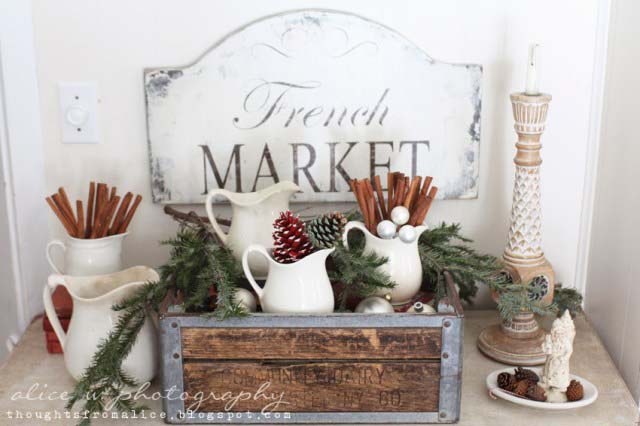 Use white vignettes with Christmas decor to make an adorable Christmas corner.
via Alice Wingerden
71. Make a Rustic Hot Cocoa Station with Upcycled Wooden Box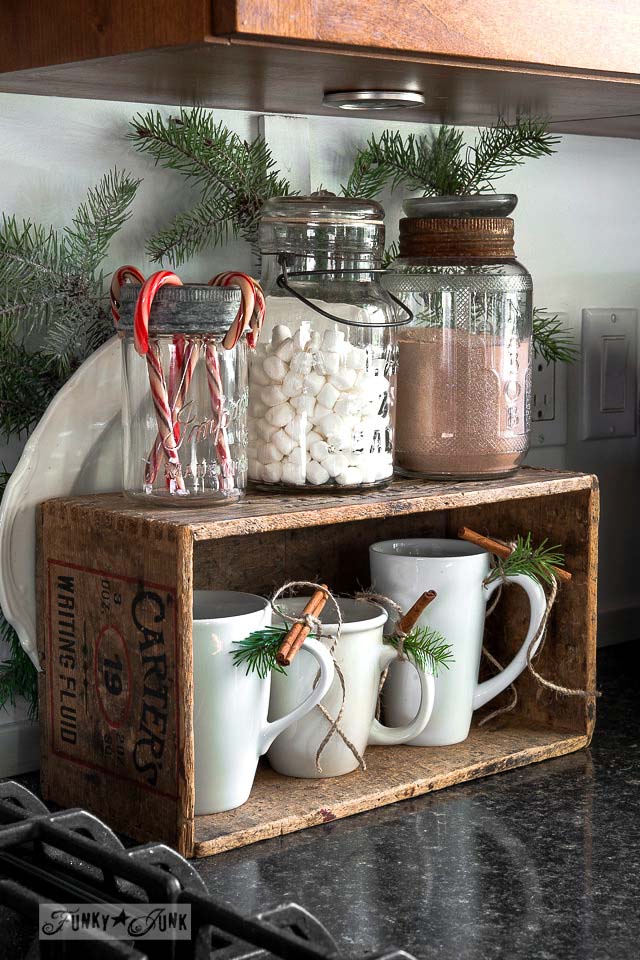 Make a vintage hot cocoa bar with a rustic box and white mugs.
72. Uplift Kitchen Windows with Scandinavian Mini Wreaths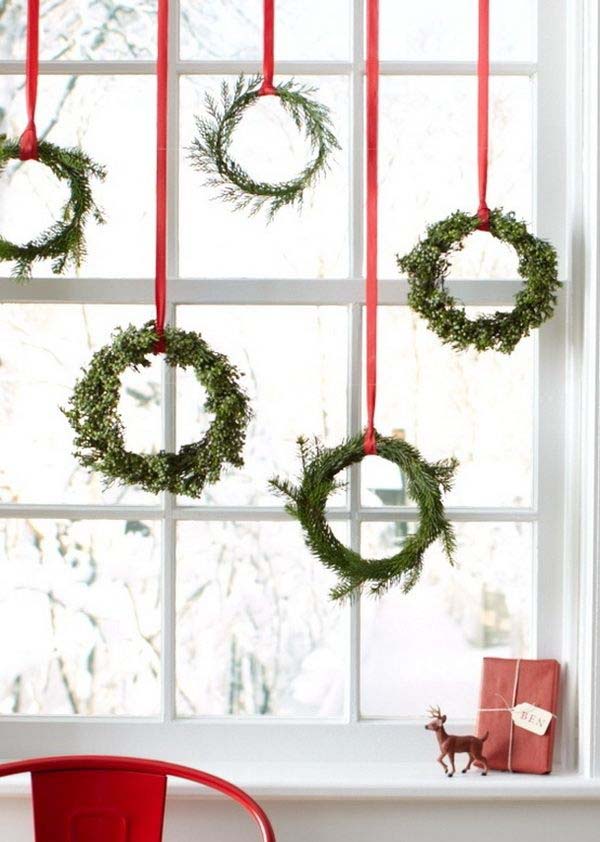 Hang mini wreaths in your kitchen window with red ribbon.
73. Achieve Simplicity with Subtle Christmas Kitchen Decor'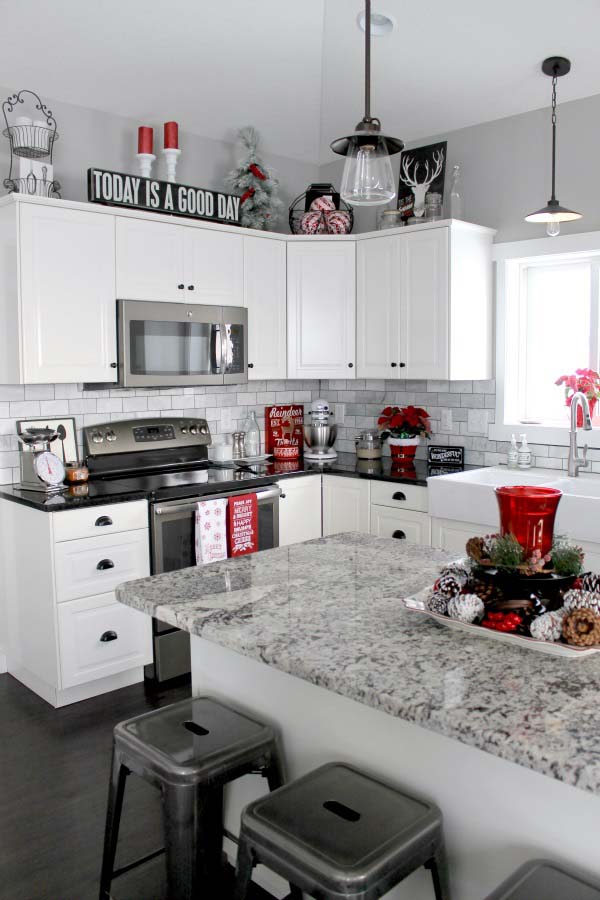 Decorate your kitchen with mild toned kitchen decor for a simple look.
via What Rose Knows
74. Add Color to White Kitchen Cabinets with Red Snowflakes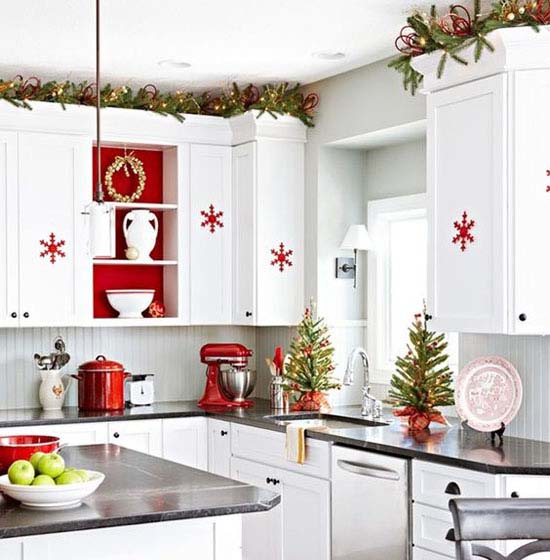 Hang red snowflakes from your cabinet to create a simple Christmas look.
75. Hang Red Snowflakes on Your Kitchen Sink Garland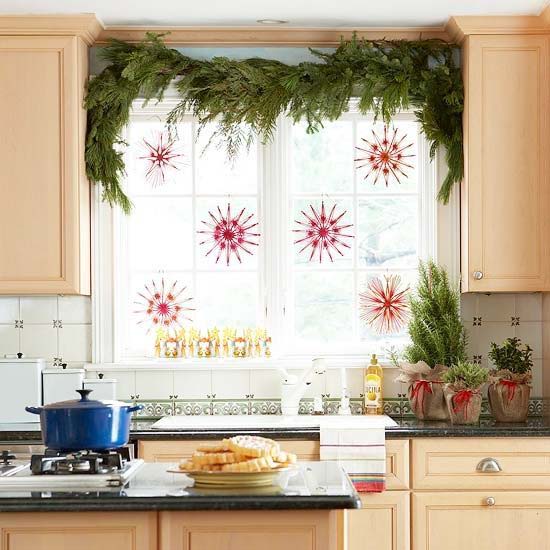 Greenery around your kitchen window can be upgraded with red snowflakes hanging.
76. Transform Your Fridge into a Unique Snowman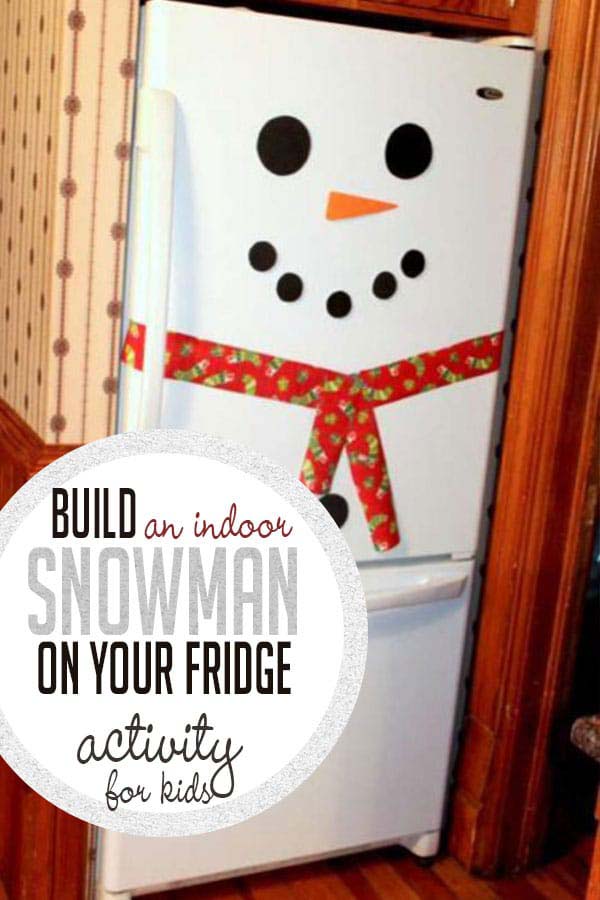 Use red ribbon and black paper to create a snowman fridge.
77. Upcycle Distressed Wooden Spoons into Snowman Decor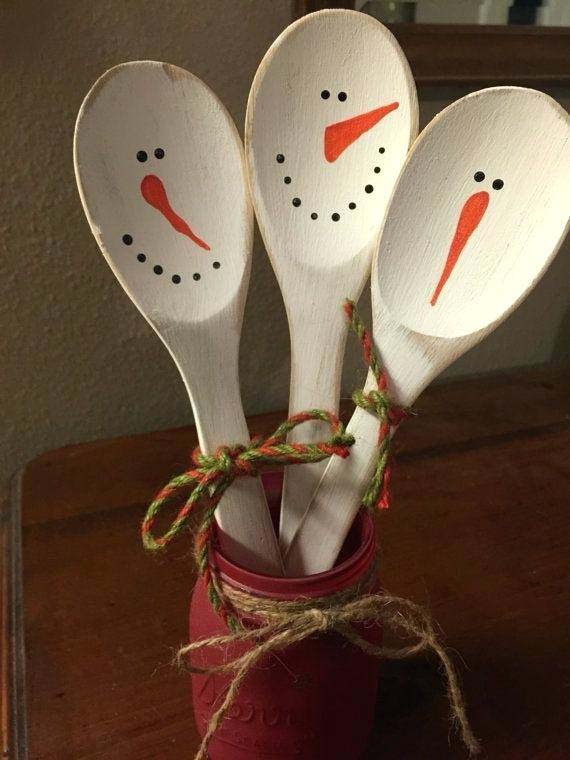 Paint wooden spoons distressed white and add red yarn and black eyes to make snowmen.
78. Light Up Your Kitchen with Christmas Stars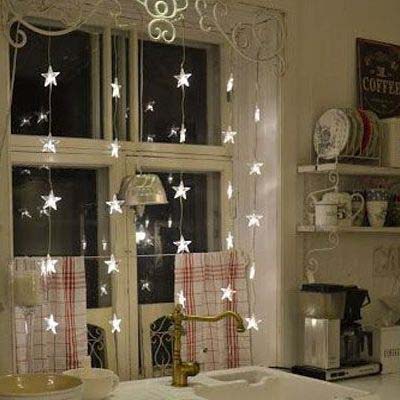 Christmas light stars are the perfect addition to your kitchen window decor.
79. Create a Vintage Inspired Kitchen with Santa Mugs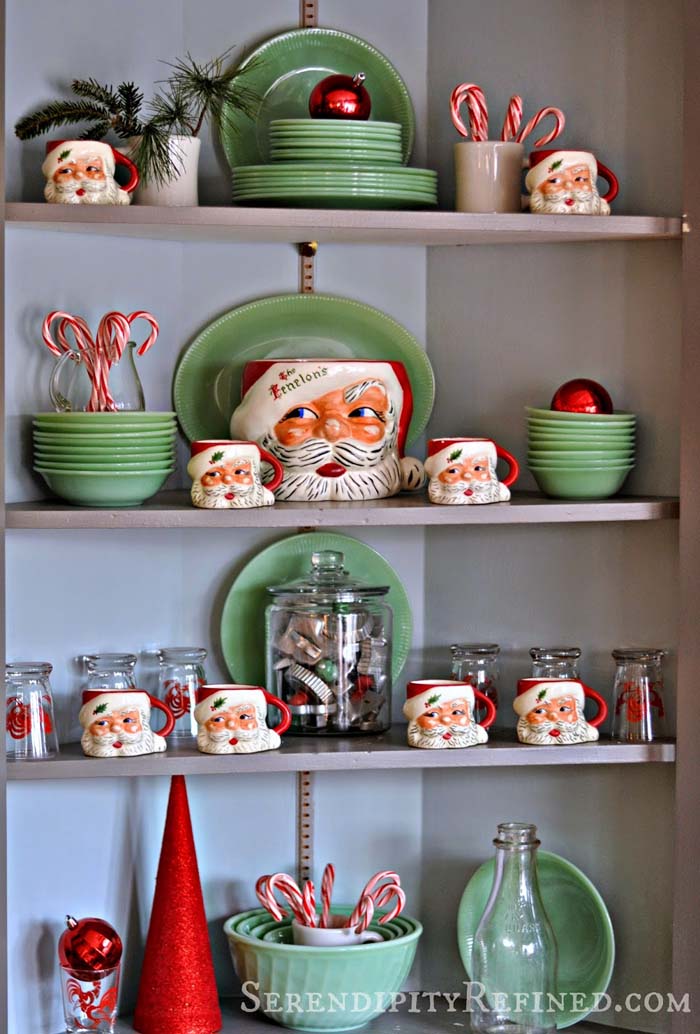 Santa mugs are a staple for any Christmas themed kitchen nook.
80. Unleash Creativity with a Farmhouse Kitchen Garland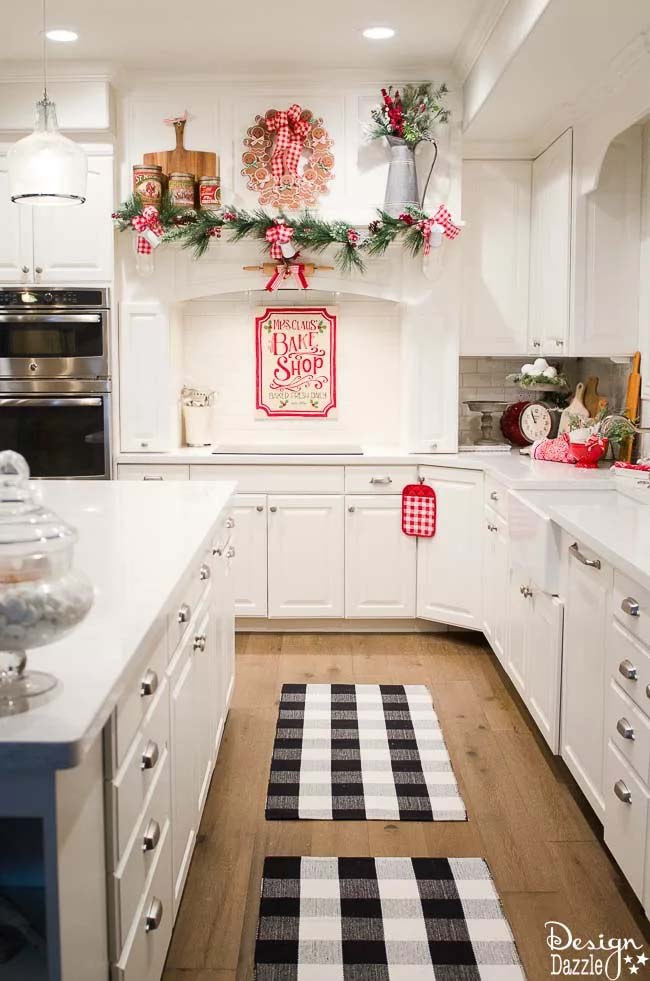 Garland and Christmas sign decor above your stove screams Christmas.
via Design Dazzle
81. Use Glossy Christmas Ornaments for a Kitchen Centerpiece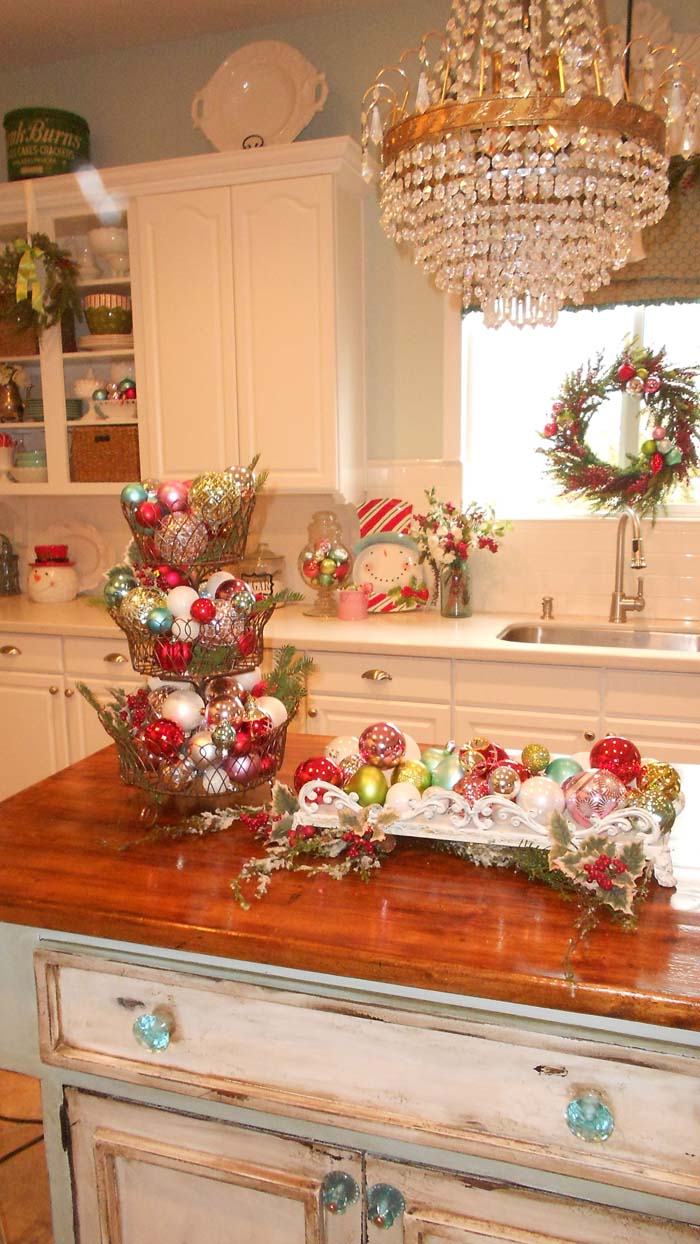 A tiered bowl centerpiece is completed with Christmas ornaments.
82. Candle-Lit Christmas Centerpiece with Vintage Kitchen Scale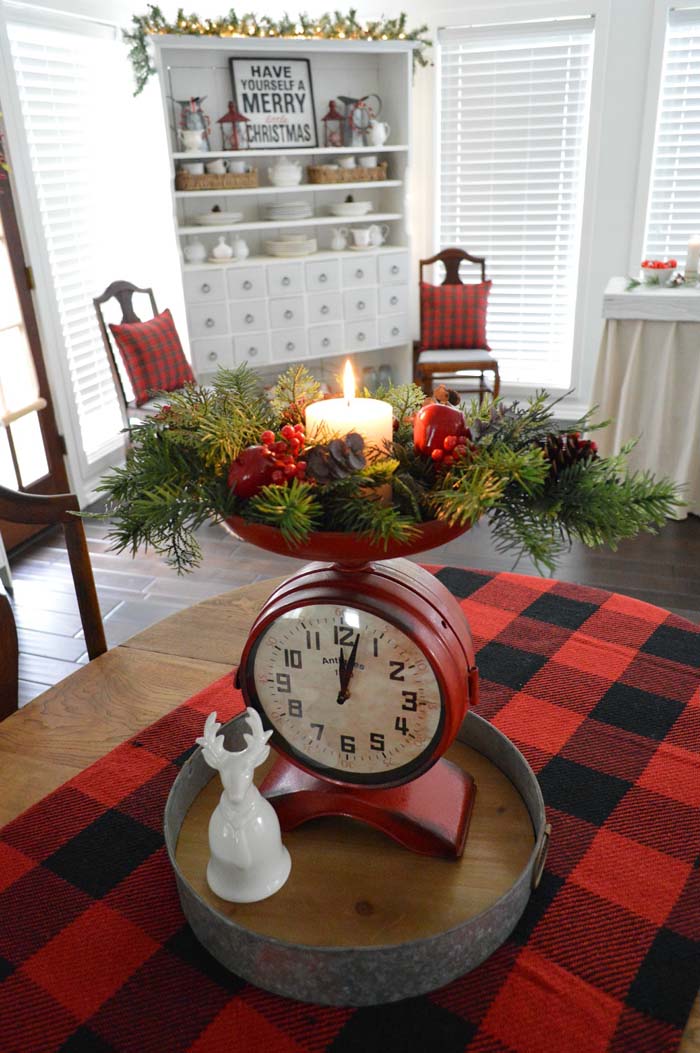 A repainted vintage scale can be turned Christmas with the addition of greenery and ornaments.
83. Winter Wonderland Kitchen with Evergreen and Pine Cones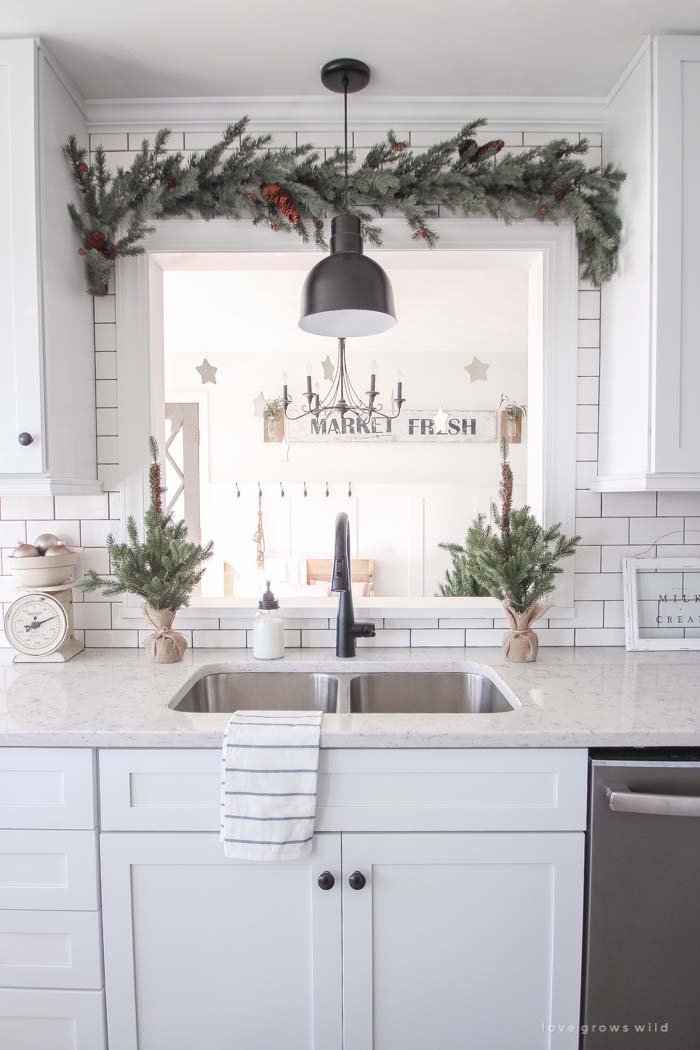 Use garland and pine cones above your kitchen window.
via Love Grows Wild
84. Transform a Kitchen Wire Basket with Christmas Ornaments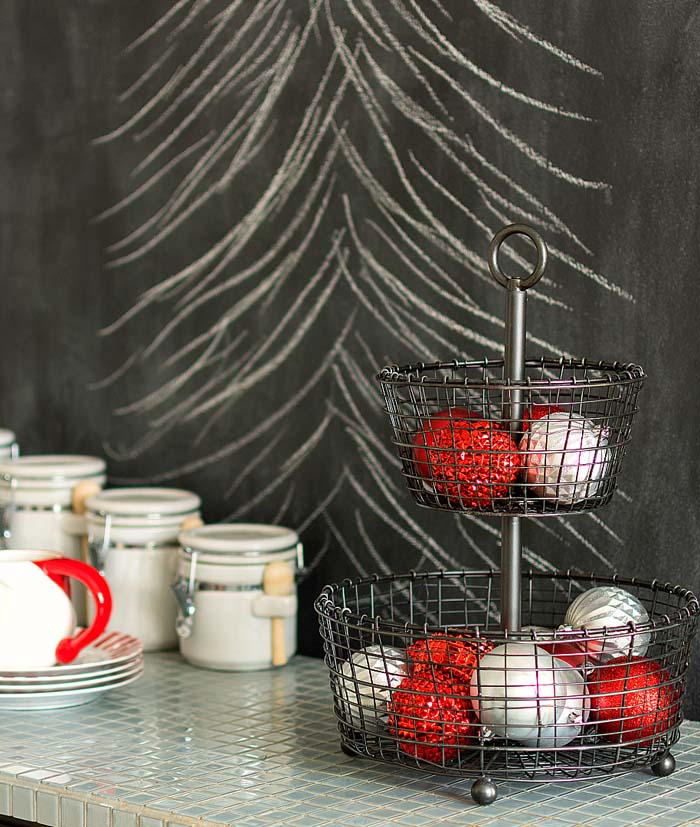 A tiered wire basket with ornaments is a simple kitchen decor option.
85. Utilize Colorful Wrapping Paper for Kitchen Cabinets Decor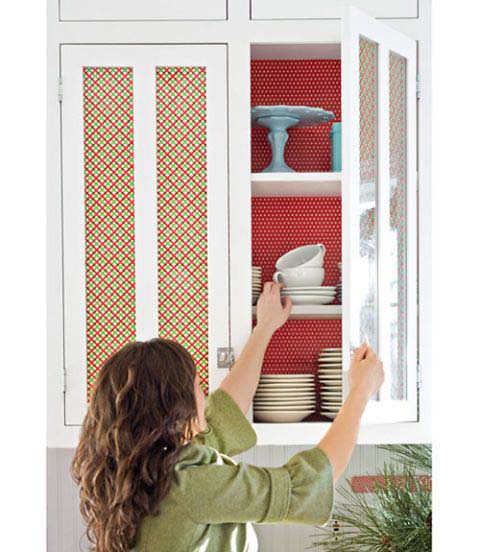 Wrapping paper can be a simple diy kitchen Christmas decoration.
via Country Living