100 Natural DIY Christmas Decor Ideas For A Perfect Holiday
It is finally Christmas season again!
With Santas, reindeers and snowmen on the radio and in stores it is nearly impossible to not get into the Christmas spirit.
Christmas decorating is the best part of the whole season! Make your house scream Christmas!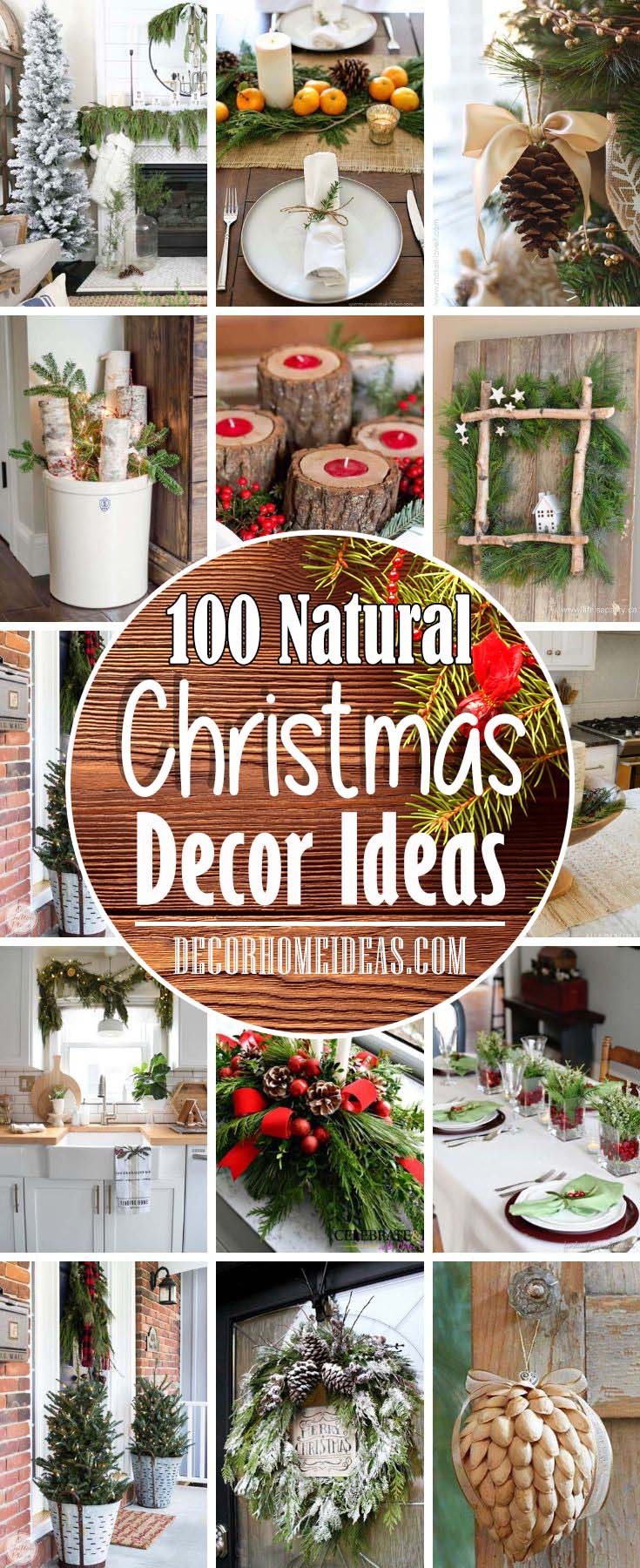 Don't forget to PIN this image for quick access to all these beautiful ideas.
Presents and family parties are already filling your busy schedule! With so much to do for the Christmas season don't burden yourself with anymore to do.
Complete your Christmas decorating in a quick minute with these easy natural DIY decorations.
10 Minute Christmas Centerpiece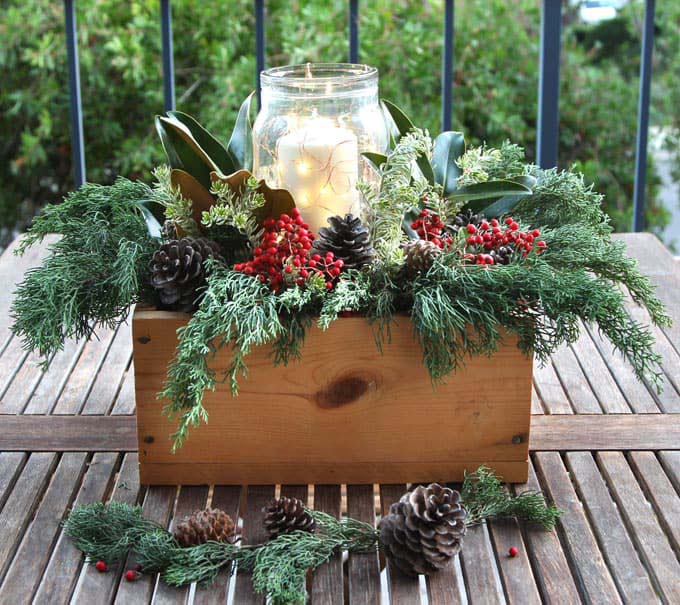 For a quick classic centerpiece check out this pinecone and Christmas holly filled wooden box.
A Fresh Green Christmas Table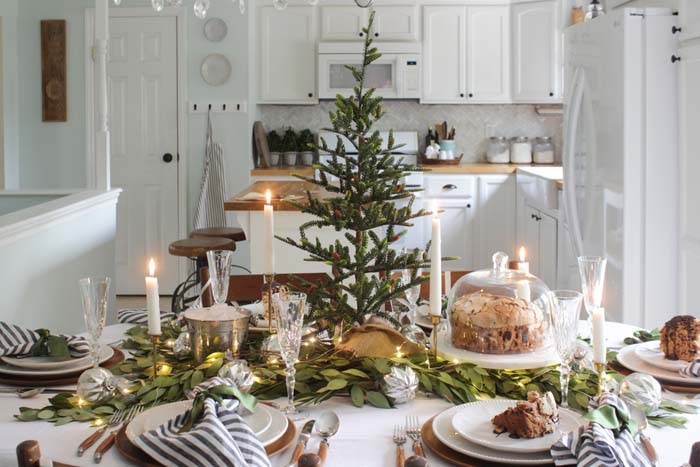 A mini pine tree in the center surrounded by miscellaneous Christmas related colors and gorgeous dinnerware creates a beautiful festive table.
Acorn Cap Ornament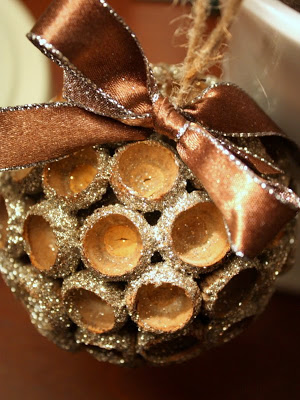 Acorn caps spritzed with glitter can create a one of a kind DIY Christmas ornament.
Beautiful Christmas Home Decor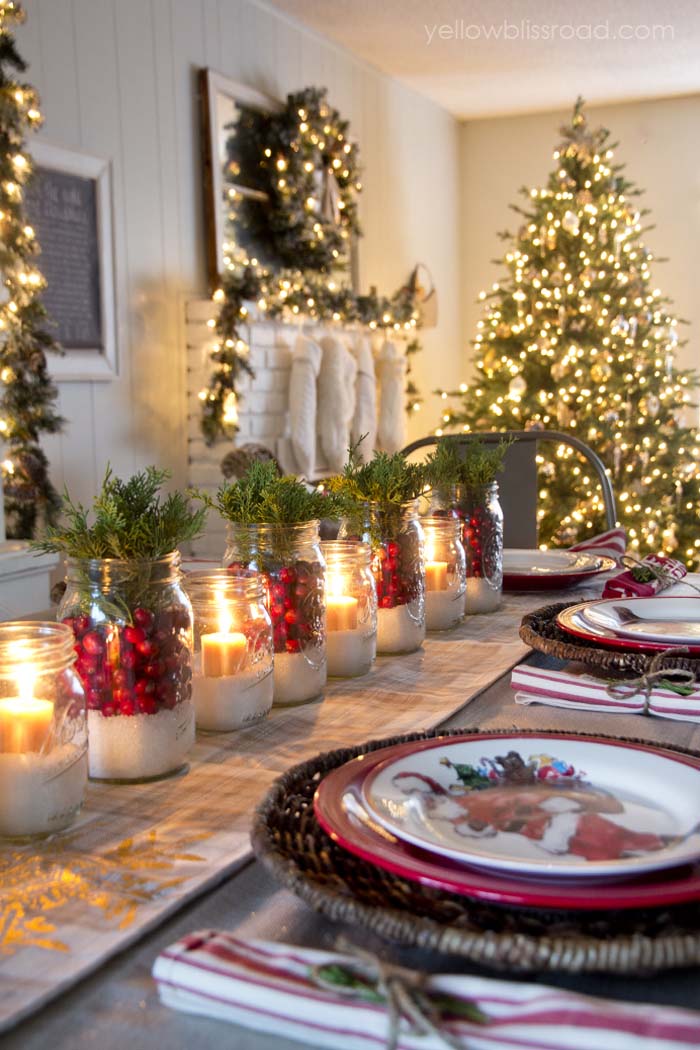 Old canning jars, candles and little pieces of fir create the perfect Christmas table centerpiece.
Birch Evergreen Wreath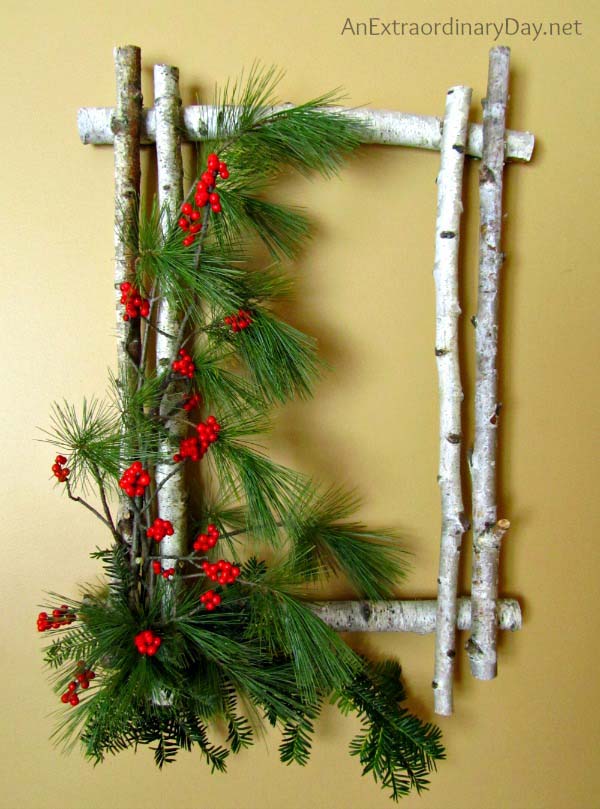 Make a modern style Christmas wreath with a piece of evergreen and some birch twigs.
Bird Seed Ornaments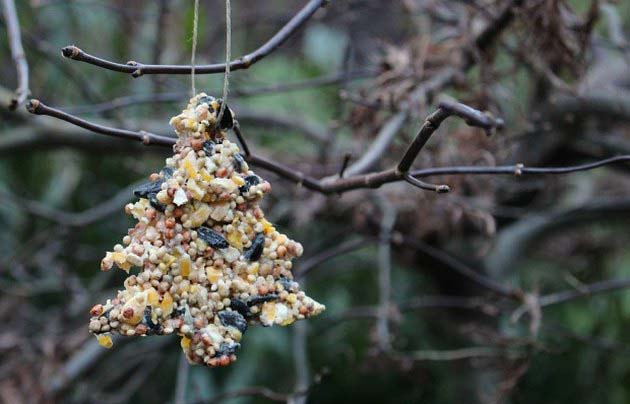 Make a unique ornament and a snack for a bird with birdseed Christmas ornaments.
via eHow
Burlap and Pinecone Hanging Decoration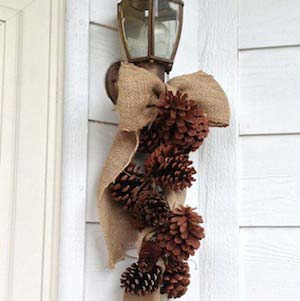 Burlap and pinecones are the essence of the holidays. Mix them together for a snappy Christmas pinecone decoration.
Burlap Evergreen Candle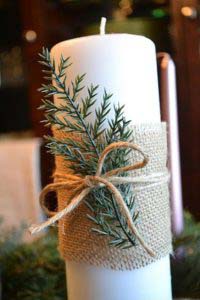 Wrap burlap and evergreen on a candle to create a Christmas centerpiece.
Cake Stand Christmas Centerpiece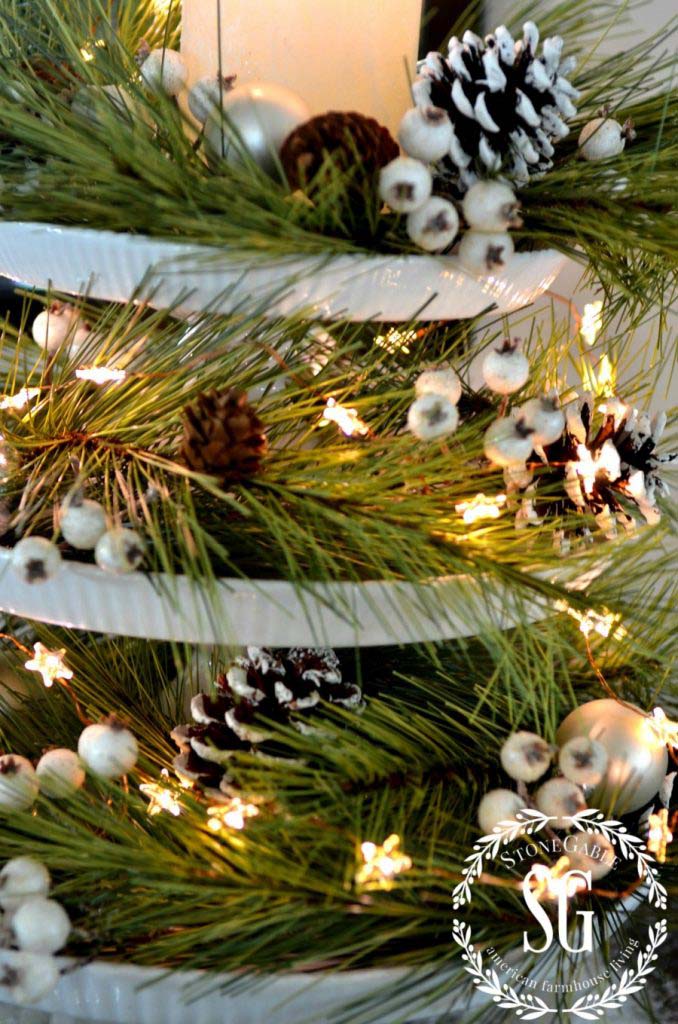 Adding fir and pinecones to the base of a cake stand gives it a festive touch.
via Stone Gable
Small House Ideas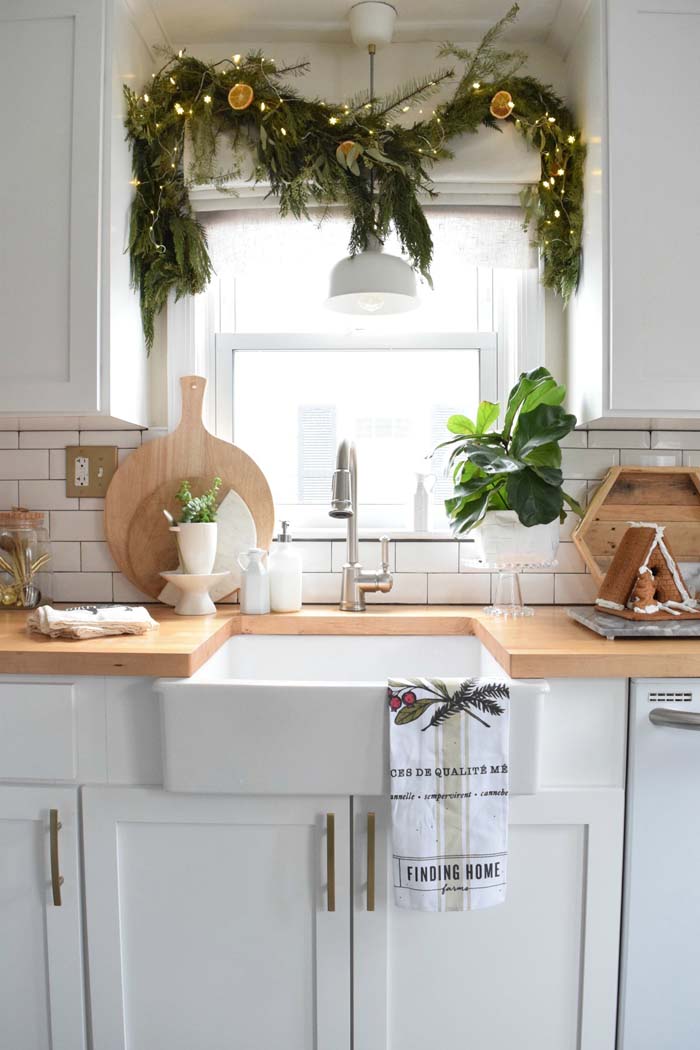 If you don't have a ton of space for Christmas decor, try some fir garland and Christmas lights.
Christmas Dining Room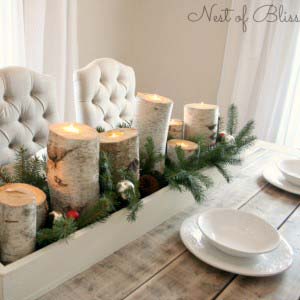 Using logs as candle holders and Christmas greenery inside a box can create a classic looking nature-inspired Christmas centerpiece.
via Brandi Sawyer
Christmas Kitchen Decorating Ideas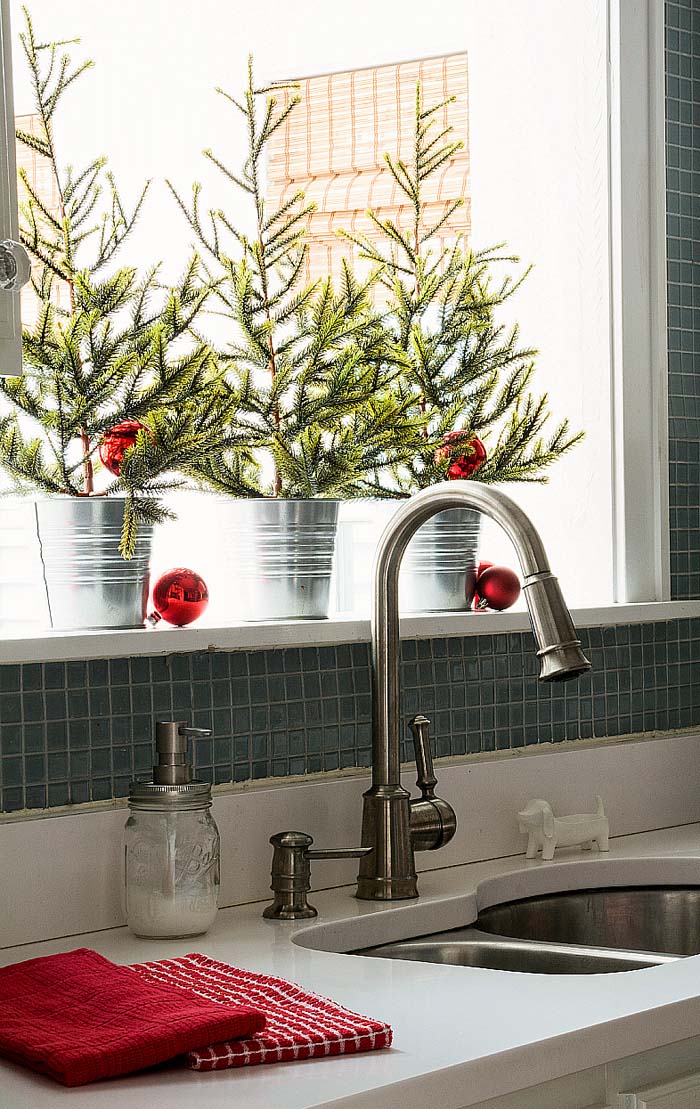 Pine saplings decorated with ornaments create a perfect mini Christmas tree.
Christmas Ladder DIY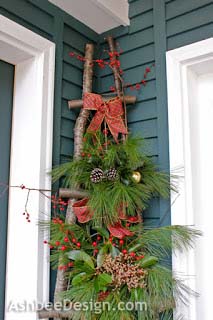 Use a few tree limbs, trimmed and finished to build a ladder and decorate with Christmas greenery.
via Ashbee Design
Christmas Outdoor Greenery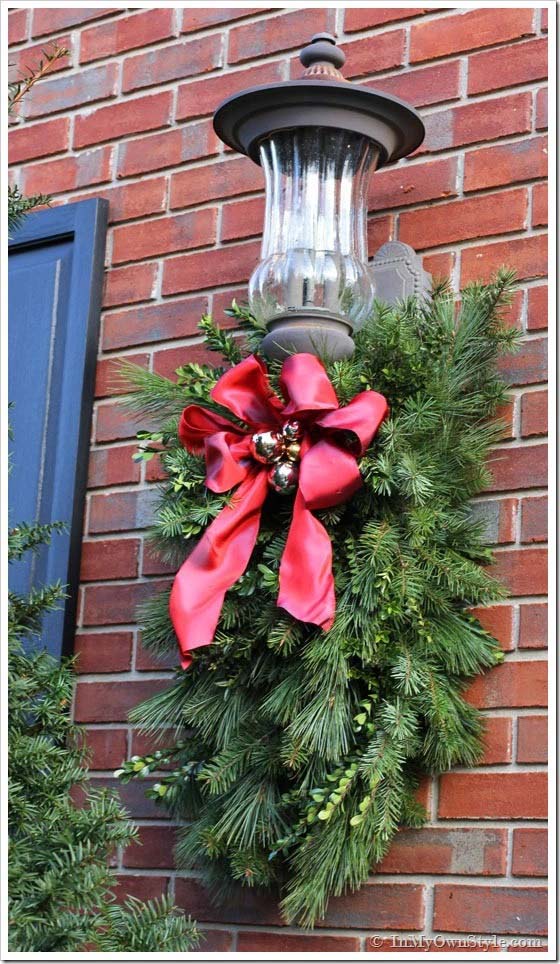 For an outdoor Christmas decoration, use some wreath type material and a red bow!
via In My Own Style
Christmas Pitcher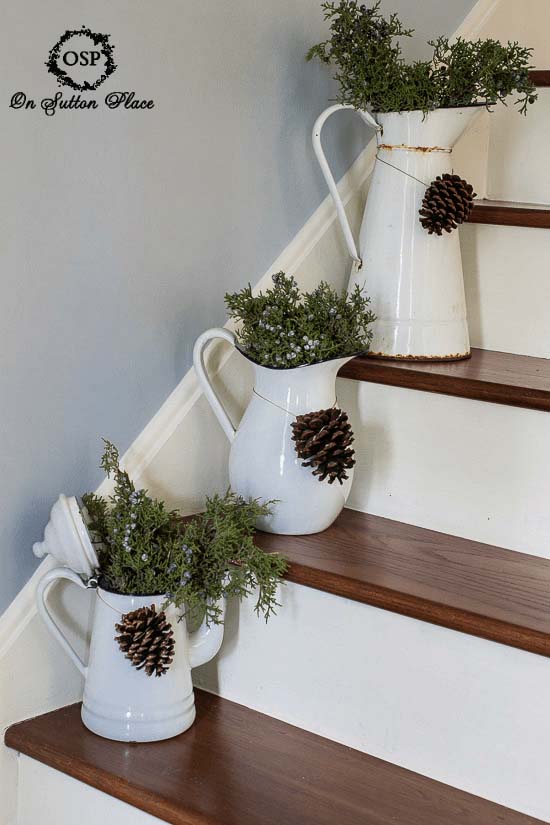 Repurpose old metal pitchers into Christmas flower pots!
via On Sutton Place
Christmas Porch with Repurposed Finds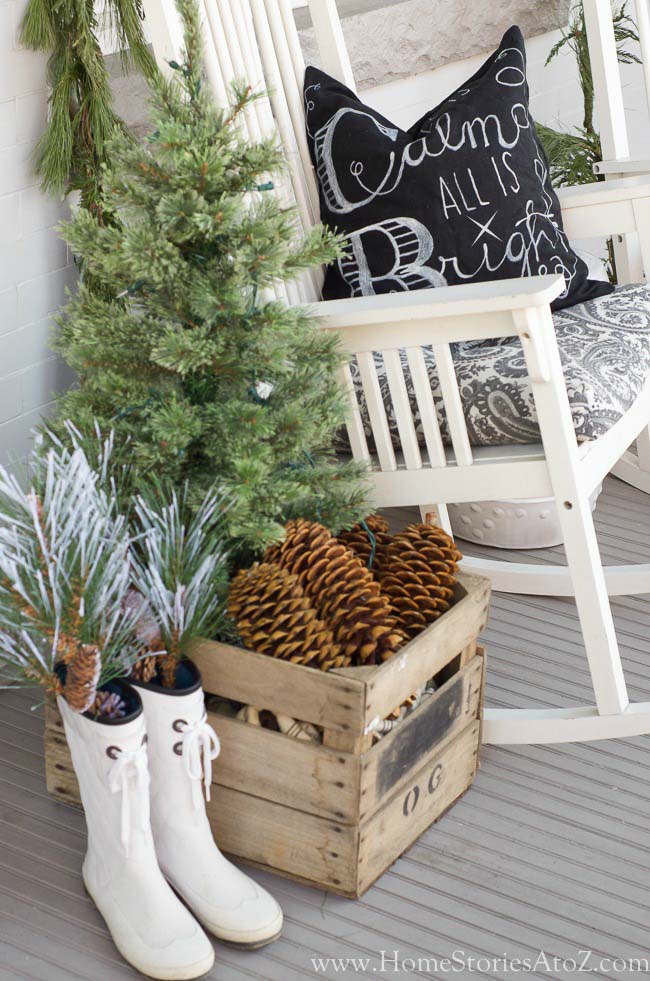 Repurpose white rain boots as planters for Christmas green and pinecones.
Christmas Reindeer Logs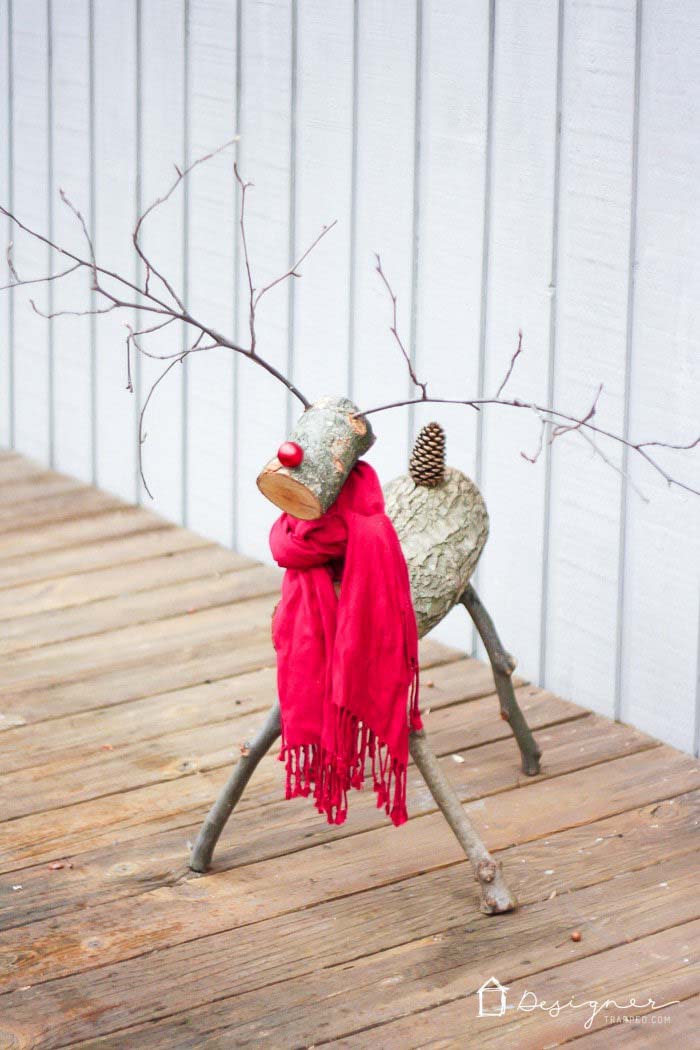 Reindeer decorations can easily be made by using logs and twigs to construct the body, legs and horns!
via Designer Trapped
Christmas Tree in a Vase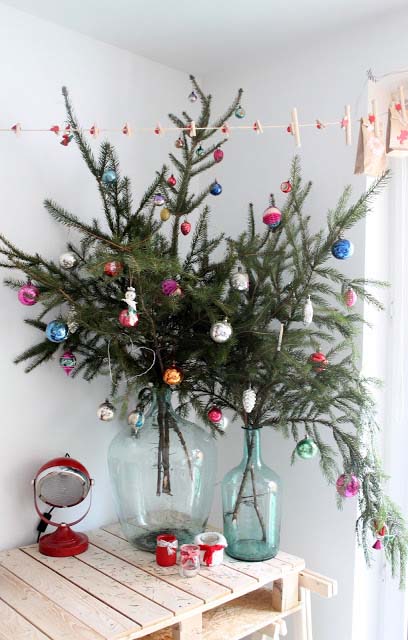 For a miniature Christmas tree, just put a few fir limbs in a vase and decorate!
via Enjoy Your Home
Comfy Rustic Outdoor Christmas Decor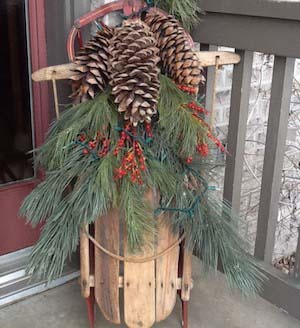 Classic sleds are a token at Christmas time. Decorate one for a cute decoration for your front porch.
DIY Christmas Birch Candle Holders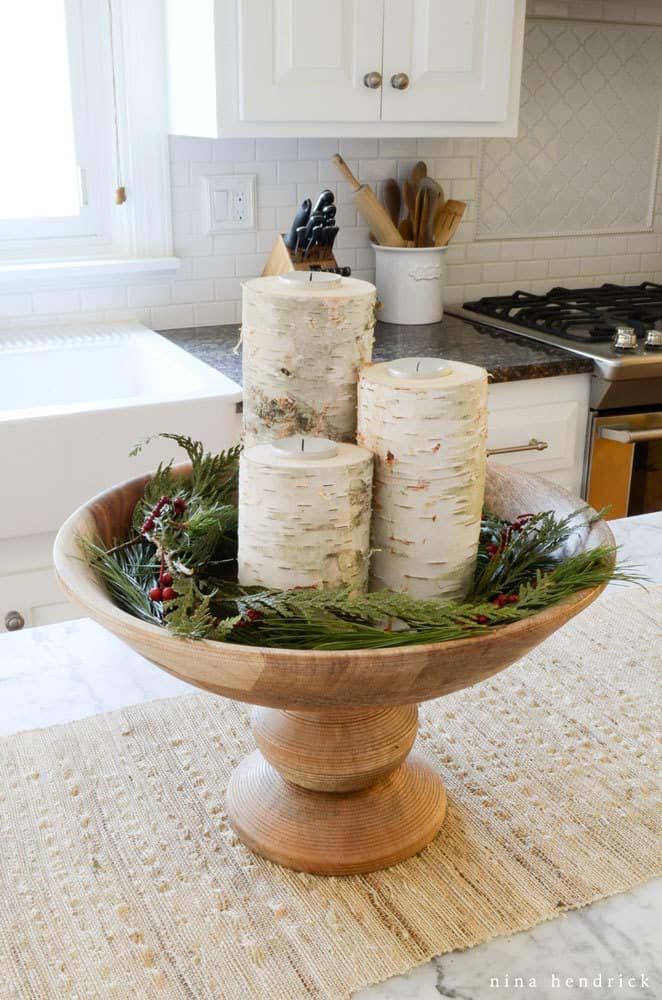 Christmas birch can be used to make lovely Christmas candle holders!
via Nina Hendrick
DIY Christmas Wreath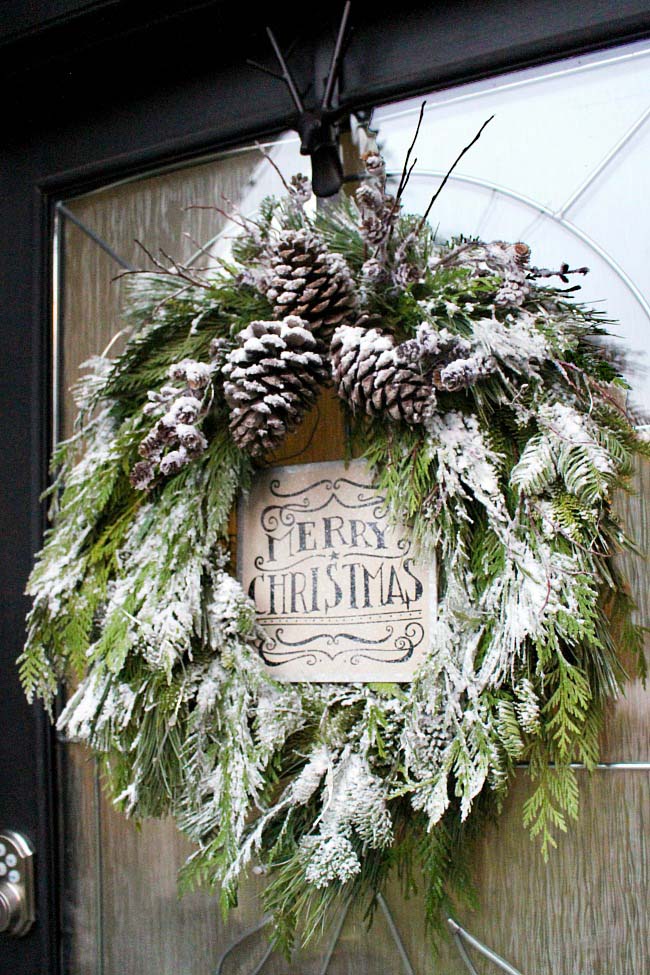 Make a Christmas wreath with pinecones and spray on snow for your front door!
DIY Farmhouse Christmas Wreath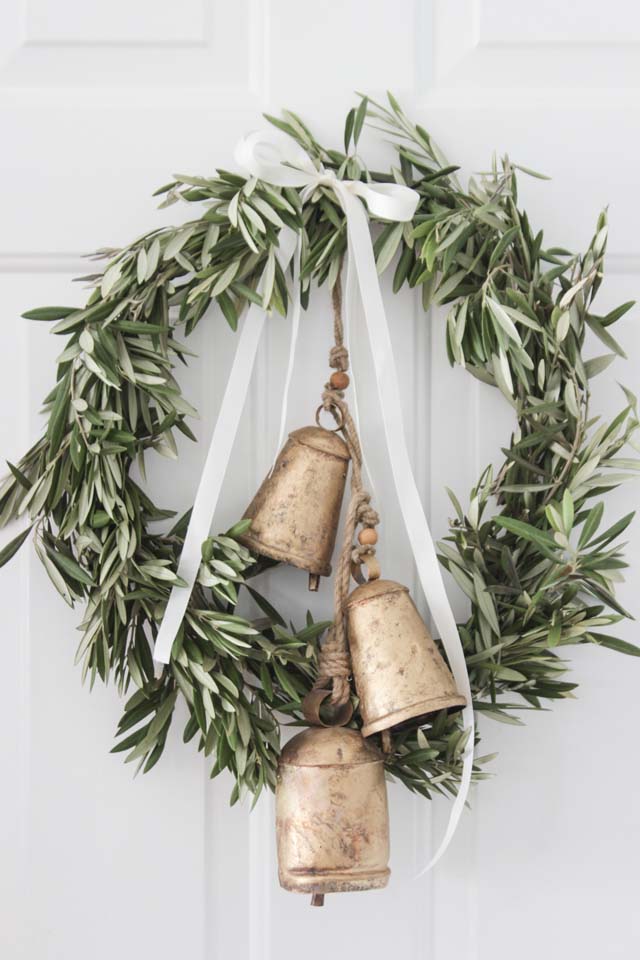 Fig leaves in a wreath fashion with vintage Christmas bells attached creates the perfect door ornament.
DIY Fresh Sage Wreath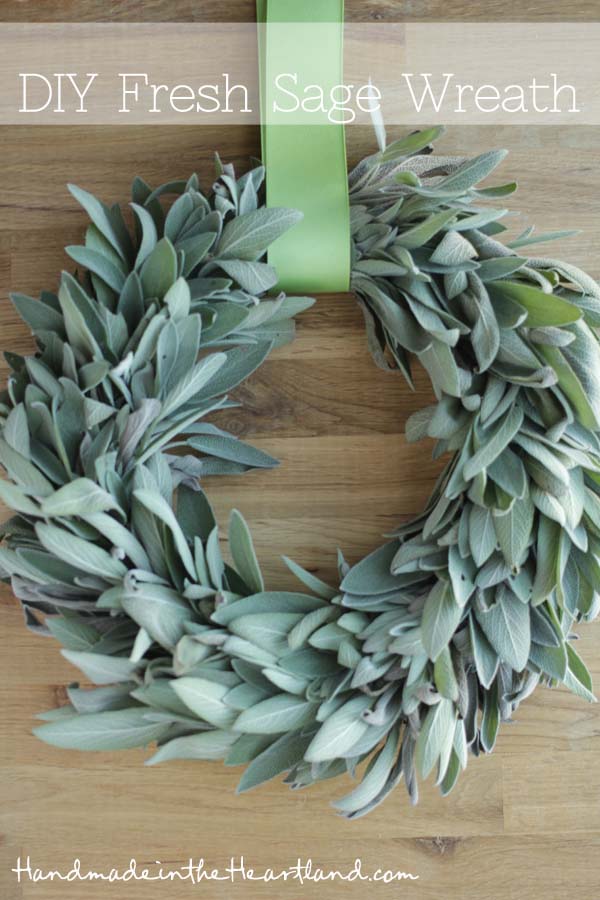 Use fresh sage to make a mini front door wreath.
DIY Gold Leafed Pine Cones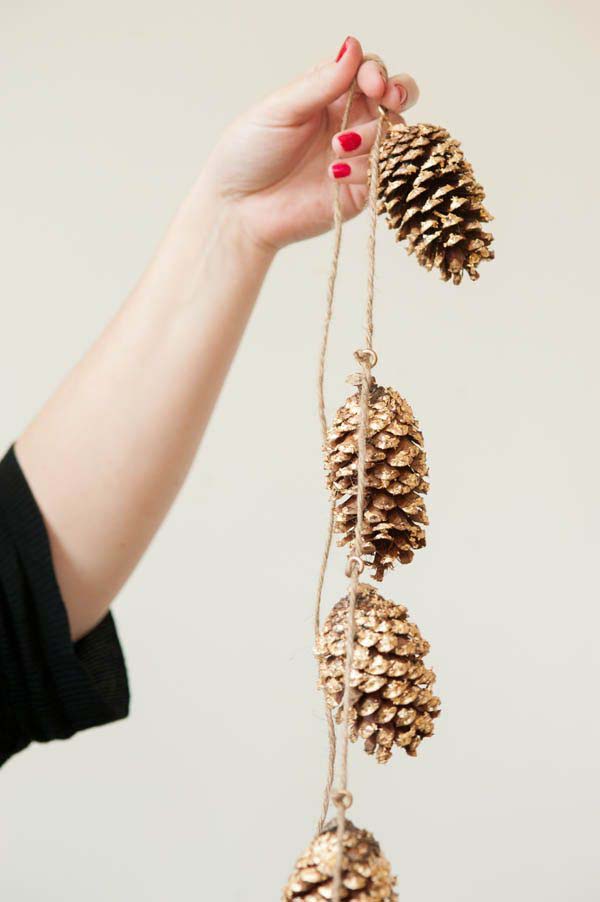 Gold leaf adds a Christmas touch to anything including a pine cone decoration.
DIY Pinecone Tree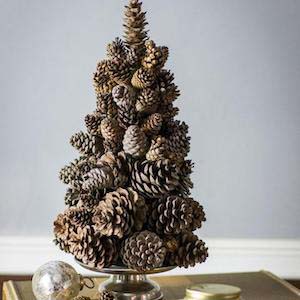 Gluing pine cones into a tree form creates the form of a Christmas tree but the look of pine cones!
via HGTV
DIY Place Card for Thanksgiving Tablescape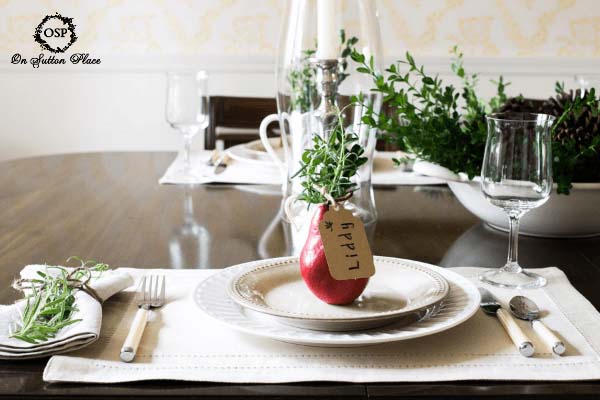 Complete your Christmas table with unique homemade name cards!
via On Sutton Place
DIY Rustic Wood Candle Holders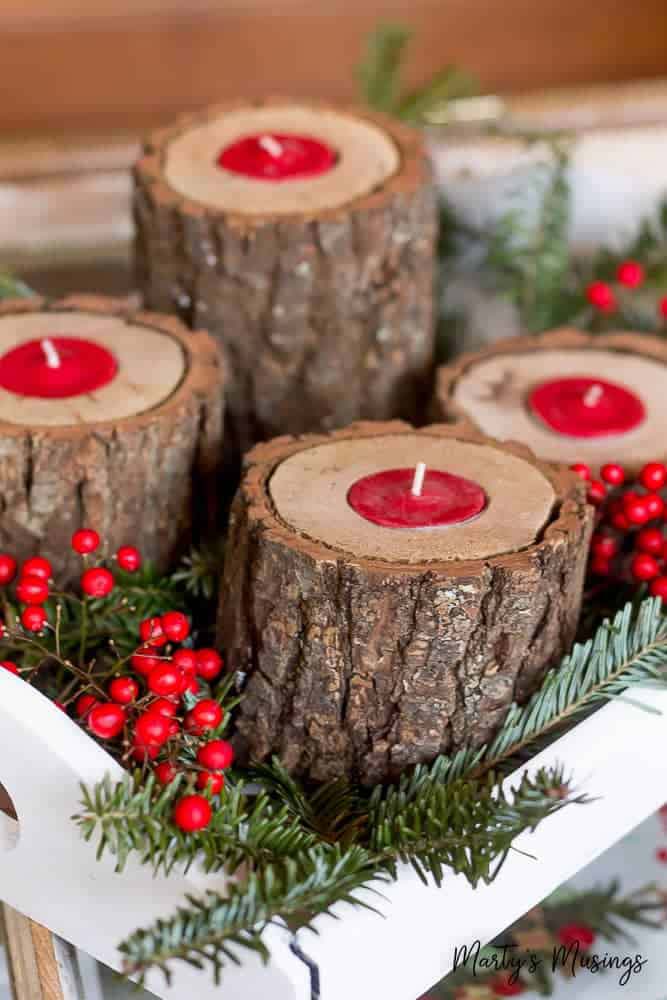 Using trimmed medium-sized logs as candle holders can create the perfect centerpiece for any Christmas themed event.
via Marty's Musings
Easy Holiday Table Decor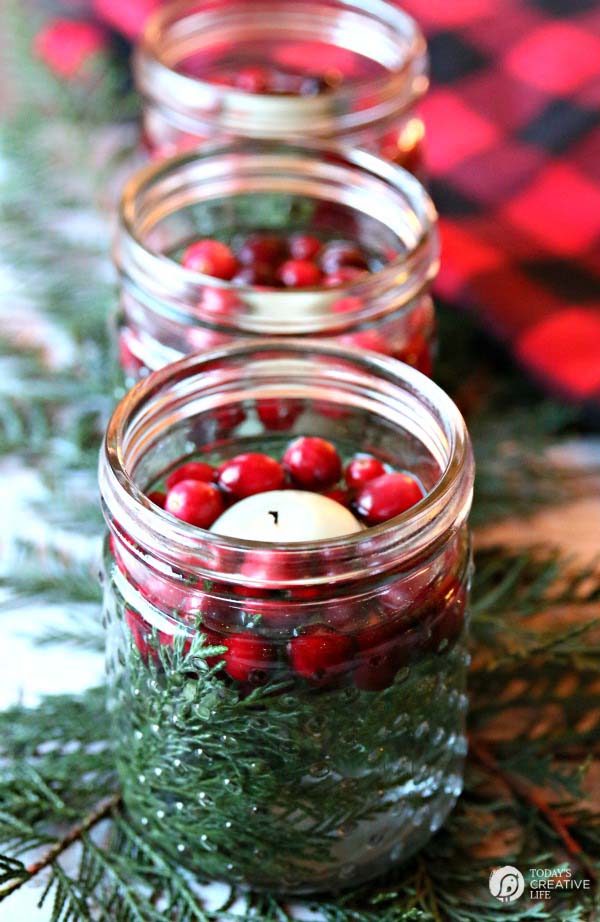 Mason jars with fir leaves and holly make the perfect base for a candle.
Easy Holly Centerpiece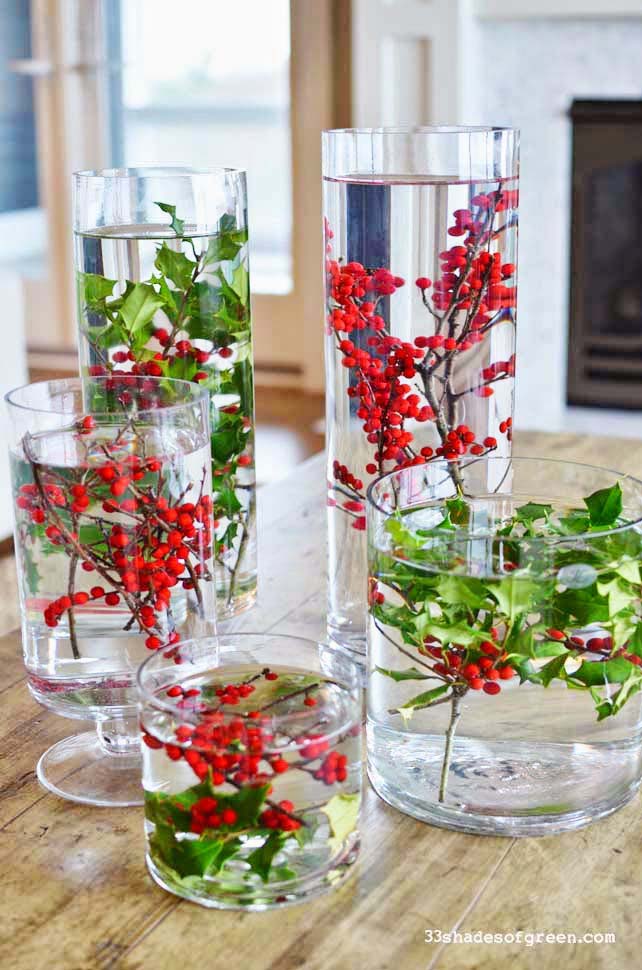 A simple but modern table centerpiece is a clear vase filled with water with fir and holly inside.
Easy One Hour Pinecone Wreath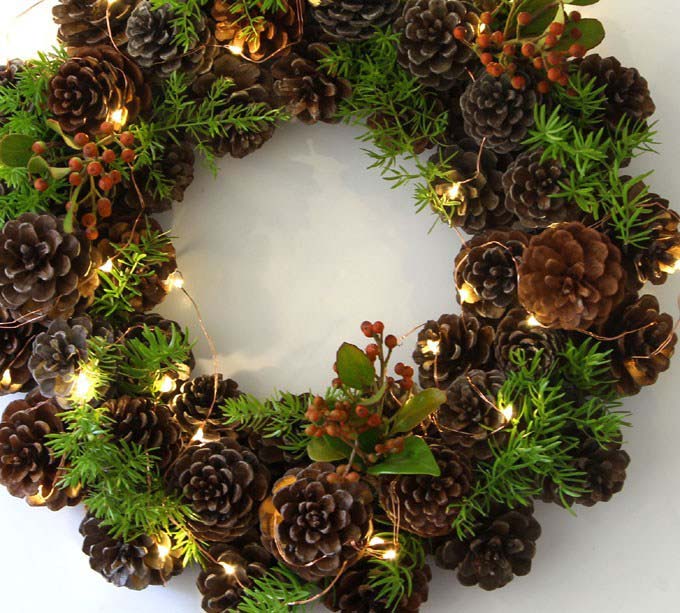 Fir and pinecones weaved and glued together can make a vintage front door decoration.
via Remodelaholic
Evergreen and red Christmas Centerpiece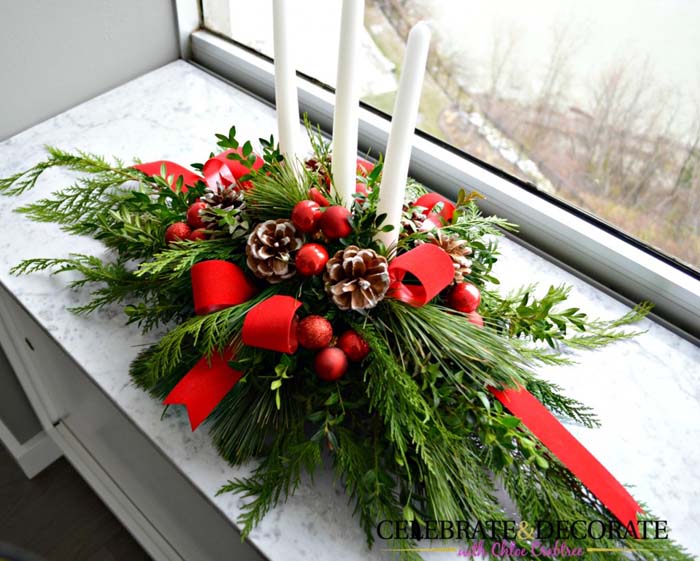 Evergreens, pinecones, and Christmas holly make a centerpiece worth photographing!
Farmhouse Chair Decoration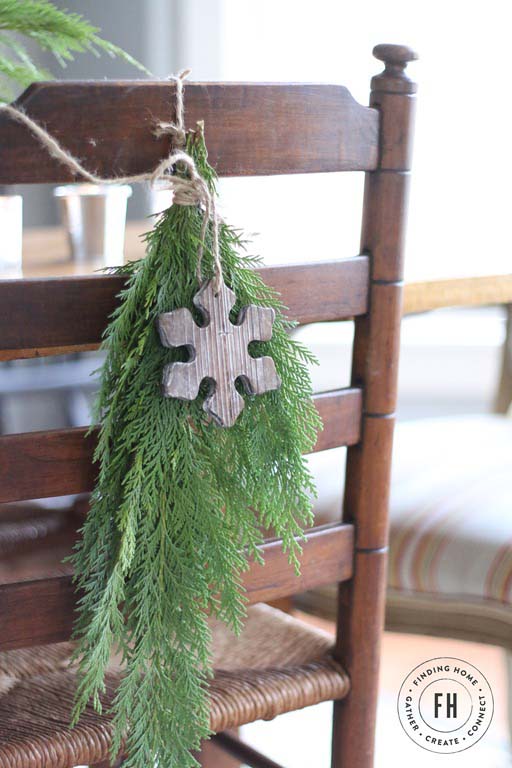 A repurposed vintage farmhouse chair with a wooden snowflake and Christmas fir makes a perfect spot for your guests to sit.
Farmhouse Christmas Tablescape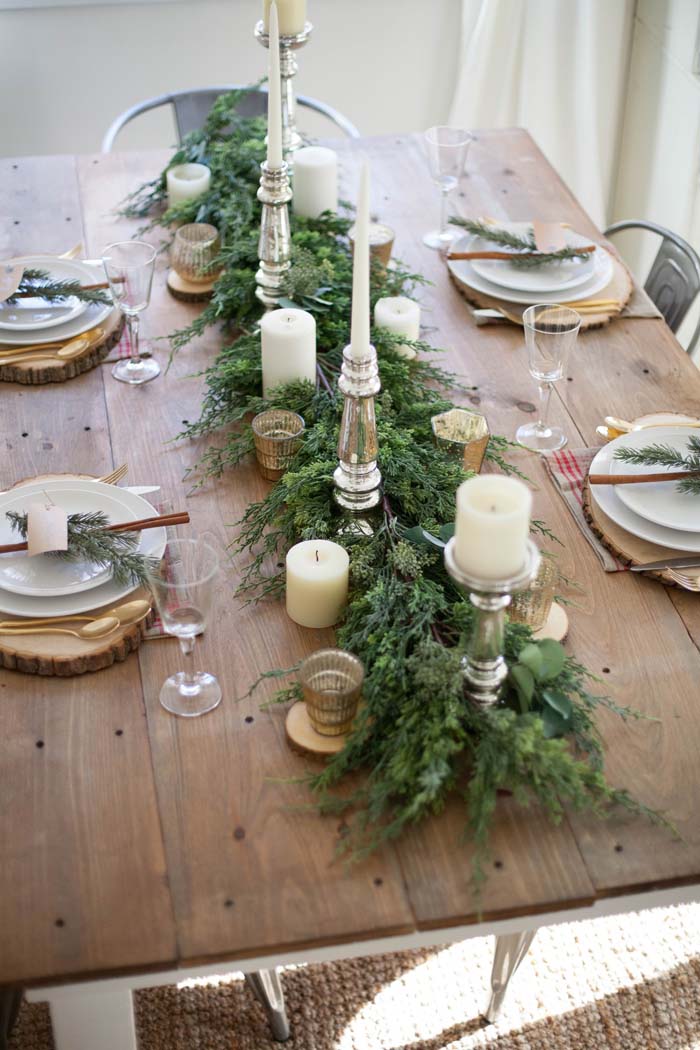 Make a whole Christmas table by mixing greenery, candles and gold candlesticks.
via Lauren McBride
Farmhouse Winter Porch Pot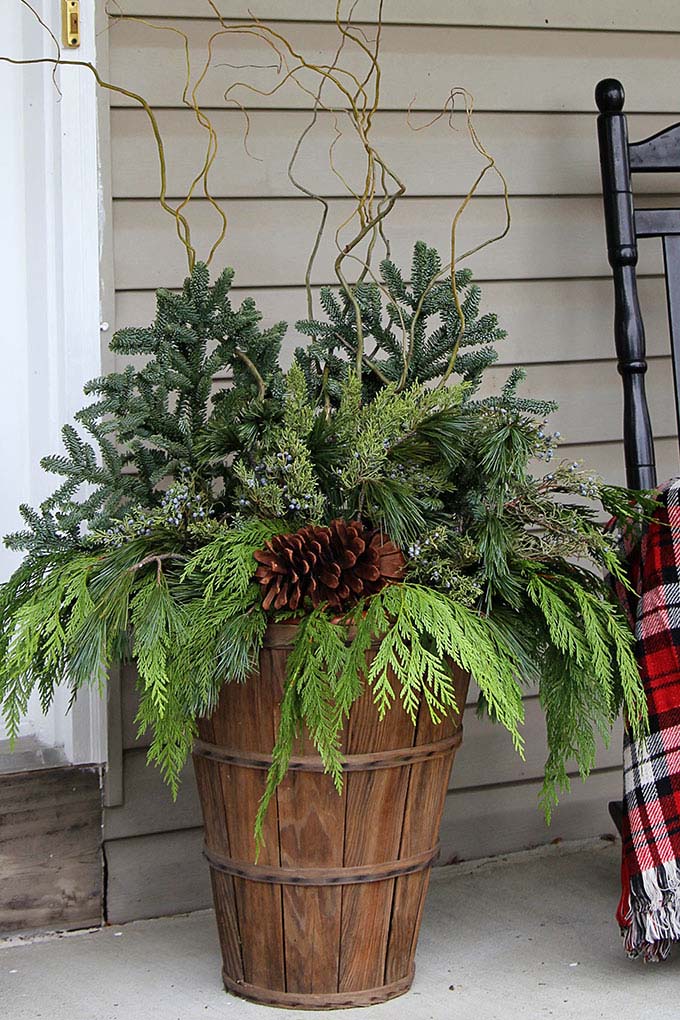 A wooden flower pot filled with Christmas green and holly make a cute porch decoration.
Festive and Frugal Christmas Porch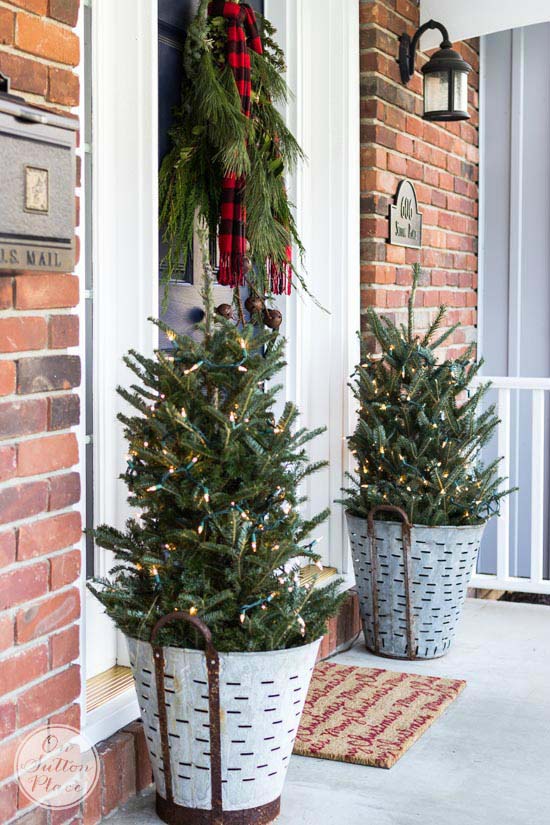 A cheap and easy DIY Christmas decoration is a mini Christmas tree in a metal pot.
via On Sutton Place
Floral Christmas Centerpiece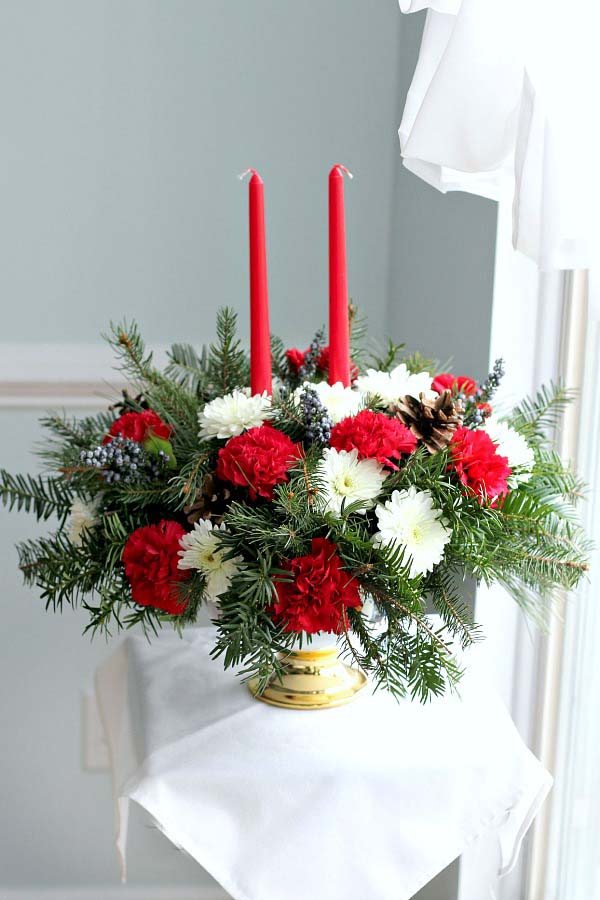 Red and white flowers mixed with greenery creates the quintessential Christmas centerpiece.
via Grateful Prayer Thankful Heart
Frosted Pinecone Ornament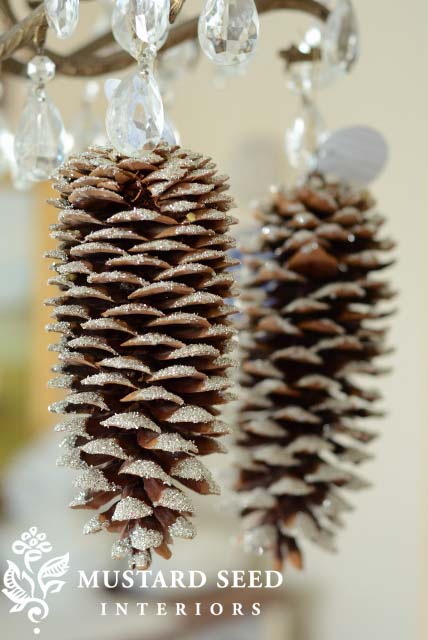 Hanging frosted pinecones are the epitome of Christmas decor.
Galvanized Christmas Basket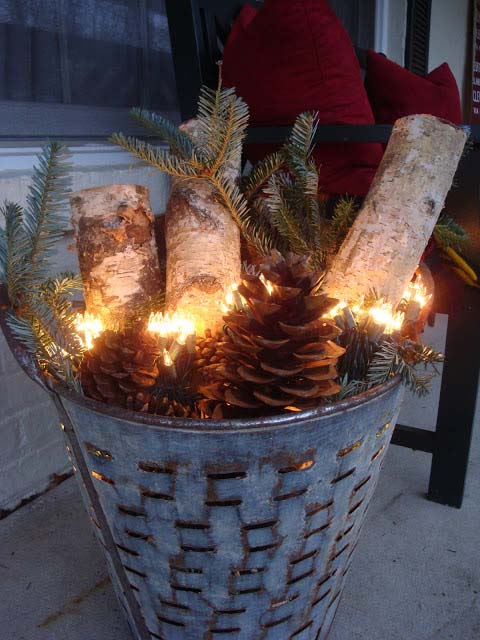 Galvanized baskets with wooden logs and green fir create a Christmas front porch flower pot.
via The Polo House
Greenery Garland Christmas Card Holder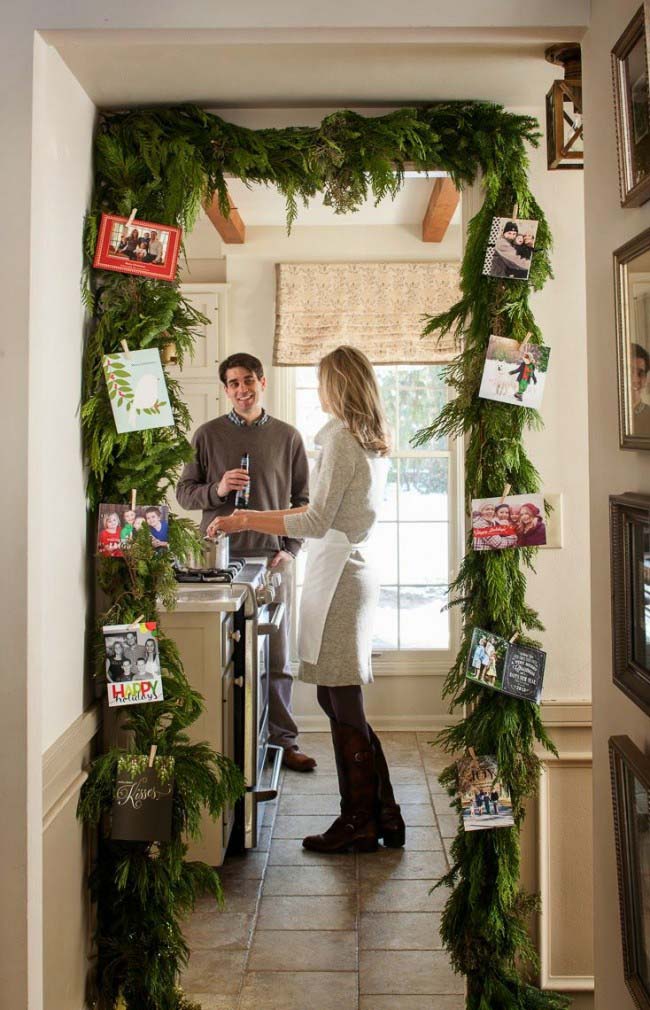 Use green garland with photos of your family and friends to create a Christmas memory garland!
via Simply Seleta
Holiday Holly Table Runner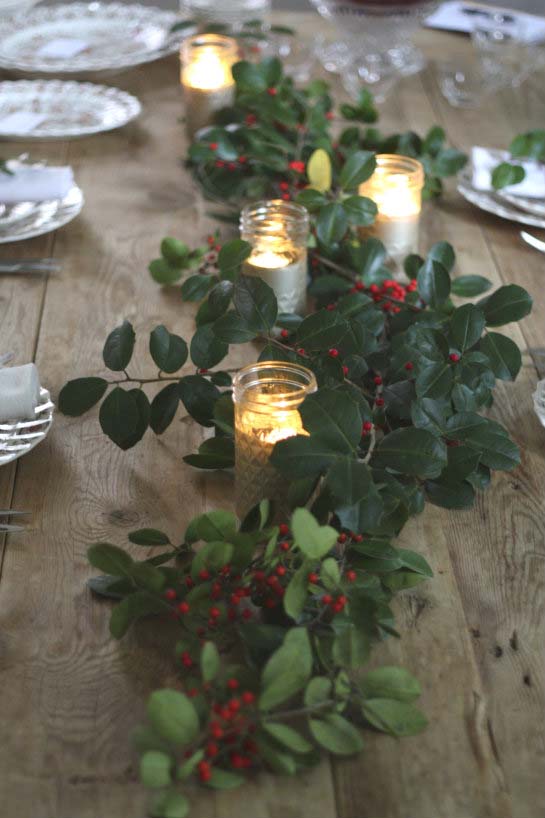 Holly table runners with Ball jars and candles create a simple DIY Christmas table runner.
via 17 Apart
Holiday Roses Centerpiece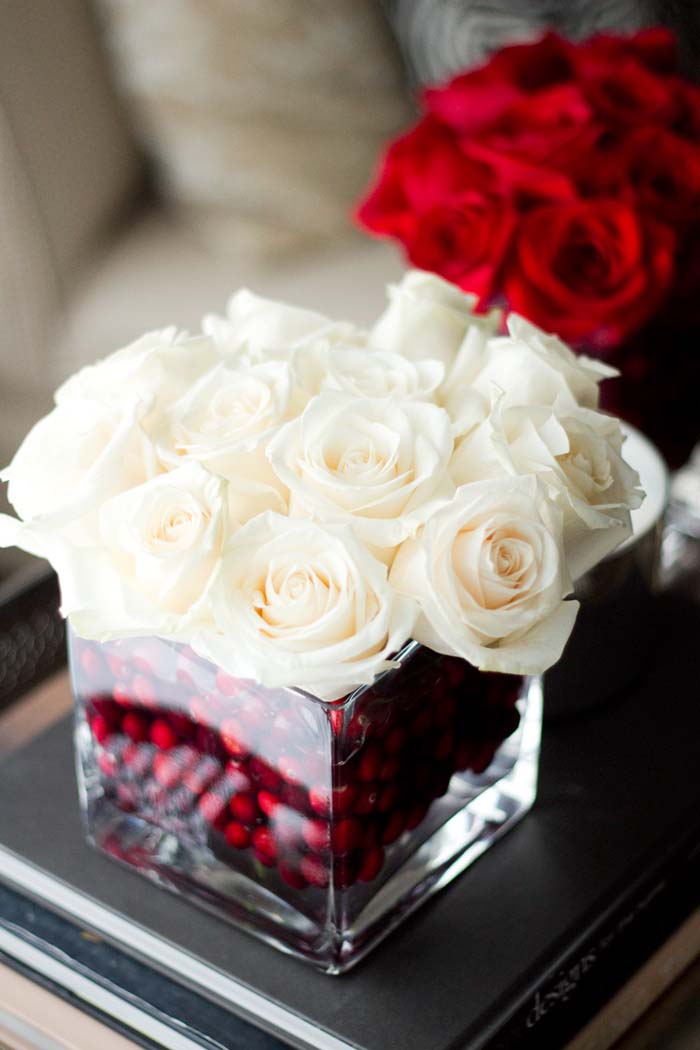 Roses are the perfect addition to any holiday.
Holiday Table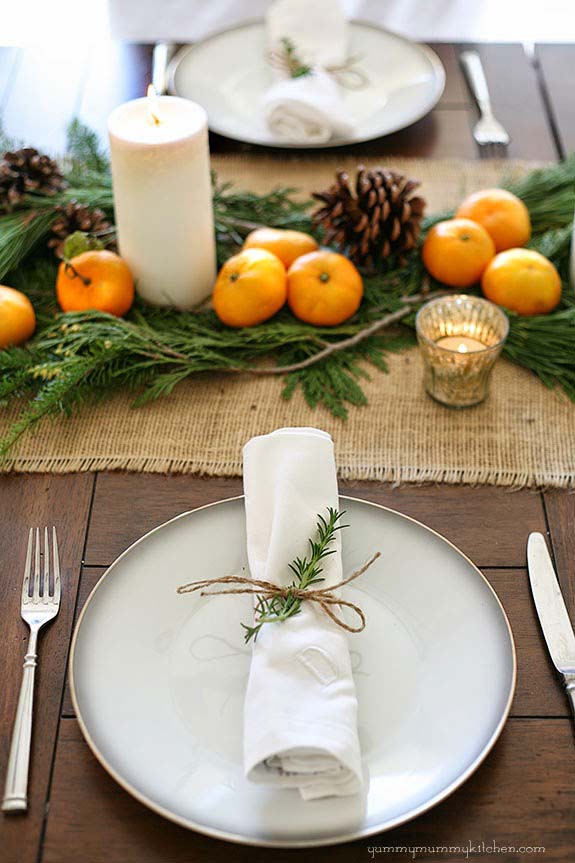 Fir spread through the center of the table with pinecones and mini oranges on top create a holiday centerpiece.
Mix that with burlap yarn tying a classic white cloth napkin and you have the perfect Christmas table!
Holiday Table Centerpiece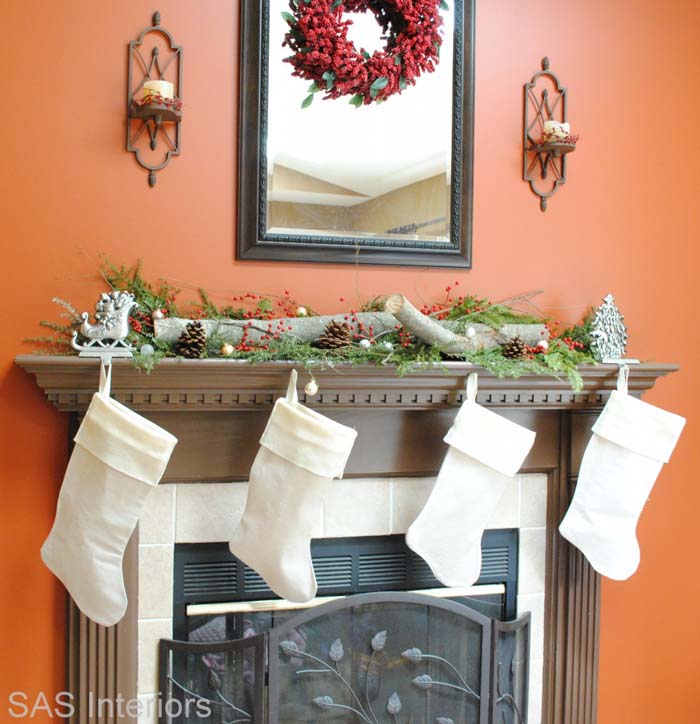 Using fir logs, mixed with a little Christmas greenery and holly can turn any room into a masterpiece!
via Jenna Burger
Little House Christmas Wreath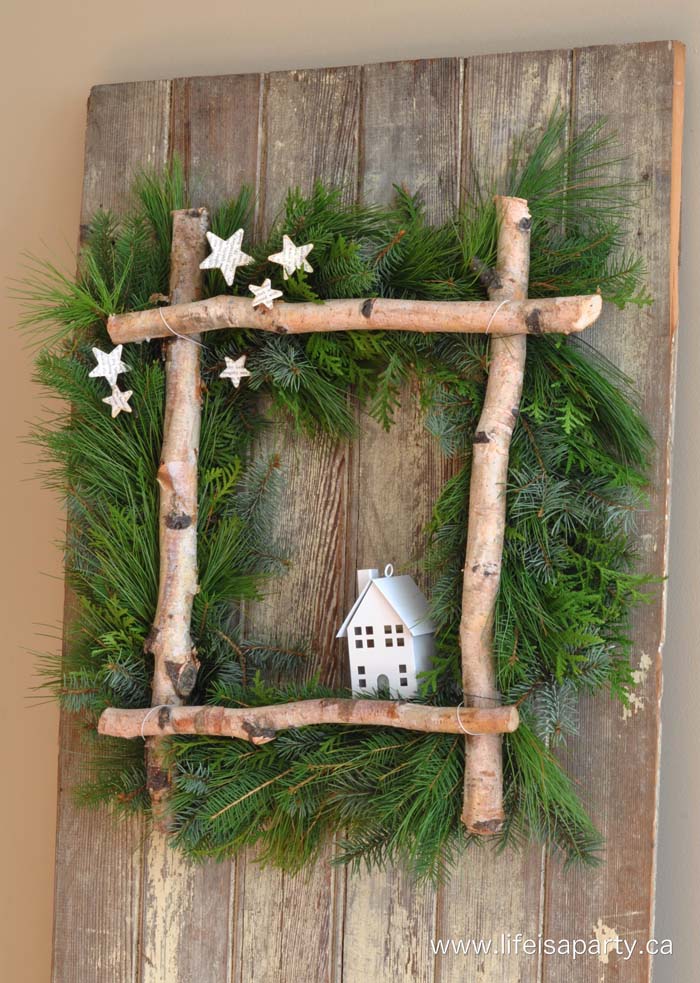 Fir limbs are the perfect product to create a square wreath. Place a little house in the middle to add the perfect touch.
via Life is a Party
Merry Christmas Scandinavian Wreath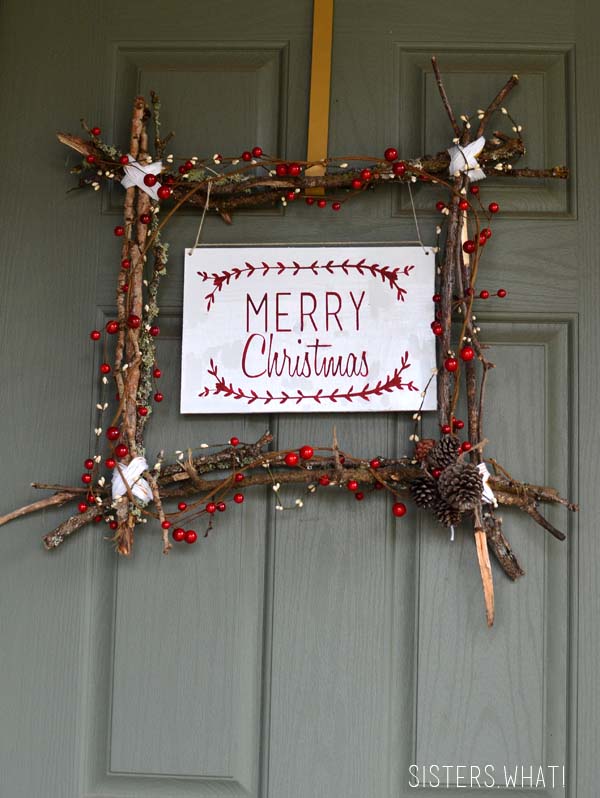 Twigs tied in a square with Christmas holly glued on makes a perfect modern wreath. Even add a little sign in the middle with a cute Christmas saying.
via Sisters, What
Natural Christmas Antique Buffet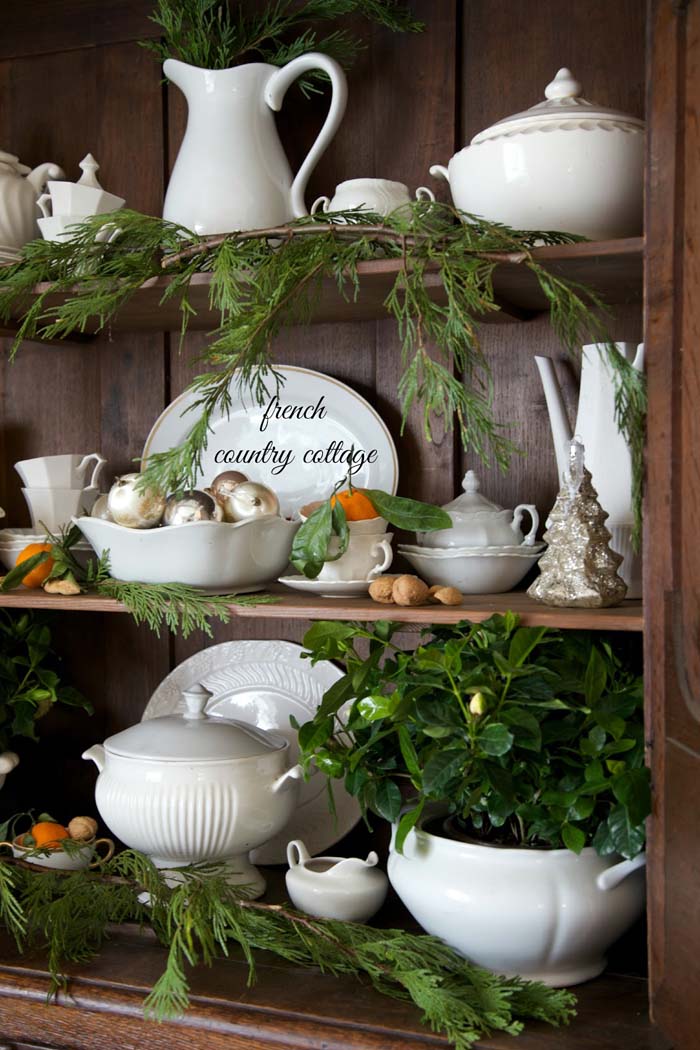 Display your fancy Christmas dishes with Christmas greenery and holly.
Natural Simple Christmas Mantel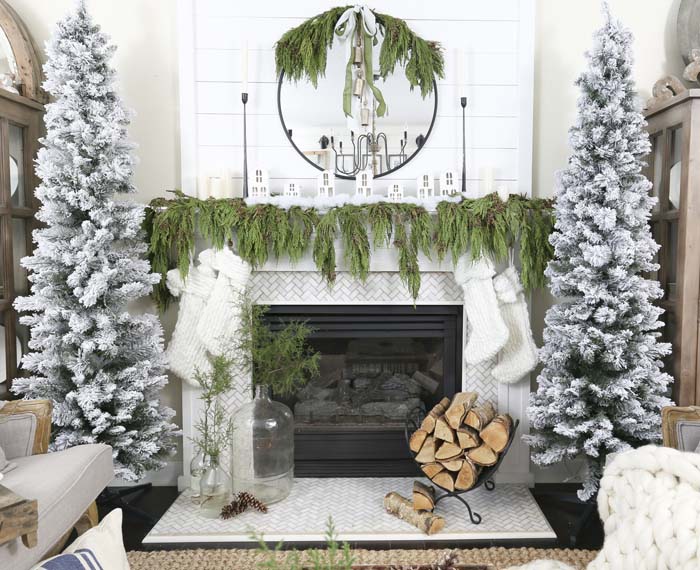 Create a whole Christmas scene with two white trees, a decorated mantel and a log holder.
via Plum Pretty Decor & Design
Pine Cone Christmas Trees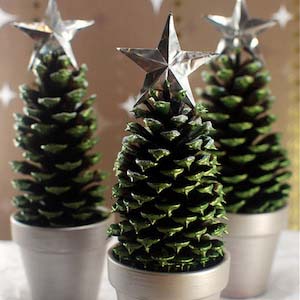 Green painted pine cones in mini cups look like mini Christmas trees! Especially if you put a little star on top!
Pine Cones Hanging from Window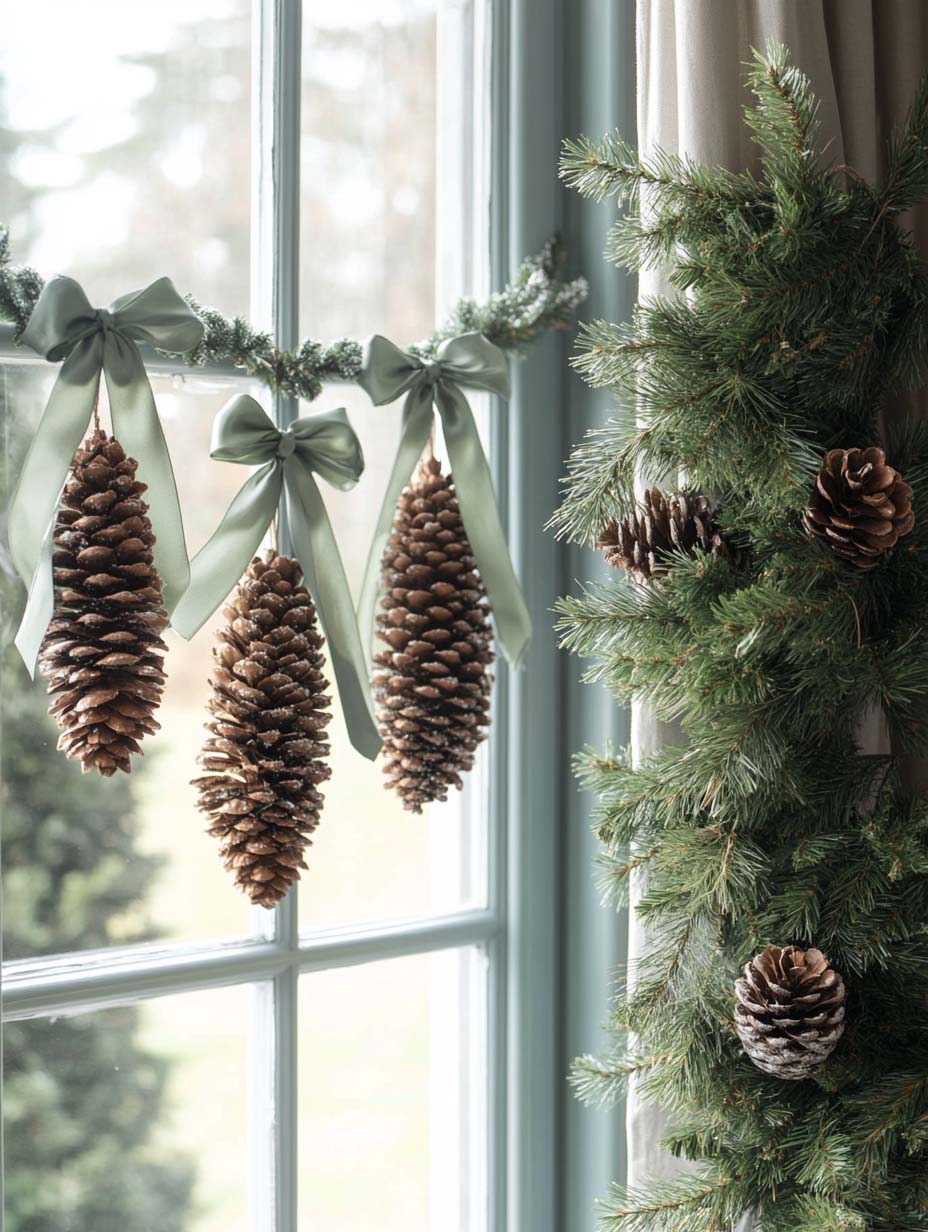 Pine cones hanging with red ribbon create a Christmas window piece.
Pinecone Cluster Door Hanger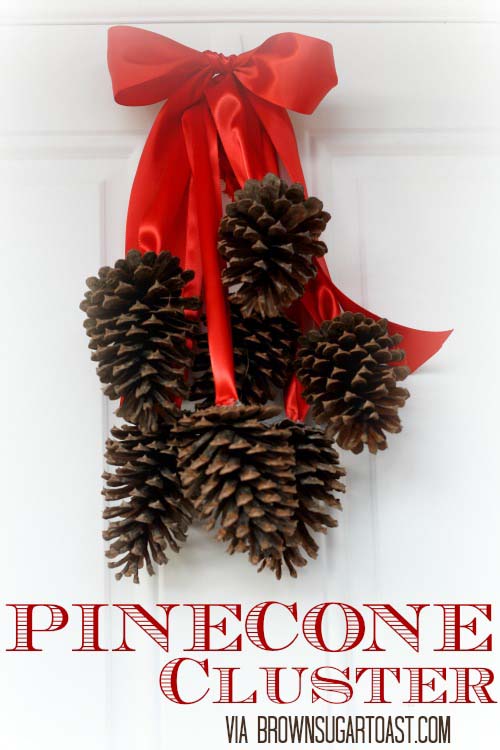 Use a cluster of pinecones and red ribbon to create a modern door wreath.
Pinecone Cone Wreath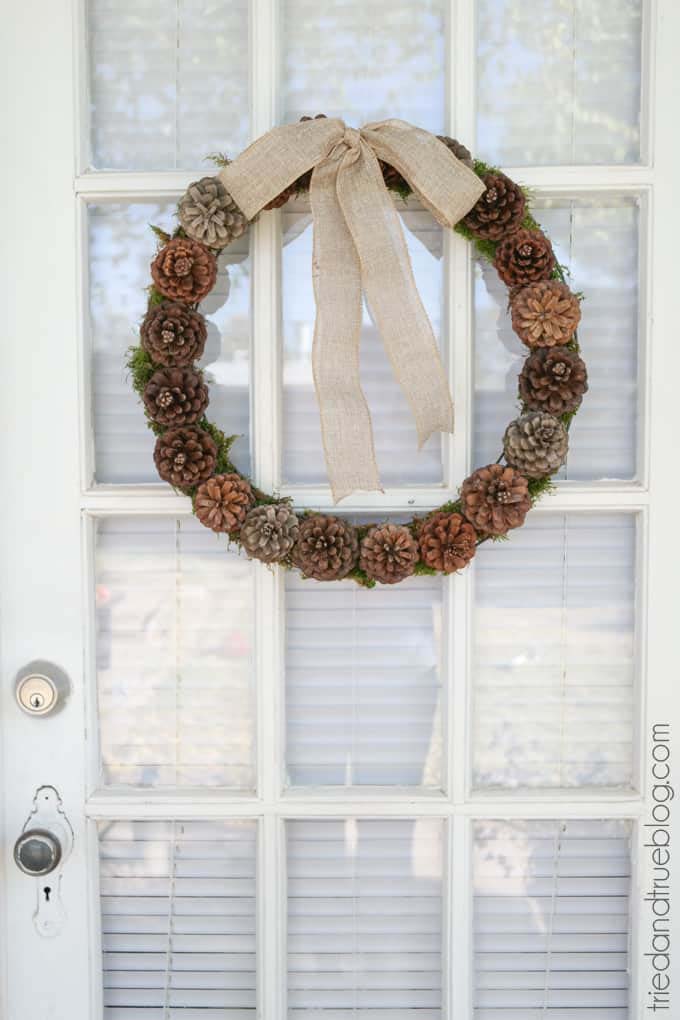 You can glue pine cones in a circular fashion to create a classic door wreath.
via Tried and True
Pinecone Ornament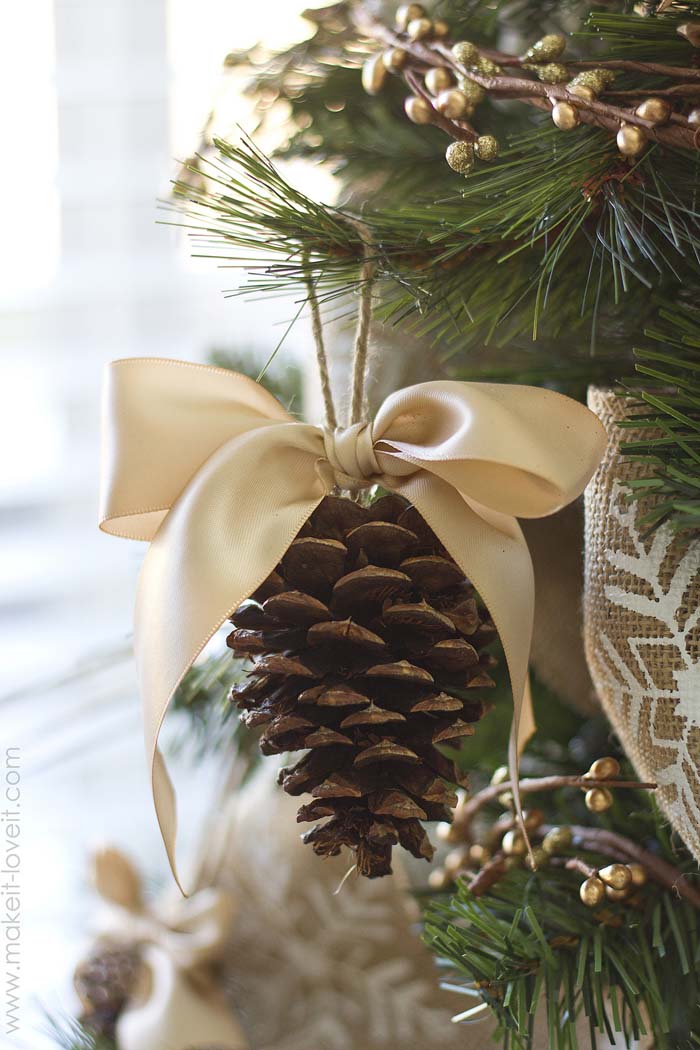 Hanging pine cones with a pretty bow on top creates a great Christmas ornament.
via Make it Love it
Pistachio Ornament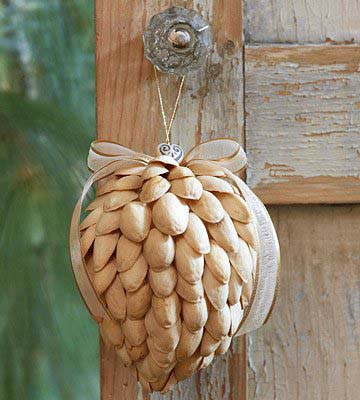 Don't throw your pistachio shells away! Use them to create a pine cone looking Christmas ornament!
Porch Chair Wreath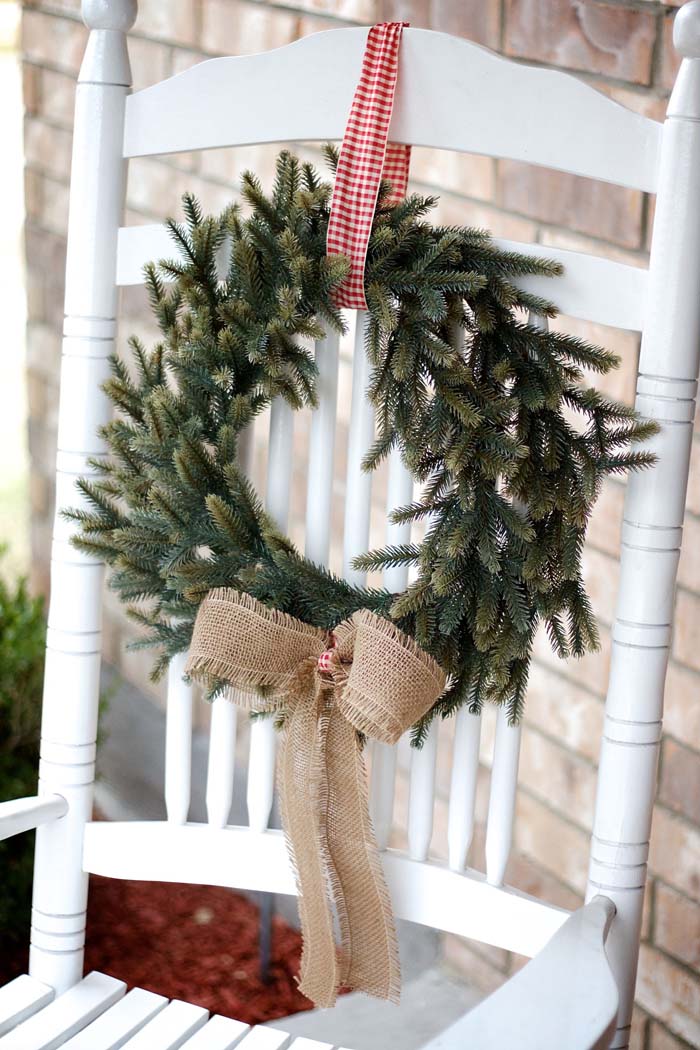 Evergreen tree limbs can be used to make a mini wreath perfect for fitting on a chair!
via The Morrison
Rosemary Christmas Wreath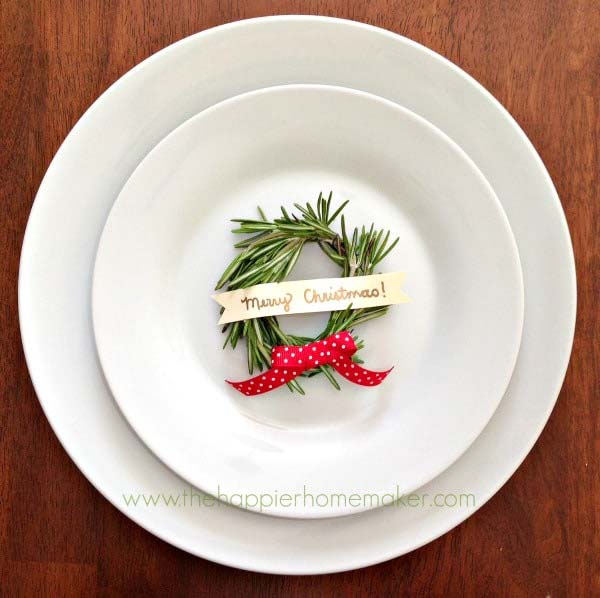 Rosemary creates the perfect mini wreath for decorating a Christmas party plate.
Rustic Christmas Vignette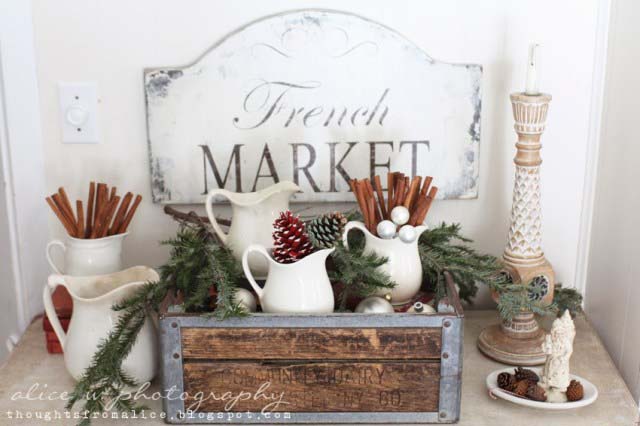 Beautiful Christmas dishes mixed with greens and cinnamon sticks are the perfect decoration for any Christmas table.
via Alice Wingerden
Rustic Winter Place Setting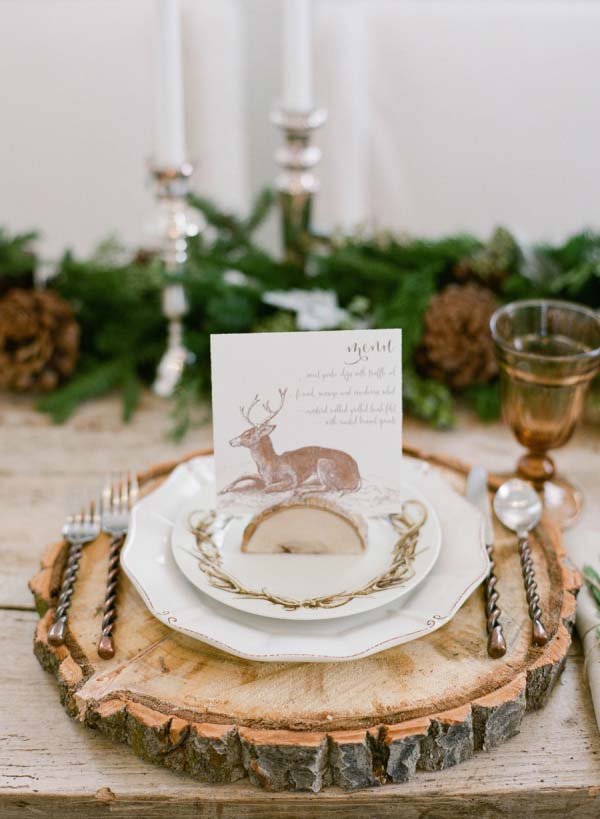 A mini half log creates the perfect finish place card for any Christmas table.
Simple and Pretty Christmas Centerpiece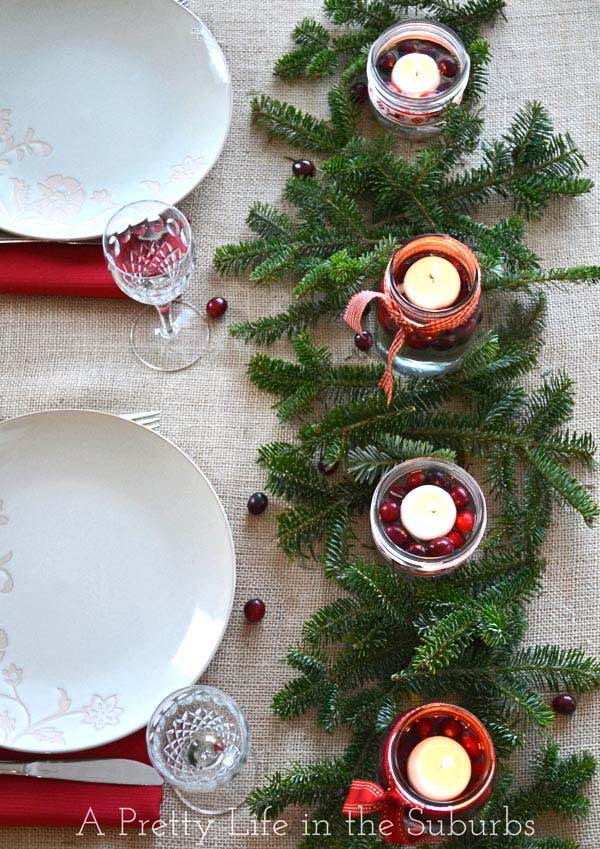 Simple Christmas centerpieces always include evergreen, a plaid ribbon and canning jars!
via A Pretty Life in the Suburbs
Simple Christmas Table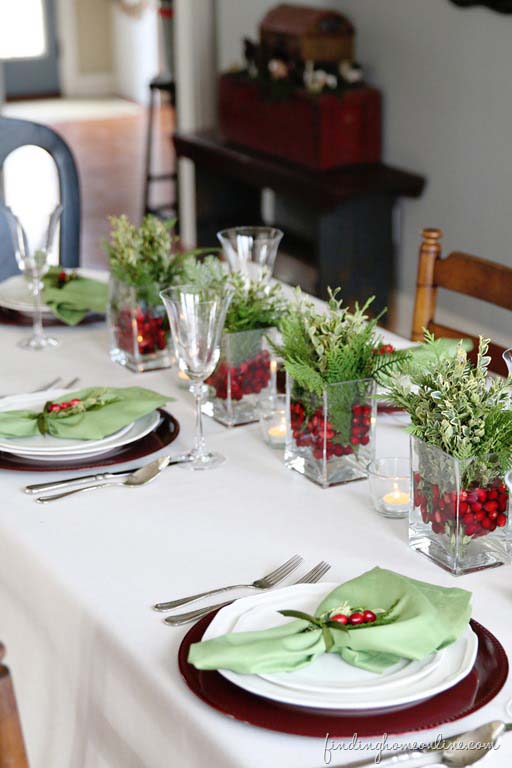 Make simple Christmas table decorations with square jars, holly berry and fir tree.
Holiday Decor Eucalyptus Candles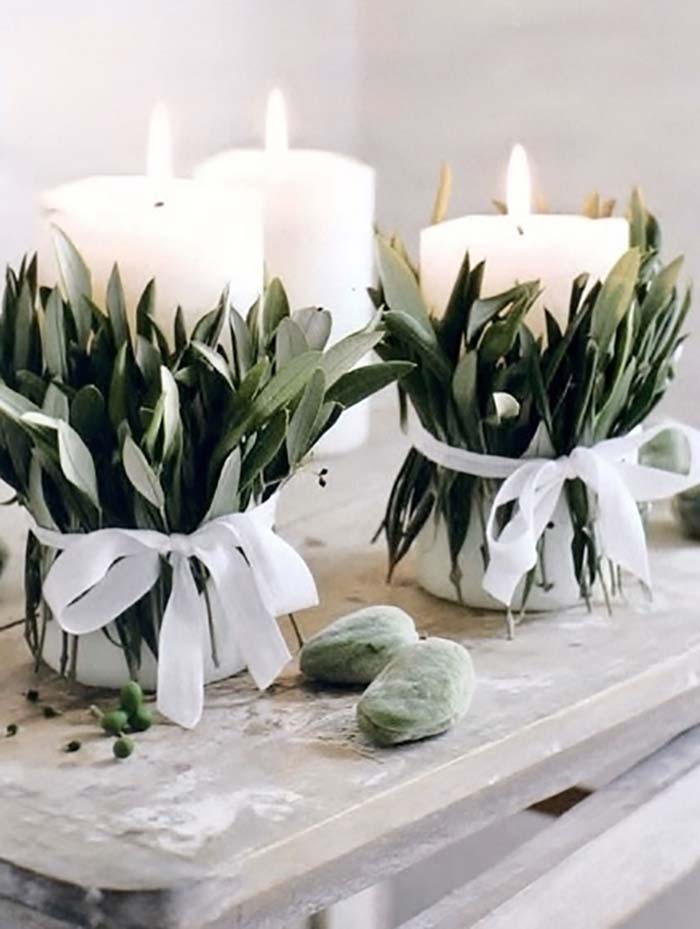 Eucalyptus is another Christmas classic. Tie it to large candles for a cute holiday centerpiece.
Terra Cotta Christmas Decoration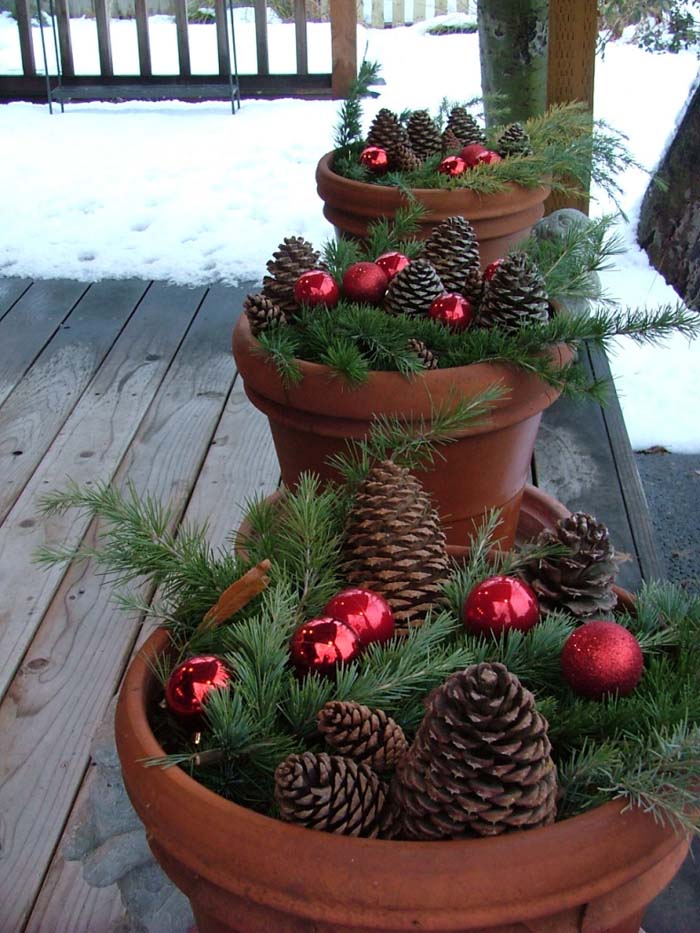 Large terracotta planters are the perfect base for evergreens and pinecones to create a cute Christmas porch decoration.
Warm Cozy Christmas Foyer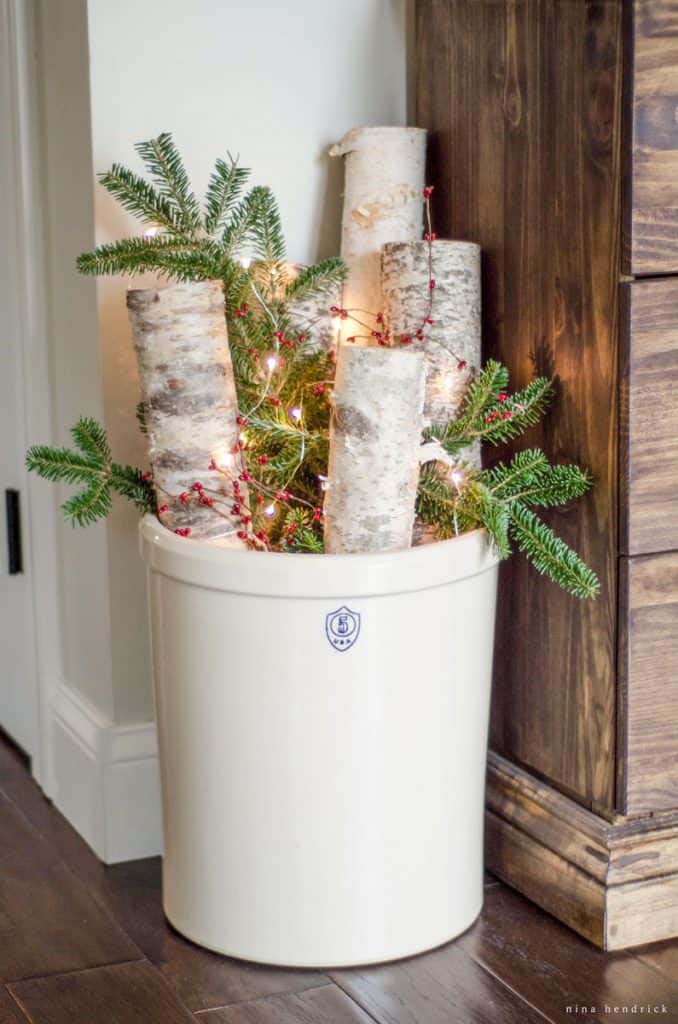 Fir tree logs, ever greens and a planter create a super adorable front room decoration.
via Nina Hendrick
Winter Wedding Centerpiece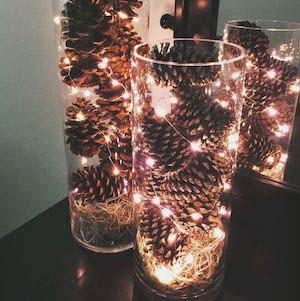 Getting married in the winter? Try these cute pinecone Christmas decorations for your table centerpieces.
Wood Log Snowmen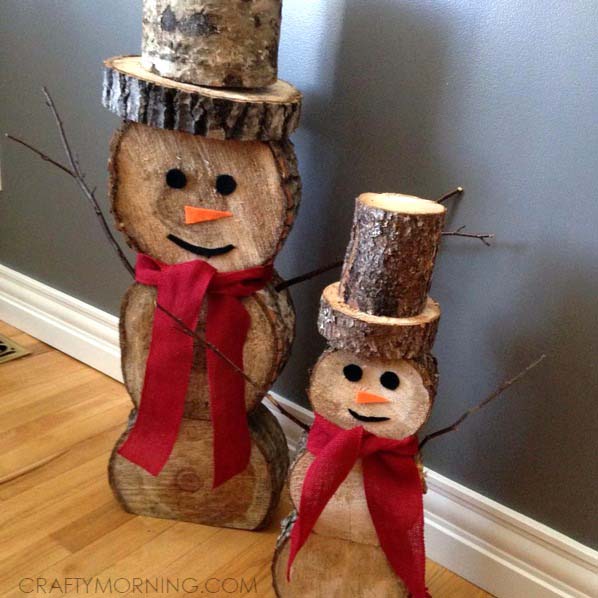 Create adorable snowmen out of wooden logs. Add sticks for arms and cute googly eyes.
via Crafty Morning
Wood Slice Wreath Ornament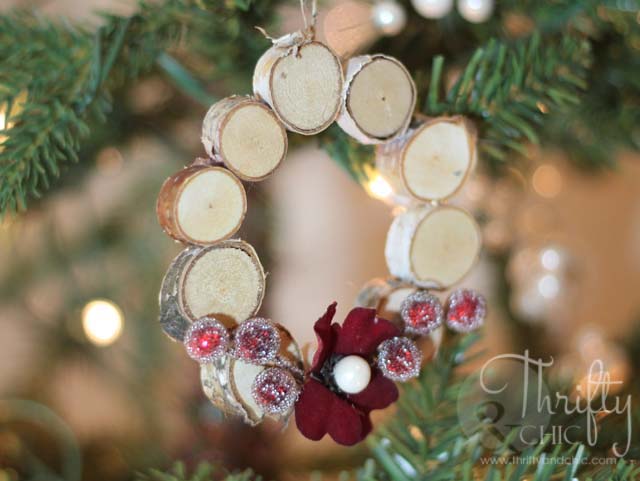 Small twigs sliced can be glued in a circle to create perfect wreath ornaments.
via Thrifty and Chic