Aaaah, Christmas, that magical time of the year in which everyone is in love with it and would like to have it as long as possible.
Christmas is a holiday, full of love, family gatherings, presents and surprises and…of course, Christmas decorations. And not to mention Displaying Your Christmas Decorations Earlier Can Make You Happier
What's a Christmas without the decoration – whether it's a tree, front porch, staircase, table setting…let's bring the magic in our home.
So where do you think the Christmas decoration has to start? Yes, you are right – before we even entered our home there must be something to invite us to the magical world of Christmas celebrations.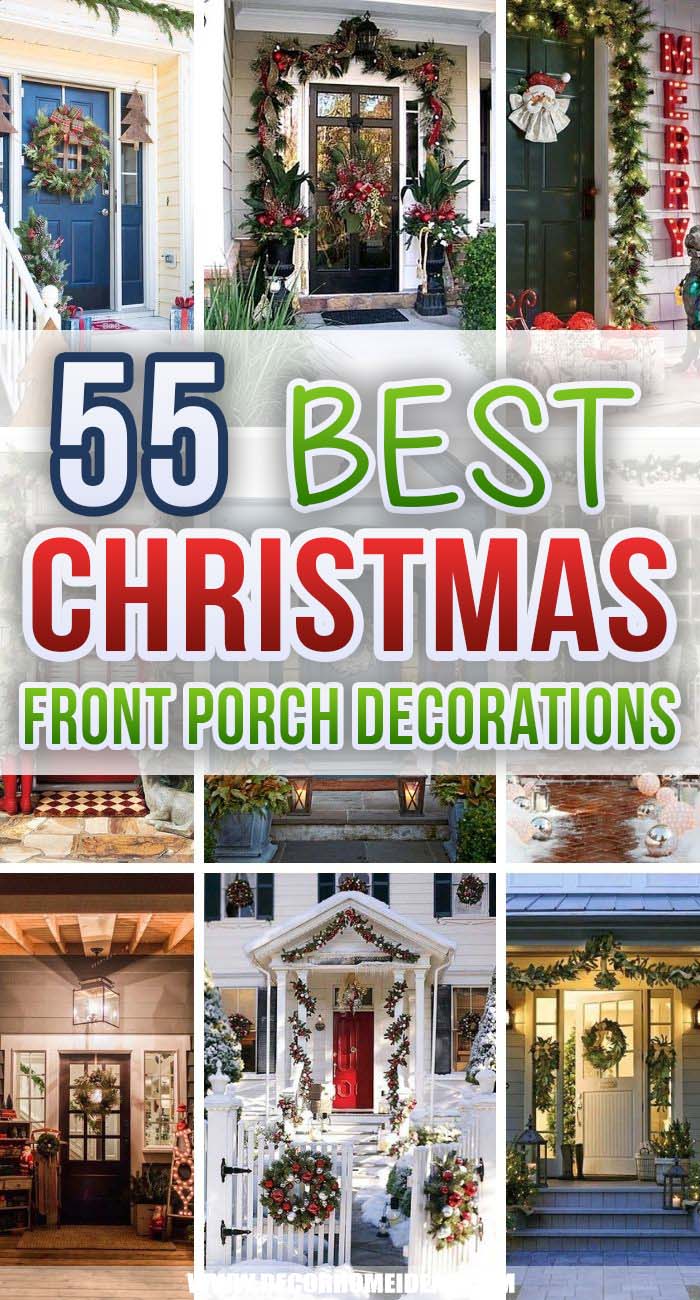 And as we don't want you to get lost with all the types of Christmas lights you can use we have an amazing Buying Giude on Christmas lights – Here.
Let's start browsing the ultimate selection of 55 Amazing Front Porch Christmas Decorations You'll Love To Recreate – you can DIY each of these decor ideas and impress your friends, guests or even passing by neighbors.
As a matter of fact the most impressed ones will be you and your family as it's your home!
1. Adorn Your Porch with a Festive Greenery Garland and Wreath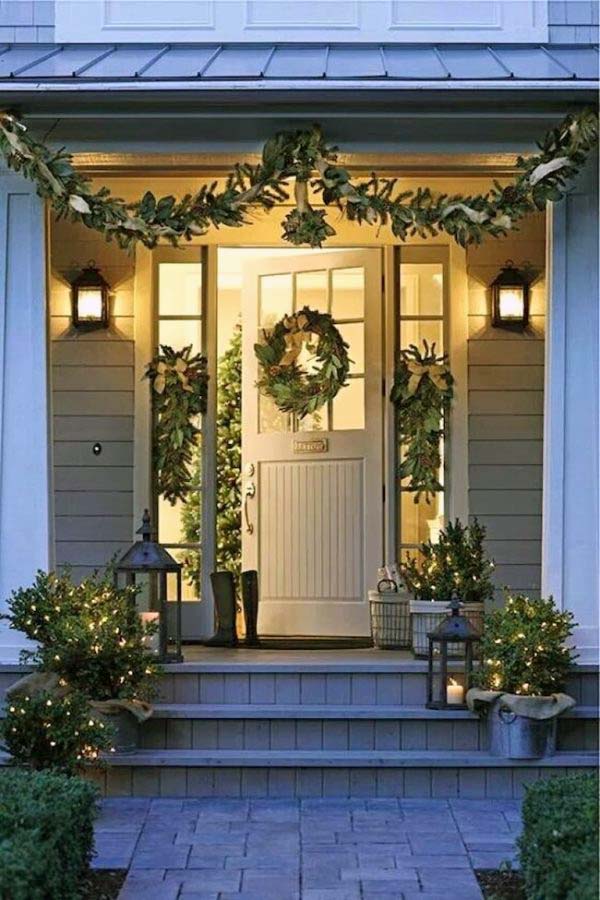 Photo:Credit
This front porch Christmas decoration is full of accessories – garlands, lanterns with lit candles, buckets, wreath, lined baskets and more… They are well selected to match each other.
The main accent is the Christmas tree which is inside the house, but all the decorations lead to it. You can buy the same decor items and arrange them the same way to achieve similar look.
Items needed and where to get them to recreate it:
You can use the ribbon to decorate wreath, garlands and the teardrops. You can also get some cheap Christmas lights to put on all the side plants and make them look like a mini Christmas trees.
Don't forget to match the color of each item to keep the line of decoration the same.
2. Elegant Front Door Look with Black Planters and Lanterns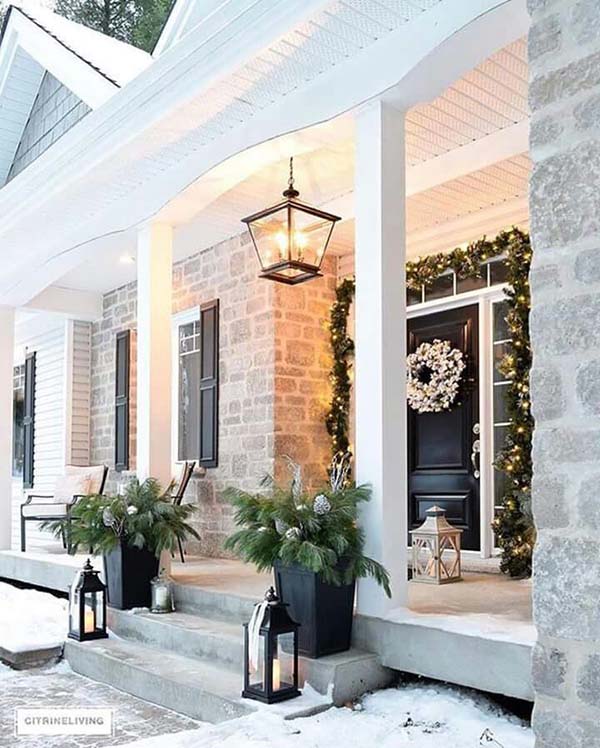 Photo:Credit
Here the main accent is the front door which is made of dark wood, so Christmas decorations are in lighter colors.
There is one big pre-lit garland ( you can connect 3 smaller ) which surrounds the door and gorgeous white or flocked Christmas wreath.
Decorative lantern at the porch and two black lanterns and two flower pots at the stairs.
3. Bring Christmas Cheer with Elegant Deer Porch Decor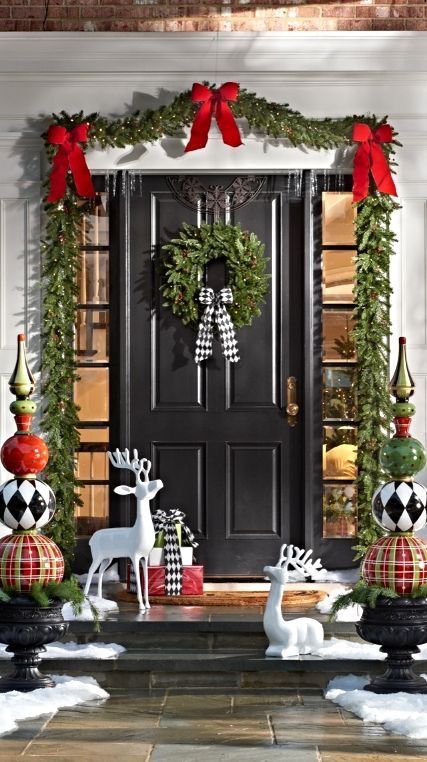 Photo:Credit
This one is much more colorful as there is red included. The two ceramic deer statues and the roman flower pots with big Christmas tree topper decorations are gorgeous.
Several present boxes are supposing Santa Claus have already visited this nicely decorated front porch.
4. Create a Winter Wonderland on Your Porch with Lanterns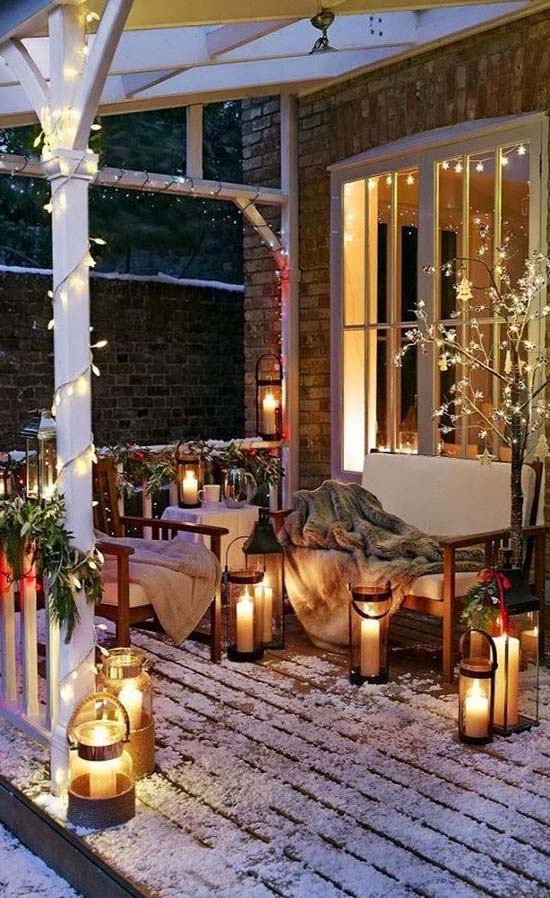 Photo:Credit
They say the perfect Christmas decoration is a blanket, cup of tea and someone to cuddle with.
Well, that's not far from truth, but why not add some Christmas lights, decorative lanterns and one or two garlands? Makes this the perfect front porch.
5. Welcome Guests with a Merry Christmas Sign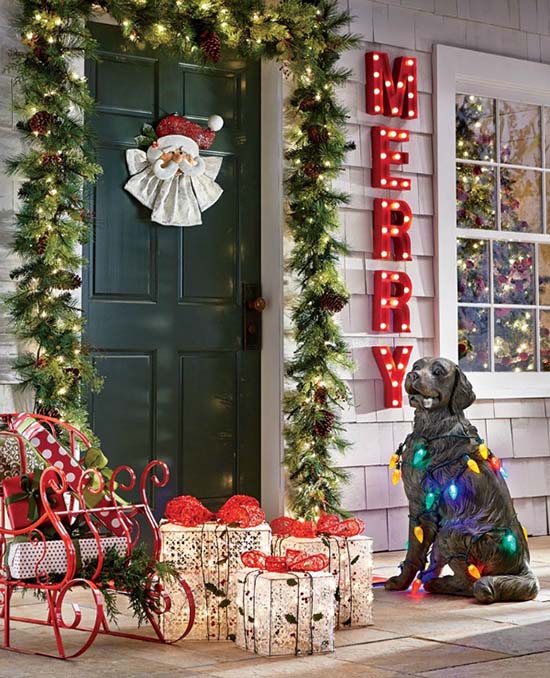 Photo:Credit
What a warm and inviting decoration, right? I really liked the LED lights letters that are creating the word Merry. You can put a Santa Claus door decoration.
Don't know where to find the sleigh, if anyone knows, please share it with us. For real dog lovers there is the Golden Retriever statue.
6. Bring Farmhouse Charm to a Porch with Christmas Decorations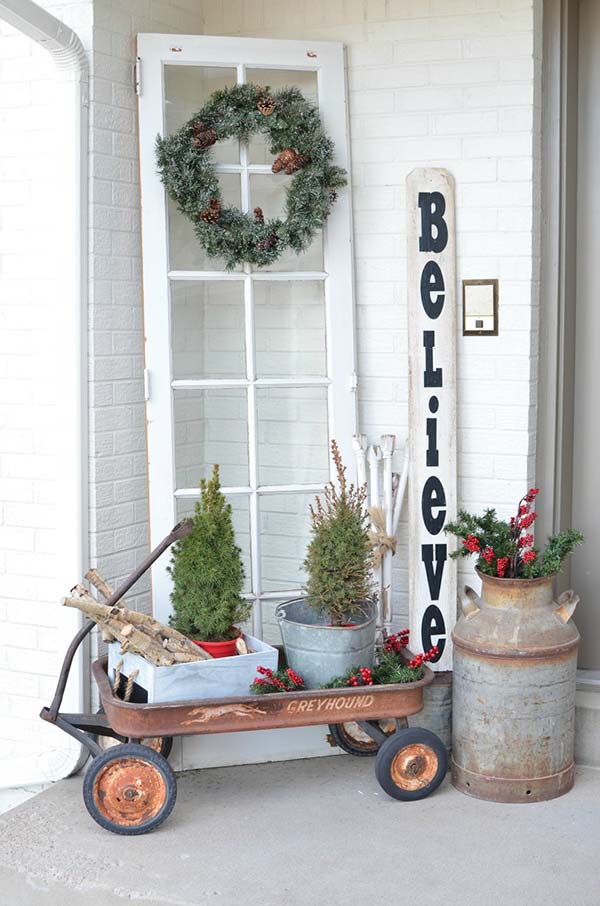 If you want more simple decoration for Christmas, why don't you try creating something like this.
While there are the required piece of decoration, there are some more Christmas farmhouse decor items that create another type of atmosphere.
You can get all the information on creating this look at Sarah's blog.
7. Make a Rustic DIY Snowman with Wreath Accent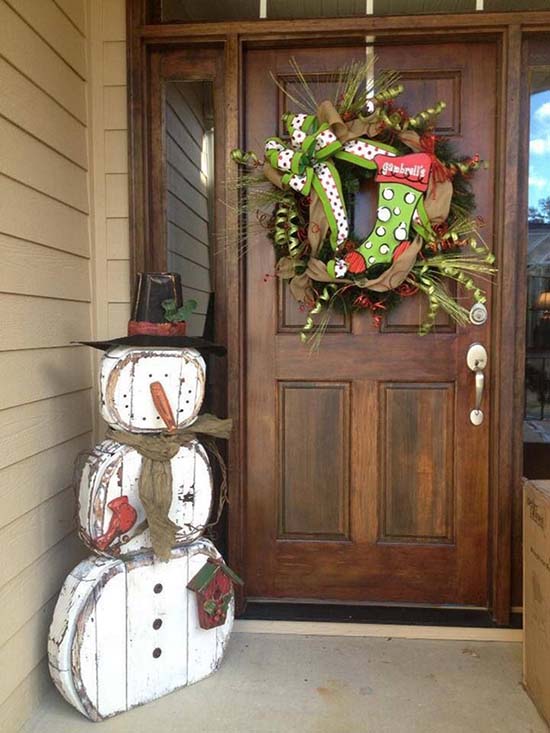 If you like DIY projects than this Christmas decoration is just for you. The snowman and the wreath are all made of repurposed items and you can easily recreate it.
Get full details here: DIY Snowman
8. Brighten Your Porch with Decorative Christmas Lanterns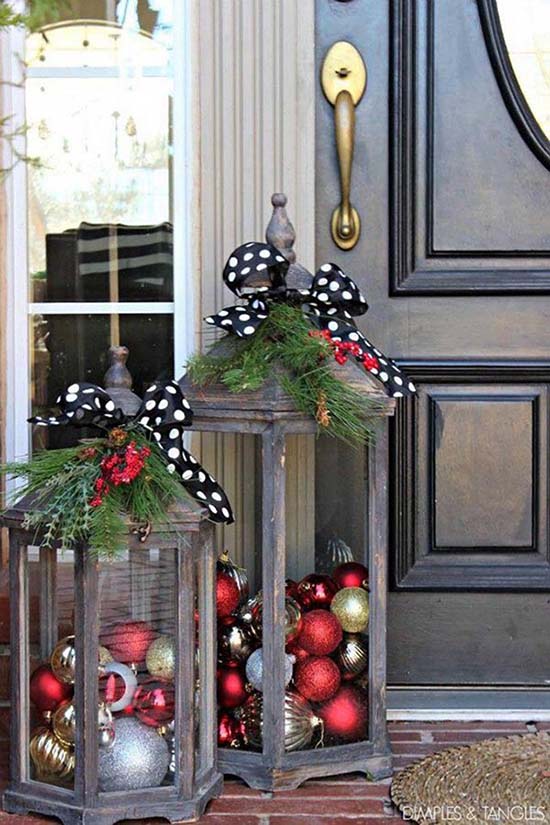 Photo:Credit
Another simple Christmas front porch decoration – decorative lanterns, ribbon and some Christmas ornaments. You don't need to put a lot of stuff to create great setting.
Several items are more than enough to add the mood and holiday atmosphere to your home.
9. Make a Statement with Your Front Porch Christmas Decorations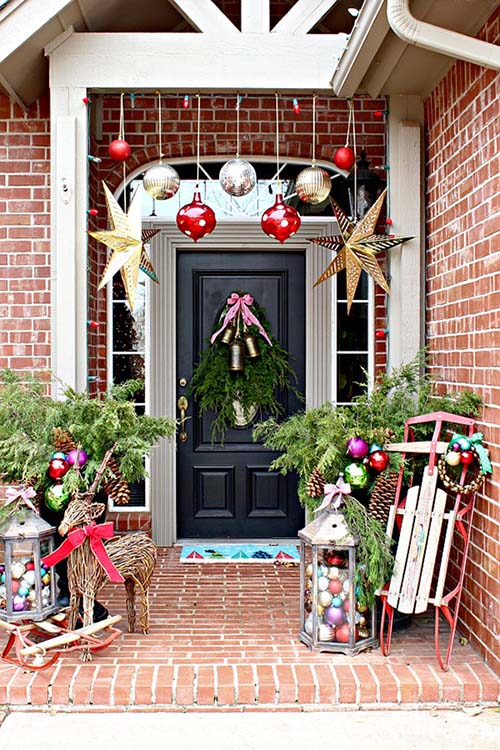 You can see what Jennifer from Dimples & Tangles have created with her front porch.
It's a nice selection of ornaments and decorations for her Christmas front door.
10. Get Ready for Christmas with a Festive Red Door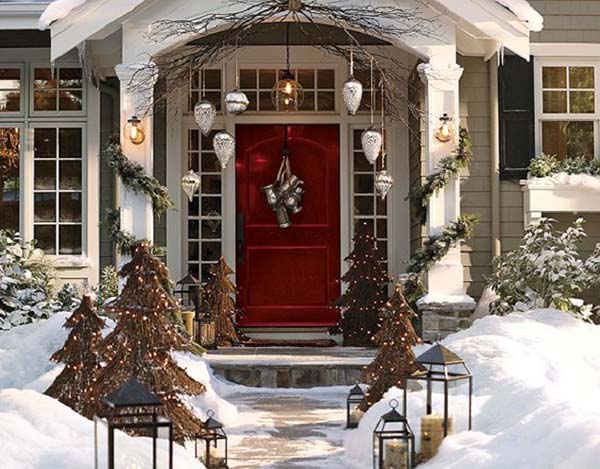 Photo:Credit
When you have your door painted in red, you are already prepared for the Christmas holidays.
Adding some Christmas trees, ornaments, garland and lights and you have the best front porch Christmas decoration in your neighborhood.
A lot of snow could add the needed touch to make it perfect.
11. Christmas Porch Decor for Warm Areas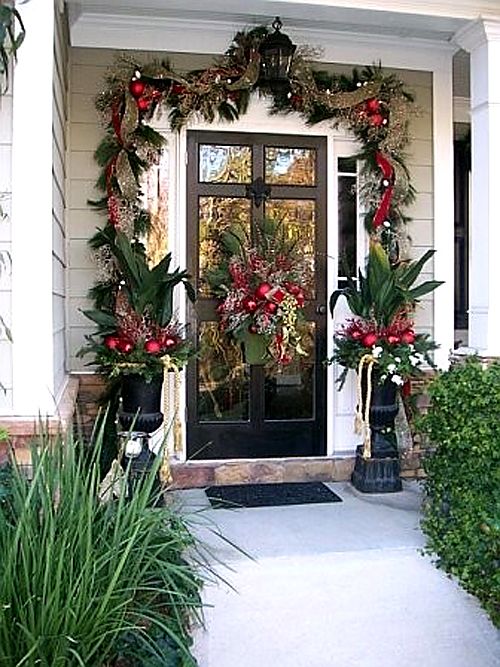 Photo:Credit
Beautiful Christmas decoration is not only for areas with snow and cold weather. Even if you live in a much warmer part of the planet you can still create fabulous X-mas decor at your front porch.
You can decorate some green plants around the frond door, put up some wreaths and garlands and you are ready to meet your guests.
It's really nice to use a lot of red balls and ornaments with green plants.
12. Repurpose an Old Ladder into Rustic Christmas Porch Decor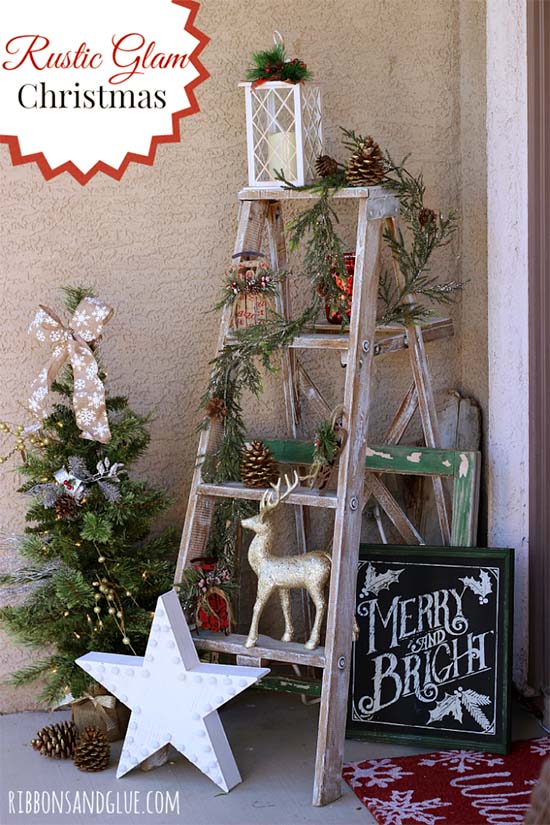 At Ribbons & Glue there is a great Christmas decoration DIY project that you can easily recreate following all the steps in the tutorial.
Obviously you will need a wooden ladder that will be the cornerstone of the design. Chalkboard and Christmas ornaments are also essential.
The best part is that there is not a lot of work involved as more of the project is about placing all the decorative pieces in place.
13. Bring Rustic Elegance with a Wooden Wagon Decoration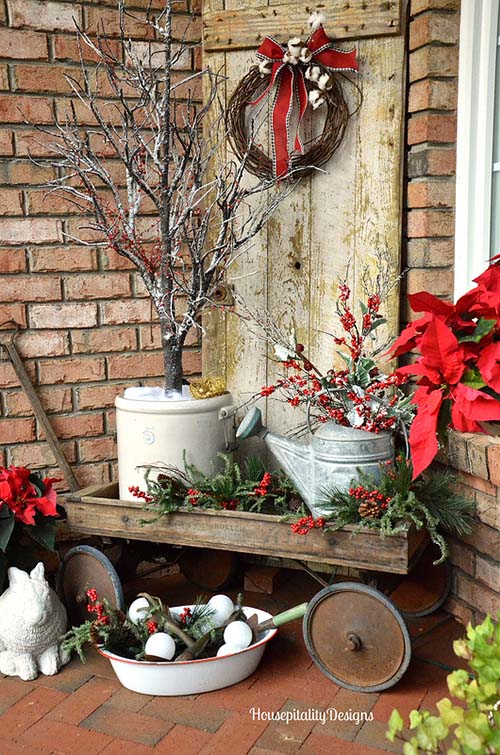 Another great front porch Christmas decoration from HousepitalityDesigns which includes wooden wagon, vintage watering can, Christmas wreath and ornaments and some other small decorations.
Visit her blog to check how she made her house look so beautiful for the holiday.
14. Add Charm to the Holidays with Expressive Christmas Decor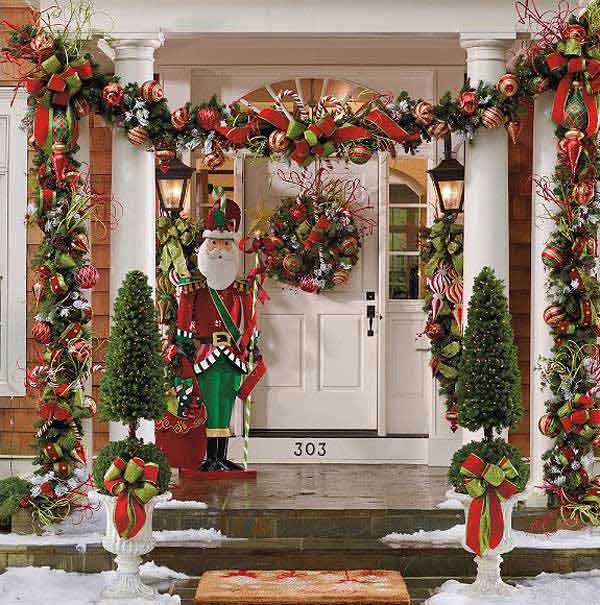 Photo:Credit
Even though this might look a bit overwhelming it's just a Christmas decoration at it's best. A lot of ornaments. garlands, wreaths, teardrops and so well combined to match the same design.
It's like a fairytalea and you going to enter a house full of candies and presents.
15. Add a Touch of Greenery to a Snowy Front Porch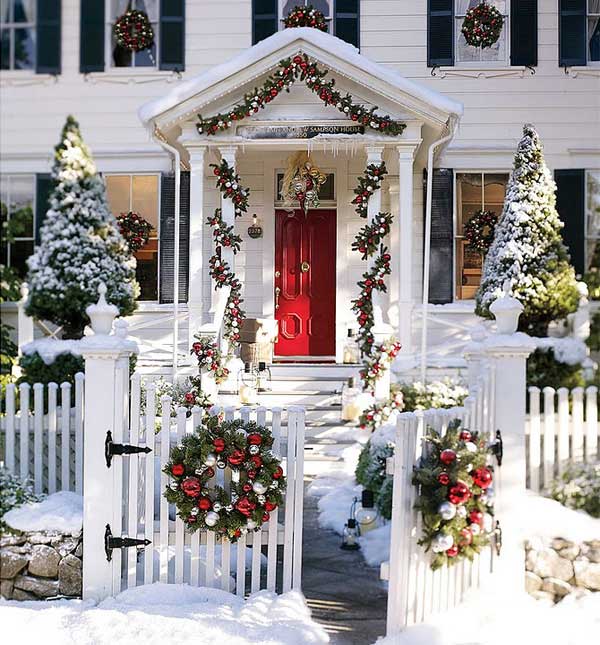 Photo:Credit
Let's take a look at this amazing house Christmas decoration. The holiday starts from the entrance to the garden and goes all the way to the front porch.
The snow makes the red door and red ornaments to shine and create the magic atmosphere. Who wouldn't enjoy this decor?
16. Unleash Your Creativity with Your Greenery Porch Decorations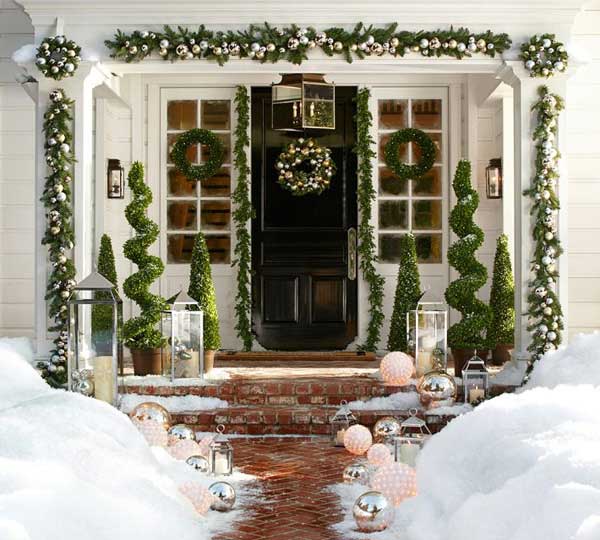 Photo:Credit
If you think green is boring, think again. When you combine all the green plants that you have, the green garlands and wreaths the result is well designed Christmas decoration.
Add some mirrored balls, lights and chrome polished lanterns and you can have amazing Christmas decor for the front porch.
17. Enchant Your Porch with Lighted Christmas Decorations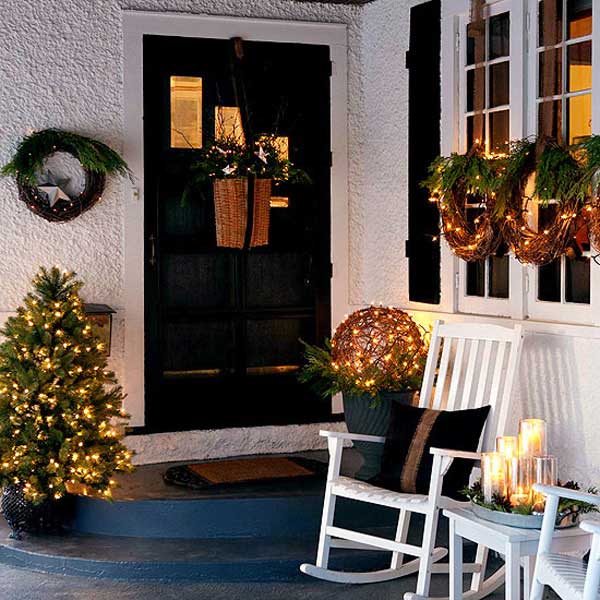 Photo:Credit
With warm lights you can create a welcome atmosphere even in a small space like this.
You don't need a lot of stuff, just a table and two chairs, some candles, wreaths and mini Christmas tree.
What I really like about this photo is the Christmas table setting with those Christmas glass candle jars.
18. Embrace Simplicity with a Rustic Believe Porch Sign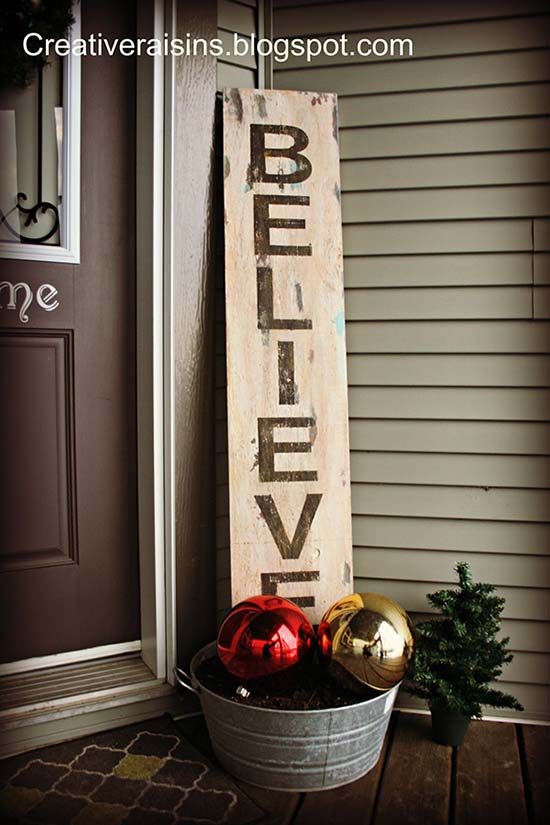 Photo:Credit
Do you believe in Christmas? If so, this one is the perfect holiday decoration.  You just need 5 minutes from your time and a rustic sign with the word "Believe".
I think it's the simplest one in our collection so that you don't have an excuse for not decorating your front porch this Christmas.
19. Decorate an Exposed Brick Wall with Classic Christmas Decor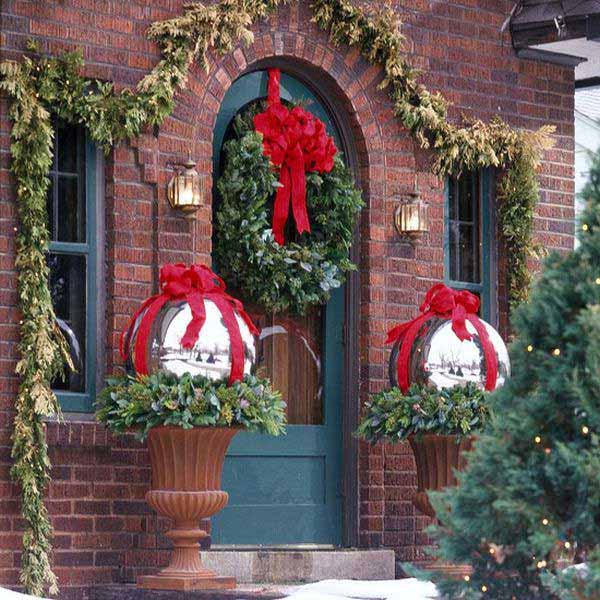 Photo:Credit
Is your house with exposed brick front porch? Well, we have the perfect Christmas decor solution for you. Garlands, wreaths, flower pots and big mirrored balls with a red ribbon to look like presents.
Bright red ribbon makes a statement on the balls and in front of the house.
20. Create an Instant Cozy Look for Your Porch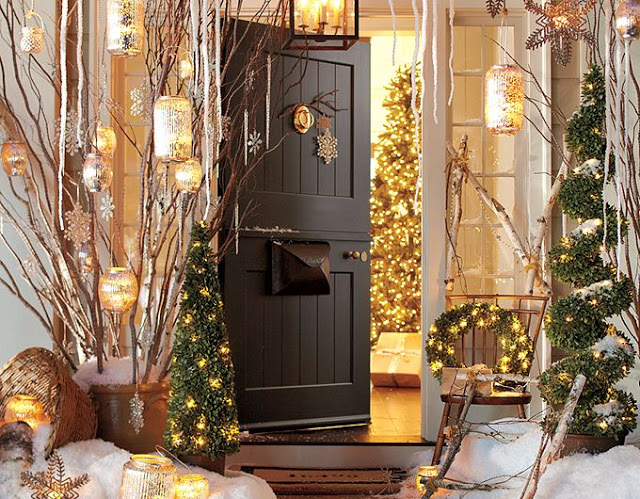 This Christmas front porch decoration could be achieved by PotteryBarn selection. It's warm and cozy.
You can also DIY if you can manage to find similar birch branches and hanging lanterns.
21. Embellish Porch with Festive Garlands and Pinecones Accents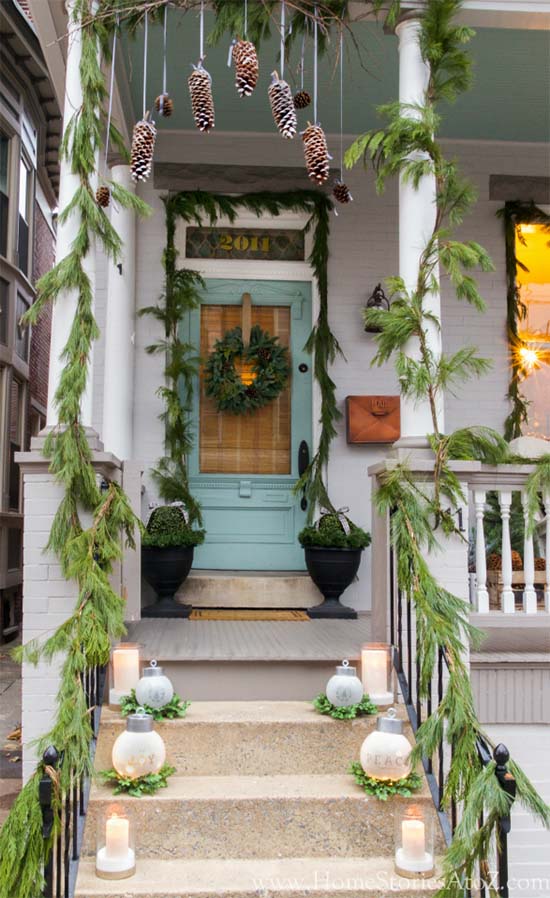 Great front porch Christmas decoration idea from Home Stories A to Z. Simple and cheap, but still beautiful.
These oversized ornaments are a DIY project that she made so check out her blog for full details.
22. Create a Timeless Holiday Welcome with Large Pinecones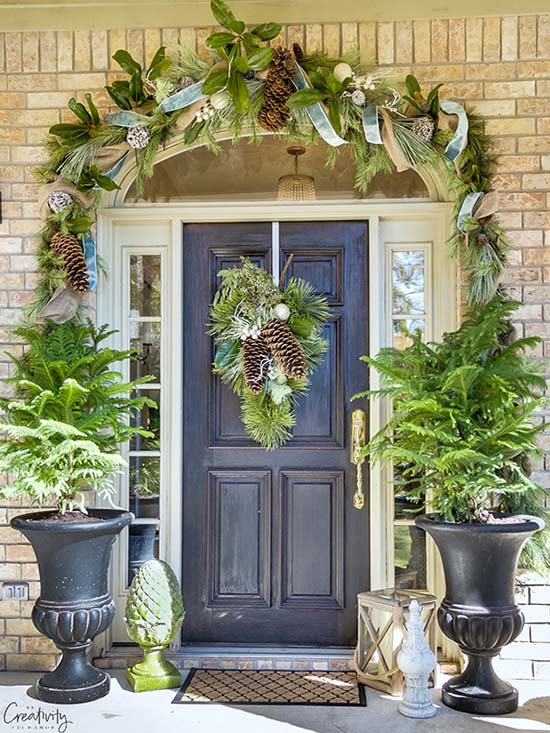 The Creativity Exchange has a great super pine cones Christmas front porch decoration.
Along with big garlands and flower pots, some small ornaments and all nicely aligned in a gorgeous front door decor.
23. Upcycle Metal Pails into Porch Christmas Tree Planters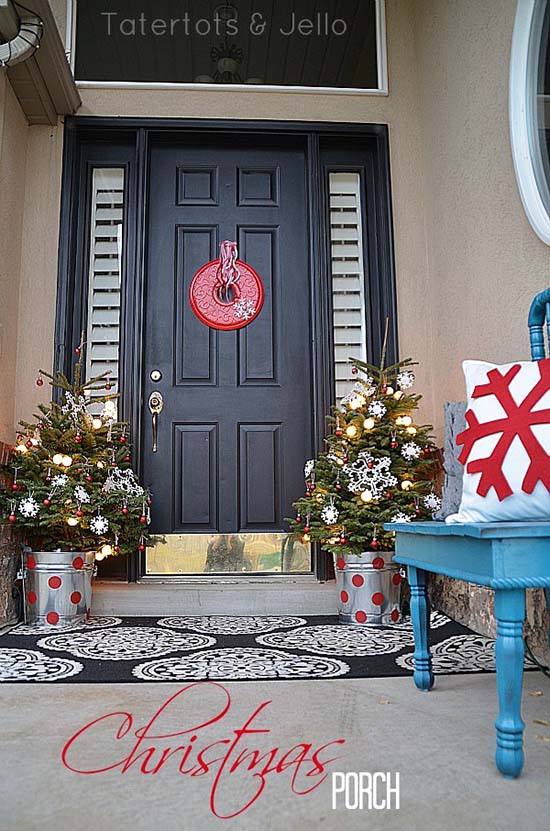 What's the best place to put some real Christmas trees – it looks like it's metal pails. At Tatertors & Jello there is a DIY project which is easy and cheap.
Gives a vintage look to your front porch, but is also rich in colors and ornaments.
24. Transform Your Porch with Traditional Christmas Decorations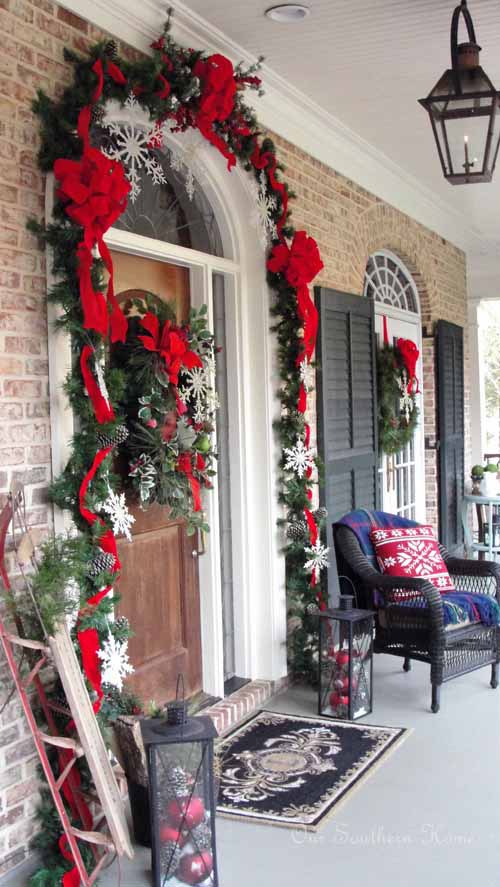 Photo:Credit
Even though it looks similar to some of the previous ideas, the accent here is the arrangement and adding more appeal with the chair and the sleidge.
25. Give Porch a Makeover with Cottage-Style Christmas Decor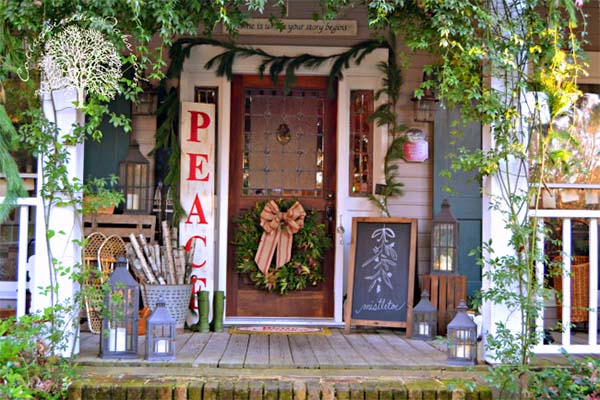 Photo:Credit
Do you feel the romance in this cottage front porch? Everything is in place and invites you to join the celebration inside.
Very cozy and cute Christmas decoration.
26. Achieve Rustic Charm with Your Porch Christmas Decorations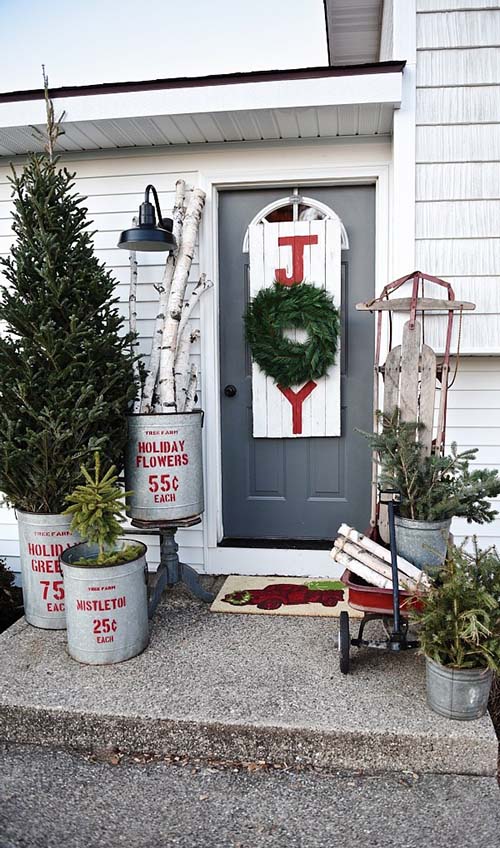 Photo:Credit
As small as it looks this front porch is transformed into a great Christmas decorated space. A big JOY sign and wreath for the door, vintage metal bins and wagon with some birch logs and sledge.
Now this front porch has all the required items to be awarded best small Christmas front porch.
27. Add Texture and Character with Country Christmas Decor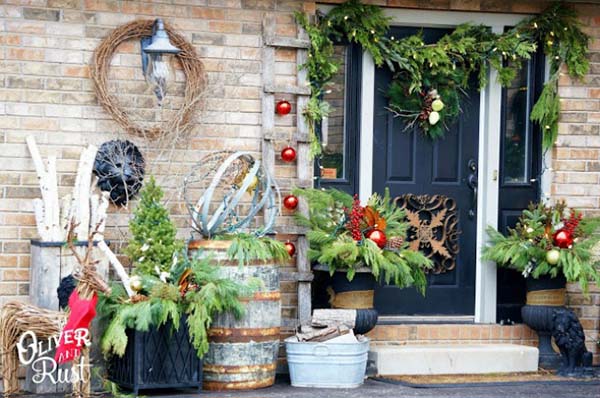 Photo:Credit
What's not to like in this amazing front porch decor? From vintage bins, birch logs, garlands, wreaths and even the lion wall decor.
Someone who has a good design vision create the perfect countryside Christmas decoration.
28. Make a Lasting Impression with Christmas Gifts Decorations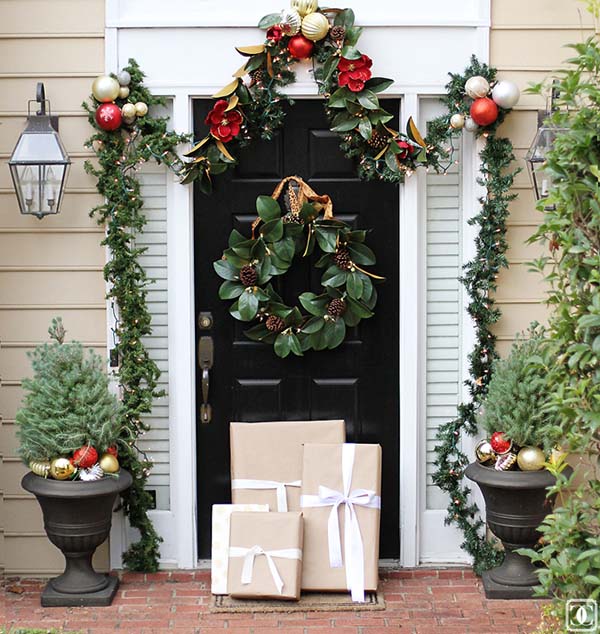 Photo:Credit
Magnolia wreath and garland is the accent here. The big leaves and pines make it a perfect decoration for Christmas.
Hang them around your front door and get ready for the holidays.
29. Light Up Your Porch with Candy Cane Decorations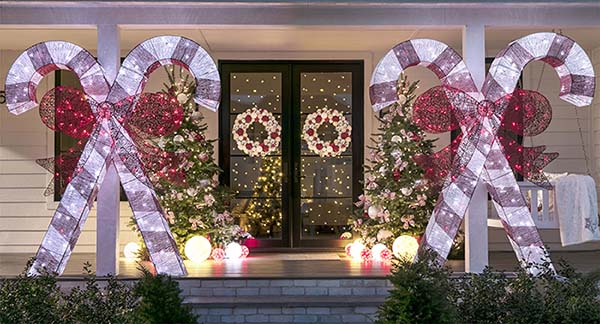 Photo:Credit
You can decorate with giant candy canes if you like. Truly a bold design for your front porch, but it will be noticed by all your neighbors.
Are you ready to get all that attention?
30. Make Red Your Dominant Color in Porch Decorations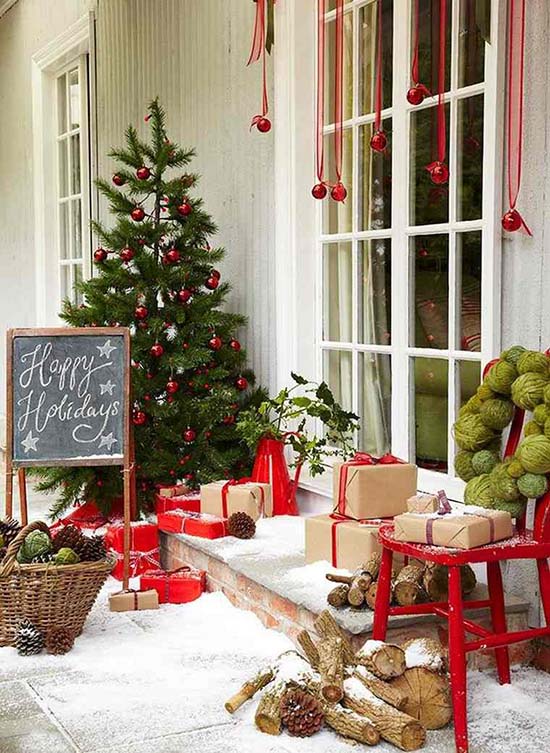 Photo:Credit
If you like red color, you can use it as main accent in your holiday decor. Presents, ornaments, furniture, all you can get in red you can use it as decoration. You know – red is a Christmas color.
31. Add Splendour to Your Porch with Colorful Boxed Presents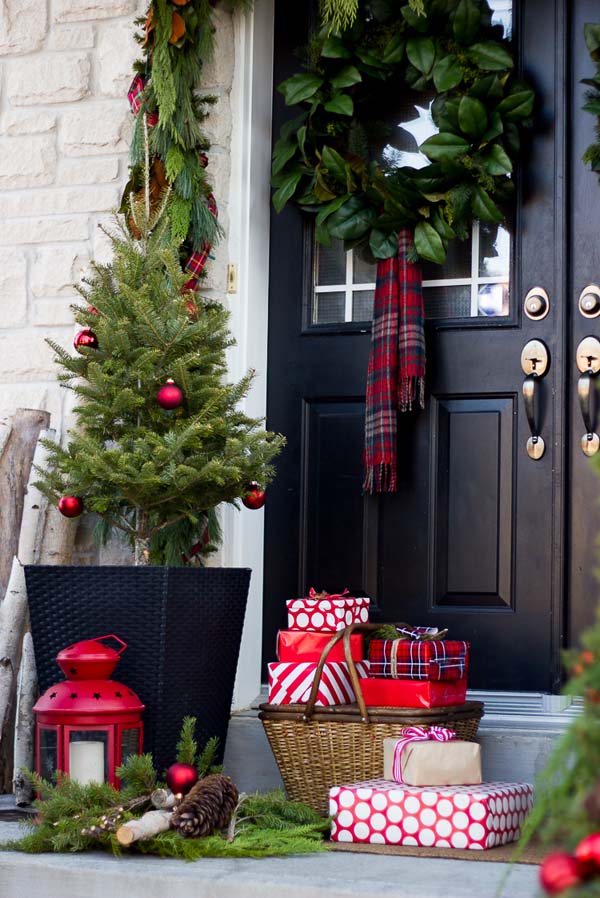 Photo:Credit
Colorful boxed presents and a green tree on a front deck with a dark wood door give this porch a Christmas feeling.
32. Elevate Your Porch Furniture with Christmas Decor Accents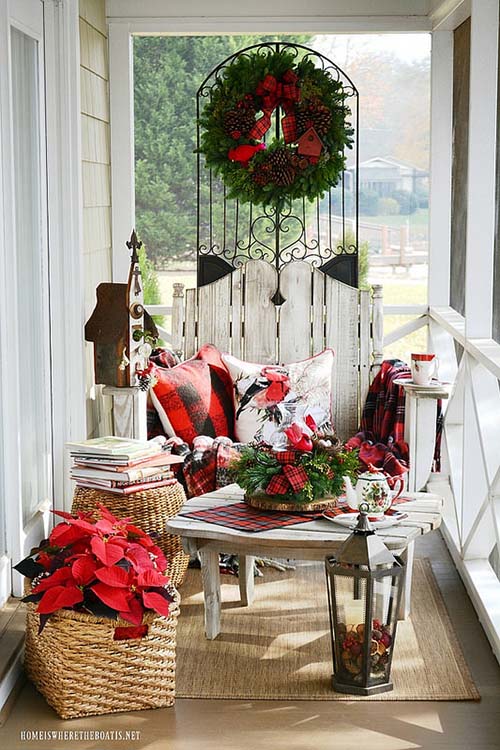 Photo:Credit
When you know how to decorate for Christmas using red accents, throw pillows and table setting.
Fabulous sitting area to enjoy the holidays.
33. Decorate Porch Staircase with Small Tree Planters and Boots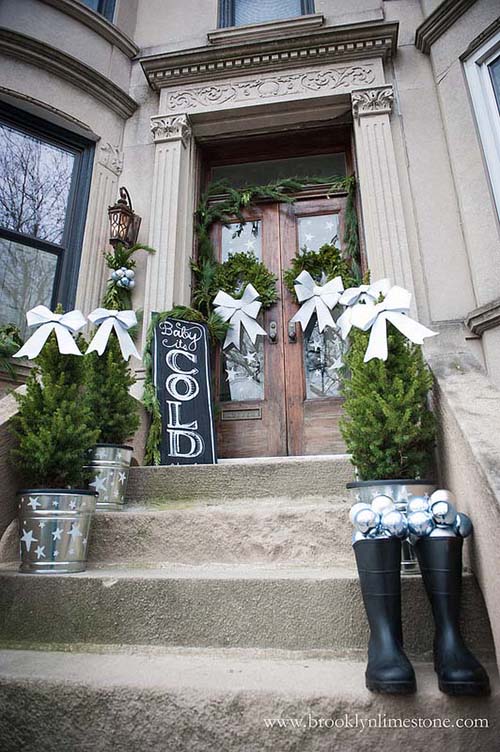 Photo:Credit
Decorating the stoop for Christmas with small trees, boots, ornaments and wreaths. Quick, simple and cheap. That's all you need…aaah, and also some metal bins to put the trees in.
34. Add a Pop of Color with Decorative Christmas Ornaments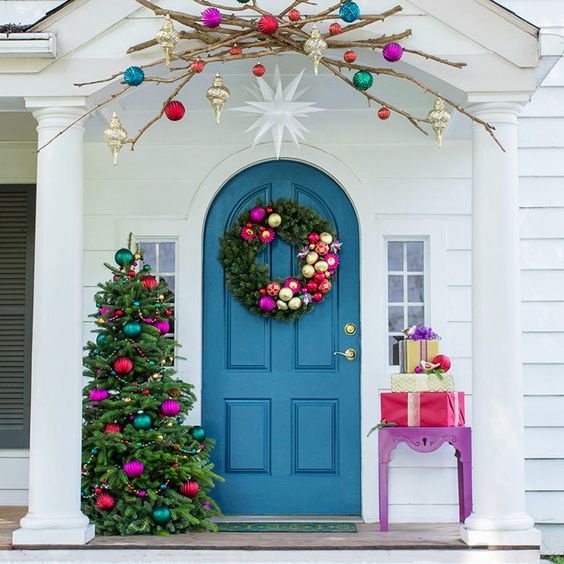 Photo:Credit
This is something different, because those colors are not the traditional ones. Bright and bold, but very beautiful. The branches above the door are a real statement.
35. Lets Kids Have Fun with Your Porch Christmas Decorations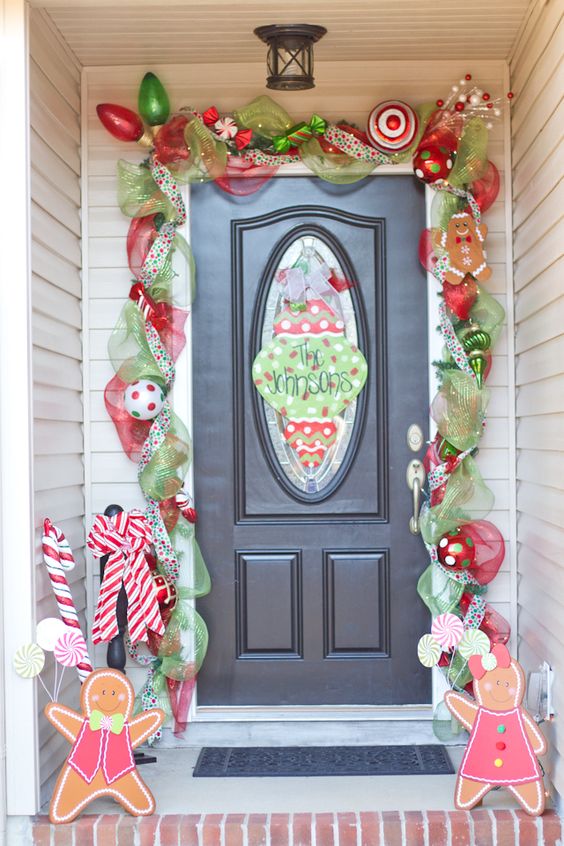 Photo:Credit
Sweet and bright with garlands full of funny and playful items – balls, ladybugs, candies, canes, etc. Perfect front porch decoration for a house full of kids.
36. Turn Your Porch Bench into a Rustic Festive Display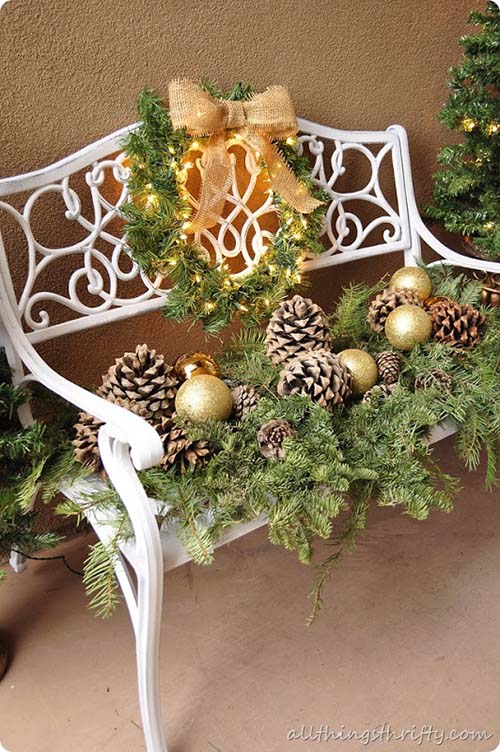 Photo:Credit
When you have a wrought iron park bench and you would like to decorate it for Christmas this is the fabulous end result.
All you need to do next is to put it at the front porch and it will be a great piece of visual interest to all guests.
37. Achieve a Timeless Look with a Bright Red Porch Door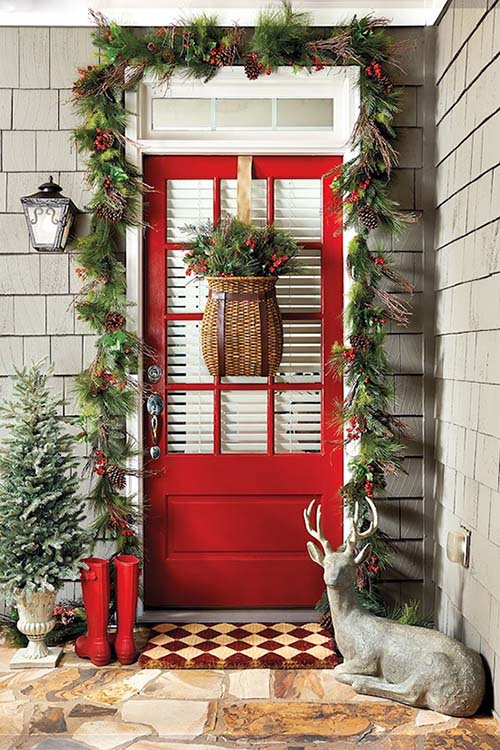 Photo:Credit
This beautiful red door is nicely decorated with garlands, deer statue and a bucket full of holiday flowers. The red boots accented on the Christmas mood.
38. Make a Bold Statement with Huge Porch Garlands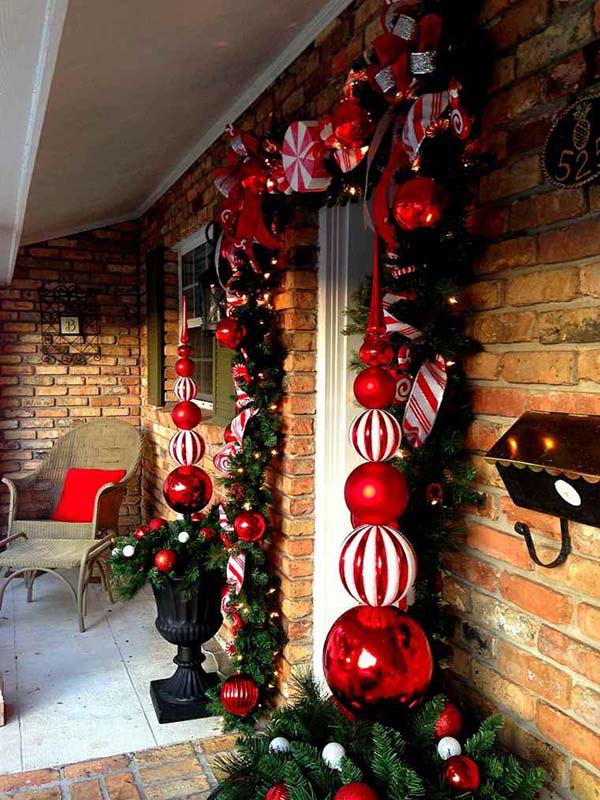 Photo:Credit
Big Christmas tree toppers, garlands and ornaments. Exposed brick wall creates nice background for the decoration.
39. Enchanting Porch with Lit Christmas Wreaths and Trees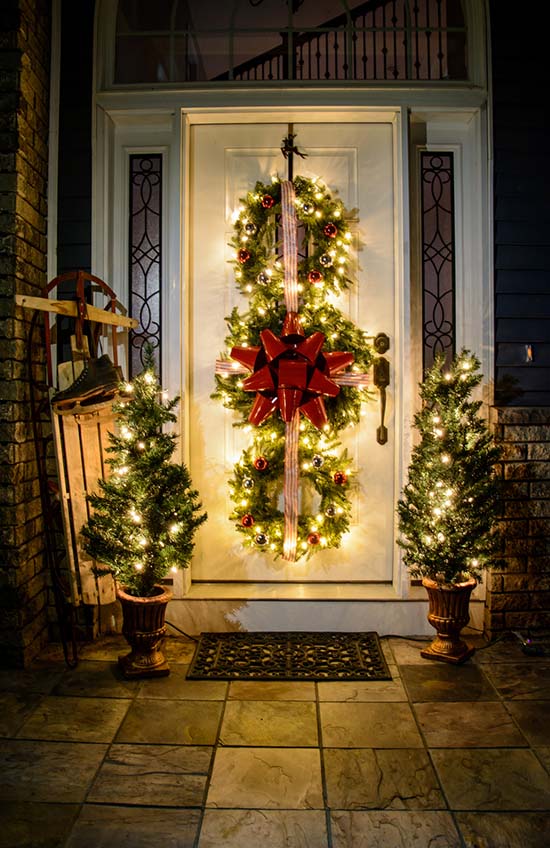 Photo:Credit
What's more beautiful than a Christmas wreath? Three of them!
If you add some red ribbon and LED lights you'll create amazing front door decor. The hard part is to manage to align them in perfect vertical line.
40. Personalize Your Porch with Monogrammed Decor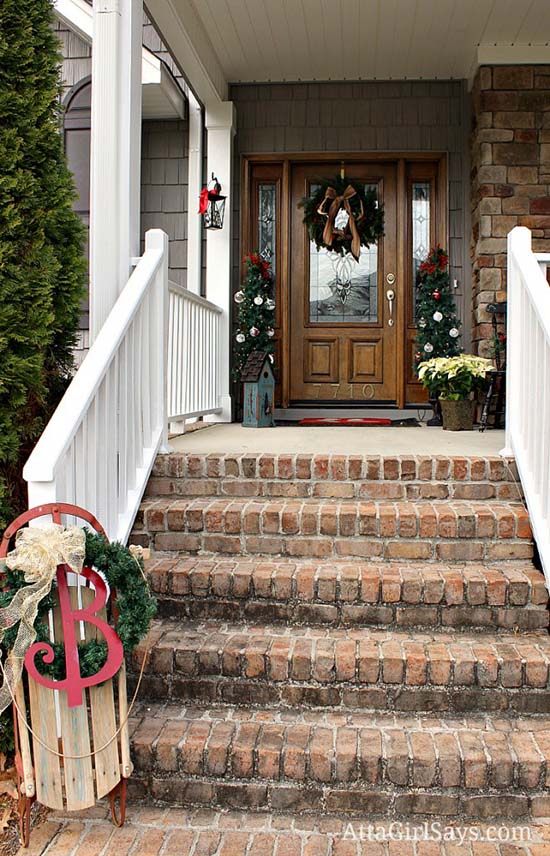 Photo:Credit
Another idea to decorate your front porch is to use monogram letter. It could be the letter of a loved one or the family name.
Either way, it's original and add some personalization to the Christmas decoration.
Did you noticed the bird house on the porch? Another original idea to use for your project.
41. Make a Country-Style Porch with Firewood and Lanterns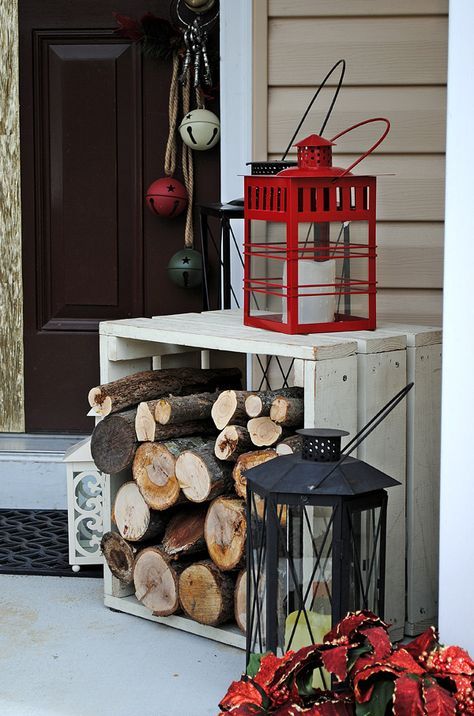 Photo:Credit
Haven't seen before this idea of using firewood in a wooden crate and lanterns to create porch decoration.
It's very simple, but creates the needed effect and is quite charming.
42. Create an Idyllic Atmosphere with Rustic Porch Decorations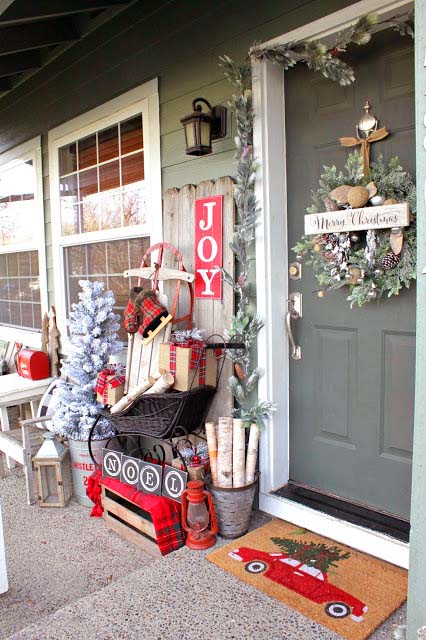 Photo:Credit
So many items here, even a doormat and a flocked Christmas tree. Birch logs, lanterns, sledge, presents, crates, garlands, wreath and more…
The main accent is the JOY sign which attracts the attention and leads the sight to the rest of the setting.
43. Repurpose Old Furniture into Rustic Porch Decor Pieces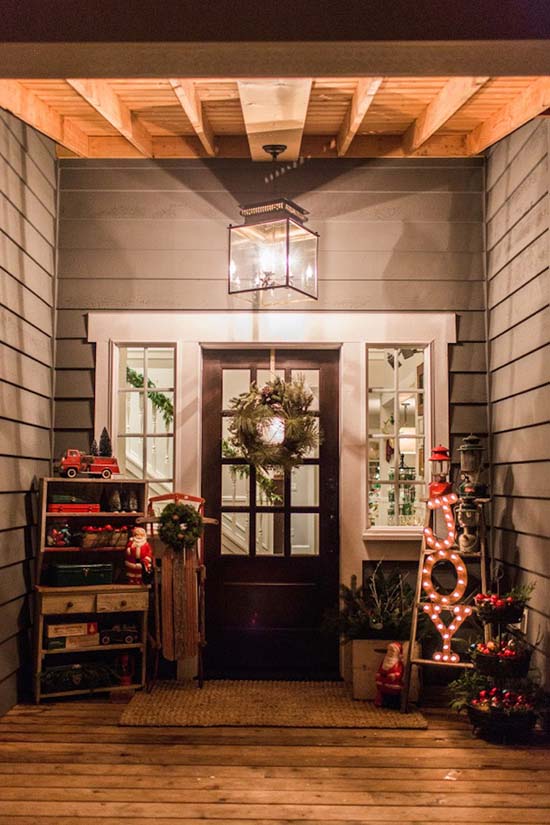 Image: Source
You can decorate for Christmas even with your old furniture that is already sitting on the front porch. A buffet or cabinet is perfect to be decorated.
You can put a lot of accessories there and blend it with the overall decor.
44. Transform Your Porch with Natural Holiday Decorations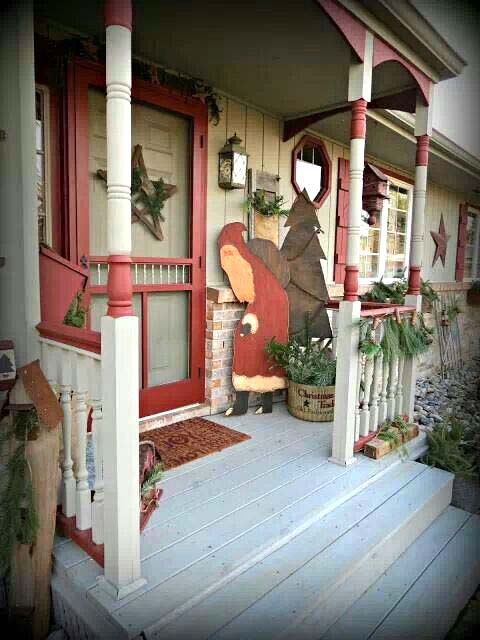 Image:Source
Front porch Christmas decorations with natural products only are my favorite. No artificial lighting, toys, ornaments and accessories.
It's simple, cheap, eco-friendly and looks beautiful.
45. Indulge in the Lavish Look of Christmas Porch Topiaries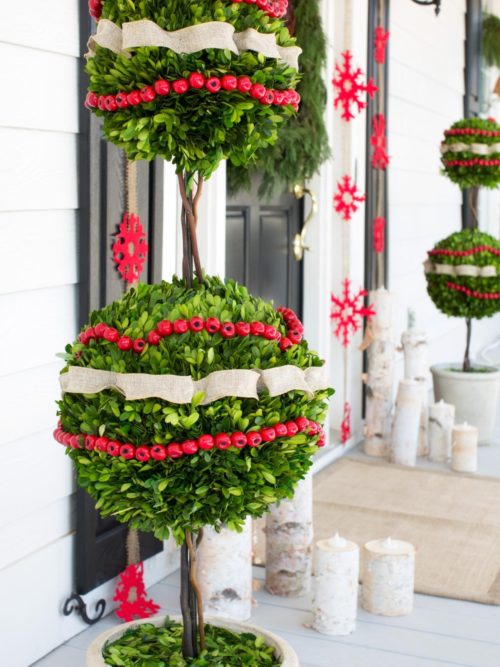 Decorate your green topiaries. These two entryway flower pots are decorated with ribbons made of cranberries and burlap.
This is an inexpensive and easy way to add a holiday spirit to your entryways. Some birch log candle holders added to the Christmas decor.
46. Bring Vintage Charm with Porch Christmas Decorations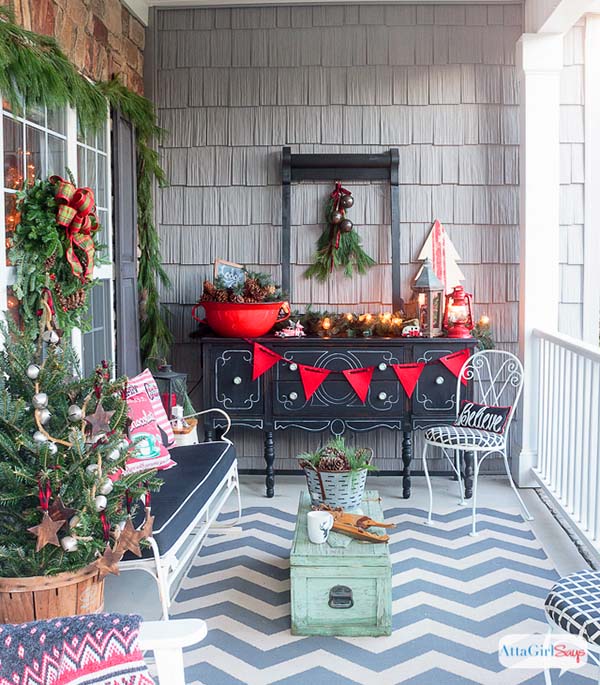 Image:Source
Any vintage items or furniture around? If you have some you can create similar front porch Christmas decorations.
It's colorful and full of life. I would really love to sit and relax here with a cup of tea or a book.
47. Get a Polished Look with White Christmas Decorations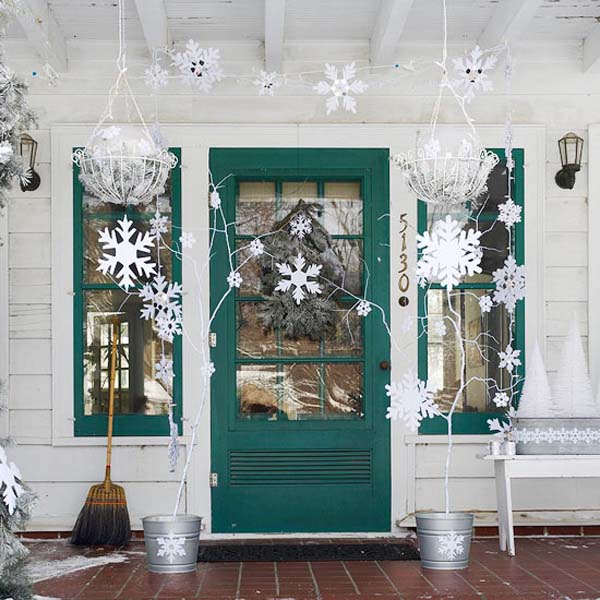 You can decorate for Christmas with white only – snowflakes, buckets, broom, hanging flower pots and garlands. Especially, if your door is contrasting to the rest of the decoration.
48. Add Color and Elegance to Decor with Lanterns and Wreaths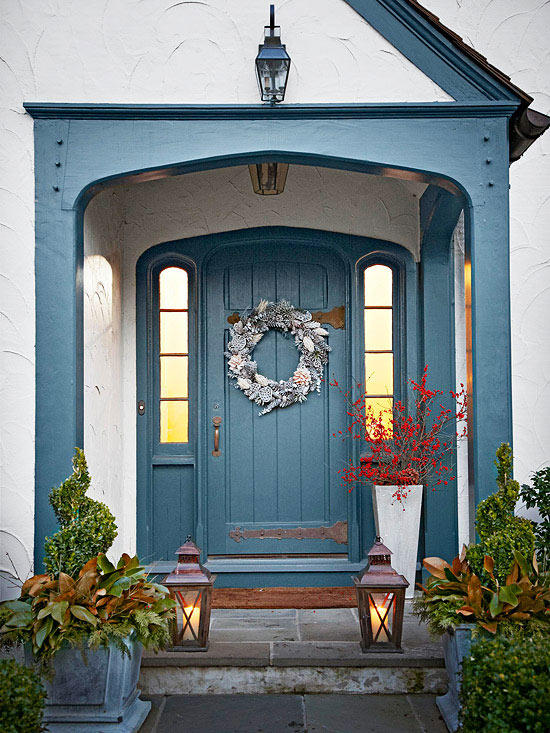 Image:Source
You can easily mix colors, shapes and textures to create gorgeous Christmas decoration.
Use topiaries, a pair of decorative lanterns and a flocked wreath. Some red berries will add more color to the scene.
49. Combine Style and Warmth with a Decorated Porch Bench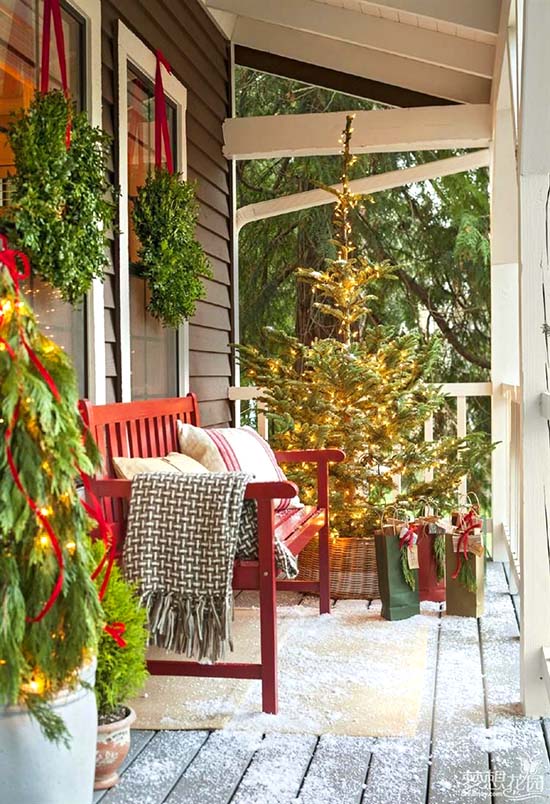 Image:Source
This perfectly decorated front porch is all you need for Christmas. The accent is the cozy bench with throw pillows and blanket. You can sit here admiring the tree and the view.
50. Elevate Your Porch with Vintage Nostalgia and Style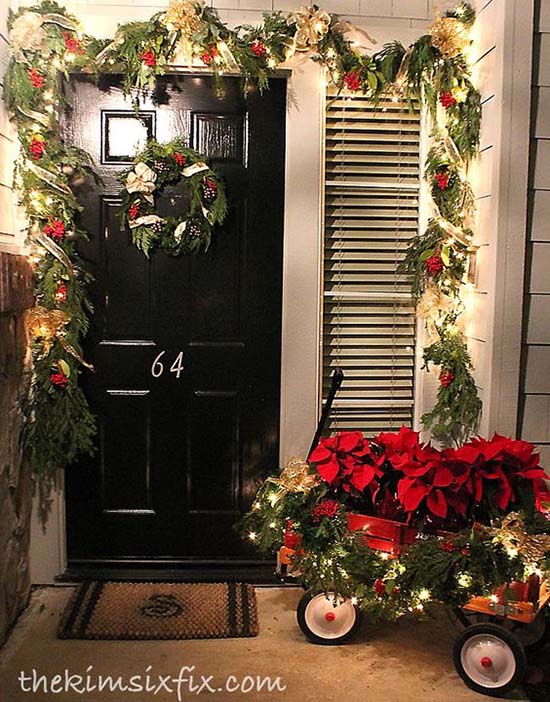 Image:Source
A little red wagon with poinsettia flower, fresh and faux greens accented with gold ribbons give this front porch a little traditional and a little fun.
51. Create the Perfect Rustic Atmosphere with a Rocking Chair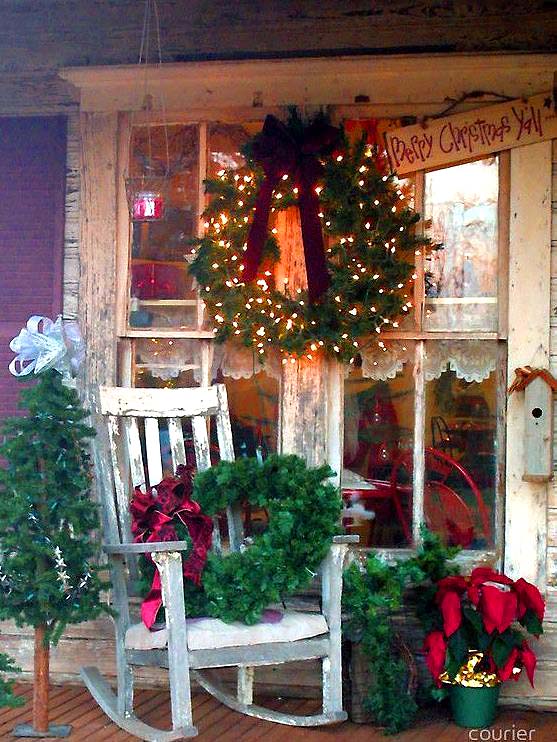 Just give me a rocking chair and leave me alone, that's what I want! This Christmas is my Christmas and I don't want anyone bothering me. That's why I've made the perfect front porch decoration.
52. Step Up Your Decorations Game with a Rustic Chair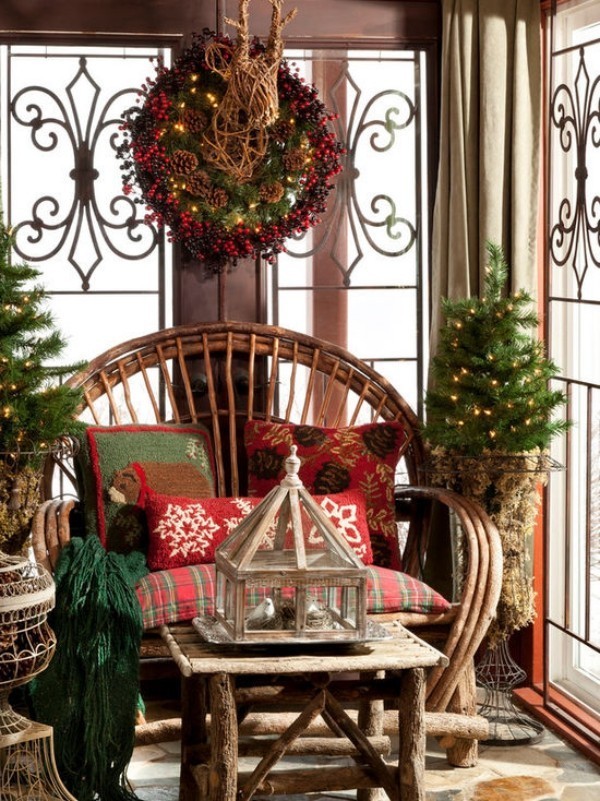 Image:Source
When you are in love with rustic love chair and table you can use them for your front porch Christmas decoration ideas. Add some wreaths and trees, get a birdhouse and you are good to go.
53. Build Glamorous Log Cutout Snowmans for Your Porch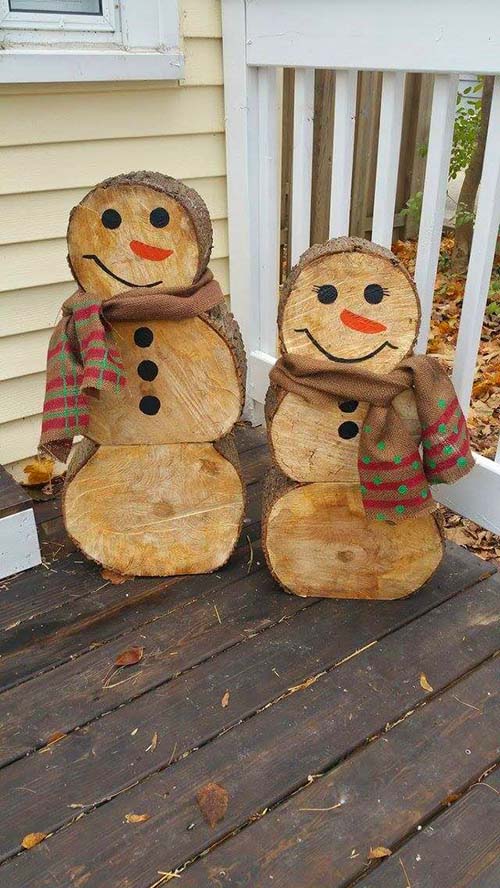 Image:Source
Great DIY project that you can try. Just cut the logs to make similar pieces and then give your kids the chance to draw the eyes, mouth and nose of the snowman. A scarf would make them look real.
54. Get the Most Out of Your Porch Garlands and Wreaths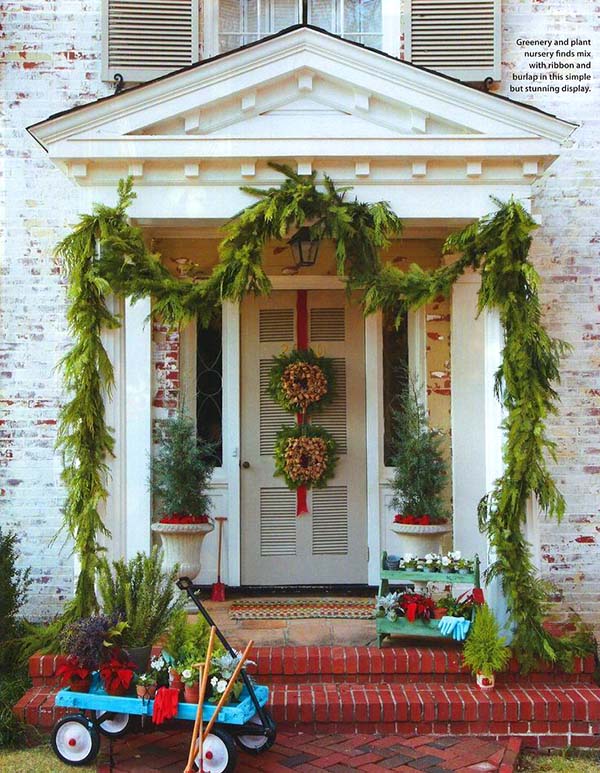 Image:Source
Nice display for greenery and flowers – light blue cart and raised flower bed. Suitable for more warmer areas where the snow is not present.
55. Turn Your Porch into a Rustic Woodland Wonderland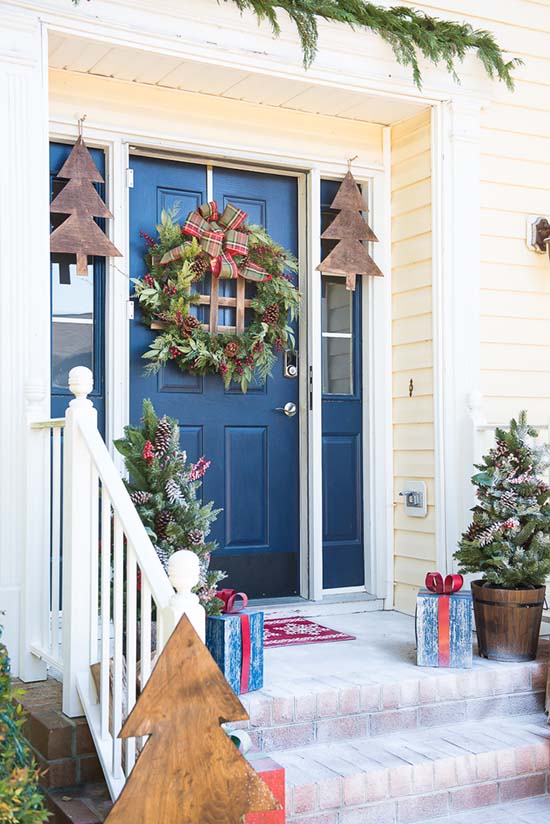 Even thought this is the last of our Front Porch Christmas Decorations it's one of the best as it's a DIY project which turned out beautiful. Blue Christmas Decor is chic and trendy. Check Place Of My Taste for full details.
56. Gnomes Are Sprouting From Trees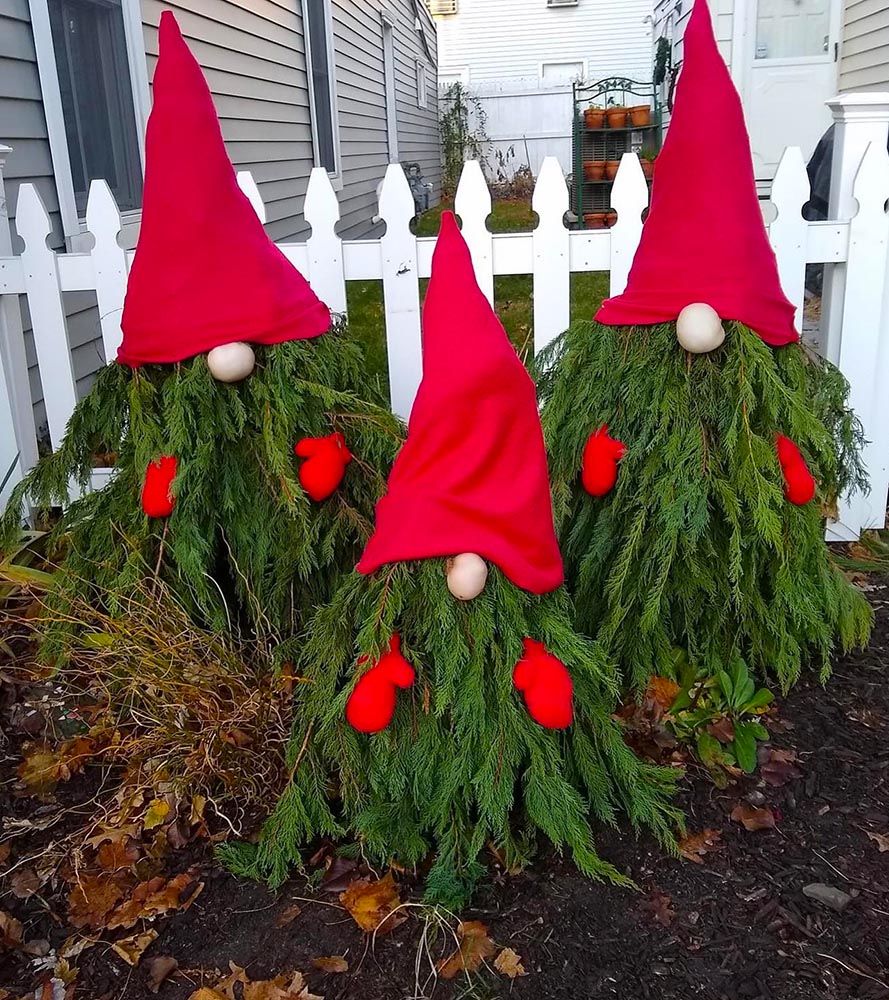 via Wendy Lynn Decker
Make your gnomes with red hats and big noses sprouting from trees.
I hope you liked these ideas and make your holidays shine with love and joy.