How would you describe Christmas in one word? That would be magic, I guess! This is the holiday that excites people of all ages and brings the family together!
The decor for Christmas is also magical and gather-appealing! If you want to spread this vibe over your entire home, then you need mini Christmas trees!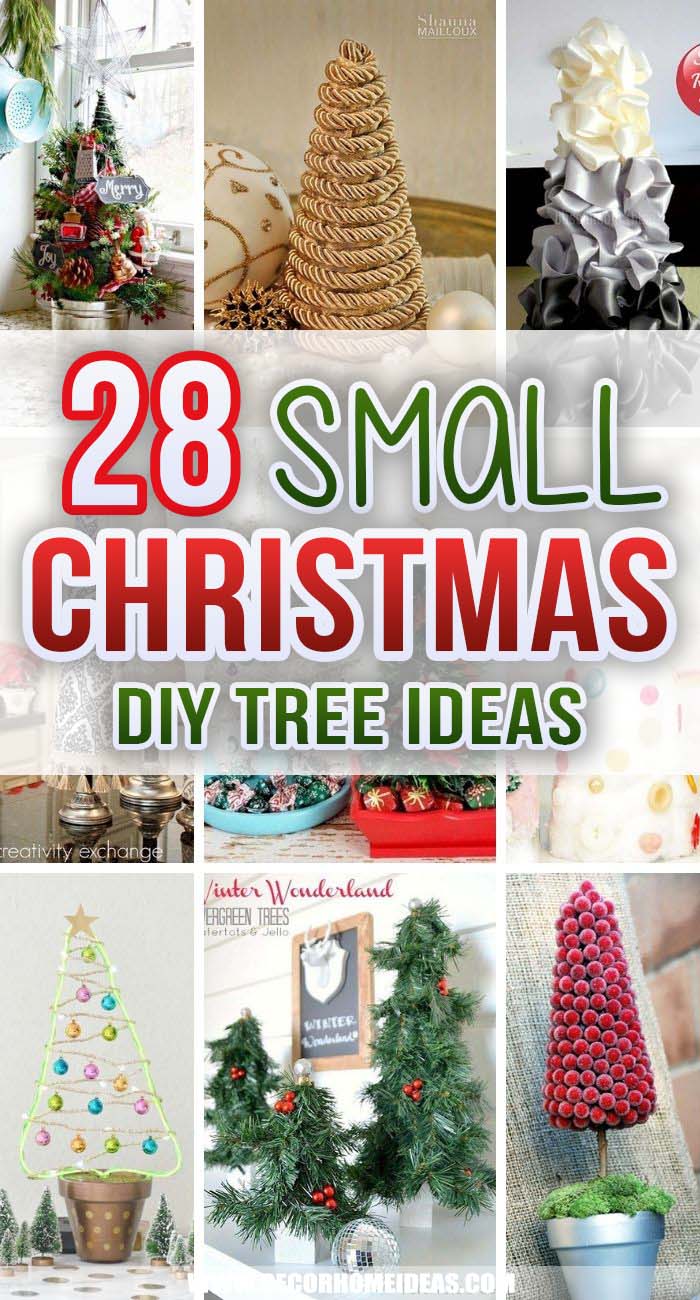 They don't take much space, they vary in designs and colors so you can easily match them with the existing festive decor!
The DIY small Christmas tree ideas are so easy that you can make them together with your kids to let them have a personal impact on the festive decor!
1. Stun with Style with a Berry Tree Topiary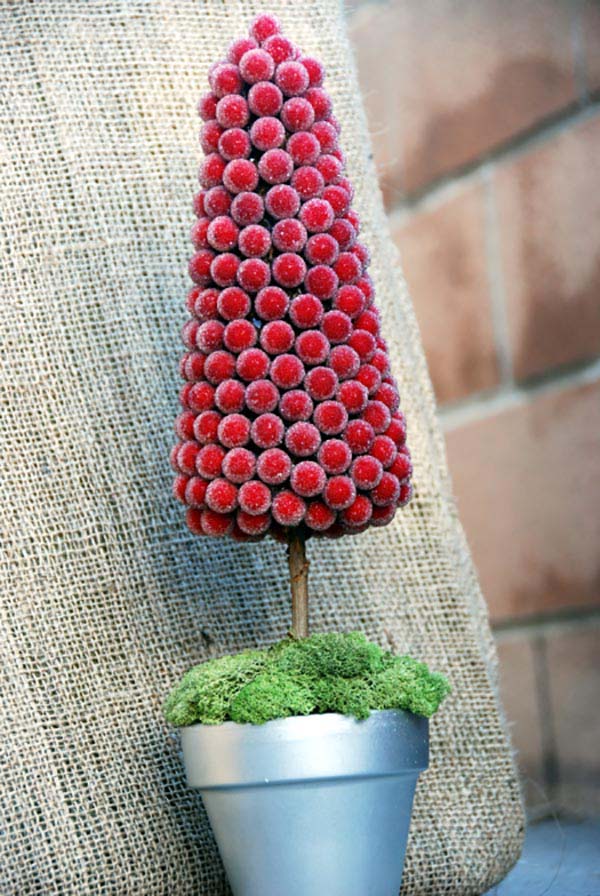 Isn't that tree making you want to taste it? The sugar candied berries make the Christmas topiary sweet, unique and charming.
To make your own tasty mini Christmas tree, prepare a small terra cotta pot, floral or styrofoam foam, moss, a twig and a foam cone. Assemble these together in the shape of a tree.
2. Bring Rustic Elegance with a Christmas Book Page Tree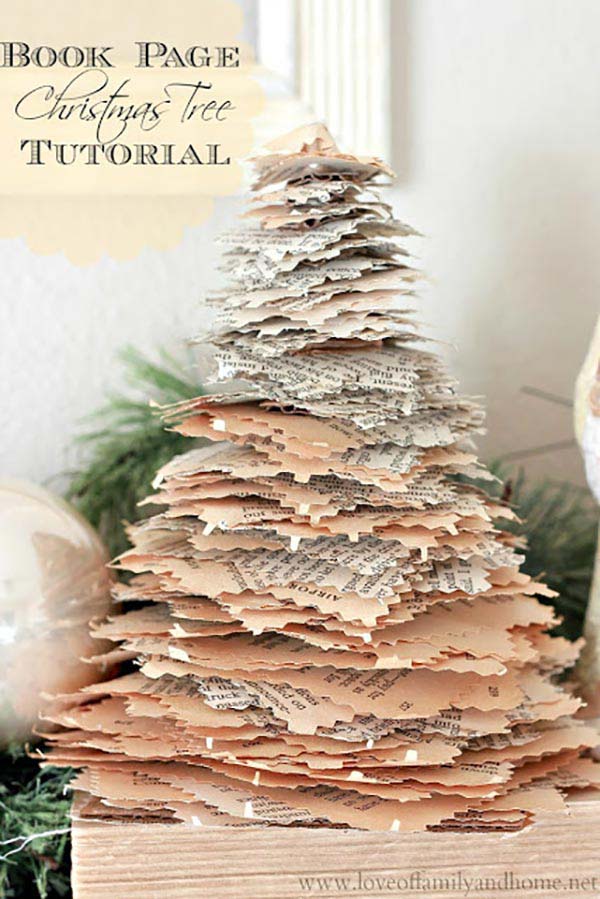 Book addicts will love this artistic alternative to the Christmas tree. It can be made for old book pages or from scrapbooking paper imitating the finish of a book page.
Each sheet forms a layer with curved edges achieved with a pair of pinking shears. Rotate the layers to get a dimensional Christmas tree design.
3. Adorn Your Home with Rustic Burlap Strips Trees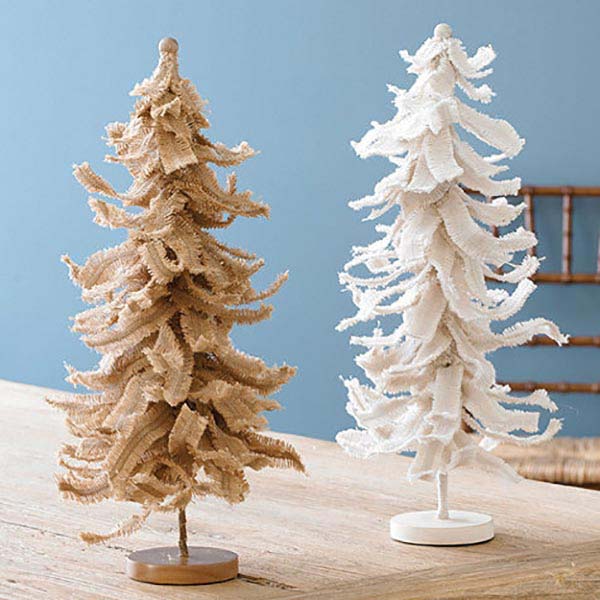 The burlap trees will make your farmhouse living room a cozy place with a Christmas spirit. Their simple look impacts the atmosphere giving it country charm.
All you need is burlap strips and a pedestal to stack them on. The more strips you attach, the richer and fluffier the tree will look.
via Ask Anna
4. Add a Sweet Appeal to Your Home with a Candy Tree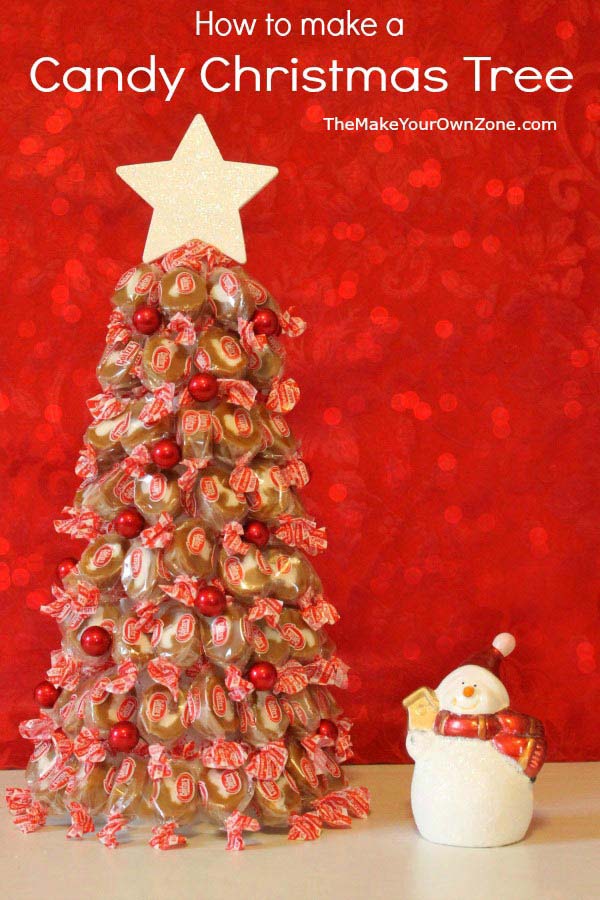 The mini Christmas tree craft can become more exciting if candies are included in the supply list! And the taste could be…whatever you and your family like!
This idea features an embellishment of a foam cone with caramel candies. Each candy is glued to the base following a precise row alignment so that no gaps are seen.
5. Jazz Up Your Decor with Chamberstick Trees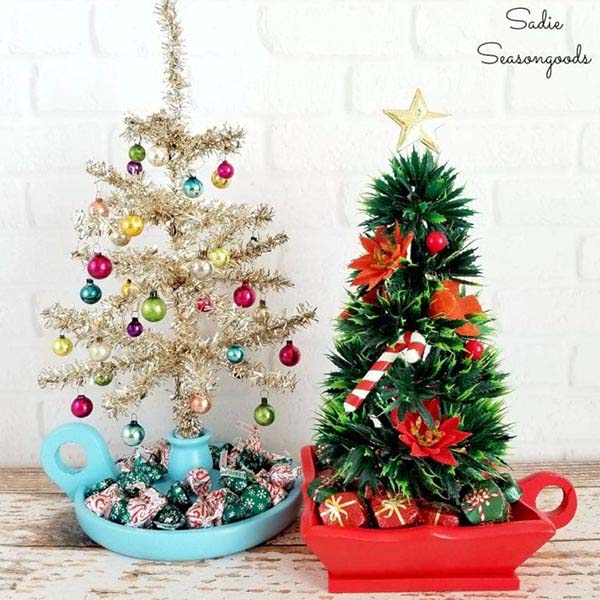 When you see chambersticks at the thrift shop next time, make sure to take them. You can turn them into tiny Christmas tree holders to beautify your festive tabletop.
The wide dish around the candlestick is perfect to add treats or charms and make the decoration also practical.
6. Showcase Your Style with Christmas Wrapping Paper Tree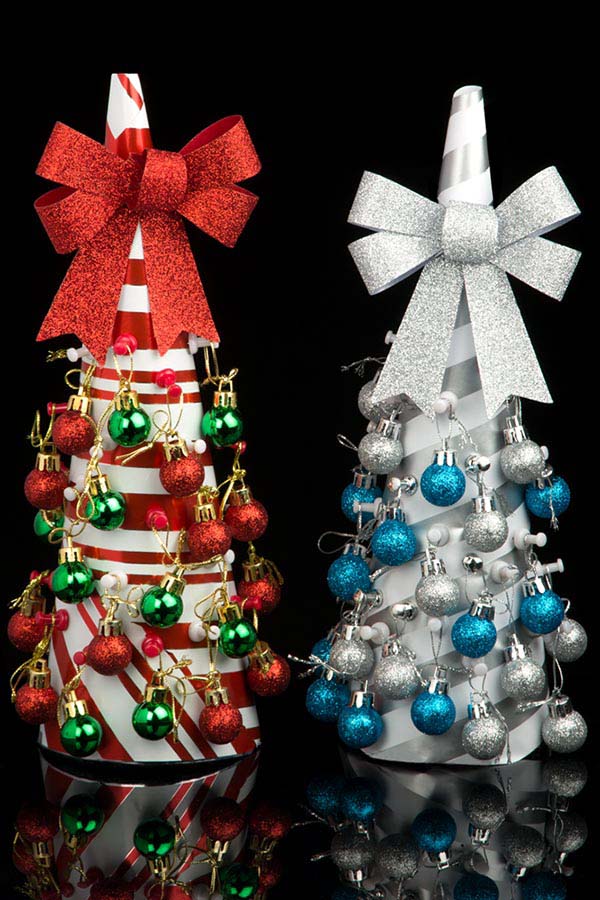 This is one of the most festive mini Christmas tree ideas! The glittering baubles, the typical colors related to the holiday make the small embellishments very festive.
The tree basis is made with paper on which pins are inserted to hold the balls. Very easy and cute idea!
via Jam Paper
7. Add Depth to Your Decor with a Coffee Filter Tree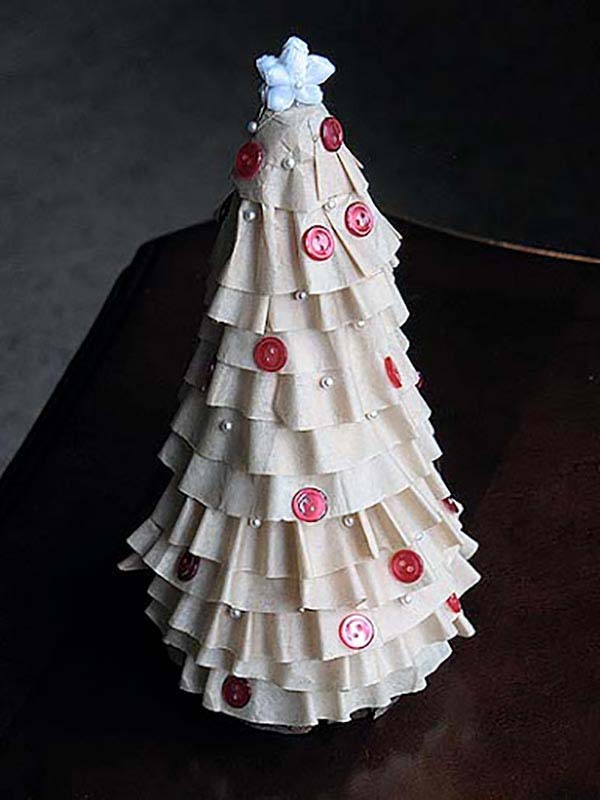 Don't throw away the old unused coffee filters as they can be turned into shabby chic mini Christmas trees!
Cut the inner ring out and insert the filter on a foam cone. Fix with glue to keep the stacked layers in place. You can decorate with light items like buttons, pearls, glitter, paper ornaments.
via Crafts by Amanda
8. Make Your Home Sparkle with Confetti Trees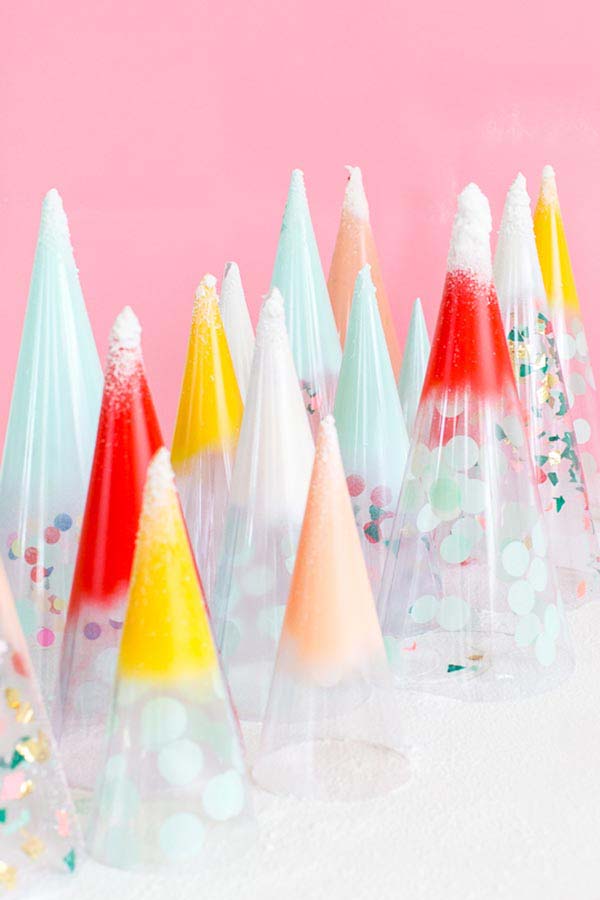 These Christmas trees are awesome and unique! The perfect accent for a Christmas party. For that you need clear plastic cones, adhesive spray, two or three colors of spray paint and confetti.
You can tie the Christmas tree decor with sprinkled faux snow at the top to add to the seasonal element.
via Sugar and Cloth
9. Let Kids Have Fun with Corrugated Paper Trees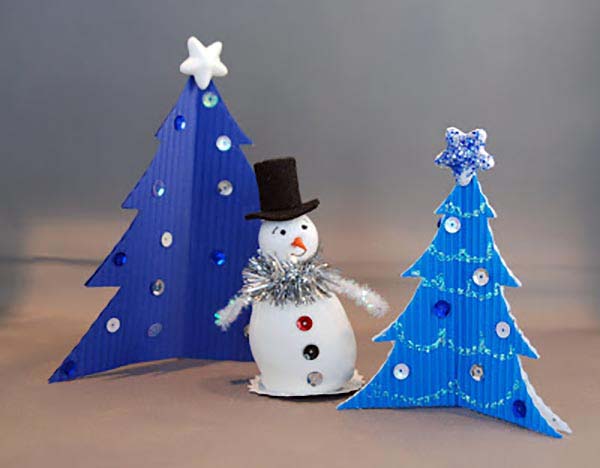 This idea of a mini Christmas tree could be entirely made by your kids. Let them get involved in the preparations for the holiday and give them the freedom to embellish the corrugated paper trees with paints and accents they like.
When the trees are ready, place them on the mantel or on the table in the entryway to pay tribute to their efforts and skills.
10. Add Texture with Cotton Ball Christmas Trees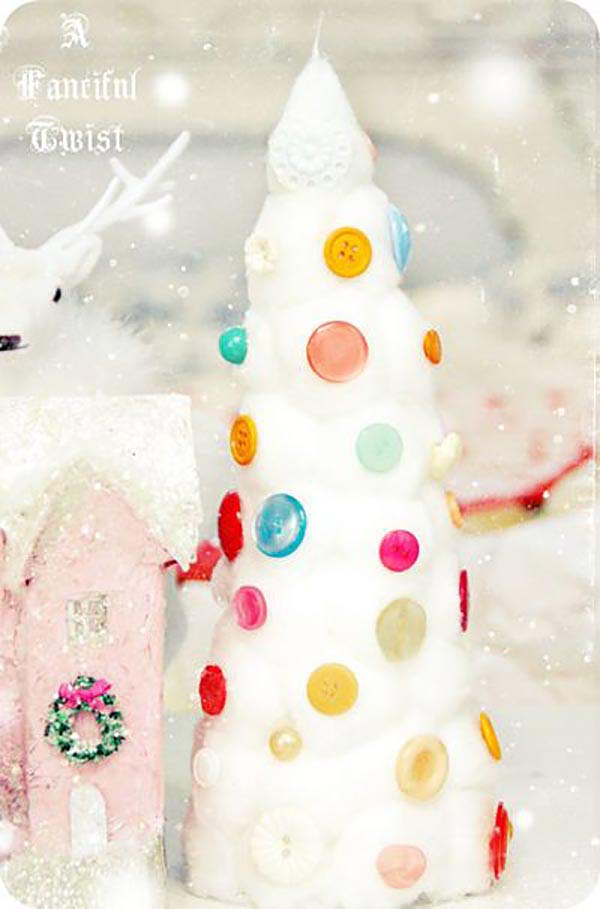 If you have to describe this Christmas tree, it will be "the dreamy tree"! It is so soft, delicate and appealing, like a dream.
It has been an easy DIY idea, using paper for the cone basis, cotton balls to cover it and glitter and tiny embellishments to decorate it.
via A Fanciful Twist
11. Embrace Minimalism with Crepe Paper Trees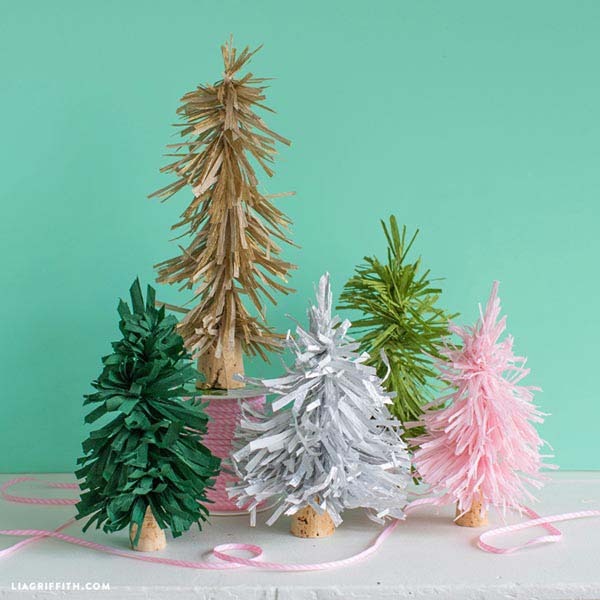 This DIY mini Christmas tree idea recycles leftover pieces of crepe paper. They shouldn't be only green pieces of paper. In fact, the more colors of threes you make, the more impressive your tiny festive collection will be.
When grouped together, the shaggy pine trees make a cute focal point that can decorate the mantel or the dining table.
via Lia Griffith
12. Unleash Your Creativity with Crochet Trees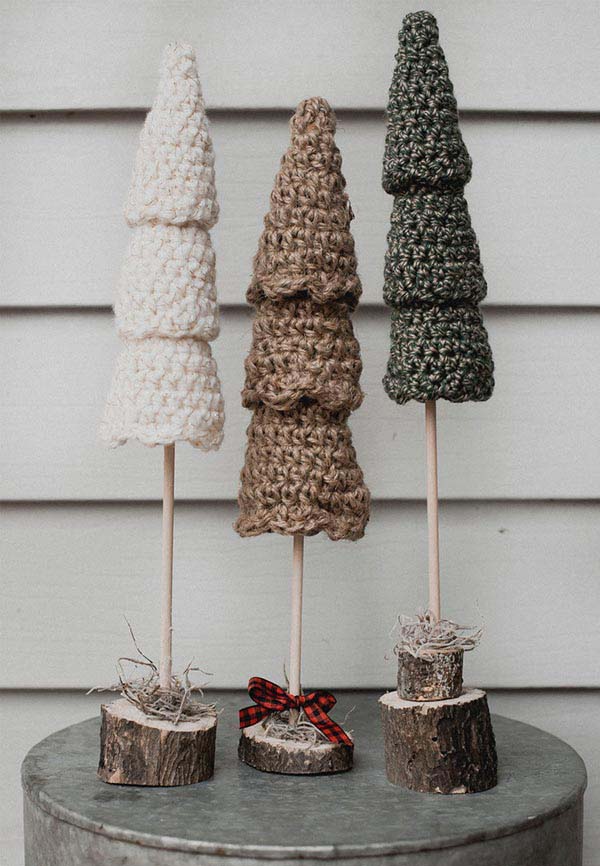 These are so charming and easy to make! Don't scroll them if you haven't ever crocheted! You need to learn the basics of this knitting type to make conical caps.
You can experiment with the colors of the yarn, however, this palette example matches perfectly the rustic texture of the stacked caps.
13. Add Lasting Charm with Cupcake Paper Trees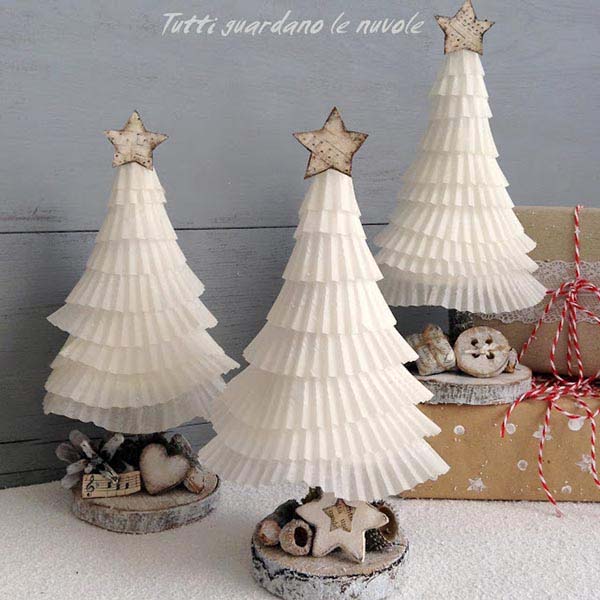 These Christmas trees are so charming. The elements, their color and the accents turn them into cozy decor pieces that enhance the warmth of the holiday.
Tree slices, branches and cupcake paper liners shape the tree. Aiming to get a natural look, there aren't any embellishments on the tree, only around the "trunks".
14. Repurpose Flower Pot into an Elegant Christmas Tree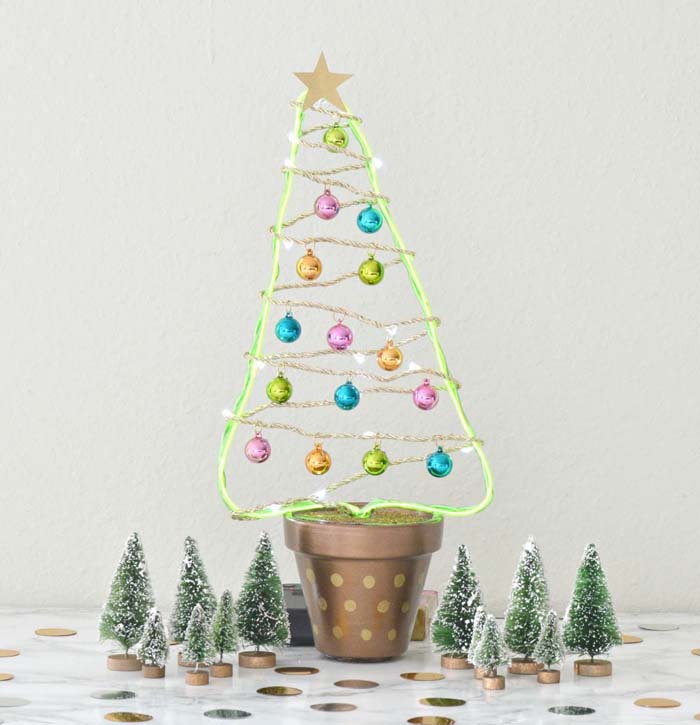 You may have a lot of empty pots once the summer ends. Instead of putting them in the garage for the next gardening season, you can utilize them in the winter decor.
The supplies are also related to the floral arrangements- floral wire that gives the craft the shape of a tree. A string of LED lights is attached to the wire with clear tape. All small balls go across the Christmas tree thanks to another mini string of lights spread in a zig-zag pattern.
via Vikalpah
15. Transform a Wood Dowel into a Simple Christmas Tree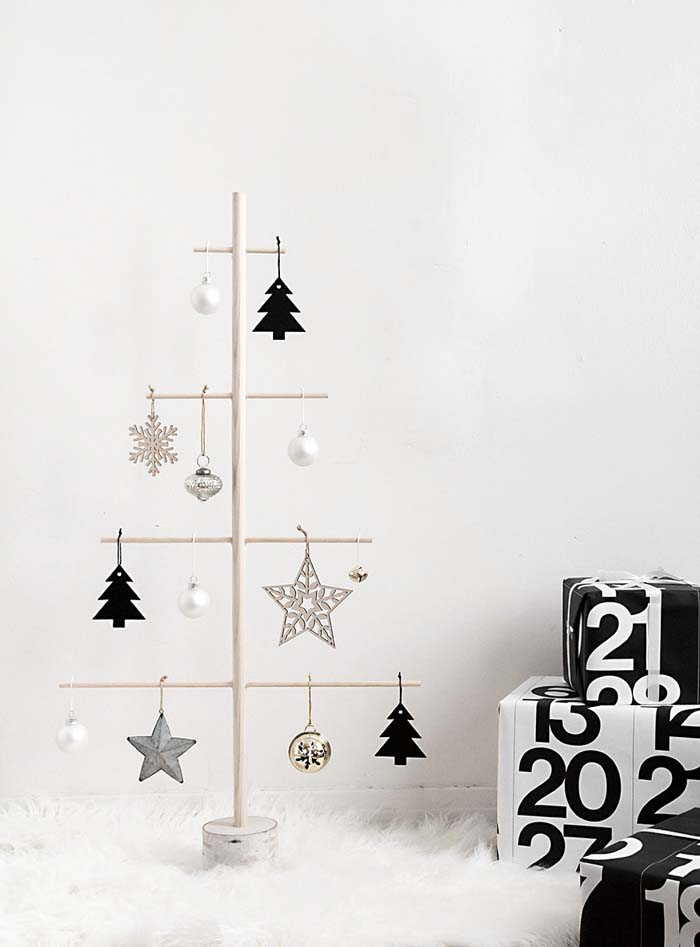 This small Christmas tree is impacted by the modern Scandinavian style. Simple, geometric and with neutral embellishments.
Wood dowels create the skeleton of the Christmas tree. To match the nature style, the stand is also wooden- a short log. The decoration hung on the dowels is very beautiful and artistic. You can use this display to hang a collection of special ornaments.
via Homey Oh My
16. Bring Farmhouse Feel with Fabric-Covered Cone Trees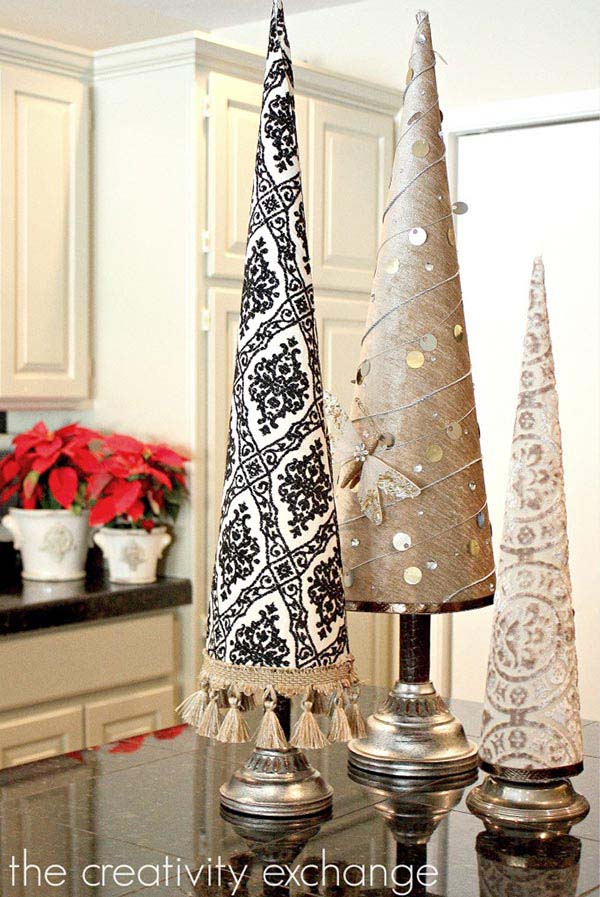 This idea of cone Christmas trees can be customized to match the style and the interior of your home easily. Simply choose fabric patterns that go well or complement the existing decor and glue them over plastic, cardboard or foam cones.
In case you have pedestals like candlesticks, utilize them as stems.
17. Achieve Monumental Beauty with a Feather Tree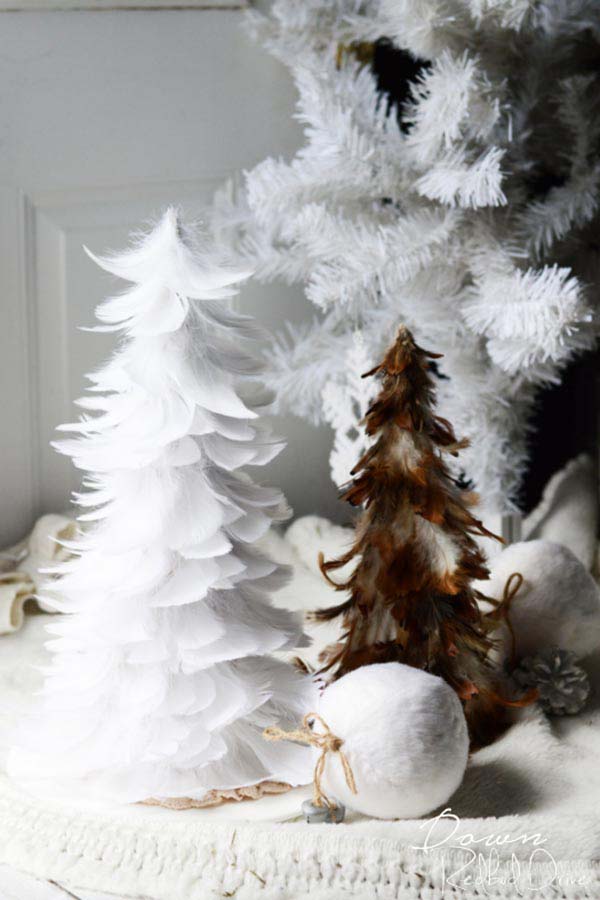 This classy idea of a mini Christmas tree decor showcases how feathers can transform into textured delicate Christmas embellishment.
The base is a cone on which the feathers are glued. Make at least two of these feather trees and put them together to enhance the holiday vibe.
18. Add Glamour to a Table with Glitter Bottle Brush Trees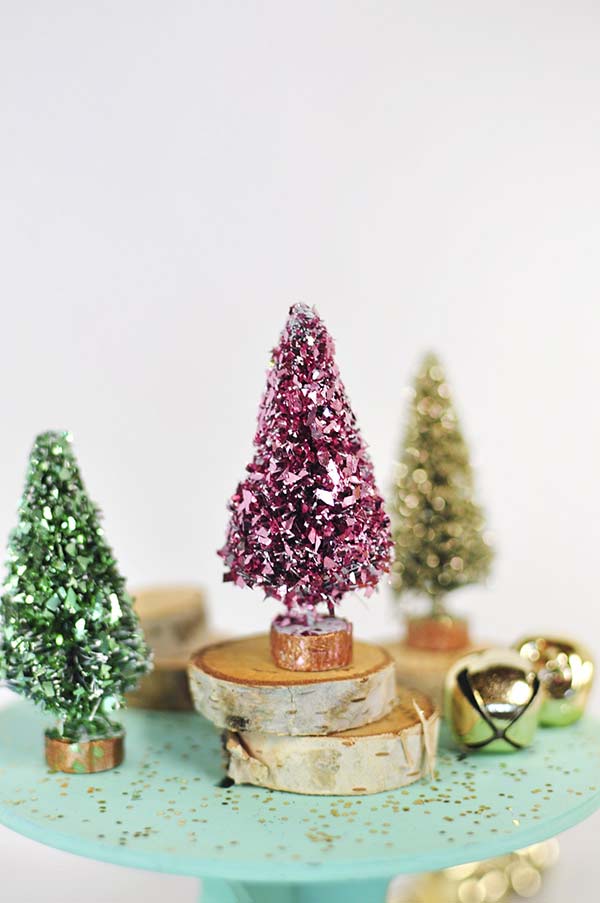 Give the bottle brush trees a customized appealing look with glitter! A clear spray adhesive ensures a good stick of the glitter particles on the mini pine trees.
Be generous when sprinkling the glitter in order to cover well the original surface of the decorations. Place the set of glitter trees on the mantel or on the tabletop to make your Christmas more special and shiny.
19. Indulge in the Lavish Look of a Gold Cord Tree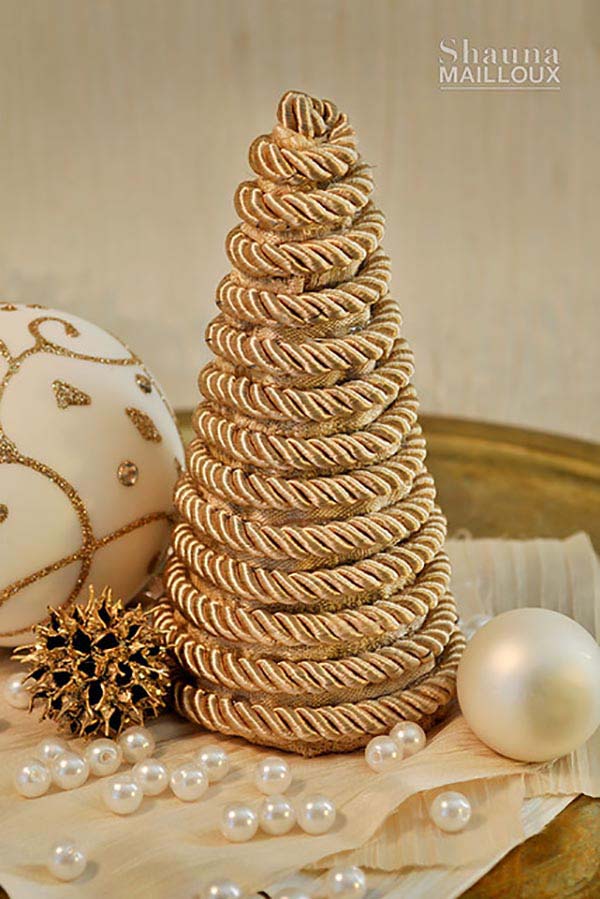 The mini Christmas tree can be quite fancy and lux! Gold cord or gold rope are made from silk threads which add a sophisticated and delicate texture.
Make the base of the tree from a foam cone wrapped with golden mesh or fabric that will provide a suitable backdrop and then twirl the rope around the cone.
20. Spruce Up a Kitchen with Galvanized Bucket Tree Decor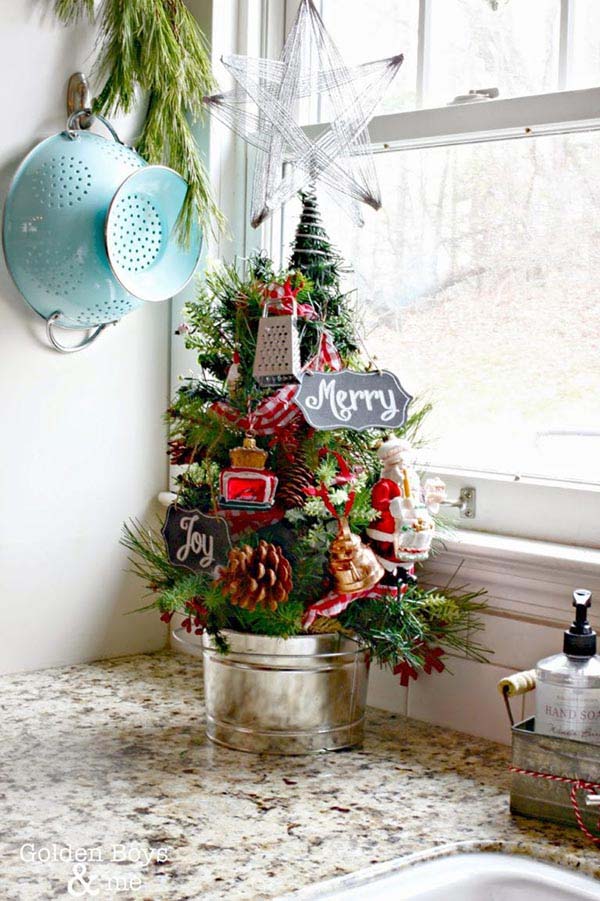 If you want to bring Christmas cheer to every room of your home, you can add mini Christmas trees at spots where they could be easily seen and have an impact on the general decor.
This idea of a mini Christmas tree puts the holiday decoration in a small metal bucket- the perfect container to match your kitchenware.
Decorate with tiny embellishments and pinecones.
21. Experience a Warm Ambiance with Mini Evergreen Trees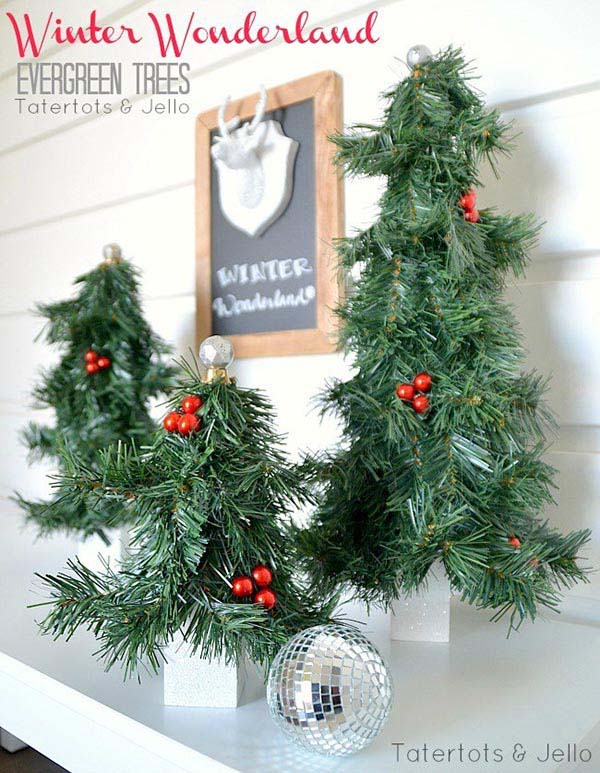 If you have decided to upgrade your Christmas embellishments with new ones, you may be looking for a clever idea to recycle the old ones.
This set of mini Christmas trees will give the Pinetree garlands or wreaths a new life. Gut them into pieces with different lengths so that the shape of a tree is obtained. Glue them on styrofoam or cardboard with hot glue. Use small embellishments like berry twigs, baubles, jingle bells to decorate the green trees.
22. Give a Rugged Appeal with Cement Christmas Trees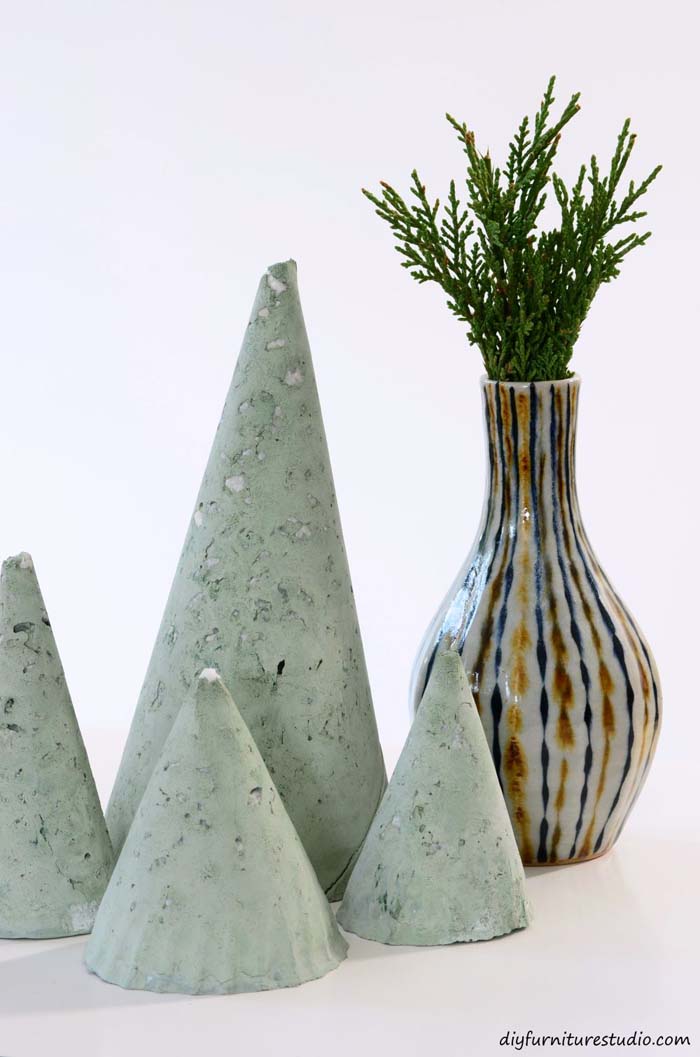 There is an idea for a small Christmas tree even for people keen on the modern or industrial style. You won't find such concrete trees anywhere at the stores so you should make them yourself if you want to enhance the festiveness of your home without changing the style.
And as with every craft including concrete, you need a good mold. The conical shapes are obtained through cones from paper filled with white rocks. If you take a closer look, you would see the texture of the stones protruding at the concrete surface aiming to resemble the snow element.
23. Be Creative with Plastic Spoon Trees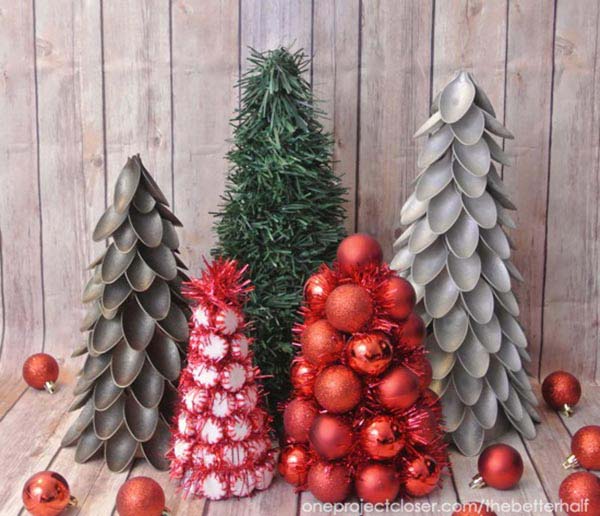 Have you ever seen the DIY creative projects with plastic spoons? You can use them to embellish a chandelier, to make outdoor statues and today we feature how to include them in your mini Christmas tree project.
Simply by spray painting them, the spoons get a new look! You can experiment with metallic spray paints or with such mimicking stone or cement finish!
Once the top parts of the spoons are dry, glue them onto a styrofoam or cardboard cone.
24. Add a Touch of Class with a Satin Ribbon Tree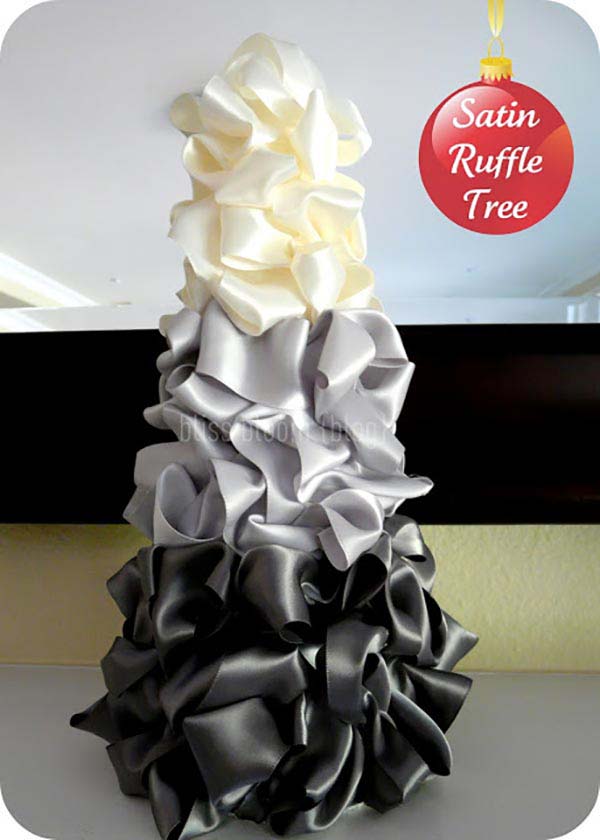 This is the fanciest mini Christmas tree among all! The sleek finish of the satin fabric gives it a luxurious look that can enhance the Christmas spirit in the bedroom.
You can layer the fabric in an ombre pattern or use one color to define the entire tree. For basis, use a foam or cardboard cone.
via Bliss Bloom Blog
25. Make a Statement with a Silver Macaroni Tree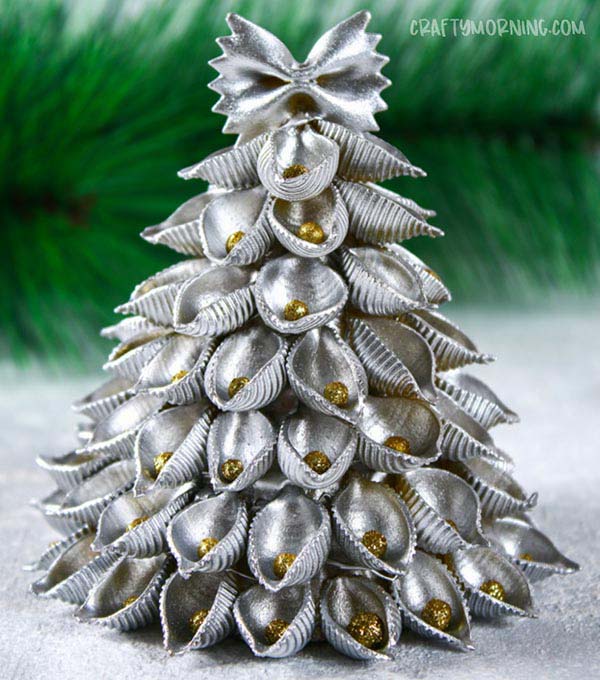 This is another DIY Christmas tree project that is kids-friendly! Spray paint the macaroni noodles before giving them to your kids.
Let them glue each noodle on a foam cone and then insert a glittery pearl inside that will act as an ornament.
via Crafty Morning
26. Create a Rustic Atmosphere with Rattan Yarn Trees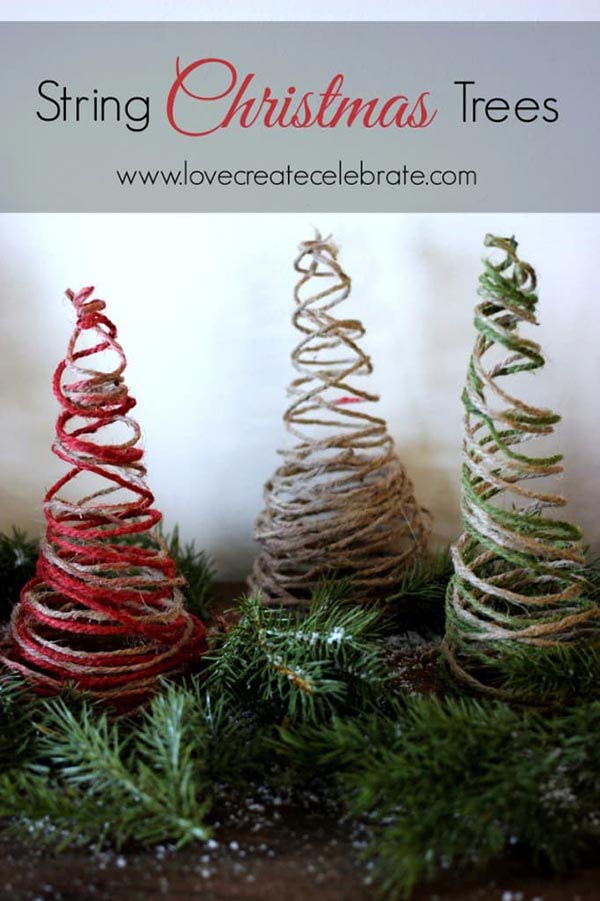 Aren't these very cute? Their texture is so rustic and appealing! If you love working with string, rope or yarn, you would have a lot of fun making these mini Christmas trees.
Prepare a cardboard or paper cone to use as a mold for your tree and then start weaving the string around making sure that it has been preliminarily dipped into the glue.
27. Bring Farmhouse Charm with a Wooden Christmas Tree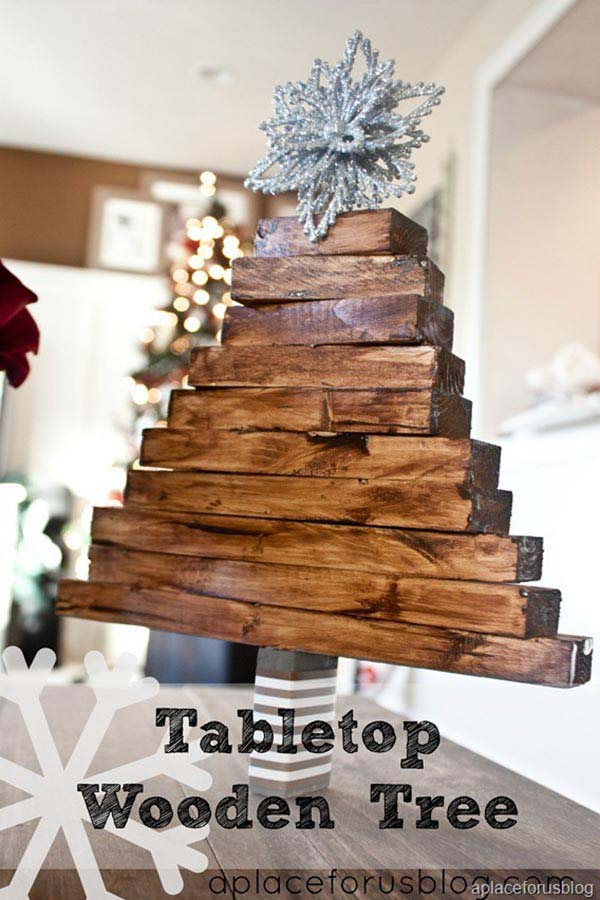 Looking for a rustic Christmas tree version? This one looks so authentic and customized that your guests would be impressed and asking you to make one for them, too.
You can involve reclaimed pieces of wood material in this DIY project or cut pieces of laths to stack in the shape of a tree.
The stain is the key to the vintage look of the decoration. The trunk of the tree can bear a nice bow from burlap or a patterned strip of paper to act as a point of interest.
28. Modernize Your Home with Yarn Tassel Tree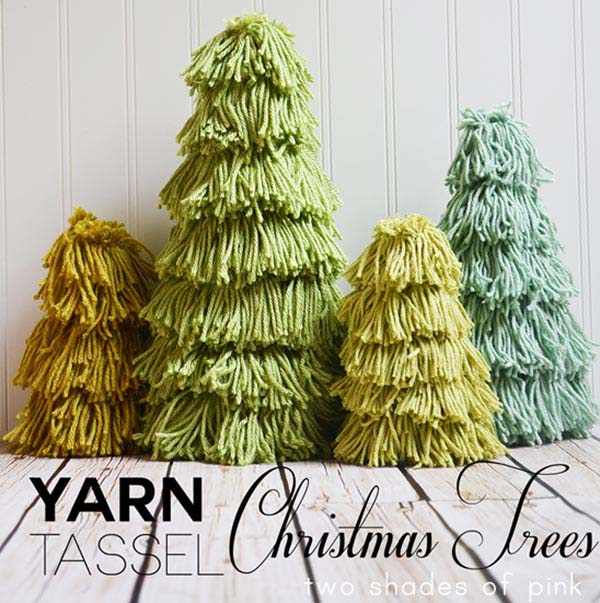 I don't know about you but these Christmas trees remind me of a yeti family! They are of different heights and so fluffy and cute, you may want to cuddle them.
The paper cone basis is covered with pom pom yarn layers. When making more than one of these, you may want to use colors in the same palette to get the best decor impact.