Are you looking for a break with tradition this holiday season?
The Christmas tree is the heart of any festive decor theme — but there's no reason you have to stick with a tried-and-true evergreen.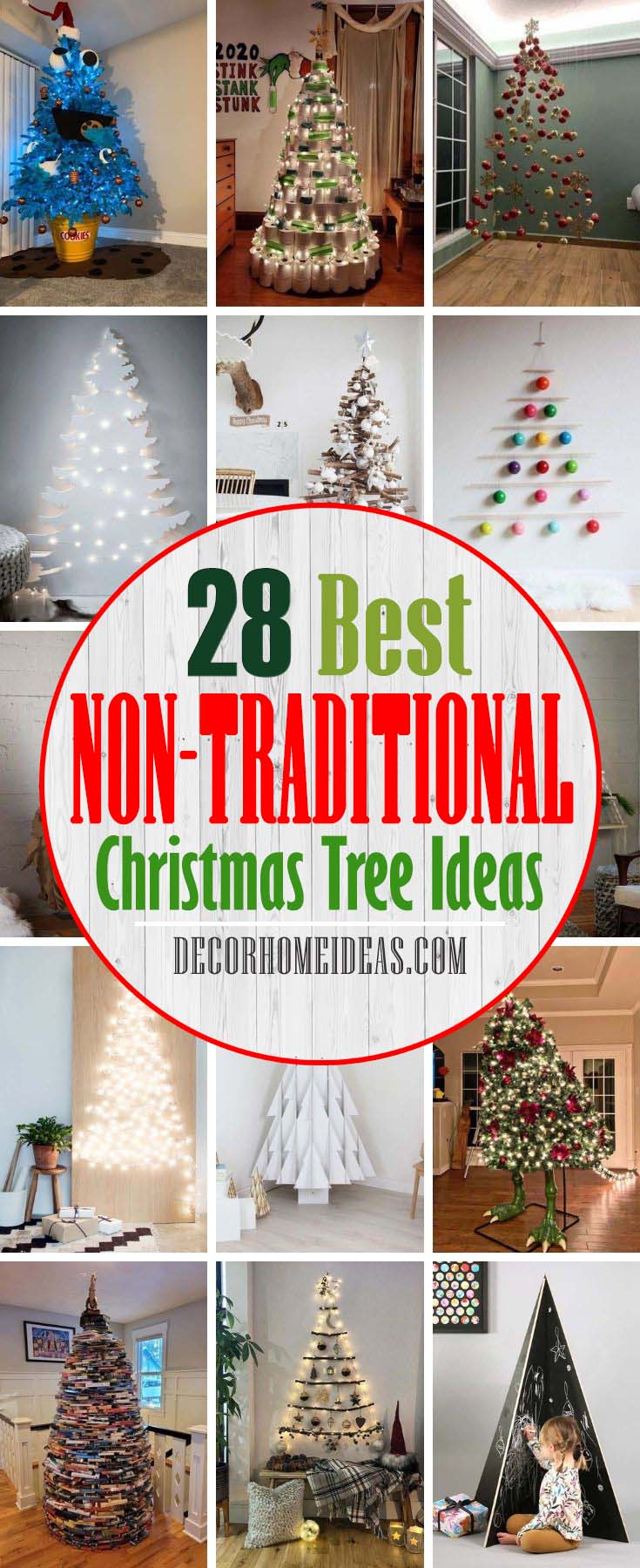 These gorgeous non-traditional Christmas trees can reinvigorate your decorations and bring joy to the end-of-year celebrations.
1. Magical Iridescent Unicorn Tree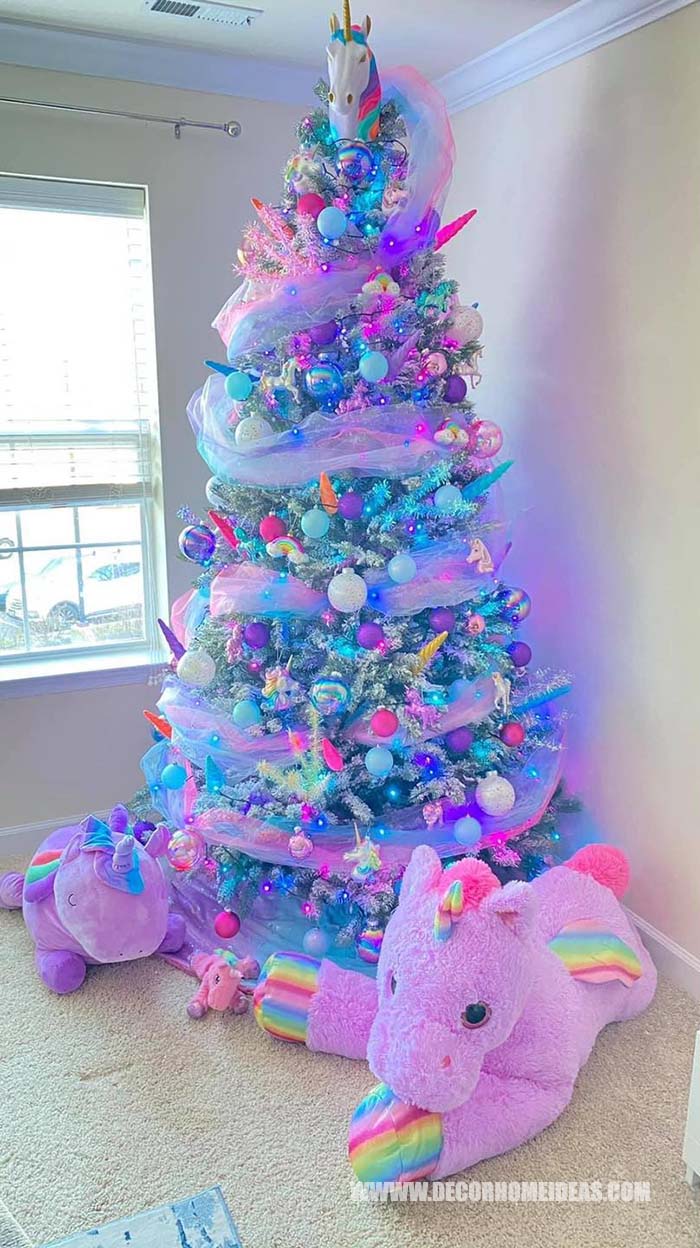 If you are looking for more colorful holiday decorations or your kids are in love with unicorns and rainbows then this Christmas tree is the perfect addition to your holiday.
2. Literary Lovers Book Tree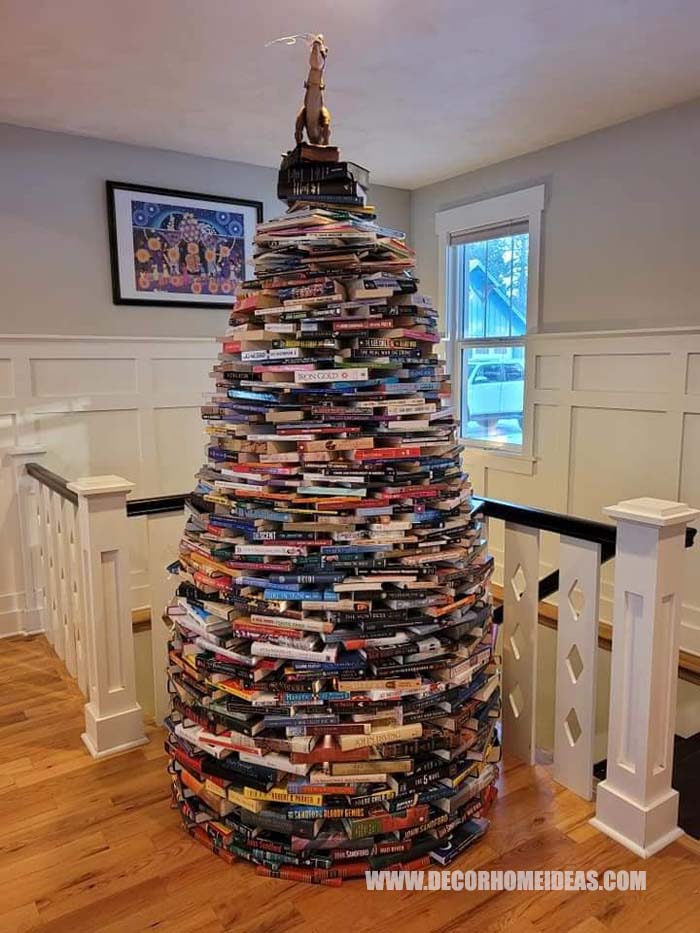 Book nerds, unite — this thrilling Christmas tree is for you.
It's made with many different layers of books, with each individual spine facing out.
The result is a symphony of color and print that will delight all of your holiday visitors. Our favorite part is the dinosaur tree topper.
3. Simple Decorated Cardboard Cutout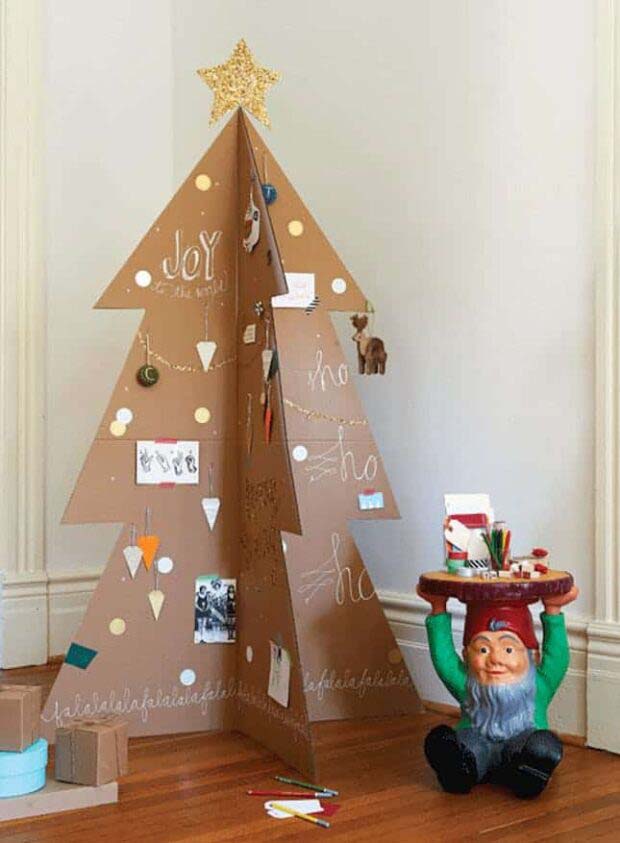 This cheap and cheerful cardboard tree is the perfect weekend craft project.
All you need is a few sheets of cardboard and some miscellaneous craft supplies.
Create a big tree for a corner or a tiny one to place on your desk.
via Chatelaine
4. Layered White Cardboard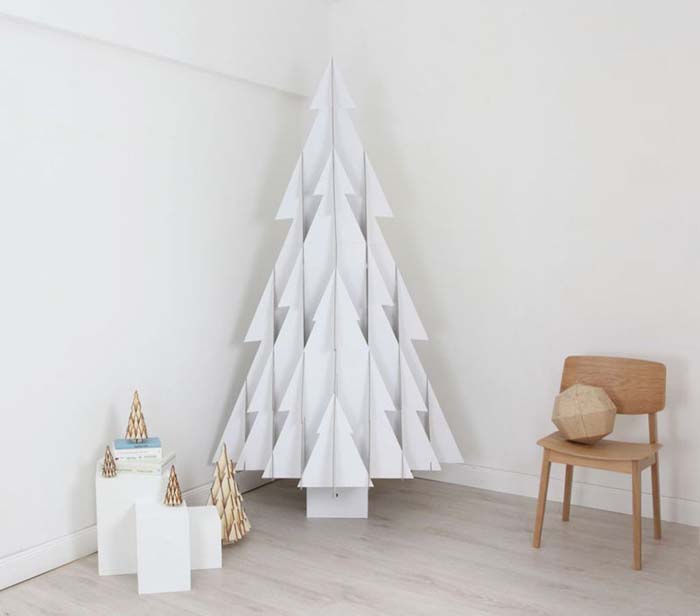 How chic is this stunning tree?
The bright white color obscures the fact that each of the components is made from lightweight cardboard.
Whether you use it as your primary tree or a supplemental decoration, this elegant piece is sure to make a splash.
via Odenne Boom
5. Standing Kid Friendly Chalkboard Tree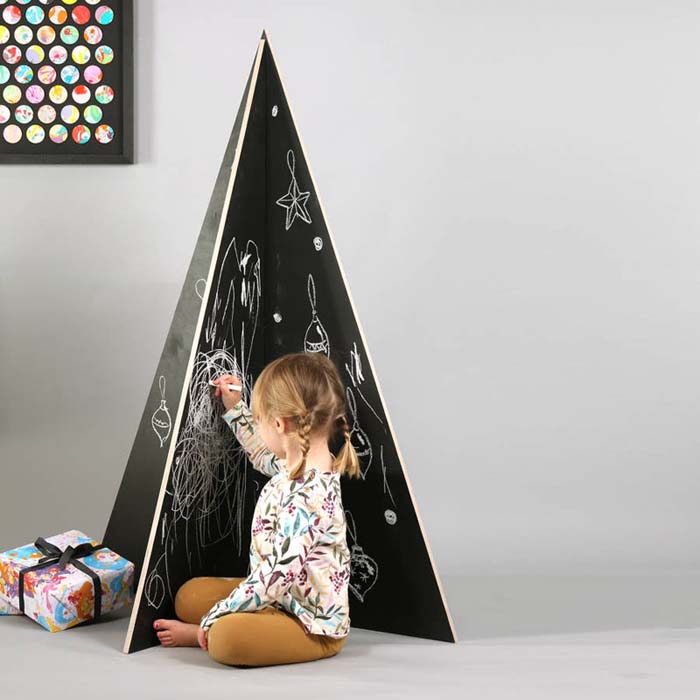 A chalkboard tree is a completely unexpected way to decorate for the holidays.
The dark color looks stunning in a contemporary home or a modern farmhouse.
If you have little ones, set them loose with a box of chalk to decorate the tree.
via Bombus
6. Tree Shaped Wall Greenery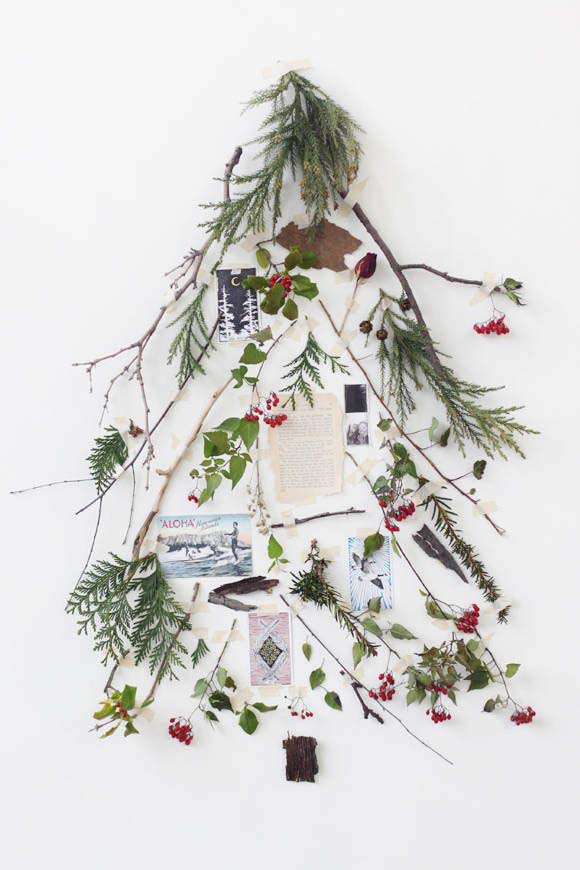 When you don't have space for a full-size tree, why not give this collage version a try?
It mounts directly on the wall, so your floors stay free and clear.
Branches and greenery evoke the feeling of a natural tree, and personal prints add a sweet touch.
via Free People
7. Blue Cookie Fiend Tree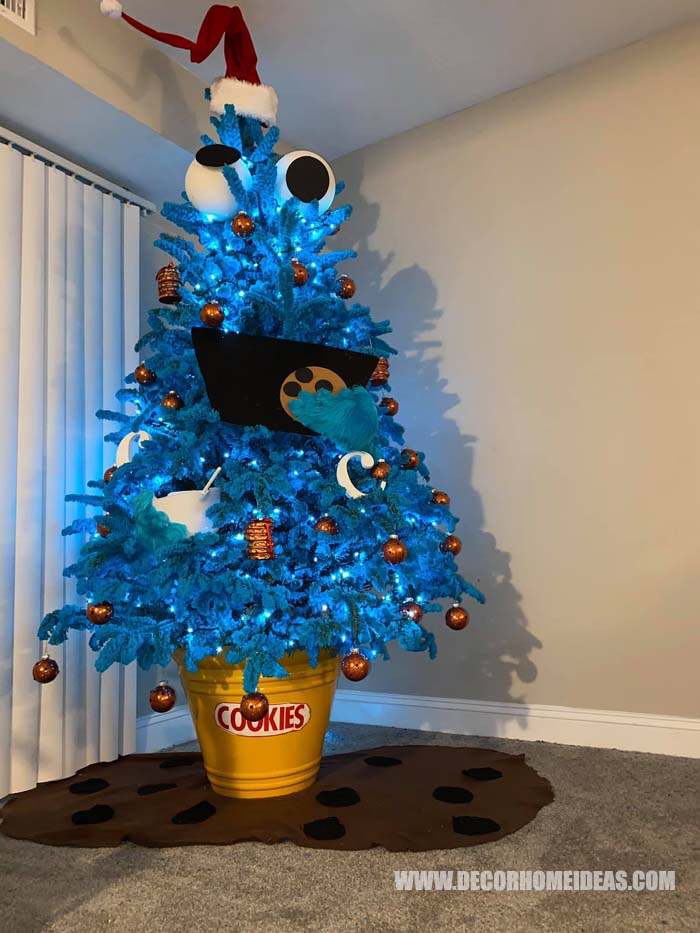 If you have children, this Cookie Monster tree is a charming way to switch things up this Christmas.
The brilliant blue needles are the perfect canvas for a DIY project involving eyes, mouth, hands, and cookies.
Your kids will never forget this darling design.
8. Lights And Twigs With Holiday Ornaments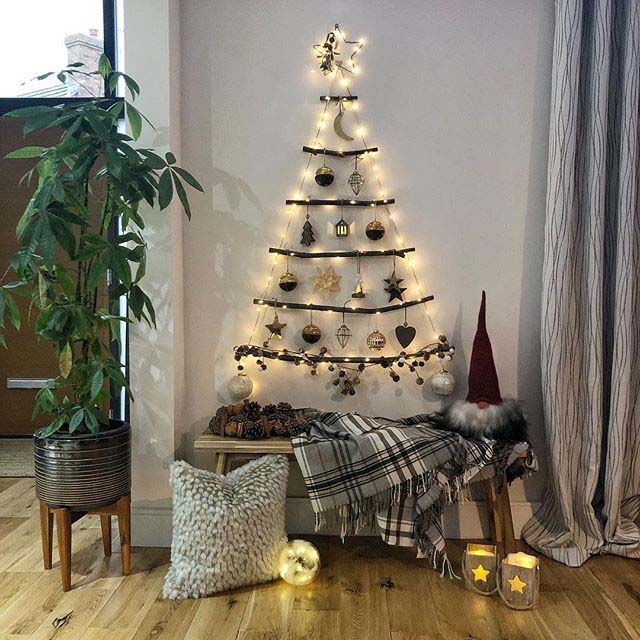 Here's another space-saving "tree" for a hallway or an upstairs playroom.
Wood branches and white string lights create the silhouette of a tree — it even changes form when you turn off the lights.
Hang ornaments from each branch for a fun, memorable piece of holiday decor.
via Faffling at Home
9. Create A Classic Tree Shape With A Felt Garland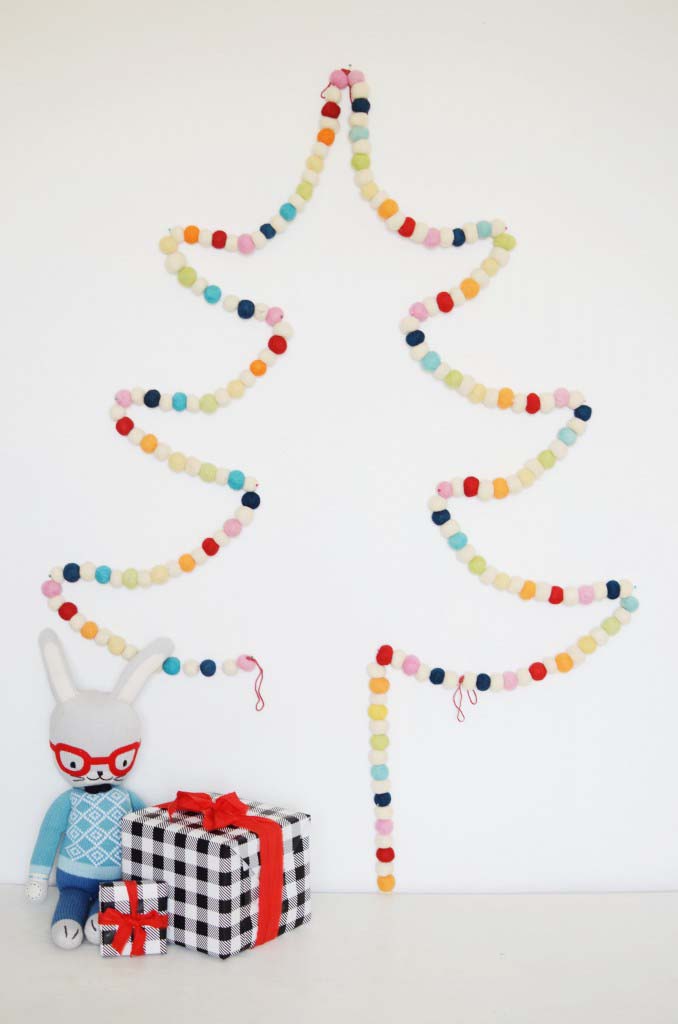 Looking for a kid-friendly alternative Christmas tree?
Create one from a colorful garland of felt pom poms.
The soft material is gentle on little hands, and the brilliant colors look cheerful in a bedroom or playroom.
via My Cakies
10. Faux Tree Christmas Card Display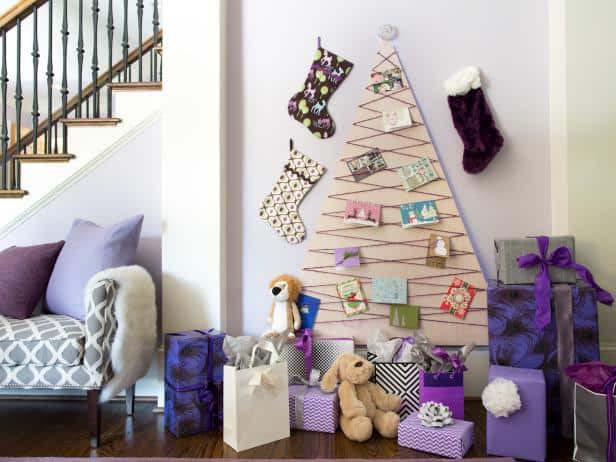 If you're inundated with Christmas cards every season, this clever tree makes a fun display.
Make the tree by cutting a triangle shape out of wood or cardboard.
Wrap it in string to create a lovely way to hang your favorite cards.
via HGTV
11. Glittering Gold Dipped Feather Tree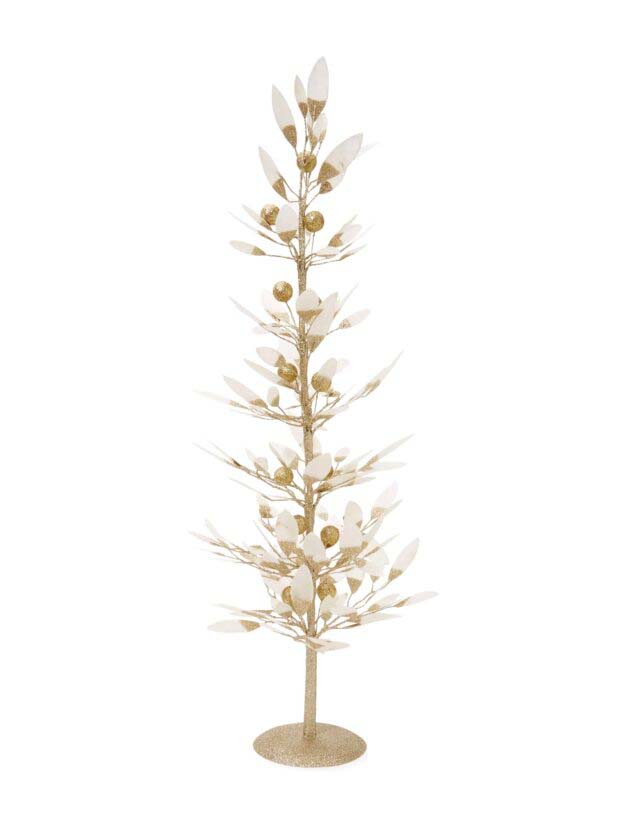 Complement a glamorous home with this golden Christmas tree, which features bright white feathers in place of branches.
The sophisticated design looks gorgeous with or without ornaments, and the sparkling trunk glitters alluringly from every angle.
12. Suspended Ornaments Invisible Tree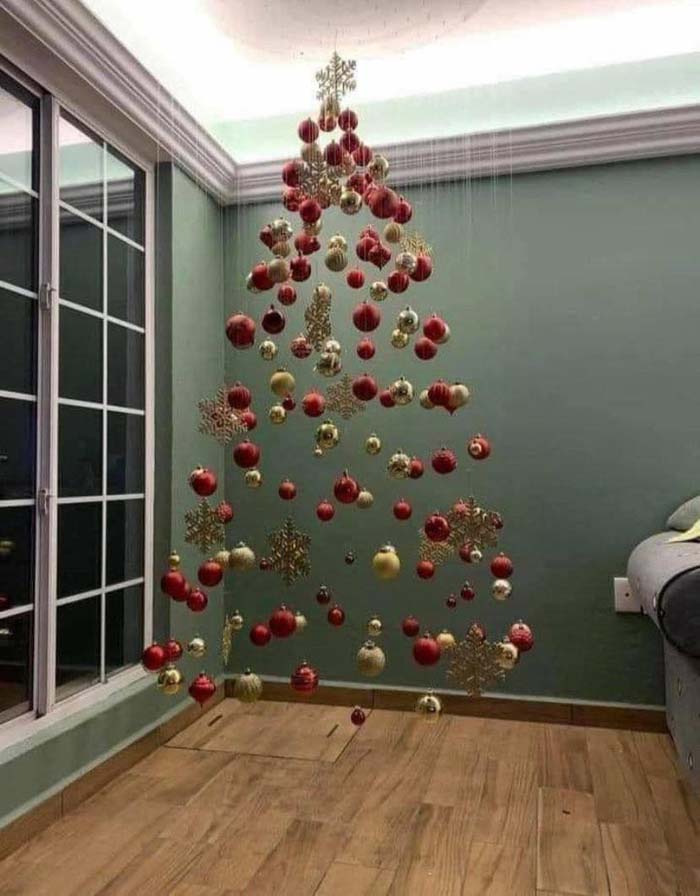 Shock your guests and family members with this clever illusion Christmas tree.
Formed by ornaments suspended on a clear fishing line, it gives the impression of an invisible tree. The best part?
You don't need to worry about cleaning up needles throughout the season.
13. Multicolored Light Tree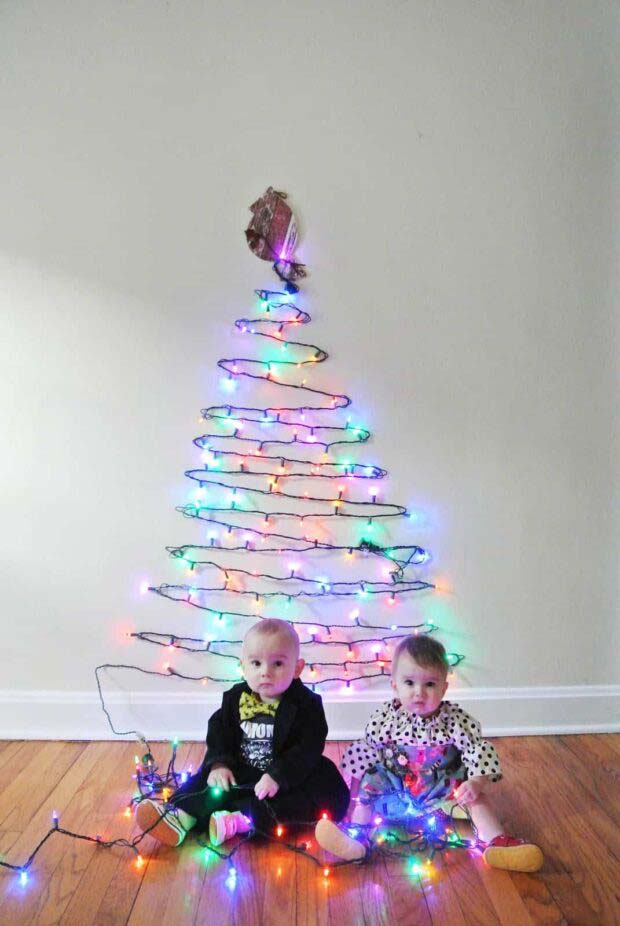 If the lights are your favorite part of the Christmas tree, this non-traditional decoration is for you.
Using a strand or two of multicolored lights, use zig-zag lines to make the shape of a tree.
It's a quick, easy, and affordable way to celebrate the holidays.
via Bell and Pistol
14. Curled Paper Strips Hanging Tree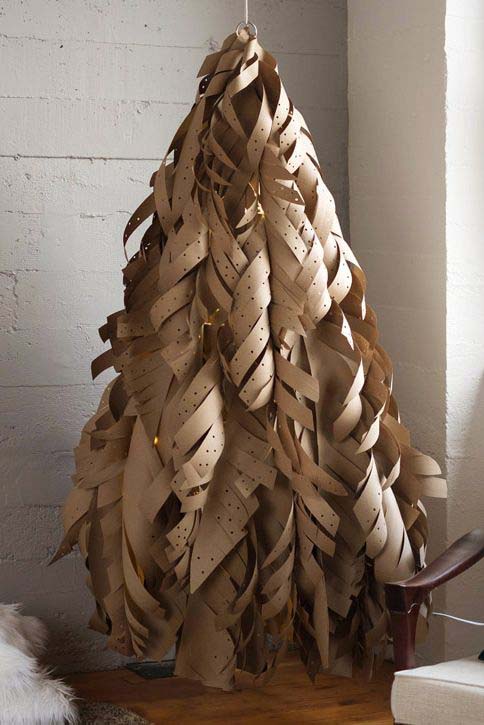 Go for a rustic theme by creating a Christmas tree out of kraft paper.
The soft brown color looks warm and soothing, and the natural curls set a relaxing vibe.
Punch holes in the paper and add lights in the center for a glowing effect.
via Lia Griffith
15. Tiered Shelf Macrame Tree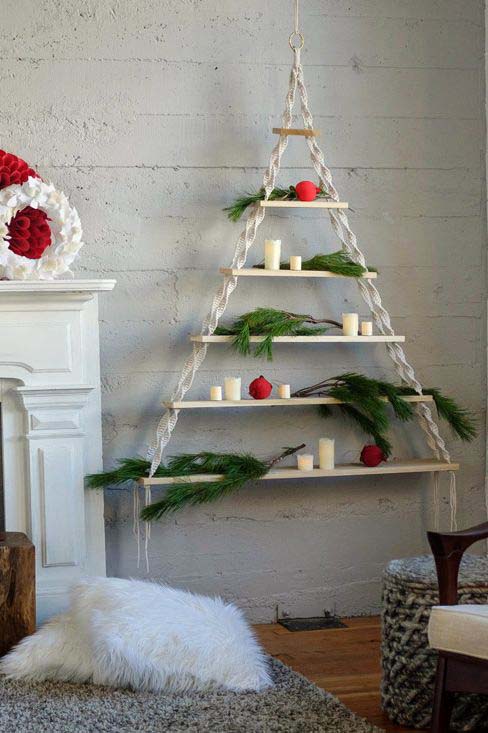 If you've ever wanted to learn the art of macramé, this tree is a great way to learn.
The sturdy twisted lines provide plenty of strength for wood "branches".
Use each piece to display ornaments, candles, or boughs of real or faux greenery.
via Lia Griffith
16. Let The Tree Be The Star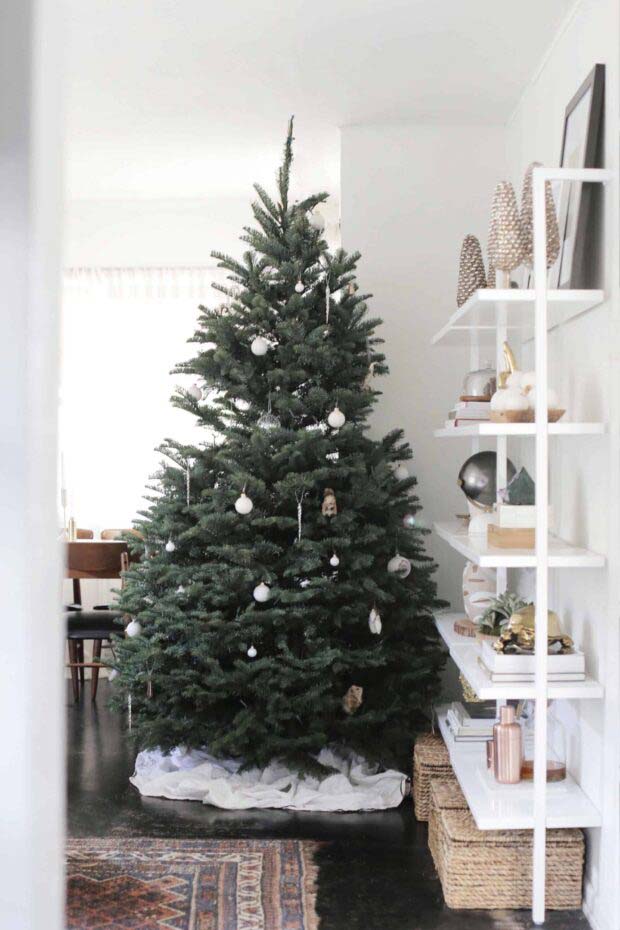 Embrace minimalist design this year by cutting back on your ornaments. Instead of loading up the tree, pick a few favorites in the same color palette.
The result is completely unexpected and exciting — perfect for a rule-breaking Christmas.
via Anne Sage
17. Contemporary Ornament Ring Tree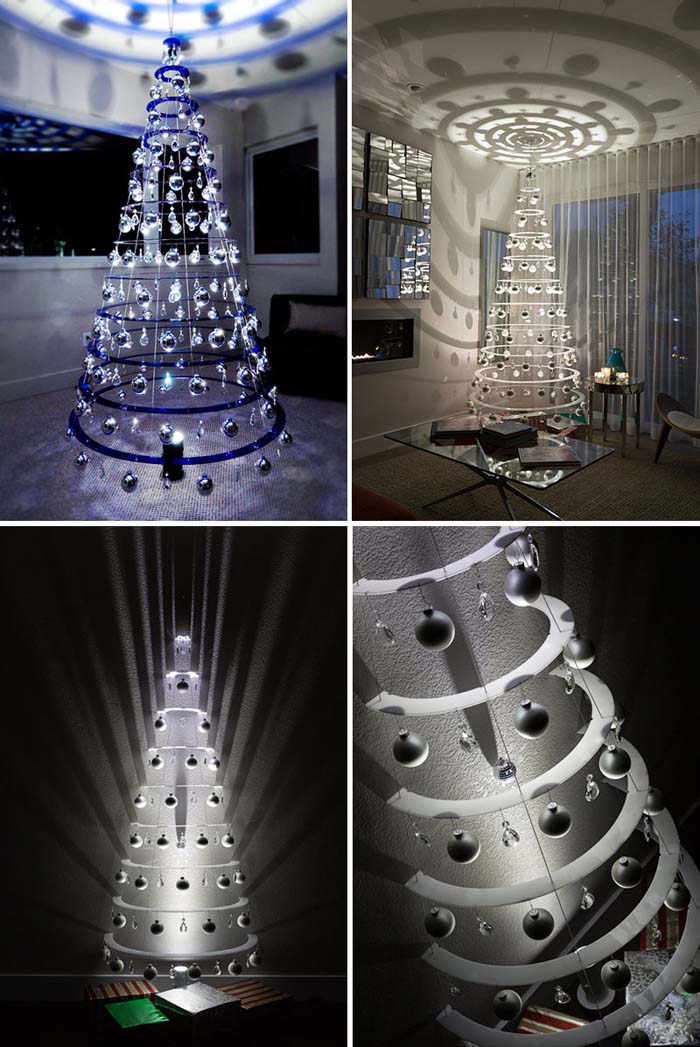 When you have an ultra-modern home, a traditional Christmas tree can look out of place.
This exciting tree is the perfect alternative.
With concentric rings and silver ornaments, it makes a big, bold splash in any room of your house.
18. Full Paper Cone Tree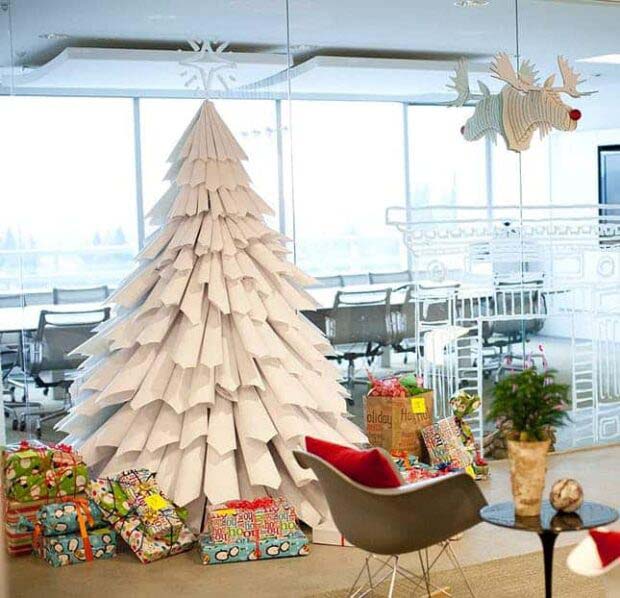 Bid farewell to needles and watering by creating a Christmas tree out of paper.
Here, large paper cones create a surprisingly realistic shape.
After the holidays, simply recycle the paper and enjoy the easy cleanup.
19. Stunning White Light Wood Plank Tree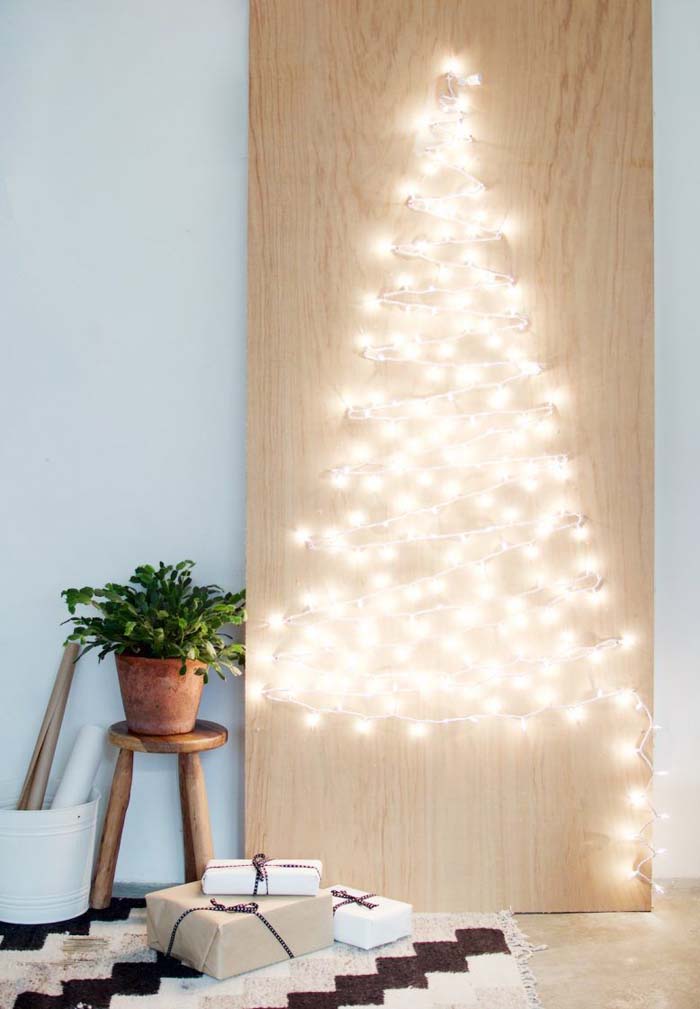 If you have a piece of pegboard, an old door, or a sheet of wood sitting unused in the garage, turn it into an alternative Christmas tree.
A few nails, pegs, or thumbtacks and a strand of Christmas lights are the only supplies you need for this affordable project.
via Collective Gen
20. Stacked Party Ball Tree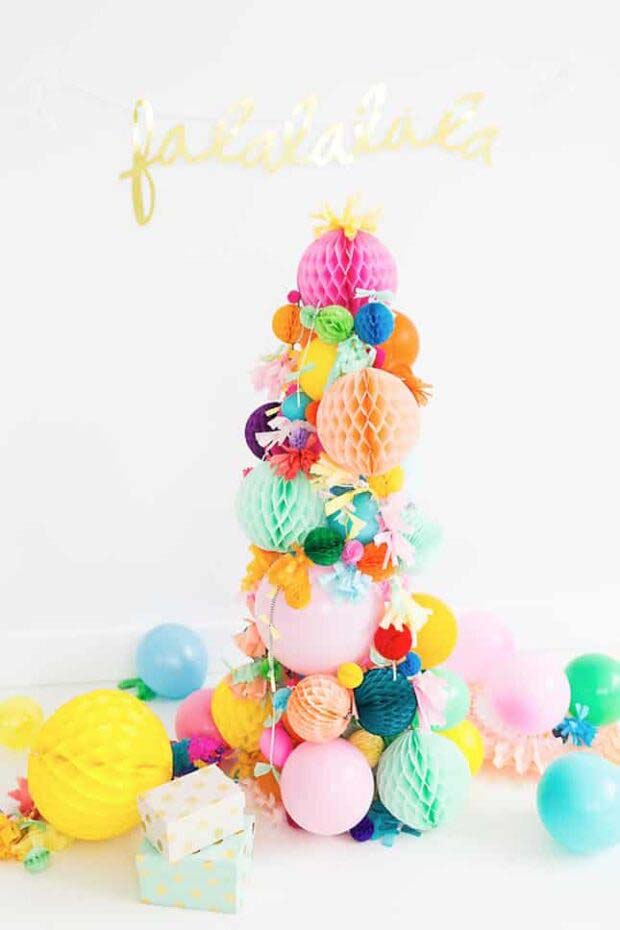 Have you ever seen the expandable paper globe decorations at party stores?
Buy a collection of them in multiple colors to create a truly joyful Christmas tree.
A selection of paper pom poms peeks out from between the globes for fullness and extra color.
via Sugar and Cloth
21. Candle Collection Scented Tree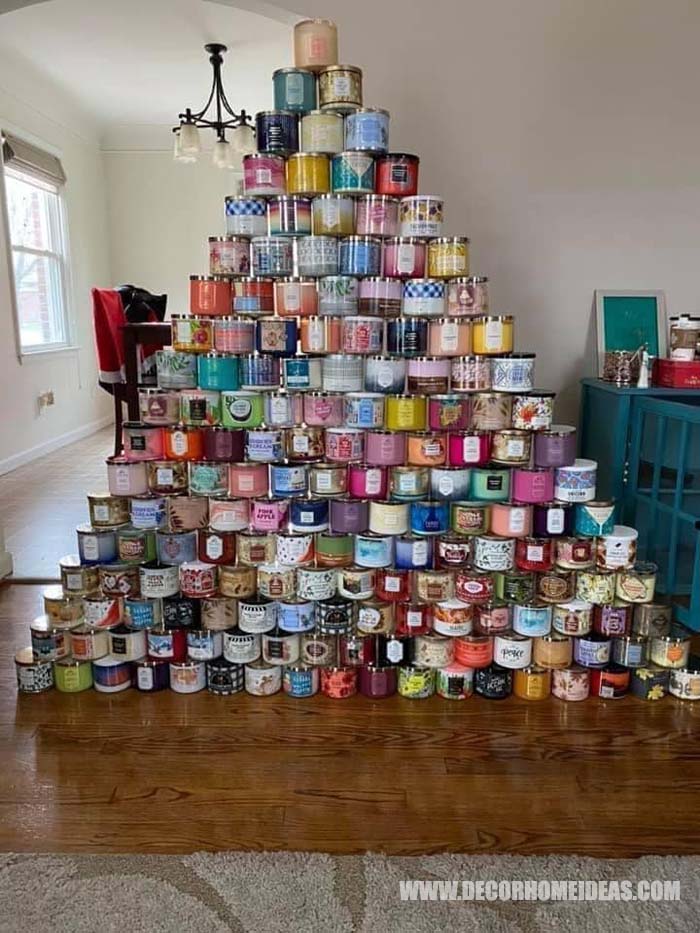 Put your collection of scented candles to work by creating a Christmas tree tower.
The unconventional design is a fun way to show off the beautiful labels and wax colors — and your house will smell amazing all season long.
22. Rustic Driftwood Stacked Tree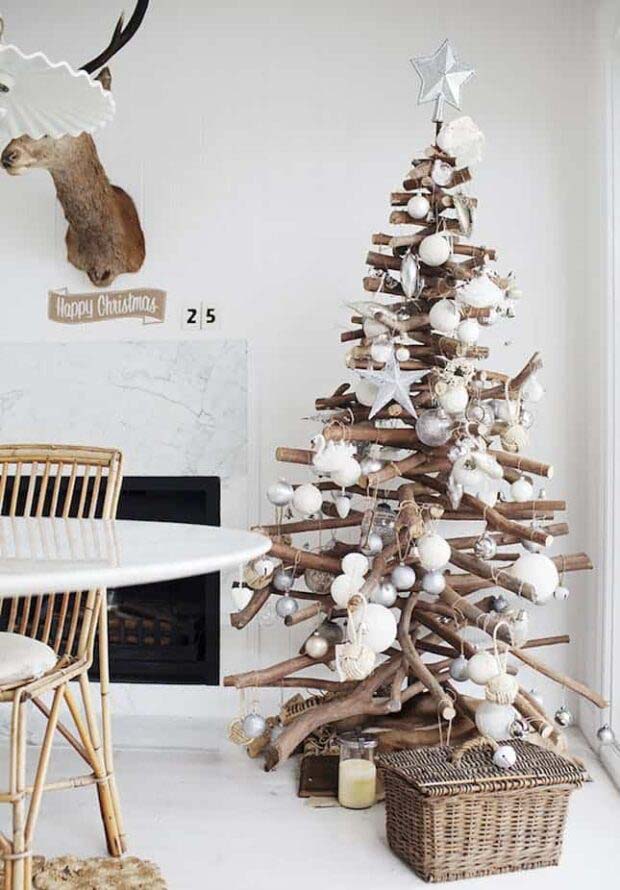 If you have a drill and some free time, you can create a spectacular non-traditional tree using a collection of branches.
Each one slips over a central dowel, so you can rotate it to create a full tree.
Hang ornaments or leave the branches bare for a low-key rustic vibe.
via Dekrolog
23. Tree Shaped Succulent Arrangement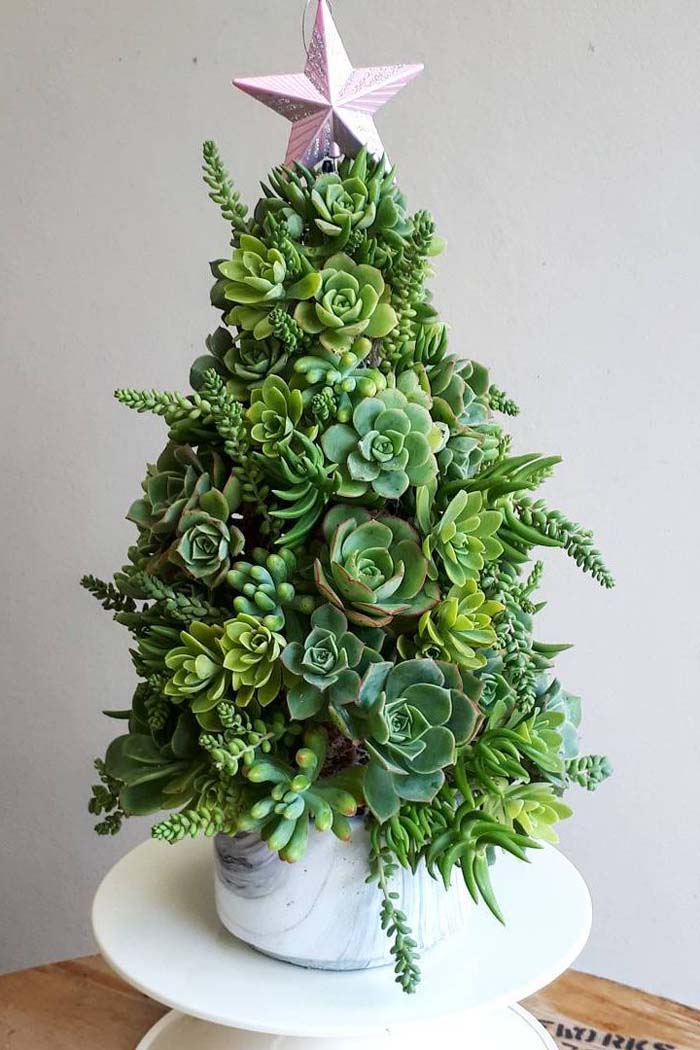 Succulents are a staple of desert decor — this year, celebrate their unique beauty by arranging them into a Christmas tree.
The plump lobes and spectacular colors make a breathtaking tree for a table.
via Living Bunch AU
24. Bright Rainbow Christmas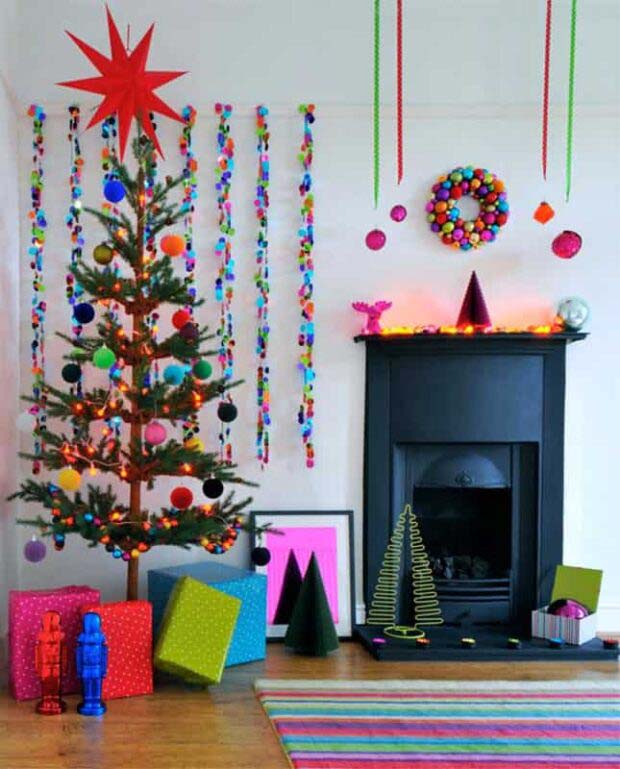 Ready to break away from red and green Christmas decorations?
Stock up on rainbow-colored Christmas ornaments for a Technicolor tree.
Pair your bright tree with equally colorful garlands, wreaths, and wrapping paper.
via C.R.A.F.T.
25. Sparse Decorated Tree Branch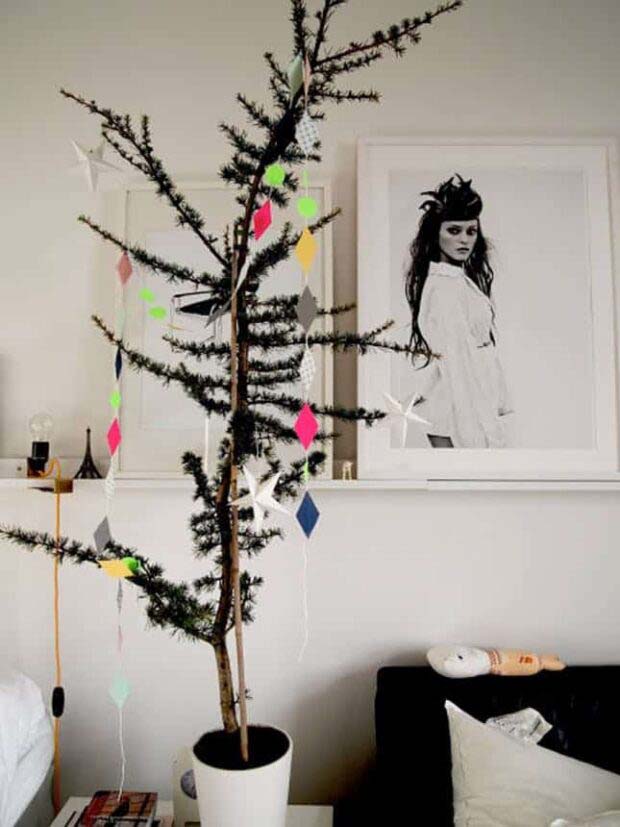 Maintain your modern, minimalist style with a thin tree.
Buy a potted version, and you can use it over and over again without cutting down a fresh tree.
Simple geometric ornaments add color while keeping a contemporary vibe.
via Anna G
26. Pandemic Supplies Grinch Tree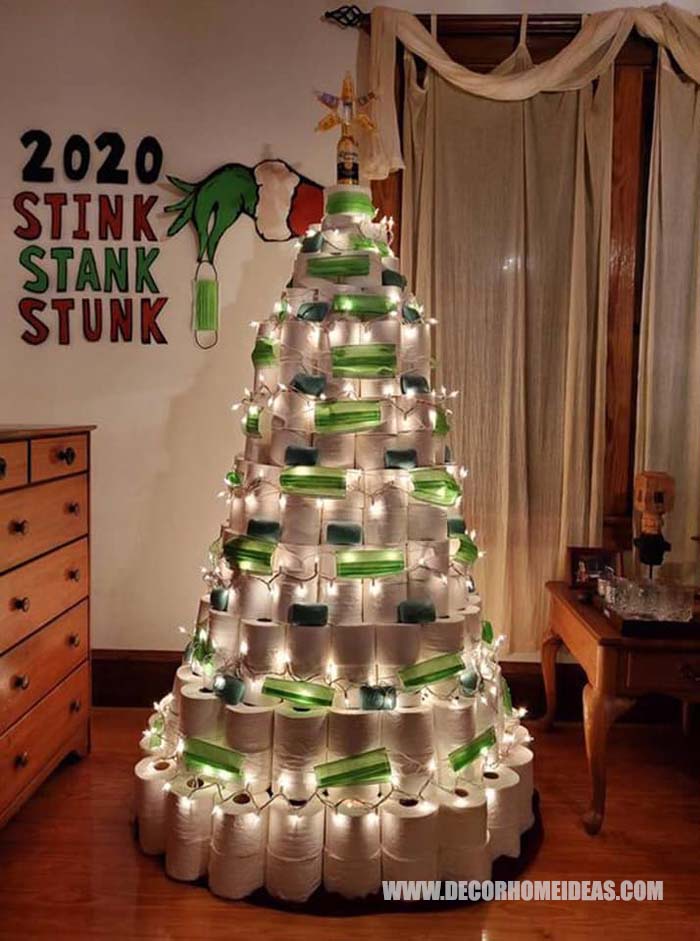 Create a funny Christmas tree by stocking up on — or hoarding — rolls of toilet paper.
Tiers of white paper rolls make a hilarious alternative tree that's perfect for 2020.
Add lights and masks for extra humor.
27. Giant Dino Tree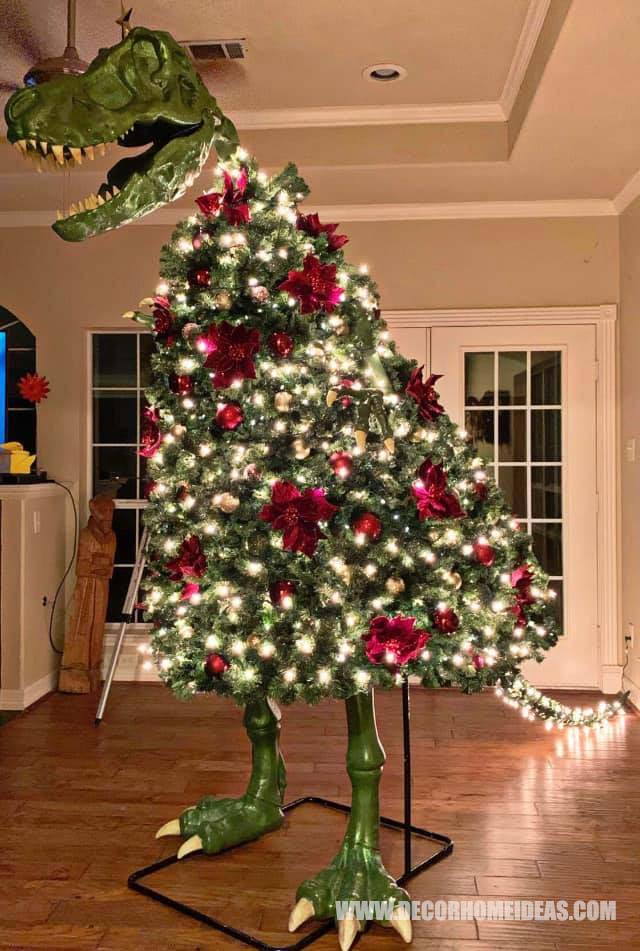 With its dinosaur head and feet, this adorable alternative tree is sure to thrill your children and visitors.
It's a breeze to make; just wrap faux garland around a metal frame to create a tree shape for the body of the beast.
A string of light-wrapped garland forms the tail.
28. Simple Geometric Ornament Wall Tree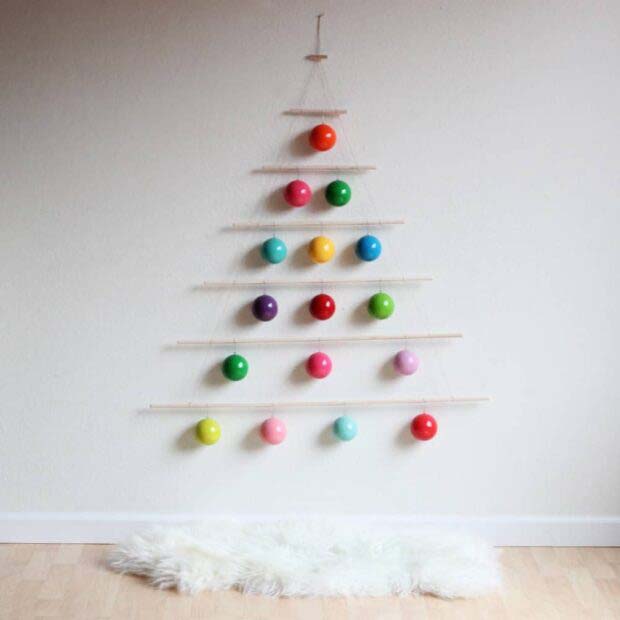 Part decor, part work of art, this wall tree is a gorgeous way to ring in the holidays.
Colorful balls or ornaments highlight the simple wooden-dowel tiers, bringing joy to any empty wall.
Tuck a faux-fur rug underneath to anchor your tree.
29. Illuminated Tree Standee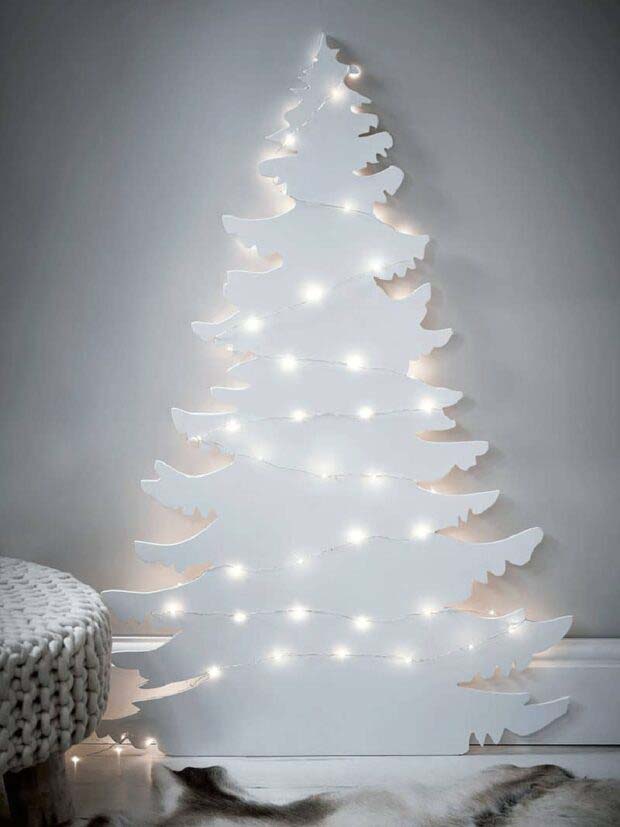 This tone-on-tone tree is an impossibly chic, space-saving way to decorate a small living room.
The secret is to wrap white lights all the way around the cut-out frame; it creates a beguiling glow that highlights the shape of the branches.
via Cox and Cox
30. Tree Shaped Gnome Hat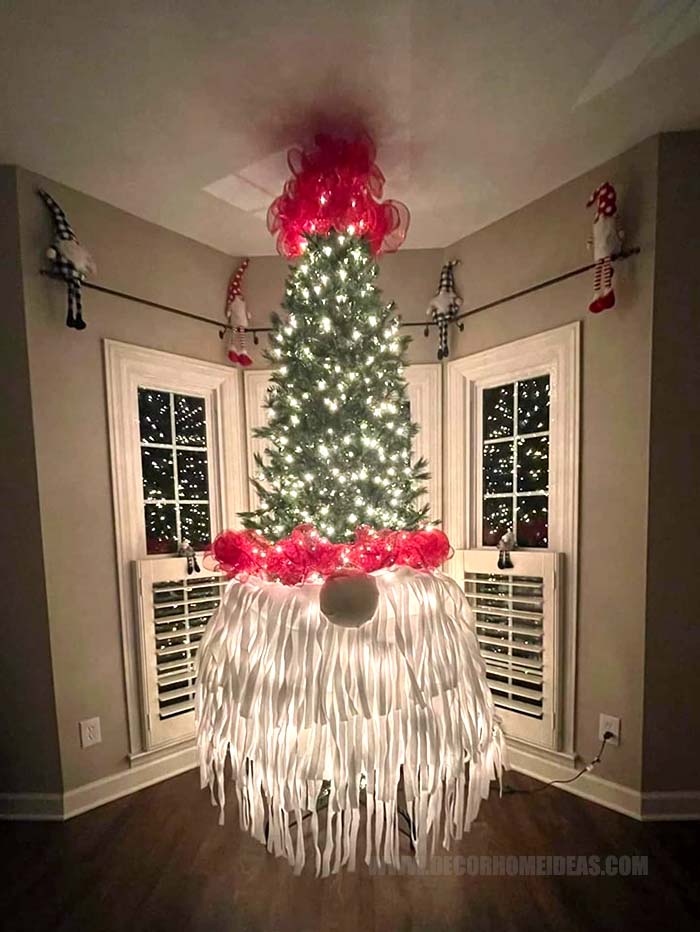 Here is how she did it:
"Used a white felt type material… cut strips and left an inch around the top so I could wrap around the tree. Used one solid piece of felt to cover most of the bottom and put three of the strips that I cut over that.
Hope that makes sense 🤦‍♀️
Found a round foam type piece at the hobby lobby for the nose and covered it in a skin color type material then added the red mesh around the tree and at the top for his hat. Cutting the felt took the longest but otherwise very simple."
31. Stunning White Butterfly Tree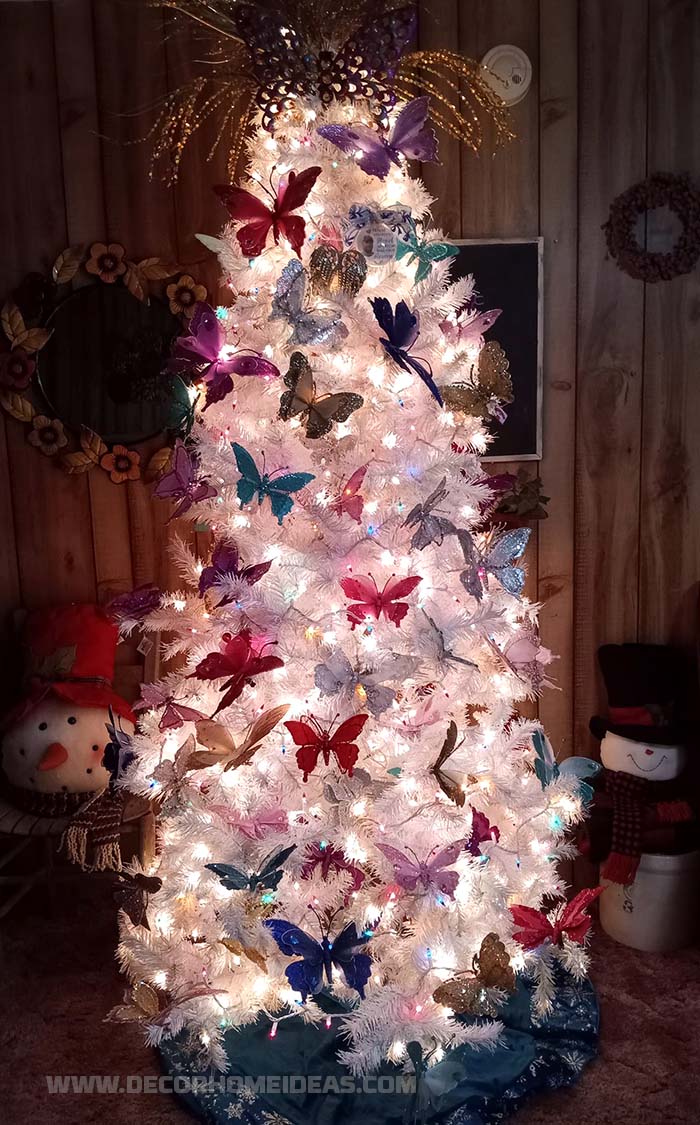 This awesome Christmas tree is decorated with butterflies and Tammy said she bought them from Walmart.
32. Cow Spot Ornaments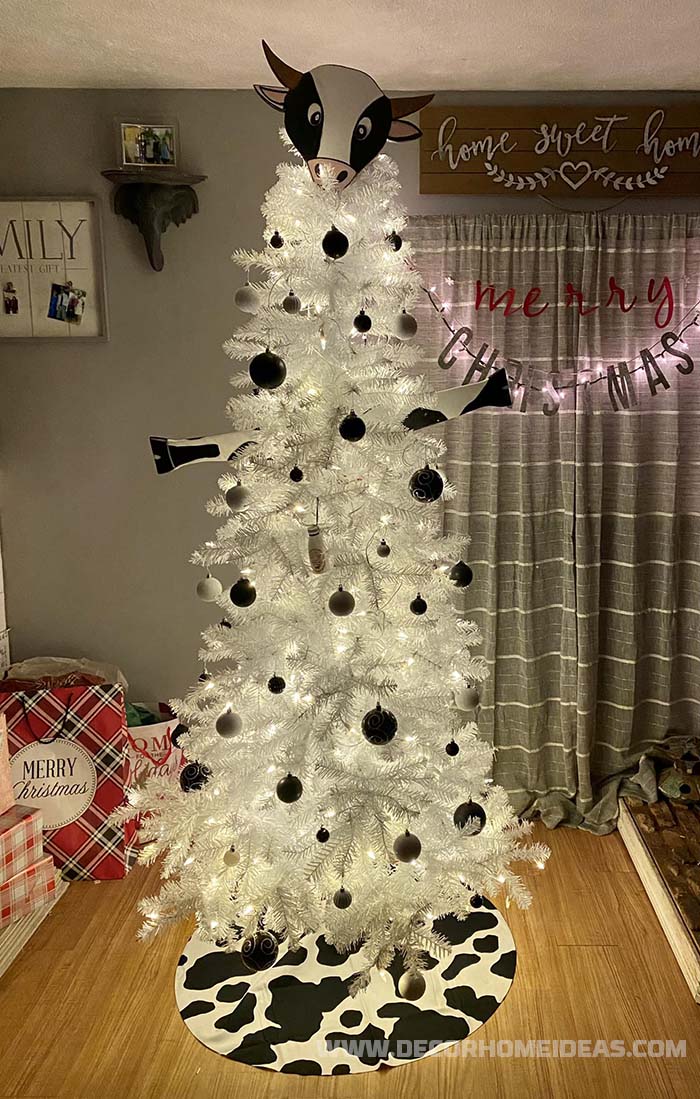 Merry Moo-Mas!!
The head tree topper and arms custom made
The tree skirt is from Amazon, the tree is from Homedepot. Ornaments from Walmart and Target and Hobby Lobby