The experiments with non-traditional Christmas colors started a long time ago and nowadays we can see rose, gold, silver and blue ornaments in the place of the traditional red and white ones.
One of the most popular new colors implemented in the Christmas decor is rose gold. Its sophisticated look transforms the interior giving it a touch of dreamy romance and improved homely look.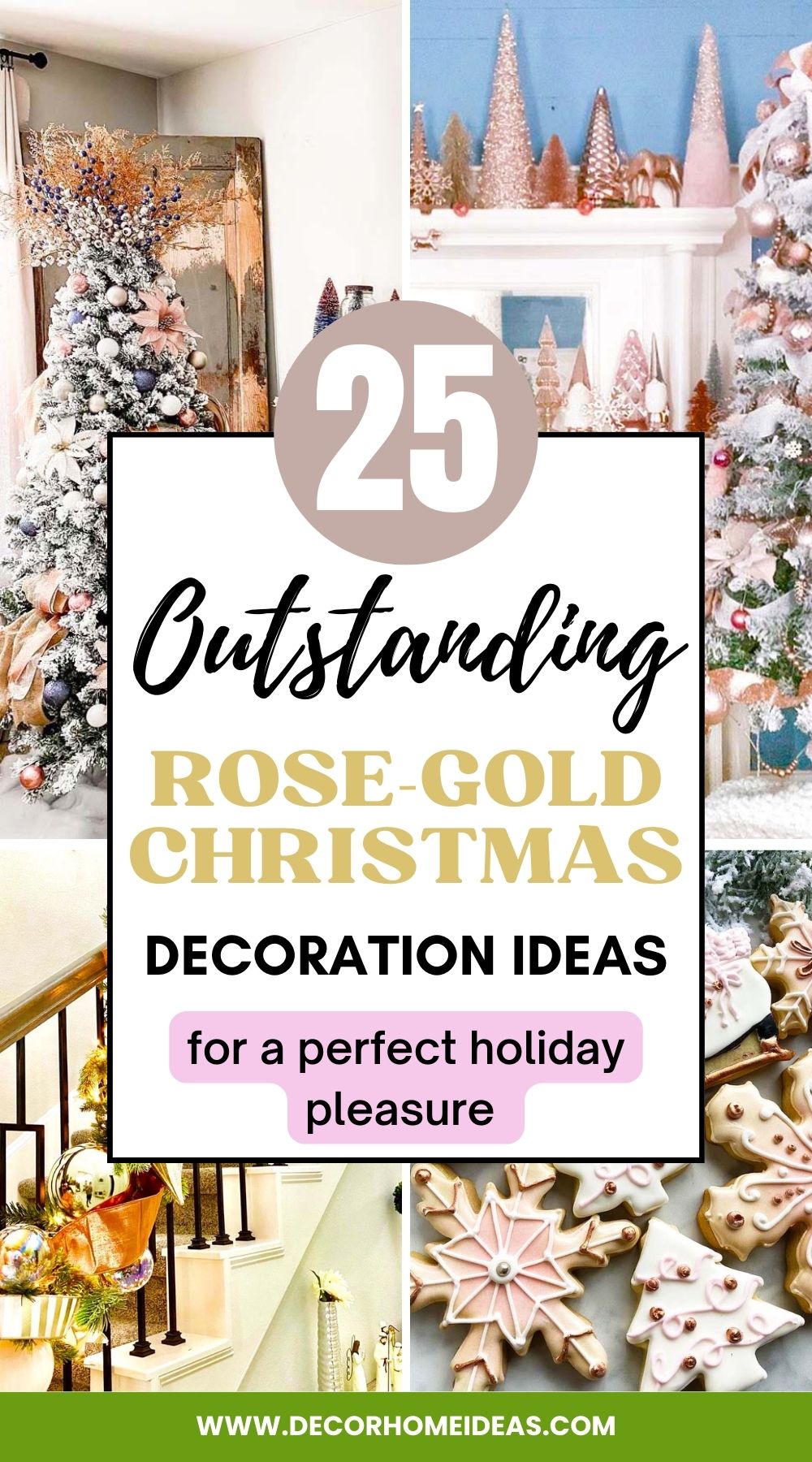 With the next collection of rose gold Christmas decor ideas, you can find inspiration for the holiday decor this year.
1. Rose Gold Garland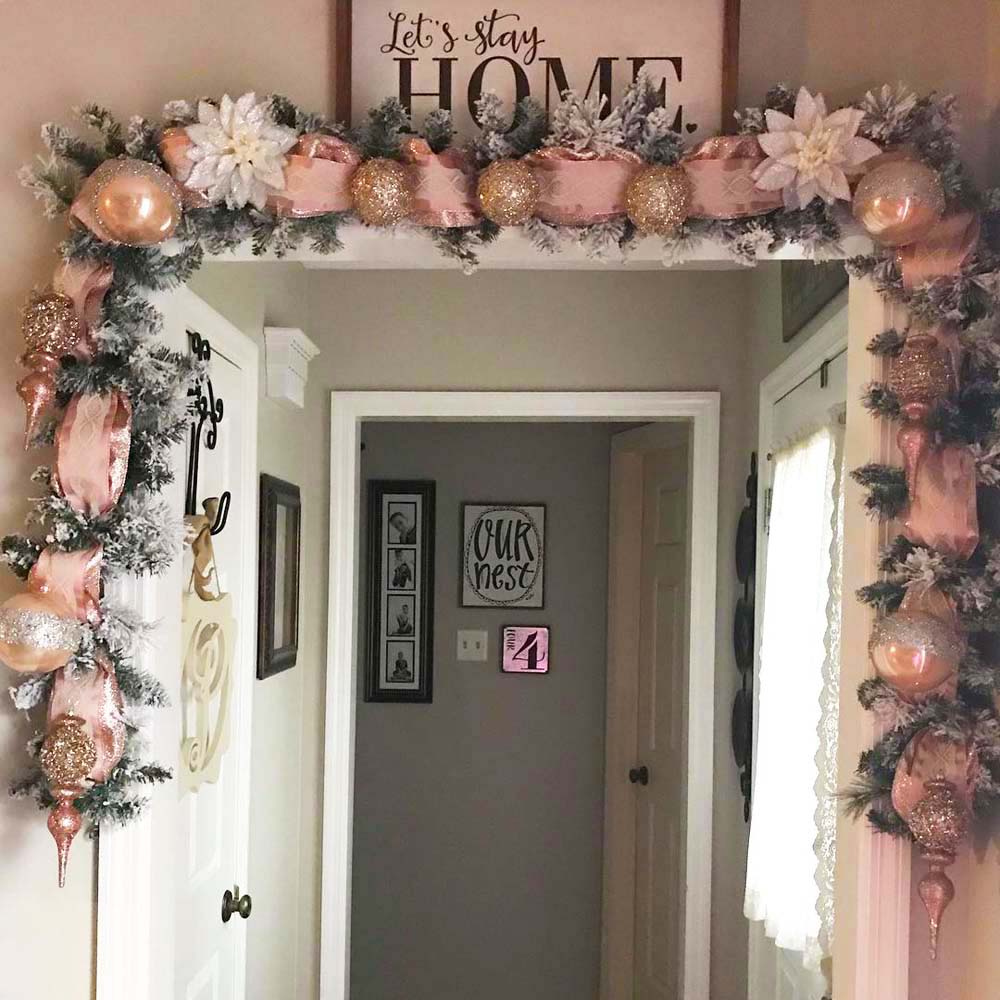 Decorate every room with a lovely Christmas garland featuring gold and pink baubles and floral decorations. This is a great and easy way to take Christmas decor to a new level.
2. Rose Gold Floral Christmas Tree Ornaments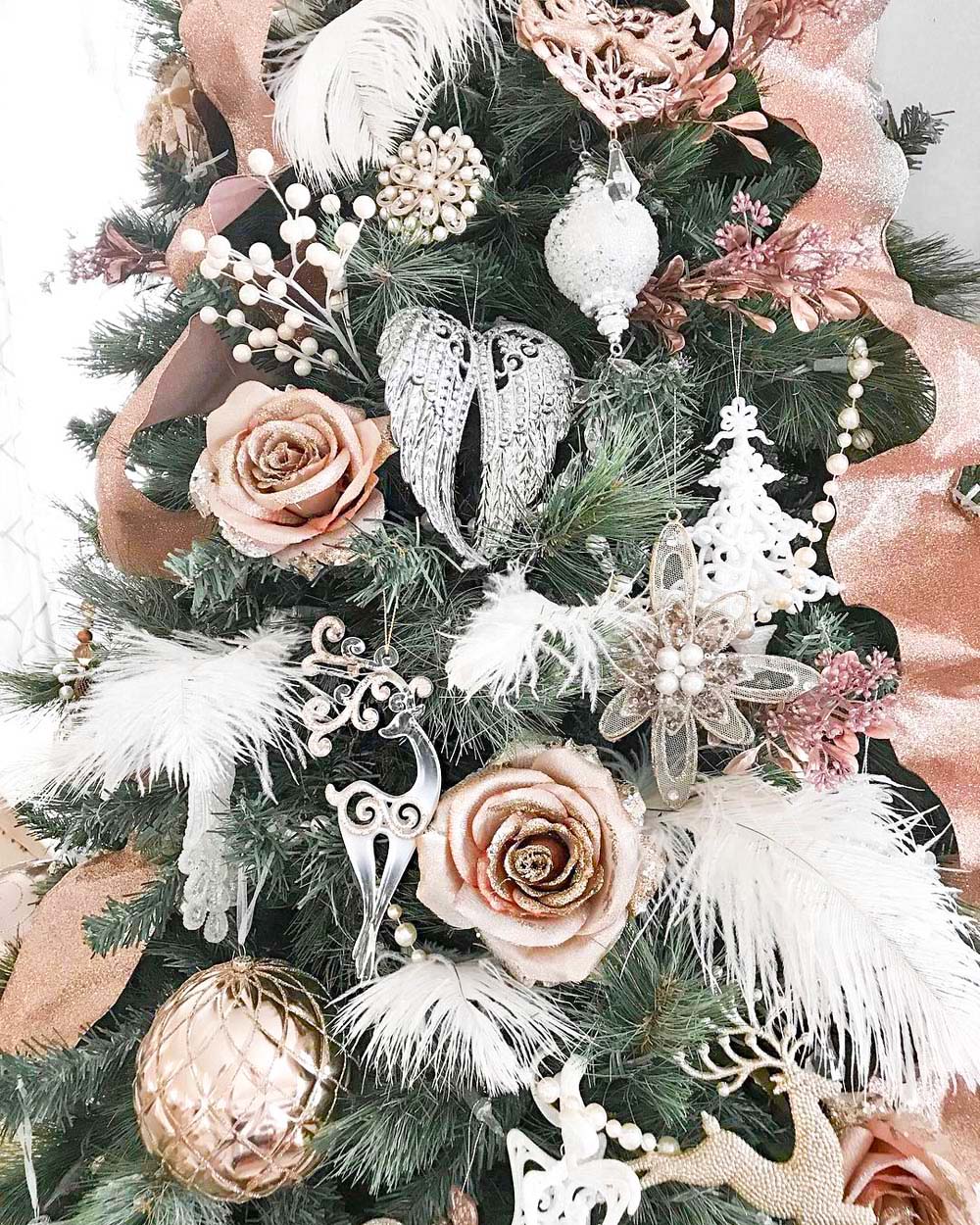 The rose gold color matches perfectly the delicate look of rose ornaments. Match them with glitter rose gold garland and white ornaments.
3. Rose Gold Ornaments, Garland And Skirt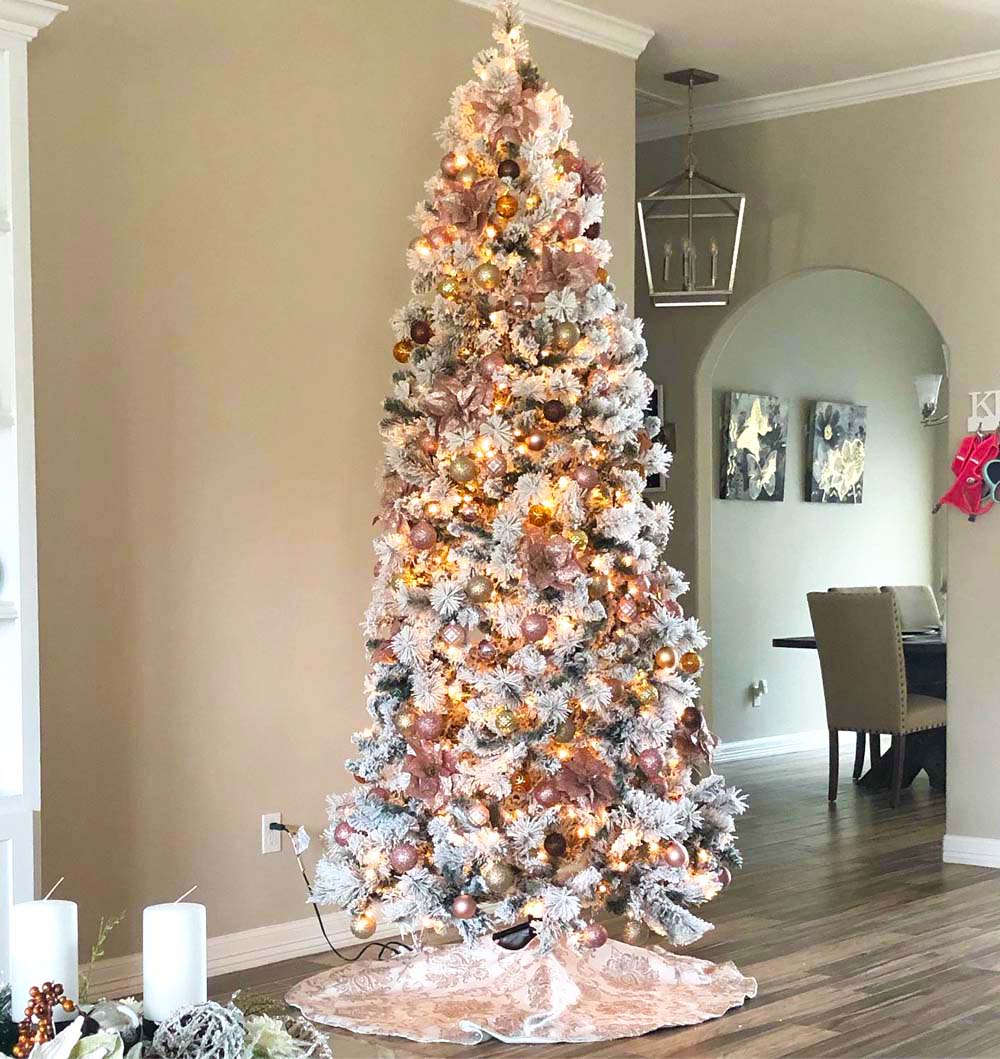 This is an inspiring Christmas tree decoration with rose gold. The skirt features glittery patterns which match the rose gold glittery poinsettias. The mixture of gold, white and rose gold ornaments creates a lustrous focal point for the winter holidays.
4. Wreath With Rose Gold Ornaments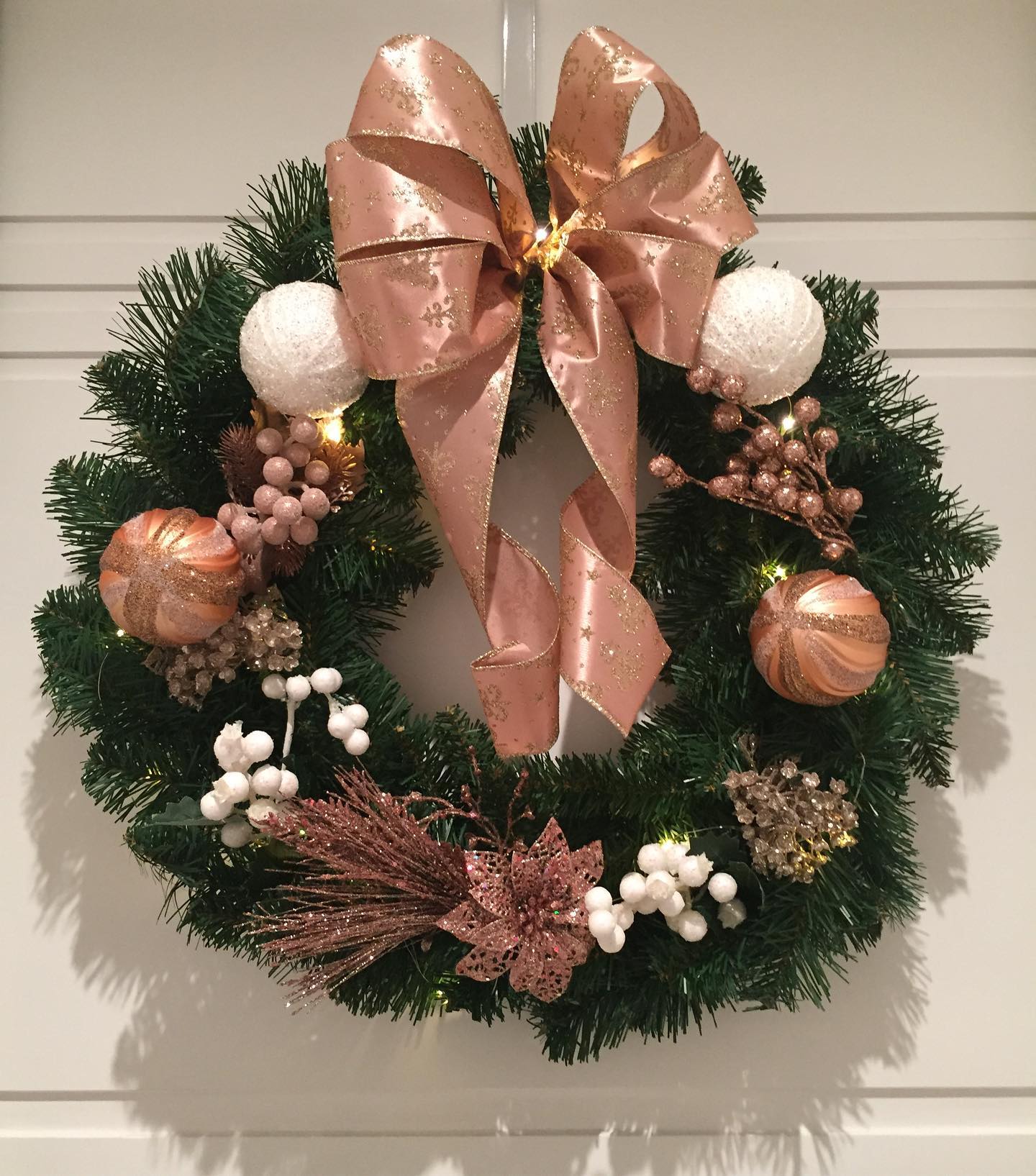 Rose gold color complements the traditional green color of the Christmas decoration giving it a twist of delicacy. This eye-catching combination is used on a wreath that will welcome guests in the winter season. Added white ornaments let the rose gold stand out.
5. Rose Gold Theme Of The Christmas Tree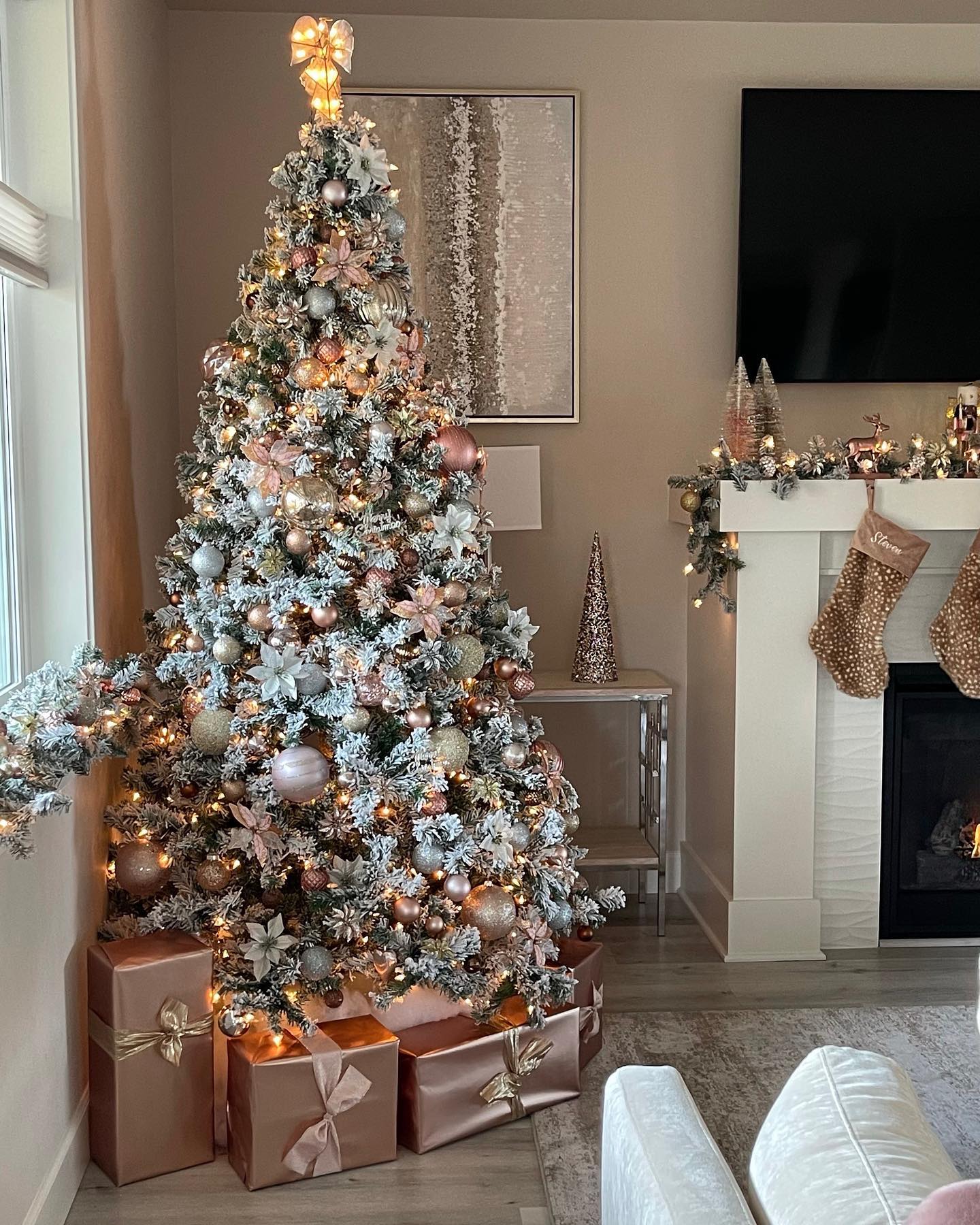 Make the Christmas tree this year a glamorous focal point with rose gold accents. Match them with silver, white and gold ornaments. These colors will create a neutral-themed decor that matches all interior styles. Add faux gifts wrapped in rose gold paper to hide the base of the tree and complete the arrangement.
6. Rose Gold Christmas Decor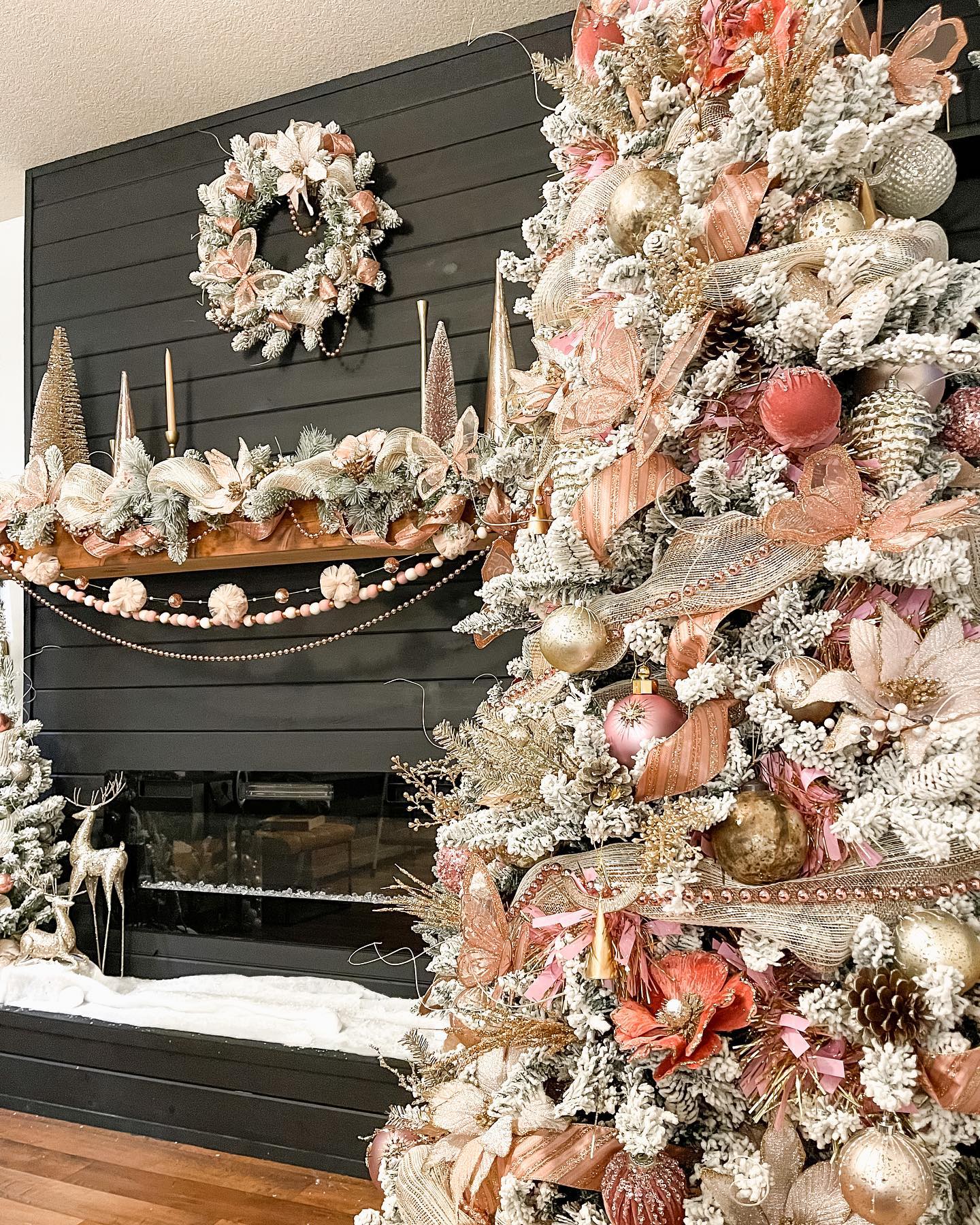 Rose gold goes well with white and warm pastel colors. Use this to decorate the Christmas tree and the mantel next to it. Implement the rose gold color through ornaments, ribbons and floral accents.
7. Rose Gold Ornaments On A Snowy Christmas Tree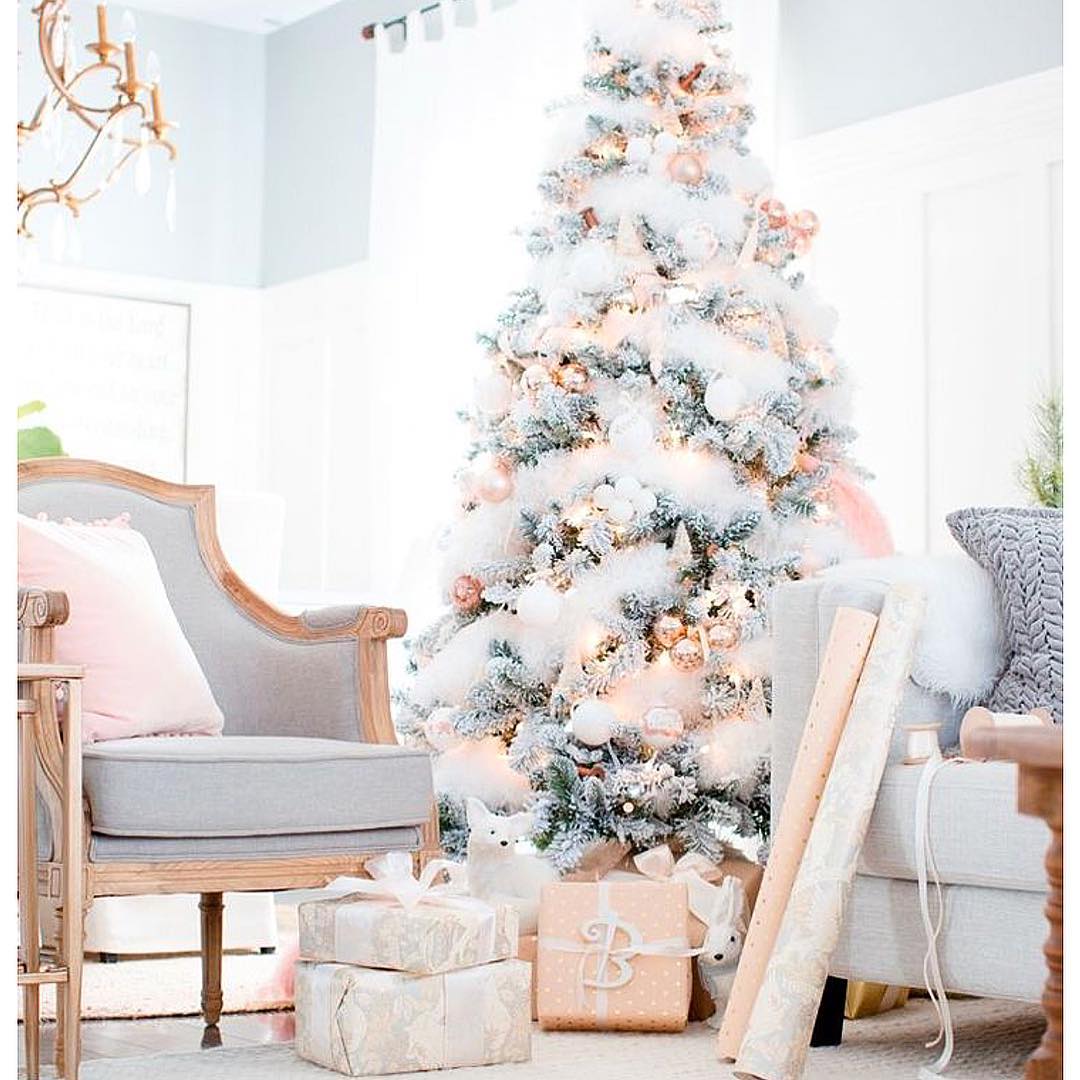 If you are looking for a Christmas tree decor that is more neutral and doesn't overwhelm the interior, try this arrangement. White garlands with rose gold and gold ornaments.
The final result is very chic and attractive Christmas tree which blends with the interior.
8. Glitter Rose Gold Decoration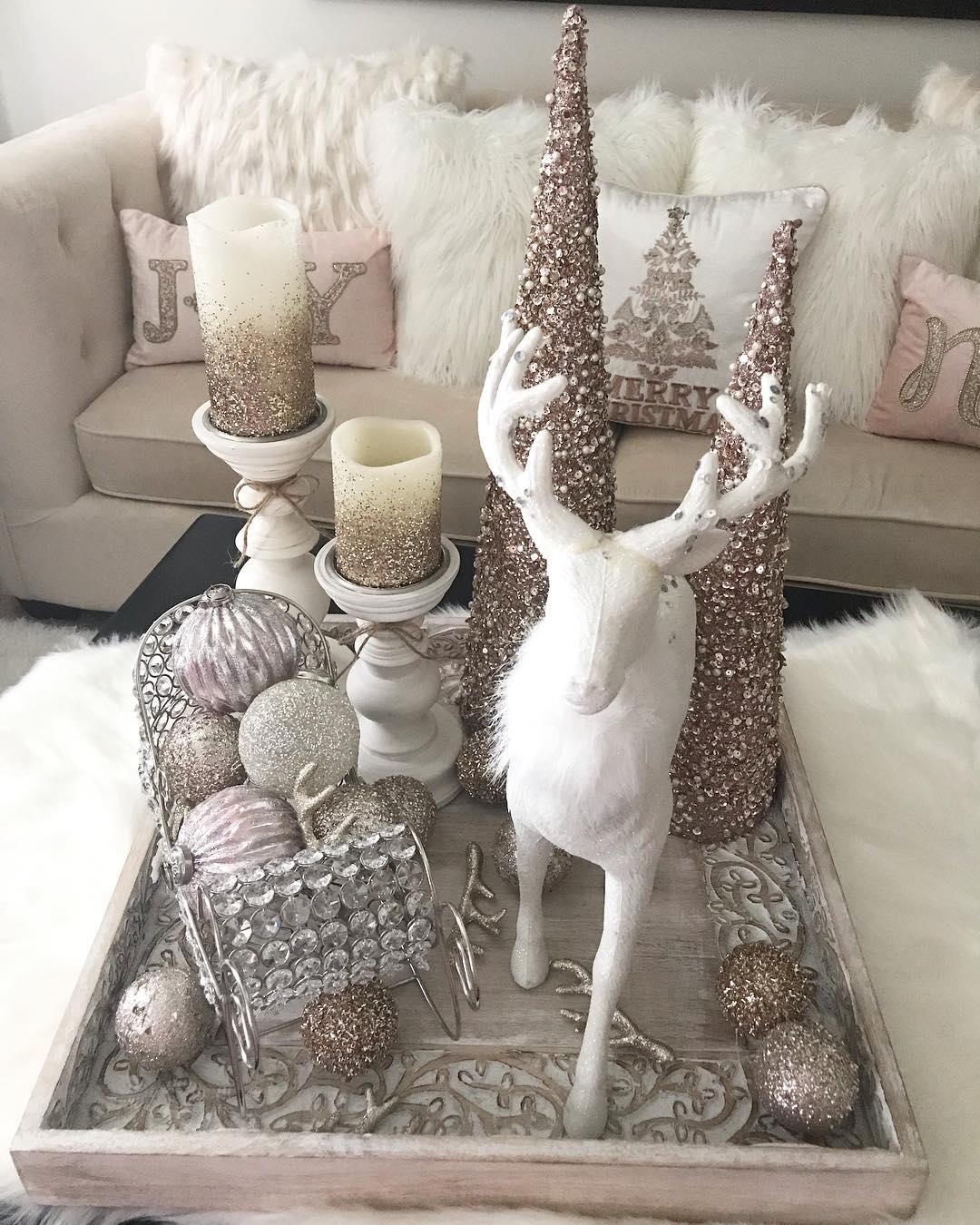 Glitter rose gold decorations can be used to make a centerpiece for the coffee table. Match glittery ornaments with white and silver textured ones and put all of them in a tray.
9. Rose Gold Mantel Garland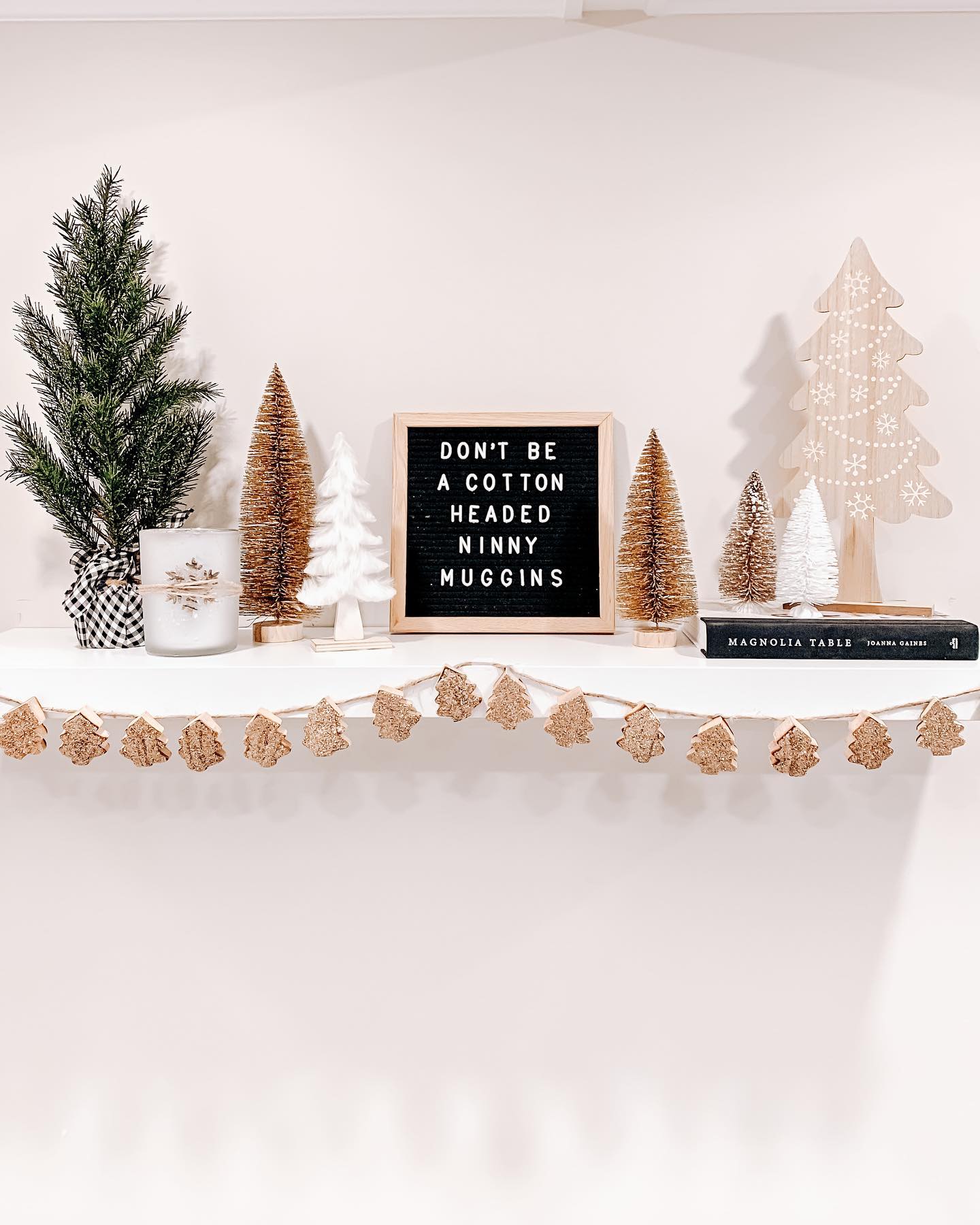 Upgrade an existing garland with wooden pine trees by applying a layer of rose gold glitter to the surface. When the lights are turned on, they will reflect on the glitter particles and will add a sparkling effect to the ambiance.
10. Rose Gold And Silver Christmas Decor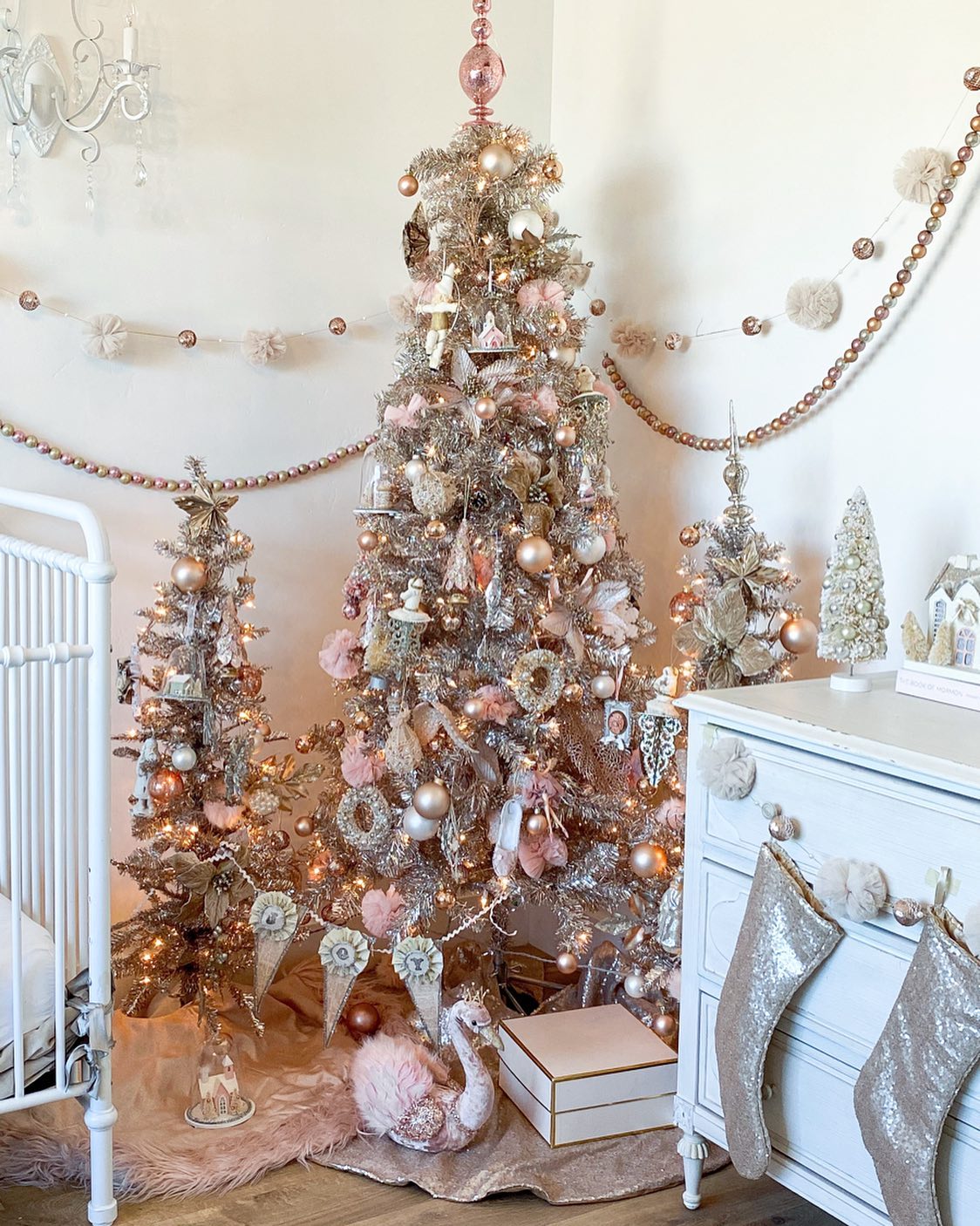 Metallic textures are very trendy at the moment. You can use this trend also for decorating your home for Christmas. Combine rose gold and silver decorations and make your Christmas tree sparkly.
11. Rose Gold Accents On Christmas Cookies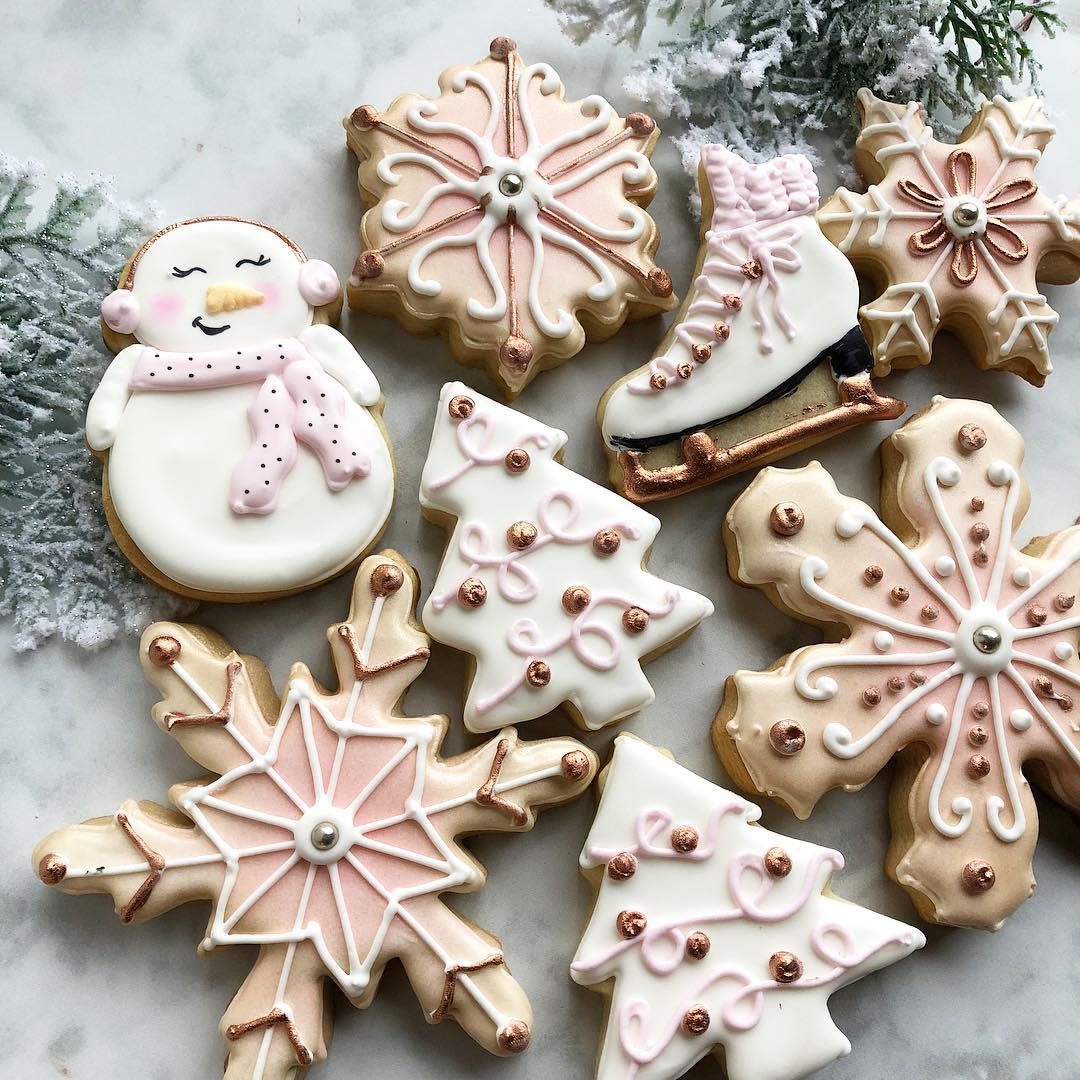 Rose gold is also trendy in the kitchen. Glittery balls and glittery icing turn the regular cookies into art pieces.
12. Mantel With Rose Gold Decorations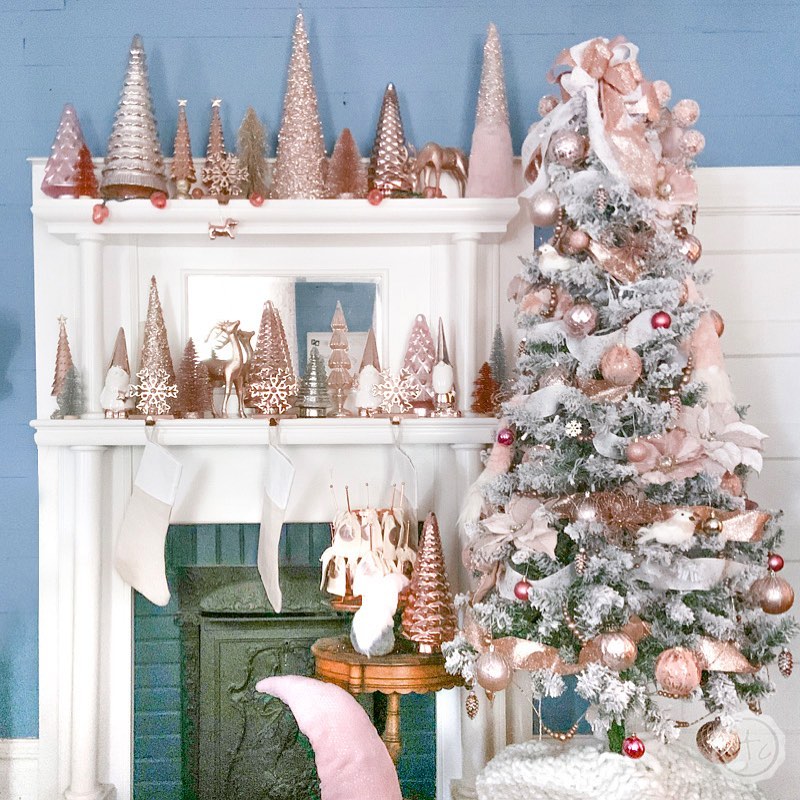 The pastel hue of rose gold makes it suitable for inclusion in the decor of more places, not only the Christmas tree.
In this idea, the rose gold color is the theme of the Christmas decor. In addition to the traditional baubles, there is a collection of small Christmas trees arranged on the mantel.
13. Rose Gold Jar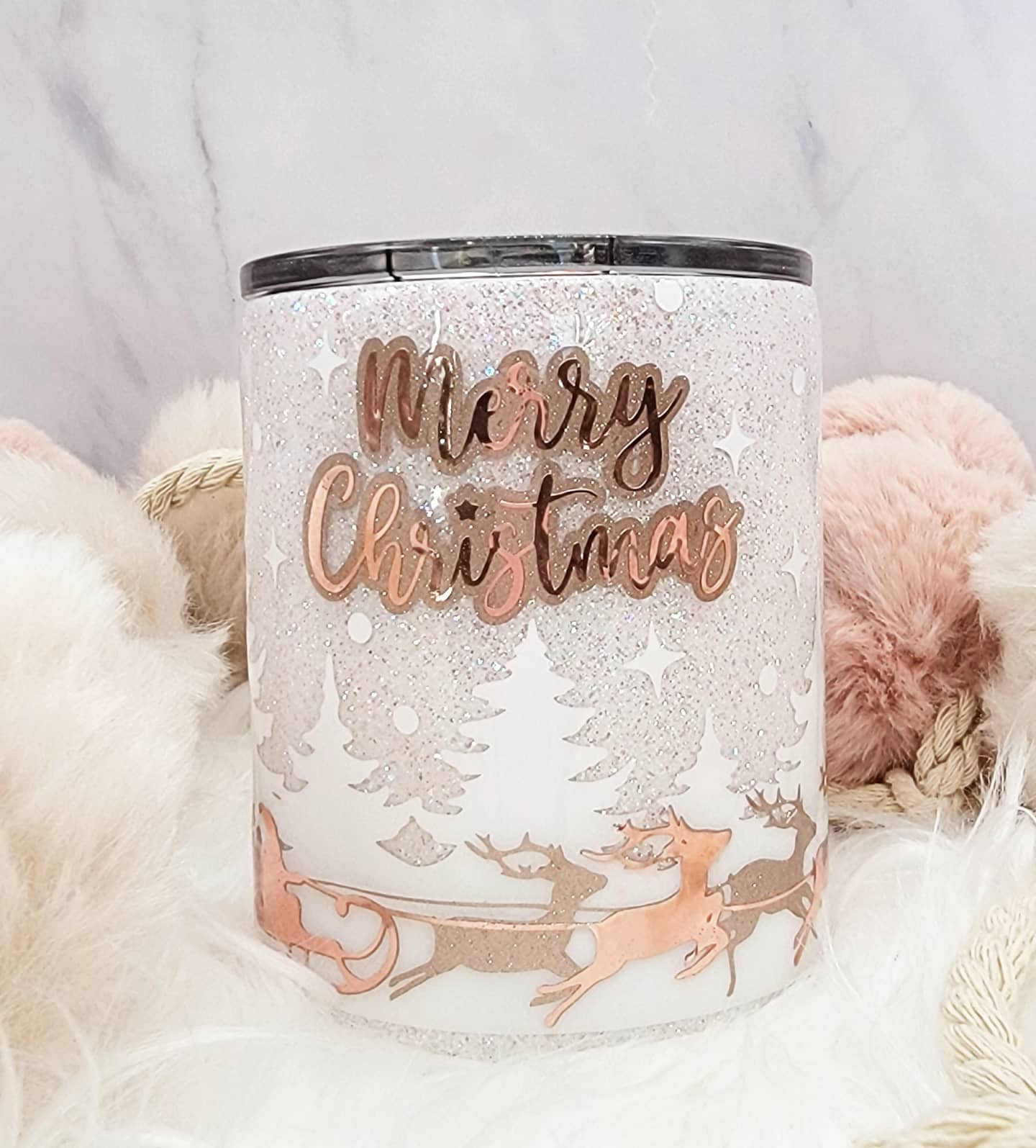 The jar for cookies is another place where you can use the trendy rose gold color. In this idea, it is featured in its metallic and glitter texture in the shape of reindeer and an inscription against a white and silver backdrop.
14. Rose Gold As A Theme Of The Christmas Decor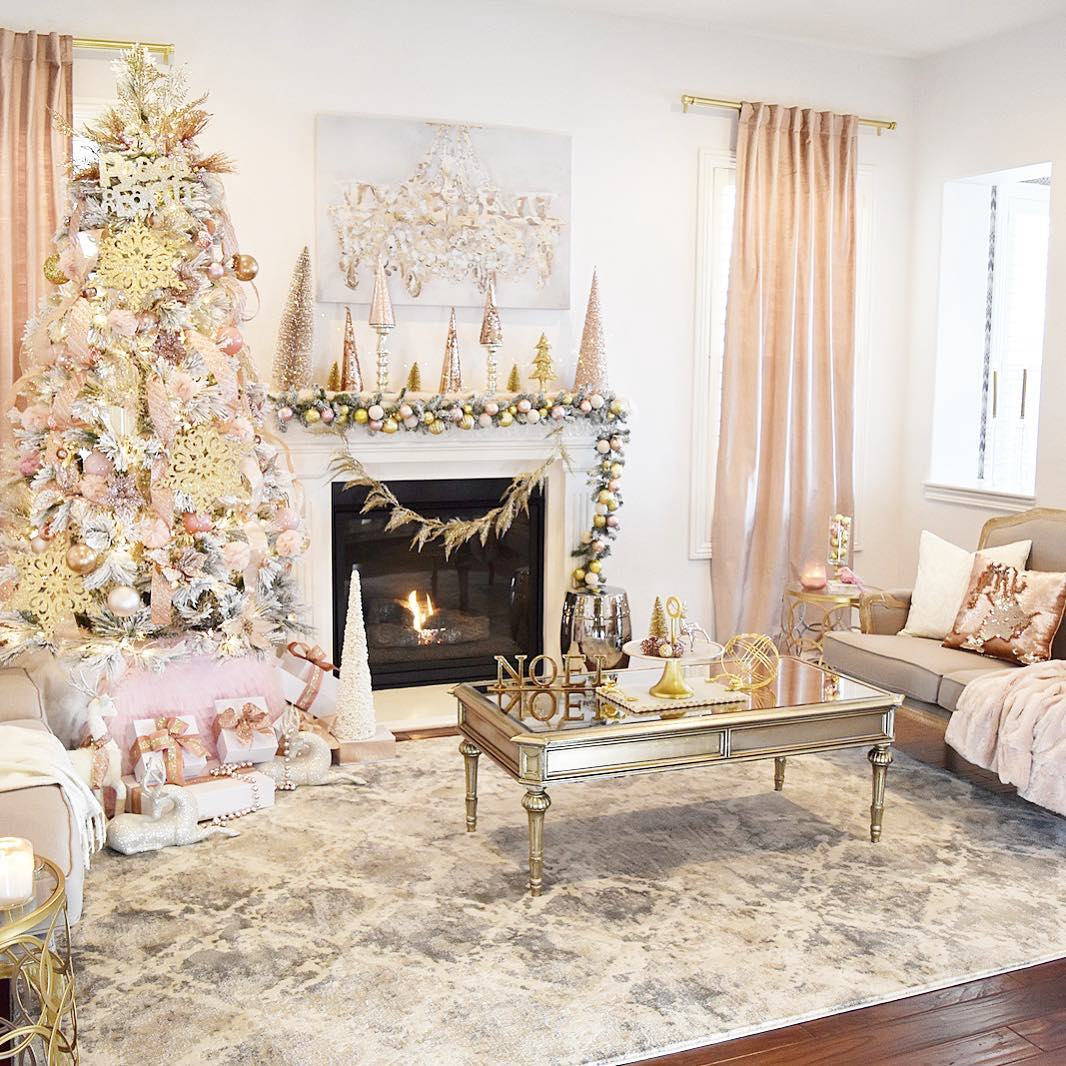 The pastel hue of the rose gold is perfect to decorate with style the interior of the living room. Combine with gold elements to enhance the elegance flair.
15. Rose Gold Ornaments To Make The Decor Homier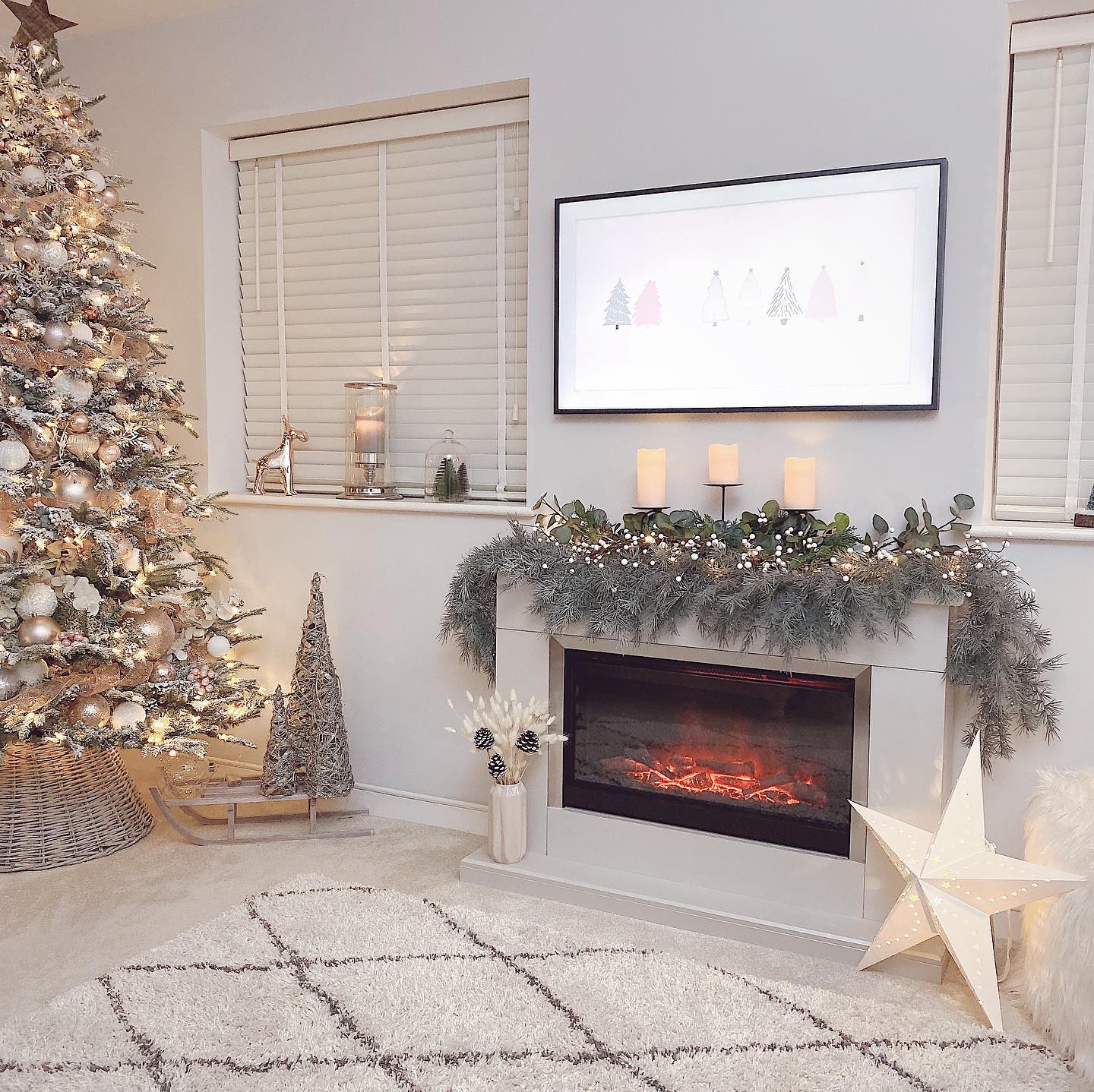 Rose gold is so delicate color that it instantly makes the interior homier and inviting. In this Christmas decor idea, it is combined with neutral pastel colors to give them a point of interest and some glamour.
16. Rose Gold Hydrangeas As Wreath Decorations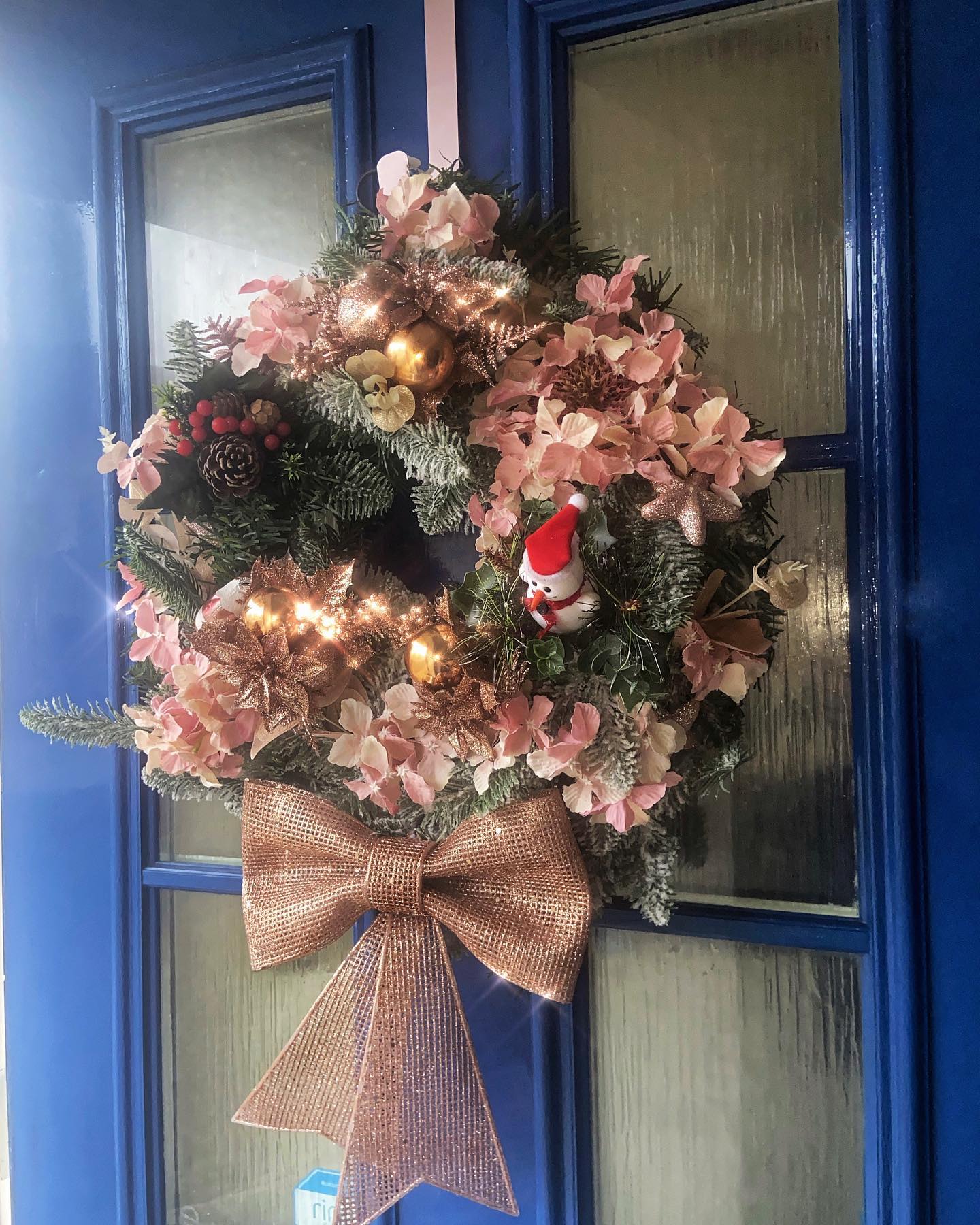 Faded hydrangeas are often used in fall and winter decorations. In this Christmas wreath idea, their pale pink color complements the rose gold baubles.
17. Rose Gold Christmas Decor Accents To Match The Bedroom Interior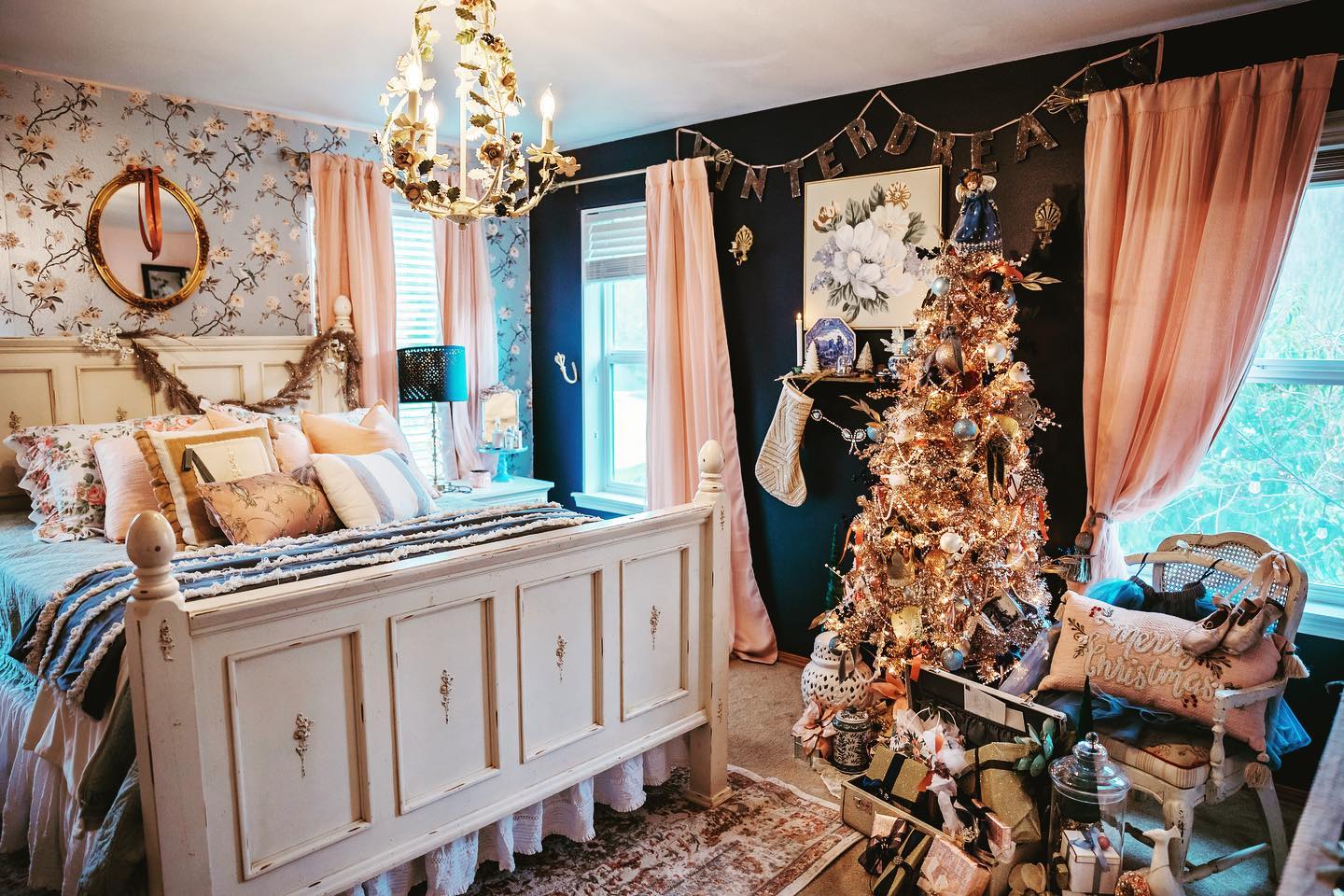 If you have decided to decorate the bedroom for Christmas, you can stake on the rose gold color as it will match the easiness and relaxation of the interior.
18. Railing Decoration In Rose Gold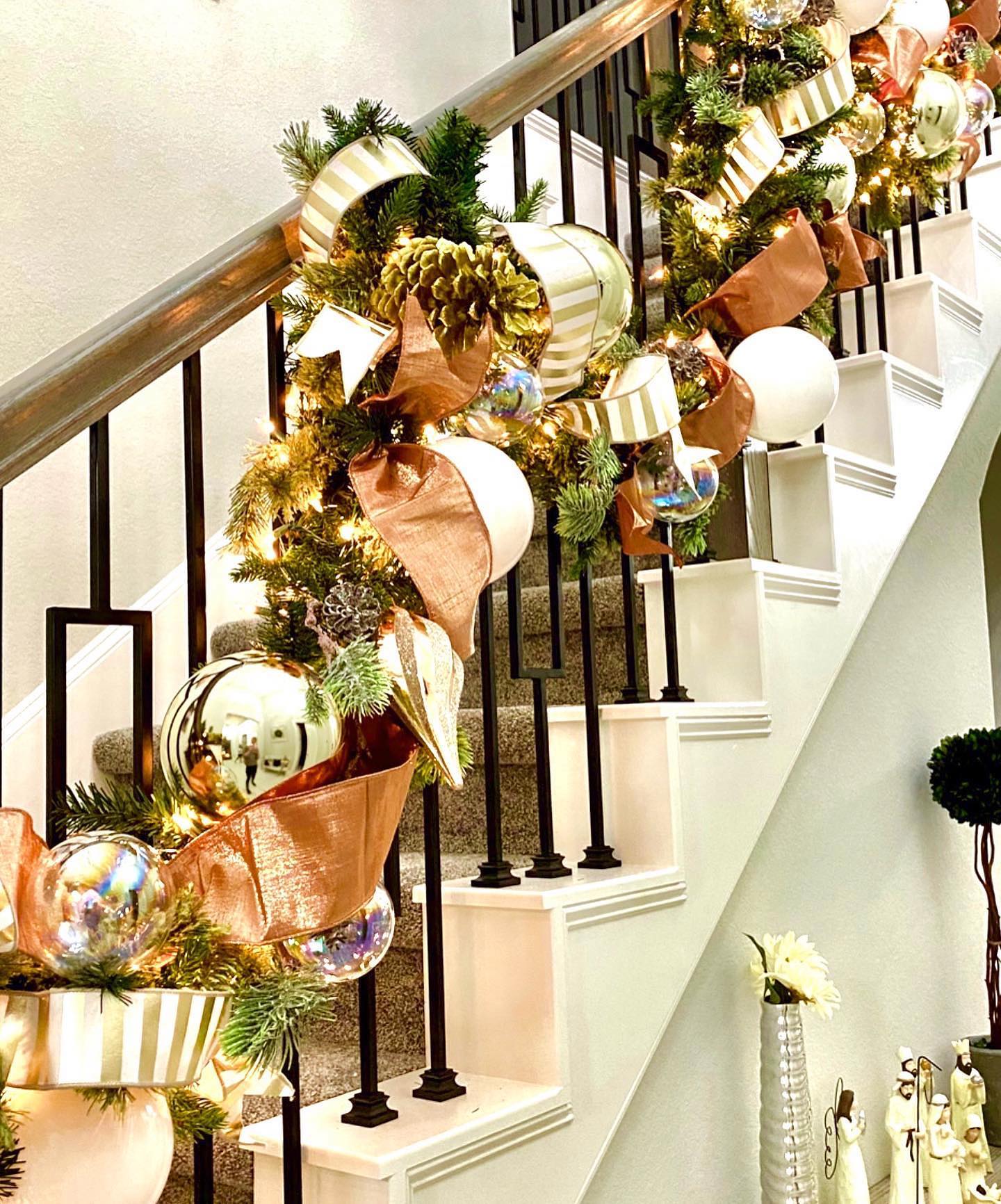 Rose gold can be applied to the Christmas decorations in the entire area, including the staircase.
Make yourself garlands with ribbons and baubles in rose gold, gold and white. Together they will create an elegant decoration that will make the hallway more festive for winter.
19. Lush Wreath In Nuances of Rose Gold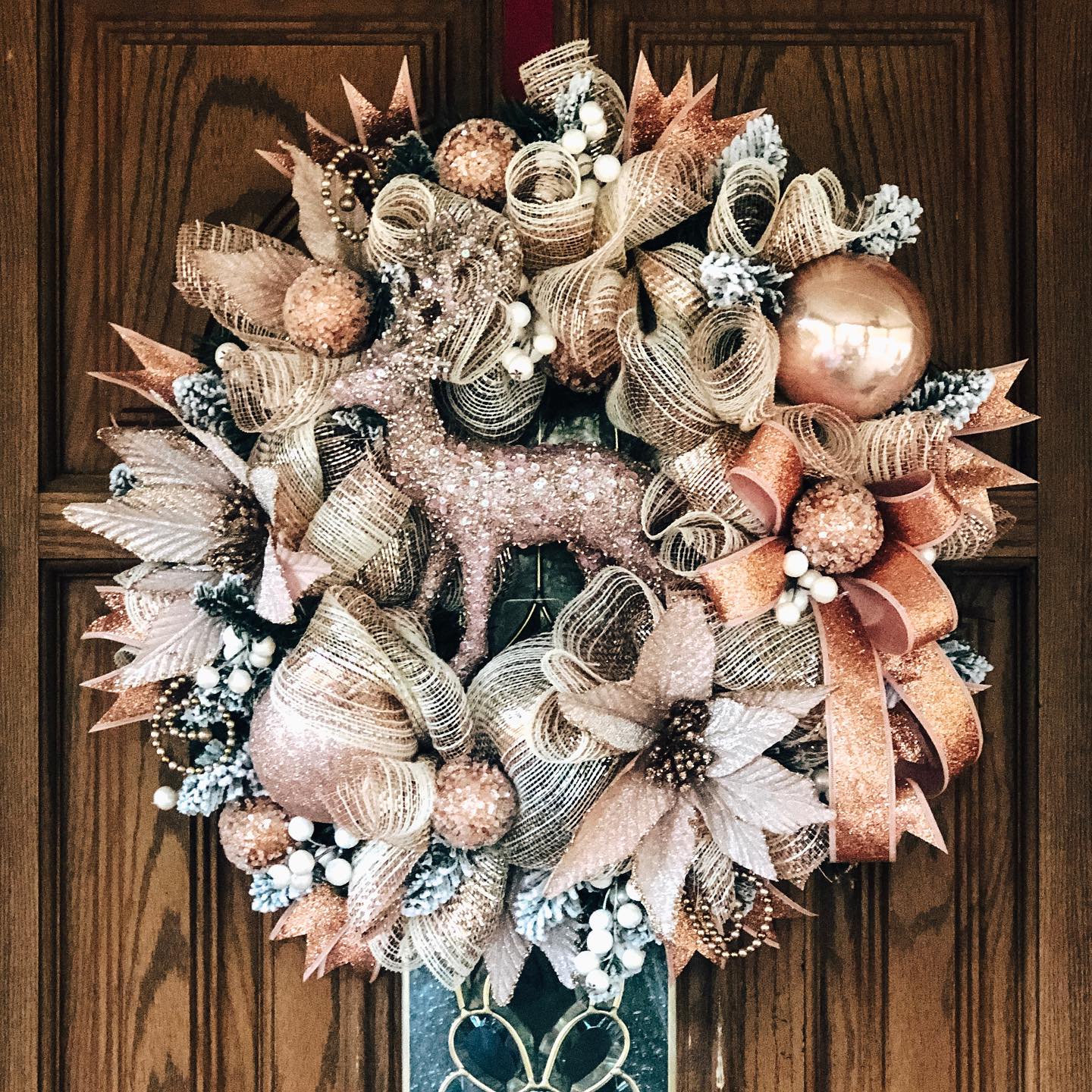 You can find the rose gold color in many nuances. You can use them together to create layers of ornaments on a pine tree wreath.
Being of different nuances will still make a noticeable contrast and thus each element will stand out.
20. Cheerful Christmas Tree With Rose Gold Ornaments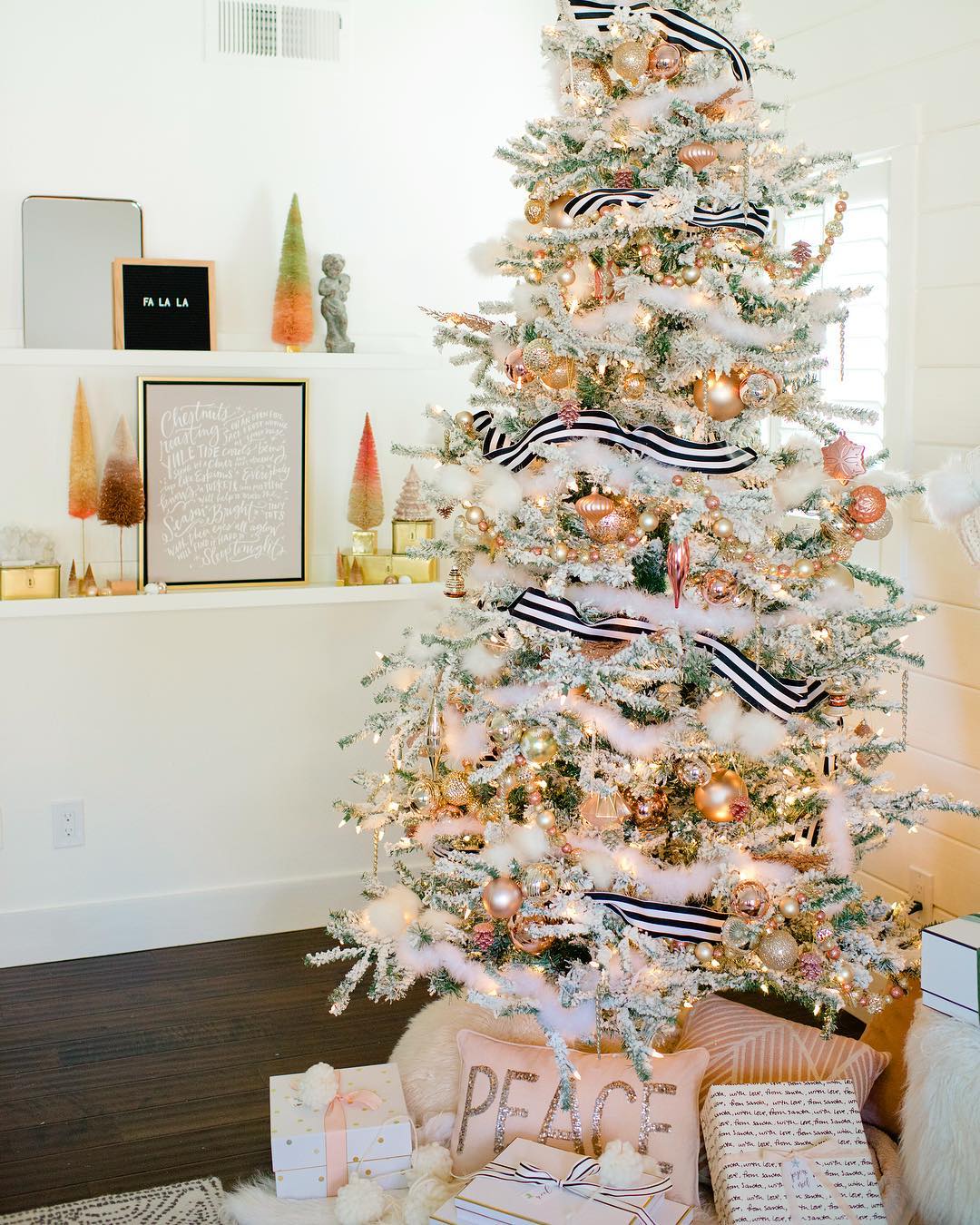 The advantage of the rose gold color is that it looks good on any Christmas tree. The contrast with the green pine tree is amazing but so is when hung on a snowy Christmas tree.
In this rose gold Christmas decoration idea, the rose gold and gold elements are complemented by a bold striped garland which helps them stand out.
21. Rustic Christmas Decor With Rose Gold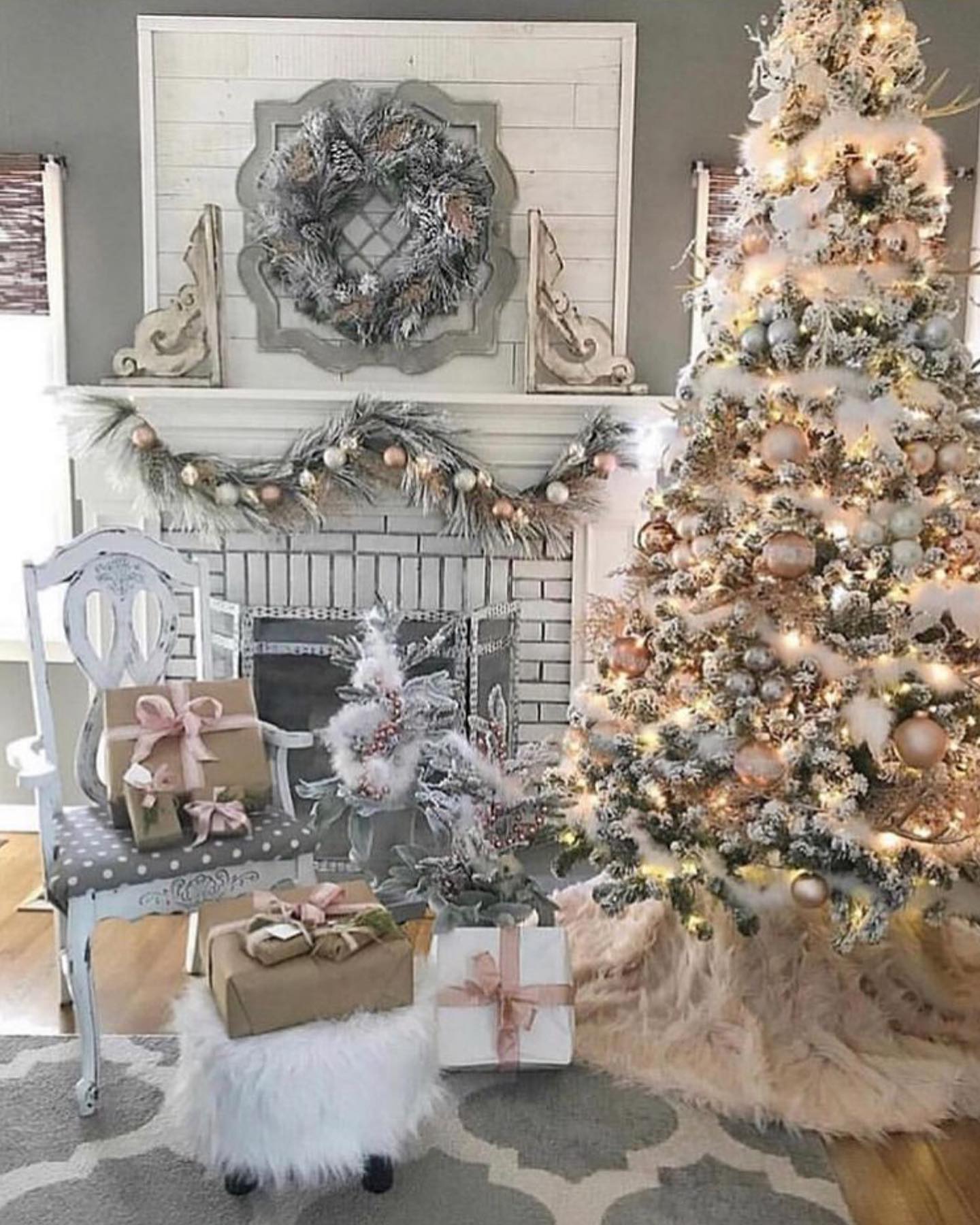 In this Christmas decor idea, the traditional decoration is twisted by the rustic style to make the home more inviting and authentic for the holidays.
Rose gold and gold ornaments stand out against the green color of the Christmas tree. Rustic wooden elements become stands for additional decoration next to the tree.
22. Gift Arrangement In Rose Gold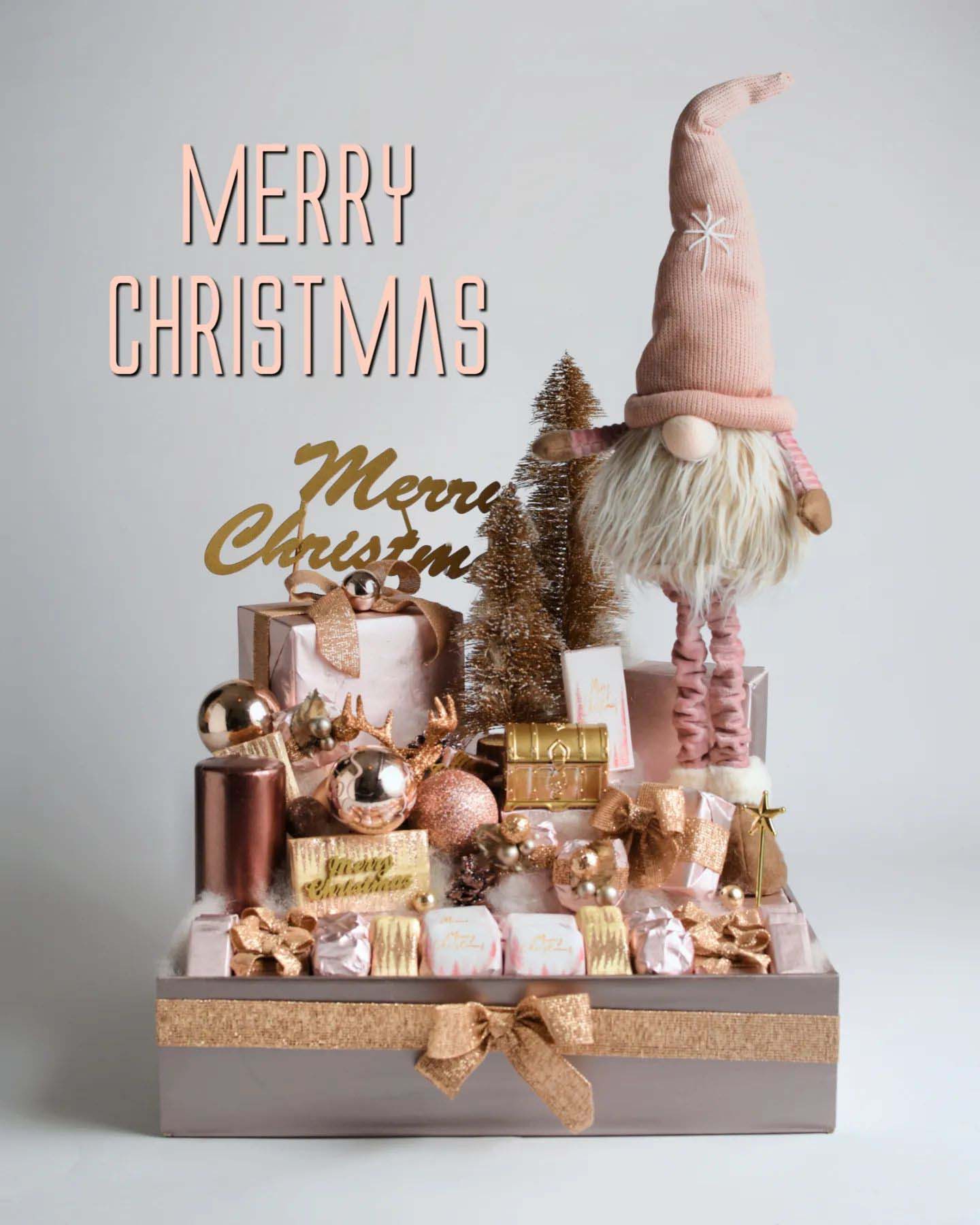 Take a regular gift box and fill it with gold, pink and rose gold decorations. Use sculptures, bead garlands and ribbons to create volume in height and completeness in width. The final result is a lovely exploding gift box that anchors Christmas in the interior.
23. Rustic Mantel Decor With Rose Gold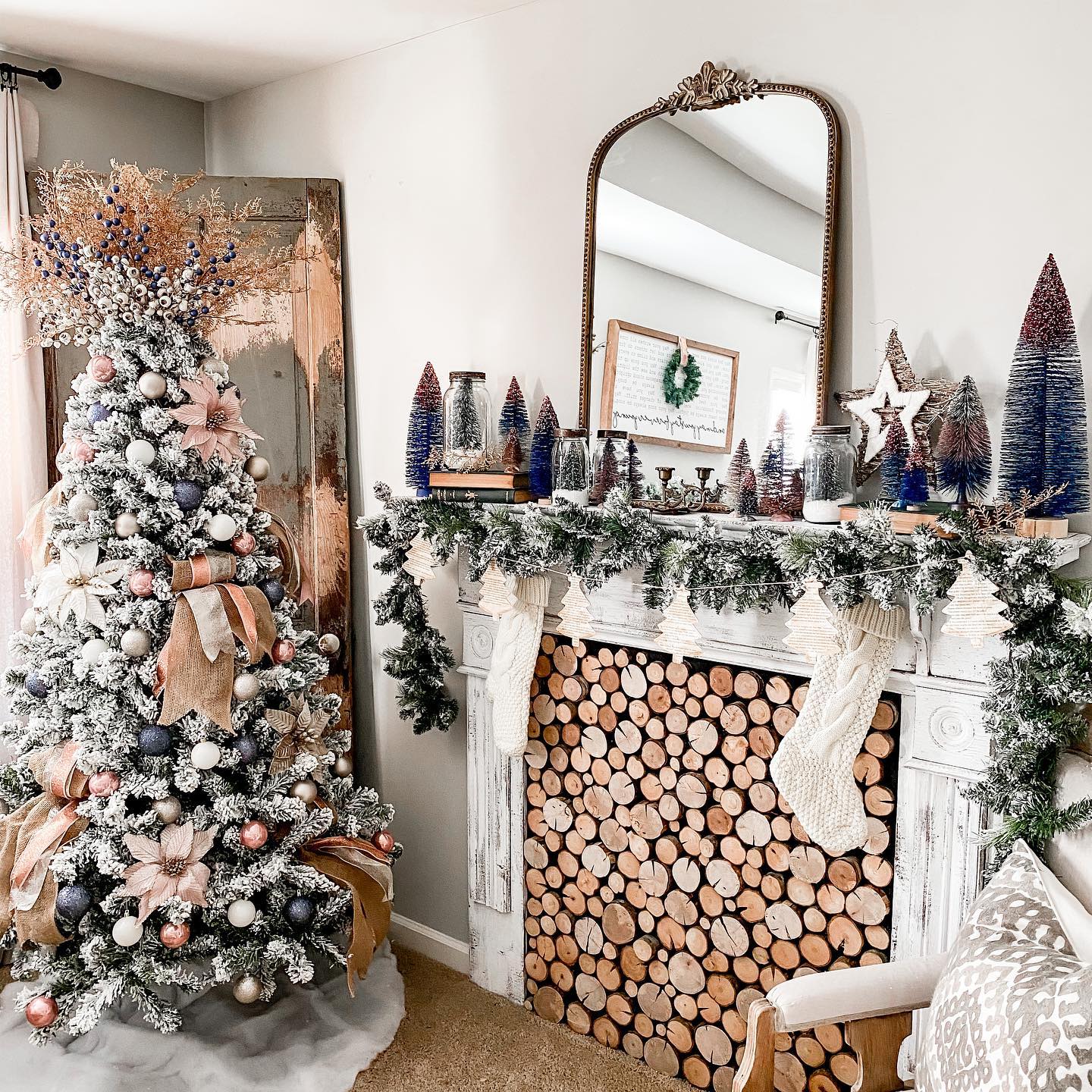 This is another idea for a rustic Christmas decor with rose gold. Here, the trendy color is implemented with floral ornaments and baubles.
24. Rose Gold As An Accent Of A Christmas Tree Decoration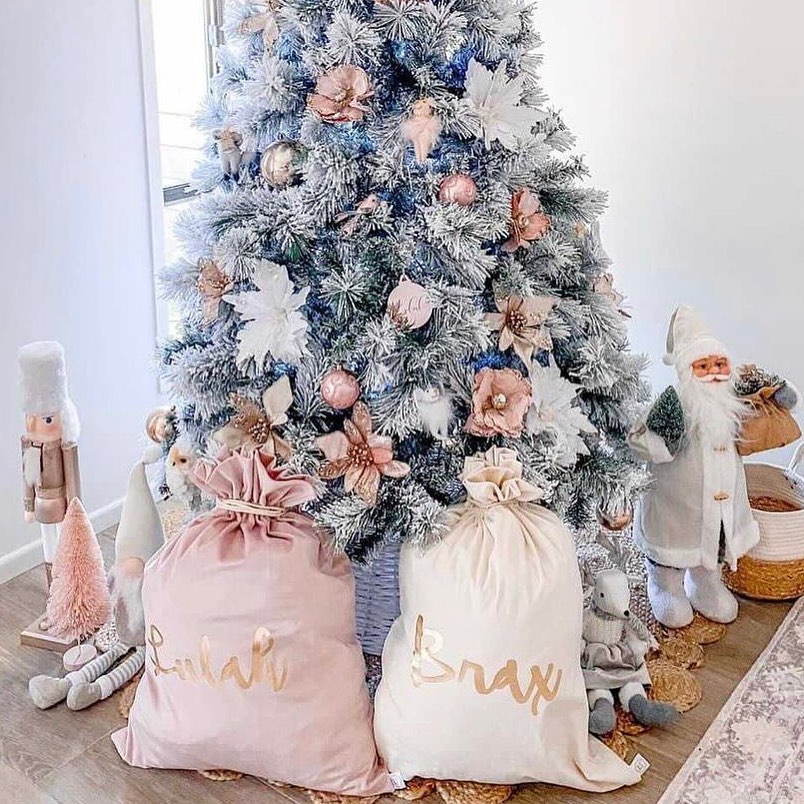 In this Christmas decor idea, rose gold is used in its metallic and glitter texture. These two in combination create patterns and distinguish the parts of the Christmas tree ornaments.
25. A Mix Of Rose Gold, Silver And Red Ornaments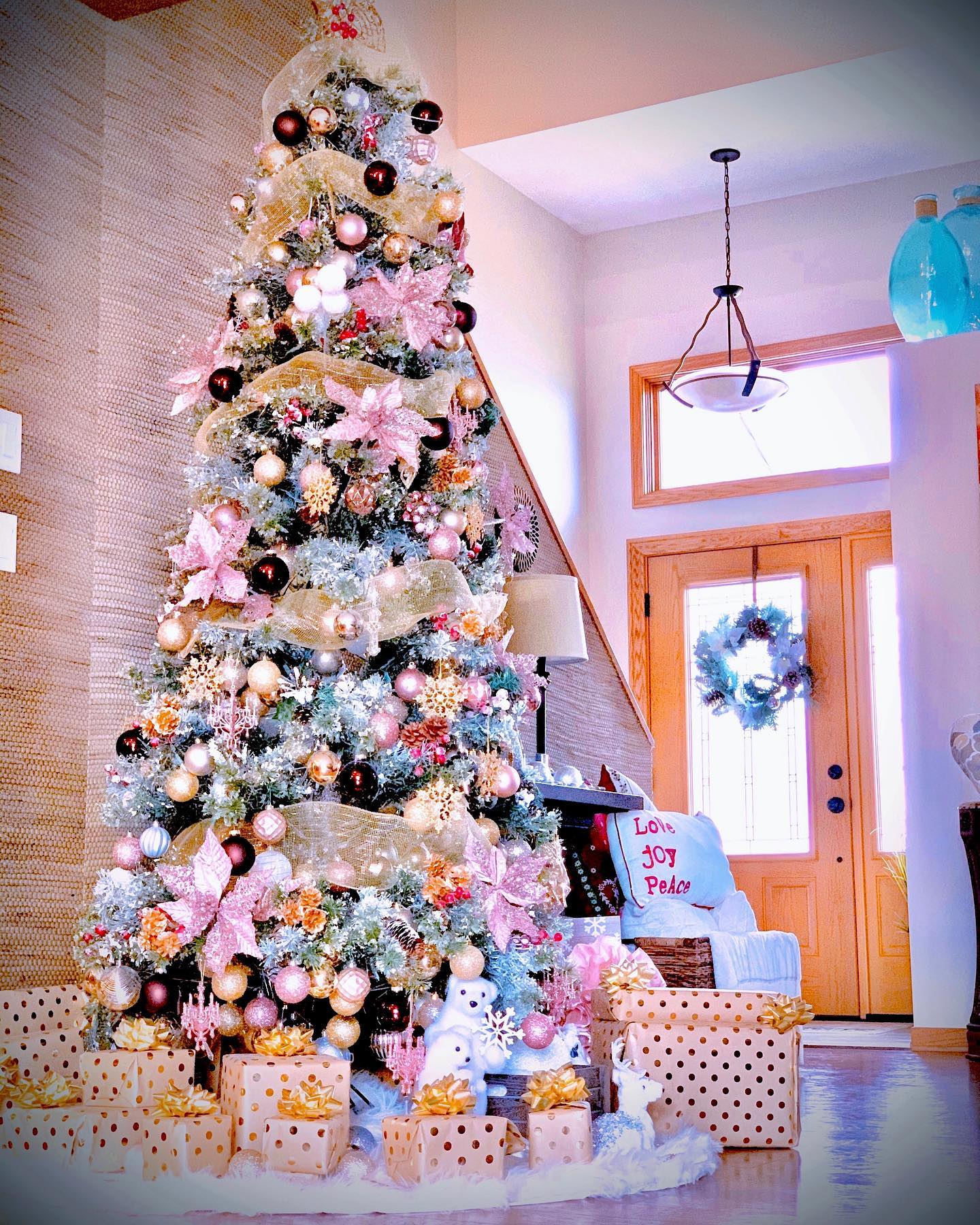 The ideas so far showed how well rose gold goes with pastel colors. In this Christmas decor idea, we want to show you that you can match rose gold with bolder colors such as red.
To achieve a good-looking Christmas tree, make sure that red is only an accent and not a predominant color.