While many people hate the cold months of the year, I love that time when the chilly days come as tons of festive activities are on their way. Not to mention that Displaying Your Christmas Decorations Earlier Can Make You Happier
I'm talking about drinking my favorite mulled wine while watching the snow fall outside, listening to some cheesy Christmas songs, picking out the family tree, and choosing different types of Christmas lights.

At home, my dad has always been the most competent one on what types of Christmas lights to display.
Let me share some of his 'top secrets' in the following article.  😉
Before to go shopping for lights, ask yourself these 4 questions:
Which types of Christmas lights would fit best my design requirements?
Do I need both incandescent and LED Christmas lights?
Which types of outdoor Christmas lights do I want?
What are my electric energy consumption requirements?
Do your research first on the internet and plan, plan, plan…  💡
Christmas Lights Buying Guide
Choosing between LED and Incandescent Christmas Lights
However these two types of string lights are being offered in a huge variety of bulb shapes and colors, I think it's important to distinguish the key differences between them as well as their pros and cons.
1.By Bulb Light Source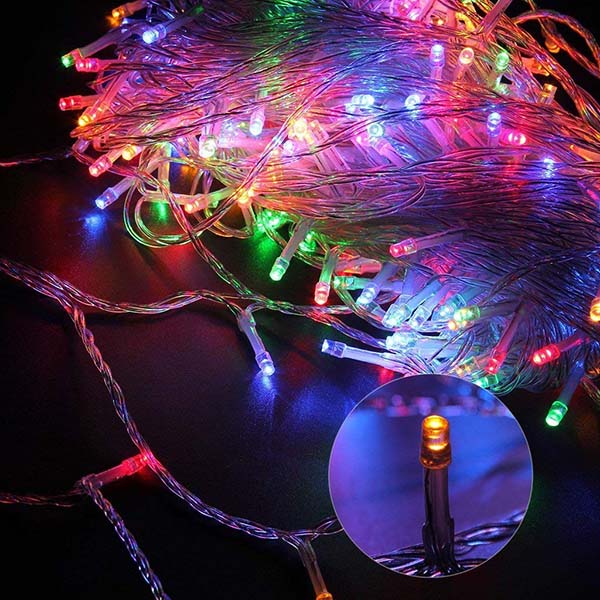 > LED Christmas Lights are a quite contemporary invention that is offering lots of benefits:
you are saving up to 75% of your energy consumption
low risk of causing a fire
lasting longer (up to 100,000 hours)
option to choose "the light color"
available in a large variety of styles and original designs
more costly than the Incandescent lights
option to have color-changing LED Christmas lights ( auto or manual mode )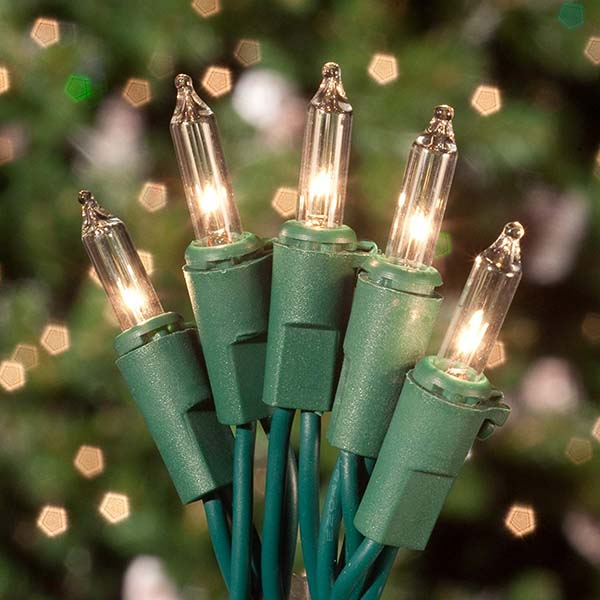 > Incandescent Christmas Lights present the classic Christmas lighting that your grandma used to display. 😆 Here are some of their main traits:
much cheaper than the LEDs
available at any lighting store (easier to find)
more intense light glow
higher electric energy consumption
shorter life
greater threat of fire
Shop Incandescent Christmas Lights
No matter which one you choose they can make your home a magical one!
2. By Bulb Type
When speaking of Christmas bulbs size, there is just so much "industry language" that can easily confuse even the most experienced Xmas shoppers. Let me help you clear the clouds!
So basically, in the US there are three main threaded sizes of bulb bases. The numbers represent the diameter of the base in millimeters:
Candelabra: E12 (that's the size of a traditional nightlight)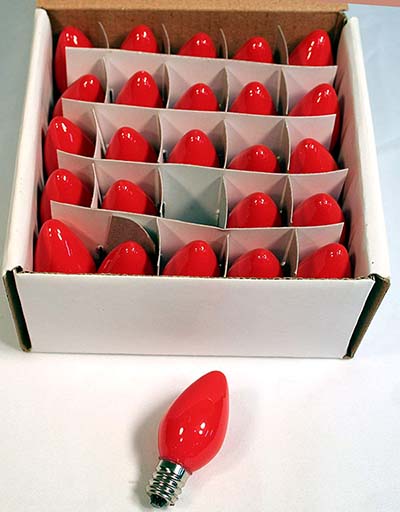 Source: Amazon
Intermediate: E17 (mainly seen on C9 bulbs)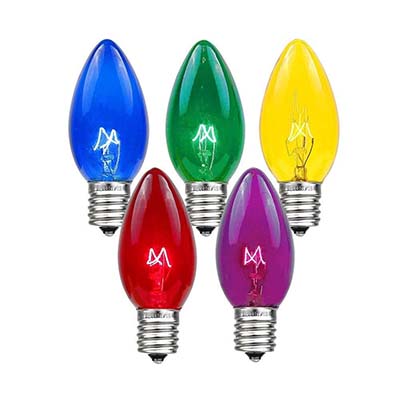 Source: Amazon
Medium (also knows as Standard): E26 (generally seen in outdoor spaces)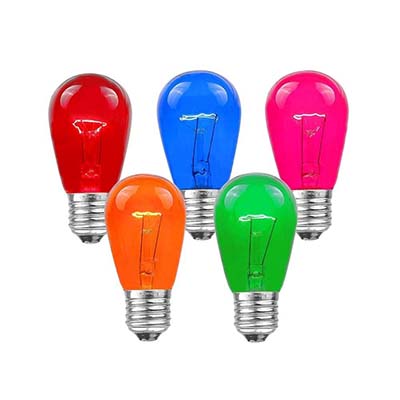 Source: Amazon
When choosing the types of Christmas lights bulb, keep in mind there are the figures written on the box, for instance, C7 (E12 Candelabra base)and C9 (E17 Intermediate base) indicate the diameters of the bulbs which simply means that C9 LED or Incandescent bulbs are larger than C7 bulbs. G50 Incandescent bulbs have a round shape and the 50 is their diameter in millimeters which is 1.7/8 inches.
💡 Hint: The most suitable types of Christmas lights decoration are C7 LED or Incandescent bulbs (great for smaller outdoor festive trees, night lights, electric candles, and to line walkways and rooflines); C9 LED or Incandescent bulbs (ideal for larger outdoor Xmas trees and to line walkways and rooflines); G50 Incandescent bulbs (perfectly fit outdoor Christmas party decorations, smaller trees, bushes, patio); and S14 / T50LED or Incandescent bulbs (outdoor decoration for parties and patios).
➡ Take a look at the table below to get familiar with the other bulb sizes.

3. By Type
There are four main different types of Christmas tree lights: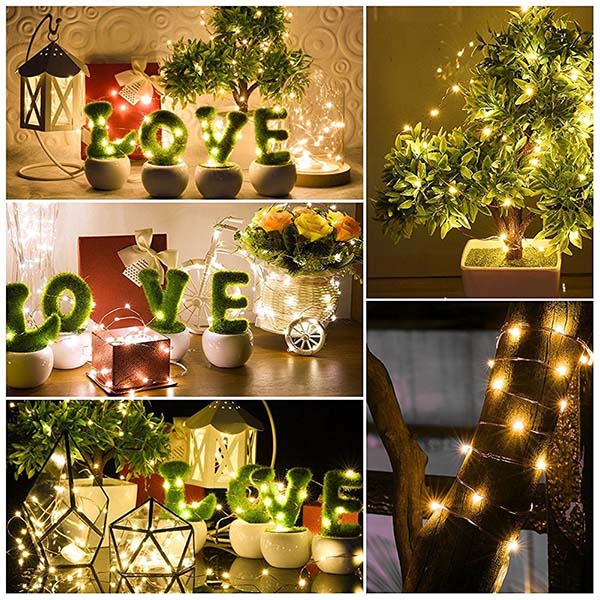 Source: Amazon
These are the classic old-fashioned Christmas light strings that perhaps your parents and grandparents used to have as well.  🙂 They have a nice, warm, sparkling glow.
Plus, they are usually multicolored and will give your X-mas tree a timeless look!
Note: Keep in mind they are not energy efficient.
Shop Mini String Christmas Lights
Wide Angle LED Mini Lights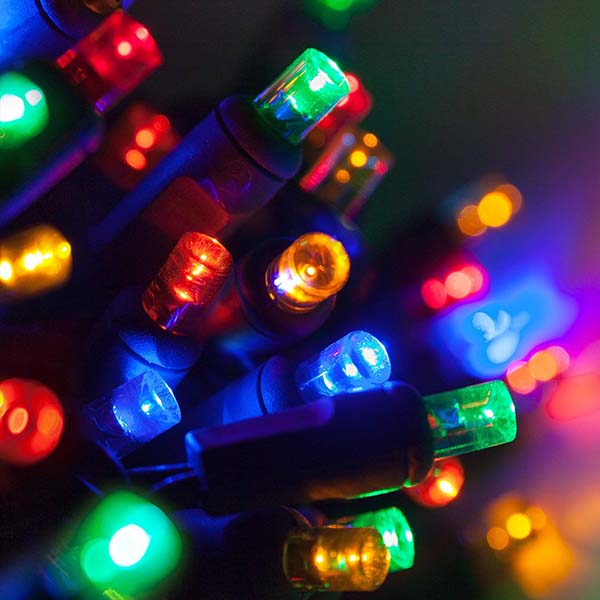 Source: Amazon
Speaking of different types of LED Christmas lights, these ones are perhaps the most common ones.
When comparing all types of indoor Christmas lights, these ones are perhaps the most durable and energy efficient ones. They are also able to blend into our tree better thanks to their smaller size.
Moreover, every string also is full-wave rectified which eliminates any fulgurating while making these LEDs shinier than the regular half-wave wide angle LED mini lights.
Note: Keep in mind they are quite pricier compared to the traditional incandescent string lights.
The large bulb lights, also known as C5, C7, C9, and G40, surely make a strong statement and give the house a retro vibe. Compared to all types of Christmas lights, these ones are the most suitable for hanging house lights.
Note: Do not forget to measure before deciding how many strings of large bulb lights to use.
Animated and Color-Changing Lights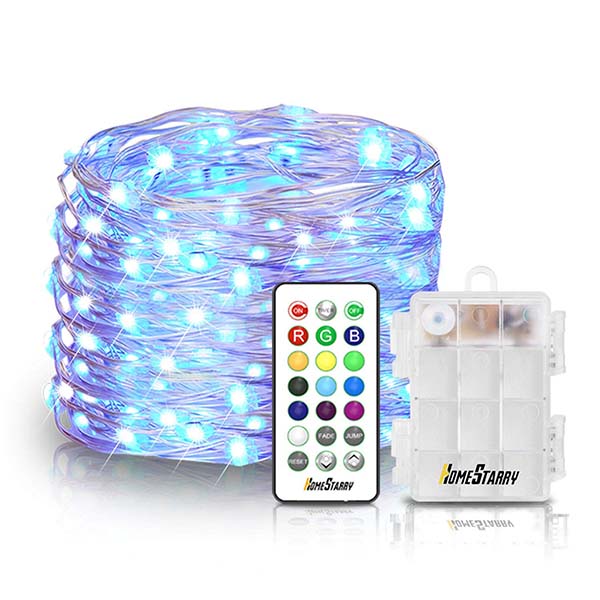 Source: Amazon
These one could be displayed both indoors and outdoors. Your Christmas decoration won't turn into a boring one, trust me!  😉
Note: Keep in mind they can grow hot and the threat of fire is much larger. 
4. By Special Purpose
Net lights are already fixed together into forms, making it easy to get a uniform look when you enwrap them across shrubbery or structures.
Want to give your home an eccentric snow-covered appearance? Then consider buying the icicle lights. They are good if you want to decorate your front porch for Christmas.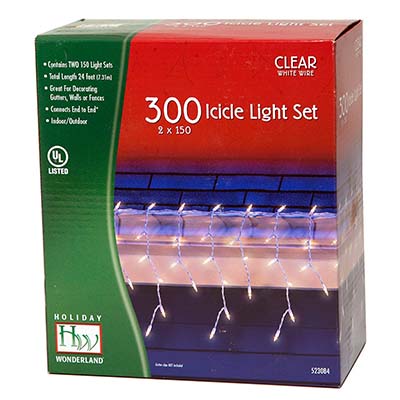 Source: Amazon
The LED rope lights are one of the new types of Christmas lights. They are ideal for creating labyrinthine shapes and designs in the walkway, doorway, and windows.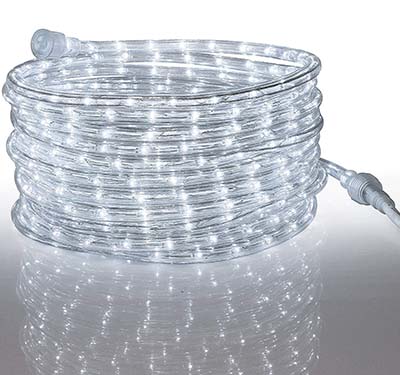 Source: Amazon
LED projection spotlights are the most time-saving option as they do not require any installation. Just plug them into an electrical outlet and point them anywhere.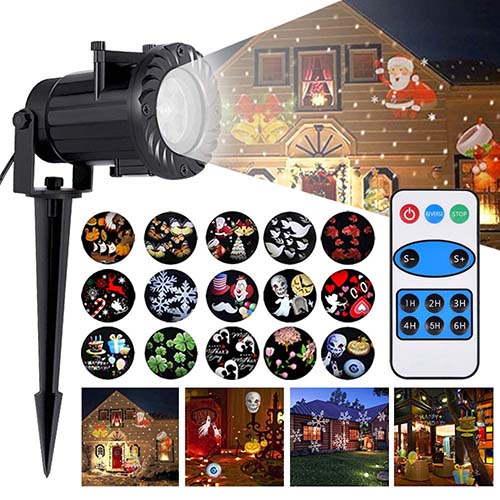 Source: Amazon
You can project Christmas images over the wall or nearby trees.
Raindrop LED Christmas lights – you have seen them lately at malls and other commercial centers. They look fantastic, they are easy to install and can add originality to your home.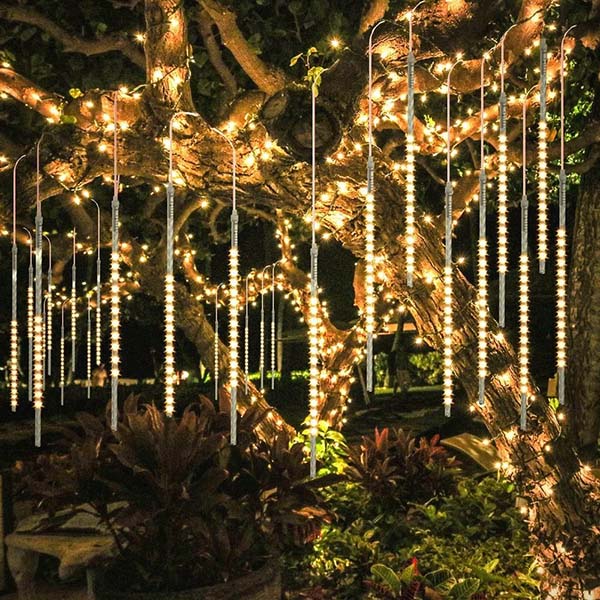 Source: Amazon
As they are waterproof, you can install them on a tree or the end of the roof.
5. By Power Source
Whether you decide to stand by traditions or follow the latest trends, here are the three main types of Christmas lights according to the power supply.
Battery operated lights allow you to place lights any place you wish regardless of whether there's an electrical outlet nearby.
They are ideal for door decorations, wreath, roofline, shrubs, mantel decorations, centerpieces, staircases, and window swags.
If we should compare all types of Christmas lights offered on the market, those ones are the most energy inefficient. However, they are giving the traditional Christmas-y warm light look.
These ones are very energy efficient, waterproof and offer up to eight hours of use on a charge. However, if you are using them indoors, plan carefully how you'll provide an access to direct sunlight.
Their biggest disadvantage is the fact they are only offering cold LED coloring.
How many strings of Christmas lights will I need to cover the area?
The answer is only one – that's totally up to you!  😉 There is an old helpful rule of thumb – 100 lights for every foot-and-a-half of the indoor tree.
Of course, if you are a big fan of the heavy Christmas lighting, you might want to double or even triple that amount.
Here is a calculator you can try out! 🙄
Additional tips for outdoor trees:
The thinner trees will need the fewest number of lights.
Consider using large bulbs size for trees such as trees like pines, firs, and spruces.
By wrapping bushes and shrubs with net or icicle lights, you will be able to cover a greater area with fewer strands and less work.
When covering up tree branches, consider using lights with 6-8 inches of spacing between the bulbs.
Shop Outdoor Christmas Lights
Check out Tips for Hanging Outdoor Christmas Lights
Check out Decorate Outdoors for the Holidays 
Choosing the Right Color
Picking the color of the Christmas lights is something very personal because, in the end, you (and your family) will look at it for a whole month…or even more! 😀
Here a few things you can keep in mind while choosing the colors:
The white Christmas lights give your decoration a timeless look, while the colored lights are more fun and cheery — plus, you can easily coordinate them to create intricate designs.
Not all white LED lights have an identical tinge —some of them give off a warm yellow glow while others have a bluer tint.
For a strong dramatic effect, cover some larger areas with single-colored strands.
Get kids involved as Christmas is a family holiday!
Save Energy
Consider these smart tricks to make your Christmas lights decoration more energy efficient:
Install an automatic timer to turn your lighting displays off and on (they come in various styles for outdoor and indoor use)
Consider switching to LED Christmas lights only, especially when you are covering spacious areas
Use extension cords in the unseen parts of your home or garden to lengthen the strands
Good to know: Christmas lights and extension cords are being offered in various amperages. Always match products of identical amp capacities.
So, now you know the most essential things about the Christmas lighting, put your warm jacket on, go out and make a good choice for you and your family! 😉