Candles have become one of the household's main decor staples, placed in sitting rooms, bathrooms, kitchens, and bedrooms.
They are also great for emphasizing a theme at a party or celebration. The following ideas will help you bring out your Christmas spirit this holiday.
1. Red Clay Candles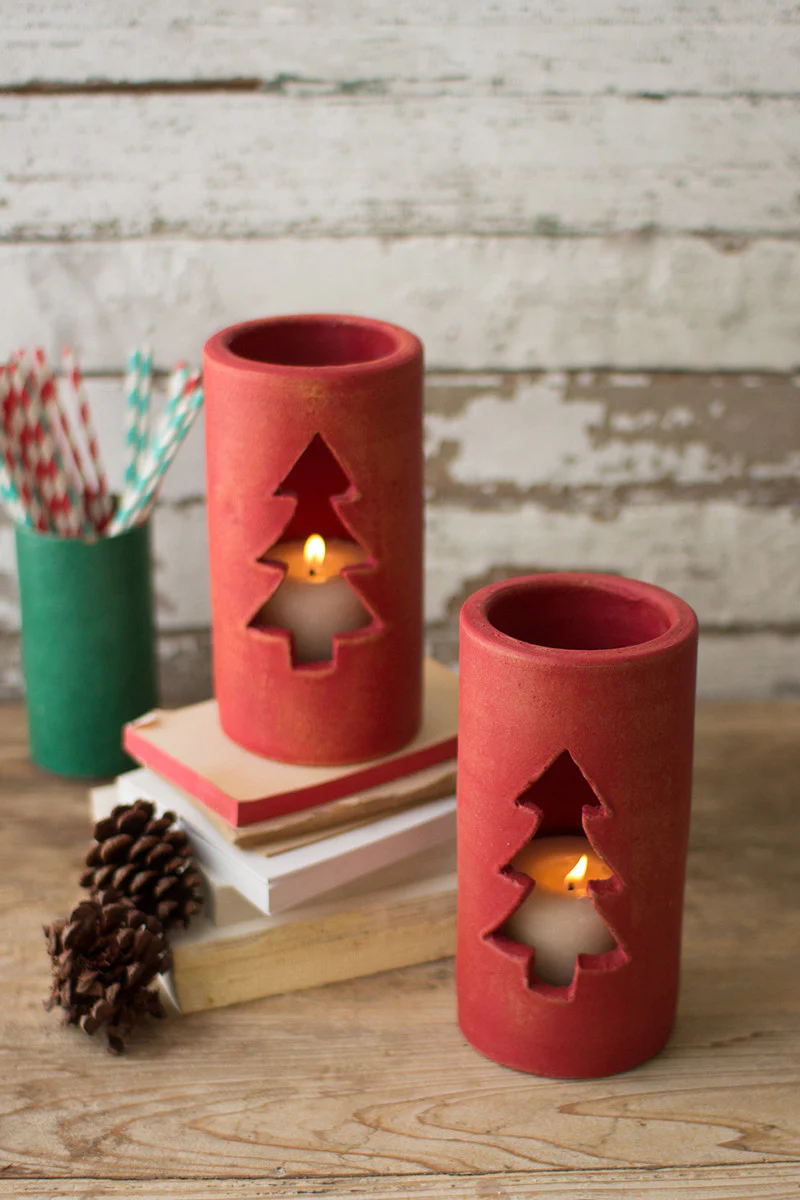 Instead of traditional candle holders, get a hand-crafted red-clay one made into different Christmas symbols like a Christmas tree, Santa Claus, or a stocking.
You can have them as the centerpiece decoration on your center table or use them to subtly bring out the holiday spirit by placing them in different places like cabinets or the kitchen.
via Blue Lotus Homes
2. Glass Ornament Candles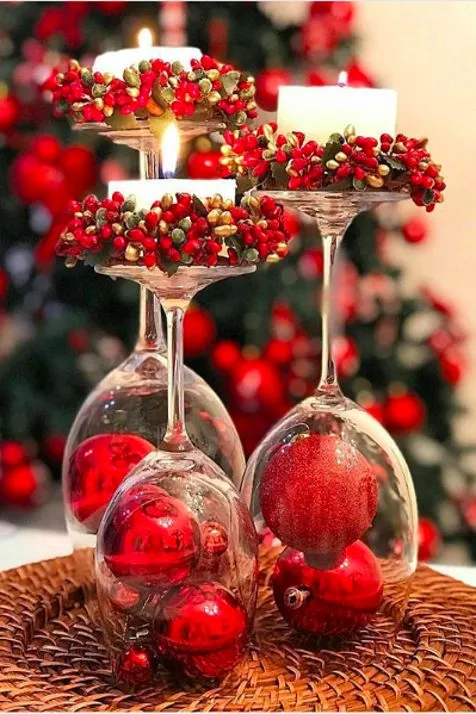 This candle arrangement idea will make your Christmas decor stand out from friends and family. It is also great for utilizing extra wine glasses and Christmas ornaments.
All you need to do is place the ornaments, whether red, green, or silver, under the wine glasses, then place your candles on the glass bottom.
You can add an extra touch by using red, green, or white candles and adding a round floral arrangement around the candles.
3. Bring The Outdoors Indoors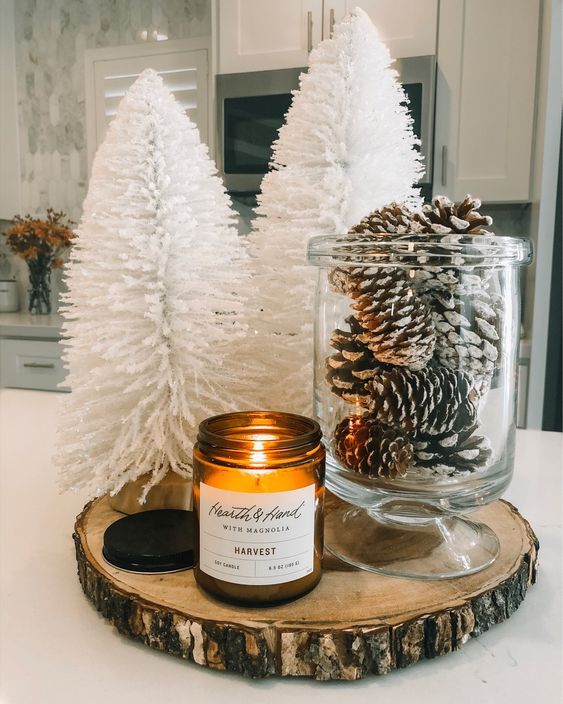 If you are a nature lover, this idea will help you channel that love into your Christmas decor. You first need to have a woodsy-smelling candle, which can be the scent of your favorite tree.
Depending on your color pattern, you can add a white or green mini-Christmas tree and a glass filled with pine tree seeds.
The final touch is to place these items on a round piece of log, the height depending on the theme you are going for.
via Haley Geller
4. Cinnamon Stick Candles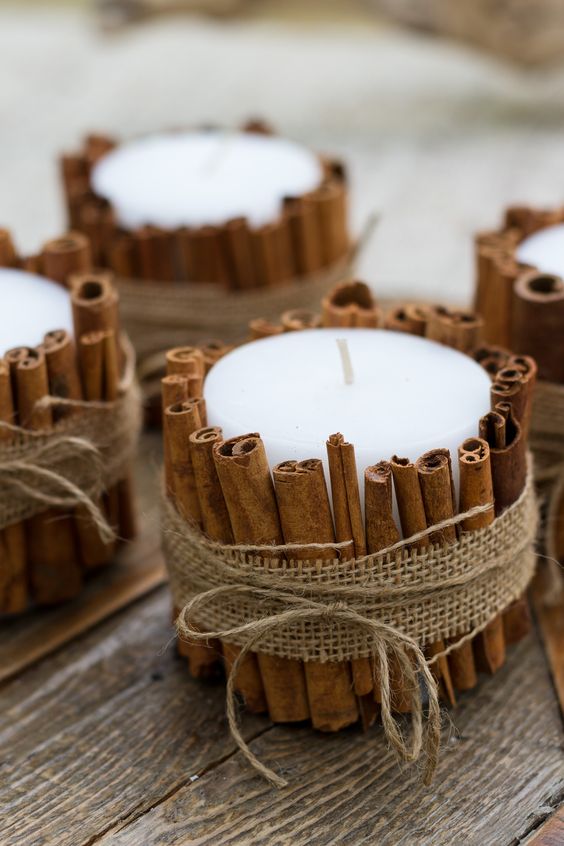 This idea will make your candles look more expensive than they are, and it is perfect for adding the warm and sweet cinnamon smell around the house.
All you need is a plain candle, cinnamon sticks, a burlap ribbon, measuring tape, elastic bands, and twine.
Cut your cinnamon sticks to the height of your candle, stick them on an elastic band around the candles, and tie the twine around them.
via Louise Roe
5. Glass Jar Candles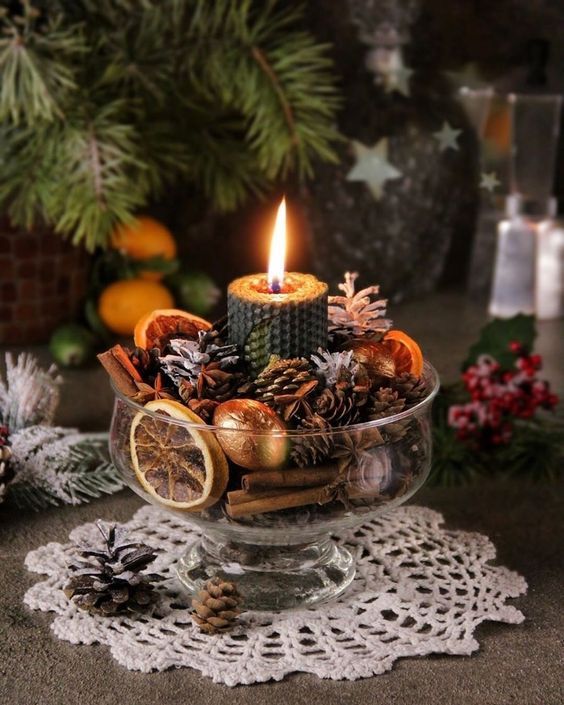 This is one of the ideas that give you the flexibility to add a personal touch to your decor.
Look for a glass jar with your desired shape and place your candle, whatever size, color, and scent, into it.
Finally, add other decorative items like pine tree seeds, cinnamon sticks, etc., in the jar depending on the look you want.
via Donna Up
6. Night Sky Candles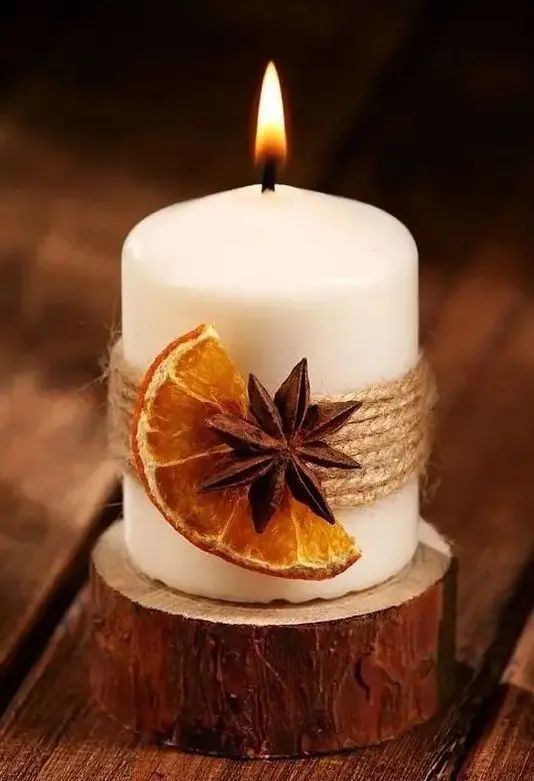 This is ideal if you are going for a minimalist look with neutral colors.
All you need is to wrap twine around a plain, white candle and attach a star anise pod and a lemon or orange piece to mimic the moon and a star. You can then place the candle on a coaster or a thick log piece.
via Unity Designs
7. Tree Bark Candles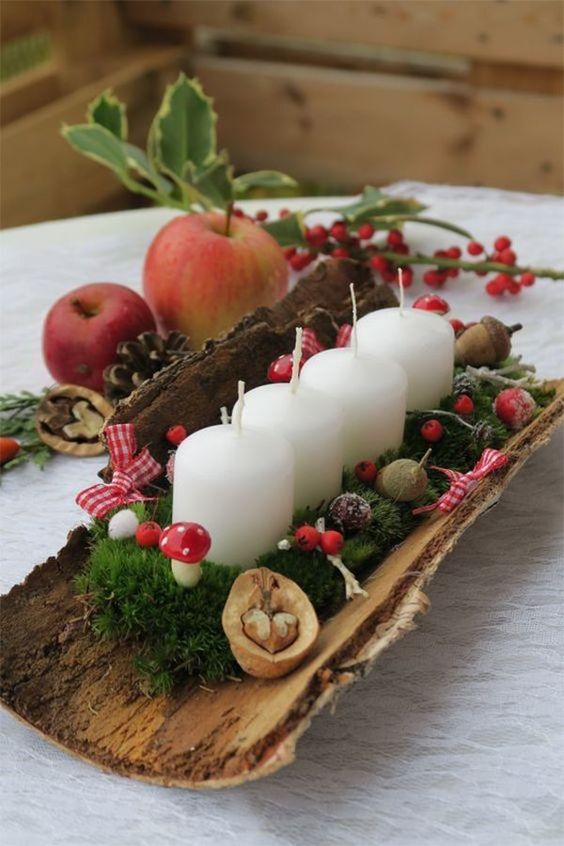 This is another great idea if you are going for an outdoor Christmas theme, and it gives you the freedom to create different themes. Look for a thick semi-dry tree bark and arrange your candles along the depth. The candles can be plain white ones, red, or green.
You can add a wreath around the candles to mimic grass and add more decorations like plastic mushrooms, acorns, pine tree seeds, etc.
8. Reindeer In Candlelight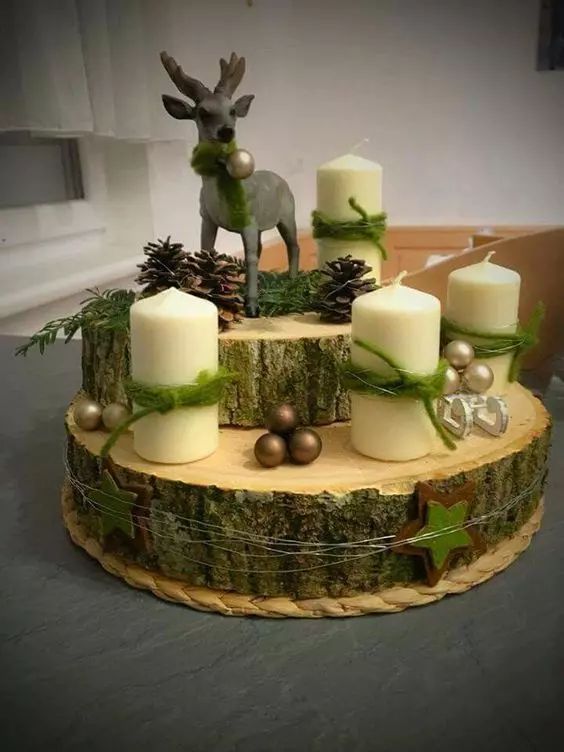 This is an idea for reindeer lovers to make the animal the center of their decoration. All you need is two log cross sections and arrange the smaller one on top of the bigger one.
Wrap thin, green twine around white candles and arrange them around the logs, then place the reindeer on top of the small log cross-section.
You can add other decorations like Christmas bells, Christmas tree leaves, and pine tree seeds.
9. Bring Out The Flowers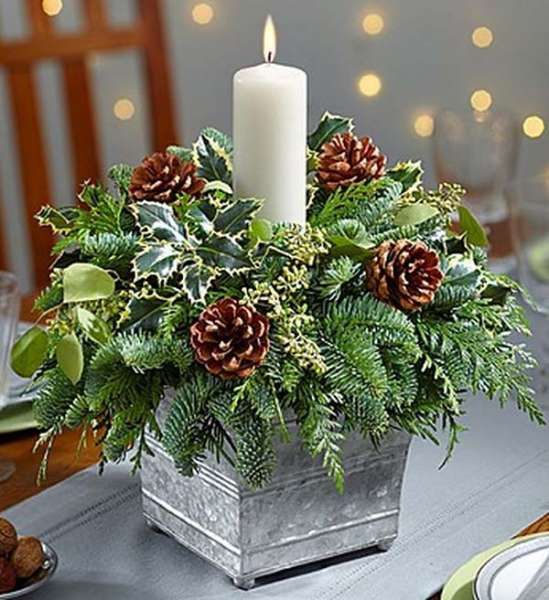 This candle arrangement lets you keep your flowers while enjoying the candlelight.
All you need is a vase with flowers, then place your candle in the middle. However, you must ensure the candle does not burn the flowers.
10. Keep It Minimal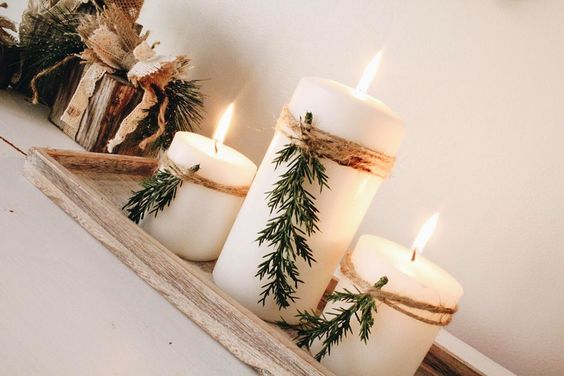 Whether you are doing a last-minute Christmas decoration or don't want to go all out, this is the ideal candle arrangement.
All you need is to attach one or two small Christmas tree leaves to your candles using twine, then place them on a wooden platter.
11. Bring The Dark Colors Out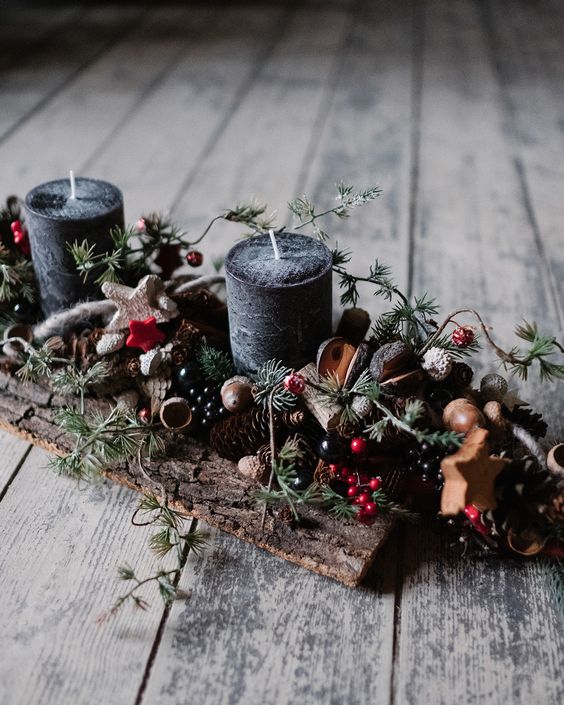 Not everyone loves bright colors, and this will help keep the colors on the darker side. The first thing you need is black candles.
You also need a tree bark, but instead of placing the candles on the inside, turn it over and place them on the rough side.
You can add other black or brown decorations like pine tree seeds, acorns, wooden stars, etc.
12. Colorful Candlesticks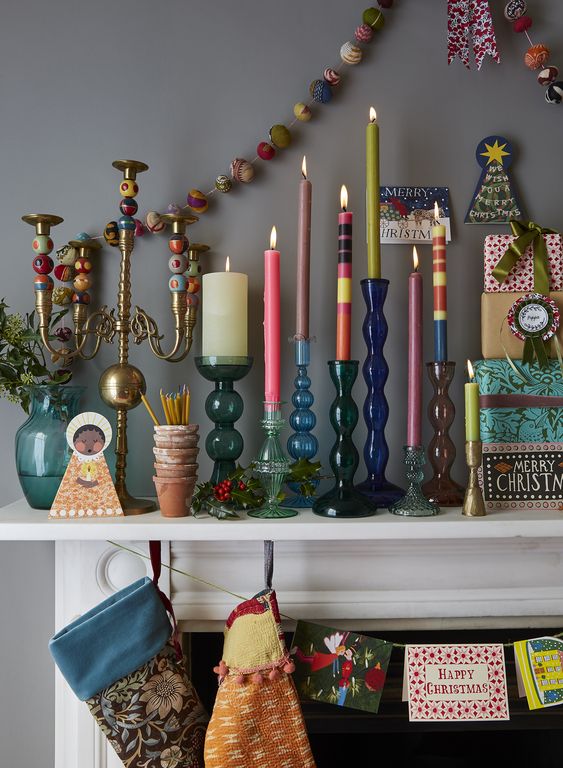 This is perfect if you are going for a classic Christmas look. Arrange the candlesticks on your table or mantelpiece and ensure you mix different colors and heights.
You should also have different styles and colors of candlestick holders.
via Real Homes