The holiday season is a fantastic time for family, friends, and festivities.
A Christmas tree is a staple of your home during this magical time, but you can take your tree to a whole new level with these 17 ideas.
1. Butterfly Christmas Tree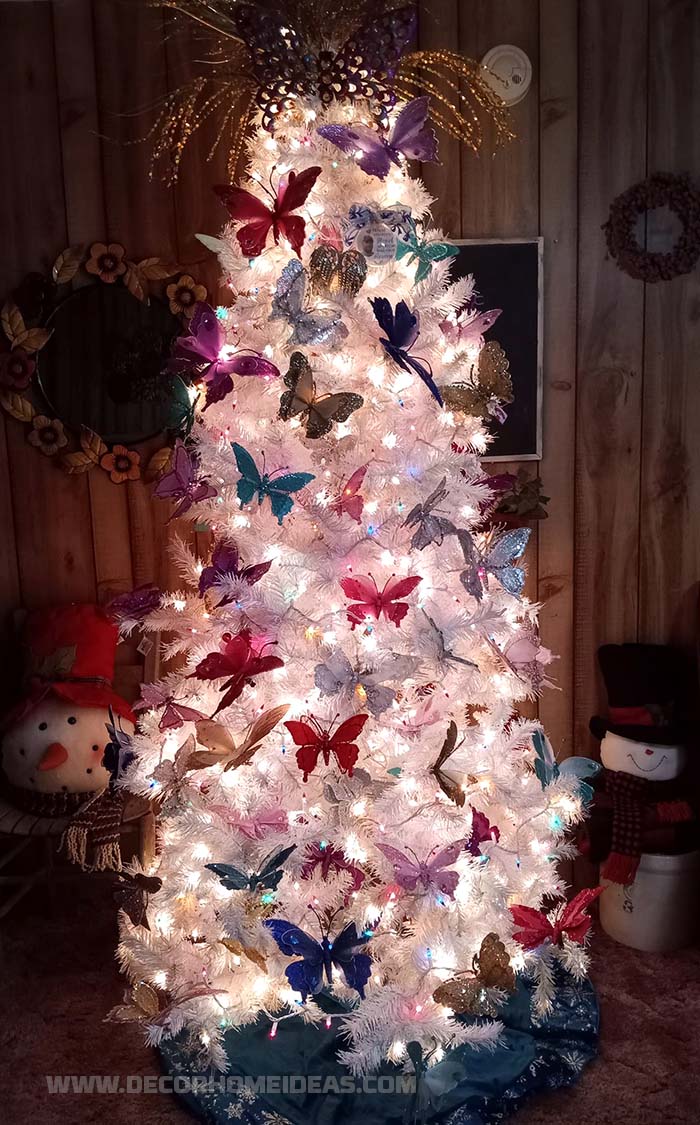 Butterflies remain one of nature's most beautiful creatures, making incredible decorations for your home.
Butterfly Christmas Tree creates an interesting effect where every time someone walks into your house, it feels like there's magic happening here tonight.
2. Candyland Christmas Tree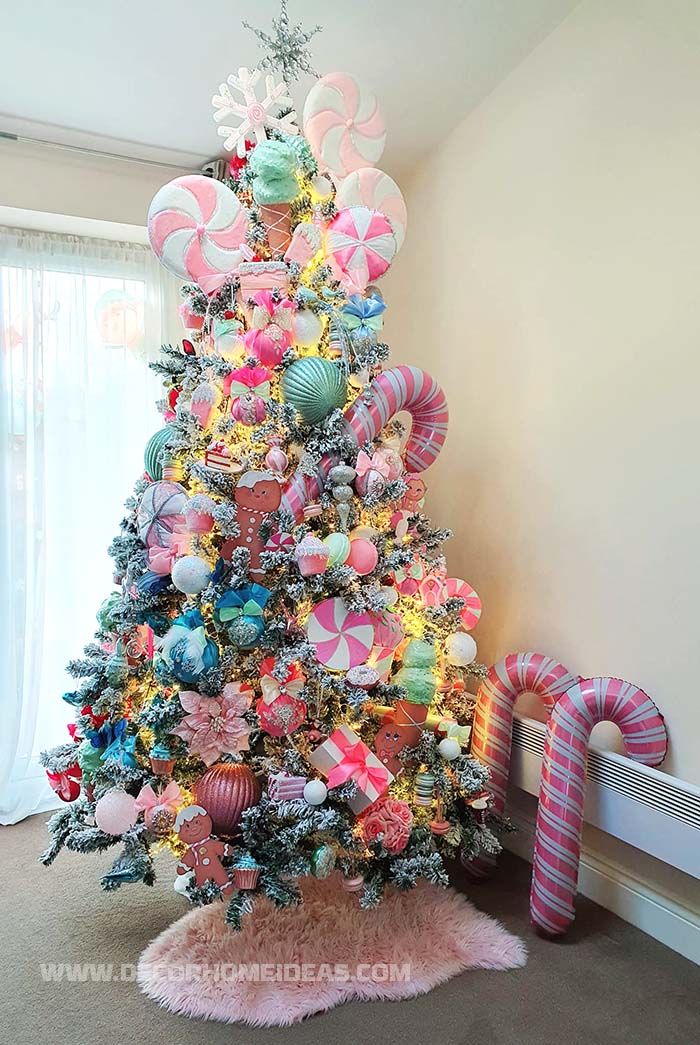 A Candyland Christmas tree will delight any child and their family. Any kid who has ever dreamed of a life of candy can now have a tree that is covered in candy, with gumdrops and chocolate filling the branches.
Ingrid shared: "We have a Candyland Christmas Tree this year, a lot of the ornaments are handmade by myself, as I tried to make it sweet and funny🍨🍭🍥
I hope you enjoy it as well😊"
3. Mickey and Minnie Mouse Christmas Tree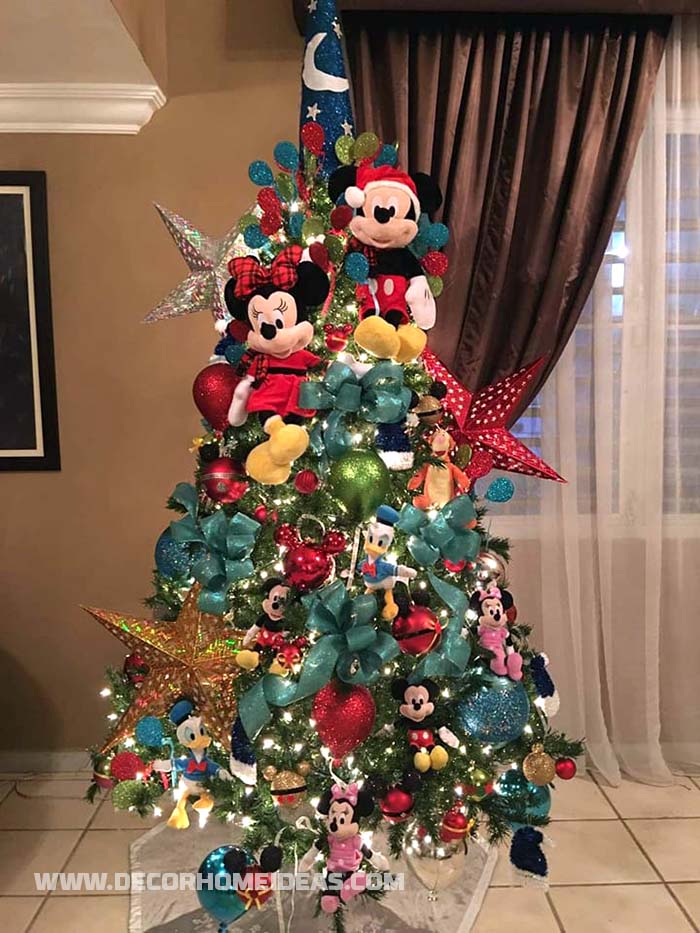 If you're looking for an adorable and fun Christmas tree, this Mickey and Minnie Mouse Christmas Tree is the one to buy.
This tree is decorated with Mickey and Minnie Mouse decorations, making it an excellent gift for a child or an adult who loves Disney.
4. Traditional Christmas Tree With Red Baubles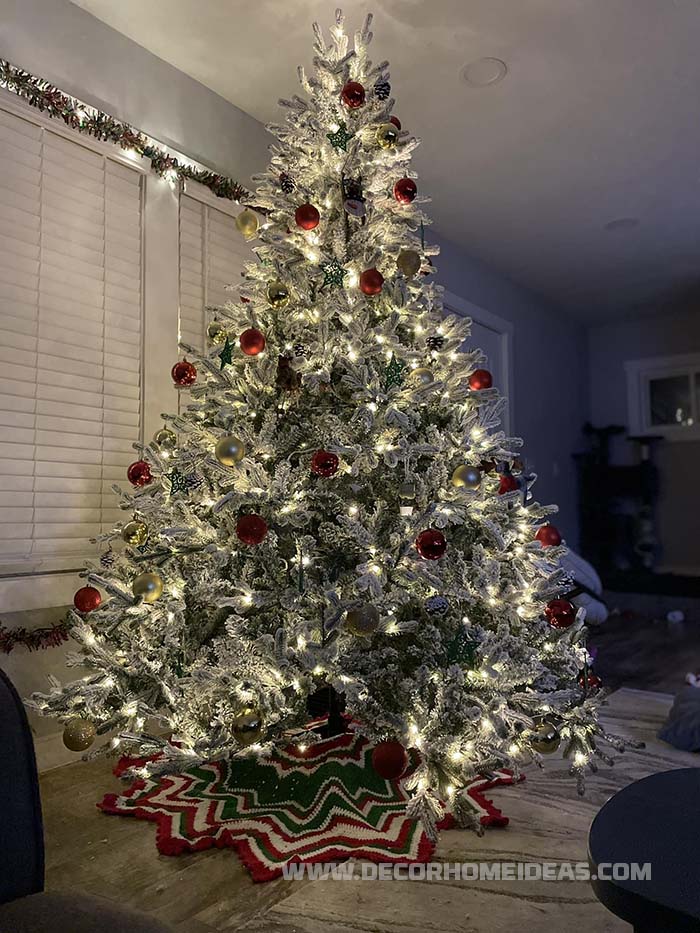 With a traditional Christmas tree, you can keep the decoration simple.
Add some ornaments and lights to give your tree that festive feel. If you want to go all out, pick one with red baubles for added color.
5. Purple and White Christmas Tree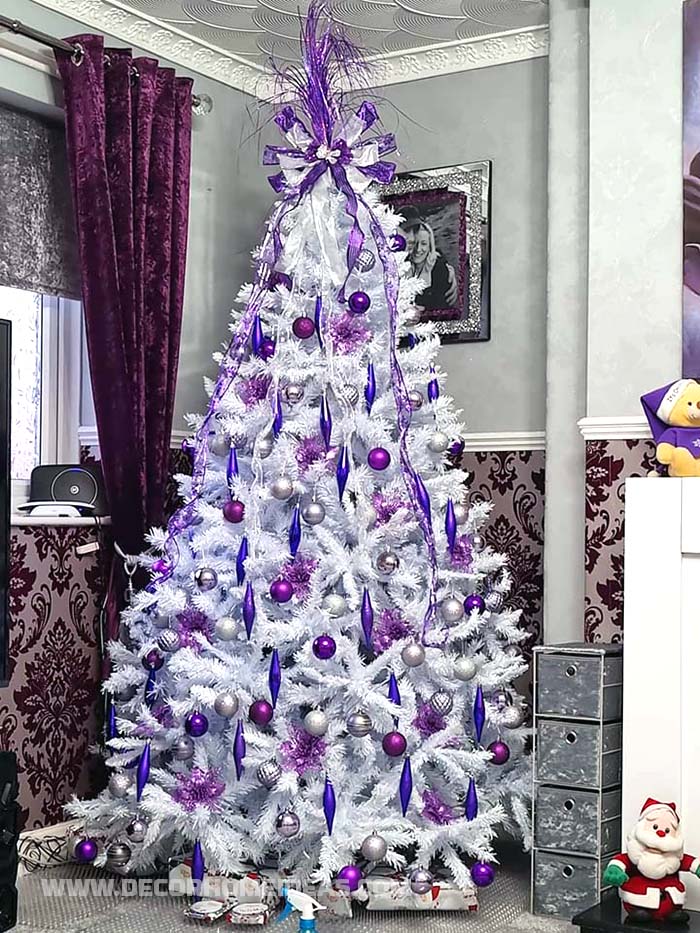 When you want to add a unique touch to your Christmas theme, this purple and white tree is the perfect one.
The silver balls are an excellent way to add sparkle to any room, and it's an attractive choice for those who prefer a more modern look.
6. Red and Silver Christmas Tree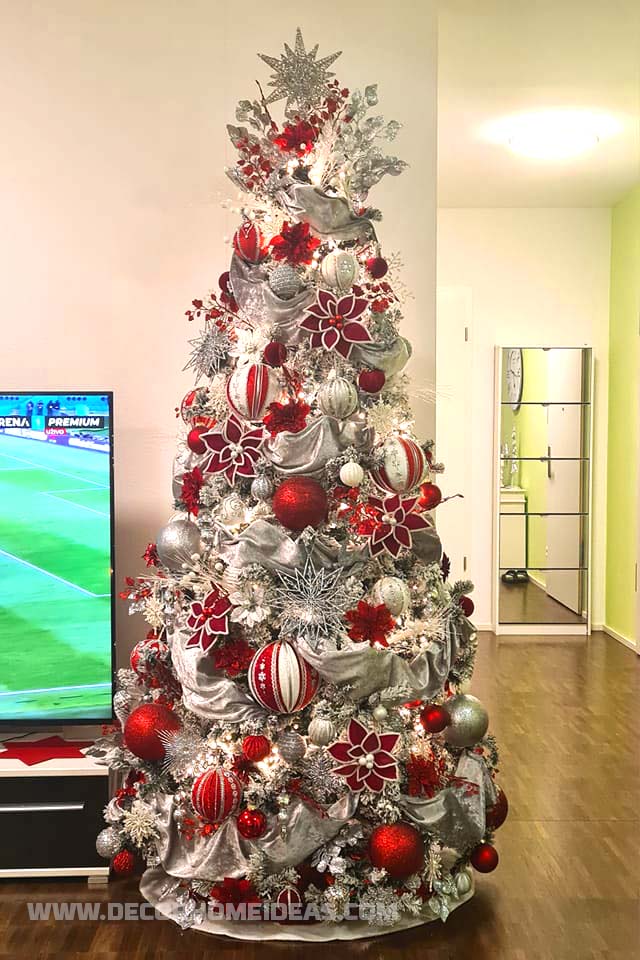 The red and silver Christmas tree is a classic. This color combination is one of the most popular combinations for decorating, and it's not hard to see why.
The bold, bright reds are contrasted against the silvers, giving off an eye-catching, elegant, sophisticated look.
7. Decorate With Ribbons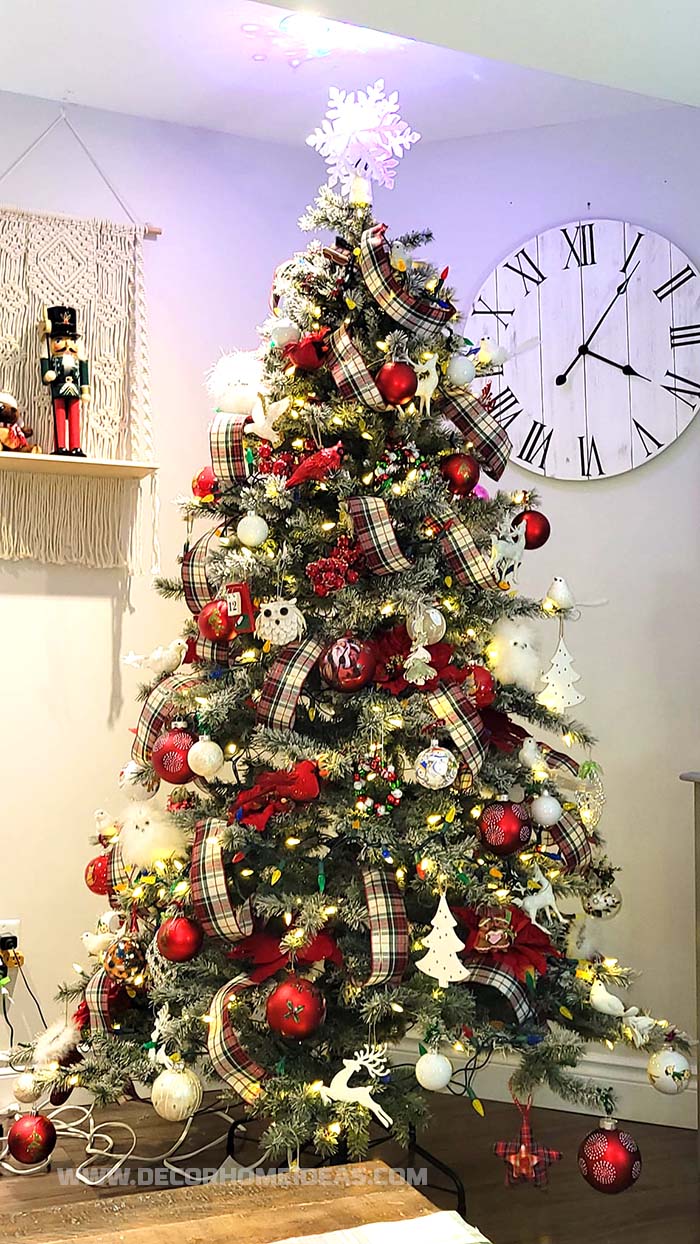 Ribbons are a great way to add color and texture to your Christmas tree.
They can be used as garlands, hung from tree branches, or tied around presents. Ribbons come in many different colors and patterns, making any Christmas tree look amazing!
8. Go All White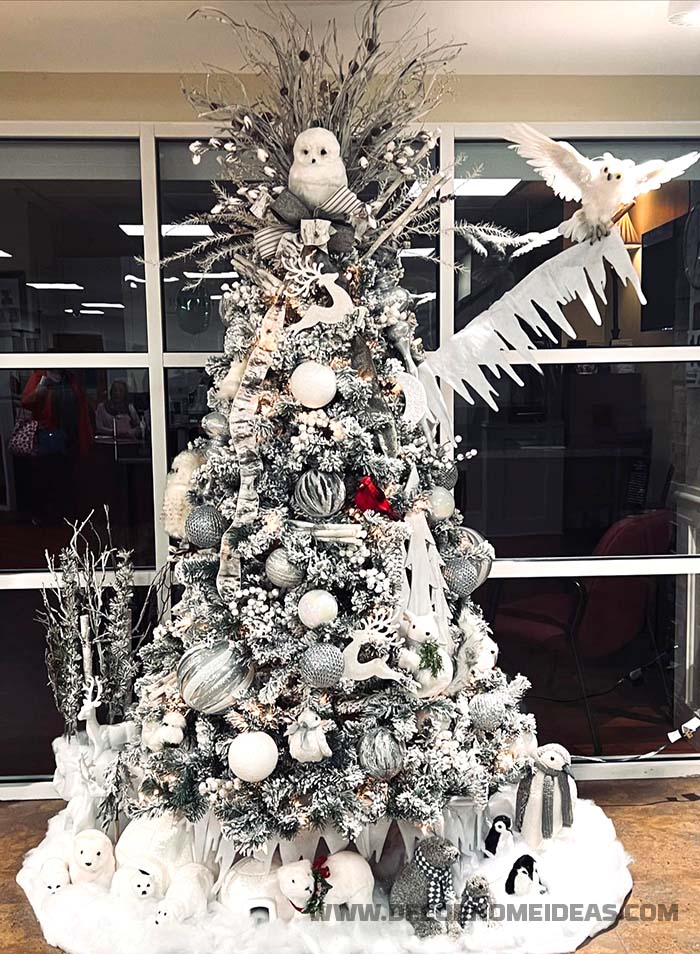 If you want a Christmas tree that looks like it's straight out of a storybook, the all-white Christmas tree is for you.
This classic look is perfect for families with small children and those who want an elegant, clean look.
9. Elf Themed Christmas Tree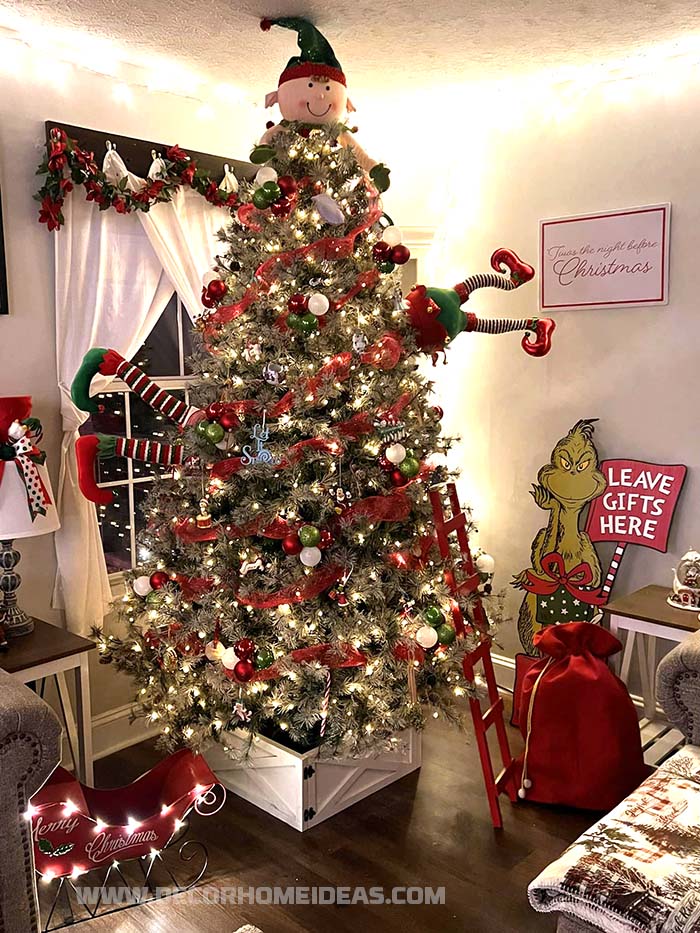 This elf-themed Christmas tree will bring joy and happiness to your family, especially if you have children who love Santa Claus.
The small elf figurine has a bag that carries all the presents he has just delivered to children worldwide.
10. Monochrome Theme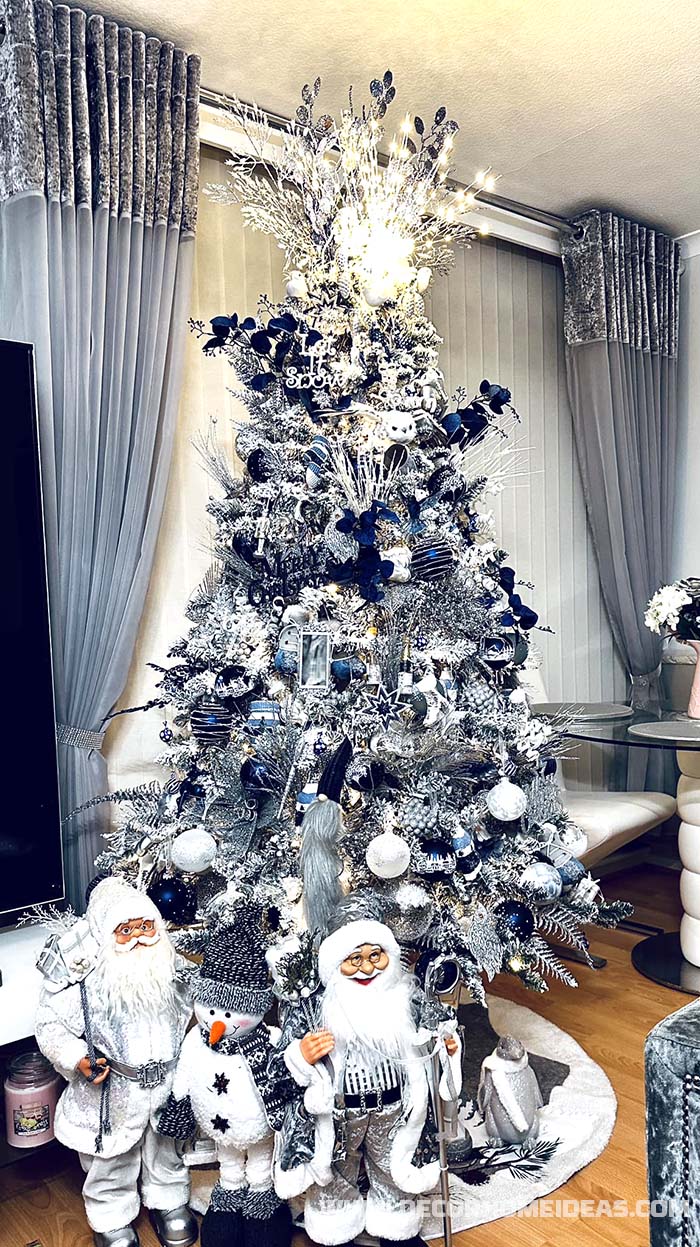 The monochrome theme is not only simple and elegant, but it's also versatile enough to work well with any home décor style: vintage, contemporary, or anything else in between.
This theme looks great on any wall color or paint finish.
11. All Red Decorations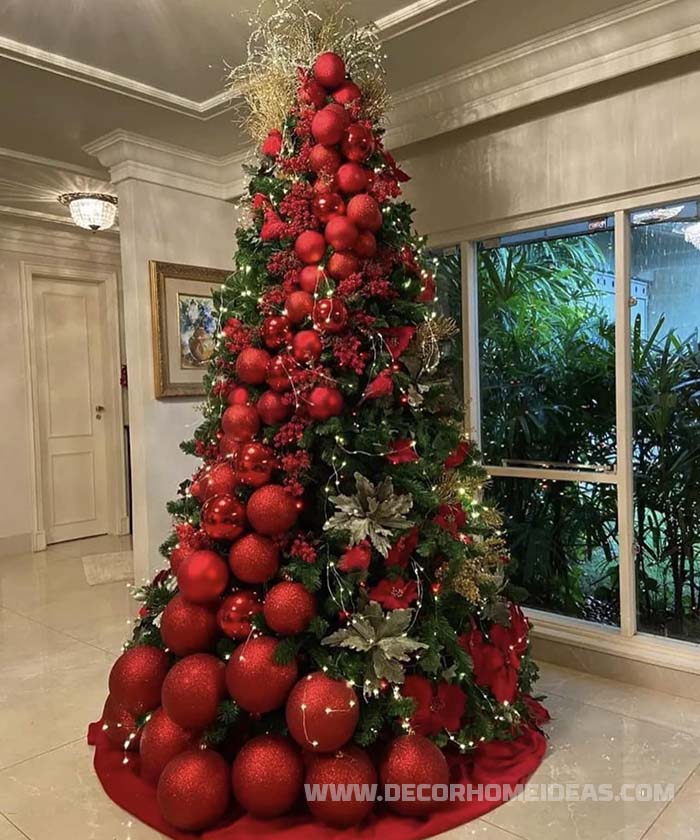 No matter what style of tree you prefer, whether it's traditional or contemporary, red is the color of choice for Christmas. Red is a great holiday color because it's festive and warm.
Red is also a popular color in many homes since it has been associated with love throughout history.
12. Beautiful Christmas Tree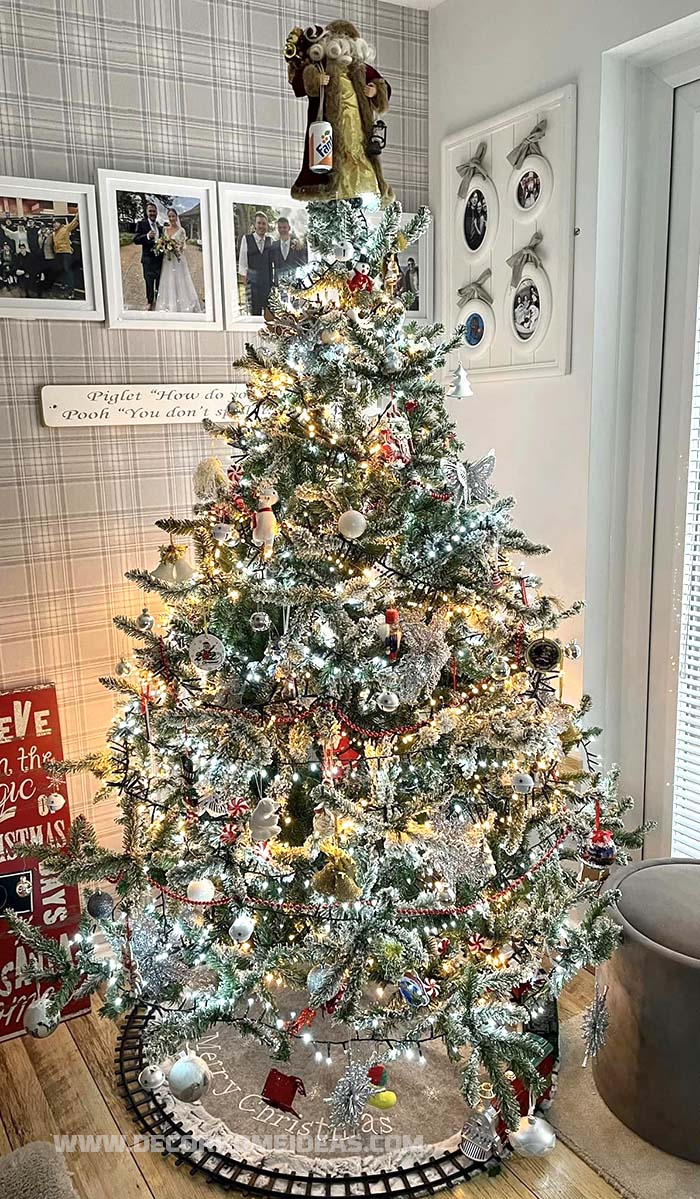 The Christmas tree you choose should have beautiful lights, large enough for all family members to enjoy.
A Christmas tree with a Santa Claus on top is also a good idea because it will make everyone feel like they are in the holiday spirit.
You can even find one with small toys hanging from its branches, adding another festive touch.
13. Peppermint Christmas Tree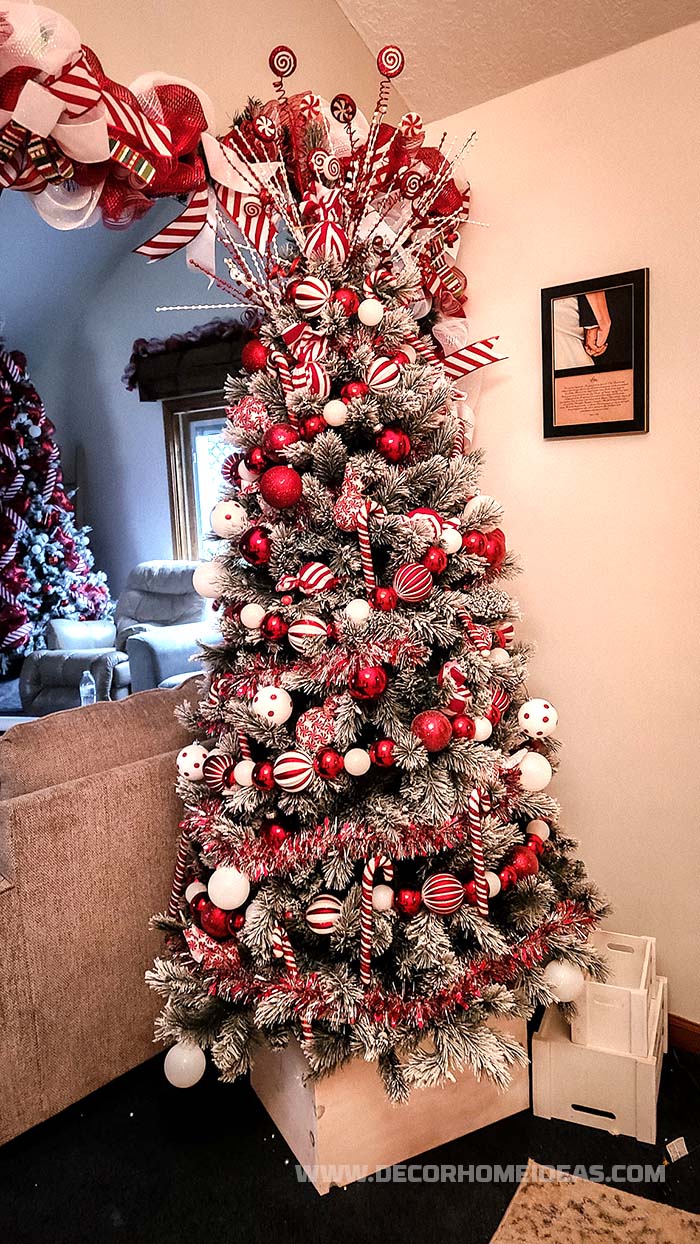 The tree is decorated with red and green ornaments, which makes it look like peppermint candy.
The peppermint Christmas tree has a white trunk that helps to create a lovely contrast between the colorful decorations on top of the tree and its base.
You can also add some LED lights to make it even more beautiful.
14. Rose Gold Theme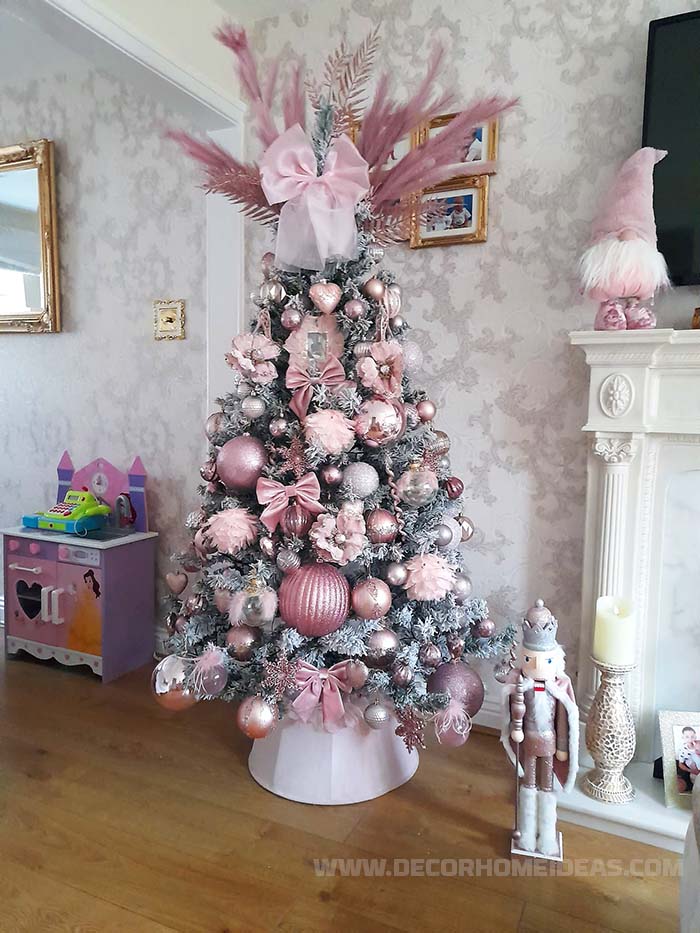 You can't go wrong with a rose gold color theme for your Christmas tree or the rest of your home.
The feminine and elegant tones are ideal for any holiday decor, as they're both beautiful and sophisticated.
A rose gold Christmas tree will add elegance to any space you put in, whether a large living room or cozy bedroom. It also works well as an accent piece when paired with other colors, like green, blue or red.
15. Elf Accent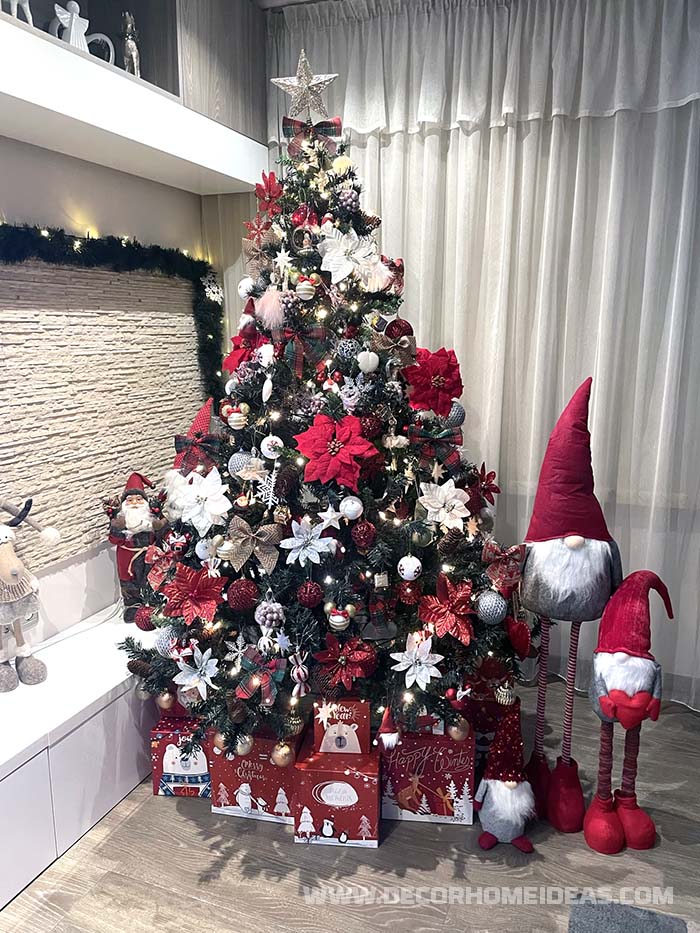 An elf accent with a small elf figurine as part of a larger Christmas will add some holiday cheer without taking over your living room and setting off your partner's allergies.
16. Pure White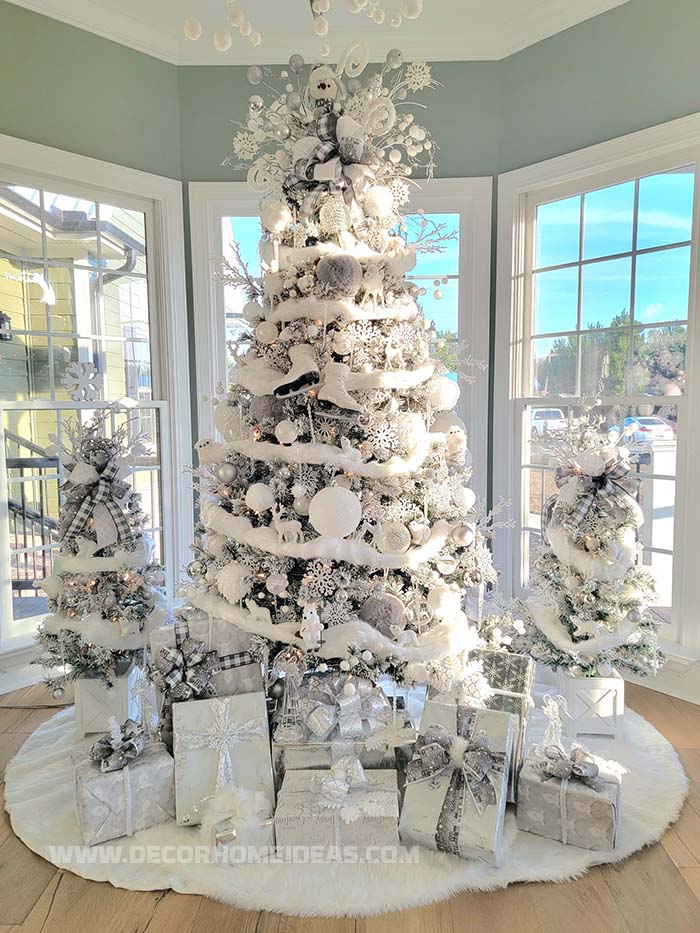 If you want a fresh look for your Christmas tree, go with a pure white tree. White decorations, lights, ribbons, and ornaments will make it pop.
A traditional white Christmas tree is perfect for families who like to decorate their homes with natural materials.
17. Christmas Tree Village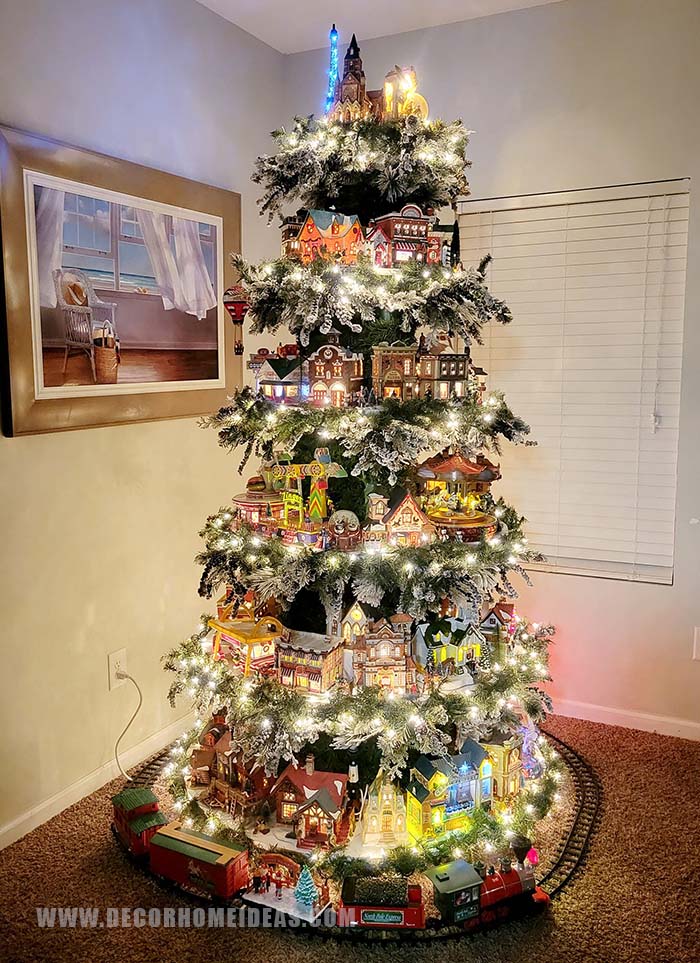 The Christmas tree village design is very unique and beautiful. You can see the decoration of the houses on this Christmas tree, and you will feel like you are in a real village where people live.
This type of Christmas tree will give you a comfortable feeling because it is like having a real house around you, and also it looks great when it's decorated with lights and other beautiful things.
You can have many different types of Christmas trees in your home. Remember to pick the one that goes well with your décor and theme, but also make sure it fits into your budget. The best part about having a custom tree is that no one else has exactly what you do.