Whether you live in a winter wonderland or you're dreaming of a white Christmas, silver is a gorgeous accent color for your holiday decor.
Cool and sophisticated, this pale tone brightens your space and evokes the feeling of a fresh snowfall — and when you add a burst of glitter, silver is even more magical.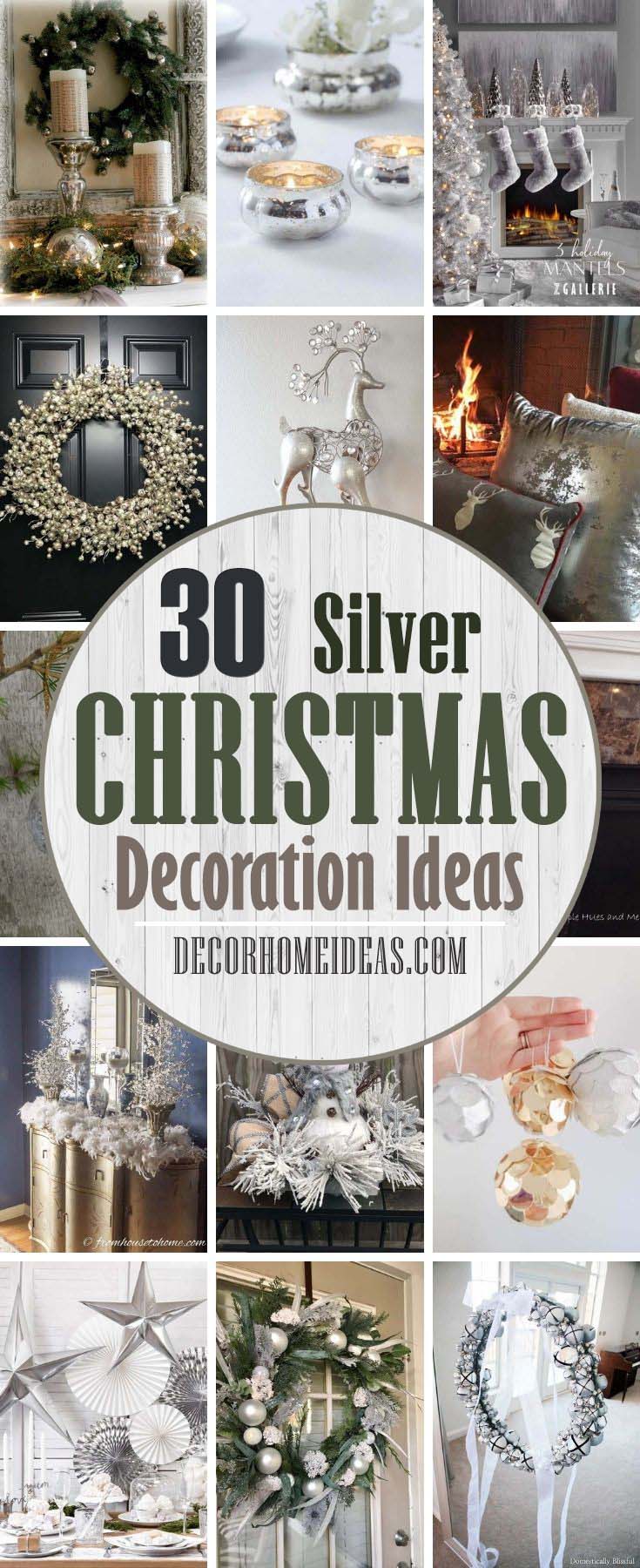 These stunning silver Christmas decorations are the perfect way to glam up your space for the winter holidays.
1. Glamorous Silver Christmas Wreath for a Festive Décor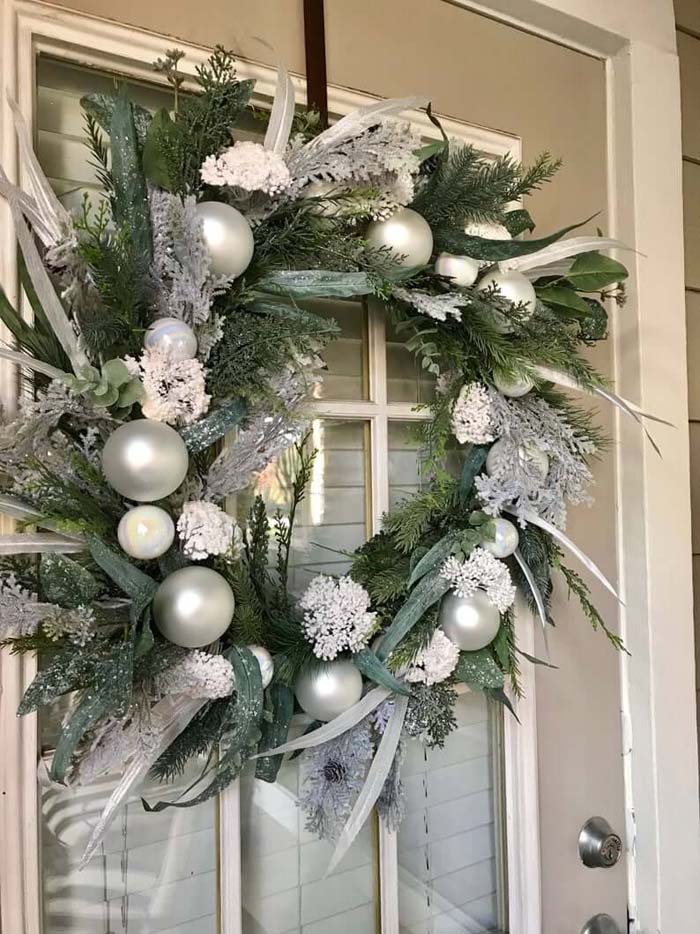 Set the tone for your fabulous Christmas decor right off the bat with a sparkling silver wreath.
With silver-toned branches, white flowers, and a collection of baubles, this wreath creates a welcoming holiday vibe.
Subtle shade differences keep the arrangement looking chic and contemporary.

2. Elegant Mercury-Glass Taper Candle Holders for Refined Décor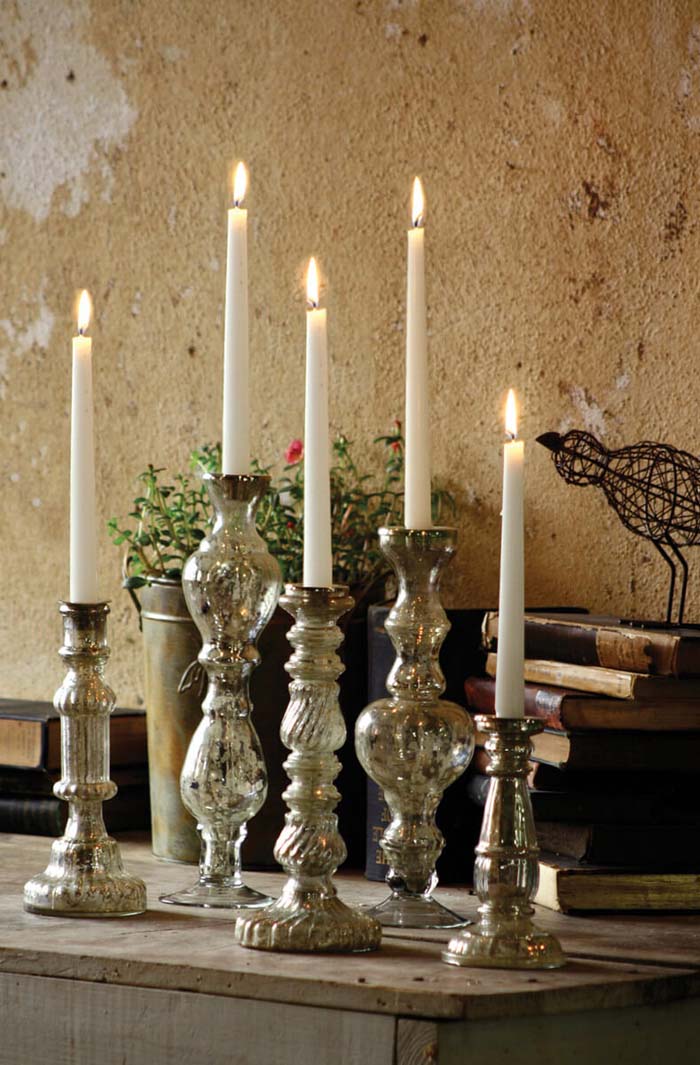 With their mercury-glass finish, these lovely taper candle holders bring a silvery shine to any spot in your home.
The uneven coloration enhances the unique look, and the ornate shapes bring to mind the traditional elegance of antique candlesticks from centuries past.
via At West End
3. Stunning Silver Stag Figurine with Rhinestone Accents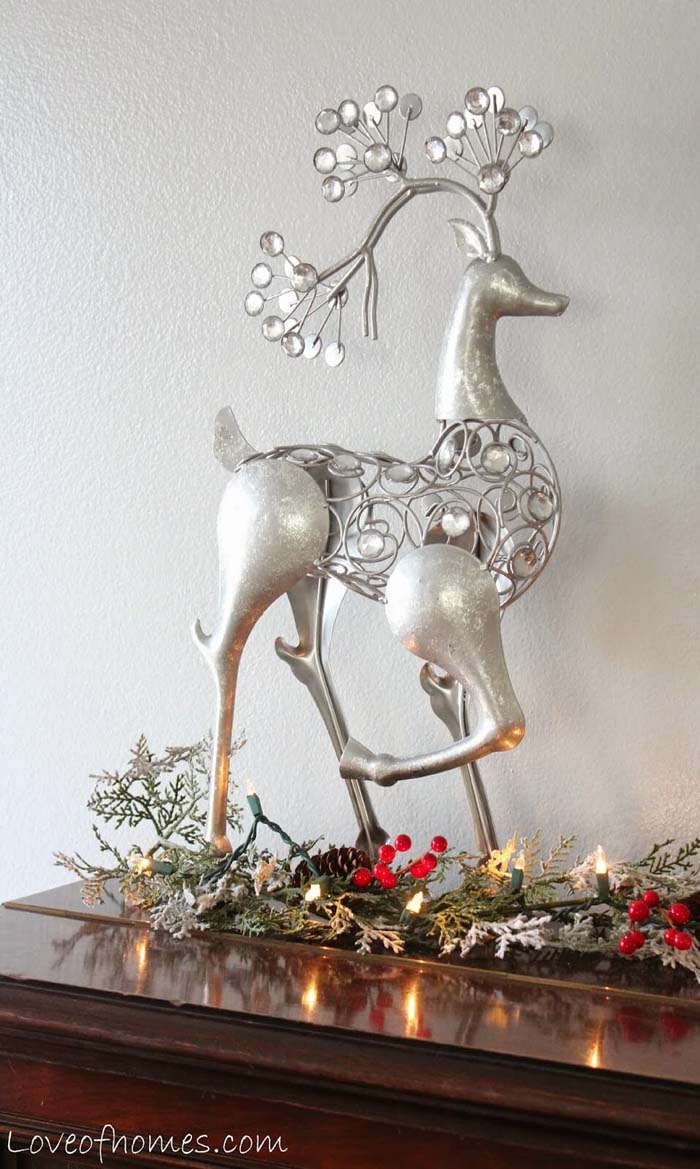 Whimsical and adorable, this silver stag figurine makes a sweet silver addition to any flat spot.
Set it on the mantel or tuck it on a shelf; it's even small enough to rest on a window sill.
The combination of a shimmering silver finish and sparkling rhinestones accents looks beautiful with traditional or modern decor.
via Love Of Homes
4. Enhance Your Room's Ambience with Silver Tealight Holders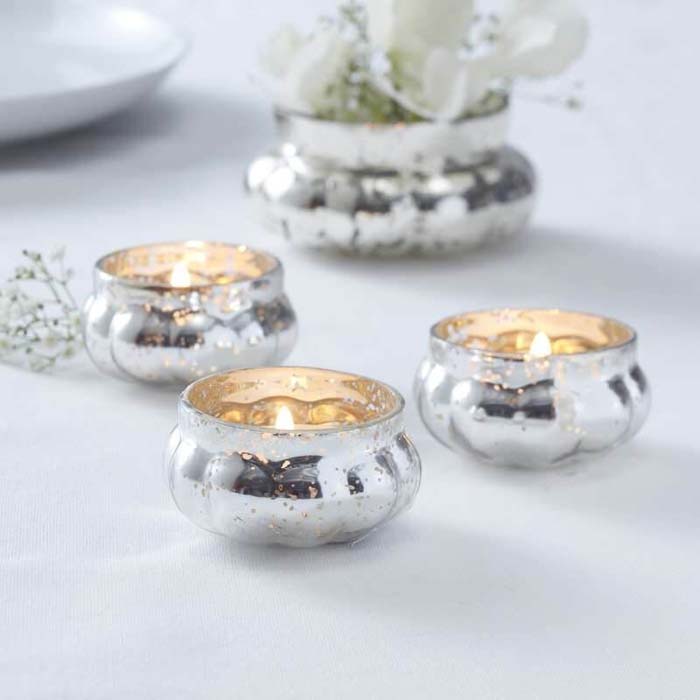 Amplify the cozy glow of a tiny tealight with silver tealight holders.
The silver finish gleams beautifully during the day, shining every time the light hits the surface.
After dark, the candlelight peeks through the tiny bits of clear glass for a shimmering effect.

5. Joyful Jingle Bell Wreath for Unparalleled Christmas Cheer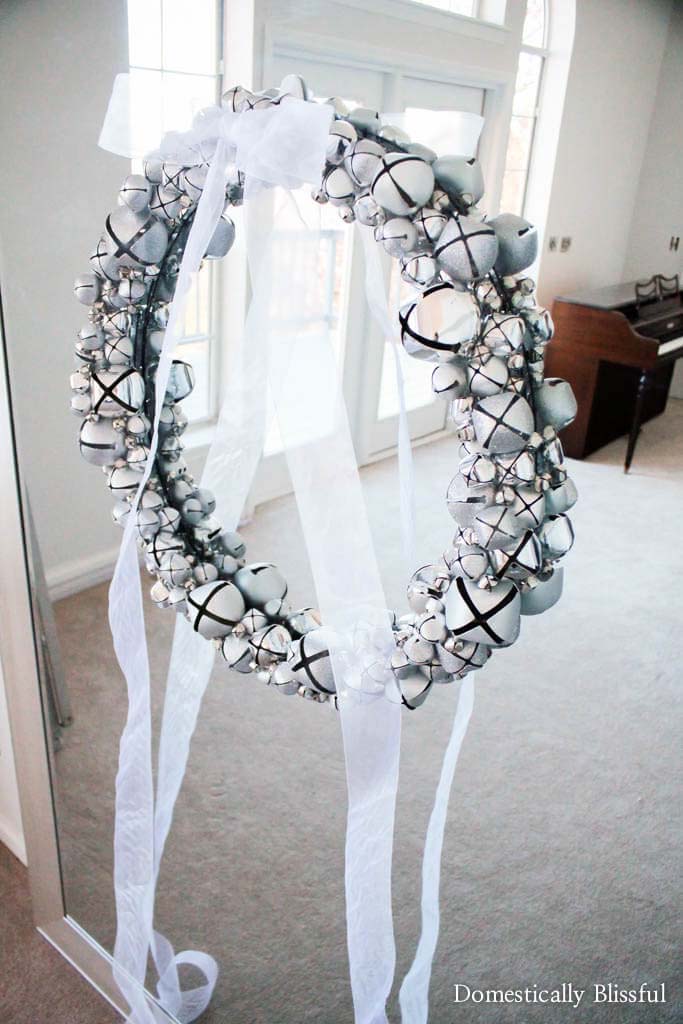 Is there anything more Christmassy than jingle bells?
Celebrate this unsung holiday hero with a wreath composed entirely of silver bells.
Here, bells in shiny, matte, and sparkly finishes, adding a thrilling sense of depth and a high-impact shimmer on your front door or any spot in the house.
6. Create a Festive Statement with a Silver Bow Tree Topper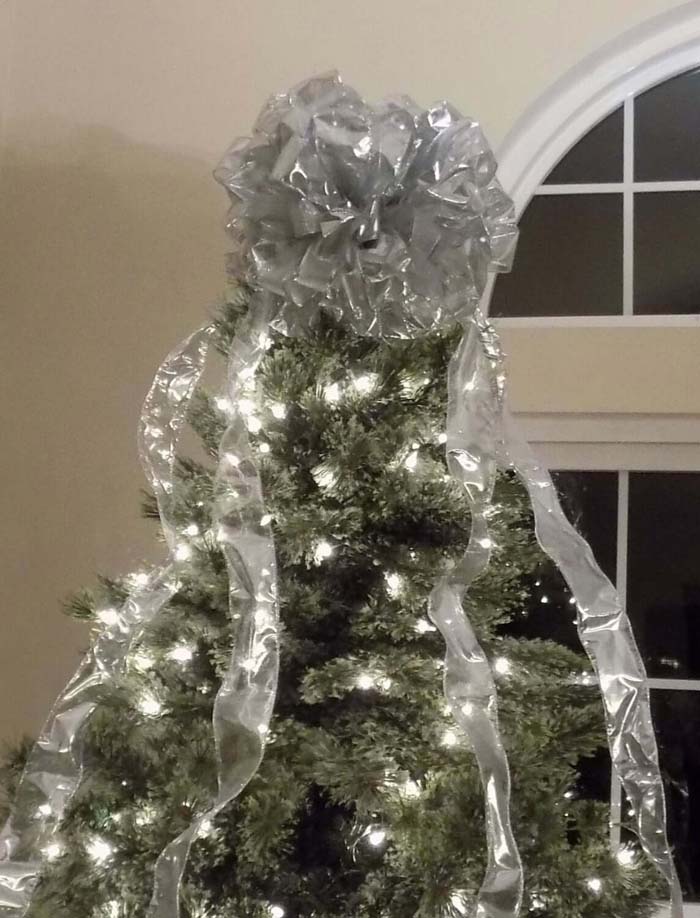 When you want to make an impact, the top of the Christmas tree is the perfect place to start.
Bring in a big burst of silver with an enormous bow topper.
The translucent material looks gorgeous in any light, and the trailing ribbons glisten in the glow from the Christmas lights.

7. Unique Silver-Coated Blueberry Christmas Wreath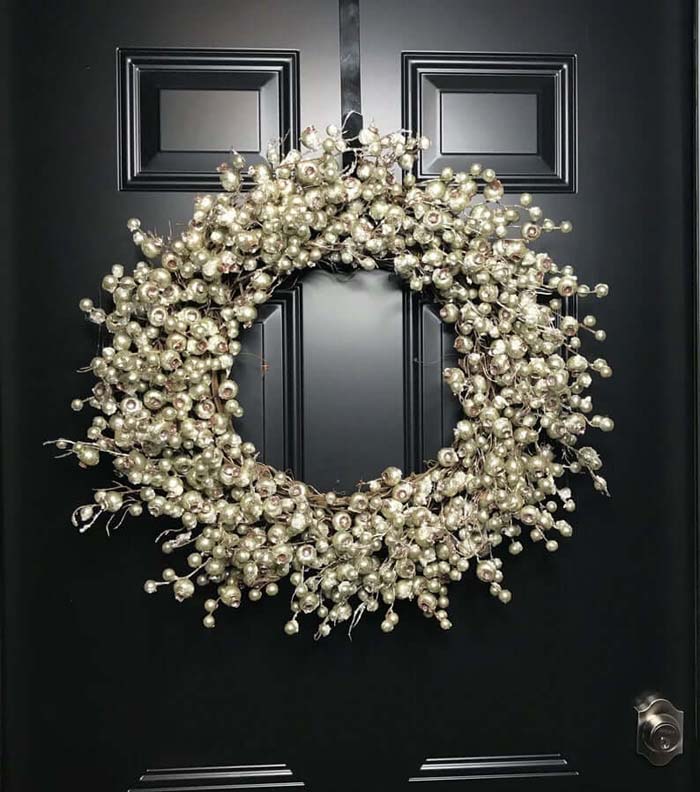 You might think that this unusual Christmas wreath is made from white beads or faux pearls — but look closer.
The tiny round balls are actually artificial blueberries coated with silver.
This clever design brings a down-home charm to your front door; plus, your guests will be delighted when they realize your cheeky secret.

8. Celebrate Winter with a Stylish Silver Snowman Wreath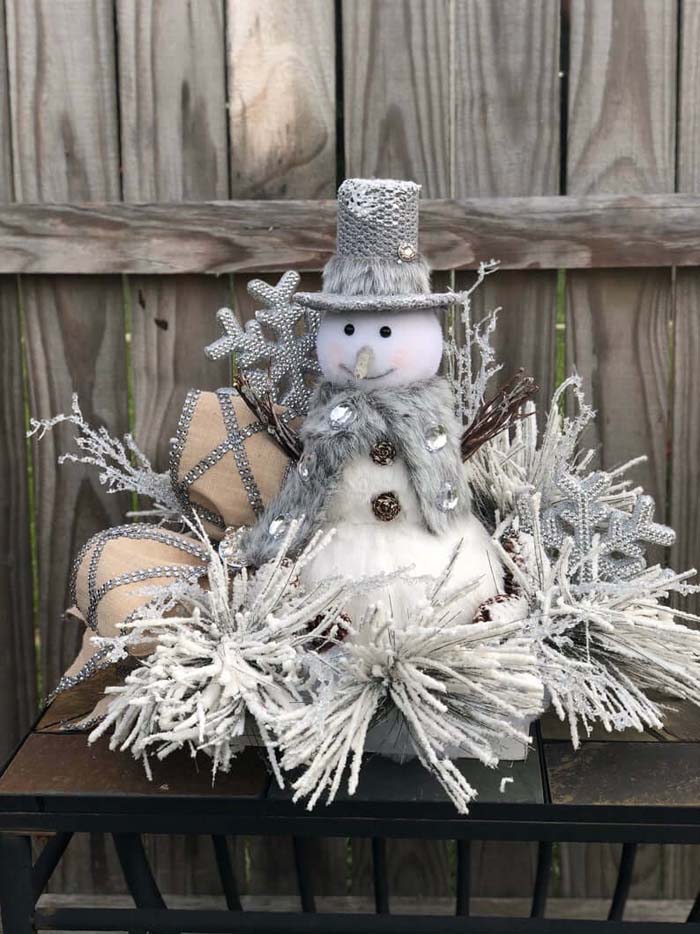 An adorable snowman sits in the middle of a silver wreath in this decoration, which is the perfect addition to a side table, dining table, or mantel.
We love the monochromatic palette, which features many different shades of silver for a cool aesthetic.

9. Remarkable Wooden Sign for Pet Lovers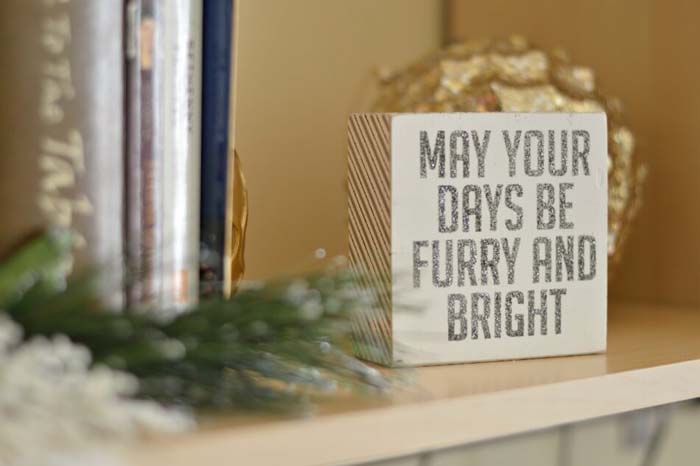 Fill a tiny spot on a bookcase or kitchen counter with this sweet wooden artwork.
The charming saying hints at your love of animals, and the glittering letters fit right in with the rest of your decor.
This piece also makes a great gift for the pet parent in your life.
10. Illuminate Your Décor with a Glowing Wreath Candle Plate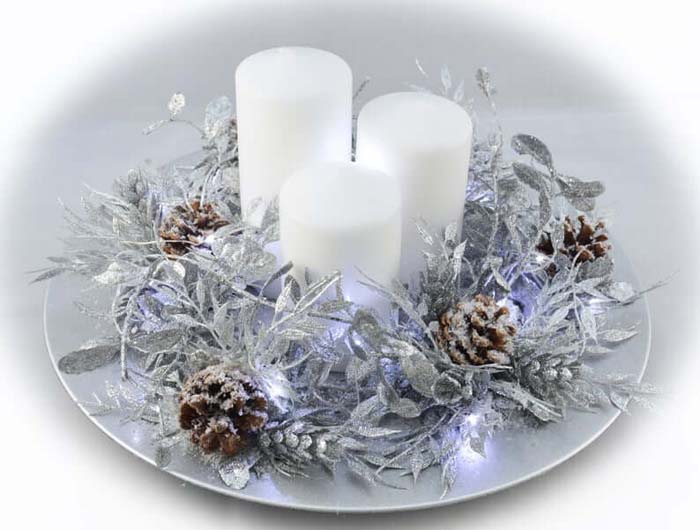 Do you love the glow of Christmas lights and candles?
Take your decor to the next level with this candle plate.
Tiny LED lights are hidden inside the silvery wreath, making it appear to shine from within.
Add a couple of white candles and you have a gorgeous Christmas centerpiece.

11. Disco-Inspired Ball Ornaments for a Cheery Christmas Tree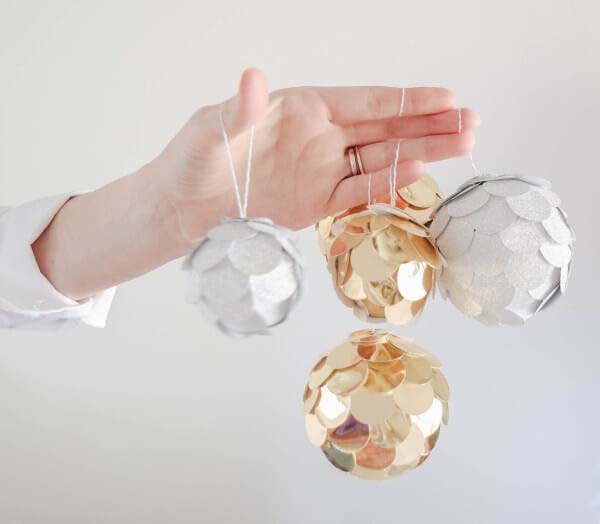 Bring a bit of disco-chic to your Christmas tree with this creative take on the traditional ball ornament.
Each one is covered in tiny round scales, each in a different shiny finish.
When you plug in the Christmas lights, these ornaments sparkle dramatically.
via Abbi Kirsten
12. Add a Touch of Silver with Foil Chain Snowflakes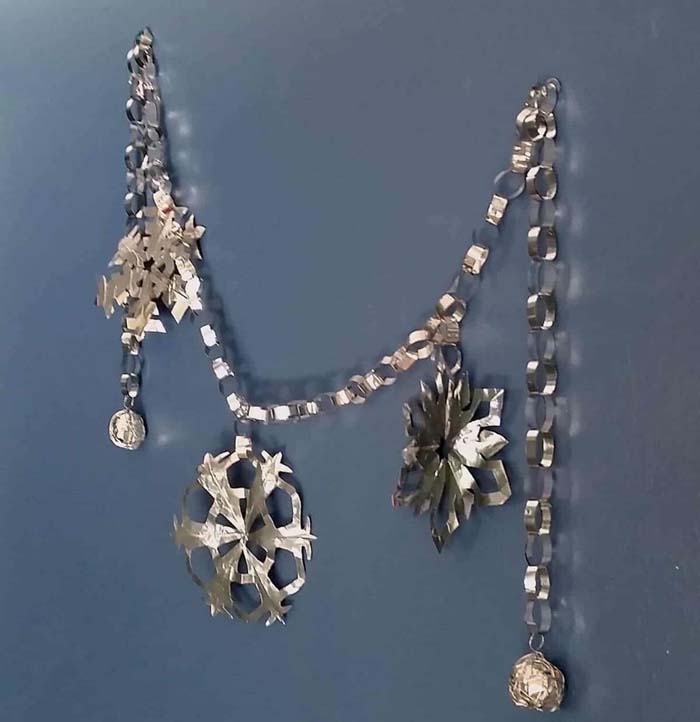 Foil is a fun and affordable way to add a bit of silver to your holiday decor.
All you need to do is create a traditional chain with foil and suspend a few silver snowflakes from the links.
The clever hammered surface tones down the high-impact shine for a sophisticated look.
13. The Perfect Garland for a Winter Wonderland Display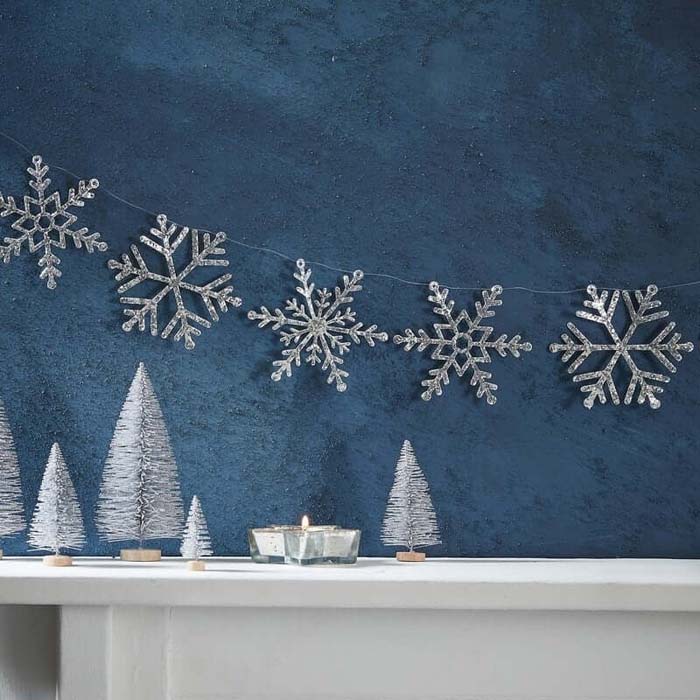 If you're looking for a Christmas decoration that you can leave up all winter, this stunning silver snowflake garland has you covered.
Suspend it on the wall above a Christmas village or a set of silver bottle-brush trees to create a wintry scene.
A single candle brings out the glittering finish.

14. Hang these Metallic Foil Balls for a Touch of Vintage Style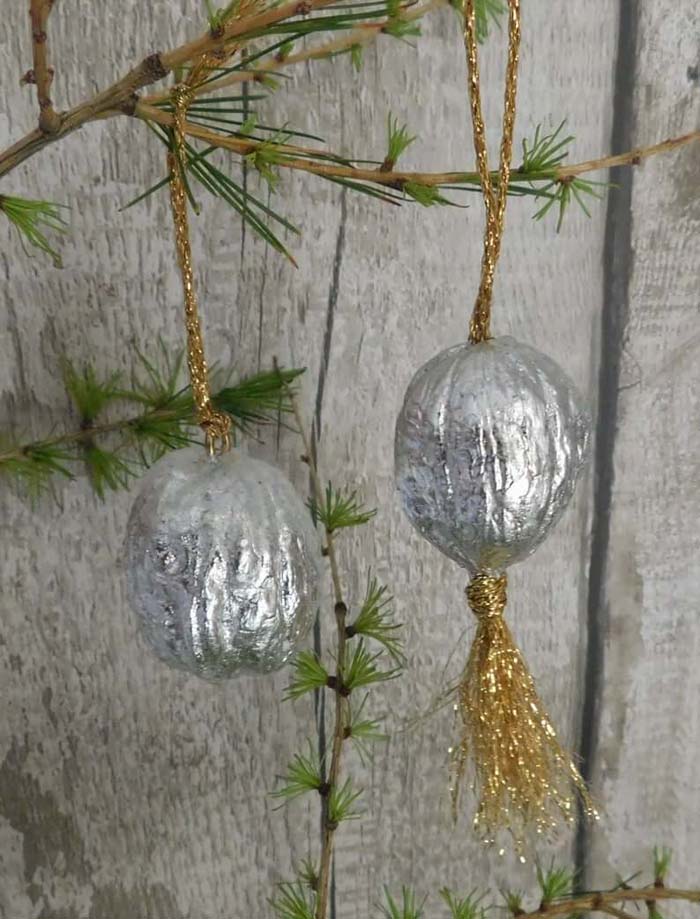 Do you love vintage style? These metallic foil ball ornaments will fit right in with your other historic elements.
The uneven surface brings out the beauty of the silver, giving the depth and dimension of the ball.
We love the imperfect shape, which enhances the antique effect.

15. Add Sparkle to Your Wall and Window with Silver Stars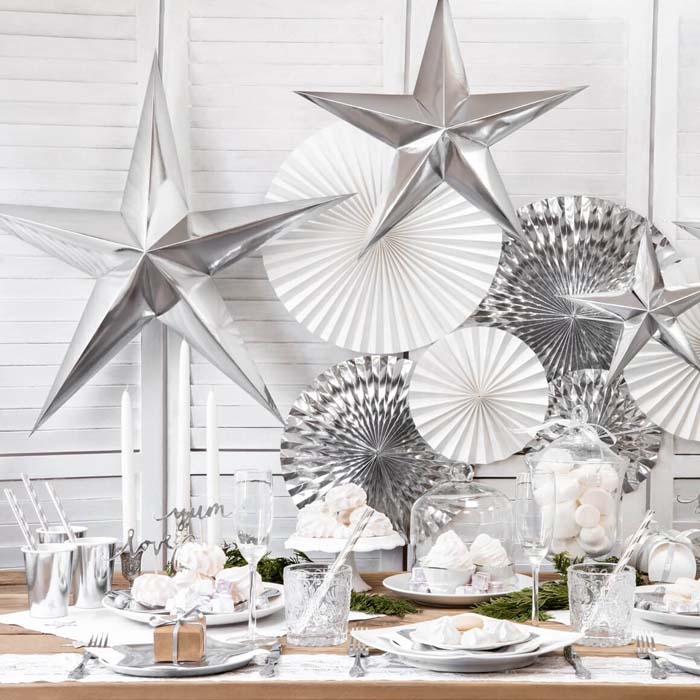 Jazz up a plain wall or a window with pointed silver stars.
The multi-faceted stars reflect light from all directions, creating a bold, glamorous shine.
Mount the stars on the wall or suspend them from strings to add a bit of magic to your decor.

16. Make a Vintage Farmhouse Marquee with DIY Light-Up Letters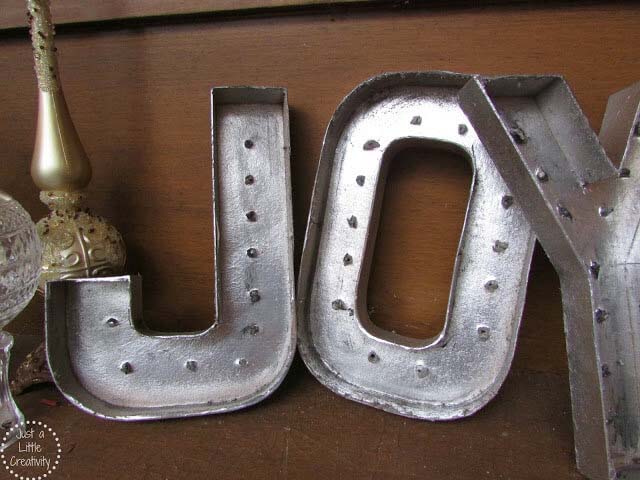 Have you ever seen the marquee letters that light up?
These letters put a fun, Christmas-themed spin on that tradition — and they're much easier to make.
Using rivets in place of the lights, each letter has a look that's both vintage and farmhouse-inspired.
17. Create a Ceiling of Icicles with White Lights for Christmas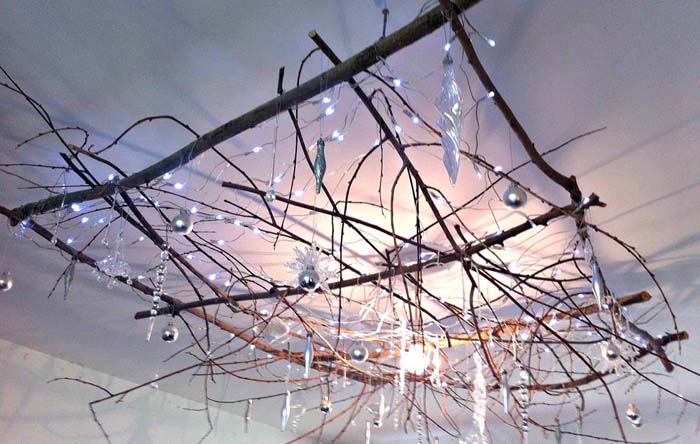 Chances are, you don't pay much attention to your ceilings when decorating for Christmas.
This gorgeous installation piece changes all of that, creating a ceiling of silver icicles.
A strand of white lights casts a soft glow and enhances the facets of each icicle.
18. Elevate Your Mantel with Silver Accents and Feather Boas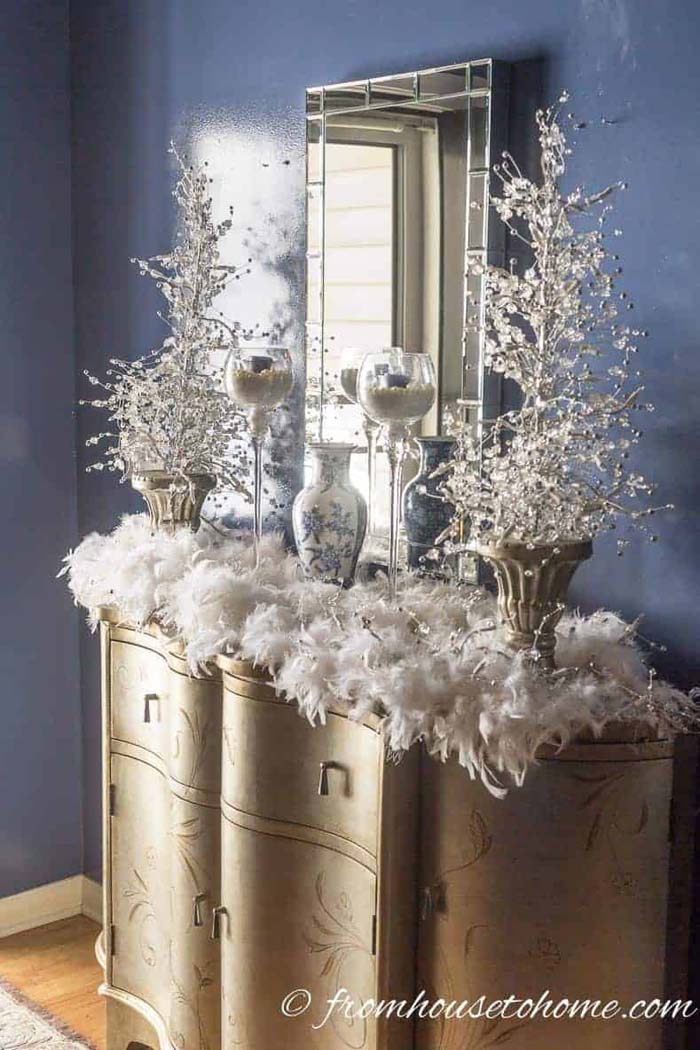 Looking for a way to dress up a hallway table or mantel?
Try a collection of sparkling silver pieces. Vases and candleholders set the stage, creating a spot for silver candles and glamorous crystal-studded trees.
The base of feather boas ties everything together.
19. Incorporate Silver Mercury Glass Candle Holders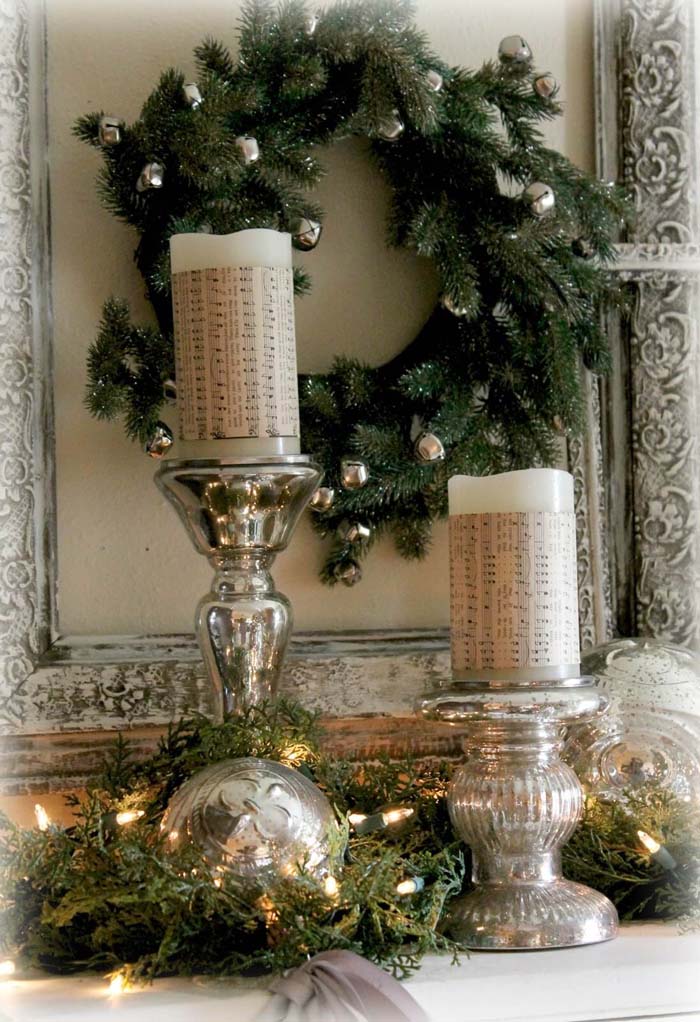 Here's another way to incorporate silver mercury glass candle holders into your Christmas decor.
These chunky holders provide just enough space for thick pillar candles. For a vintage effect, wrap the candles in sheet music.
20. Create Elegant Winter Candle Holders with Crystal Snowflakes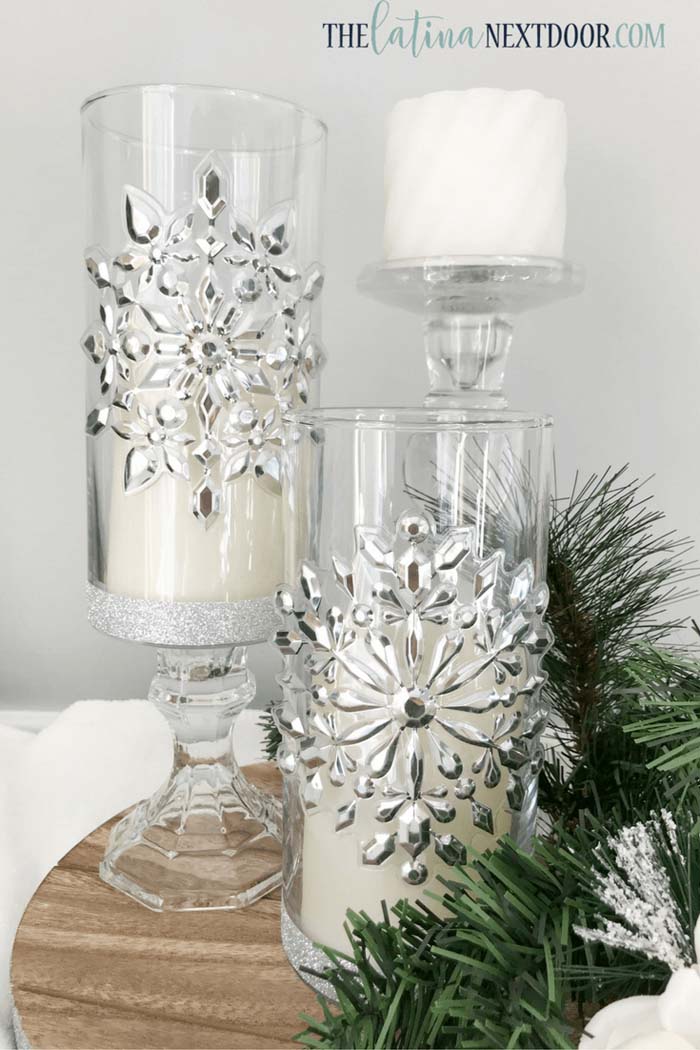 If you're in the mood for a DIY project, these candle holders are an affordable and stunning option.
Start with simple clear candle holders, add crystal snowflakes, and you have a designer-quality piece that will wow your visitors.
21. Add a Country-Chic Feel with Galvanized Silver Buckets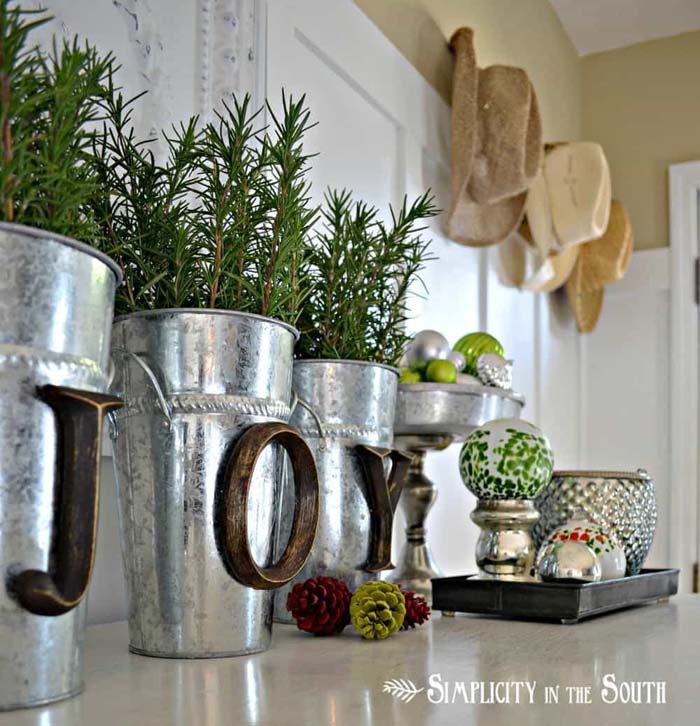 Rustic and adorable, these silver buckets are a delightful way to decorate for Christmas.
Galvanized metal brings a bold silver color and a country-chic look to your space; add a few letters for a holiday twist.
After the holidays, you can use the buckets as planters.
22. Give Your home that Special Sparkle with a Pine Cone Jar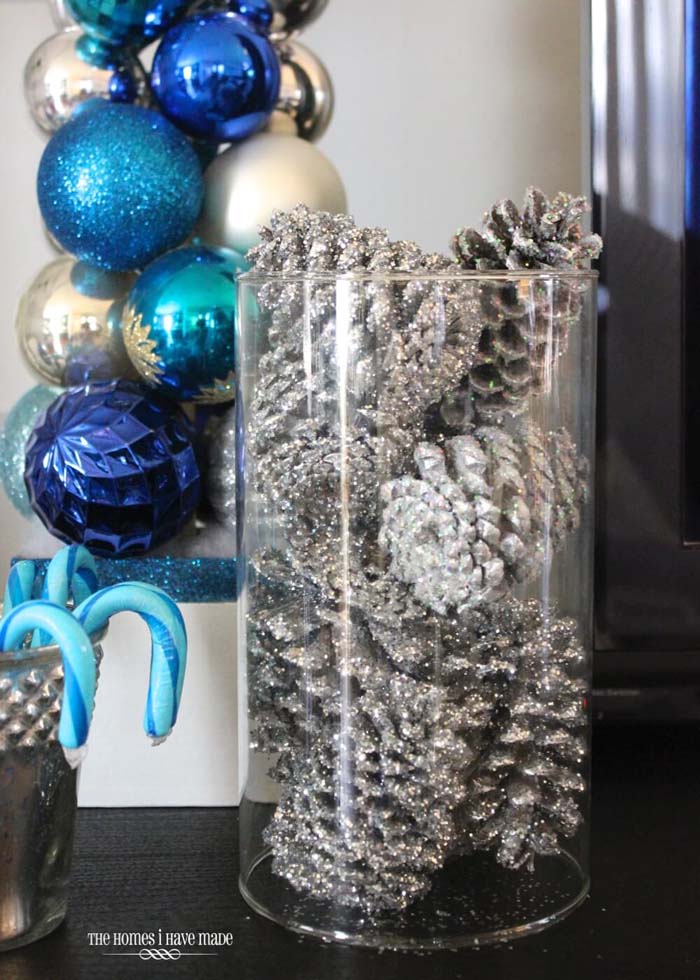 For a project that takes less than an hour to complete, this pine-cone jar brings serious sparkle.
All you need to do is spray pine cones with silver paint, add some spray adhesive, and dust with glitter.
A clear jar shows off the shine and contains loose glitter at the same time.
23. Create an Elegant Silver Christmas Garland for a Stylish Look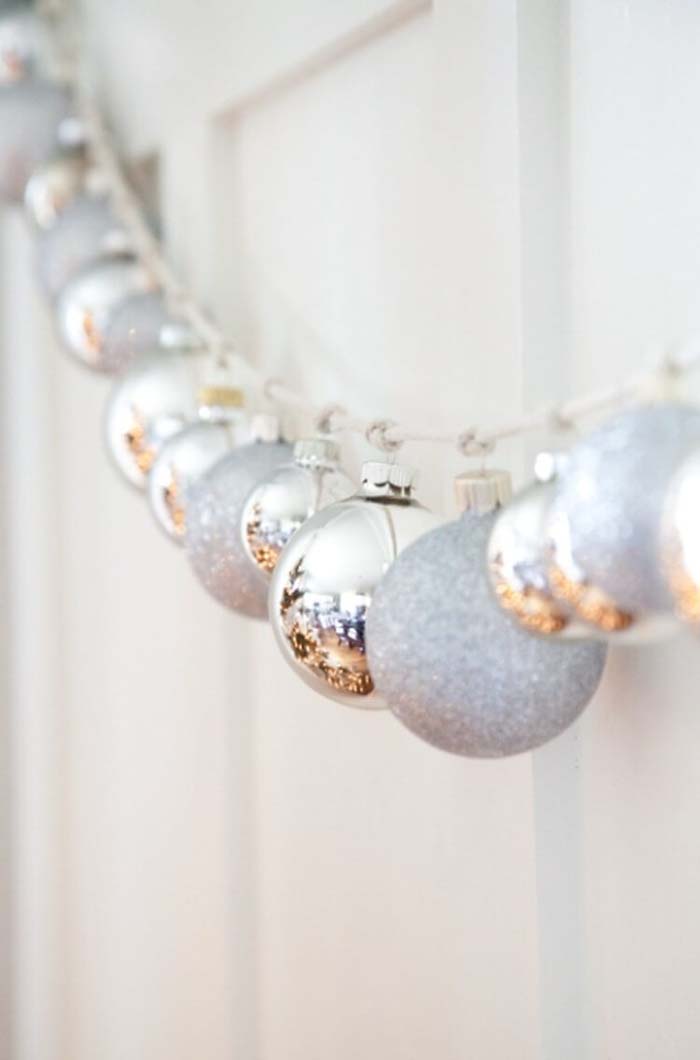 Replace your traditional green pine garland with this chic silver version this Christmas.
The varying glitter and shiny finishes make it look expensive and elegant — and you'll be excited to learn how easy it is to make.
We love it against a white wall, but it also works beautifully on a tree or the edge of a mantel.
24. Add Holiday Cheer to Your Sofa with Silver Christmas Pillows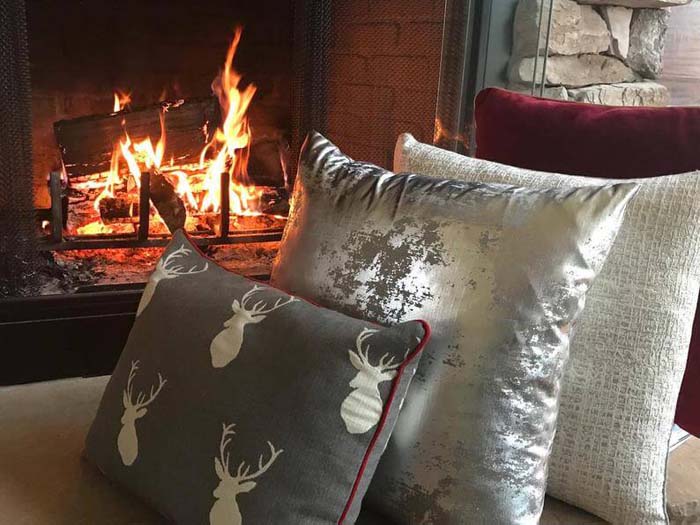 There's nothing cozier than throw pillows, particularly in the depths of winter.
Bring texture and shine to your sofa with Christmas-themed pillows in unexpected shades of silver.
Metallic fabric, matte grey, and silvery-white pillows make a charming combination.

25. Get in the Christmas Spirit with this Silver Candle Holder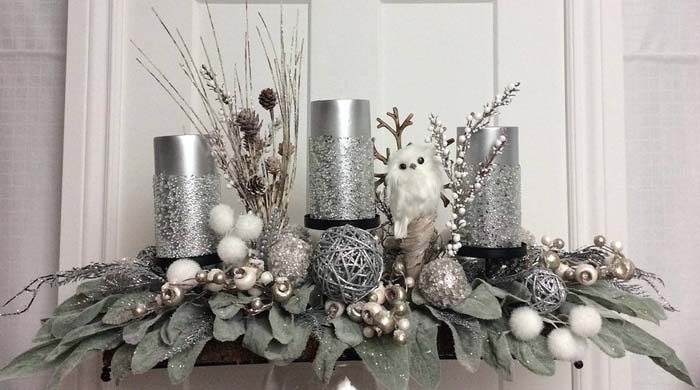 Set the table for Christmas with this silver candle holder.
Using a blend of woodland elements in shades of silver and white, it's a masterpiece that offers something new from every angle.
The sweet owl is an adorable touch.

26. Transform Pine Cones into Sparkling Winter Decorations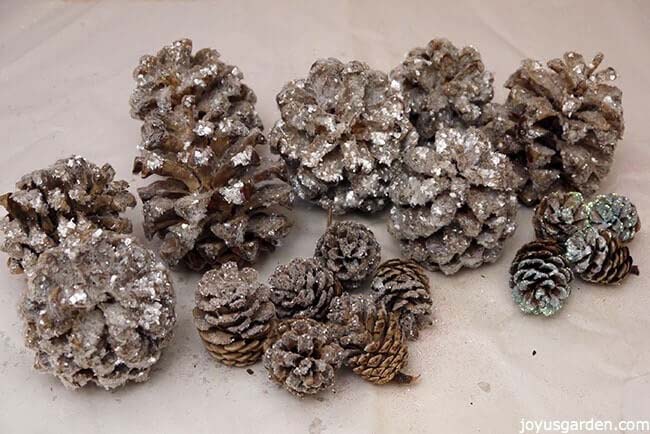 Do you love the natural texture and shape of pine cones?
Gather a few from the backyard and turn them into part of your decor.
A dusting of silver glitter creates the impression of sparkling snow.
via Joy Us Garden
27. Make a Sparkling Cardboard Snowflake for Christmas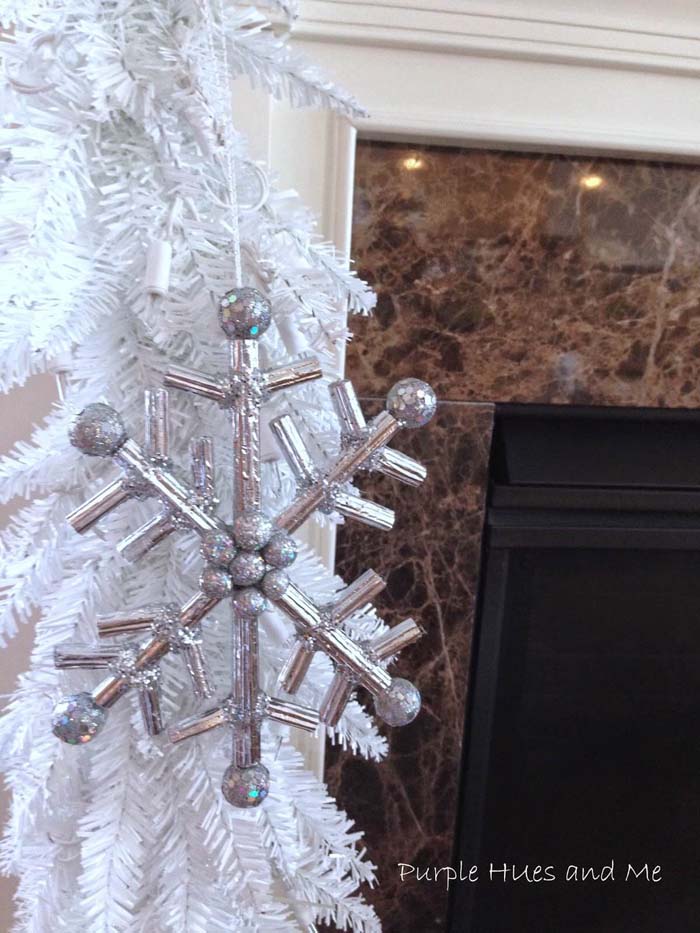 Snowflakes are an iconic part of Christmas decor, and this beautiful version is an easy DIY project.
It's made from corrugated cardboard, making it a fun craft project for kids and adults.
Add a layer of silver spray paint to finish it off; you can even add rhinestones or glitter for extra shine.
28. Upgrade Your Home with Glittering Silver Plush Fur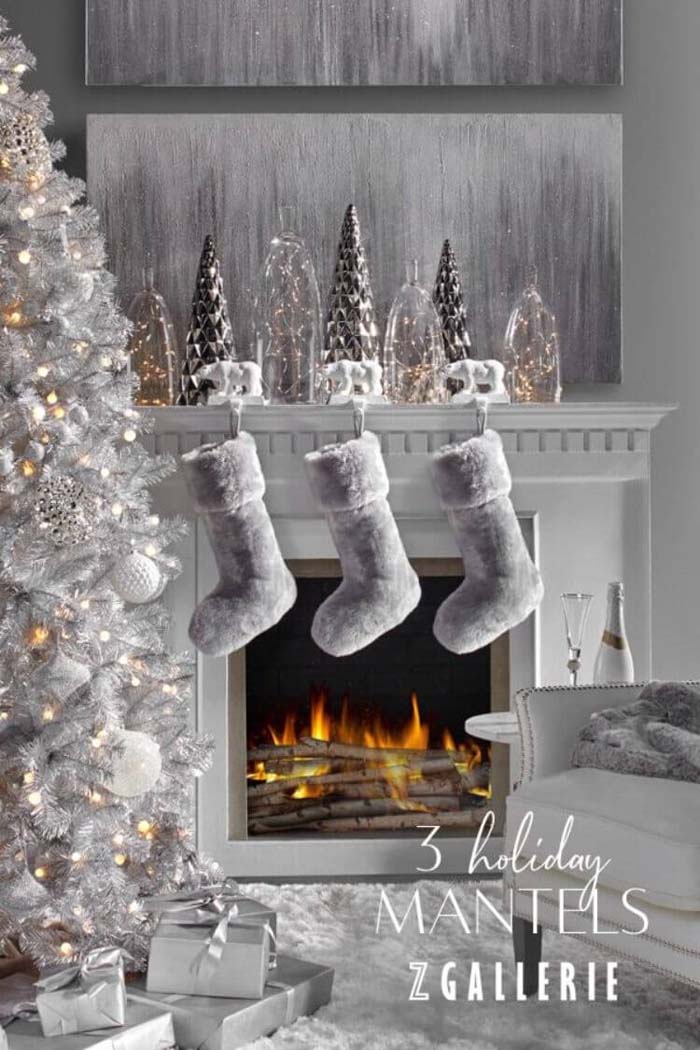 Have you had the same stockings for years?
Switch them out for plush silver versions to give your home a glam Christmas update.
The thick fur feels soft to the touch, and the gentle sheen looks lovely by the tree or the fire.
via Z Gallerie
29. Add a Silver Sparkle to Your Christmas Dinner Table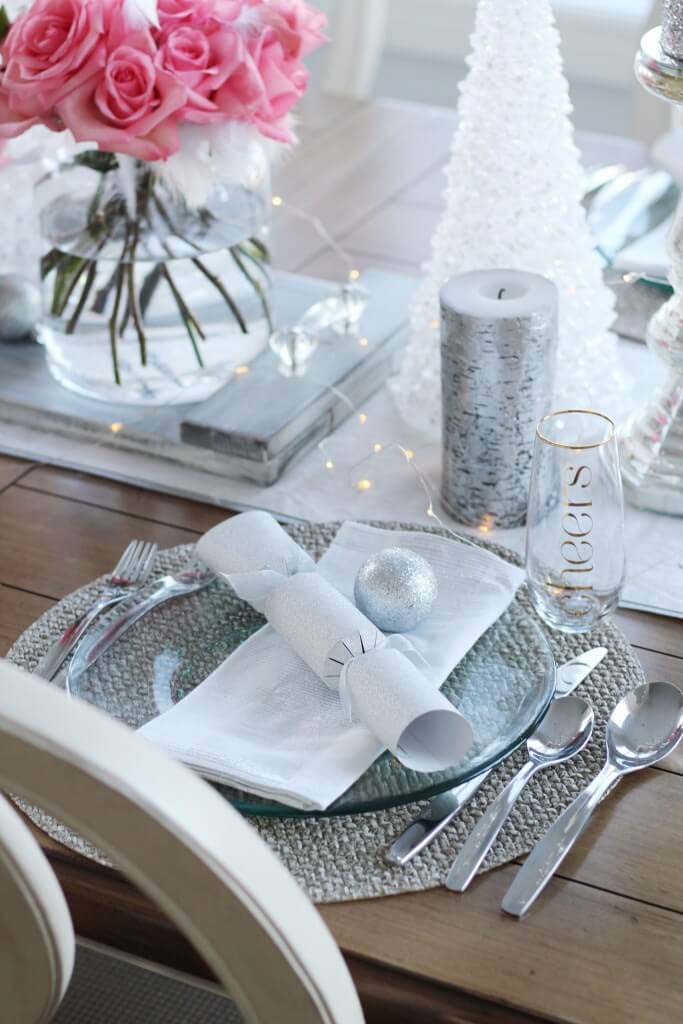 Give your Christmas dinner a wintry update by decorating with an all-silver theme.
Here, clear glass plates and glasses show off the silver elements, and a simple glittering ball adds a festive touch.
30. Traditional Candle Holder with a Modern Twist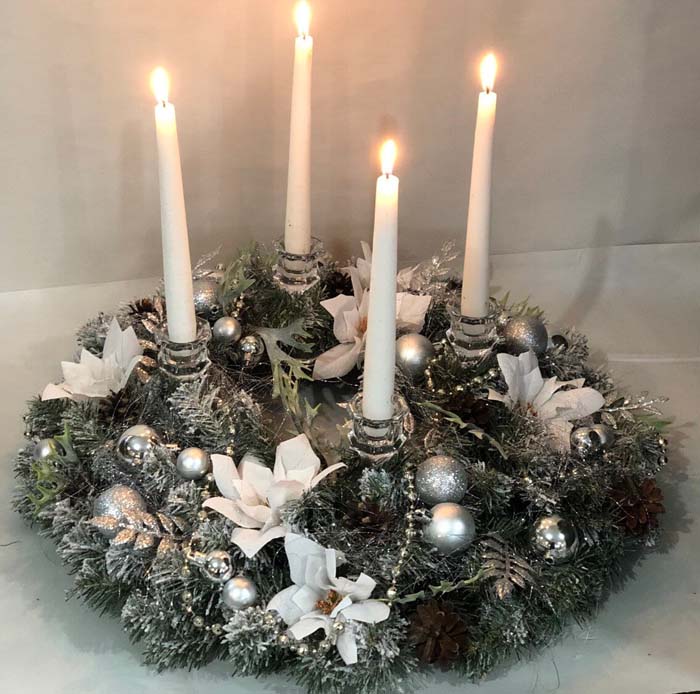 Traditional and beautiful, this candle holder is a fun way to incorporate a wreath into your holiday decorations.
White poinsettias contrast with the silvery needles, and tiny Christmas balls add texture and shine.