Your Christmas decorations most likely include a stylish tree, an eye-catching mantel, and even a standout entryway, but there's one spot you shouldn't overlook: your staircase.
If you happen to have a bunch of extra garland, lights, ribbon, ornaments, and even DIY crafts lying around, don't let them go to waste. Put them to good use by sprucing up your staircase.
It's such an easy way to make a statement and it won't take up too much time in your schedule.
Curious about how to pull off a holly, jolly staircase look? Scroll through for 22 Christmas staircase decor ideas, ranging from minimalist to maximalist. You're sure to find a favorite to celebrate Christmas in style this year.
1. Brighten Up Your Staircase with DIY Christmas Decorations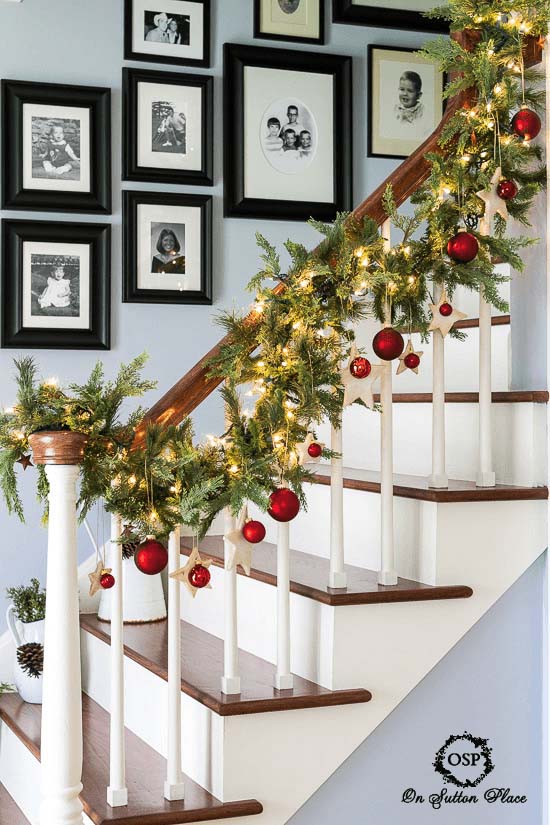 If you're relying on ball-shaped ornaments in varied sizes for your Christmas tree this year, stay on theme by carrying the look to your banister's garland.
via On Sutton Place
2. Create an Elegant Railing with Pinecones and Magnolia Boughs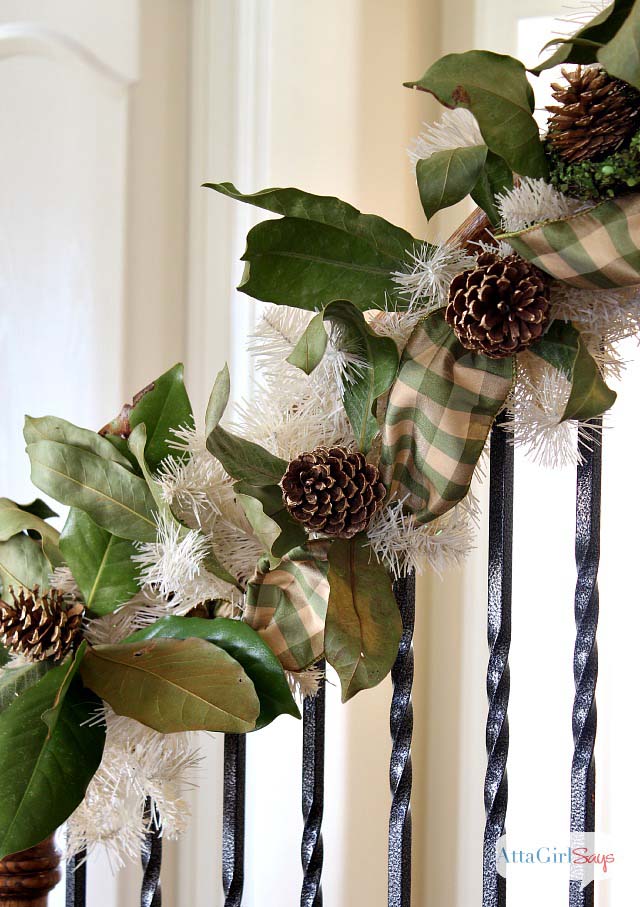 Amy from AttaGirlSays said: "I put this together over several days, first attaching the garland to the railing with zip ties, one of my favorite holiday decorating tricks.
Next, I added the ribbon, scrunching it into the garland until I liked the way it looked. I spray painted the pinecones a metallic gold, then wired them to fresh magnolia boughs."
3. Beautify Your Staircase Entryway with Festive Decorations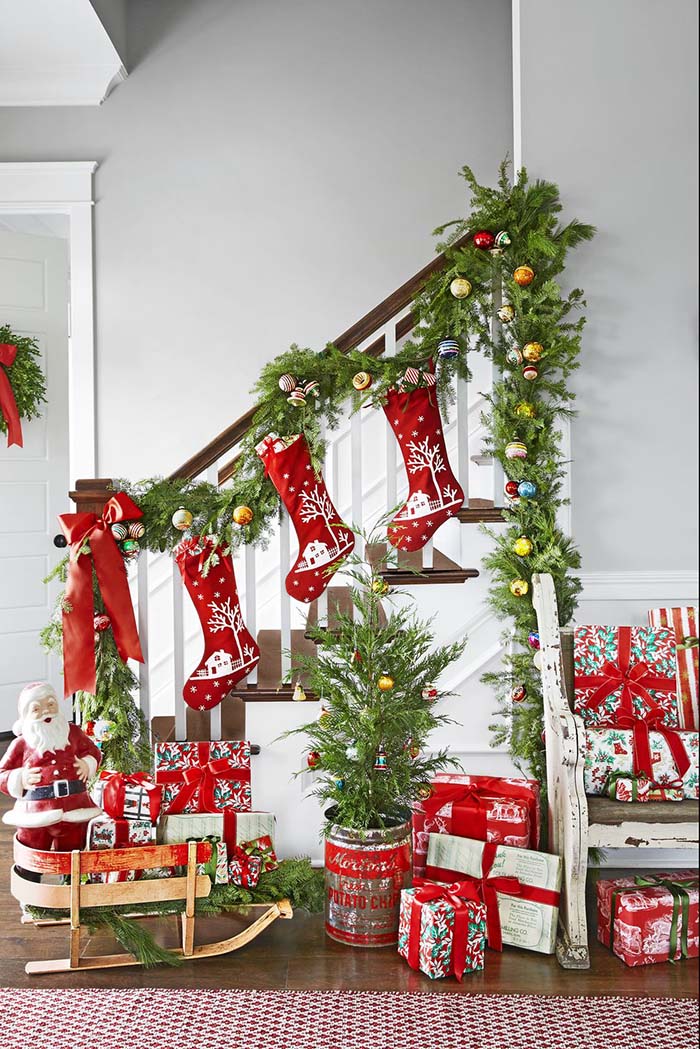 If your staircase area is also your entryway, then you've got extra motivation to make sure it's as inviting as possible.
In this one, stockings, bows, ornaments, and wrapped presents come together to create a Christmas extravaganza.
via Jean Allsopp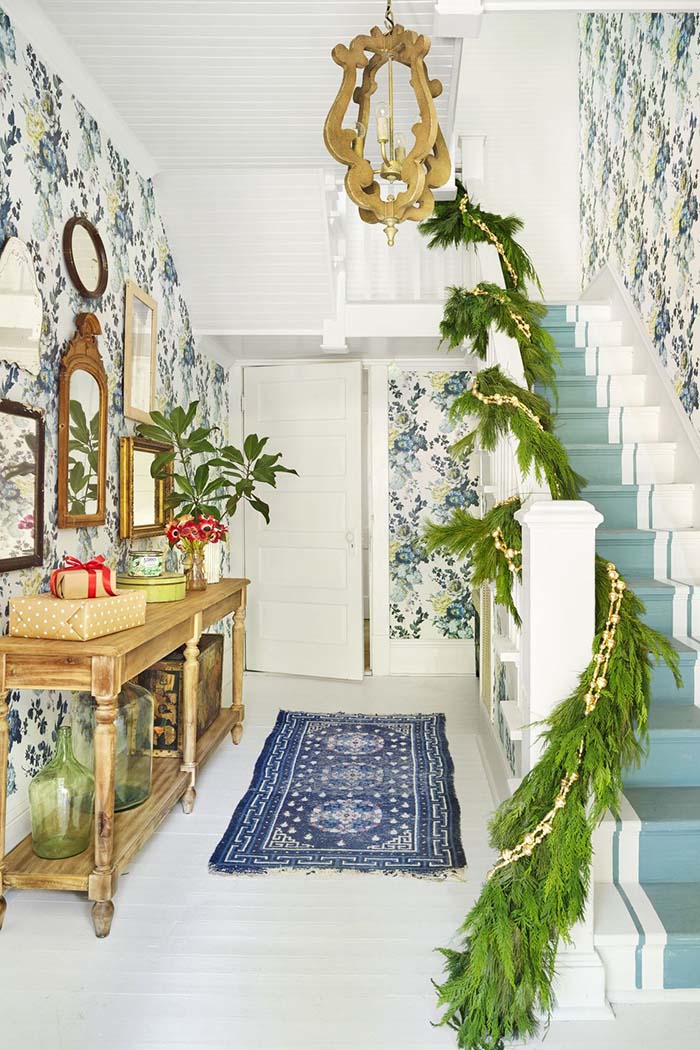 f your home already has gold accents near the staircase, then incorporate some in your garland too for a winter-glam entryway.
4. Add Retro Charm to Your Pine Garland with Vintage Accents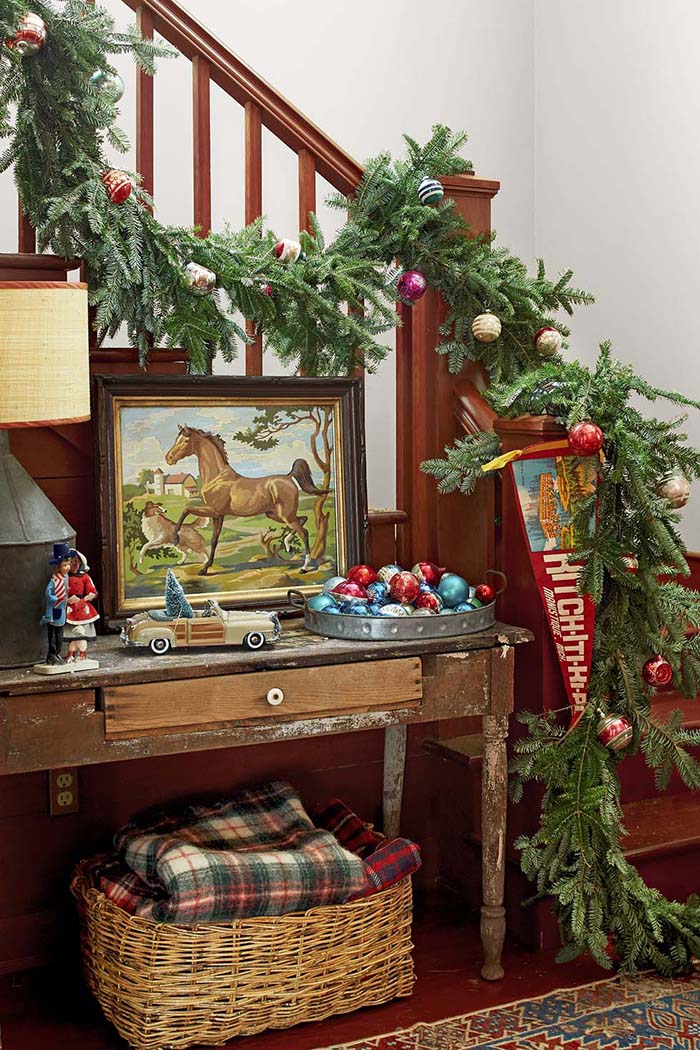 Shiny Brite bulbs and a vintage game-day pennant come together to add a retro touch to an otherwise basic pine garland display.
5. Decorate the Stairs for Christmas with Lemons and Greenery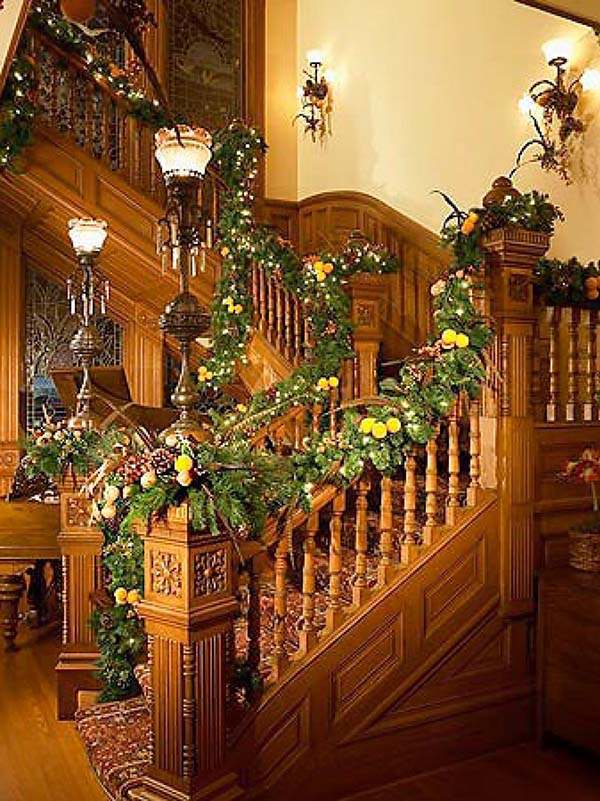 Other fun Christmas decorating staircase ideas involve using fruit. Lemons are a wonderful fruit to use and will look very festive when mixed with greenery and strung along the banister.
6. Add a Bold Touch with Bright Red Ribbon and Bows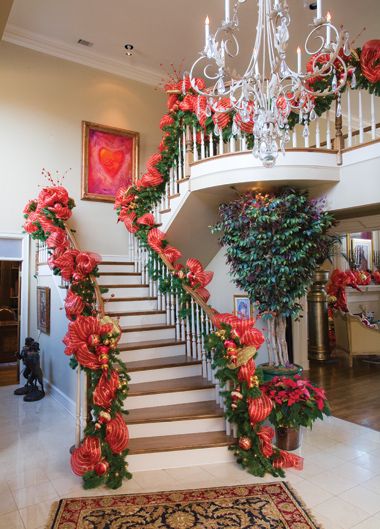 Photo: Credit
Bright red ribbon and bows woven through the garland on your banister will make the green really pop. Allow the decorations to hang all the way to the floor for a complete look.
7. Illuminate Your Staircase with Tiny Light Strands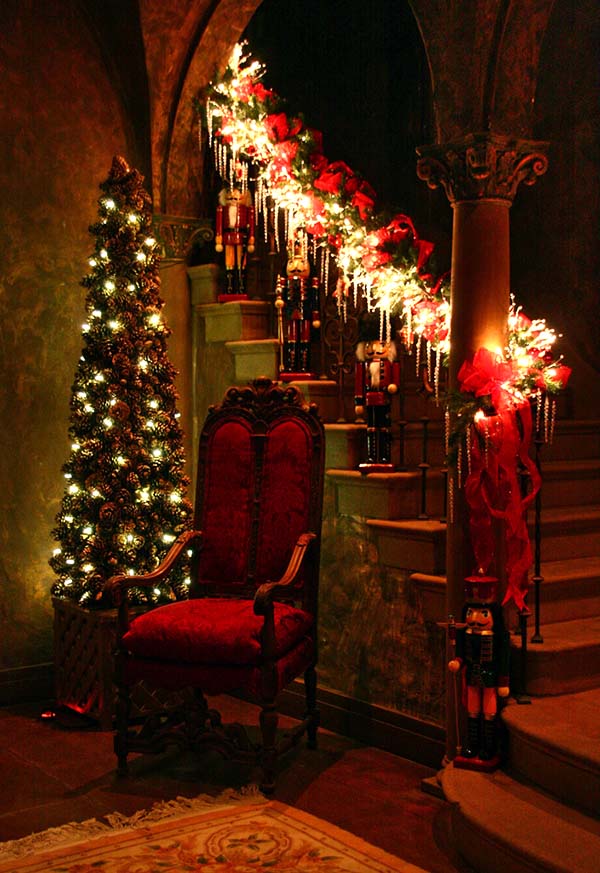 Photo: Credit
Fun DIY Christmas decorating ideas for staircase railing include using lots of lights to brighten up the space. Allow the lights to hang down from the banister for a relaxed look.
8. Decorate Your Staircase with Charming Christmas Bells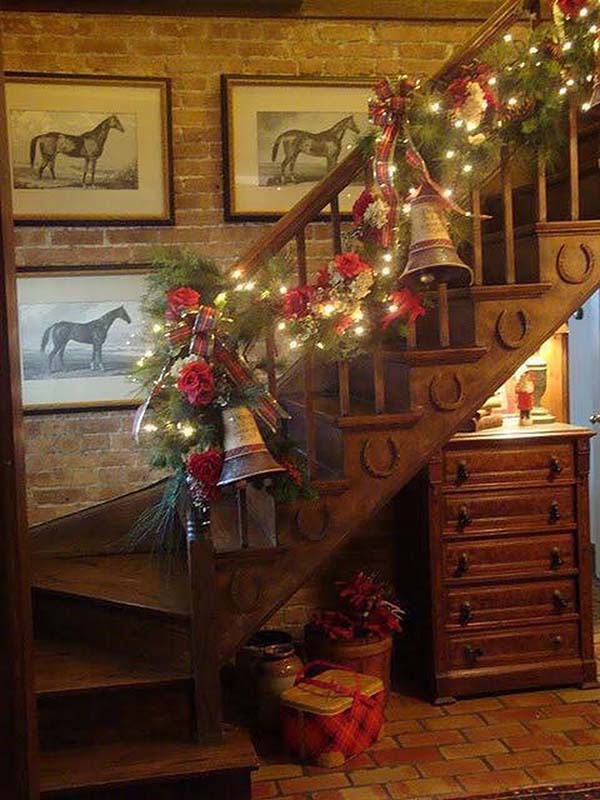 Photo: Credit
Bells are a great way to decorate for Christmas. Use large bells on your staircase to ensure that they really stand out and make a statement when people see your home.
9. Embellish a Staircase Railing with Neutral Colors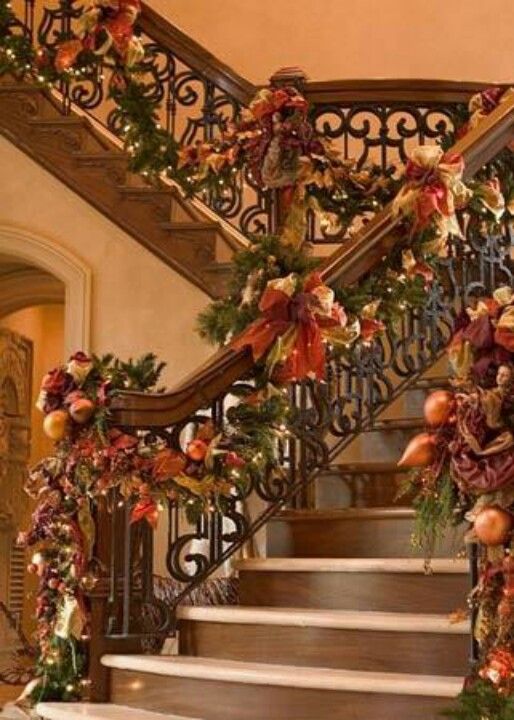 Photo: Credit
Calm or neutral colors will allow your staircase to be decorated without it being a huge focal point. Consider Christmas decorating ideas staircase railing that are neutral for a different, calmer feel in your home.
10. Decorate Your Stairs with Natural Christmas Accents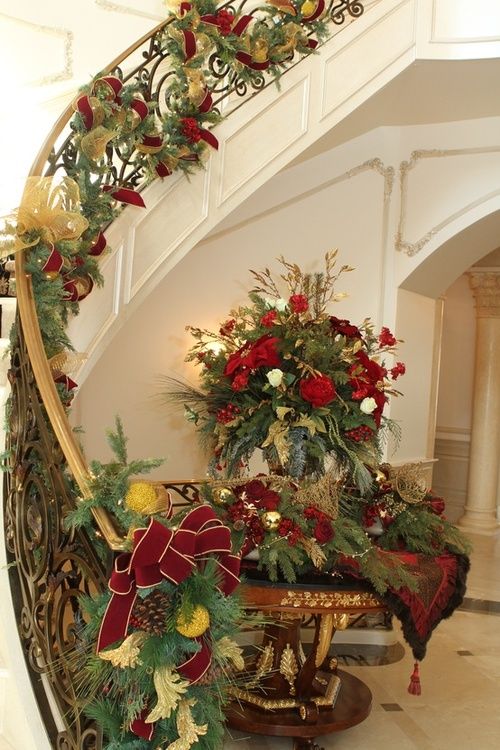 Photo: Credit
Fun Christmas decorating ideas for the staircase include using natural items in your decorations. Find some great pinecones and tuck them in among your garland on the staircase for a new look.
11. Refined Staircase Décor with a Piano Accent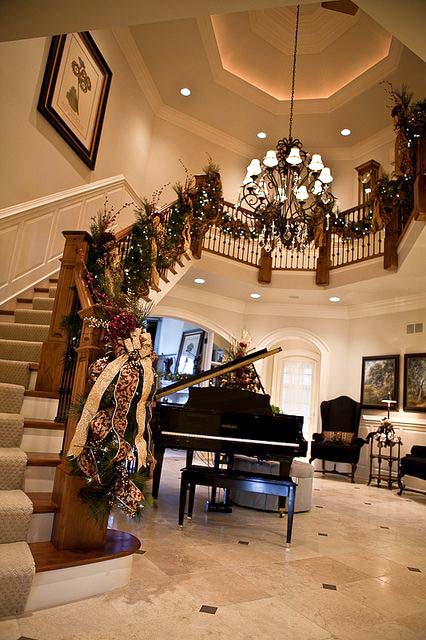 Photo: Credit
A large staircase that is near a piano is a great way to make a statement. Use a large garland on the banister so that the decorations don't fade into the background or look out of place.
12. Simple Christmas Staircase Decoration Idea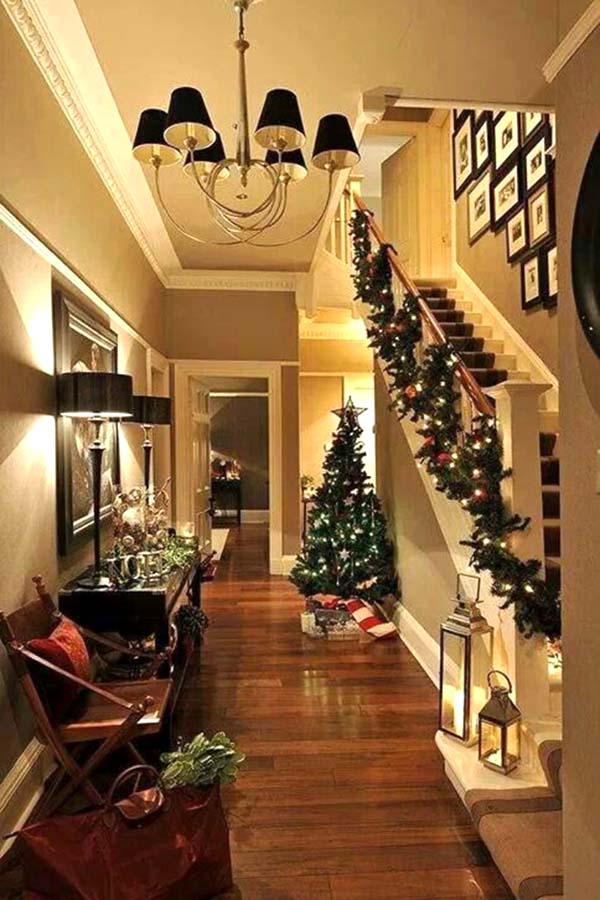 Photo: Credit
While there are many elaborate staircase decorating ideas for Christmas, sometimes keeping it simple is best. This will allow the beauty of your home to show through and help you not be overwhelmed.
13. Unconventional Colorful Decorations for Your Staircase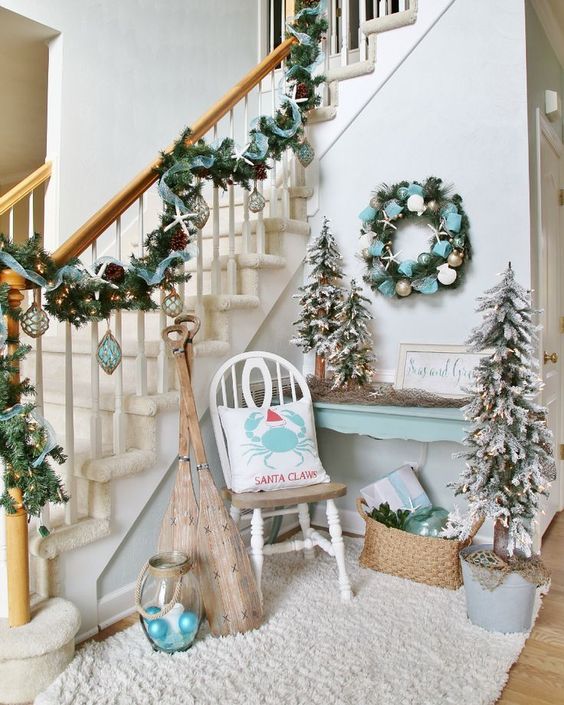 Photo: Credit
Your garland and decorations don't have to be traditional colors. Fun staircase Christmas decorating ideas involve using nontraditional colors like turquoise or purple for an updated and fun look that will be unique to you.
14. Deck the Halls with Matching Christmas Ornaments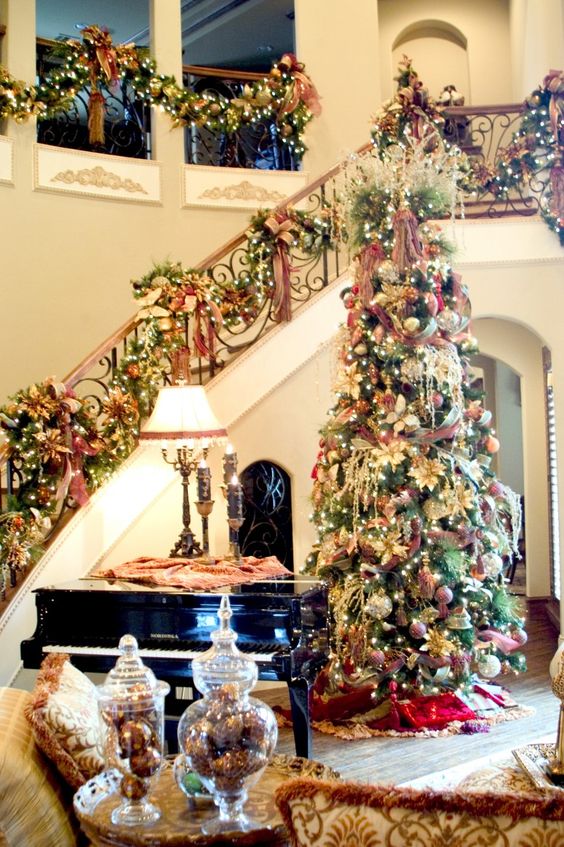 Photo: Credit
When thinking about how to decorate for Christmas, make sure that you have ample ornaments to use throughout the home that will match, as this will create a cohesive look with your stairs.
15. Enhance Your Staircase with a Christmas Tree Centerpiece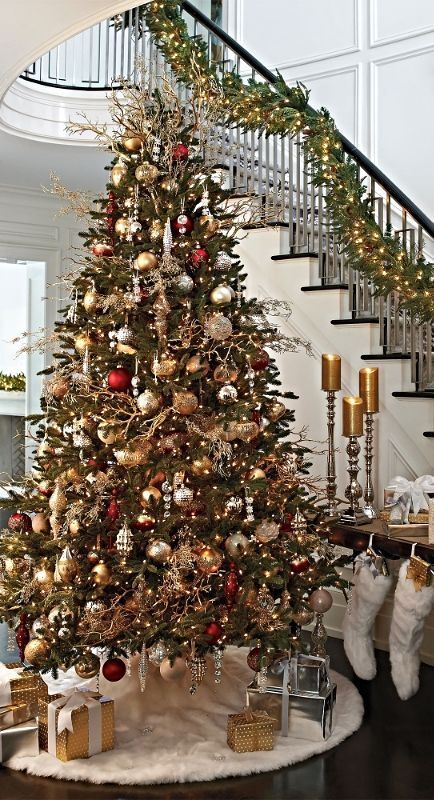 Photo: Credit
X-mas decorating should really focus on your tree. Let your Christmas tree be the focal point and allow the stairs behind it to mimic the ornaments that you used on your tree.
16. Stylish Nature-Inspired Christmas Décor for Your Staircase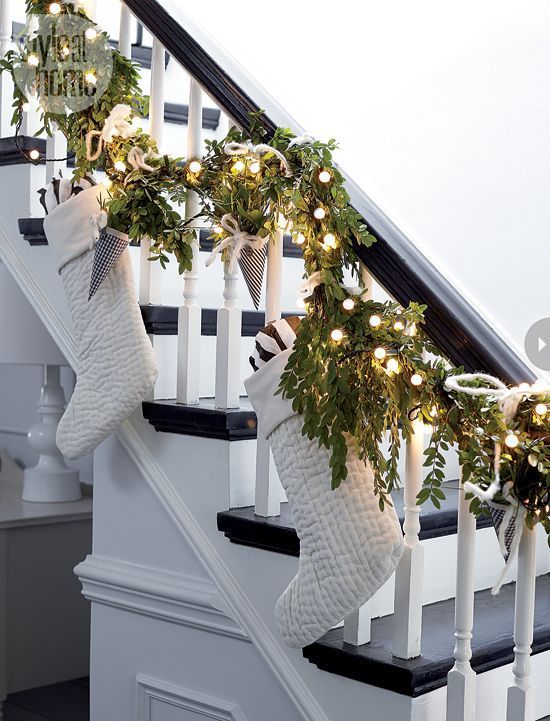 Photo: Credit
Stairs decorating can look effortless when you allow the greenery to hang loose. Nature-inspired Christmas decor is trending and looks gorgeous when combined with pure white Christmas decoration.
Pair it with some white lights and some stockings for a look that you are sure to love.
17. Elevate Your Staircase with Rustic Christmas Decorations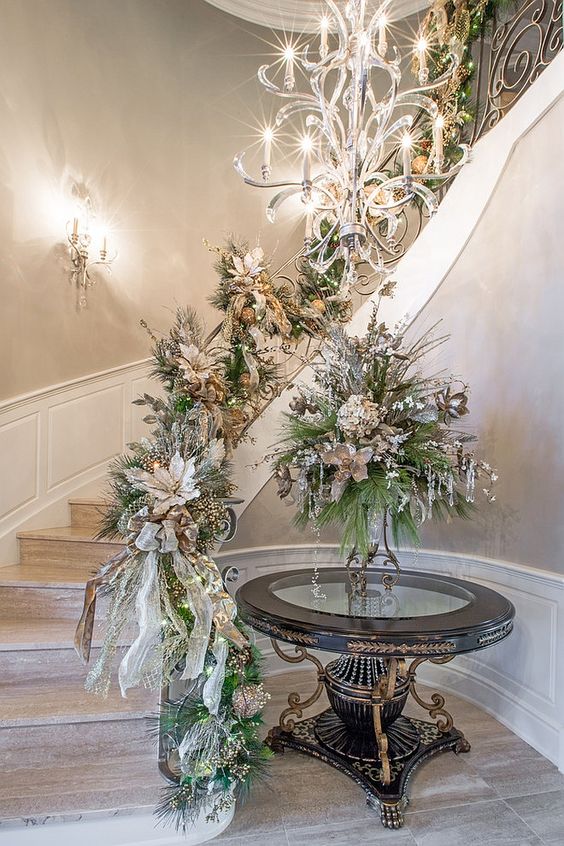 Photo: Credit
Rustic Christmas decorating ideas for the staircase include using a majority of white and silver with your greenery.
This will create a cool and calm look on your stairs that looks amazing. You can also go with silver and gold Christmas decoration for maximum appeal.
18. Create a Cheery Banister with a Loosely Hung Garland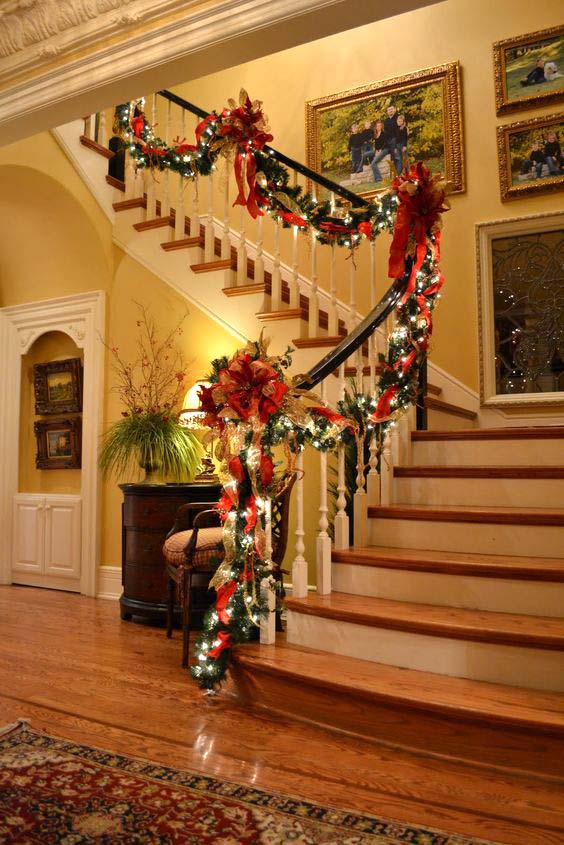 Photo: Credit
Don't tie your garland too tight to your banister. Fun banister ideas include letting the garland hang loose and with some movement, which will make the space feel more natural.
19. Deck Out Your Stairs in Style During Christmas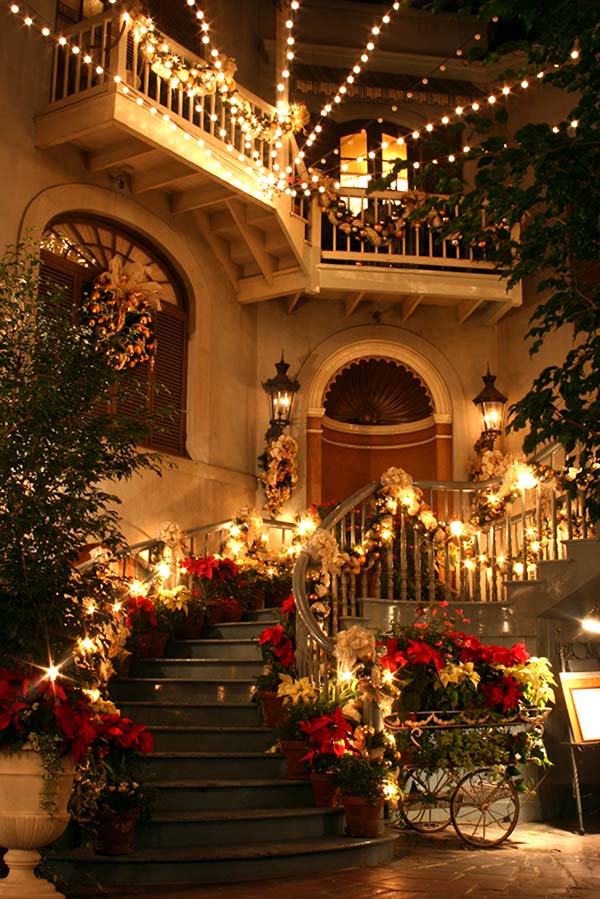 Photo: Credit
Cool Christmas decorating ideas for staircase railing include using the same decorations along both sides of the stairs. This works really well if your stairs are open and large.
20. Creative Christmas Staircase Decorating Idea for Open Spaces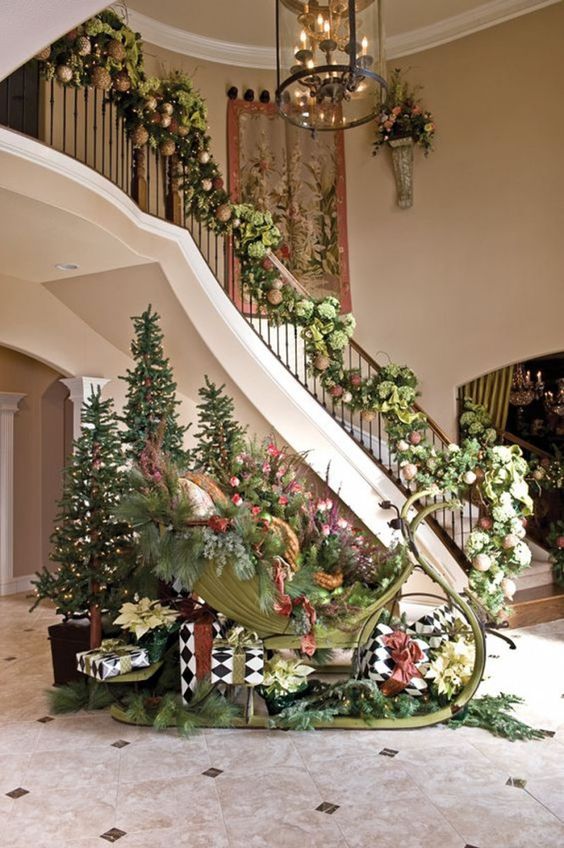 Photo: Credit
Staircase decorating isn't just tied to the stairs and banister. If you have a lot of open room, then popular Christmas staircase decorating ideas include incorporating open space into your decorating.
21. Brighten Up Your Staircase with a Festive Mirror Decoration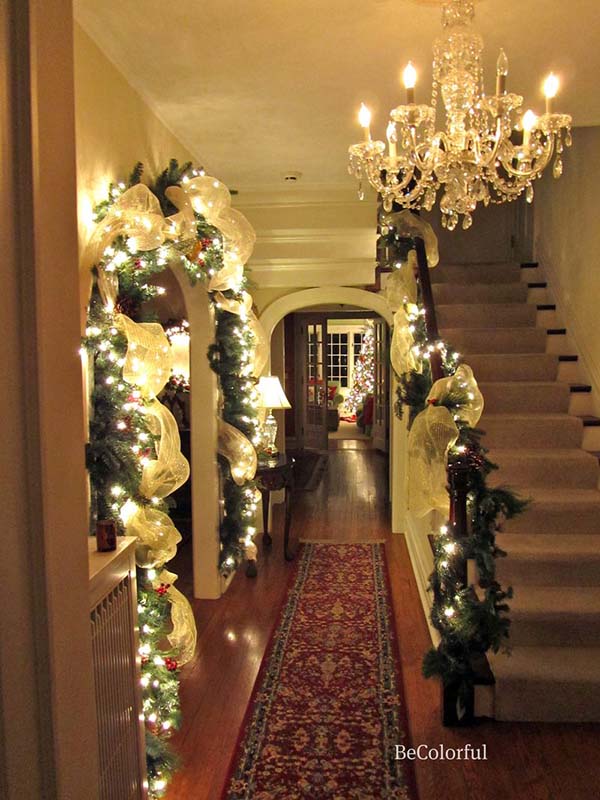 Photo: Credit
Decorating for Christmas is about maximizing the color and light you have. If there is a mirror by your staircase, then make sure to decorate it, as well, for a pop of color and light.
22. Lovely Gold Christmas Decoration Idea for Staircase Railings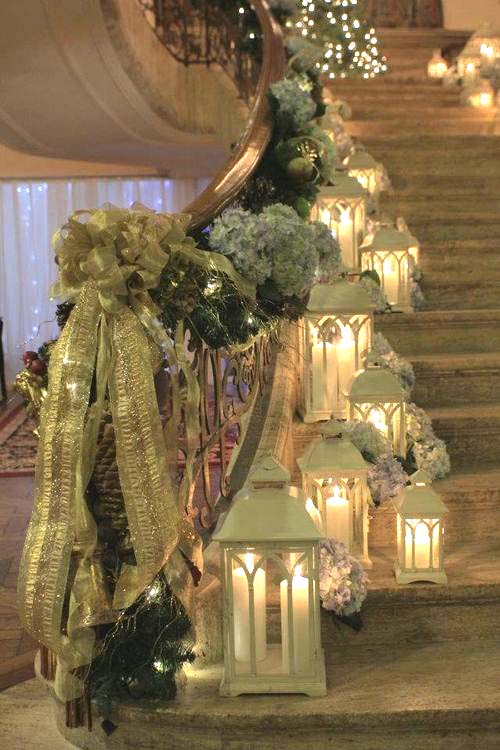 Photo: Credit
One of the most popular Christmas decorating ideas for staircase railing is to use gold. While still festive, gold is a little classier and more grown-up than bright reds and greens.
23. Decorate Your Stairway with Giant Red Bows and Greenery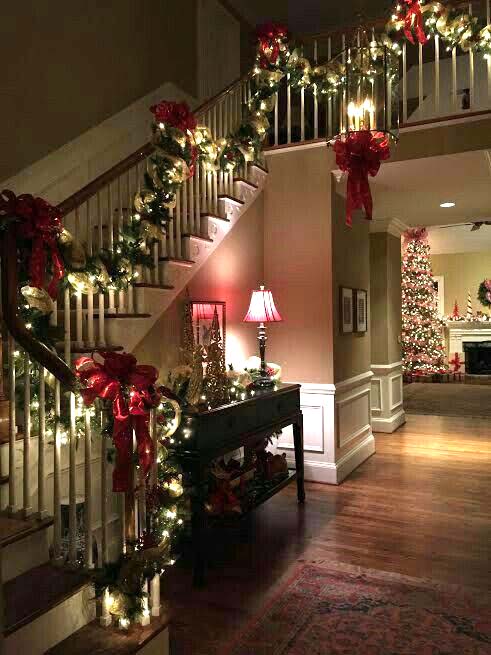 Photo: Credit
Giant red bows are a fun Christmas home decoration idea and look great on your stairs. Pair them with greenery and white lights for a beautiful stairway decoration that you'll love.
24. Make Your Staircase the Focal Point with a Lit Garland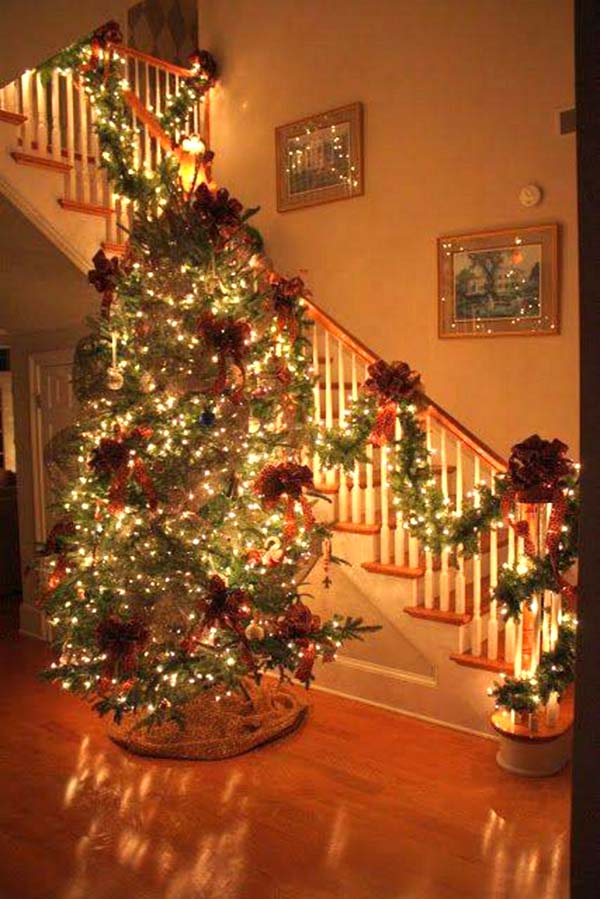 Photo: Credit
Lots of Christmas lights and garland twined together will really brighten up your space. This is a great opting for stair decorations that will really shine and impress.
With so many amazing Christmas garland ideas to choose from when you are decorating your walls or considering a staircase wall decoration, it can be easy to get a little overwhelmed with your choices.
Consider the feel of the decorations that you want, if you want them to be natural, classic, or more modern. This will help you to narrow down staircase ideas for your home.
Also take into consideration the size and location of your stairs, as this will play a huge role in what staircase Xmas decorating ideas you can use and which ones you need to pass on.