Imagine, this year, instead of the traditional green-red color scheme, decorating your home with snow-white Christmas decorations, including candles, an all-white festive tree, and a bunch of lovely garlands. You won't believe this is your home, believe me!
The Christmas decoration in white gives the house a serene, sophisticated ambiance. The whole vibe of the space will transform into a snowy magical kingdom.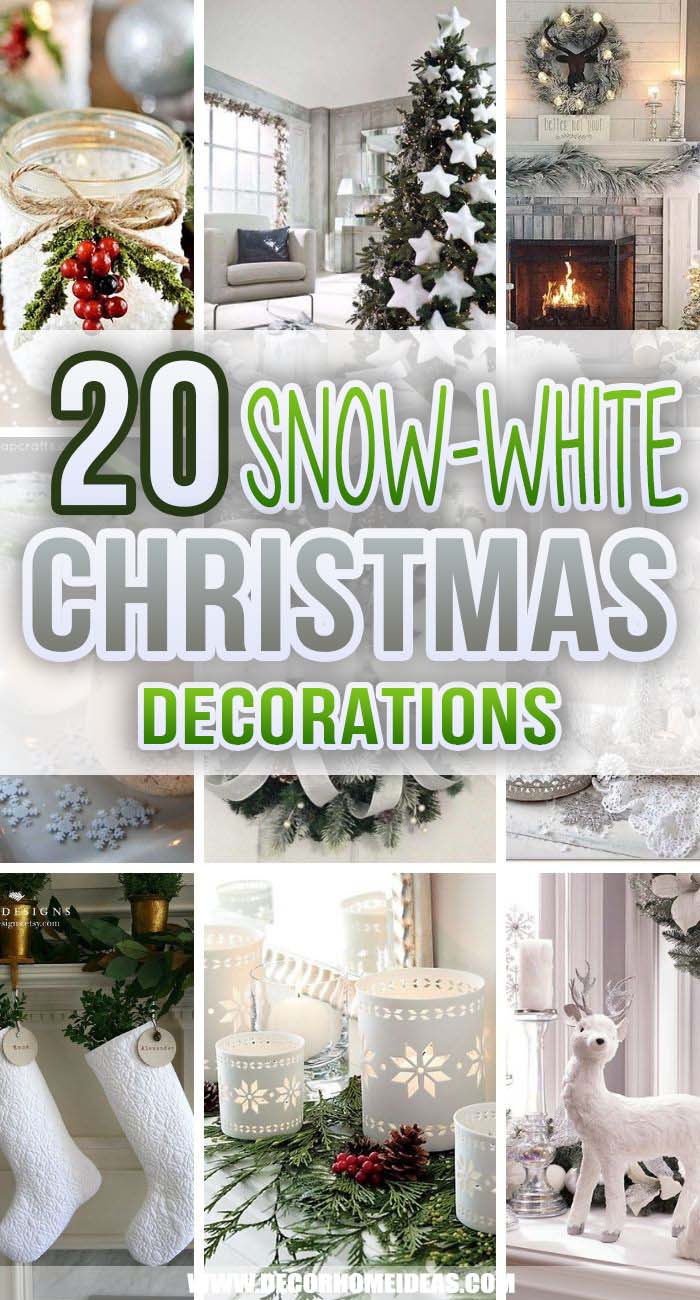 White, considered as the color of perfection, is usually identified with purity, innocence, and virginity.
Go through these 18 magical white Christmas decorating ideas and find the ones that fit best your home design and personal taste.
1. Transform Your Holiday Celebrations with Snowy Flair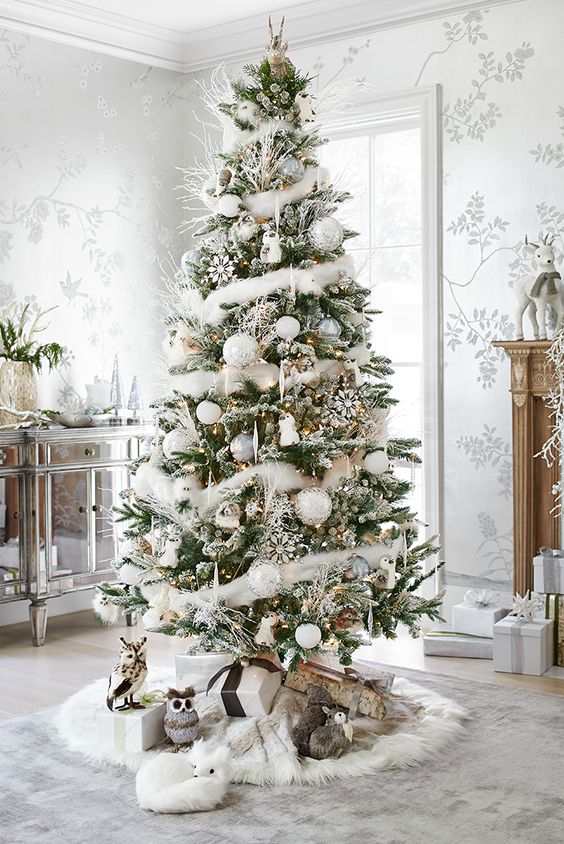 Photo:Credit
I'm starting my collection of white Christmas decorating ideas from the Christmas tree.
The one in the picture looks very modern and elegant thanks to the snowy-white garlands and the combination of silver and crystal ornaments. I just love the sparkle they create!
2. Bring Joy and Cheer to Your Space with a Frosted Garland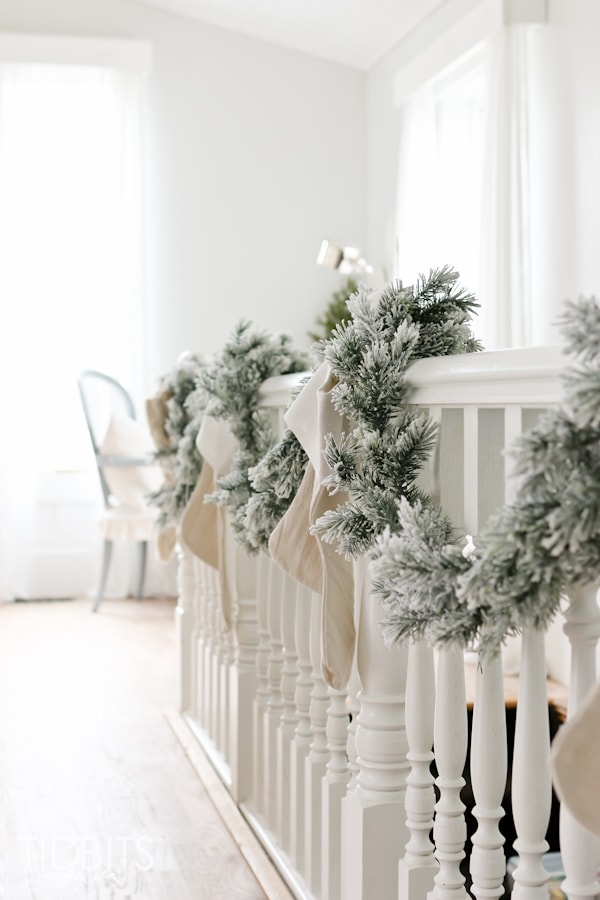 Photo:Credit
Another idea for the fans of the white garland Christmas decoration – why don't you hang a long faux frosted garland on the stairs balustrade at home?
Once you start working on the festive decoration, it's important to cover all the spots at home so the Christmas spirit won't run away.  😉
3. Make an Impression with Glistening White Deers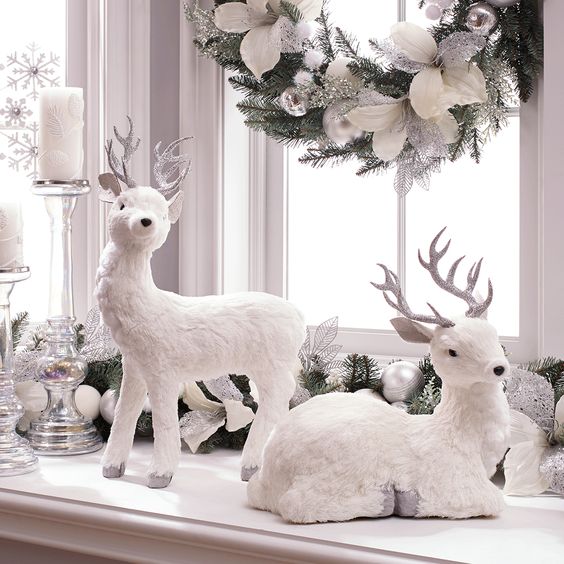 Photo:Credit
With Christmas decorations sometimes simple is best, like in the case of this couple of cute all-white deer which are a nice elegant final touch to this festive setting around the window.
The natural light coming from outside makes them look even more fairy and beautiful.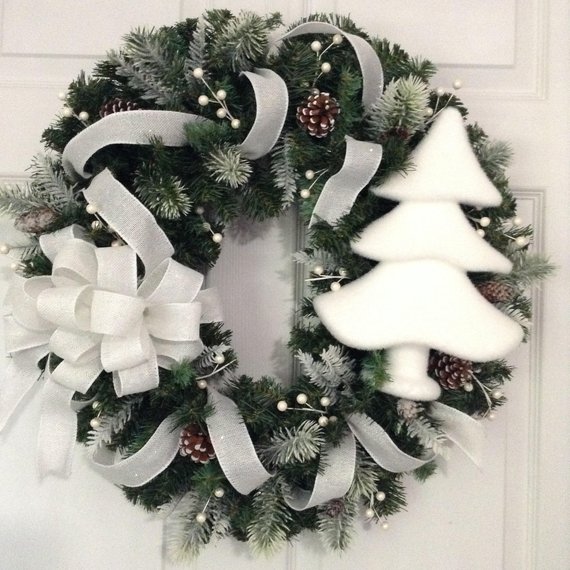 This gorgeous DIY white holiday wreath, made of mini pinecones, a fluffy white bow, and a cute decorative Christmas tree, will bring to your home a nice rustic vibe.
It can hang either on the door or the kitchen windows. No matter where you decide to display it, it will surely make your white Christmas decoration chicer.
Learn More: Here
5. Create Festive Atmosphere with Metallic Christmas Ornaments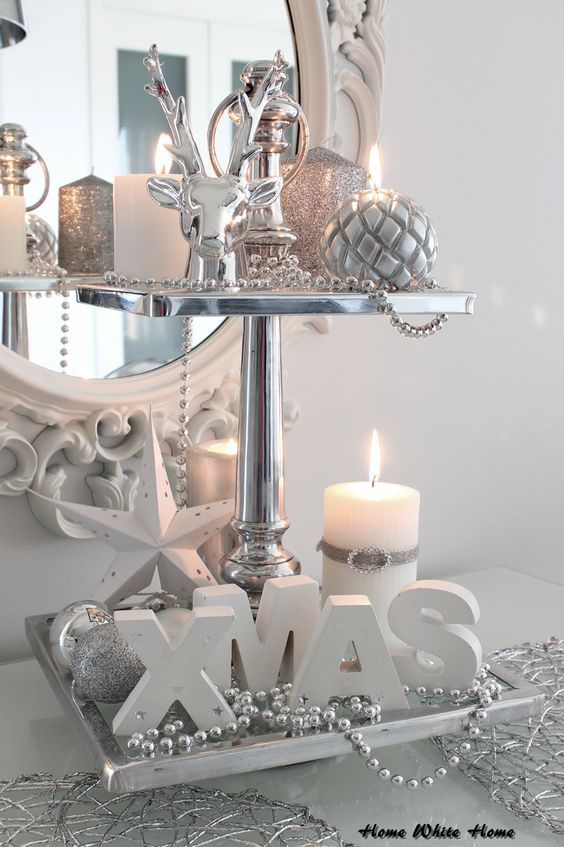 Photo:Credit
The metallic ornaments add warmth and classic glow to every white Christmas decoration.
Love how the elements have been raised – that gives the Christmas decoration in white more texture and sophisticated look.
6. Bring Warmth to Your Home with White Christmas Stockings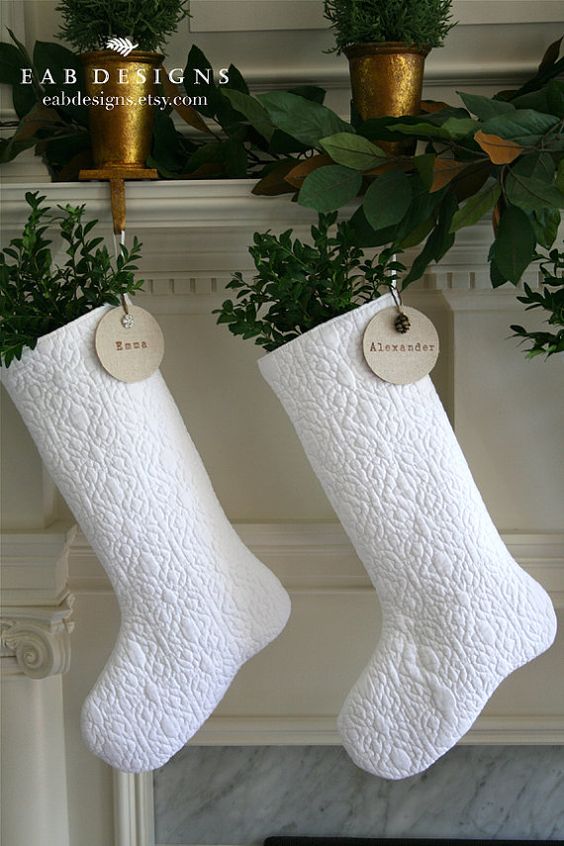 Speaking of white Christmas room decoration, hang some personalized white stockings over the fireplace to create a festive mood in the room.
Hint: As a final touch, display some shimmering elements in silver or white around the stockings.
Learn More: Here
7. Light Up Your Holidays with Elegant White Candleholders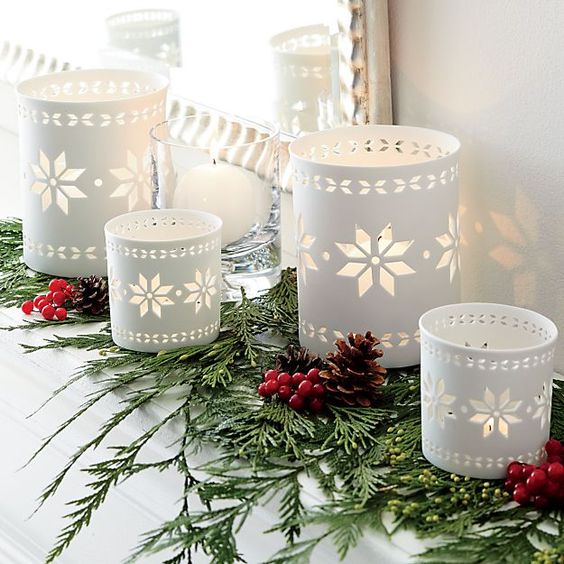 Photo:Credit
This year, place several simple white decorative candles in different sizes, or unpretentious snowy-white candleholders anywhere in your home.
They are able to create a serene, winterish effect. Moreover, they easily fir any color scheme with understated elegance.
8. Create a Cozy Scandinavian Style with White Bauble Set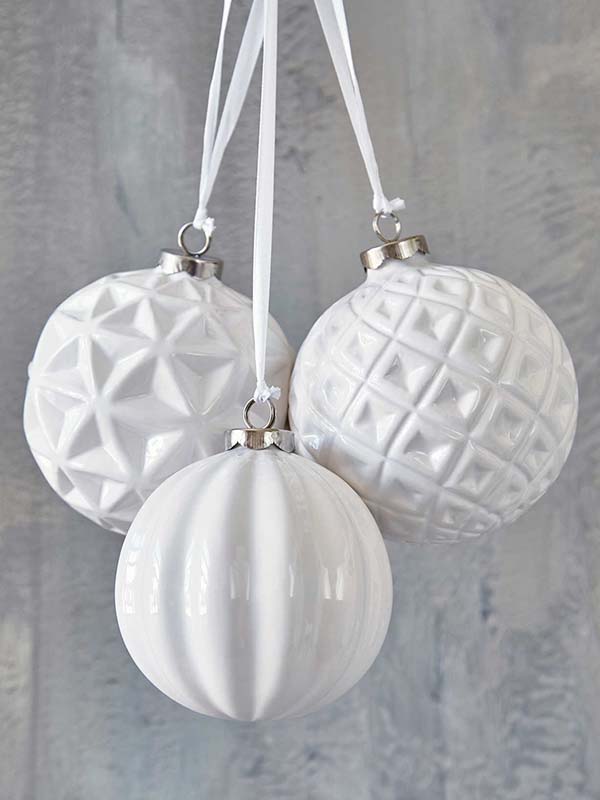 Photo:Credit
If you prefer the minimalistic holiday design, you can create a magical decoration for a white Christmas tree in Scandinavian style.
These chic snowy baubles can be a deliciously elegant addition to your festive home. The tree will look splendid when you hang them together amid the greenery.
9. Bring a Magical Ambiance with White DIY Luminaries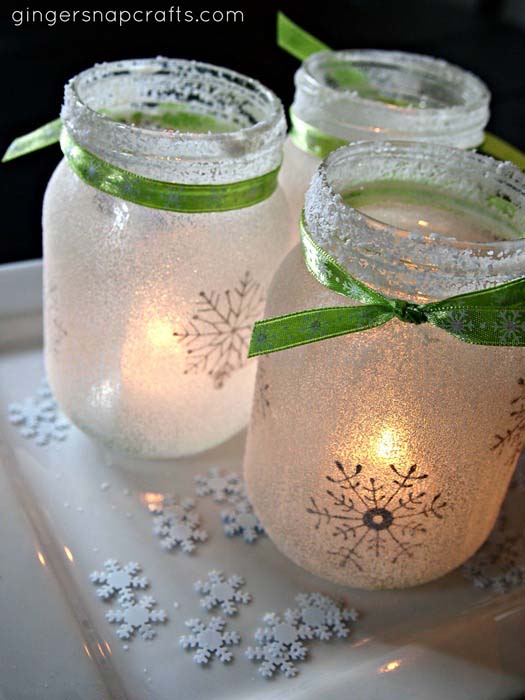 Photo:Credit
These Mason Jars transformed into sparkling luminaries is my favorite craft for this Christmas!
All you need for this DIY project is a couple of Mason jars, silkscreen snowflake stencils, metallic glass paint, Mod Podge, foam brush, tea lights & salt.
10. Refine your Home Decor with a Chic White Centerpiece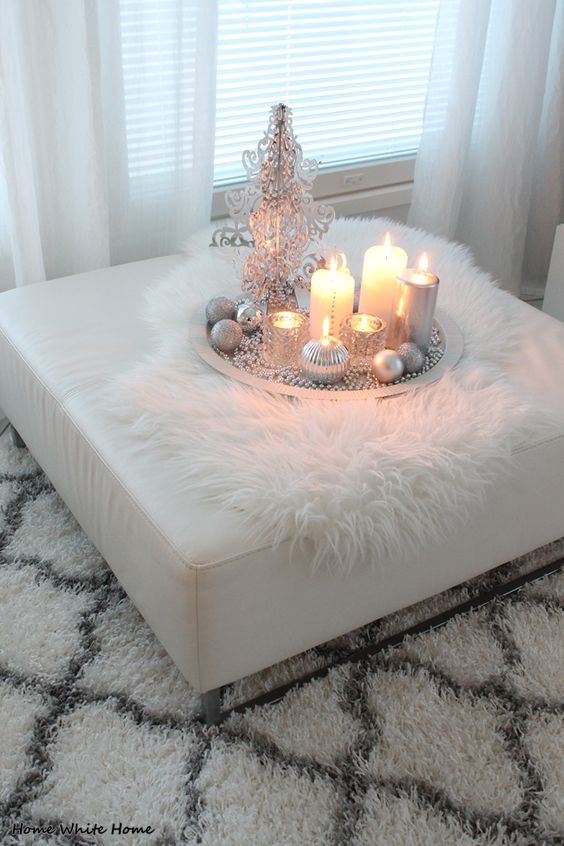 Photo:Credit
Who said the snow white Christmas decoration can't be glamorous?
Bring more gleam to your festive home by adding a bunch of white candles surrounded by crystal or brocade items (such as metallic garlands, faux pearls, and shimmering balls).
Now you have the perfect snow white Christmas centerpiece.
11. Embellish Your Christmas Tree with White Star Ornaments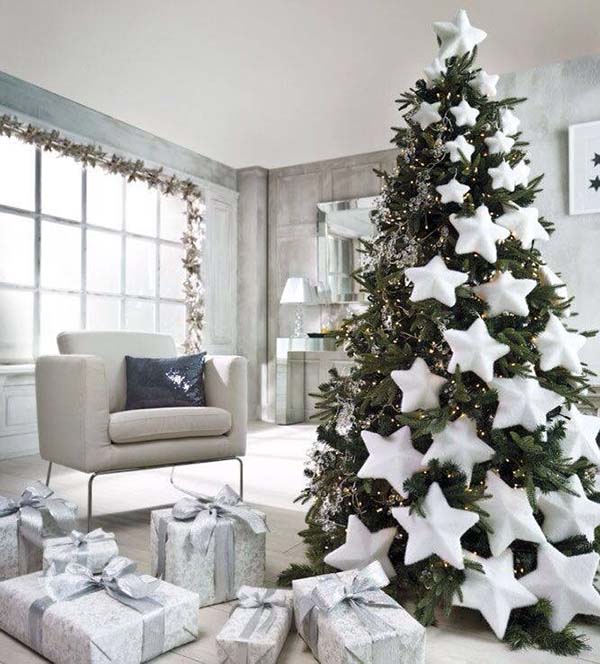 Photo:Credit
These snowy-white over-sized starts are one of the coolest decoration ideas for a white Christmas tree. 
They are both showy and stylish and give your festive tree a unique look. All of your guests will envy you, trust me!  😉
12. Give a Home a Traditional Look with a White Rustic Wall Sign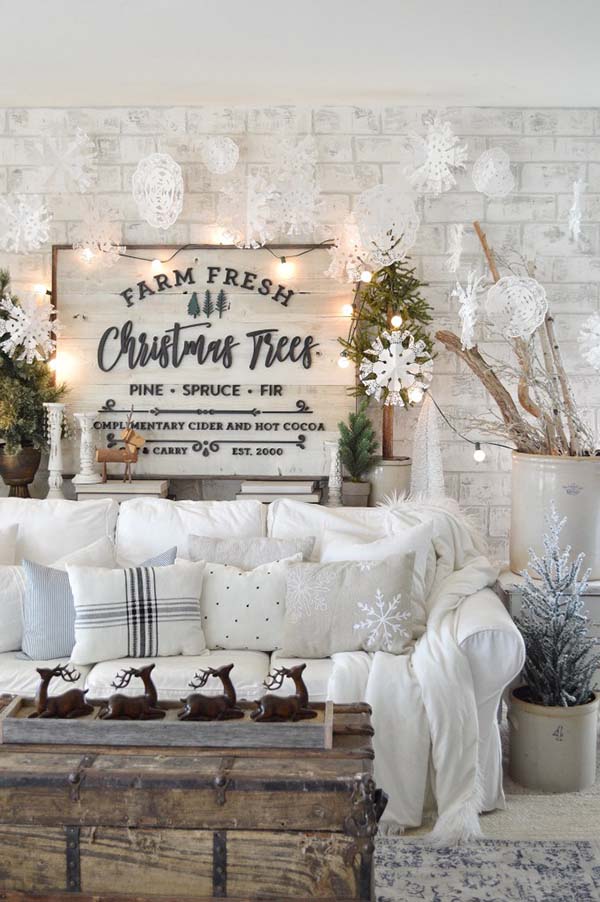 Do you like this rustic style wall sign, or it's just me?  😛 I'm looking at this picture and all I can think is how much chic and warmth this wall art brings to the Christmas living room space.
A touch of white garland Christmas decoration and some evergreens draped across wall art can add to your holiday aesthetic.
13. Turn a Fireplace into a Snowy Dream with Christmas Decor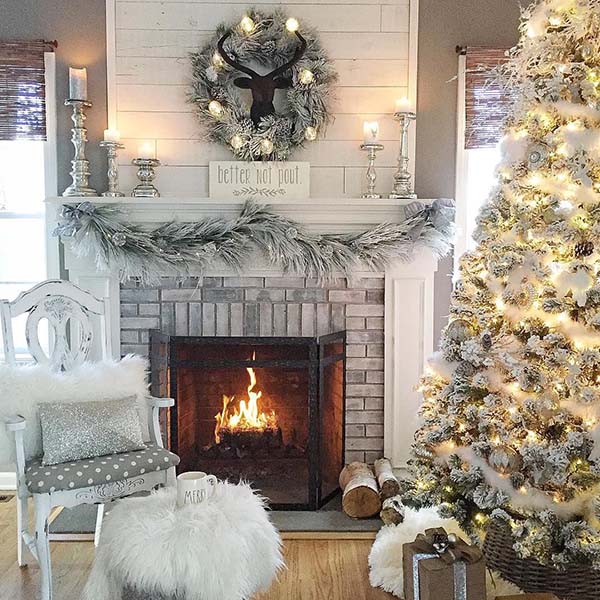 Photo:Credit
Frosted faux greenery always makes the room feel more cheery and festive.
For the Christmas season, experiment with a large wreath and candleholders in different styles and sizes displayed above the mantel.
14. Add Sparkling Elegance to Christmas Decor with a White Owl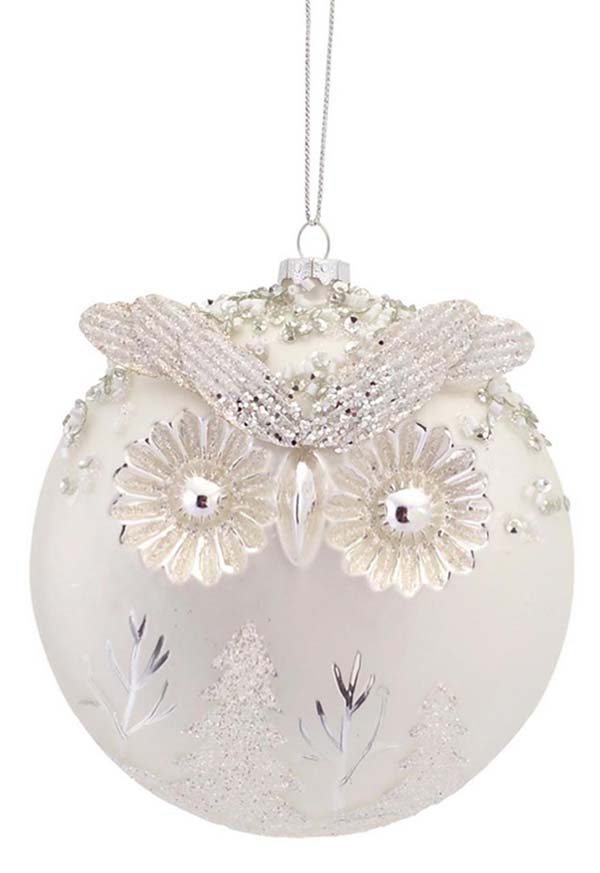 Photo:Credit
This embroidered glass ball ornament is dressed up with sparkles and glitter to resemble owls.
Through history in ancient Greece, Asia and America, the owl has been a symbol of wisdom, magic, and feminity. So, consider the idea of getting a couple of these for your Christmas decoration in white!  😉
15. Add Organic Appeal with a Cute White Squirrel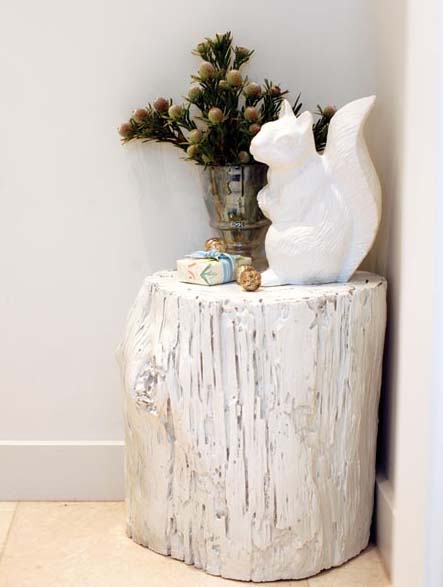 Photo:Credit
If you are a fan of the natural Christmas tree ornaments, you will surely like this snowy-white squirrel.
Displaying one of this on top of the mantel or a side table at your home will bring a fun cheerful vibe to your white Christmas decoration. Don't you think?  😉
16. Welcome Guests with a Rustic White Christmas Foyer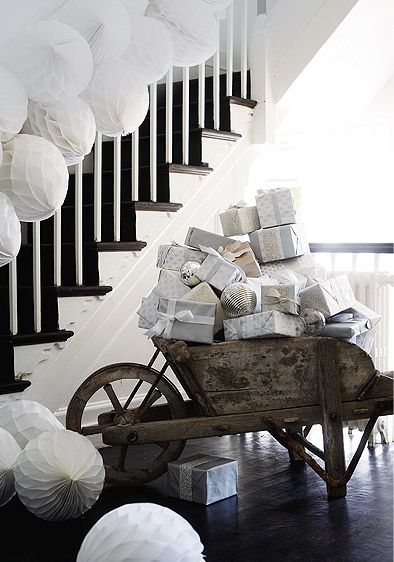 Photo:Credit
This year, instead of stocking the presents under the Christmas tree, why don't you find an old rustic buggy and keep the presents there?
Creating this Christmas farmhouse style setting in the entrance hall will make your guests feel the warmth since the moment they come in.  😎
17. Create a Magical White Christmas with an Angel Centerpiece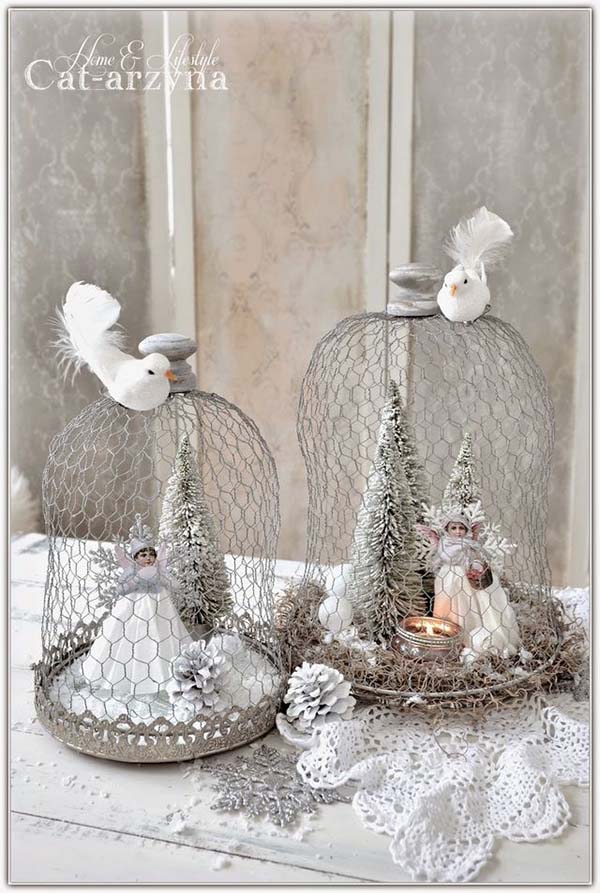 Photo:Credit
The angel is one of the most divine white Christmas decorations. It brings a magical feel of coziness.
If you want to jazz up your living room shelves a bit, you can simply do it by incorporating a couple of these beautiful vintage-styled angels. It can put you in the holiday spirit in an instant.
18. Make Your Christmas Extra Elegant with a Snowman Sculpture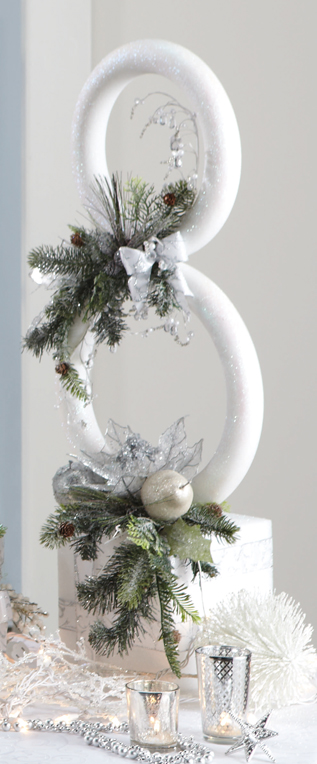 Photo:Credit
And what is a holiday without a snowman sculpture sticking around?
19. Make a Bold Statement with an All-White Christmas Tree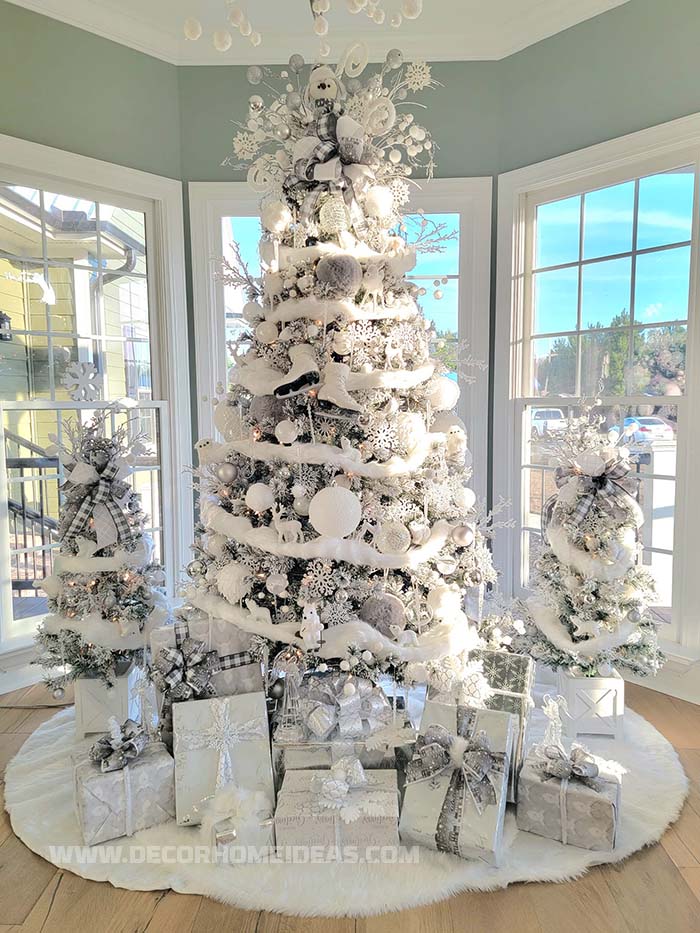 Get all decorations in white to create a magnificent winter fairytale.
If you love the traditional style white Christmas decoration, you need to create one of these enhancing sculptures surrounded by shimmering ornaments and frosted faux greenery.  😉
So, that was all from me, my dears! I hope these 18 white Christmas decoration ideas managed to convince you to experiment with the festive decoration a little more this year.
From snowy-white garland draped across artwork to grouping frosted faux greenery wreaths in varied styles and shimmering metallic tree ornaments, you'll want nothing more than to stay at home, with a cup of tea, and enjoy your own creation!  😉