If you want to decorate your home for Christmas, but are tired of the bold and bright colors that are so traditionally associated with this time of the year, then it is time to consider the benefits of using silver and gold ornaments to showcase the beauty of your home.
When combined and used appropriately throughout your home, gold and silver Christmas ornaments are stunning.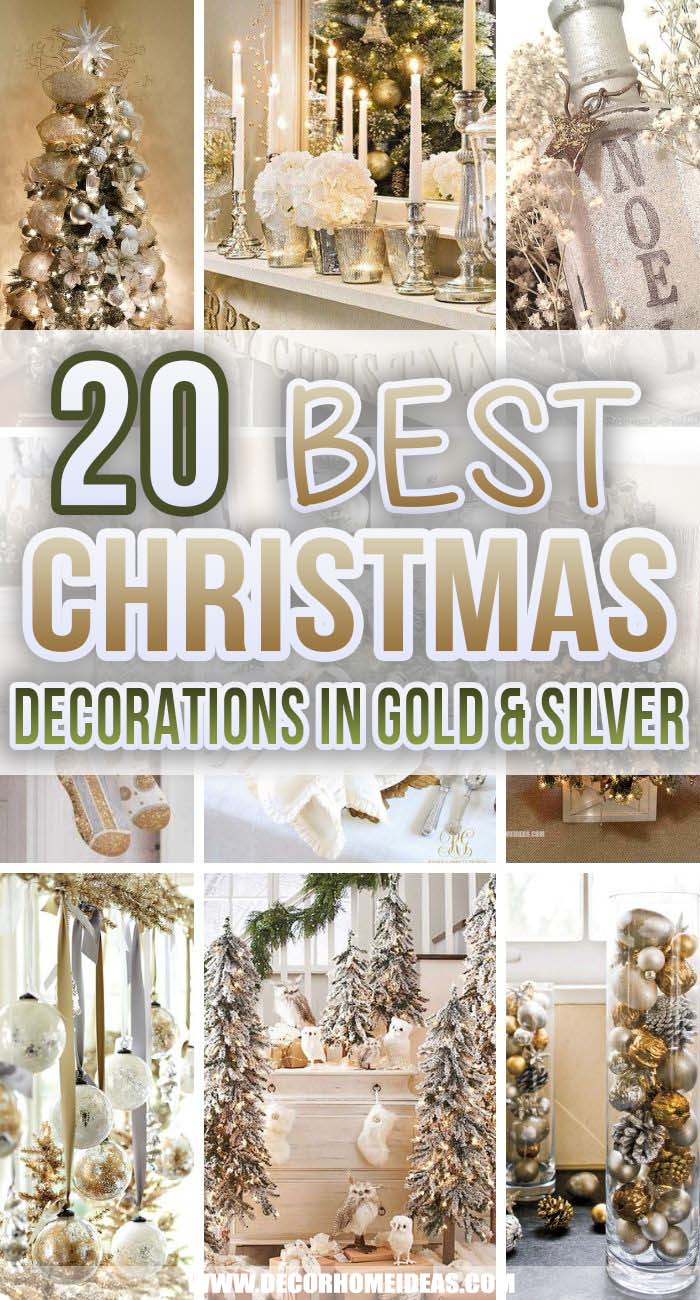 Let the bold colors speak for themselves, no matter if you want to hang them throughout your home or place them in a single location for a stunning look.
One of the reasons why so many people are turning to silver and gold Christmas tree decorations when decorating their homes is because these ornaments are incredibly classy and classic.
There is nothing childish or garish about gold and silver when they are combined appropriately and spread throughout the home.
From a Christmas tree gold and silver to a wreath on your front door, you can welcome in the Christmas season and celebrate with gorgeous decorations that will add to the beauty of your home and the excitement that your family and your guests feel.
All of these lovely Christmas decorations are sure to improve the appearance of your home and will really update your space.
1. Hang Silver and Gold Ornaments with Colorful Ribbons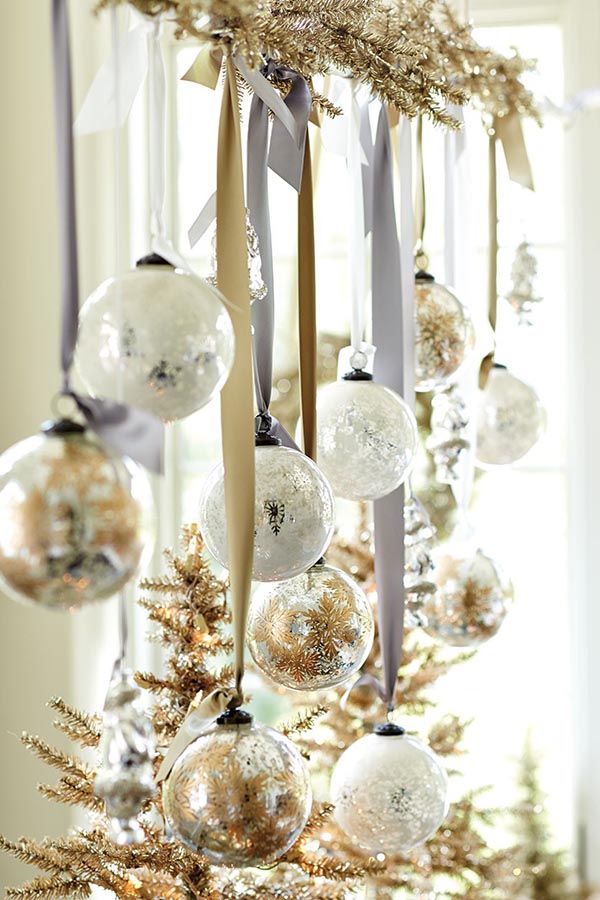 Photo:Credit
An incredibly simple way to incorporate silver and gold Christmas tree ornaments into your home is to hang them on ribbon in your windows. They are sure to attract attention from outside.
2. Make a Bold Statement with a Gold and Silver Tree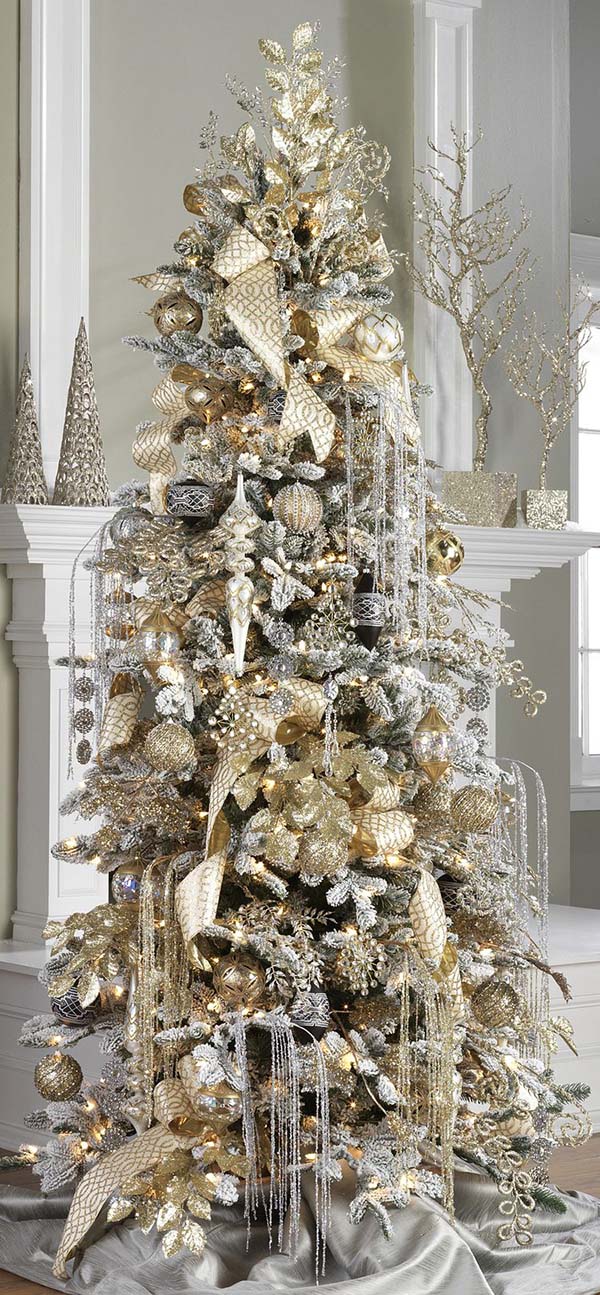 A silver Christmas tree that is dripping with gold ornaments is a true showstopper and will grab the attention of anyone who comes to your home.
3. Bring Christmas Magic with Silver and Gold Candleholders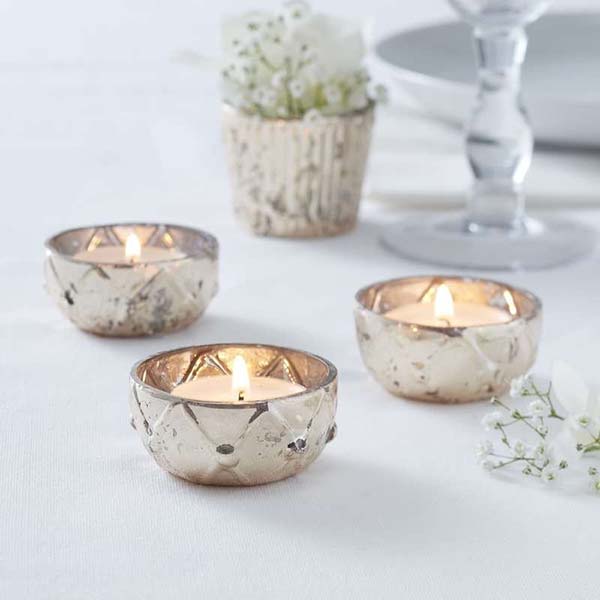 These Gold Checked Glass Tea Candle Holders are the perfect addition to your holiday, creating a delightful centerpiece for all your family and friends to remember the celebration.
Learn More: Here
4. Adorn Your Staircase Garland with Silver and Gold Fabric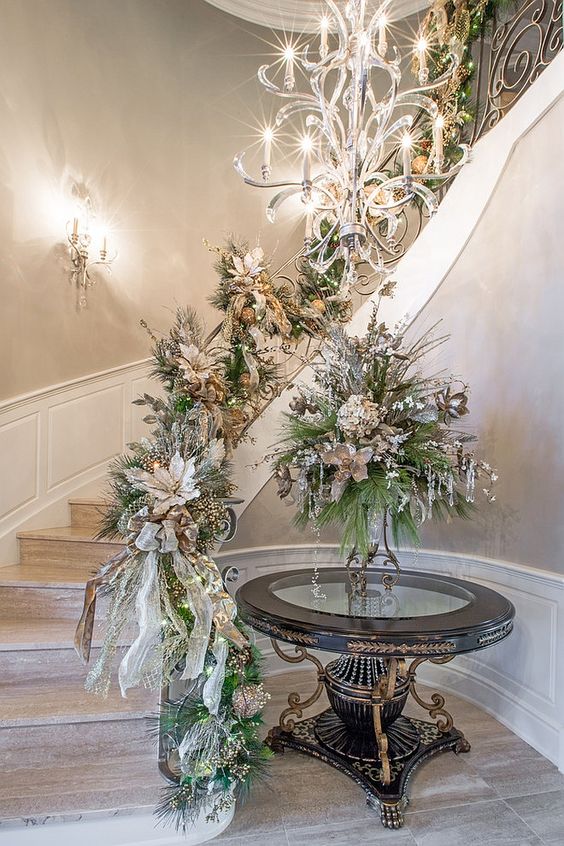 Don't forget to decorate your banister. Instead of using just the traditional greenery, intersperse gold and silver ornaments in the green for a stunning look. This will really brighten up your stairs.
5. Create a Festive Centerpiece with Silver and Gold Accents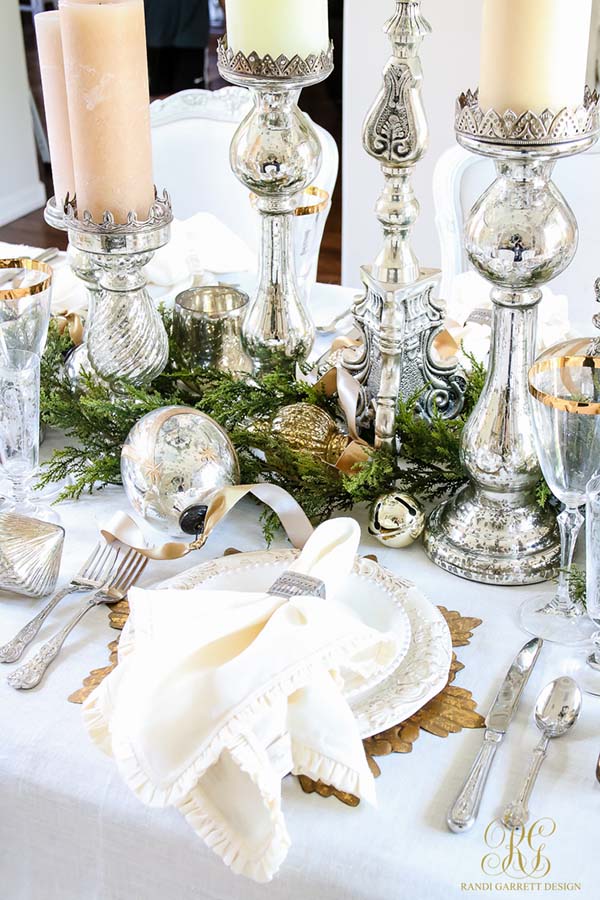 Photo:Credit
Your Christmas table shouldn't be neglected when you are decorating. Make sure that you use greenery, as well as gold ornaments and silver candlesticks for a unique and updated look.
6. Make an Impact with a Pair of Matching Gold Christmas Trees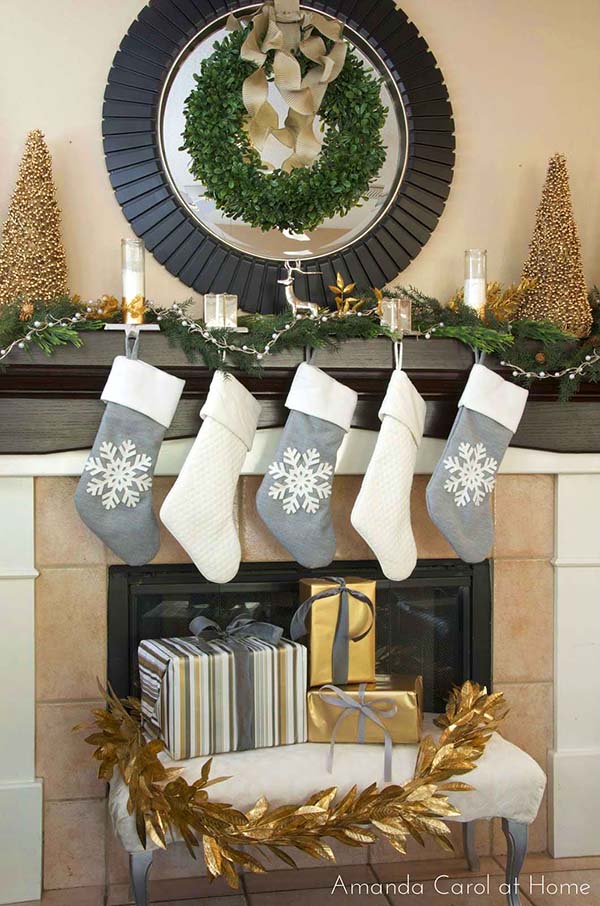 Photo:Credit
Gold Christmas trees with silver and white stockings will really catch the attention of anyone who comes to your home. Use a pair of matching Christmas trees to really make an impact and make your fireplace a focal point. Do not underestimate the power of the well decorated Christmas mantle.
7. Impress Guests with an Elegant Gold and Silver Wreath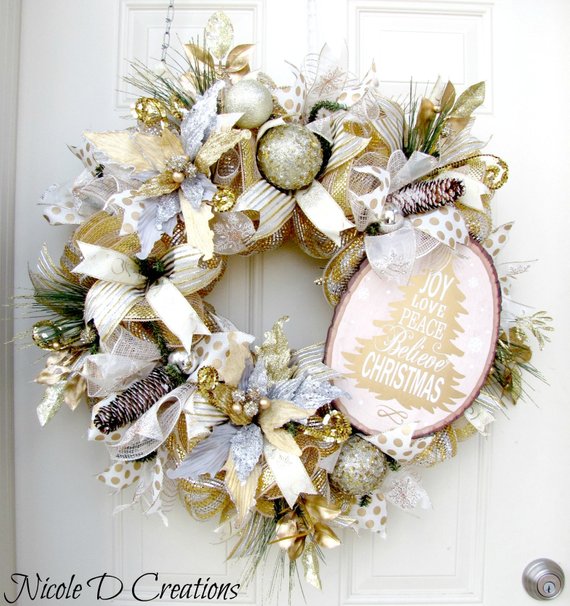 Your front door will benefit from a silver and gold Christmas wreath. Using a wreath on the front door in the same color scheme as the rest of your decorations will set the tone for what people will see inside.
Learn More: Here
8. Elevate Your Candle Centerpiece with Gold Accents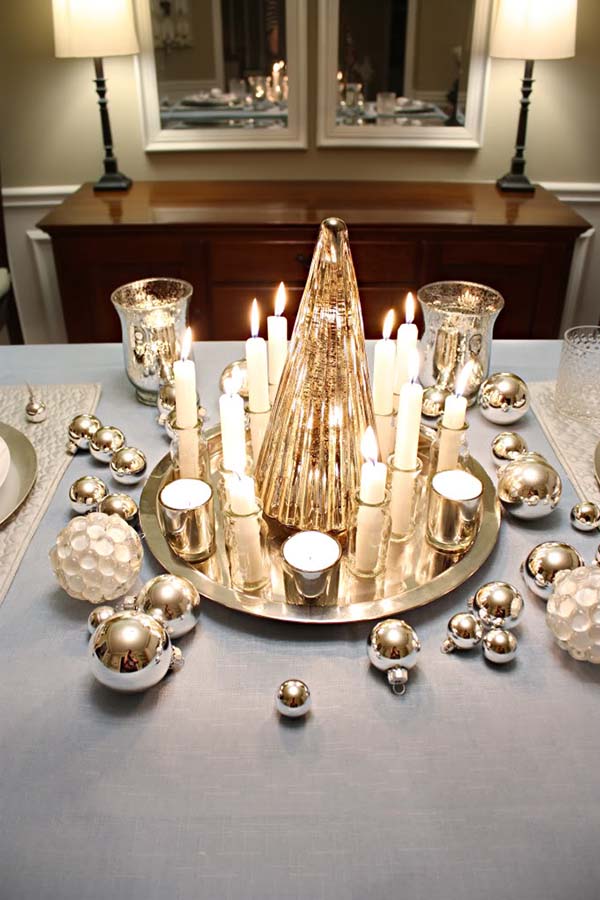 Photo:Credit
Few things are more festive than candles. Place yours on a gold charger in the middle of the table and surround them with ornaments that are gold and silver for a stunning and festive look.
9. Decorate Mantel with Gold Garland and Silver Candlesticks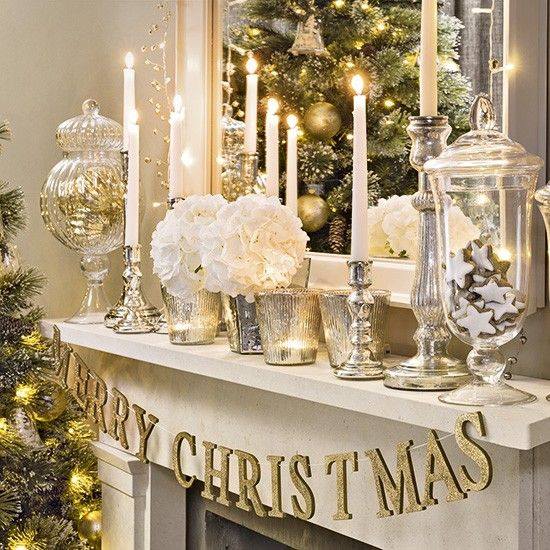 Together with silver candlesticks, gold sparkly letters that spell out "Merry Christmas" or any other chosen message will really get your point across.
Consider hanging the letters on your fireplace mantle for an attractive greeting.
10. Brighten Your Mantel with a Silver Tinsel with Gold Balls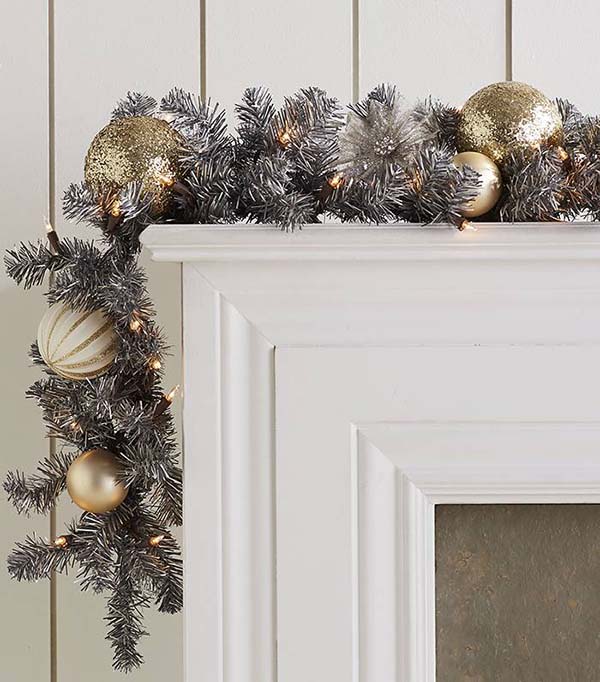 Photo:Credit
Another way to decorate your fireplace mantle is with silver tinsel and gold balls. Nestle the balls into the silver and intertwine white lights for a look that will really shine, especially at night.
11. Create a Colorful Contrast with Frosted Greenery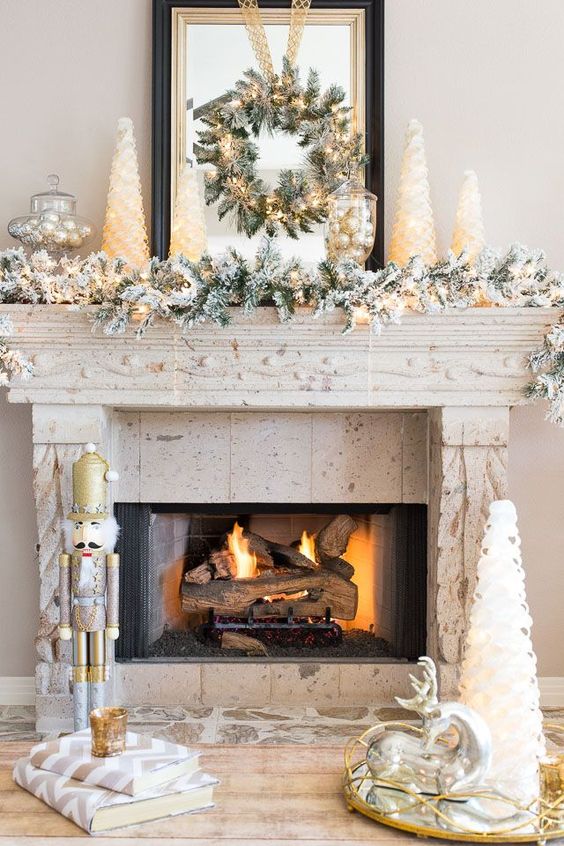 Photo:Credit
Frosted greenery draped across your fireplace mantle will complement any silver balls and gold candles or balls that you have on the mantle as well. Allow a little green to show through for a great contrast.
12. Stack Gold and Silver Balls and Pinecones in Tall Jars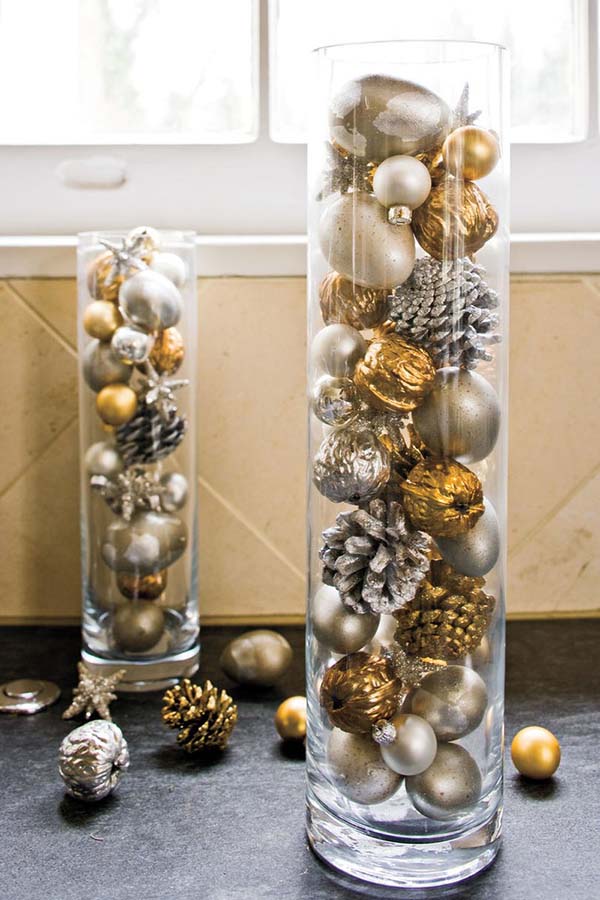 Photo:Credit
Gold and silver Christmas tree ornaments don't have to just go on a tree. When stacked in clear glass containers they can be a striking decoration in your home. Place them in strategic locations for a lot of visual interest.
13. Enhance Your Silver White Tree with Gold Ornaments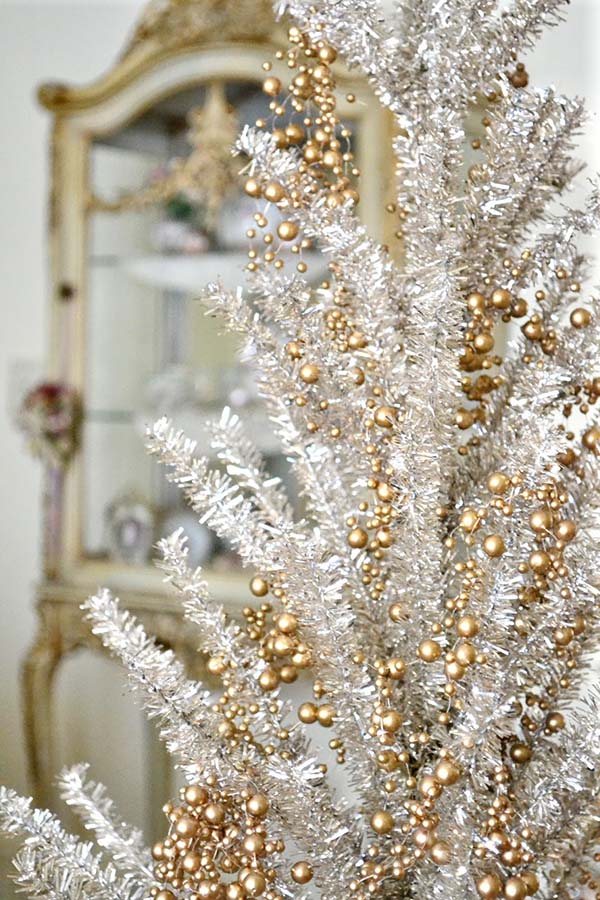 Photo:Credit
A silver white and gold Christmas tree is sure to attract attention.
Use a silver tree and decorate it with small gold ornaments for a huge impact. Use a lot of smaller ornaments for a visually striking decoration.
14. Transform a Tiered Cake Stand with Gold and Silver Decor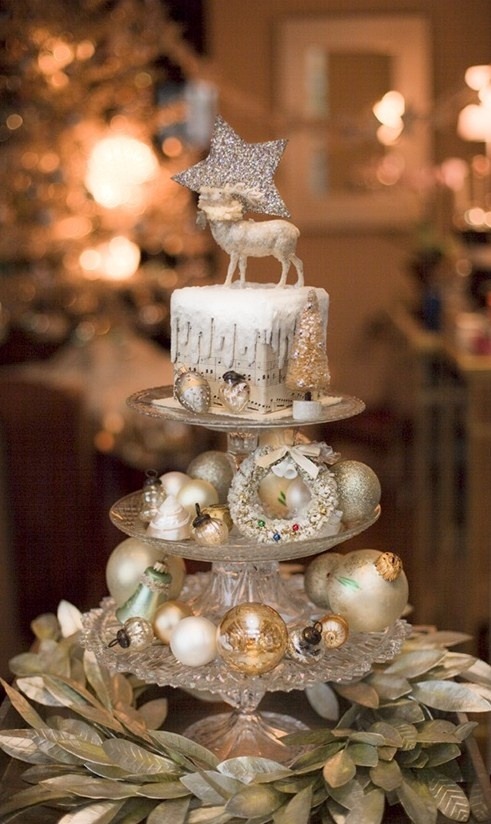 Photo:Credit
Cake plates aren't just for dessert! Display antique silver and gold Christmas tree decorations on the plates for a varied and interesting look.
This is a great way to showcase your favorite ornaments.
15. Add Sparkle to Your Home with Gold and Silver Trees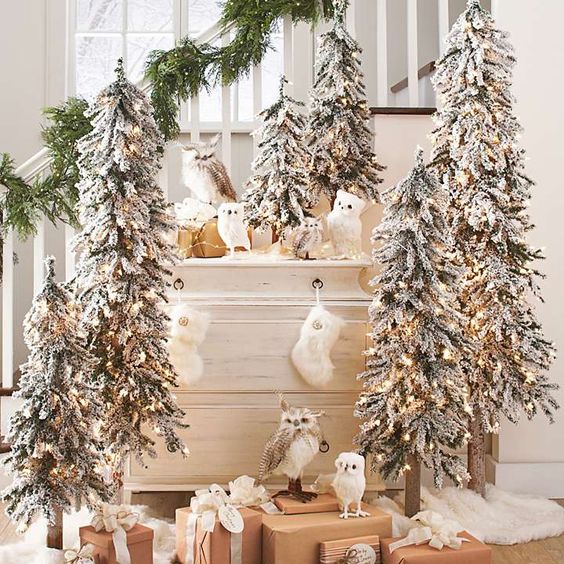 Photo:Credit
Green Christmas trees that are covered with white lights and surrounded by silver and gold decorations will really stand out.
They are a great way to fill space in your home without a lot of work.
16. Create a Lasting Impression with a Brimming Bowl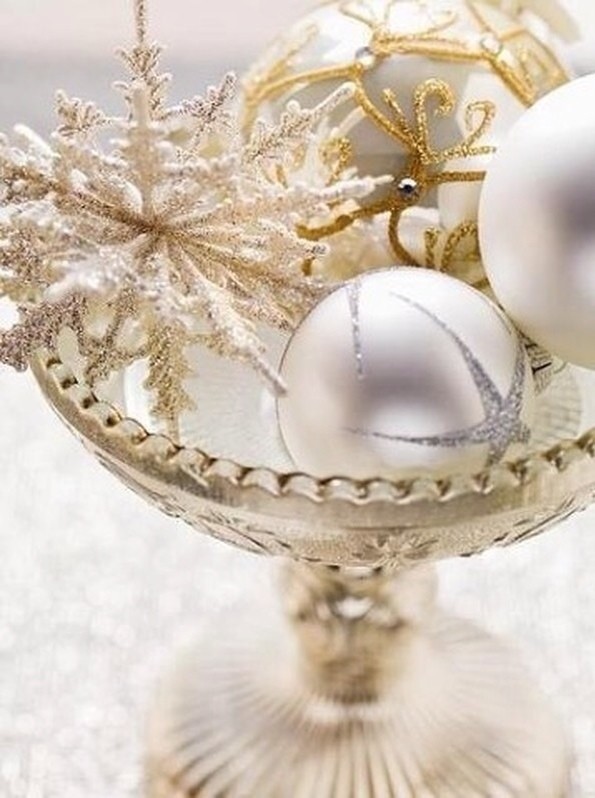 A gold bowl that is brimming with silver and gold balls and 3D ornaments is a wonderful way to decorate a side table or even to use in the middle of your dining table for a fun and bright look.
17. Embellish Your Entryway with a Rustic Silver Tree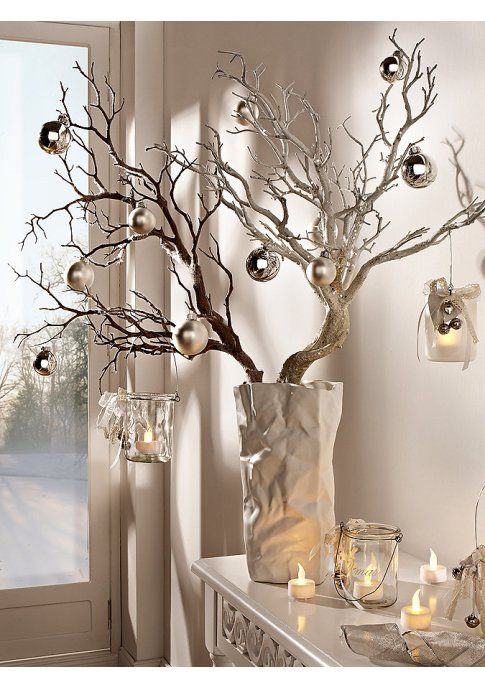 Skip the regular Christmas tree and opt for a white silver and gold Christmas tree that is made from twisted bare branches.
This is a fun twist on a traditional look that every family will love.
18. Upgrade Christmas Baubles with Glitter Decor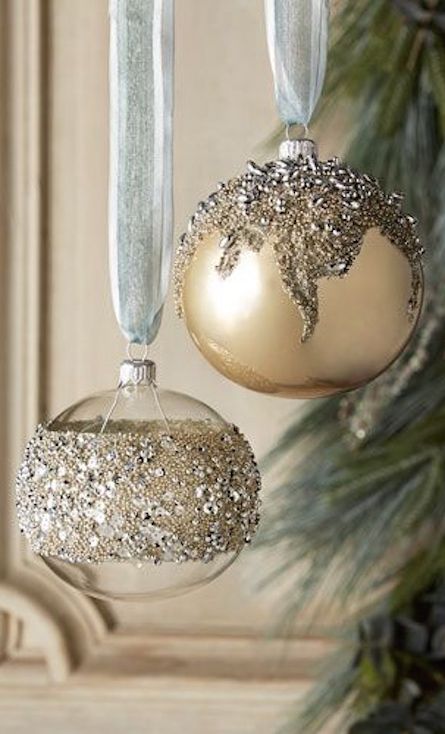 Use chunky glitter to decorate gold and silver balls for a look that is really unique and special.
These textured ornaments will stand out on your Christmas tree with silver and gold ornaments.
19. Make a Subdued Noel Sign in Gold and Silver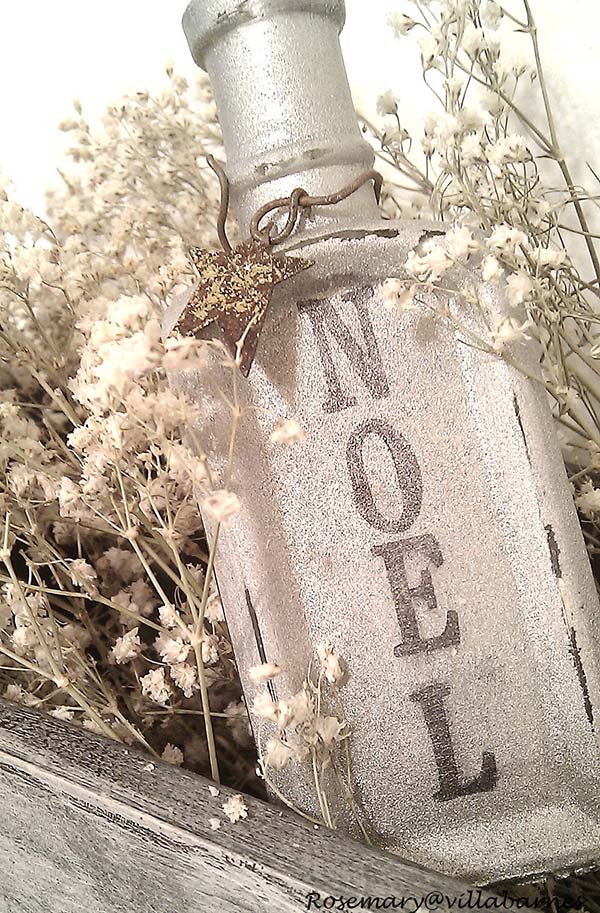 Photo:Credit
Not all of your ornaments have to be bright and take center stage.
A subdued NOEL etched in gold and silver on a bottle and surrounded by baby's breath flowers can be very attractive.
20. Uplift Your Christmas Tree with a Gold and Silver Topper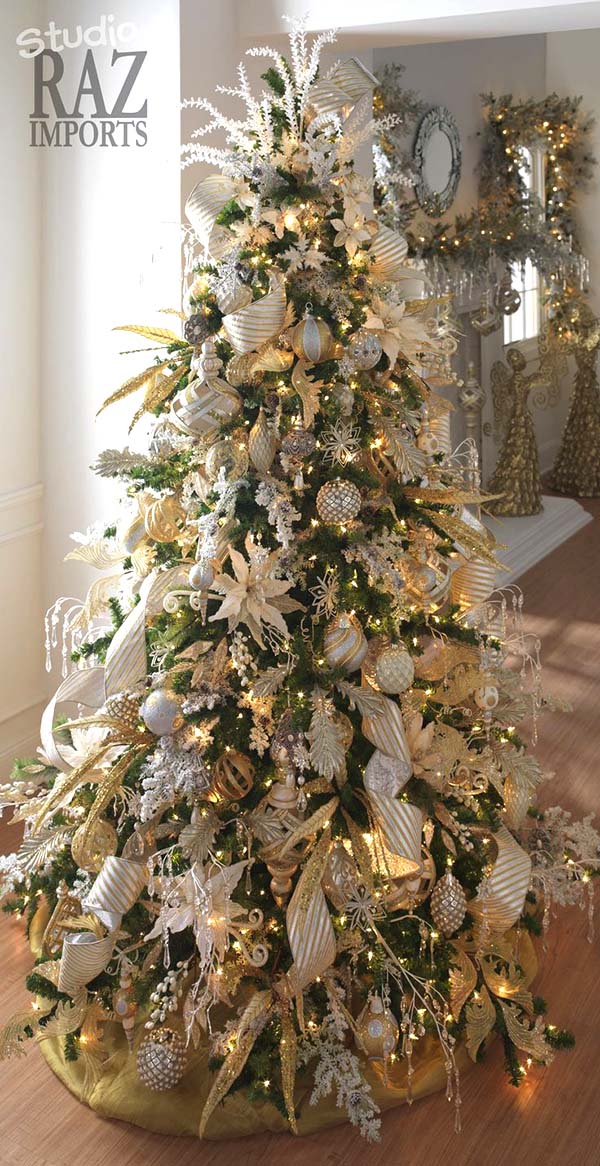 Photo:Credit
Use a silver and gold Christmas tree topper to really tie together the look of your Christmas tree. Combined with other ornaments, this will create a great look.
21. Enchant Your Christmas Tree with Gold Ornaments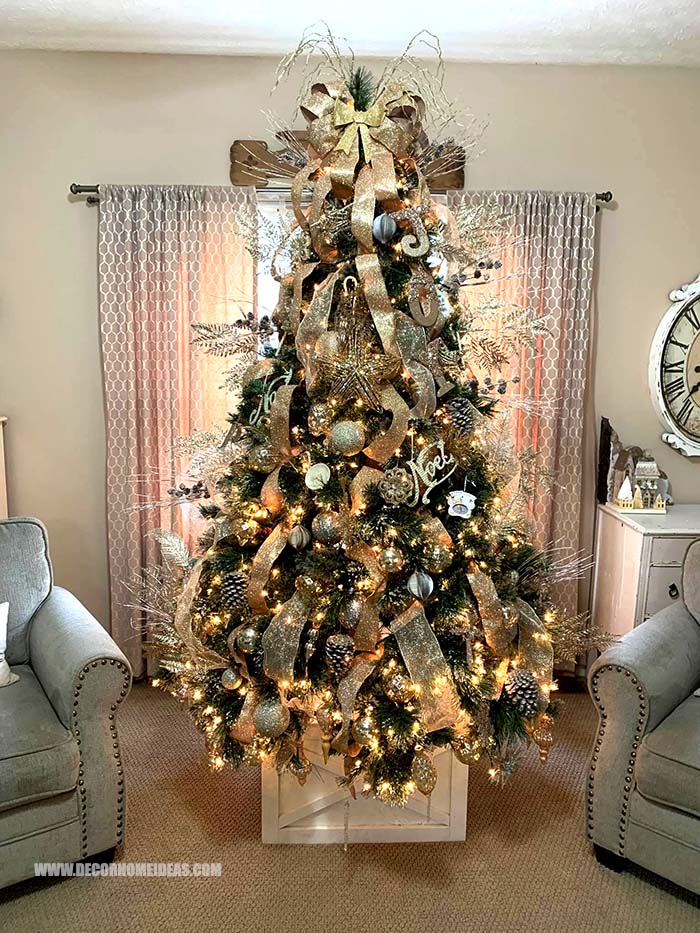 Put your Christmas tree in farmhouse styled wooden crate and decorate with silver and gold for a stunning result.
22. Utilize Gold Fabric for Your Christmas Tree Decor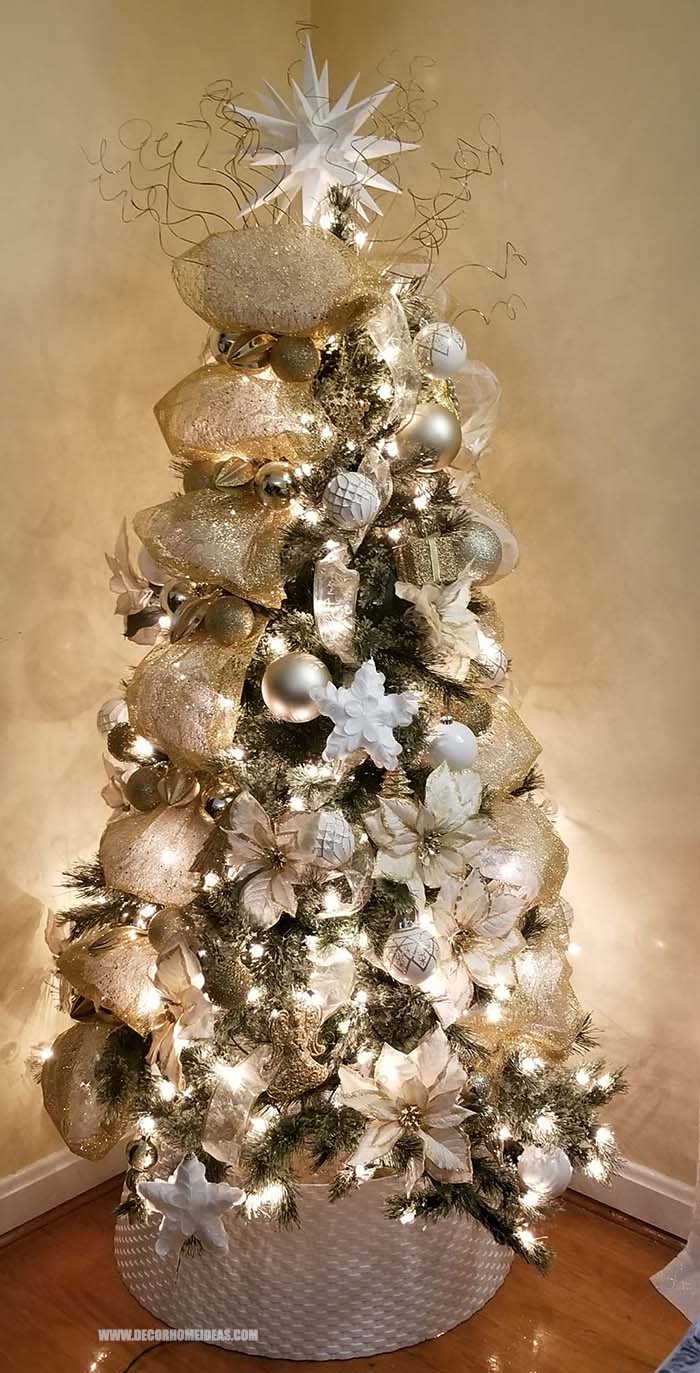 There are many different Christmas tree decorating ideas silver and gold, and by implementing these two colors throughout all of your decorations in your home you can end up with a cohesive and attractive look.
Make sure that you mix the silver and gold ornaments carefully so that you aren't overwhelmed with either silver or gold, and make sure that you display your ornaments with plenty of white lights.
The white lights will shine off of the ornaments, making them look brighter and helping the color scheme that you have chosen really pop and improve the appearance of your home.