Christmas bells are ringing, the holidays are right around the corner and we start projecting ideas for decorations that you can marvel at.
When it comes to decorating for the most generous holiday of the year, we want to sense luxury, creativity, and your own special flair.
I dare you not to repeat your last year's decor theme, let's be brave.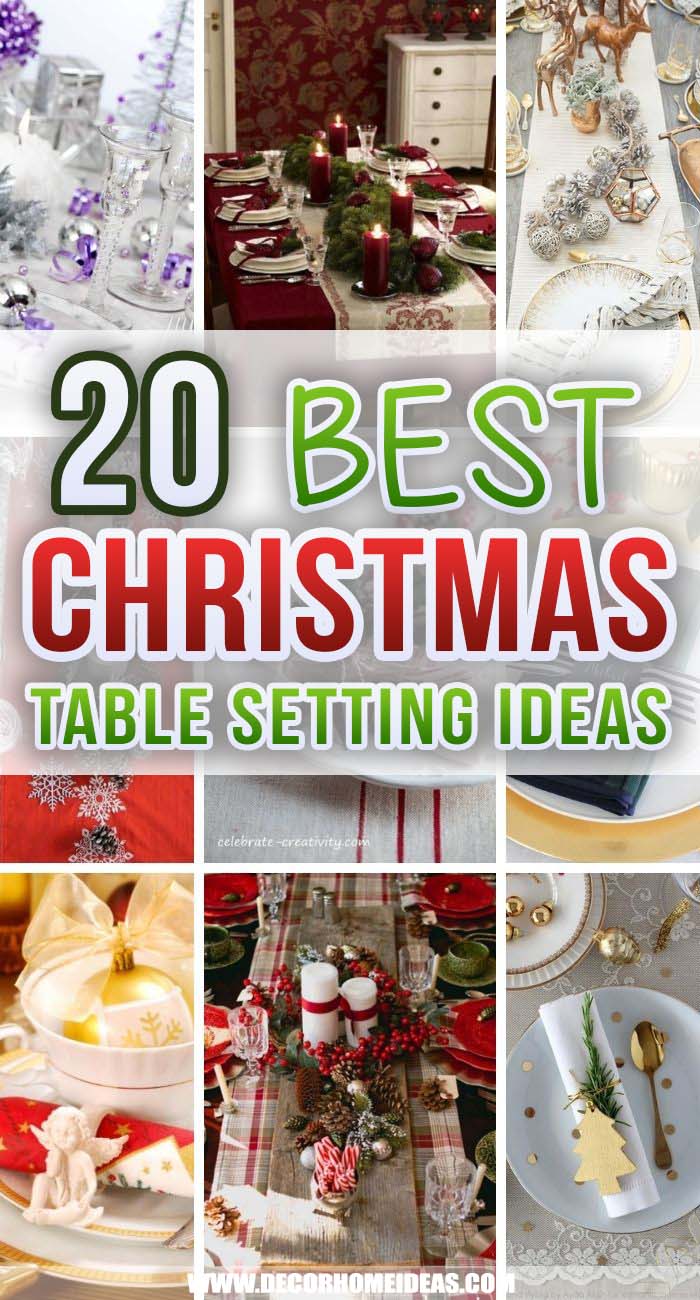 Treat yourself to a merrier, happier and sparklier holiday this December. While you sit at the table, play your favorite tunes, gather your friends around a table that is a centerpiece in itself.
What is great about accessories in Christmas is that they can be rearranged in so many unexpectable ways.
Twenty awesome ideas for your table top decorations are about fo follow and hopefully spark your fantasy.
1. Illuminate Your Table with Gold and Red Decor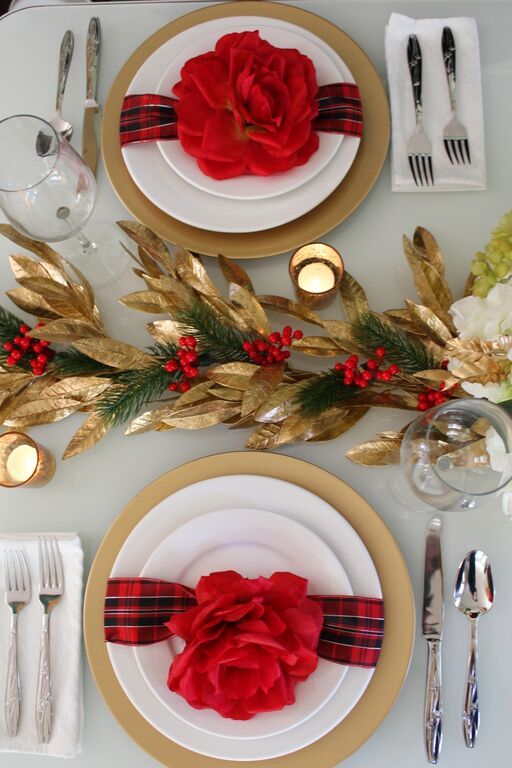 Photo: Credit
Gold branches, full of shiny leaves and red cloths surround each plate. The polished silver compliments it beautifully and plays with the gold in an elegant way.
Spread the candles asymmetrically rather than following a strict pattern. The flower in each plate is simply divine whether it be roses or poinsettias.
2. Create a Rustic Table Runner with Cranberries and Candles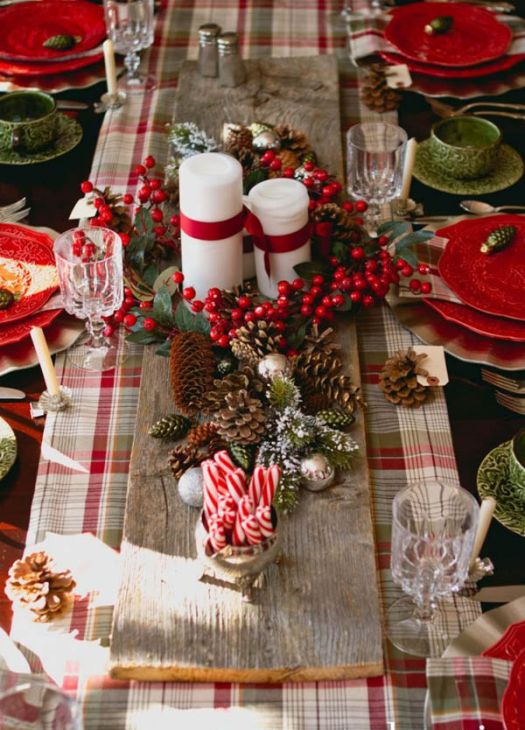 Photo: Credit
Cranberries and pinecones are the ultimate traditional and very natural table accents.
Buy some tall thick white candles or the white and red swirling ones and you will be in a holiday mood just by one look at this lovely view.
Casually spread some ornaments here and there to match your Christmas tree.
3. Enchanting Table Design with Paper Trees and Cupcakes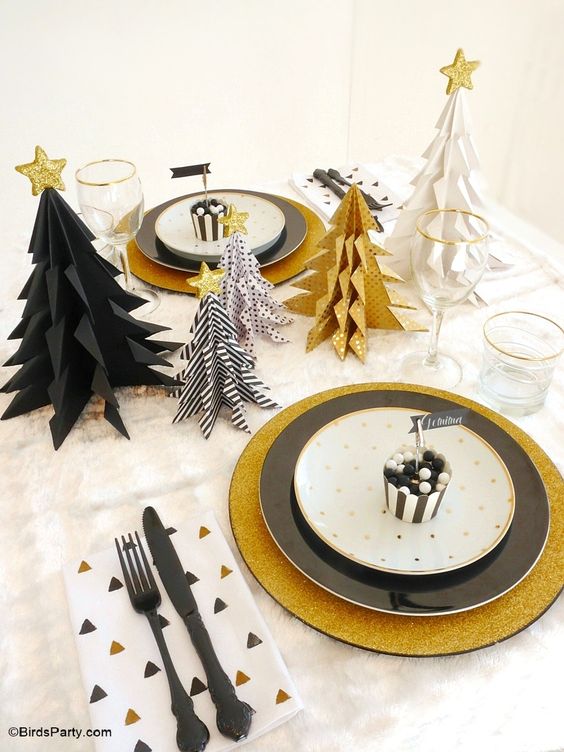 Photo: Credit
An enchanting table design that is easily achieved.
You can find online many folding techniques for cutting and some thick colorful paper in your local bookshop. Or buy some paper trees at the countless shops for X-mas decors.
Cupcakes are a mandatory treat!
4. Light Up Your Dinner Table with a Fir and Candle Table Runner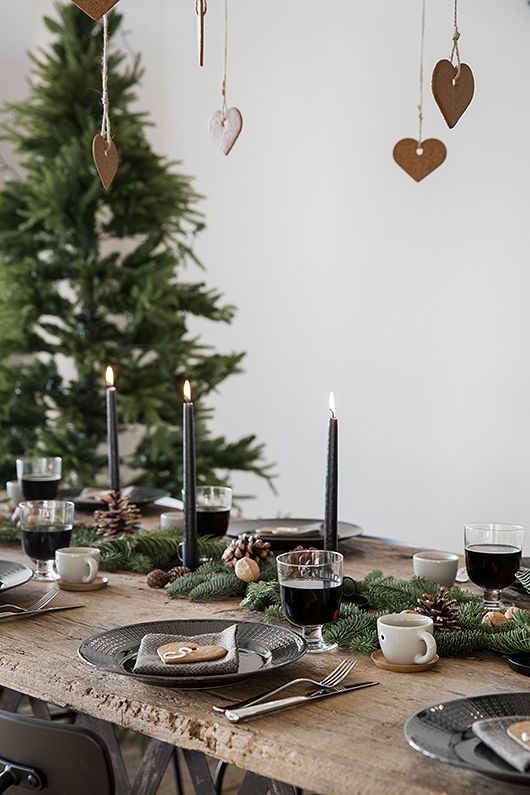 Photo: Credit
While some may find this decoration unusual, we love it. Did you notice the homemade cookies hanging from the chandeliers?
Try some raspberry wine, bring some tea mixed with lemon and cognac for starters. Each cookie can be followed by a good luck charm to welcome your guests.
5. Add Charm to the Holidays with Cranberry Colors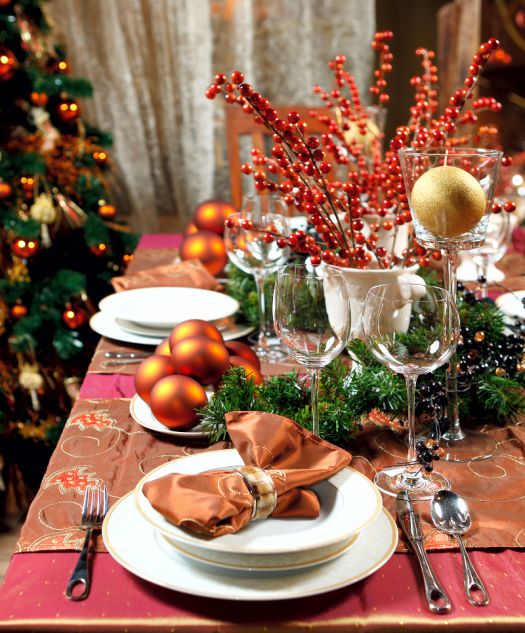 Photo: Credit
Oh, yes it is. Looks much like the hair of an Irish girl or the sun rays in the autumn. It is a gratification for the senses and it is unpredictable.
This decor and table setting will look great, especially if you are working with a darker color scheme for a background.
6. Create a Winter Wonderland with a Rustic Table Runner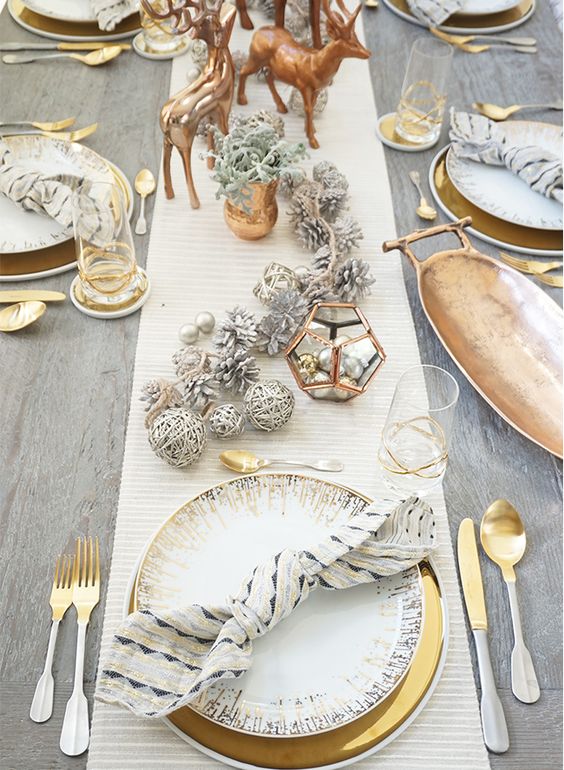 Photo: Credit
An endearing, dreamy and startling choice.
Gold and silver are the cold air outside and the warm atmosphere at home both at the same time. This would not be the same without the deers at the center, though.
They represent the holiday spirit, our intuition, and wisdom, being able to act graciously.
7. Adorn Your Table with an Ornament Tree Centerpiece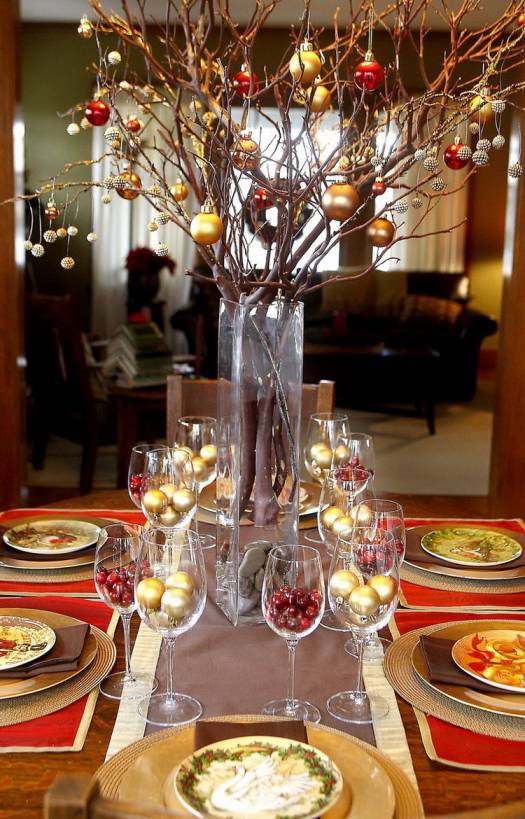 Photo: Credit
A far beyond adorable idea and although this is an artificial tree here, be sure it can be a real one too.
I love filling the wine and water glasses with treats and in this case they are swapped beautifully by the ornaments inside.
Plates painted or handcrafted especially for the holiday are not hard to find in specialized shops.
8. Create a Wintery Escape with Pinecones and Candles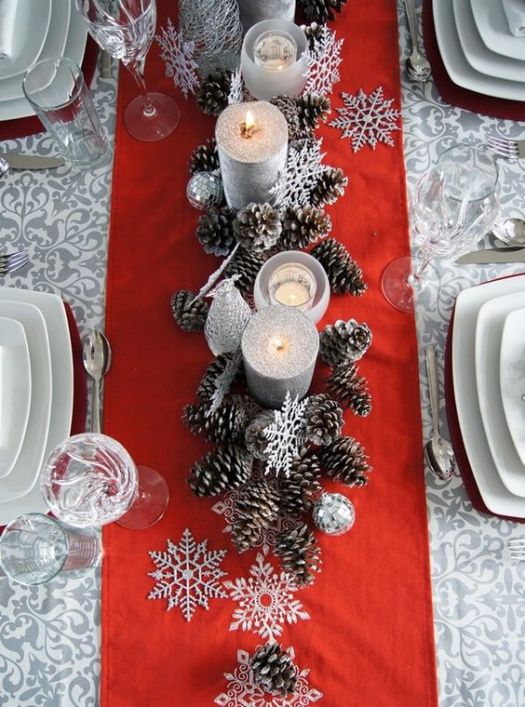 Photo: Credit
While this tabletop decor is more delicate than the previous ones, it is easily made on a budget.
Snowflake patterns, pinecones and silver ornaments create the feeling of purity, virtue, and delicacy.
The dishes you serve to your friends and family will be accompanied beautifully by this decor.
9. Personalize Your Table with Buffalo Plaid and Name Tags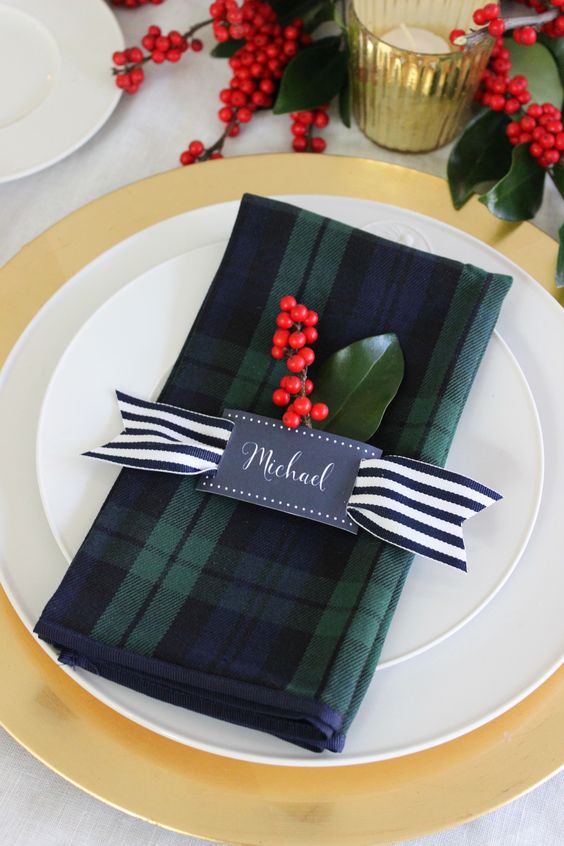 Photo: Credit
Tiny cranberries, a neat cloth on the plates and a name tag is a styled version of a table setting.
Scented candles and carolings are mandatory along with a great company, divine champagne. This is a good option for a less intimate gathering.
10. Accessorize Your Plates with Tiny Ornaments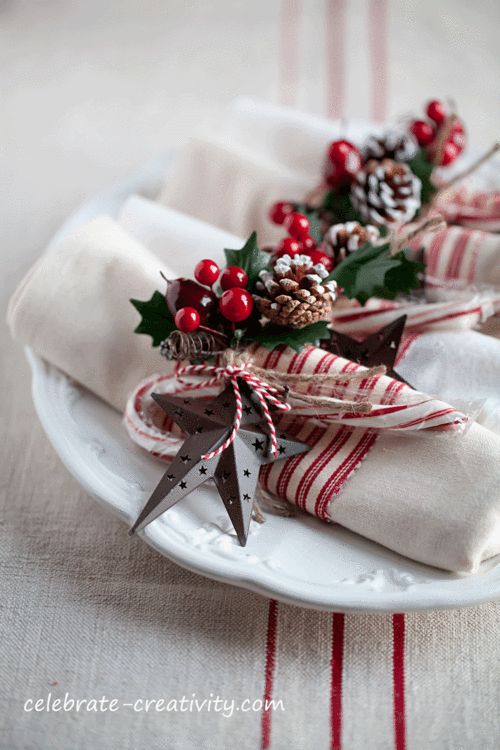 Photo: Credit
All you need is tiny ornaments to accessorize the plates.
Dress them up in two or three colors and start by painting small pinecones with paint or glitter. Let them dry up first and when you're ready just put the silver inside.
11. Create a Romantic Atmosphere with a Christmas Tablescape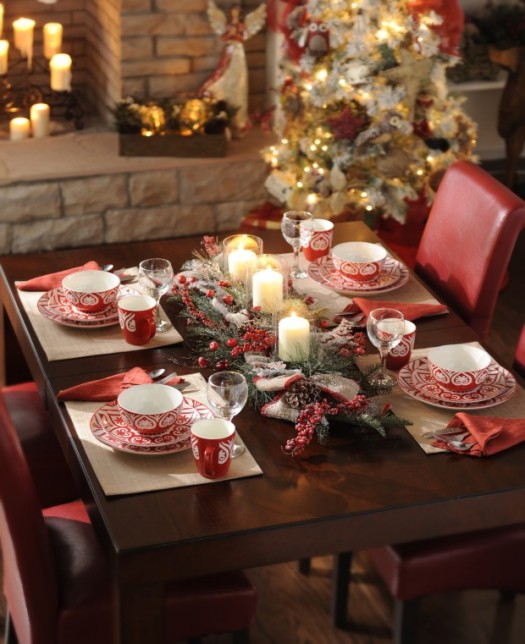 Photo: Credit
This just looks incredibly cozy.
The colors of a blood orange go together with a white tree and strings of Christmas lights. Gently burning candles, while pouring  some bright red wine.
Let's have a Joyeux Noel. Refinement and simplicity are the keys.
12. Make a Lasting Impression with a Festive Red Tablescape

Photo: Credit
Okay, passion decor lovers. This is not for those who like to play it safe. Go above and beyond, but do reach the height of that Christmas centerpiece, I dare you.
It might be a bit hard to see each other, but why not…? The tiny red roses are a classic romance that is just about to begin this Christmas.
13. Add Splendour to Your Home with Gold Christmas Table Decor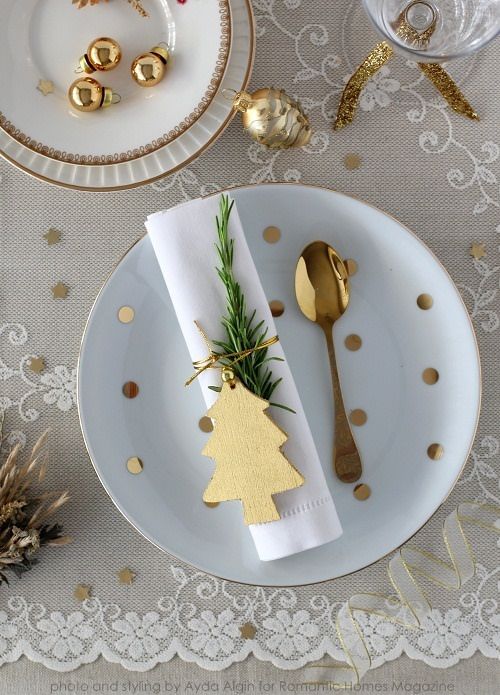 Photo: Credit
I believe a table like this has the power to transform any mood of yours into an ecstatic Christmas ride.
Once again, easily achieved, if you have visited the bookshop and found gold stars and polka dots to sprinkle around.
When you go buy your lovely cone tree, just buy som extra branches for your future decoration.
14. Let Kids Have Fun with a Winter Woodland Tablescape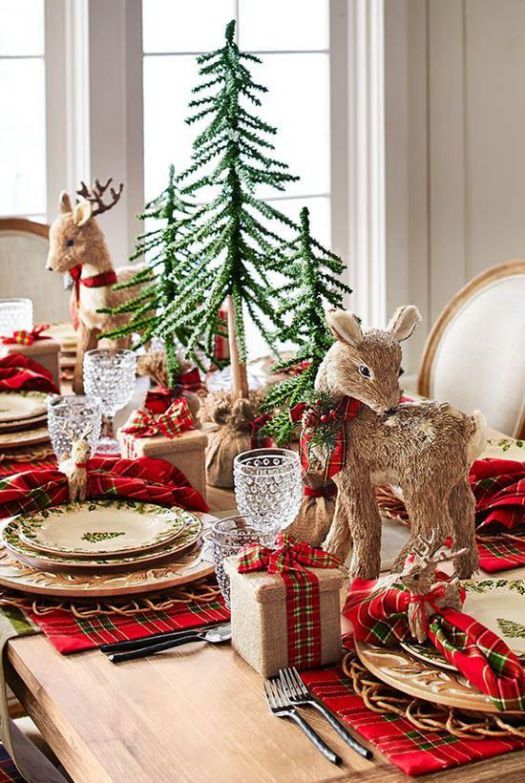 Photo: Credit
Let's face it. Christmas is for the children. Kids are the ones who are completely enchanted and thrilled by this holiday.
What are the animals they associate Christmas with – raindeers, fairies or elves?  Bring this extra surprise and they will remember these days forever.
15. Be Bold and Creative with a Castle Table Centerpiece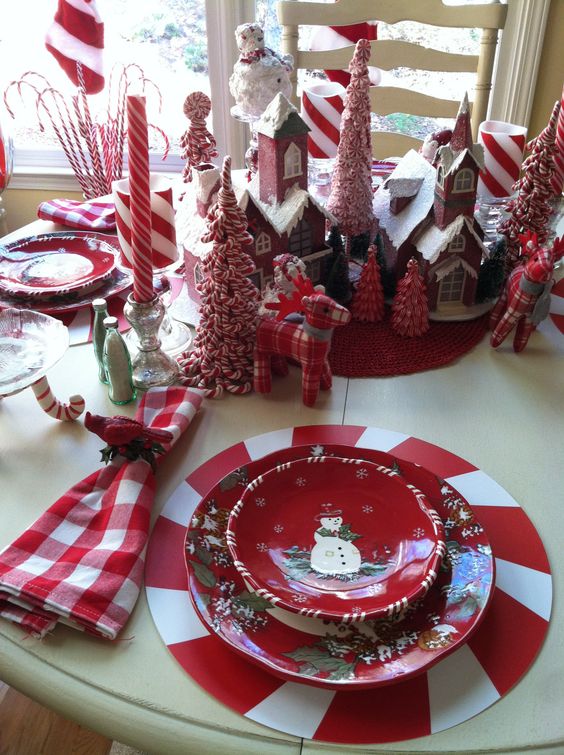 Photo: Credit
Lapland just landed on your table. Look at the festive dishware! Castle, pastries and sweets of your choice to top it off. You can fall in love easily with this setting.
Even cookies and milk will feel incredibly special here.
16. Add Sparkle to Your Table with a Gold Trees Centerpiece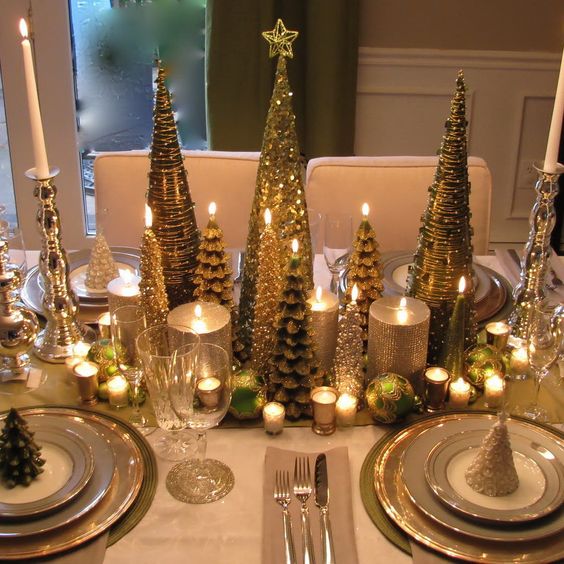 Photo: Credit
This really is my favorite, most magical of all decors should you ask me for advice. The theme is obviously gold, but it varies in so many different shapes and forms.
It's gold in its abundance and magic, the background is white, simple, clear. I've stacked on gold ornaments over the years for a reason.
17. Create an Instant Cozy Look with Your Table Runner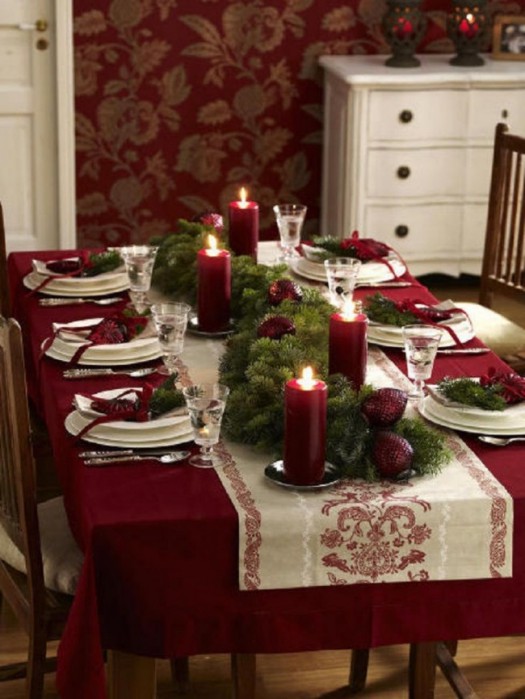 Photo: Credit
It's quite rare that you find someone bold enough to vamp it up for a traditional holiday. But it takes a lot of confidence and this deserves an applause by the guest according to me.
Oh, she knows how to set the table and love passionately, too.
18. Spread Christmas Cheer with Angel Plate Decor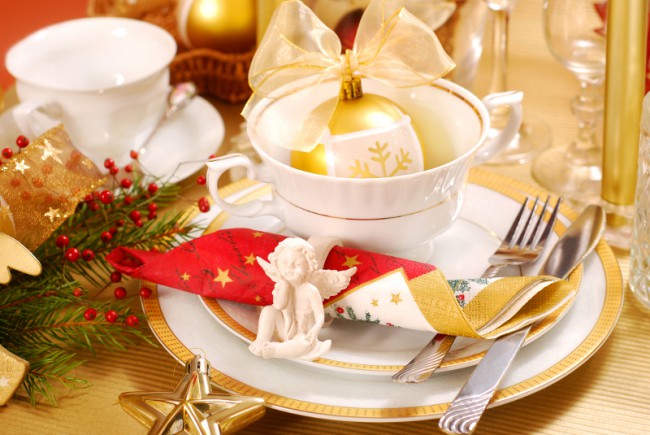 Photo: Credit
No matter how things turn out to be, I will always be a little-crazed fan of angels.
Angels are the epiphany of this miraculous season and we always feel as if they give us a special support and messages in these days.
Why not lay them lead your friends in and have a jolly good time?
19. Farmhouse Charm with Buffalo Plaid and Decorative Plates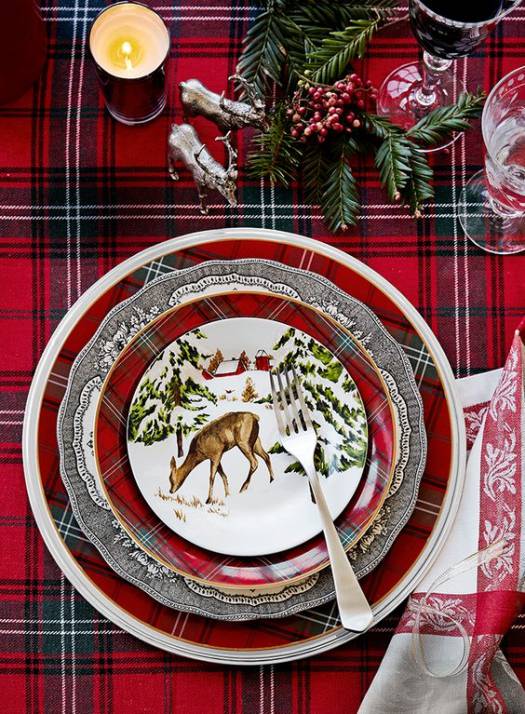 Photo: Credit
While we arrive onto another wine tasting season, this is another classic decor solution.
Loved by many and neglected by me for years, I confess I never felt impressed by this pattern for a table setting or, a plate or a shirt.
But don't get me wrong, I know many people enjoy it and it still speaks of a homemade Christmas time.
20. Make a Bold Statement with Purple Table Decor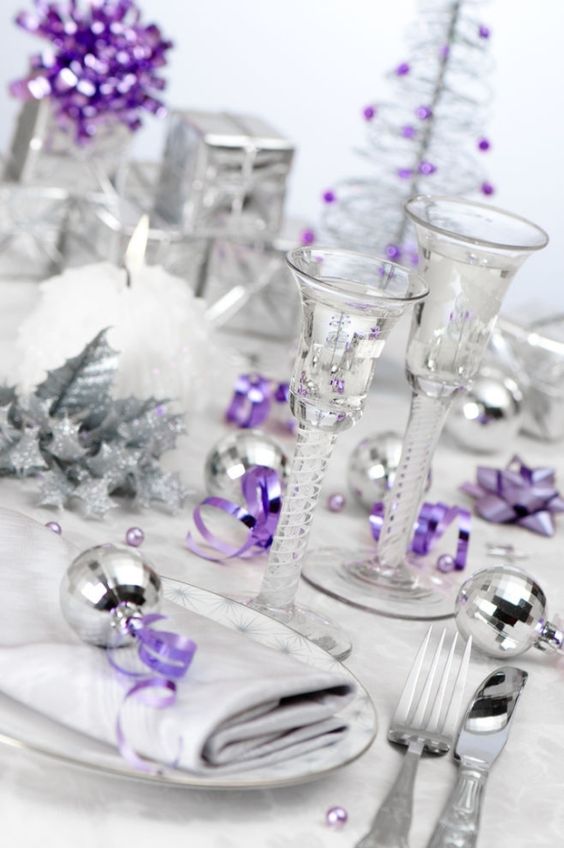 Photo: Credit
Purple and silver are so sweet to my eyes. While you can sense it's a little colder than the previous decor, it's a purple Snowhite tale and it's as if the purple add-ons accidentally landed there.
Out of twenty awesome decors, this one might be one of my choices… What about you?
Happy decorating!
Don't miss: 20 Creative Christmas Platters Crazy Enough To DIY