Decorating the house for Christmas can be as stressful as fun. The best way to finish it on time is by making a detailed list so you won't forget any important aspect of the decorating process as sometimes Christmas decorations are too many.
Setting an enduring Christmas table, for instance, is as important as decorating the festive tree. I am willing to bet that some of your dearest holiday memories happened at the dining table.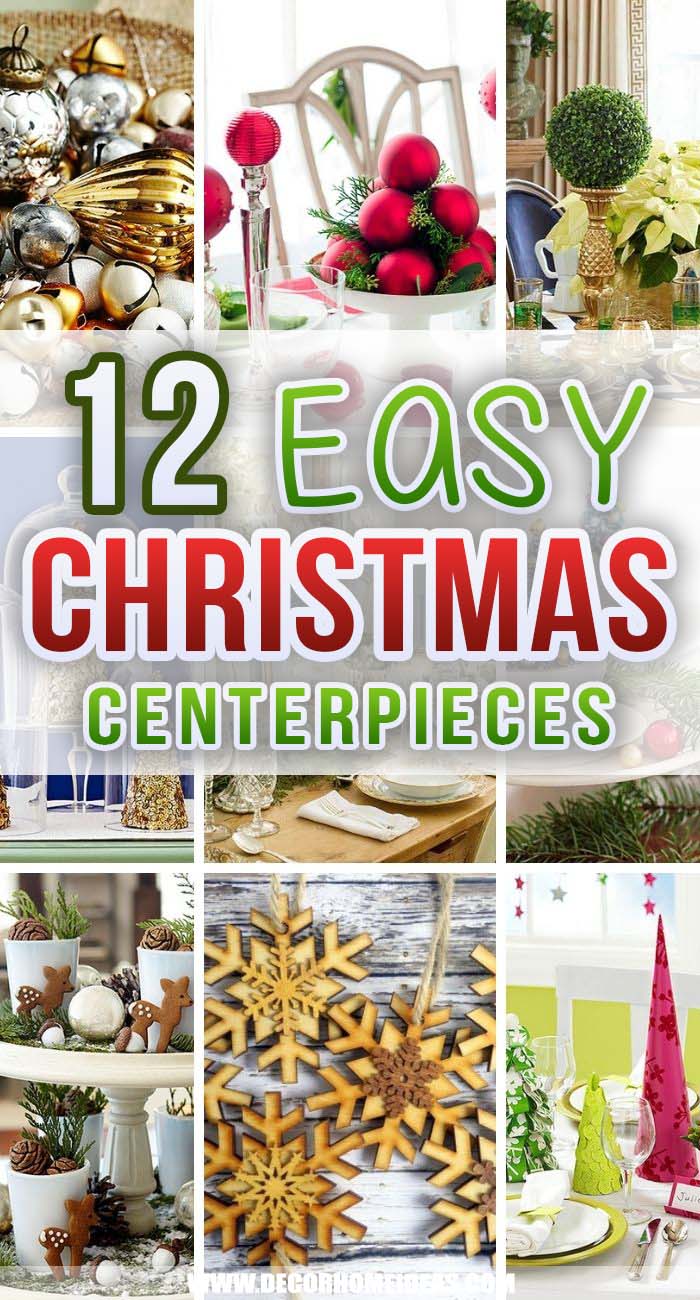 Try to find even some simple Christmas centerpieces, along with the festive napkins and exclusive dinnerware, because they could be the real show-stopper that would make your holiday dinner sparkle.
To help you get started, I have prepared 12 eye-catching DIY Christmas table centerpieces that would surely make your day! Are you intrigued? I guess so!  😎
1. Transform Your Cake Stand into a Winter Wonderland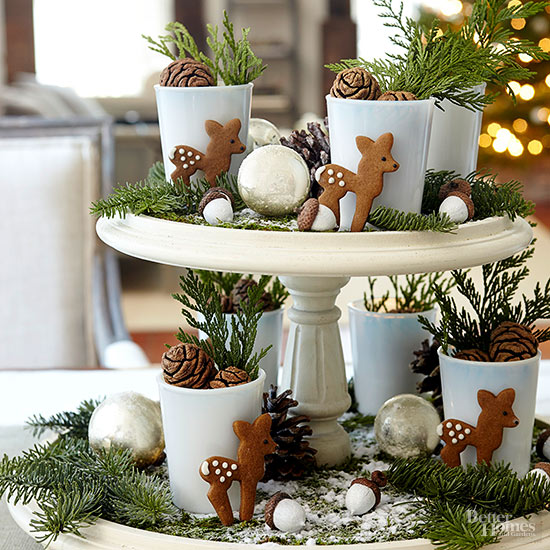 Photo: Credit
This double-decker Christmas centerpiece idea starts with cute gingerbread cutouts. Carefully arrange the homemade cookies with cut greens and Christmas ornaments.
For extra Christmas atmosphere, add a bunch of pinecones throughout the display and carefully arrange them along the double-decker.
Besides, when it comes to creating Christmas centerpieces, there is always space for some faux snow.
2. Embellish Your Dining Table with a Rustic Bell Centerpiece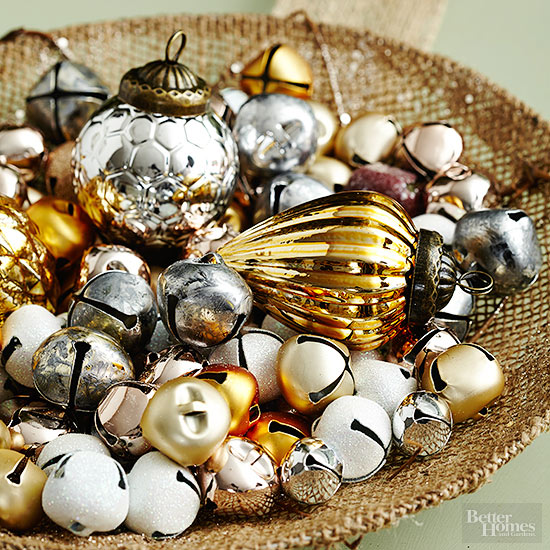 Photo: Credit
Here is a five-minute and easy way to make stunning DIY Christmas centerpieces for the dinner table every year.
Bring a festive jingle to your tabletop with a big bowl of silver and gold bells. I added a couple of coordinating ornaments for a change in scale. Also, choose a bowl that won't steal the spark from the bells.
Tip: Make sure you won't overdo it.
3. Turn Your Dishware into Colorful Christmas Centerpieces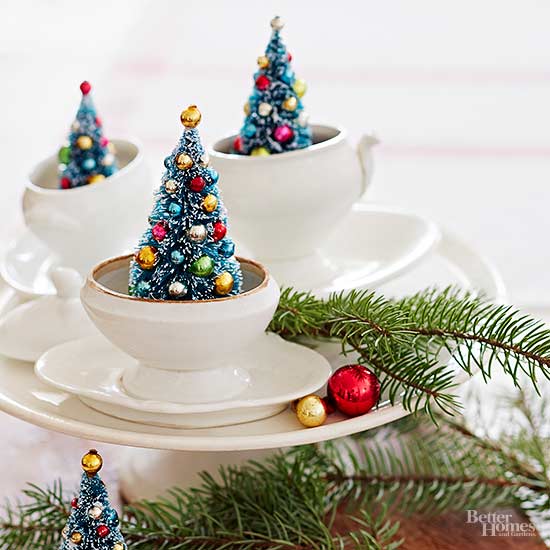 Photo: Credit
Pull creamer and sugar sets and demitasse cups out from the recesses of your cabinets and put them on display as a simple centerpiece.
Gather the pieces on top of a traditional all-white cake stand, place bottle brush trees inside the cups and add a few sprigs of evergreen.
Just a thought – to finish this cute country-chic look, display your Christmas party centerpieces on a vintage linen runner or tea towel.
4. Add Color to Your Table with Red Ball Ornaments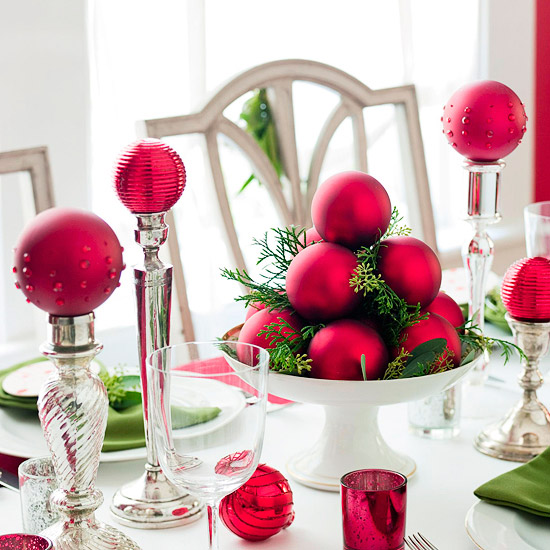 Photo: Credit
Elegance needn't come in a frilly, finicky package. This graceful centerpiece comes together with the most basic of elements.
Pile glass ornaments in a pyramid arrangement on top of a compote, sticking the ornaments to one another with scrapbooking glue dots.
As you might have noticed, lots of Christmas centerpieces ideas focus on red accents as this color feels like Christmas. Add some green napkins to re-create the timeless festive combination of red and green.
5. Enjoy Holiday Dinner with a Fern and Candle Centerpiece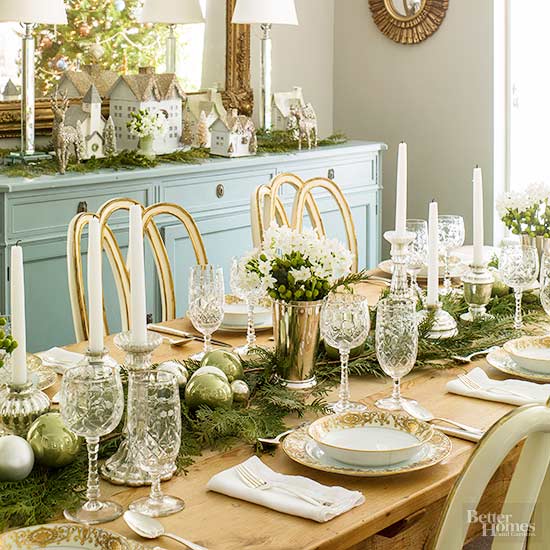 Photo: Credit
Go the whole nine yards with a Christmas centerpiece that extends the length of the table.
The key part here is to stay away from playing with heights and keep it low and narrow, instead. In this way, there will be enough space to place and pass dishes. Moreover, the guests would be able to see across the dinner table.
My advice for this kind of homemade Christmas centerpieces is to not overdo it. Use some evergreen branches as a base and then arrange with a bunch of large festive balls and candlesticks of your choice.
6. Bring Nature to Your Table with a Garden Centerpiece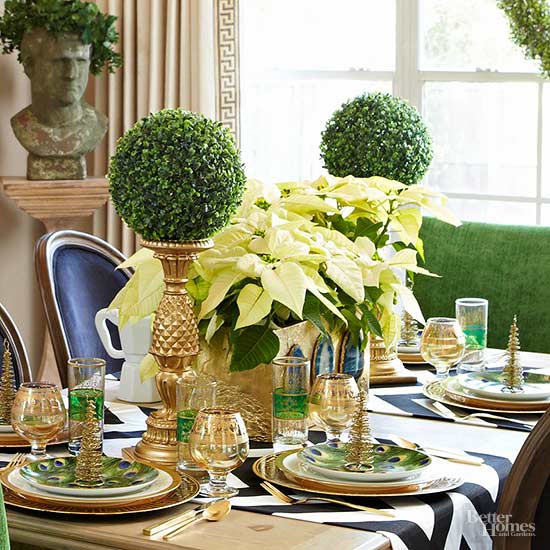 Photo: Credit
Poinsettias are a Christmas favorite, but pairing them with another element, like topiaries atop large candlesticks, takes the garden theme to the next level.
What is most important for this type of elegant natural Christmas centerpieces is to match the candlesticks and the vases where the poinsettias are placed.
Also, I recommend using lighter shades of poinsettias to not distract from the brilliant dinner table.
7. Add Sparkle with a Mercury Glass and Fern Display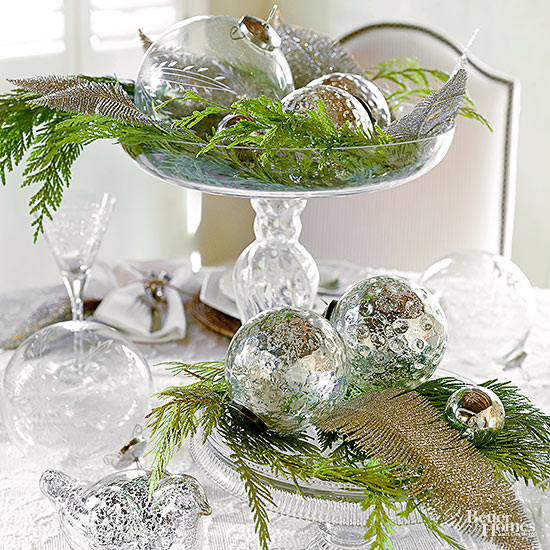 Photo: Credit
Looking for some cheap Christmas centerpieces? Done.
Mow a few tiny branches and place them on cake stands of your choice.
Then top the greenery with some faux mercury-glass globe ornaments…and voila – you just made a dynamic visual arrangement for less than 10 minutes!  😉
8. Get Crafty with Colorful Paper Trees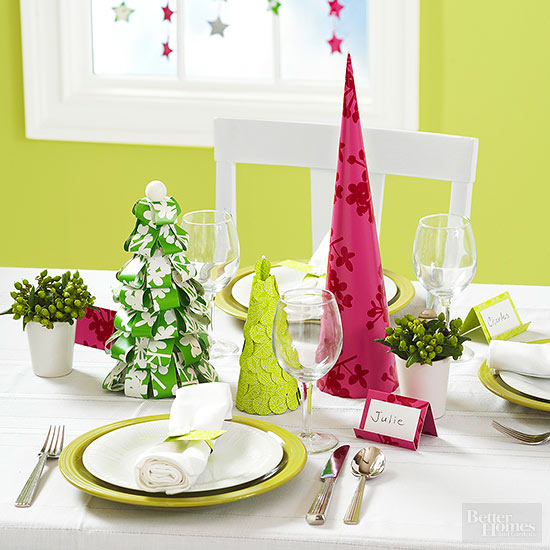 Photo: Credit
The tree-shaped Christmas centerpieces cut from festive patterned paper set a seasonal tone that is ideal for more formal and casual Christmas table centerpieces.
All you need to do is to wrap cone-shaped stencils with festive wrapping paper. If you want to add some volume, you can cut some small pieces of paper and glue them to the cone-shaped molds.
Tip: Play with the color and the height of the cones to make the centerpiece more joyful and fun.
9. Unleash Your Creativity with a Peacock Christmas Centerpiece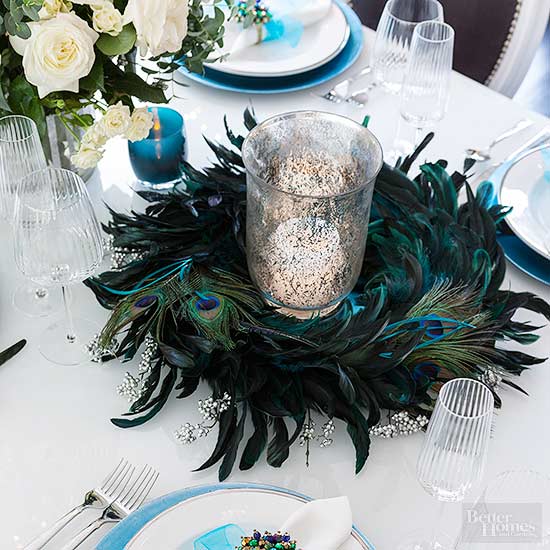 Photo: Credit
Play it bold this Christmas and create a peacock-theme table centerpiece instead of using the classic green and red colors.
Try to find a peacock feather candle ring (a faux Christmas wreath would work, too) and match it with a large glass hurricane for a stunning centerpiece.
Insert in a few silver berries picks as a final touch. Silver pairs perfectly with the cool blue so this will surely be the show-stopper at your dining table. You can even spray some rose gold glitter on the glass for maximum effect.
10. Bring Rustic Elegance with SIlver Pillars and Pinecone Accents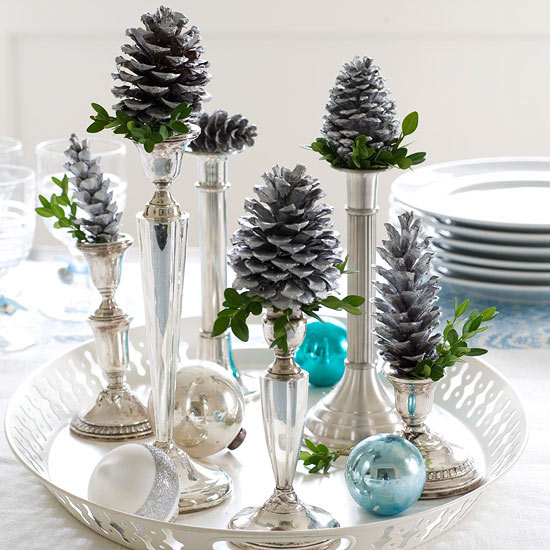 Photo: Credit
I am happy to share with you one of my favorite Christmas candles centerpieces!
Instead of topping silver candlesticks with candles, try placing a silver pinecone on top.
All you need to do is to fill a round cookie tray with the candlesticks in a wide variety of heights and finish with a bunch of glass ornaments. Pure beauty!  😉
11. Make a Statement with Glimmer Christmas Tree Set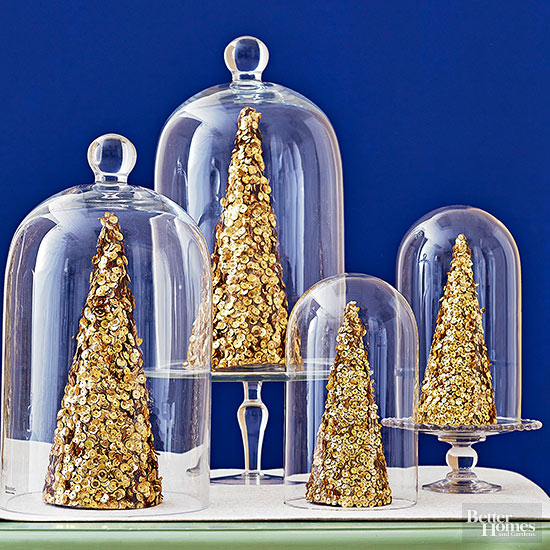 Photo: Credit
Imagine all that glamour on your festive table!  😎
Build this eye-catching centerpiece by covering purchased sequin trees with clear glass cloches. If you want to play with heights, you can place the faux trees on a simple cake stand.
All your friends and family will surely envy you!  😈
12. Create a Rustic Centerpiece with Christmas Gifts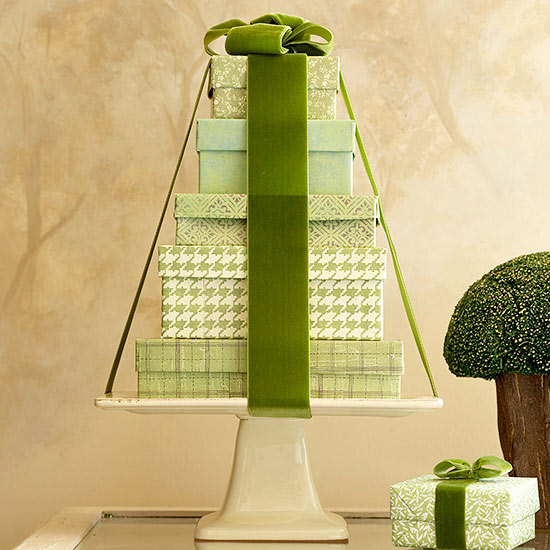 Photo: Credit
The last idea in my collection is for those of you who prefer the unusual Christmas centerpieces.
First, make a mountain of monochromatic boxes in different patterns upon a simple footed cake plate.
Then, crown the tower of boxes with a bow and a length of ribbon trailing down each side. In the end, don't forget to tie up the ends of the ribbon tails to the underside of the cake plate.
Decorating the festive dinner table would help you build an even stronger festive spirit at your home! Make these joyful days of the year with the beloved ones even more special!
I truly hope you found my list of affordable Christmas centerpieces helpful. Let me know what you think about it or share another cool idea with me! 😉