Christmas time is that time of the year when we can use our creativity and imagination to transform the house into a magical place and fill it with our festive favorites.
As much as I like all the shiny Christmas decorations that are being sold on the market, I perfectly know that bringing the beauty of nature indoors for the holidays can give a natural, organic aesthetic.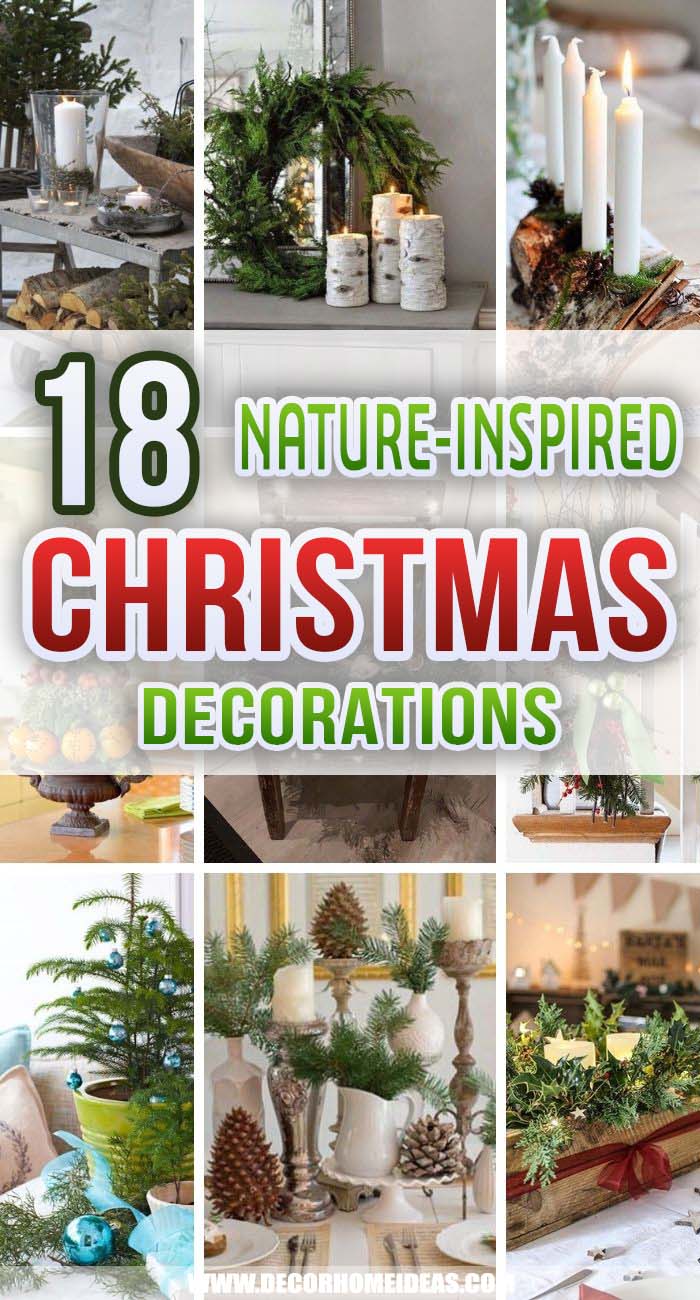 Besides, making Christmas decorations using natural materials only, is a cool way to spend some quality family time.
Here, I've prepared 18 cute ideas for nature-inspired Christmas decoration you'd fall in love with.  😉
1. Transform Your Holiday Decor with Greenery and Egg Cups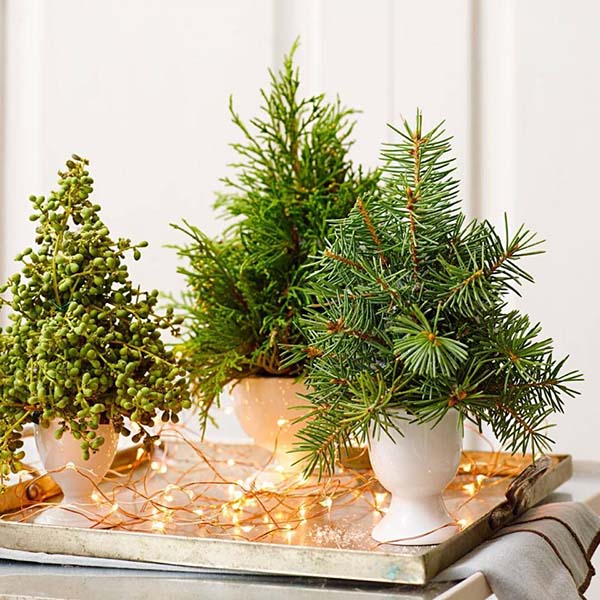 From eye-catching garland to DIY wreaths to a table centerpiece, mixing greenery cut from trees and bushes around the home is the easiest and most affordable approach to creating nature-inspired Christmas decor.
In this case, cut greens, from a fir, pine, or cedar and display them in a bunch of all-white ceramic egg cups.
2. Bring an Organic Feel to Your Table with Fir and Pinecones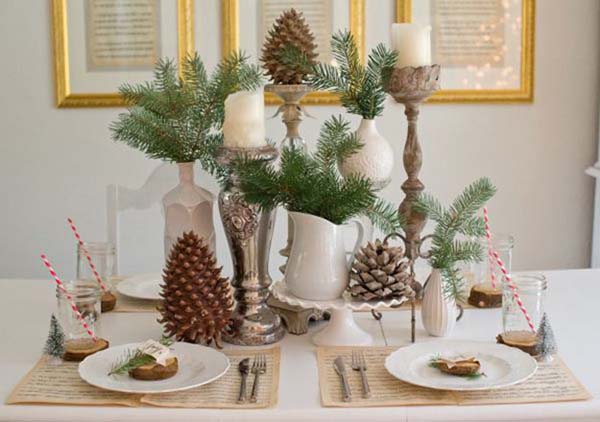 Create an elegant nature Christmas decor centerpiece by arranging a few greens, pinecones in various sizes, and some unsophisticated metal candle holders.
This kind of festive setting will give your Christmas dinner table an additional texture and make it even more stunning!  😉
3. Create an Enchanting Atmosphere with Birch Candleholders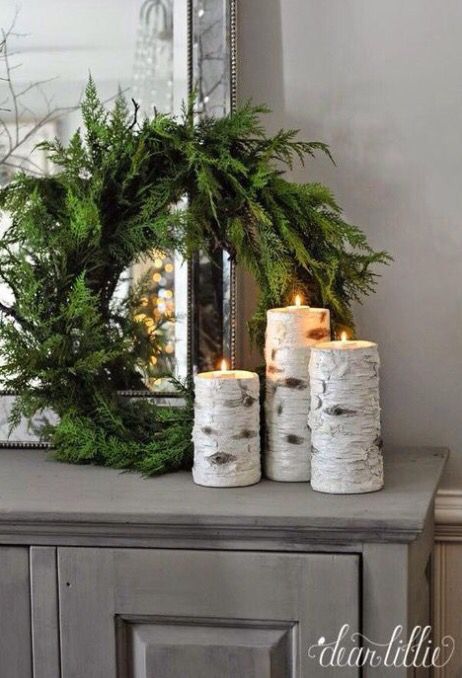 Photo:Credit
When you are planning your natural made Christmas decorations, don't ignore the mantel!
I think these handmade birch block unscented candles would be the best addition for the mantel. Don't forget – the little things matter  😉
4. Give Your Home an Enviable Makeover with Onions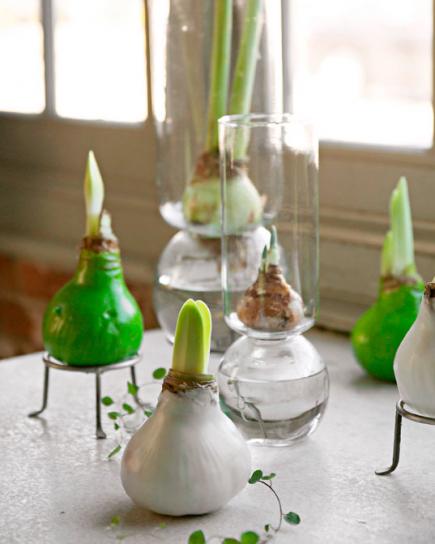 Photo: Credit
This is my kid most favorite nature Christmas decoration. We had lots of fun the last year when we painted the onions.
If you want to re-create this DIY project, you can use also garlic. This kind of setting brings a funny cheerful vibe to the room.
5. Create a Unique Leather and Greenery Vignette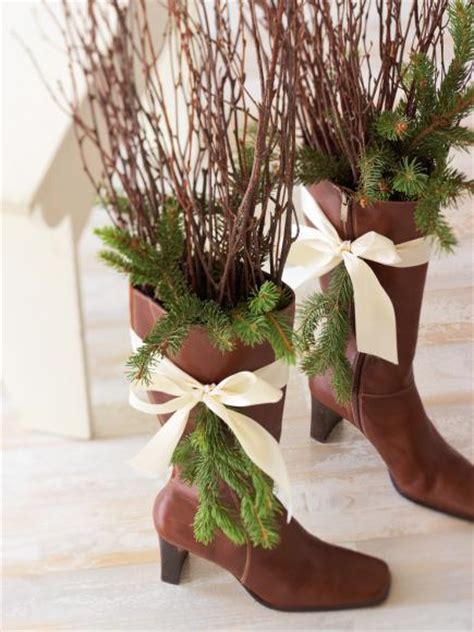 Photo: Credit
I just love the contrast that filling those old leather boots with greenery creates.
You can make this nature Christmas decor look bright and sophisticated or vintage and rustic depending on the boots and the greens you plan to use.
6. Add Christmas Cards to Your Fir Garland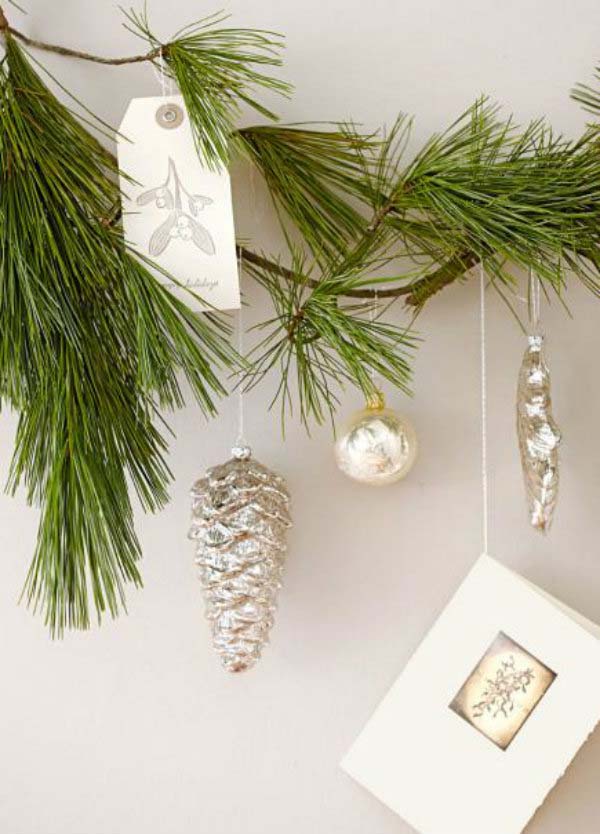 Photo:Credit
I am a big fan of the simple natural Christmas decorations that are very personalized.
This one, for instance, is very basic and stylish at the same time. Displaying handmade Christmas cards with wishes and positive quotes would make everyone smile.
Besides, I like the strong contrast between the shimmery Xmas ornaments and the organic look of the greenery.
7. Embrace Minimalism with Your Mini Christmas Tree Decor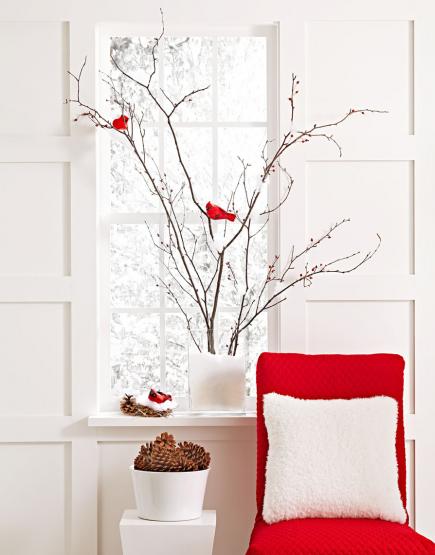 Photo: Credit
This year, instead of decorating a large Christmas tree, why don't you take a bunch of branches with no leaves, display them in a tall glass vase next to the window?
Just a hint – you can also buy a set of feather bird clip decorations that look more than real!  😉
Believe me, this would turn into one of your most loved nature-inspired Christmas tree decorations!
8. Enchant Your Lanterns with Pinecones and Fir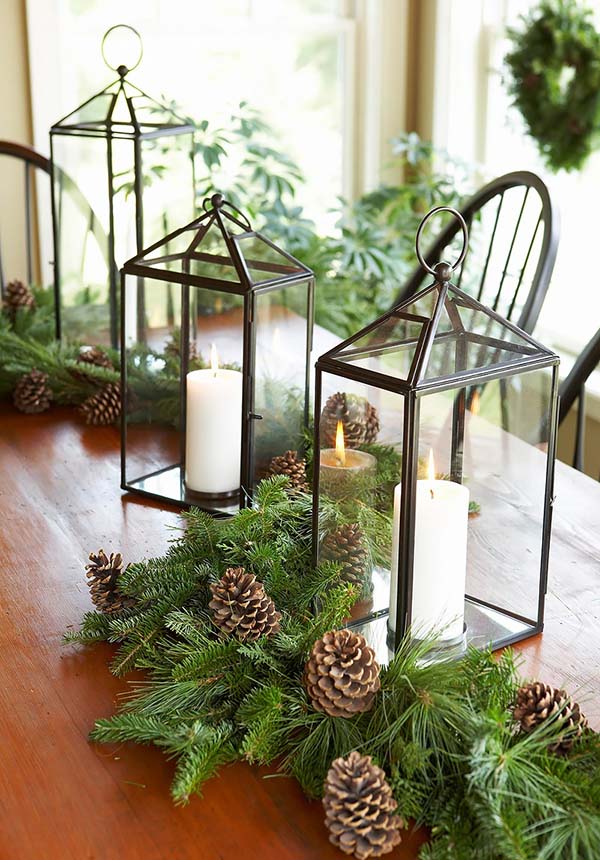 Photo:Credit
Lanterns are always making stunning centerpieces. Just add some simple block candles and a few greens and pinecones from the near forest.
Oh, don't have fresh greens available? Then use faux pine branches, nobody will notice!  😉
9. Place Your Small Christmas Trees in Colorful Pots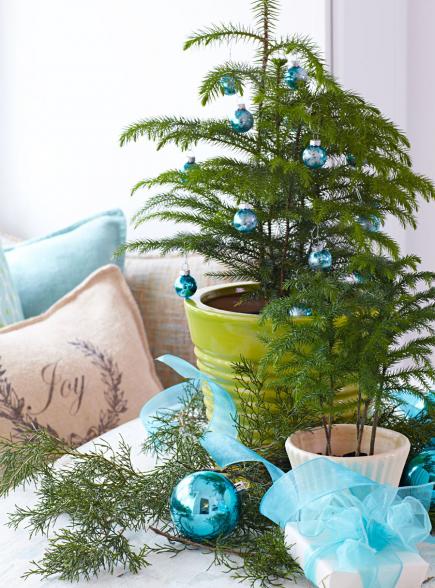 I decided to include this idea into my list of natural Christmas decorations because I am not a big fan of the tree cutting.
It is easier to buy a small tree in a pot and decorate it with smaller festive ornaments.
After Christmas, you can either plant the tree out in the garden or grow it on in a bigger container inside, moving it into a bigger pot annually until you reach the maximum size that can be moved cozily.
10. Add a Touch of Elegance to Candles with Red Berries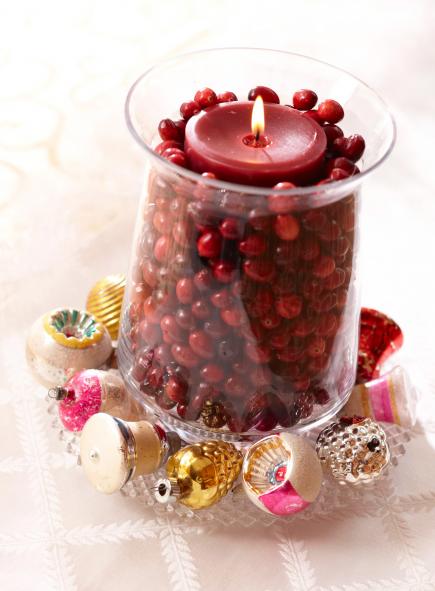 If you suffer from constant lack of free time and prefer the simple natural Christmas decorations, this easy DIY candleholder idea might be what you are looking for.
All you need is a simple tall glass, a regular block candle in red, and a bag of red berries to fill up the empty space. Then display and arrange with some cheerful Christmas ornaments. And voila!  😉
11. Adorn Your Staircase with Nature-Inspired Decorations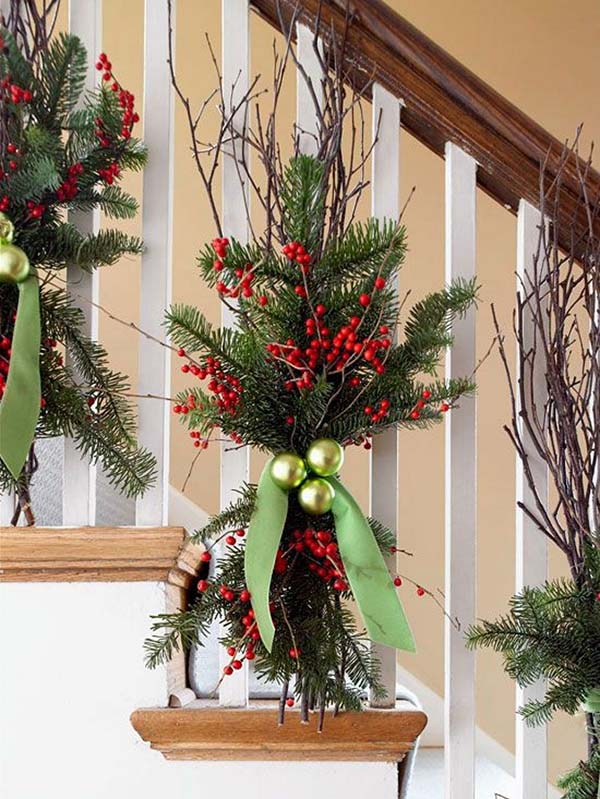 Photo:Credit
All you need to create this eye-catching nature-inspired Christmas decor for the staircase is some greens, dead branchlets, faux branches with red berries, and a ribbon.
Tip: In order to make the decor clean and simple, make the bouquets identical. 
12. Bring Farmhouse Charm with a Rustic Christmas Cart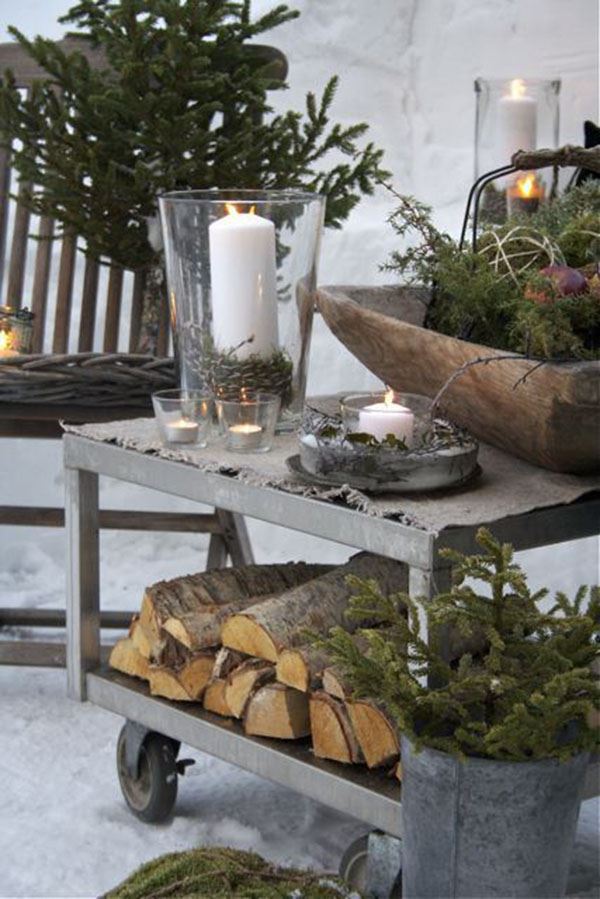 Photo:Credit
Here is a great idea for an outdoor nature-inspired farmhouse Christmas decoration you will be able to do for less than an hour.
I just love everything about it – the organic elegance; the combo of materials such as metal, wood, and glass.  🙂
It reminds me of the tiny chalet in the Swiss Alps I went skiing once when I was a child.
13. Breath Life to Your Dining Table with a Garden Basket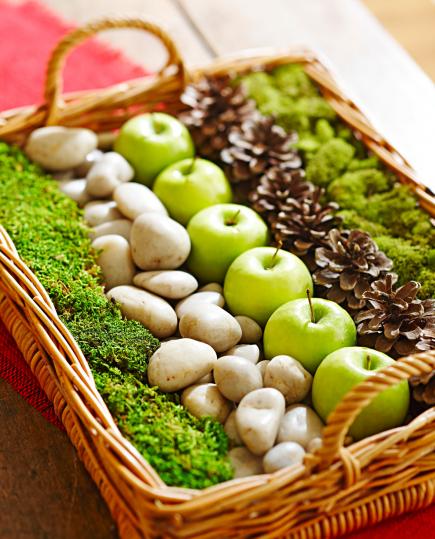 Creating an appealing nature-inspired Christmas decor doesn't necessarily mean sending lots of time and money. And this simple festive colorful arrangement is proof. Be creative with the Christmas platters.
You can customize it by your own choice (just a hint – the red apples would fit well as 'red' is one of the classic Christmas colors).  😉
14. Light Up Your Christmas with a Birch Candle Table Runner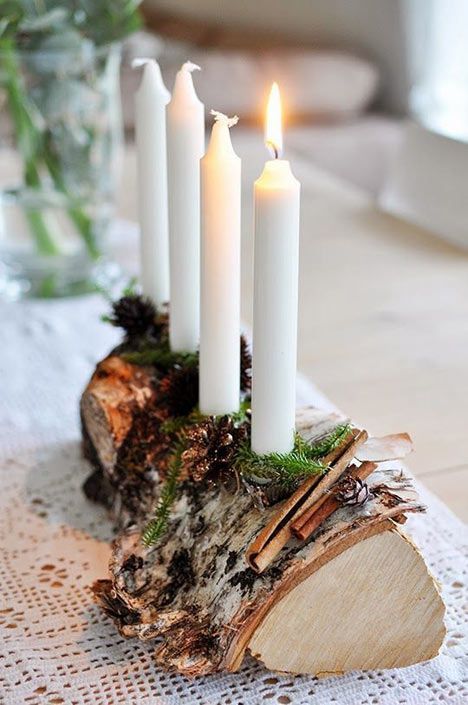 Photo:Credit
In case you are searching for some natural Christmas table decorations, you would notice that most of them have lots of candles. They bring additional warmth and coziness to the whole decor.
I hope you will like this DIY festive tablescape made of birch and a bunch of white dinner candles which you can also use for winter decoration long after the holidays are over.
15. Unwrap Rustic Charm with Wood Christmas Candleholders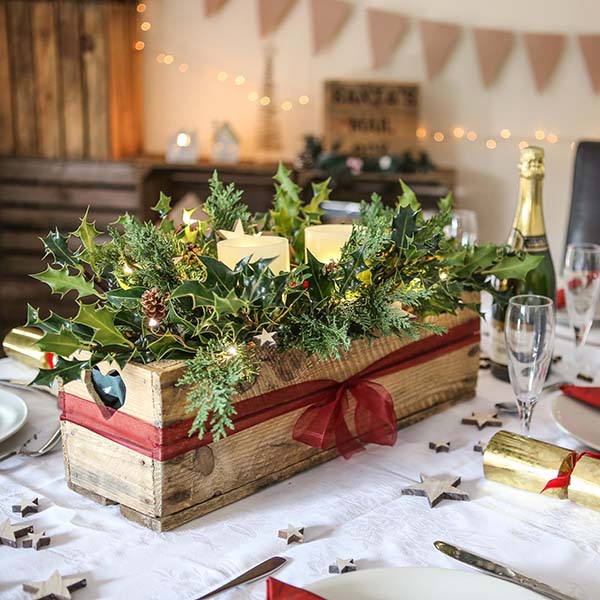 Photo:Credit
This wooden box made of reclaimed wood and used as a Christmas candleholder gives this festive dinner table a strong rustic charm.
Take a look at the red ribbon and the arrangement of the greenery…how you would not like the natural handmade Christmas decorations made with so much attention to the detail?  😀
16. Create a Festive Atmosphere with an Exotic Christmas Tree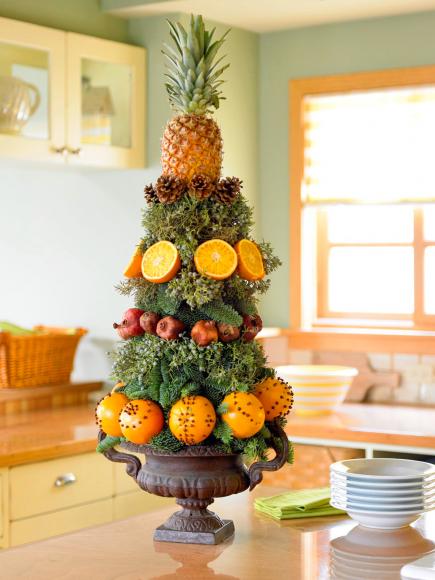 Photo:Credit
Speaking of exceptional nature Christmas decoration, this small handmade festive tree will be the real show-stopper at your upcoming dinner party!
I love the colors and the texture this decoration adds to the room. It's a great way to serve your guests a healthy Christmas dessert.
17. Use Pinecones on Christmas Ornaments for a Natural Feel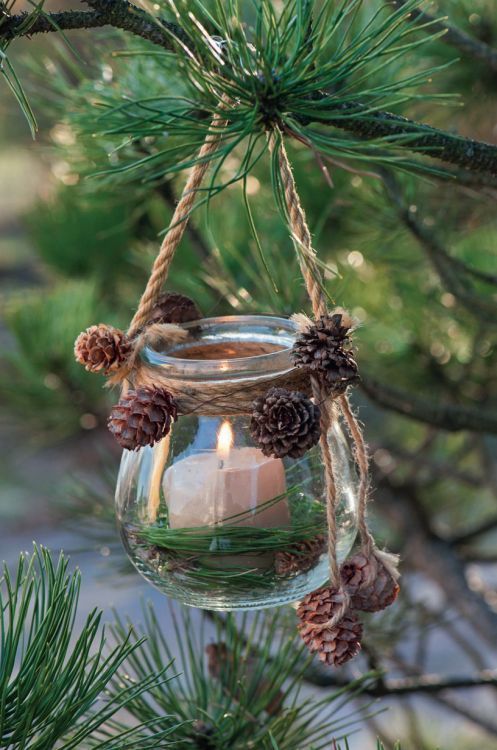 Photo:Credit
If you want to keep your Christmas tree decor 100% organic, here is a lovely idea of how to make some cute DIY festive glass ornaments.
You will agree with me that decorating the tree with adornments that reflect the outdoors is a romantic way to create a winter wonderland.
18. Repurpose an Old Chair into a Vintage Christmas Centerpiece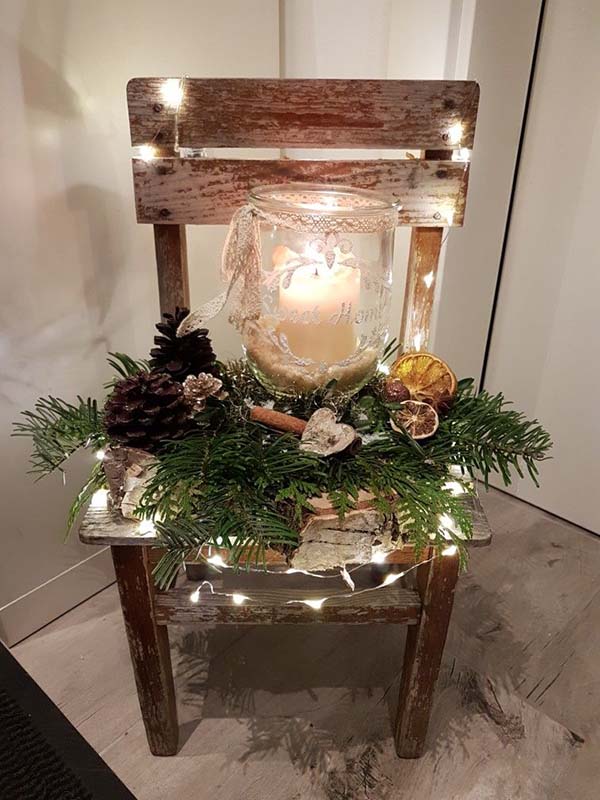 Are you fed up of keeping an old broken chair in the garage?
I think it's time to upcycle it and transform it into a stunning rustic Christmas centerpiece. All you need is some greenery from the near forest, pinecones, festive lights, and a Mason jar converted in a beautiful simple candleholder.
The result will leave you speechless, I promise!  😉
Along with the many festive lights and ornaments, one element that is simple, organic, and apropos to blend into holiday decorating is nature.  What is more amazing than bringing the outdoors in and decorating with natural elements to stimulate a raw charm?
Hope you truly enjoyed my collection of natural made Christmas decorations!  😉