When the Christmas season comes around, we display the outdoor festive decoration, usually without solid planning.
However, you can create something magical and eye-catching with a little holiday encouragement. From messy lighting to enormous red berries wreath, it is easy to make a statement with your outdoor Christmas decorations.  😉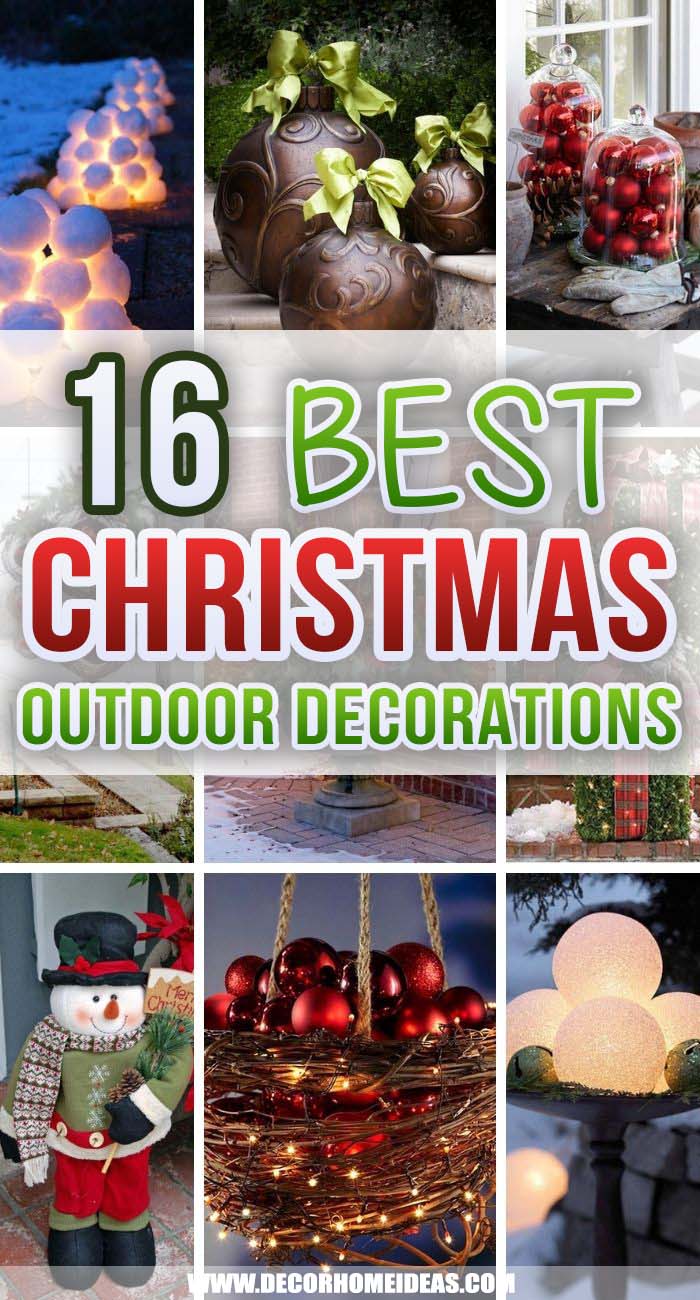 To help you get started, here are 16 wonderful Christmas outdoor decorations ideas. Enjoy! 
1. Brighten Outdoor with a Rustic Christmas Ornament Basket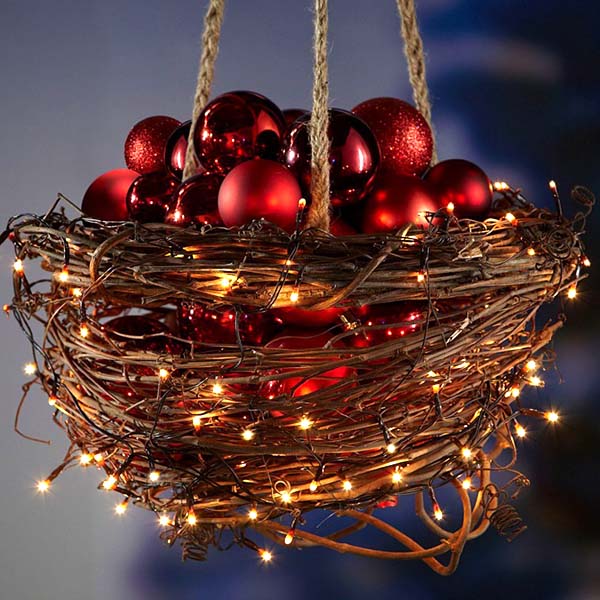 Photo: Credit
Actually, this hanging basket is made of reshaped and secured with wire grapevine wreaths.
Wrapped with battery-operated LED lights and filled with some shining Christmas red ornaments, it is simple and easy to make yet truly captivating!
Definitely a statement piece of outdoor décor, which can add visual interest and personality to any outdoor space!
2. Upgrade Your Birdbath with a Big Red Ball Ornament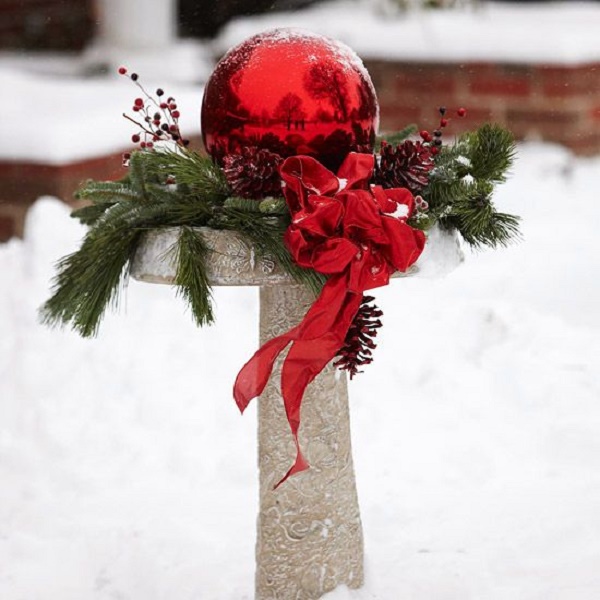 Have a birdbath? Adorn it to add to the Christmas look of your outdoors.
This one embellished in the traditional Christmas colors stands out against the snowy beauty of the winter garden!
A shiny red ornament and a ribbon complemented by berries, spay-pained pinecones, and evergreens create an eye-grabbing display that can dress up any outdoor space for the holiday season!
3. Transform Your Potting Table with Red Ball Ornaments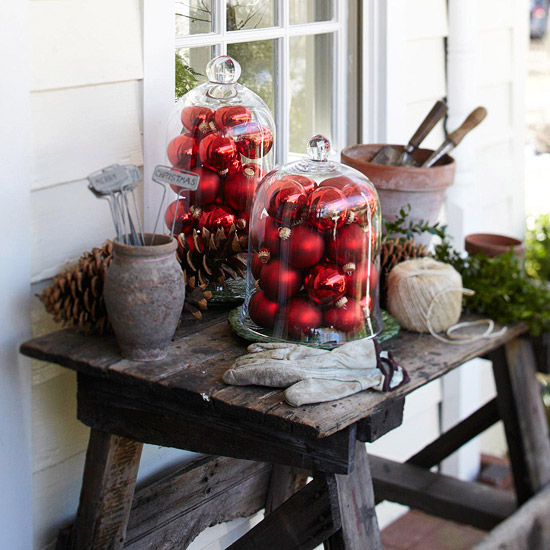 Photo: Credit
Use some leftover décor to dress up your garden potting table.
Just unleash your creativity! Look at this simple, easy-to-make, and budget-friendly cloche display!
Definitely a fascinating arrangement, which adds color, freshness, interest, personality, and touches of vintage charm! Irresistibly captivating, don't you think?
4. Light Up Outdoors with Chic Cranberry Candleholders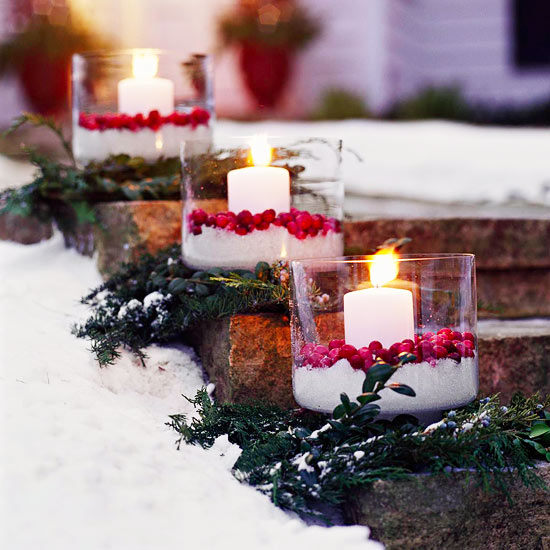 Photo: Credit
If you are on a tight budget, you might feel forced to find some cheap DIY outdoor Christmas decorations.
You can just layer chunky glass vases with faux snow and fresh cranberries (as shown on the picture above). Then embed white pillar candles. Align on your front door area. And voila!  🙂
5. Embellish Your Porch with a Snowy-White Candy Cane Holder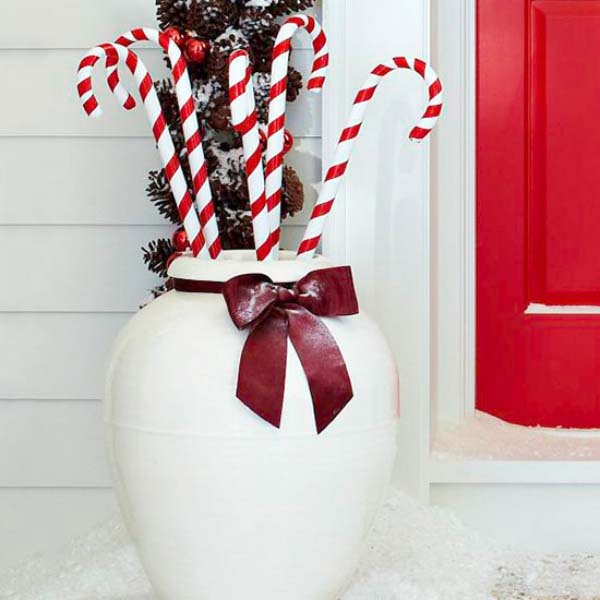 Photo: Credit
There are lots of candy cane outdoor Christmas decorations on the Internet, however, keep in mind you should use the store-bought plastic candy canes when you'll display them outdoor.  😉
All you need to do to re-create this cute DIY project is to fill a snowy-white planter with the decorative candy canes and display it in some place where all the neighbors can see it.   🙄
6. Bring Traditional Christmas Charm with a Potted Planter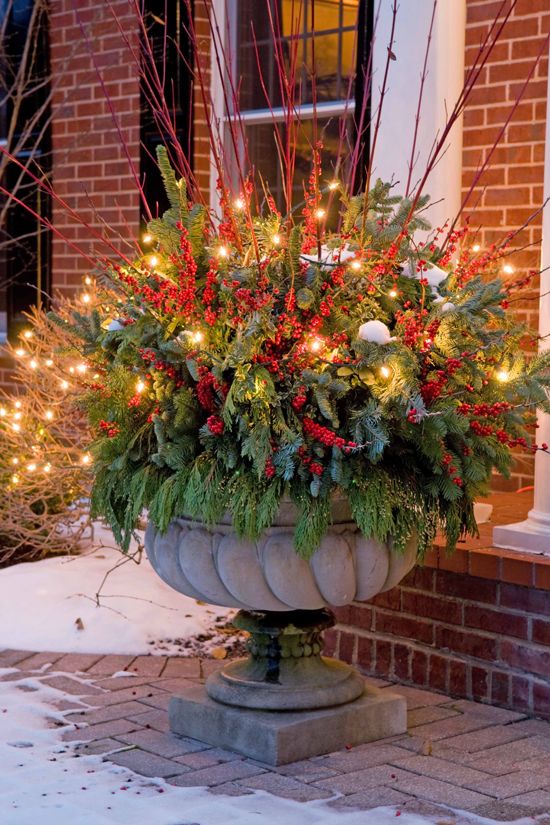 Photo: Credit
For those of you who prefer the large outdoor Christmas decorations, building a custom pot might me what you actually need. It looks very cheery and festive.
Here some of the things you can use: evergreens, pheasant feathers, gourds, red berries, and holiday lights.
7. Bring an Industrial Vibe with Metal Christmas Ornaments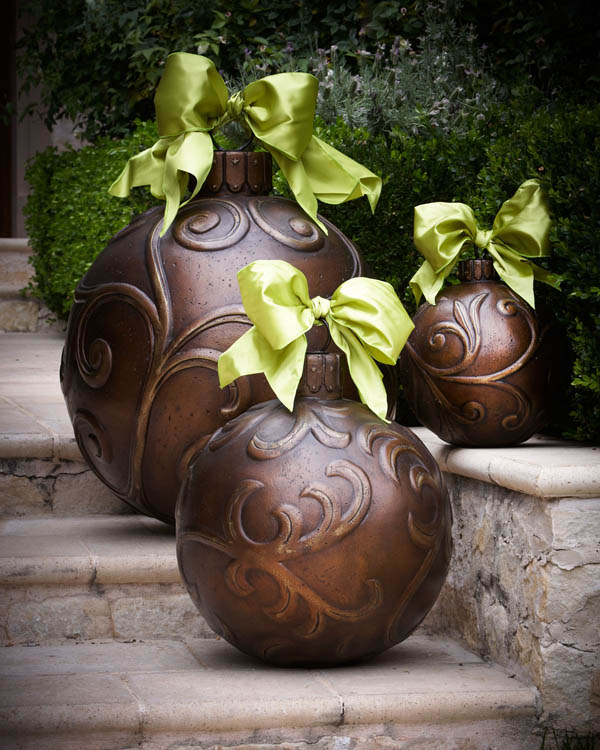 Photo: Credit
When you're planning outdoor Christmas decorations, bare in mind that festive ornaments are not just for the tree!  😉
Display a bunch of these oversized metal round ornaments for a rustic unpretentious feel. You will avoid breakage by using metal (or plastic) Christmas balls.
8. Welcome Guests with Nature-Inspired Christmas Gifts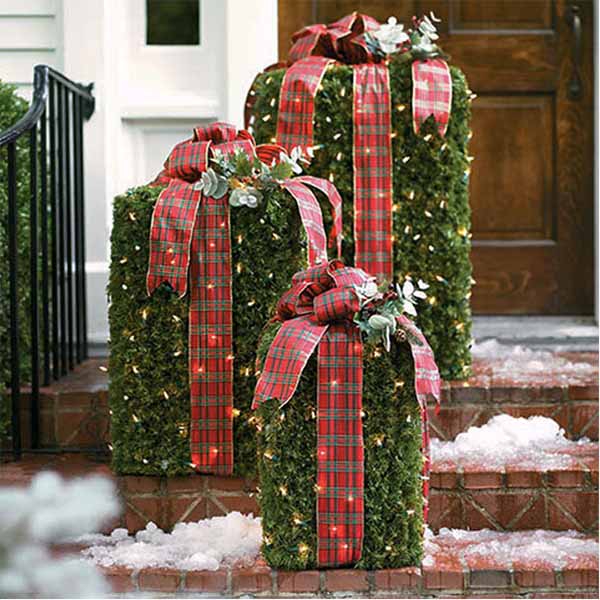 Photo: Credit
Christmas presents? Keeping them under the tree? Overrated.
If you want to brag with unique outdoor Christmas decorations, these decorative presents made of faux evergreens and traditional red ribbon, are an ideal addition to your porch.  😉
9. Create an Enchanting Display with Luminous Holiday Globes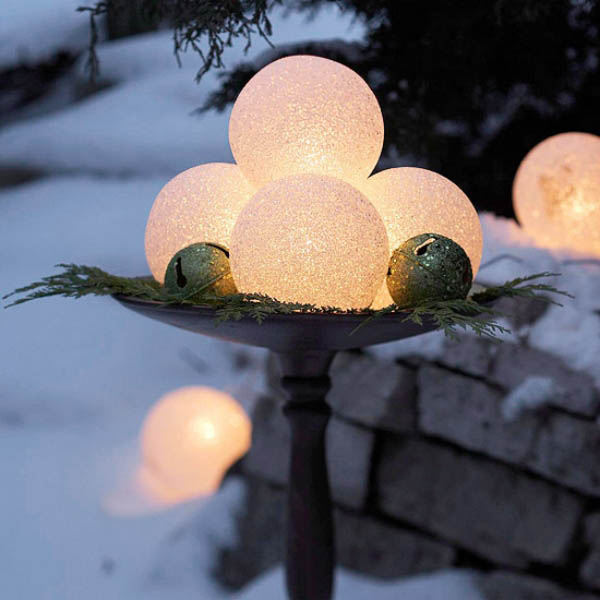 Photo: Credit
These glowing frosted globes in various sizes look insanely chic. Something else you need to include to your list of outdoor Christmas decorations ideas.  😉
Spread the orbs around your front yard to create a divine snowy landscape, or group them in a rustic style metallic container for maximum impact.
10. Embrace Scandinavian Style with Rustic Lanterns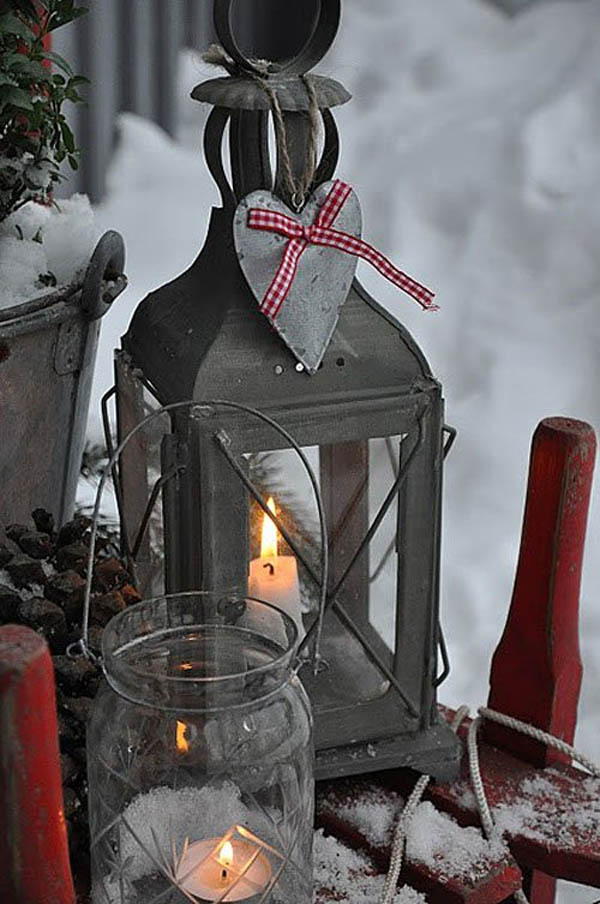 Photo: Credit
Nowadays, the Nordic-themed outdoor Christmas decorations are very appealing and beloved.
This rustic metallic lantern, for instance, looks very provincial, unpretentious and homey in the meantime. Also, take a look at the other details that complete this stylish Christmas-y setiing.
11. Bring Rustic Charm with Grapevine Balls and String Lights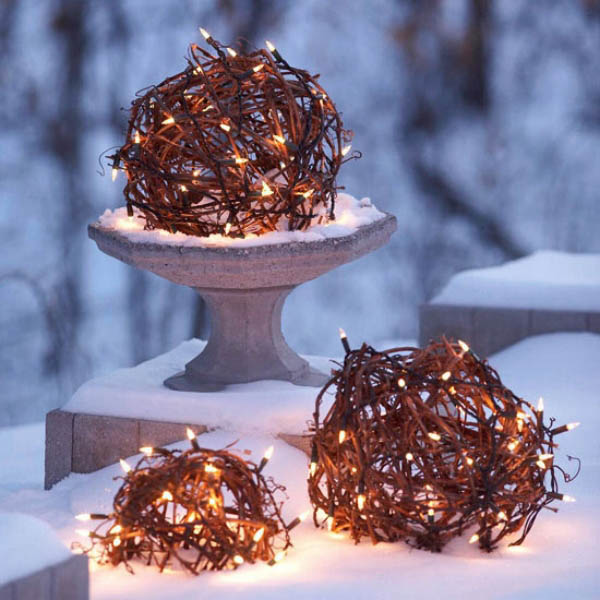 Photo: Credit
Looking for some lofty ideas for simple outdoor Christmas decorations?
These spheres of grapevines wrapped in fairy lights displayed in birdbaths or on stairsteps bring a delicate glow on your outdoor landscape.
12. Make a Statement with Colorful Lighted Pyramidal Trees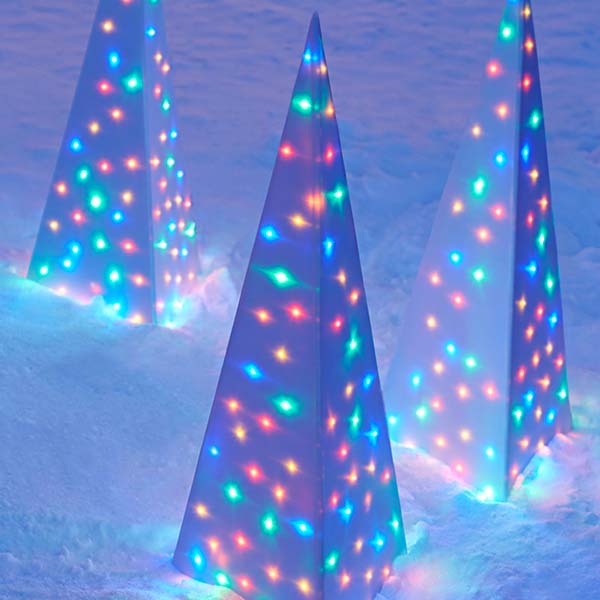 Photo: Credit
Dressing your porch up with a wide variety of lights is one of the timeless outdoor Christmas yard decorations.
These pyramidal festive trees will surely turn into the focal point of your outdoor space. To make it more sparkling and stunning, display more of them situated next to each other.
13. Illuminate Your Yard with a Stunning Decorated Tree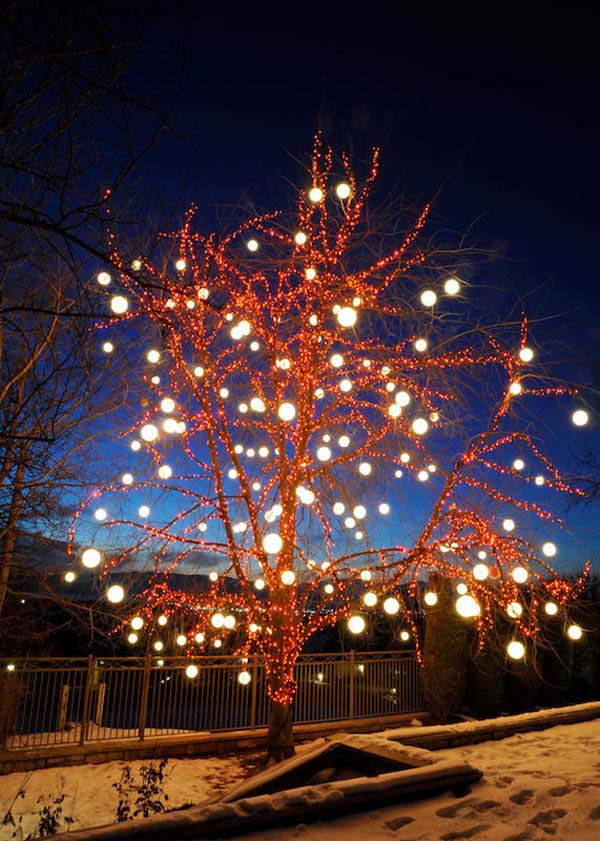 Photo: Credit
In the process of planning your outdoor Christmas decorations, make sure to illuminate the exterior of your home to keep it as spectacular as the inside is.
Here is a thought – to make something personalized and showy, instead of buying a Christmas tree, you can display the lights on the cherry tree in your front yard.
14. Enchant Your Pathway with Faux Snow Lanterns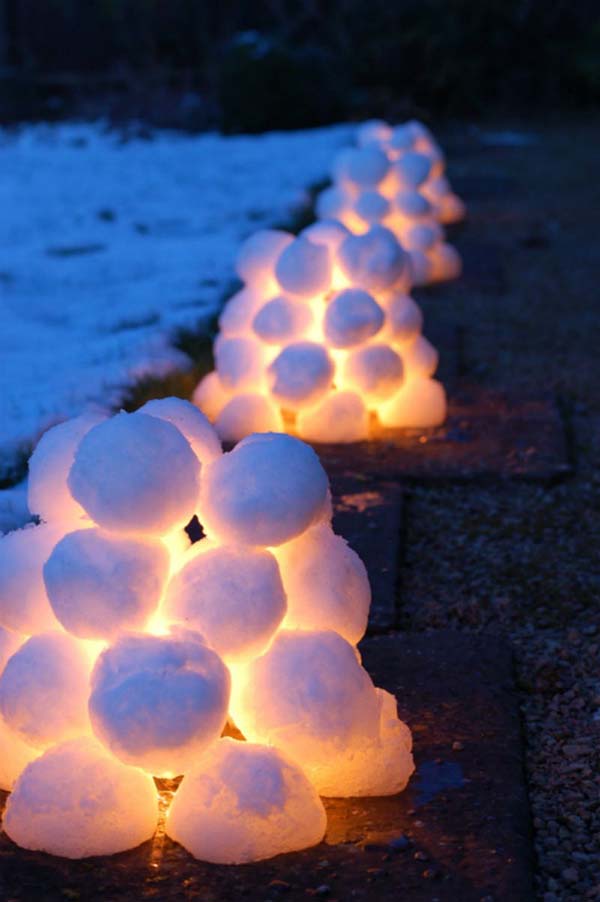 Photo: Credit
The battery-operated outdoor Christmas decorations, such as the one on the picture above, are a good option if you have little kids or a dog running around the yard.
All you need to re-create this simple, yet sophisticated, project is some faux snow (a large pack of cotton is also an alternative) and some fairy lights.
15. Greet Guests with a Smiling Porch-Sitter for Christmas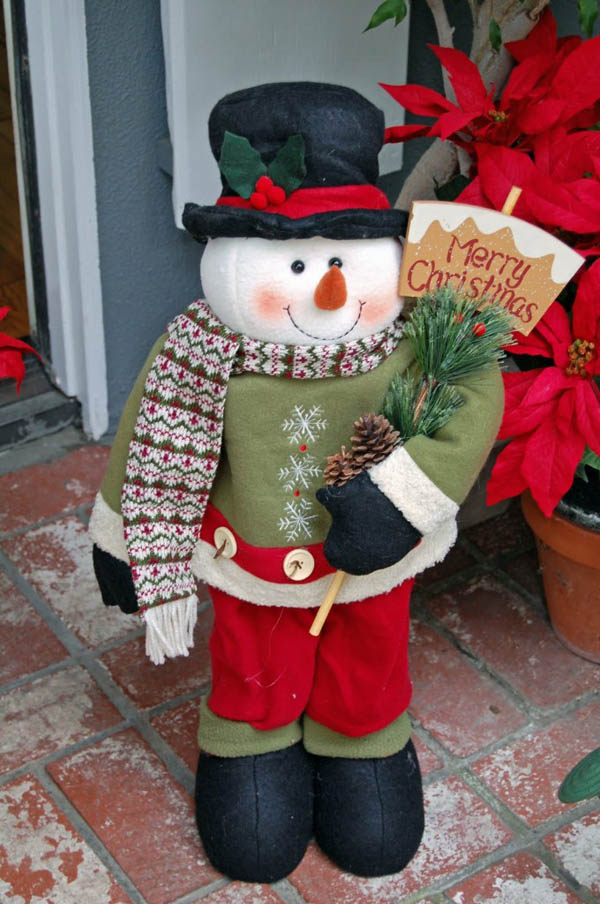 Photo: Credit
Every porch needs a good friend for Christmas. Santa Claus, a stuffed reindeer, or just a smiling snowman (such as this one on the picture), can add some whimsy to your Christmas outdoor decorations.
Hint: You can personalize this idea by including a written welcoming message on a chalkboard.
16. Craft Elegant Grapevine Spheres with Red Ball Accents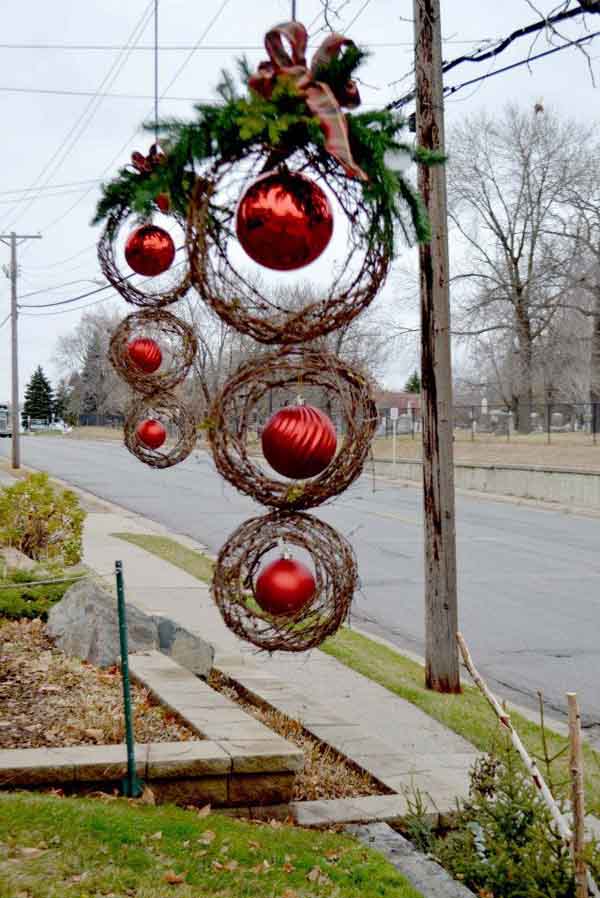 Photo: Credit
Finally, for the fans of homemade outdoor Christmas decorations, I've got an interesting DIY project to share.
These eye-catching shimmering red Christmas balls wrapped with grapevines cast an ethereal vividness on your outdoor space. Add some evergreens and ribbons for a final touch.
This year, oversized rustic ornaments lighted displays and the good old Santa (sitting on your porch) should be the crown jewels of your outdoor Christmas decorations that will bring holiday spirit to the entire neighborhood. Hope you like my ideas!  😉