If you are lucky enough to have a staircase in your home, then you will want to make sure that you take time to decorate it for Christmas.
There are a lot of great staircase Christmas decorating ideas that will ensure that your staircase looks as festive as the rest of your home.
From candles to greenery and everything in between, it's important to make sure that you include any staircases in your home in your decorating plans.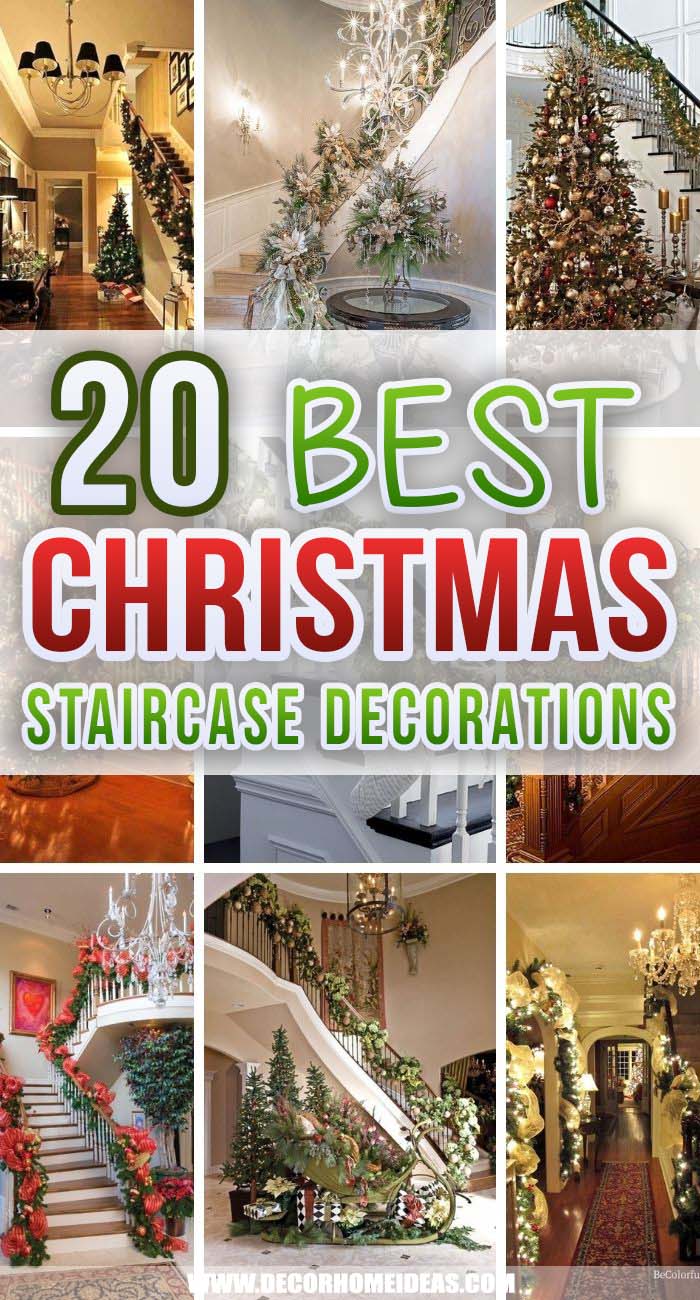 While this does mean that you will need to spend a little more time and effort decorating your home, the payoff in the end will be worth it.
No matter what Christmas decorating ideas you want to implement in your home, you need to make sure that you consider your staircase and the beauty and fun that it can add to your space.
If you neglect your staircase, then you are missing out on a prime location that you can use to add beauty and light to your home. Any of these great staircase decorations are sure to make you really feel the holiday spirit everywhere in your home!
1. Create a Magical Christmas with Lights and Garlands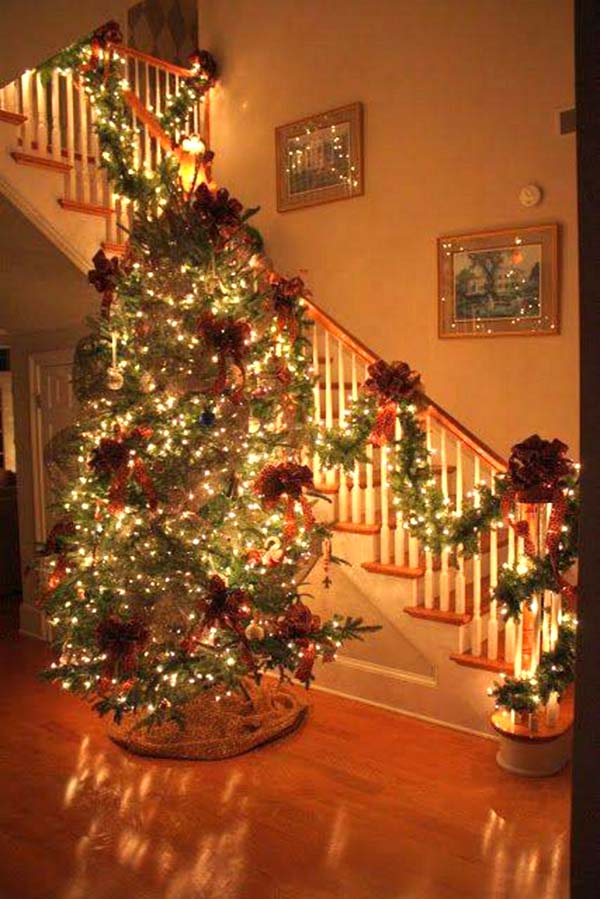 Photo: Credit
Lots of Christmas lights and garland twined together will really brighten up your space. This is a great opting for stair decorations that will really shine and impress.
2. Add Color to Your Staircase Garland with Big Red Bows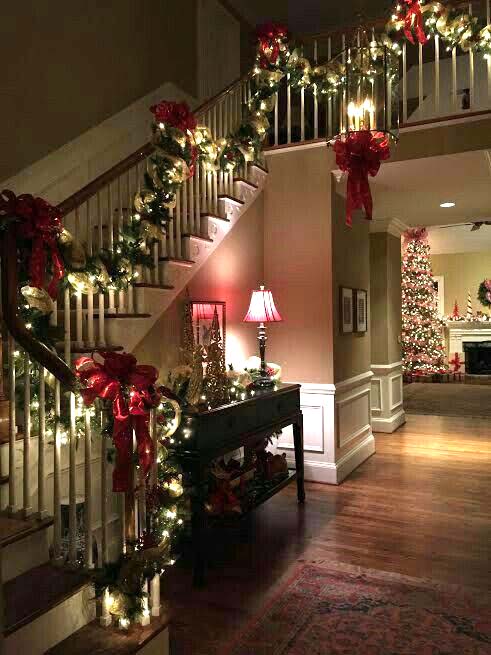 Photo: Credit
Giant red bows are a fun Christmas home decoration idea and look great on your stairs. Pair them with greenery and white lights for a beautiful stairway decoration that you'll love.
3. Create an Enchanting Scene with Gold Staircase Decor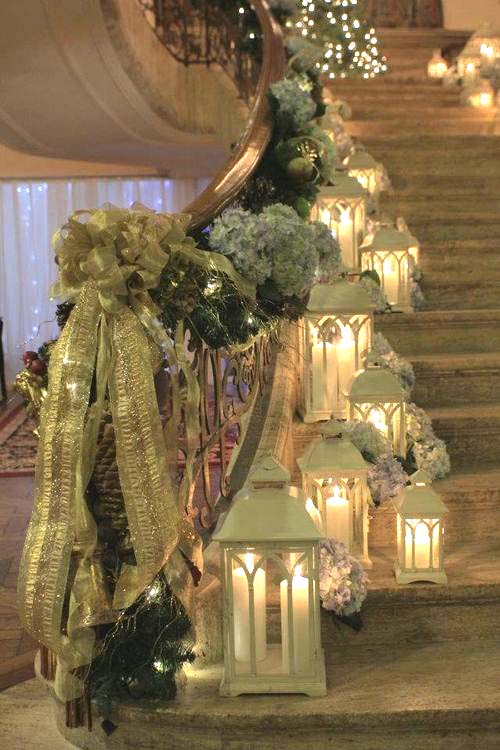 Photo: Credit
One of the most popular Christmas decorating ideas for staircase railing is to use gold. While still festive, gold is a little classier and more grown up than bright reds and greens.
4. Add Color and Light to Christmas Decorations with Mirrors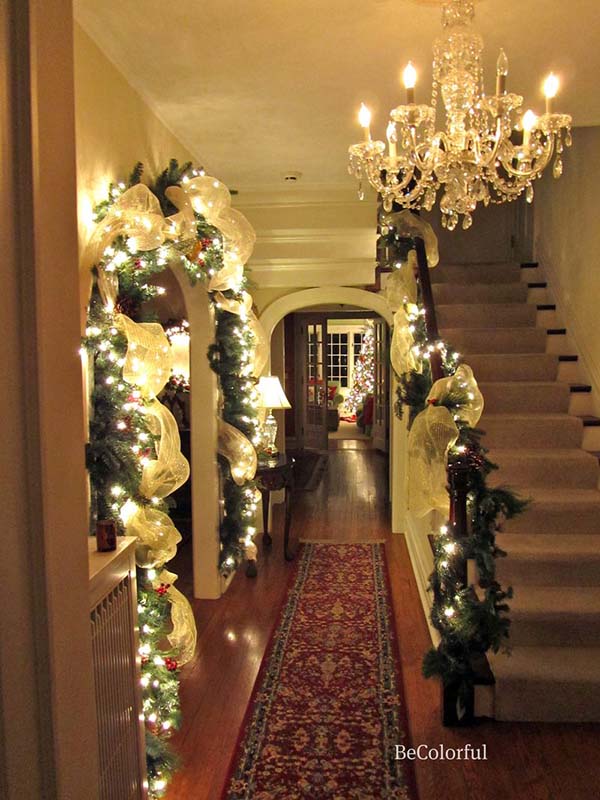 Photo: Credit
Decorating for Christmas is about maximizing the color and light you have. If there is a mirror by your staircase, then make sure to decorate it, as well, for a pop of color and light.
5. Adorn Your Staircase Garland with a Rustic Santa Sleigh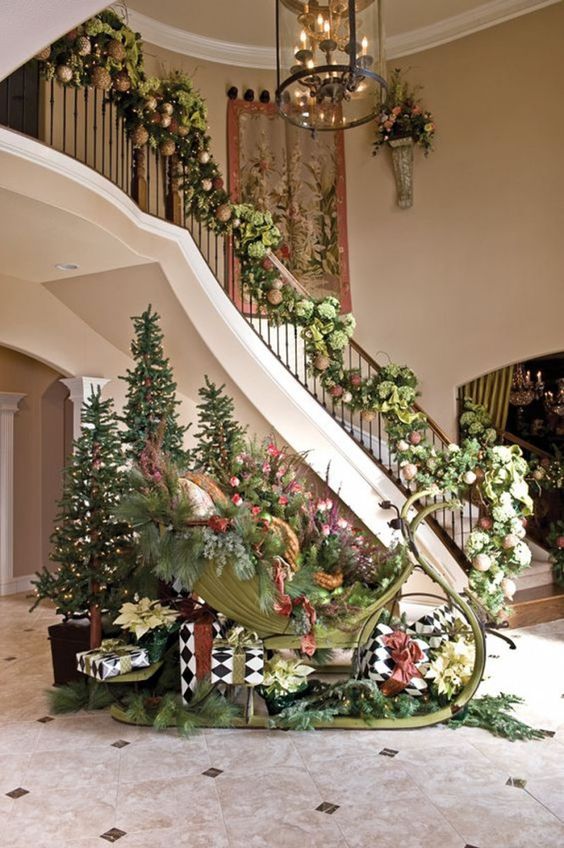 Photo: Credit
Staircase decorating isn't just tied to the stairs and banister. If you have a lot of open room, then popular Christmas staircase decorating ideas include incorporating open space into your decorating.
6. Make Your Staircase Stand Out with Mirrored Decorations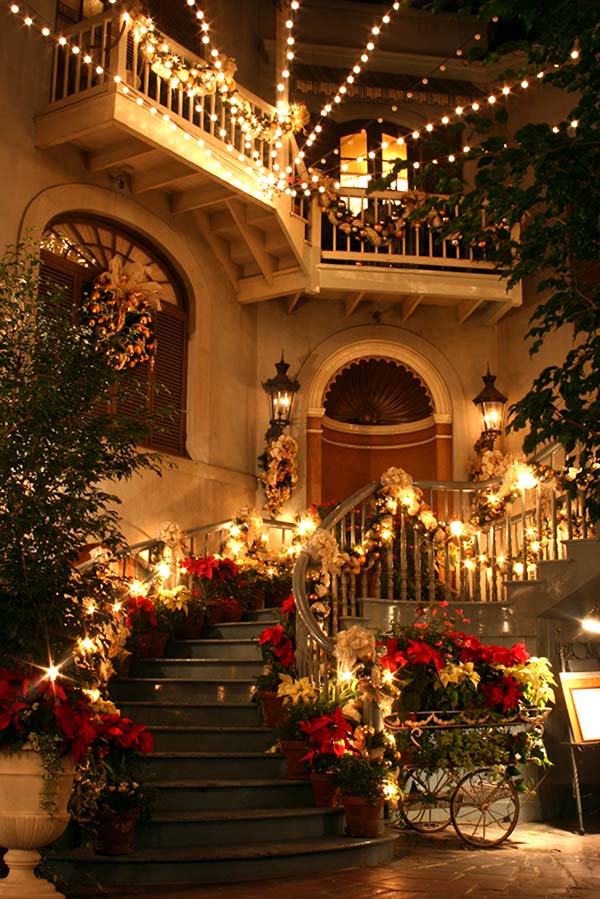 Photo: Credit
Cool Christmas decorating ideas for staircase railing include using the same decorations along both sides of the stairs. This works really well if your stairs are open and large.
7. Keep it Loose with Your Staircase Garland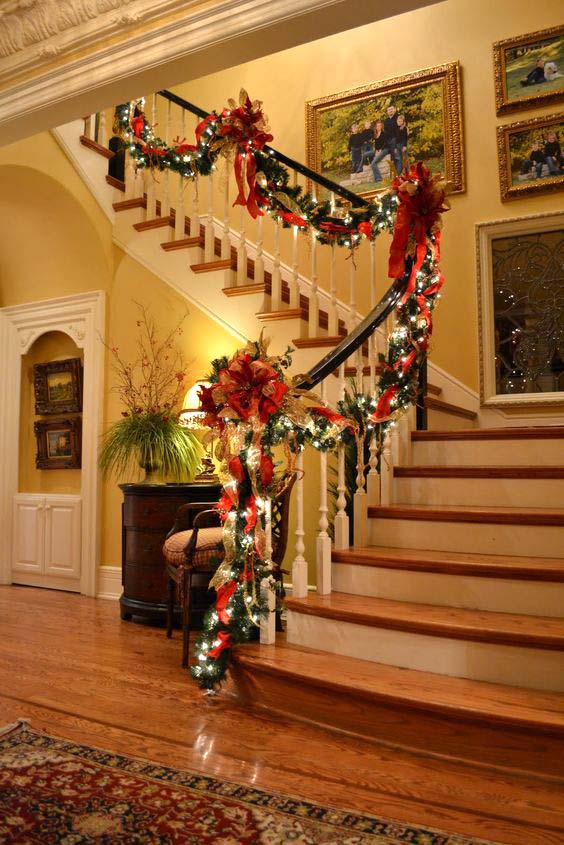 Photo: Credit
Don't tie your garland too tight to your banister. Fun banister ideas include letting the garland hang loose and with some movement, which will make the space feel more natural.
8. Transform Your Staircase into a Wintery Escape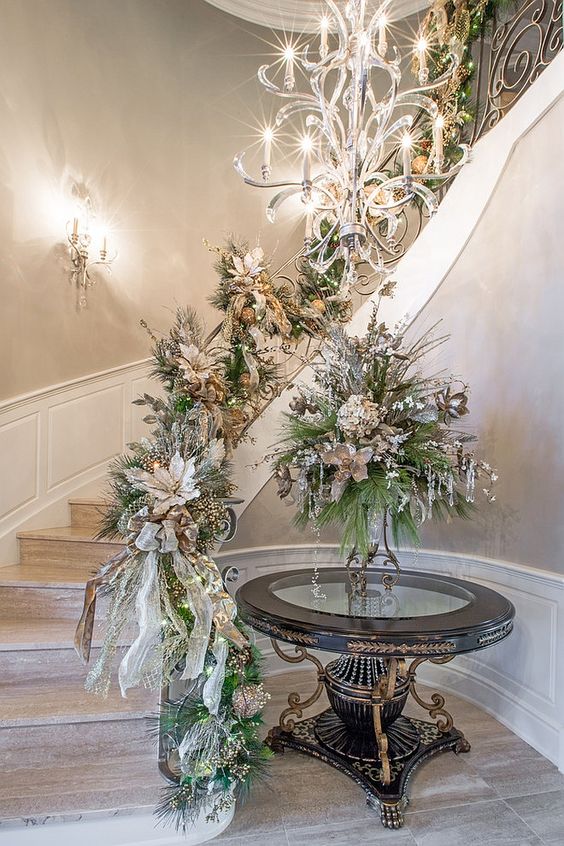 Photo: Credit
Rustic Christmas decorating ideas for staircase include using a majority of white and silver with your greenery.
This will create a cool and calm look on your stairs that looks amazing. You can also go with silver and gold Christmas decoration for maximum appeal.
9. Hang White Stockings to Your Gardenia Staircase Garland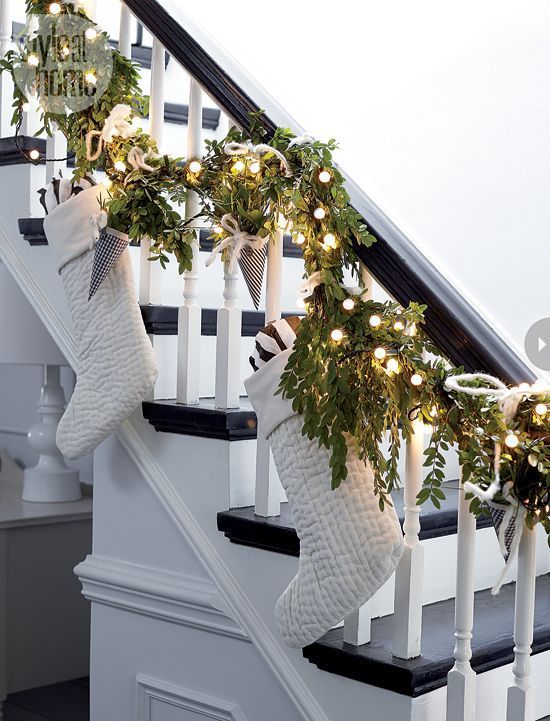 Photo: Credit
Stairs decorating can look effortless when you allow the greenery to hang loose. Nature-inspired Christmas decor is trending and looks gorgeous when combined with pure white Christmas decoration.
Pair it with some white lights and some stockings for a look that you are sure to love.
10. Match Your Staircase Garland with Christmas Tree Decor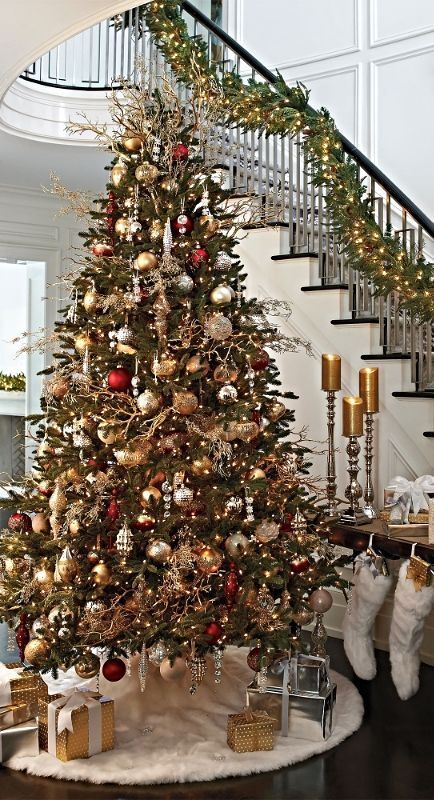 Photo: Credit
X-mas decorating should really focus on your tree. Let your Christmas tree be the focal point and allow the stairs behind it to mimic the ornaments that you used on your tree.
11. Create a Festive Atmosphere with Staircase and Tree Decor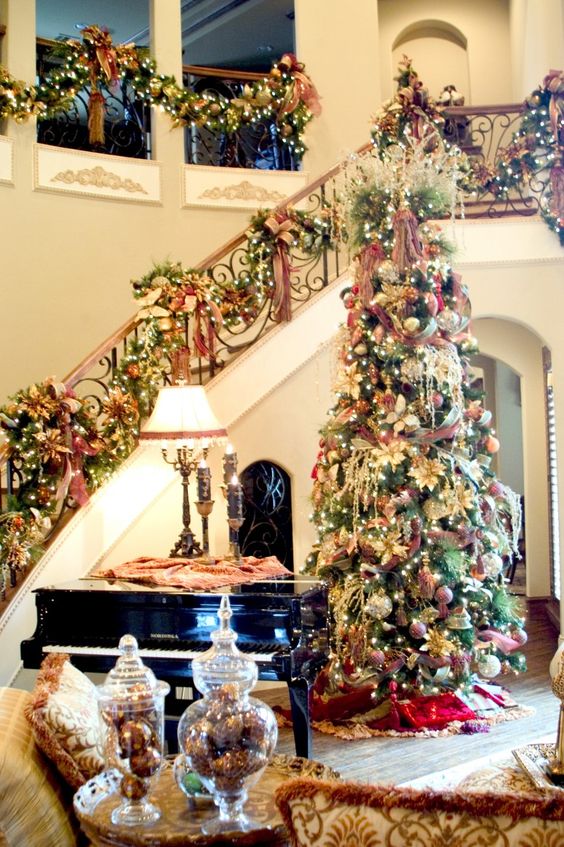 Photo: Credit
When thinking about how to decorate for Christmas, make sure that you have ample ornaments to use throughout the home that will match, as this will create a cohesive look with your stairs.
12. Decorate Your Staircase with Avant-Garde Decorations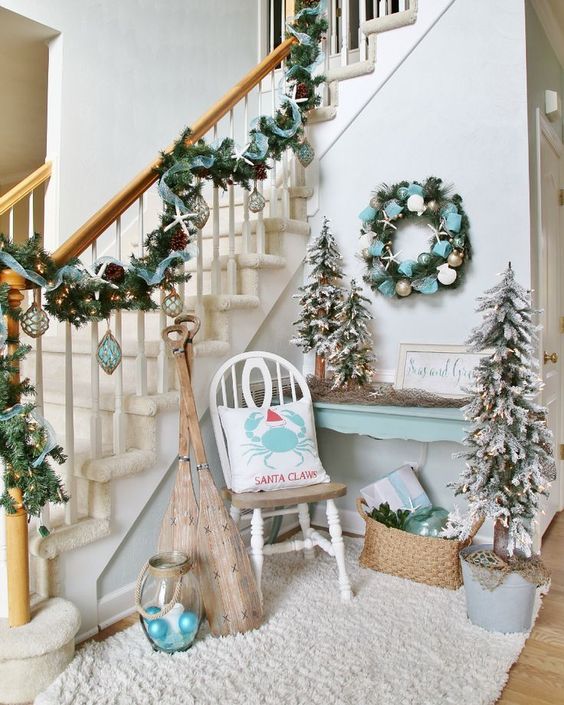 Photo: Credit
Your garland and decorations don't have to be traditional colors. Fun staircase Christmas decorating ideas involve using nontraditional colors like turquoise or purple for an updated and fun look that will be unique to you.
13. Keep it Simple with Christmas Staircase Decorations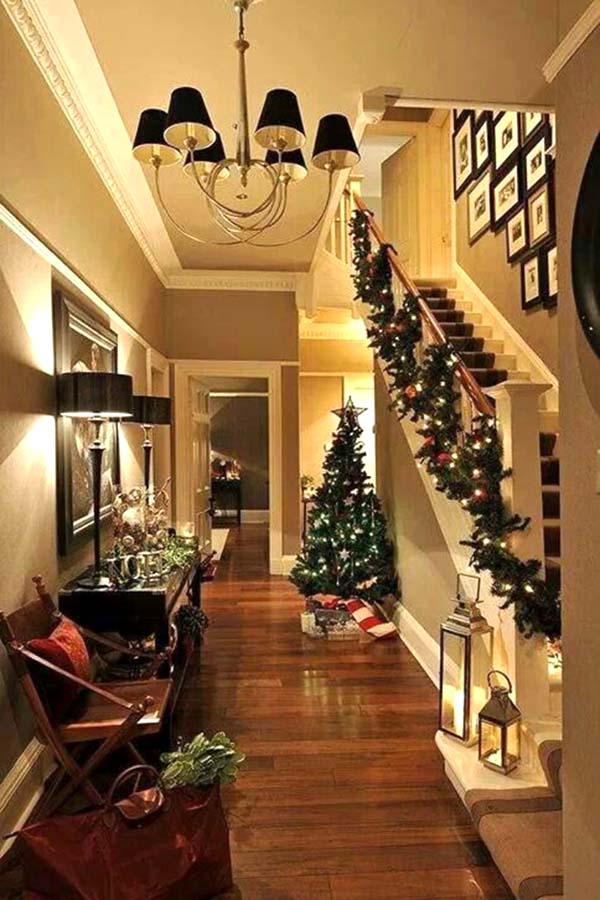 Photo: Credit
While there are many elaborate staircase decorating ideas for Christmas, sometimes keeping it simple is best. This will allow the beauty of your home to show through and help you not be overwhelmed.
14. Accent Your Staircase Decorations with a Piano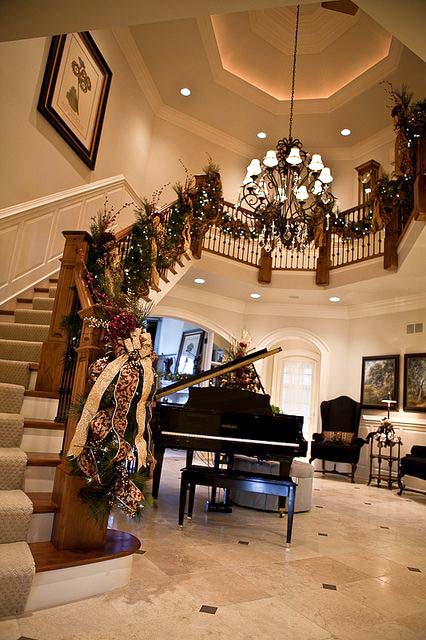 Photo: Credit
A large staircase that is near a piano is a great way to make a statement. Use large garland on the banister so that the decorations don't fade into the background or look out of place.
15. Make a Rustic Staircase Garland with Fir and Fabric Bows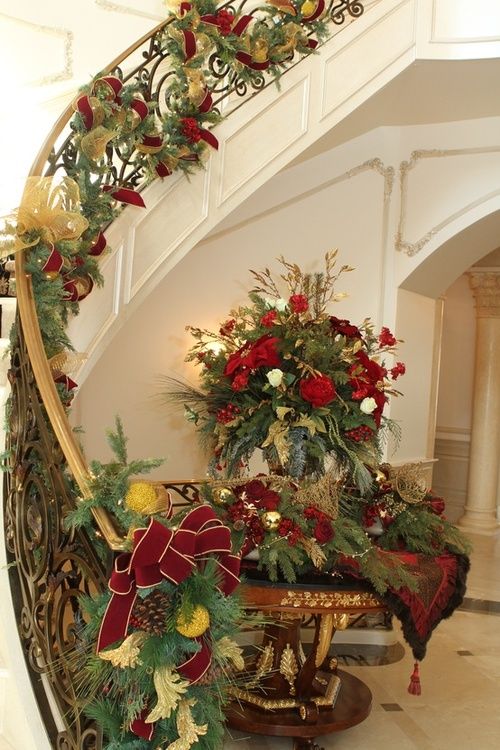 Photo: Credit
Fun Christmas decorating ideas for staircase include using natural items in your decorations. Find some great pinecones and tuck them in among your garland on the staircase for a new look.
16. Use Subdued Colors for a Vintage Vibe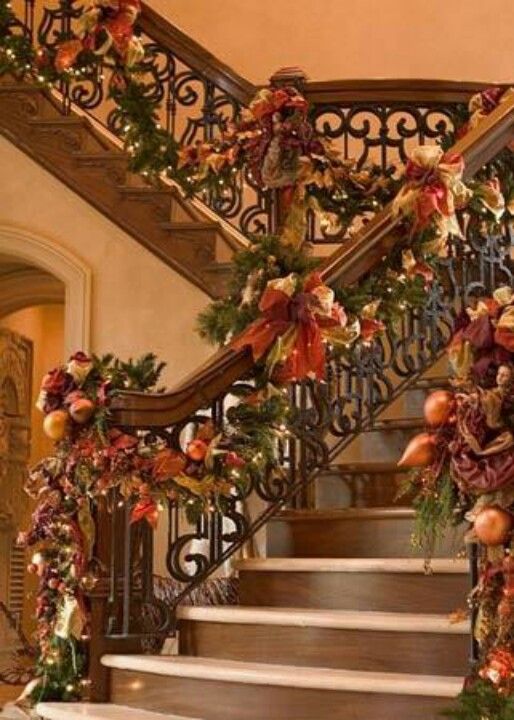 Photo: Credit
Calm or neutral colors will allow your staircase to be decorated without it being a huge focal point. Consider Christmas decorating ideas staircase railing that are neutral for a different, calmer feel in your home.
17. Add a Touch of Nostalgia with Vintage Bells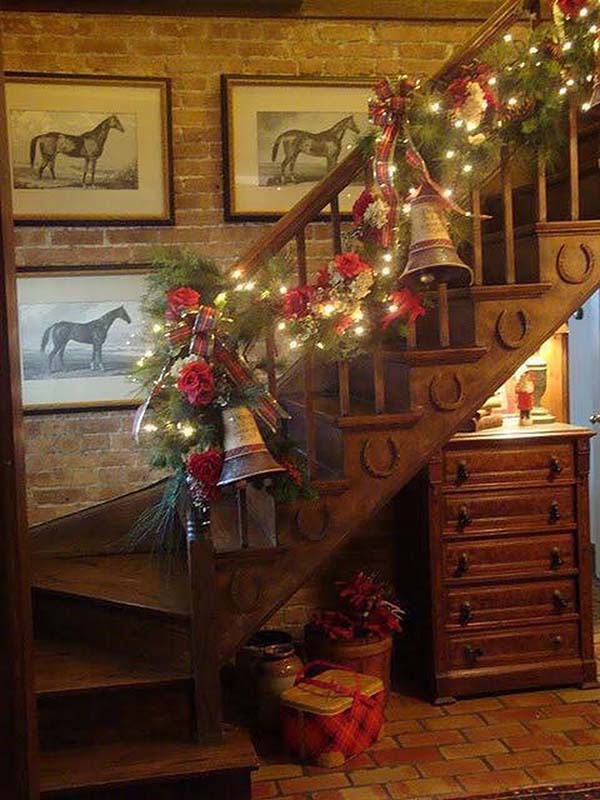 Photo: Credit
Bells are a great way to decorate for Christmas. Use large bells on your staircase to ensure that they really stand out and make a statement when people see your home.
18. Light Up Your Staircase with Enchanting String Lights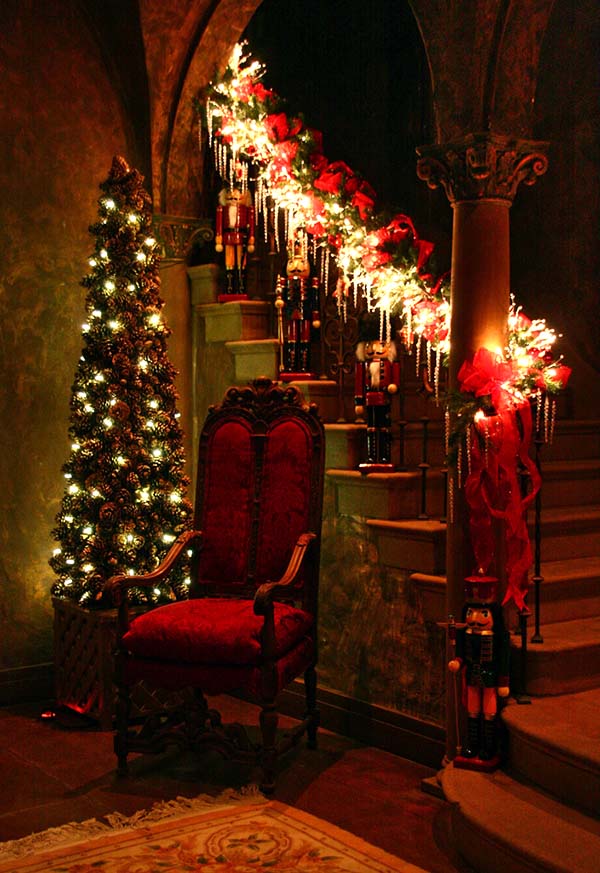 Photo: Credit
Fun DIY Christmas decorating ideas for staircase railing include using lots of lights to brighten up the space. Allow the lights to hang down from the banister for a relaxed look.
19. Stand Out from the Crowd with Red Staircase Decor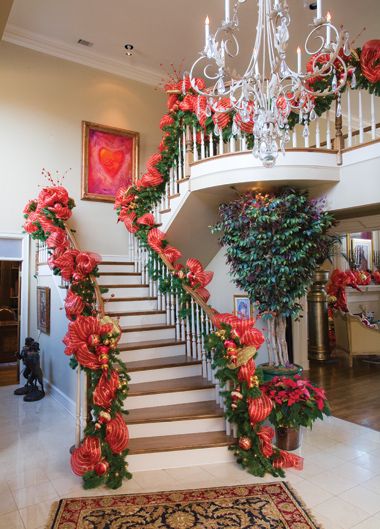 Photo: Credit
Bright red ribbon and bows woven through the garland on your banister will make the green really pop. Allow the decorations to hang all the way to the floor for a complete look.
20. Bring Nature Indoors with Lemon Staircase Garland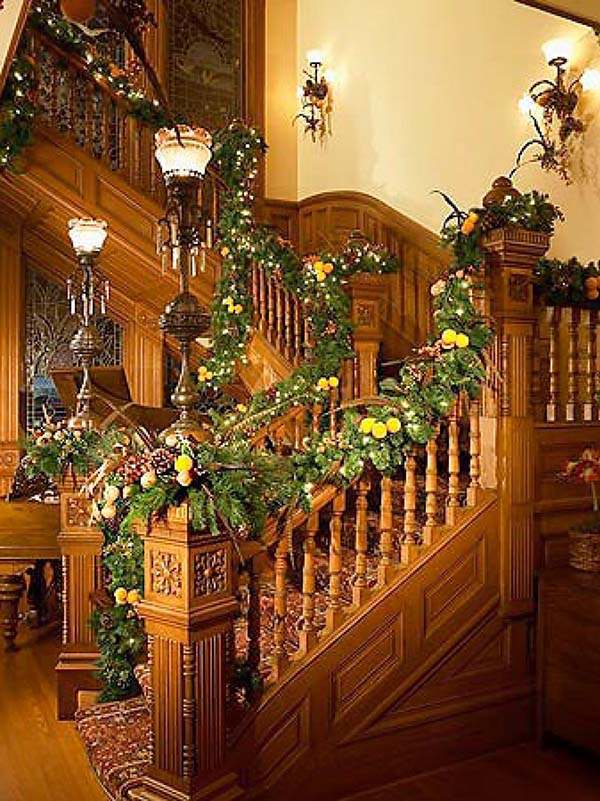 Other fun Christmas decorating staircase ideas involve using fruit. Lemons are a wonderful fruit to use and will look very festive when mixed with greenery and strung along the banister.
With so many amazing Christmas garland ideas to choose from when you are decorating your walls or considering a staircase wall decoration, it can be easy to get a little overwhelmed with your choices.
Consider the feel of the decorations that you want, if you want them to be natural, classic, or more modern. This will help you to narrow down staircase ideas for your home.
Also take into consideration the size and location of your stairs, as this will play a huge role in what staircase Xmas decorating ideas you can use and which ones you need to pass on.