Turn your home into a Christmas fairytale with our collection of decor ideas with garlands. These brilliant ornaments can be placed at almost every place indoors.
Add some decorative baubles or figures or pinecones and they will be easily blended into the theme of your Christmas decor.
With the garlands you can define a place from your home, making it a focal point. Garlands will surely contribute to making the atmosphere more festive and happier.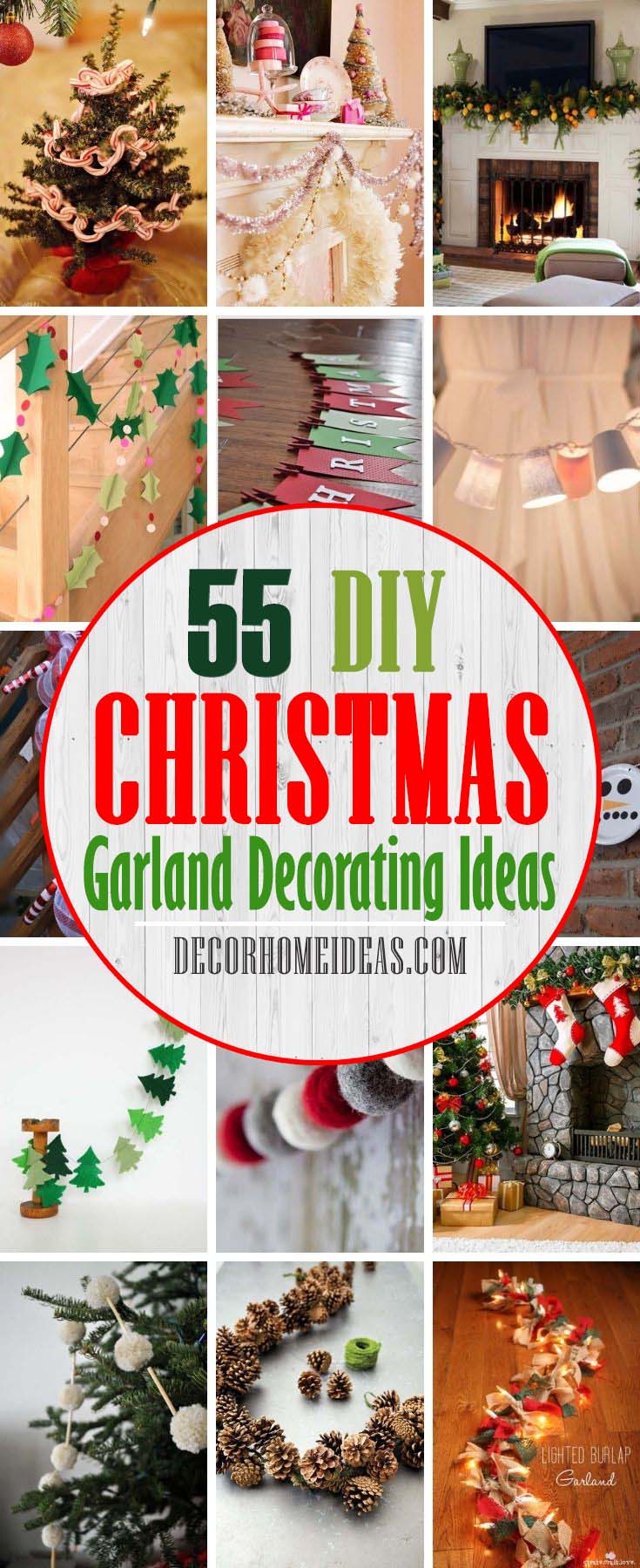 Check the ideas for DIY garlands of various designs that can be personalized as to fit in every perception and space! And most importantly, include the whole family in the preparation process and gather lovely and fun memories while making with these great garlands!
1. Advent Calendar Bag Garland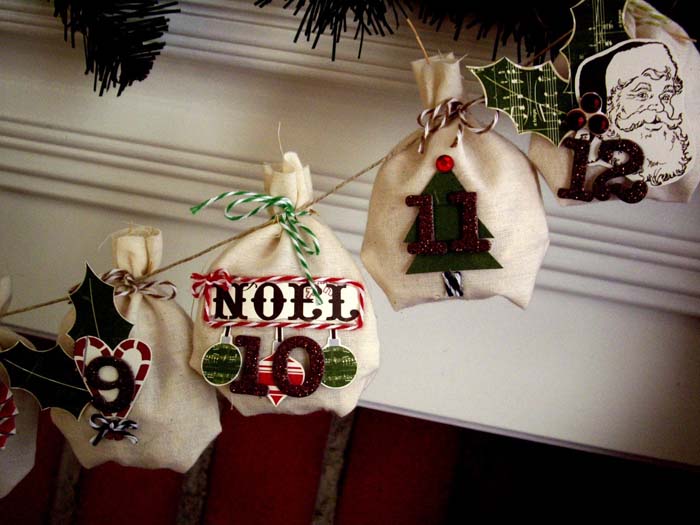 These cute burlap bags are tied on a string to form an advent Christmas garland.
The ornaments used for decoration follow one pattern but of different designs- date number, candy cane stripe, green felt, red jingle bells, felt Christmas baubles.
After each bag has been sewn and decorated, it is filled with cotton or wool to create the illusion of a bag full of gifts.
The components of this garland are big so it can be used for decoration of a wall, door or the fireplace.
2. Christmas Themed Gingerbread Garland

The letters of this garland are made of gingerbread dough. The recipe can be found on the link below.
The project is children-friendly so you can involve your kids in the cooking stage.
The initials are made with letter cutters. Then make holes at the top of each letter to string a twine through after they have been baked.
via Hello Wonderful
3. Natural Look Birch Ring Garland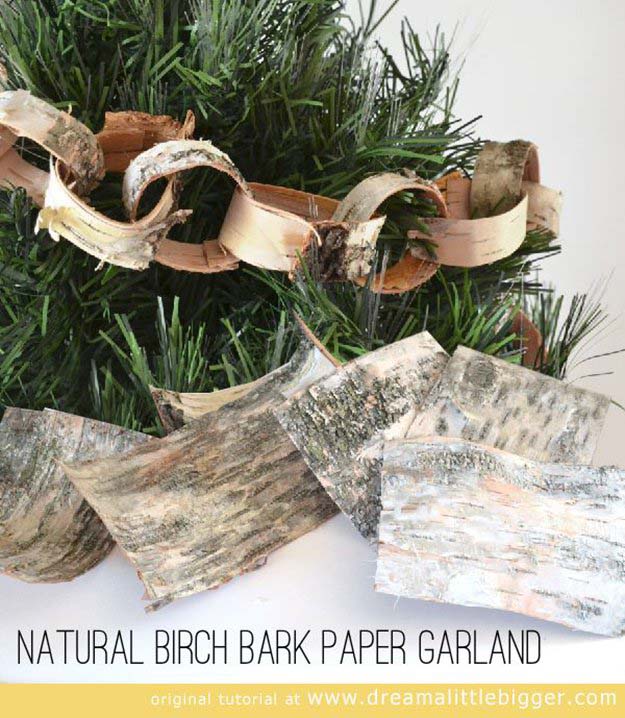 The design of this nature-inspired garland reminds a lot of the paper chains we made back at school.
Instead of paper birch bark strips are used to form the chain sections. Because of its simplicity and rustic charm, this garland will look as a fantastic Christmas addition to the fireplace.
4. Colorful Wood Beads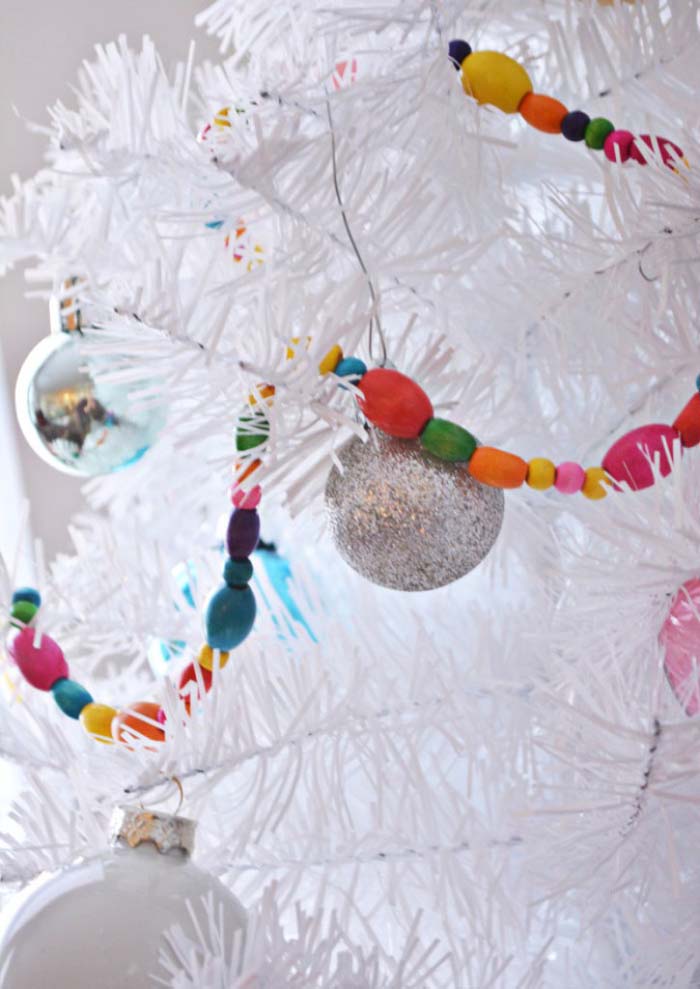 If you are keen on DIYs, then you must have a collection of wooden beads somewhere in the craft closet. It is time to take it out and string your colorful bead garland!
If the beads you have got are not colored, don't worry- paint them, apply a glitter layer, decorate them with washi tape.
5. Ribbon Hung Ornament Window Décor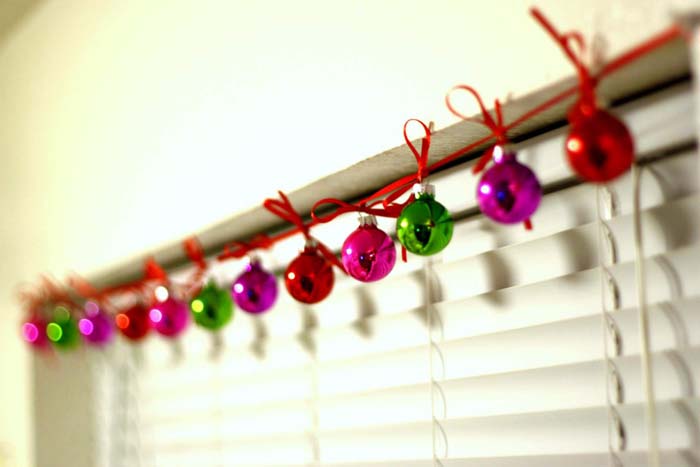 The garlands are the most suitable Christmas decor for the windows. You can tie them around the curtain rod or leave them dangle from the window frame.
This DIY is an example of a garland that utilizes a set of small Dollar store balls. The interest comes with the ribbon ties on top of each ornament.
via La Celebracion
6. Peppermint Look Ribbon Swag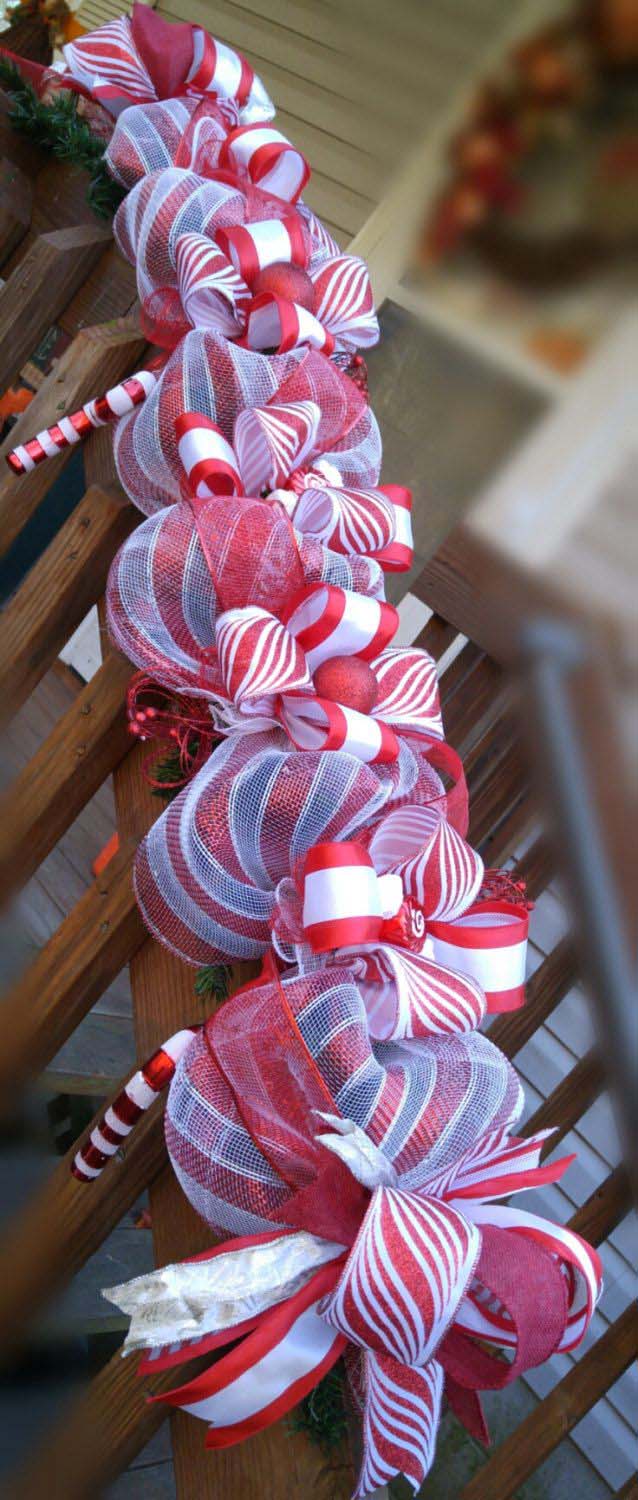 This garland is made of oversized bows in the same color pattern- red and white as of the candy cane.
Each bow is made by twisting a ribbon length. If you are going to decorate the railings of a staircase, you can tie each ribbon to the wood.
In case you need the garland as one piece, glue them onto a wide ribbon and then hang or weave around.
7. Pull Through Felt Candy Cane Garland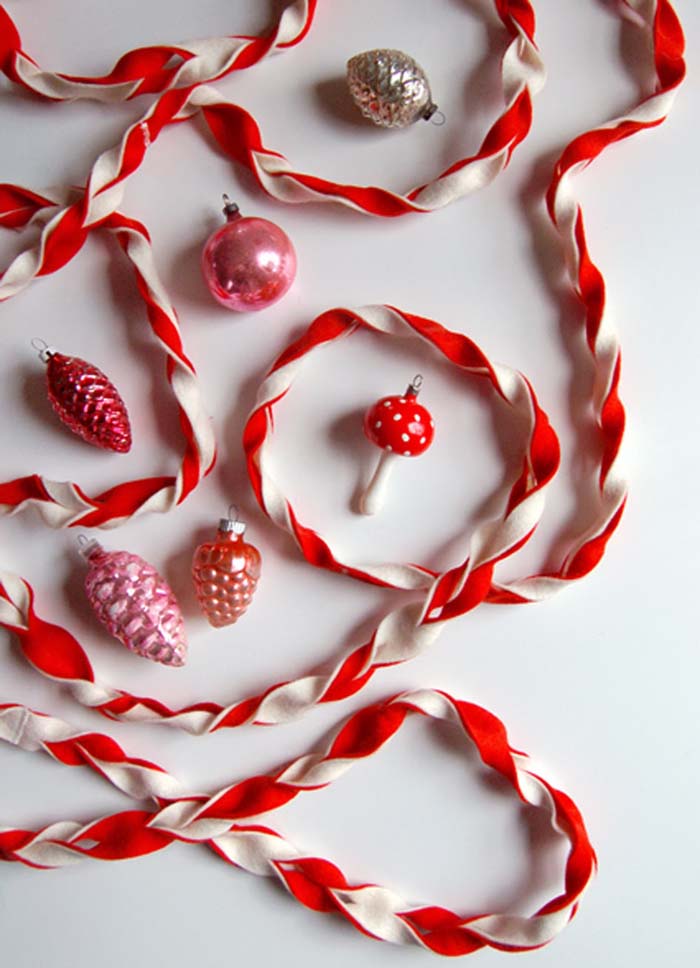 To make this red and white garland you need felt. Instead of twisting it into the traditional spiral pattern of the candy cane, lay them together and then twist them to create this interesting braided look.
The size of the garland may vary but in all cases, it should be used as a fine Christmas touch to the existing decoration.
8. Dramatic Doorway Christmas Candy Display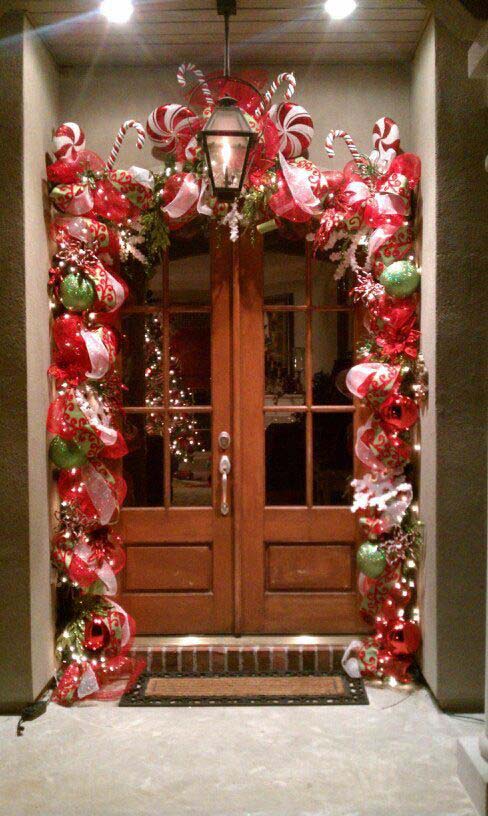 Make your front door stunning by decorating it with an ornamented garland.
To create this beautiful arch you need oversized ornaments like balls, candy canes, lollipops, snowflakes and ribbons.
When preparing the parts of this garland make sure to follow a certain color combination -red, white and green for example. The alignment pattern is also important, otherwise the garland will look too overwhelming instead of defining and welcoming.
9. Gathered Burlap Ribbon Garland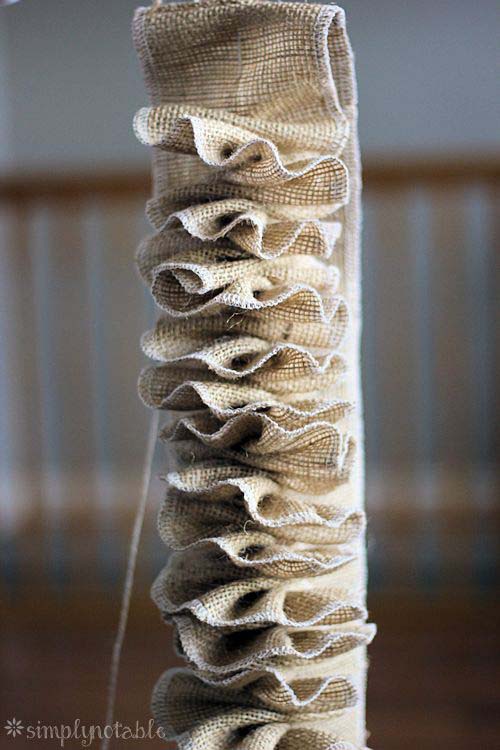 If you don't like the sparkling elements and are rather keen on the more natural and plain decoration, here is an idea for a rustic garland.
It is made of long burlap fabric strips and the drapery effect is achieved by weaving in and out along the center of the strip with large running stitches.
This garland is suitable for a mantle or fireplace decoration, why not for the Christmas tree if you are aiming at achieving a more rustic atmosphere.
via Simply Notable
10. Oversized Ornament Glittering Door Décor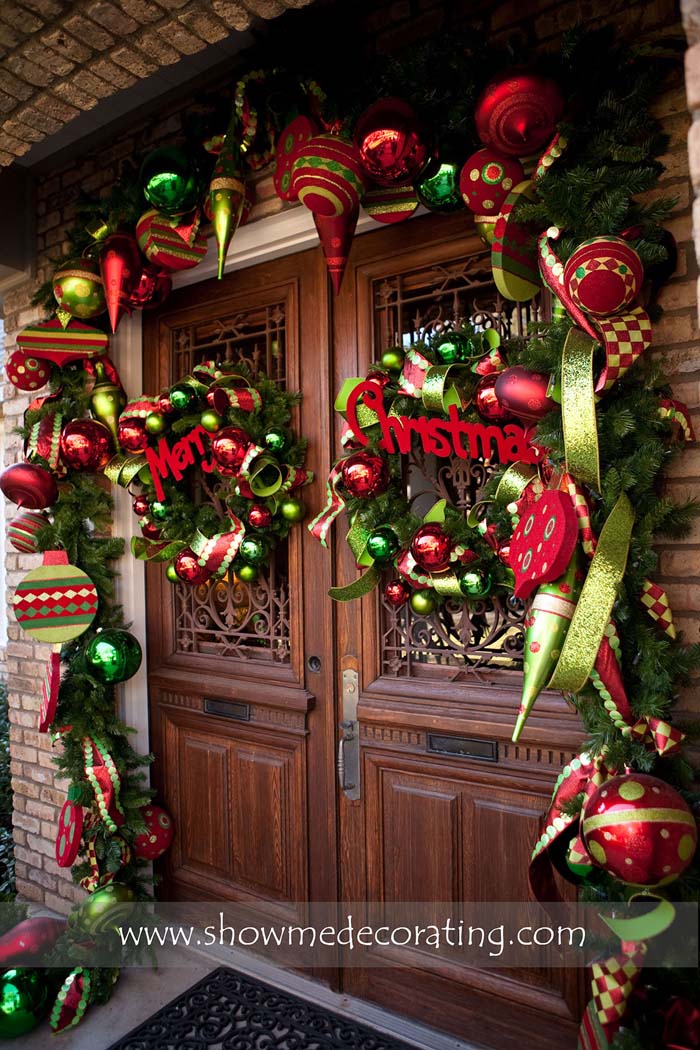 If you want to show the festive mood of your family from the front door, then you must try this appealing garland.
The colors for the ornaments are different shades of green and red. The basis of this arch is pine garland. It is decorated with Christmas ornaments in different size and design but all in the color combo.
Some of the ornaments are made of styrofoam and wood. After hanging the ornaments onto the garland, fill the empty spaces with tied ribbon lengths or bows.
A cheerful sign and a wreath in combination can fill the undecorated part of the door.
11. Sweet Treats Felt Christmas Garland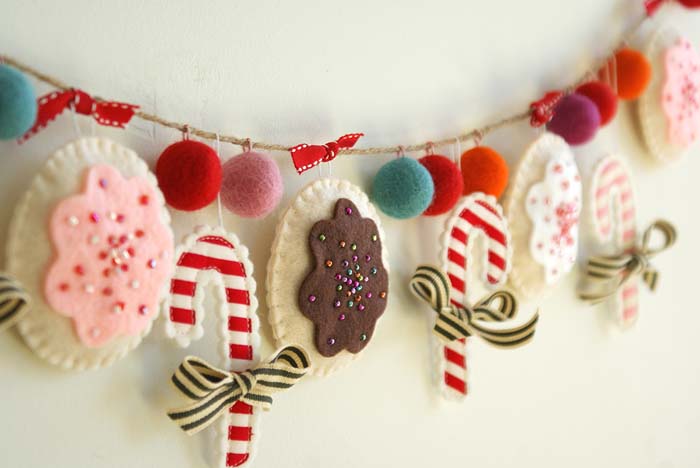 If you have some felt pieces left and some basic sewing skills, you can make this charming cookie garland which will remind of the sugarplum garland tradition.
Cut the cookie shapes on felt, sew a pair together and leave a small hole to stuff the figure with cotton or wool and give it a three dimensional look. The sugarplums are represented by felt balls. Sugar canes are also made of felt and beautifully edged with lace.
Hang all of the felt ornaments on twine or cord. To make the garland more playful, suspend the ornaments on different height.
12. Simple And Natural Pinecone Garland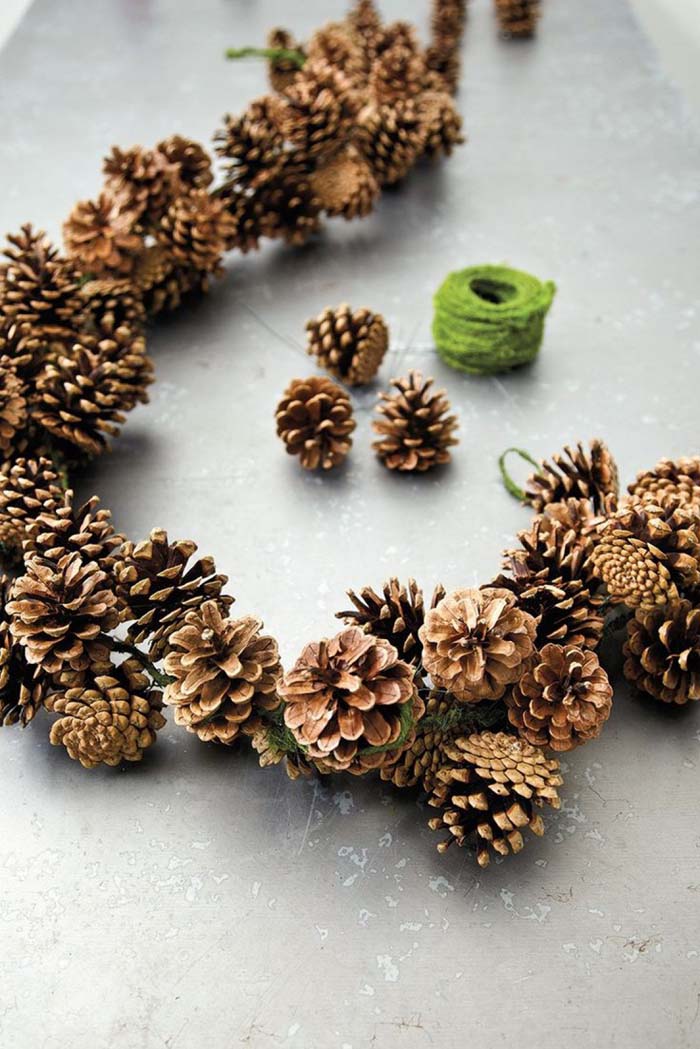 Making a garland with pinecones is an easy project. Just gather identical in size pinecones and prepare twine. It will be best if the twine is green, white or red as these are the traditional colors of Christmas.
Then just tie twine around each pinecone. You can define how tight the pinecones to be arranged.
Another design of the same garland can be achieved by spraying the pinecones with artificial snow.
via Ballard Designs
13. Crochet A Sweet Bow Garland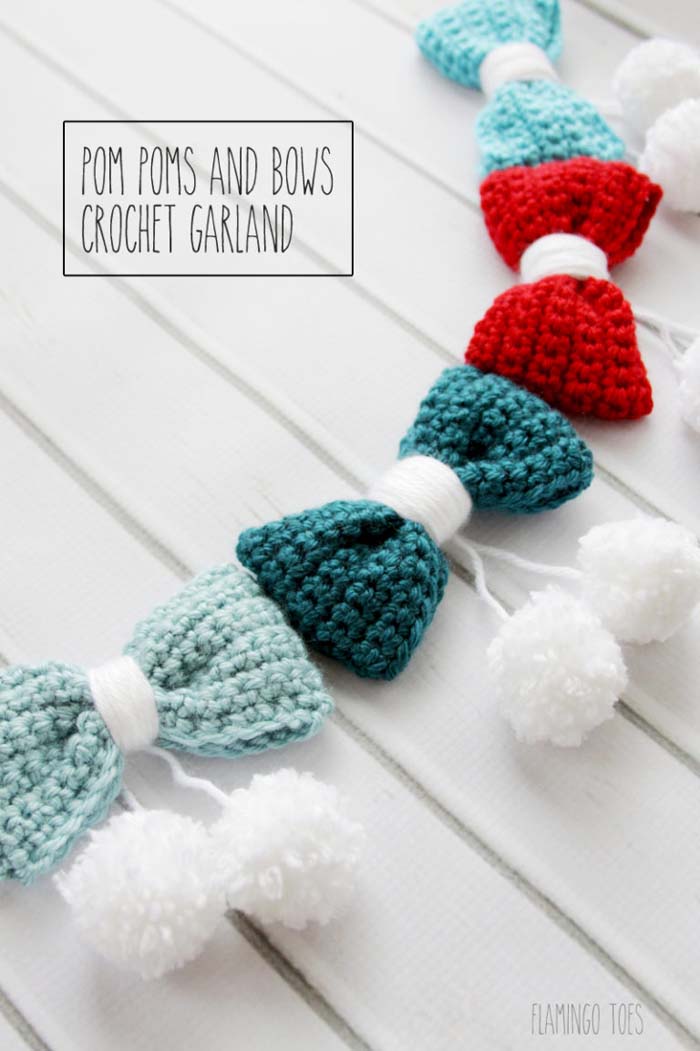 There is a very cute garland idea for those of you that are skillful in crocheting.
It is made of bows tied with twine ending in fluffy pom poms. Each bow is attached to a twine forming a very charming garland that can be hung to a wall, to the mantle, even to the Christmas tree.
The creator of this garland explains the crochet pattern so you can give it a try.
via Flamingo Toes
14. Painted Cup Light String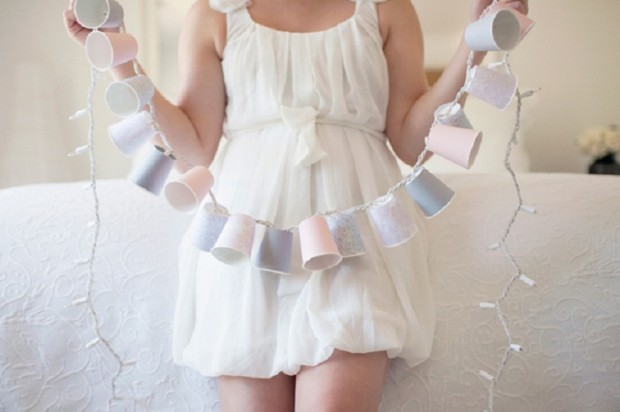 This idea for a Christmas garland will make the plain white twinkling lights more interesting.
The dixie cups are painted in the pastel color palette first. Then an X cut is made in the bottom of each to secure the inserted bulb.
This garland looks like a string of tiny lamps and this make it particularly attractive when hung to the ceiling.
via Rhiannon Bosse
15. Mini Ornament DIY Banister Garland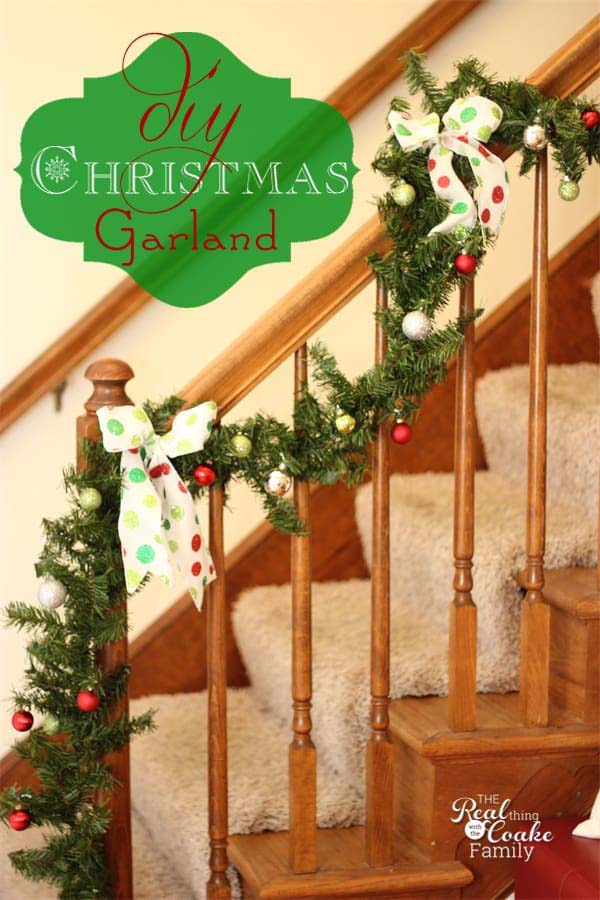 Do you like the ornaments for stairs at the stores? Well, they can be quite expensive, so we present to your attention a DIY garland idea that will be as fascinating as the pre-made ones.
The advantage of this project is that you can customize it according to your taste and staircase sizes to increase your personal touch.
via Real Creative Real Organized
16. Three Dimensional Stars And Clouds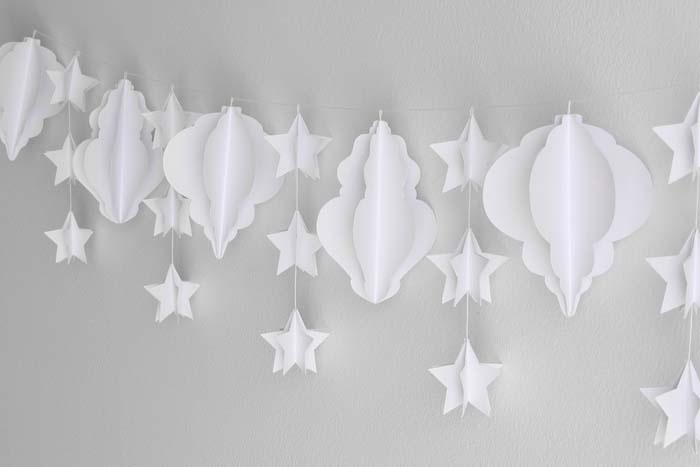 This simple paper garland will find its place in any style of decoration because of its neutral color and charming shapes.
Cut stars and clouds from paper. Fold each in the middle and then glue three of them together to achieve the three dimensional shape. Before gluing the third piece of cut out, insert the string to fix the ornament ait the desired place.
17. Cut Out Felt Tree String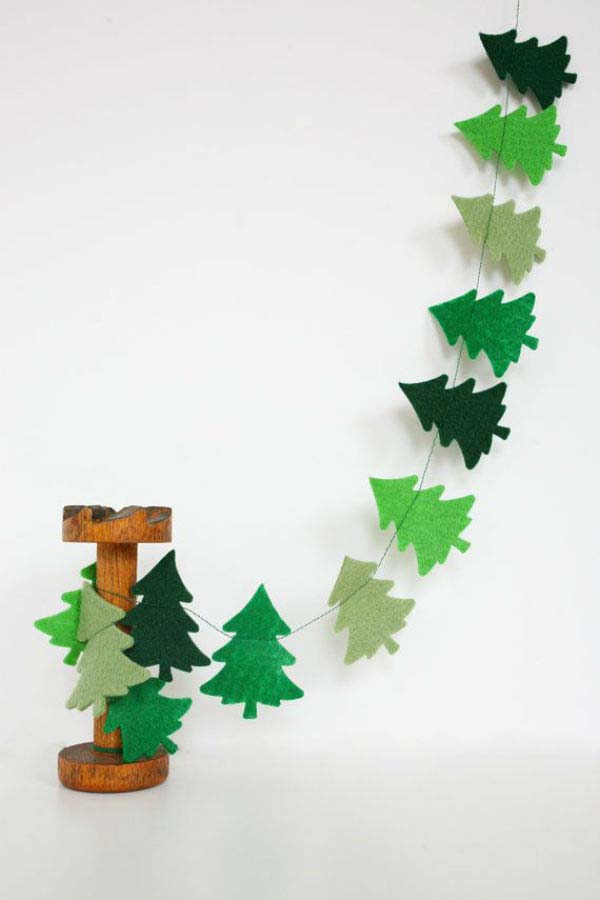 This is another easy and cute garland idea which requires various shades of green felt.
Start by printing your pine tree pattern and transferring it on a cardboard. Use the thicker paper sample to trace out pine trees on every felt sheet.
Then strung or glue the cut out trees onto the green string. Such a garland can be hung on a window, on the mantle as a simple cute addition to a more colorful decoration.
18. Festive Cozy Felt Ball Garland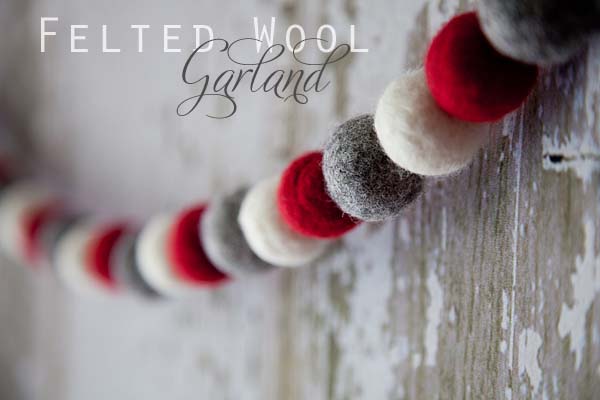 Such a felt ball garland will add a lot of farmhouse charm to your interior. Made of woold, the balls strung on a cord are made of wool and that instantly makes the space warmer and more welcoming.
Making it is very easy as long as you have the felt balls ready. Just insert them on a cord with a needle following the color pattern.
This garland can find its place easily- indoors as a Christmas tree ornament or outside-hung on the front door.
19. DIY Craft Paper Christmas Banner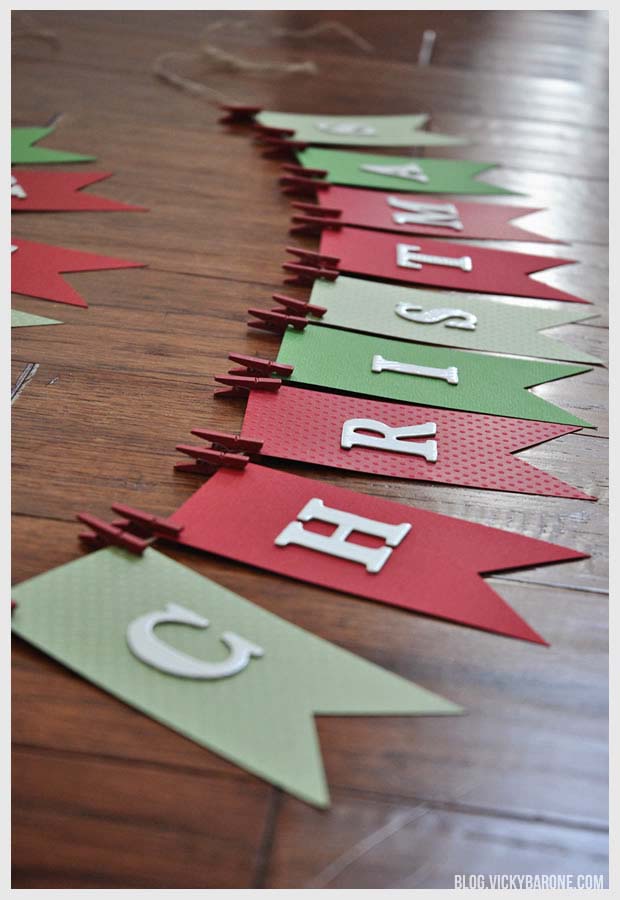 The parts of this garland create the welcoming message "Merry Christmas". The background of the letters is made of paper in the typical Christmas color scheme.
The letters are taken from a scrap-booking set in ivory, however you can also DIY from thicker paper.
The easiest way to attach the letters to a twine or rope length is to use small clothespins. In case you don't have such, use a needle to put through each flag.
via Vicky Barone
20. Colorful Felt Strip Garland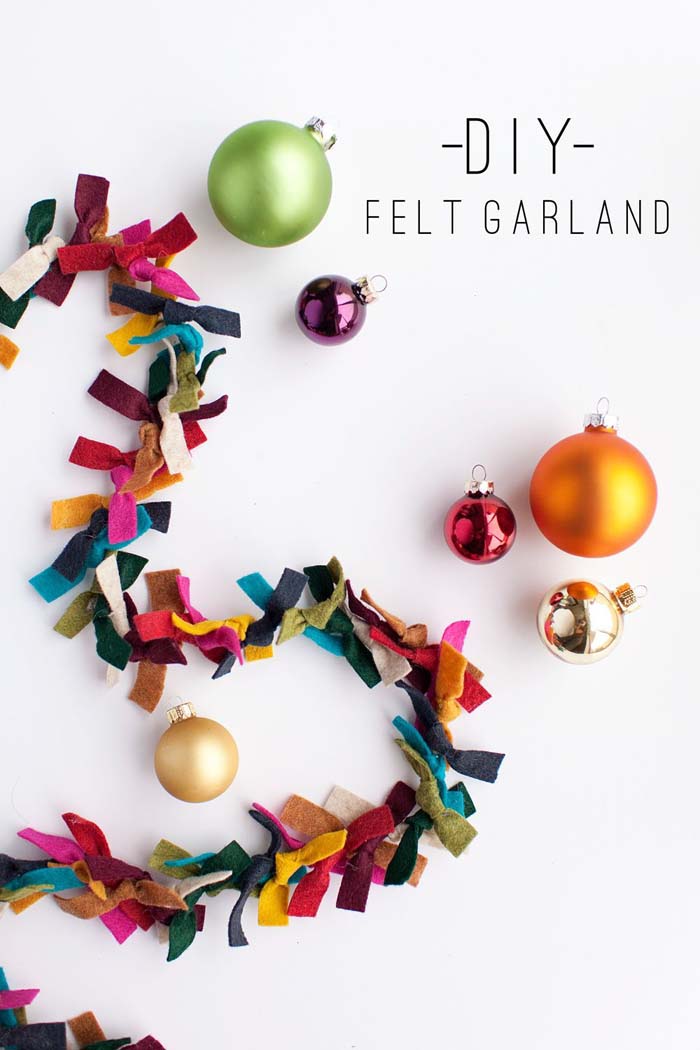 Do you have felt pieces left from another DIY project? This garland idea will utilize them all creating an attractive felt garland.
It is very easy to do it as you only have to tie the strips to a cord, yarn or a ribbon.
You can customize the color pattern of the garland according to the felt pieces you have got on hand and depending on how colorful would you like it to be.
21. Holiday Shapes Gingerbread String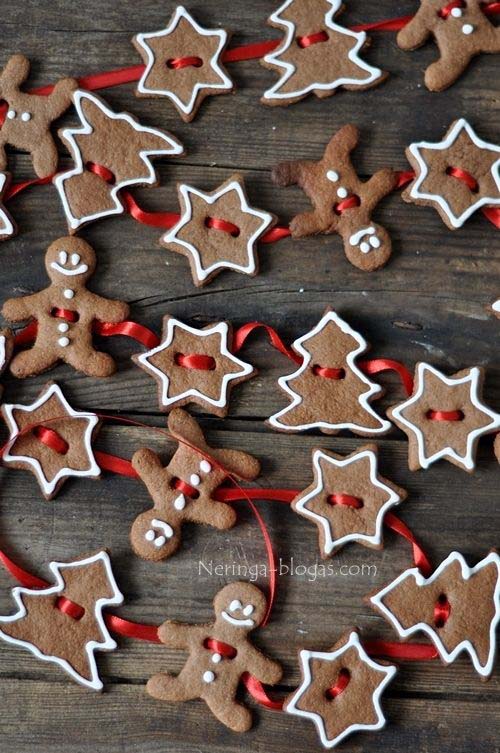 This DIY garland is very cute and very tasty! Made of gingerbread cookies, it can be added to the decor of every room.
Each cookie has two holes in the middle made prior to baking them to let the stringing to a ribbon.
via Neringa Blogas
22. DIY Glitter Faceted Diamond Garland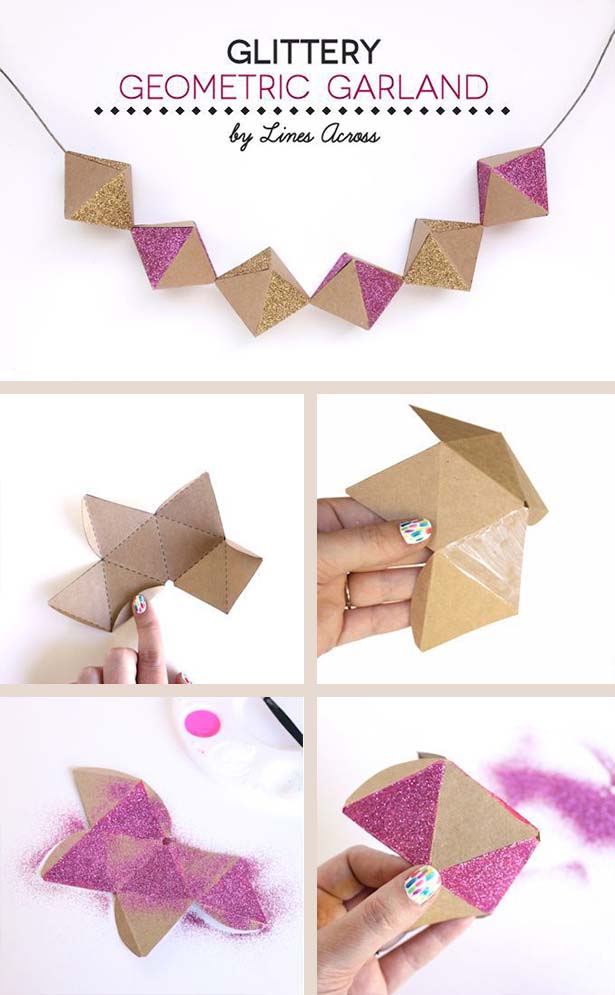 This garland uses the paper origami technique. You can use card stock or thick kraft paper to make the diamond-shaped ornaments.
The decoration of each diamond is up to you- it can be covered with glitter, each side can be painted in different color, etc.
In all cases the final result will be very attractive because of the three dimensional effect of the diamonds.
via Lines Across
23. Luminous Gold Mylar Bursts Swag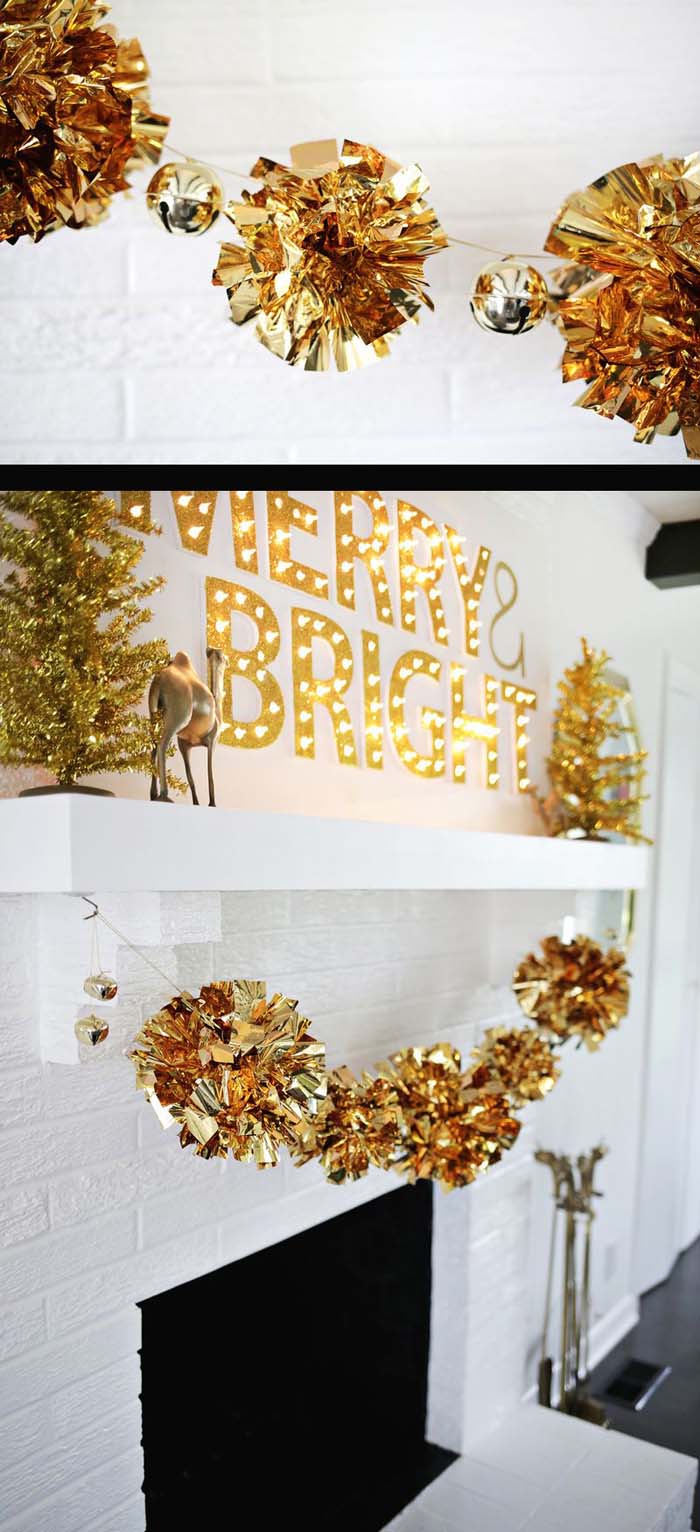 This golden garland will surely make any place a focal point with its sparkling effect.
The pom poms are made of gold Mylar. Each layer is folded and then tied into the center with a wire to get the fan-like shape.
This stunning garland can be hung anywhere where there is not much interest.
via Shelterness
24. Woven Sparkling Ribbon Stair Garland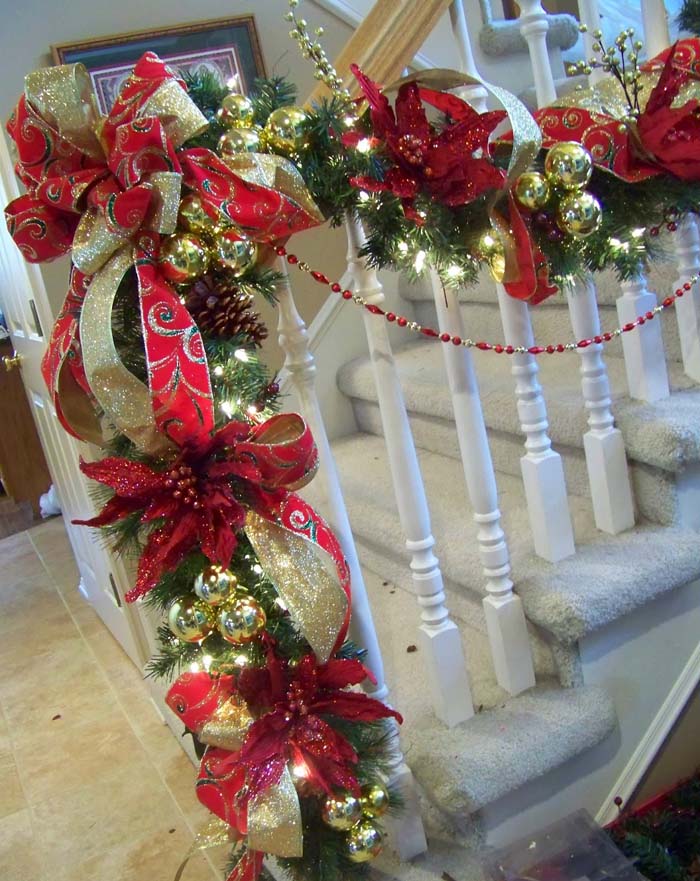 Garlands are the perfect decoration for staircases. They can be easily woven around the railings creating a good transition between the floors.
As a basis use a green garland. Depending on your taste and the rest of the decoration, get Christmas balls from the Dollar store.
Put a red poinsettia and a cluster of balls at equal steps. Then make large ribbons in the same colors to tie below the poinsettias.
You can add pinecones, twinkling lights, small ball garlands and any other ornaments that will fit into the composition.
via Creative Lessons From My Heart
25. Layered Multi-Garland Focal Wall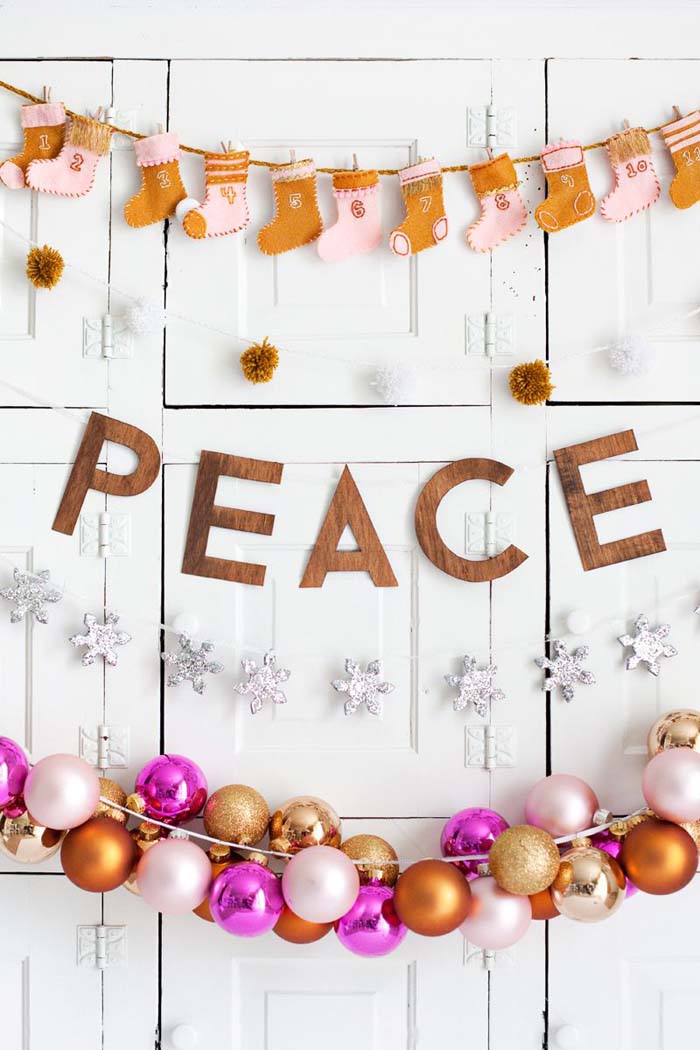 This is a very cute idea of how you can combine different handmade garlands on one undecorated wall.
Although each garland is of different style, the way they are layered makes a good mix match.
26. Sweet Smelling Citrus Clove Garland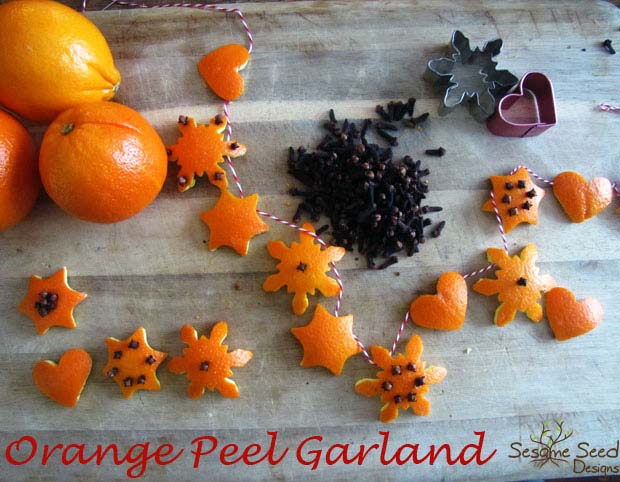 This Christmas garland idea will not only add decorative beauty but also delicious fragrance to the indoors.
It is made of orange peels cut with sharp metal cookie cutters. Some of the shapes are decorated with cloves to mix the fruit aroma with a spicier smell.
The prepared shapes can be hung onto a twine or can be fixed to fairy lights.
27. Rustic Antique Bell Rope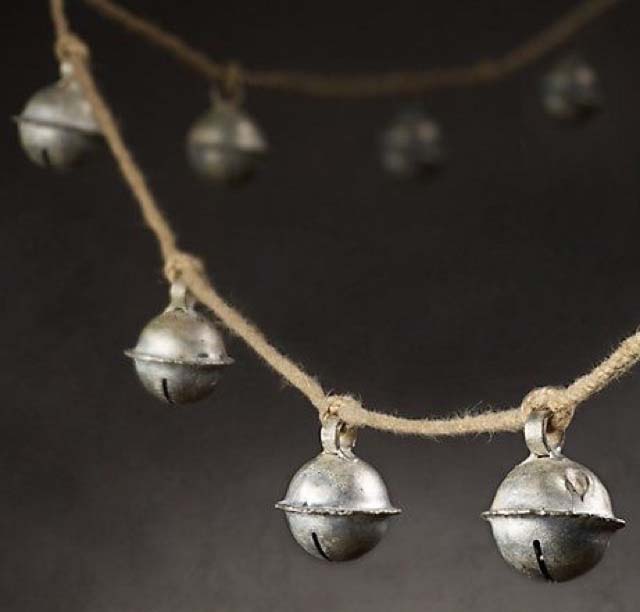 Increase the festive atmosphere with the cheerful sounds of the jingle bells! You can make a musical garland with jingle bells only by tying them to twine.
If you hang this garland on the mantle or over the door, you will surely be enjoying the cheerful sounds.
28. DIY Mini House String Lights Project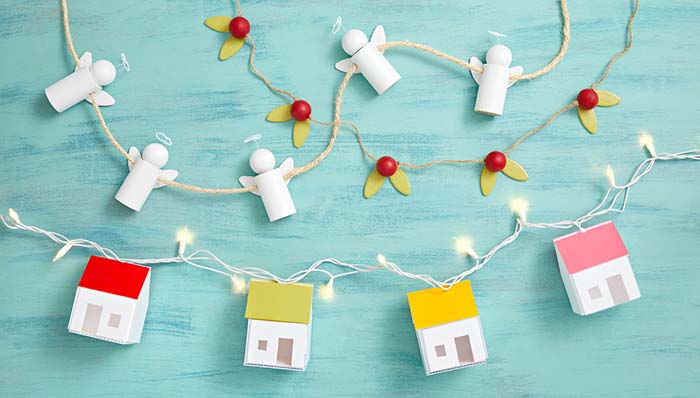 These garlands are made of paper and styrofoam balls. The one with the houses has a light effect because the basis of the garland is a string of fairy lights.
The houses are made of corrugated cardboard and each part of the house is colored to give the ornament a more traditional look.
The cutest thing about this garland is that a light bulb is inserted into each ornament to both fix it to the string and to give it a smooth illuminating effect.
29. Glitter Paper Holiday Sentiment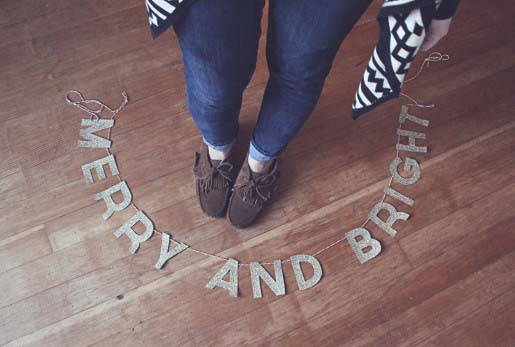 This garland is actually a message that welcomes its positive meaning.
To make it more attractive, cut the letters from glittery paper. If you want to make sure that all initials are of the same size and font, print them on paper first and then outline them on the craft paper.
Make small holes at the top of each letter to string them on the cord afterward.
30. Stunning Citrus And Greenery Garland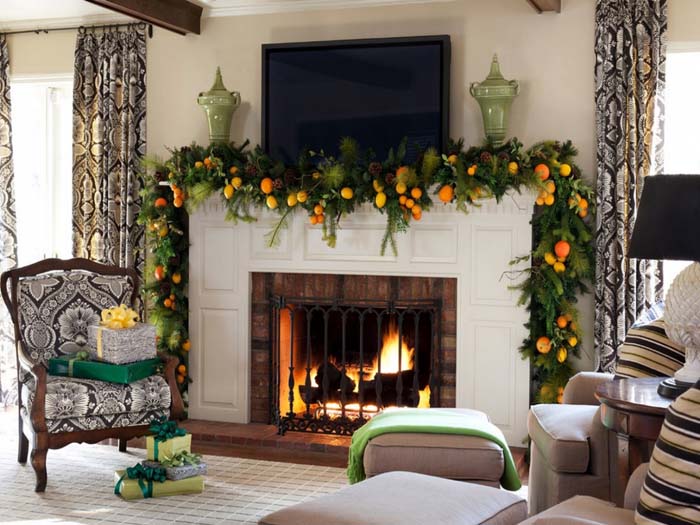 This is another DIY garland idea that welcomes nature indoors. The basis of the garland is made of pine twigs.
The traditional pinecones are replaced with citrus fruits which contrast well against the deep green and give the garland more depth.
Certainly this garland will be more than just another Christmas decor as it will spread nice and fresh aroma throughout the house.
via Elle Decor
31. Natural Leaf Rope Garland

The garlands can be made of natural elements different from pine twigs and pinecones.
Wide leaves like those on the photo will add a lot of rustic beauty to the interior by attaching clusters of them to a rope
At the end, the rope will not be visible at all and the garland will look as if created by nature.
32. Traditional Popcorn And Berries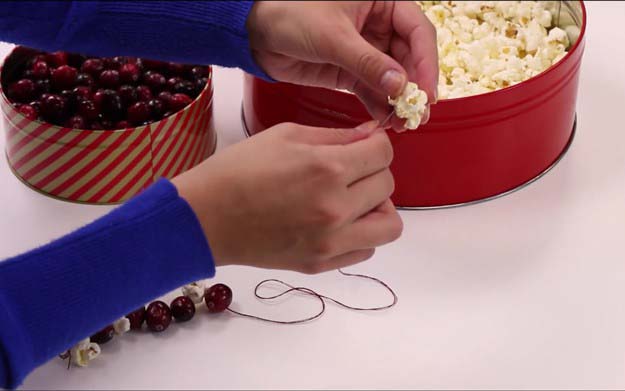 Do you miss your childhood? This DIY garland used to be a traditional craft in each family before Christmas.
Why not make it today and tell your kids how you use to make it when you were their age? You can turn the making of this garland into a tradition for your family every Christmas.
via Homesteading
33. Delicious Spice Cinnamon Orange String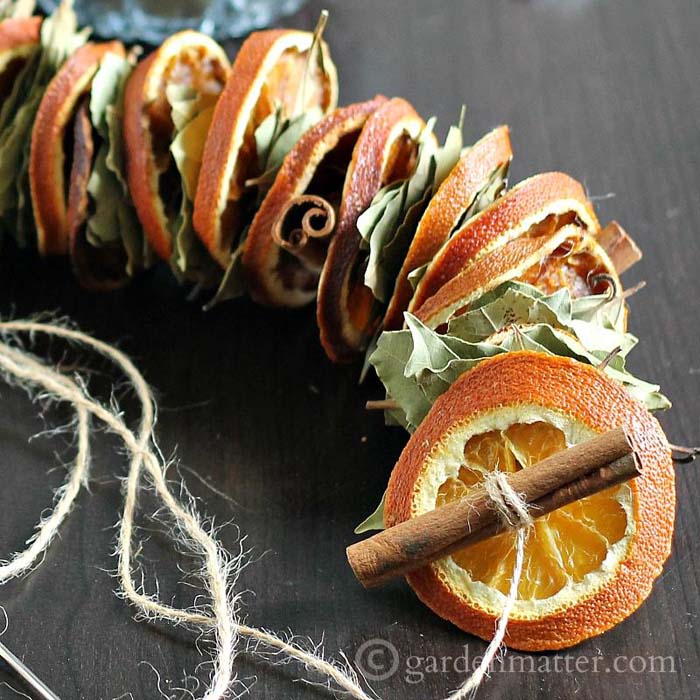 Such a garland aims to add color and sentimental aroma to the interior during Christmas. It is made of slices of orange, cinnamon sticks and whole bay leaves.
Before stringing the ornaments onto the twine, there is a special preparation stage of the orange slices. They have to be baked first and then left additionally drying overnight. This special procedure will preserve them from rotting for a long time.
via Hearth and Vine
34. Sweet Paper Holly Leaves Garland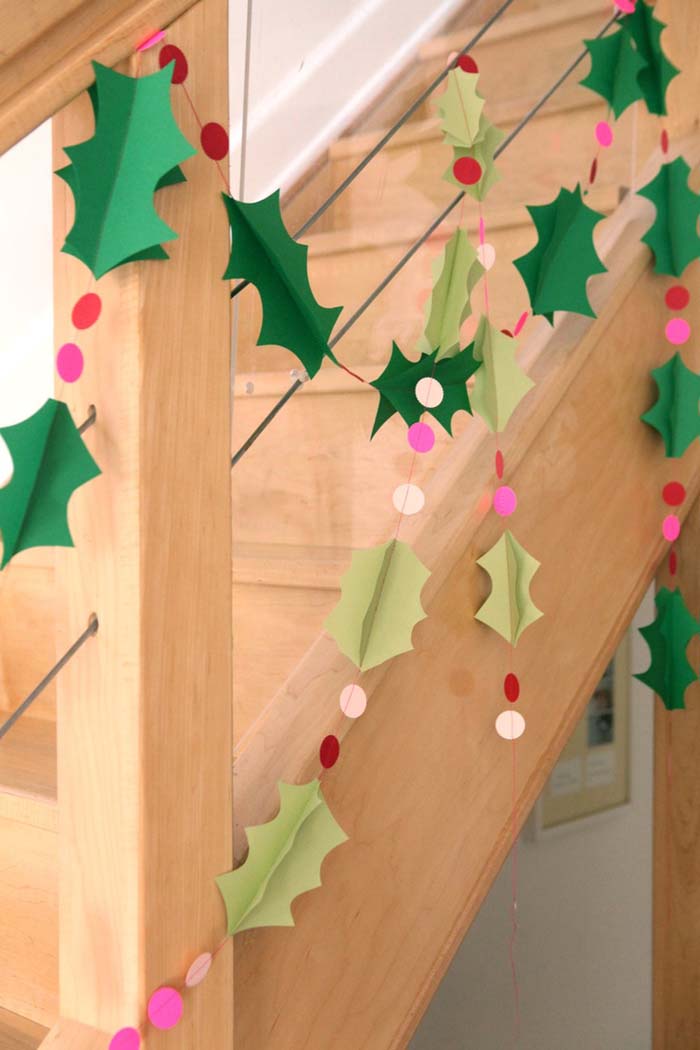 Use another symbol of winter and Christmas to make a paper garland that can be hung anywhere in your home.
You need only paper to make it- two shades of green for the leaves, red and shades of pink for the berries. Make samples from cardboard and start transferring them onto the paper.
To make the actual garland, just glue each paper shape onto a yarn or twine length.
via Habitissimo
35. Colorful Light Shade Paper Cup Garland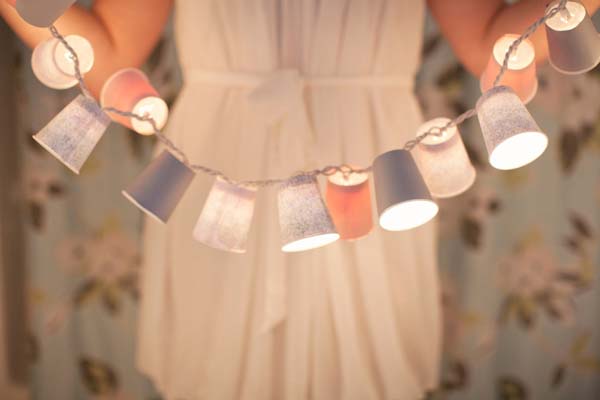 To make this garland you need a string of twinkling lights and paper cups.
You can leave the cups white or decorate each with festive or other types of craft paper.
Make an X-cut on the bottom of each cup to insert the light bulb into the cup and achieve the lantern look.
Mind that the color of the light will be slightly changed if the color of the paper is different than white. That could be another great holiday effect of this simple garland.
36. DIY Colorful Christmas Light Garland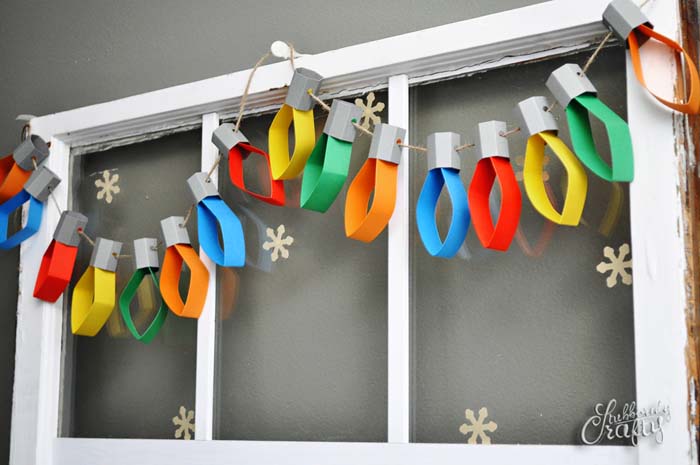 This is a DIY garland project that will surely gather the whole family together.
It is made entirely of paper pieces glued together so this will be an activity your kids can easily do.
At the end just string the baubles to a string. This garland is very cute and colorful and it can become a great addition to the Christmas decor in the kids' room.
37. Crafty Plate Snowman Face Swag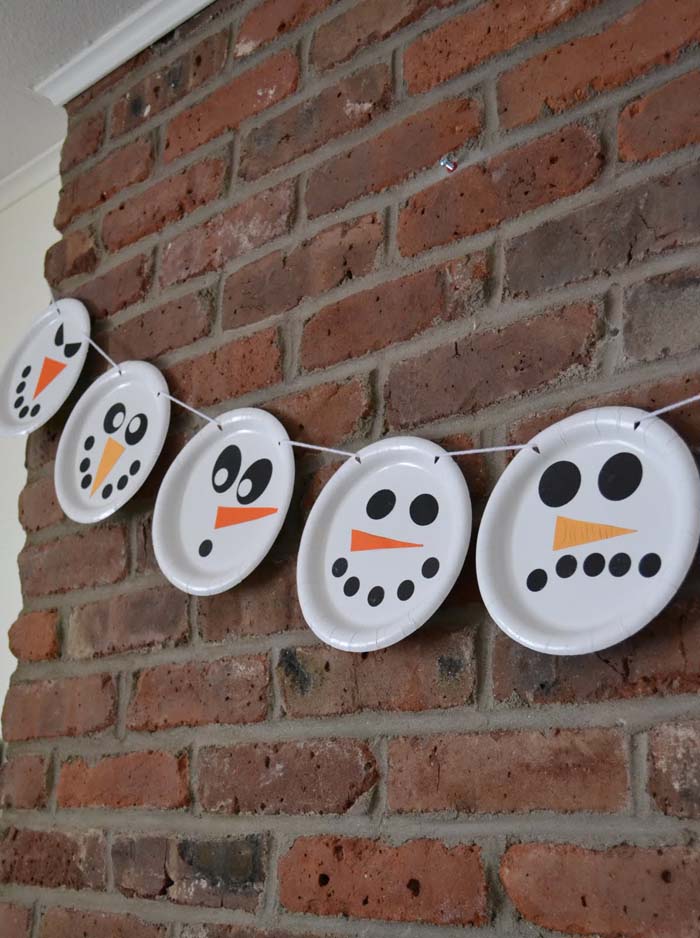 This is another kid-friendly garland that will create a lot of fun for the youngest ones.
Not many supplies are needed to make it- a pack of paper plates and cardstock for the embellishment.
Make sure to expose the fun garland somewhere visible as it will not only create smiles but also a very festive atmosphere.
via 1 Pure Heart
38. Peppermint Ring Tree Garland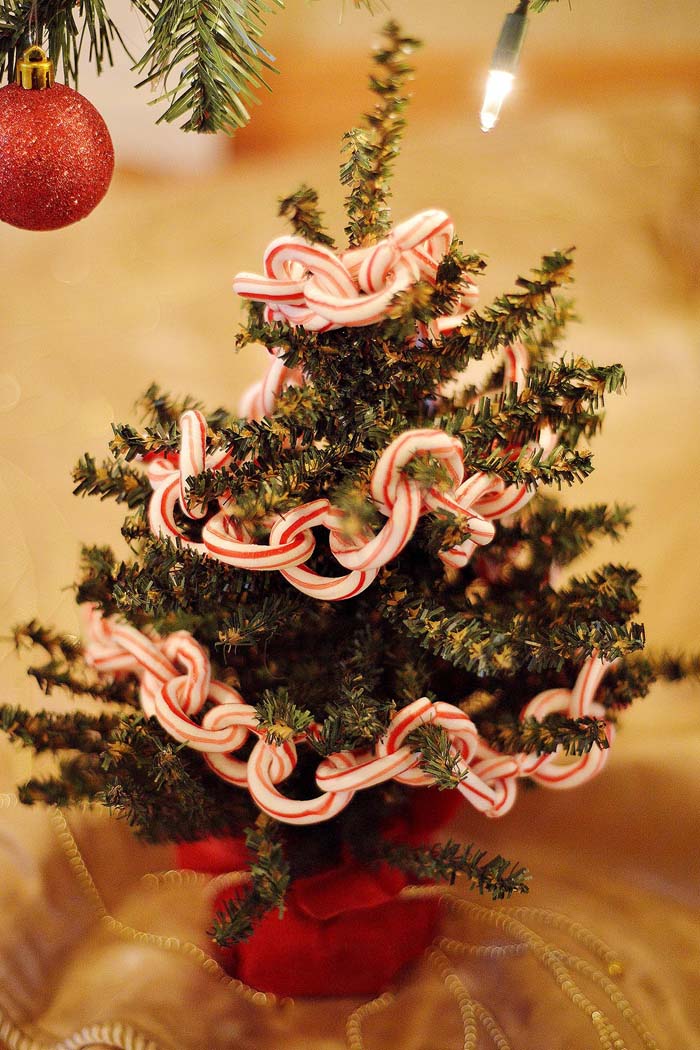 This garland is made of sugar candy canes twisted a little bit to get the round shape.
Each mini candy cane is slightly heated in the middle to become more flexible and adjustable in shape. To make a continuous garland, attach each cane to the next one in a chain-like pattern.
39. Pretty Polka Dot Rag Tie Garland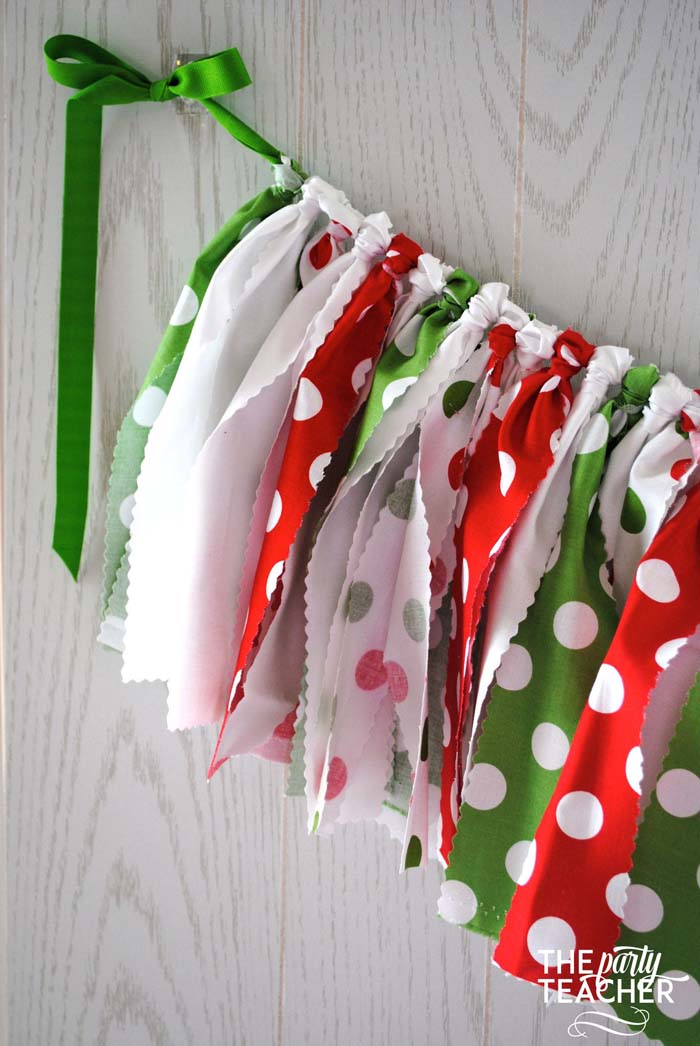 This garland is one of the most fun ones, maybe because of the polka dots on each fabric.
They also make the fabric very festive and attractive so it will be a great addition to the holiday decor.
To make it, you need fabric with polka dots. Each piece is cut with shears to give the edges of the strips some texture and interest.
The finish the garland just tie the pieces to a red, green or white ribbon.
40. Vivid Felt Ball Strung Garland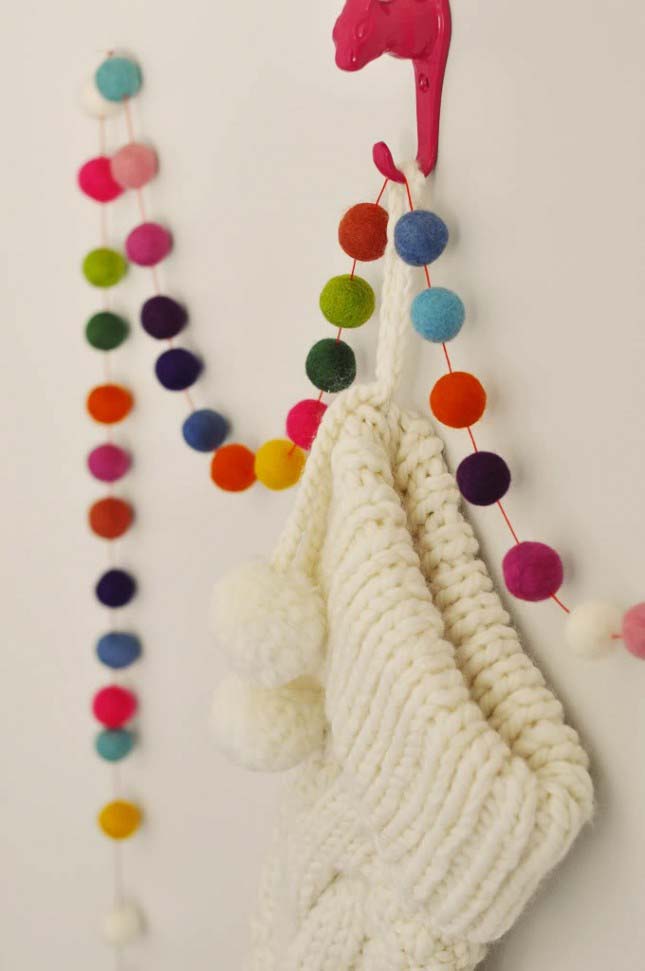 This cheerful garland will be a great addition to a simpler decoration that needs a bit of burst of colors.
Being one of the easiest DIY garlands, you need felt balls and a twine or yarn length to insert the balls onto with a needle.
via My Sparkle
41. Simple Textured Pom Pom Garland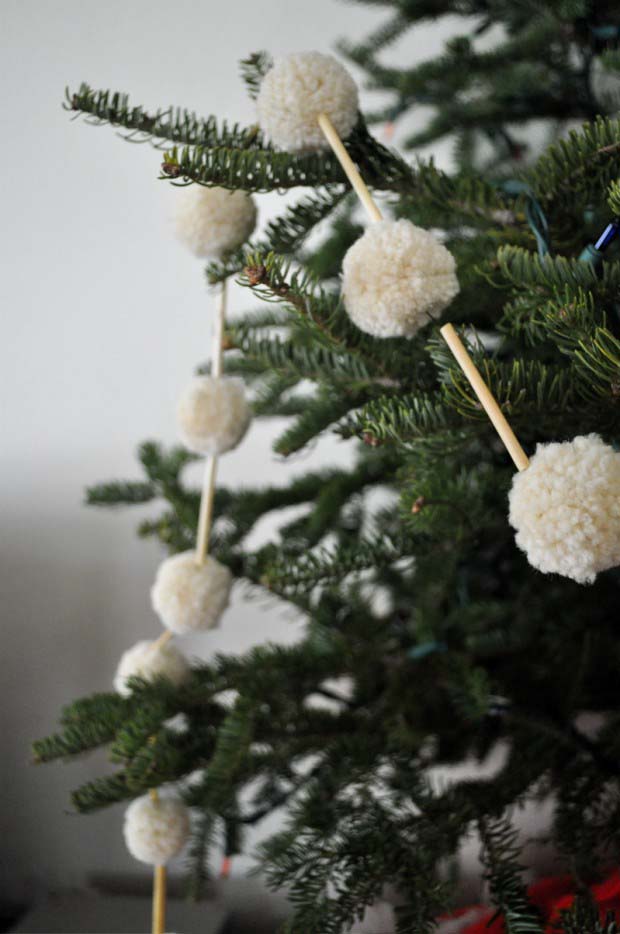 This pompom garland is inspired both by the farmhouse and Scandinavian living.
It is very simple but its texture and materials will contribute to making the decor more welcoming and comforting.
Prepare your pompoms by cutting white wool yarn. The sticks can be taken from the craft store.
Then just string them onto the cord.
via Elsie Marley
42. Pink And Beaded Layered Swag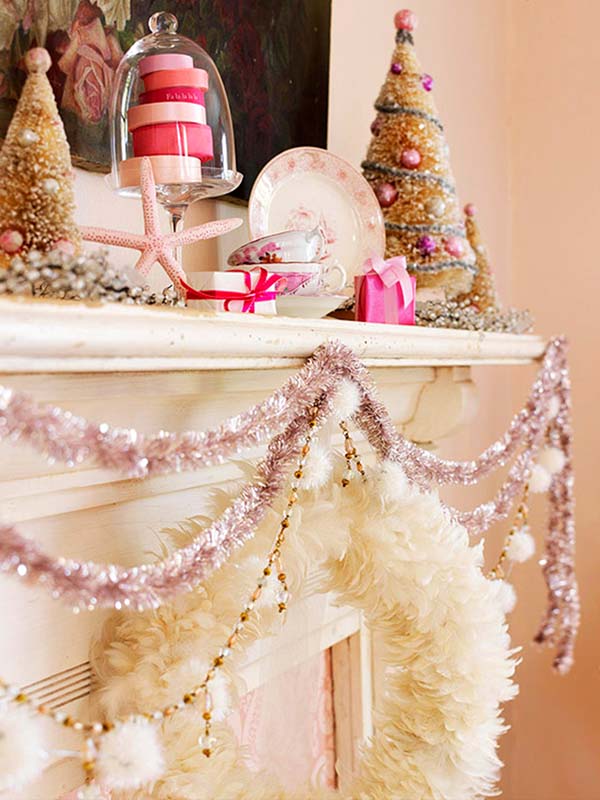 If the interior of your home outlines the luxury taste of yours, then the Christmas decor must continue this impression.
Don't worry, it won't cost you a lot as it is down to arrangement and textures, not to price.
This is an arrangement arching the mantle of a fireplace in a tiered way. Start with two layers of sparkling garlands. The lower level is represented by a garland made of beads.
The center of this arrangement is taken by a feather wreath.
43. Stylish Neutral Wood Bead String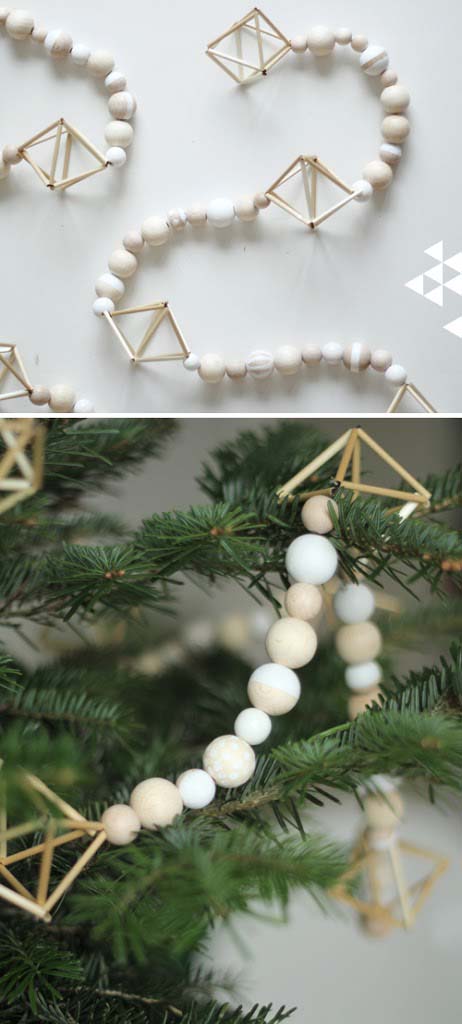 This garland is inspired by the Scandinavian style and will add a lot of elegance and individualism to the Christmas decoration.
To make it, you need a various shapes and sizes of wooden beads in white or cream color.
Alternate a section of beads with a diamond made of sticks onto a cord.
44. Pretty Glittering Paper Polka Dot Garland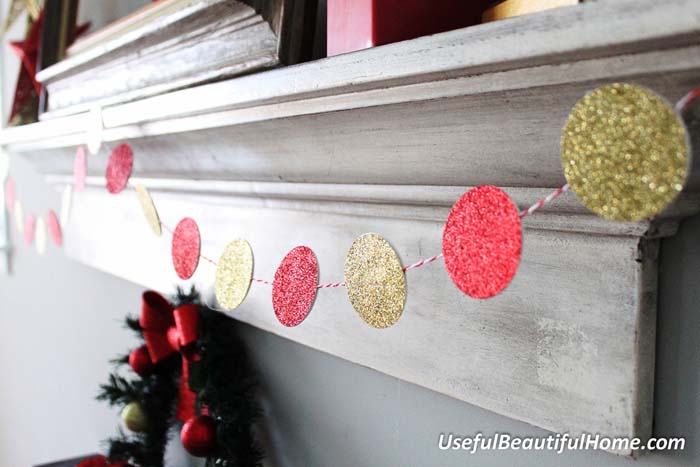 Garlands doesn't have to be of a complicated design to achieve the festive look and effect.
Glitter circles cut from gold and red paper will have a great Christmas decor effect when they are aligned alternating on a string.
45. Greenery Swag And Fairy Lights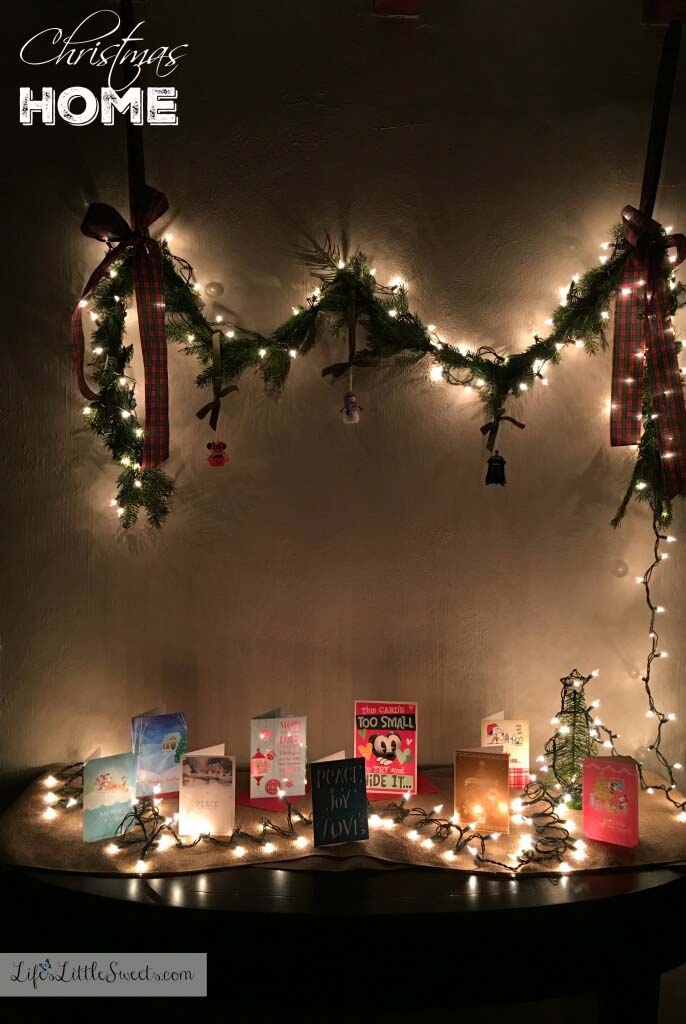 You can easily make such a lit Christmas nook using the twinkling light you have got on hand and pine twigs from the forest.
Tie the bough with ribbon at three places. Decorate the lowest curves of the pine garland with Christmas ornaments.
Then finish your garland with a fairy light string woven around the twig.
46. Traditional Evergreen And Pinecone Swag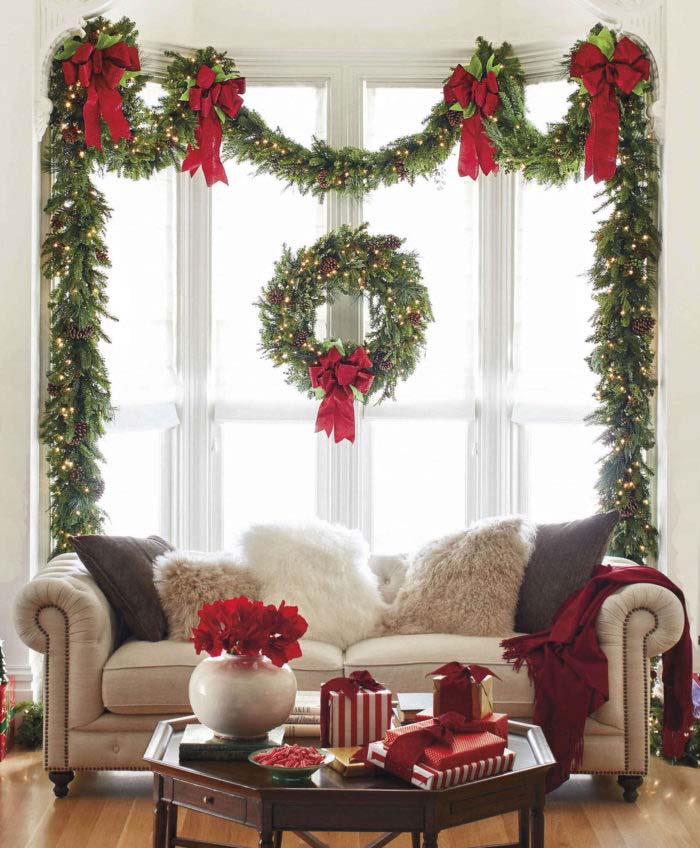 If you like the classical decoration for Christmas, this beautiful garland will fit into your perception.
It is made of pine garlands hung around the window frame. The top corners are being accentuated with large red ribbons, giving the garland curves like a drapery.
You can add twinkling lights, pinecones and even real pine twigs to the arrangement.
Place a wreath made of the same materials in the center of the window to anchor the Christmas vibe.
via Matthew Gleason
47. Add Holiday Swag To A Metal Bedframe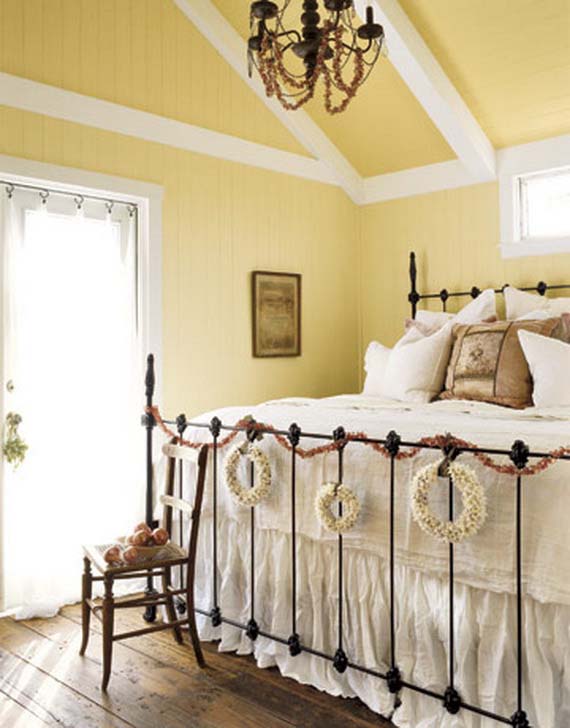 If you want to add a pinch of the Christmas mood to your bedroom, you can do it in a very gentle and charming way.
You can make the wreaths two ways- with styrofoam wreaths or with wire. These are the materials the basis of the wreath should be made of.
The decoration of the wreath basis is made of fabric pieces like strips either glued or tied around the circle.
If you are looking for that particular welcoming and romantic effect, the burlap or the linen fabrics will do a great job.
48. Ornament Cluster Mantel Topper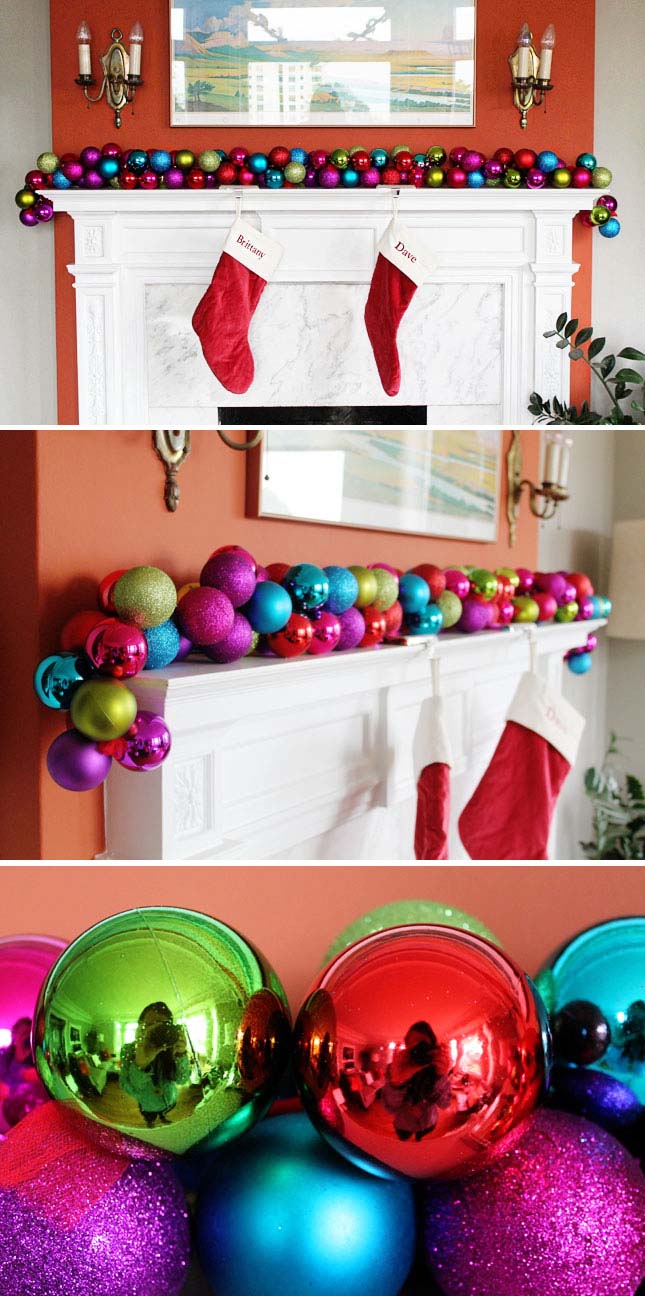 One of the easiest garland ideas uses extra baubles. Just string them on a ribbon to create an ornamented garland.
Because of the rich final effect, this garland can be used to decorate an empty area like the mantle of a fireplace.
via Brit Co
49. DIY Pinecone And Felt Ball Garland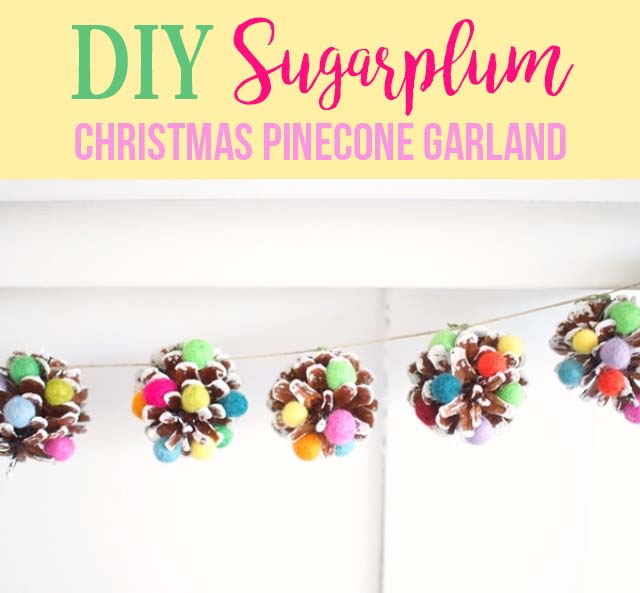 This garland idea turns the pinecones into attractive alternative of the traditional sugarplums simply by ornamenting them with felt balls.
Give the pinecones a frost effect by brushing the edges gently with white paint. Then glue the balls onto them.
You tie or glue the pinecones to twine or yarn. As the garland is very sweet and colorful, it will look well in the kids' room or hung on an undecorated wall or mantel.
via Shelterness
50. Natural Elements Rustic Garland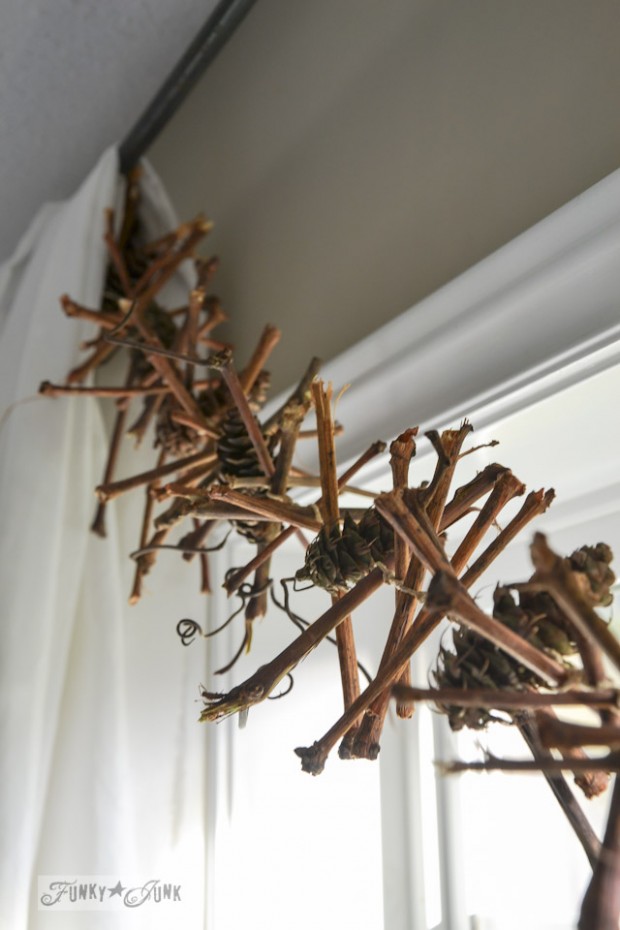 This entirely made of natural materials garland can be a decoration used throughout all seasons.
It is made of twigs and pinecones tied with knots onto a twine length. Making it will take you around 2 hours but the final effect is totally worth it- a rustic beauty that can beautify the windows, the mantle, the Christmas tree.
51. Burlap Strip String Light Garland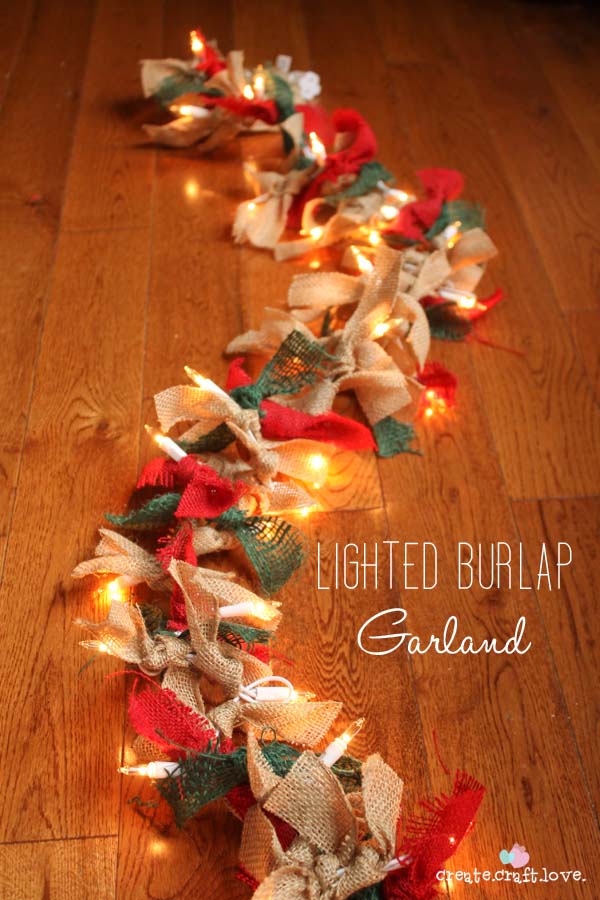 If you are looking for a garland that can fit your rustic Christmas decor, don't be no more.
This DIY burlap one can be customized in size and colors. To make it, choose burlap fabric and cut it into strips. Then just tie each onto a string of fairy lights.
52. Extend Your Tree To A Mantel Display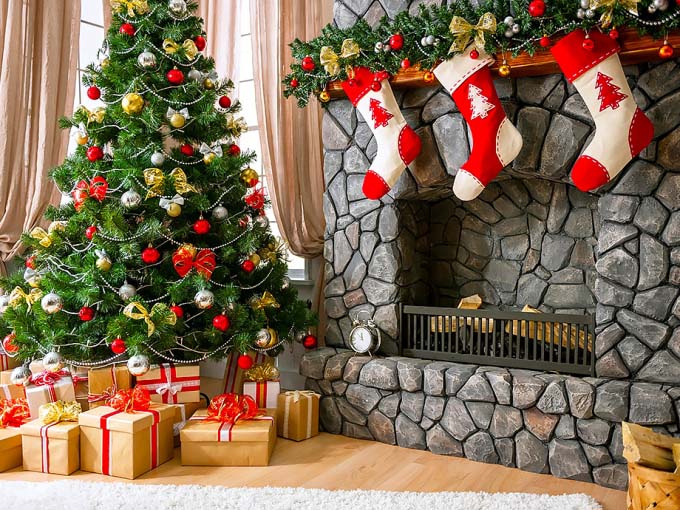 This is an example of a classical Christmas interior where colors, sizes and positions are strictly and well managed.
If you admire this post-card look, get a pine garland of the same material and texture as your Christmas tree. This is not all, the ornaments for the garland should also be the same.
via Founterior
53. Vintage Fabric Strip Rag Tie Garland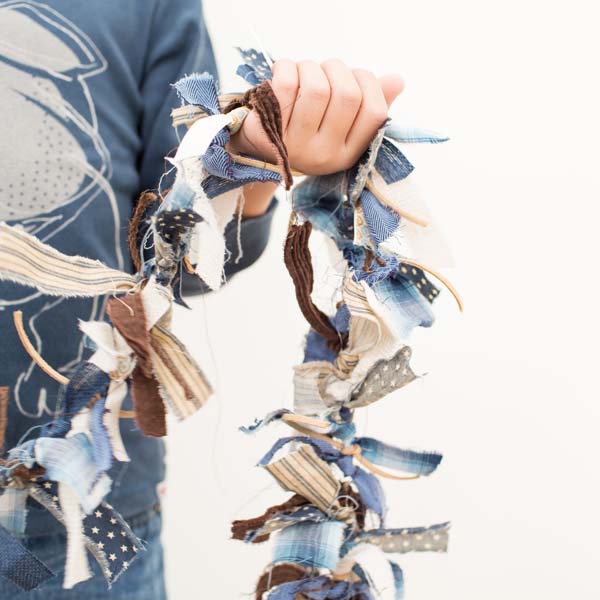 If you want to make your Christmas decor more individual and memorable, think outside the box. Replace the pine twigs with fabric scraps and tie them onto a rope.
You can follow a pattern or just tie randomly selected strips for a greater vintage result.
54. Elegant Paper Leaf Garland With Berries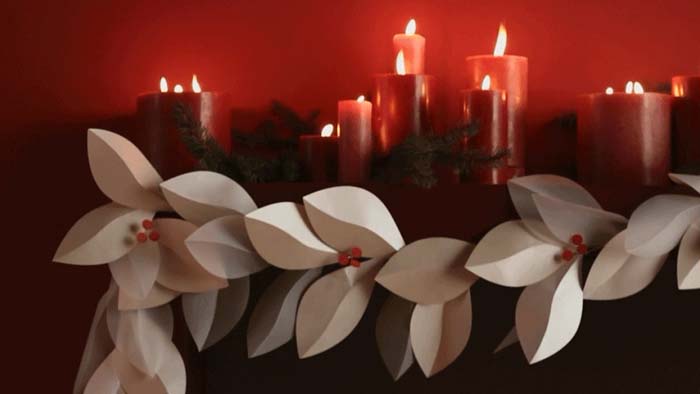 This beautiful garland is made of white leaves and berries. It will stay forever as all leaves are crafted from white card stock paper and vellum.
The realistic shape of the leaves is achieved by folding each leaf cut in the middle. Then the ready leaf is glued to a string.
The berries can be faux or paper cuts glued onto the leaves.
via BHG
55. Vibrant Wooden Bead String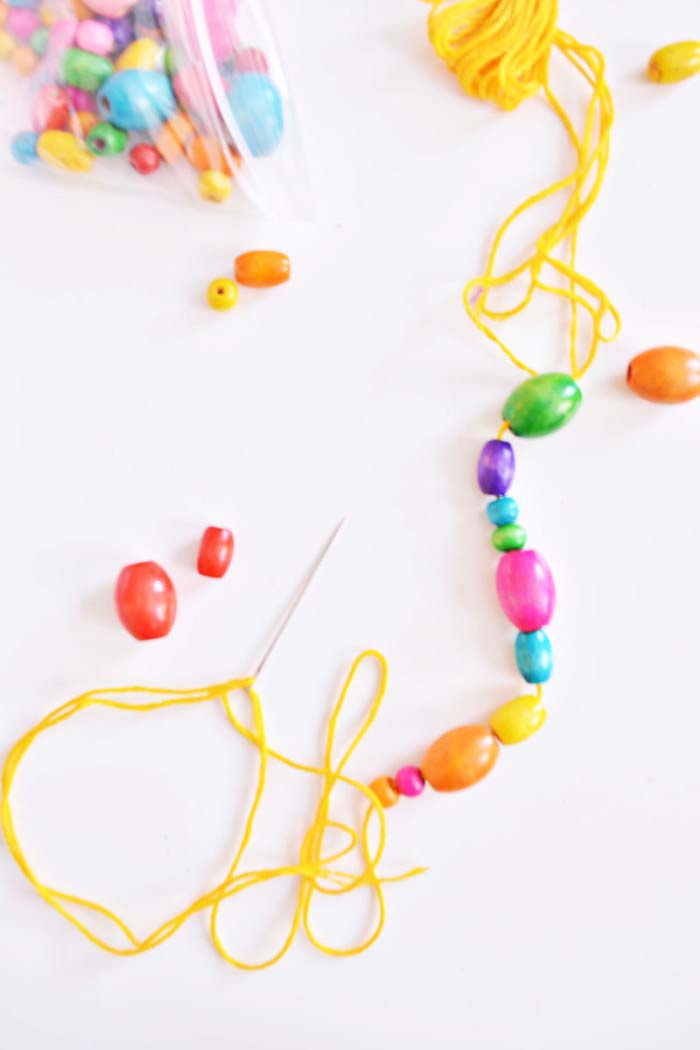 This is another idea for a bead garland that will make Christmas more cheerful and colorful.
The pattern can vary in color sequence and size. Alternate them as you like and make this fantastic garland that will burst its colors wherever placed.
via A Joygul Riot