We continue our search for the greatest ideas for Christmas decoration. This time we are focused on finding those ones that are easy, elegant and last but not least- cheap.
You think that this is not a possible combination? We will surely refute this statement as we have gathered not 1, not even 10 but 50 totally awesome ideas for Christmas accents made of various materials- pinecones, candles, toys, jars, faux flowers, even food supplies.
Most of the supplies are already at your home, resting in the closet, the rest can be easily found at the Dollar store.
Let's not waste more time but go to the creative ideas that will create a magical atmosphere for the holidays almost for free.
1. Ribbons Make Candle Candy Canes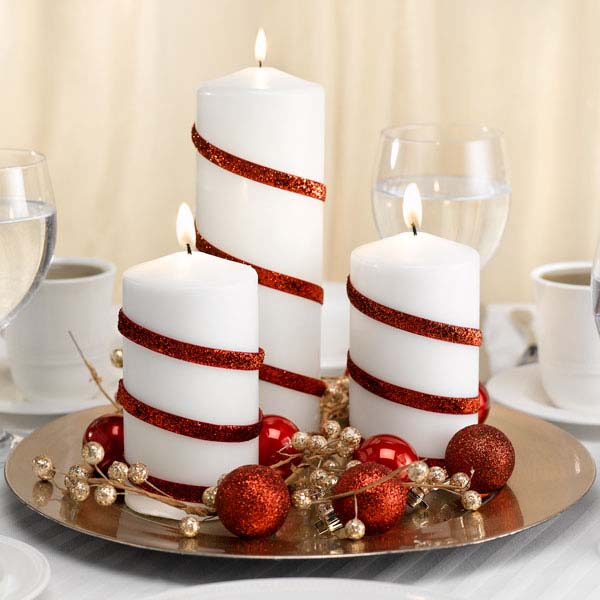 A centerpiece for Christmas eve could be created in three simple steps. For that DIY project you need three white candles, a red ribbon, an attractive plate and Christmas ornaments.
To create some interest, cut the candles so that each is of a different height. Then weave the red ribbon around them to create the candy cane spiral pattern.
Place in a plate and surround them with ornaments like small red balls and berry twigs.
2. Oversized Ornament Porch Topiaries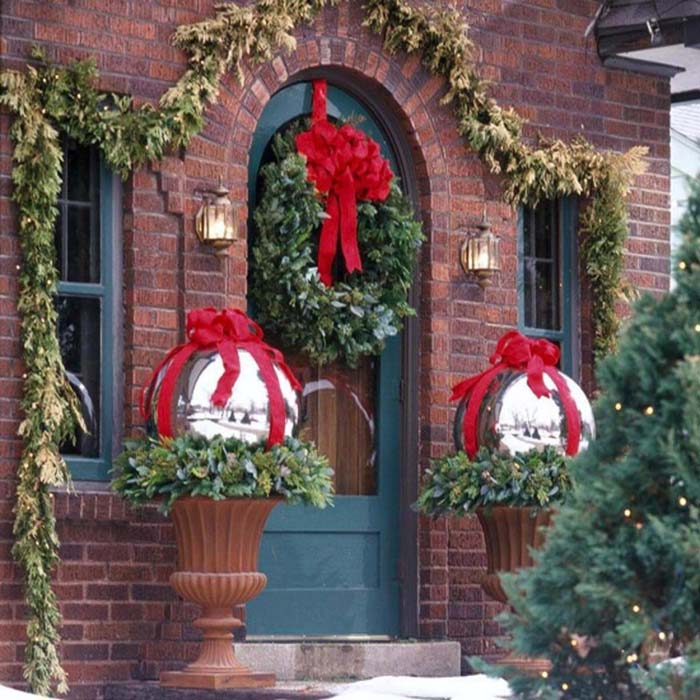 These large silver balls are actually plastic play balls for kids! Believe it or not, their not that attractive surface has been covered with metallic paint to create these eye-catching oversized ornaments.
Wrap them with a wide red ribbon and place a green wreath on the front door to complete the outdoor Christmas decoration.
3. Painted Pasta Tree Project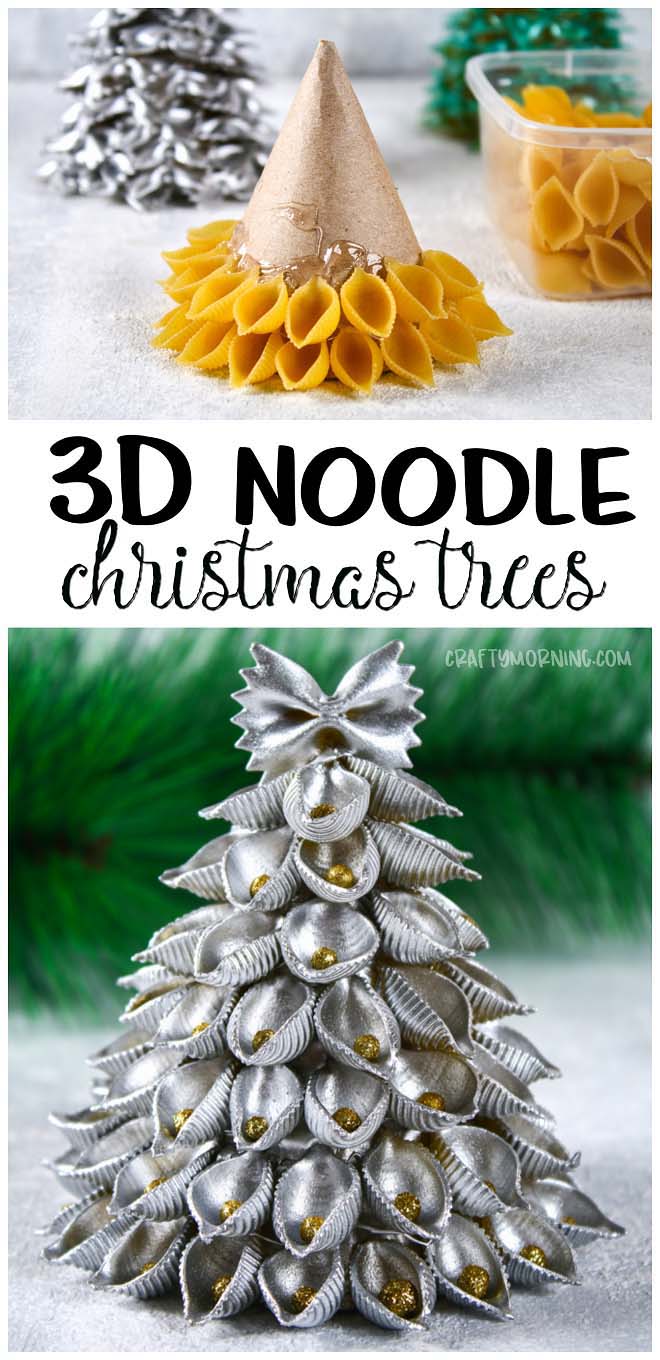 Making this pasta tree is very easy. First, roll a piece of cardboard to form a cone.
Start gluing noodles concentrically working your way up to the peak. Once the cone is covered, spray paint the noodles.
To give the tree a more festive look, glue a glittery ball in each noodle and the tree will have a charming nautical effect.
via Crafty Morning
4. Painted Window Candle Jar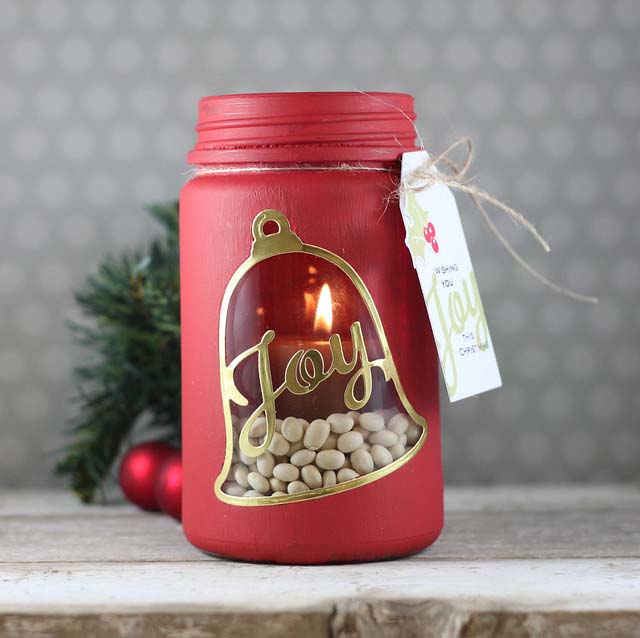 Suitable not only for thematic decoration but also as an interesting gift, this handmade jar with a message is easy to be made.
Get a Mason jar and clean the surface. Prepare a stencil of a bell and stick it to the glass. Cover the glass around it with chalk paint. After it has dried, trace the bell image with a metallic paint pen and write "Joy" across it.
To ensure a festive look, choose colors that are related to the holiday- red, green, white, gold.
5. Tiered Christmas Stand Table Decor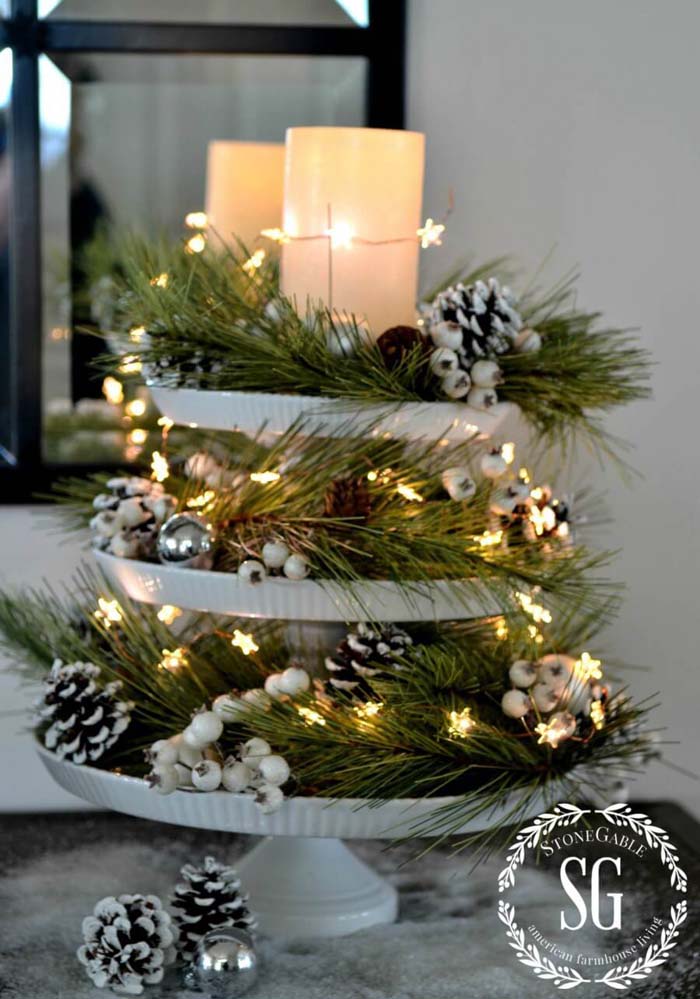 This centerpiece will not only beautify the eve table, it will also spread fresh fragrance around.
If you don't have a cake stand to make the arrangement, you can get a stylish one from the Dollar Store.
Start decorating each tier with pine twigs, pinecones and berry twigs. A string of lights can accompany the forest gifts and enjoy the mild light of the centerpiece at night.
via Stone Gable
6. Upcycle A Simple Vase With Peppermint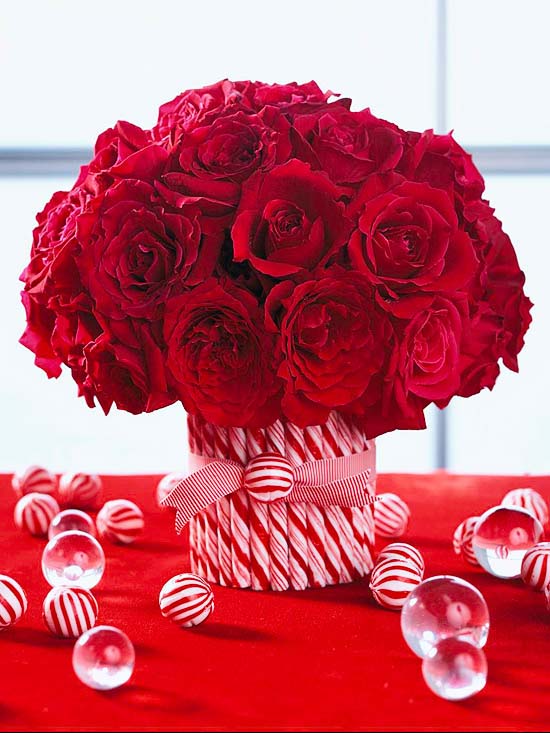 This tasty rose bouquet is a very inexpensive and attractive decor. All you need to do is to stick peppermint sticks around a vase with ribbon in the same color pattern.
7. Easy DIY Candy Cane Vase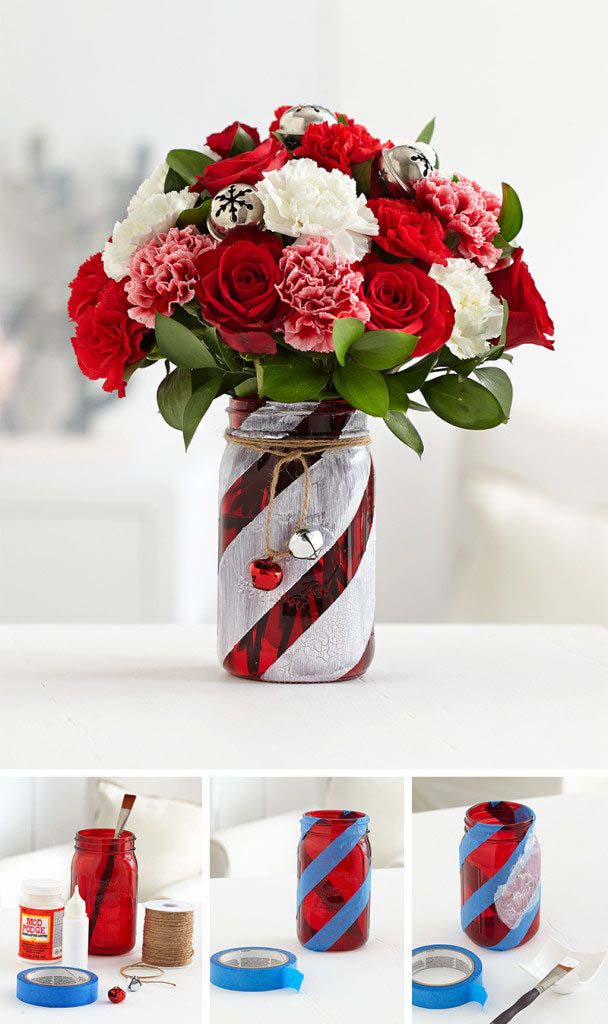 The delicious look of the red and white peppermint stick can be recreated on a red Mason jar.
Cover the glass with painter's tape in a spiral pattern and coat the formed strips with Mod podge.
Let it dry and see how the surface will form rustic cracks. Finish with a twist of twine around the neck. For a more holiday look, finish both ends with jingle bells.
via Pro Flowers
8. Candy Cane Tripod Card Stand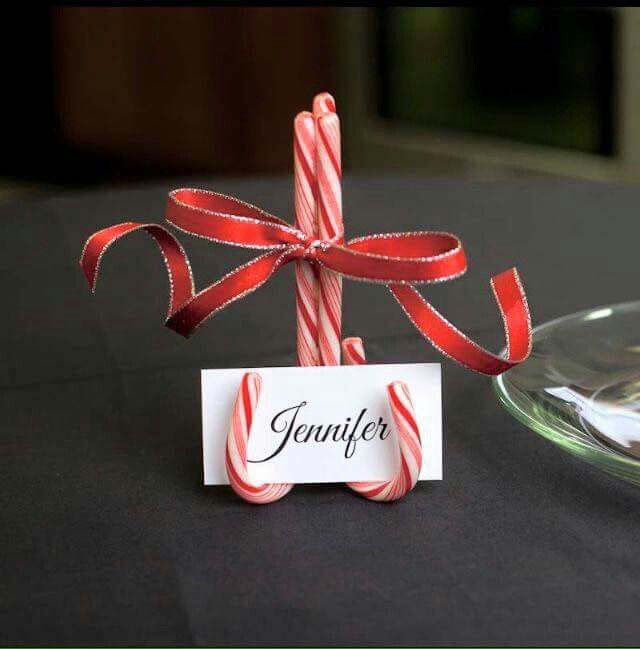 Make the dinner at Christmas more welcoming with personalized cards for each guest.
A holder made of three peppermint sticks tied together with a festive red ribbon will be a cute surprise for every guest on the dinner table.
9. Festive Candy Filled Centerpiece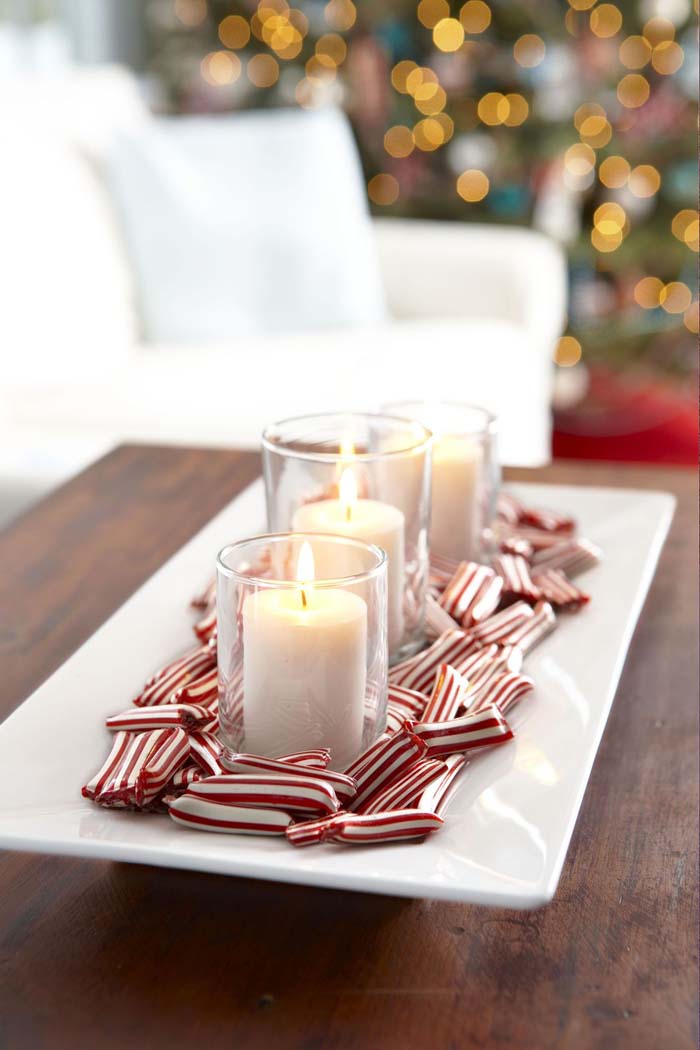 This is another idea of how to include the Christmas-themed peppermint sticks into the decor.
They come in the shape of puffs surrounding candles placed in the center of a dish.
10. Add Twinkle Throughout The Room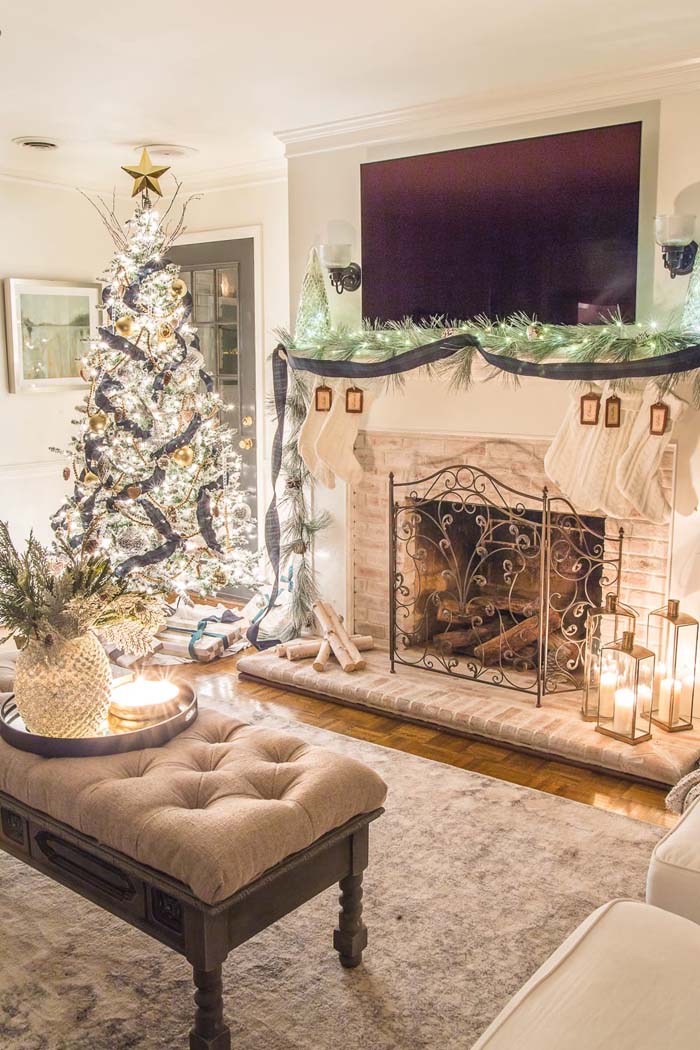 This is an idea of how to use the light motif to make the atmosphere indoors more magical.
Use your outdoor lanterns, fairy lights, all types of candles and spread them around the living room where your Christmas tree is.
Enjoy the twinkling lights and the whimsical atmosphere of the holy time.
via Bless'er House
11. Create A Tree And Candle Cluster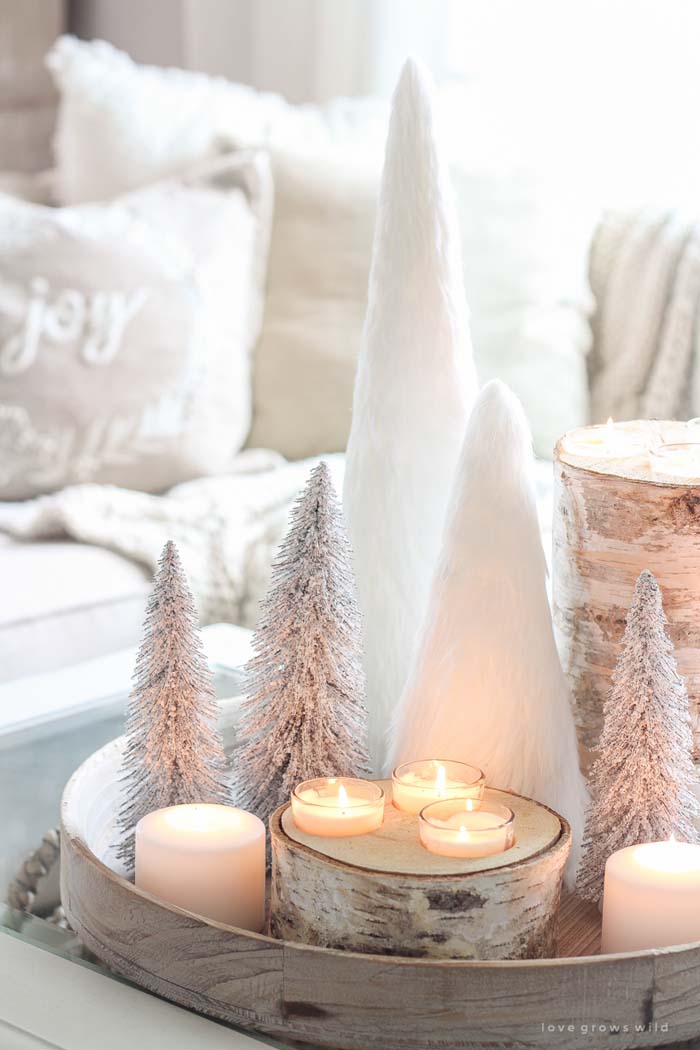 There is a way to make your home more festive in a rustic way. Include more wooden accents- a slice of birchwood for example. To make it look more festive, hollow out holes to place tea candles inside them.
The candle holder will have a greater rustic impact if set in a group with other elements like wool trees, candles and small pine tree ornaments gathered in a wooden tray.
via Love Grows Wild
12. Make Outdoor Lanterns Festive With Ornaments
Another way to include the outdoor decorations indoors is to fill the lanterns with Christmas ornaments and add a bouquet of pine twigs on top of them.
These repurposed lanterns can welcome the guests at the front door as well.
13. Make Your Own Glittering Wreath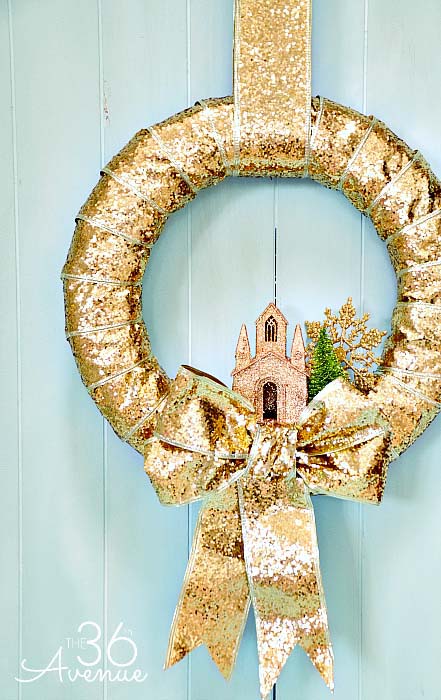 Such a front door sparkling wreath will be noticed from far away and will surely increase the festive moods even of the strangers passing by.
Detailed tutorial of how to make it is provided below.
via 36th Avenue
14. Holiday Napkin Tree Table Setting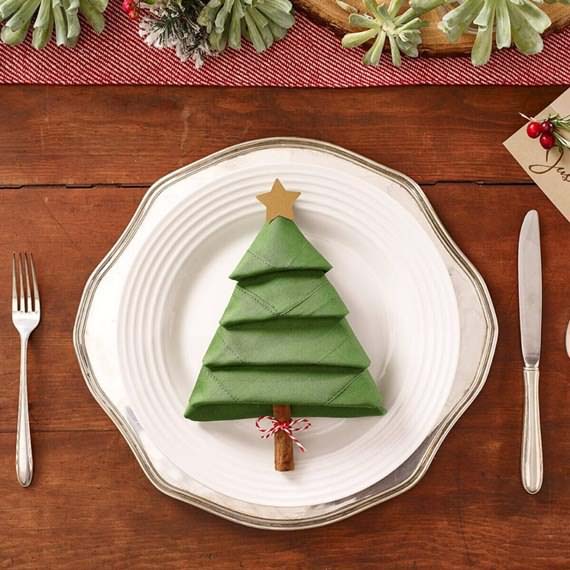 Small details can have great importance when it comes to holiday decoration.
For example, a napkin, folded like a pine tree and placed in each plate on the holiday table will mark how special every person celebrating the holiday in that home is.
via Publix
15. Snowy Holiday Village Terrariums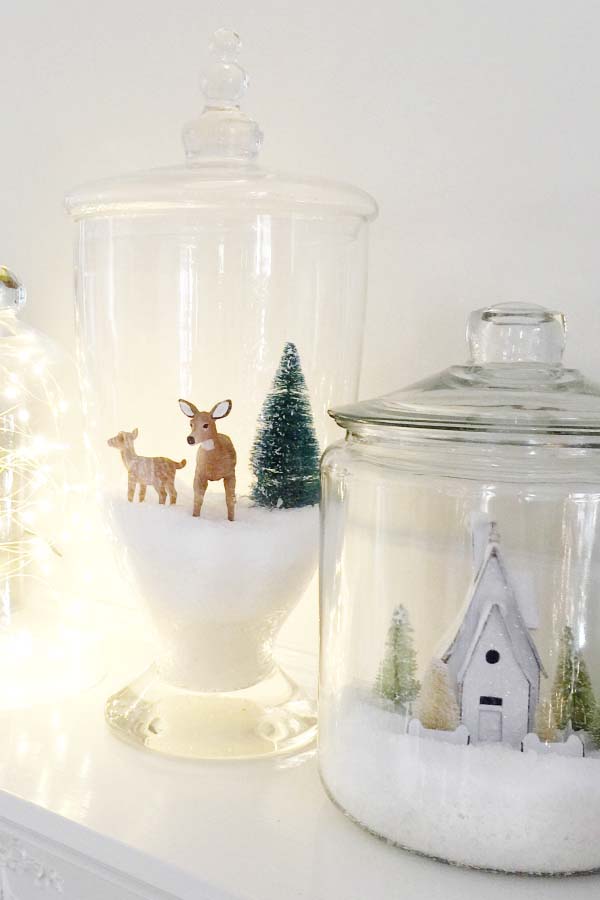 The winter scenes sealed in a jar or a glass globe have a lot of charm. You can easily make a collection of snow-themed jars creating a whole village.
You can use any type of glassware- wine glasses, vases, jars. Make sure that they are wide enough to position the miniatures inside. The snow-like filling is Epsom salts.
via The Idea Room
16. Glittering Christmas Tree Snow Globe DIY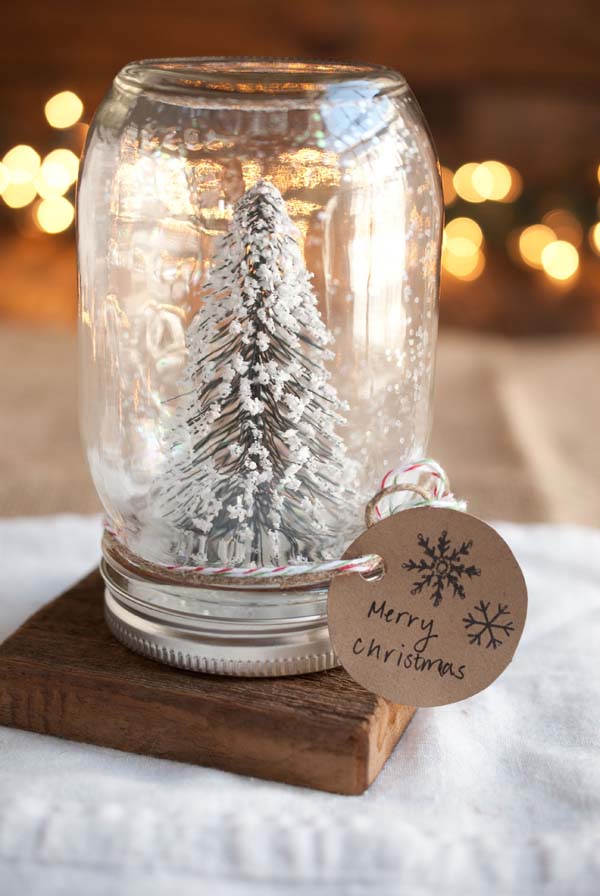 This is a very stylish snow globe that will add a lot of rustic charm to the Christmas interior.
The supplies you need are a Mason jar, glitter, water (if you wish) and a little tree ornament.
via Simple Craves and Olive Oil
17. Add Evergreens To Your Porch Light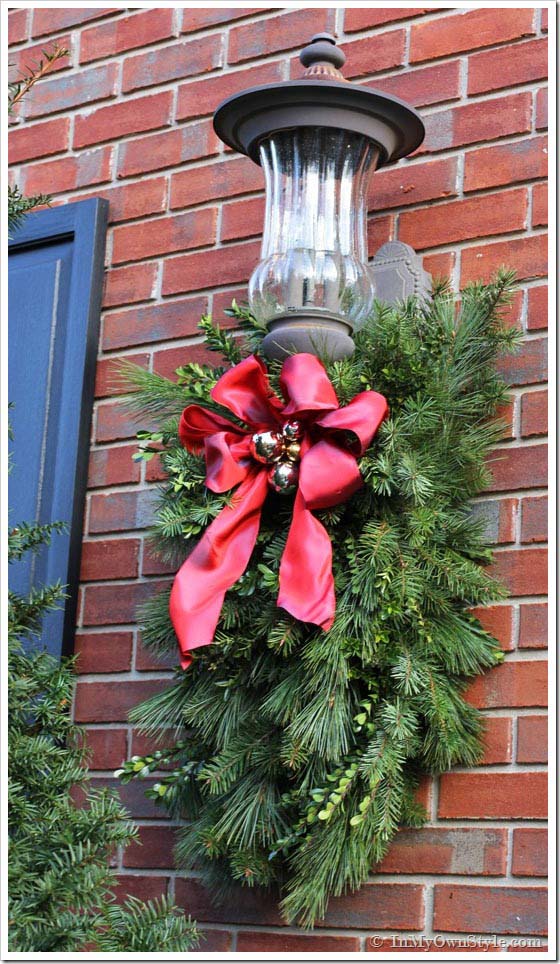 You don't have to limit your Christmas-themed decoration only to the inside of your home. With a few supplies, some of them literally for free, you can make an eye-catching front porch decor that will welcome the family and the guests throughout the Christmas holidays.
Get some pine twigs from the forest and tie a large red bow with jingle bells around them. Then just tie the ribbon to the light fixture bracket.
via In My Own Style
18. Budget Friendly Holiday Village Project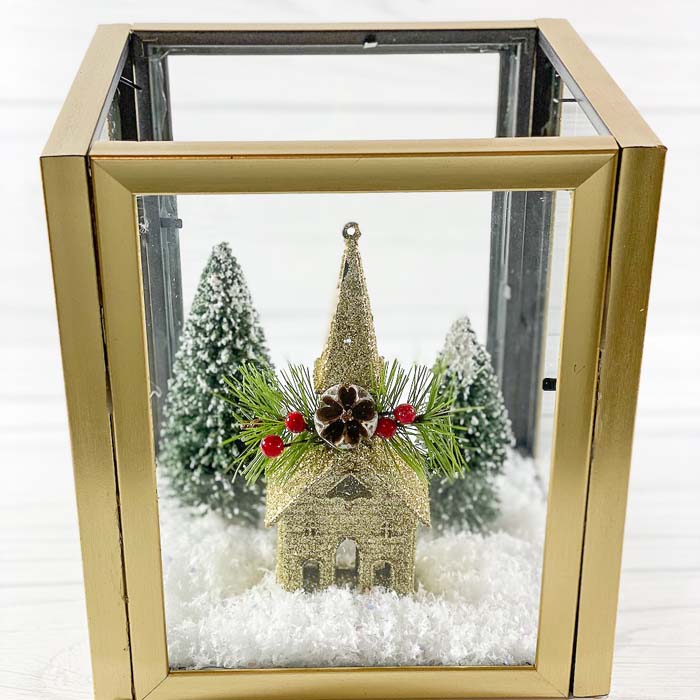 This winter landscape has been created with supplies taken from the Dollar Store, so it will surely be an affordable craft.
Instead of jars or vases, the miniatures are closed in a box made of picture frames. Any miniatures can be placed inside the container- small trees, wooden houses, baubles, fairy lights, deer figures, snowmen, etc.
19. Twinkling DIY Bead Trees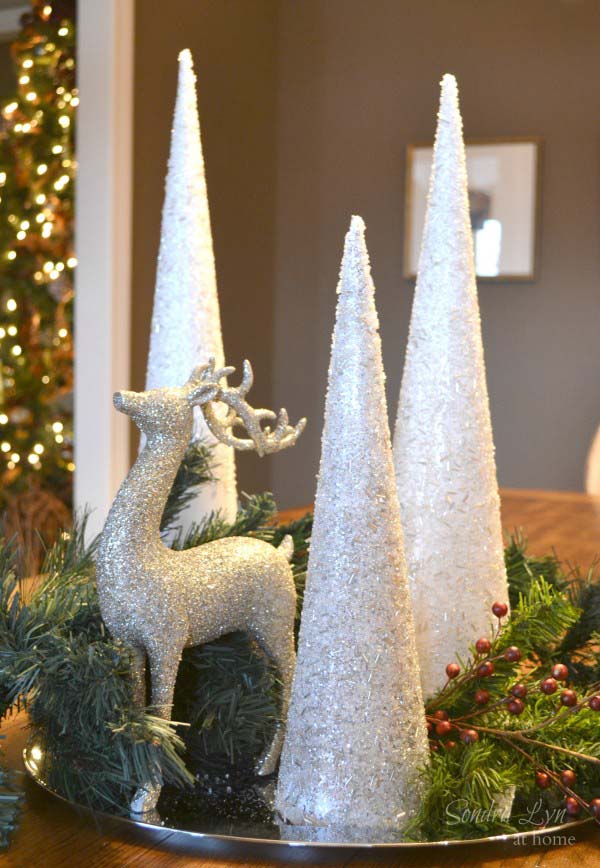 These stylish tree accents are handmade and all three of them cost under $20!
If you are in love with them as we already are, get two or three packages of glass beads of color you like. Gold or silver sequins will also work well as a decoration over the paper cones.
20. Custom Holiday Sparkling Ornaments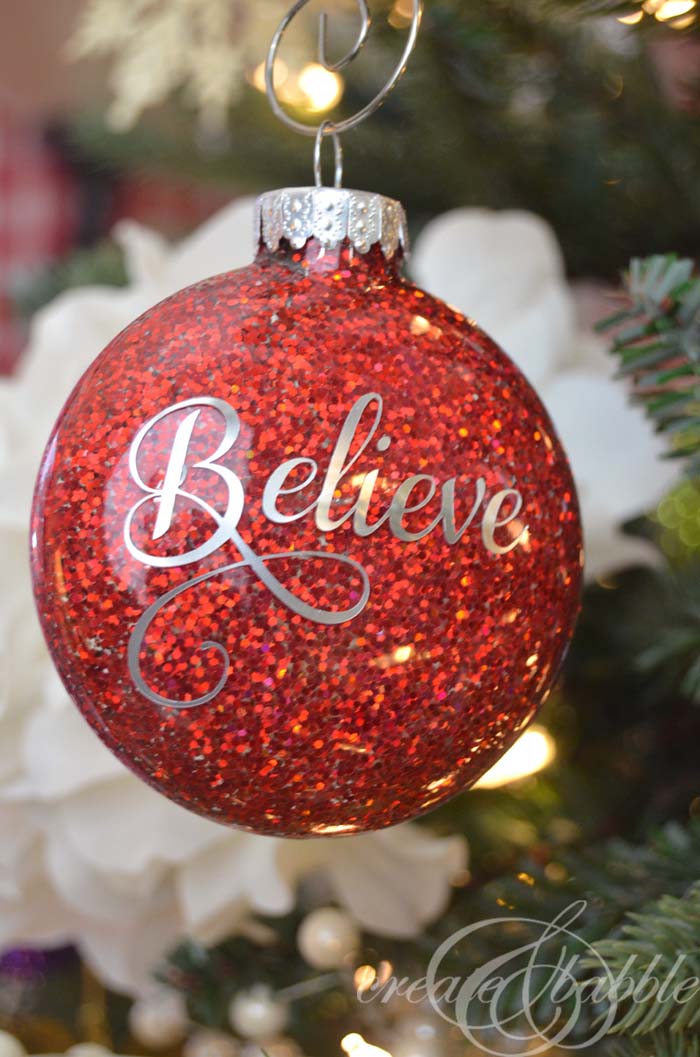 This glitter Christmas ornament is an easy project and even kids can join in the making.
To start with, you need clear Christmas balls. Fill the inside with polyacrylic glue and roll the ornament around to let the glue spread all over the inside. Then fill it in with glitter until the walls are covered with the shining particles.
For a more personalized touch, you can a vinyl stencil with a meaningful thought or word.
21. Mercury Glass Lookalike Tree Décor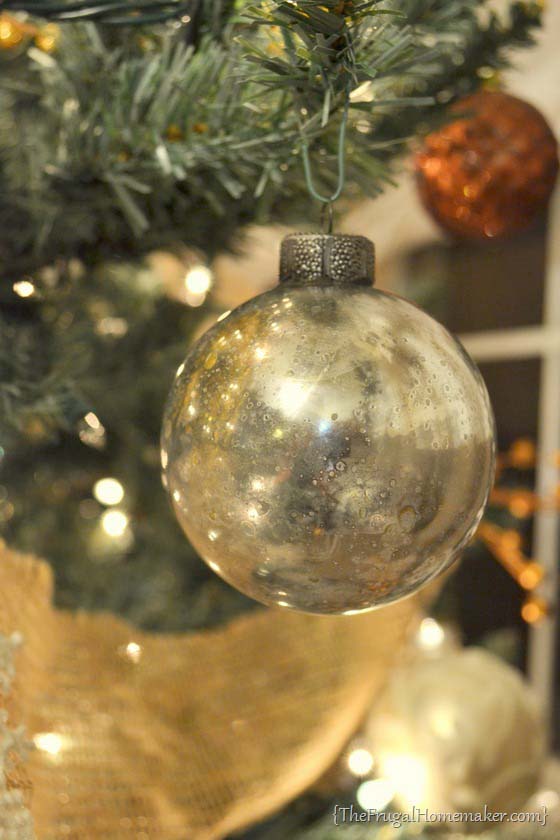 Such a gorgeous ornament will stand out with its elegance and uniqueness.
The key to making the Mercury glass effect is to spray water inside the clear ball and then spray drops of Krylon Looking Glass Mirror-Like spray paint.
22. Fluffy Pom Pom Snowscape Wreath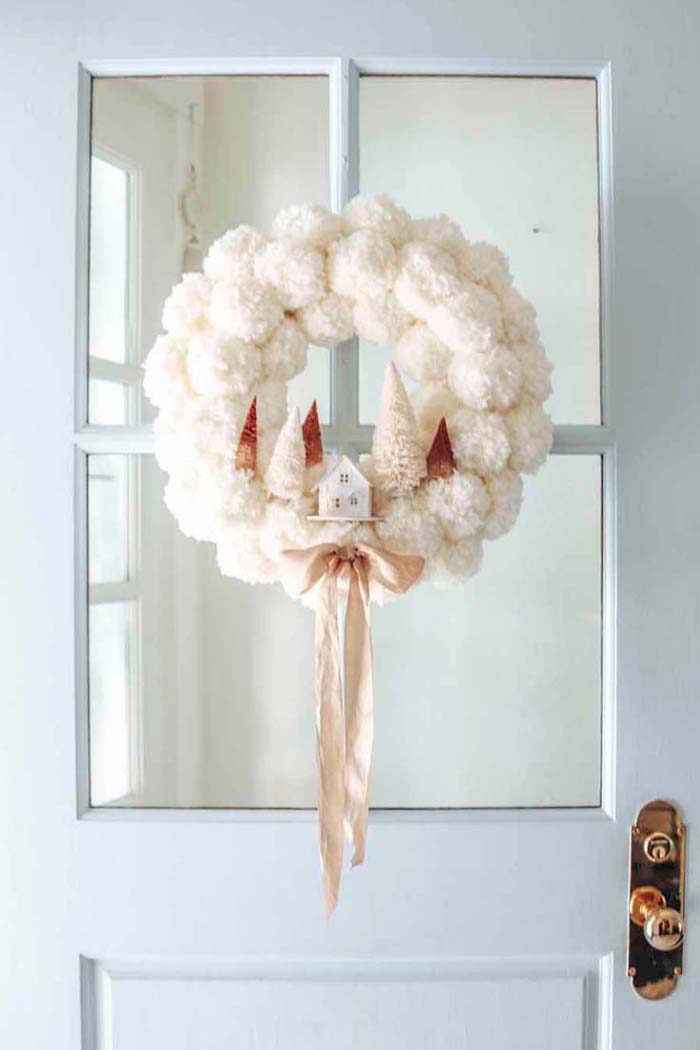 This wreath is covered with cloud-like pompoms setting the white background for frosted mini trees surrounding a cozy wooden house.
The pompoms are made of snow-white twine. Rich layers of them cover a round basis- could be a styrofoam circle, a cardboardring or a similar basis.
via Modern Glam
23. Elegant Icy Centerpiece Scene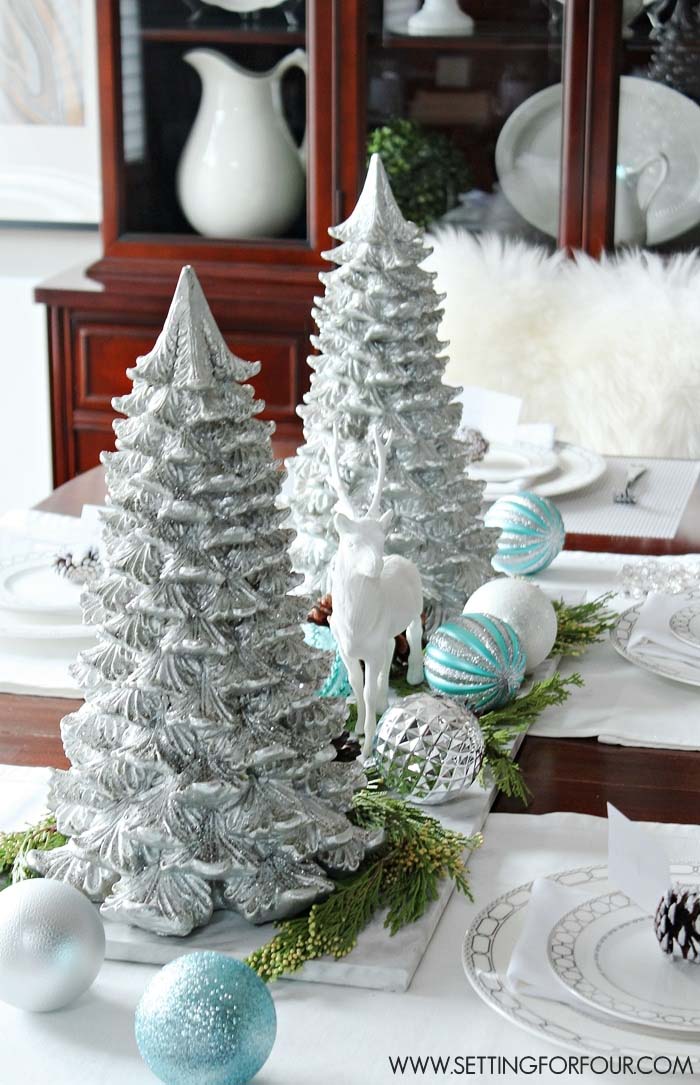 If the decoration you have got looks vague and boring, you can always upgrade it with paint to make it more sparkling and glittery.
The paint variety is wide so are the options you have got to make the ornaments more attractive. Metallic finishes are exceptionally good for this purpose as they give the surfaces shine.
via Setting for Four
24. Snowflake Doily Baskets

You can make a bowl touched by the snowflake effect simply by dipping doilies into glue dissolved with water.
Depending on the mold used for drying the doilies, the size of the bowl may vary.
via Gillian Bower
25. DIY Winter Glittering Village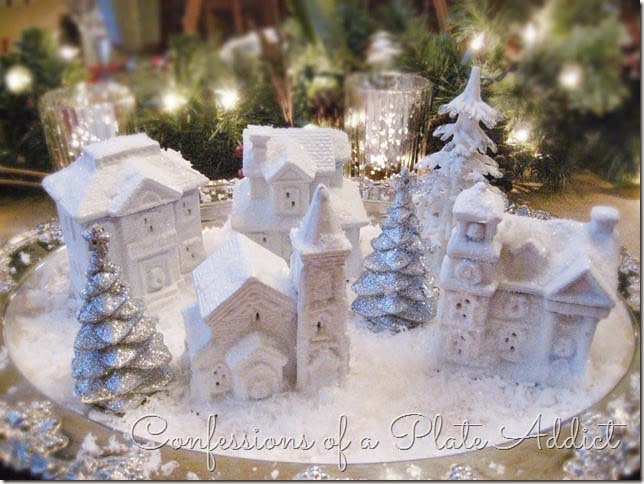 This fairy picture is made of supplies from the Dollar Store. The great transformation is achieved by painting the sculptures with white paint and then giving them a sparkling effect with glitter.
To let the glitter stick to the surface, coat the painted miniatures with dissolved glue or Mod podge.
via Confessions of a Plate Addict
26. Paper Cones And Globe String Lights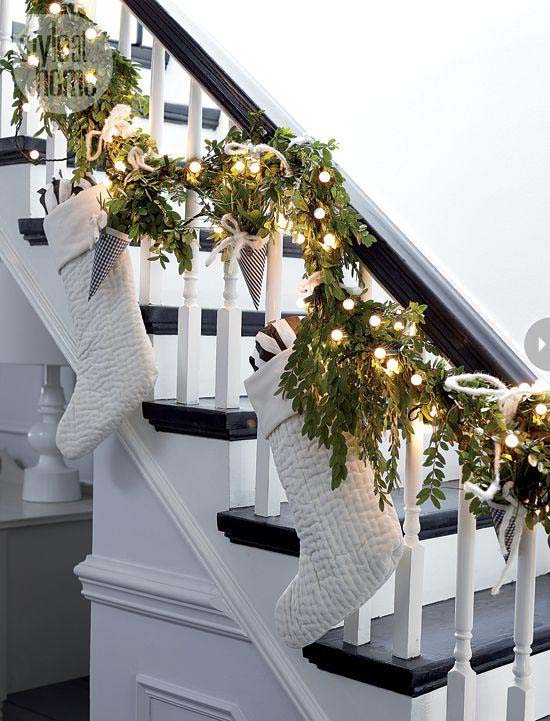 Elegance is not only in expensive decorative items. It can be created when matching the right colors, the right textures and suitable shapes.
This affordable staircase decoration can be done in an affordable manner as long as you have basic sewing skills to make the stockings.
The rest of the arrangement is evergreen twigs and fairy lights.
27. Reflect Lights With Stunning Silver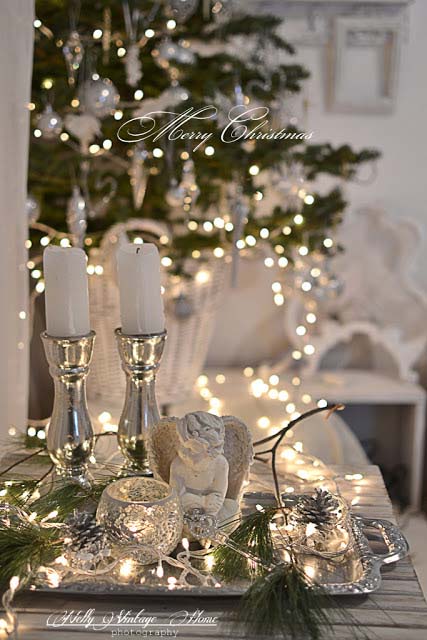 This decoration has a lot of holy motifs like the angel, the candles and the symbolism behind the light.
Combine them all together on a silver tray to celebrate the birth of Jesus and add a lot of elegance and pureness to your Christmas decor.
28. Upgrade Dollar Store Wine Glasses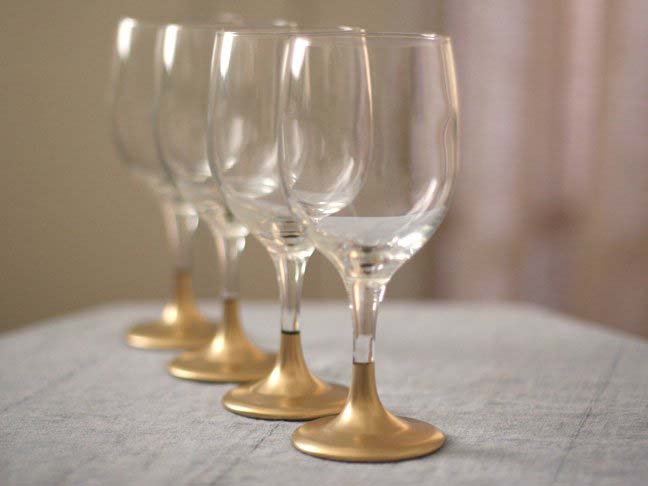 Make Christmas more special with these dipped into gold wine glasses.
To achieve the luxury look of the plain wine set from the Dollar Store, get metallic Rustoleum spray paint.
To ensure that only the stems of the glasses are neatly painted, define the area with masking tape and protect the remaining glass surface with newspaper pages.
via Momtastic
29. Glitter Dipped Mason Jar Vases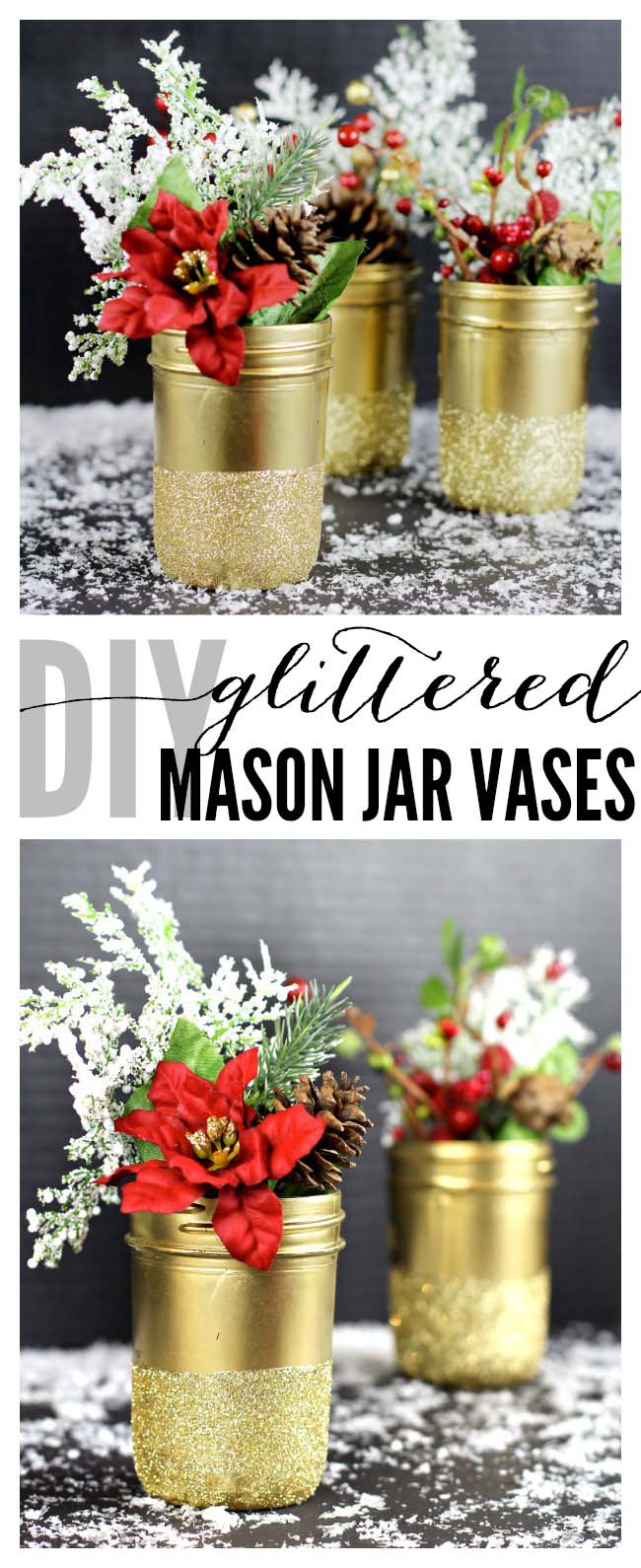 Christmas won't be that magical if there isn't enough sparkling light and glitter.
This idea for decorated Mason jars gives you a double sparkling effect- gold metallic finish and glitter.
The updated jars can be used as vases, as a centerpiece for the Christmas table, as napkin holders and many more.
via Classy Clutter
30. Elegant Christmas Centerpiece Runner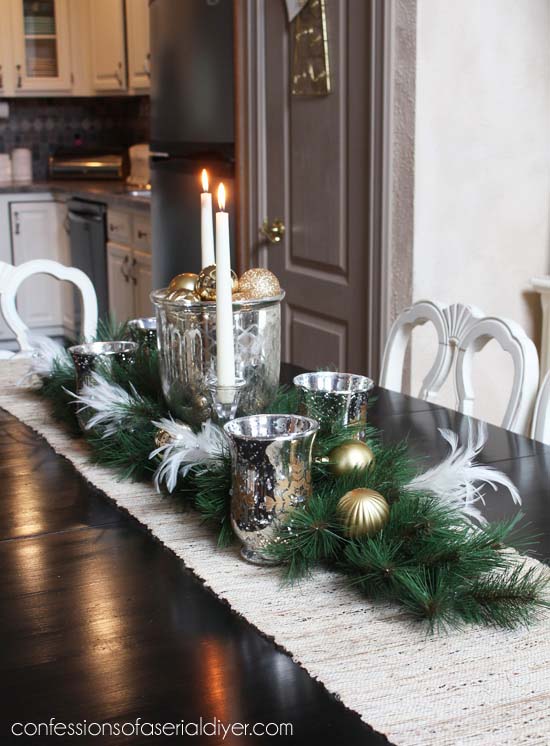 This is one of the most stylish centerpiece ideas that is very cheap and easy to be done.
Start by finding a piece of burlap or tablecloth to lay onto the table and become a backdrop for the centerpiece.
The centerpiece itself is a combination of natural elements like pine twigs are and metal containers filled with Christmas ornaments.
The balance of this decoration is well managed to combine both simple and luxury details in one.
via Confessions of a Serial DIYer
31. Sparkling Glass Icicle Themed Tree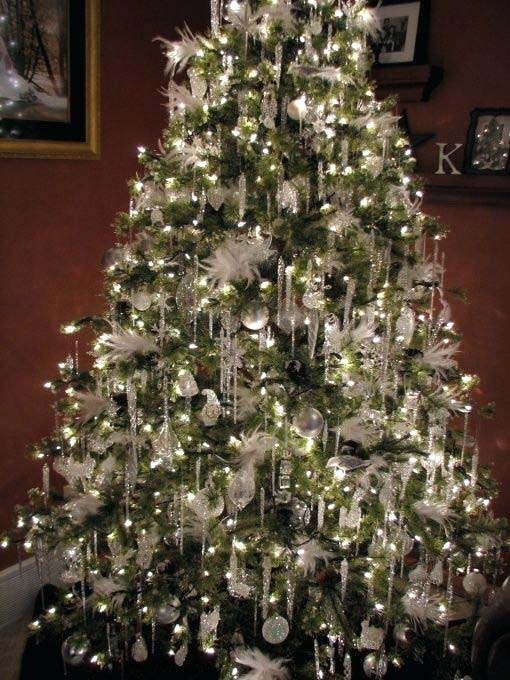 Twinkling lights are never enough when it comes to Christmas decor.
Using this item as a predominant decoration on the Christmas tree and achieve a remarkable glowing effect that will enhance the magical atmosphere indoors.
32. Illuminate Your Porch Décor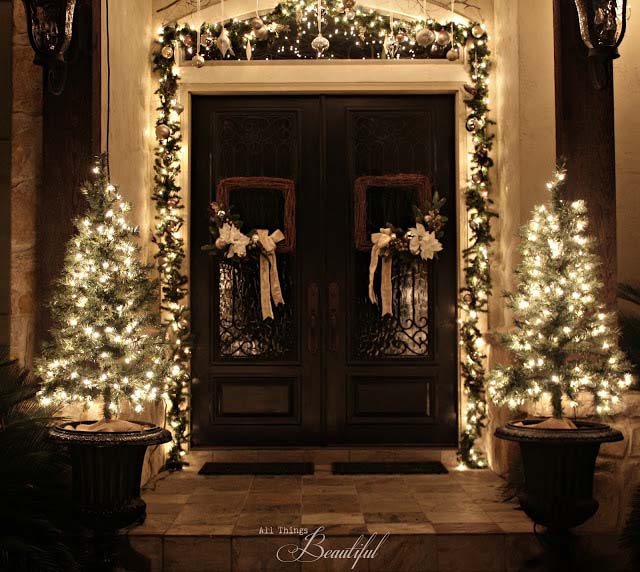 Fairy lights suitable for outdoor exposure can illuminate the front porch and welcome with an appealing glow.
Place them around the frame of the door and on the plants on both sides of the door to create a glowing arch.
33. Silver Leaf Reflective Candle Holders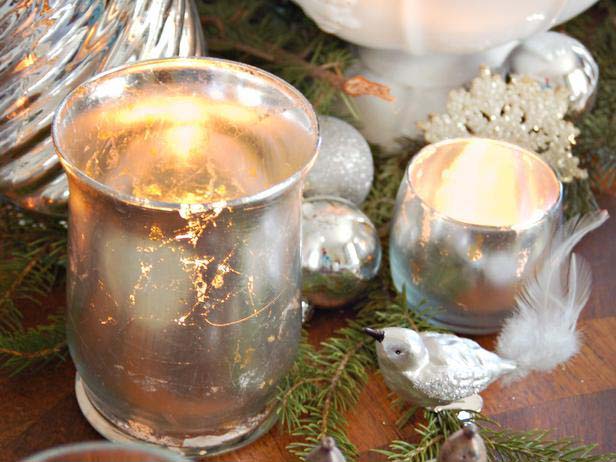 We have seen the gold or silver leaves applied on eggs for Easter.
They make just as fabulous look on glass surfaces so they can be used for decorating plain vases, jars or glasses to transform them into a festive part of the decor.
via HGTV
34. Silverware Holder Stocking Table Settings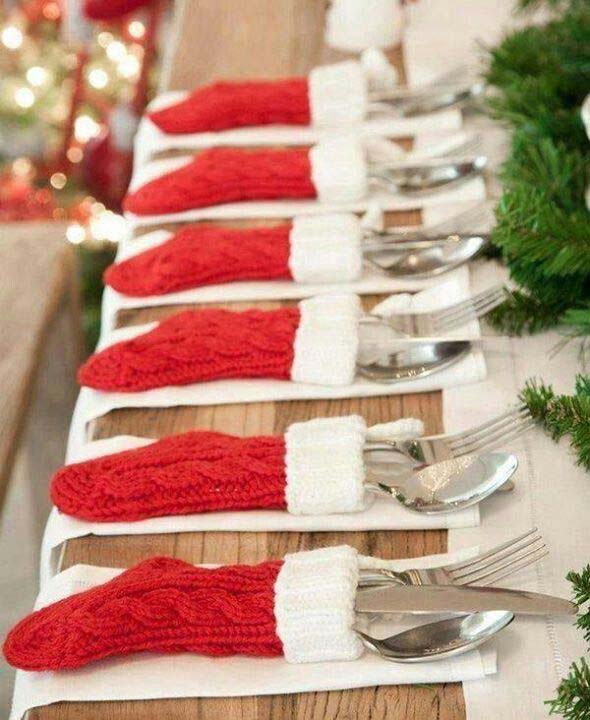 These cute stockings are big enough to accommodate the dining utensil set. It would be particularly touching if a stocking is dedicated to every person attending the Christmas Eve table.
35. Fill Glass Vases With Holiday Elements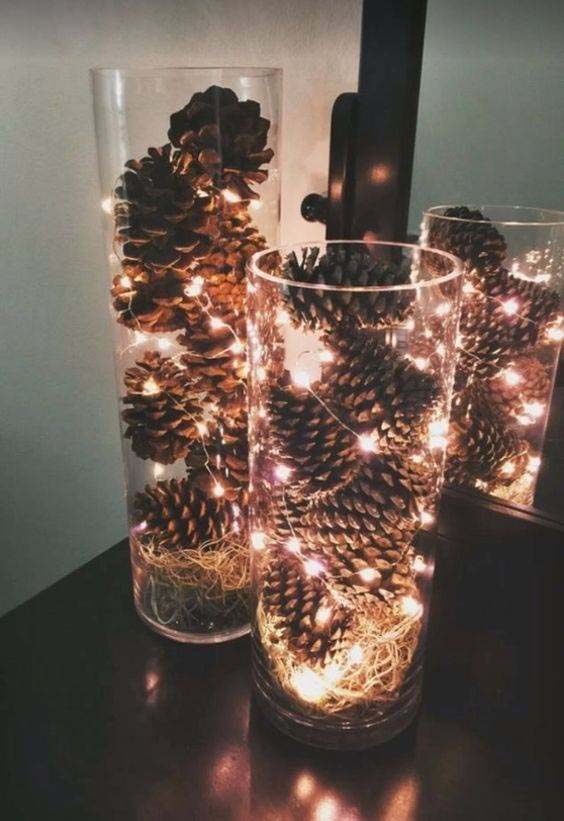 Filling empty glass vases with pinecones is an easy project that won't take up any of the time.
To give the non-traditional bouquet a touch of interest, place a string of lights inside each vase.
36. Red Floral Tree Garland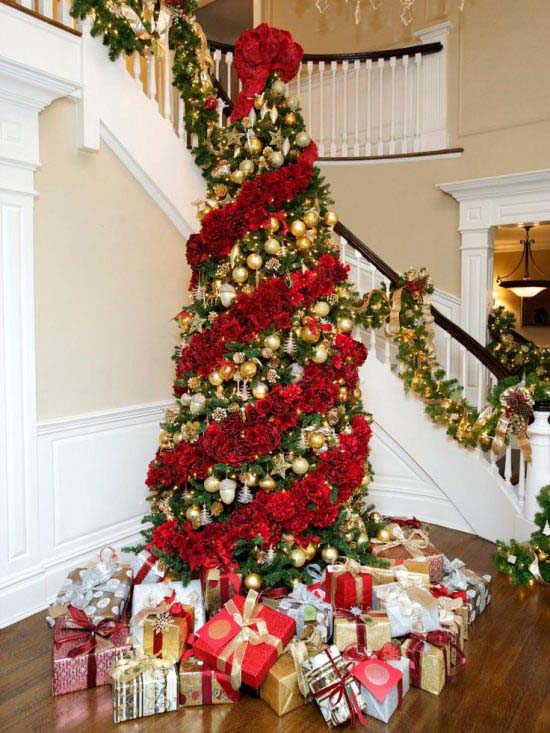 Poinsettia is a traditional symbol of Christmas so including it in the decor is never wrong. Its rich and attractive red color ensures attention and adds elegance to the decor.
An interesting idea of how to include the poinsettia motif in the Christmas tree decoration is to make a garland of faux blooms. Weave it around the Christmas tree and see how the red poinsettia garland pops out against the green background.
37. Holiday Poinsettia Door Wreath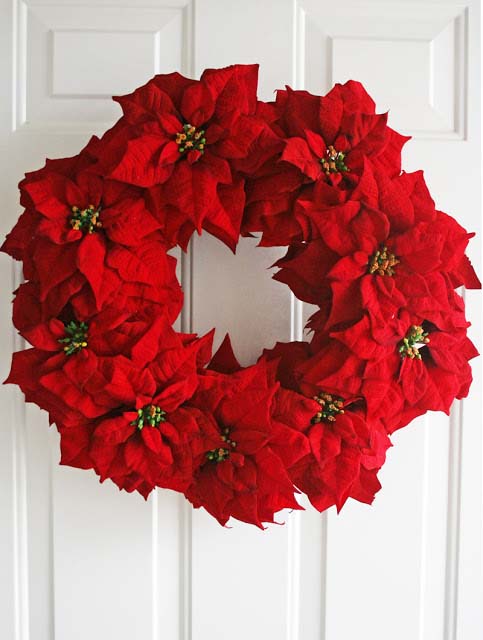 A wreath made of faux poinsettia flowers will add a pop of color and traditional Christmas nuances.
Such a beautiful wreath can both be used as festive decor inside and outside.
38. Glam Glittering Christmas Tablescape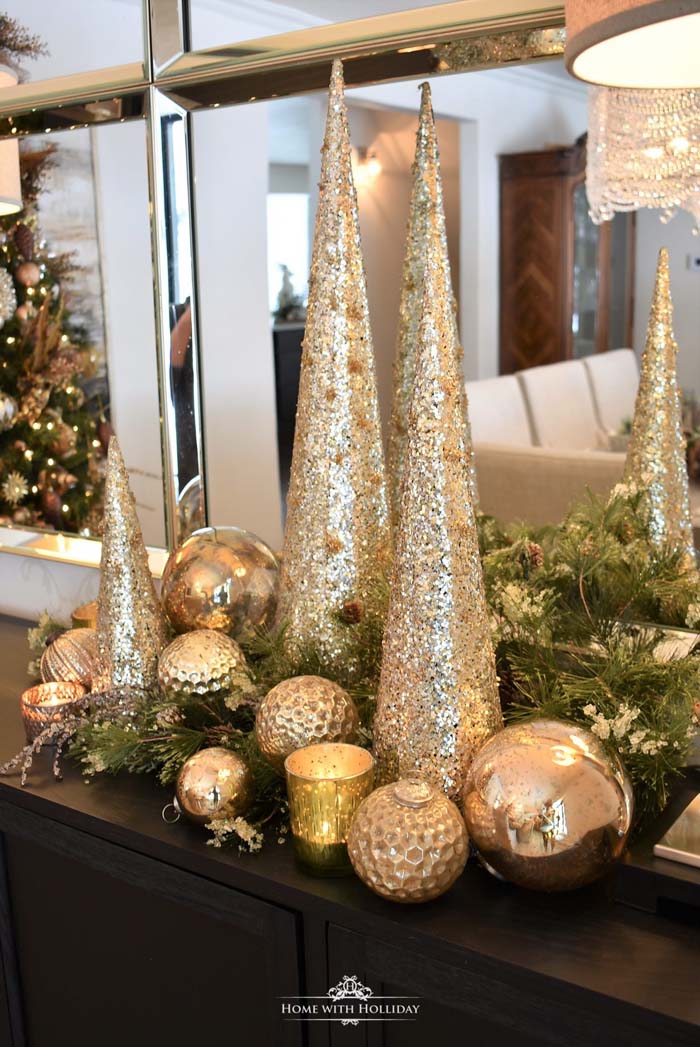 This image shows how to use the glam cone trees in combination with other Christmas or winter motifs and elements.
The sparkling effect of the trees needs balancing so natural elements like the pine twigs do a great job.
39. Painted Pinecone And Candle Centerpiece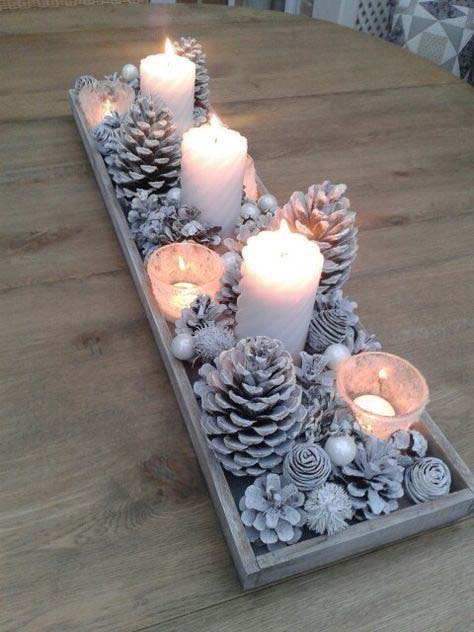 If you are short of time but you don't want to leave your table undecorated, there is an easy and cheap centerpiece idea for you.
Take out the ornaments contained in the tray and fill it with pinecones and candles. You can add small Christmas balls to enhance the festive look.
40. Table Décor With Shimmering Bells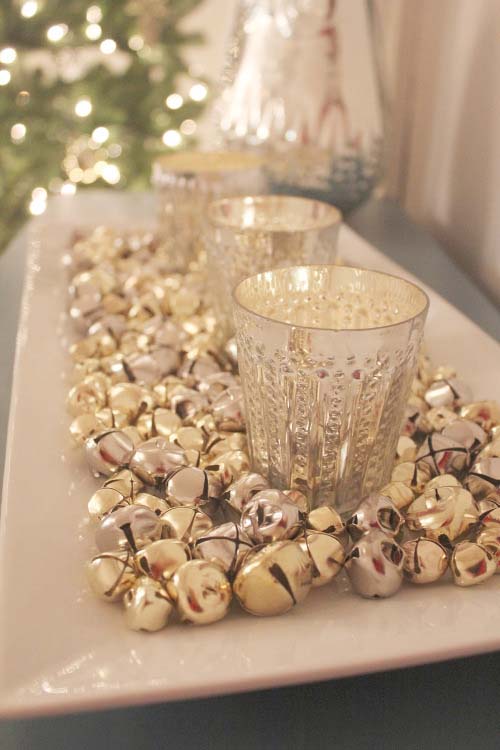 Another item you can use to fill in the empty space in the centerpiece plate or tray is the jingle bell.
It is connected with Christmas and its metallic finish gives the arrangement a stylish touch.
via Heart Haven Home
41. DIY Snow Dipped Bottle Floral Holders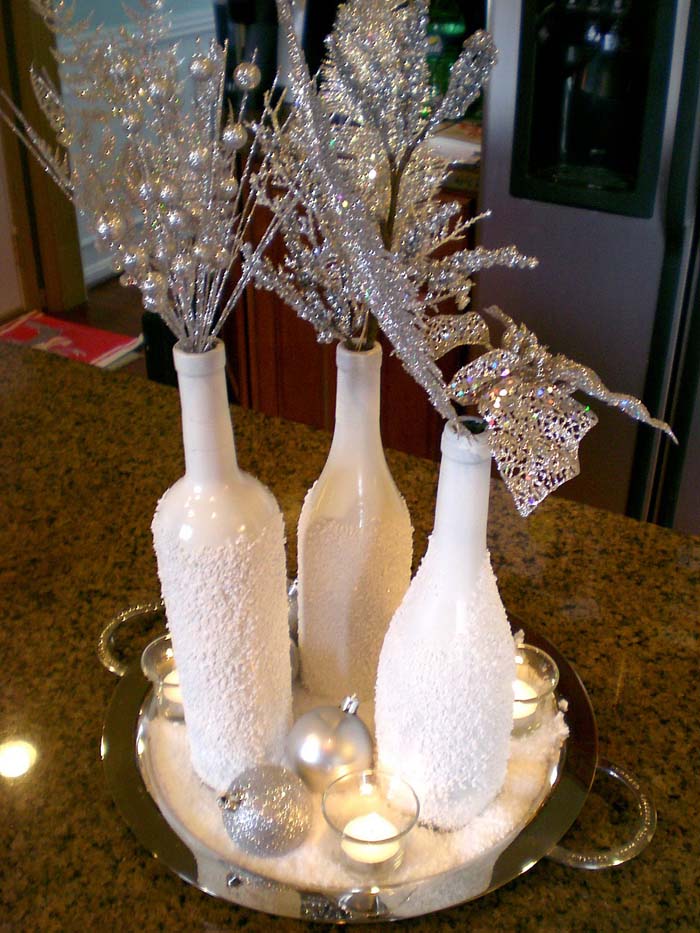 Bring an element from the outdoors inside your home with these frosty bottles.
First, lean the labels off the bottles and degrease the glass surface well. Then prime them or give them a thick coat of white paint.
When the layer has dried decide the area that will be given the frosty effect. Cover it with Mod podge or school glue and roll it on a plate filled with Epsom salt.
42. Pinecone Filled Candle Vase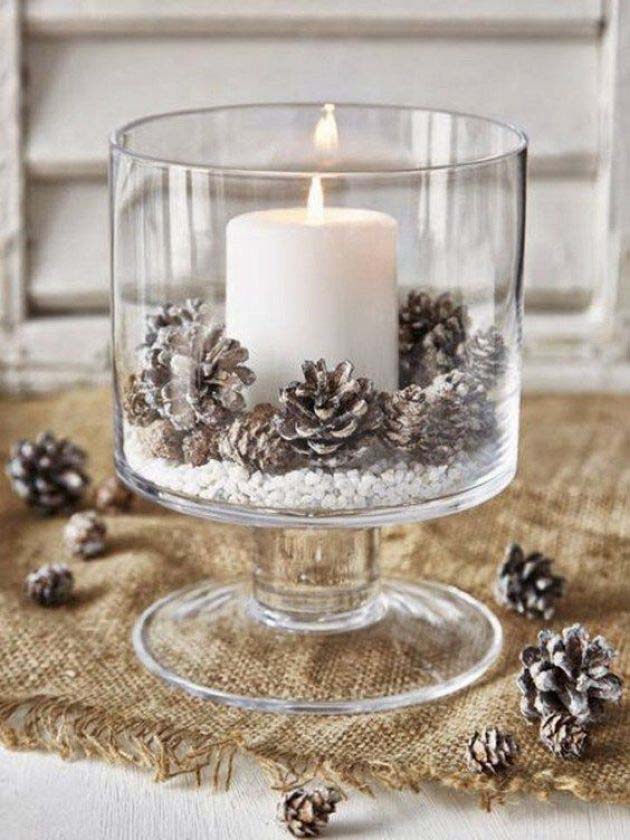 This idea is very simple but particularly cute. A glass is turned into a candle holder gently touched by the winter.
Fill the bottom with pebbles or decorative stones. Then insert the candle. Fill the space between the glass wall and the candle with small pinecones.
43. Snow Covered Christmas Jars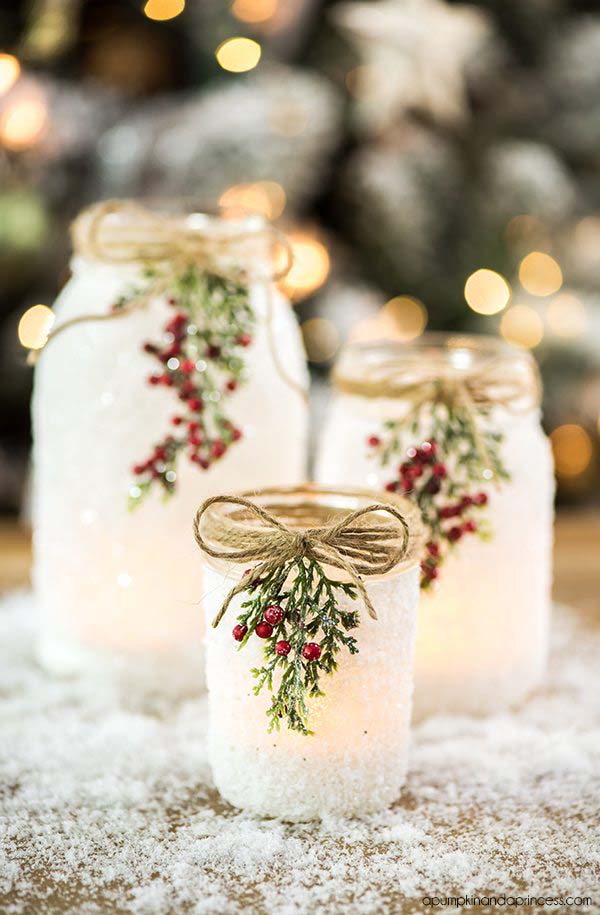 The snow effect of these luminaries is achieved with gluing of Epsom salt on the outside surface.
The charm of these jars is actually in the gentle shimmer that white glitter does.
The white surface is a perfect background for any additional accents like a twine with a small twig.
44. Metallic Glowing Christmas Tree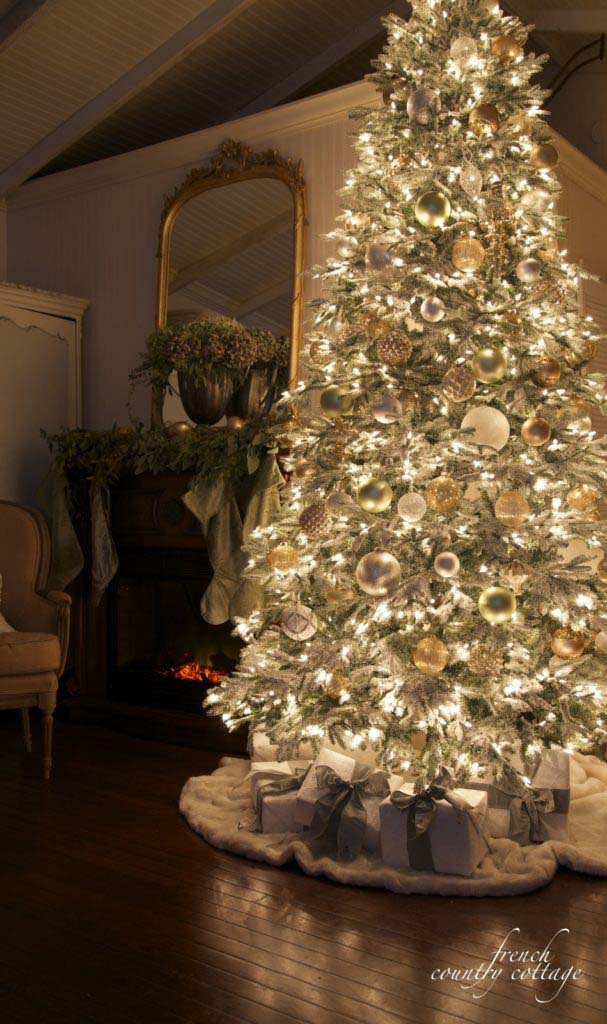 The sophistication of this Christmas tree is in the symmetrical decoration and the moderate usage of colors and shapes.
A string of twinkling lights goes around the Christmas tree to illuminate the ornaments and define the importance of this Christmas symbol.
45. Wine Glass Candle Holder Terrariums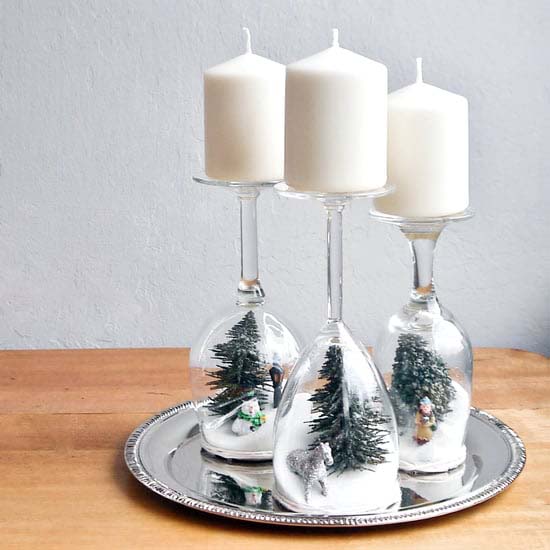 These dioramas are the most affordable snow globe craft ever. All supplies have been taken from the Dollar Store but have been combined in such a way to create a unique winter decor accent.
via Pop Sugar