There's nothing quite like a Christmas craft to get you in the festive spirit.
Grab a cup of cocoa, put on some holiday tunes, and lose yourself in the creative process.
Whether you're searching for a quick DIY decoration or an intricate project, these cute and cozy crafts will have you brimming with ideas.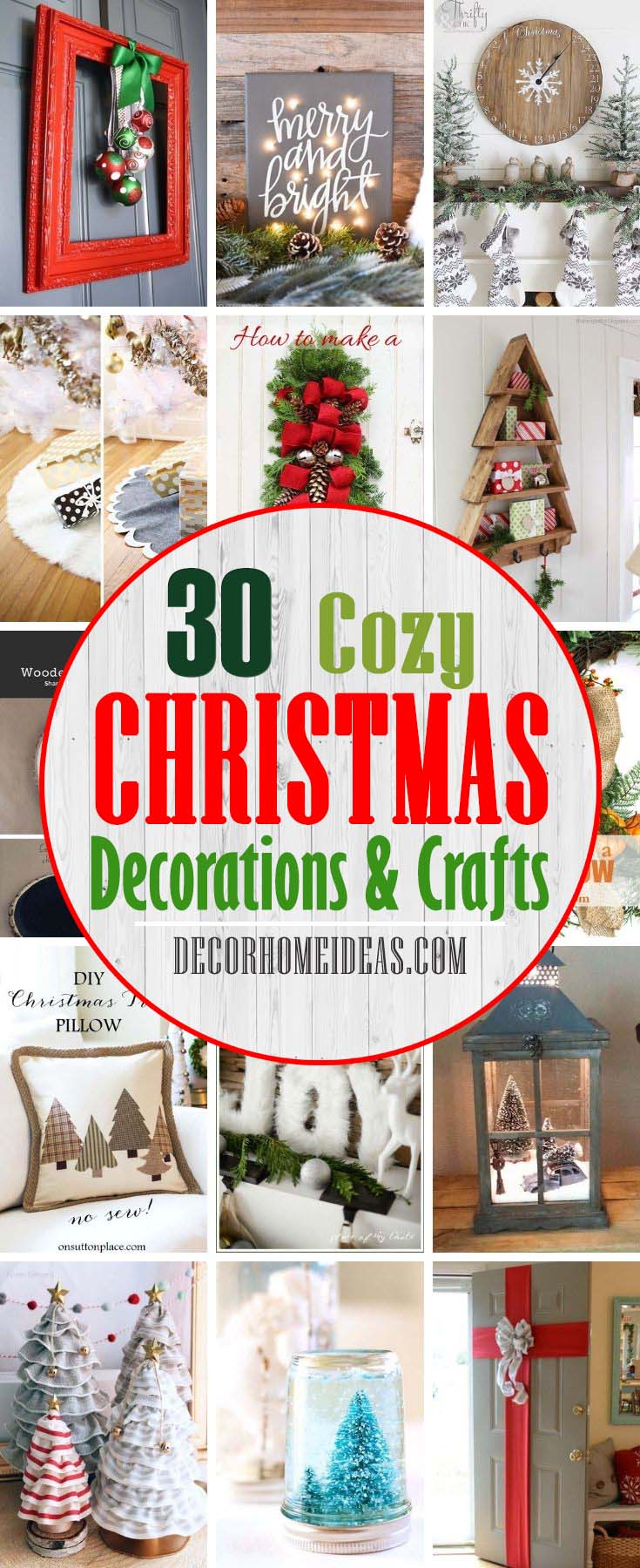 1. Budget Friendly Tinsel Garland Wreath

Bring a bit of sparkle to your front door with a tinsel wreath.
Don't worry if you're pressed for time — this project is fast, easy, and requires very few supplies.
In fact, you can make it and hang it in less than an hour.
via Miss Kris
2. Repurposed Simple Cut Pallet Tree

When you're going for a rustic, homey Christmas theme, a pallet tree is the perfect decoration.
From the rough texture to the natural color, every element of a pallet contributes to its charm.
This fun tree requires a saw and a few minutes of your time. Since it's made of sturdy wood, you can use it indoors or outdoors.
3. Tree Shaped Holiday Shelf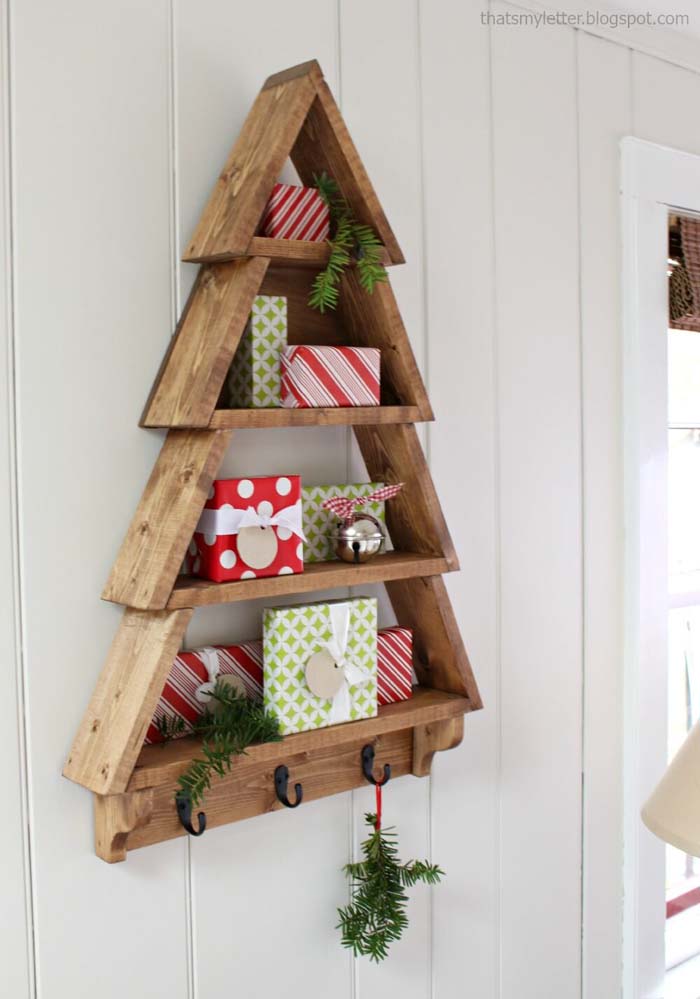 Turn an empty wall into a holly-jolly display with this beautiful Christmas tree shelf.
The shallow shelves are the perfect spot to showcase Christmas cards, favorite family ornaments, or even a DIY Advent calendar.
Add a few hooks to the bottom, and this shelf doubles as a coat rack.
via Ana White
4. DIY Greenery Door Swag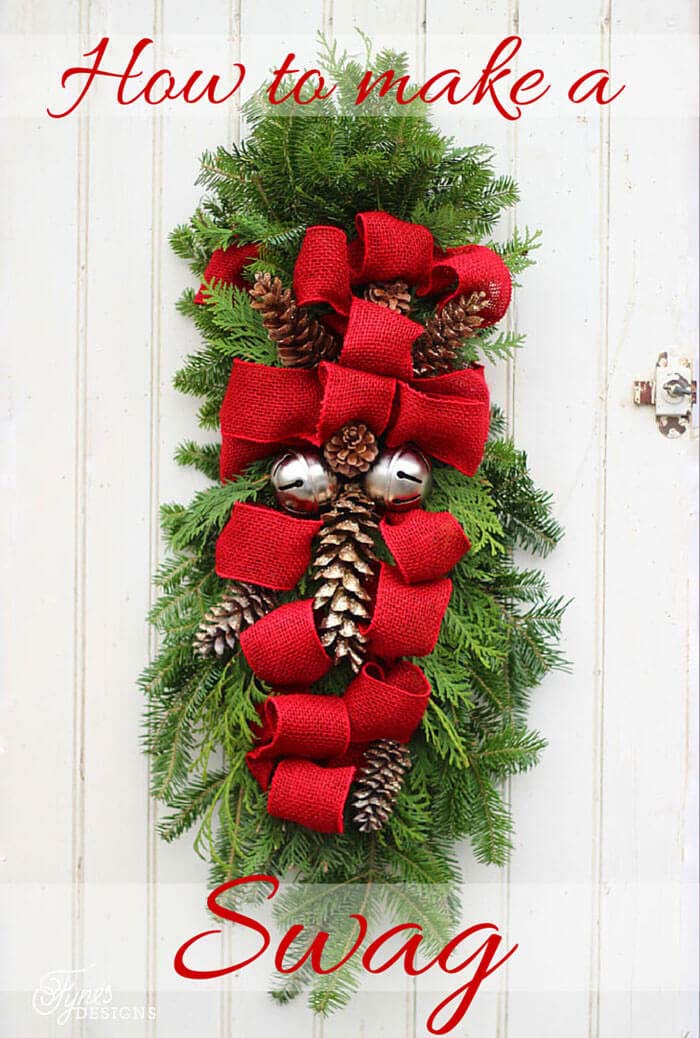 Looking for an alternative to a traditional wreath?
This lovely DIY swag is colorful and right in keeping with the season.
Decorate your greenery with red ribbon and pinecones for a traditional look, or go for a modern vibe with alternative colors, tiny snowflake ornaments, or any small items that catch your eye.
via Fynes Designs
5. Add A Gift Bow To Your Door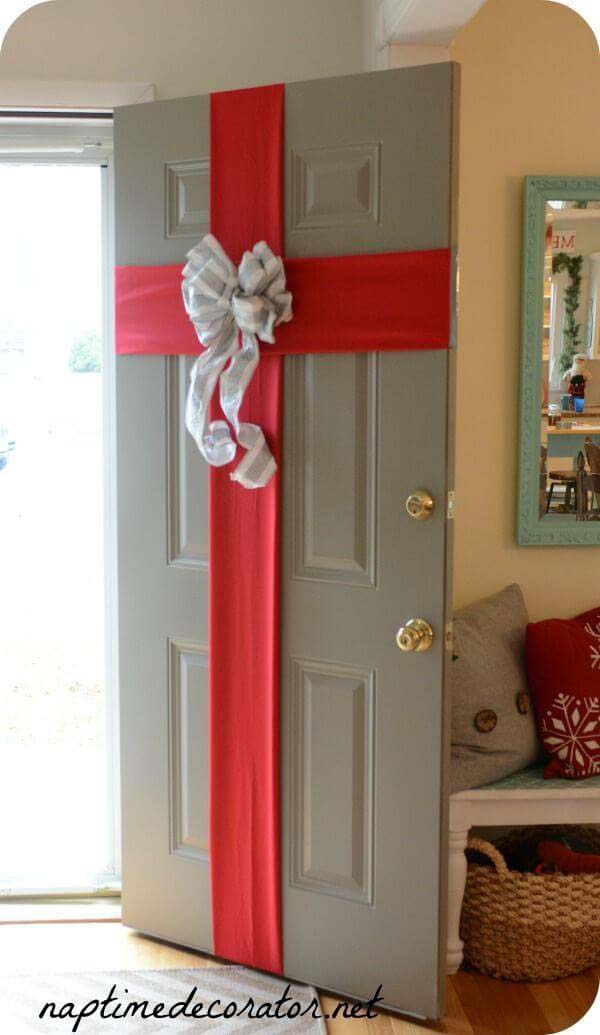 Dress your front door for the holidays by turning it into an enormous Christmas present.
Two lengths of fabric create the impression of a ribbon on a gift box — we love how the red color pops against the grey door.
An oversized bow seals the deal.
6. Oversized Stenciled Ornament

If you love oversized decorations, this giant ornament makes a fun DIY project.
Use a small tabletop, as you see here, or cut out a circle from a sheet of foam board for a lightweight alternative.
Stenciled letters and a cheerful bows-and-bells topper turns your simple circle into a huge Christmas ball ornament.
7. Candle Trio Pallet Box Centerpiece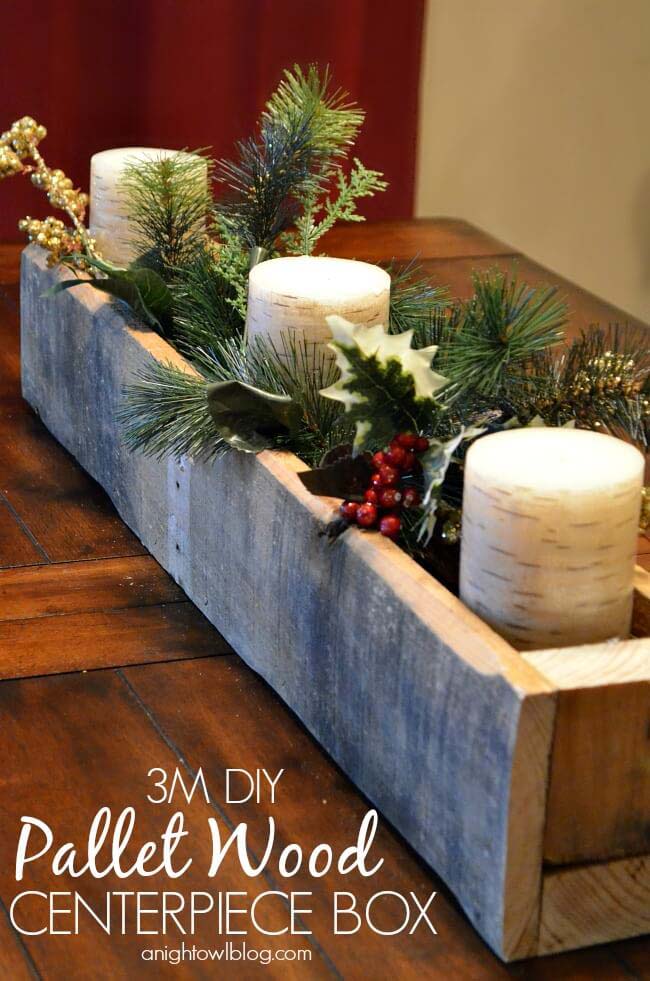 Whether you're hosting Christmas dinner or simply looking for a way to spruce up the dining room table, this DIY centerpiece box is an easy solution.
It's made from pallet wood; you can also use scraps you have on hand.
The long, narrow box is the perfect fit for candles, greenery, or a pile of shimmering Christmas ornaments.
via A Night Owl Blog
8. Backlit Holiday Sign Décor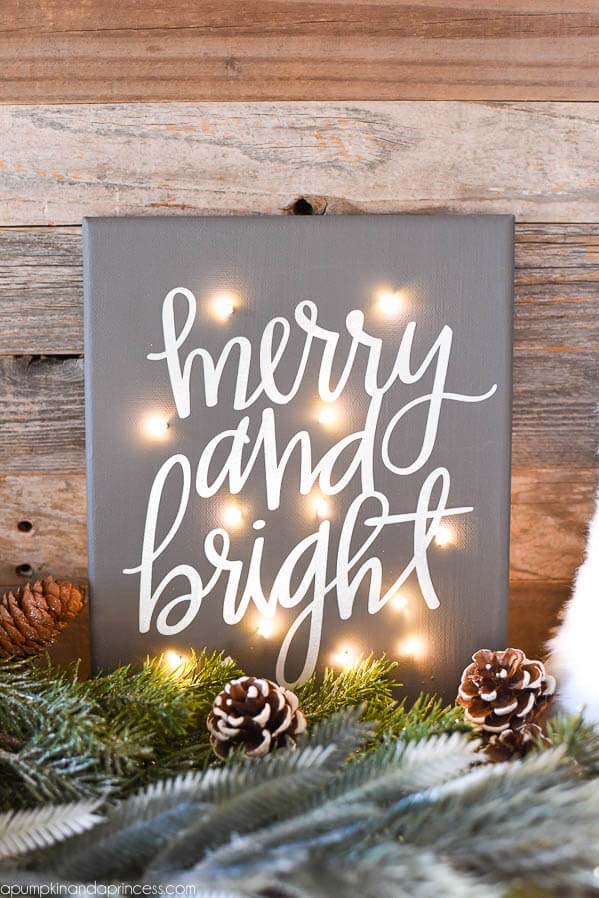 You can never have too many Christmas lights — here, they're integrated into a festive seasonal sign.
This project looks professional, but it's exceptionally easy to make.
A stencil, two colors of paint, and a strand of lights turn a blank canvas into a custom work of art.
9. Wood Advent Calendar DIY Project

How adorable is this clock-style Christmas Advent calendar?
Each number represents a day of the month; just move the hand one spot every day until Christmas.
Use a wood slice, a round palette, or a repurposed clock to create a version that matches your decor.
via Thrifty and Chic
10. Festive Fur Letter Décor

Do your tastes trend toward all things fuzzy and glamorous?
You'll adore these sweet letters. Spell out your favorite festive word using cardboard or wood letters from the craft store.
Then, add the faux fur of your choice. White fur is a classic — or, mix it up with bright colors or shimmering fur.
11. Make Your Own No Sew Tree Skirt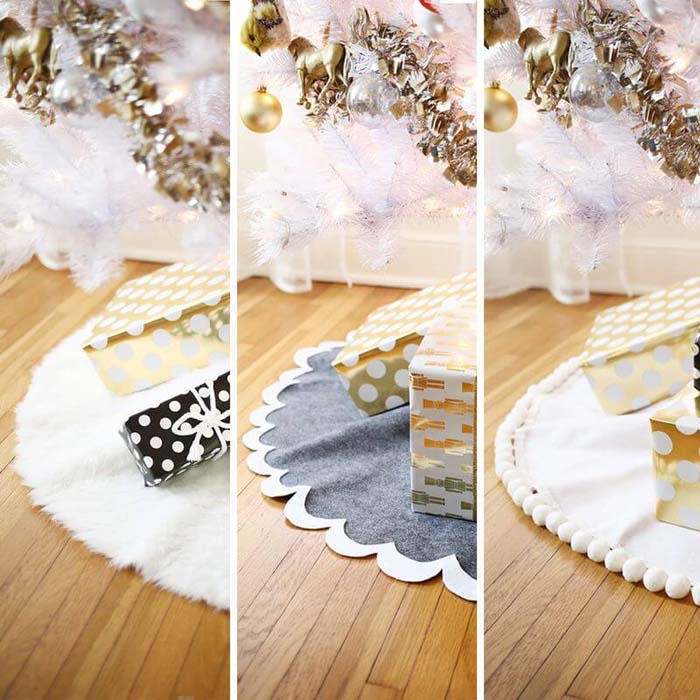 The Christmas tree skirt is a lifesaver in a busy household.
It dresses up the tree, covers the unsightly tree stand, and, most importantly, catches some of the needles that fall from the branches.
These lovely, no-sew skirts are a fun way to create a piece that feels personal and fabulous.
via A Beautiful Mess
12. Gathered Ribbon Mini Trees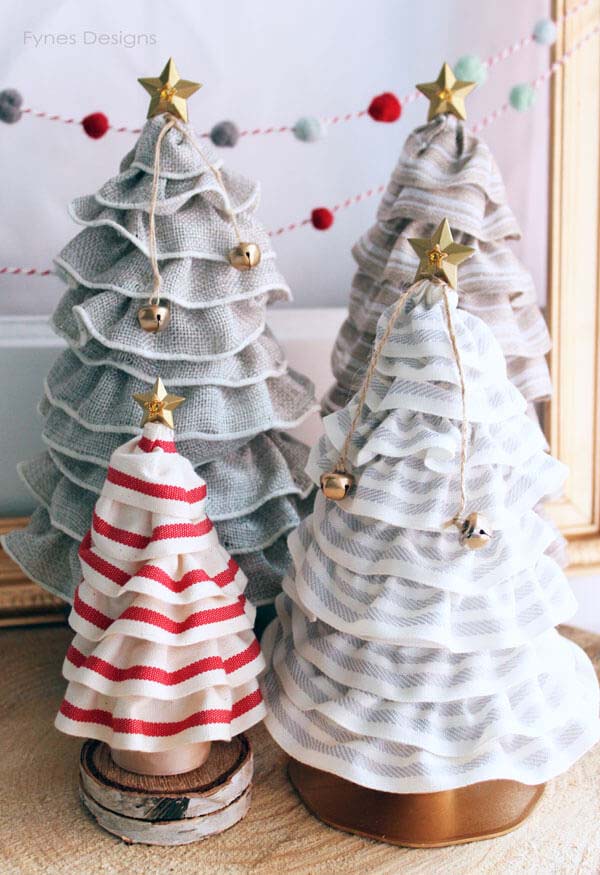 Rows of cascading burlap ribbon form the branches of these cute Christmas trees.
Making them is quick and easy, and when you're done, you have a lovely decoration for a shelf, mantel, or windowsill.
Tiny golden stars add to the holiday vibe.
via Fynes Designs
13. Repurpose A Vintage Frame As Door Décor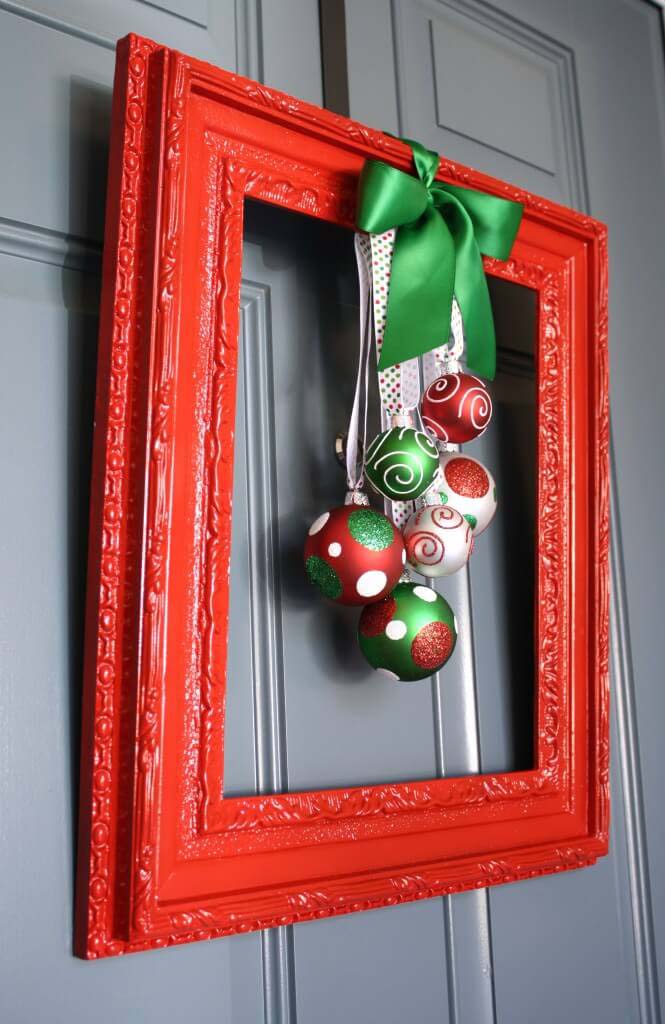 Switch out your usual wreath for a brilliant red frame decoration this Christmas.
This is a craft that's easy enough for everyone in the family — just paint the frame and allow it to dry.
To decorate the frame, just suspend some lovely ornaments from the top using a colorful ribbon.
14. Wrapped Balloon Yarn Snowman

Celebrate the onset of the winter holidays with this fun snowman project.
Each part of Frosty's body is created using glue, yarn, and a balloon.
When the glue dries, just pop the balloon to reveal the snowman in his full glory.
via Muy Ingenioso
15. Glitter Dipped Gold Painted Vases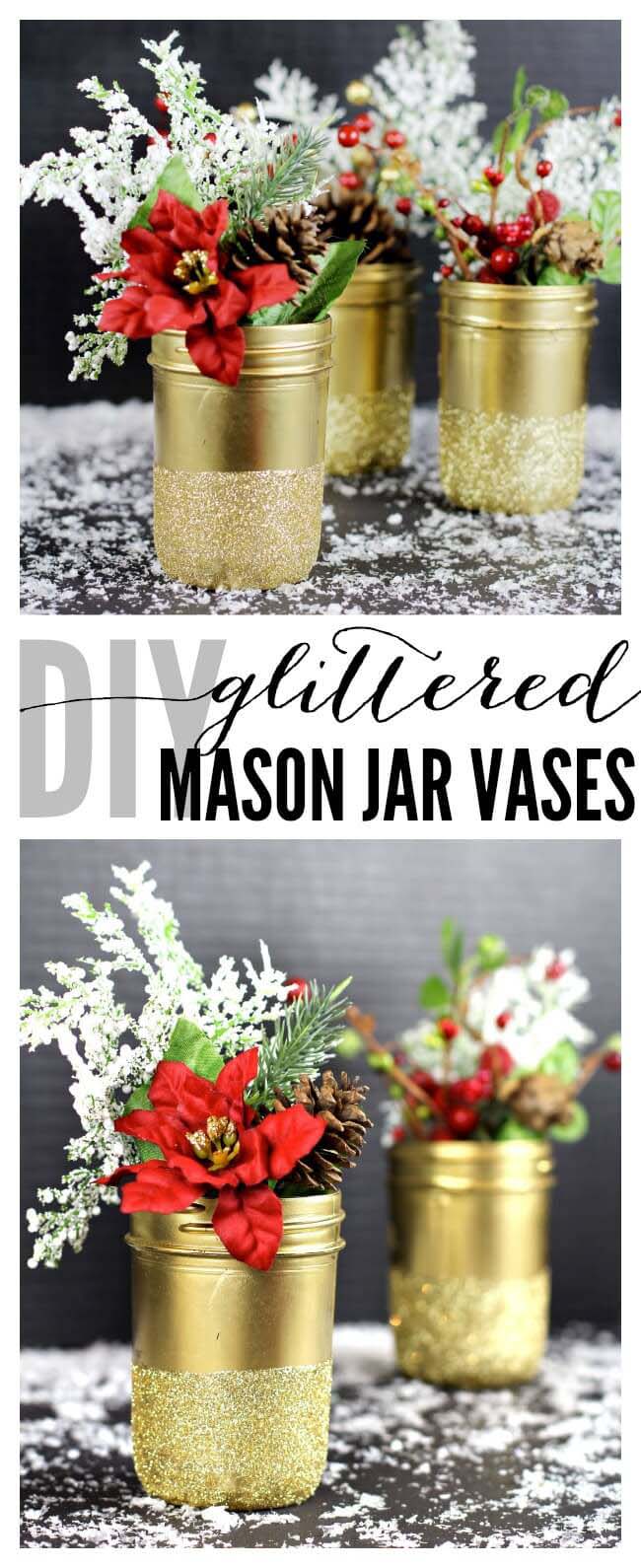 Do you love glam style?
Bring a pop of shine and sparkle to your decorations with these stunning DIY Mason jars.
If you don't have jars, you can use thrifted glasses, vases, or other containers to achieve the same effect.
via Classy Clutter
16. Winter Tree Snow Globe Project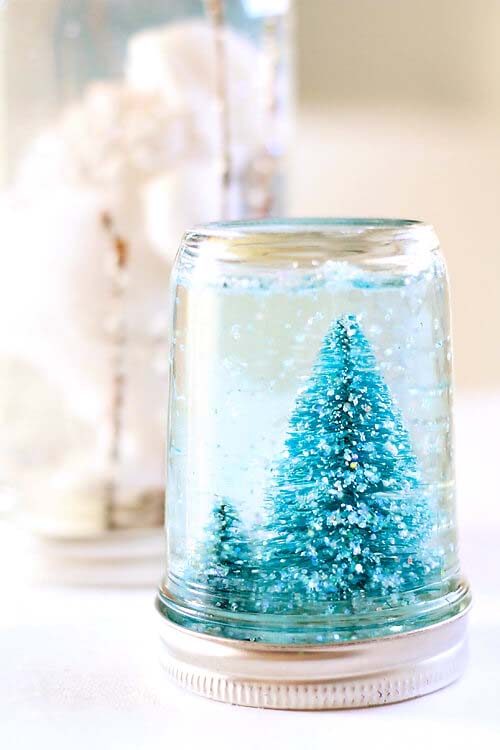 Recreate the magic of a snow glow using a tiny Mason jar and some bottle-brush Christmas trees.
Using glycerin, this project helps you achieve a realistic, slow-motion snowfall.
This is a great project to do with kids — they can design their own winter scene and give the jars as gifts.
via Unblushing
17. Rustic Pallet Wood And Button Trees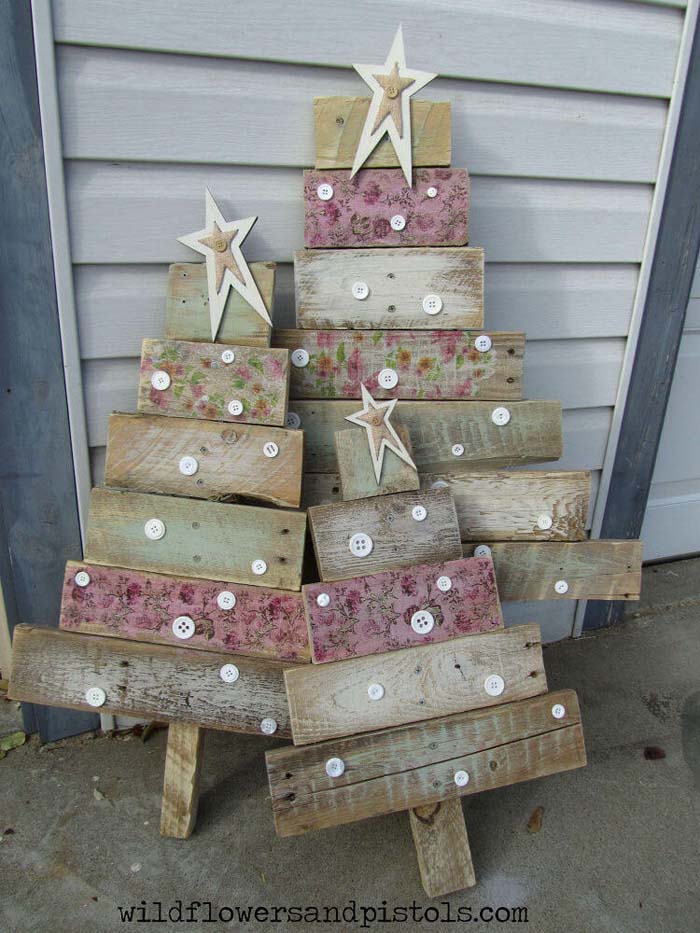 Pallet wood Christmas trees never go out of style, especially if you love rustic style.
These cute versions feature whimsical stars and button ornaments.
For an extra vintage twist, use craft paper to create the look of old-fashioned wallpaper.
18. Family Photo Tree Décor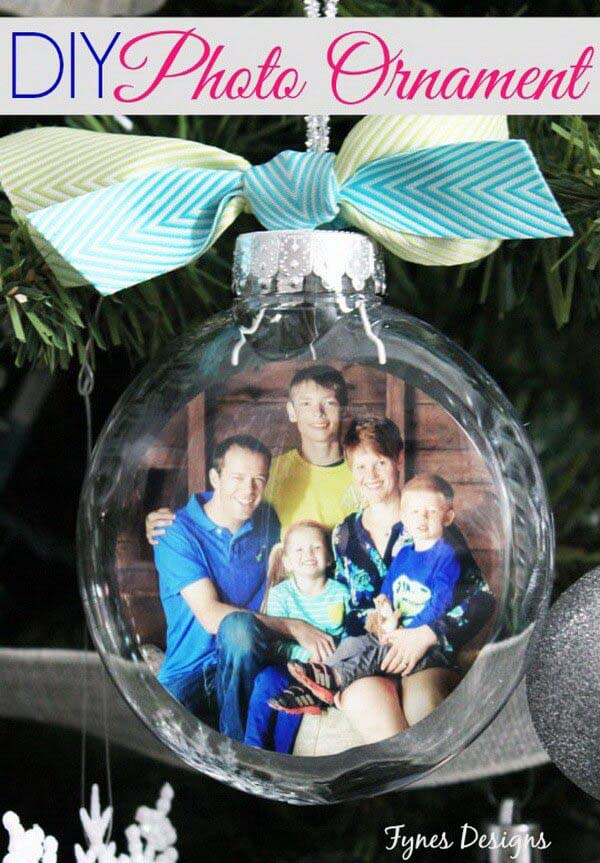 A photo ornament is a piece you'll look forward to pulling out year after year.
This DIY ornament is surprisingly easy to create — you might be inspired to make one for all of your relatives.
Choose a ribbon bow that matches your theme, or go with classic Christmas colors for a timeless vibe.
via Fynes Designs
19. Greenery And Pinecone Spray Kissing Ball

Kissing balls have been around for centuries.
This natural version, which features pine cones and greenery, is a creative alternative to a sprig of mistletoe.
The design is completely flexible, so you can add your own personal twist for a decoration your whole family will love.
via Crafts Unleashed
20. Easy DIY Glittering Cone Trees

These adorable glittering Christmas trees are easy to create, but they make a big impact.
Depending on your schedule, you can add glitter yourself or use sparkly craft paper for a similar effect.
The shimmering cones look lovely tucked into a mantel or shelf display.
via Balancing Home
21. Deer Stencil Glitter Art DIY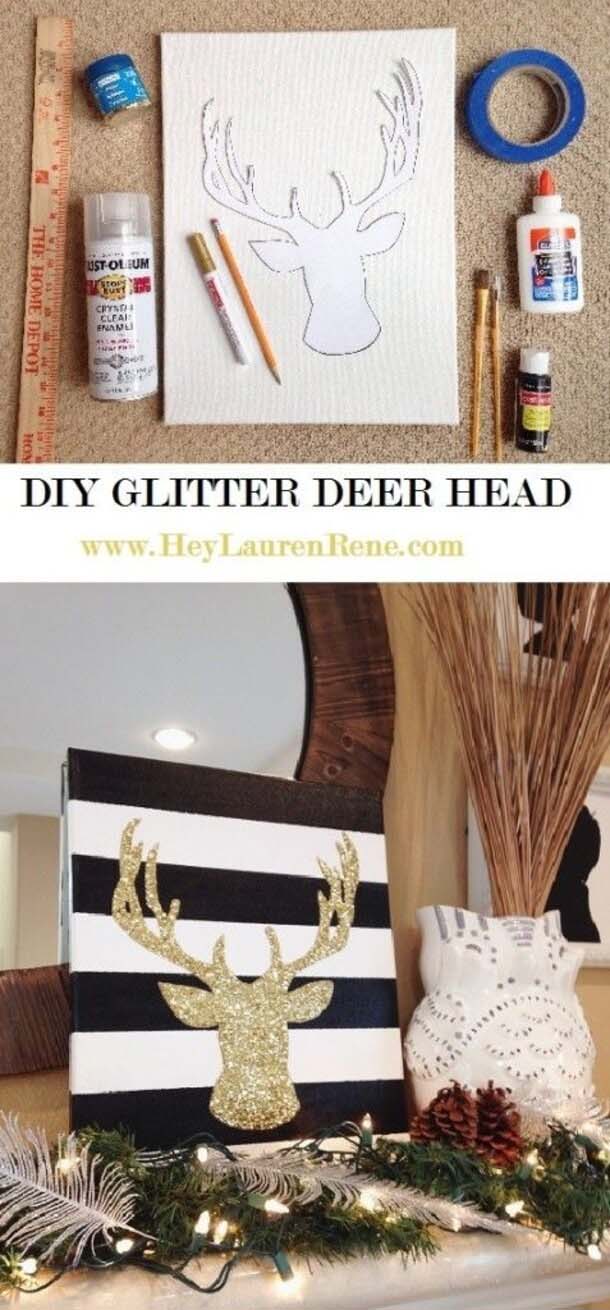 If your family members have dueling style preferences, this fun deer-head art piece works for everyone.
The silhouette ties in the rustic elements of your home, while the glittering gold finish satisfies your glamorous tastes.
Go for a striped background, or fill it with a Christmassy pattern.
via Hey Lauren Rene
22. Holiday Table Décor Chair Covers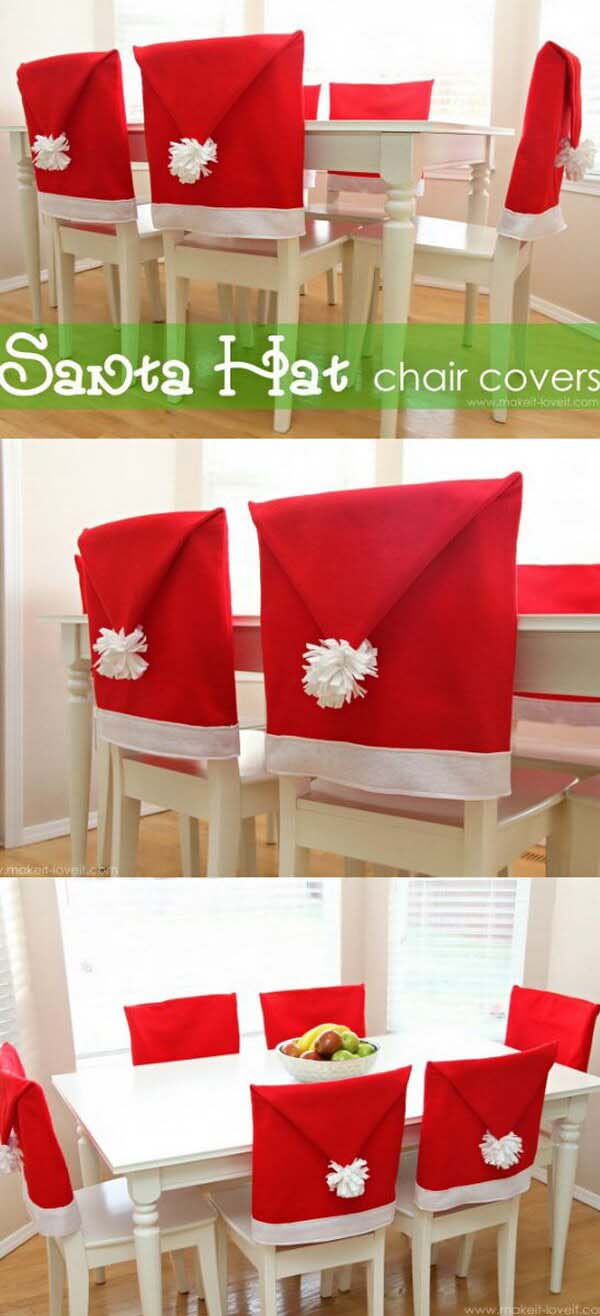 Delight your kids on Christmas morning with these adorable Santa hat chair covers.
As long as you have a sewing machine and a couple of hours, you can make them yourself using a simple straight stitch.
If your little ones want to help out, the cheerful pom-poms make a fun kids' craft.
23. Scrap Fabric No Sew Pillow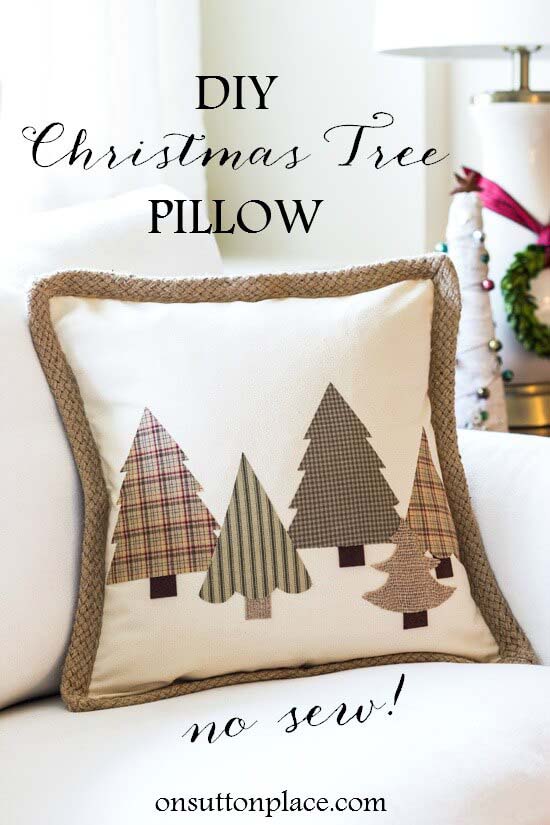 Your guests will never believe that you made this pillow — and you'll never believe how easy it is to make.
The secret is a fusible web, which turns simple cut-out fabric trees into gorgeous appliques.
With so many color and shape options, you can design the perfect pillow for your living room or bedroom.
via On Sutton Place
24. Burlap Ribbon Holiday Bow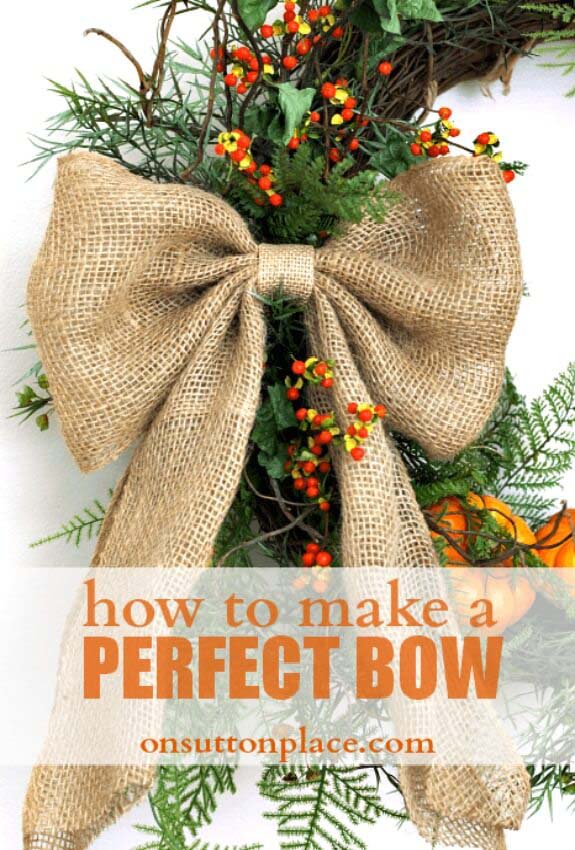 Do you want to step away from lighted stars and sparkling tree toppers?
Grab a length of burlap, and you can create a custom topper in seconds.
This stunning bow is a beautiful way to cap off a traditional or rustic Christmas tree.
via On Sutton Place
25. DIY Stenciled Letter Mason Jar Luminaries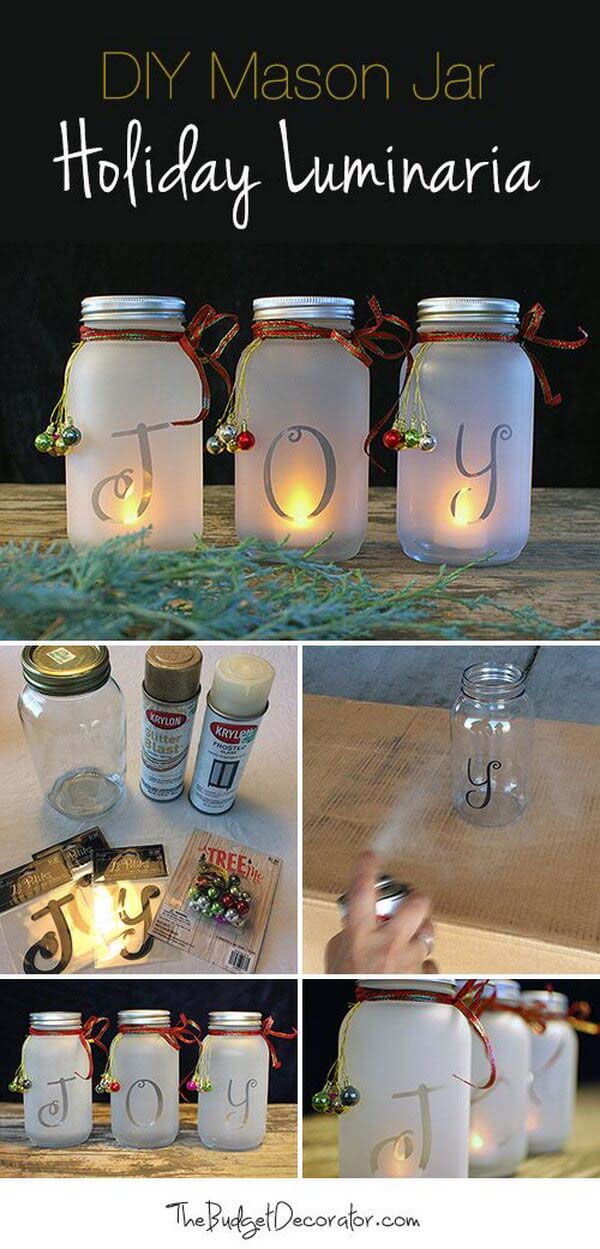 If you've ever traveled in the American Southwest, you know that luminaries are an integral part of Christmas.
Create your own wherever you live with these creative frosted Mason jars.
Pop in a battery-operated candle for a safe, glowing decoration.
26. Wood Slice Chalkboard Holiday Sign

Invite guests to join in the Christmas fun by writing messages on a DIY chalkboard.
A wood slice is a fun and festive base for a DIY chalkboard; just paint the surface.
Finish off the piece with a colorful ribbon or a beaded hanging loop.
27. Mini Lit Starched Yarn Trees

Do you have yarn or string sitting in a drawer or closet?
Grab a bottle of liquid starch and turn your extra string into these delicate trees.
They look spectacular on their own, but for an extra-special effect, tuck a battery-powered tea light into the base.
28. Illuminate A Holiday Scene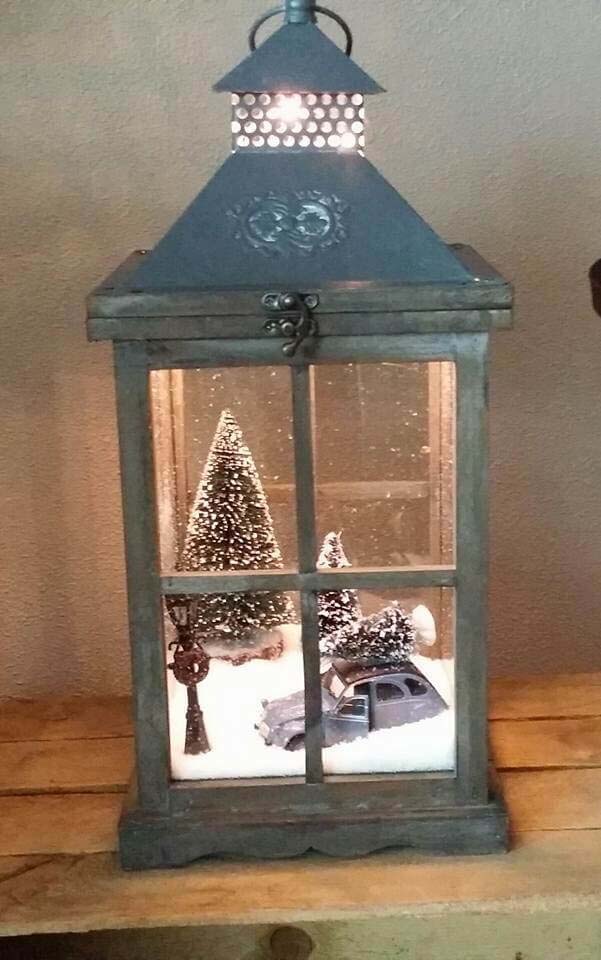 There's something magical about a traditional wooden lantern.
This DIY craft project takes that inherent charm to the next level by adding a sweet winter scene inside the base.
A light in the top of the lantern illuminates your vignette.
29. Glam Marquee Tree Star

If you love the glitz and glam of a lighted marquee, why not turn one into your Christmas tree topper?
This clever project takes a small star marquee and transforms it into a one-of-a-kind topper.