The Christmas dinner meal should be as festive, colorful and rich as the Christmas tree is. How the holiday table will look like and what the menu will be depend on us.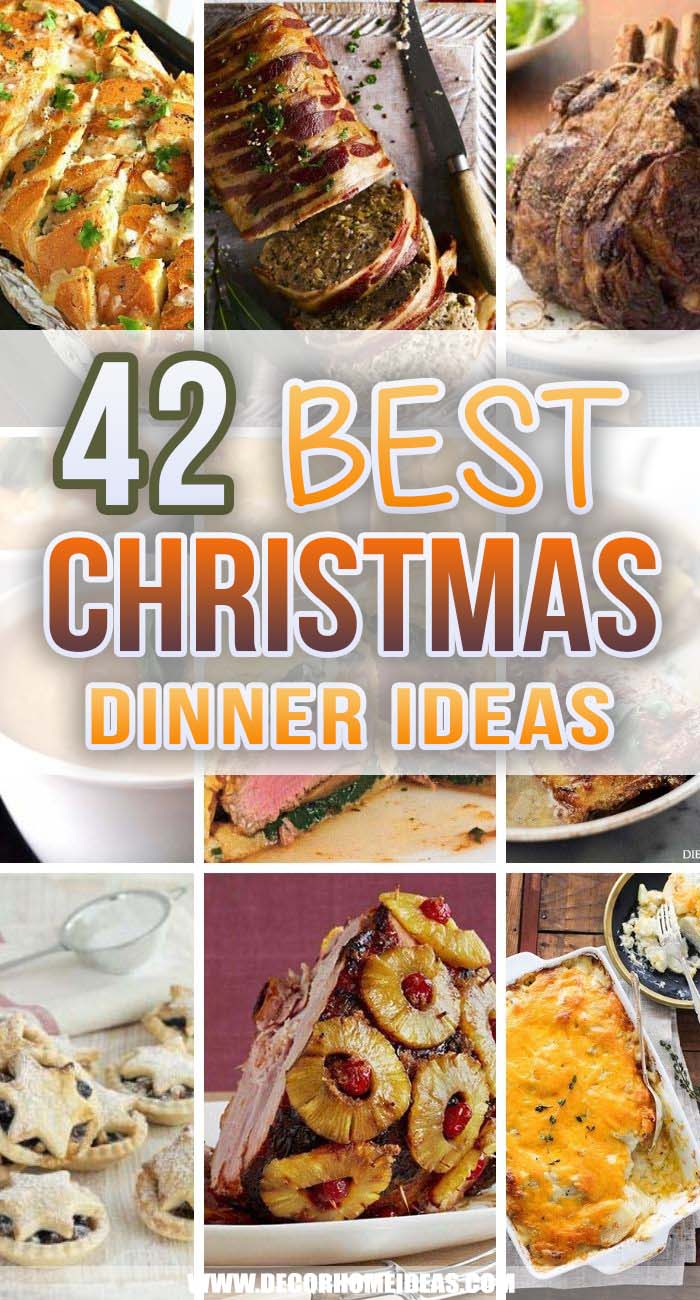 Here you can find the most delicious recipes that will surprise your family and guests on Christmas. The amazing flavors come with appealing shapes and ingredients arrangements that will add to the festive atmosphere.
1. Delight Family with a Bacon and Brussels Sprouts Gratin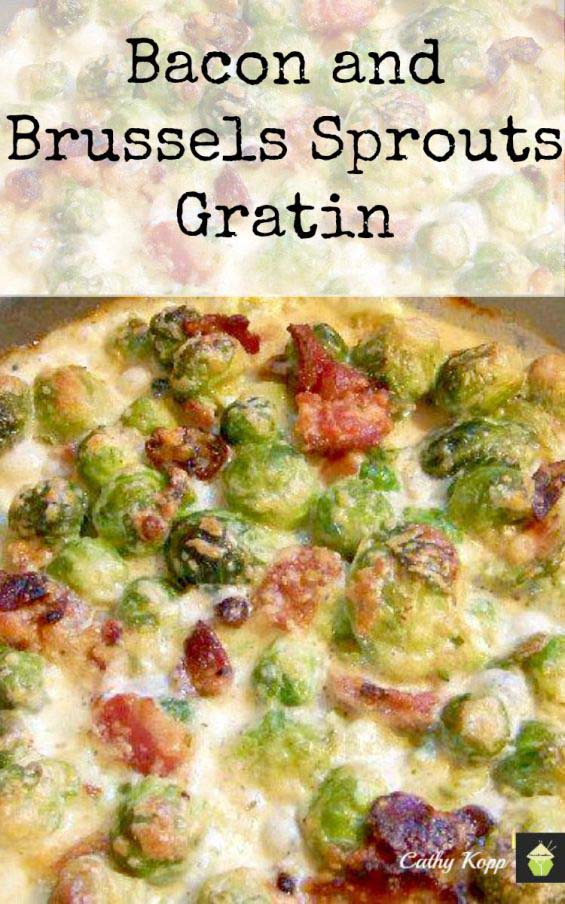 Everyone loves brussel sprouts and usually they are part of the festive menu. Are you looking for a new way to present them?
Try this dish recipe which adds bacon, heavy cream, bread crumbs and cheddar cheese. Cooking it is very easy and quickly.
via Love Foodies
2. Enjoy Decadent Flavors of Bacon Potatoes Au Gratin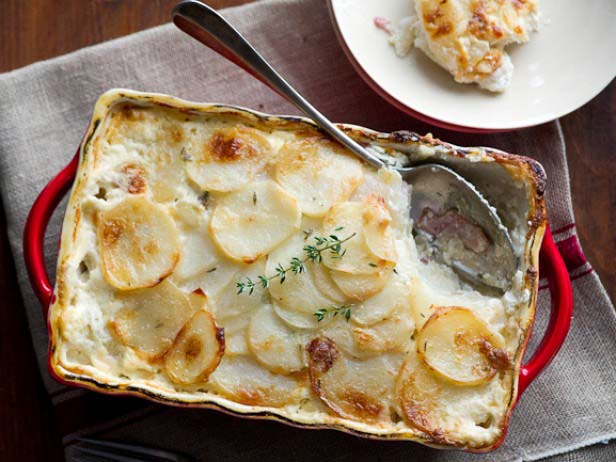 When you want to make sure that the taste of everyone are satisfied, then you need a dish that takes no risks. And that is a classic recipe mixing bacon, potatoes and cream.
They are cooked together under medium heat to let the cream soak in the potatoes so that they melt in the mouth.
3. Elevate Your Christmas Meal with Delicious Scones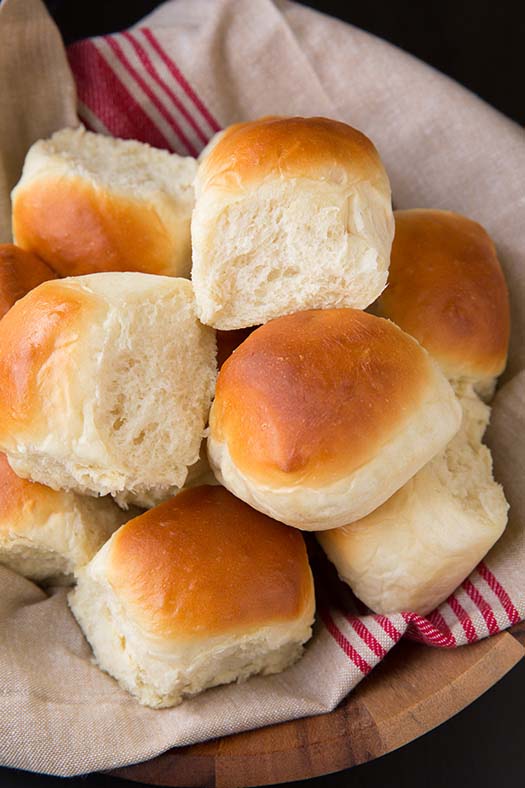 If you haven't ever baked a bread, you may be thinking that it is very difficult. Well, not with this recipe. The dough is prepared only within an hour.
The rolls end up so tasty and appealing that your guests will forget about the main course!
via Cooking Classy
4. Brined and Balsamic Rosemary Glaze Tender Pork Loin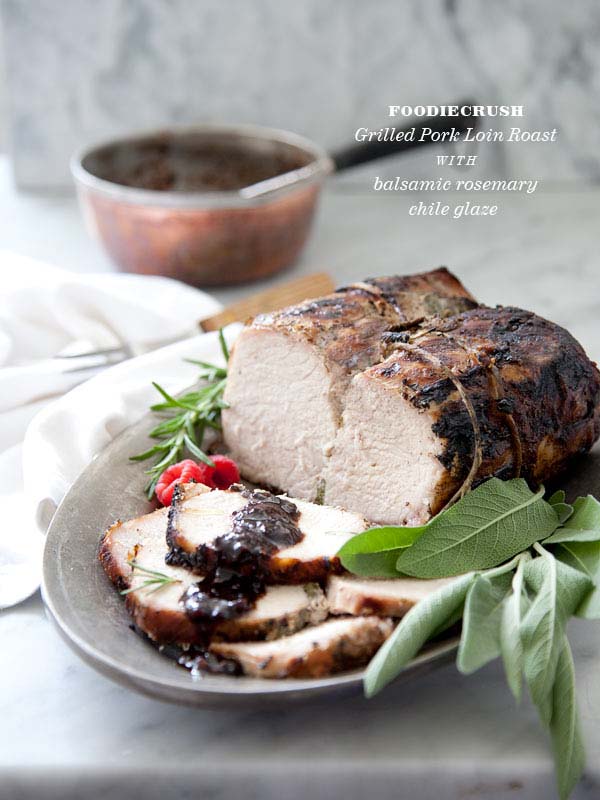 A culinary way to make pork meat juicy and taste is brining. The meat needs only one night left in a food storage bag filled with water mixed with salt and spices.
Added balsamic rosemary chile glase gives the grilled pork loin roast a mouth-watering spicy taste.
via Foodie Crush
5. Wow Guests with Buckwheat Crepes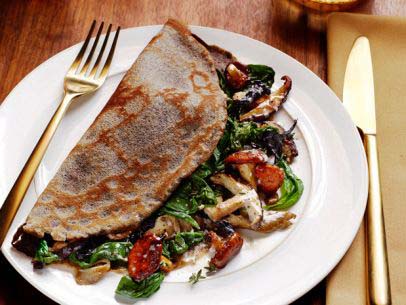 The festive table needs a piece of art. And that can come in the shape of a pancake with a stuffing from mushrooms, freshly cooked veggies and spices flowing out of it.
The filling can be different, per your taste- cheese mixed with chopped bacon or ham or just freshly chopped parsley.
via Food Network
6. Bring Joy to the Table with Cheesy Scalloped Potatoes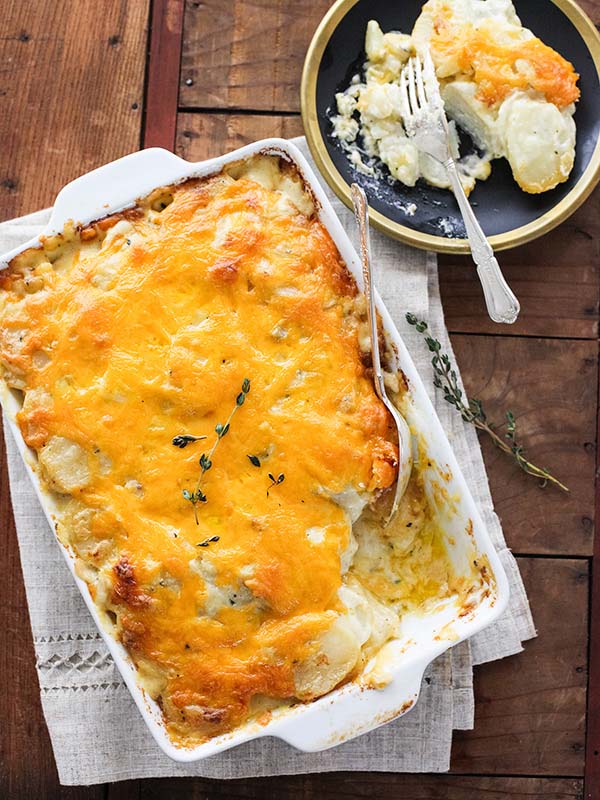 When you prepare your Christmas Eve dinner, you must have a meal that does not include meat. Our suggestion is this Cheesy Scalloped Potatoes recipe.
It has a creamy texture, amazing thick flavor of melting potatoes with a cheesy twist. The greatest thing about this dish is that it needs only an hour to be prepared and cooked.
via Foodie Crush
7. Spice Up Feast with Chestnut, Bacon and Parsnip Soup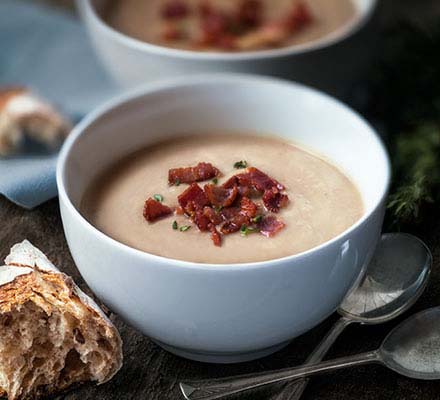 This is a great recipe of a winter soup! It is good to have it on your Christmas Eve table as a starter or as a back up for anyone that would like to have a more easy to chew dish.
The soup is creamy and with smooth texture. It is served with chips of crispy bacon sprinkled on top. Add a bowl with crusty bread to accompany the soup for a perfect finish.
via BBC Good Food
8. Enjoy the Harmony of Flavors and Colors in One Dish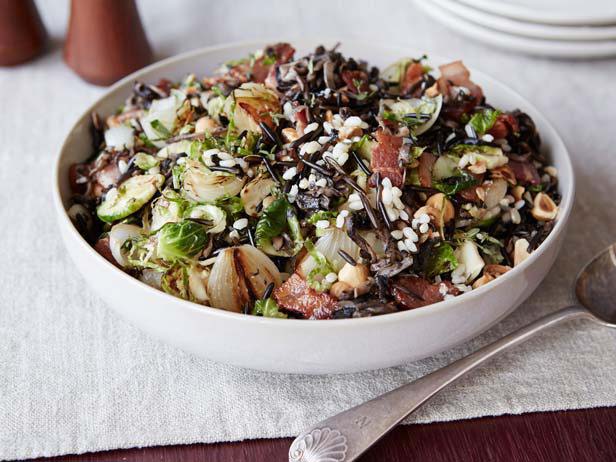 This meal would ensure a burst of fresh vegetable taste mixed with juicy bacon. The balancing ingredient is chewy rice, spiced with salt, papper and hazelnuts.
The nuts affect the taste of the meat giving it a thick and unexpected twist. The dish impresses also with its colorful look that will give the table a pop of color.
via Food Network
9. Welcome Festive Cheer with Coca-Cola Glazed Ham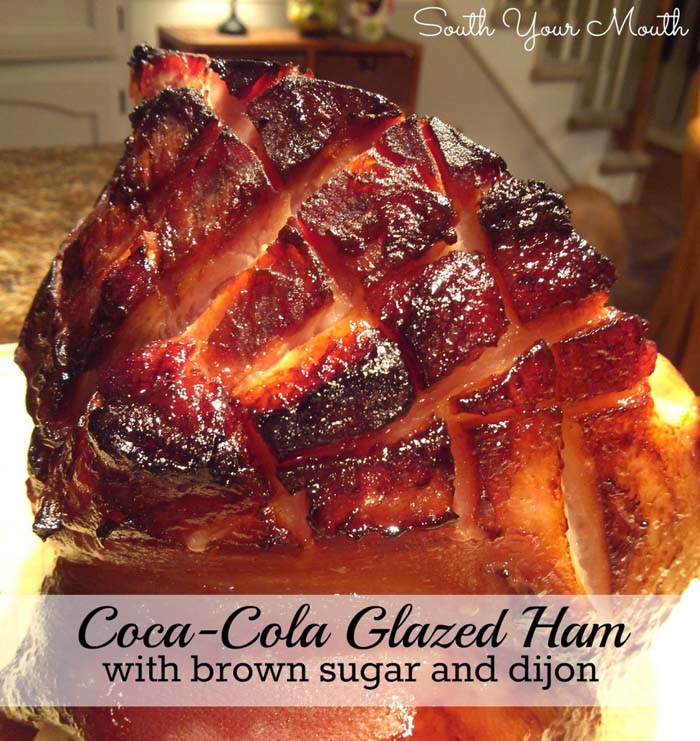 The glazed surface of this ham turns it into the star of the Christmas dinner menu. Roasted slowly in the oven, the meat becomes super soft and moist thanks to the dijon mustard and orange juice.
The caramelized crispy layer gives the ham an amazingly sweet flavor and appetizing look.
via South Your Mouth
10. Savory Delight with Cranberry Glazed Pork Tenderloin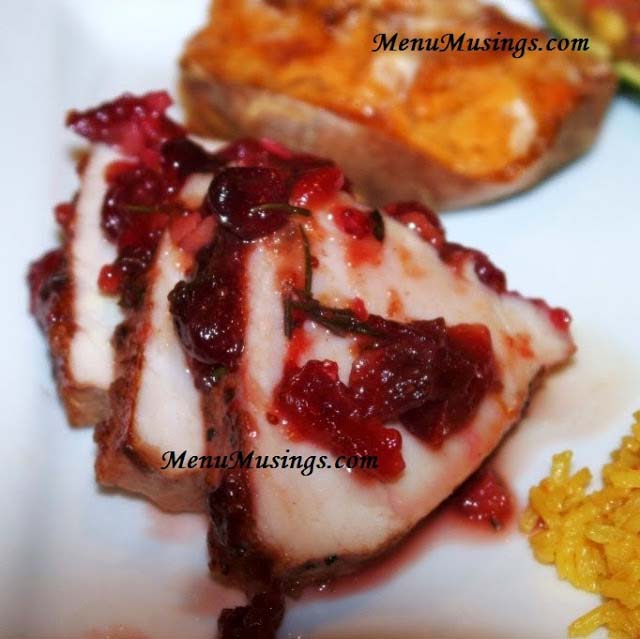 Cranberry sauce is the perfect compelent for cheese. Well, it looks that it makes pork also taste magically.
Prepare for the focal point of your X'Mas menu with the Cranberry Glazed Pork Tenderloin recipe! Fragrance, juicy taste and color tie in one to watch your guests enjoy every bite.
via Menu Musings
11. Serve Up Fun and Flavor with Devil Pigs on Horseback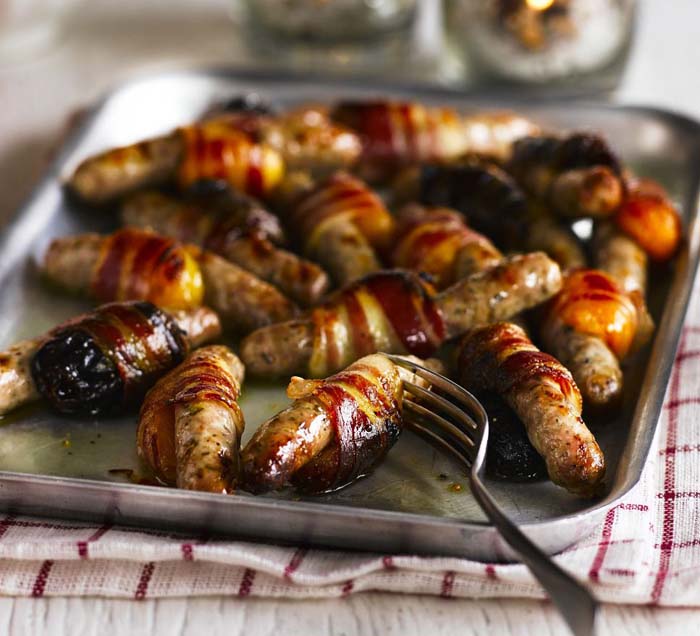 These small sausages will intrigue the little ones! They are also perfect for a snack before the main dish- a combination of pigs in blankets and devils on horsebacks.
Prepare ready to eat pitted prunes, apricots, rashers steak bacon, mustard, white wine and of course, sausages.
via BBC Good Food
12. Stay Warm with a Chicken Tortilla Soup Crock Pot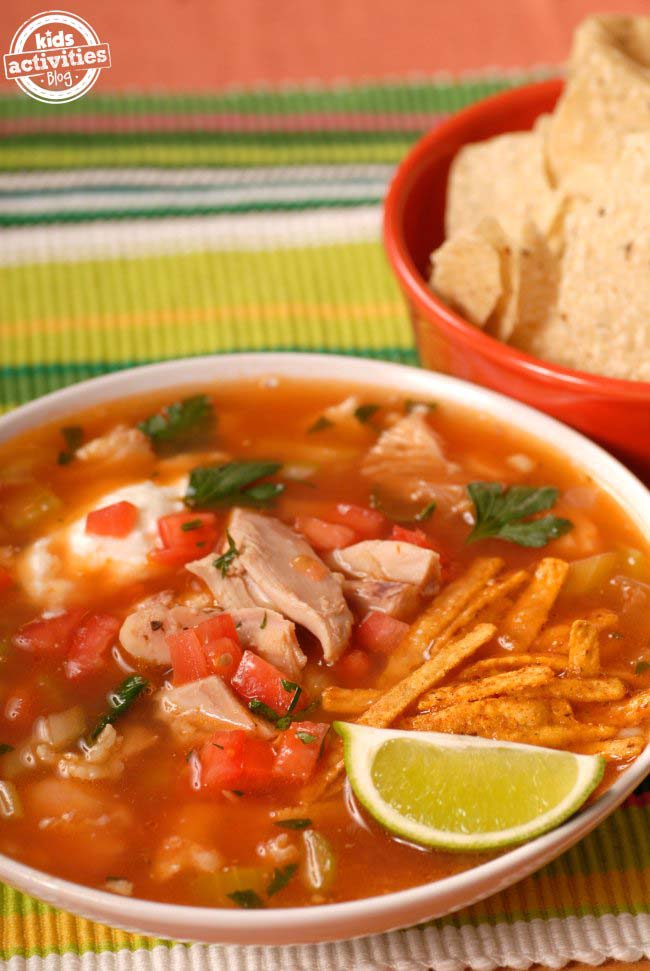 Another winter soup recipe mixes traditional flavors with spicy ingredients. Chicken and tortilla mixed with tomato create a warming winter soup that will match the colors of your Christmas decor.
via Kids Activities
13. Make Christmas Special with Homemade Mince Pies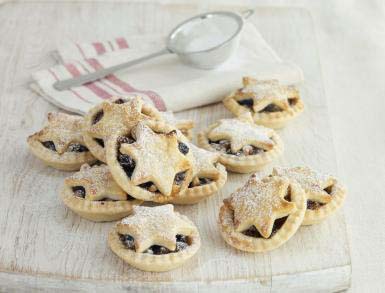 Mince Pie is a traditional treat for Christmas for all ages so you should include it in your Christmas Eve menu. This recipe ensures that your pies are tasty, good-looking and festive.
The recipe explains the steps of making the dessert quickly and easily and makes sure that the rich and sweet taste we all remember is preserved in the shape of a starry pie.
via The Spruce Eats
14. Go Vegan with Mushroom, Lentil and Nut Roulade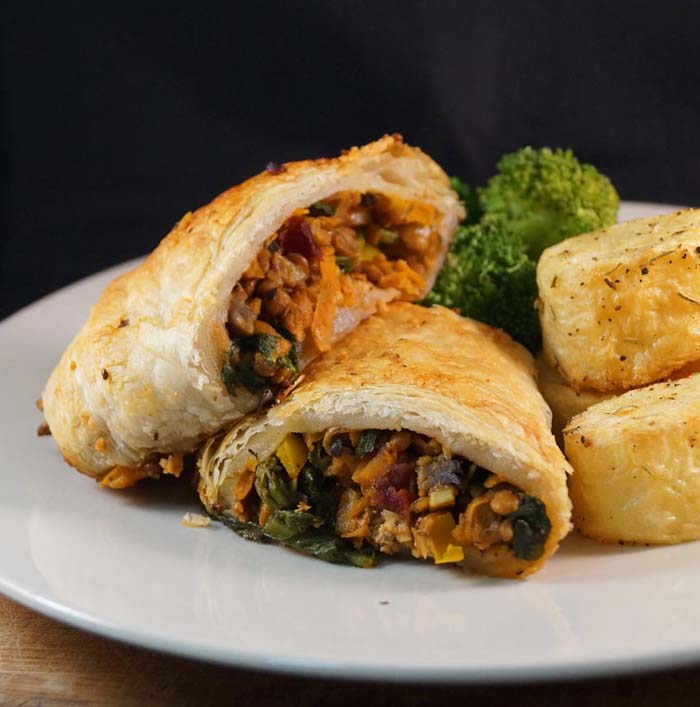 These crispy but soft rolls are filled with stuffing from vegetables to create vegan roulades to be served as a starter or to complement the meat course.
A hint to ensuring your pastry is well cooked- keep an eye on the roulade constantly and when it looks golden, take it out.
15. Maximize Flavor with Fig Glazed Hens and Cornbread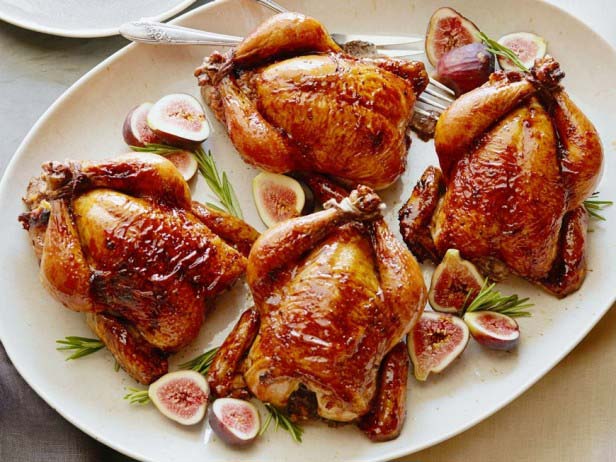 If you are planning a Christmas eve meal for many people, then you need a meat recipe that is universal to taste and festive as look.
The Holiday Hens recipe gives whole chickens a glazy and crusty layer with figs. The hens come with a complement that balances the rich taste of the meat. Inside, they are stuffed with cornbread pieces.
16. Get the Best Out of Your Holiday Turkey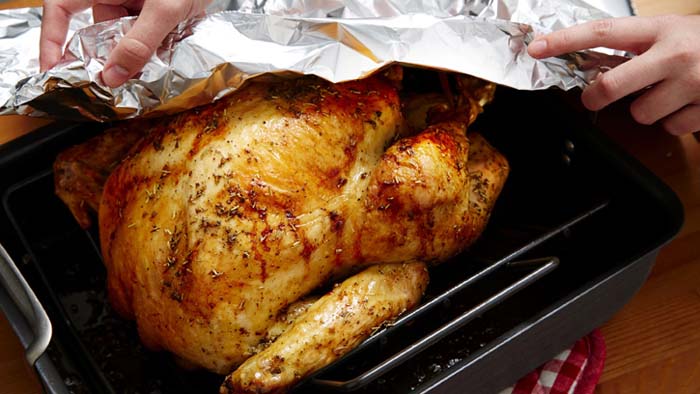 If you have wondered why your turkey never gets juicy and melting in the mouth taste, then you have missed this tutorial.
The guide makes sure that your main course is delicious and appetizing! You will be surprised to know that there are hints to choose the best turkey. From shopping your ingredients to serving the roasted turkey, you will go through a list of guidelines that will ensure the perfect main dish for your Xmas party.
via Betty Crocker
17. Memorable Christmas Eve with Stuffed Beef Wellingtons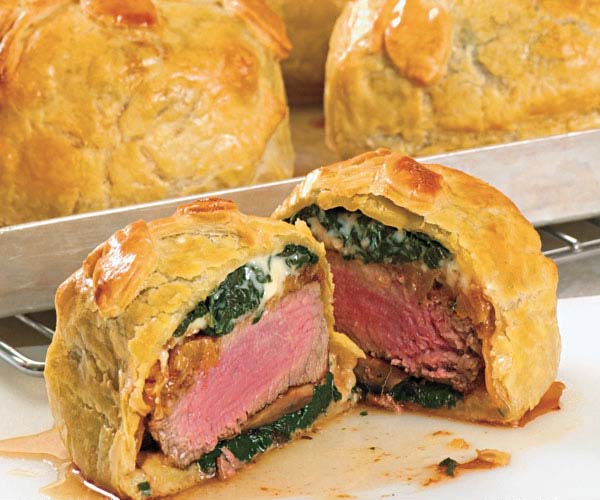 This recipe takes care of every individual on your X'Mas eve table. Beef and a mixture of spinach and cheese are packed together in the shape of crispy bread.
The main ingredients are complemented by onions, mushrooms and herbs to assemble in a surprisingly appealing in look and tasty dish.
via Fine Cooking
18. Surprise Your Guests with a Savoury Vegan Easter Pie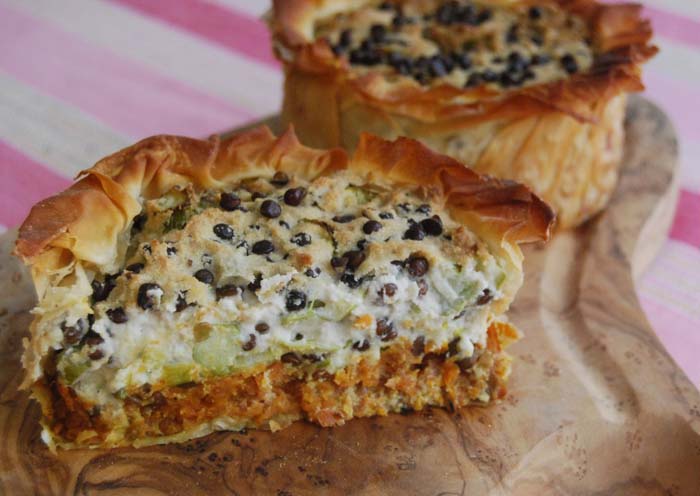 This vegetarian recipe makes sure to give the healthy ingredients an appealing look. Presentation of food is always an important part of the recipe and this pie makes sure of that.
The pie is colorful and rich in flavors and textures. A roasted carrot purée mixes with herbs to be alternated with a layer of creamy leeks, asparagus and puy lentils.
The juicy flavor is ensured by a creamy sauce from cashew. Mmm, you would want another piece of it, even if you are not a vegetarian.
via Veg Hot Pot
19. Perfect Christmas Dinners with Lemon Paprika Chicken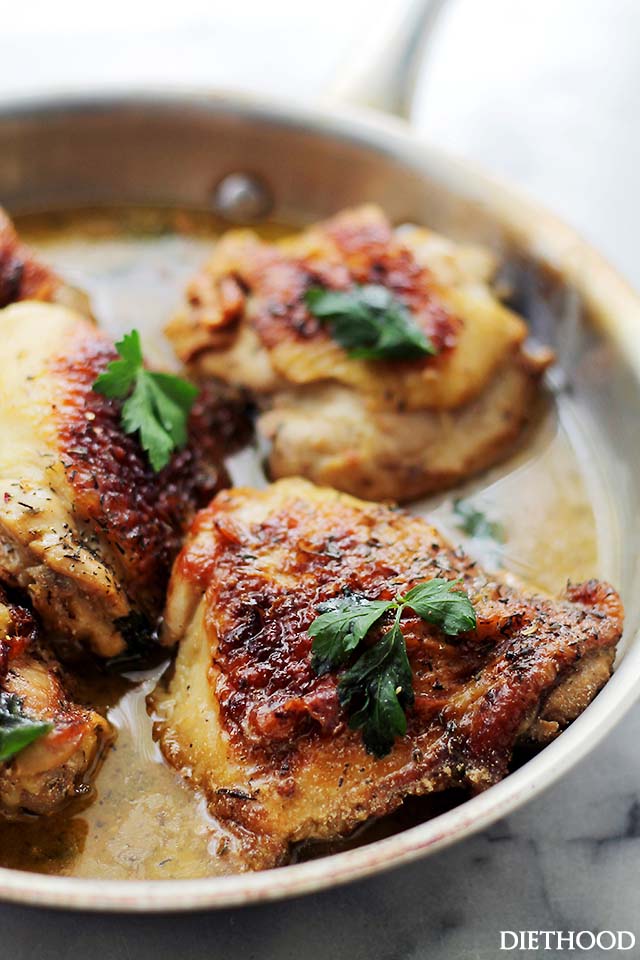 Do you relate the Christmas Eve Dinner with a bite of spicy, A truly cherishing bite of dish spicy, tasty and melting in the mouth meat dish?
The Lemon Paprika Chicken is a heavenly tasty dish, the perfect meal for a family gathering. The chicken gets marinated in lemon and paprika mixture with garlic and thyme additions.
Cooked under medium heat and under a lid the chicken gets brown on both sides.
via Diethood
20. Get Ready for Christmas with Old-Fashioned Glaze Ham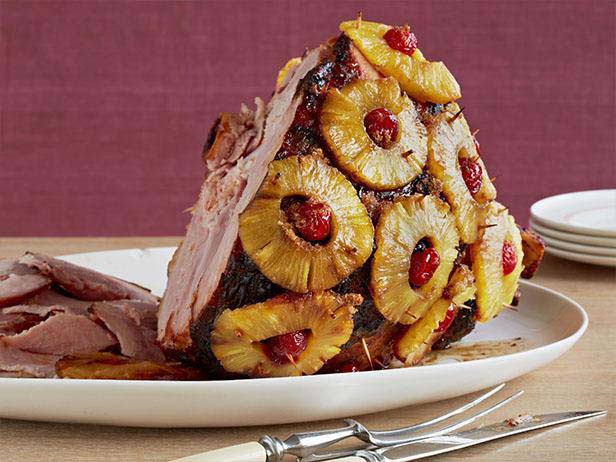 This dish combines culinary with art! Ham that is alluringly cooked and glazed is then covered with pineapple slices and cherries.
The sweet flavor of the fruits works perfectly the juicy meat taste. The dish looks amazing and makes a colorful focal point on the festive table.
via Food Network
21. Enjoy Veggie Meal with Pecan-Topped Brussels Sprouts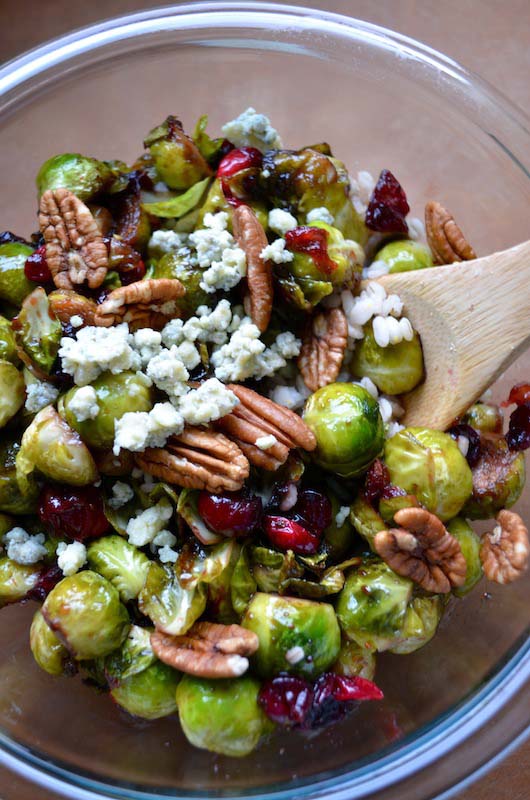 Adding nuts to the meals usually gives them a thick oriental aftertaste which is irreplaceable. Brussels sprouts, cranberries and pecans are topped with gorgonzola to make another intriguing look and tasty veggie meal.
Spiced with salt, pepper, vinegar and maple syrup, the dish is worth being on your festive menu for a healthy treat.
via Rachel Schultz
22. Add Zest to Menu with Garlic and Rosemary Rib Roast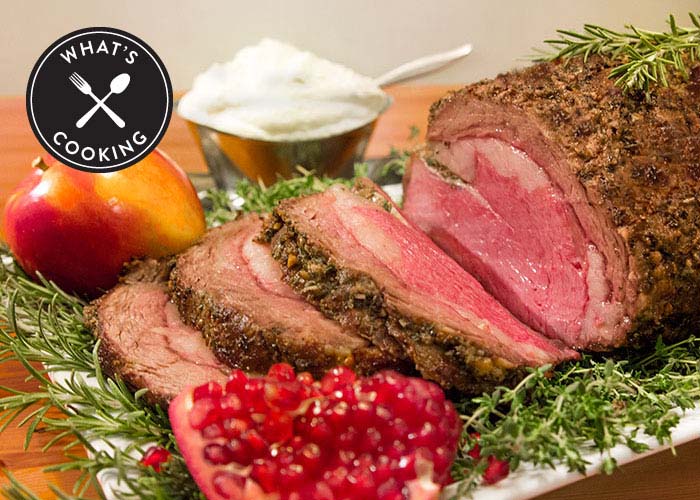 Want to make a dish that screams "WOW"? The Prime Rib Roast with Garlic and Rosemary is a delectable recipe that can be part of any special menu.
The meat is super juicy and every bite melting in the mouth! Serve the rib roast on a long plate and surround it with fresh rosemary sprigs and passion fruit.
via Nordstrom
23. Get Creative with a Ratatouille Christmas Tree Pie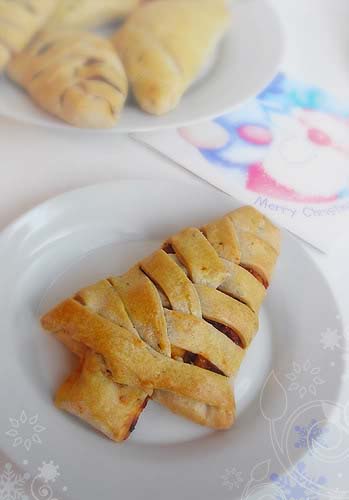 This pie recipe screams Christmas with its shape! It will make the dinner festive and charming for all ages. The ratatouille is given a twist by wrapping it in the shape of a Christmas tree.
The bread wrapping is braided in this shape and filled with green peppers, cauliflower and chickpeas.
via Vegan Lovlie
24. Make a Simple Roasted Sweet Potato Risotto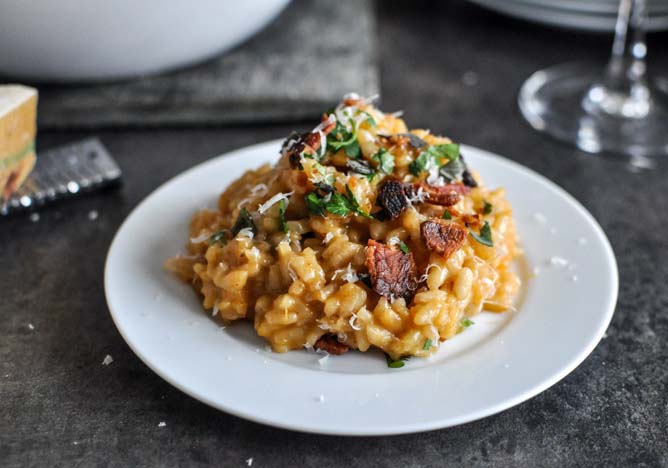 Need a last-minute inspiration for your Christmas eve dinner? You need the recipe for Roasted Sweet Potato Risotto! Easy and quick to make and tastes amazing thanks to its ingredients.
By the way, this is a meal that is sure to be loved by everybody on the table because the ingredients are one of the most commonly used.
The special taste and the festive look come from mixing them- sweet potatoes, bacon, brown butter and parmesan are spiced with lots of herbs and white wine creating a delicious culinary bomb.
via How Sweet Eats
25. Bring Joy with a Mouthwatering Roasted Pork Dish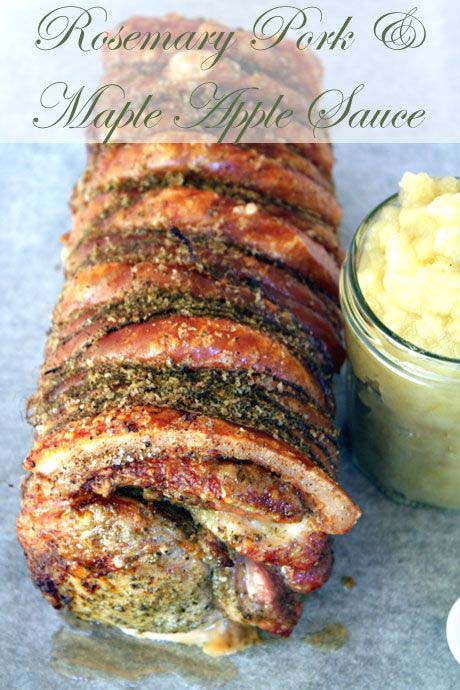 Well, let's be honest! This roasted pork looks amazing! And the author of the recipe promises to be tasty!
It is full of calories but everyone forgets to count them at Christmas!
The crunchy roasted pork comes with homemade maple apple sauce that smoothens the meat taste. The flavor of the main course is complemented by salt, pepper and crackling and rosemary.
26. Dig In with Salty Roasted Beef Prime Ribs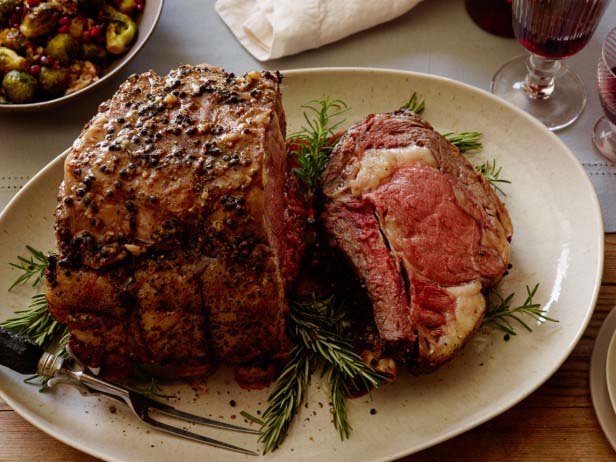 This beef recipe gives the meat an amazing tangy taste with the added fresh thyme leaves, rosemary sprigs and cracked black peppercorns.
Preparation of the dish is easy- a few steps and the appealing and delicious Salt Roasted Prime Ribs of Beef is ready to be the star of your festive dinner.
27. Prepare a Juicy Sausage and Bramley Stuffing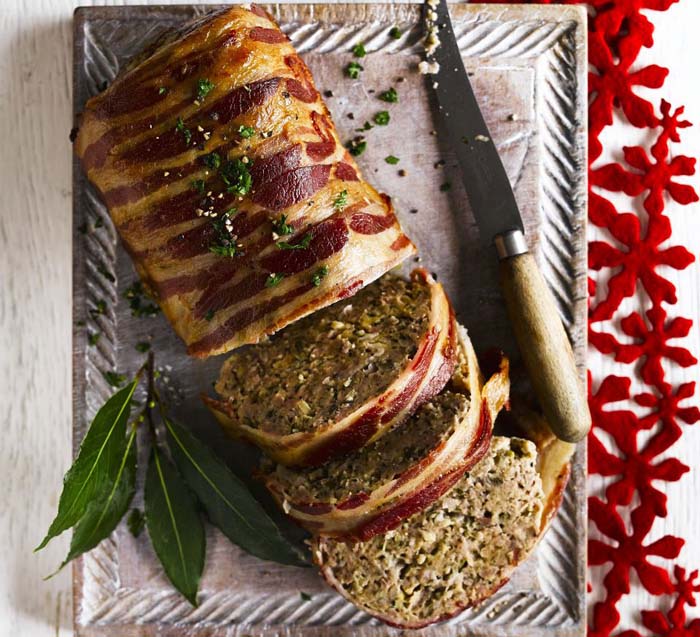 For this Christmas menu, prepare an exceptional stuffing mixture for your turkey. Sausage and Bramley stuffing are quick to prepare and taste delightful.
Added parsley gives the sausage meat a twist of freshness. The stuffing can be wrapped with bacon rashers that will get a crispy brown finish after baking for 20 minutes.
via BBC Good Food
28. Make a Festive Dinner with Shrimp Scampi and Linguini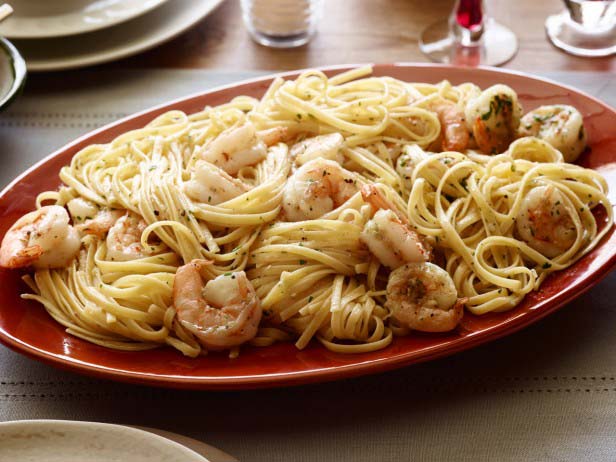 Need a recipe for a classic pasta dish that could look festive? Try this easy and quick-to-cook Shrimp Scampi with Linguini dish.
The Mediterranean seasoning and the fresh shrimp give the pasta a lovely aroma you won't resist.
29. Make Cranberry Glazed Chicken Tasty with Slow Cooker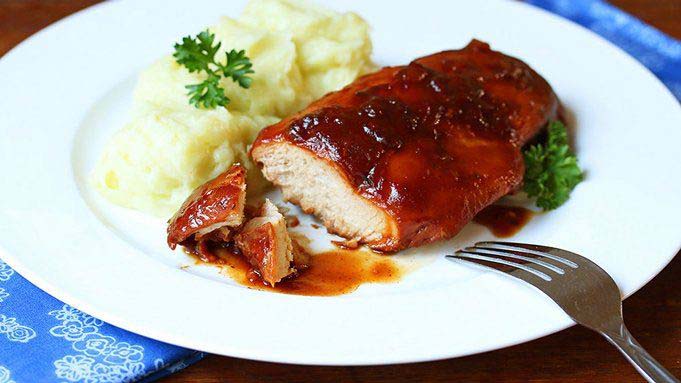 Do you prefer chicken to turkey or pork? This is a great recipe twisting the typical roasted chicken meal into a festive looking and totally unbeatable Cranberry Glazed Chicken.
The combination of sweet and tangy will surprise and make you want to have more of it. The key to the glazed look and the amazing flavors are slow-cooking and cranberry sauce.
Mashed potatoes are the perfect complement to balance the taste of the roasted chicken.
via Table Spoon
30. Unlock Creamy Deliciousness of Slow Cooked Shrimp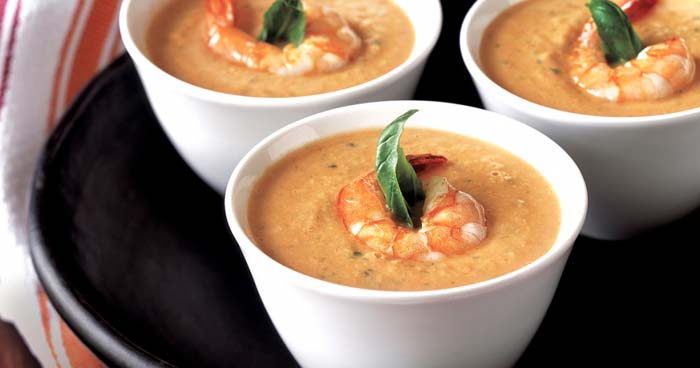 Shrimps cooked on a slow cooker blend with mushrooms, green onion and garlic to create the best flavor ever! The dish comes in the texture of a creamy soup, served with a shrimp in the middle, decorated with a leaf of basil.
Cooking this recipe is very easy so you can add it to your menu to surprise your guests with a variety of tastes.
via Get Crocked
31. Create a Culinary Masterpiece with a Slow Cooker Ham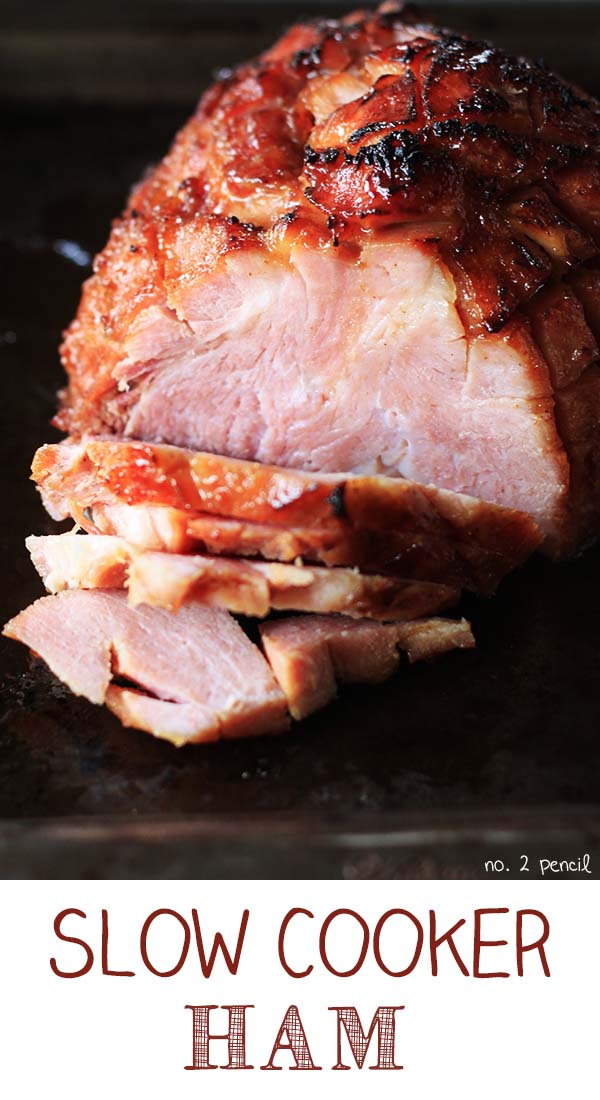 The juicy taste of this ham is achieved by slow cooking in an oven. The crispy and glazed look is created by a layer of homemade maple brown sugar.
The caramelized taste is the first you feel and then the thick and rich taste of the bacon comes to water your mouth. The greatest thing about this recipe is that it is budget-friendly and easy.
via Number 2 Pencil
32. Tempt Your Taste Buds with Honey Balsamic Pork Roast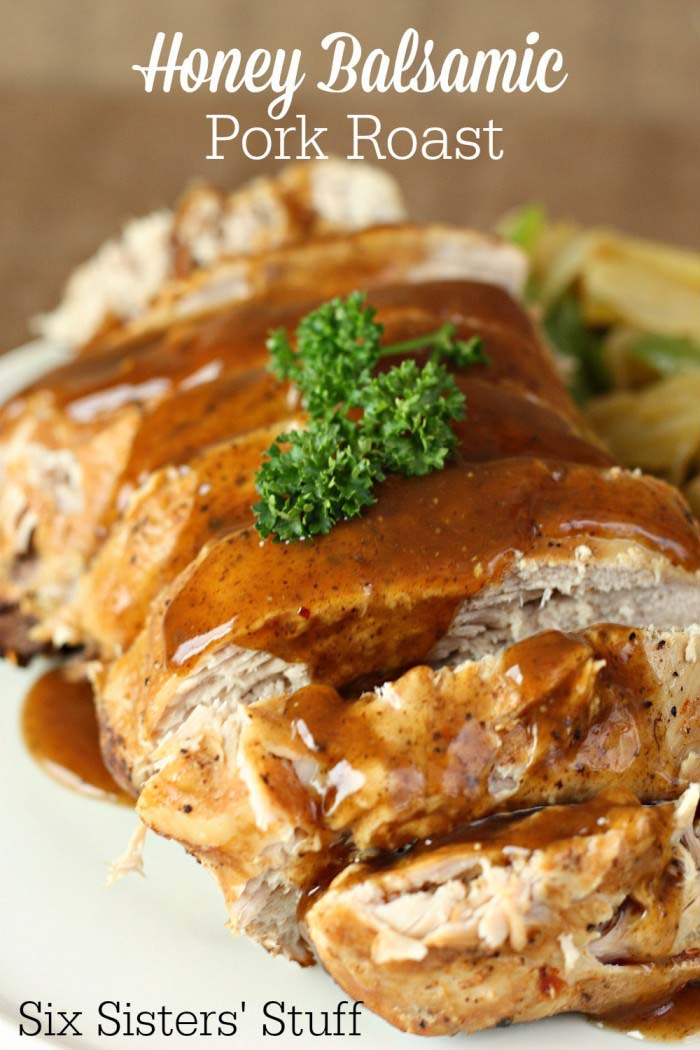 Honey and meat make an unexpected mix of flavors! If you haven't tried this combination out, then it is time to do it for this Christmas eve menu.
Preparation of the pork takes only a few minutes. Cover it in a coat of cornstarch mixture that will give it a crispy flavor. After that, you will feel the underlying tastes of honey and spicy ingredients.
33. Whet Your Appetite with a Sausage Apple Stuffing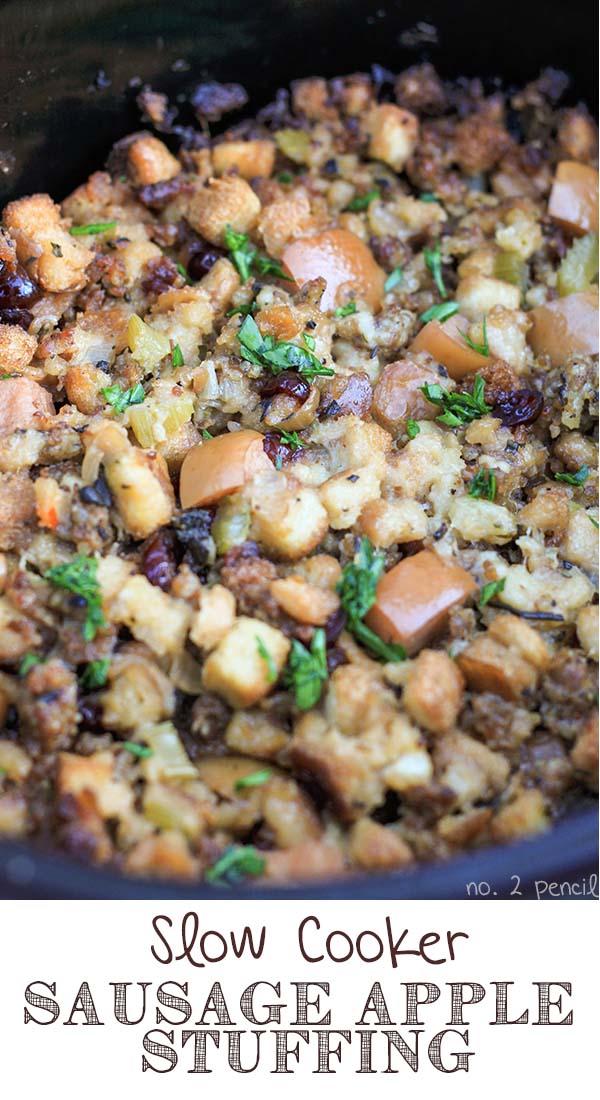 This stuffing recipe originates from a Thanksgiving menu but if you are planning to make a turkey as the main course, you shouldn't miss it.
Sausage, apples, dry cranberries, onion and celery are spiced with fresh herbs to create a textured and mouth-watering stuffing.
Cook them on a slow cooker for 4 hours and finish by sprinkling parsley before serving.
via Number 2 Pencil
34. Get Cheery Atmosphere with Slow Cooker Turkey Breast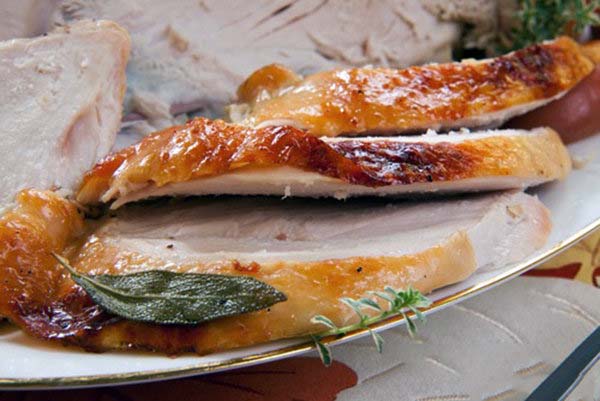 All of your traditionalists would like to have a turkey on the festive dining table. Well, if you want to make sure that it tastes perfect, try this recipe out!
Slow-cooked turkey breasts get extra moist with special ingredients. The recipe also takes care of health being calorie-cautious!
via Skinny Ms
35. Give Your Festive Feast a Veggie Twist with Beans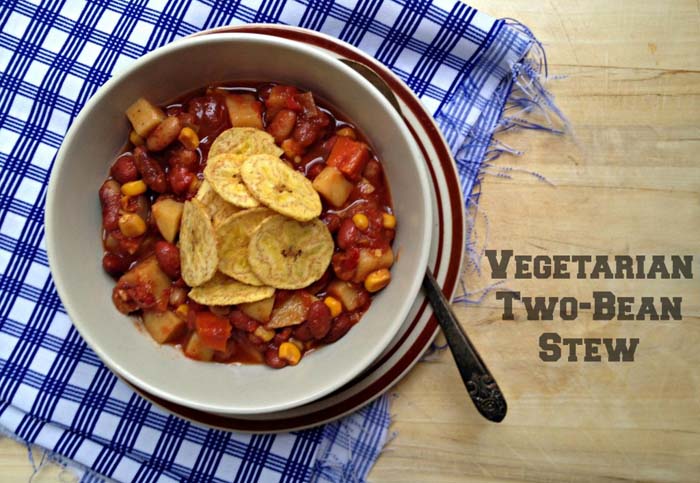 Another vegetarian dish will inspire your guests with color and flavor. Beans are cooked like a stew on a slow cooker or on the stove-top and then sprinkled with potato chips.
It is good to have vegetarian dishes on your Christmas menu as there are people that may want to try out something different than the typical meat meal.
36. Celebrate with Spinach Artichoke Lasagna Roll Ups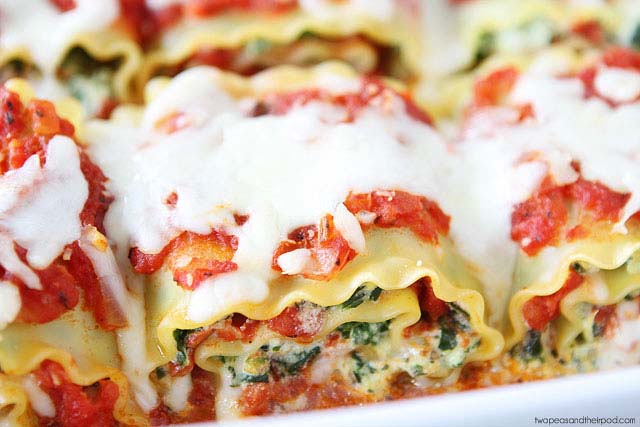 Layers of cheese, sauce and vegetables pack lasagna leaves to make a wonderful alternative to the traditional lasagna recipe.
It is the perfect meal for vegetarians or as a complement to the main course at Christmas. Spinach, artichoke and marinara sauce create a light filling of rolls roasted under medium temperature.
37. Showcase Your Baking Skills with Stuffed Cheesy Bread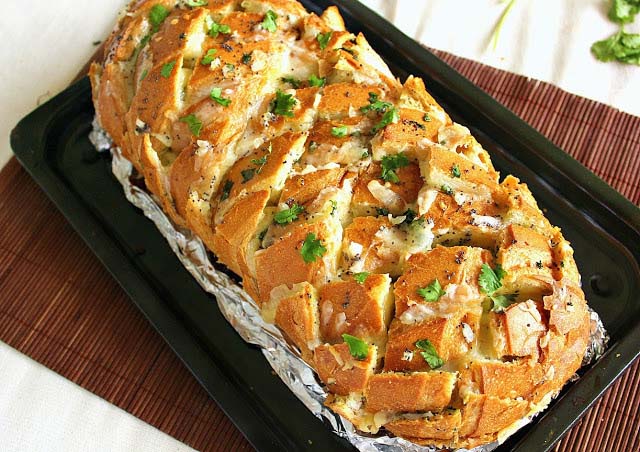 Are you looking for a garnish for the main course? This one is perfect as it combines crispy bread with a cheesy filling.
The recipe originates from Italy and is a culinary masterpiece you would want to cook over and over again.
38. Get Festive with Stuffed Pork Chops and Roasted Grapes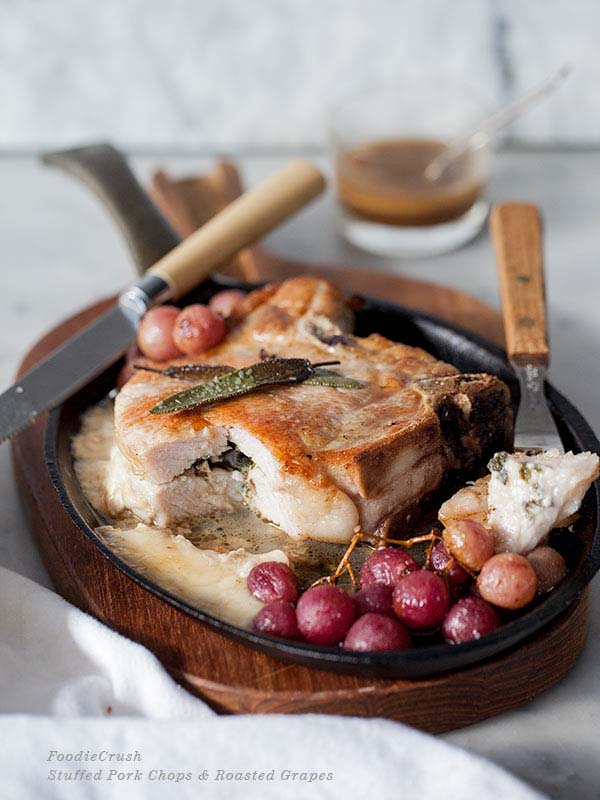 This meal is not only with a special taste but also with a festive look. The colors of the additions around the main dish create a sweet and delightful arrangement.
The pork chops are stuffed with cheese and roasted with red grape clusters and green sage. The inside of the pork is moist and soft thanks to staying in marinated mixture of herbs for 40 minutes while the outside gets a brown color and a crispy taste.
via Foodie Crush
39. Experience the Best Flavor with Stuffed Pork Tenderloin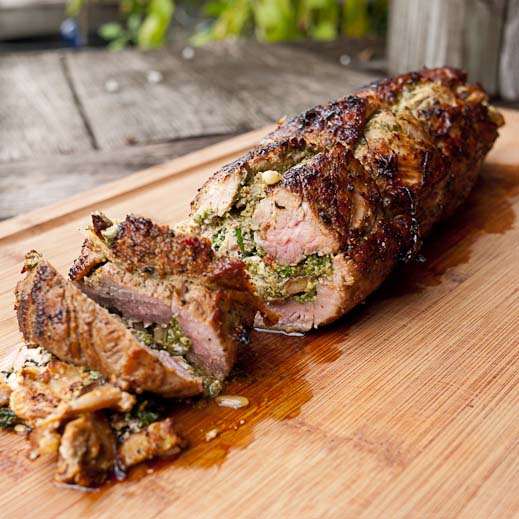 This twist of the traditional Pork Tenderloin recipe features a stuffing with spinach and mushrooms.
The flavor is amazing, as well as its look. Served as one piece on a large plate or a butcher's board, cut the pork in slices in front of your guests to reveal the surprising stuffing!
40. Impress Your Guests with Juicy, Well-Roasted Ribs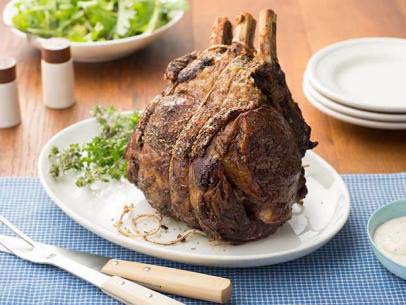 Categorized as easy, this roasted rib meal promises to make a great impression on your festive table. The juicy taste and the well-roasted look would suggest slow cooking, however, it needs only 1 1/2 hours to be ready for serving.
The secret to keeping moist and yet be well-roasted is alternating the temperature of the oven heat. A mixture of sauces makes a good complement to the rib roast.
via Food Network
41. Bring Traditional Vibes with this Turkey Recipe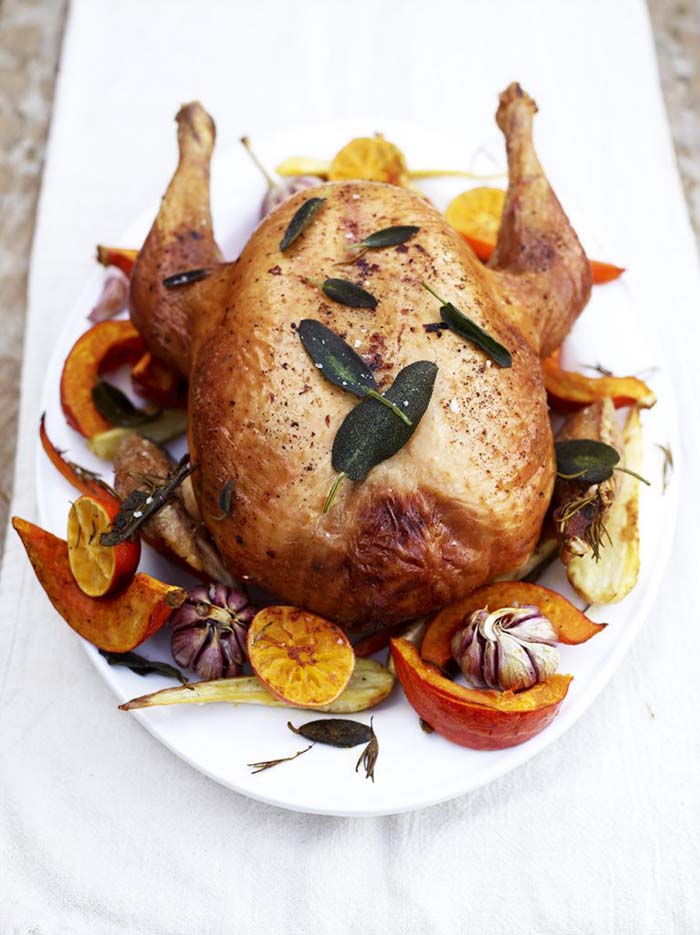 The list of amazing Christmas eve recipes wouldn't be exhaustive if there isn't a recipe from a culinary guru like Jamie Oliver is.
He suggests a new taste and looks of the classic turkey with additions of delicious spices and ingredients such as celery, clementines and fresh herb sprigs.
The turkey gets a brown color thanks to the long baking at low temperatures.
via Jamie Oliver
42. Serve a Special Veggie Arrosto Misto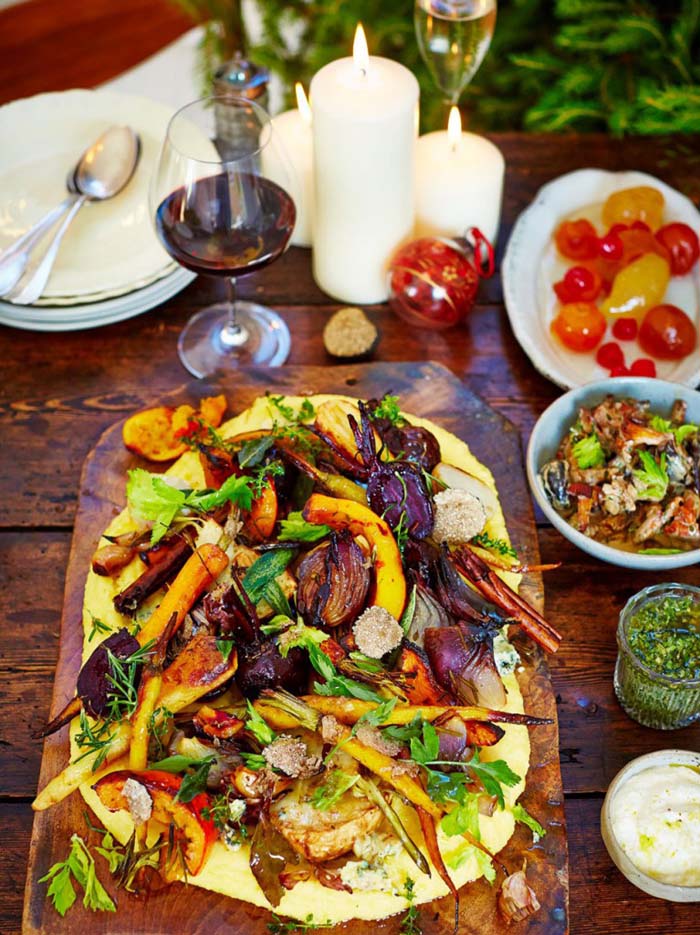 Veggie Arrosto Misto is an amazing dish of all types of veggie ingredients. We promise that you won't miss the meat after you have tasted it or at least you would have cooked the perfect complement to your main dish of roasted meat.
Only a few steps lead to the cooked dish- prepare fresh vegetables to get roasted and then serve on cheesy polenta with wild mushroom sauce.
via Jamie Oliver