Cheeseballs are the perfect addition to a Christmas party or holiday dinner; they're a creamy, savory dip for everything from crackers to crudité.
They're also incredibly versatile — you can mold them into different shapes and add toppings for a custom flavor.
Whether you're throwing a big gathering or an intimate dinner party, these mouthwatering appetizers are sure to keep your guests coming back for more. The best part?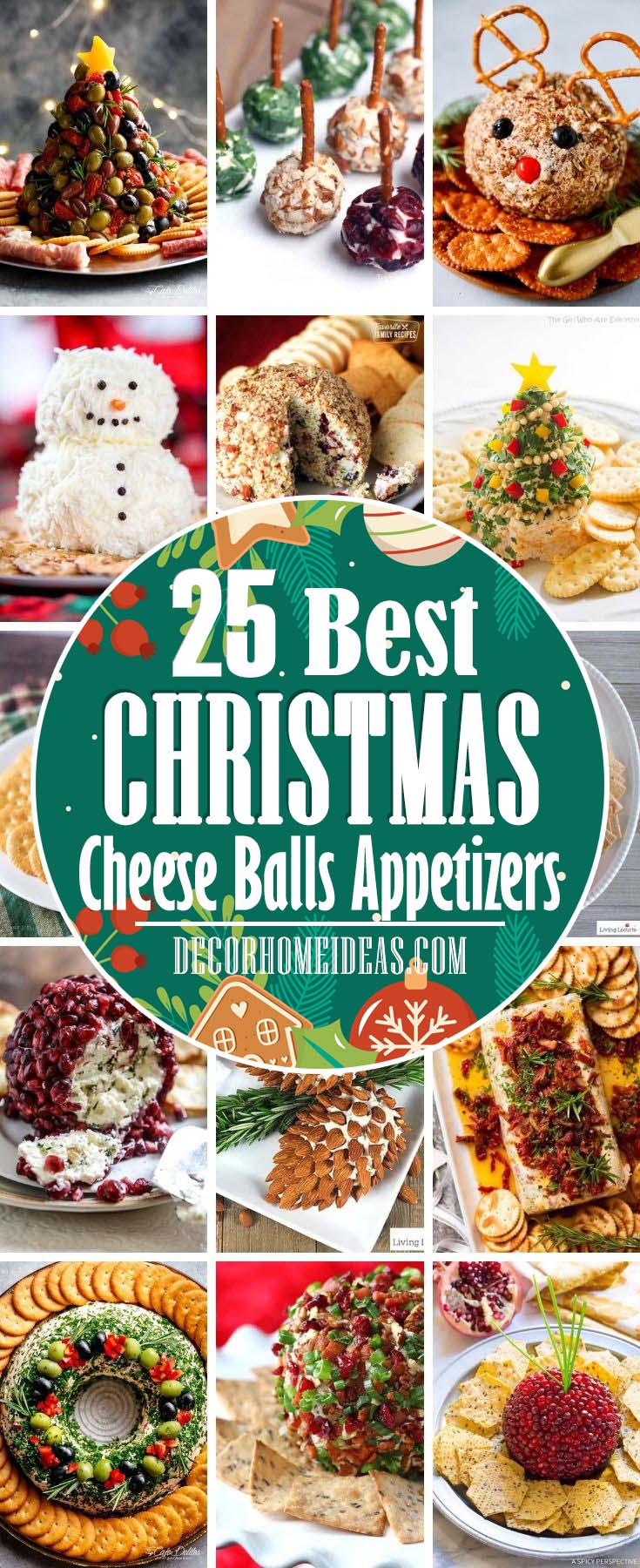 You can make them quickly and move on to other party-prep tasks.
1. Create an Eye-Catching Cheeseball Tree Antipasto Platter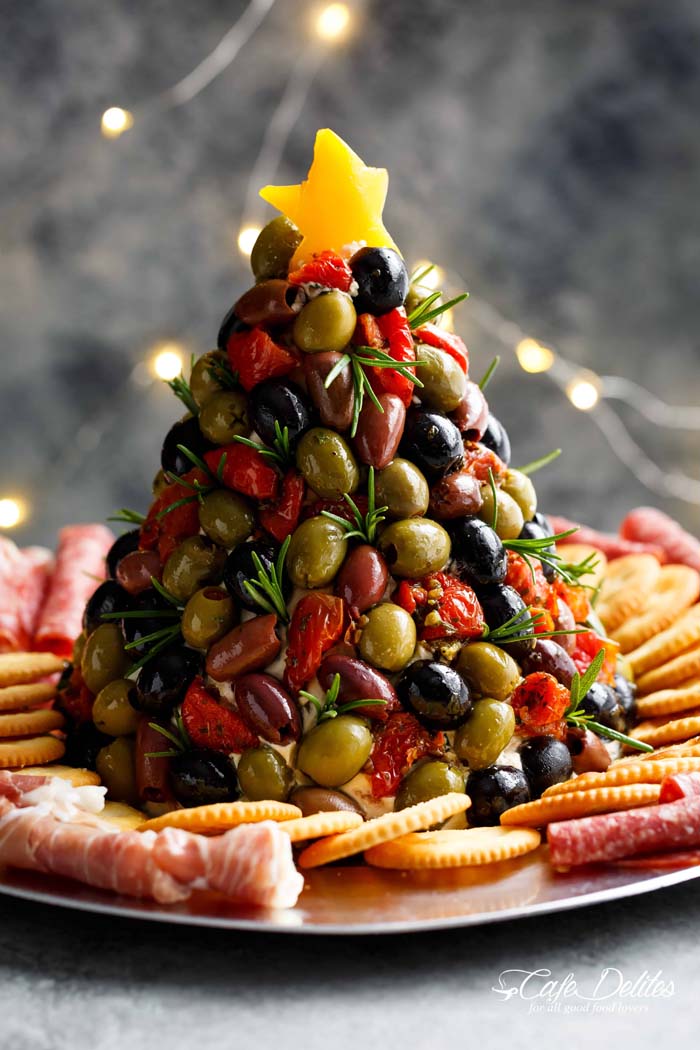 Change up your traditional antipasto platter by turning it into a cheeseball tree.
Simply form the cheese into a cone and add marinated olives and tomatoes.
A few fresh herbs add flavor and a pine-needle effect.
Surround your tree with crackers and charcuterie, and your guests won't be able to resist coming back for more.
recipe via Cafe Delites
2. Easy to Serve Cheese Ball Wreath Appetizer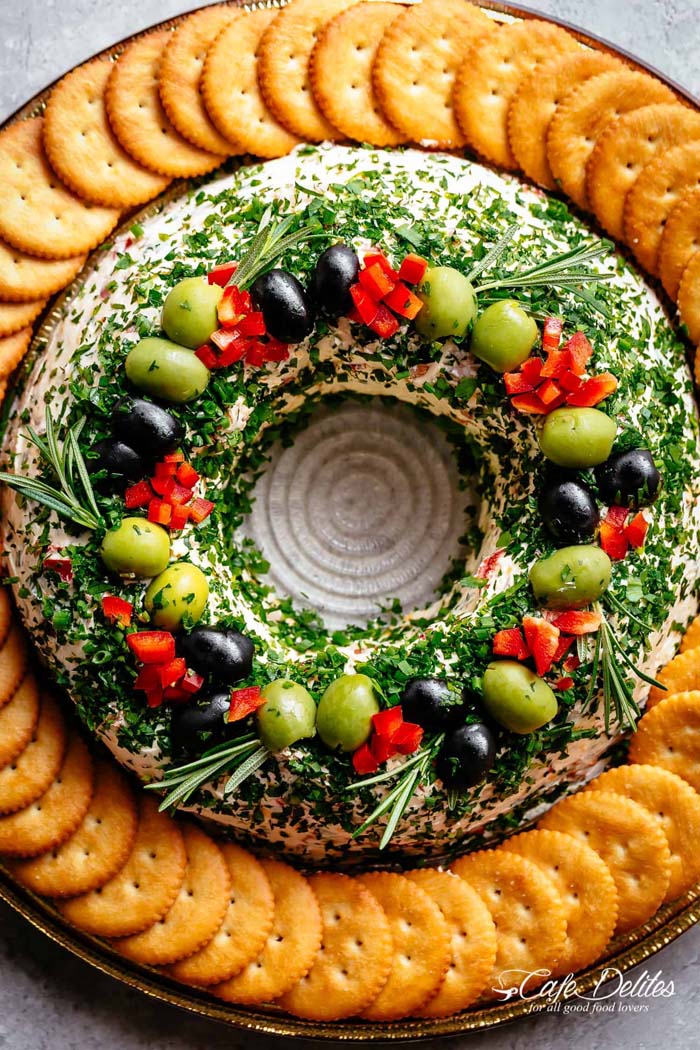 This quick and simple cheeseball wreath has it all — it looks festive, and it enables guests to serve themselves with ease.
Olives, peppers, and fresh herbs bring a riot of flavor to every bite.
This platter can be served on its own or with a ring of crackers, toast points, or cold cuts.
recipe via Cafe Delites
3. Enjoy a Classic Bacon, Blue Cheese, and Cranberry Cheese Ball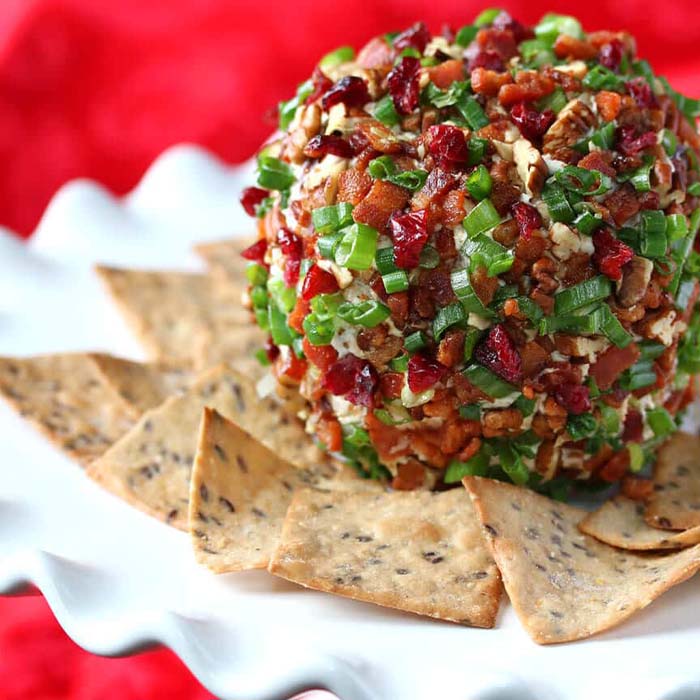 You might be accustomed to finding the classic bacon, blue cheese, and cranberry combination in a salad, but it's equally delicious in cheeseball form.
Roll the ball in your chopped toppings; you might even mix in a few herbs or chives for a burst of festive green color.
recipe via The Daring Gourmet
4. Savory Holiday Cheese Ball with Red Pepper Stripes and Herbs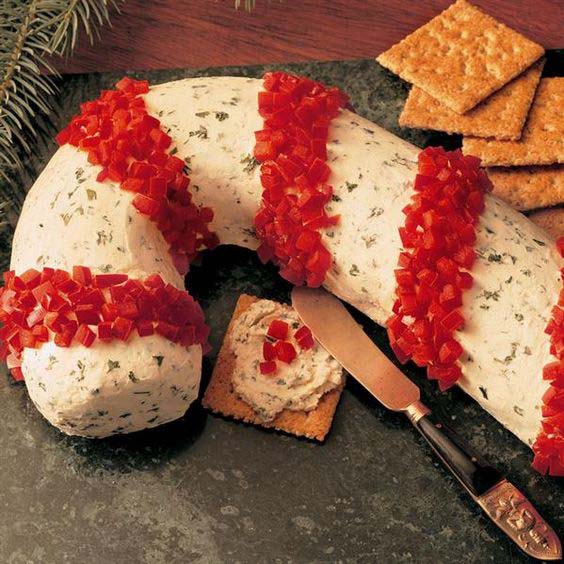 This cheeseball looks sweet, but it's remarkably savory.
The color comes from the chopped red peppers, which are arranged into clever candy-cane stripes.
Herbs mixed into the cheese bring flavor and a festive contrast. Spread it on crackers for a fantastic holiday appetizer.
recipe via Mc Cormick
5. Sweet and Salty Caramel Apple Cheeseball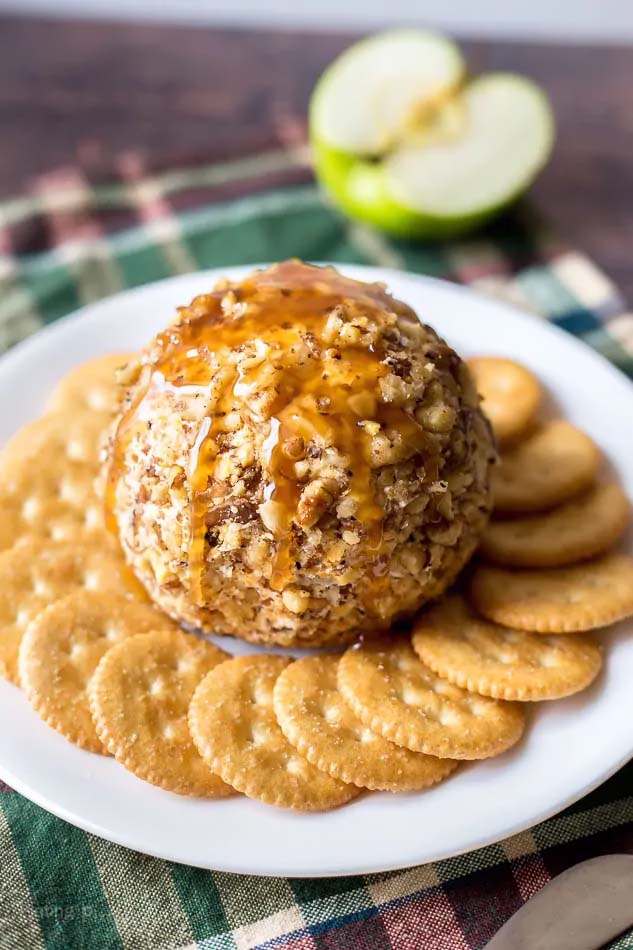 Who says cheeseballs should only be savory?
This caramel apple version combines sweet and salty flavors for an irresistible blend.
Make sure to get a taste early on, because this ball will be gone before you know it.
recipe via Plating Pixels
6. Creative Mini Cheese Balls for a Festive Touch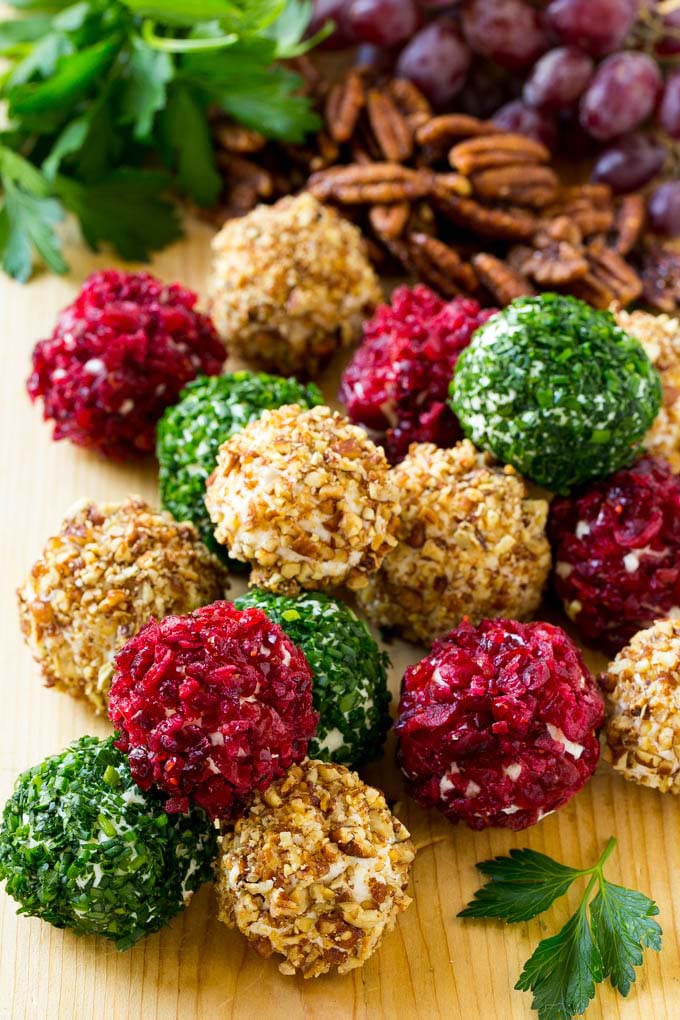 Traditional cheeseballs tend to lose their visual impact as guests serve themselves.
These miniature cheese balls are a creative solution — each one is bite-sized.
Roll each ball in a different topping for a fun and festive look that your visitors will love. Herbs, fruits, nuts, and marinated veggies bring color and taste to your table.
recipe via Dinner at the Zoo
7. Christmas Tree Made of Herbs, Bell Peppers and Pine Nuts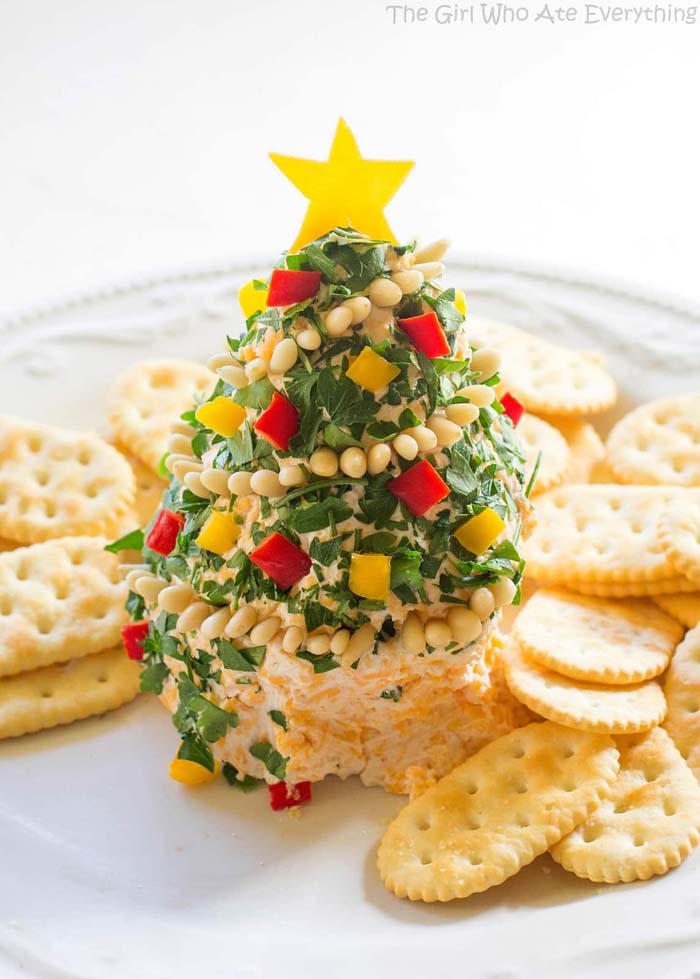 How cute is this little Christmas tree?
The simple cone shape is painstakingly covered in herb needles, bell pepper ornaments, and pine-nut garland.
The adorable bell-pepper star completes the holiday-inspired look. Make this tree sweet or savory to compliment the other items on your menu.
recipe via The Girl Who Ate Everything
8. Cookie Dough Cheeseball: The Perfect Holiday Dessert Treat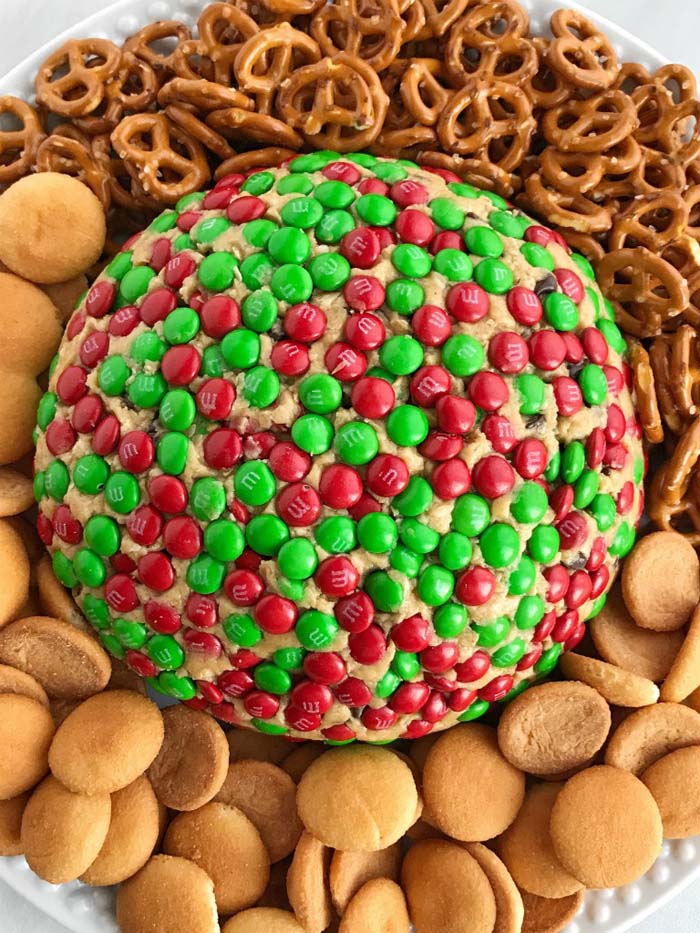 Looking for a sweet take on a cheeseball?
This cookie dough version is a fun dessert option for your next gathering.
Edible dough topped with red and green candies adds color to your table — just add a selection of pretzels and small cookies for dipping.
recipe via Together as Family
9. Cranberry-Covered Cheese Ball Appetizer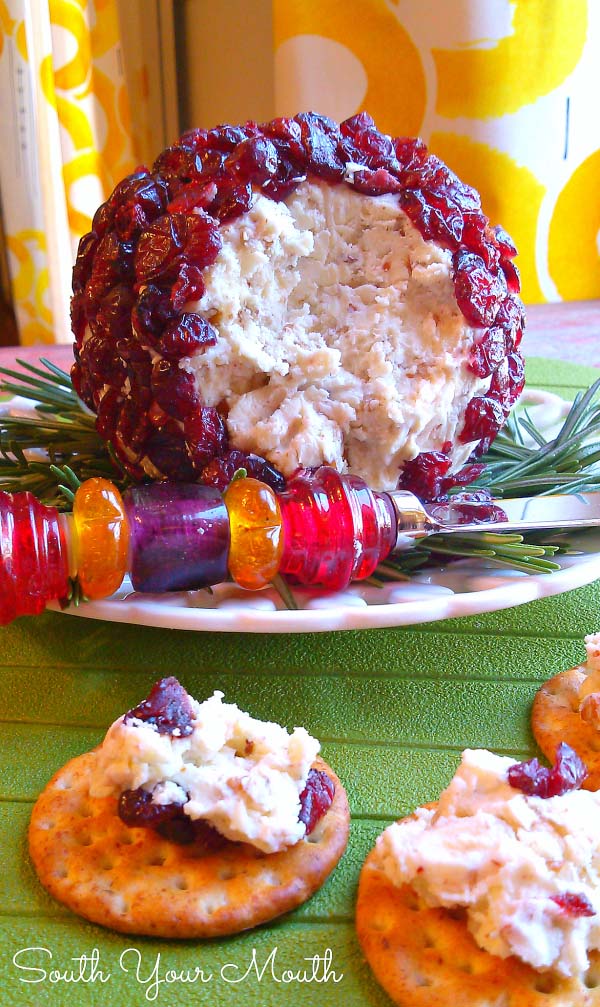 With their deep red color, cranberries are ideal for Christmas.
Here, a cheeseball is rolled in dried cranberries to make your table pop.
The tart fruit contrasts with the salty cheese for the perfect blend of flavors.
recipe via South Your Mouth
10. Deliciously Easy Christmas Log with Bursting Flavors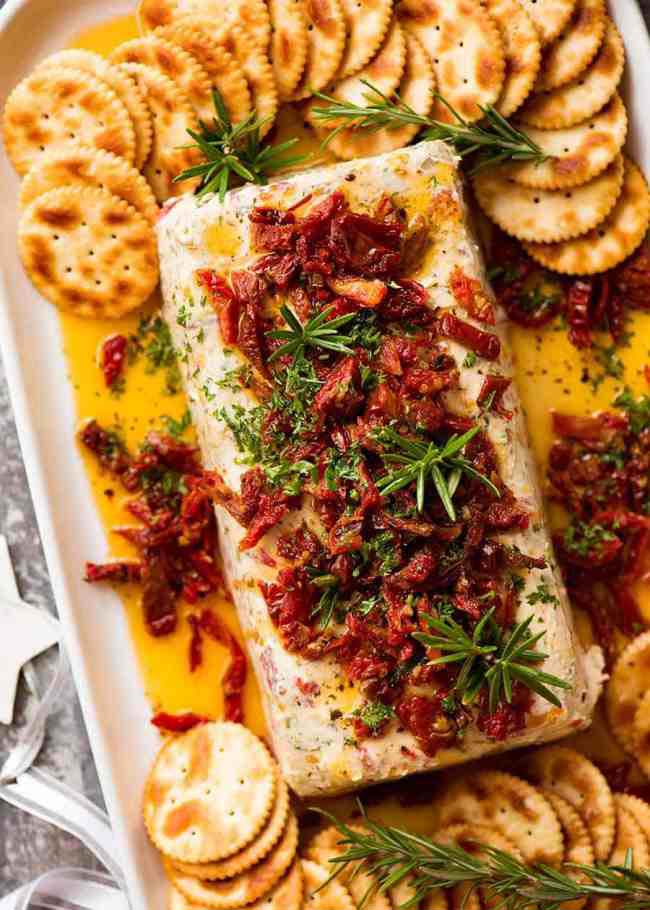 The simple shape of this Christmas log makes it a breeze to put together.
This is a flavor bomb, delivering a burst of olives, onions, spices, and tomatoes in every bite.
Drizzle on a bit of flavored olive oil to seal the deal.
recipe via Recipe Tin Eats
11. Enjoy a Burst of Flavor with a Cranberry Bacon Cheese Ball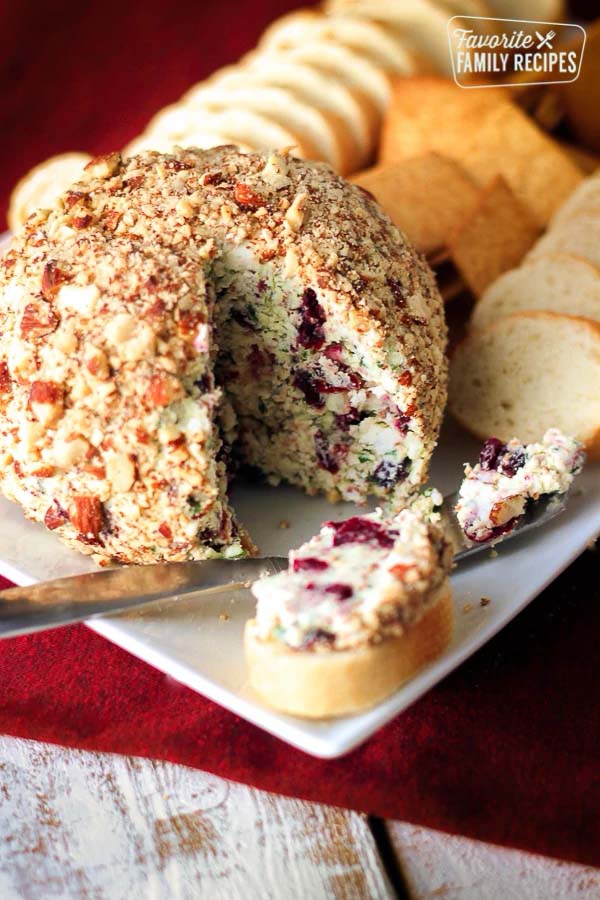 Cut into this cheeseball, and you'll be rewarded with vibrant colors.
The flavors are just as bold — cranberries and bacon infuse the cheese with sweet and salty tastes, and almonds add a satisfying crunch.
Spread it on toast or crackers for a truly remarkable snack.
recipe via Favorite Family Recipes
12. No-Fuss Cheese Ball Appetizers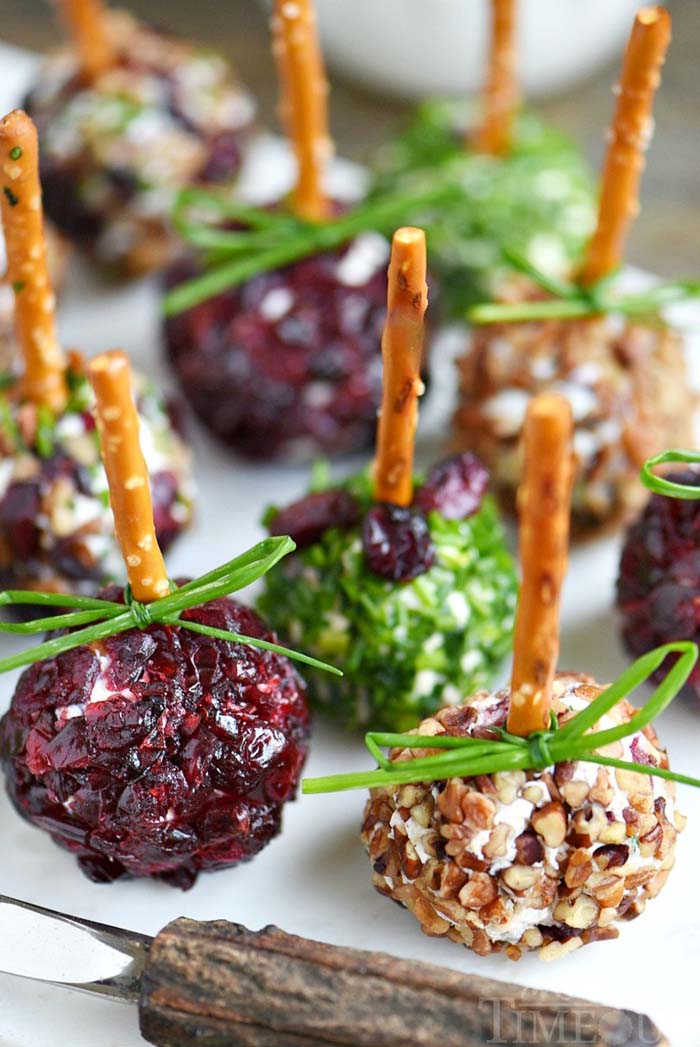 Looking for a utensil-free appetizer to pass at your Christmas party?
These little cheeseballs are a one-bite snack. The stick is a pretzel, so your guests can eat the entire thing.
The key is to make the balls small enough to balance the flavors.
recipe via Mom on Time Out
13. Delicious Miniature Cheese Bites with Nuts, Fruits & Herbs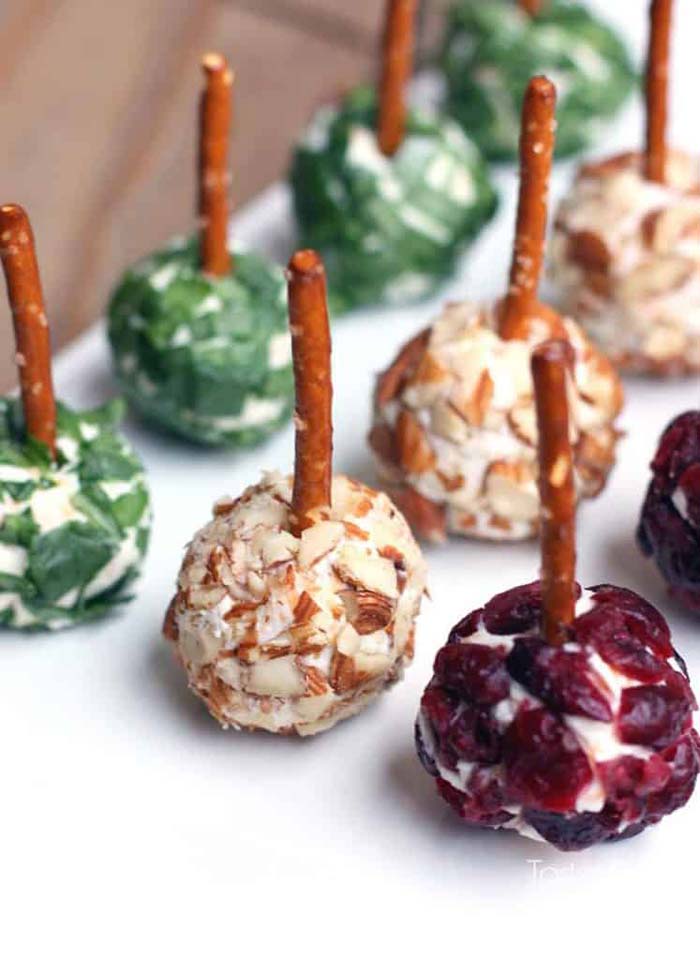 Prepare plenty of these miniature cheese bites — your party guests will definitely be coming back for seconds and thirds.
Each tiny ball is coated with nuts, dried fruits, or herbs for beautiful colors and flavors.
The tiny pretzel sticks add a hint of crunch.
recipe via Tastes Better From Scratch
14. Create a Pinecone Cheese Ball with Almonds and Herbs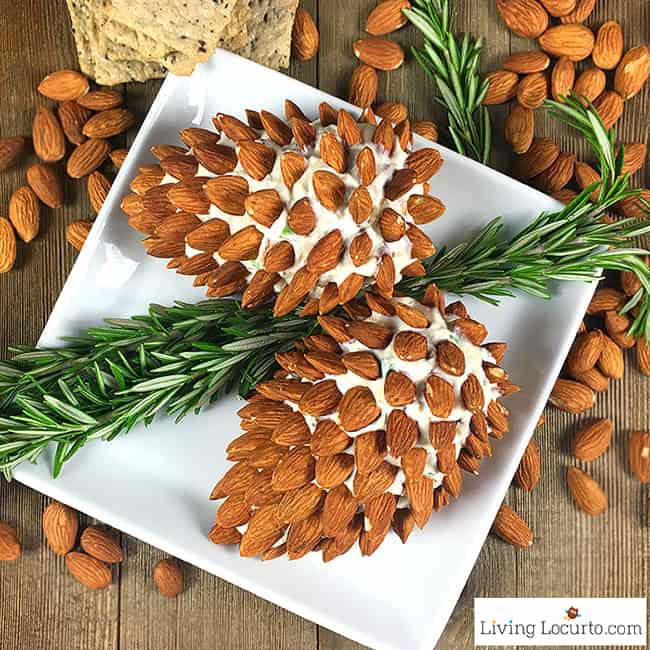 Turn your cheeseball into a pinecone using dry-roasted almonds.
All you need to do is form a vaguely conical shape; the almonds replicate the color and texture of the pinecone.
A few fresh herbs replicate the look of greenery.
recipe via Living Locurto
15. Celebrate with a Sweet and Savory Pomegranate Cheese Ball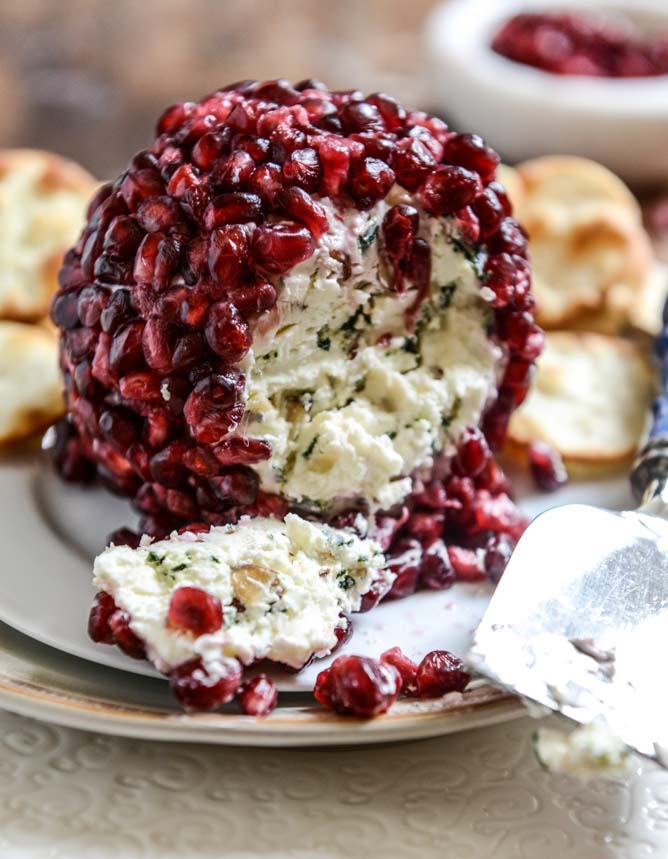 The flavors of bright pomegranate, herbs, and nuts work beautifully in this cheeseball, which walks the line between sweet and savory.
White cheddar makes a delicious base, but you can experiment with any sharp cheese.
recipe via How Sweet Eats
16. Tangy Pomegranate and Cranberry Cheese Ball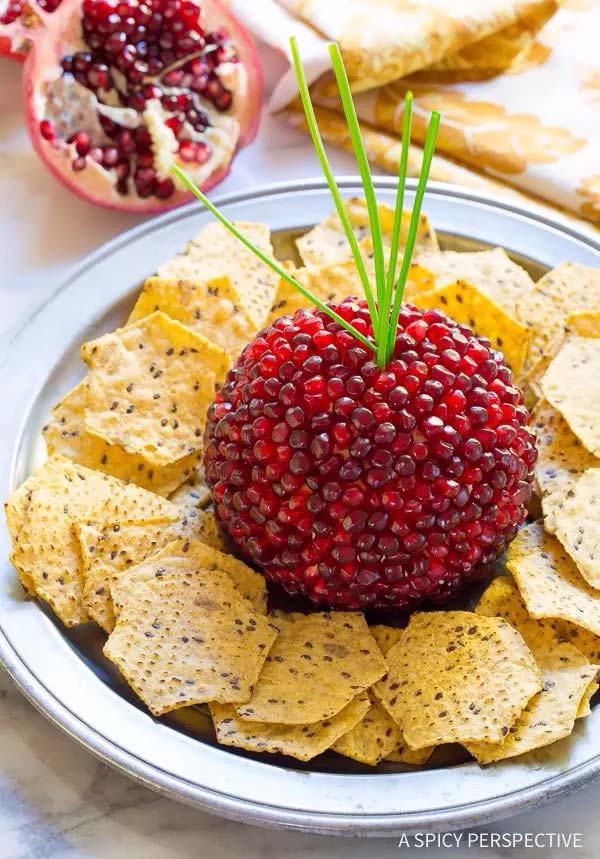 Here's another easy and tasty way to use pomegranate on your holiday table.
The secret to this recipe is the cranberries that are blended into the cheese mixture; they add a delicious, tangy taste.
This cheeseball pairs beautifully with everything from crackers to veggies.
recipe via A Spicy Perspective
17. Make an Elegant Treat with a Snowman-Style Cheeseball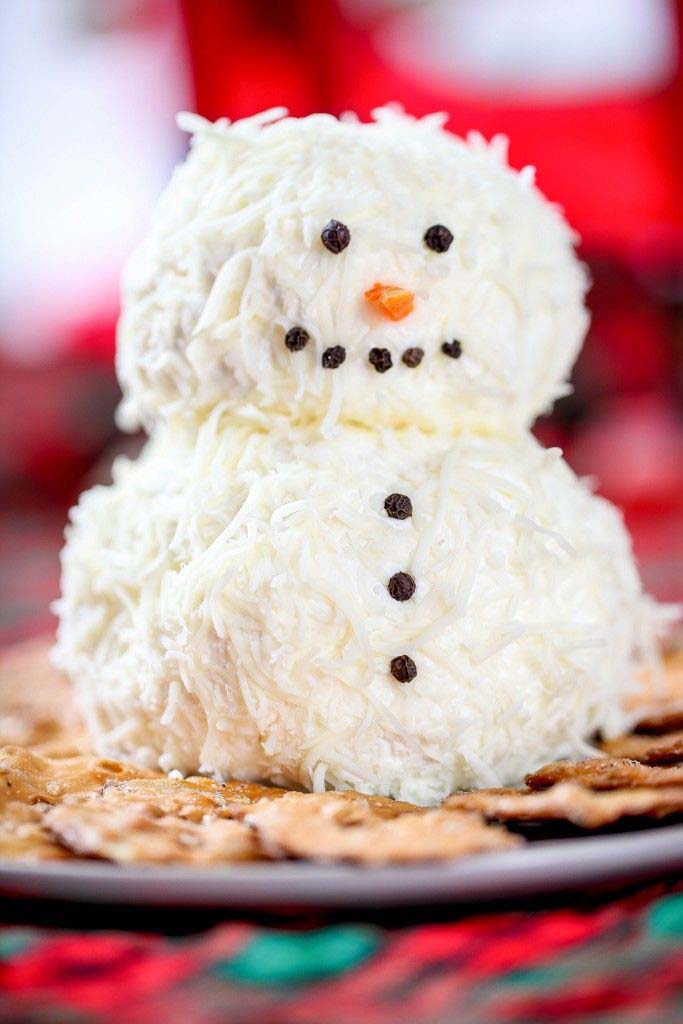 Make the most of the natural color and texture of cheese with this snowman-style cheeseball.
Using rich ingredients such as cream cheese and ranch dressing, it's an indulgent snack.
We love the shredded cheese that covers the exterior; the color and texture elevate this ball into an elegant treat.
recipe via Baking Beauty
18. Enjoy a Decadent Red Velvet Cheese Ball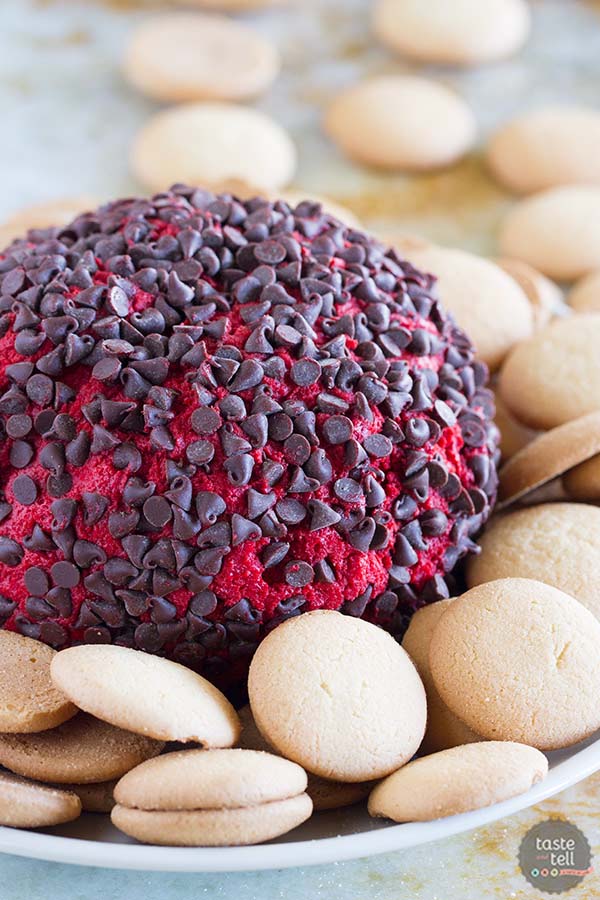 Supplement your traditional Christmas desserts with this red velvet cheeseball.
The rich color comes from the red velvet cake mix in the mix; a coating of mini chocolate chips adds a decadent sweetness.
recipe via Taste and Tell
19. Create an Adorable Rudolph Cheese Ball for Your Next Party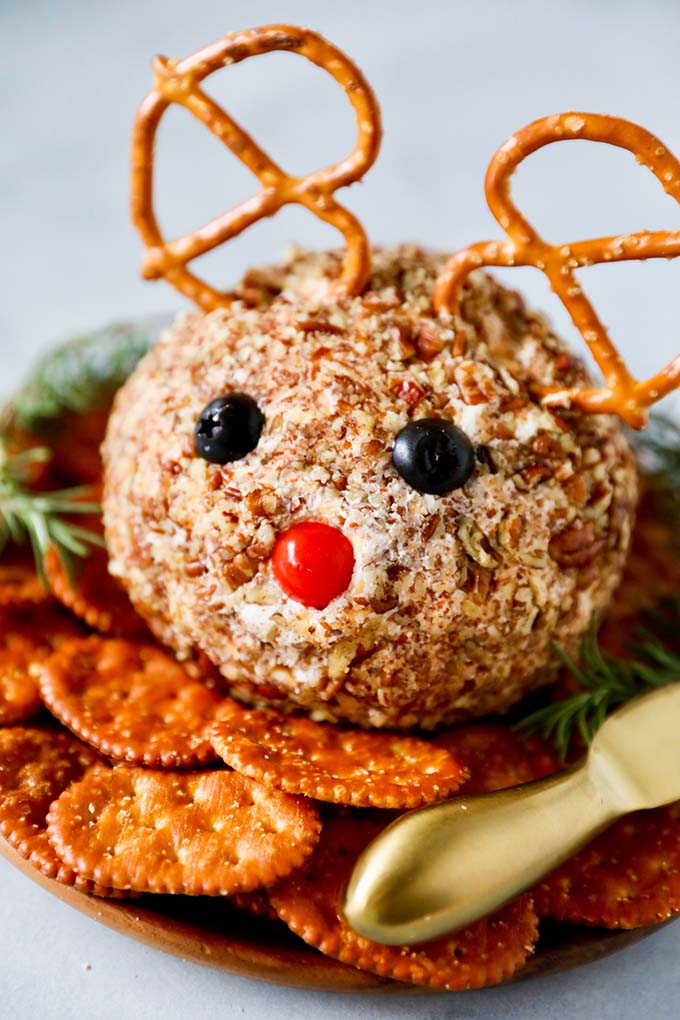 You won't be able to stop smiling when you see this adorable Rudolph cheeseball.
It looks complicated, but it's super easy to make — you can even shape the ball a few days in advance to save time on party day.
A sweet face and pretzel antlers create an appetizer with personality.
recipe via No.2 Pencil
20. Enjoy Bold Flavors with Santa's Veggie-Topped Cheeseball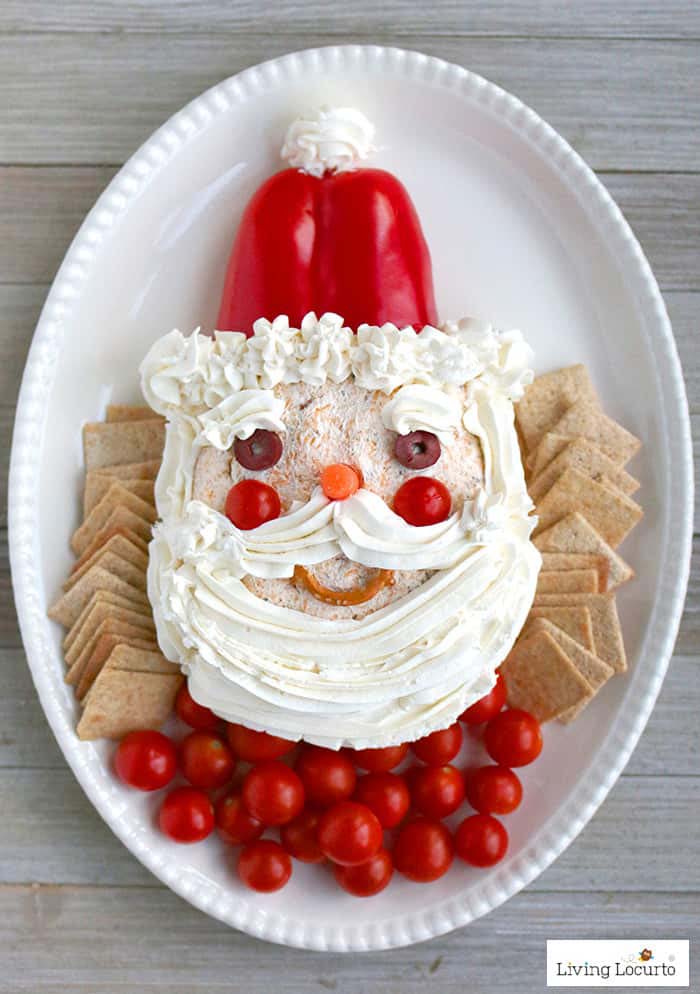 Ranch dressing and sharp cheddar combine to create a bold flavor in this cheeseball.
The real beauty is in Santa's face and hat, which are made with vegetables and whipped cream cheese.
The bell pepper hat is a clever finishing touch.
recipe via Living Locurto
21. Delicious Snowman White Chocolate Toffee Treats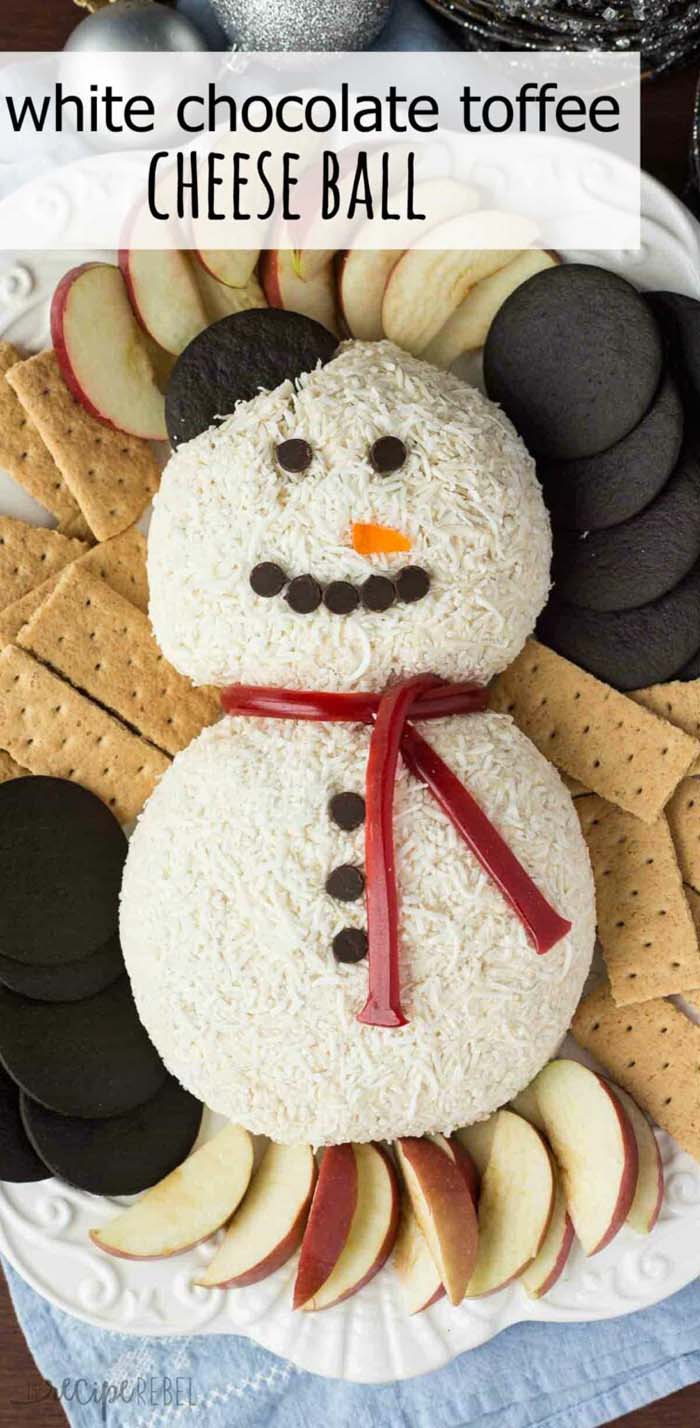 White chocolate, toffee, and cream cheese — does it get more delicious?
This cute snowman packs a sweet and flavorful punch that works well with cookies, pretzels, or fruit.
Experiment with the shape, mix in more toffee or replace the shredded coconut snow with white chocolate flakes for your own personal twist.
recipe via The Recipe Rebel