Christmas trees are iconic symbols of the winter holidays, evoking a sense of family and tradition.
Miniature tree crafts echo the classic shape of your full-size Christmas tree, creating a fun and cohesive look in your home.
With options ranging from rustic farmhouse trees to glam foil-covered versions, there's an option for every home. Need ideas?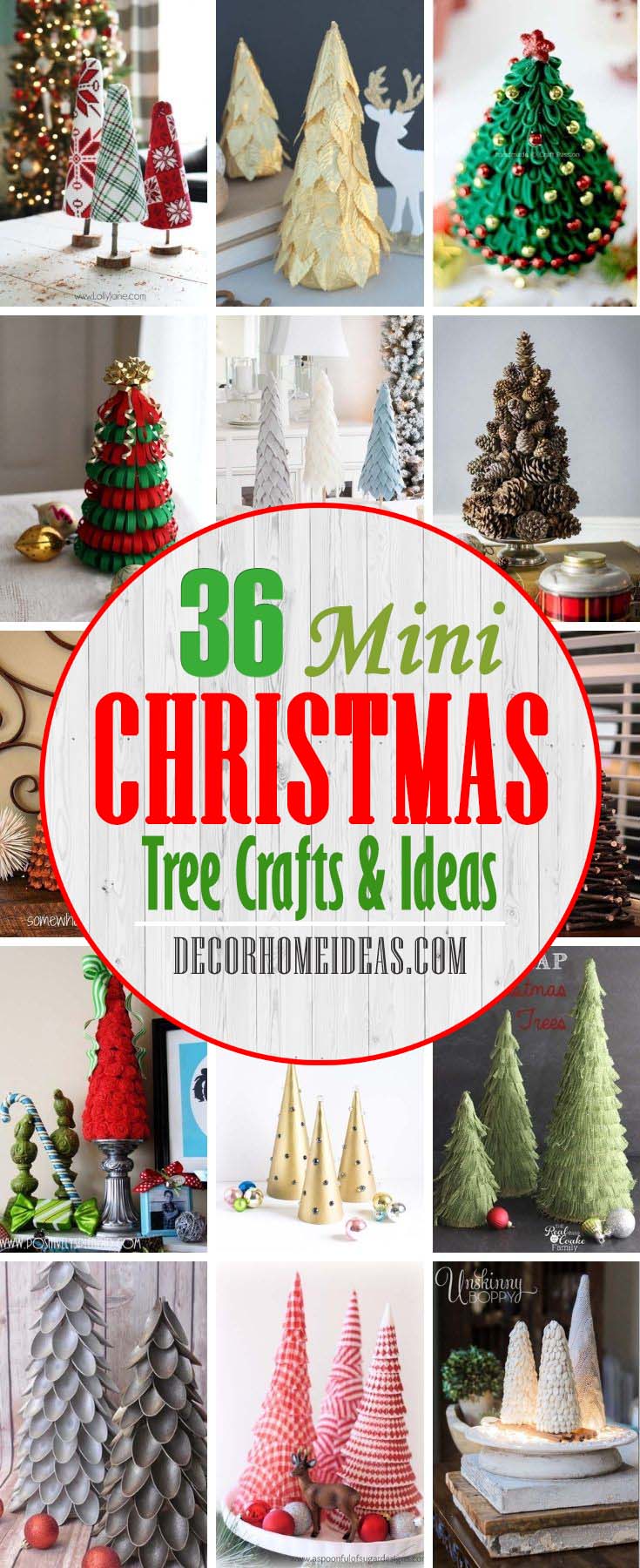 These stunning DIY trees are a great place to start planning your Christmas crafts.
1. 10 Cents a Piece Christmas Tree Cone Craft

Simple and cheap, these DIY trees are a quick and easy way to decorate your home for Christmas.
Each one is crafted from a sheet of paper, so you probably have everything you need in the house already.
Just form the tree, tape the ends closed, and you're ready to decorate. Use white paper, printed craft paper, or even newspaper for a custom look.
via Happy Housie
2. 3D Pasta Noodle Christmas Tree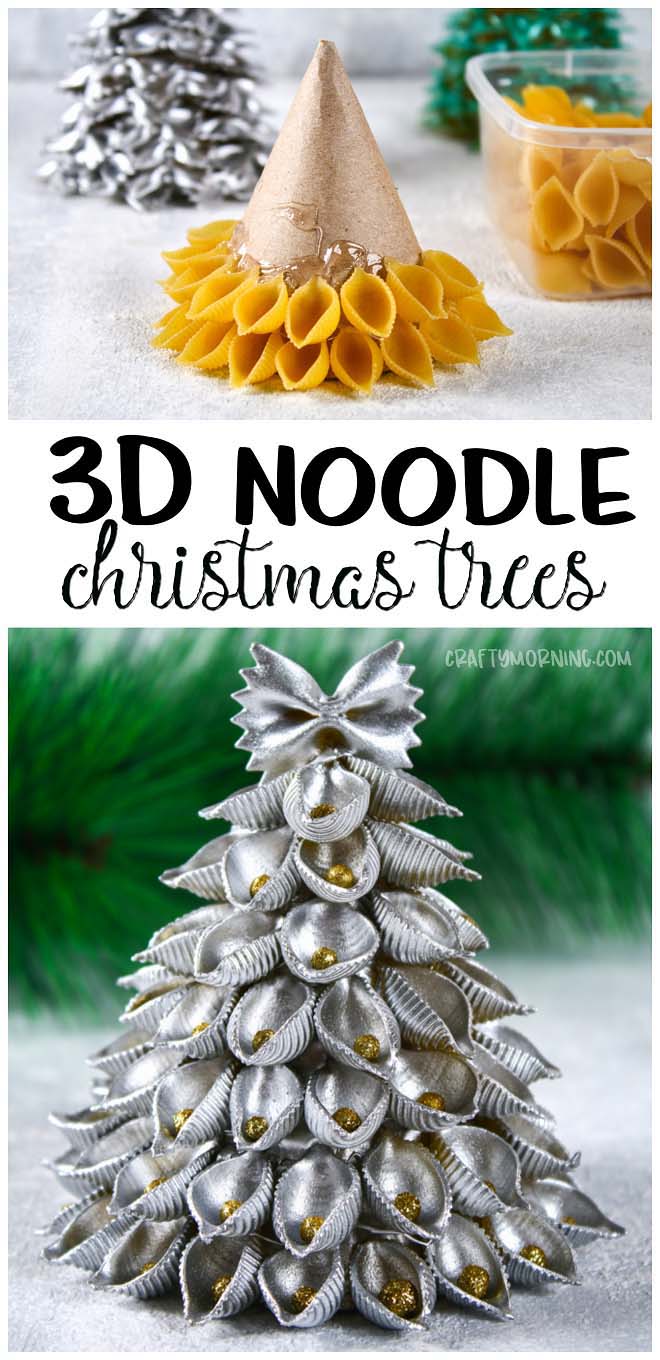 Glam up your mantle this Christmas with clever pasta trees.
Shell noodles form the branches of the tree, and an adorable bowtie tops everything off.
Experiment with different noodle shapes, or use whatever you have on hand. A coat of metallic spray paint adds a beguiling sparkle.
via Crafty Morning
3. Burlap Christmas Trees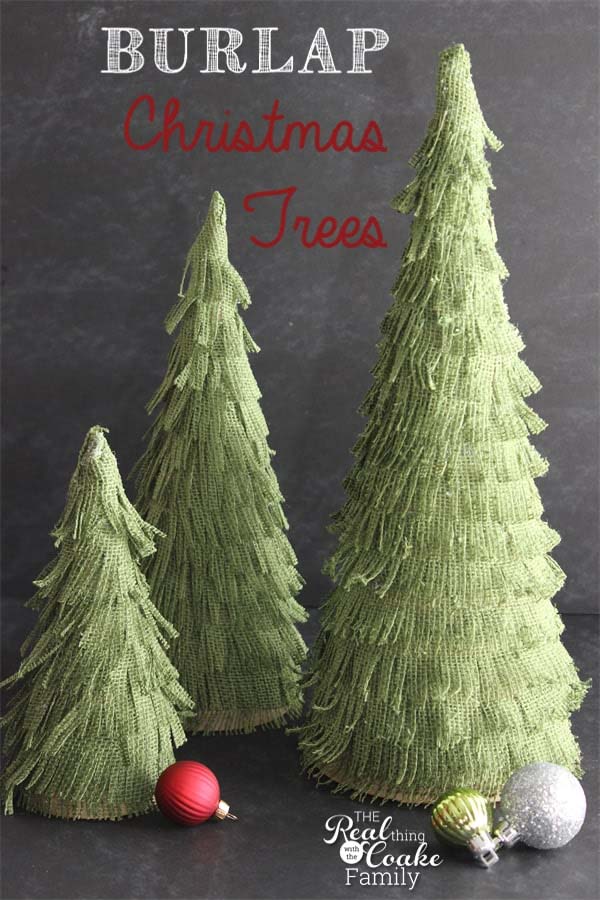 Are you going for a laid-back country vibe this Christmas?
These burlap trees will fit right in.
The trick is to cut the burlap into strips to create the effect of cascading needles; the natural texture adds a hint of rustic charm.
via The Real Thing
4. Burlap DIY Christmas Tree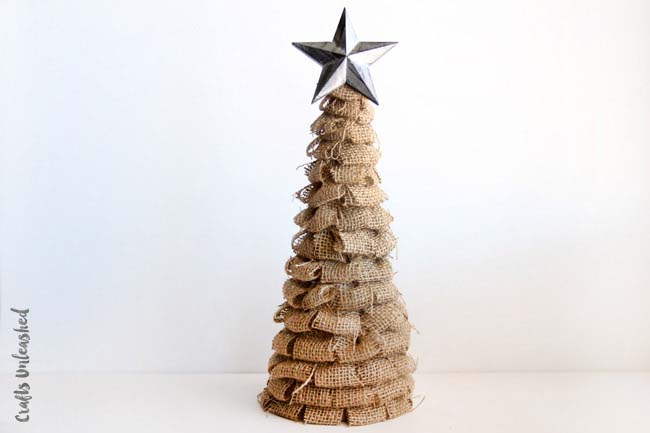 Classic brown burlap adds a gorgeous texture and natural color to this stunning DIY Christmas tree craft.
Small lengths of burlap ribbon are formed into loops, giving the tree a romantic, soft touch.
Add colorful ribbon on top for garland, or go for a farmhouse look with a galvanized metal star topper.
via Crafts Unleashed
5. Burlap Ribbon Christmas Tree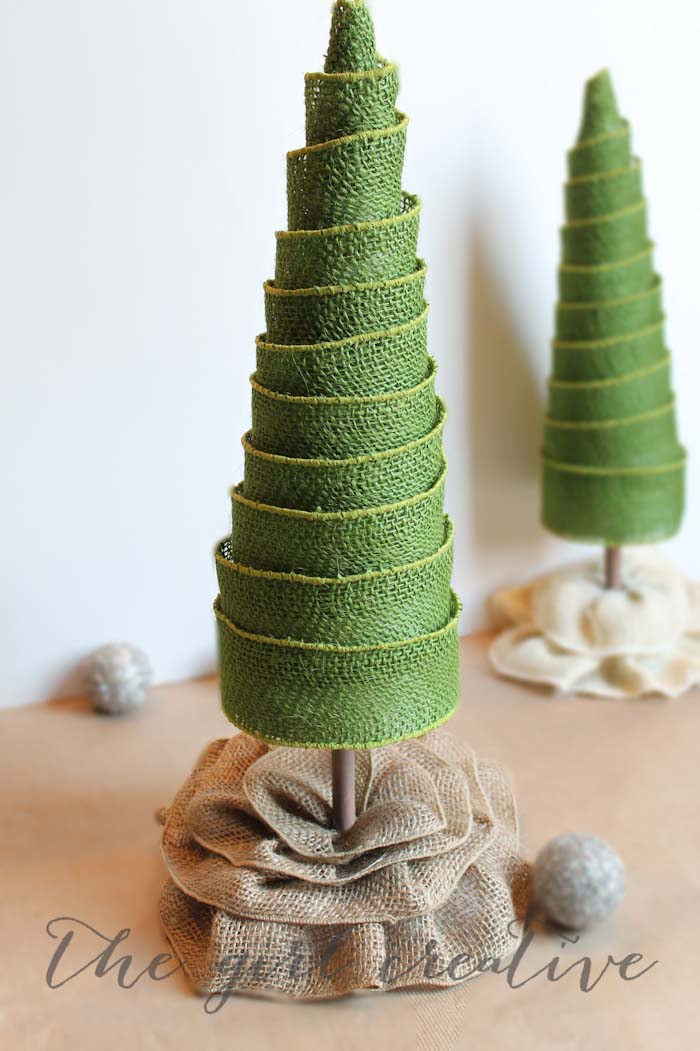 Here's yet another beautiful way to use burlap in your Christmas crafts — this time, green burlap is wrapped in spirals to form the traditional tree shape.
The flat fronts give the trees a modern update, making them the perfect fit for a modern farmhouse.
6. Cardboard Tabletop Christmas Trees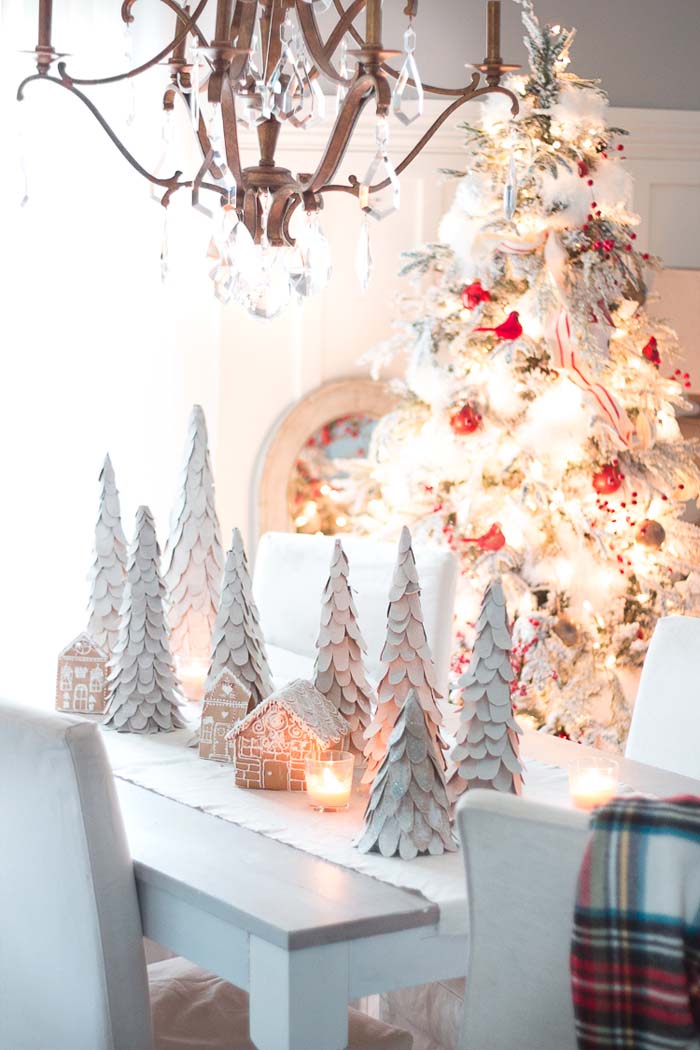 These little trees cost less than 50 cents each, but they look like a million bucks.
Best of all, they're easy to make; just cut scallops and glue them in place.
A coat of snowy white paint and a dusting of glitter completes the magical Christmas glow.
via Craftberry Bush
7. Coffee Filter Christmas Trees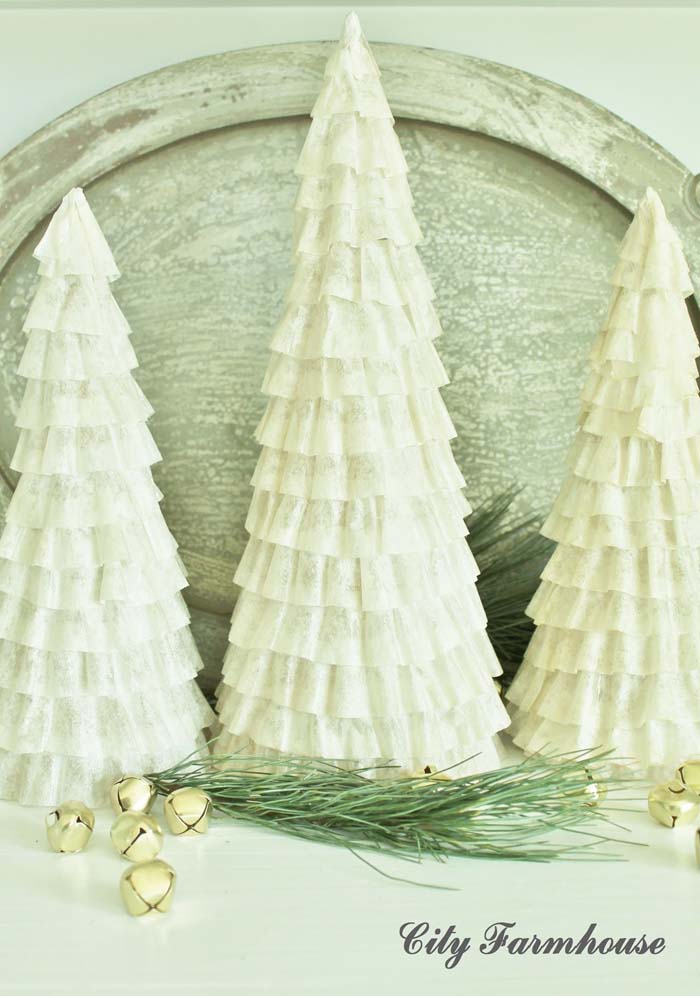 To look at them, you'd never guess that these lovely Christmas trees are made from coffee filters.
The beautiful sheer nature of the material adds texture and transparency, and the natural white color adds a snowy look.
Add glitter if you like, or leave them plain for a cottage-inspired twist.
via City Farmhouse
8. Crepe Paper Christmas Tree Cones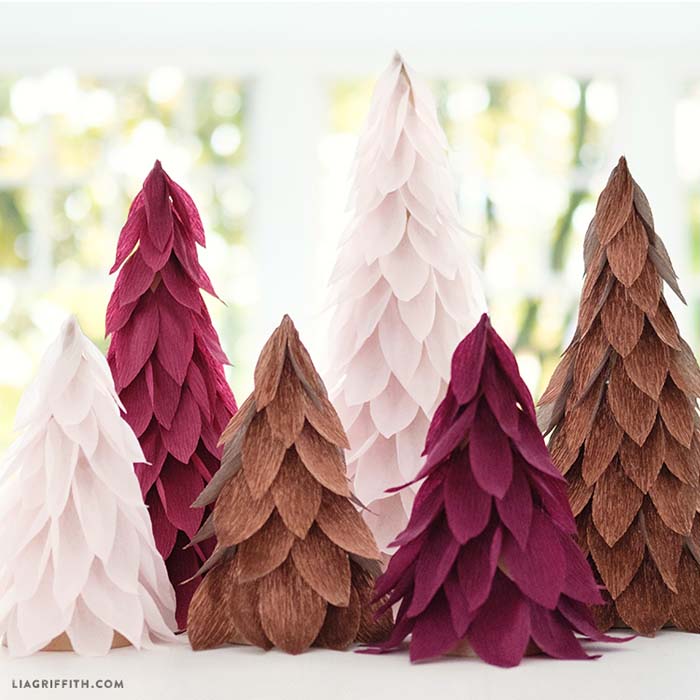 Do you have rolls of leftover crepe paper in a drawer?
Turn them into spectacular Christmas tree crafts that elevate your holiday decor.
Whether you choose a classic holiday color palette or sophisticated shades, these adorable trees will be a hit.
via Lia Griffith
9. DIY Gold Leaf Trees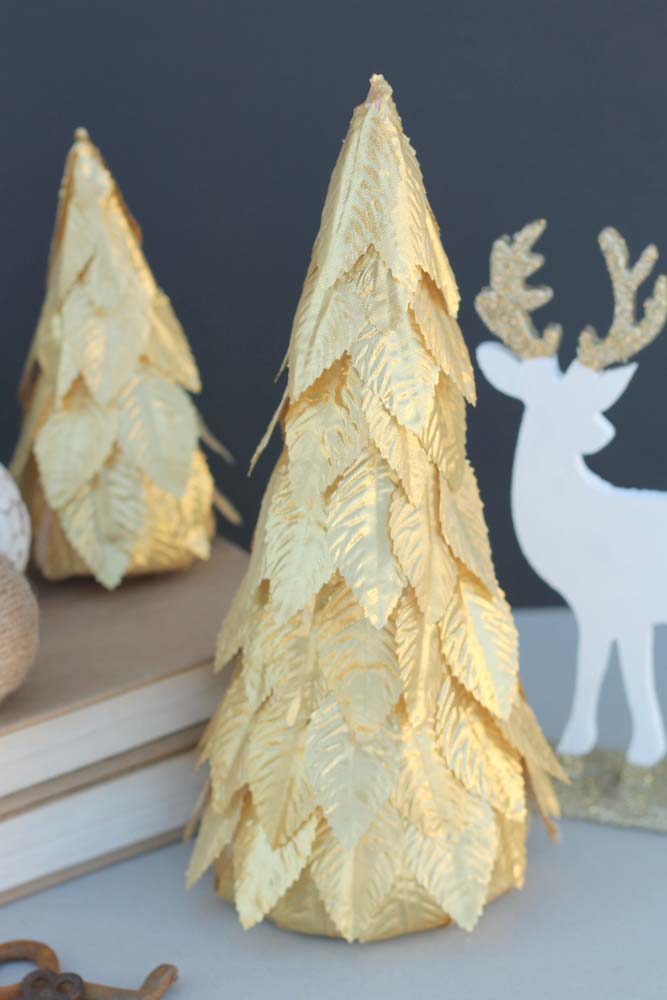 If you're looking to infuse your holiday with a bit of glam, shimmering golden trees fit the bill.
Here, layers of cascading leaves form chic Christmas trees that look beautiful on a mantle or shelf.
Buy gold leaves or use spray paint to create your own.
via Crafts Unleashed
10. DIY Mod Light Up Trees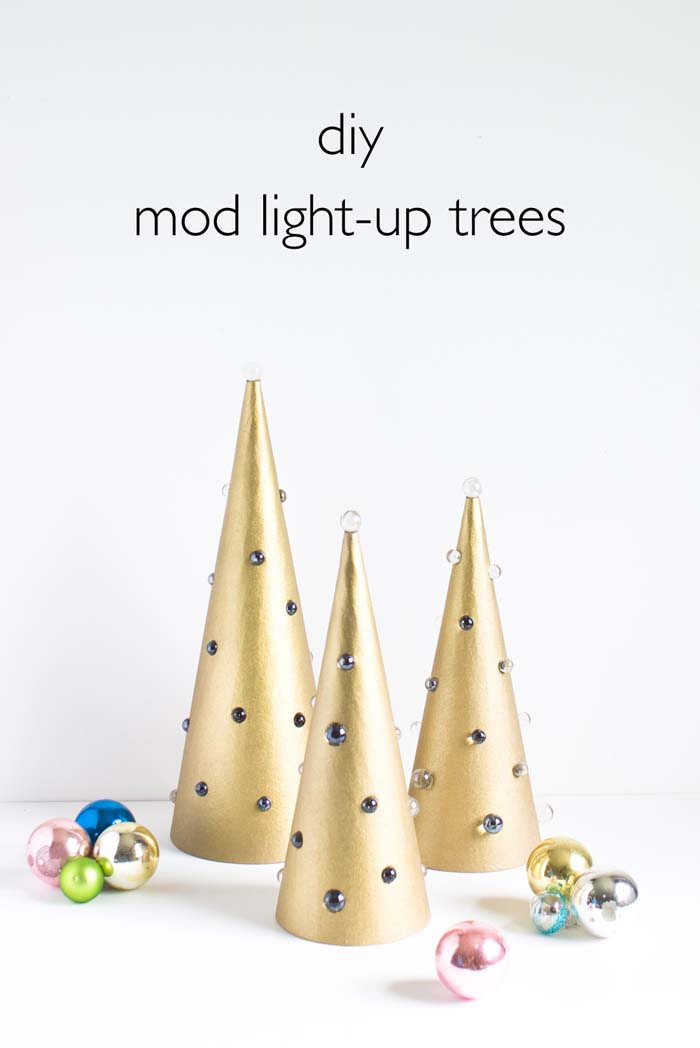 Brighten the holidays with tiny light-up Christmas trees.
Made with a distinct mid-century modern vibe, they bring a retro charm to your festive decorations.
They're so much fun that you might want to leave them up all winter long.
11. DIY Nordic Sweater Christmas Tree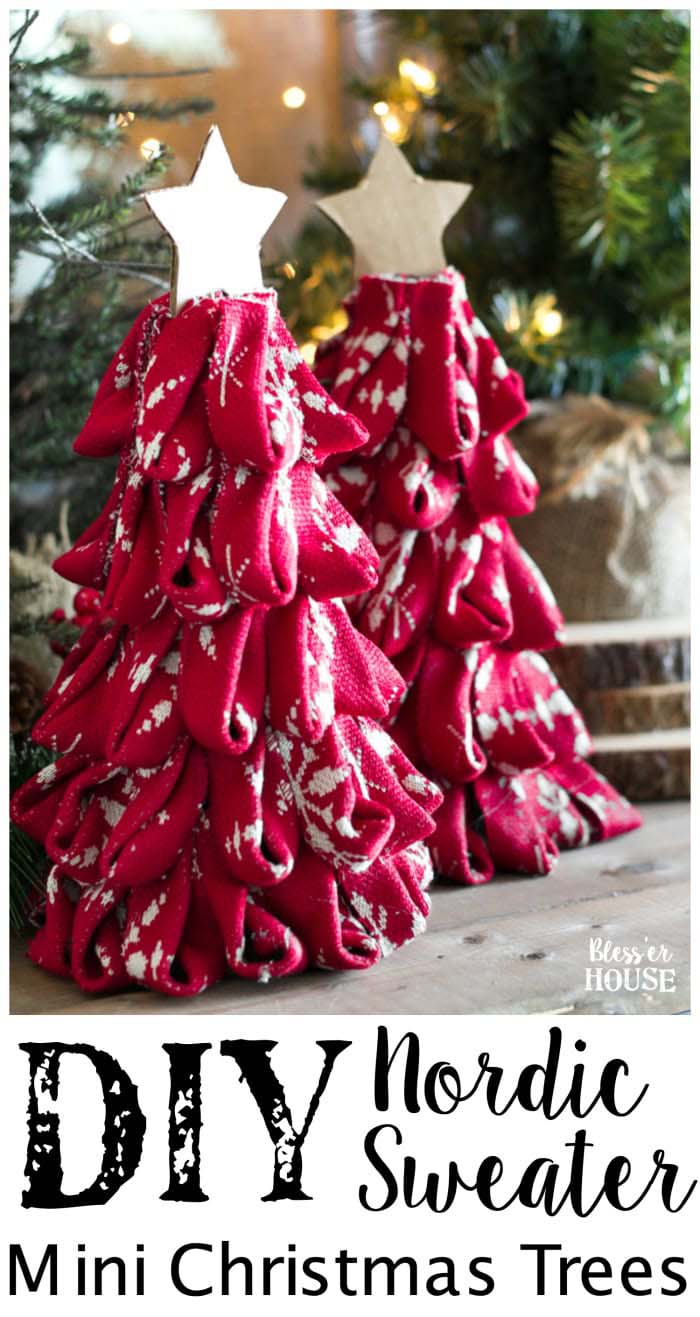 Do you have an old Nordic sweater that no longer fits?
Turn it — or a length of knit fabric — into a Christmas tree decoration.
Formed by loops of material, these sweet trees bring a soft, cozy feeling to any room in the house. We love the rustic cardboard star toppers.
via Bless'er House
12. DIY Pumpkin Seed Christmas Trees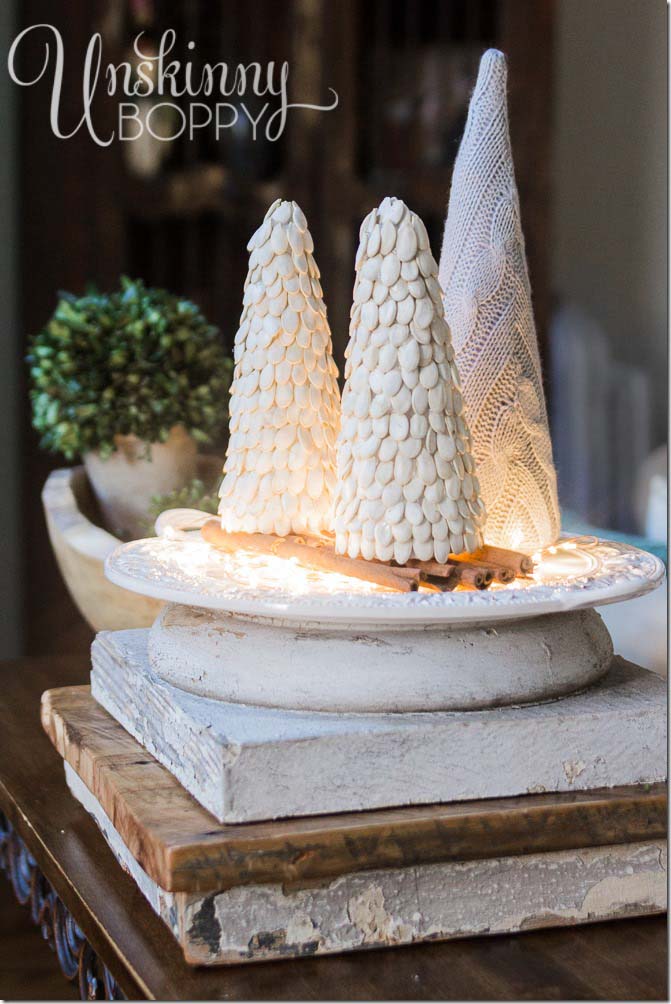 Save the seeds from your Halloween pumpkins — you'll need them for these adorable DIY Christmas crafts.
Spray-paint the seeds using white or green paint; you can even add glitter for extra sparkle.
Then, glue them to a cone for a professional-looking result.
via Unskinny Boppy
13. Doily Christmas Tree Forest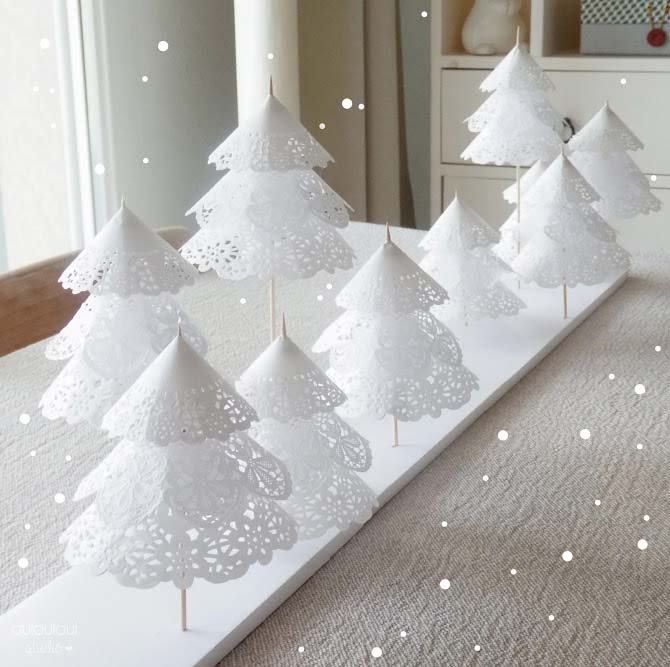 Are you working with large open space?
Fill it with a forest of Christmas trees. Graceful trees made from paper doilies appear to float above the surface for a magical effect.
Use a plank for the base or eliminate drilling entirely with a sheet of foam board.
via OuiOuiOui Studio
14. Embroidery Floss Christmas Trees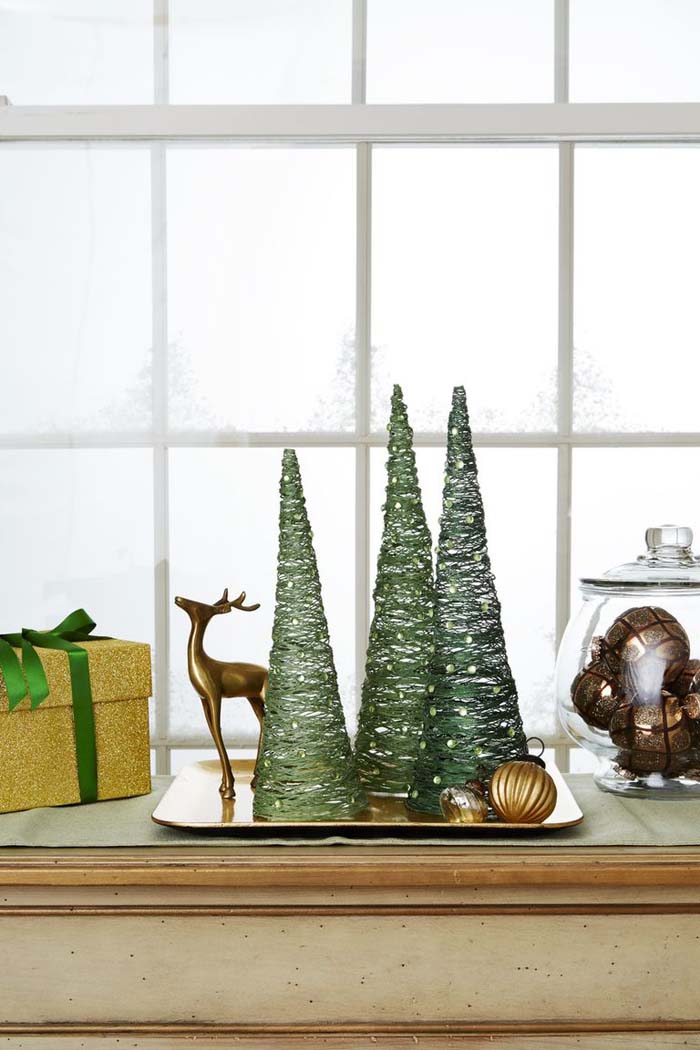 Turn your excess embroidery floss into timeless tree decorations with this unexpected project.
Each tree is made using a form, which is then removed to create freestanding pieces that look incredibly light and airy.
Classic green adds a realistic touch, but you can use any thread color that matches your holiday theme.
via Woman's Day
15. Fabric Covered Poster Board Christas Tree Cones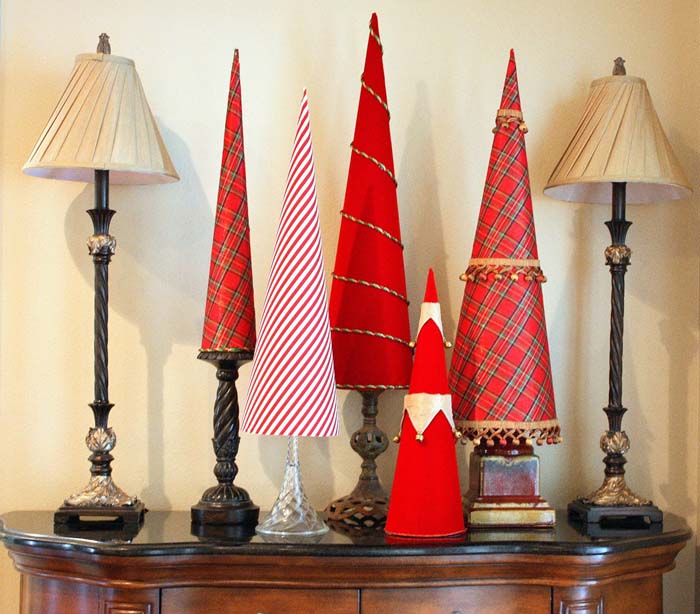 Looking for a fast, cheap Christmas craft with a serious visual impact?
These tree cones are a great option.
They're made with poster board, fabric scraps, and glue; if you don't have appropriate fabric, you can even use quilting fat quarters to save money.
Leave them plain or add trim for depth.
16. Fleece Cone Christmas Trees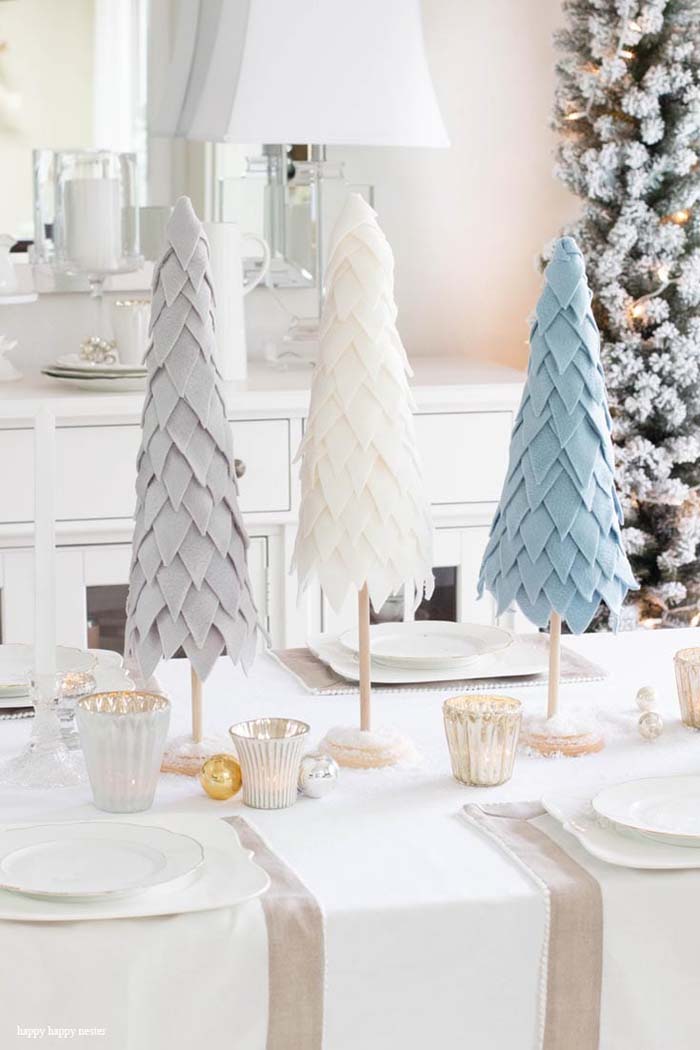 Bring the warm, fuzzy holiday feelings with these sweet Christmas trees.
Using triangles of fleece or felt, they bring a super-soft feeling to your sideboard, table, or shelf.
We love how the gentle colors bring out the texture of the fabric.
17. Fuzzy Christmas Tree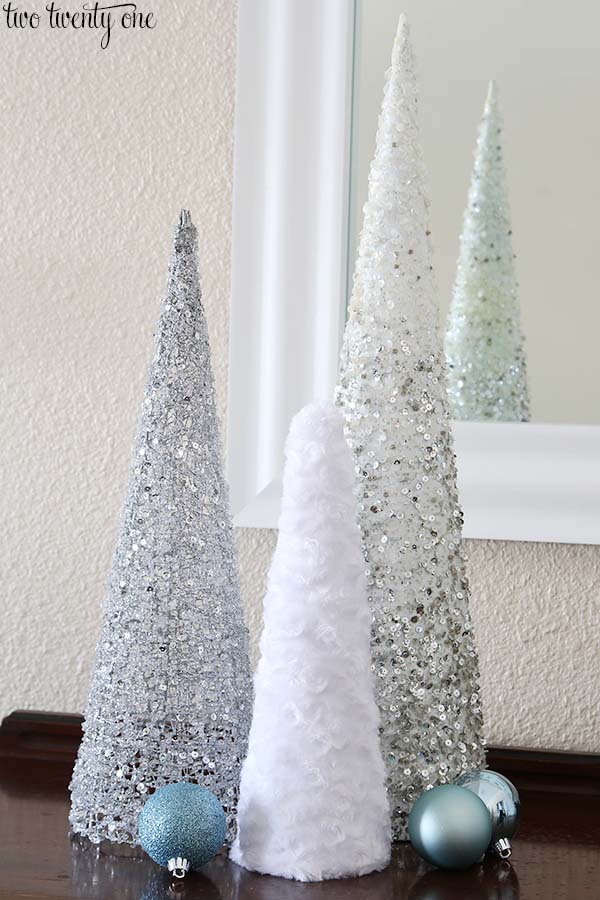 Do you love the look of faux fur?
Integrate it into your Christmas decorations by making a fuzzy tree.
In terms of construction, it doesn't get any easier — just glue a length of fur around a cone.
Set the tree next to a metallic or modern decoration for a beautifully balanced look.
via Two Twenty One
18. Glass Beaded Christmas Trees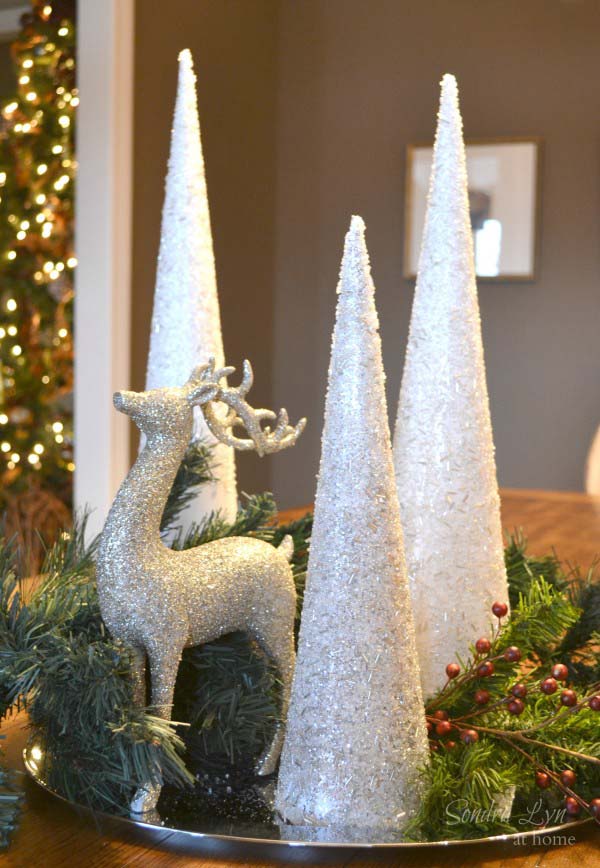 Sparkle, shine, and texture — these beaded trees have it all!
Although they look expensive and complicated, they're surprisingly easy to make.
Create one as a low-key accent piece, or make an entire forest to dress up a holiday table.
19. Handmade Christmas Trees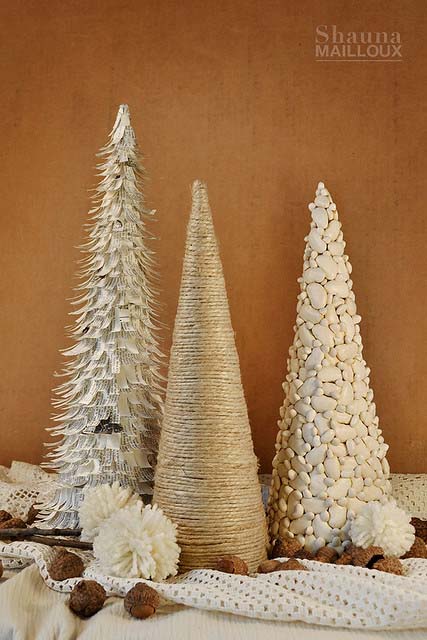 This trio of Christmas trees is a celebration of textures.
Use any materials you have on hand, such as twine, paper, rocks, beads, fabric, and ribbon.
As long as the colors are similar, the trees will look cohesive and intentional.
Display them together for a chic Christmas vignette.
20. Holiday Pinecone Christmas Tree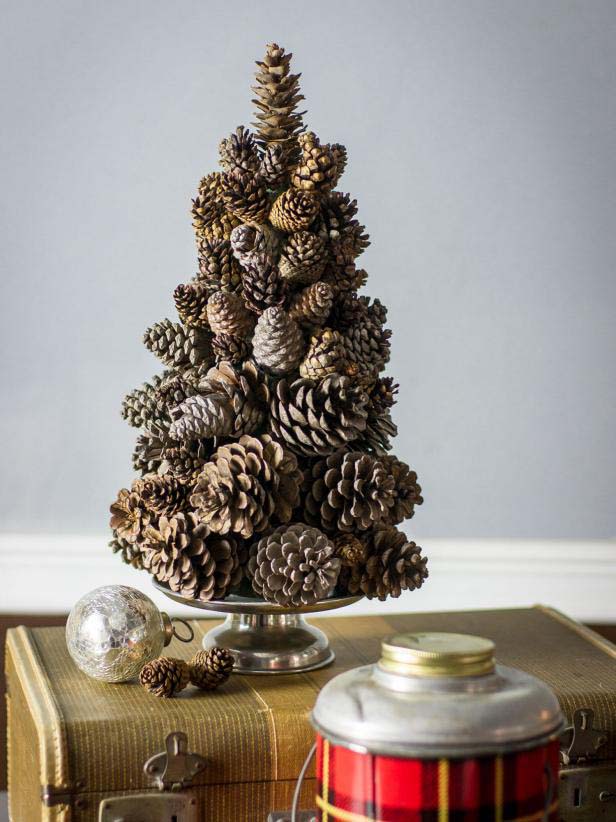 Pinecones bring a rustic and natural texture to your Christmas decorations.
Showcase the inherent beauty of the cones by forming them into a tree shape.
The variations in size and shape create a surprisingly realistic look. Leave them bare, paint on snow, or dust the tree with glitter for a custom result.
via HGTV
21. Kanzashi Christmas Tree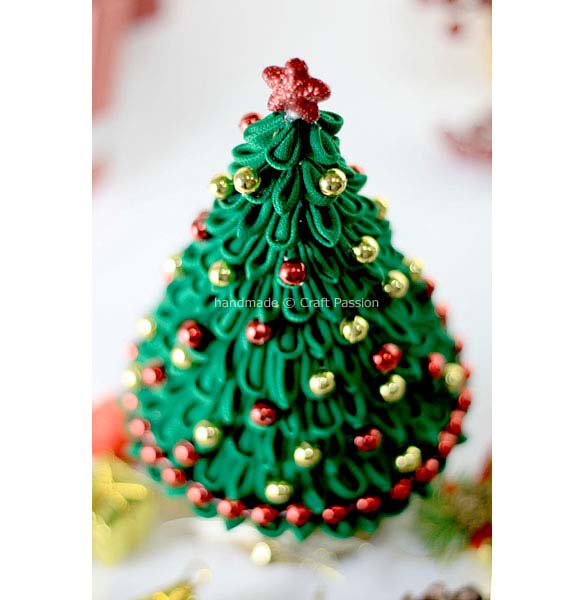 How adorable is this tiny Kanzashi Christmas tree?
Make your own using inexpensive materials and a few tiny ornaments.
This is a fun craft to do with kids — they love to choose the decorations for the tree.
via Craft Passion
22. Moss Christmas Tree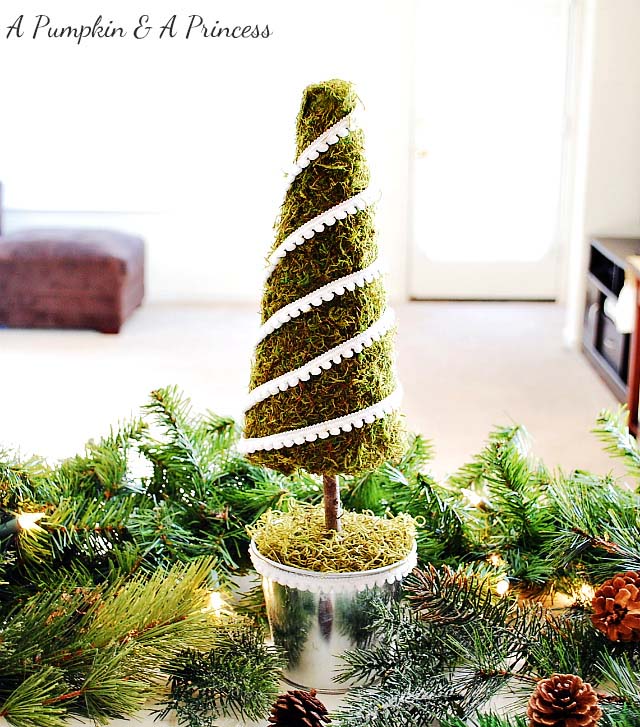 Go all-in on the lush greenery of Christmas with this moss tree craft.
The color and texture of the moss make an elegant yet natural statement that's gorgeous on its own.
For a more polished look, create a garland using a length of trim.
23. Ornament Christmas Tree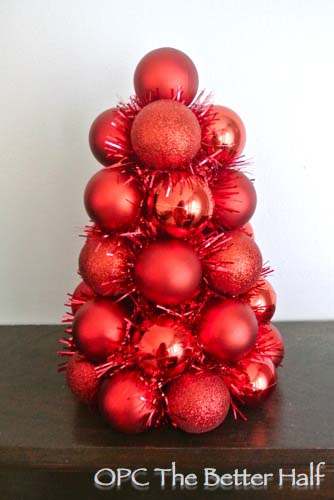 If you love the sparkle and shine of Christmas ball ornaments, you're in luck — this craft highlights the beauty of these classic decorations.
Here, tinsel garland adds a hint of shine and movement; you can also leave the balls as they are for a more streamlined aesthetic.
24. Paper Christmas Trees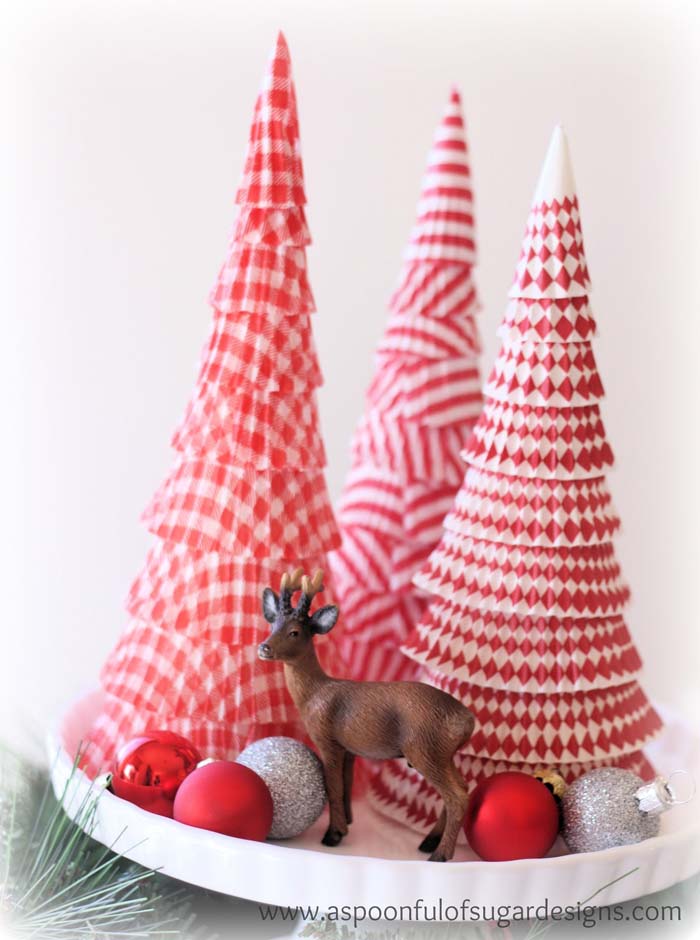 Make use of leftover cupcake wrappers by turning them into Christmas trees.
Compress or expand them to form the cascading tiers of branches; you may need to cut out sections to form the top levels.
Here, a similar color scheme unites different patterns for a sophisticated vibe.
25. Paper Cone Christmas Trees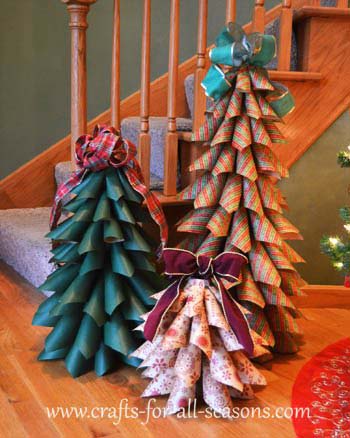 If you love depth and texture, these ultra-simple paper cone trees are sure to please.
The elegant branches are made from small paper cones — break out your craft paper and roll the cones while you're watching TV or listening to Christmas tunes.
A ribbon bow completes the homey effect.
26. Peppermint Christmas Tree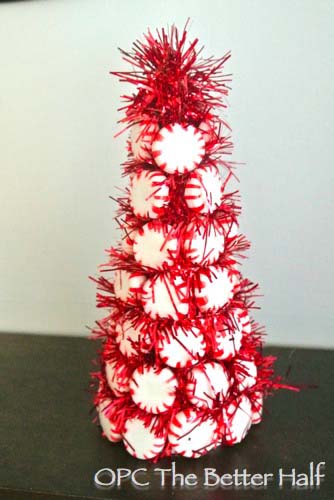 These peppermint trees look good enough to eat.
They're also a breeze to make; you can even do this craft with kids.
Add sparkly metallic garland between the mints for extra texture, or leave it out to complement a chic Christmas theme.
27. Pinecone Christmas Trees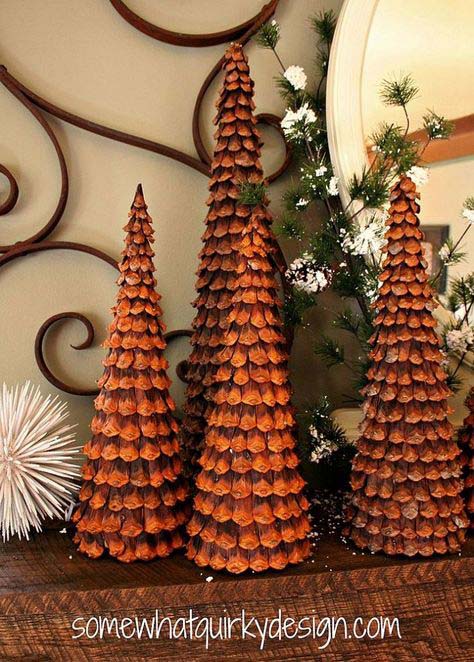 If you have access to large pinecones, these trees are well worth the time they take to make.
Each branch is made from a single piece of a pinecone, creating a gorgeous symmetry.
The rich colors of the pinecones enhance a rustic or traditional space — for a wintry effect, use white paint to add "snow" to the tips of each branch.
28. Plastic Spoon Christmas Tree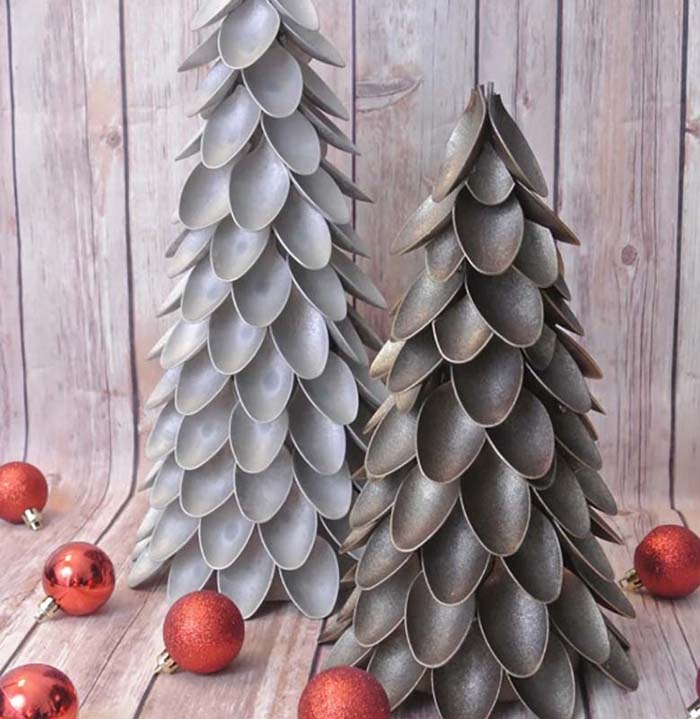 These sophisticated trees have a big secret — they're made from the ends of plastic spoons!
The curve of the spoon bowl brings a spectacular play of shadow and light, especially when you add a coat of metallic or pearlescent paint.
29. Ribbon Christmas Tree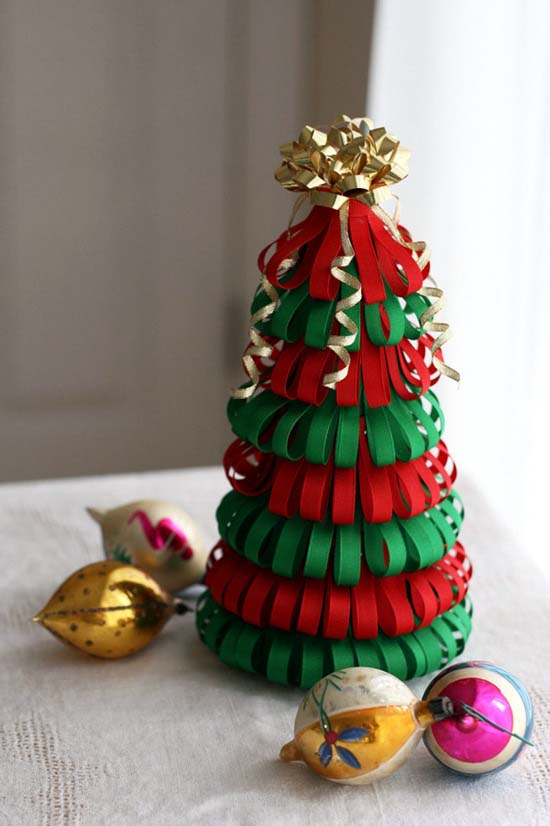 Make your home feel like Christmas with these cute ribbon trees.
The magic stems from the vibrant shades of red and green, which brighten any corner of the house.
Add a few curls of golden ribbon for a burst of shimmer and shine.
30. Rolled Rosette Christmas Tree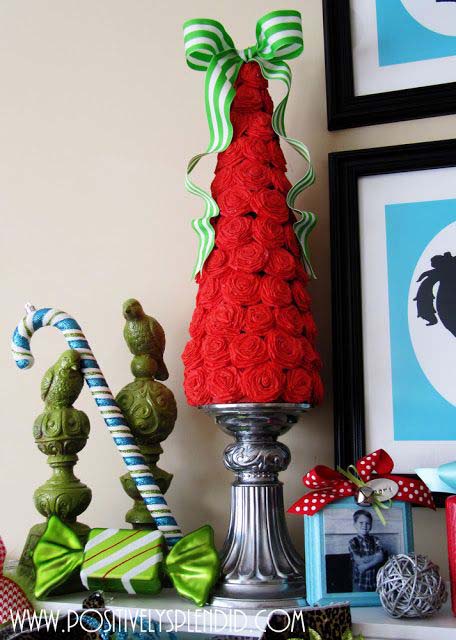 Step back in time with this vintage-inspired Christmas craft.
Using rolled yarn rosettes, it brings a soft and romantic touch to your decor.
We think the massive ribbon bow adds a perfectly balanced look.
31. Trio of Trees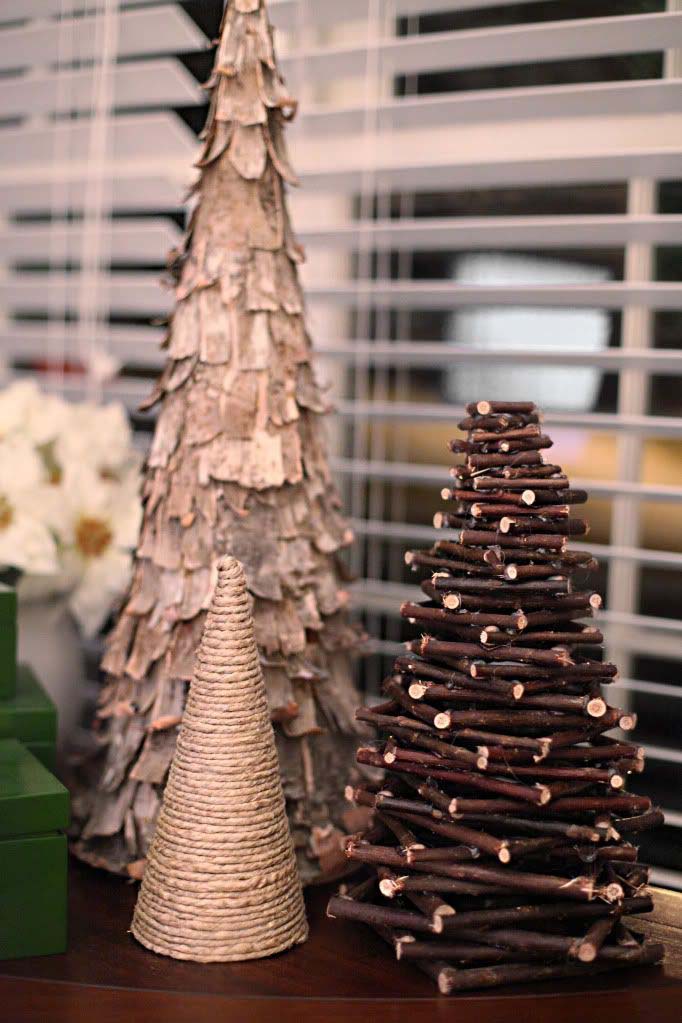 Bring natural textures and colors into your home with this trio of trees.
It's all about the materials — twine, twigs, and bark look sophisticated and rustic at the same time.
via Bower Power
32. Twine Wrapped Christmas Trees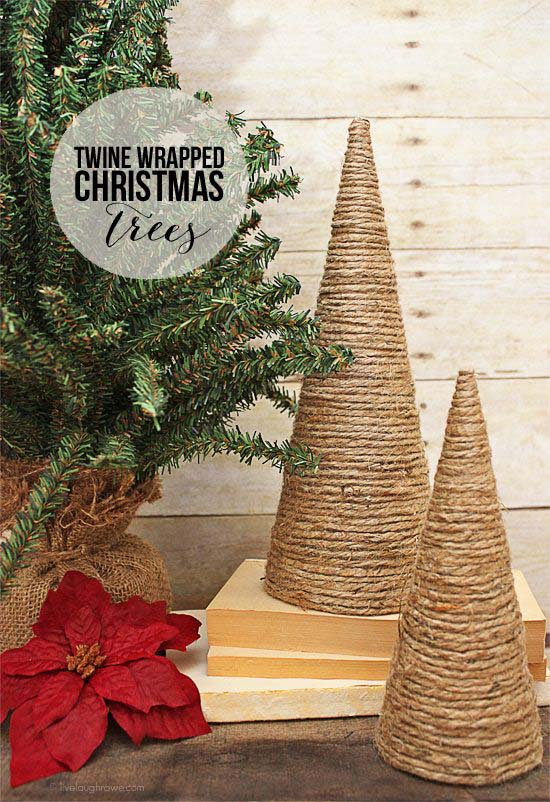 Need a Christmas craft that you can create quickly?
Grab a ball of twine and a few foam cones.
Glue the twine in place as you wrap it around each cone, and you'll have completed decorations in less than 30 minutes.
via Live Laugh Rowe
33. Ugly Sweater Christmas Tree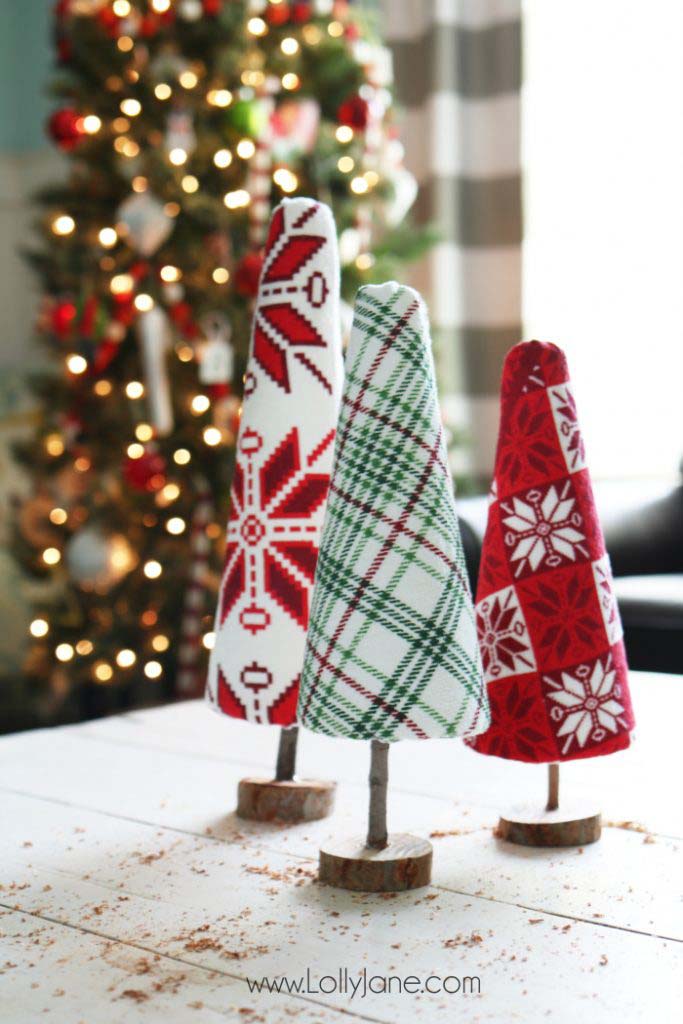 Prepare for an ugly sweater party with on-theme tree decorations.
These cute trees feature loud, bold sweater material — a fun and festive way to get in the spirit.
via Lolly Jane
34. Wrapping Paper Christmas Trees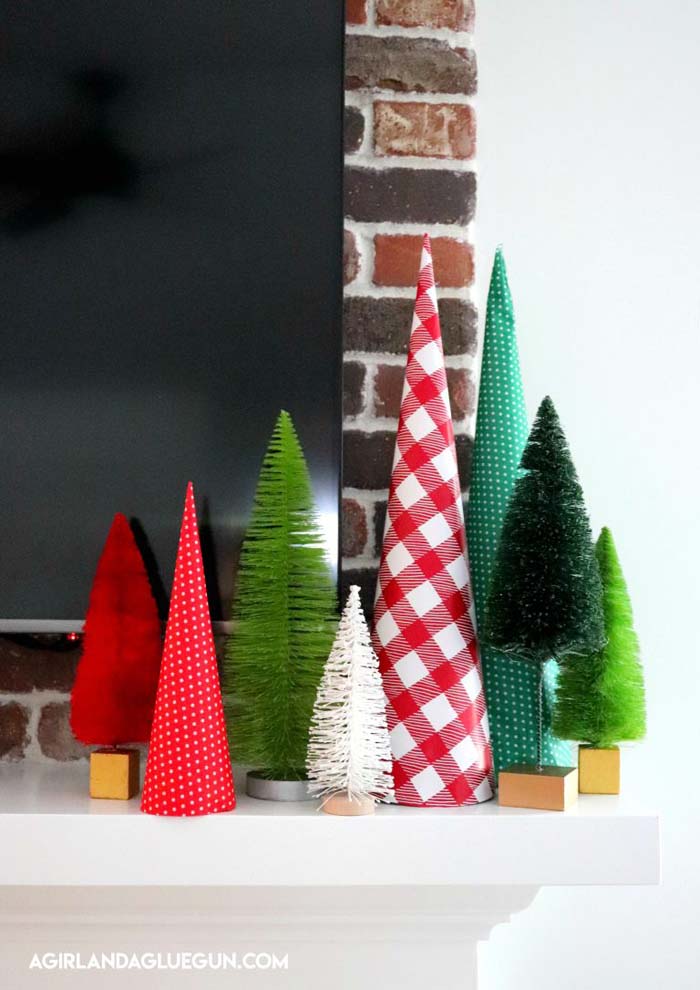 Everyone has leftover Christmas wrapping paper in a drawer or closet. Turn it into something beautiful by forming the paper into trees.
A strip of tape seals the seam, so you can start decorating in minutes.