Shiny, sparkly tinsel is the unsung hero of the Christmas-decoration world.
It's cheap and easy to find, but most importantly, it's spectacular.
If you love the signature shine of this metallic material, these 25 easy decorating ideas can help you glam up the holidays.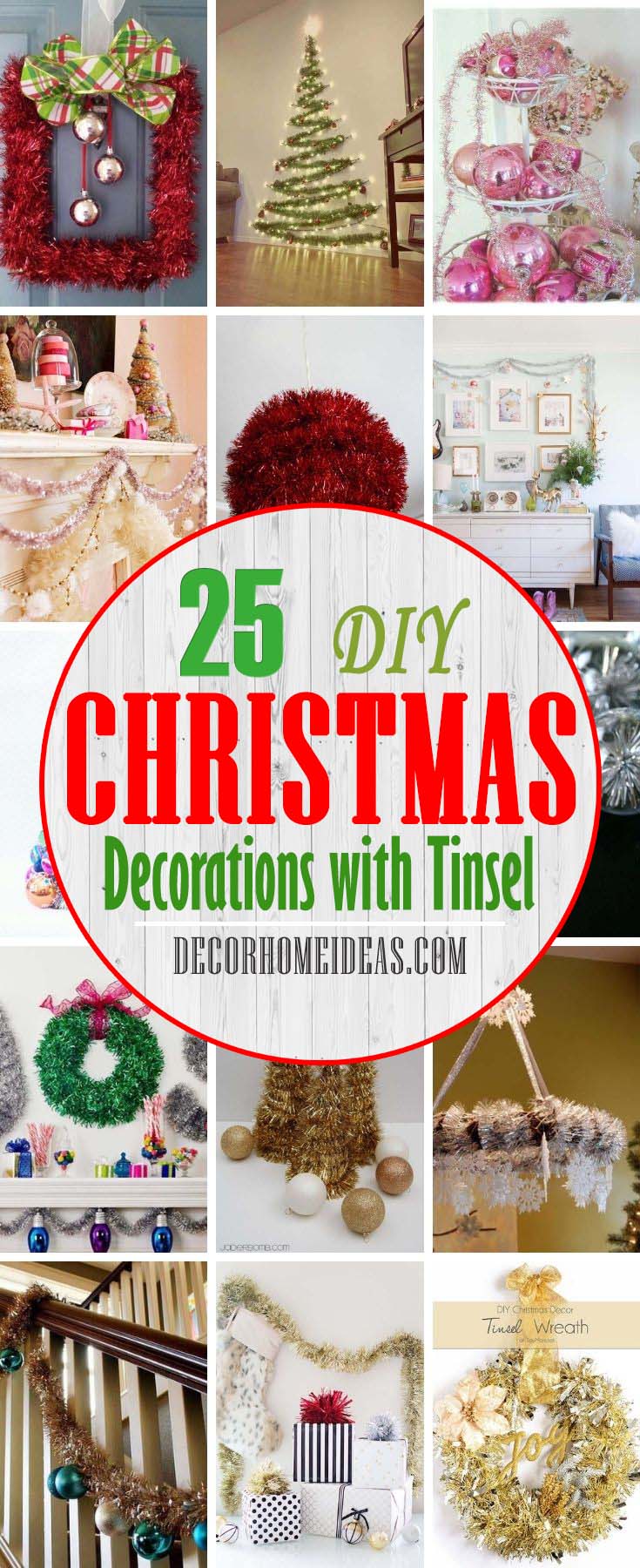 1. 2D Wall Tree from Tinsel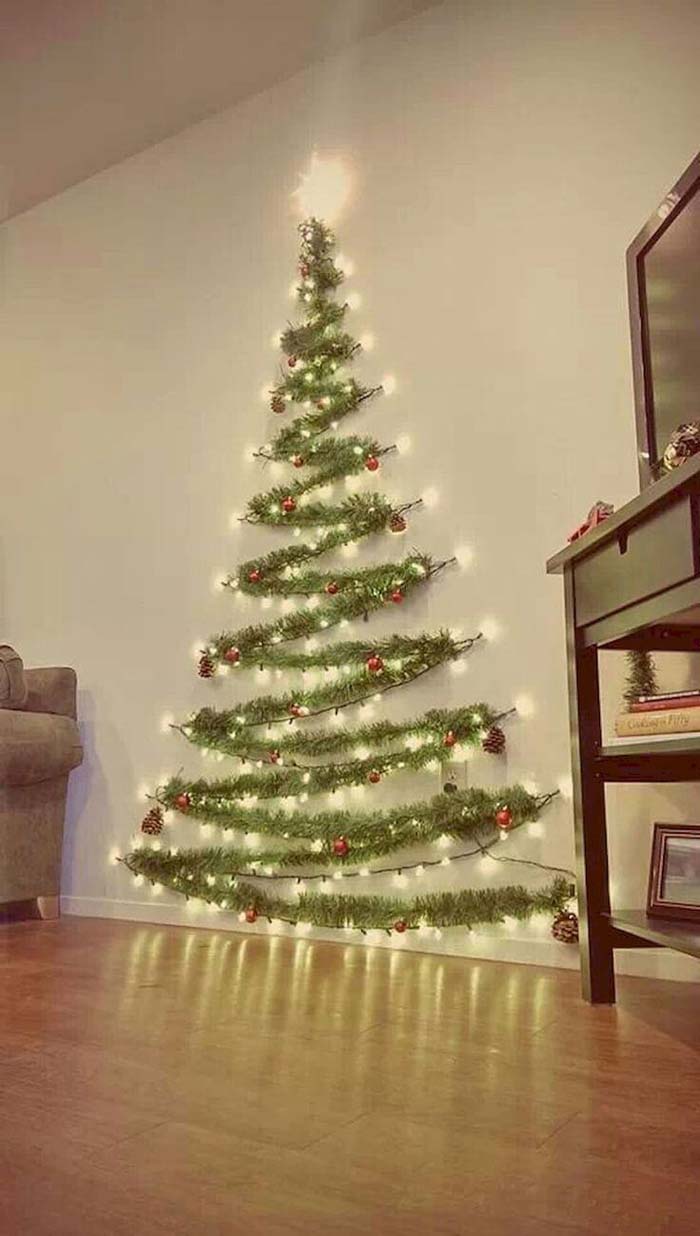 Don't have space for a real Christmas tree?
You can make one out of tinsel garland. Use green garland for a realistic look, or go wild with bright colors.
The trick to mastering this lovely tree is to arrange string lights so each point of the tree features a single bulb.
The result is crisp and beautiful.
2. Candles, Beads, and Christmas Lights Place Card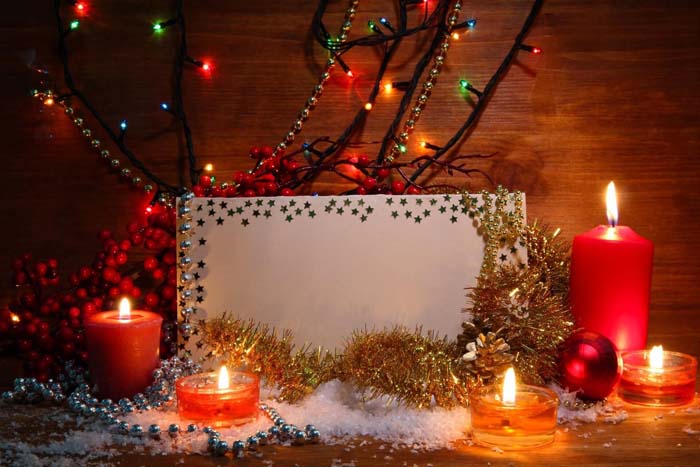 Bring a pop of sparkle to every place setting this Christmas by adding a touch of tinsel.
Simply wrap small-scale garland around two edges of the place card, framing it artistically.
If you use bendable wire, the tinsel can double as a card holder.
3. Christmas Edition Red Tinsel Disco Ball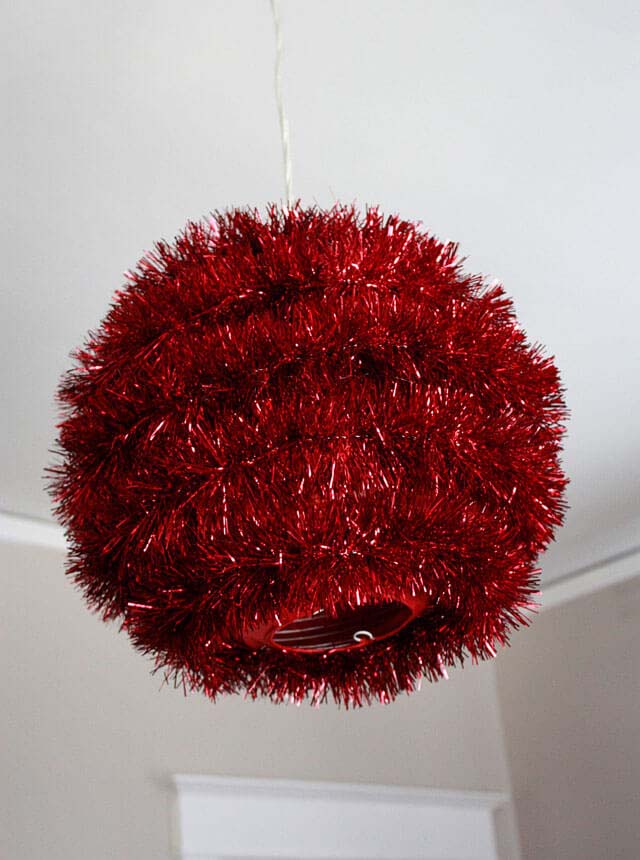 Nothing says fun and festive like a disco ball.
If you don't happen to have one on hand, you can make your own using a paper lantern and some affordable tinsel.
The supplies are cheap and easy to find, and you can complete the project in less than an hour.
Use one to jazz up a room, or hang multiple tinsel balls above the dining table or party buffet.
via Aunt Peaches
4. Christmas Garland Tree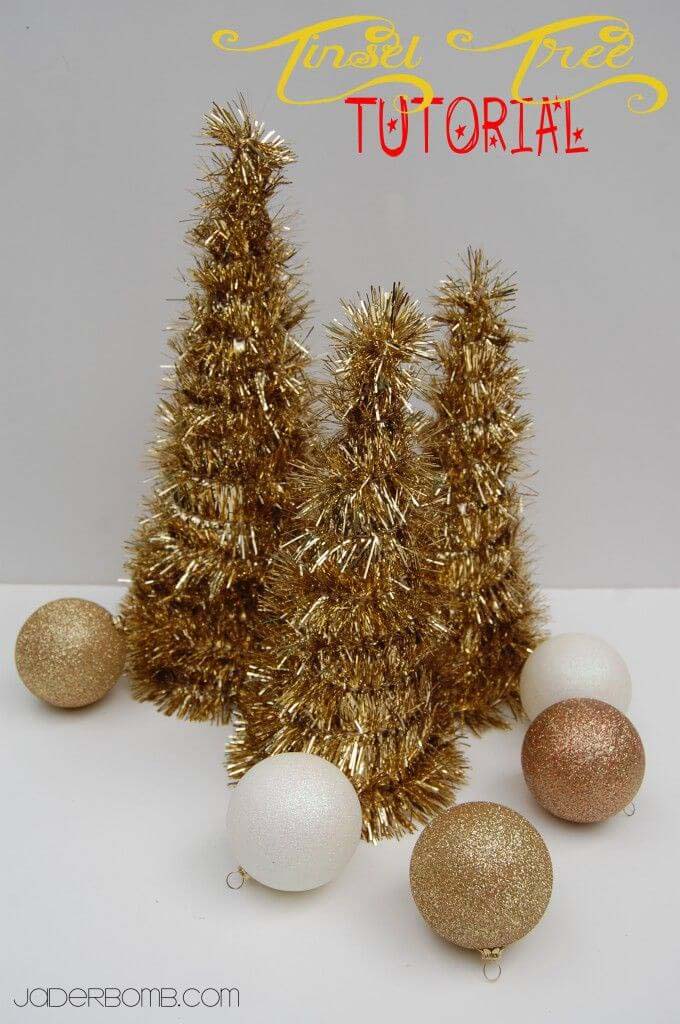 Bring new life to your mantel display this Christmas with these super-easy tinsel trees.
Chances are, you probably have everything you need on hand.
The tiny trees sparkle in the sunlight on your windowsill or in the glow from the candles in your dining room centerpiece.
For extra impact, make a few in different heights.
via Jader Bomb
5. DIY: Glam Garland Wreath

Set the tone for glam holiday celebrations by turning a length of tinsel garland into a wreath.
Don't worry if you don't have much experience with crafts — this project is a breeze to create.
Since tinsel is almost indestructible, you can hang your wreath in the house or on the front door with confidence.
via AOL
6. DIY Holiday Tinsel Wreath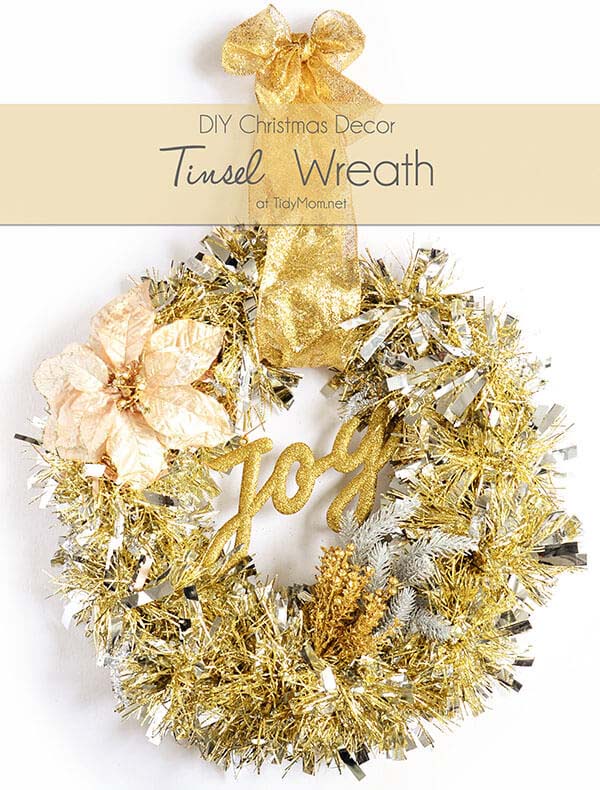 Looking to step up your wreath-making game?
This tinsel wreath fits the bill. With multiple tinsel colors and gorgeous coordinating decorations, it makes a big, bold impression on your front door.
Go all out by loading up the wreath with ornaments, tiny trinkets, and sparkling letters. A ribbon bow makes a beautiful hanger.
via Tidy Mom
7. DIY Sparkly Holiday Gift Toppers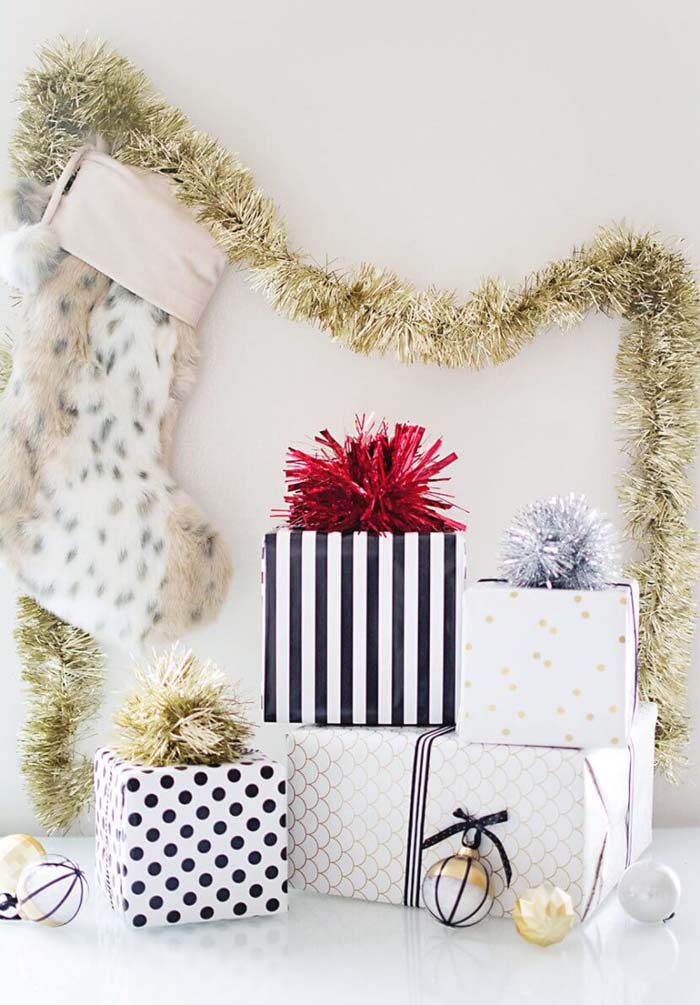 Take your Christmas gifts to the next level by switching out traditional bows with tinsel toppers.
These cute, sparkly pom poms are easy to make, so you can speed through the gift-wrapping process.
Make some in every color to delight your family and friends on Christmas morning.
via Pottery Barn
8. DIY Tinsel Garland Ornaments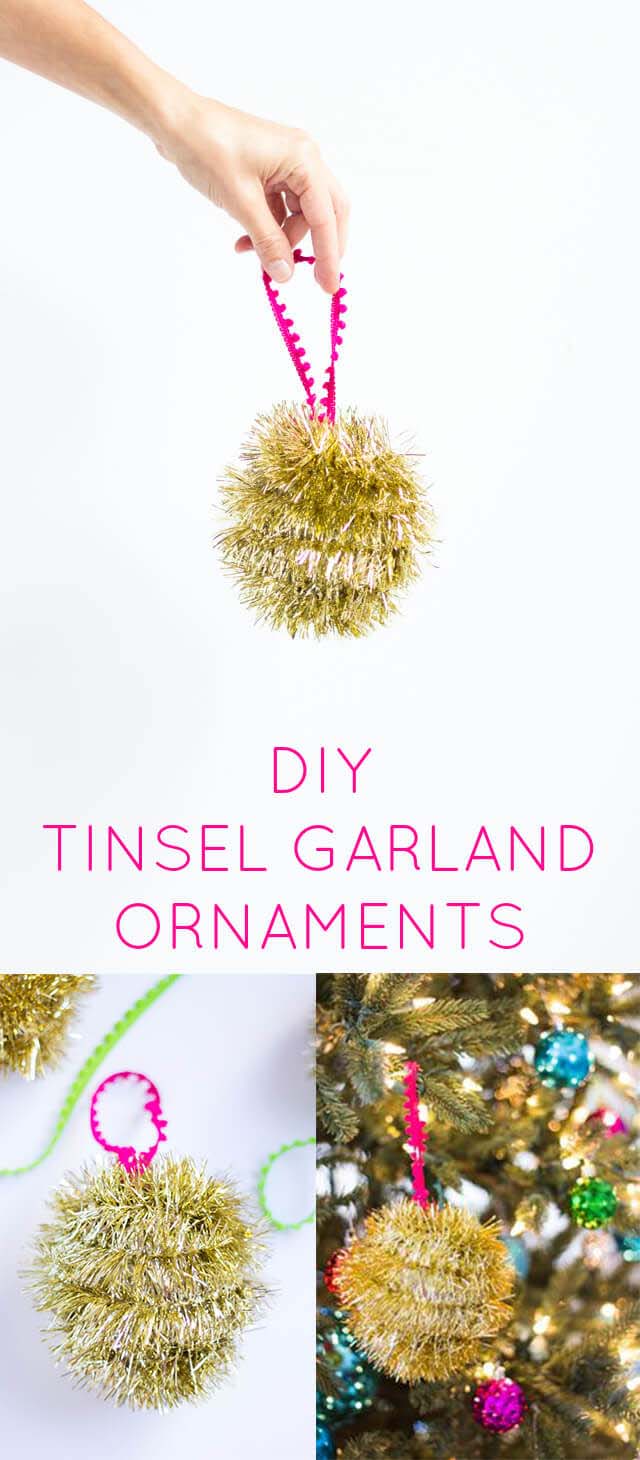 Gold tinsel ornaments are the perfect addition to your Christmas tree.
The simple shape mimics traditional Christmas balls, and the individual strands add a soft sense of movement.
Flip on the tree lights, and these DIY ornaments come to life with shimmering colors and reflections.
This project is a fun, easy craft to do with kids.
9. DIY Tinsel Ornament Tree Christmas Decoration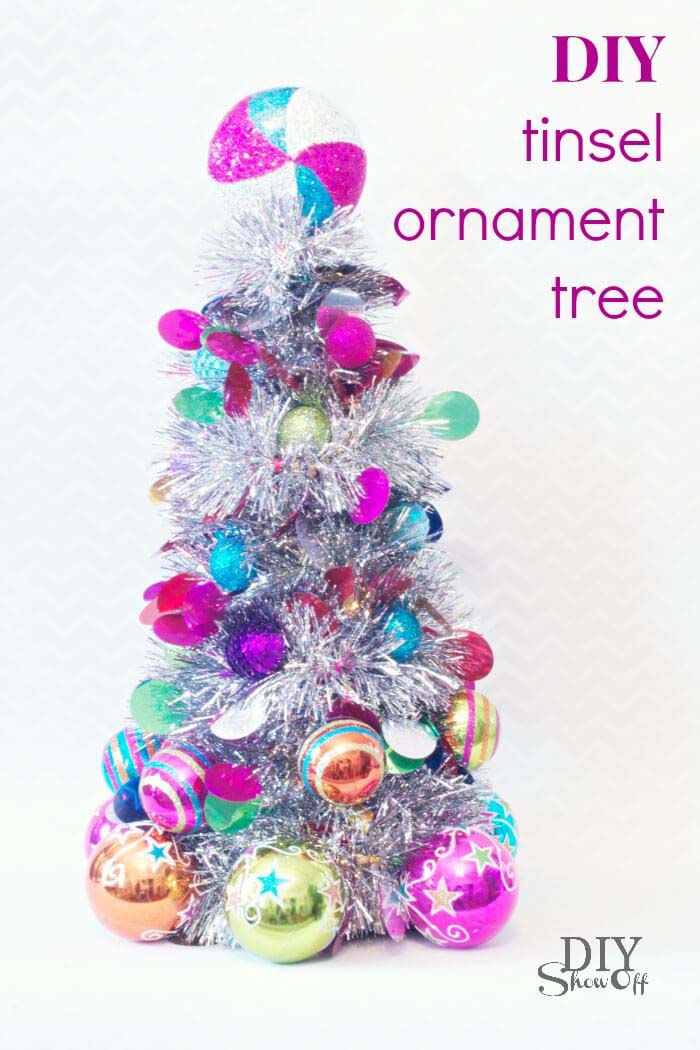 Colorful and bright, this DIY tinsel tree brings Christmas cheer to any room in your house.
The magic lies in the interplay between the iridescent tinsel and the vibrant ornaments — the result is sparkling, brilliant, and irresistible.
A glittering ball ornament makes a stunning tree topper, but you can also add a star or any small ornament that strikes your fancy.
via DIY Show Off
10. Glass Bubble Ornament Swag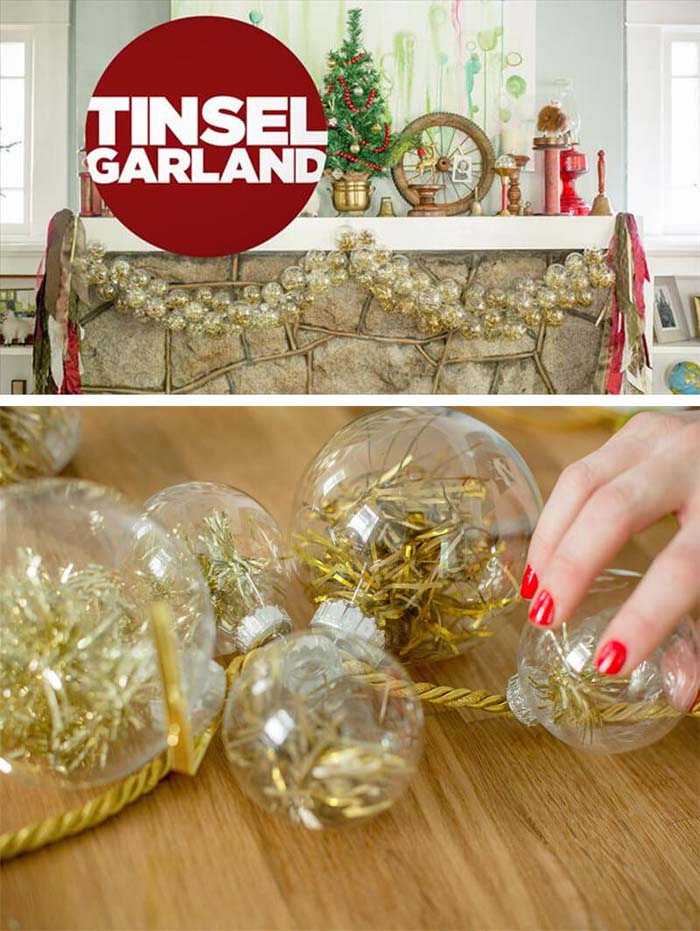 Have you ever wondered what to put in clear glass or plastic bubble ornaments?
Tinsel is the obvious choice. The glass sides amplify the shimmering effect of the tinsel, creating maximum sparkle.
String together a large collection of tinsel ornaments in varying sizes to create a spectacular garland.
via HGTV
11. Gold and Green Ornament Stair Garland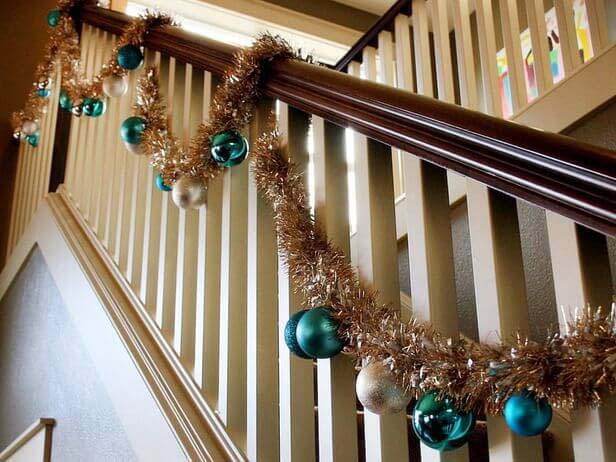 Decorate your banister for the holidays in minutes using a package of tinsel garland and a box of Christmas balls.
The process is quick and easy — just wrap the garland around the banister, leaving generous loops.
The weight of the ornaments accentuates the loops and brings a pop of color to your space.
12. Jingle Bells Christmas Wreath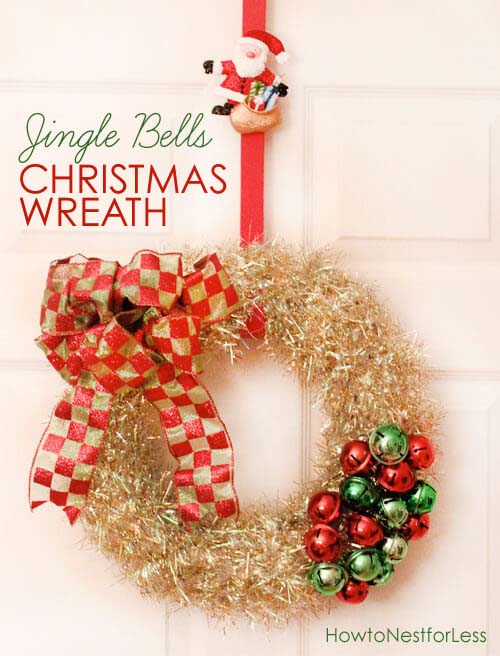 Hear the sound of bells every time you open the door with this fun Christmas wreath.
The glittering tinsel garland brings the sparkle, and a cluster of lovely jingle bells adds a cheerful ringing sound.
You might even find yourself finding excuses to go outside just to hear the bells ring.
13. JOY in Tinsel Letters 2-Feet High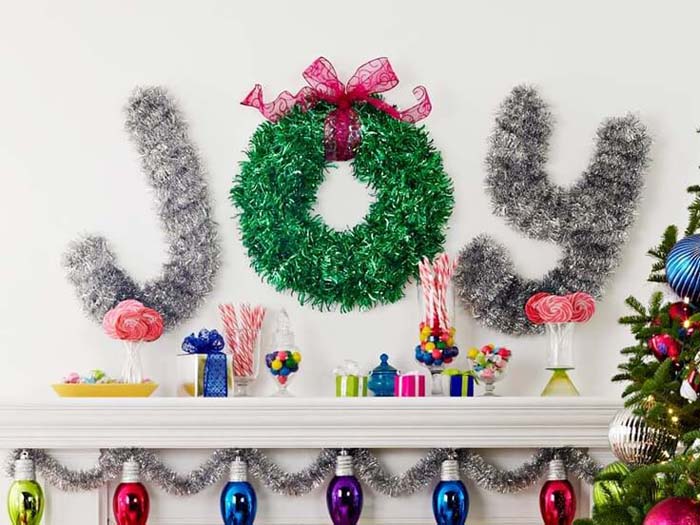 Do you love oversized decorations?
These tinsel letters are the perfect holiday project. Each one is 2 feet high, so it makes a big statement on a wall.
Spell out any word you like — the more letters, the better.
Customize your decoration with different colors, bows, ornaments, or ribbons to brighten any room.
via Remodelaholic
14. Make Your Own Glittery Holiday Garland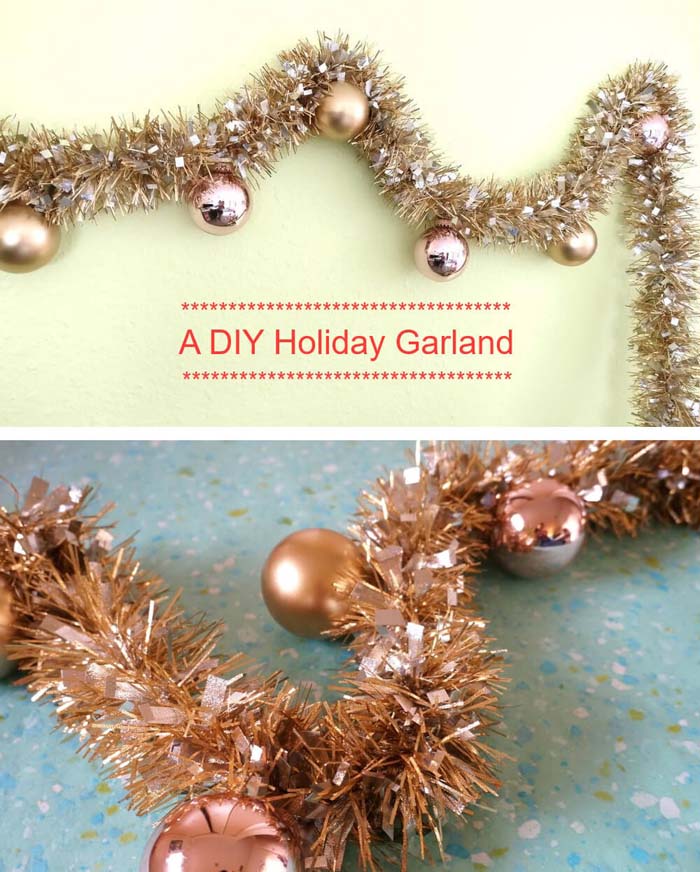 Tinsel garland makes any part of your house more beautiful and festive.
Make your own and add it to the Christmas tree, hang it over a window or door, or use it to line the center of your dining table.
It looks gorgeous alone or paired with candles, holiday villages, or nativity scenes.
via Decoist
15. Mixed Garland Fireplace Mantel Décor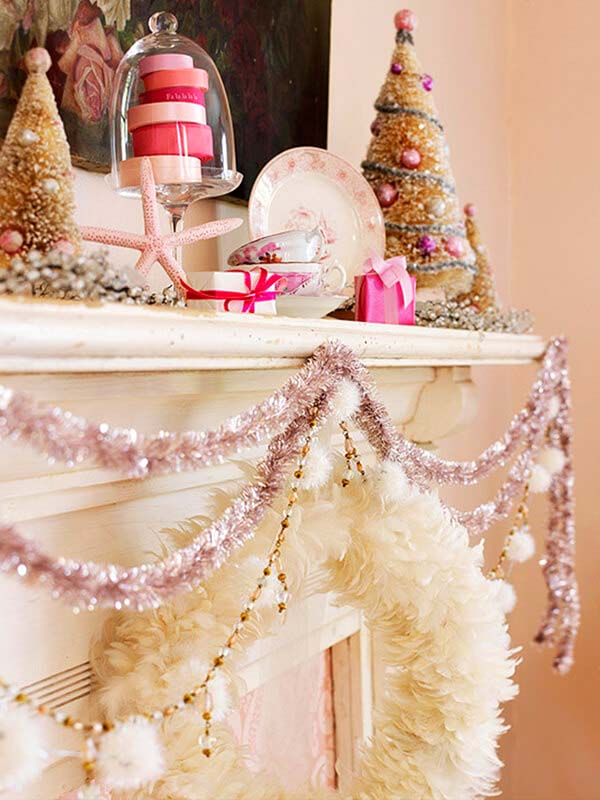 Embrace the glamour of tinsel garland by mixing it in with other decorative strands.
If you're going for extra sparkle, try garlands with shining beads or crystals.
Contrasting colors and materials add depth and dimension to your fireplace or a big bay window.
Top your mantel with sparkling decorations for an extra pop of fun.
via Odyssey Online
16. Shabby Chic Pink Tinsel Garland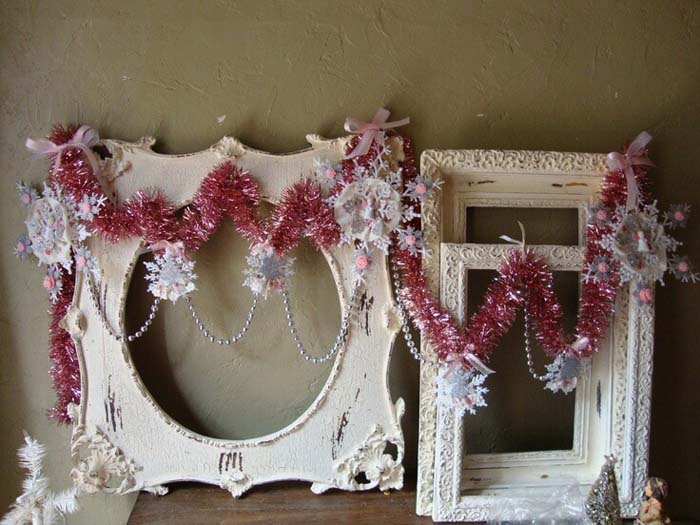 Pink is a lovely choice for a retro Christmas theme — especially when you're using pink tinsel garland.
Here, the unexpected color pairs perfectly with vintage frames and strands of pearls for a look that's festive and shabby chic.
Add in a few handmade snowflakes for extra texture.
17. Silver and Gold Christmas Fish Bowl Centerpiece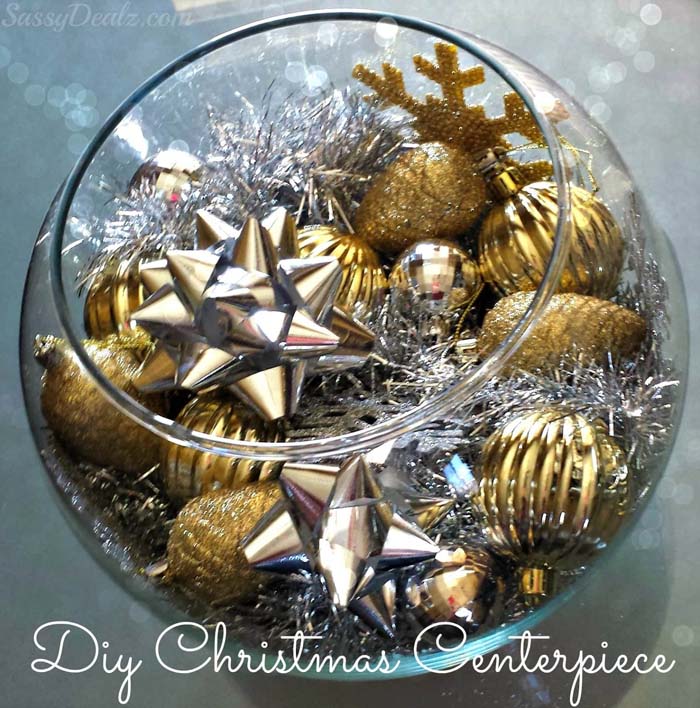 Do you have a clear fishbowl on hand?
Turn it into a gorgeous centerpiece with a few affordable decorations. Create a bed of tinsel garland and load it up with sparkly and shiny ornaments.
Christmas balls, glitter pine cones, beaded snowflakes, sequined ornaments, and even shimmering gift bows make your table feel more festive.
via Crafty Morning
18. Space Age Sputnik Tinsel Ornaments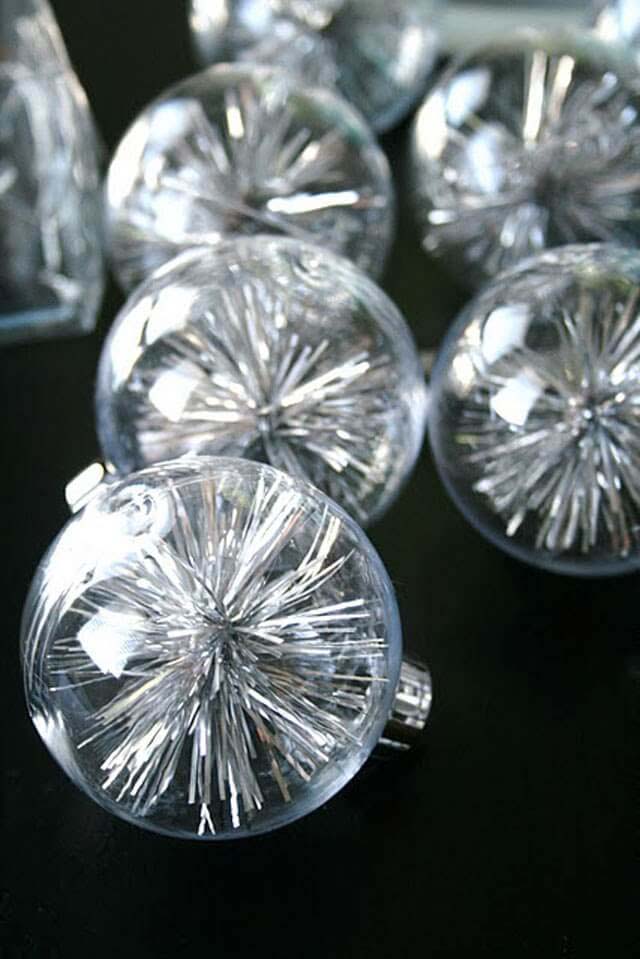 Your guests won't be able to resist taking a closer look at these tinsel ornaments.
A starburst of tinsel fills the interior of a clear glass ball, creating a look that's both futuristic and mid-century modern.
When the Christmas lights are on, each ball is a glittering, Space-Ace masterpiece.
19. Tinsel Decorating Ideas for Doors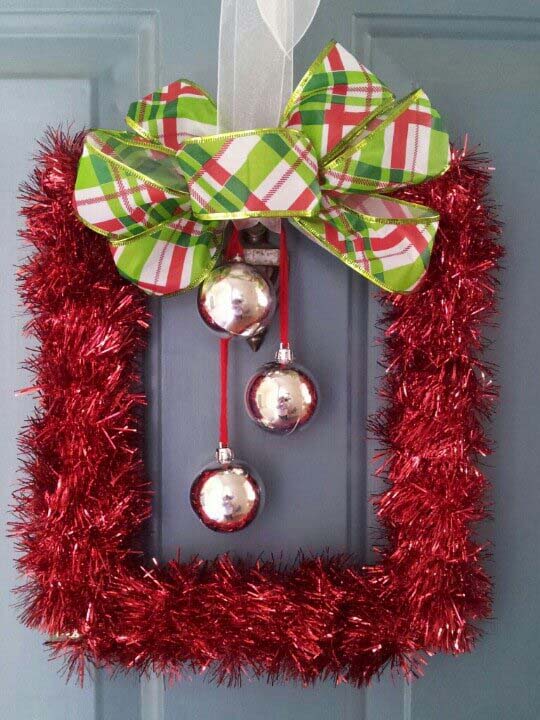 Who says wreaths have to be round?
Here, a square frame becomes a cheerful wreath with the addition of bright red tinsel garland.
Bring a personal touch to your decoration by adding jingle bells, ribbons and Christmas baubles, or a giant bow.
20. Tinsel Decorating Ideas with Classic Elegance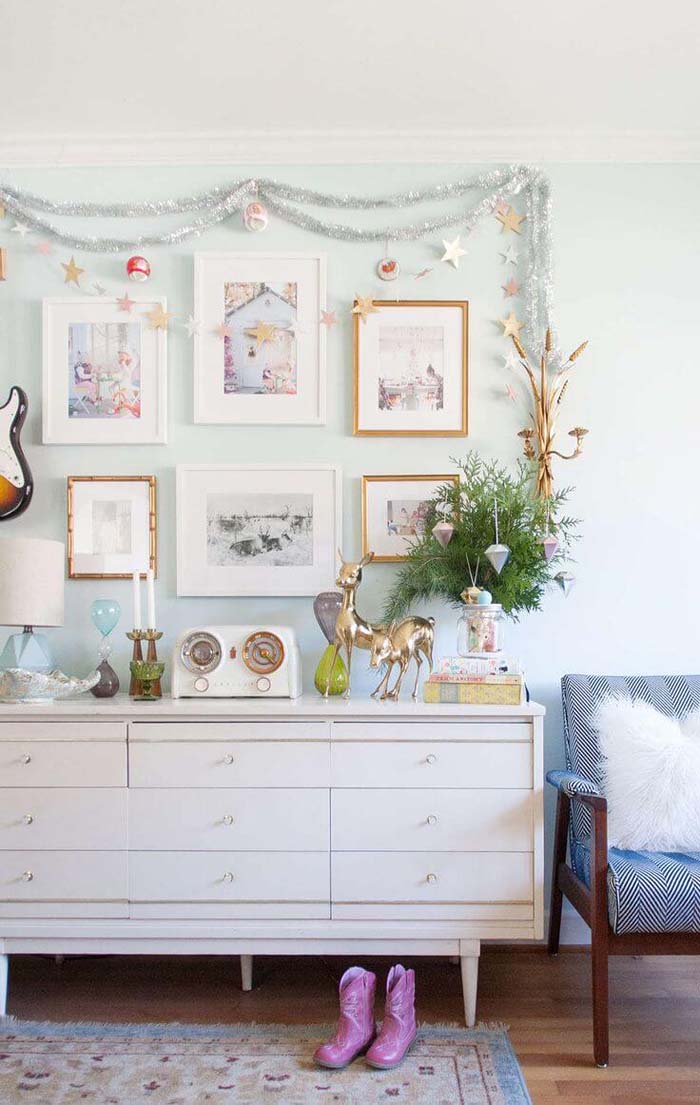 Are you looking for a way to integrate tinsel in keeping with the austere style of a modern farmhouse or a sophisticated home?
No problem — the trick is to stick to a simple color palette.
Choose tinsel in a color that's close to your wall color for an elegant, monochromatic effect.
When in doubt, you can't go wrong with classic silver garland.
21. Vintage Pink Tinsel Garland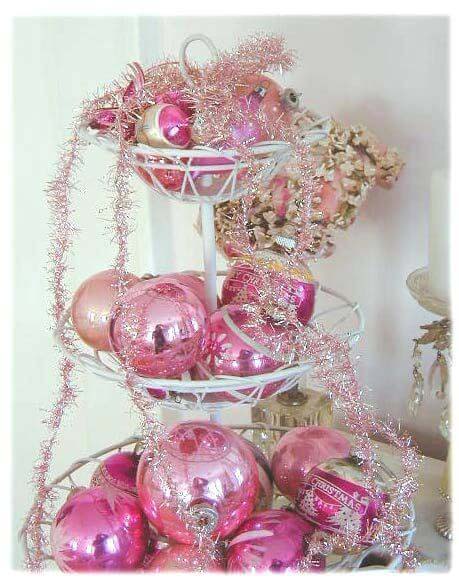 A three-tiered fruit tray filled with pink bubble ornaments is beautiful in its own right — and when you add cascading strands of tinsel, it takes on a life of its own.
The trick is to choose a thin garland in a soft, muted shade of pink.
The combination is elegant and decidedly retro.
22. Winter Wreath Chandelier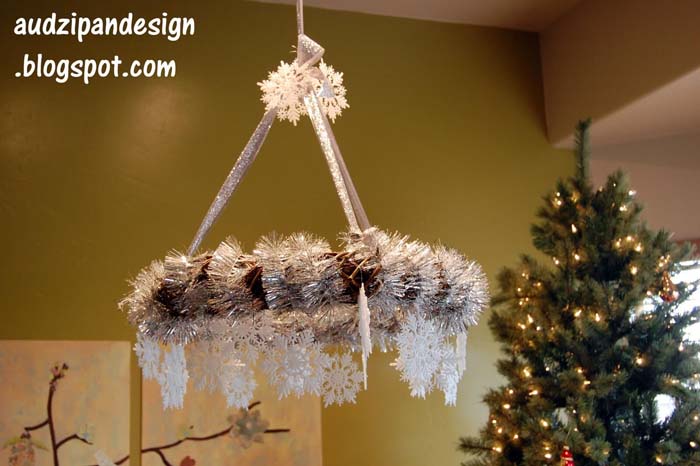 Create the look of a fancy chandelier on a budget using a foam ring and tinsel garland from the dollar store.
The sparkling metallic strands catch the light, and dangling snowflakes move beautifully with the air currents in your home.
Since this wreath is lightweight, you can hang it from the ceiling using sparkling ribbon.