Discover the fun of creating Christmas gift baskets.
You can personalize your DIY Christmas gift for the young to the old, hard to buy for, boys and girls, grandma and grandpa and everyone on your shopping list.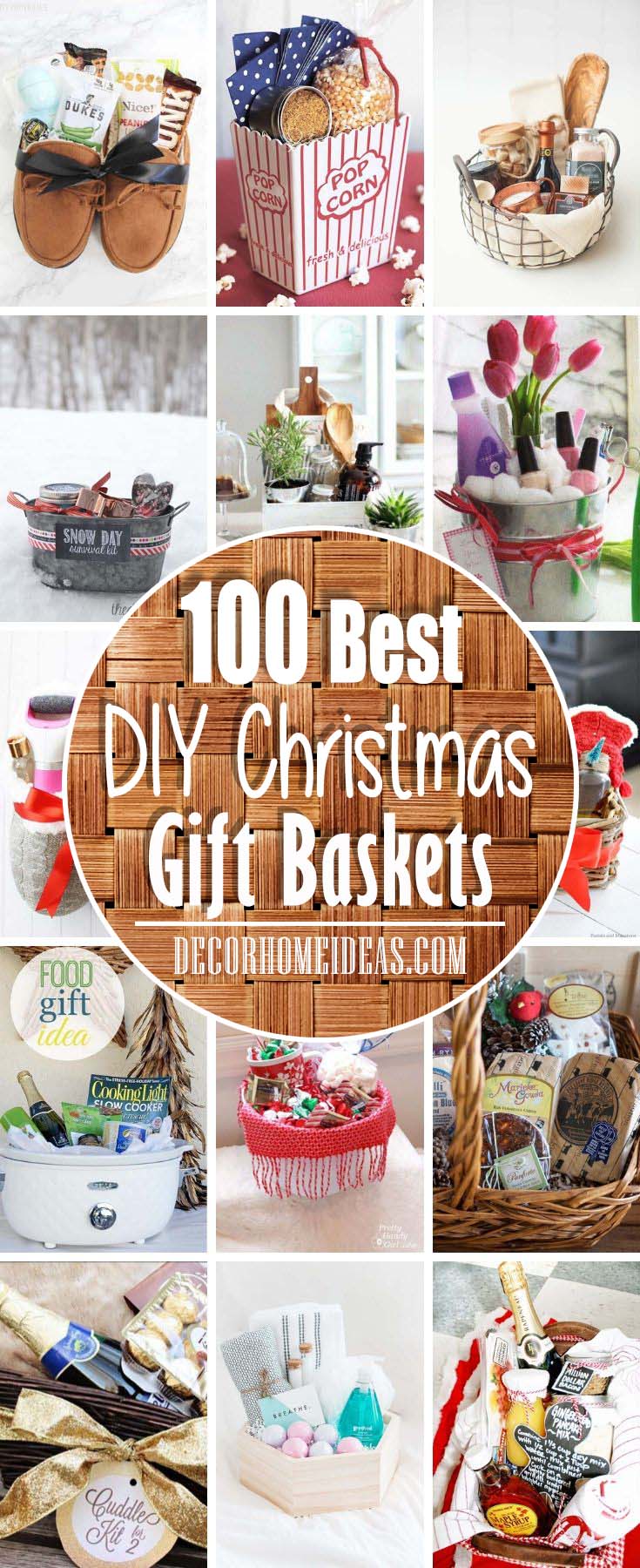 The possibilities are endless!
1. Banana Bread and Honey Butter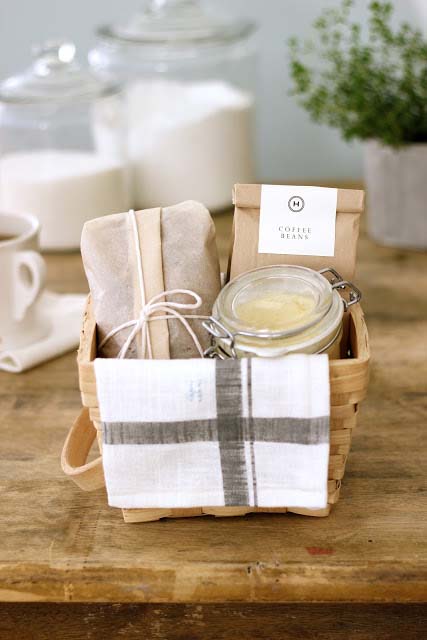 What a great treat for someone alone, the widow on your street that can't get out much. Or grandma, she will love it.
via Jenny Steffens
2. Baseball Bucket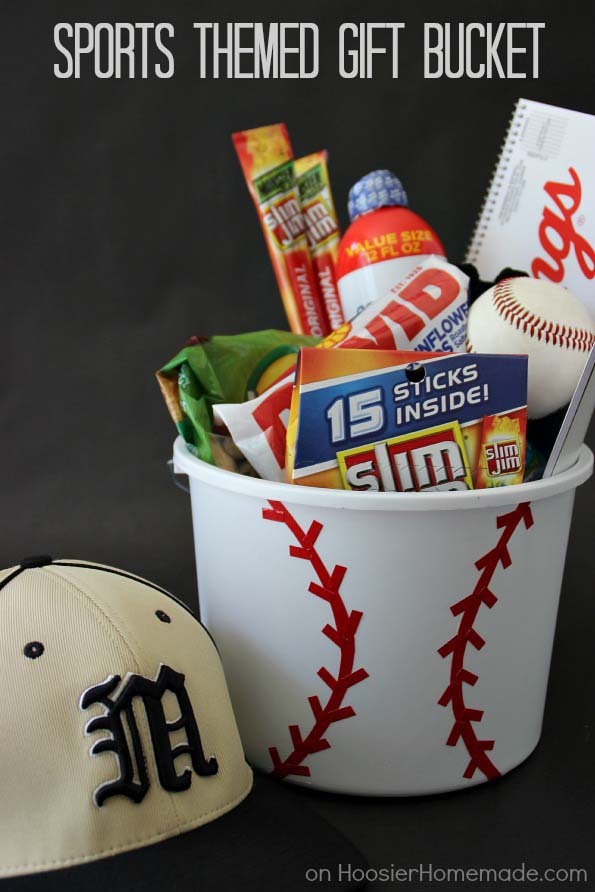 Do you have baseball fans on your shopping list?
Put together a Baseball cap, baseball, and all the goodies for a game. Grandpa, Dad, and son will agree it's a great idea to throw in some game tickets.
via Hoosier Homemade
3. BBQ Basket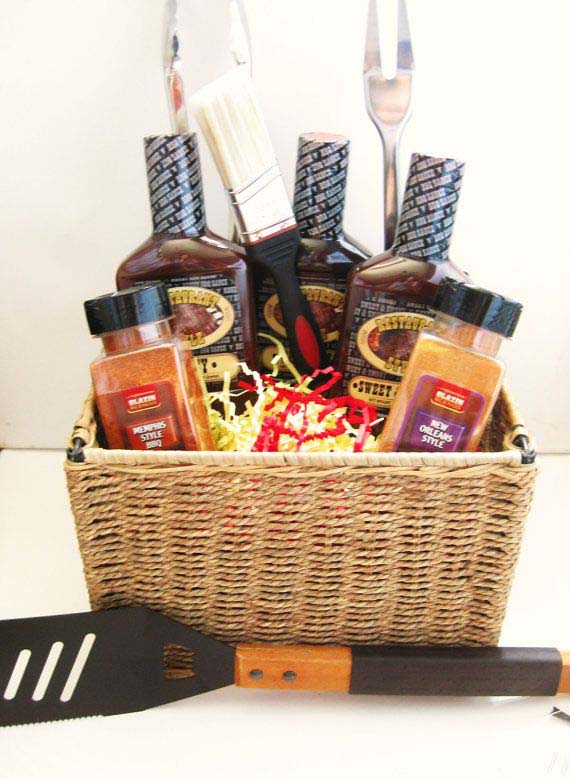 Is somebody you know getting a new barbecue grill for Christmas? Give them all the spices and tools for being a barbecue queen or king.
4. BBQ Gift Basket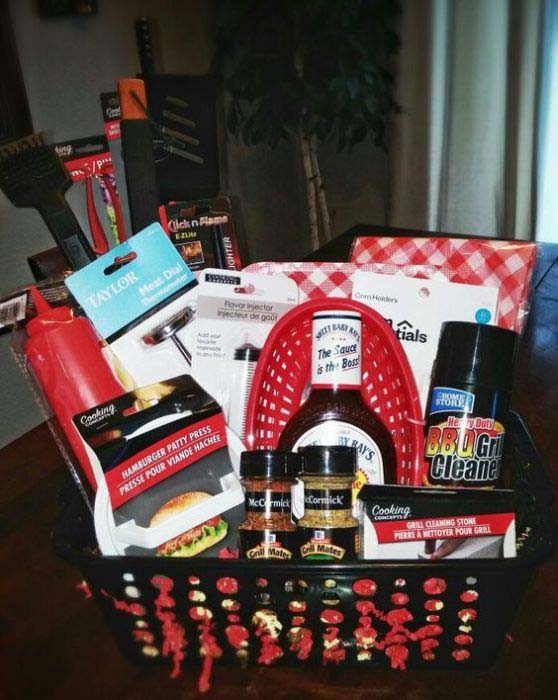 It might be the most excellent time of year to get all of the items for your favorite chef; then, they can create a masterpiece.
5. Becca Cuddle Kit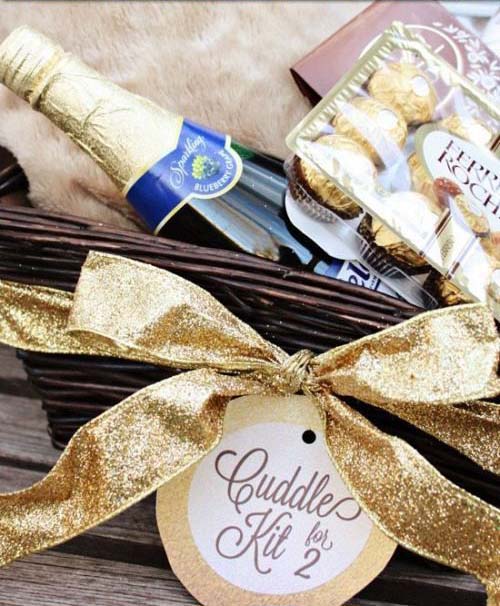 This homemade Christmas gift basket idea with remind you both to slow down, cuddle up and enjoy the season.
via The Dating Divas
6. BHG Gift Basket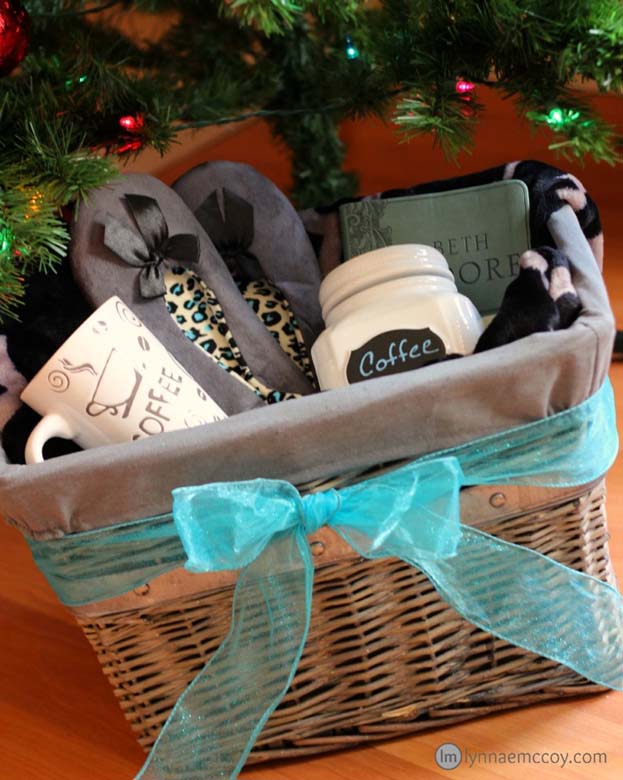 If it's good enough for BHG, then you know it's good enough for you. Better, homes and gardens, created by you.
via Lynna McCoy
7. Body Care Gift Idea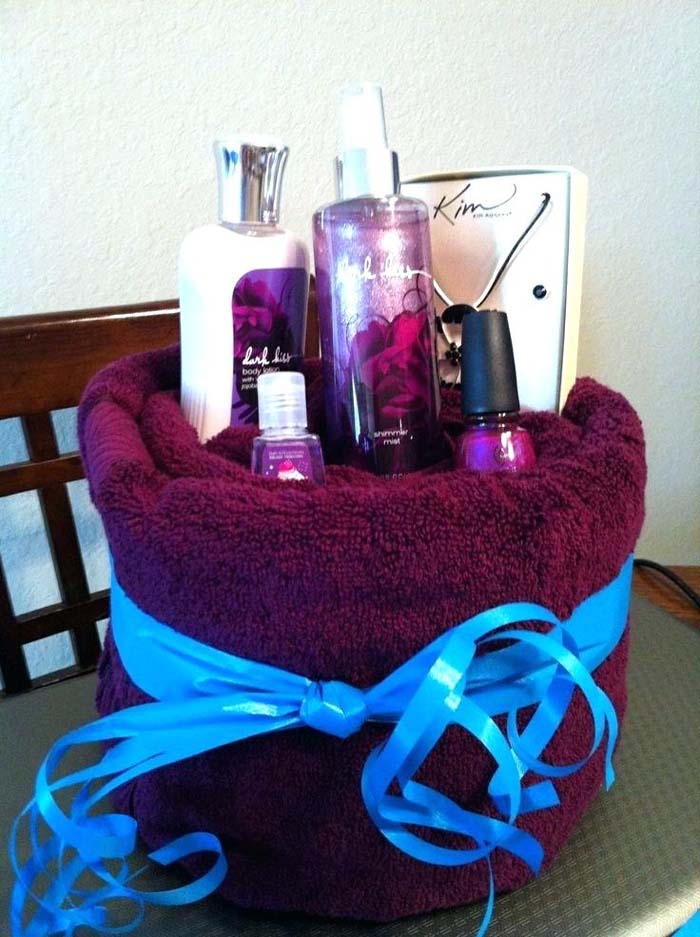 Nothing is better than getting something special for self-care.
8. Bundt Cake Gift Basket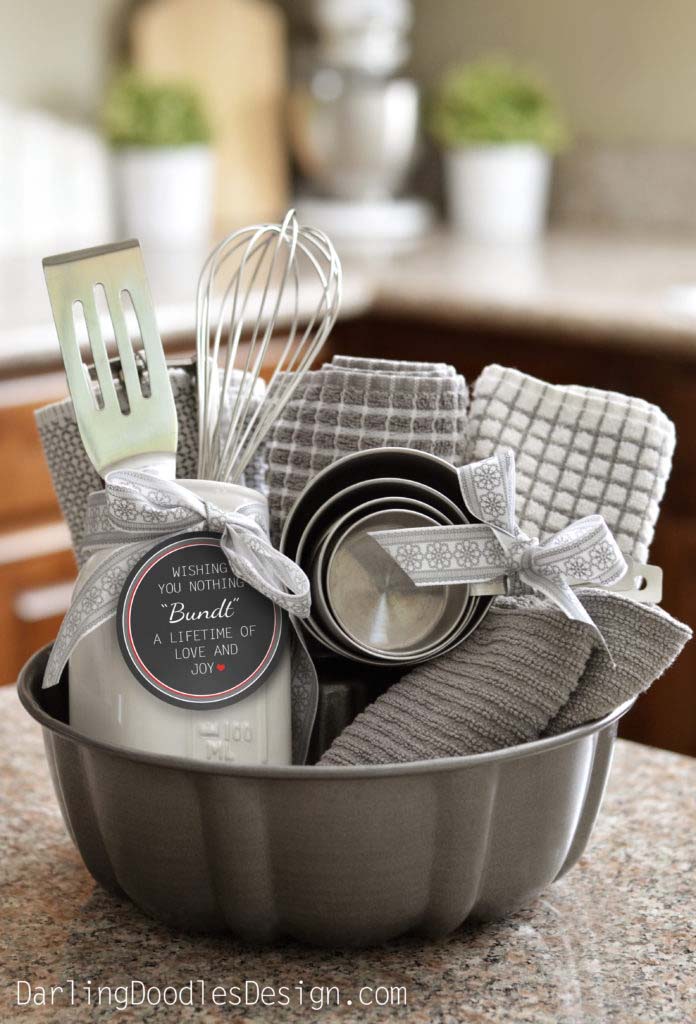 Bunt cakes are cute, but all the fun in a pan is impressive. Add the pan and all of the ingredients, a kitchen utensil, or two.
You have created the perfect gift so they can create the perfect cake.
9. Car Care Gift Basket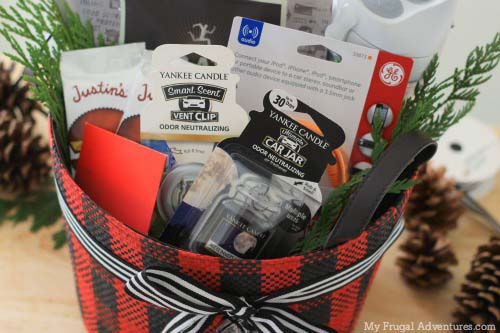 The car buff on your list, get them together, a wash bucket, and everything they need to take care of their car the best.
10. Christmas Baking Kit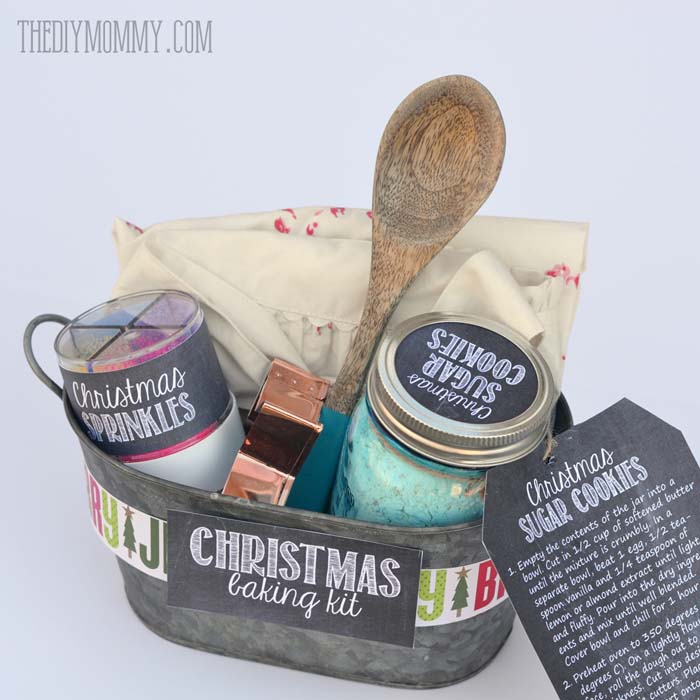 There are so many fun things that can go into a bakers kit. There are practical kitchen gadgets and ultimate tool that need trying out.
via DIY Mommy
11. Christmas Breakfast Hostess Gift Basket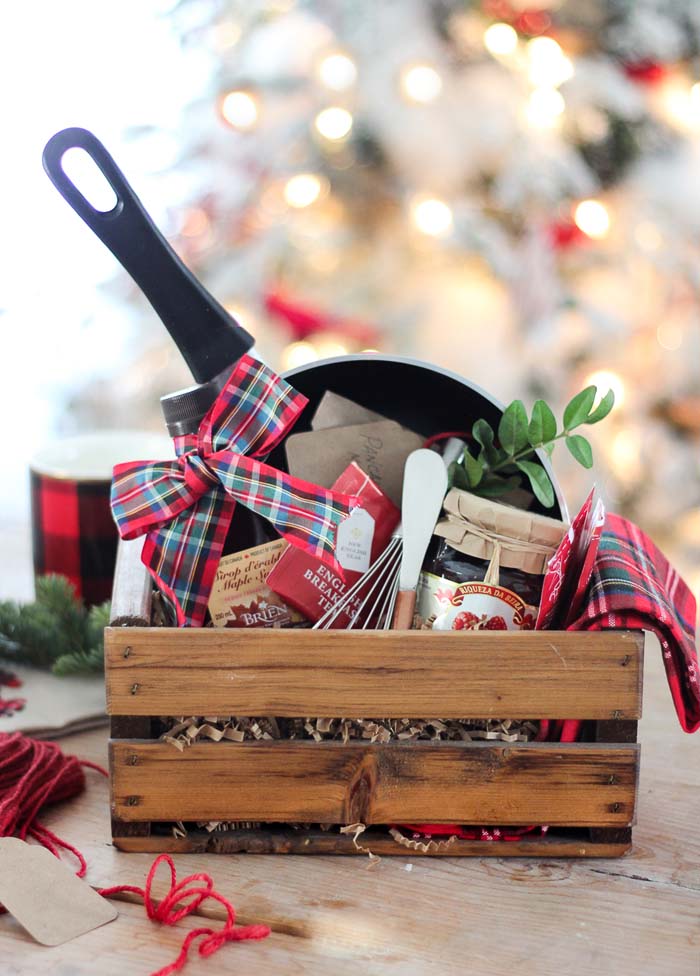 If you are invited to Christmas breakfast, here is the perfect hostess. Now you are cooking.
via Craftberry Bush
12. Christmas Chocolate Gift Basket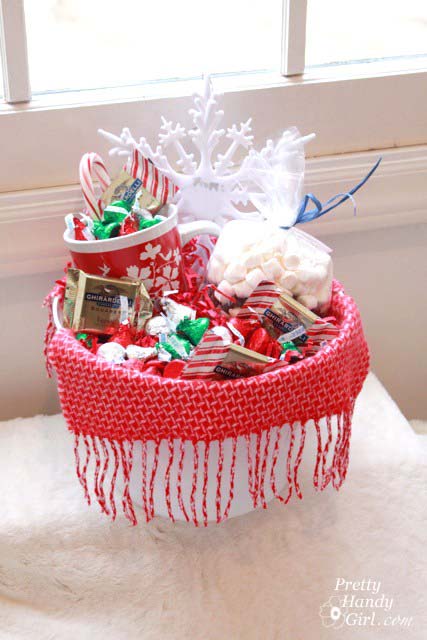 When have you ever gone wrong with chocolate? Variety and creativity will leave a sweet impression with this Christmas gift basket idea.
13. Christmas Cookie Gift Basket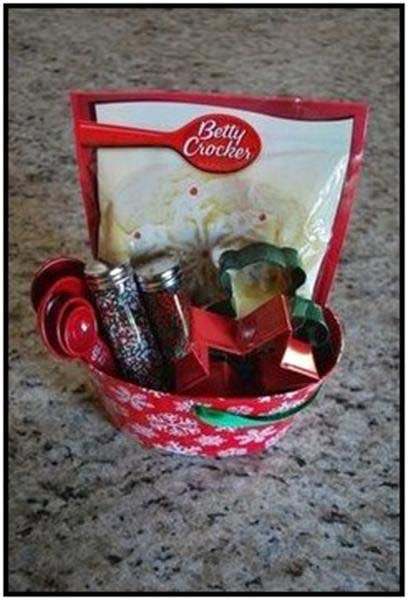 This cute little basket with the cookie mix, cutters, measuring spoons, and sprinkles are such a lovely gift for the babysitter. There is no better way to take cookies to the neighbors.
14. Christmas Cookie Gift Box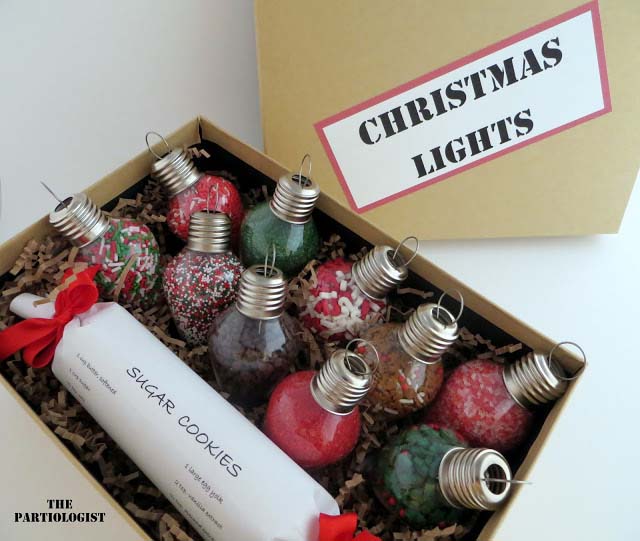 The bright plastic lights are empty plastic Christmas craft ornaments, filled with Christmas cookie decorations! Love the frozen dough.
via The Partiologist
15. Christmas Decoration Gift Basket

What a great family Christmas gift. It's like a Christmas gift-giving first aid kit. The perfect gift basket idea for Christmas parties early in the month.
16. Christmas Eve Traditions Gift Box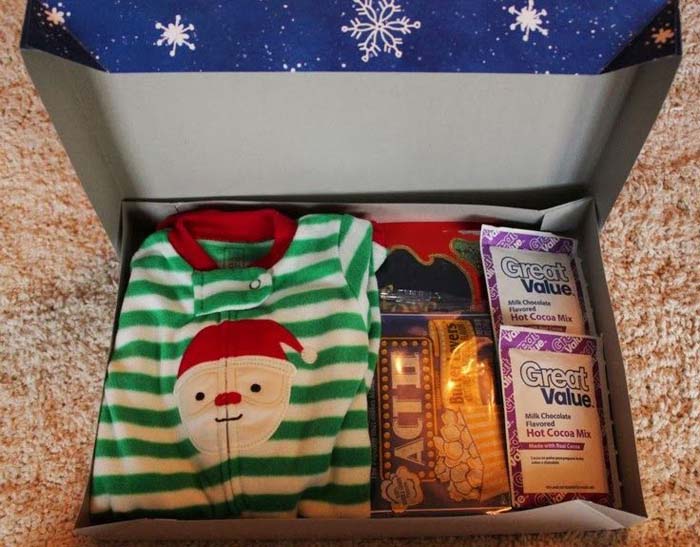 What is your Christmas eve tradition? Build a basket with all the essentials.
17. Christmas Morning Coffee Gift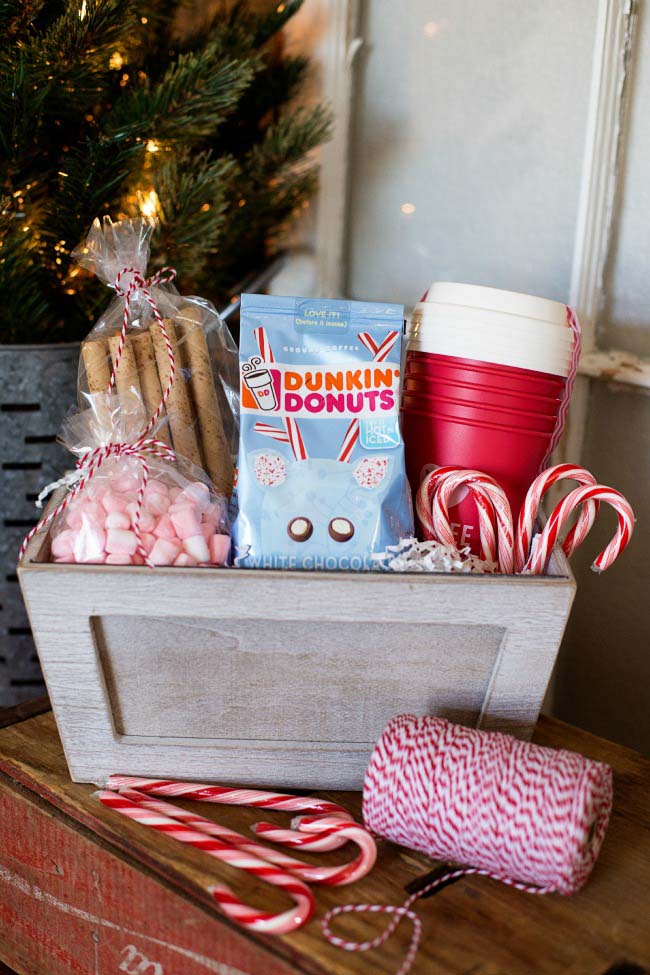 Think detail, what would you brother or sister need to for the best Christmas morning ever.
via A Night Owl
18. Christmas Morning Pancake Breakfast Gift Basket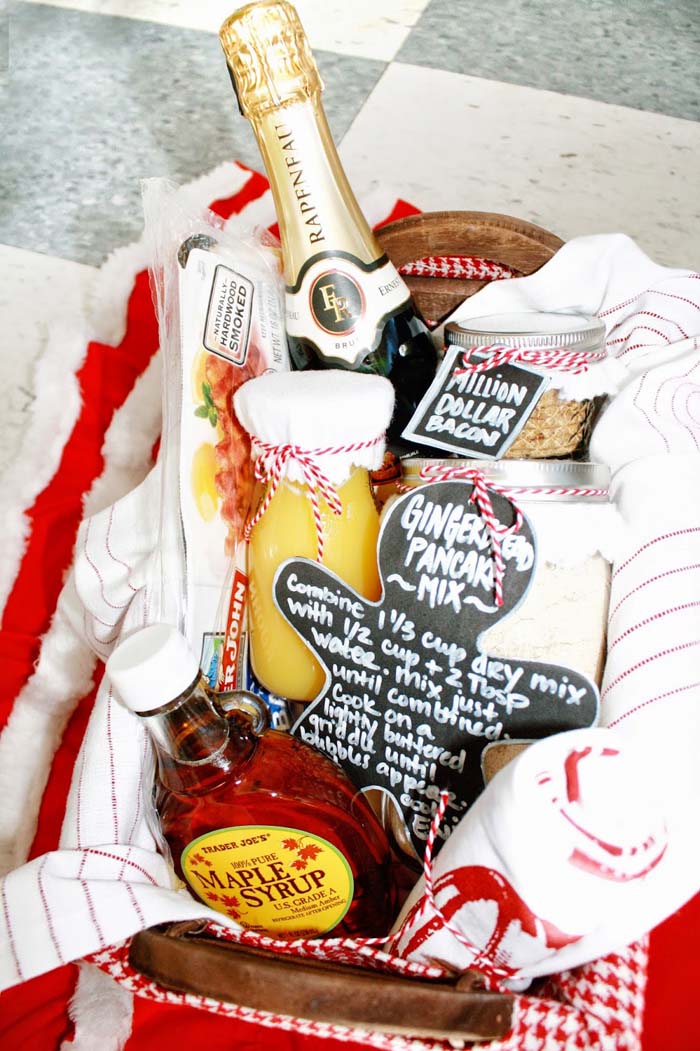 Everyone loves pancakes, make it a Christmas morning tradition with a pancake gift set. Everything new to make the best pancakes.
via Curl Q Paper
19. Christmas Potpourri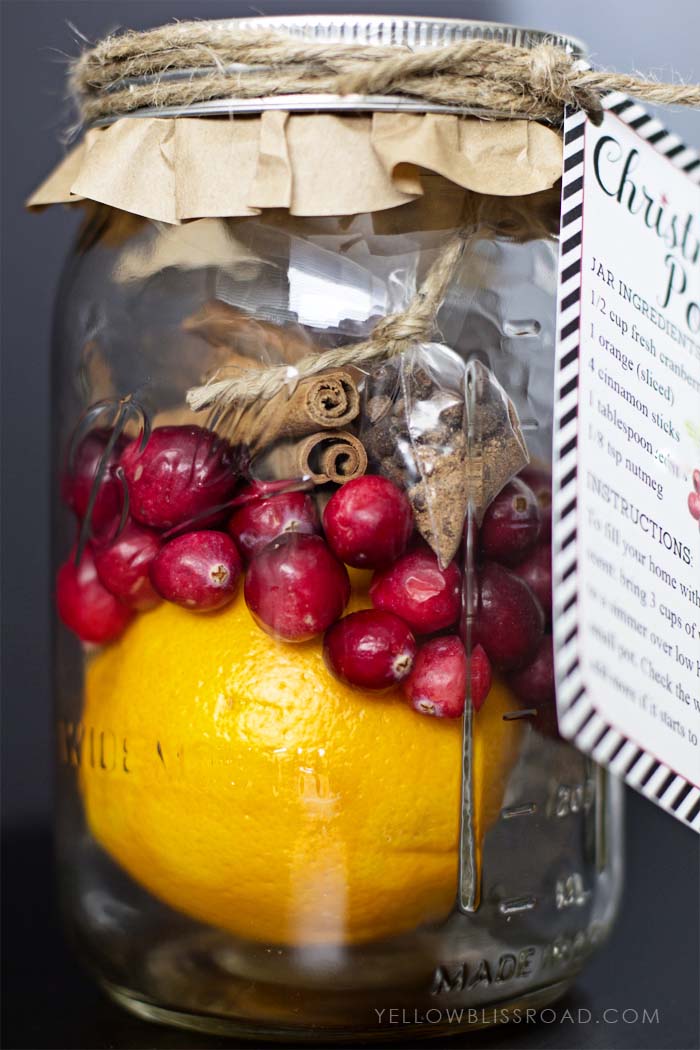 A fragrant mixture of natural plants put them all together, and the aroma of your home will enhance.
20. Christmas Sundaes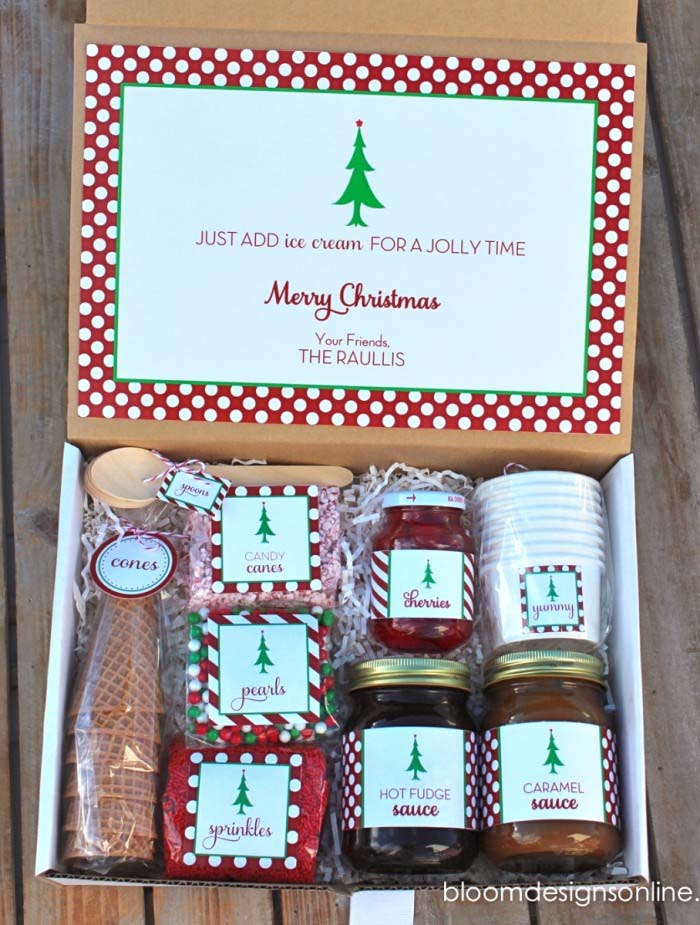 Here is such a fun Christmas tradition idea. All the fun needed for Christmas Sundaes, is there anything sweeter?
21. Coffee Gift Basket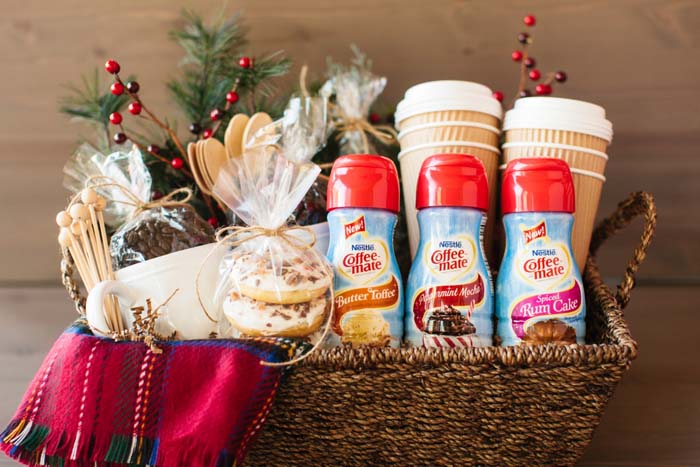 The possibilities are endless. Think of all things a cup of coffee means to you.
Maybe relaxing on the porch, reading the paper of possibly the jumpstart before logging on for the day. Package them into a beautiful gift basket.
via TomKat Studio
22. Coffee Lover Gift Basket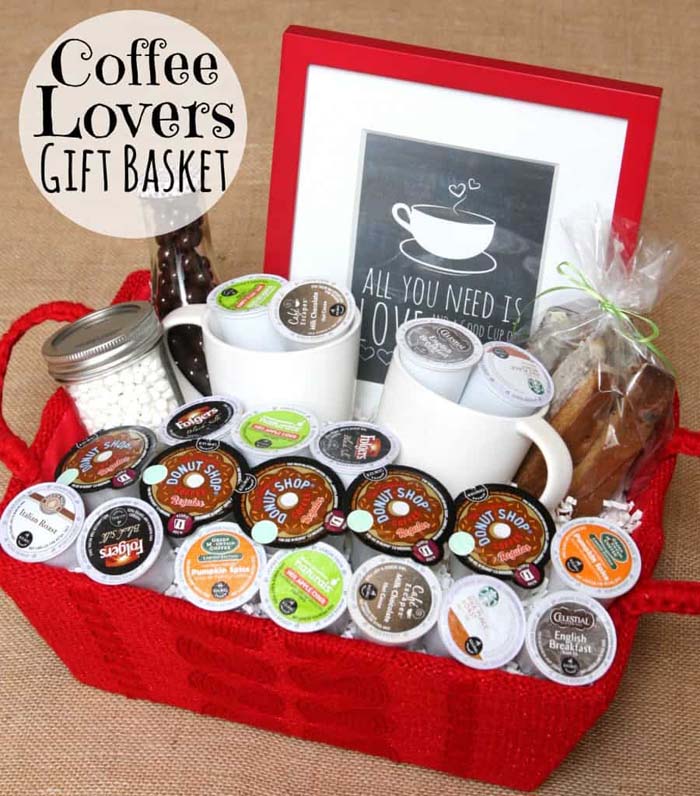 Who is the number one coffee lover on your shopping list? Add some variety and flavor to their routine.
via Happy Go Lucky
23. Cookout Kit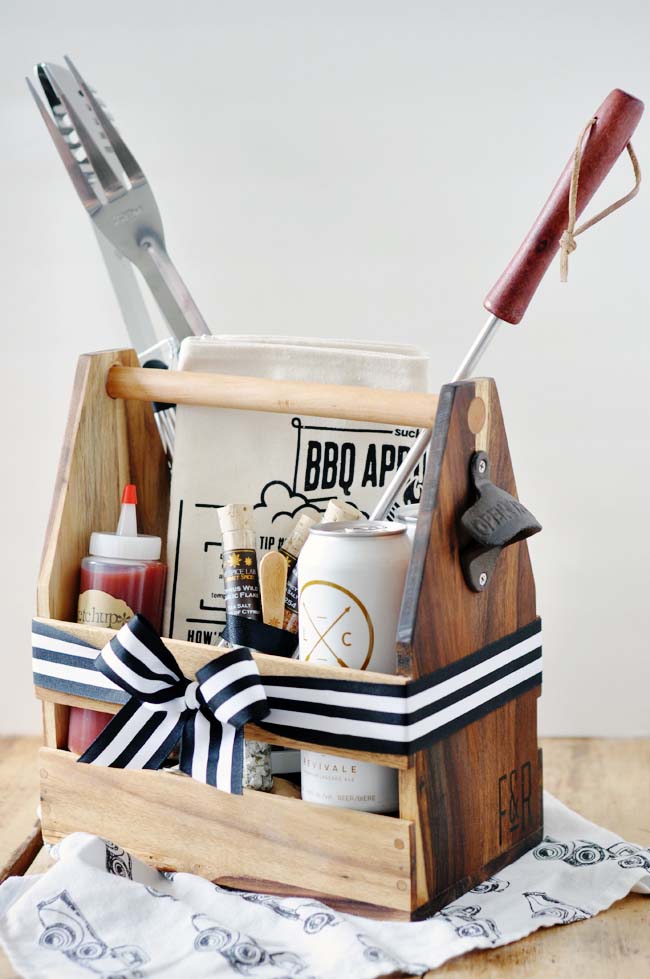 Winter is cold, but l a great time of year to cook out and eat in. Having the correct tool to do the job is essential and fun.
via Lark and Linen
24. Cozy Gift Wrap for Mom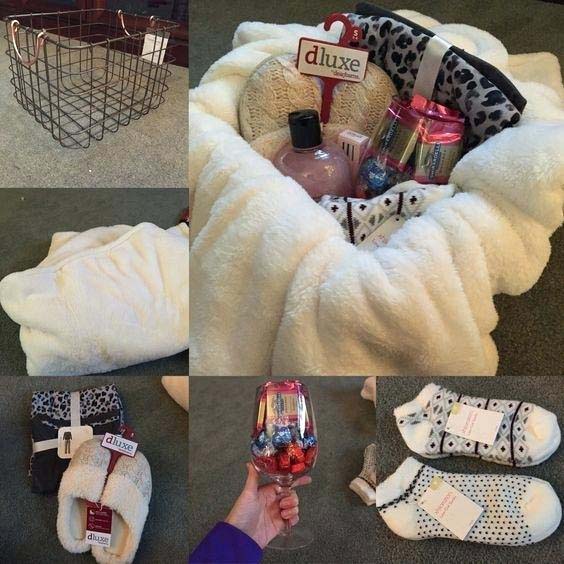 Warm, soft robe, socks, and slippers are the perfect wrapping for mom.
25. Creativity in a Box Boredom Buster for Kids

What a parent lifesaver. Whether it is a snow day or a holiday, having a goto project for bored kids keeps life pleasant.
via The Dating Divas
26. Crock Pot Gift Basket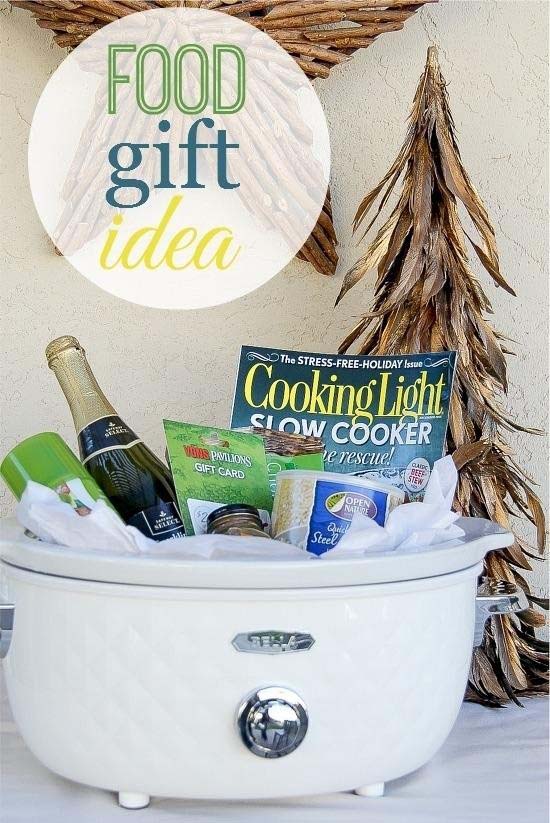 Add all the ingredients for your favorite crockpot side, and suddenly you have the perfect fit that has the gift that keeps on giving.
via Tonya Staab
27. Crock Pot Basket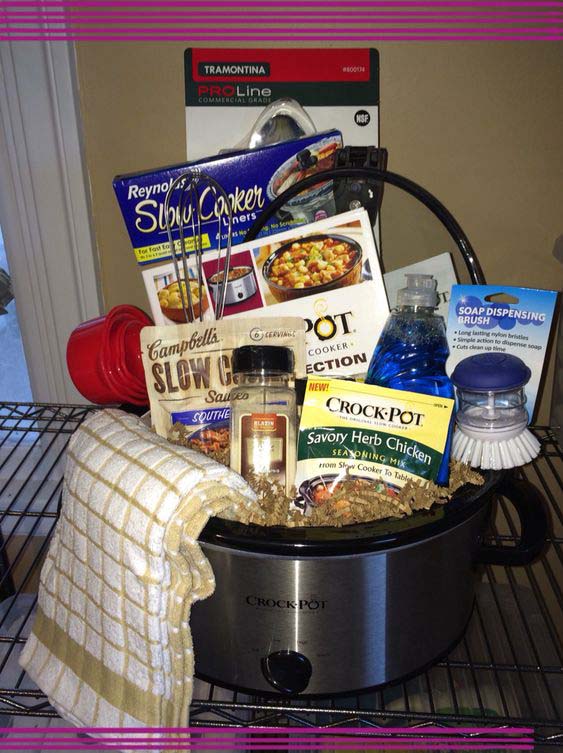 What a great idea for time-saving and stress saving. The entire family will appreciate such a thoughtful gift.
28. DIY Art Caddy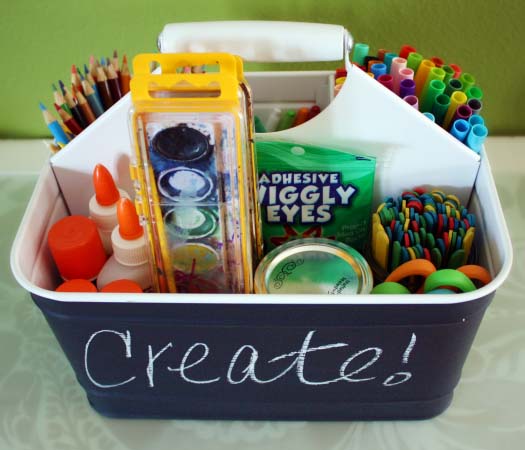 Who is the artist on their list? Give them the gift of encouragement.
29. DIY Art Supply Caddy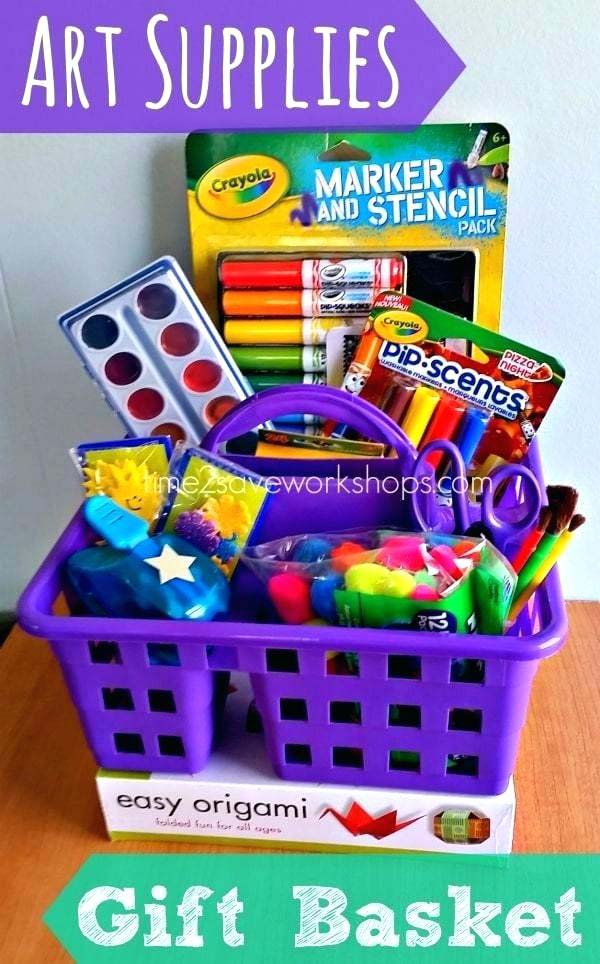 Having all your art supplies in one container, what a great idea.
30. DIY Candle Gift Basket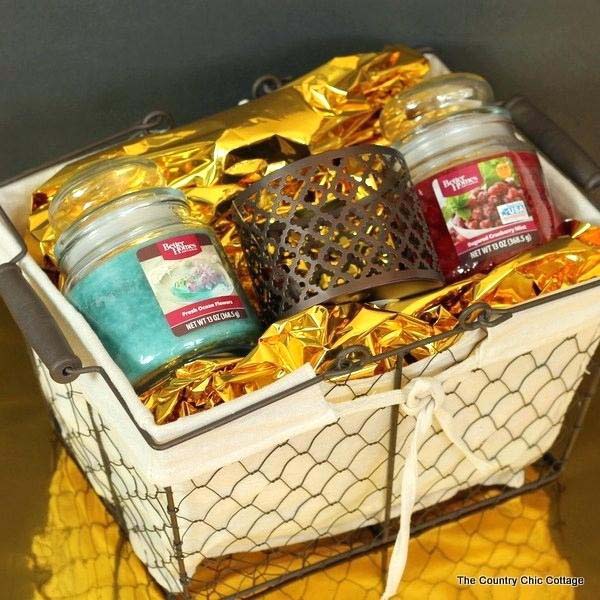 The flicker of the flame it both festive and romantic. It is good relaxation therapy.
31. DIY Food Gift Basket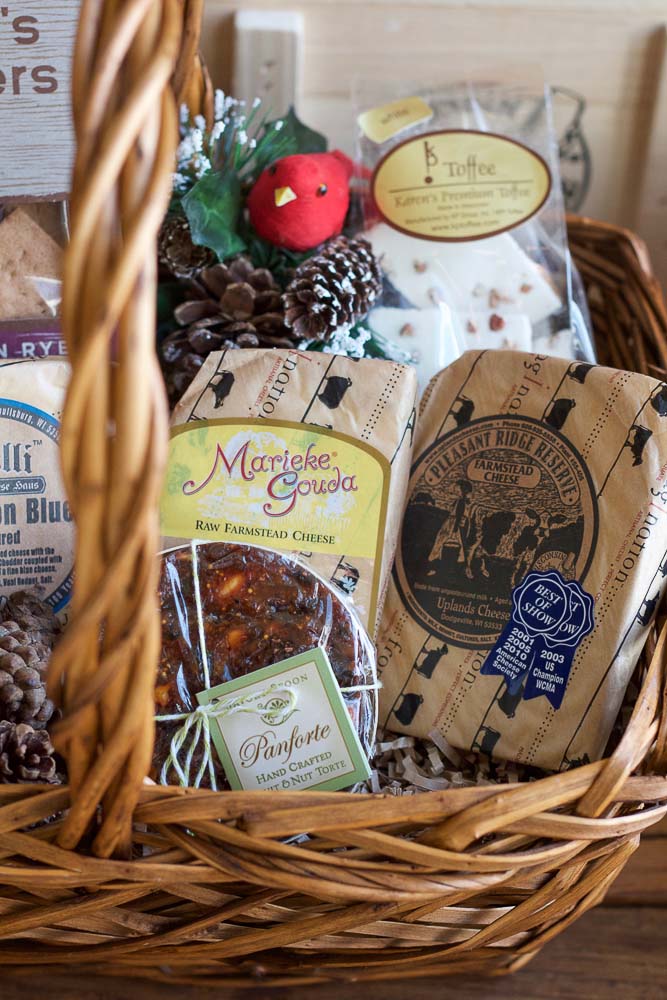 The perfect gift for the family that could use a little extra or maybe something a little fancier than they usually get.
via Hip Foodie Mom
32. DIY Gift Idea for Moms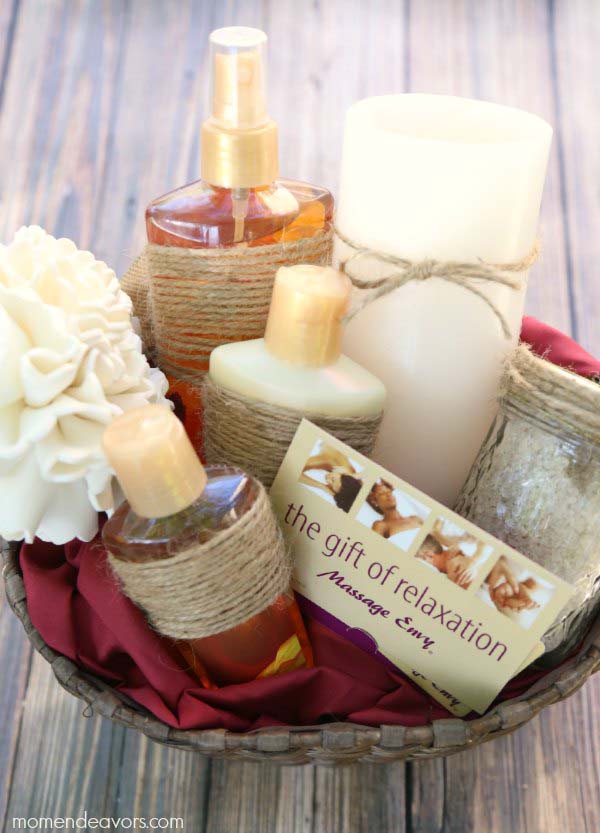 All moms need a little extra love and pampering. Your efforts and attention will make up the best basket ever.
via Mom Endeavors
33. DIY Gift Idea Sangria for Friends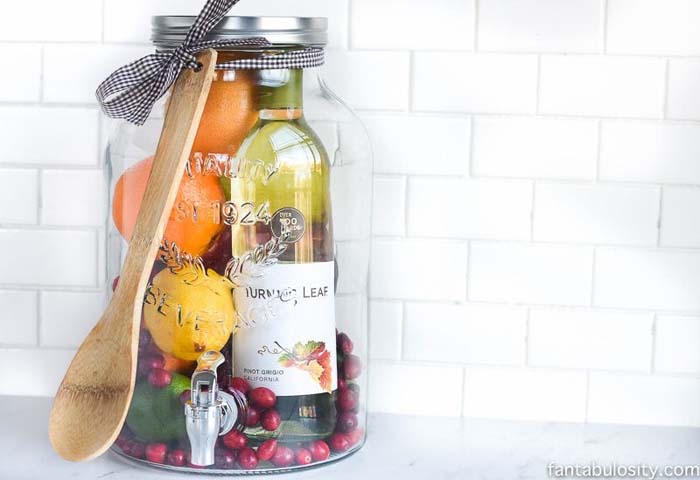 Rather self-explanatory, don't' you think?
via Fantabulosity
34. DIY Girl Night Gift Basket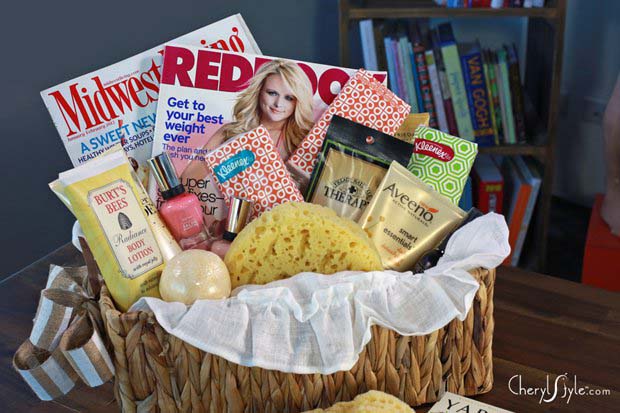 Girls want to heave fun, package that into a basket, and let the party begin.
via Everyday Dishes
35. DIY Manicure Gift Basket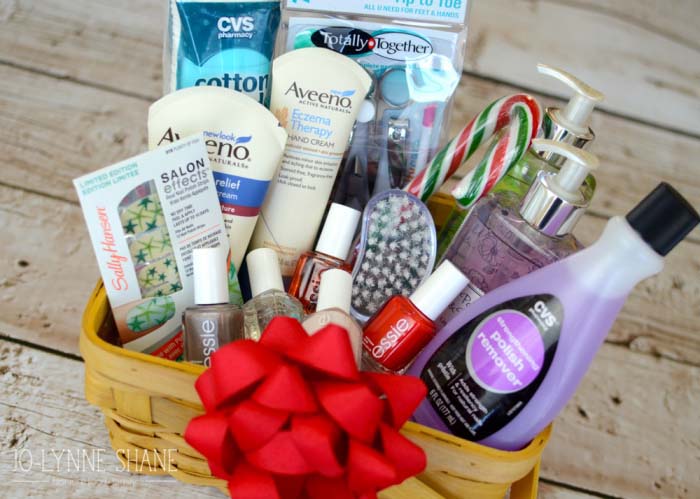 New ideas of color, technique, and style, What a great little gift for your beautician.
via Jo-Lynne Shane
36. DIY Mini Spa Kit GIft Basket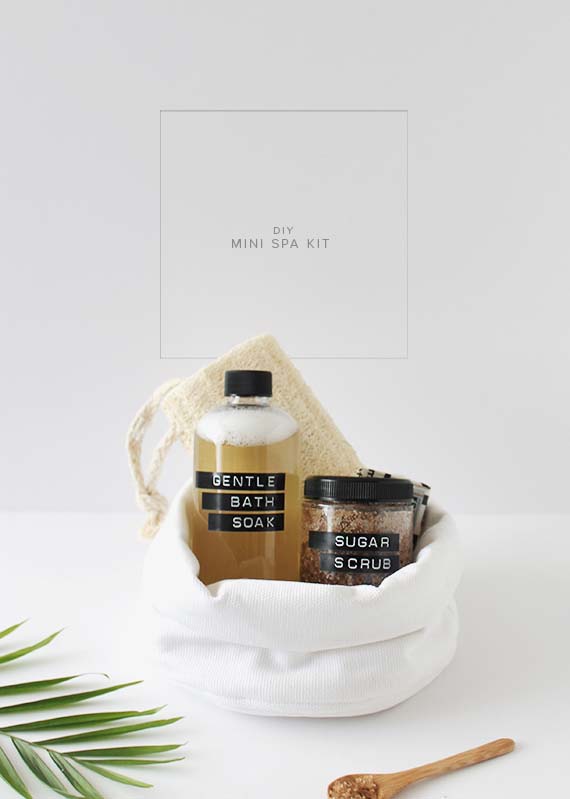 Here is the one you want to put together for your best friend and include yourself as you go along, buddy.
37. DIY Pinecone Fire Starter Favors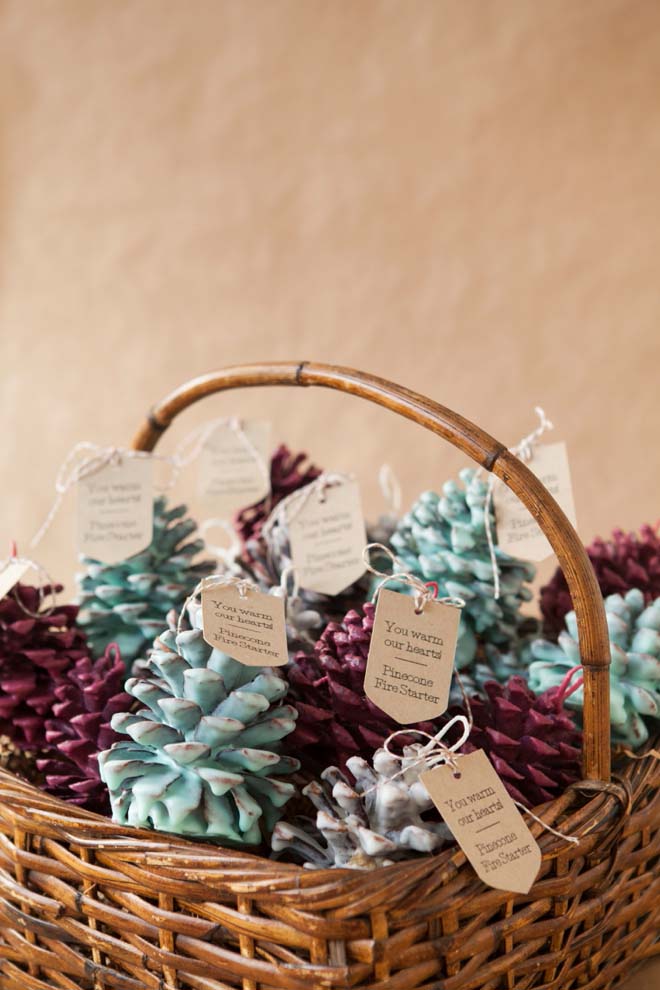 These are so darling and festive. Perfect for the cabin. They make great favors for a party, as well.
38. DIY Spa Gift Basket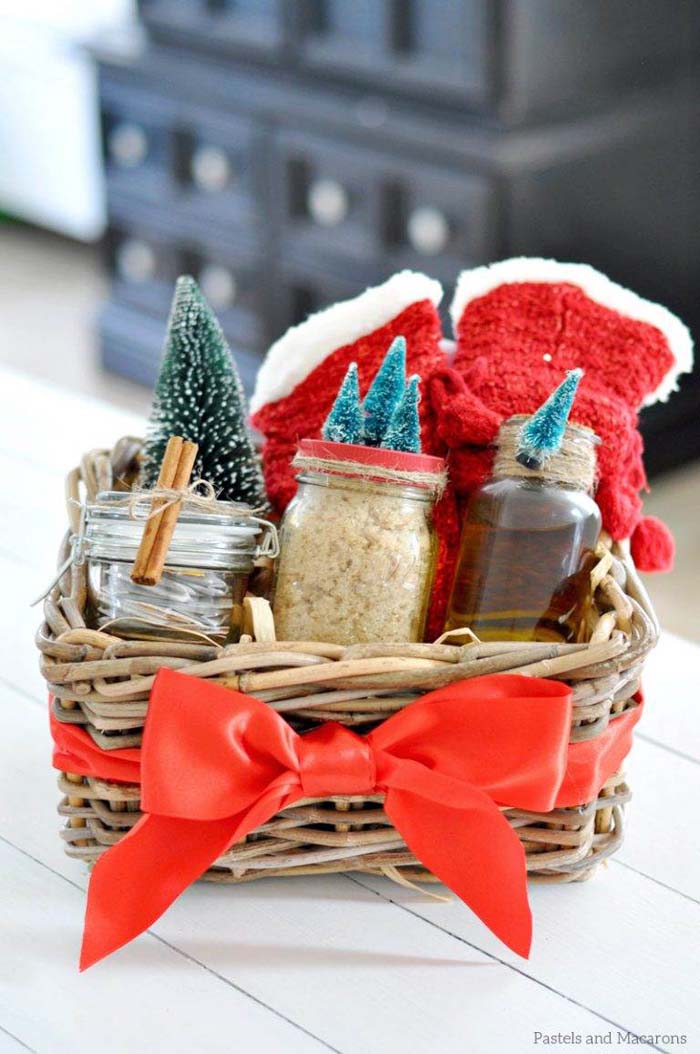 Anytime you offer a gift of relaxation, and self-care it is a good gift to give and receive.
39. DIY Spa Kit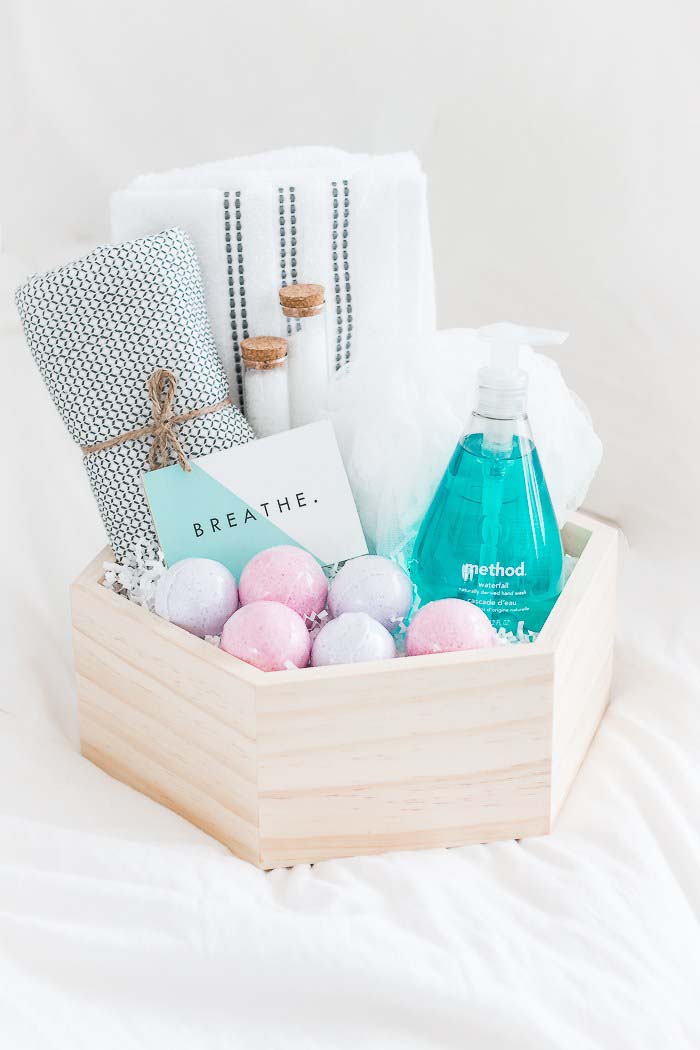 What a perfect gift, add in the gift certificate for the massage, and you have created love and acceptance for someone
via The Beauty Dojo
40. Dollar Tree Folded Towel Gift Idea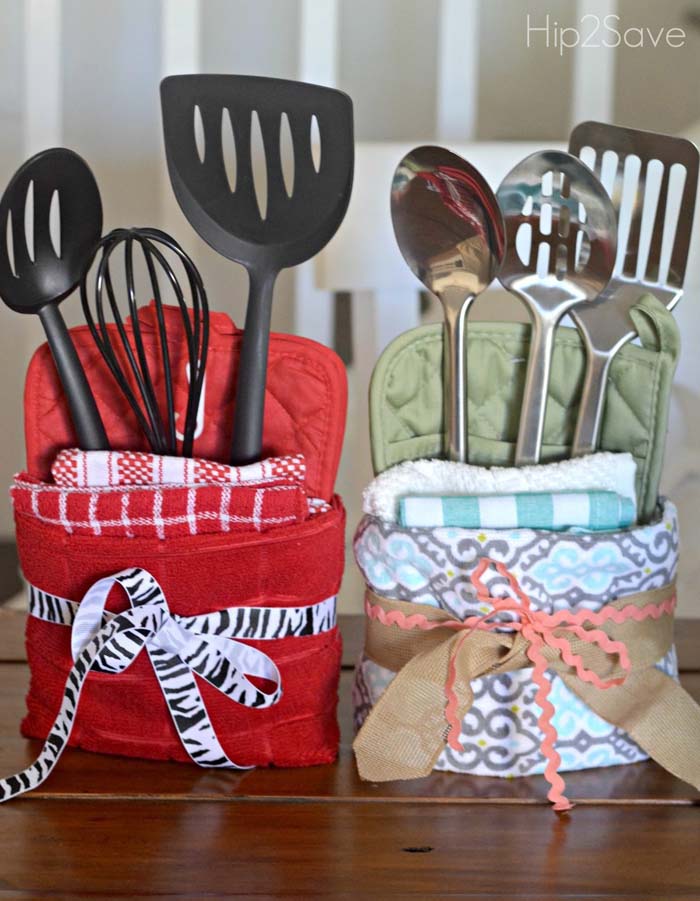 Fold the cute towel and start adding all the utensils for the kitchen.
via Hip 2 Save
41. Dove Gift Basket for Her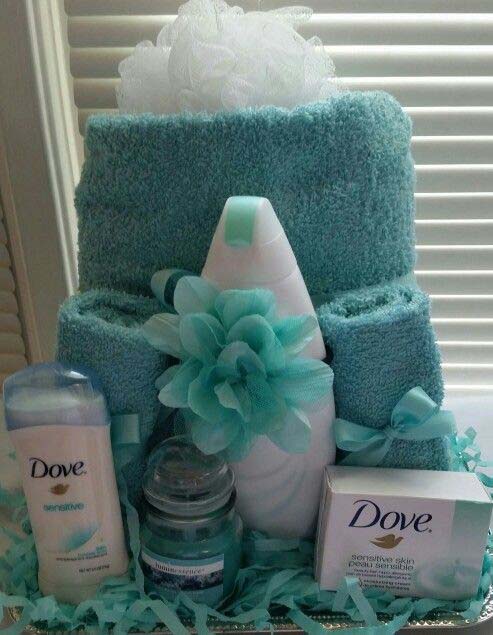 With a little planning, the luxury and relaxation that we all dream about can be delivered just at the right time.
42. Easy Dinner Kit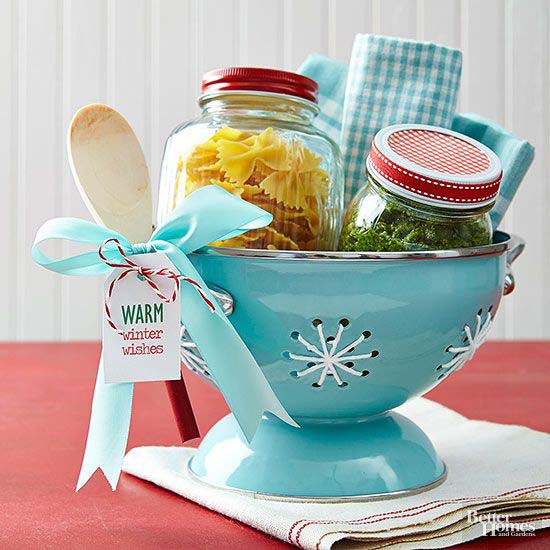 What is your favorite weeknight dish? Gather all you need to include the pan or bowl, and then, you have created the perfect basket.
43. Easy DIY Cookie Basket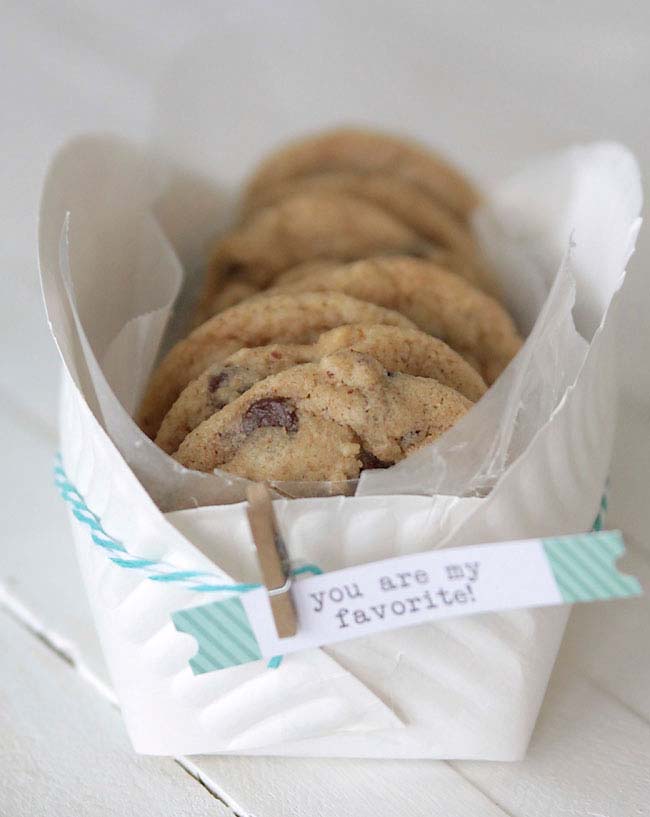 Put your favorite cookies in a bundle, now place them in a basket of love, sweetness.
44. Easy DIY Gift Basket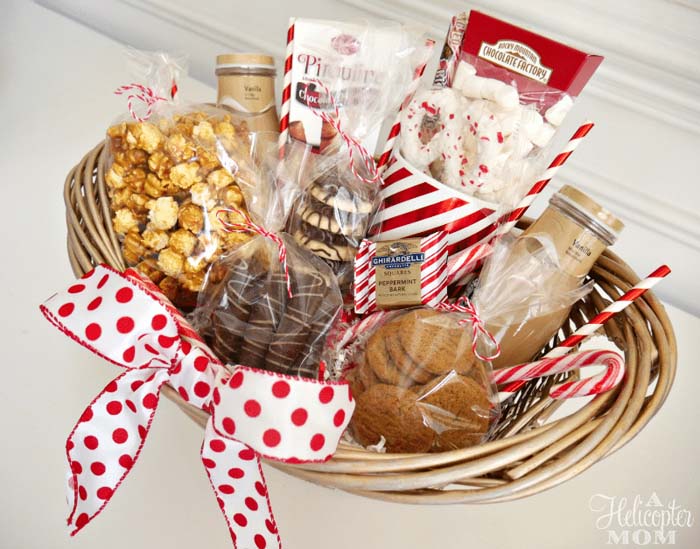 A basket with just the right amount of goodies and sweets is natural to put together. The real trick is variety.
via Helicopter Mom
45. Easy Gift Idea for Friends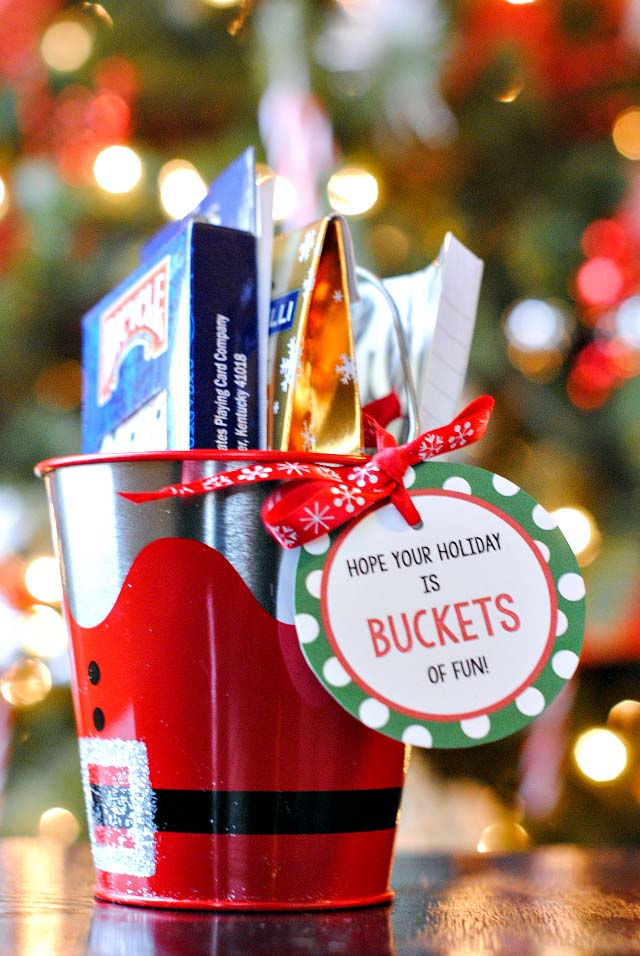 If it is a bucket or a basket or even a box, what you add for your friends will mean a lot.
46. Elf Gift Basket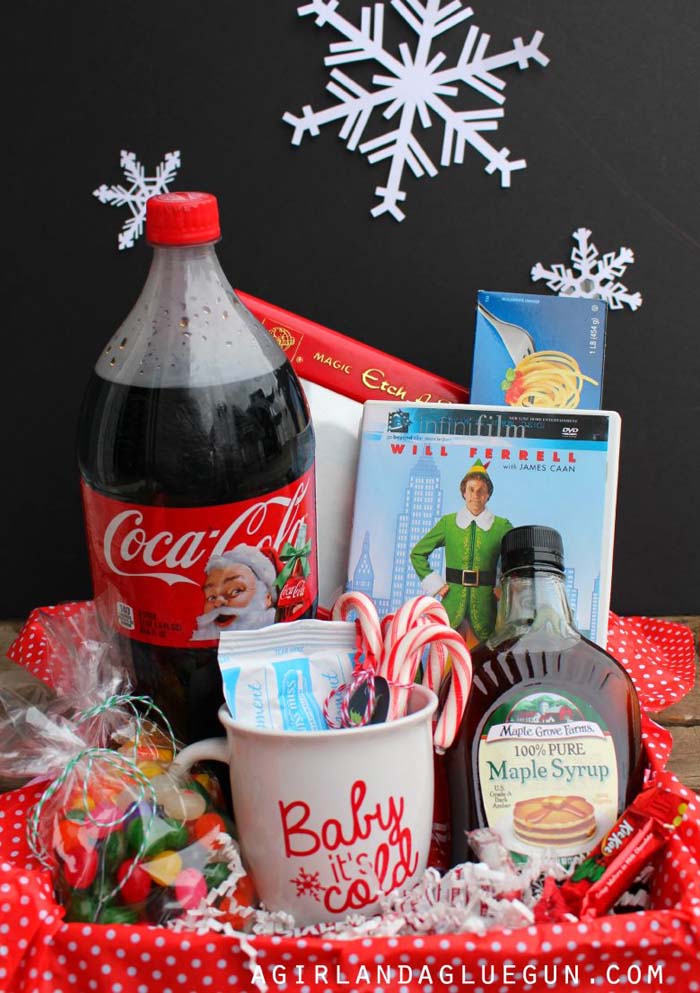 Cotton candy, whipped cream, ribbon, and bows, syrup, and streamers most anything goes with the movie Elf an all-time favorite.
47. Entertainer Gift Basket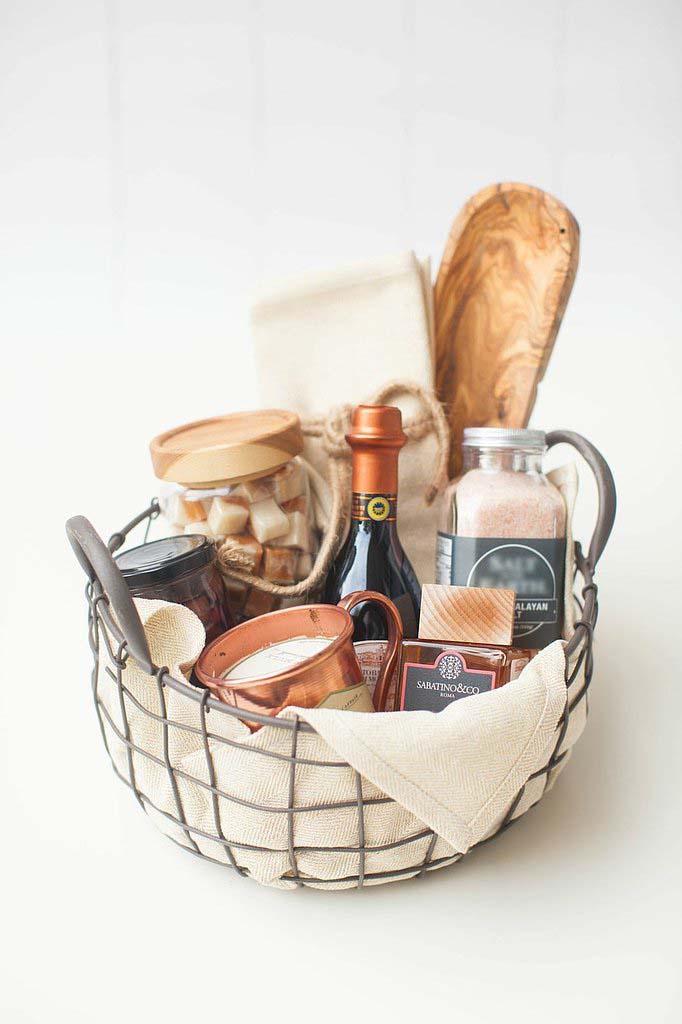 Put together the perfect house warming gift for the family that got a new home this year, or is building a new one. You may have a friend that loves to entertain; this is the gift for them.
via PopSugar
48. Family Game Night Gift Basket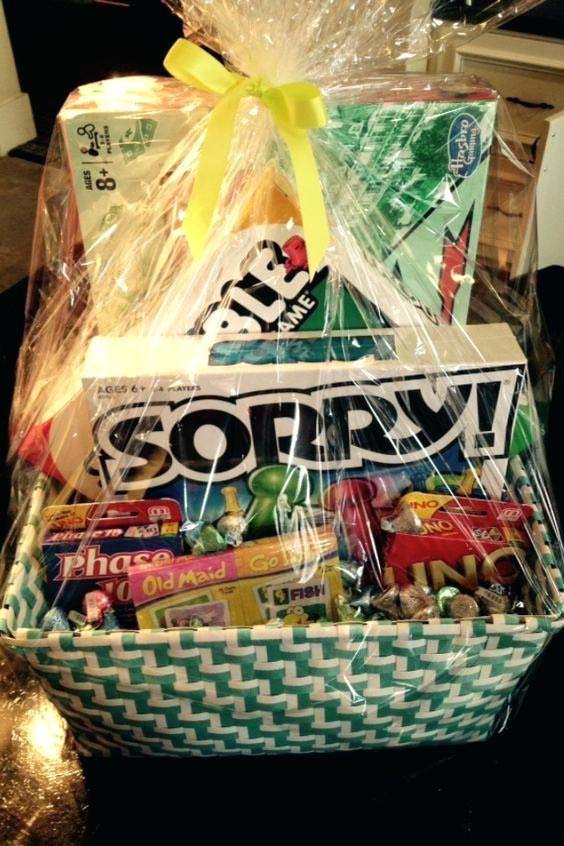 Sometimes there are some high sales on good old fashioned board games. The idea of everyone playing a game without a device is refreshing.
49. Family Movie Night Gift Basket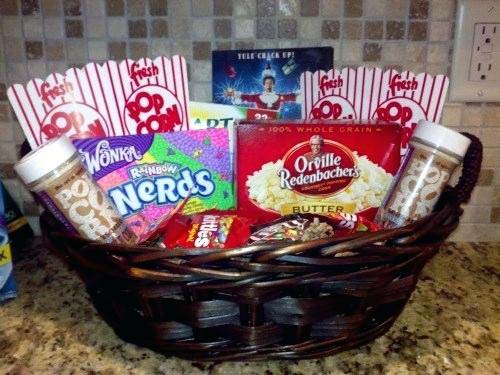 There are so many movies that you enjoyed as a kid. Your kids have never heard of pick one of your favorites and build a basket themed from your film.
50. Farmhouse Gift Basket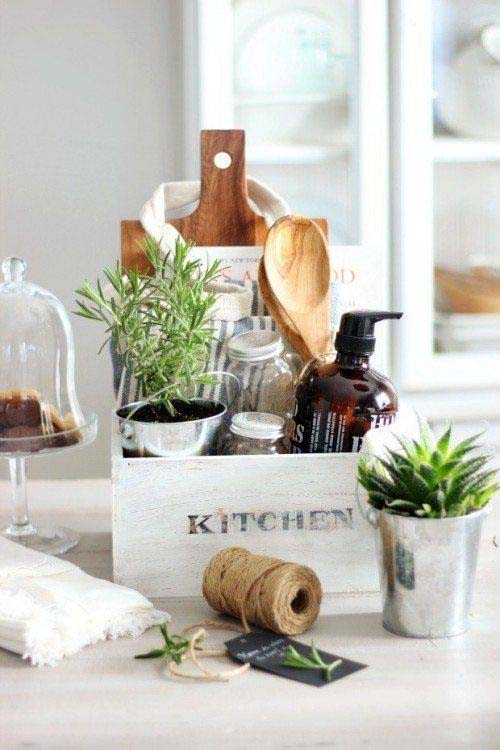 If you are in style, this is the style to be. Made with all the vintage farmhouse style items that are the new classy look.
via Magnolia
51. Fathers Day Gift Basket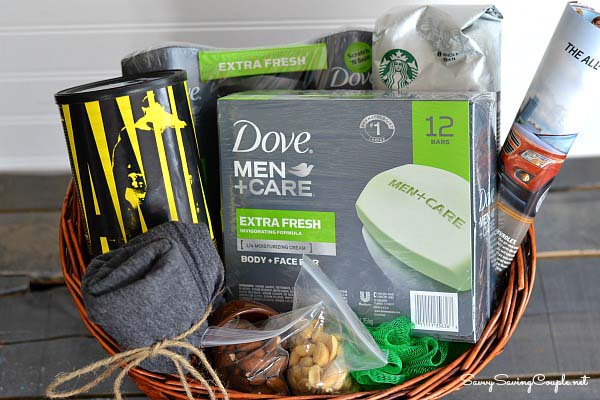 Make this basket all about dad. He will love all the items, and he will love all the effort you made to be creative.
52. Fire Pit Gift Basket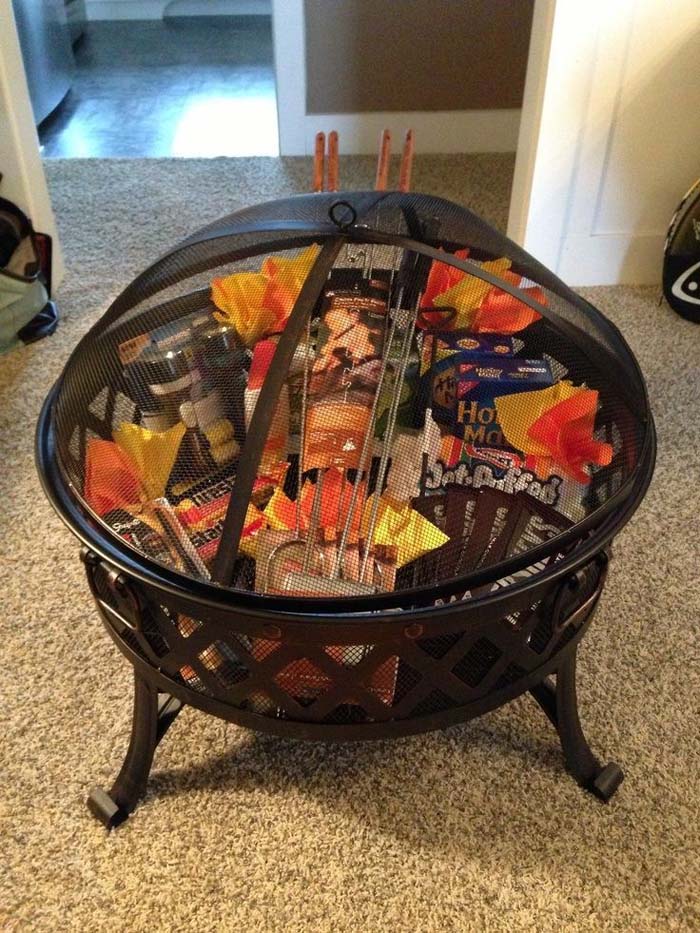 Have you ever heard a friend say, "I wish I had one of those." Well, if he was talking about a firepit, this is a fantastic idea
53. Fisherman Gift Crate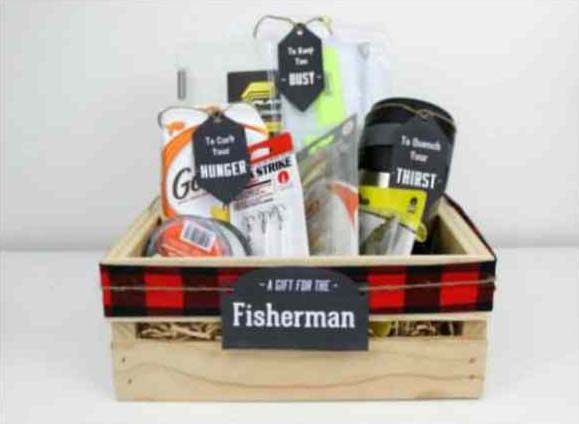 What a great catch, not to be fishy, but some hooks, spinners, line, the lure will surely tackle your favorite angler.
54. Gamer Gift Basket for Hubby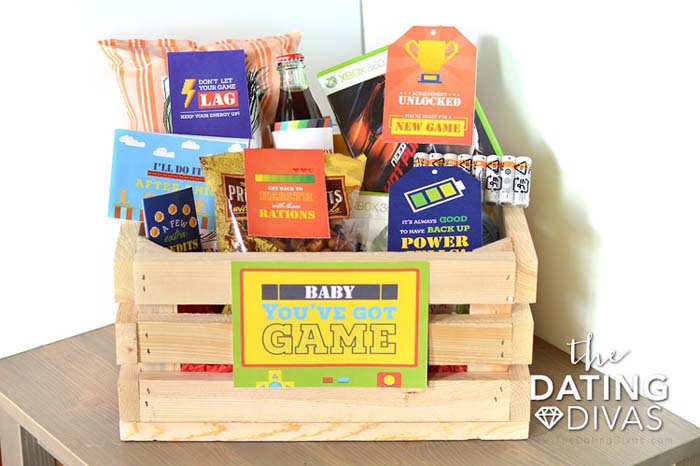 1 – Up the barrel stuffing that will beat them up with an Alpha assist using the Avatar bonus, boosting the boss. Do not cheat the class, die, and retry. Trust that the gamer will love you for it.
via The Dating Divas
55. Get Well Kit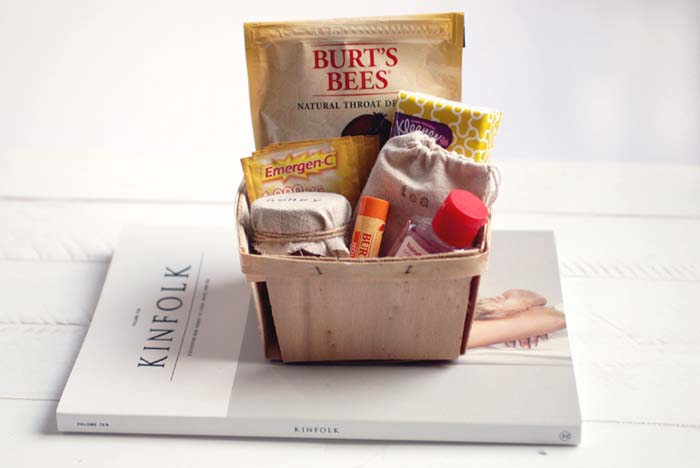 It is fantastic everything you need or want when you are stuck in bed sick. Perfect timing and perfect gift!
56. Gift Basket for Girls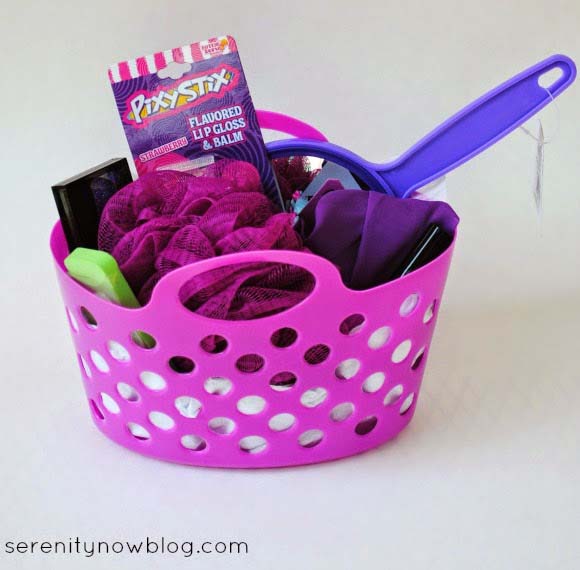 All things, girl, bring out her pretty, beautiful, gorgeous, lovely, elegant, cute, divine attractive, girlishness.
via Serenity Now
57. Gift Basket For Masculine Men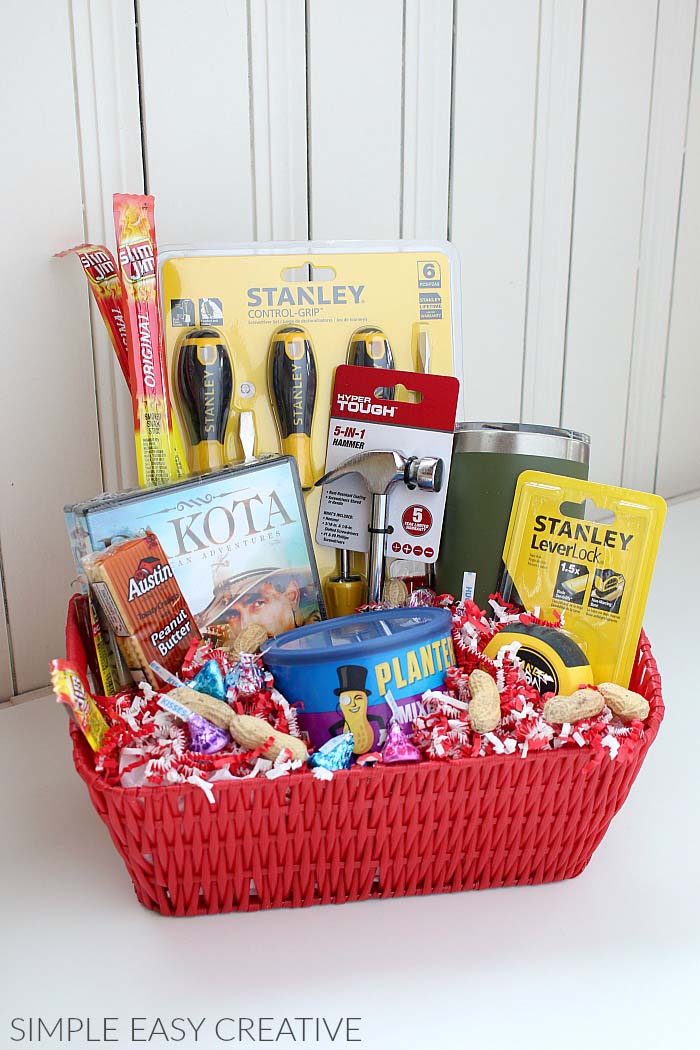 The manly man is brave, bold, reliable, and masculine. Make your gift basket for him, just for him, and he will love it.
via Hoosier Homemade
58. Gift Jar for Roommate or Friend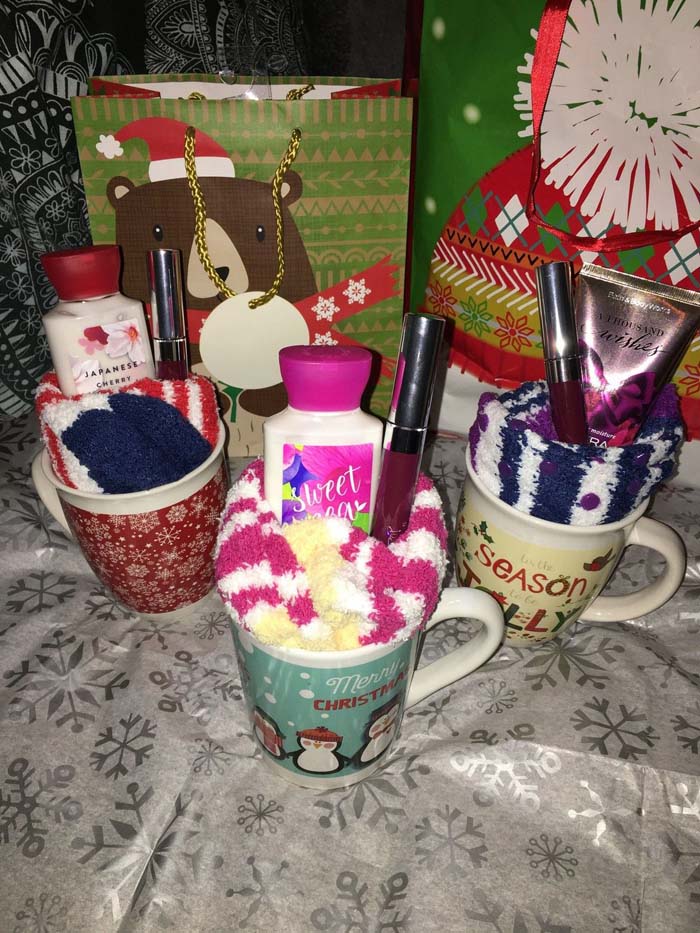 For some reason, we love gifts in the bottle, a few little things added will make it perfect for the roommate or friend.
59. Gifts in a Jar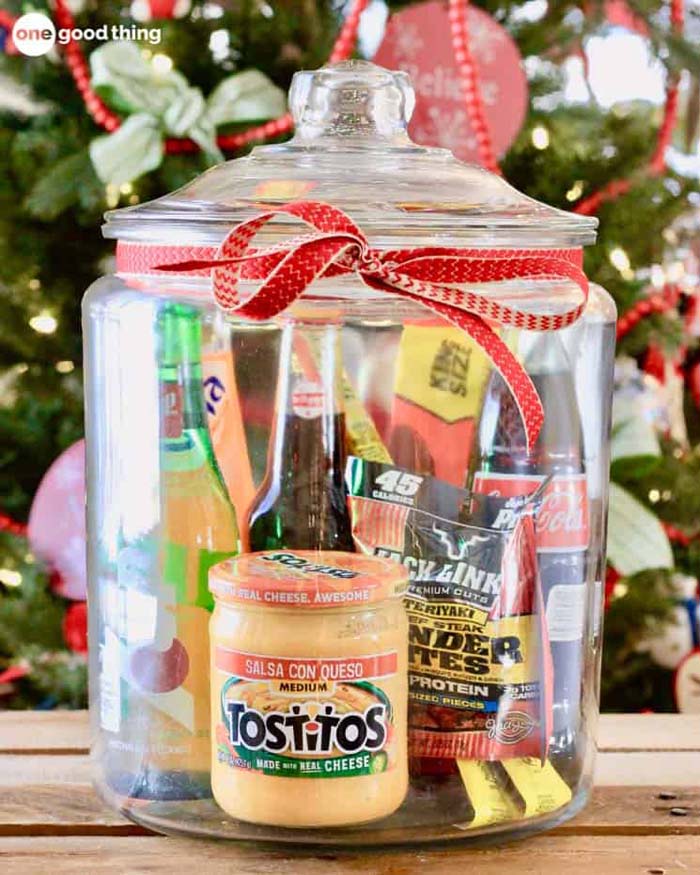 There are so many darling varieties of adorable jars and bottles. Find what you like and fill it to the brim. Everyone will love it, no matter if they are a she or he.
via One Good Thing
60. Gourmet Food Basket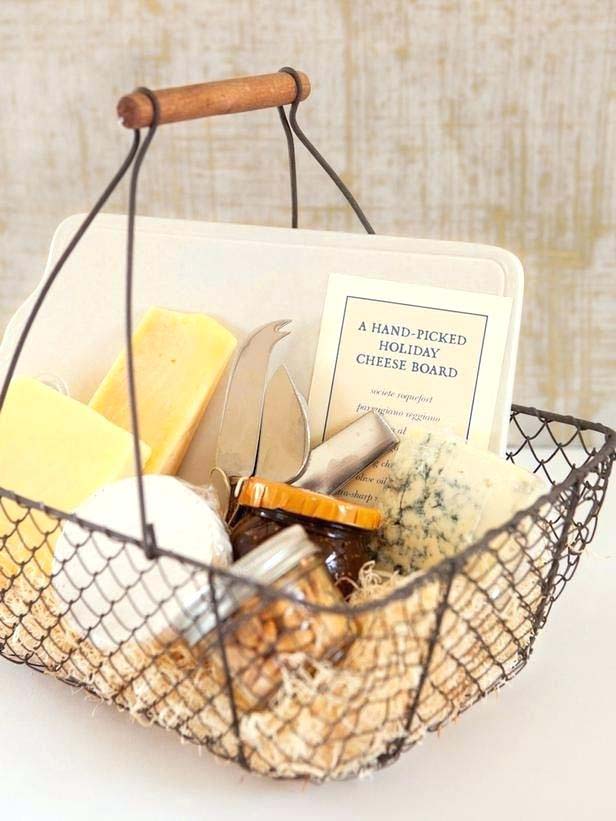 This one is popular this time of year. It is fun to try something new that is not usual for every day tasting.
via DIY Network
61. Gourmet Popcorn Gift Basket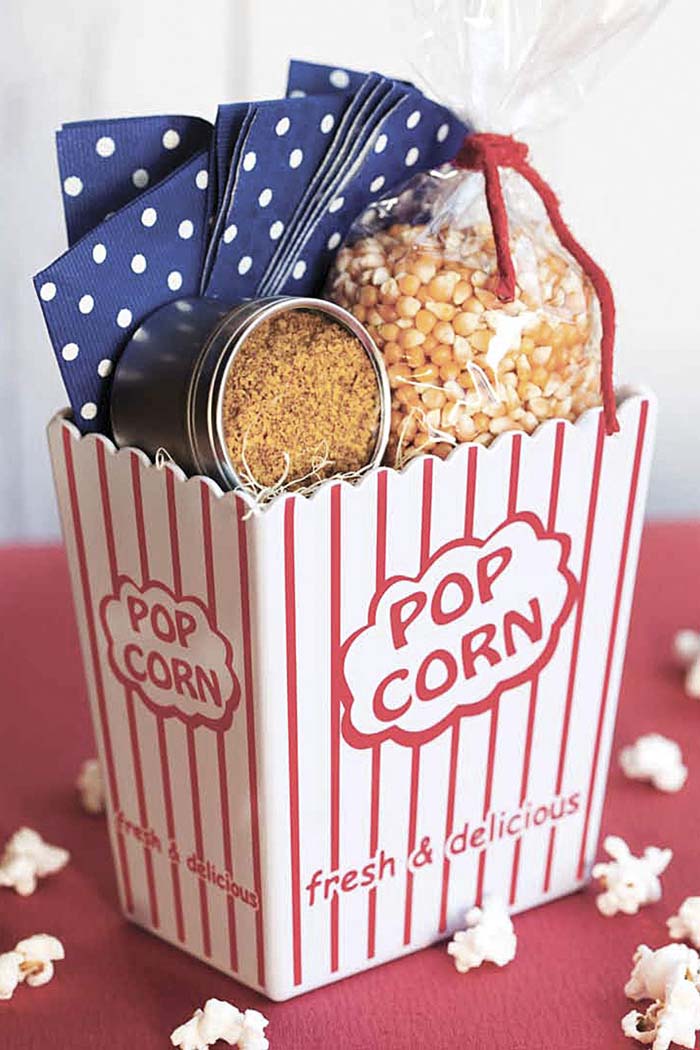 Popcorn comes in so many varieties this year. Choose a few you like, and they will give you a cheer.
via Country Living
62. Handmade Soap Gift Basket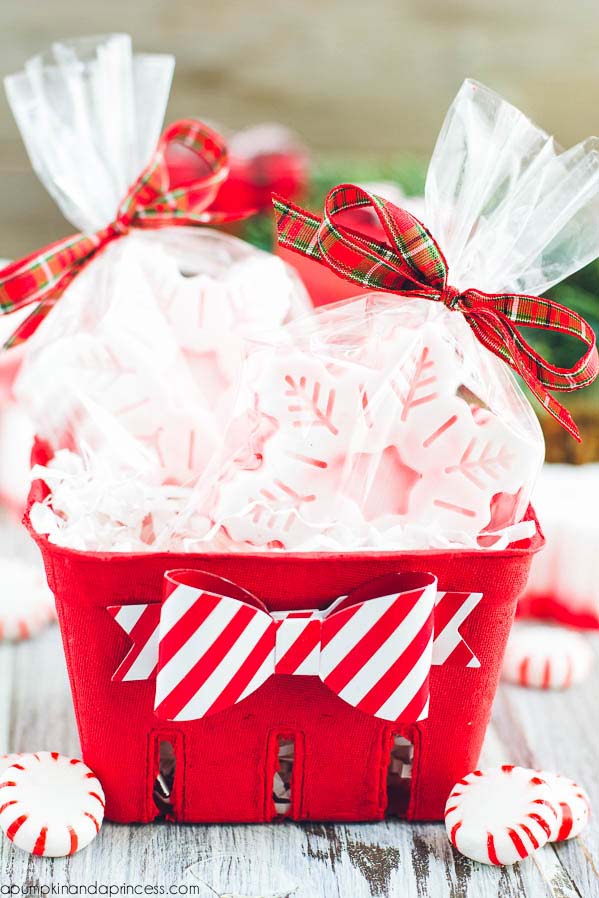 Go on a search to find some great recipes out there for making simple handmade soap. Using cute molds makes this fun to give and receive.
63. Hello Kitty Towel Cake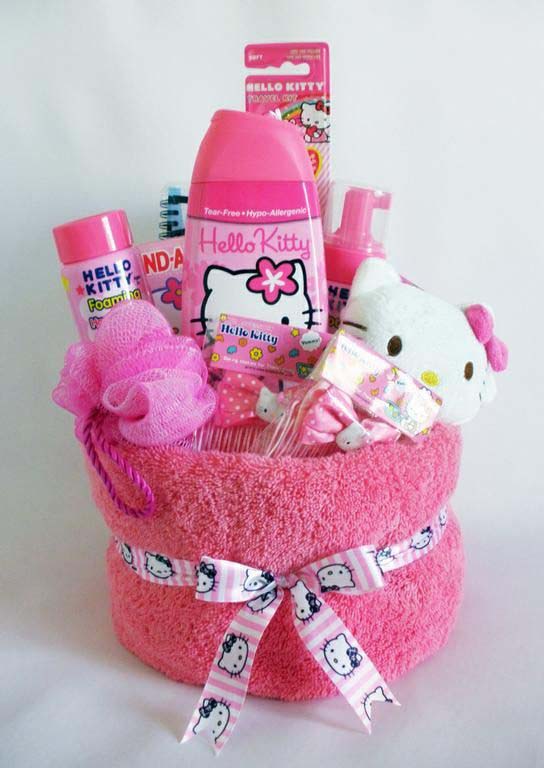 Is there a Hello Kitty fan in your life, or maybe someone you can turn into a new Hello Kitty fan. Your gift basket will do it.
64. Hot Cocoa Gift Basket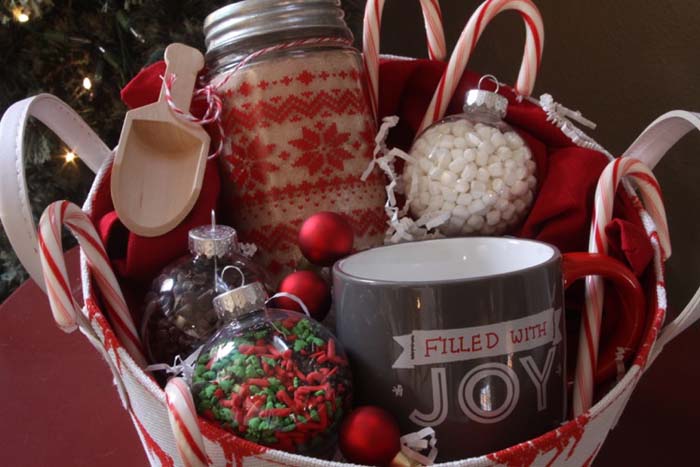 Warm Cocoa is always a hit, add all the fun and tastiness that goes with it, and you'll hit a home run.
65. Ice Cream Gift Box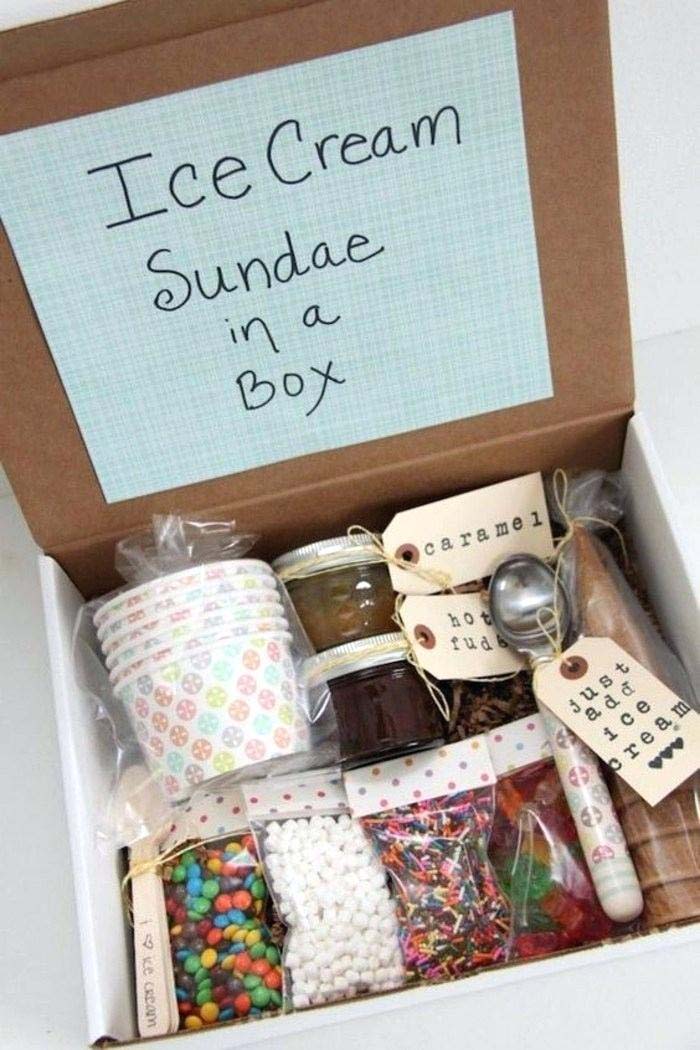 Chilly as it may seem, icecream has a way of warming the heart and soul of friends and family.
66. Ice Cream Gift in a Jar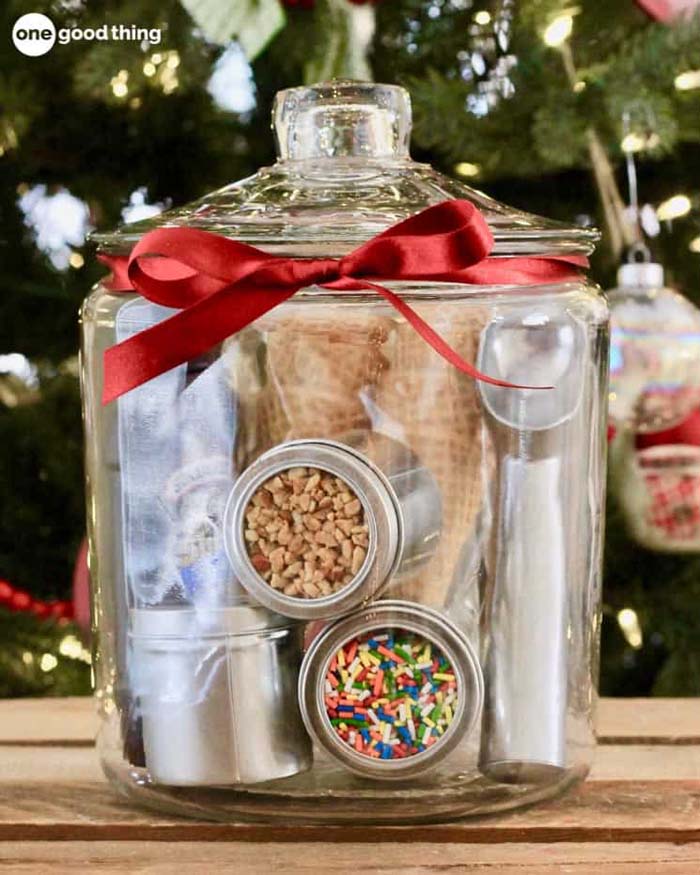 Chilly as it may seem, icecream has a way of warming the heart and soul of friends and family.
via One Good Thing
67. Let it Show Gift Basket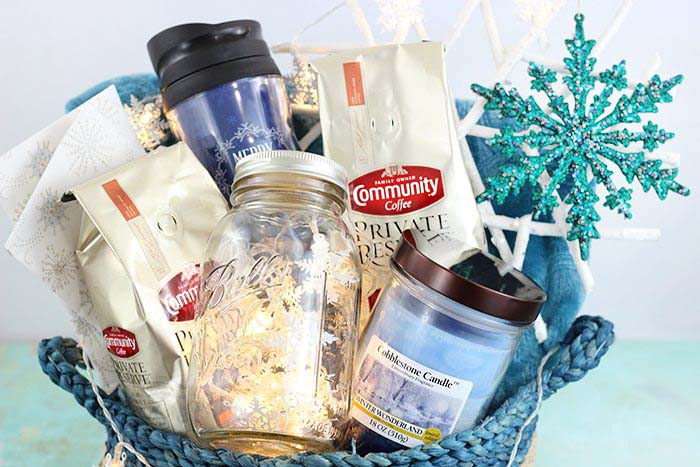 Use your imagination of all the things to make a snow day comfy and warm.
via Cutefetti
68. Manicure in a Jar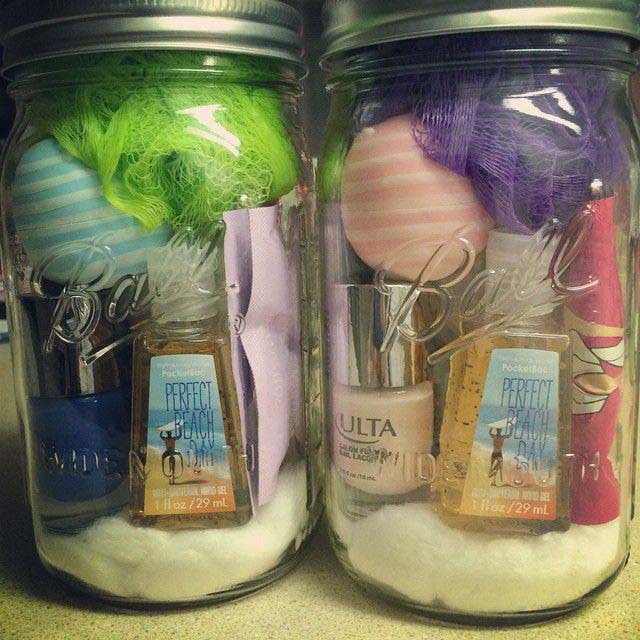 Love this idea, keeps everything in one place and easy to find. That in itself is a gift.
69. Manicure or Pedicure in a Jar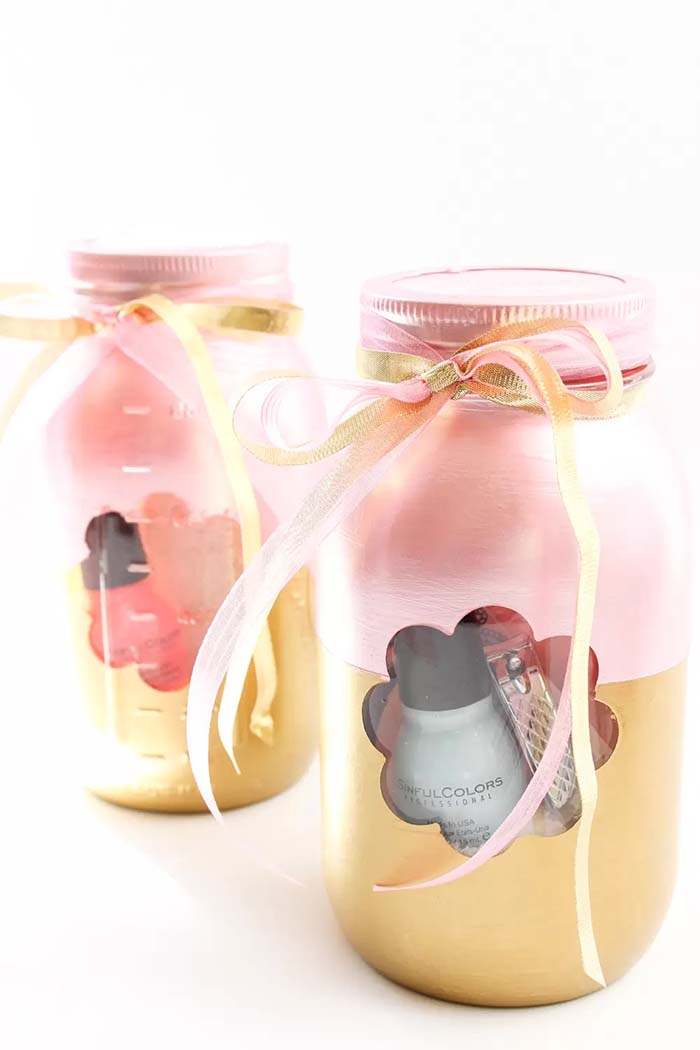 This is such a cute idea. The jars are great storage ad attractive to give.
via Real Coake
70. Men's Gift Basket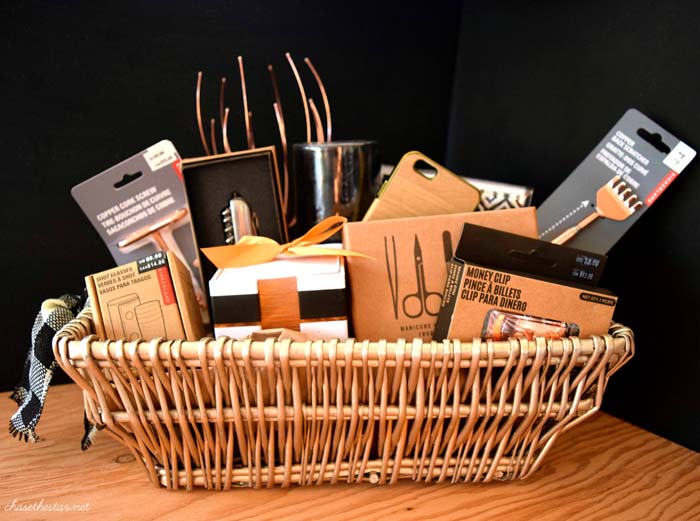 It is only fair that all things men included on the list. But every man is different, so have fun creating your man a basket.
71. Mini Bar in a Jar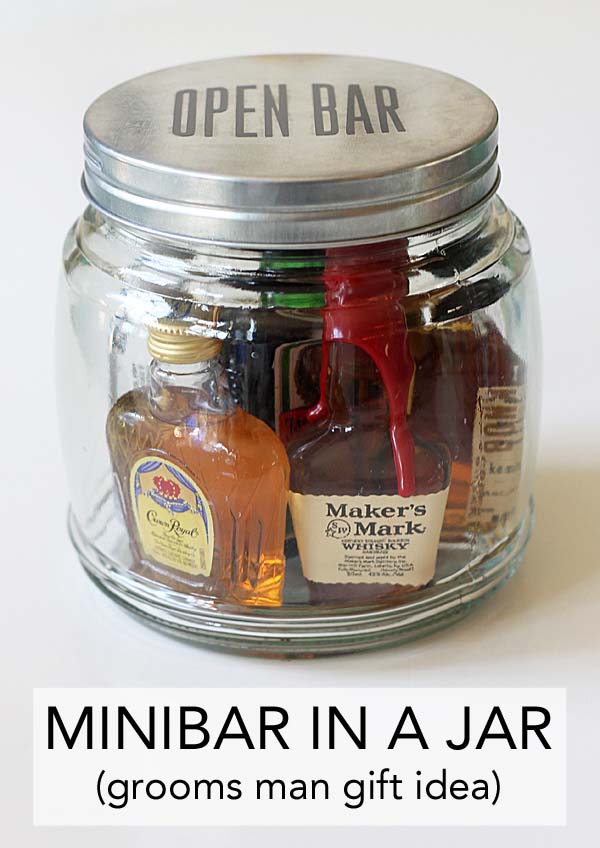 The bar is open when you are ready for your mini bar in a jar. How creative is that?
72. Moscow Mule Gift Basket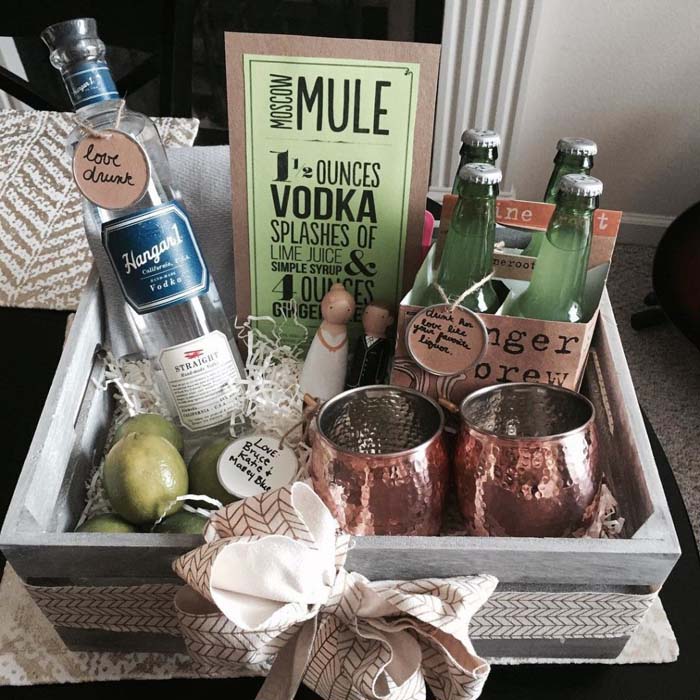 Make it just how you like it. You can squeeze lime into a copper mug then drop in half lime.
Add large ice cubes, pour in the vodka, and fill with cold ginger beer. Serve with a stirring rod.
73. Movie Night Gift Basket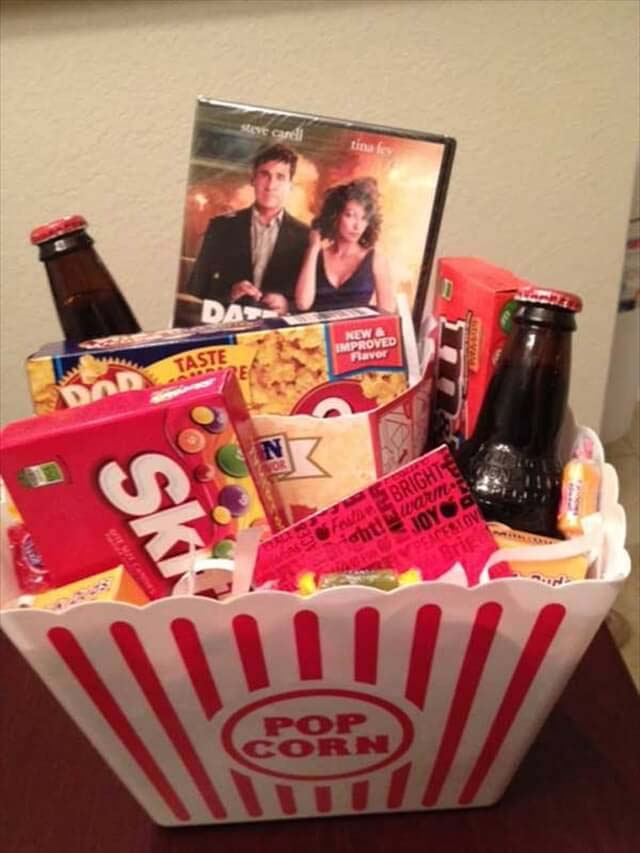 We all have a favorite movie.
No matter how good the film is, it's better when we get to share the entertainment, the goodie, drinks, and company. Perhaps a snuggly blanket could be shared.
74. Nail Care Gift Idea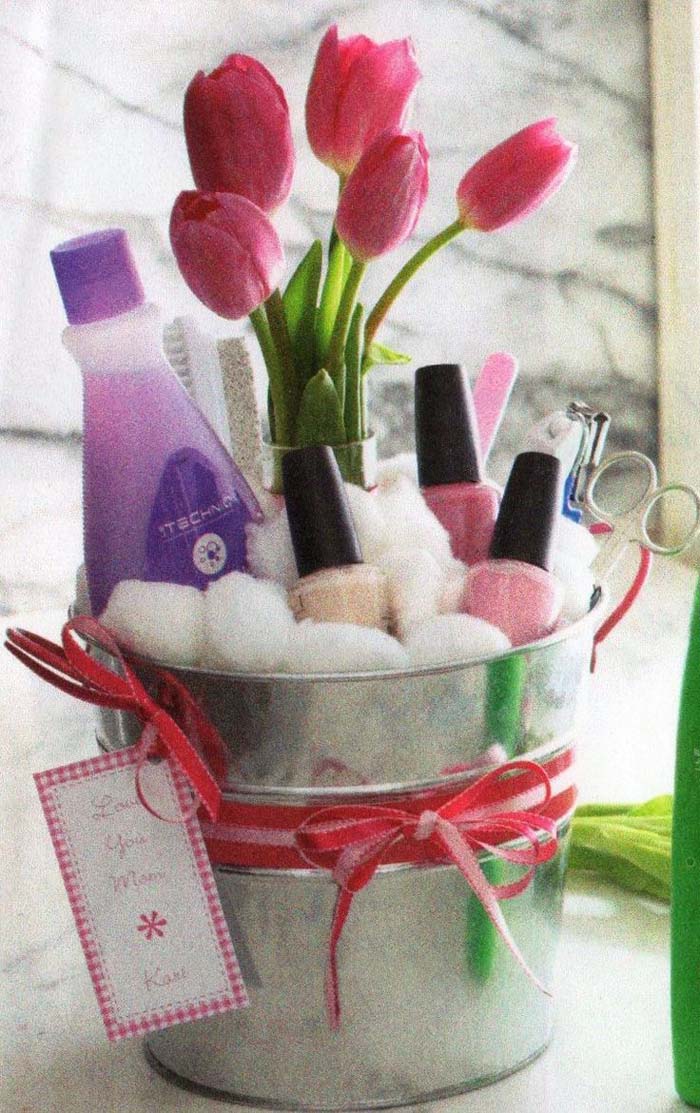 This gift can be personalized feminine or masculine or a combination of both. Creative minds will make creative nails.
75. Oven Mit Gift Idea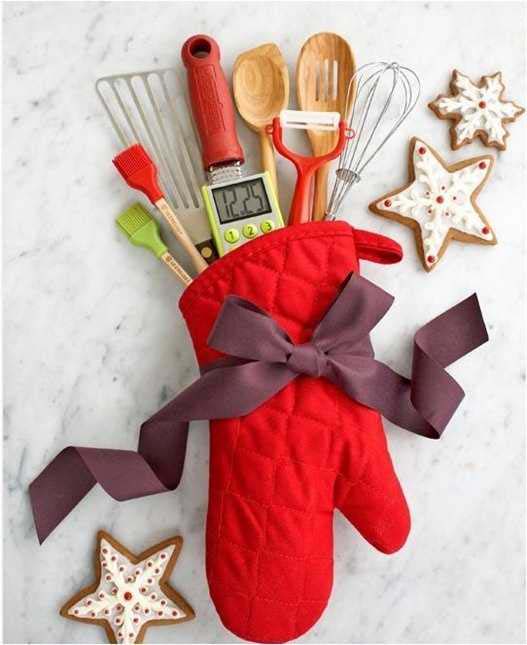 Have you stopped and looked at yours lately?
76. Pancake Christmas to Flip Over Gift Basket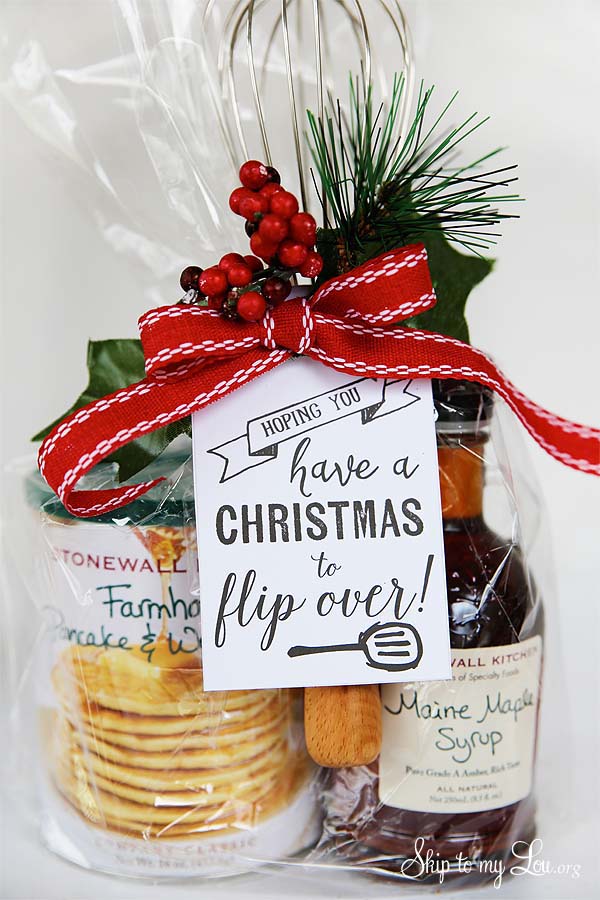 You will flip for this basket, and you put it together and even when you give it away to a dear friend.
via Skip to my Lou
77. Peppermint Pampering Gift In A Jar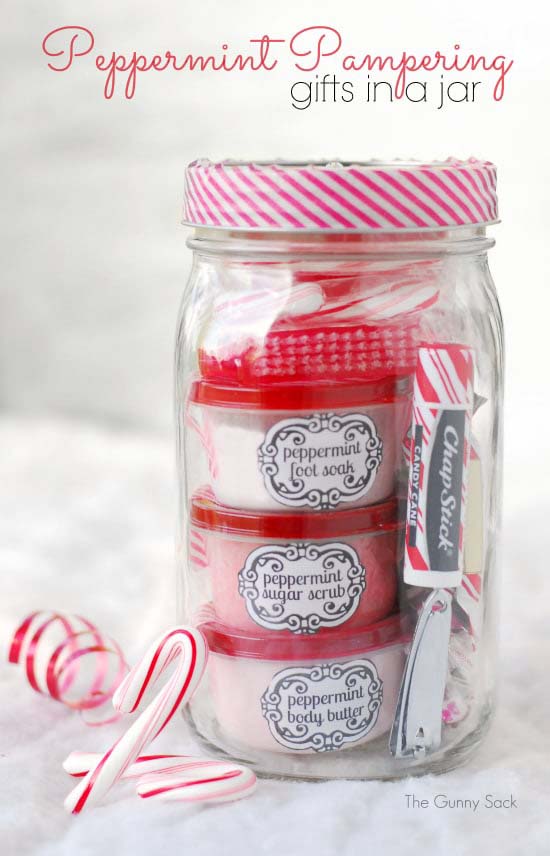 The words peppermint and pampering seem to go together. Have you ever wondered how many peppermint products you could put in a basket to give the gift of pampering?
via The Gunny Sack
78. Perfect Pedicure Gift Basket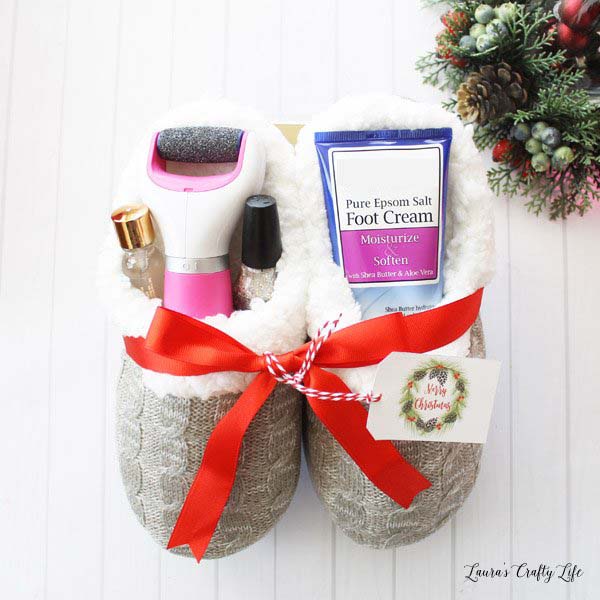 Perfect Pedi are words that belong together- perfectly!
79. Pink Gift Basket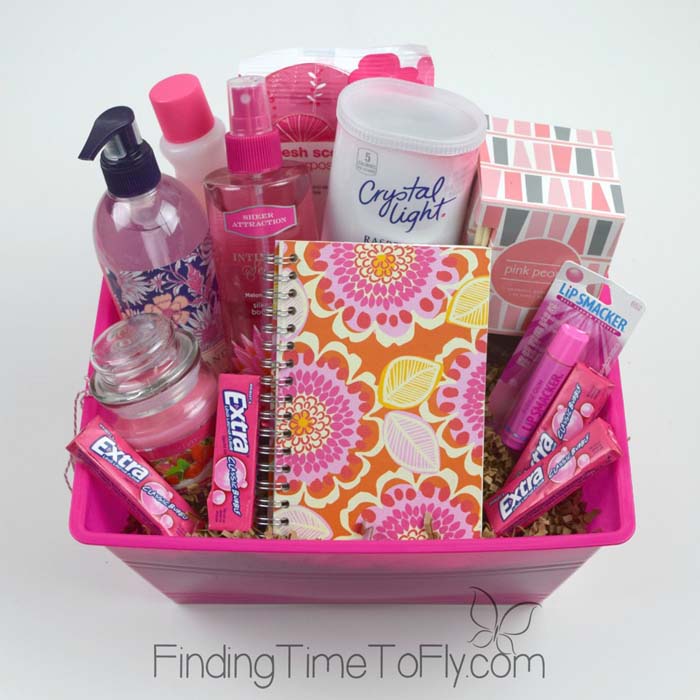 Think all thinks pink. What fun to gather, pink, pink and more pink for a pink lover!
80. Purple Teen Gift Basket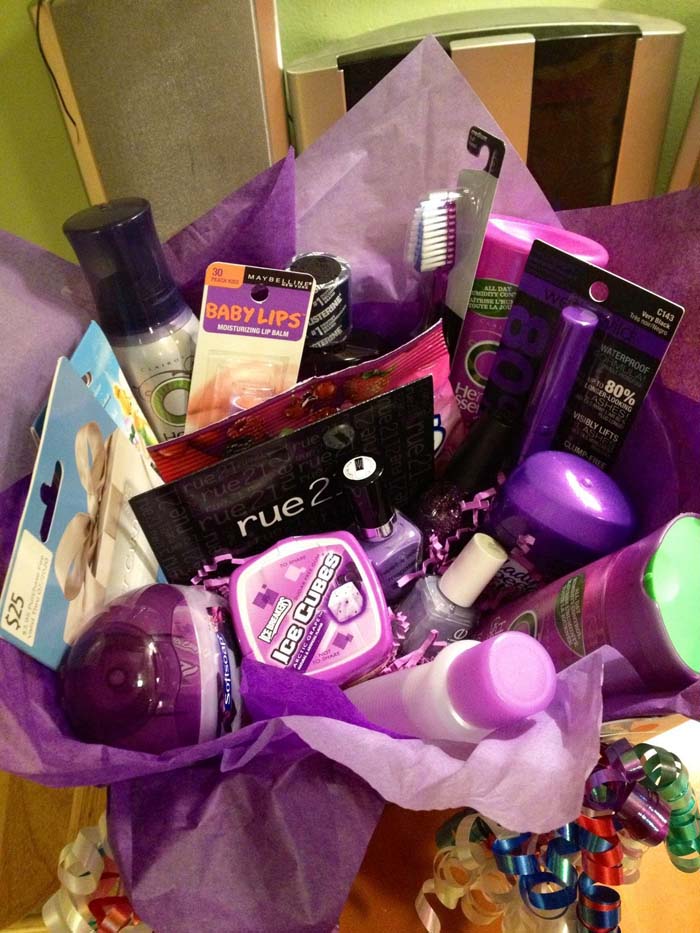 Purple is the color of royalty, dignity and integrity. What teenager wouldn't love to have each one of those gifts?
81. Scentsible Gift Basket for Him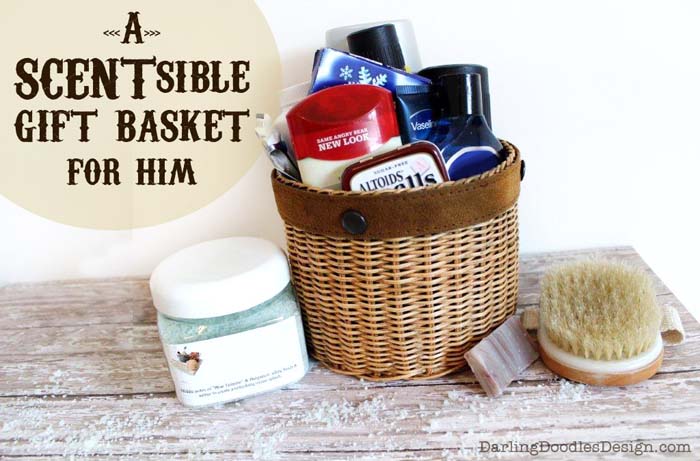 Him, he, his, every man you know is a little different than the next. Make his basket make scents!
82. Scrapbookers Gift in a Jar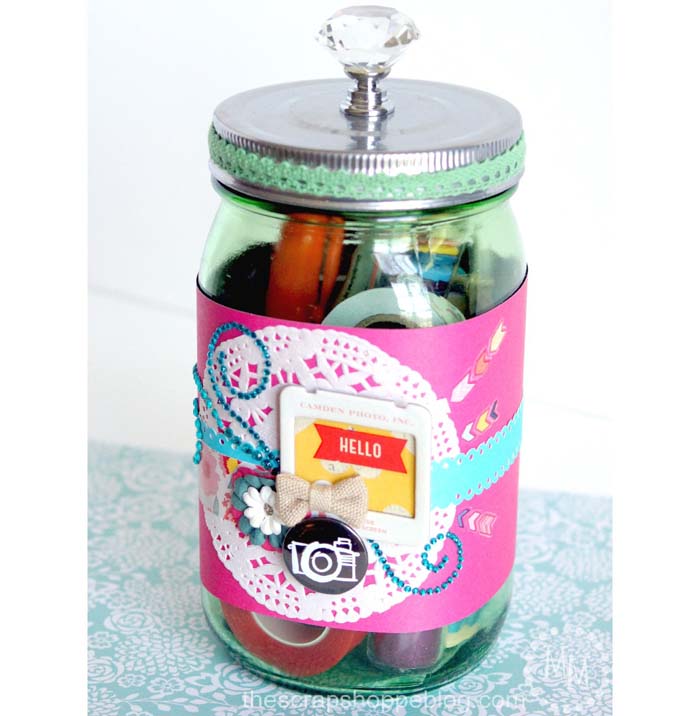 You will love this creative idea and so many possibilities for variety and storage.
via The Scrap Shoppe
83. Shower Kit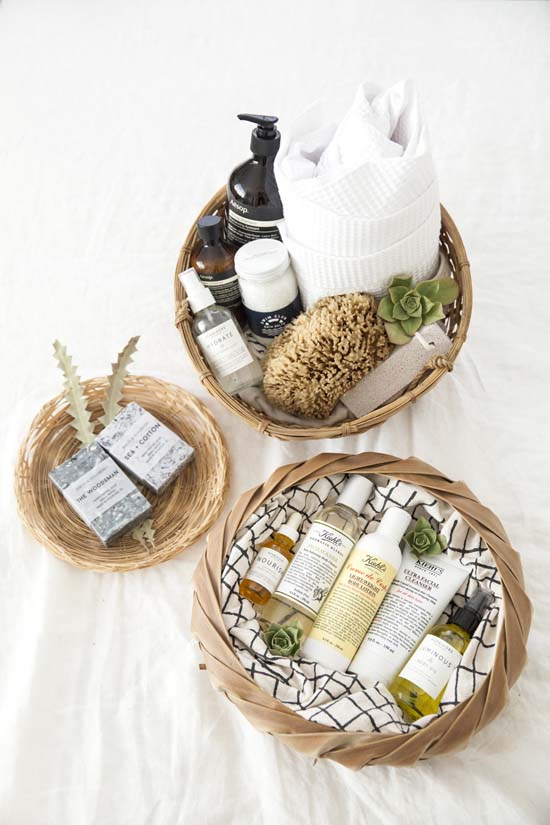 It is so lovely to try some new products every once in a while. Such a great way to share with the ones you love with someone you love.
via Design Love Fest
84. Slippers Gift Idea for Him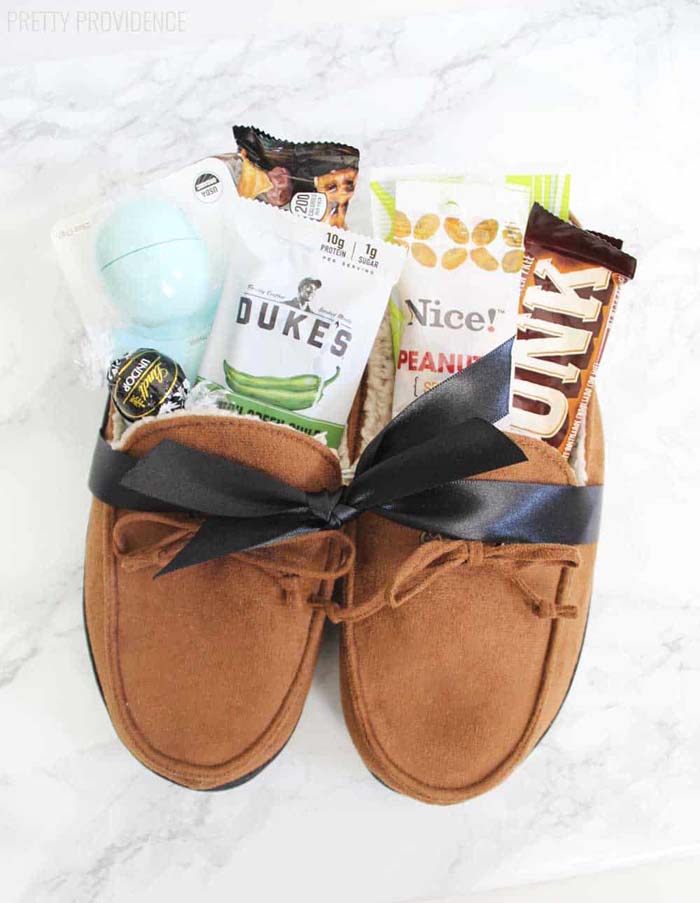 Fill up the men's slippers with relaxing goodies that he will love.
85. Snow Day Survival Kit Gift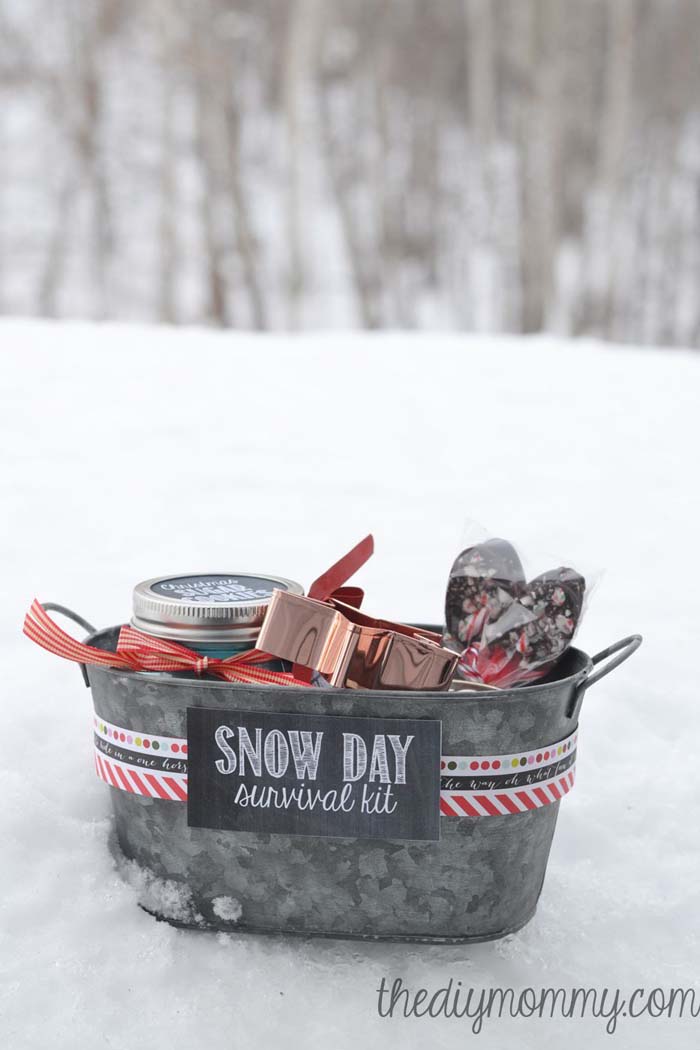 Put together a kit of fun craft supplies in a package to be brought out on a boring snow day.
via DIY Mommy
86. Spa Themed Gift Basket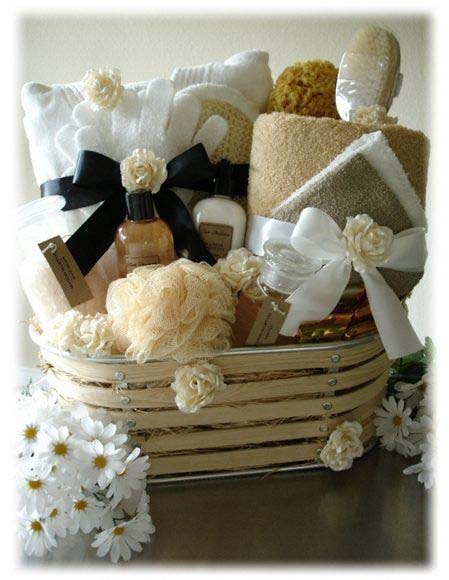 Give the gift of feeling well and being relaxed.
87. Target Gift Card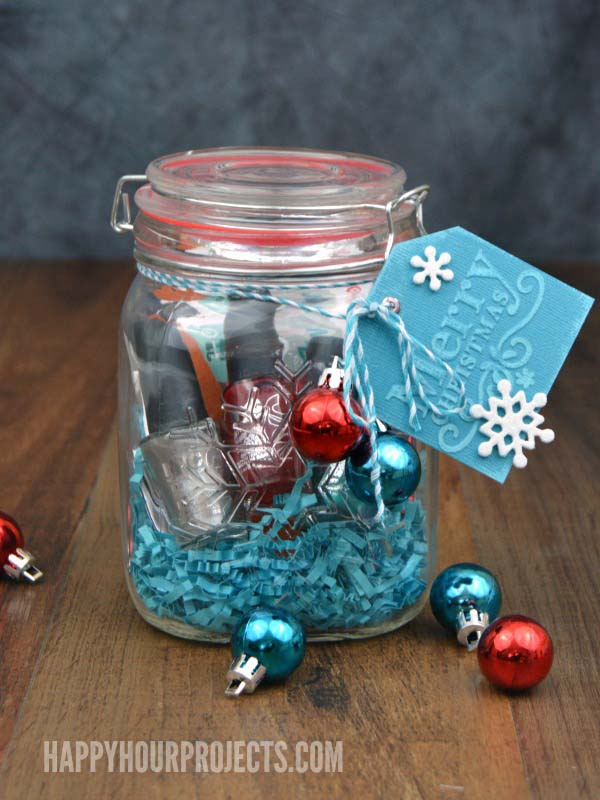 Gift cards are fun to give and better to receive with a touch of thoughtfulness and creativity.
88. Tea Lover Gift Basket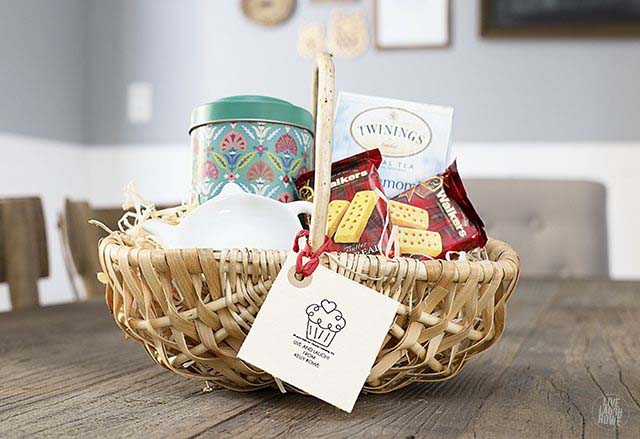 It's in the bag for every tea lover, you know. Tea time will never be the same with so many flavors to share.
via Live Laugh Rowe
89. The Manly Gift Bucket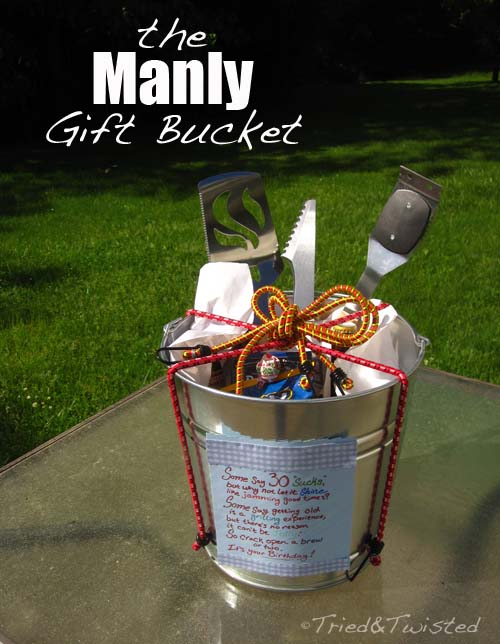 Manly, masculine, mighty, macho, meek, mild, merry, all manliness is not measured in meters.
90. Tool Kit Gift Box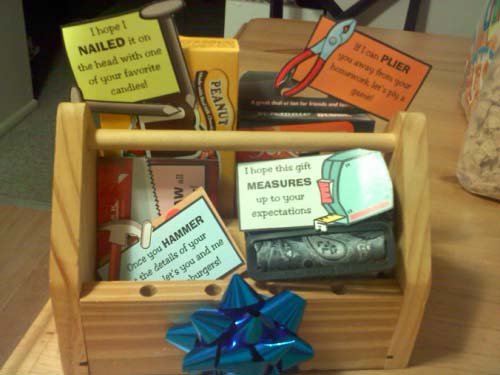 Here is an excellent idea for tools and so much more. Fun to give, even better to receive.
91. Wine Gift Basket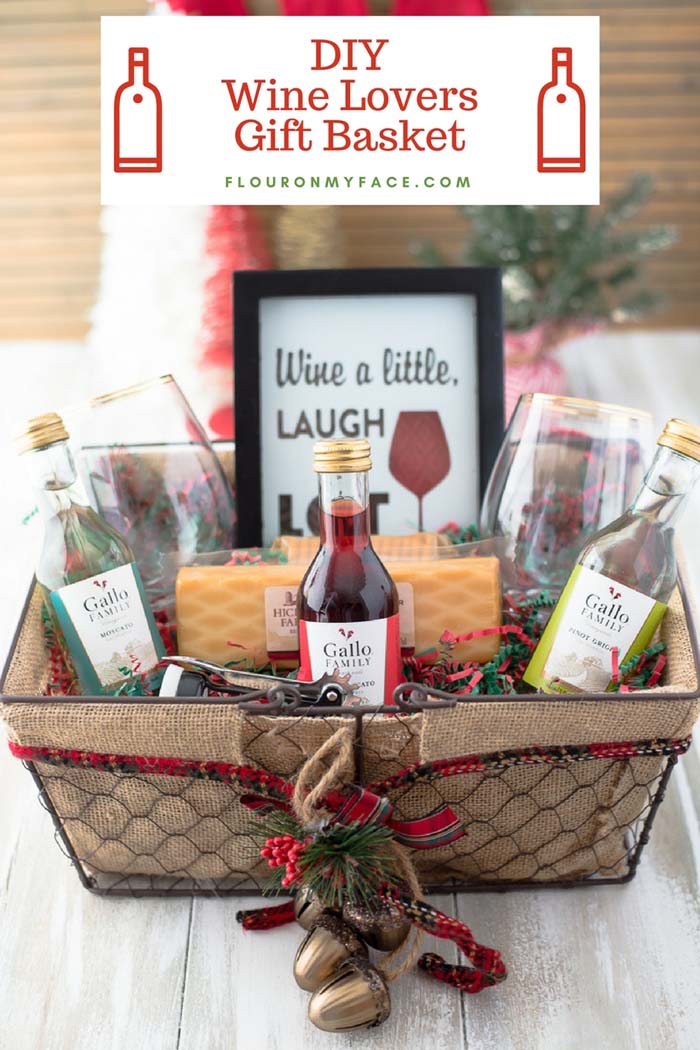 This basket may be the first gift basket. With wine, glasses, fruit cheese, and crackers, you have told someone special they are a timeless classic.
via Flour On My Face
92. Wine Gift Basket Present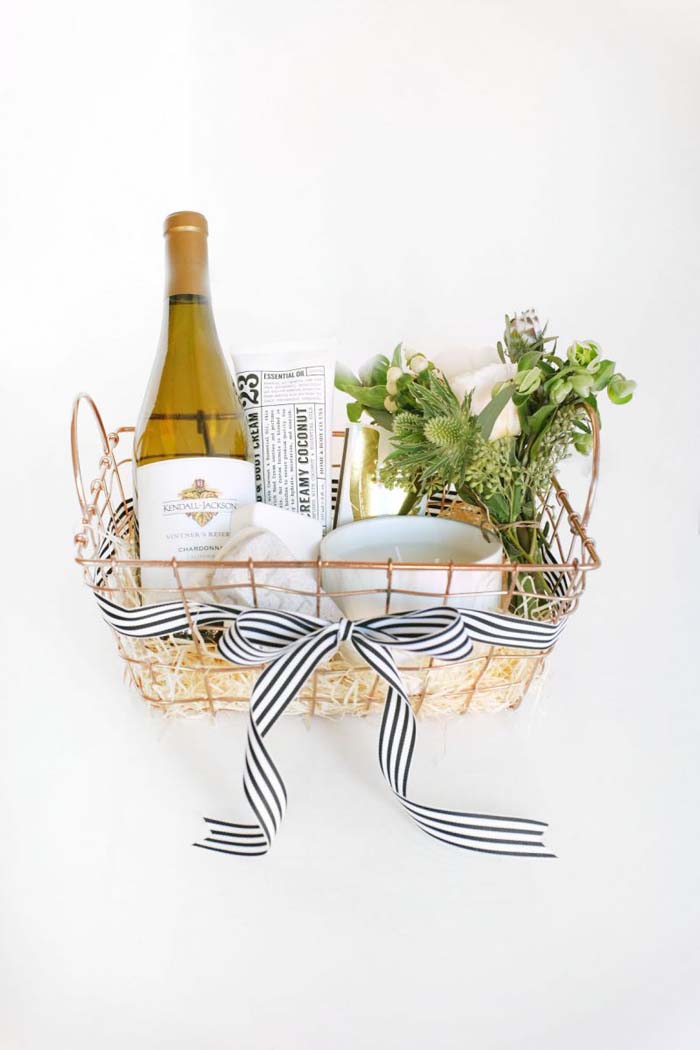 The ever classic gift basket, wine is Devine.
via The Everygirl
93. Wine Present Basket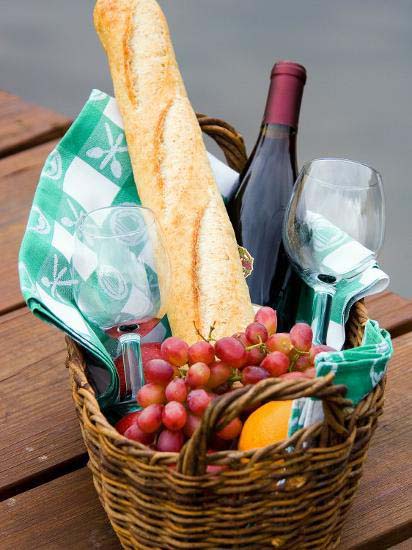 All varieties for all varieties of people. Add the varieties of flavor.
94. Woodworker Gift Crate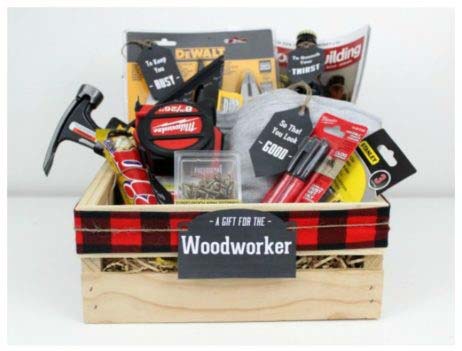 Woodworkers dream gift.