Stop here for a few fantastic Christmas hacks!
Sometimes we just make things too difficult and spend too much money trying. That's why we have created a great collection of cheap and easy-to-do Christmas hacks to make your home more festive in no time.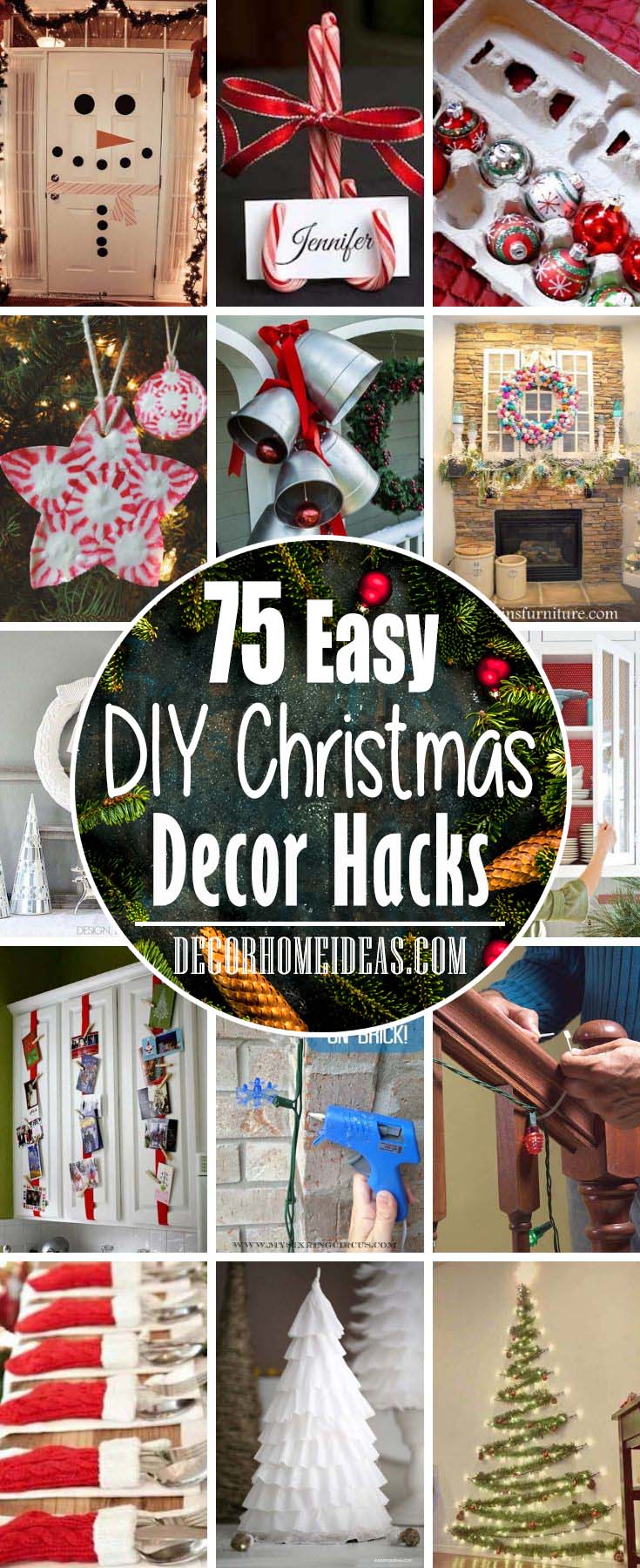 If you are a creative master or a rookie, creative wannabe – these are for you.
1. Use Presents to Make a Wrapped Box Snowman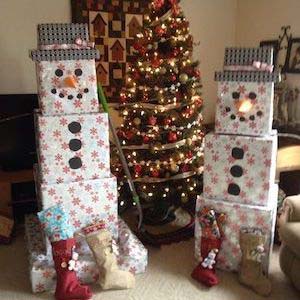 Sometimes we run out of hiding places for our presents. Consider the best place to hide them is wrapping them up so no one knows they are a gift, just a decoration.
2. Make a Beautiful Christmas Centerpiece with Candy Canes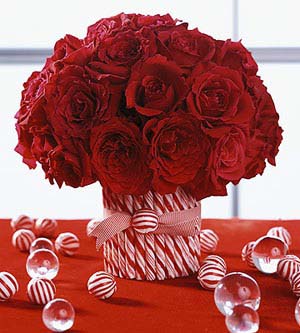 Make a quick and easy Christmas centerpiece, made from candy canes, which can be used for all sorts of creativity on the table.
3. Show Off Your Christmas Cards with Flair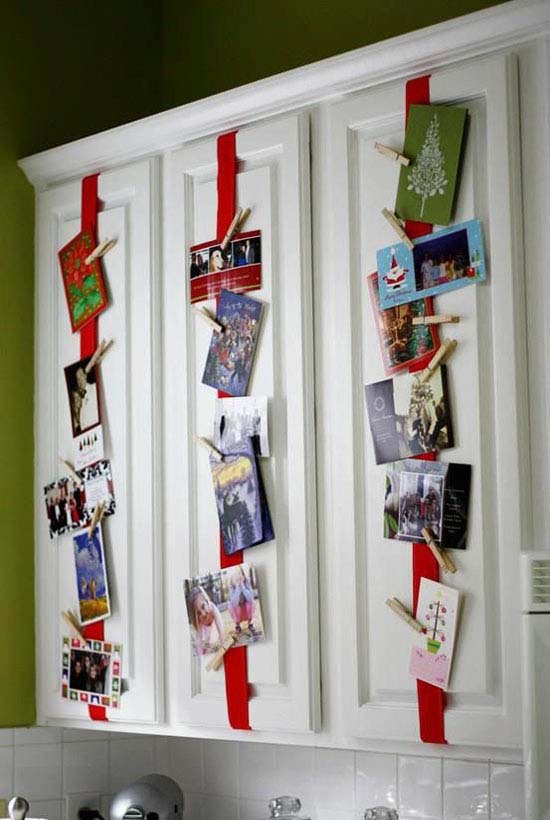 Christmas cards are great decorations, display them with pride, and show them off as you receive them in a creative manner.
via Greener Grass
4. Repurpose Candy Canes into Unique Card Holders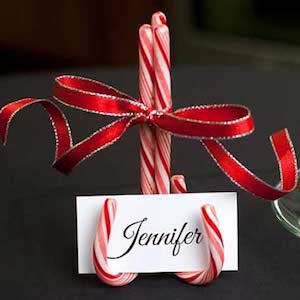 The candy cane can be used to create name displays for the table what a great idea for seating assignments to get to know one another.
5. Create a Christmas Hat Centerpiece with Decorative Pieces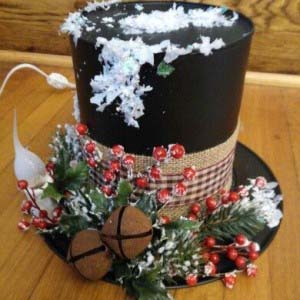 Decorate a Christmas hat, this is so much fun to create your centerpiece like Frosty the Snowman's hat.
6. Organize Your Christmas Lights with a Cardboard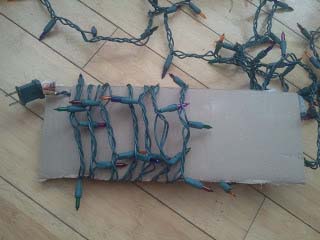 Who says organizing your holiday lights must be difficult it can be a simple cardboard and 1,2,3.
via Apt Garden
7. Elevate Outdoor Lanterns with Evergreen Shrubs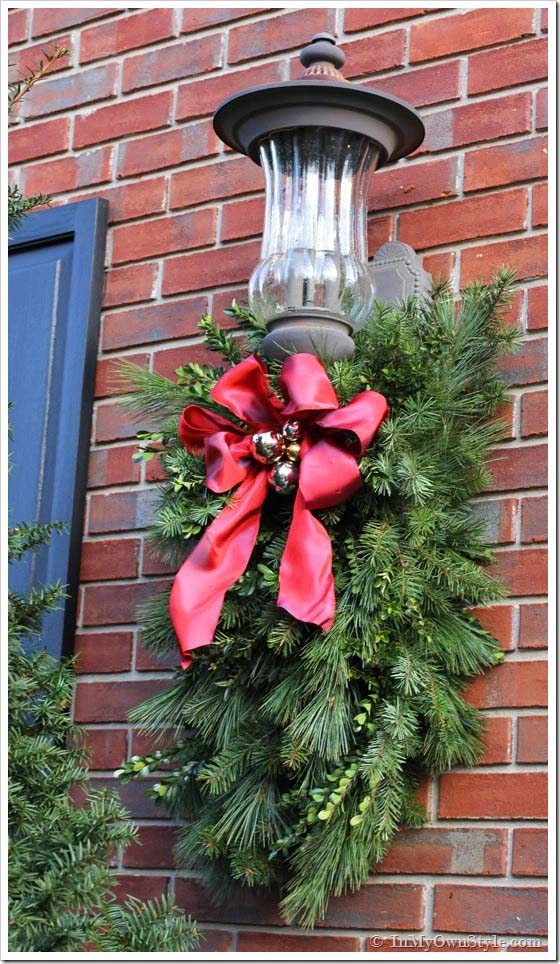 Have a few extra branches indoors or out? Fake or real, do not throw them out, hang them with a bow.
via In My Own Style
8. Make Decor Stand Out with the Paper Towel Core Trick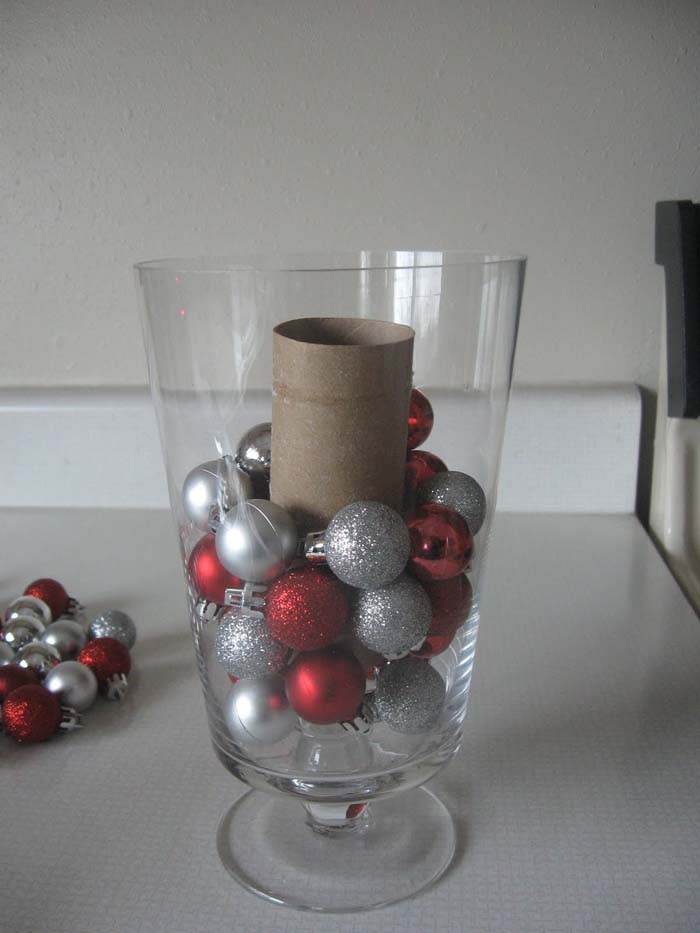 The paper towel core trick is a great filler of space. Just think of it as giving your decorations heart, you will love this idea as the center of your decoration
via Dandelions and Dust Bunnies
9. Create Homemade Stovetop Potpourri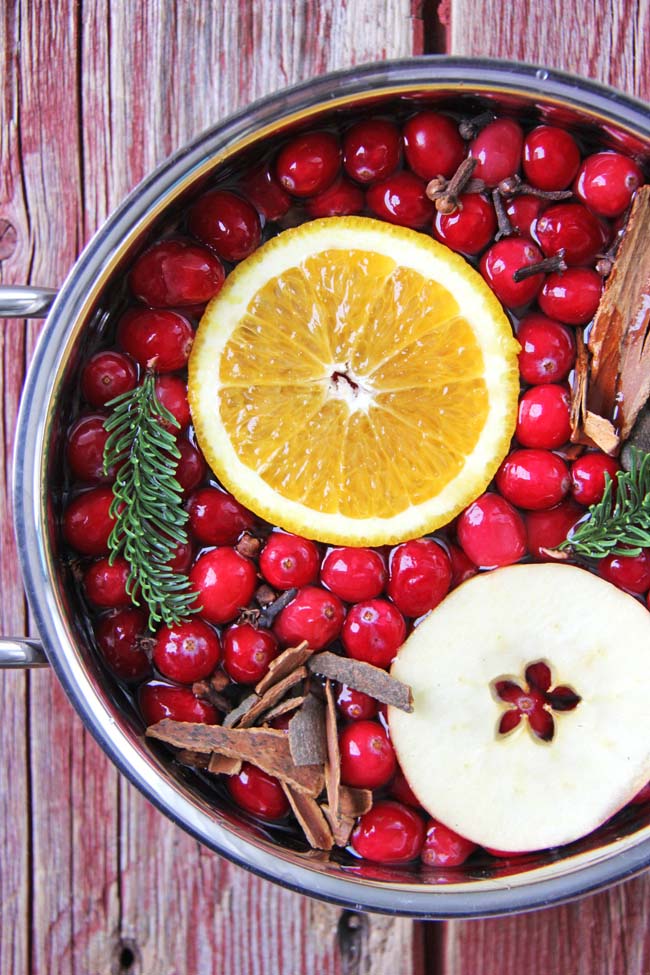 Dare to discover you don't need to spend significant money on expensive candles when you can make your own stovetop potpourri.
via A Pretty Life in the Suburbs
10. Transform Your Christmas Tree into a Frosty Snowman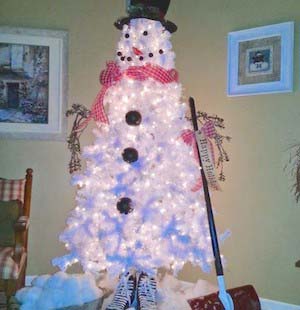 Your Grandkids will never forget when Grandma and Grandpa had so much fun turning their Christmas tree into their own Frosty the Snowman. It will keep you smiling for the entire season
11. Adorn Your Dining Table with Christmas Tree Napkins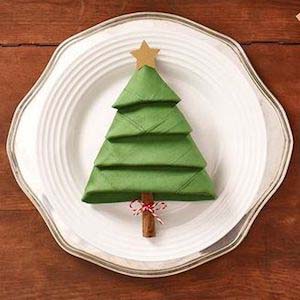 Your teenagers will love folding these Christmas tree napkins for your Christmas table.
via Publix
12. Utilize an Unused Wall to Make a Christmas Tree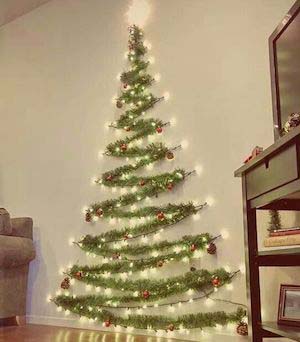 The unique Christmas tree wall can be used as a countdown for how many days are left for Christmas. What a great idea for the kids to make paper chains for.
13. Upcycle Sweaters into Elegant Christmas Decor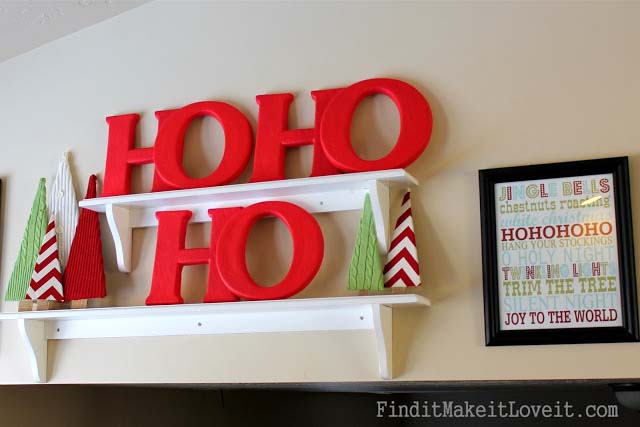 If you have some old Christmas sweaters lying around, use them to decorate and keep things fun and festive. They may even leave you with some fold memories.
14. Make a Beautiful Christmas Wreath with Pool Noodles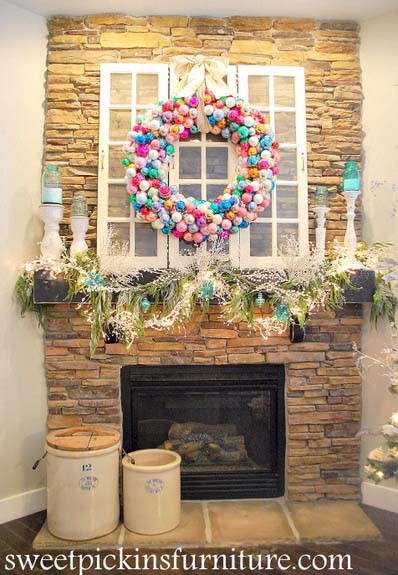 Those Old Pool noodles make great wreaths, and are so fun to decorate big or small. Make them cute and hang them on the wall.
via Sweet Pickins
15. Store Your Christmas Tree Lights with Hangers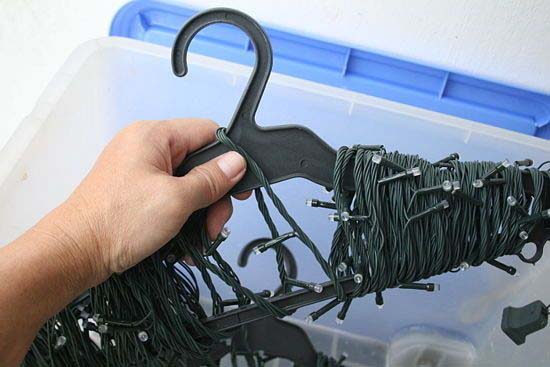 Great idea! Hangers make great Christmas tree light organizers, wrap up your lights around the hangers, hang them ready for next year.
via Wiki How
16. Repurpose Old Garment Bags into Rolling Paper Storage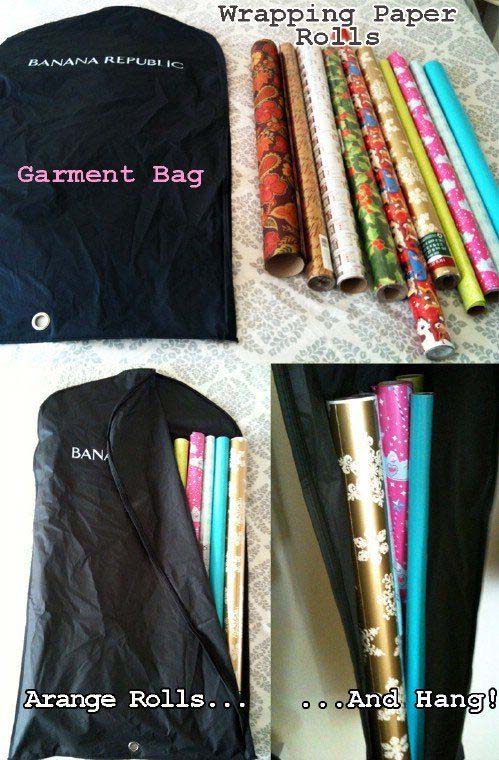 You know those old garment bags you have hanging around, you don't use them for much. Now you can hang your wrapping paper rolls up in your closet and keep them nice for next year.
17. Decorate Your Cabinets with Red Ribbon and Bows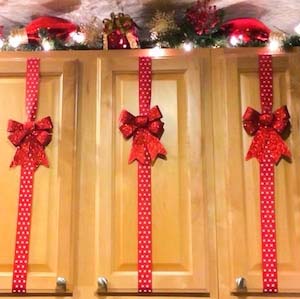 Use red ribbon to put on your kitchen cabinets and make the more festive.
18. Create Elegant Christmas Topiaries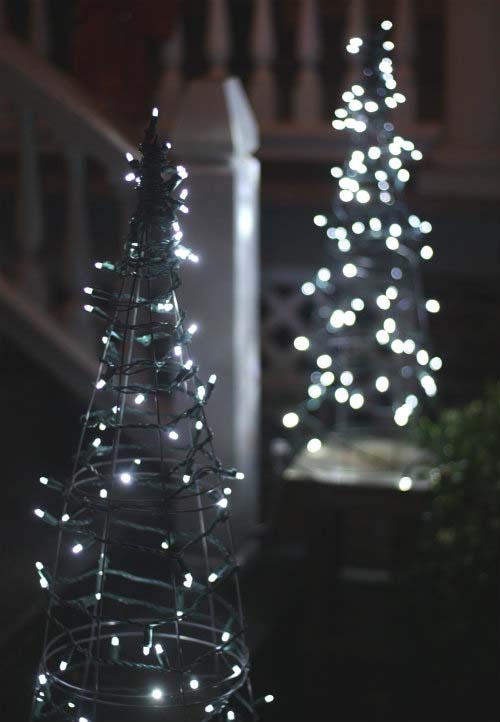 Christmas time topiaries can be made to be fun and festive for any room.
via 17 Apart
19. Upcycle Coffee Filters into an Elegant Christmas Tree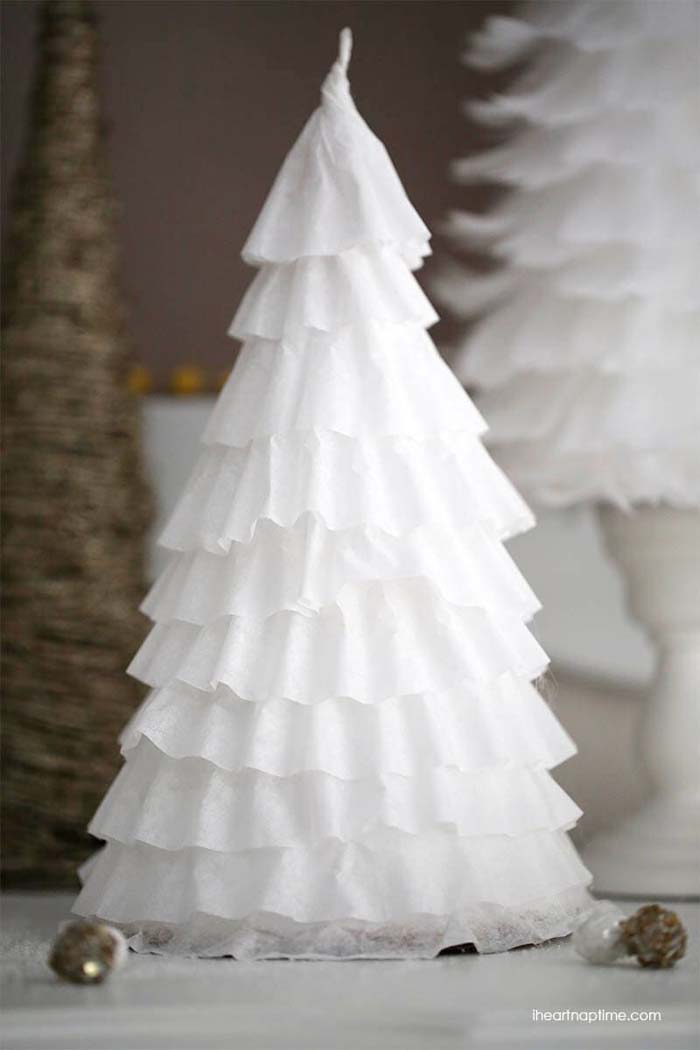 Think of coffee filters and think elegant. All you need to create this elegant Christmas coffee filter tree is glue and a stack of filters. You will discover it is fun to do and easy to create
via I Heart Naptime
20. Make Your Snowman using Fake Snow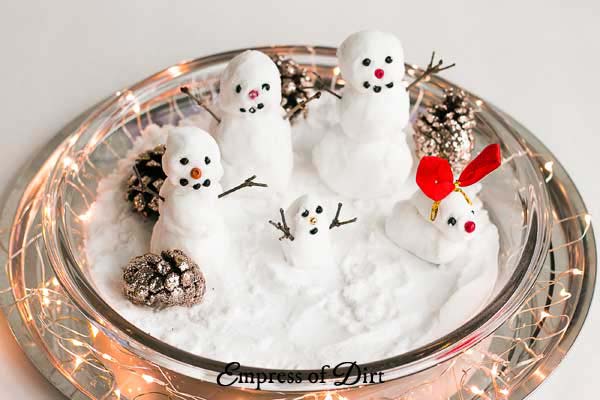 Look around, there's so many varieties of fake snow Snowman that you can use your imagination and can create a display.
via Empress of Dirt
21. Create a Falling Snow Display with Cotton Balls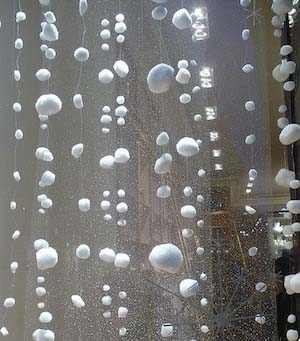 Sometimes you need to create your own blizzard. What should I do to make it look like it's snowing inside for your doors and your windows?
22. Upgrade Hanging Christmas Lights with Balloons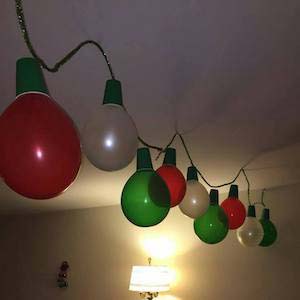 Here is what you need to hang these huge Christmas lights. A few big balloons, and you will be amazed at how good-looking Christmas can be.
23. Transform Your Fridge into a Decorative Snowman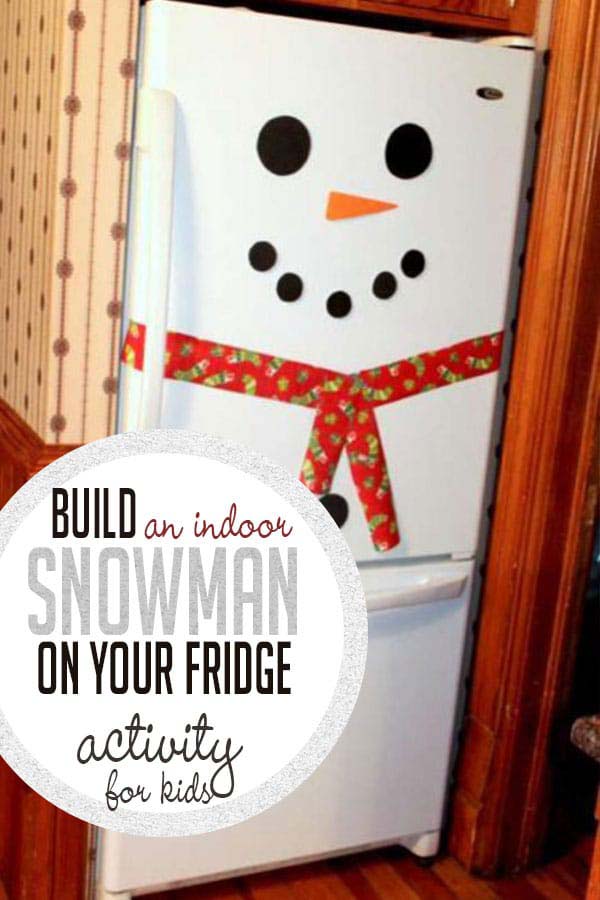 Your fridge is frosty, turn your frosty fridge into your Frosty friend for the season.
via HOAWG
24. Festoon Your Window with a Christmas Ornament Garland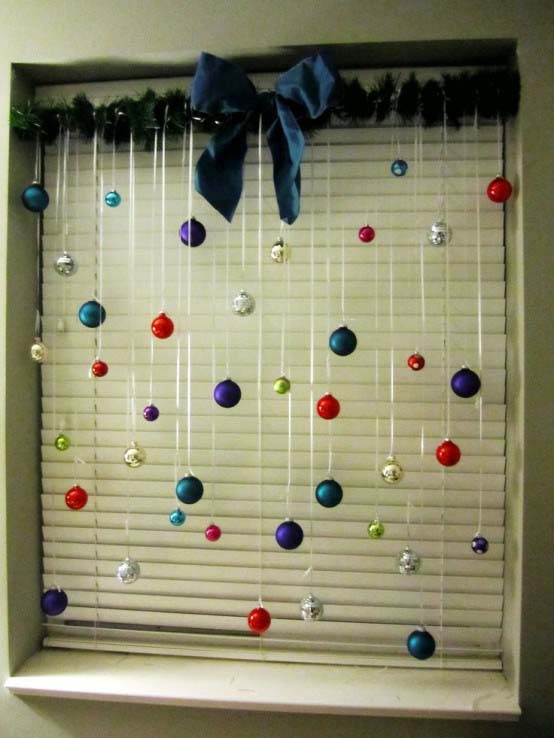 This shows how to decorate a plain window with ornaments decoration, so much fun to hang in front of a plane window.
25. Make a Statement with Giant Christmas Ornaments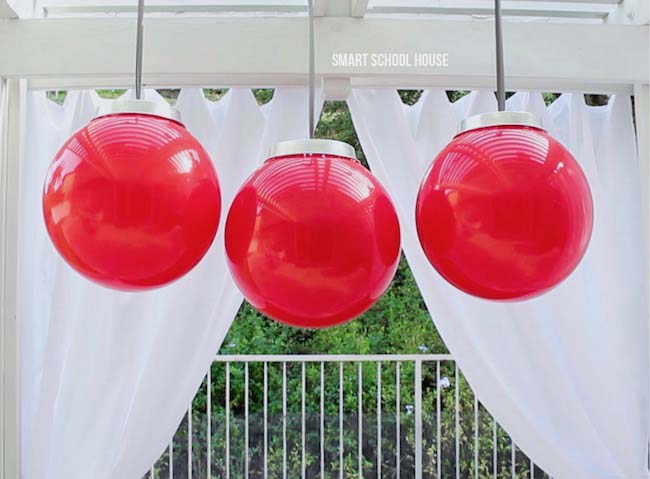 Have you ever wondered how to make the giant Christmas tree ornaments? It is as easy as pulling together larger balls and old pie tins.
26. Store Gift Cards with Rustic Toilet Paper Rolls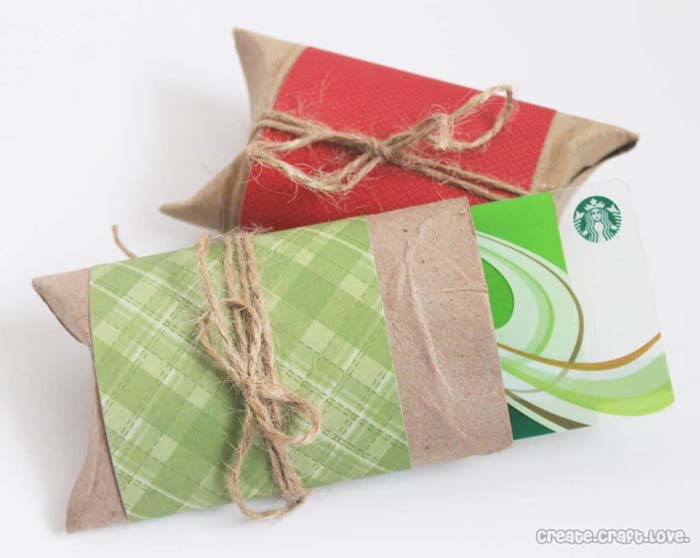 Toilet Paper Rolls, what a cute idea using your toilet paper rolls to create gift cardholders.
27. Create Interesting Snowflakes using a Glue Gun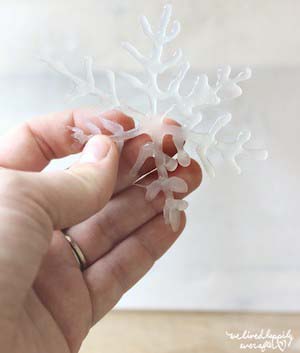 These are so are fun because they will stick anywhere. Create snowflakes out of your hot glue, simply glue your snowflakes onto the counter. Peel them off and stick them to your windows.
via We Lived Happily Ever After
28. Decorate Your Kitchen with Boxwood Wreaths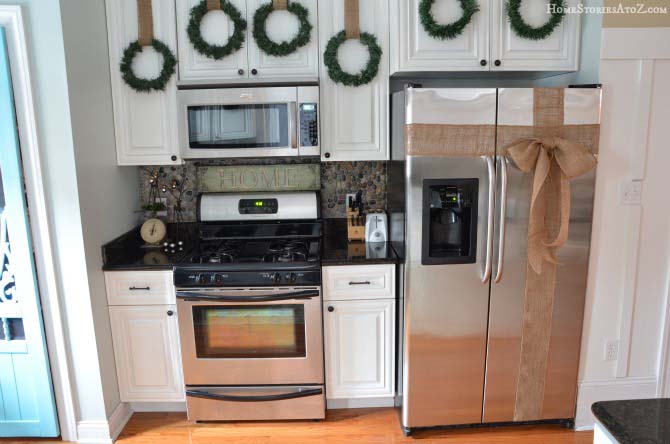 If you love Christmas wreaths then take a look at these festive ones for the kitchen.
29. Hang Christmas Lights on Bricks Using Hot Glue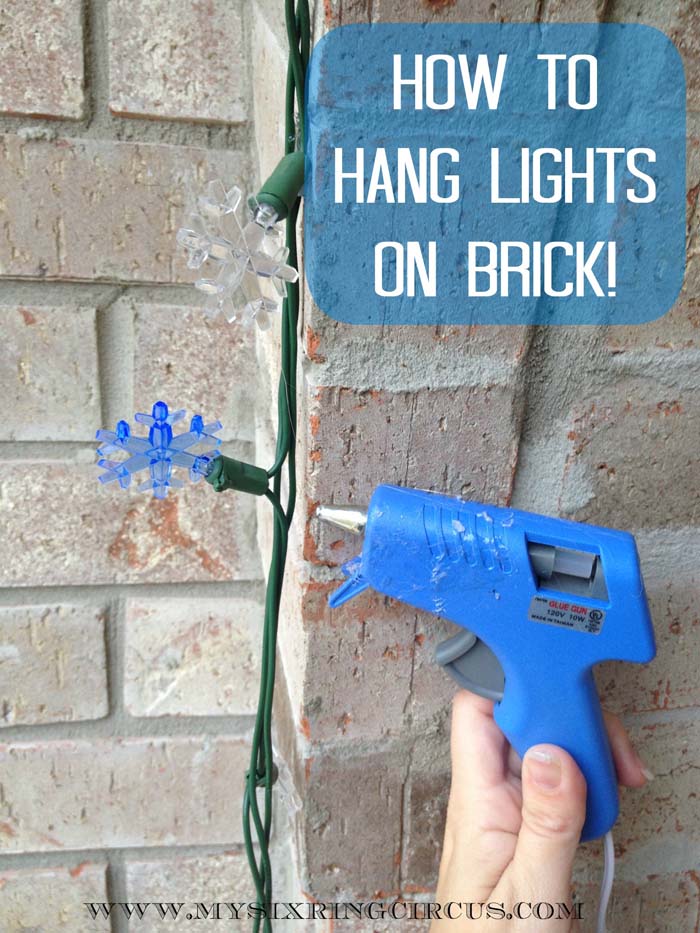 This is such a great idea, who would have ever thought of hanging your Christmas lights on your bricks with hot glue?
30. Maintain Your Christmas Tree with Clear Wrapping Paper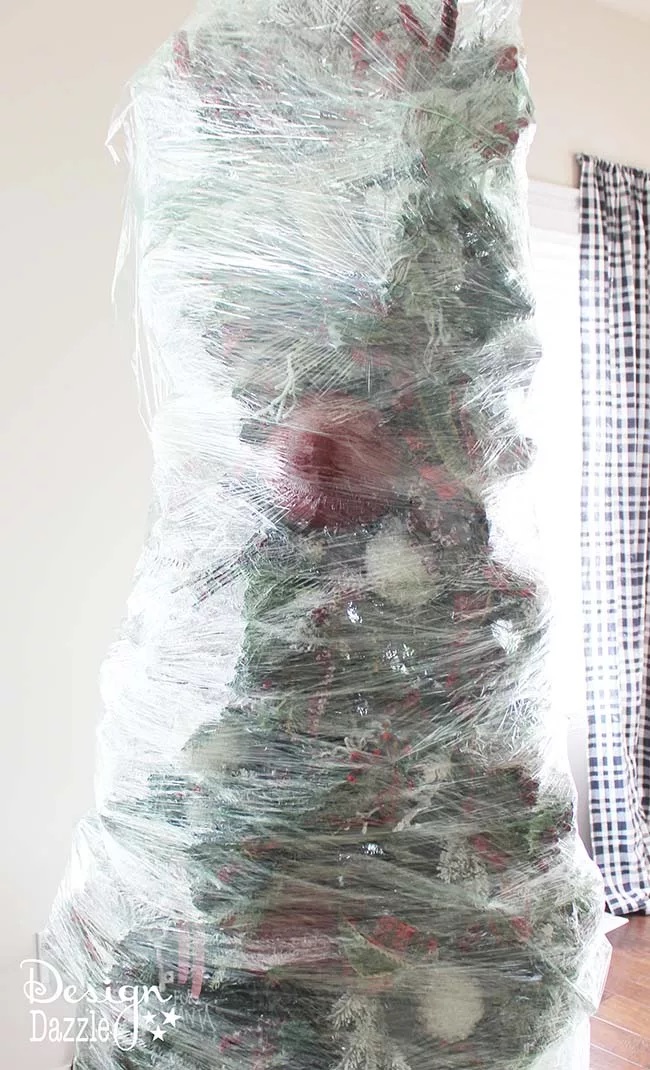 This is a perfect example of how you store your Christmas tree. Wrapping it up tight until next year.
via Designs Dazzle
31. Decorate Kitchen Cabinets with Colorful Wrapping Paper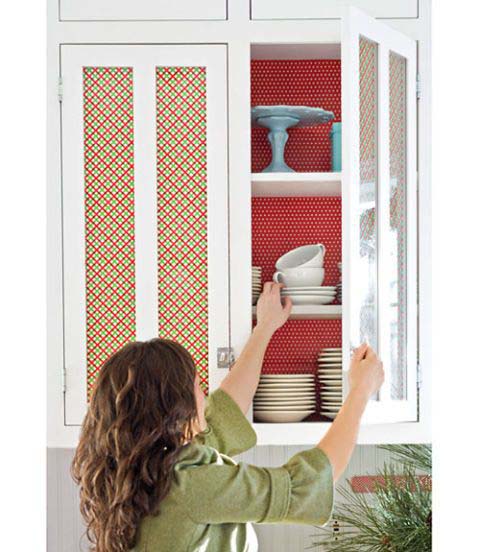 Wrapping paper comes in such gorgeous and exciting colors these days. Finding ways to display the colorful paper brings such a fun, festive feeling into your home.
Wrap up more than your presents. Kitchen cabinets, for example.
via Country Living
32. Create a Light Show with Large Lighted Christmas Balls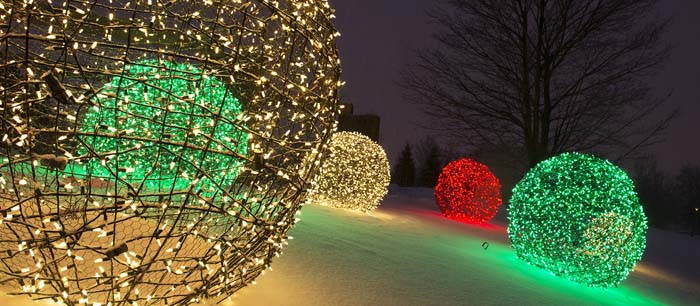 Make giant light balls and decorate outdoors.
33. Show Your Creativity with a Pumpkin Snowman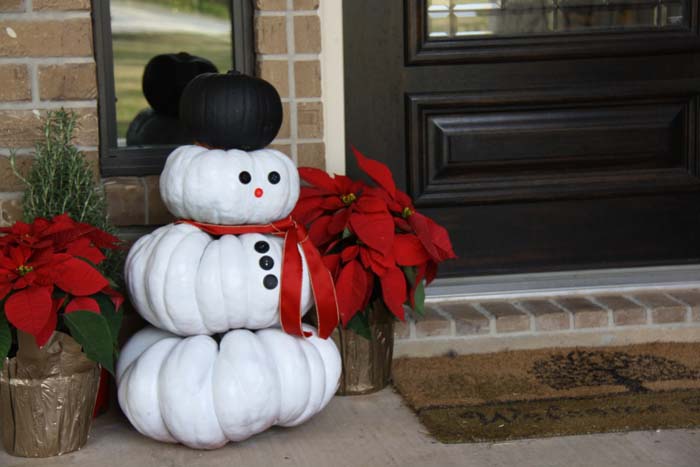 Leftover Pumpkins? Create a Snowman, Now this one is fun if you have a little spray paint in a few leftover pumpkins. Go crazy making your snowman white and gold,
34. Enhance Your Fake Christmas Tree with Lights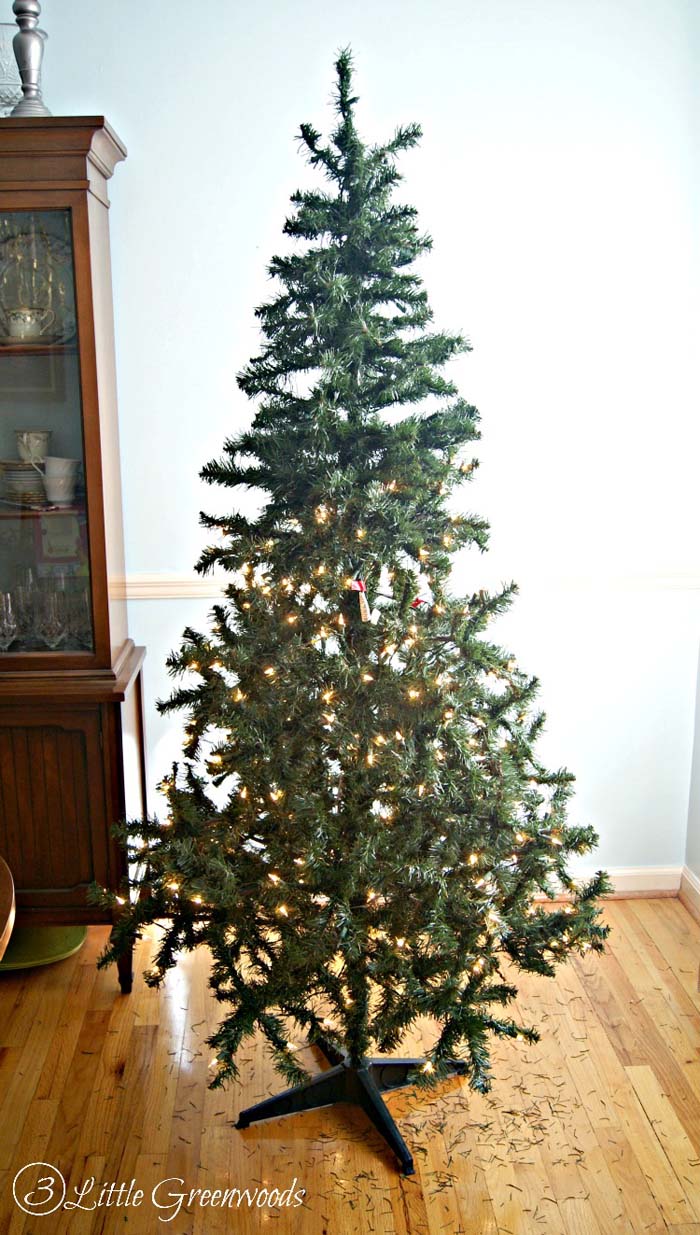 Fake trees do not need to be boring and ugly. A little extra fluffing, stuffing, lighting, and love will do the trick.
35. Miniature Christmas Stockings for Your Table Settings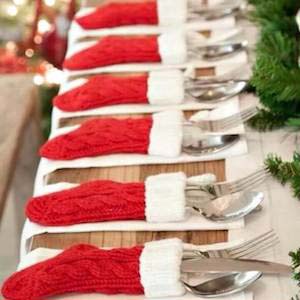 This is simply a fabulous and easy idea for your table settings, using miniature Christmas stockings for your silverware.
36. Repurpose an Old Sweater into a Christmas Wreath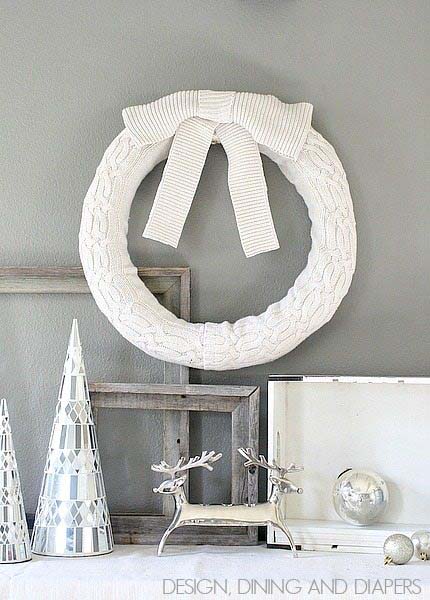 Here is one you haven't thought of. Do not throw your old sweaters, use them to make a Christmas wreath for a rustic accented decoration, how cute is that.
via Taryn Whiteaker
37. Make Your Bathroom Sparkle with Christmas Decor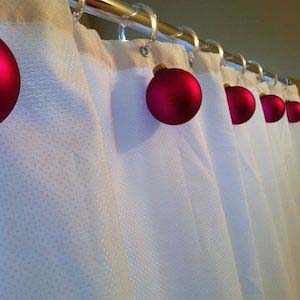 Nothing makes your house look more festive than adding a few Christmas decorations to the bathroom, especially the shower curtain. How easy is that?
38. Store Your Christmas Ornaments with Egg Boxes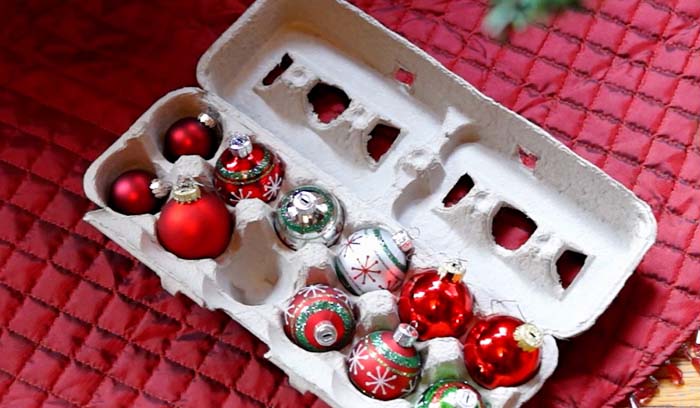 Congratulations you've just found the cheapest, and best way to store your Christmas decorations.
via Hefty
39. Create a Chic Fireplace with Paper Art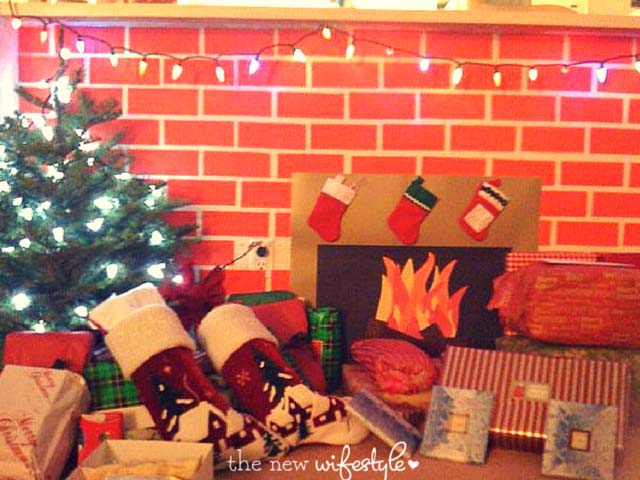 How about those kids? Are they concerned, have the kids been asking you how is Santa going to come down the chimney if we don't have a fireplace? Let them help you make your own.
40. Decorate Outdoors with Christmas Paper Plate Lollipops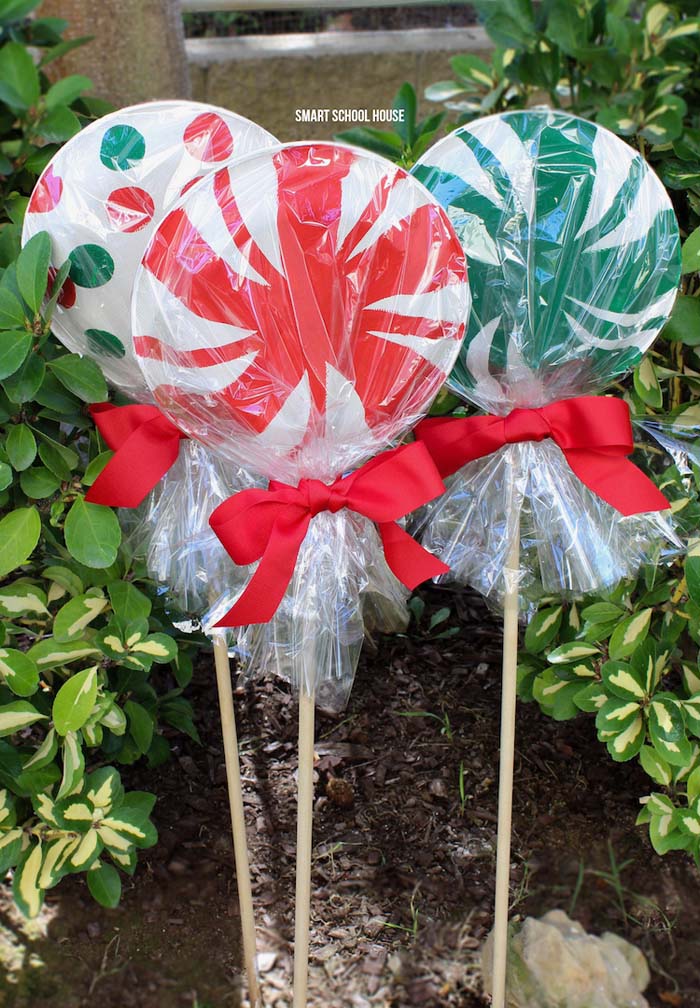 My goodness, have you seen the cute Christmas paper plates? Some of them are too cute to eat on, but they sure do make cute paper plate lollipops for your yard.
41. Make a Sweet Candy Bowl with Peppermints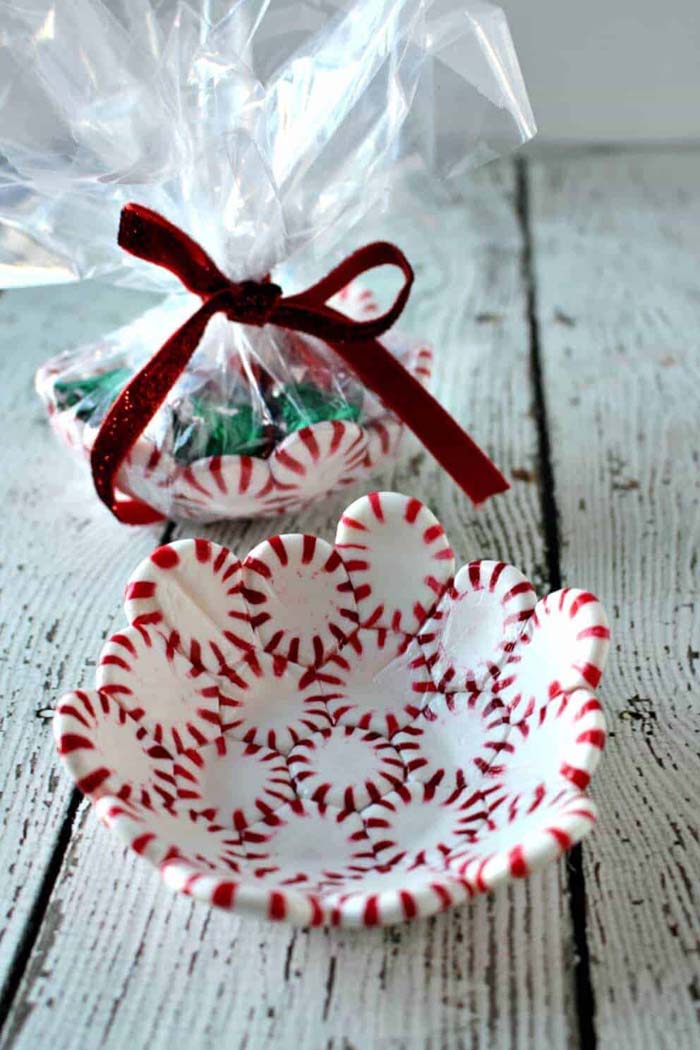 Try this fun one, melting peppermint candies is so fun, peppermint candy bowl is so cute and so easy and fun.
42. Decorate Christmas Tree with Peppermint Ornaments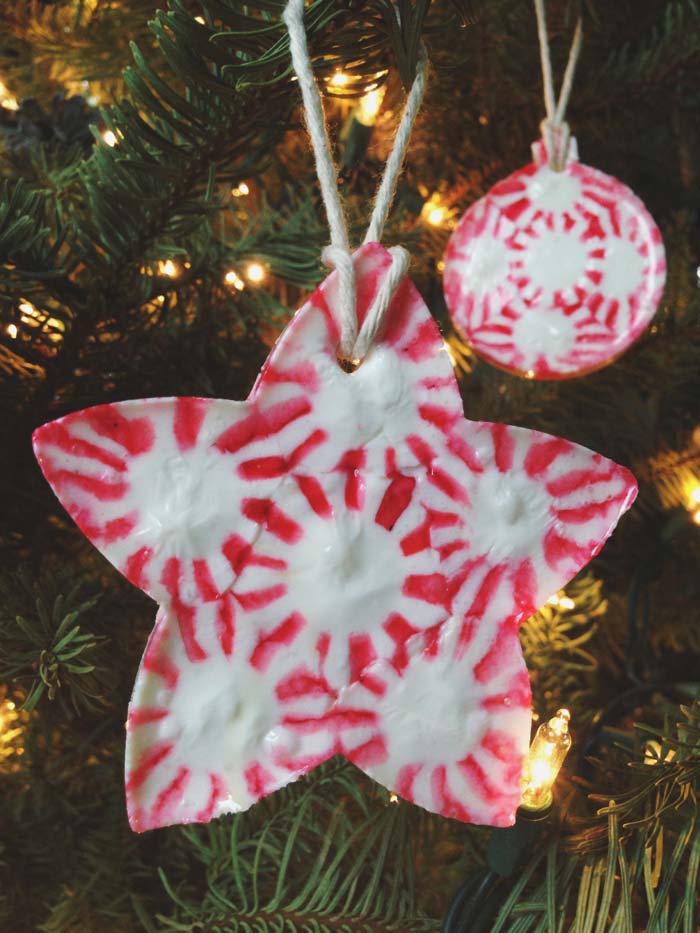 Turning peppermints into Christmas tree decorations is cheap, easy and fun, and your kids will love it
via Hello Homebody
43. Place Pine Cones in the Oven for a Rustic Display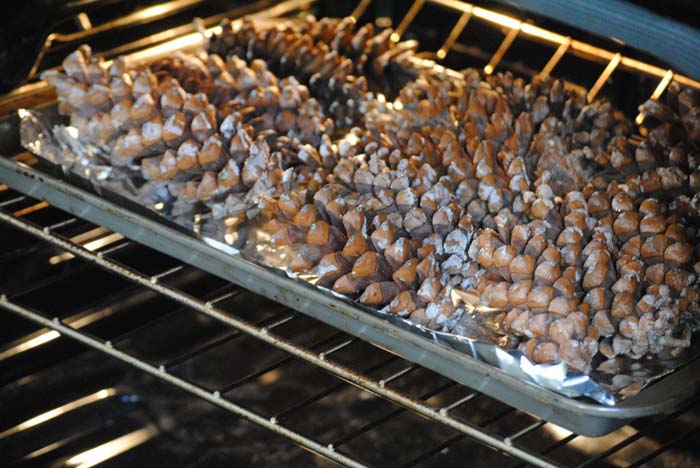 Gathering pinecones and decorating with them is so festive. You will need to bake the ones you find outside.
210 degrees for 45 minutes with the oven propped open will do it. It will dry them, kill any bugs in them and open them up.
via Making Lemonade
44. Get the Vintage Look with Ping Pong Ball Christmas Lights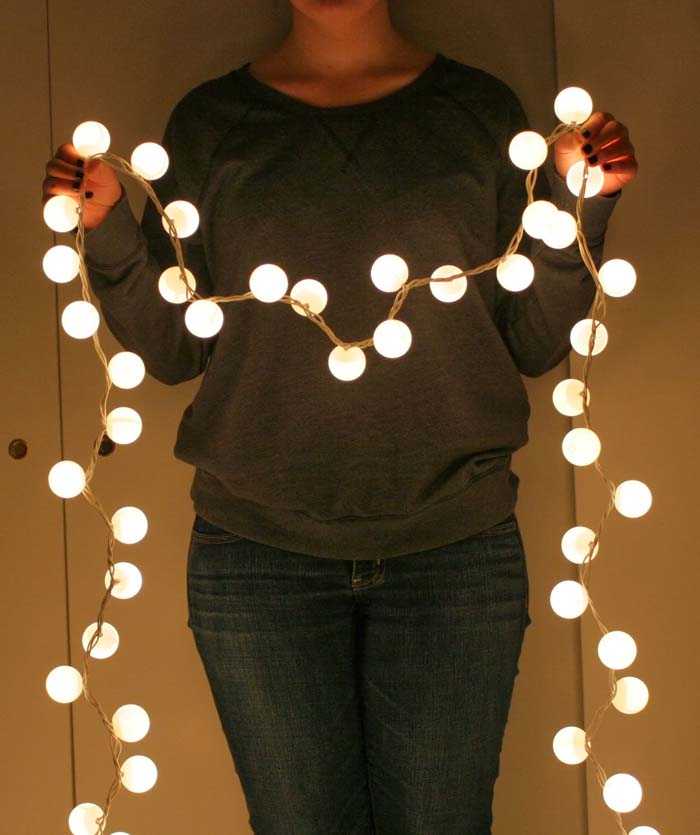 Order a box of ping pong balls, and turn your little white lights into something spectacular. Your tree will suddenly have the old-fashioned vintage look with lights like Grandma had on your tree.
45. Embellish Your Sitting Room with Plaid Pillows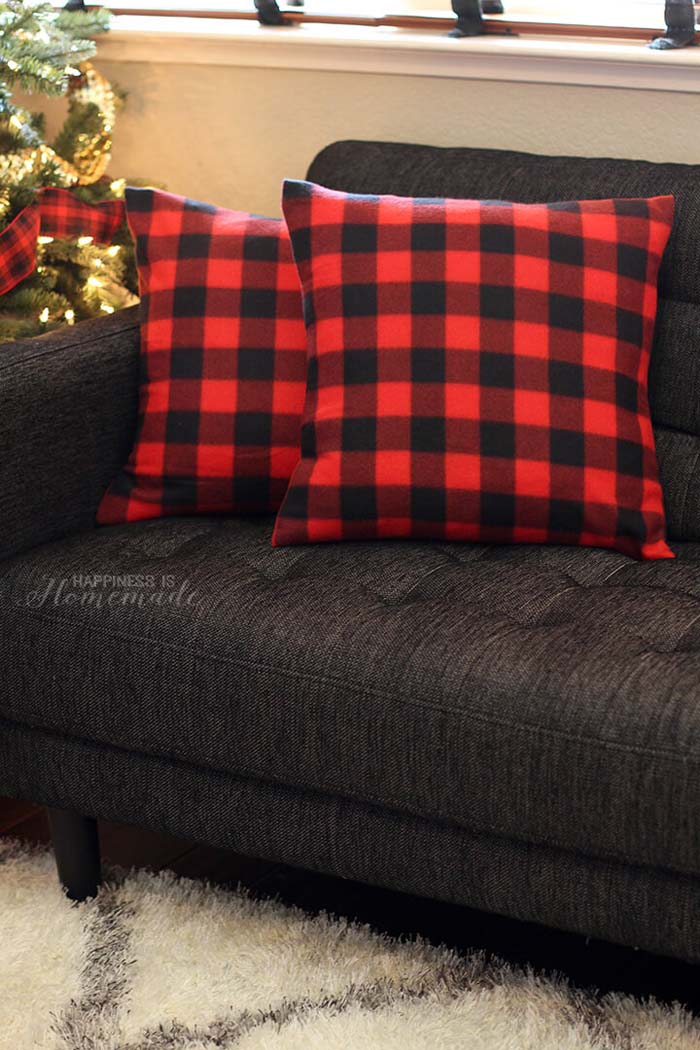 It is so easy to cover your regular everyday throw pillows with a little bit of plaid and you have made your family room, the Christmas room.
46. Craft an Affordable Snowman with Plastic Cups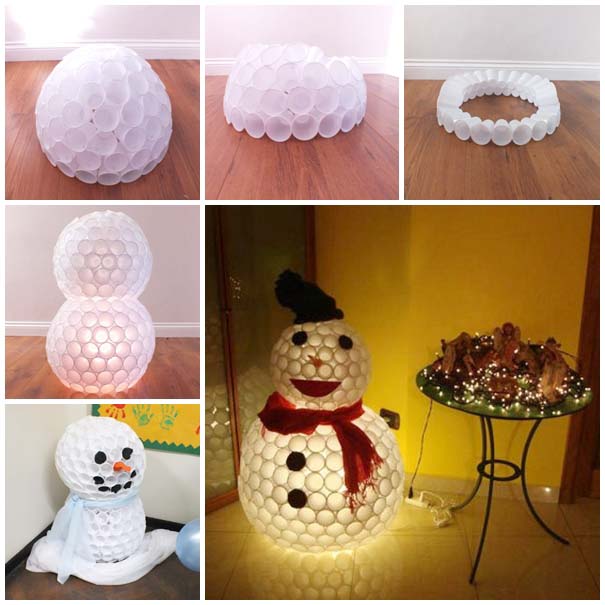 Here is the one you know you have wanted to try, the Snowman made with little white lights and plastic cups.
via Wonderful DIY
47. Craft a Festive Plastic Pumpkin Snowman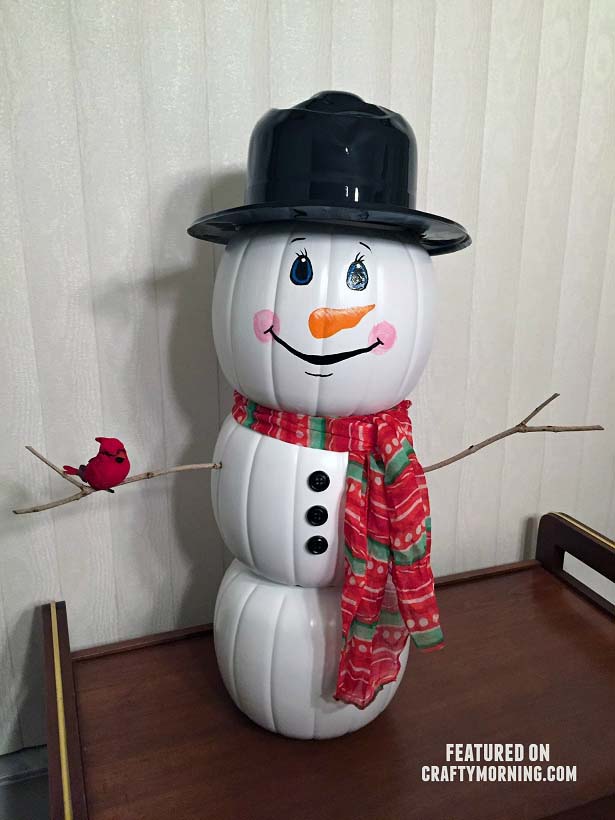 How about the plastic pumpkin snowman how cute is that and you can decorate it any way you want to add a few Sparkles to your Christmas ball
via Crafty Morning
48. Organize Christmas Baubles with Pledges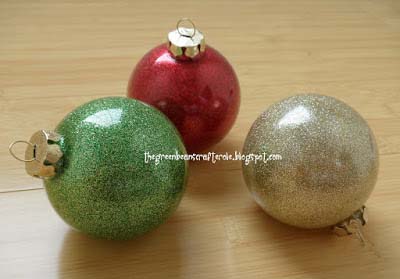 Pledge will help keep your sparkles where they belong, not on the floor.
49. Use a Potato Tree Stamp on Your Wrapping Paper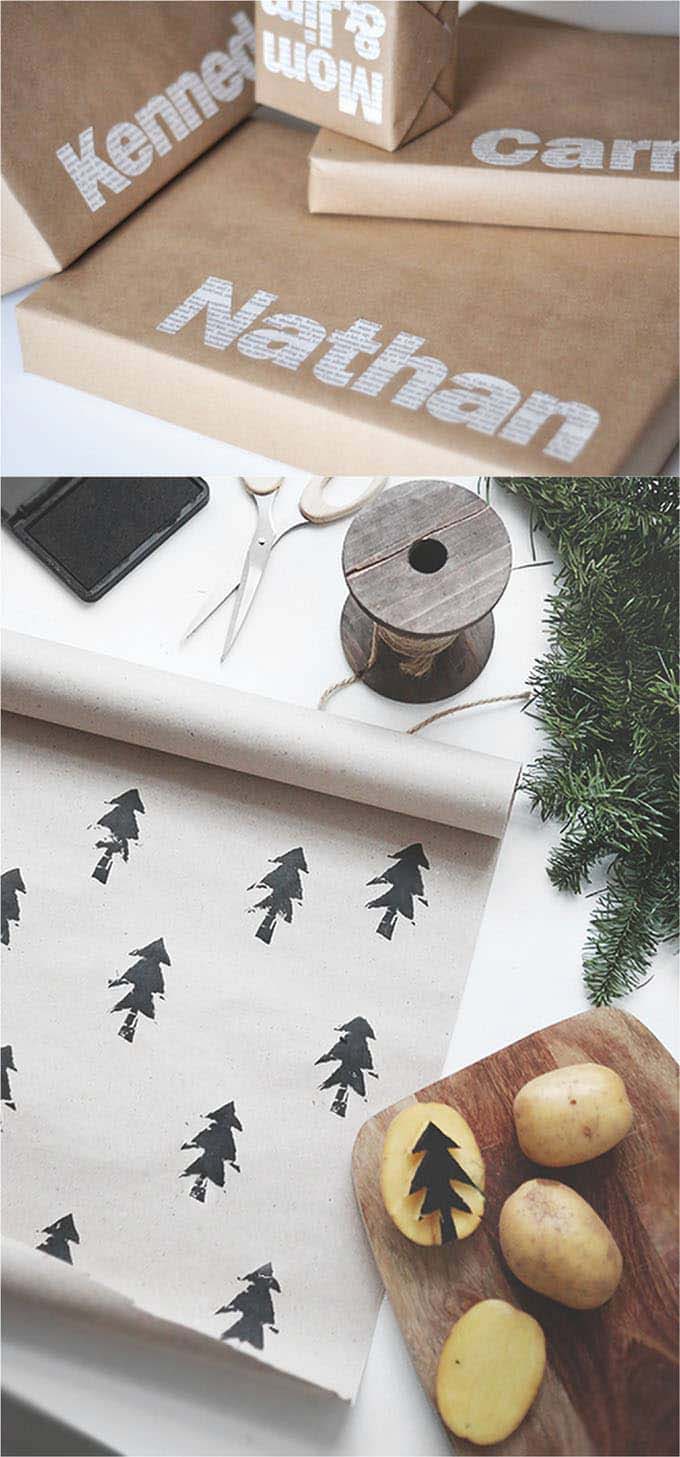 Stencil with a cut potato, it is entertaining and classy. Christmas Wrapping Paper potato to decorate.
50. Hang Christmas Baubles on Your Kitchen Chandelier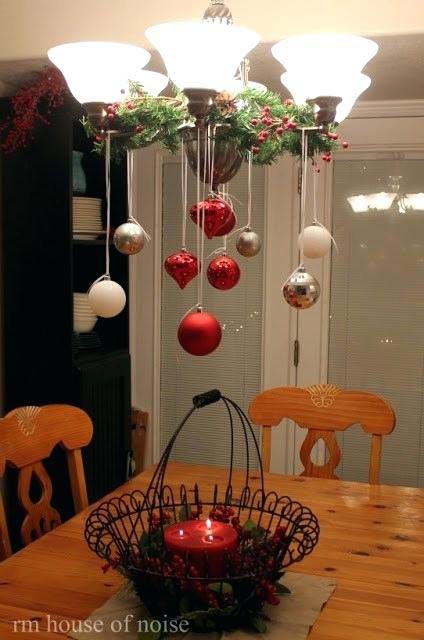 Put a Little Love the Christmas spirit right over your kitchen table with this hanging idea.
51. Decorate Your Towel Holders with Ribbons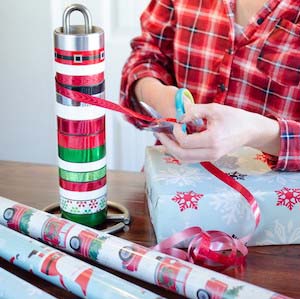 You will love putting your ribbon on an extra paper towel holder. It is a fantastic idea.
52. Create a Snowflake Garland on Your Window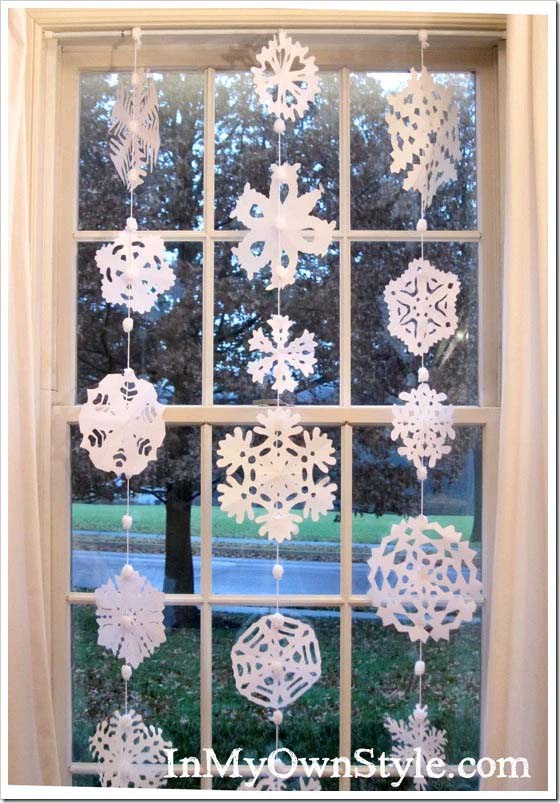 Kids love this project, and you will love a few snowflakes and how they dress up your window.
via In My Own Style
53. Turn a Staircase Banister into a Penguin Snow Blanket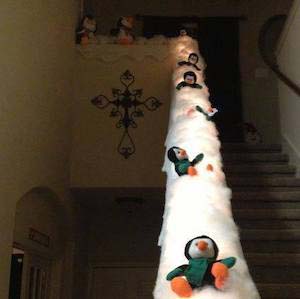 This is an adorable idea for the stairs' banister. Have you ever thought of turning your banister into a snow blanket for the Penguins to slide down
54. Transform Your Front Door into a Snowman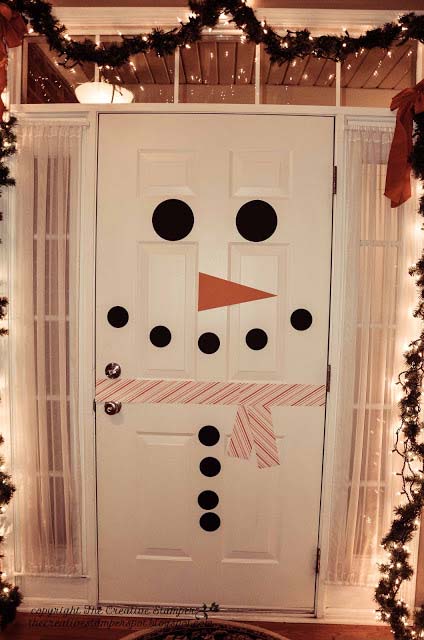 Everyone coming to your home for the holidays will love your snowman door and it's easy and your kids will love it.
55. Creatively Arrange Cutlery into a Table Snowman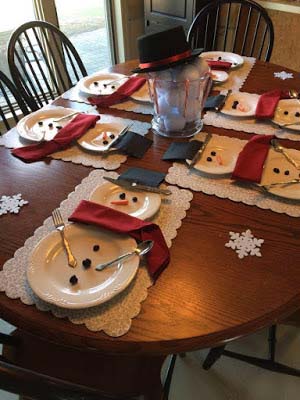 This is adorable, what a great way to set your table, all you need are white dishes, red napkins and black hats. It will melt your guest's hearts as you have made the perfect Christmas table
via Stager Linda
56. Turn Your House Columns into a Festive Snowman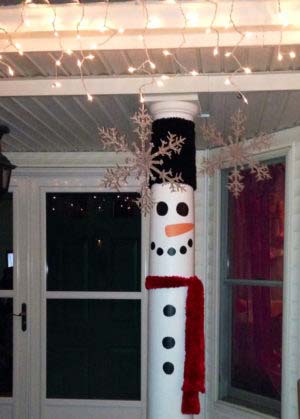 Dress up your pollers and your posts, even your tree trunks on your front porch or in your front yard. Friendly, not Frosty posts make your favorite Snowmen.
57. Create Christmas Bells with Painted Pots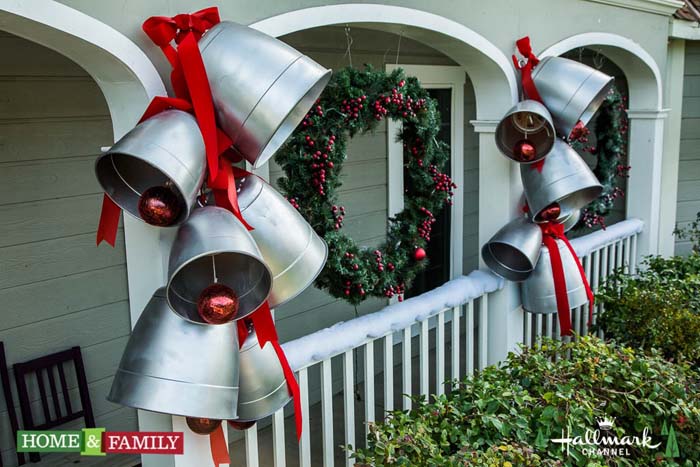 Do you love the bells you hear on Christmas day? Large, real bells are expensive, so How about spray painting a few pots and you are amazing to create Christmas bells.
via Kenneth Wingard
58. Organize Your Large Holiday Ornaments with Plastic Cups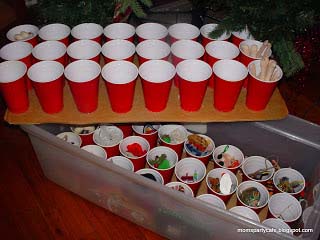 This is a fantastic idea to keep things organized. Plastic Cups store your bigger ornaments and large plastic cups it protects them and keeps them from getting tangled or broken.
via Mom's Party Cafe
59. Create a Christmas Tree from a Leftover Tomato Cage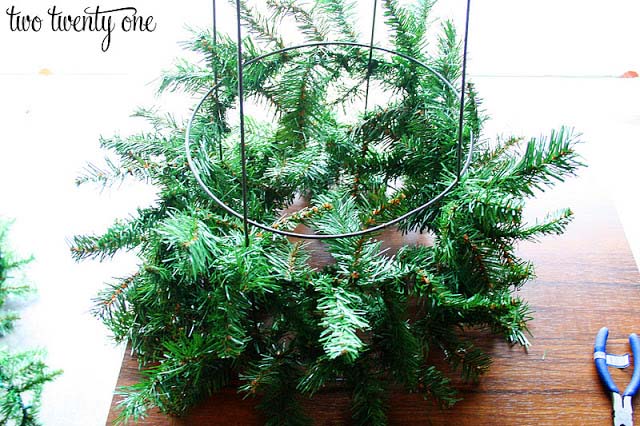 Save your leftover tomato cage so you can create a festive Christmas tree both for indoor and outdoor use. Add some lights and decorations for a smart and classy tree.
via Two Twenty One
60. Enhance the Christmas Tree with Different Sized Lights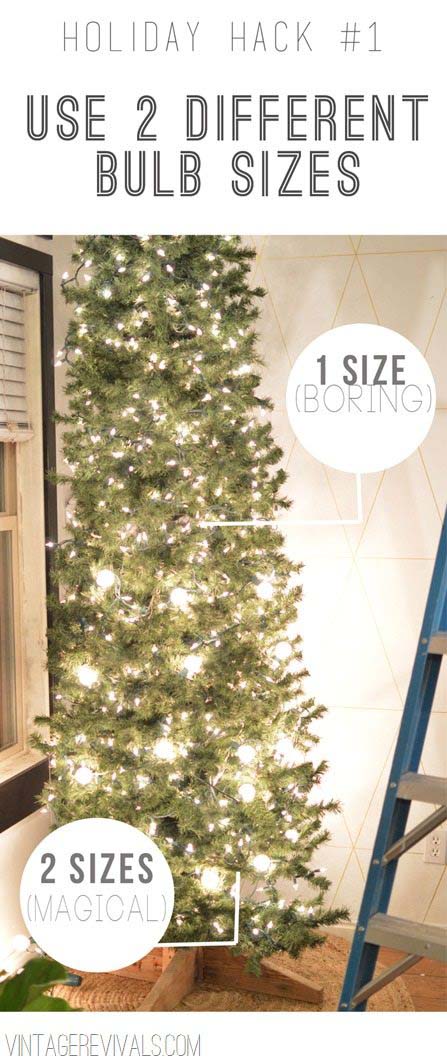 It is good to know that if you can use two different sizes of Christmas lights on your Christmas tree. It will give you a Christmas tree more depth and color.
via Vintage Revivals
61. Make a DIY Wreath with an Old Hanger and Ornaments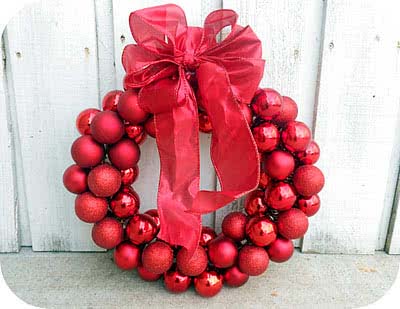 Use an old hanger and a few Christmas ornaments you simply slide on the hanger and wrapped in a circle not only as a creative way to store them but add a bow and you have a creative wreath.
62. Make a Festive Styrofoam Christmas Tree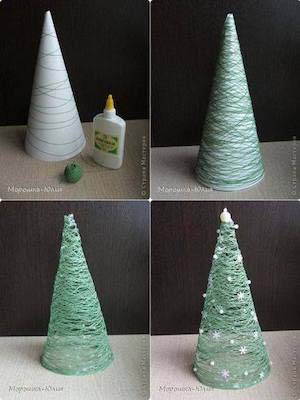 You will need a Styrofoam cone, yarn and glue and run the yarn through the glue then start wrapping, round and round you go. Let it dry and have a new Christmas tree Grandma will love.
63. Hold Christmas Lights on Railings with Zip Ties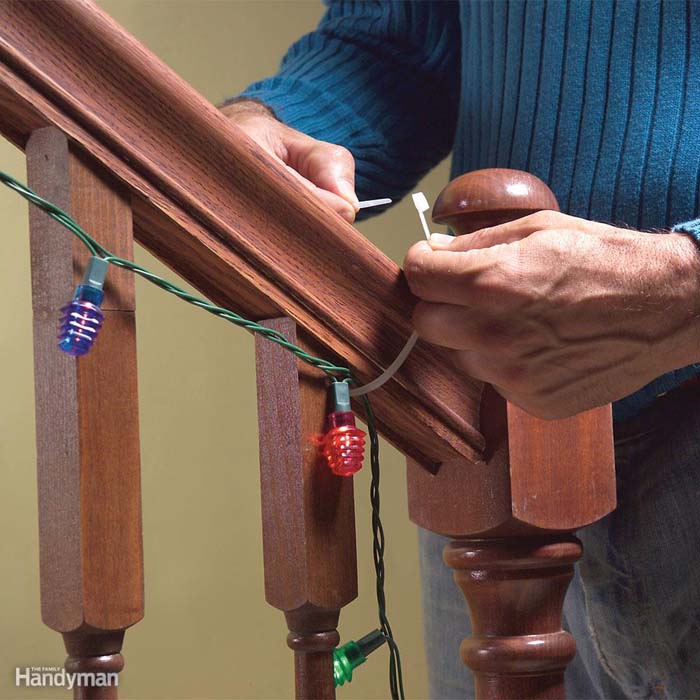 Railings Zippy ties and Christmas lights go hand-in-hand, especially when hanging them indoors.
via Family Handyman