Christmas is such a joyous season. You are sure to see all types of crafts while holiday shopping and even paper quilling cards.
You see gifts on sale, and you begin to plan and develop your new holiday season! You love Christmas! Well, you are not alone.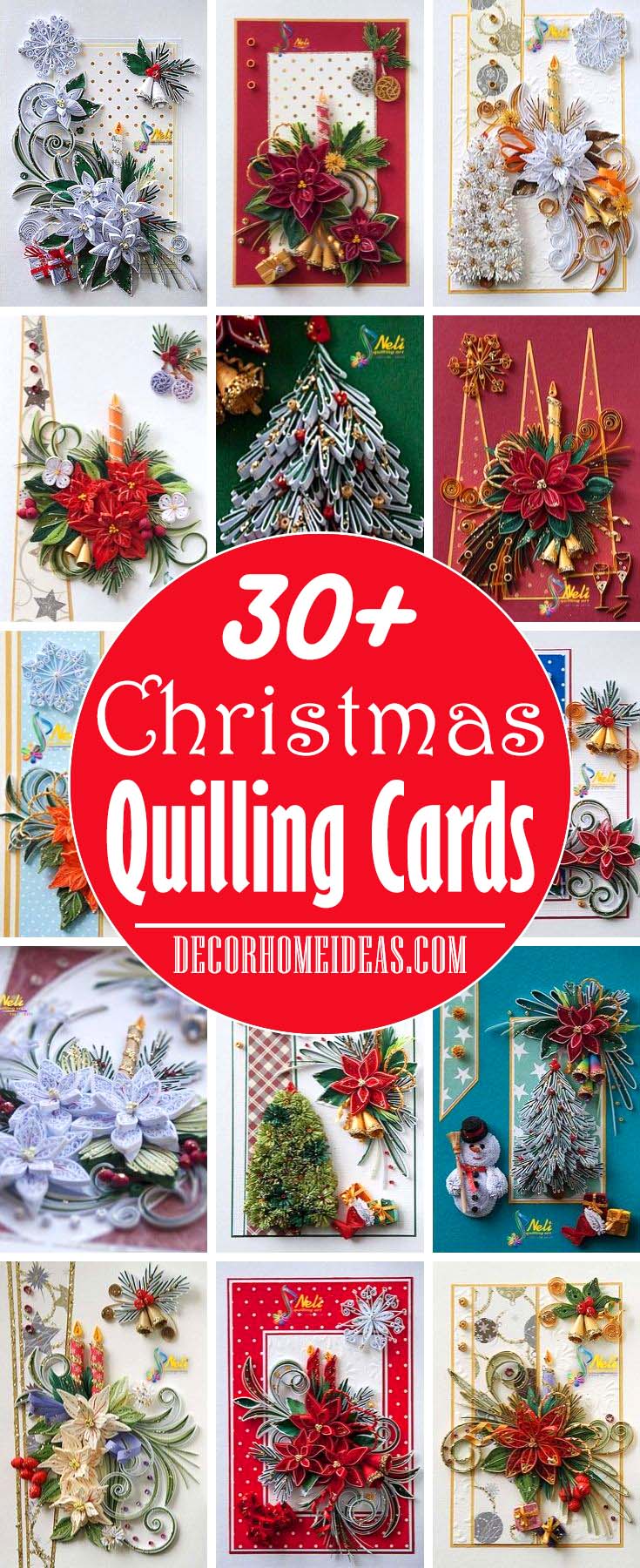 Yuletide is not only popular but sacred, hopeful, and a religious time of the year.
When you send cards this year, send quilled Christmas cards! The special people in your life, will pick up their phone, and call you!
You will bring smiles to people's faces. Yes, send Christmas Quilling Cards, this year! You will be imbued with the holiday spirit.
So, Just What Are Quilling Cards?

Let's face it- people are creative. Smile. Everyone has gifts when it comes to new ideas, using craft resources in different ways, and creating small masterpieces.
This holiday season you can make Christmas Quill Cards so easy, and beautiful, you will be proud of yourself.
You are sending a message to others, that Christmas is special to you. People will notice you go the extra mile to send holiday wishes-especially one of the kind wishes!
You simply take craft supplies, fabric bits, and any creative media to create a card that uplifts off its stock! It's amazing eye- catching and beautiful.
Some people save the Quill Cards they receive, as a memorable item.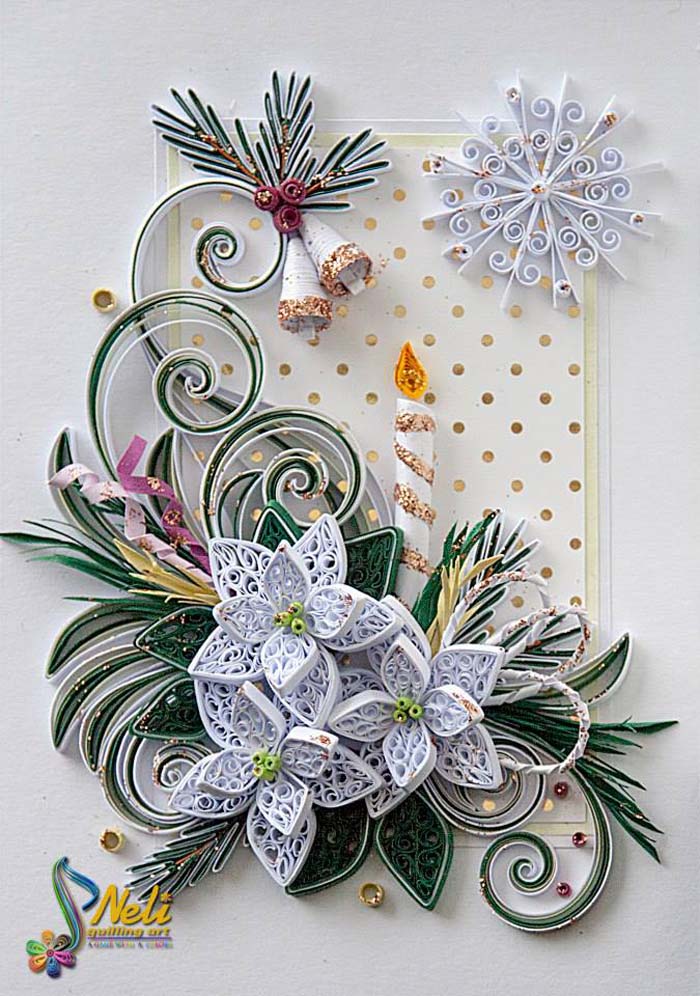 Quilling Cards Are Easy To Make!

No need to worry about getting special instructions to make cards.
You have all the resources you need, and more.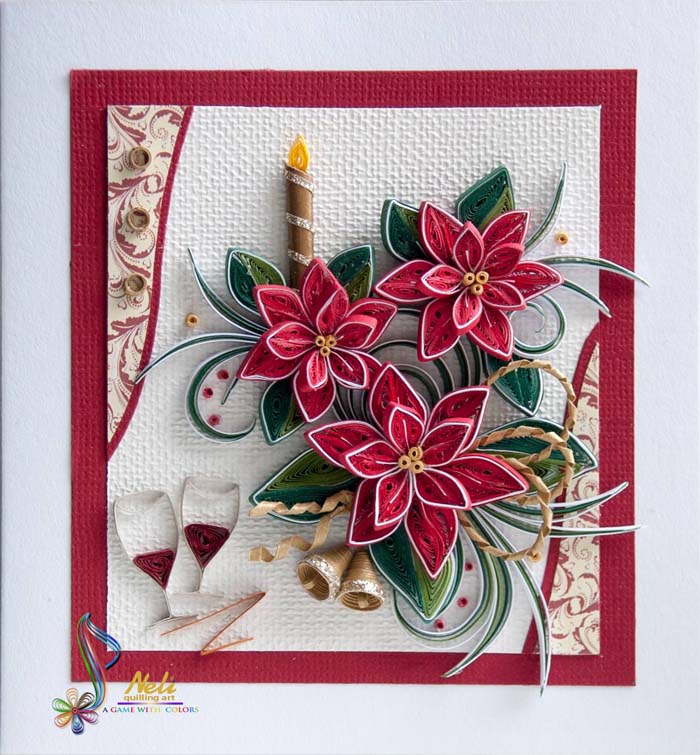 Some resources are sitting right in your home. Others you can pick up at a craft store, cut up old Christmas cards, fabric, buttons, and even plastic chips.
The trick is to make a mosaic of sorts! You need to save old recycled stuff, and turn it into a masterpiece card.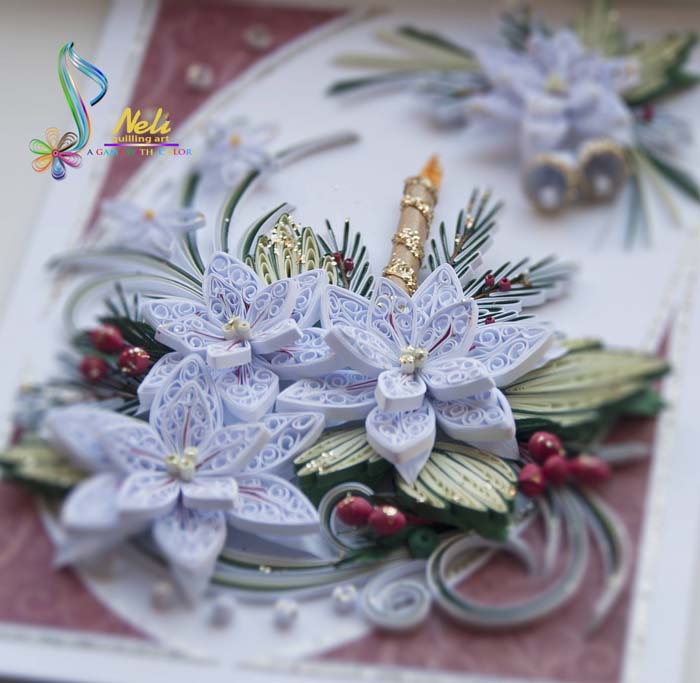 When your family, cousins, and friends open up your card, they will know you love them. It is inevitable!

Now, do you have a gradma or aunt who sews? Ask them, if they have a button collection. Take the buttons, and place them on some paper stock shaped like a tree.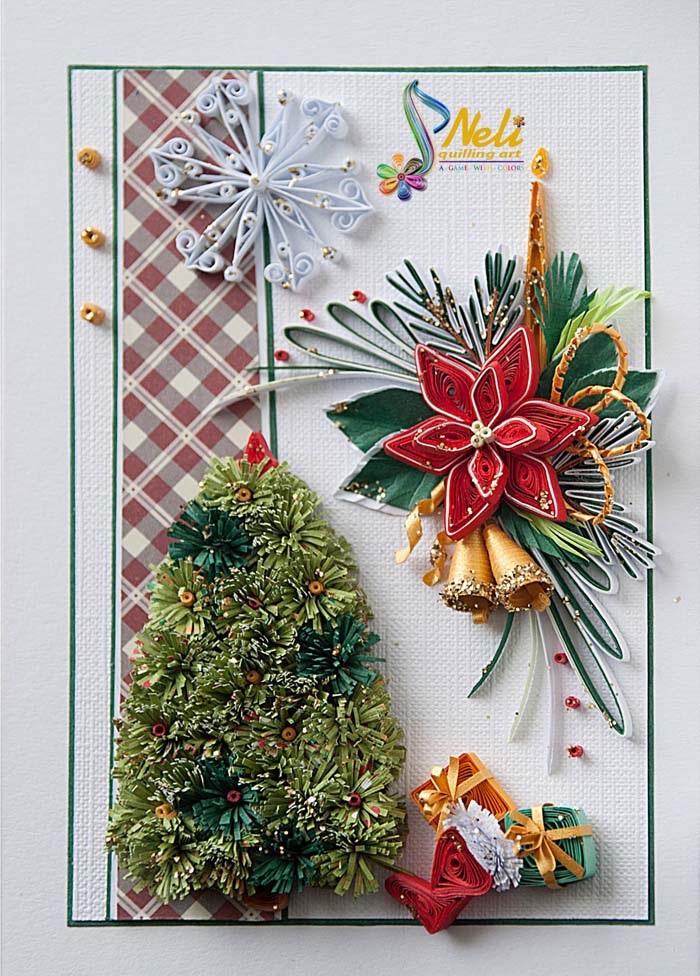 They should be shaped somewhat of a triangle. Glue them on. Find some ribbon from an old gift, that you have not thrown away.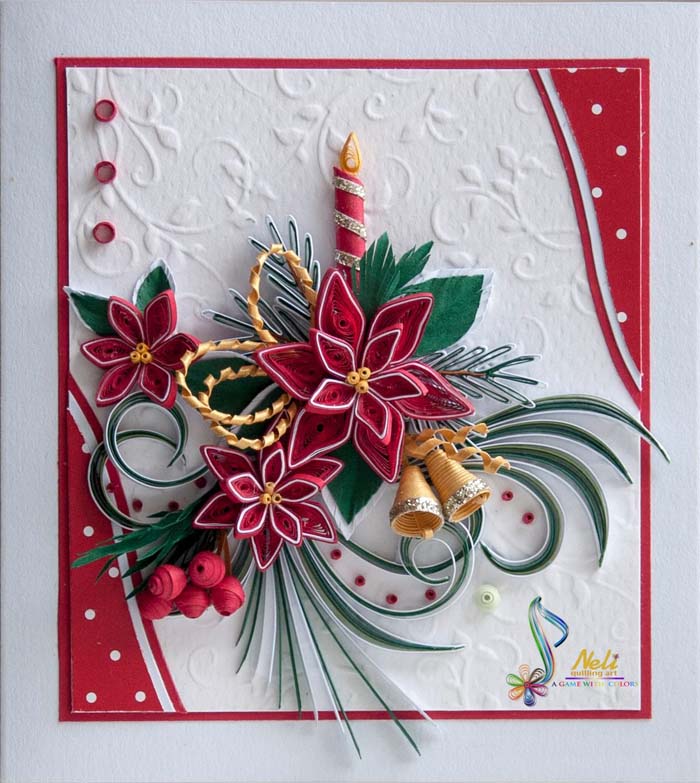 Do you have any glitter around?
Those three things are just the start of your Christmas card art.
Moreover, some people make art eco-friendly. They take colored sand and glue it on a floor or tile. Do this with a card. Have a look at a rangoli.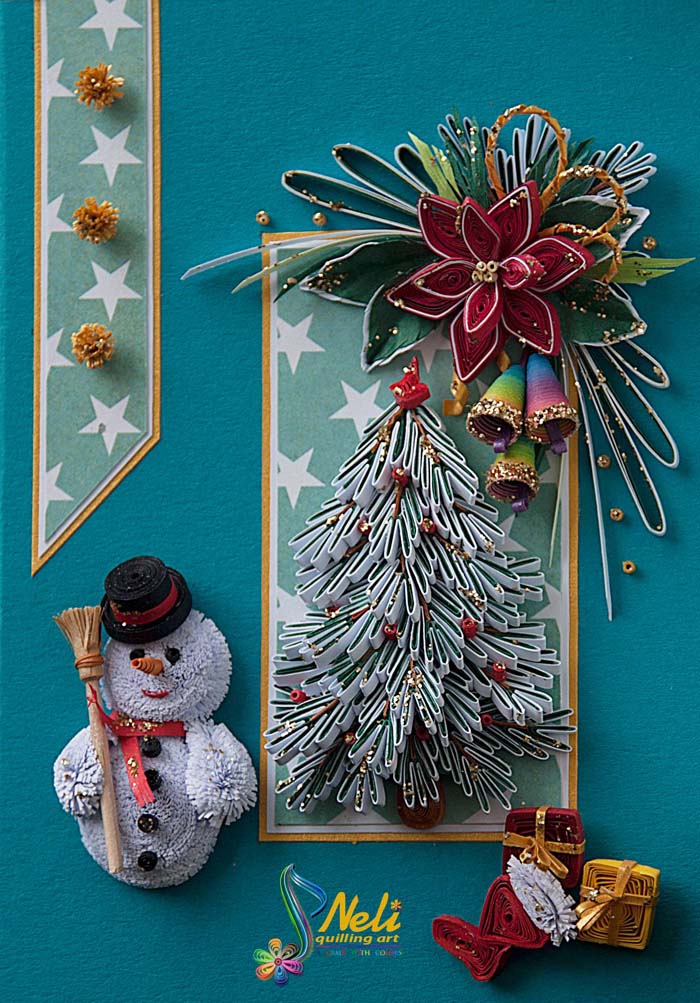 They are a perfect specimen of what you can make geometrically, create art, and have something unique! Have a look at the rangolis on: Rangoli Designs
They are amazing.
Pick some wildflowers that are blooming late, and dry them out. Place them on your cards. Many people simply buy fake flowers and pull them apart for the petals.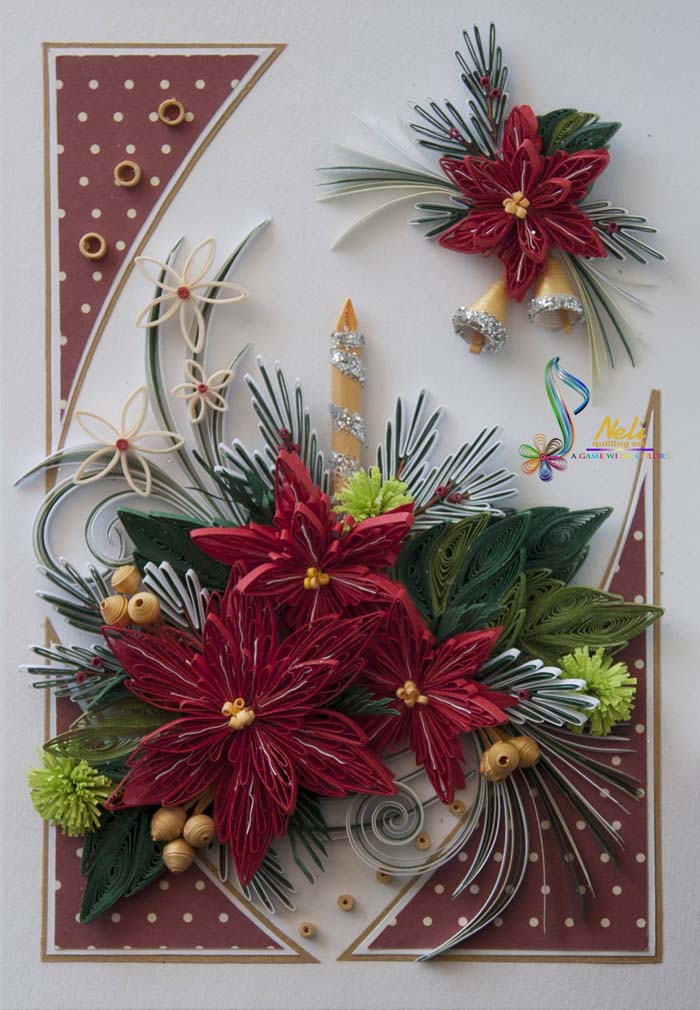 They can be purchased inexpensively at dollar shops. The fact that your card is three dimensions, says that you are bringing real joy to someone. The card is not flat, with rote sayings.
It stands out! It has a message. It is a work of art. It is a piece of humanity.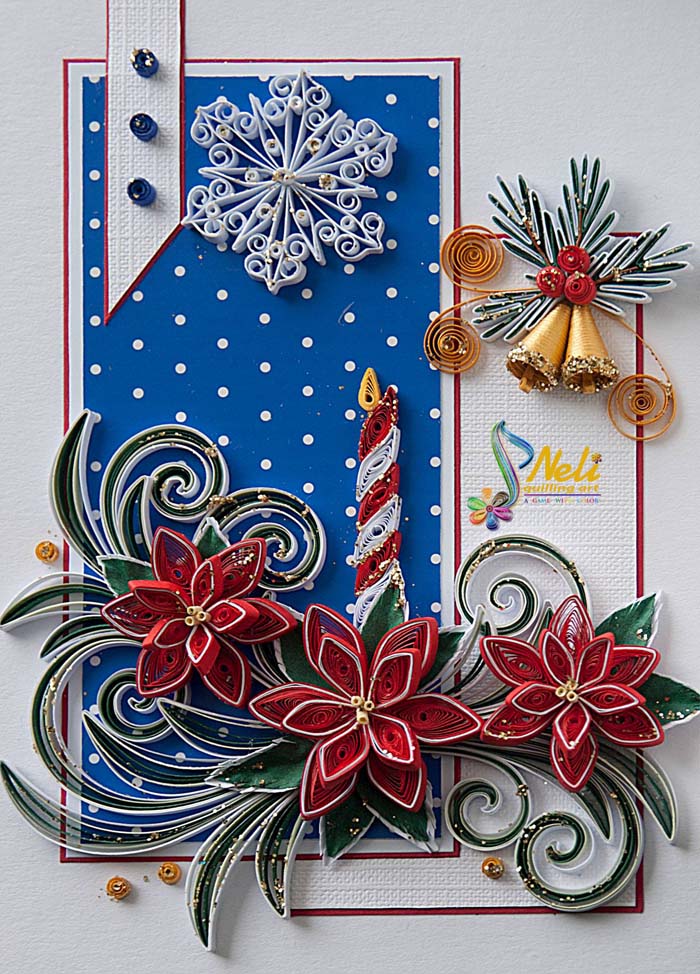 However, Don't Forget This For Your Quilling Cards!
Say you are making a quilling card with a fabric which should not be stapled or taped.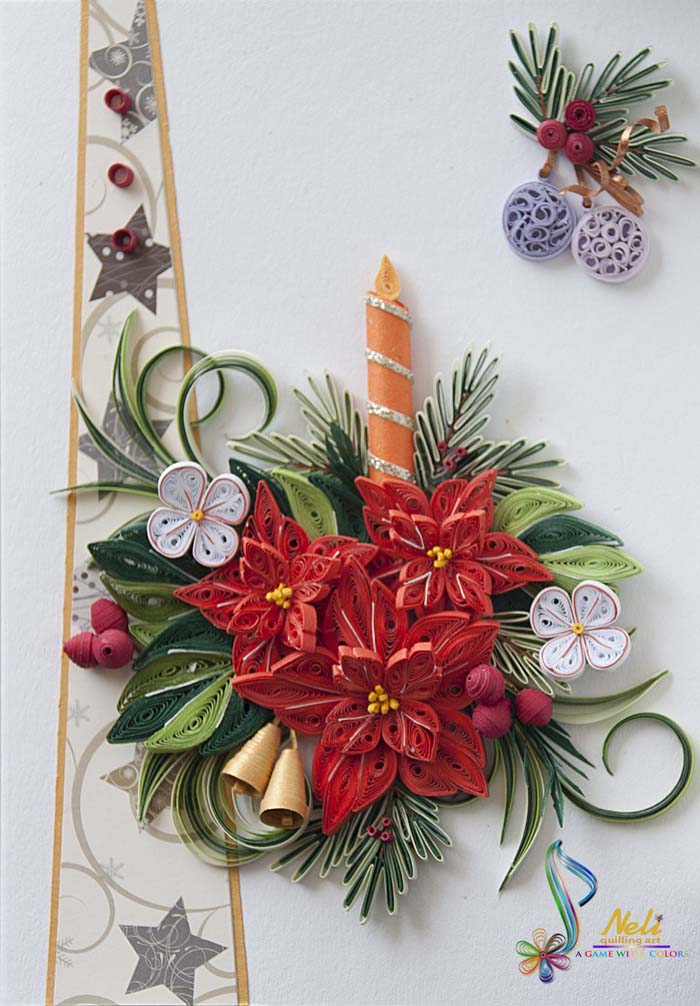 Stapling or taping takes away from the beauty of the card. Make sure you have a glue gun- it's the easiest way to make objects and fabric items stick.
It is quick and convenient as well. Glue guns are a must, and they come in large or small sizes.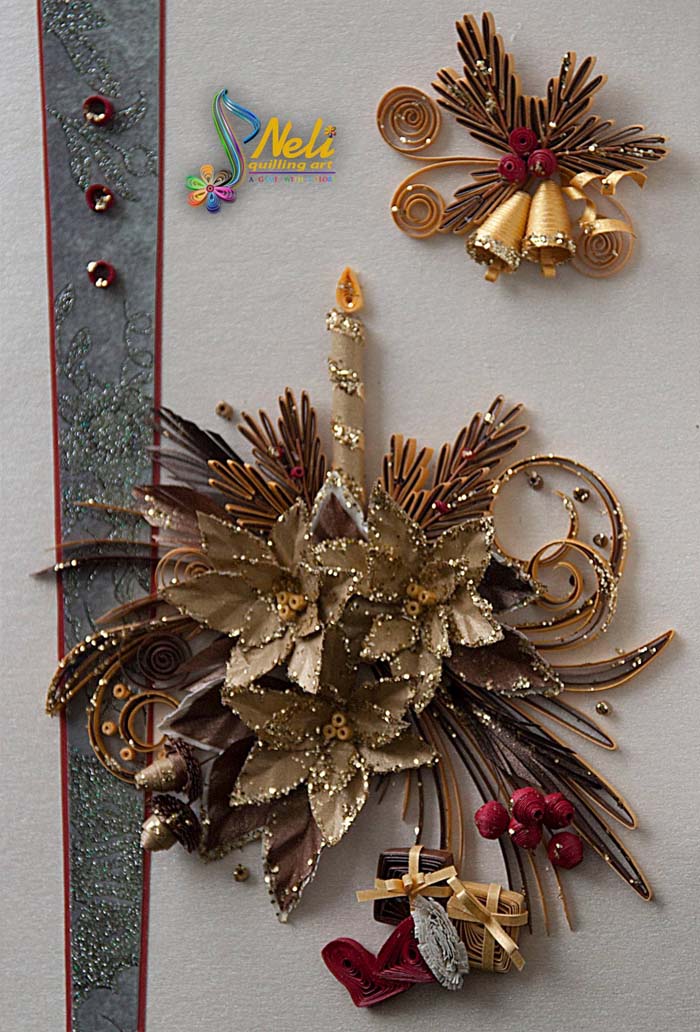 Glue sticks are easy to put in your glue gun-voila- that braid sticks- or that piece of red fabric adheres- or a lightweight button stays on!
This makes your Quill Card a one of a kind treasure.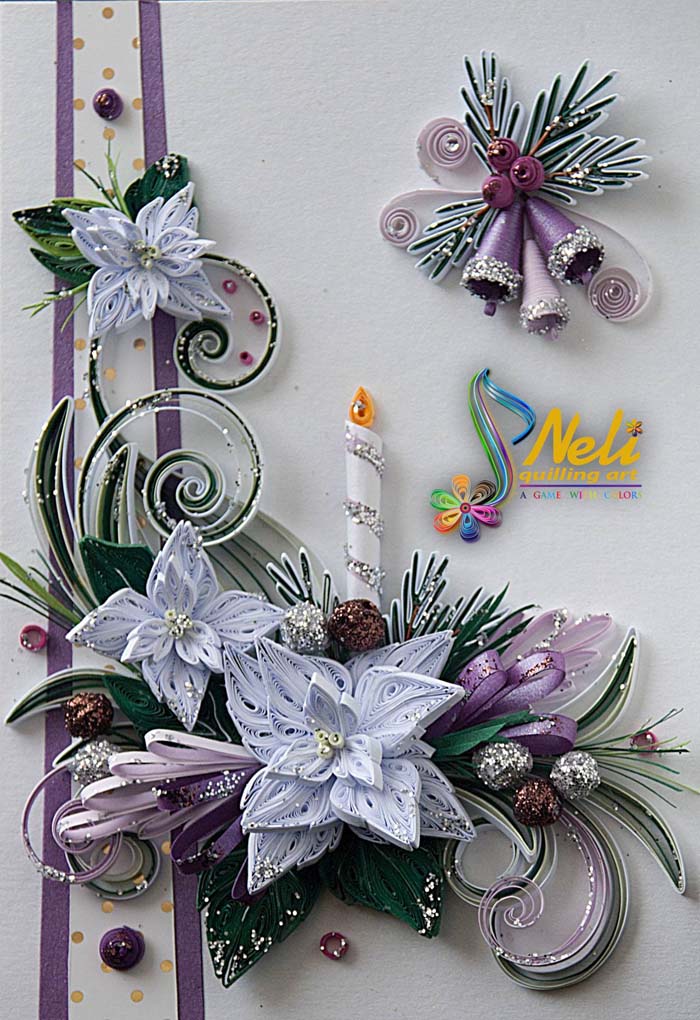 Here Is a Quick List Of Items You Can Use To Decorate Your Quilling Cards:
This Christmas will be so much fun. Your relatives and friends will call you, email you, or send a card back quickly when they receive your beautiful Quill Card.
Sure, you can buy them online, and in stores- however; it is great when they are made by the sender!
LIST OF ODDS AND END ITEMS:
Ribbons
Fancy tape
Buttons
Fabric bits including felt
Pieces of jewelry that are no longer useable-bracelet parts
Pieces of plastic- lightweight pieces
Dried flowers
Old pendant pieces no longer worn
Embroidered patches
Save embroidery pieces off of old clothing
Make mosaics out of colored paper bits
Pieces of yarn- especially good to look like hair on an angel or a person
Pieces of aluminum paper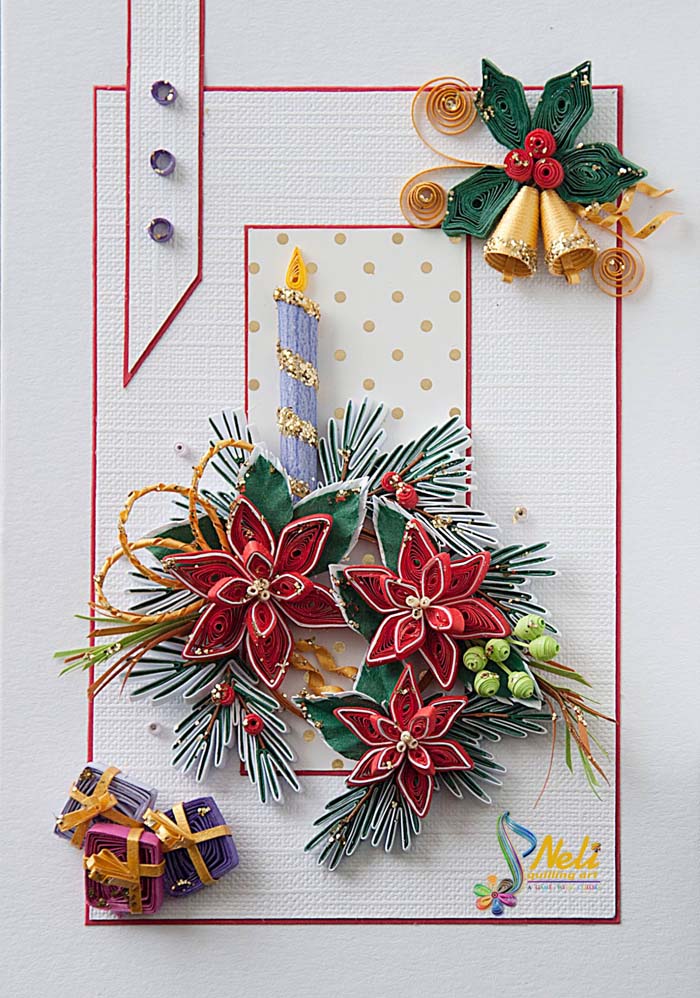 Don't Worry If You Are Not a Michaelangelo
If you are making your own card, remember you can make Christmas trees out of triangular shapes.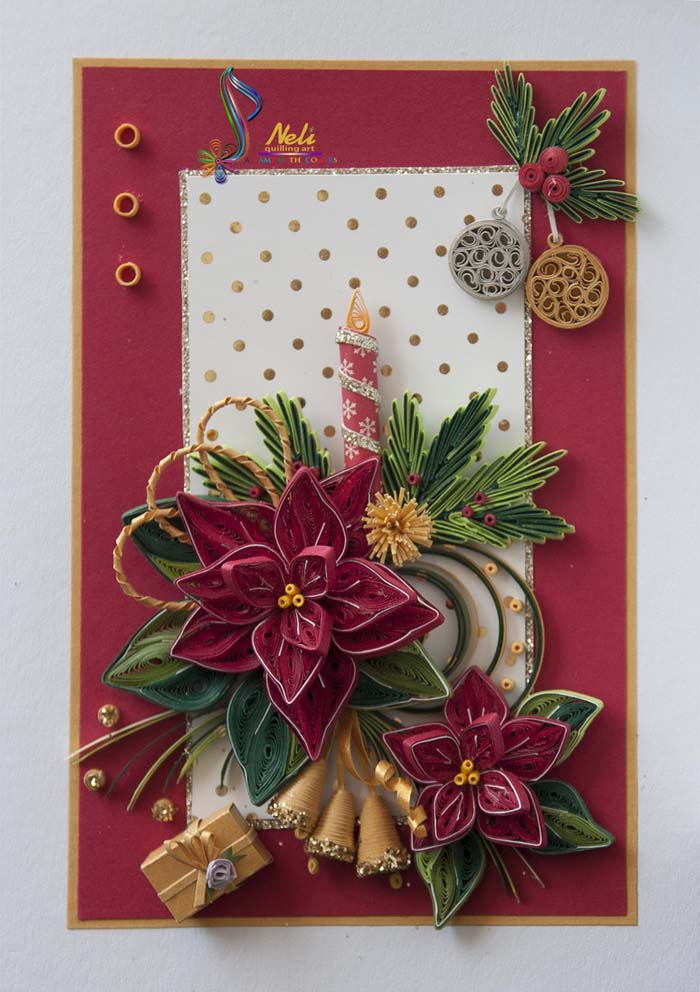 There are patterns and templates available online to give you the art format you need. There are shapes online to give you one of a kind looks, too!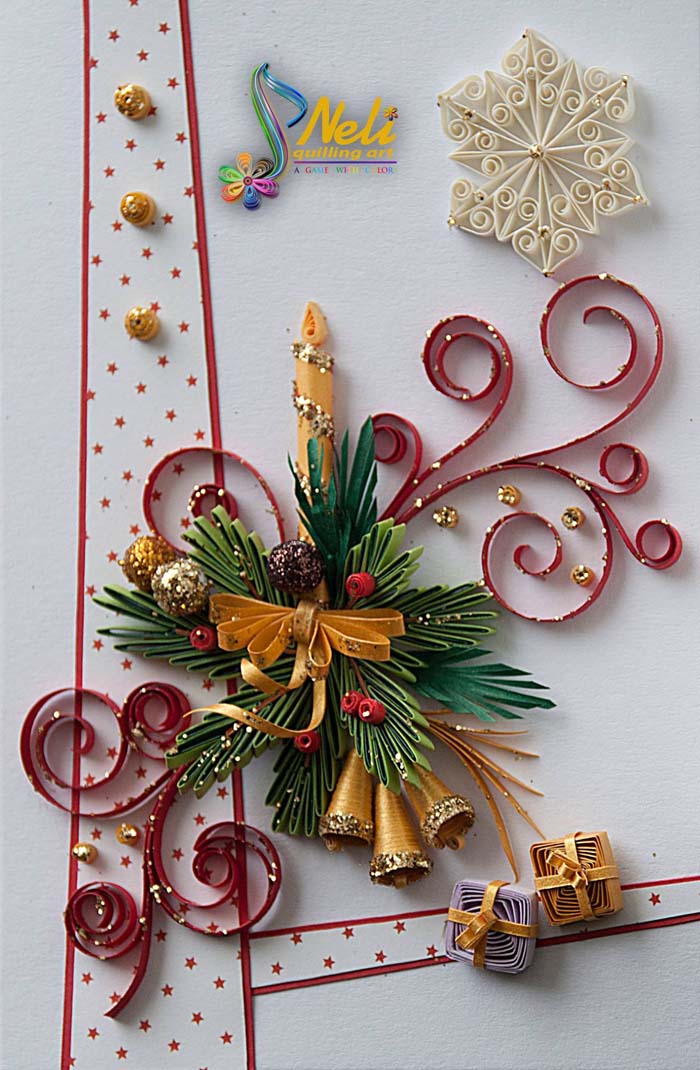 Lastly, If You Don't Have Time To Make a Quilling Card – Don't Fret
Quilling cards are available online. One can find them at Etsy, Amazon, and other retailers.
They are so much fun, a conversational piece, and a way of showing love.
It means you took the time to send something special- not a card from a box where you have so many duplicates!
You are sending a holiday masterpiece. It is well worth it. So, send a Quill Card, and share the joy of Noel.
The designs showed here are made of a very talented artist called Neli and if you like her cards, visit her Facebook page – here. You will be amazed by her creativity and talent.
More Christmas Quilling Cards Designs: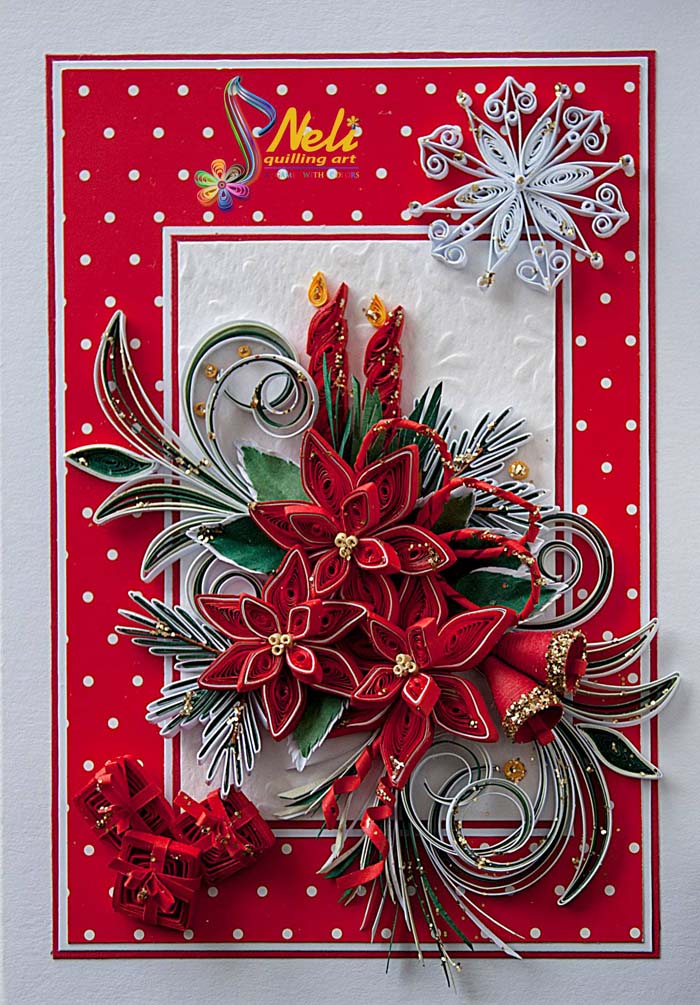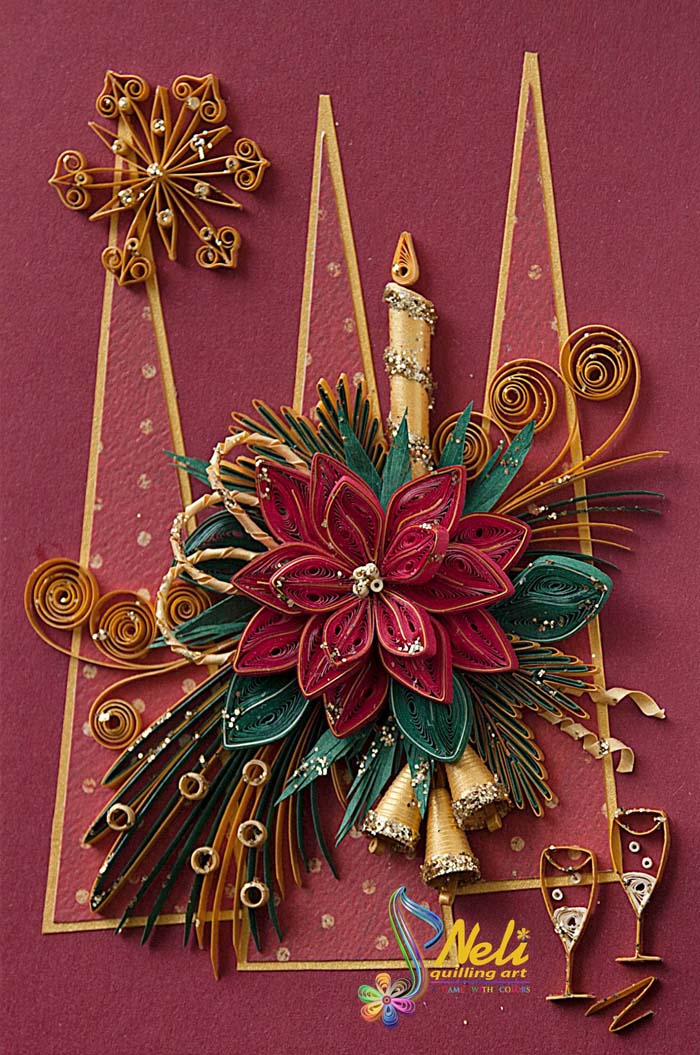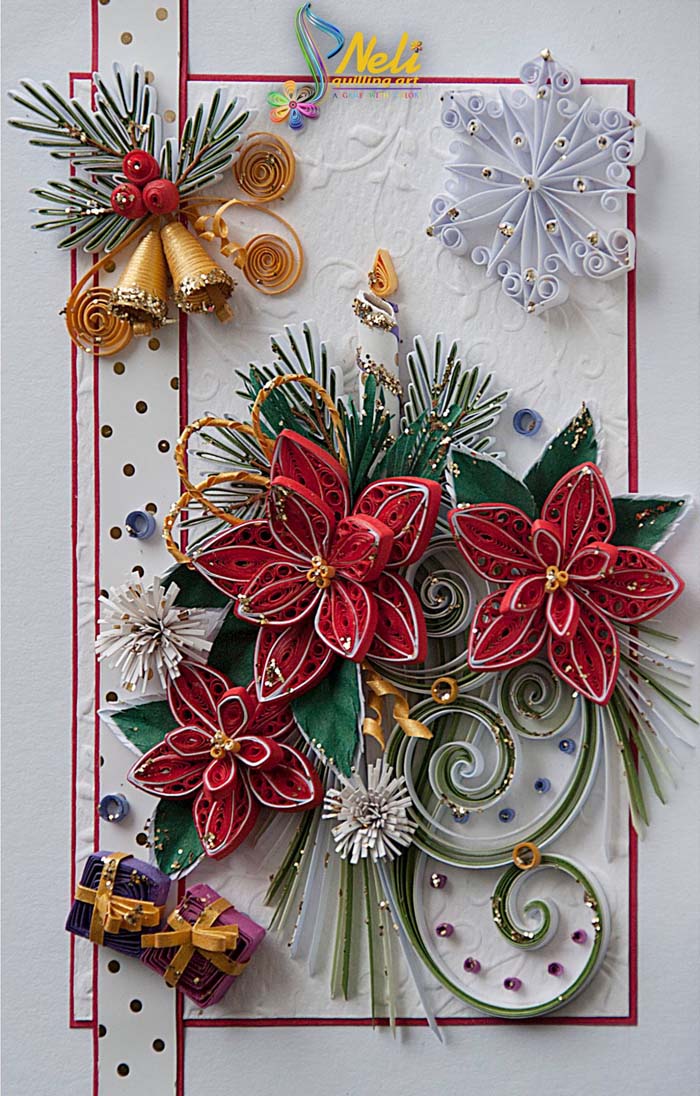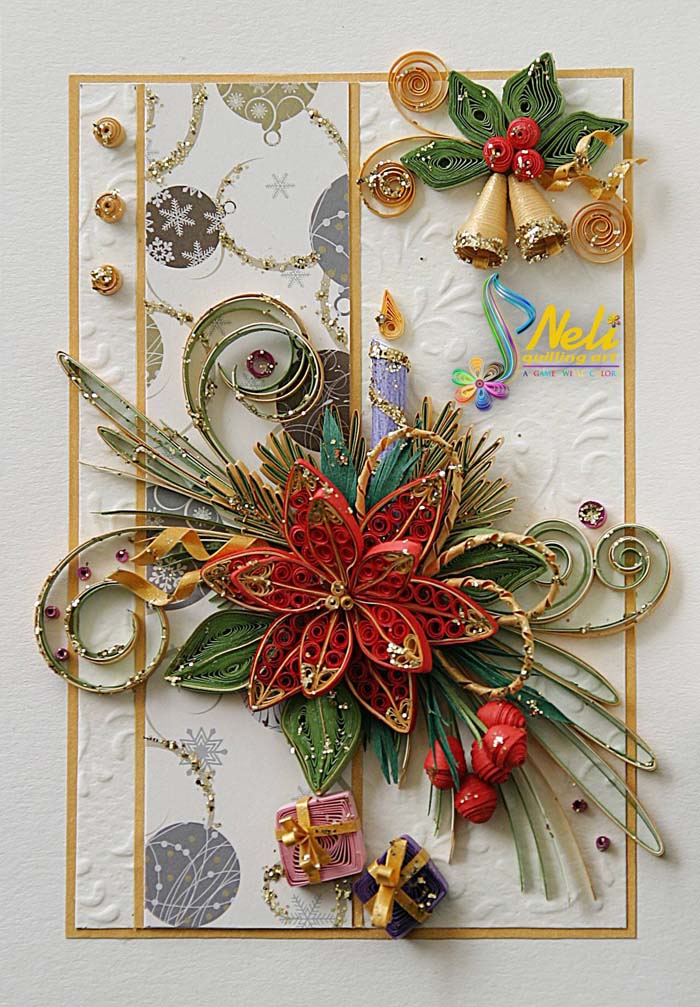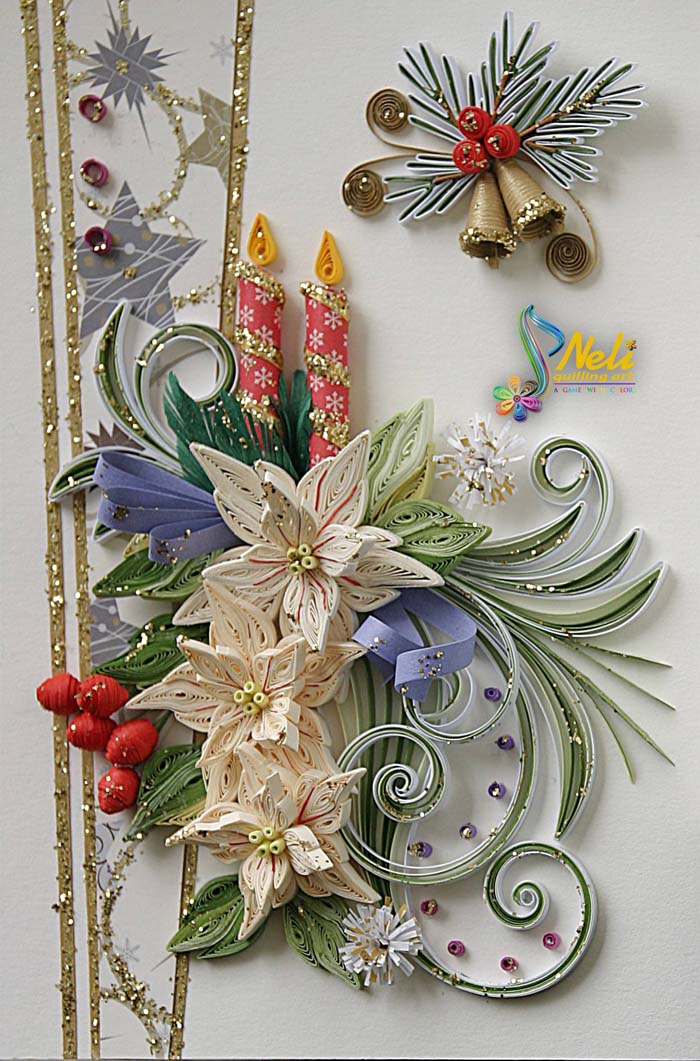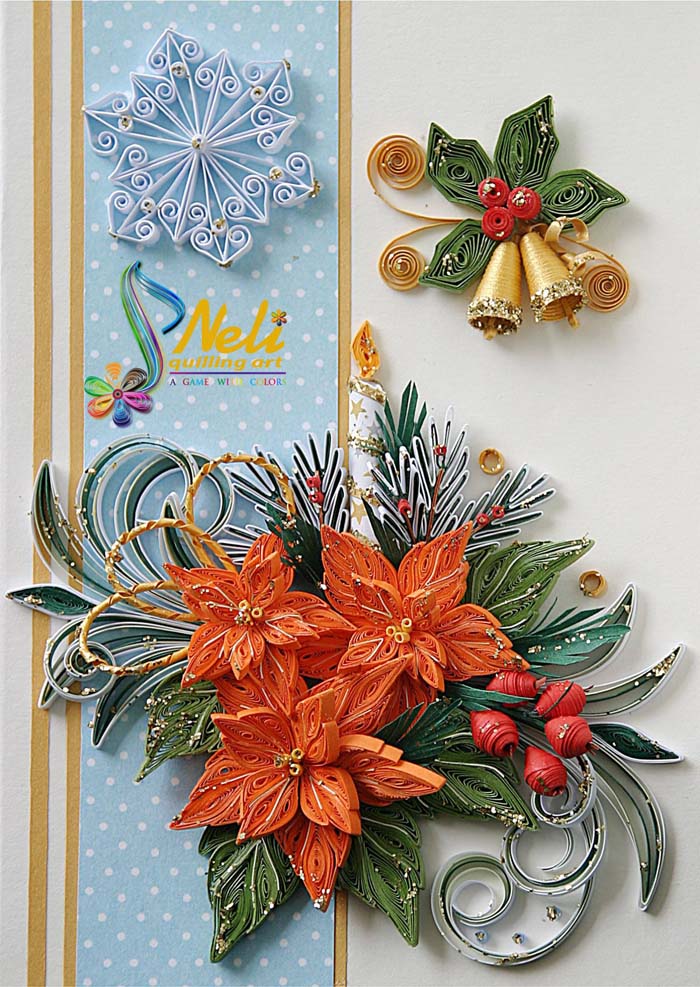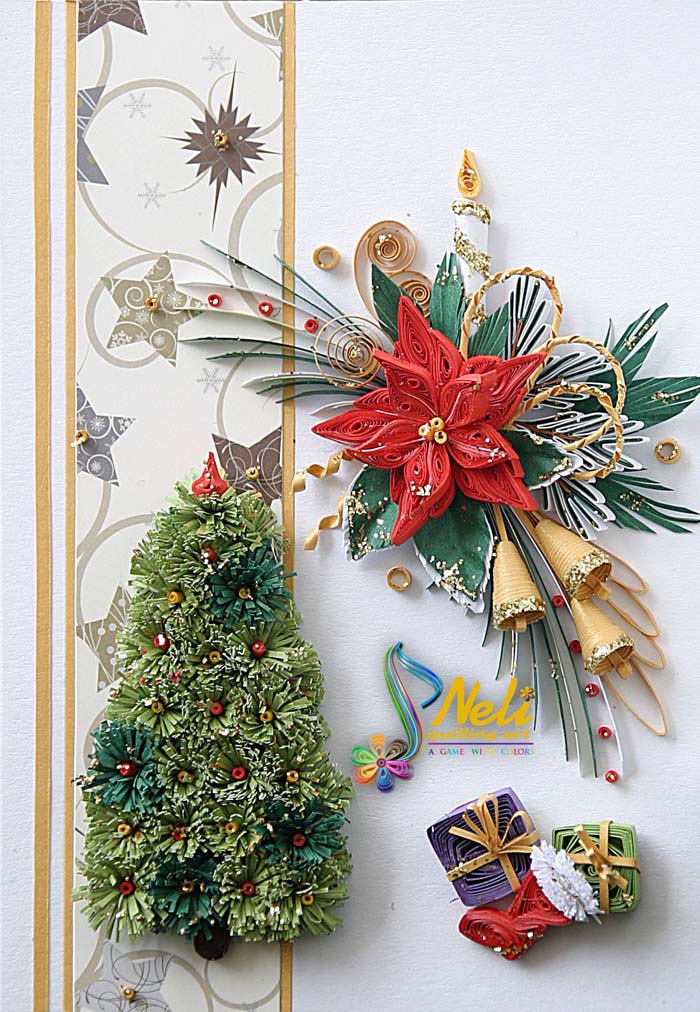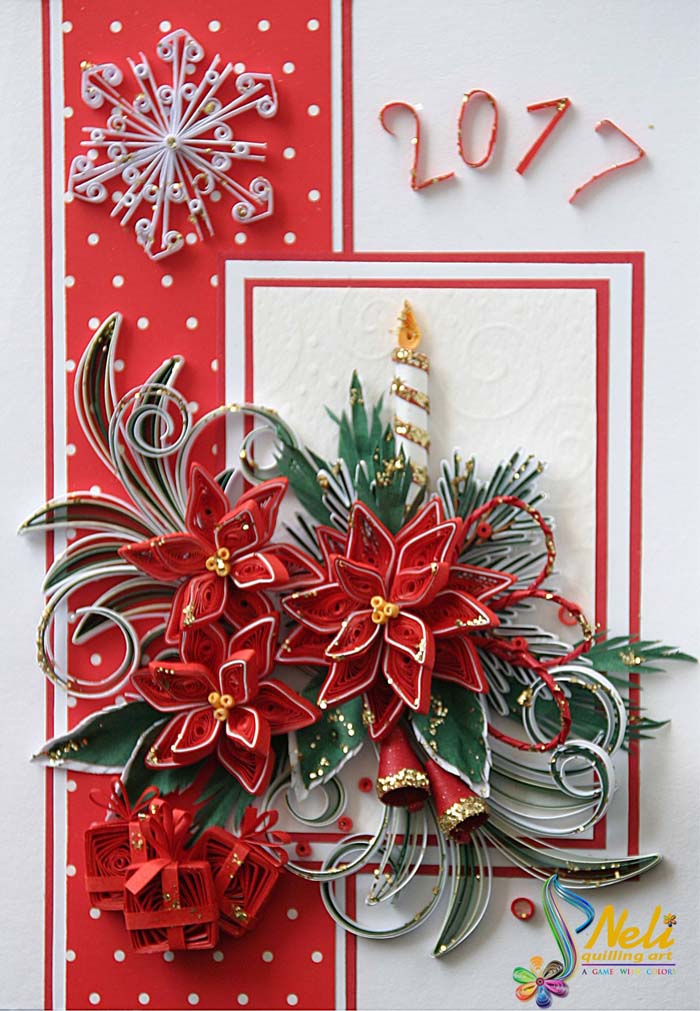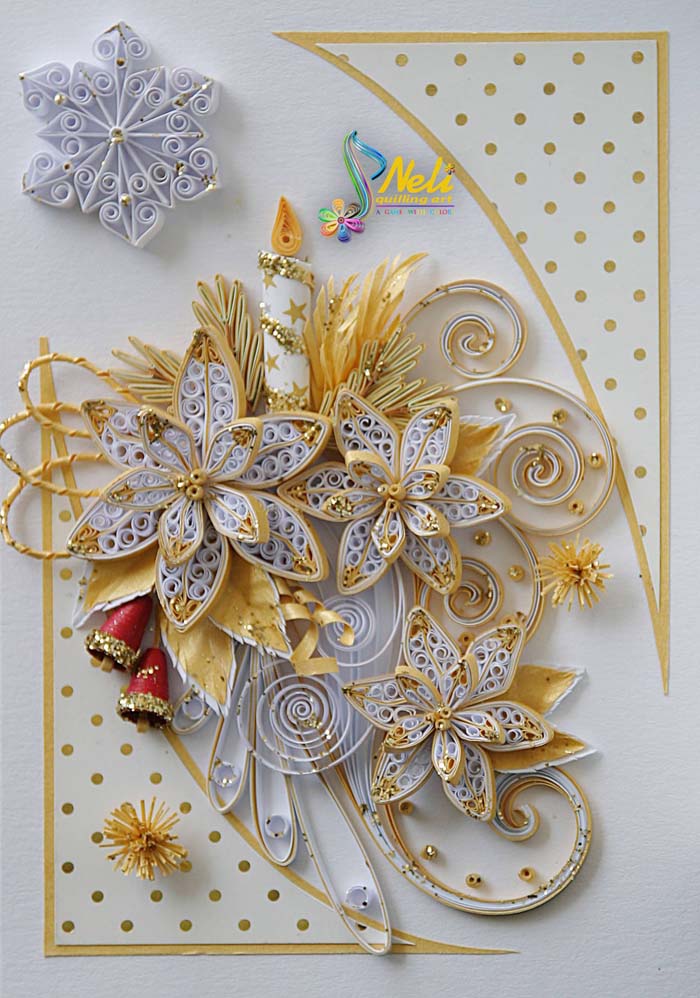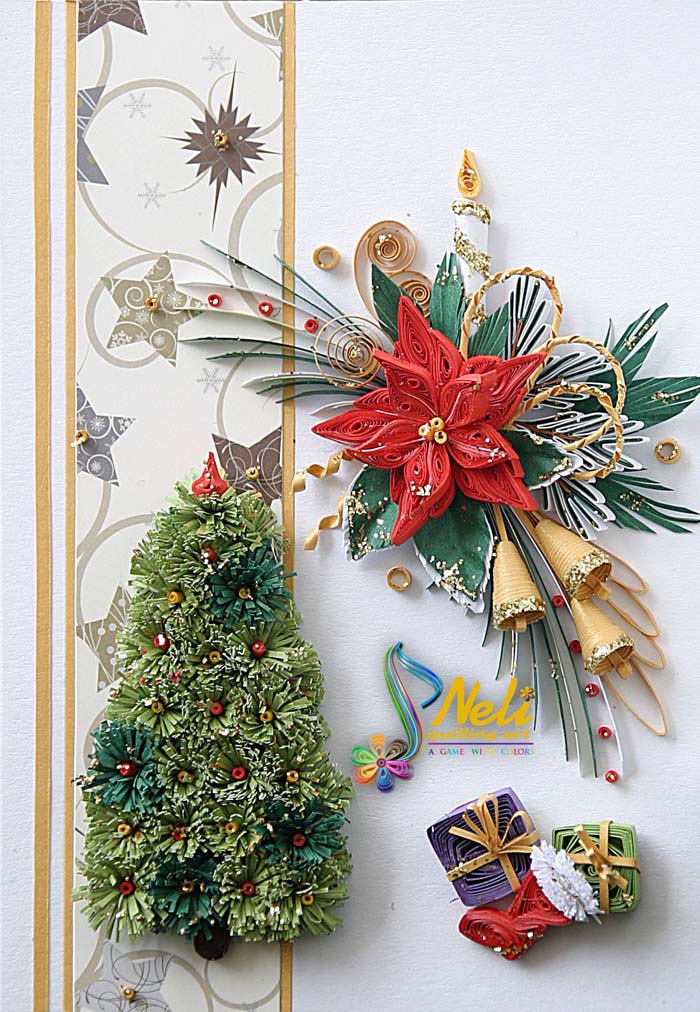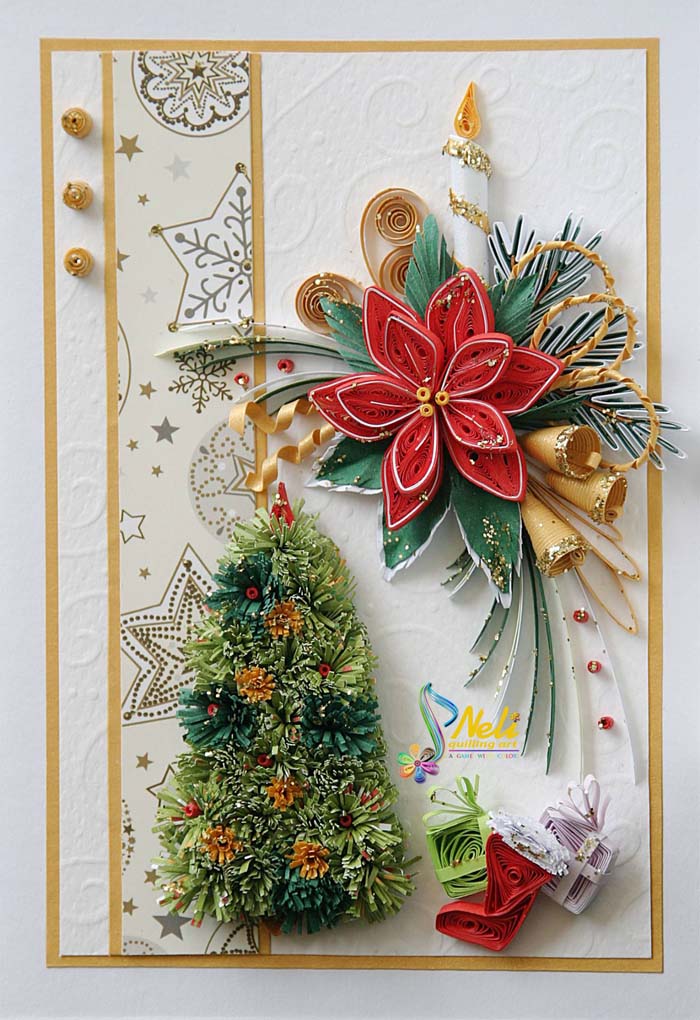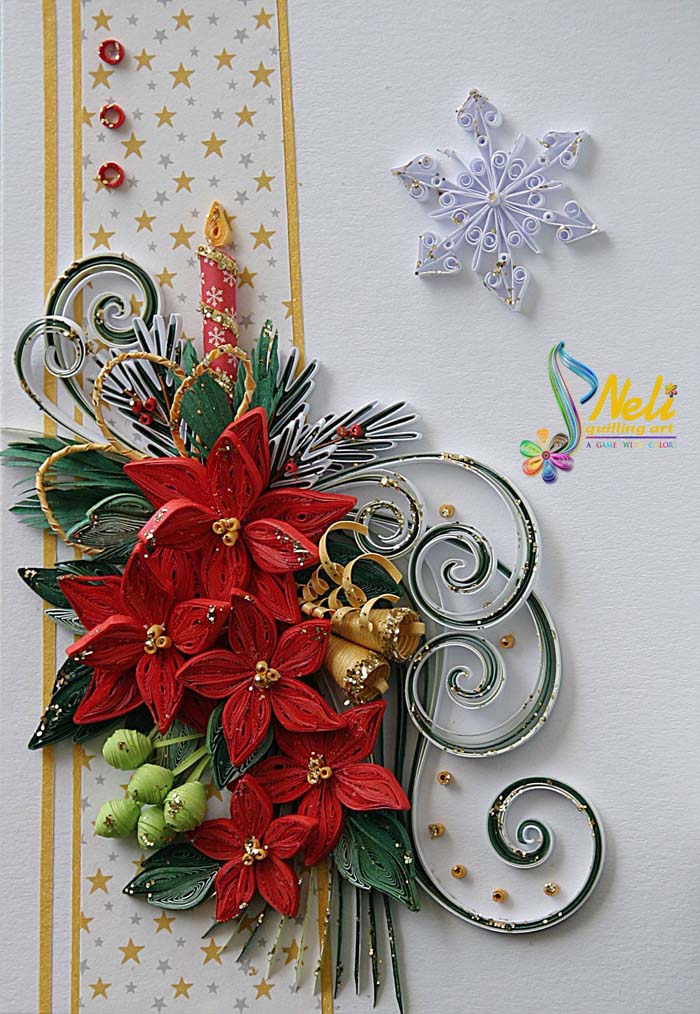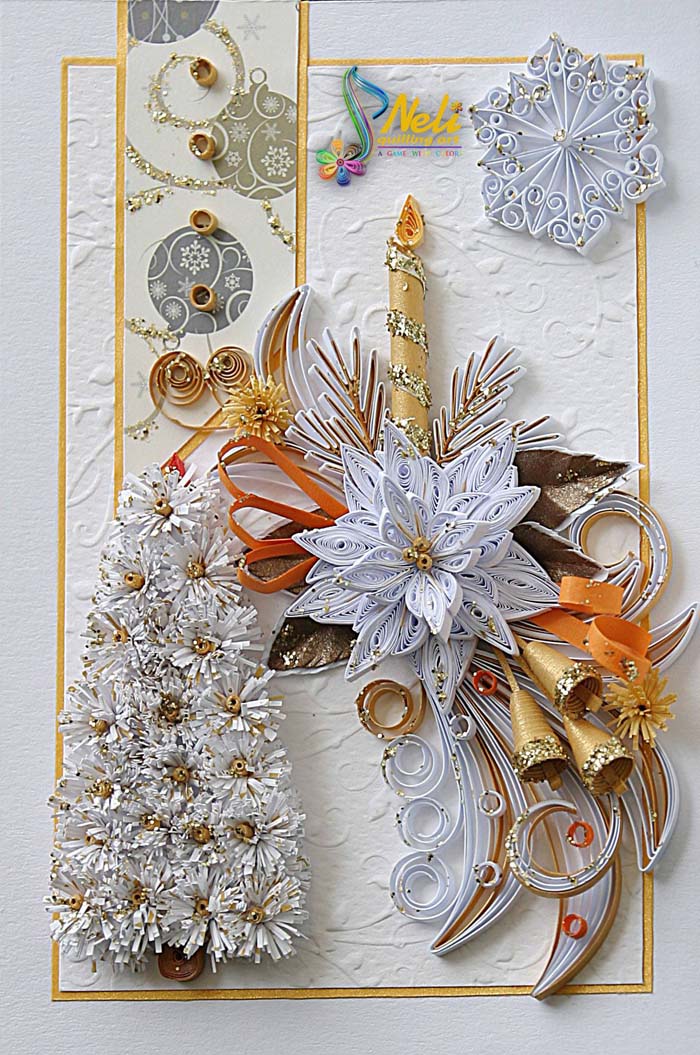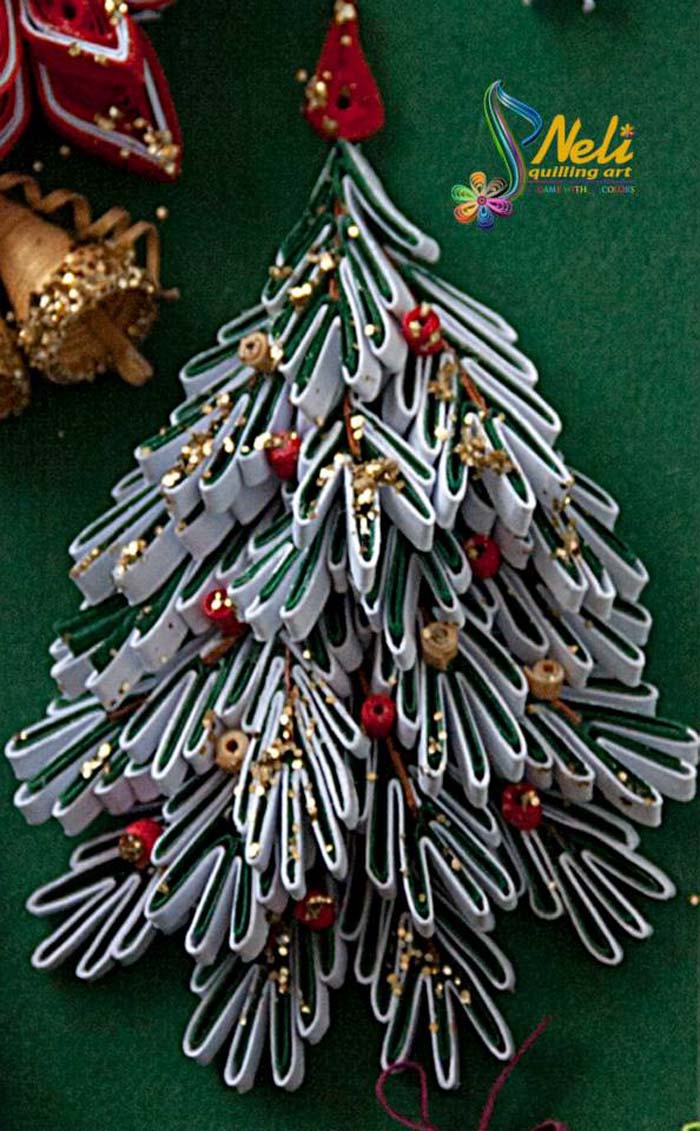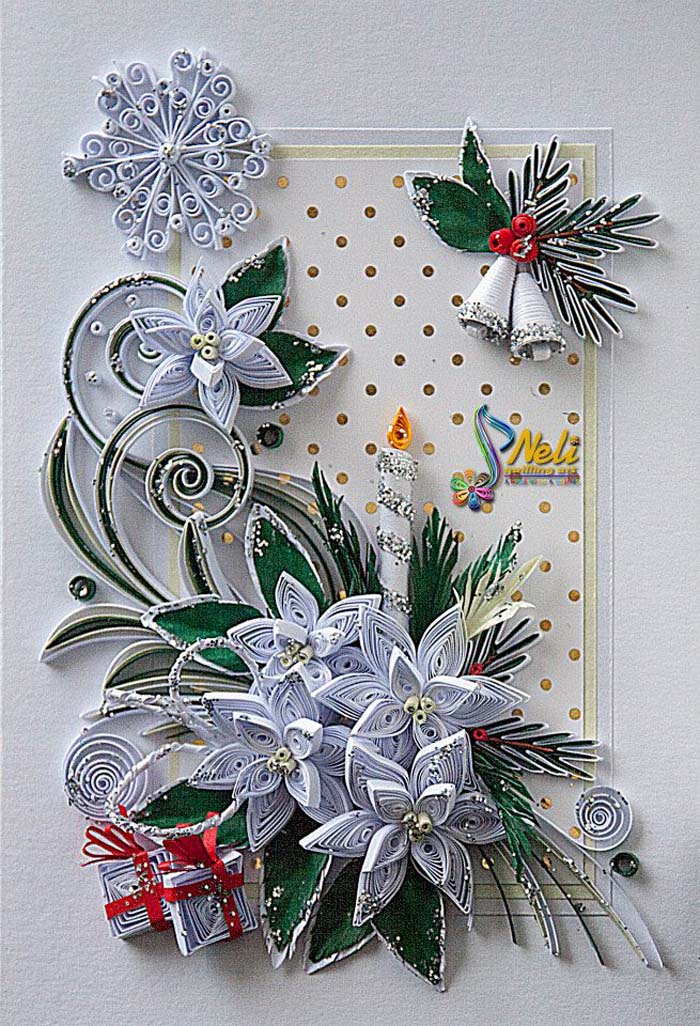 It really doesn't matter if they are paper quill cards, handmade quill cards, or easy quilling cards- show your love this holiday season.
"So according to your holiday spirit, if you will- please do send a Quill!" Merry Quill Christmas, everyone!